Planning a Portugal honeymoon? We'll show you the most incredible hotels and must-visit destinations for your honeymoon in Portugal.
Portugal is a small country on the Iberian Peninsula that is big on culture, cuisine, and incredible vacation destinations that offer something for everyone.
Are you looking for a coastal getaway or an action-packed weekend in a vibrant city that offers unique experiences around every narrow alley corner? Portugal has both.
But is a honeymoon in Portugal one that should be at the top of your European honeymoon itinerary? Absolutely, and we'll show you why. Read on to learn more about a honeymoon in Portugal.
Why Honeymoon in Portugal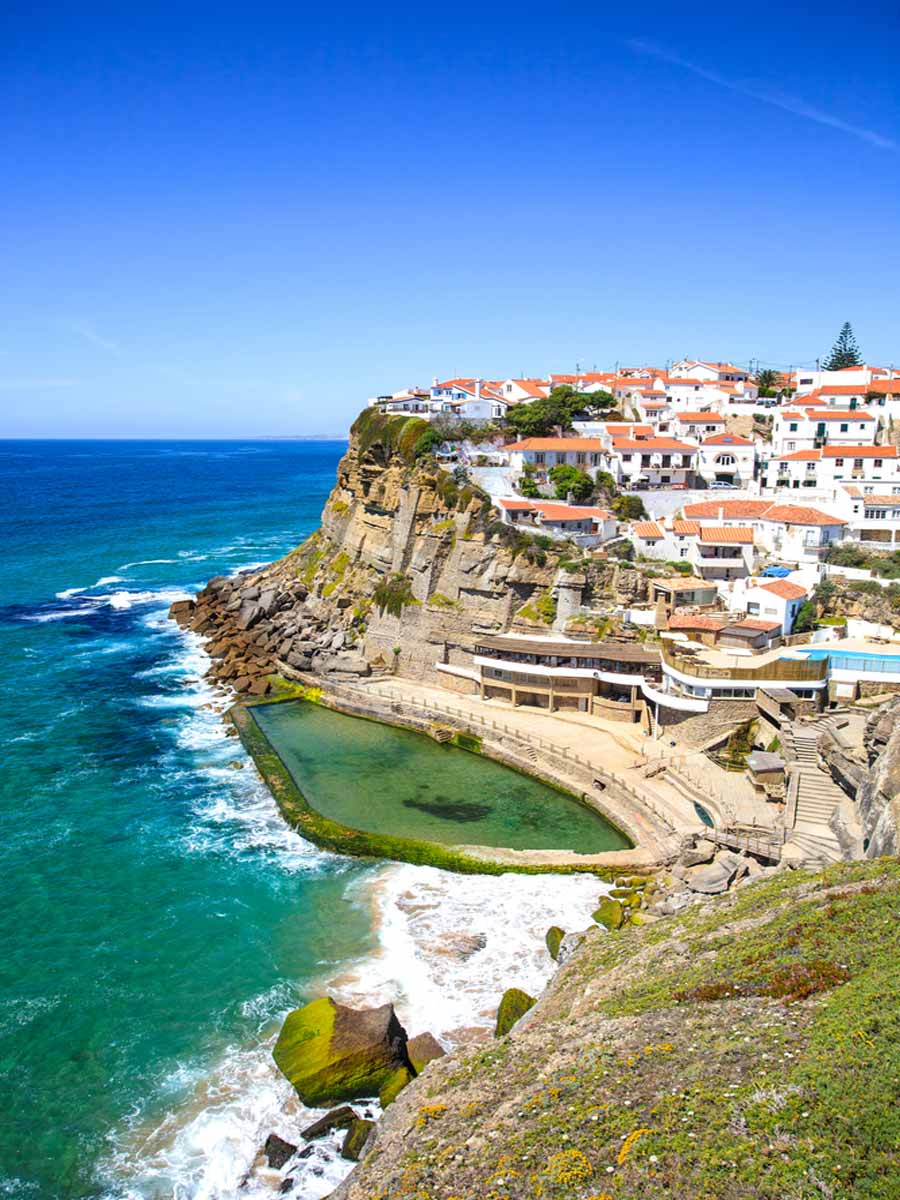 Coming up with a list of the best honeymoon destinations in Portugal is challenging; in fact, we'd put dozens of them at the top of our list.
Whether you're trying to plan a Portugal beach honeymoon or want to explore the historic streets of Lisbon or Porto, we have you covered with some of the most incredible sites and stays for your Portugal honeymoon itinerary.
Ready to plan the ultimate Portugal honeymoon? Discover why it's one of our favorite ideas for celebrating your recent walk down the aisle and which resorts to book.
Best Honeymoon Hotels & Resorts in Portugal
Anantara Vilamoura
Quarteira
$$$
Best for a Honeymoon in Algarve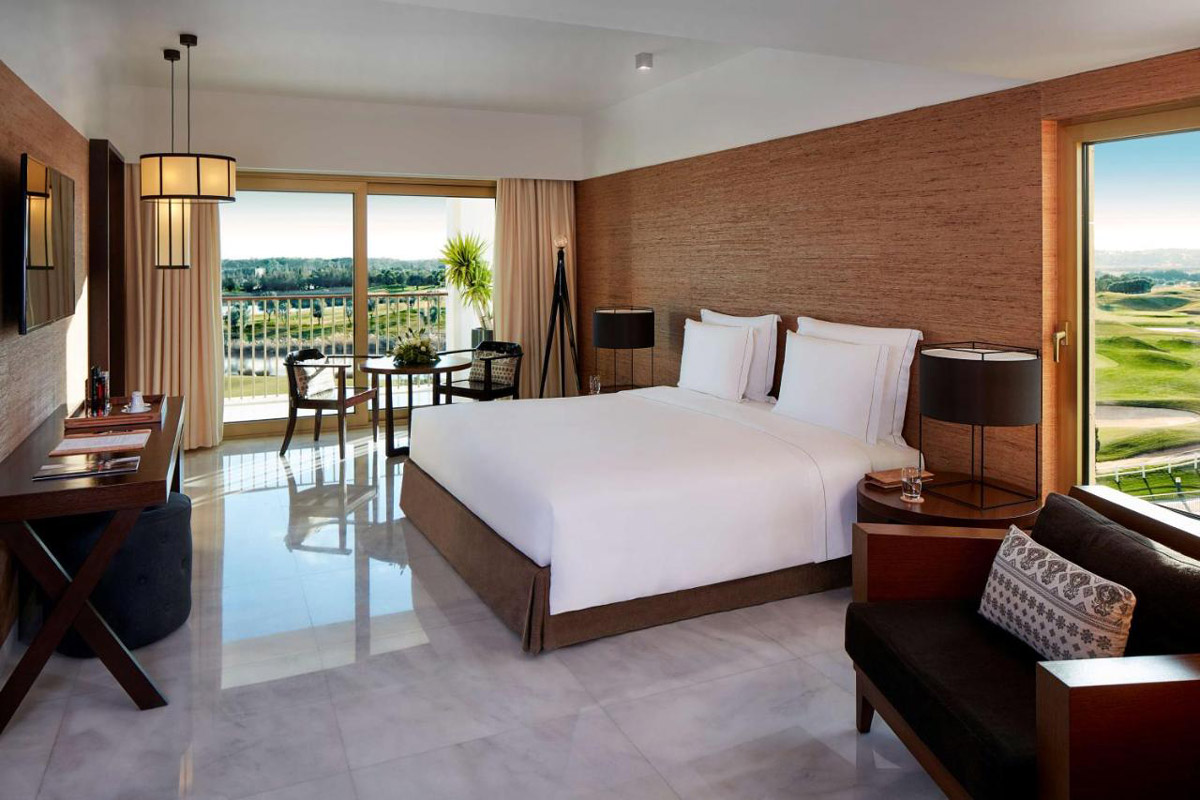 Anantara Vilamoura is one of our favorite places for a honeymoon in the Algarve, and you'll quickly discover why.
Between the 5-star property grounds that boast a world-class golf course and spacious swimming pools to the romantic rooms and suites that are the perfect place to lay your head down after an event-filled day, we love this resort for a luxury honeymoon in Portugal.
And what about a luxury Portugal honeymoon package? We have you covered, as the Algarve by Heart offer from Anantara Vilamoura is one of the best we've found.
What do you get when you plan a Portugal honeymoon package here?

Your Golf Suite features VIP perks and welcome gifts, limo transportation to the airport, a couples spa treatment, a romantic dinner, and outdoor adventures, including a hot air balloon ride that make this one of the most over-the-top honeymoon packages you'll find. And we are totally here for it.
InterContinental Porto – Palacio Das Cardosas, an IHG Hotel
Porto
$$$
Best for a Porto Portugal Honeymoon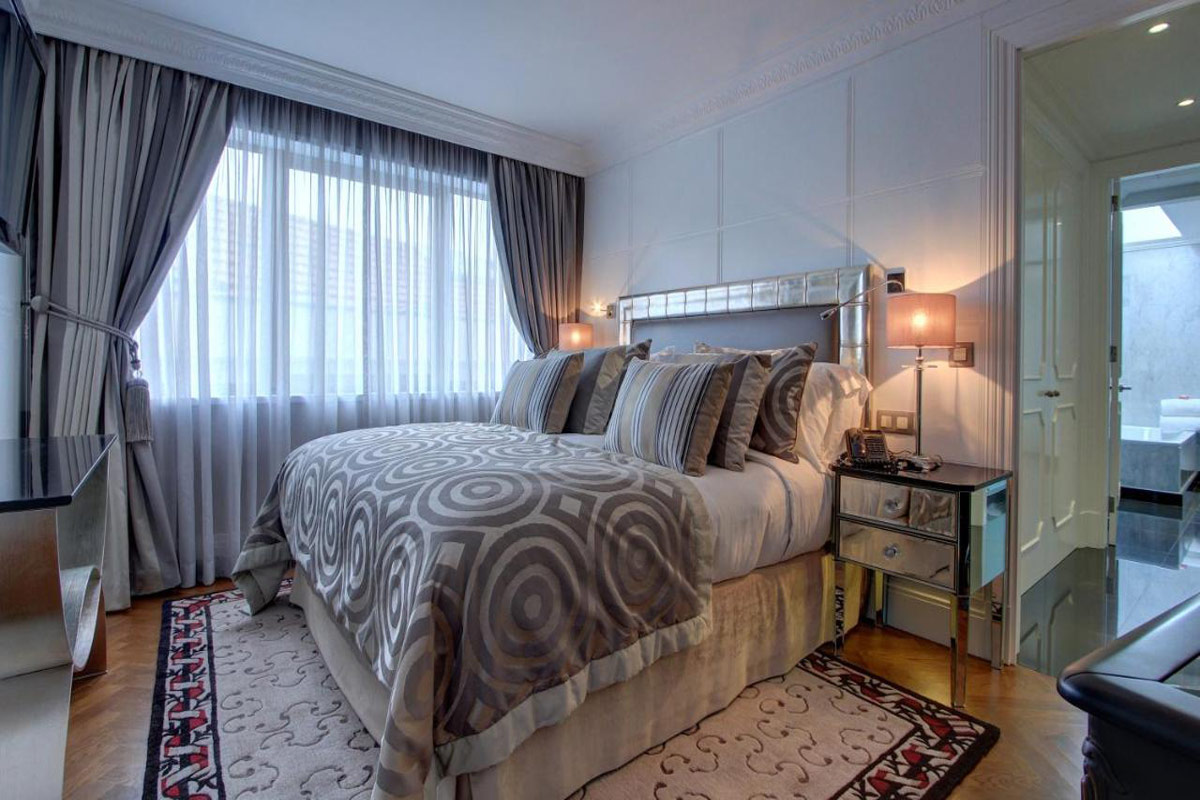 Searching for the best honeymoon hotels in Portugal? We found one we think you'll love: the InterContinental Porto – Palacio Das Cardosas, an IHG Hotel.
Why is this the perfect place for a honeymoon in Portugal style? The historic building is an 18th-century castle overlooking the city center in one of our favorite places for a Portugal honeymoon.
Location is everything or at least a big part of planning a romantic honeymoon, and the picturesque setting of this hotel couldn't be any better. But the rooms here will make it hard to venture far, as they are elegant, charming, and an ideal place to get cozy and discuss which wineries you want to visit on your Douro Valley honeymoon.
Care to have more room to spread out and enjoy some iconic views of Porto? Upgrade to the Junior Suite and enjoy epic vistas, plush furniture, and luxury touches from corner to corner.
Savoy Saccharum Resort & Spa
Madeira
$$
Best for a Madeira Portugal Honeymoon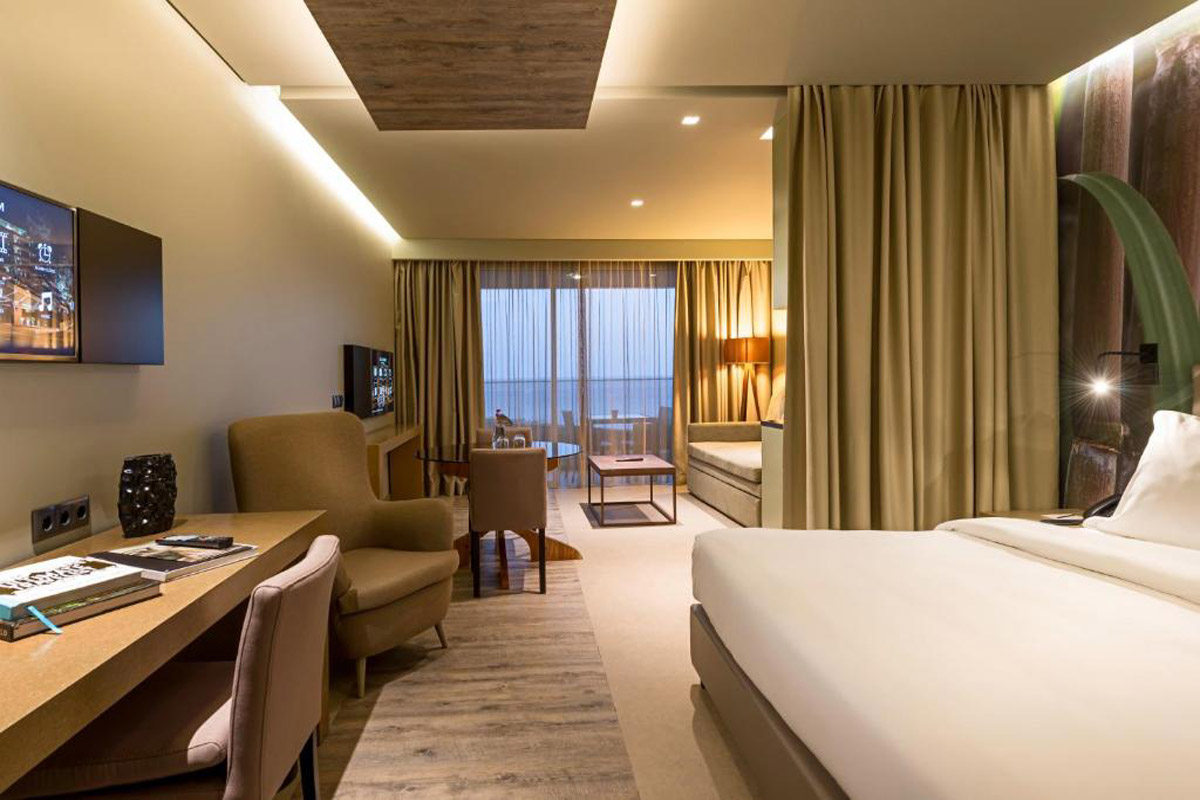 Savoy Saccharum Resort & Spa encompasses everything we love about a honeymoon in Madeira.
Your luxury Portugal honeymoon hotel rests between the volcanic mountains and stunning coastline that make this island one of the most incredible honeymoon destinations you may or may not have heard of.
You won't be enjoying a tropical honeymoon, but what makes it a romantic place to honeymoon is the perfect opportunity for warming up together in your 5-star suite after a day of adventure, hiking, and photography.
Rooms here are quiet, comfortable, and spacious enough to feel at home on your island honeymoon in Madeira. The beautiful suites are the perfect place to rest and recover after your time outdoors.

Want to have the perfect evening? Share a before-dinner cocktail overlooking the Atlantic ocean from your private balcony. You'll quickly realize why a Madeira honeymoon should be at the top of your list of Portugal honeymoon destinations.
As Janelas Verdes Inn
Lisbon
$$
Best for a Lisbon Portugal Honeymoon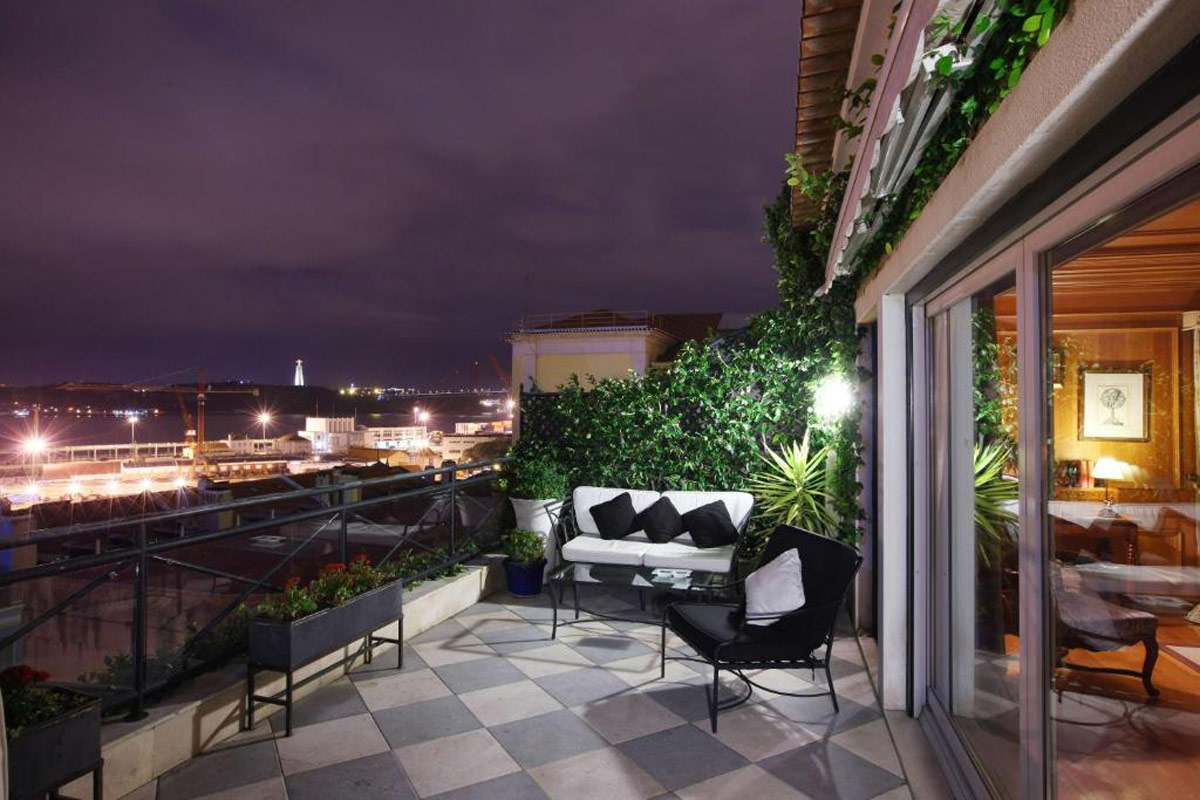 Want to stay at a hidden gem on your honeymoon in Lisbon? This charming boutique hotel in the underrated Santos Design District is one of Lisbon's best-kept secrets.
Why do we love As Janelas Verdes Inn? The neighborhood is a quiet, artsy community within walking distance of the famous tram that will take you to Lisbon's most well-known sites. But the hotel itself is a charmingly romantic boutique that feels even older than it is, in the best possible way.
Be sure to take advantage of breakfast in the interior courtyard garden to start your day. Then, in the afternoon, head to the library bar and bring a cocktail to the rooftop for unrivaled views of the beautiful Tagus River.
When the day is complete, move to your perfectly charming rooms and rest up because a honeymoon in Portugal's capital city of Lisbon has plenty more to offer you tomorrow.
Aldeia da Gingeira
Pico, Azores
$
Best for an Affordable Honeymoon in Portugal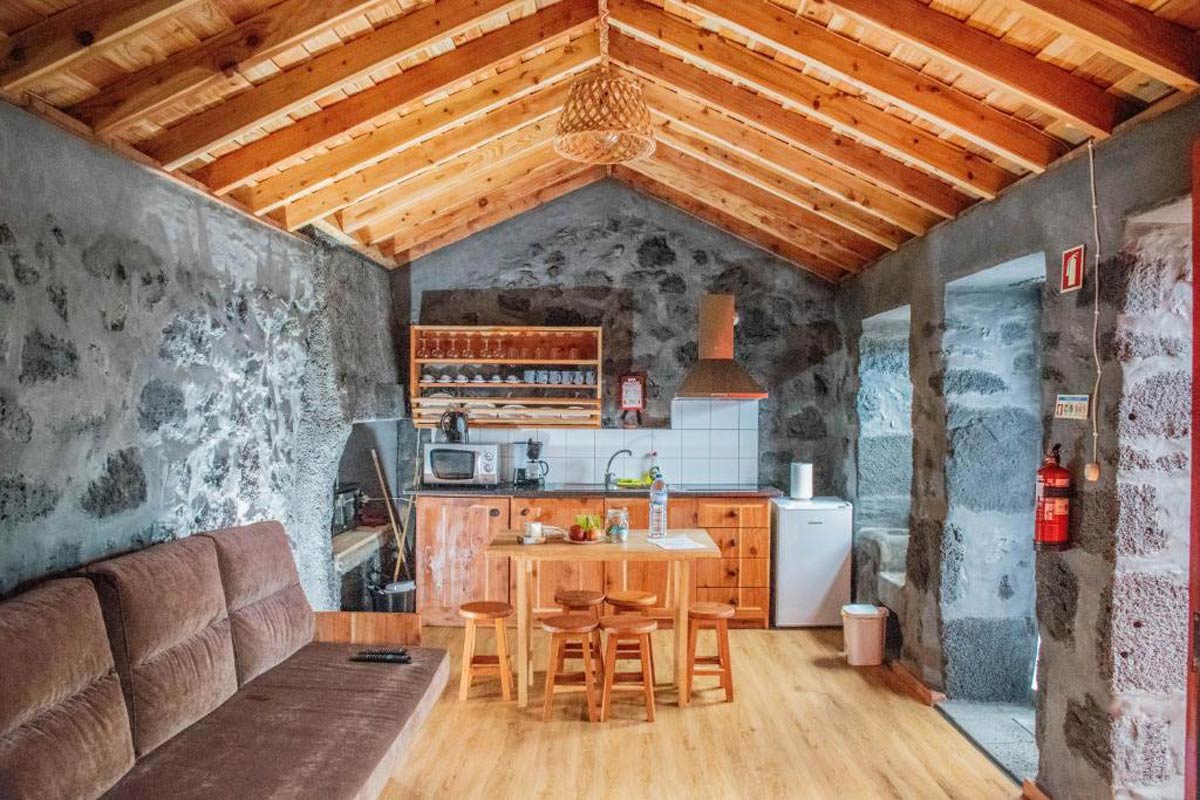 We love any excuse for an Azores Portugal honeymoon, but at Aldeia da Gingeira you can have the Portugal honeymoon of your dreams for a price that seems too good to be true.
The rustic exterior of this charming villa gives way to gorgeous rooms and suites that effortlessly create a modern cabin feel that is perfect for the volcanic mountains, green hills, and endless ocean views around you.
Not only does your villa come with standard amenities like comfortable beds, furniture, and flat-screen TVs, but you'll love your private outdoor space as much as hanging out inside. Your private terrace features room to chill out, barbeque, and even take a dip in your private jacuzzi. Now that's a perfect way to start or end any day on your Azores Portugal honeymoon.
Portugal Honeymoon Tips: What You Need to Know
How to Get to Portugal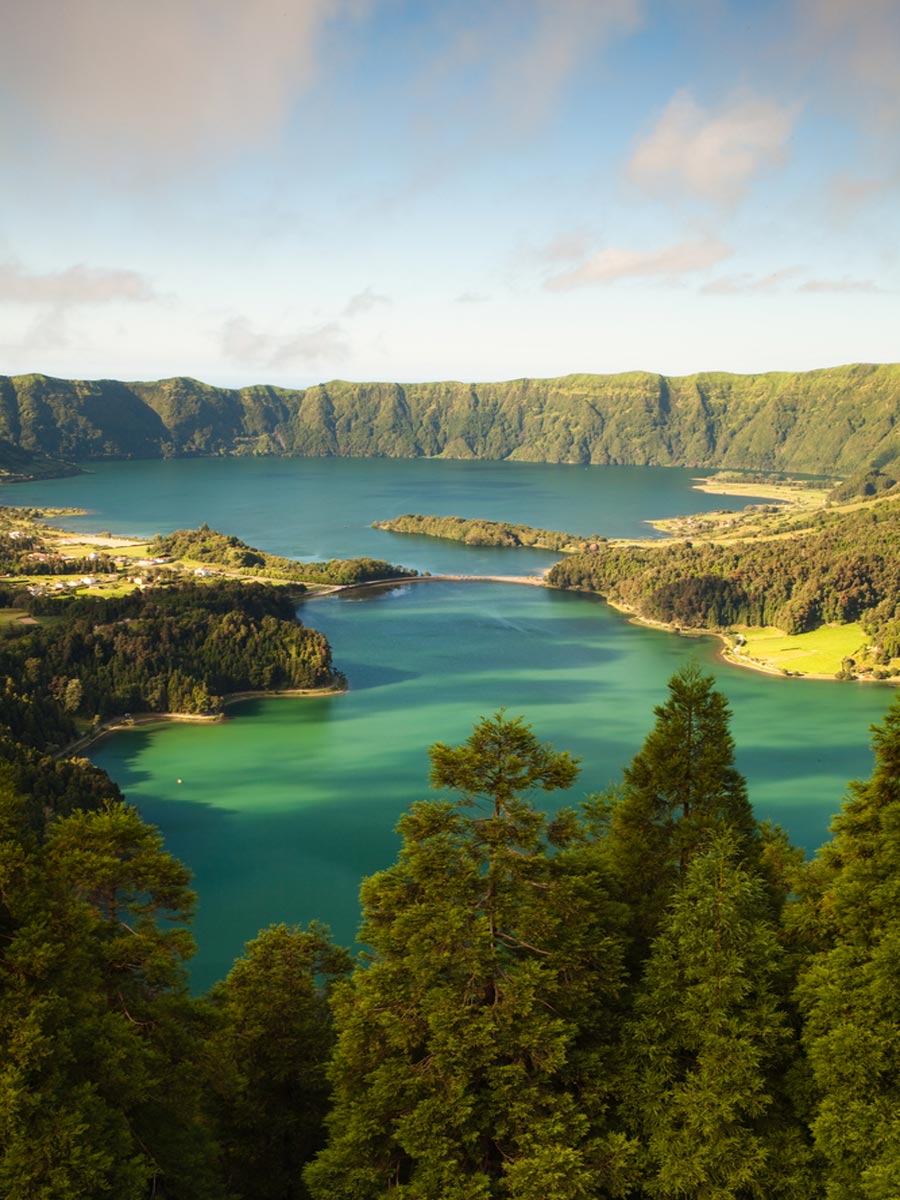 What's the best way to get to Portugal? Flying or taking a honeymoon cruise are popular ways to reach a Portugal honeymoon.

You can choose from several international airports and cruise ports when planning a trip to mainland Portugal, the Azores, or Madeira. Once you've landed, arrange a rental car, taxi, or ride share to reach your hotel.
The Best Portugal Honeymoon Destinations
Porto
Planning a Porto Portugal honeymoon? We're on board with that, as it's one of the most iconic cities in Europe.
So what are some must-see destinations in Portugal's second-largest city? We suggest walking, wandering, and exploring the genuinely incredible hillside town and discovering why there are photo opportunities and hidden gems to visit everywhere.
How to spend a perfect day in Porto? Enjoy the architecture and art that make this town famous, and end your evening with a glass of port wine while overlooking the Douro River. You'll be glad you did.
Douro Valley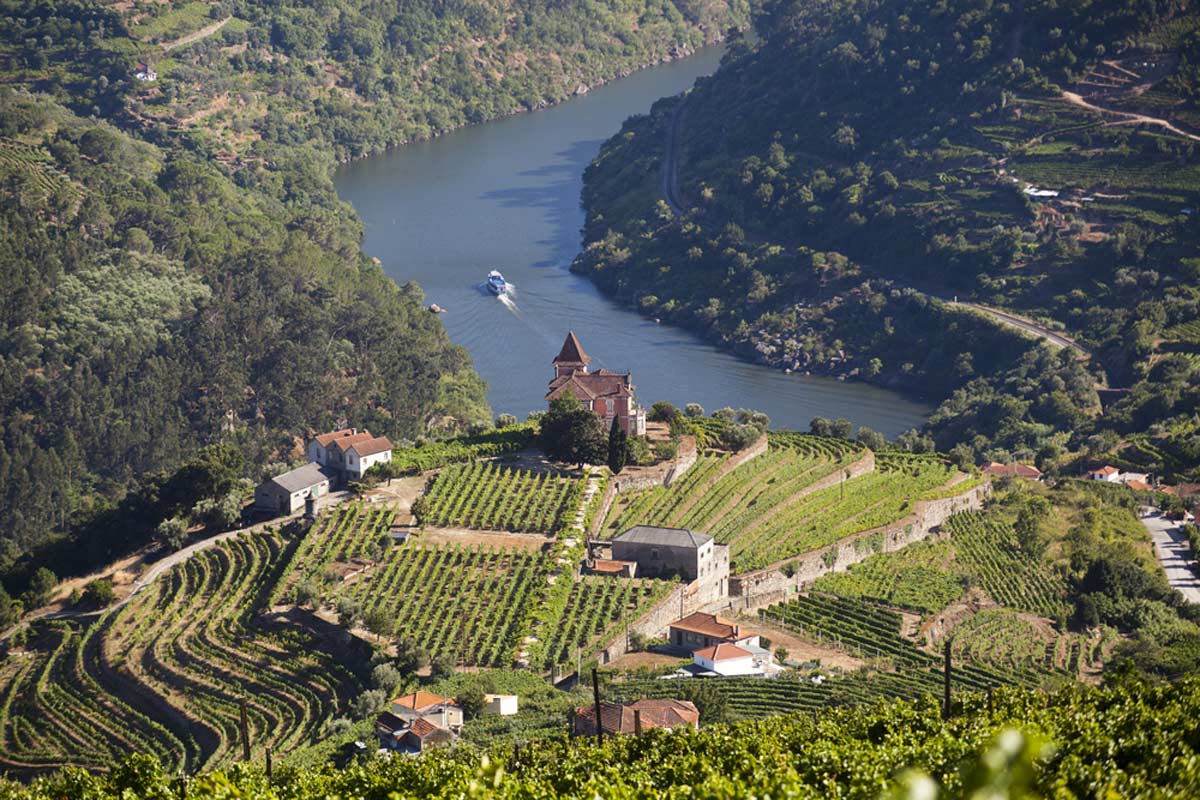 The Douro Valley is a famous wine region home to some truly underrated vineyards that rank among the best in the world. Be sure to go wine tasting while you're here and try some dry reds and whites that deserve to be as popular as the after-dinner drink (port) the area is renowned for.
It's not only about wine tasting in Douro Valley, however.

Numerous small towns are worth visiting to sample the food and see the architecture, and ​Parque Natural do Douro Internacional is one of our favorite Portugal honeymoon destinations for a hike.
Alentejo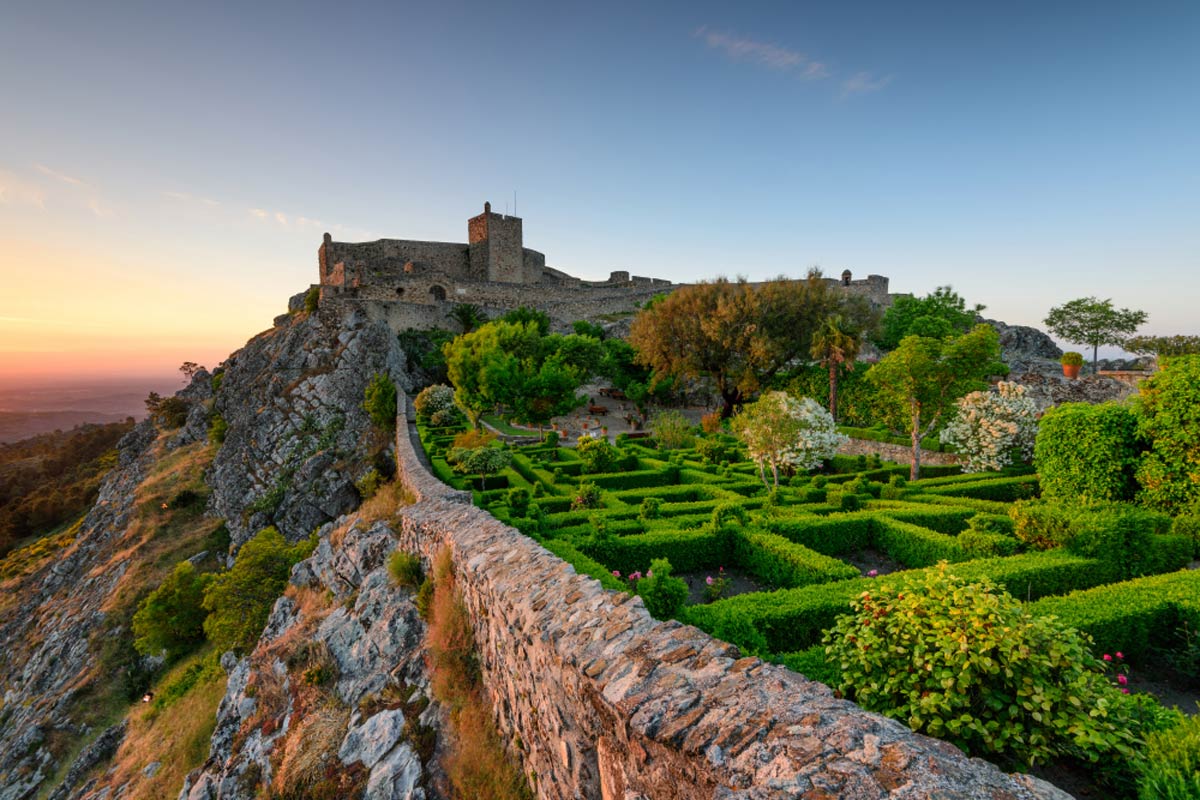 Another famous wine region that's a popular draw for gourmands worldwide is Alentejo. But when we think of a honeymoon in Alentejo, we immediately think of Evora.

Evora is a smaller city that's big on castles, museums, and stunning views. The beautiful backdrop will help produce memories and photographs on your Portugal honeymoon that will last a lifetime.
Also, be sure to head to the coast and check out Sines on your Alentejo honeymoon. The fishing village has incredible coastal views and sandy beaches that are perfect for an afternoon admiring the seaside landscape around you.
Lagos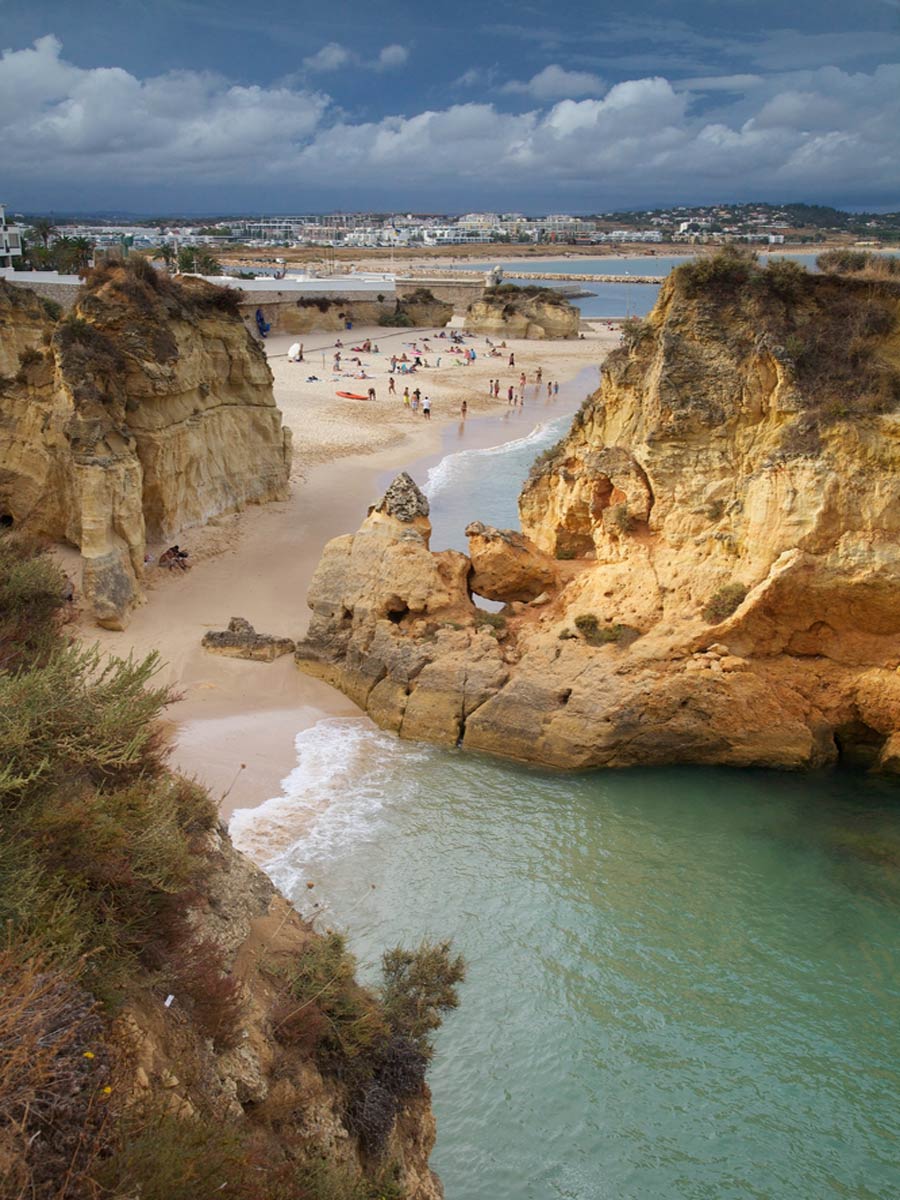 Planning an Algarve Portugal honeymoon? Lagos is a must-visit location in the South of Portugal, famous for the incredible rugged coastline ideal that's perfect for a romantic photo together.
The beaches here are among our favorites in Portugal, and it's a fantastic town to wine and dine in once you've had enough aquatic adventure for the day.
Lisbon
Lisbon is the country's capital and a destination you can't miss on your Portugal honeymoon.
Lisbon is one of our favorite places for a unique honeymoon because it blends a rich history of culture into a modern cosmopolitan city that seems timeless when you walk the windy hillside streets day or night.
Come to Lisbon hungry and eat early and often. Bacalhau, Pastéis de Belém, and Bifanas are all must-try dishes you won't want to miss.
Madeira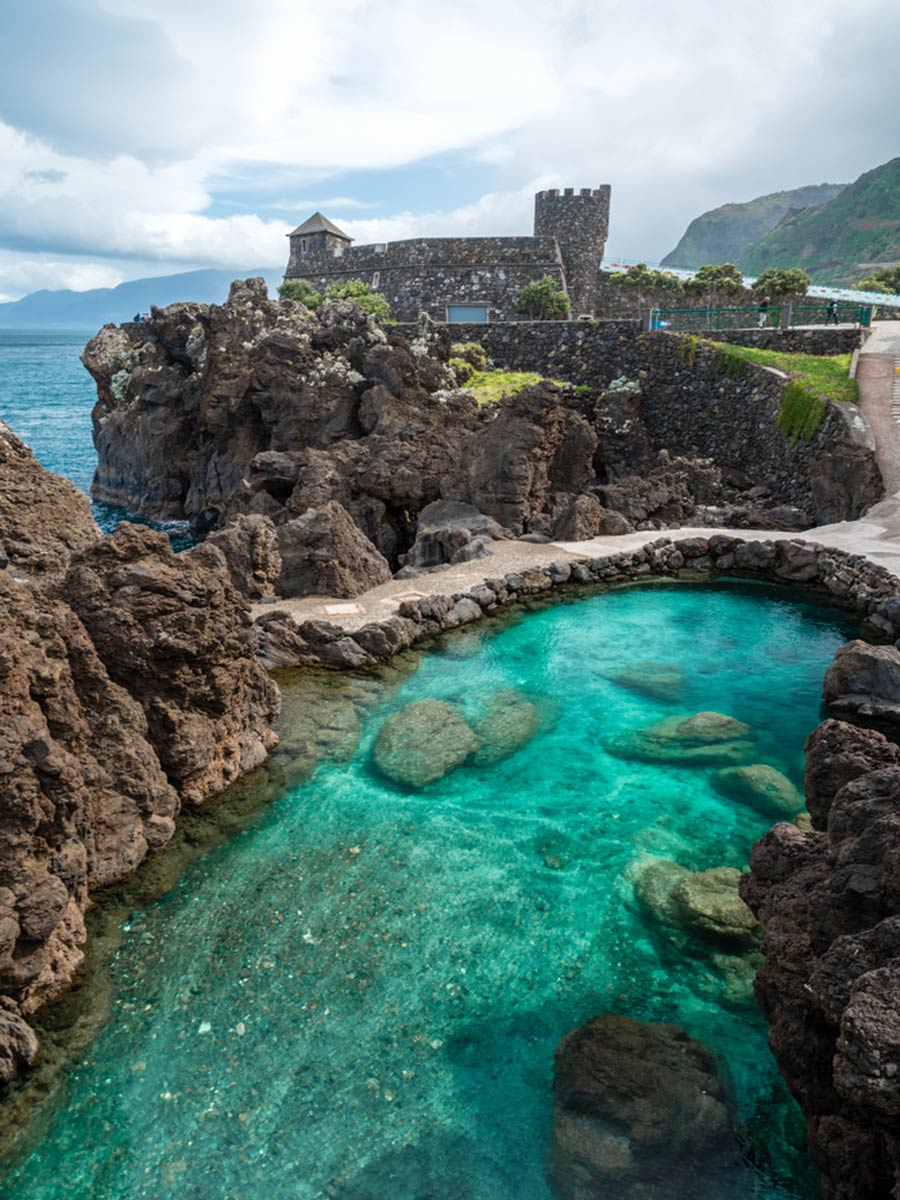 We can't emphasize enough how incredible a Madeira Portugal honeymoon is. The wild volcanic coastline is home to some of the most astonishing hiking destinations you'll find anywhere in the world.
Be sure to schedule a levada hike and visit Vereda do Areeiro while in Madeira for two unique treks you'll find on your Portugal honeymoon.
Azores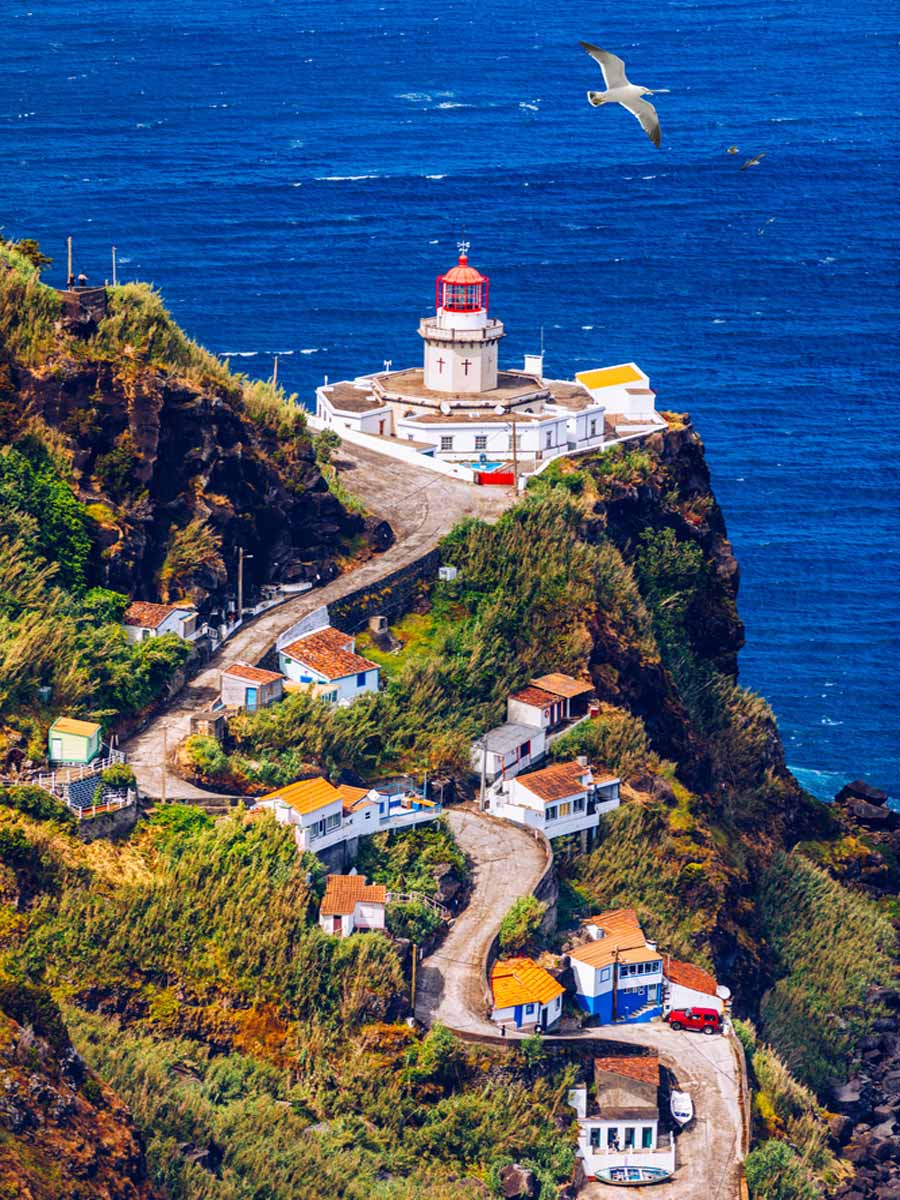 Choose from nine different islands when planning an Azores Portugal honeymoon, each with its own beauty and excitement.
What are some of the top destinations to see? Parque Terra Nostra on São Miguel Island and Jardim Botânico António Borges on Ponta Delgada are two must-visit locations when you plan an Azores Portugal honeymoon.
Sintra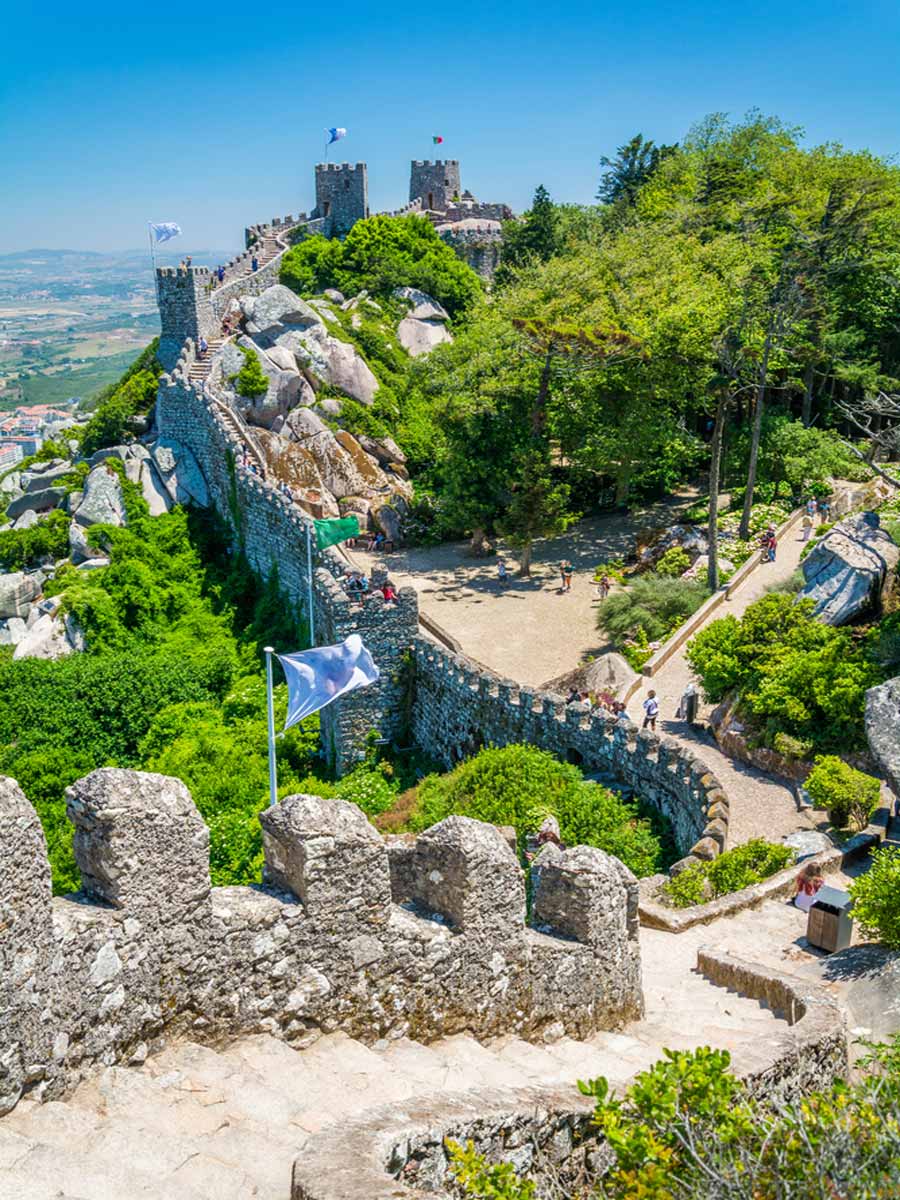 Want an unforgettable honeymoon day trip from Lisbon? We thought so.
Sintra is about an hour's train ride from the city center and is worth every minute of the detour on your Portugal honeymoon.
Walk the steep castle and garden-lined hills from the train station, explore the grounds of at least one of the many landmarks here, and be sure to have lunch between sightseeing, hiking, and photographing this enchanting town.
The Best Time to Visit Portugal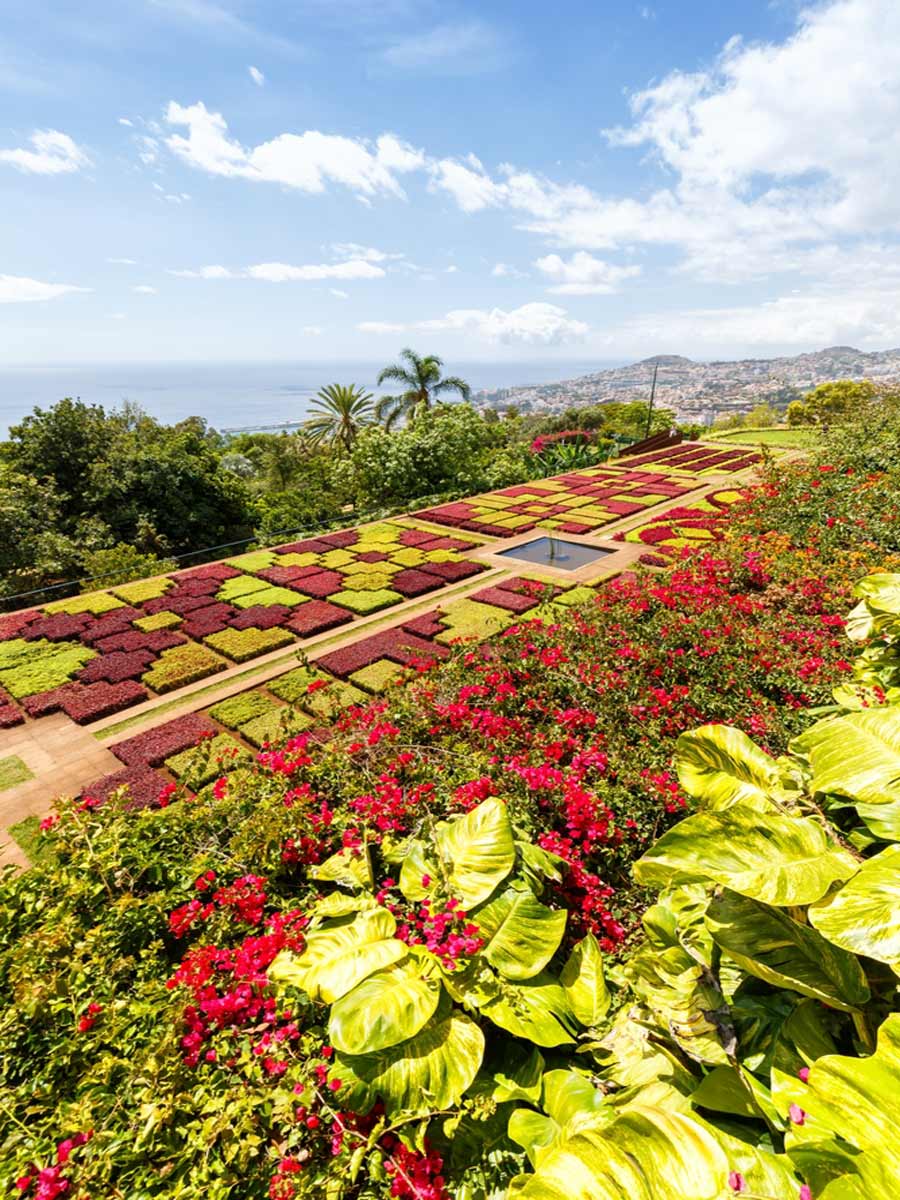 When should you plan the best honeymoon Portugal offers? Spring is the perfect season to book a honeymoon in Portugal.
Fall and winter can be good times too, but you're likely to get cooler temperatures in the winter, and the occasional hurricane can roll through in later summer to fall, making spring the most reliable time of year to go to Portugal.
How Long to Spend on Your Portugal Honeymoon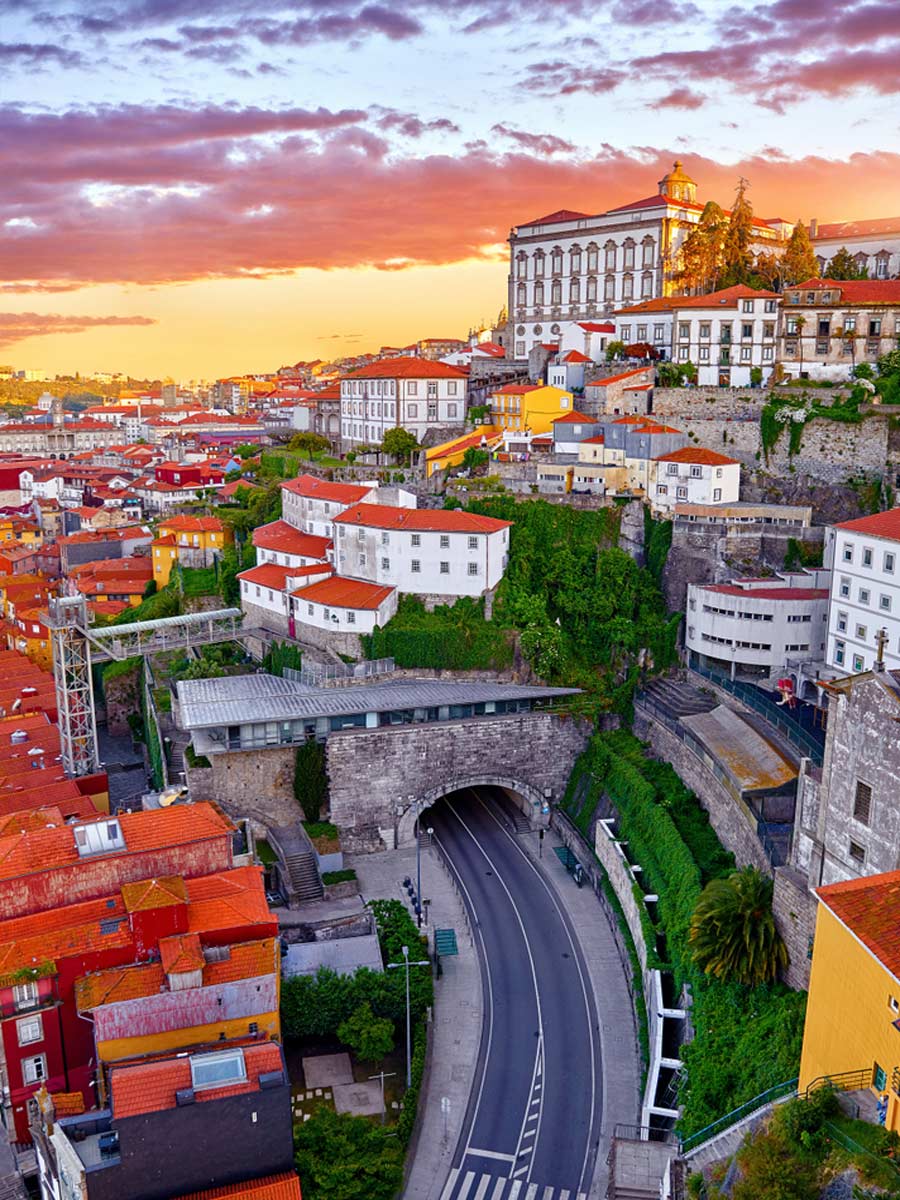 Planning your honeymoon in Portugal and trying to decide on the perfect amount of time? We understand that it may take a lot of work to figure out how long to stay in Portugal, but we got you covered.
You should spend 1-2 weeks in Portugal to have ample time to explore a few destinations and plan unforgettable activities.
How Much Does a Portugal Honeymoon Cost?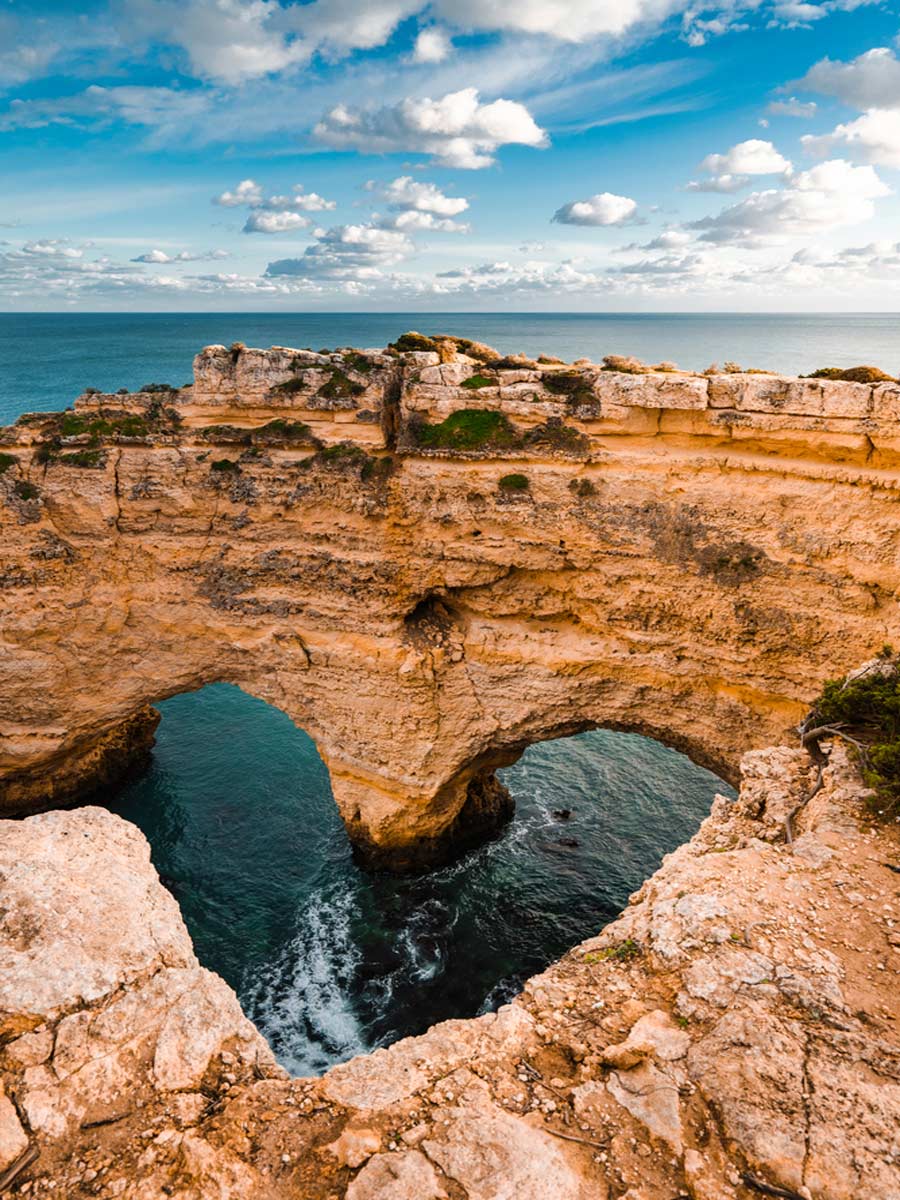 When you set up your honeymoon fund, you'll want to budget enough for transportation, food, hotels, and entertainment. So how much does a Portugal honeymoon cost?
Portugal is cheaper than some of our other favorite Europe honeymoon destinations, but you can still expect to pay between $2,000-$3,000 for a week-long Portugal honeymoon.
Portugal Honeymoon Resorts: Map
Read More Europe Honeymoon Guides