Trying to find the ideal honeymoon suite with an in-room jacuzzi? Check out these stunning destinations.
We understand that half the fun of a once-in-a-lifetime vacation is looking forward to the good times ahead.
Want to splurge on a decadent hotel room for your honeymoon? Here are our picks of gorgeous honeymoon suites with in-room jacuzzis.
Best Hotels with in Room Jacuzzis: At a Glance
Best Hotels with Jacuzzi In-Room
Suite with Spa Bath, La Grande Galle by Asia Leisure
£££
Galle, Sri Lanka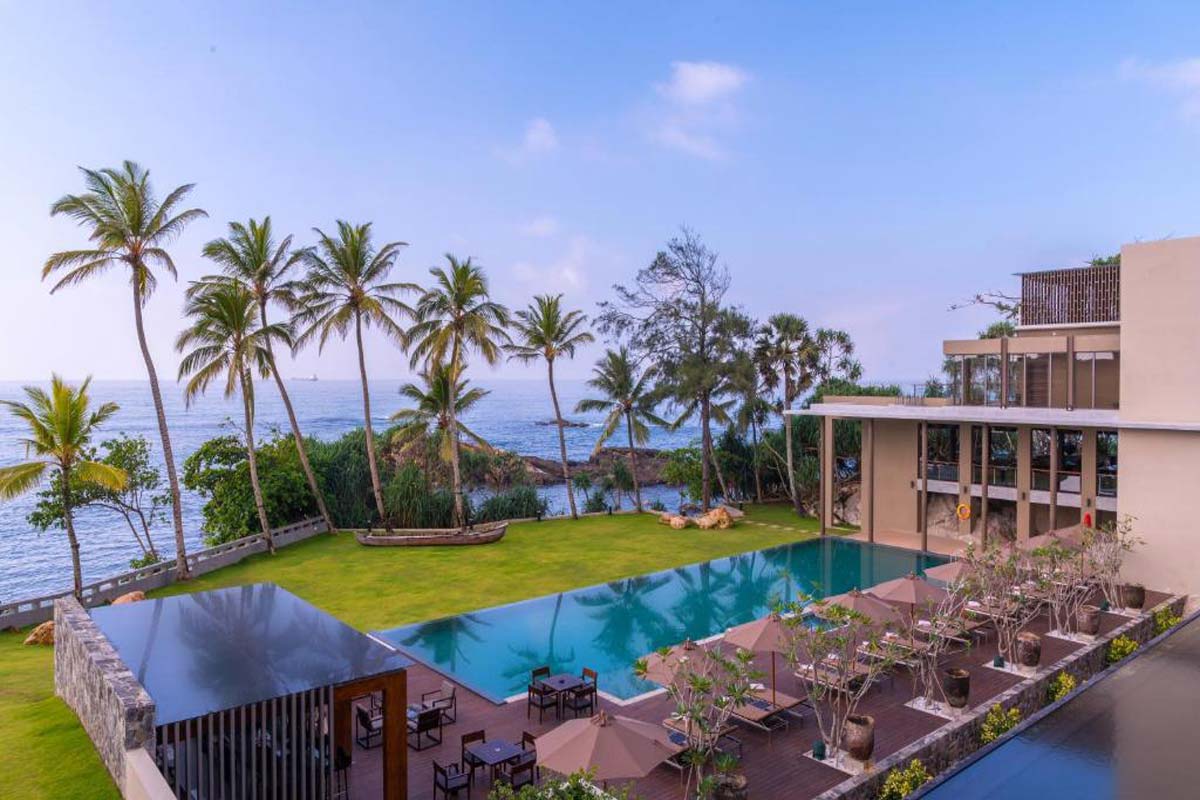 Honeymoon suites with jacuzzi tubs add something extra special to your dream vacation after you've said: "I do."
La Grand Galle takes that one step further and features a full-size hot tub on your balcony. OK, (not technically inside your room), but admiring the beauty of the Indian Ocean while watching the sun rise in Sri Lanka will make you feel right at home.
Situated in the heart of Old Town Galle, this 5-star hotel offers a peaceful respite in the center of the uniquely charming cosmopolitan city.
The restaurants here are casual but refined, with the seafood at Blue being the most popular choice. DIP, the poolside cocktail haven, is a great place to experience the elegant outdoor swimming pool with a refreshing libation in hand.
La Grand Galle is one of the top honeymoon suite hotels with a jacuzzi in-room in South Asia.
Ocean Suite with Jacuzzi, The Seminyak Beach Resort & Spa
£££
Seminyak Indonesia
The Seminyak Beach Resort & Spa is one of our favorite honeymoon resorts with a jacuzzi in-room while you're in Bali. The beachside resort offers excellent value for the level of service and amenities you'll experience here.
Spend your day lounging around the infinity pool or spa and receive 5-star service while enjoying refreshments or a highly-rated massage.
Later, you can dine at the Sanje Restaurant and have a romantic evening on the beach listening to live music and sampling Mediterranean cuisine while overlooking the Indian Ocean.

Your honeymoon suite with a jacuzzi in the room overlooks the Indian Ocean, providing a stunning backdrop for the most romantic getaway in Indonesia.
Luxury King Suite with Whirlpool, JW Mariott Phuket Resort, and Spa
££
Mai Khao Beach, Thailand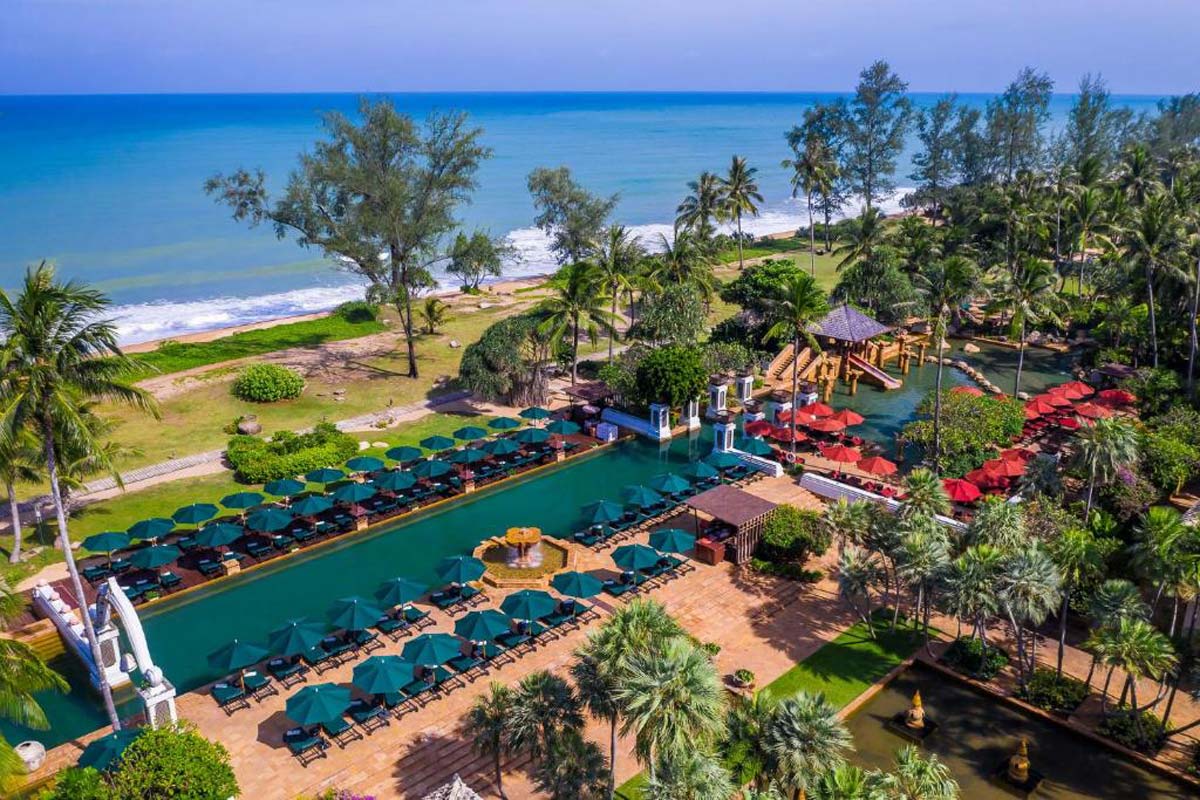 JW Mariott Phuket Resort and Spa is one of our favorite picks for honeymoon suites with a jacuzzi in the room in Thailand.
Book this hotel if you want luxury accommodations and numerous bonding opportunities on your honeymoon. You can swim in one of three outdoor pools, enjoy private beach access, and partake in cooking classes, Muay Thai lessons, or movie nights.
The 1819 sq ft room (yes, really!) will make you feel like royalty as it's one of the best deals for a honeymoon suite with an in-room jacuzzi on Mai Khao Beach or, frankly, anywhere.
Terrace Suite with Outdoor Spa, Le Bristol Paris
£££
Paris, France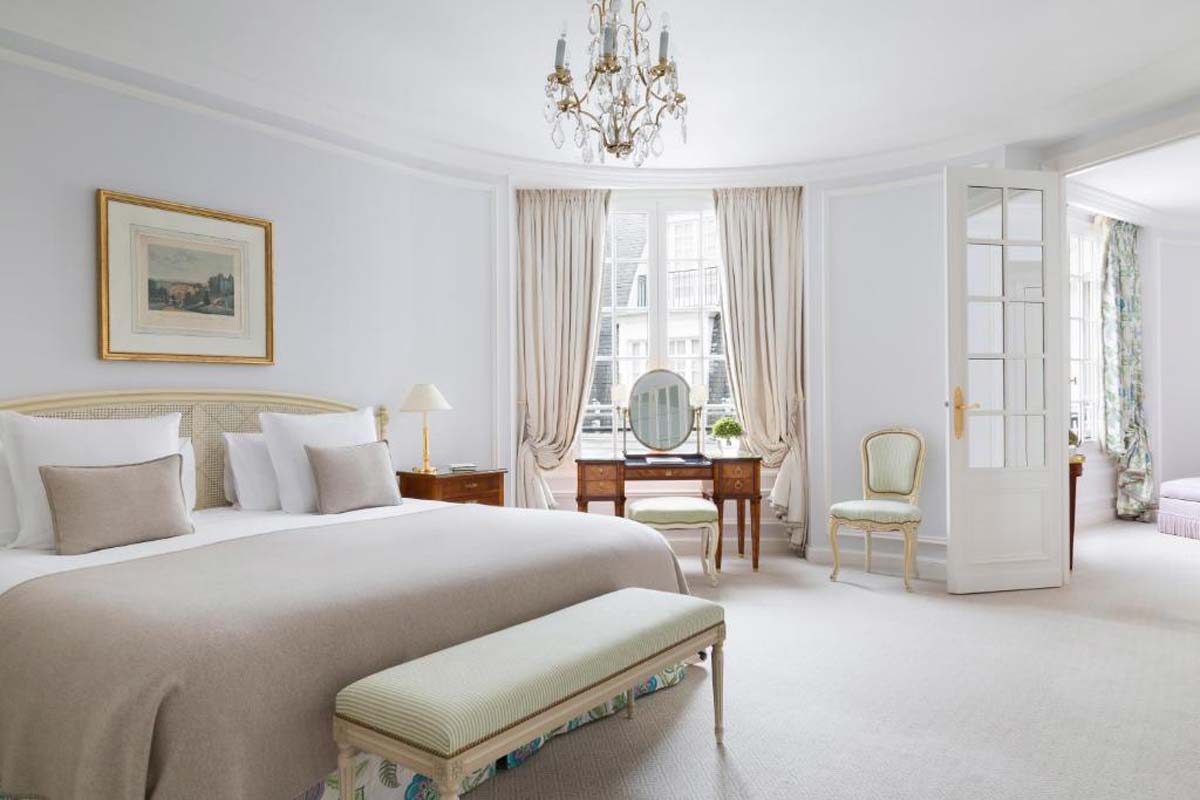 Ah, Paris. Arguably the most romantic place in the world.
And if you want one of the most opulent honeymoon suites with a Jacuzzi in-room, look no further. The Terrace Suite with Outdoor Spa at Le Bristol Paris is genuinely breathtaking.
In addition to the spa tub in your suite, you'll have a private outdoor hot tub on a charmingly Parisian walk-out balcony.
With a central downtown location, if you're keen to have one of the most stylish and lavish honeymoons in Paris, you won't do any better than a romantic jacuzzi suite here.
The prestigious hotel grounds will afford every luxury. You can swim on the rooftop while enjoying first-rate Eifel Tower views or have dinner at the three Michelin Star Epicure.

Whatever your plans are at Le Bristol Paris, your honeymoon will truly be memorable.
Luxury Lanai Suite, The Cosmopolitan of Las Vegas
£££
Las Vegas Strip, Las Vegas, USA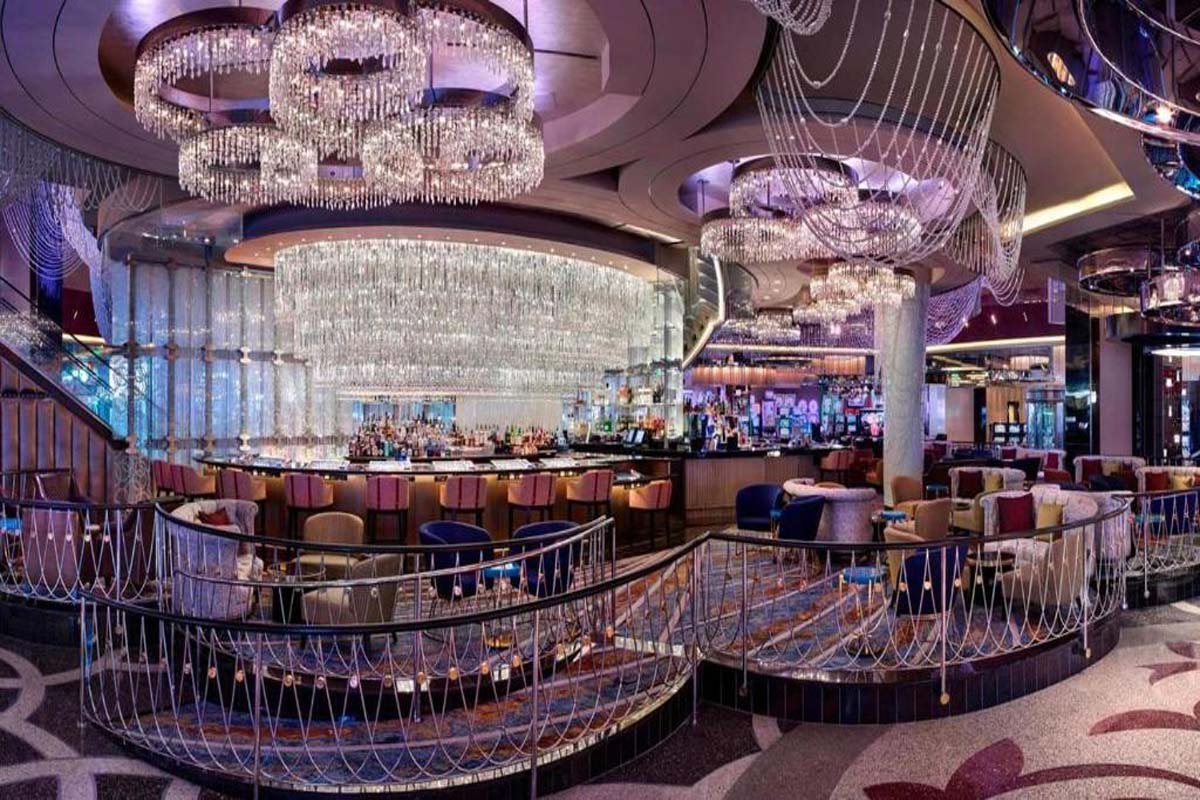 Want to experience one of the very best honeymoon suites with a jacuzzi in Las Vegas? Look no further than the Luxury Lanai Suite at The Cosmopolitan of Las Vegas.
This two-story suite will make you and your spouse lose your hearts (but hopefully not your wallets) to the Las Vegas Strip.
You'll have an up-close view of The Chelsea Pool, and most of the Lanai Suites allow you to walk right out to it from your room. However, most of the time, you'll be content chilling in your private jacuzzi right outside the living room of your honeymoon suite.
When you're in the mood to party, take advantage of the two large TVs (yes, you have more than one), minibar, and a kitchenette, perfect for mixing cocktails. Viva Las Vegas.
Manhattan Suite at Four Seasons Hotel New York
£££
Midtown East, New York, USA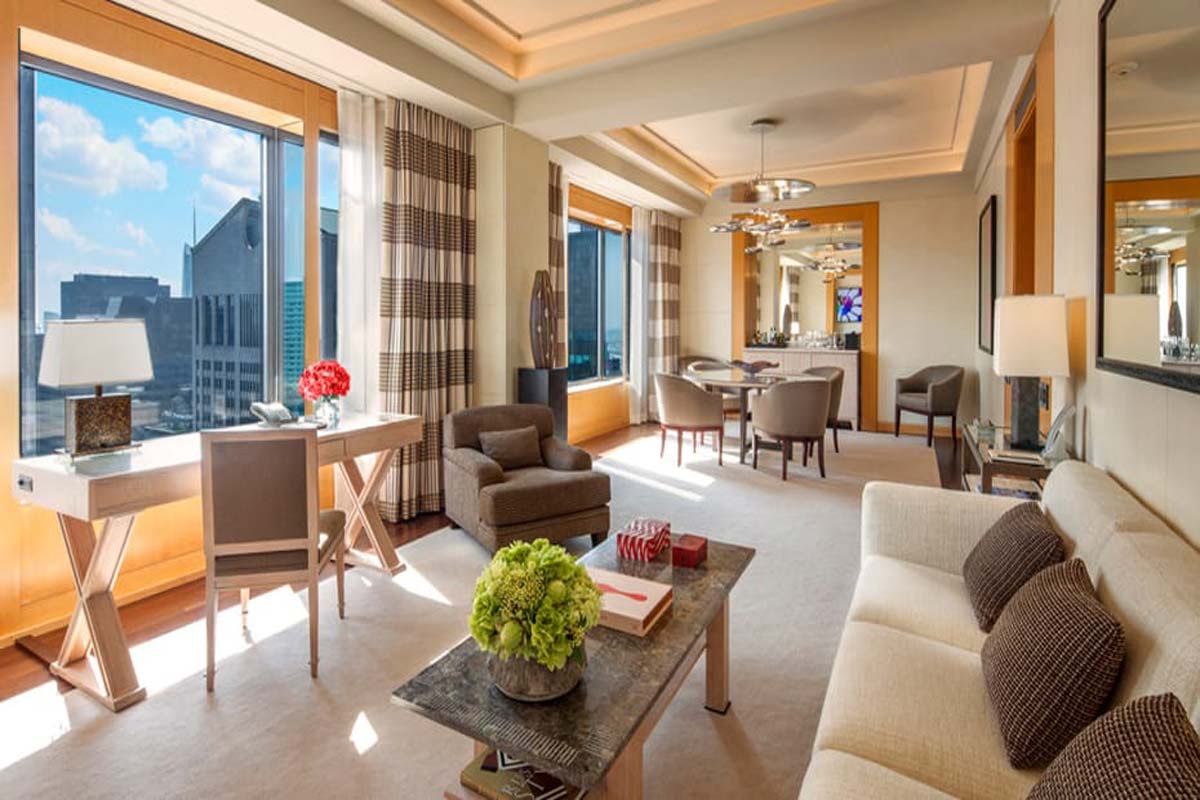 The Four Seasons Hotel New York is one of the premiere hotels in Manhattan. So if your idea of a honeymoon is attending Broadway plays, walking in Central Park, and having exquisite dinners at some of the best restaurants in the world, you're in the right place.
The Manhattan Suite is one of the romantic jacuzzi suites you've been dreaming about since long before your wedding planning began.
Enjoy the sweeping views of Midtown Manhattan from your 1,100sq ft. suite on one of the highest floors in the hotel.
Relax and bathe in the large jacuzzi tub in the marble-adorned bathroom that will have you feeling like an NYC bigwig, if just for the weekend.
Deluxe Suite High Floor with Hot Tub and Terrace, Coco Hacienda Tulum
£
Tulum, Mexico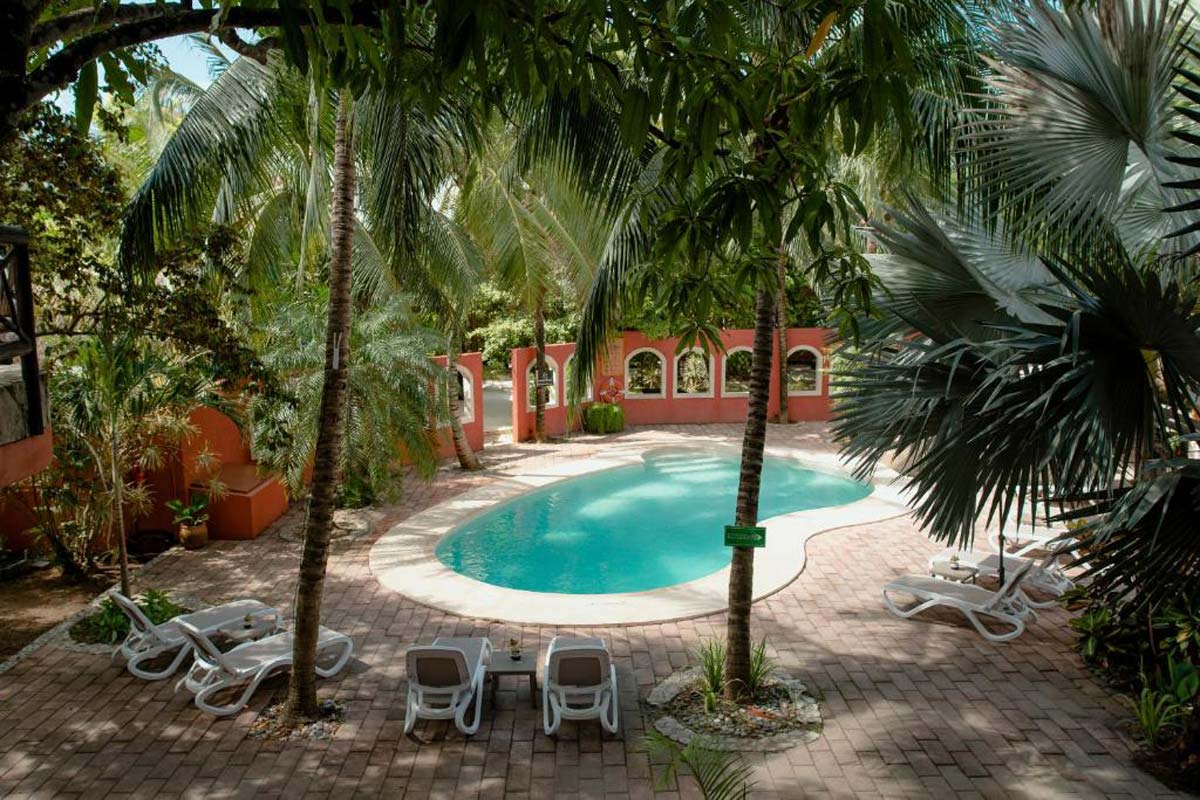 The Coco Hacienda Tulum is an adults-only hotel with in-suite jacuzzis in the heart of Tulum. The lovely resort town in Mexico is one of the top honeymoon destinations of 2022/2023.
The hotel grounds have gorgeous palms and lush tropical foliage lining the property.
Swim in one of the two swimming pools available during your stay, with our favorite being the modern and stylish garden pool.
Your room will have most of the creature comforts you typically require, like a smart tv and Wi-Fi. But we think you'll be streaming a lot less Netflix on this vacation.
Opt to read a book or have a nightcap on the private terrace instead before turning into your romantic getaway jacuzzi suite.
Suite Garden at Hotel Xcaret Mexico
£££
Playa del Carmen, Mexico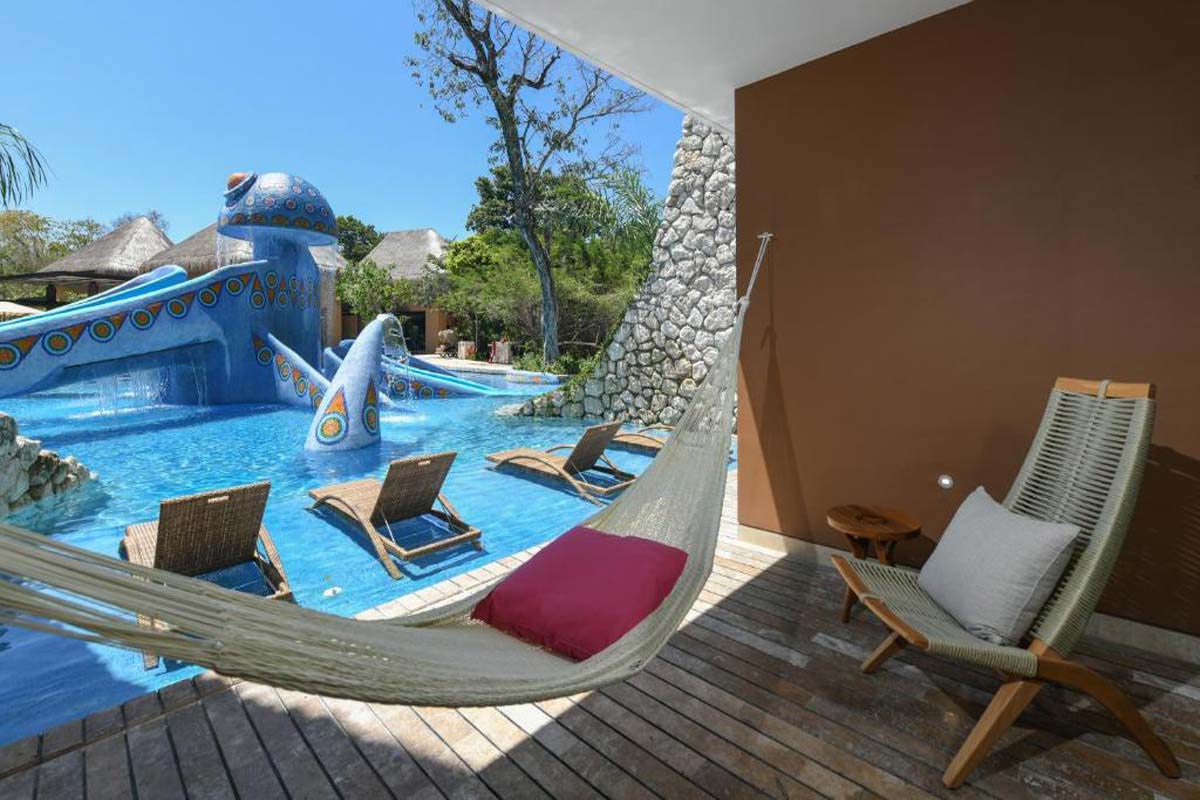 Want a romantic getaway jacuzzi suite in Playa del Carmen, Mexico? Hotel Xcaret has a Suite Garden room waiting to host your dream vacation on the Riveria Maya.
This gorgeous property is ideal for adventure seekers who want a honeymoon package providing access to any of the parks at Xcaret.
The rooms have standard amenities like air conditioning, Wi-Fi, and a spacious balcony overlooking the grounds.
After exploring caves, ziplining, or snorkeling, you can recuperate in your private hot tub in your romantic jacuzzi suite before you rinse and repeat.
Premium Swim Up, Live Aqua Beach Resort Punta Cana
£££
Punta Cana, Dominican Republic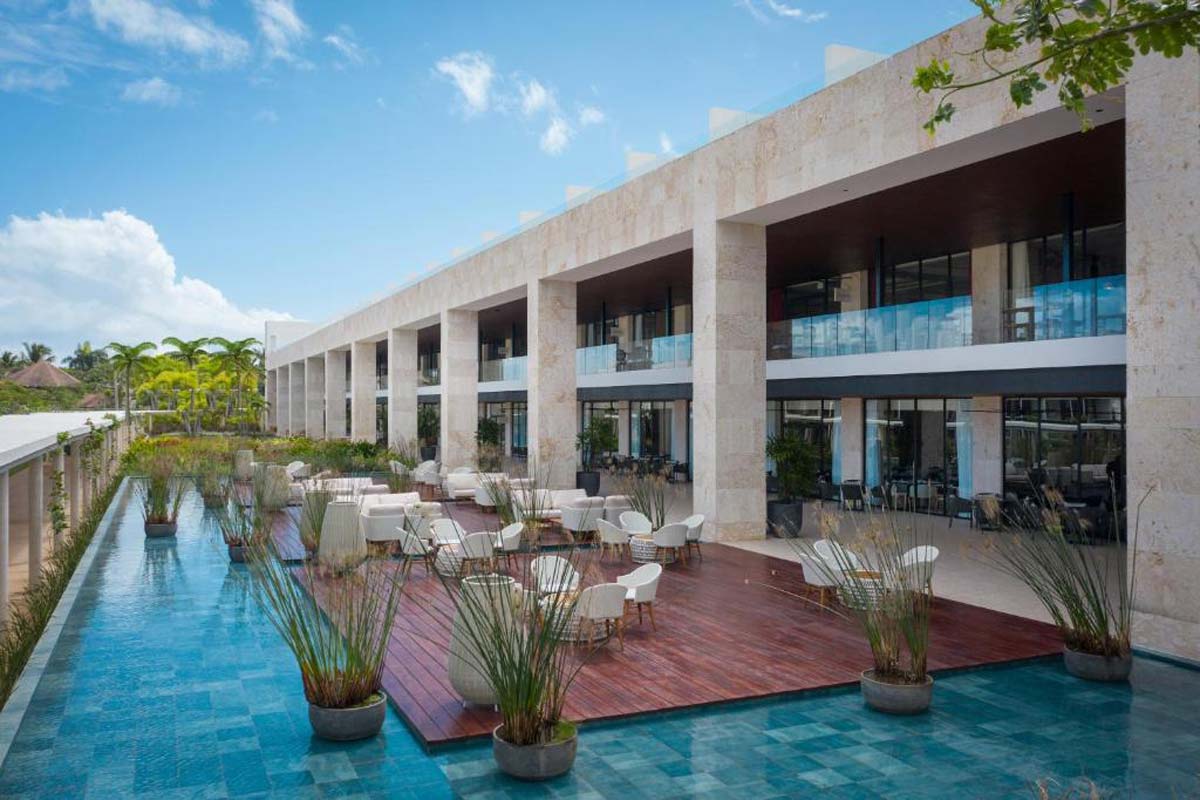 The Dominican Republic is a place we could stay for much longer than the typical honeymoon.
If you decide to change your flight and need to search for "honeymoon suites near me with a jacuzzi" on the fly, Live Aqua Beach Resort Punta Cana should be the first hotel you try.
Not only is your spa tub perfect for an extended stay in the Dominican Republic, but the swim-up pool you can reach just down the steps from your room makes this one of the most romantic jacuzzi suites on our list.
No detail is left out, from hypoallergenic amenities to personal patio furniture. So you can sit poolside with your spouse and celebrate one more night in the Dominican Republic.
Of course, you can always get on another flight tomorrow.
Penthouse Spa Suite Lakeside, Art Deco Hotel Montana
£££
Lucerne, Switzerland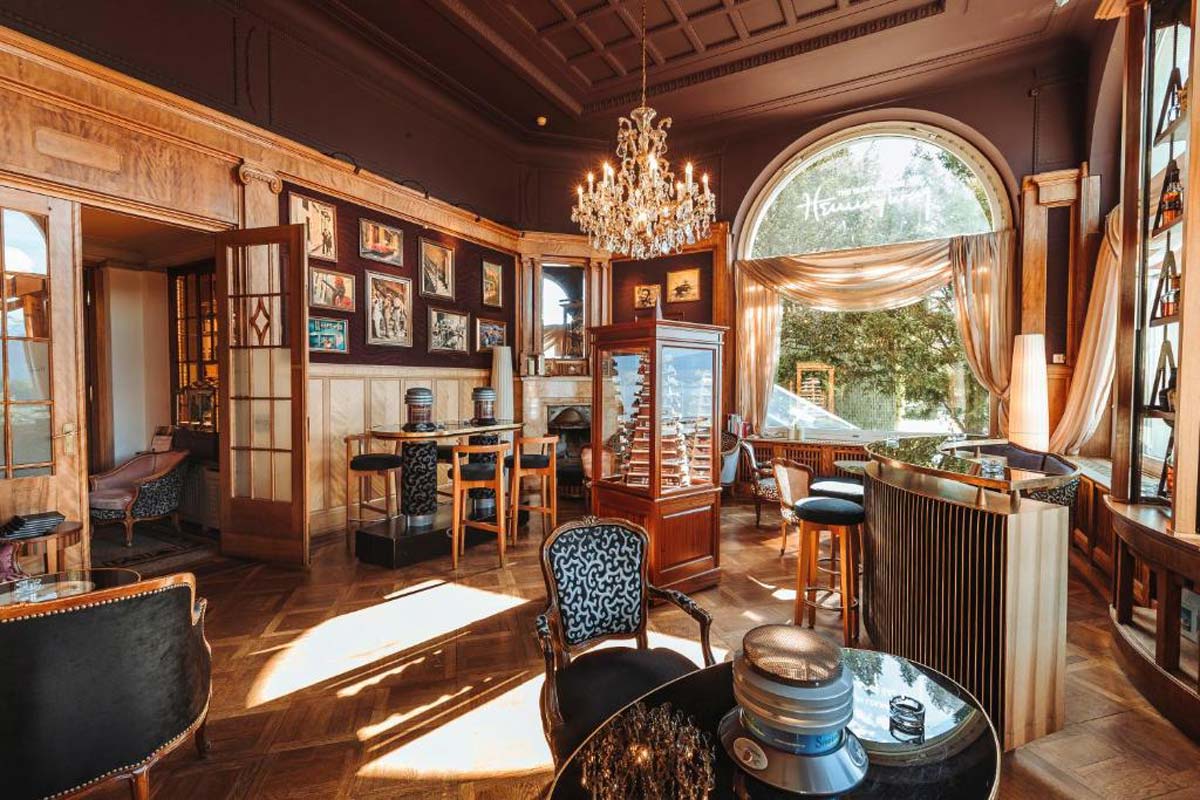 Overlooking the idyllic Lake Lucerne and Mt. Rigi, your spa suite in the Art Deco Hotel Montana has a private hot tub on your balcony for the ultimate honeymoon in Switzerland overlooking The Alps.
The award-winning hotel has top-rate service and one of the most iconic views from any honeymoon suite with jacuzzi in-room you'll experience.
While you won't be snorkeling or lying on white sand beaches, this is a cold-weather hot spot that ranks among our favorite honeymoon destinations.
Have dinner and drinks at Scala Restaurant or Louis Bar, where you and your spouse can vibe to jazz while working through one of the best whiskey lists in Europe before warming up in your romantic jacuzzi suite.
King Suite at Fairmont Sonoma Mission Inn and Spa
£££
Sonoma, California, USA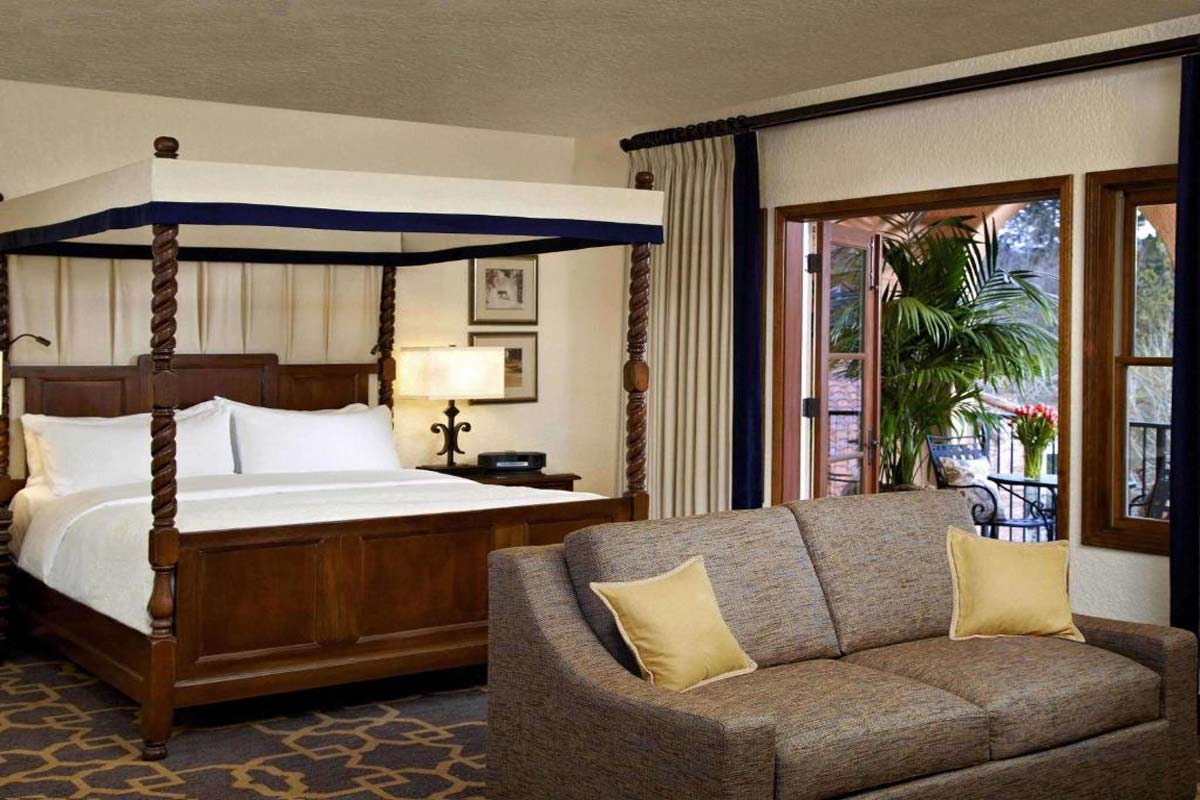 The Fairmont Sonoma Mission Inn and Spa is one of the best hotels with an in-suite jacuzzi in Northern California.
Fairmont Hotels have a reputation for luxury properties with 5-star service and attention to every detail.
The spa tubs in the King Suite allow you and your spouse to relax while enjoying the comfort of one of the best honeymoon suites with a jacuzzi in-room you'll find in wine country. Kick back with your partner while watching TV or having a glass of pinot in your home for the week in Sonoma County.
Order the Smores Kit and roast some marshmallows to enjoy a cozy snack before or even during (we're not judging) your honeymoon bath. You can snuggle up on a cool Sonoma evening near your fireplace or spa bath and feel the romance in the air.
Best Hotels with Jacuzzi in Room: Frequently Asked Questions
What is the Best Hotel to Stay at with Jacuzzi in Room?
For perhaps, the most tasteful, refined, and elegant honeymoon in Europe, the best romantic getaway honeymoon suite is Le Bristol Paris.

Home of not one but two Michelin-star restaurants, cafes with traditional tea service, and a rooftop pool, luxury is not an afterthought. It's inherent in every detail and design.

The romantic jacuzzi suites here feature spa tubs in impeccably designed private bathrooms that are spacious and elegant. The Terrace Suite with Outdoor Spa features not one but two jacuzzis, with an outdoor hot tub balcony being the suite's crown jewel.
Which is Better: Bathtub or Jacuzzi?
Jacuzzis offer a more romantic and luxurious experience than a traditional bathtub. Because they are generally larger and feature jets that pump water out fast enough to massage your body, they give an overall sense of well-being and grandeur not found in a regular bath.
What is a Bathtub with Jets Called?
Jacuzzi is the most common name given to a bathtub with jets. You can use the term jacuzzi for outdoor spas, as well.
What's the Difference Between a Hot Tub and Jacuzzi?
The two words are interchangeable because Jacuzzi is one of the most recognized brands of hot tubs worldwide. While we find any hot tub or spa bath suite romantic, jacuzzi is the most commonly used term for romantic water jet baths.
What do you Call a Hotel Room with a Hot Tub?
You can refer to a hotel room with a hot tub, a whirlpool, a spa, or a jacuzzi suite. Whatever you call it, you'll be happy with the extra romance it adds to your honeymoon retreat.
Practical Tips to Consider Before Booking Your Honeymoon Suite with Jacuzzi in Room
You'll want to know whether the jacuzzi is indoors or outdoors. This is especially true if you plan to spend long periods enjoying an exceptional view in your romantic jacuzzi suite.
Some jacuzzis work best for one person. Be sure you do your homework and call the hotel or research online so you're not starting arguing over whose turn to relax in the hot tub.
Even if private, outdoor hot tubs often require a bathing suit. Be sure to know the hotel rules and respect the people around you before entering the waters in your honeymoon suite with a jacuzzi.
Contact the hotel if you want to arrange flowers, chocolates, or champagne for your jacuzzi. Nothing is more charming than toasting to your future together with a glass of bubbly and some sweet treats.
Confirm if the hotel uses natural or chemical cleaners in the jacuzzi. You won't want to leave the waters with skin irritation if you're sensitive to specific ingredients used in sanitizing hot tubs.
Romantic Jacuzzi Suites: Read Next