Discover the top destinations for a honeymoon in Greece. This handy guide has got you covered.
Greece. It's one of the most beautiful and historical places on Earth and is best known for whitewashed towns, delicious food, mythology, and ancient temples.
Sure, there are plenty of touristy things to see like the Acropolis, Mt. Olympus, and Epidaurus Theater, but there are also adventures to be had like hiking, sailing, snorkeling, and more.
Comprising more than 6,000 islands and islets, Greece is home to some well-known places like Santorini, Mykonos, and Crete, but there are so many more to explore. There are nearly 10,000 miles (16,000 kilometers) of coastline in Greece, including beaches of different colors.
All of this is before we even start on the food and wine.
Convinced yet? We thought you might be.
Why Honeymoon in Greece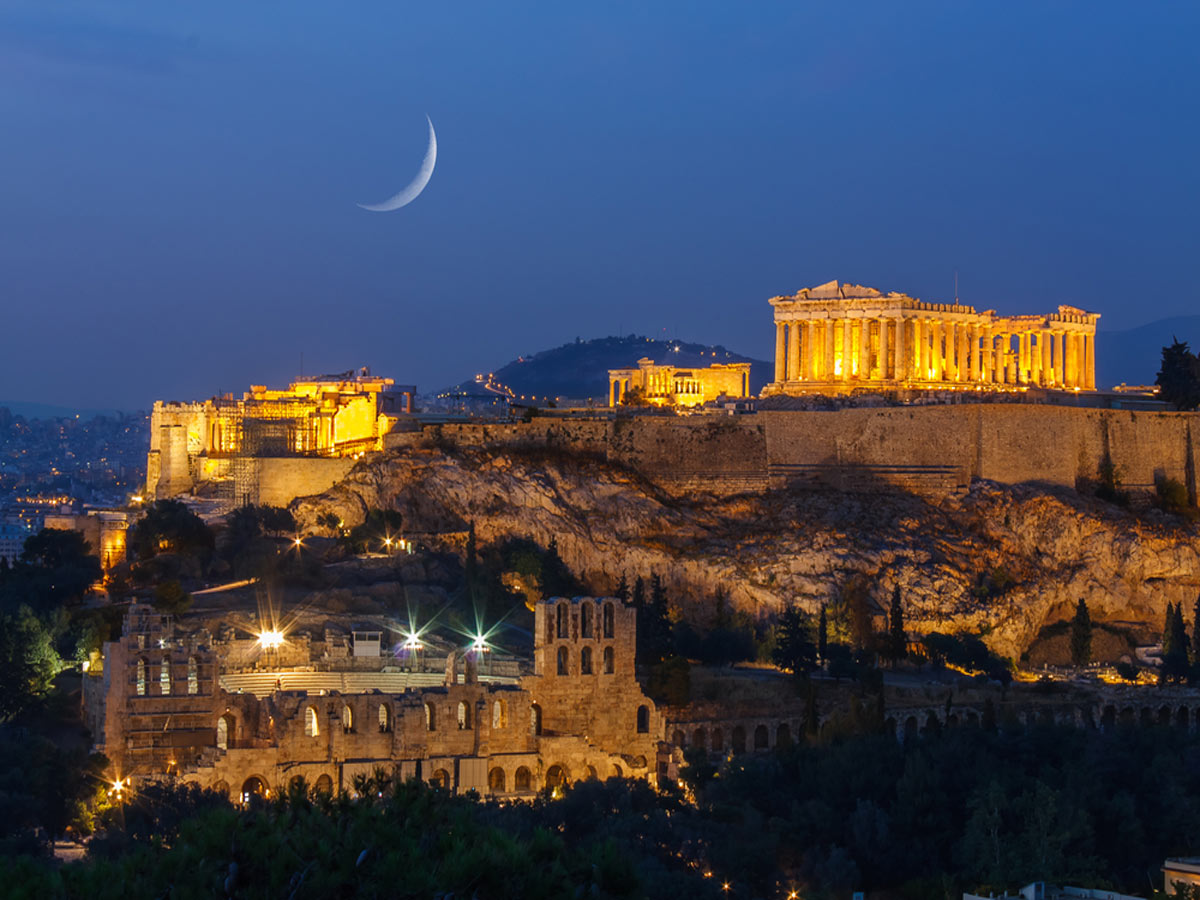 The list of reasons why you should honeymoon in Greece is never ending. And, quite frankly, we would be here all day if we tried to list them all. But we'll give you a little glimpse…
Not only is Greece a stunning spot, but it's one of the sunniest places on Earth. We're not being dramatic; on average the country sees nearly 300 days of sunshine, making it a great option for couples who like being outdoors.
And, because of the good weather, you can visit Greece any time of the year and you won't be disappointed.
If you and your partner are interested in ancient history, then a Greece honeymoon should be at the top of your destination list. Spotting the iconic temples, buildings, and artifacts from so long ago is an eerily magical experience.
Best Honeymoon Hotels & Resorts in Greece
Villa Bordeaux
Santorini
$$$
Best for a Luxury Honeymoon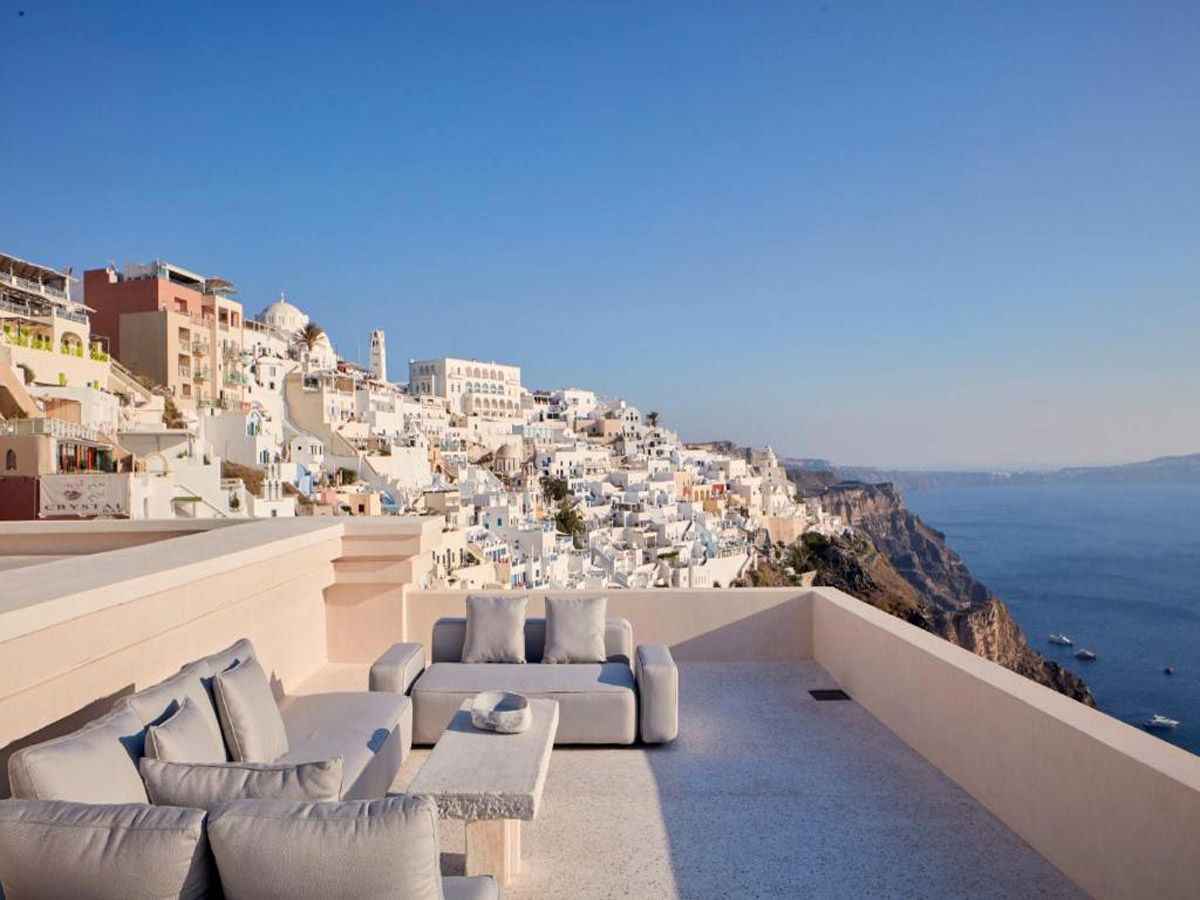 Let's kick things of with a killer honeymoon resort in Greece. Villa Bordeaux strives to make your honeymoon as special as possible. There might only be four suites available in this boutique hotel, but that makes for a very private and intimate experience.
They offer a 24-hour reception desk, twice daily maid service, bell boy service, travel and excursion arrangements, transfer services, and laundry service. You don't need to lift a finger during your stay.
The on-site restaurant features French and international dishes, as well as light meals and strong cocktails. Room service is also available for an ultra-romantic date night.
But, the pool area is one of the most gorgeous parts of this resort. It overlooks the sparkling sea with stunning views of volcanoes.
Hotel Grande Bretagne
Athens
$$
Best for Foodies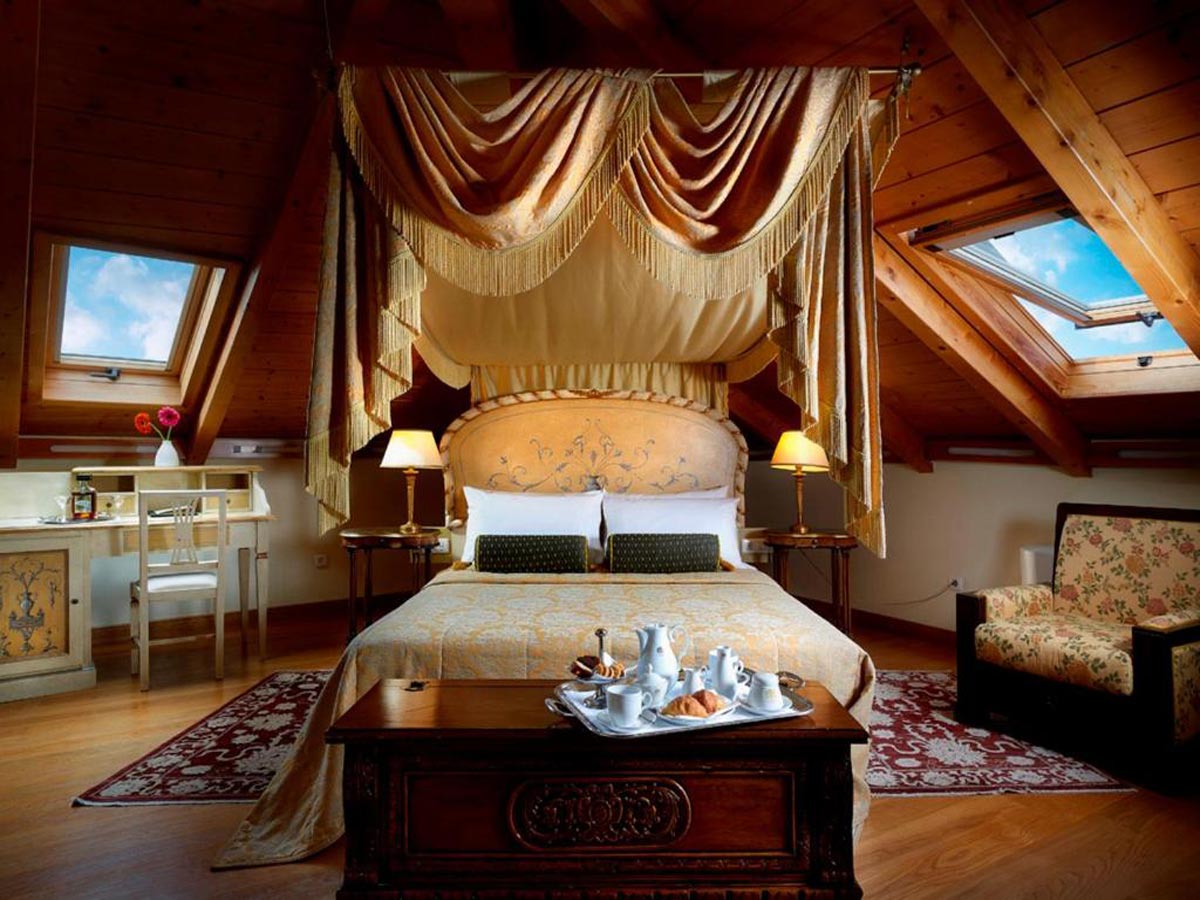 Hotel Grande Bretagne offers guests exemplar rooms and suites that feature a refreshment center and nightly turndown services. Oh, and the hotel also offers personalized 24-hour butler service so you can really relax.
But the real reason we love Hotel Grande so much is for its dining experiences – there are 7 different restaurants and bars. Whether you're in the mood for fine dining or casual cocktails, Hotel Grande has got you covered.
You can also opt for private dining and in-room dining experiences, if you're in the mood for something a little more intimate.
Perivolas
Santorini
$$$
Best for Privacy and Laidback Luxury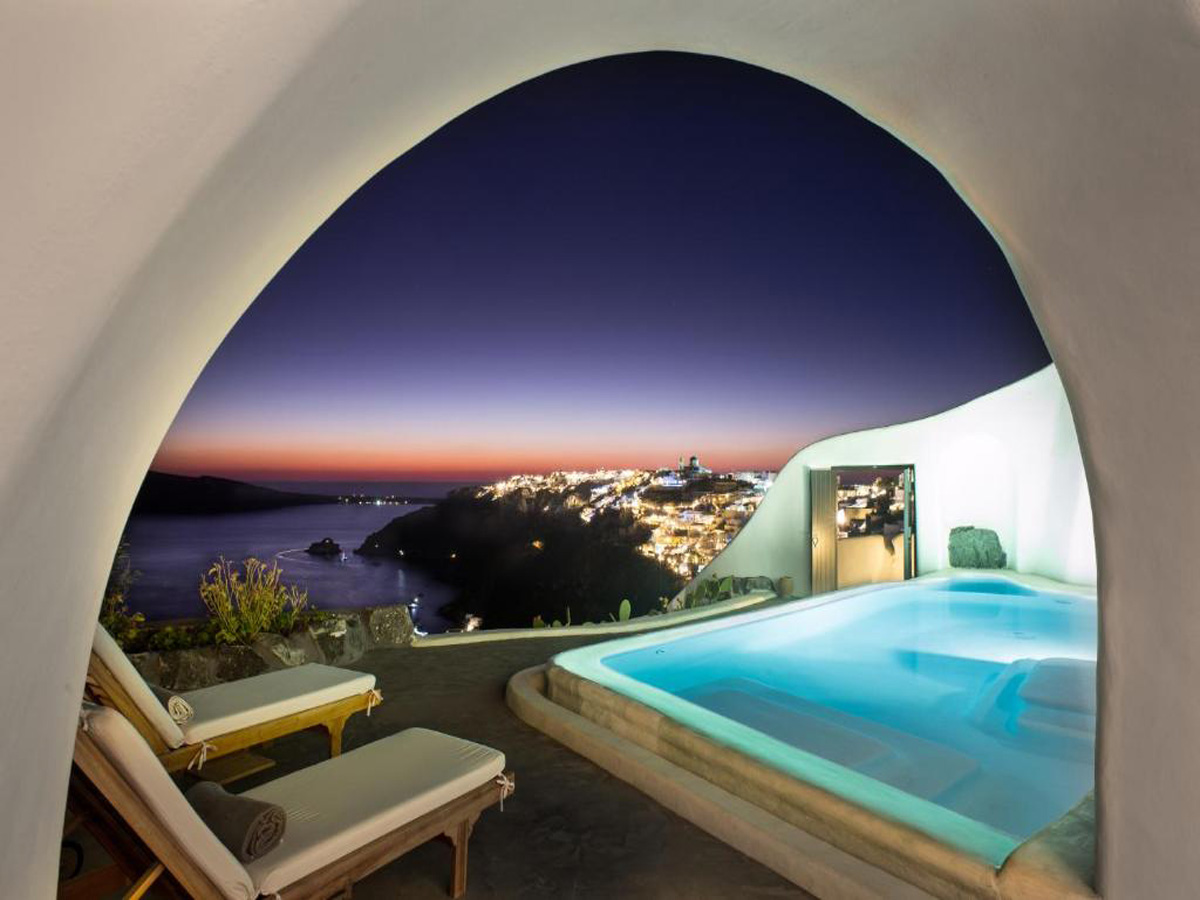 Perivolas is one of the top honeymoon destinations in Greece. Guests can stay in individual cottages for the ultimate privacy, and some even come with a pool or jacuzzi.
Exclusively open to hotel guests, the Perivolas Restaurant provides seasonal creative dining experiences.
The star of the show, though, is the gorgeous infinity pool that overlooks the islands and the sea. It's a romantic spot for cocktails while watching the sunset.
Another epic viewpoint is the jacuzzi in the wellness center, that has unspoilt views of a nearby volcano. Speaking of the wellness center, there are different services available such as massages, body wraps, aroma therapy, and more.
Atrium Palace Thalasso Spa Resort & Villas
Kalathos
$$
Best for an All-Inclusive Honeymoon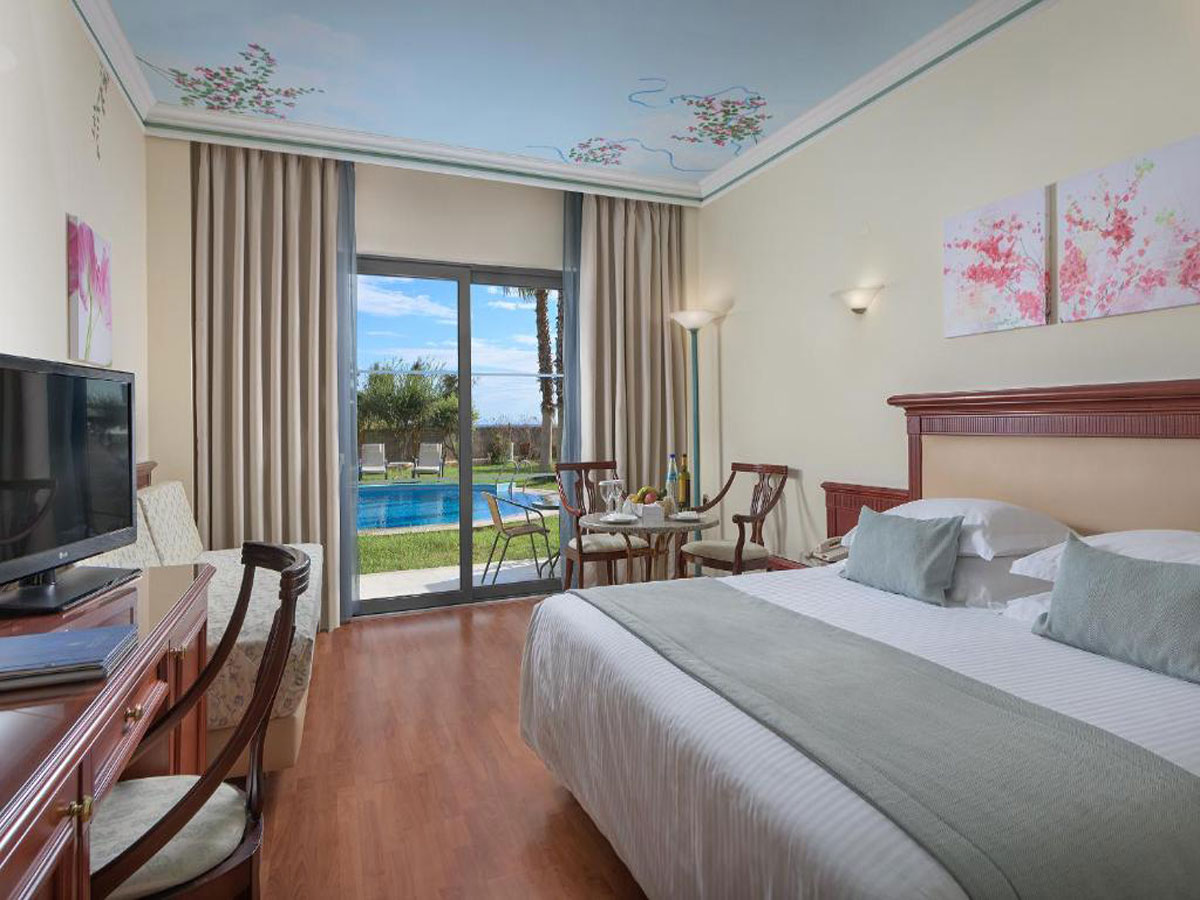 Introducing the stunning Atrium Palace Thalasso Spa Resort & Villas. This 5-star resort is a top location for Greece honeymoons because of their all-inclusive packages.
Their premium all-inclusive package includes breakfast, lunch, and dinner. While your room or villa has an in-room mini-bar with beverages included. There are four restaurants on-site as well as three bars.
There's also a luxury spa on site that offers beauty therapy, body treatments and, of course, revitalizing massages – and there's an option for a couples massage.
Aegialis Hotel & Spa
Amorgos
$$
Best for Rest and Rejuvenation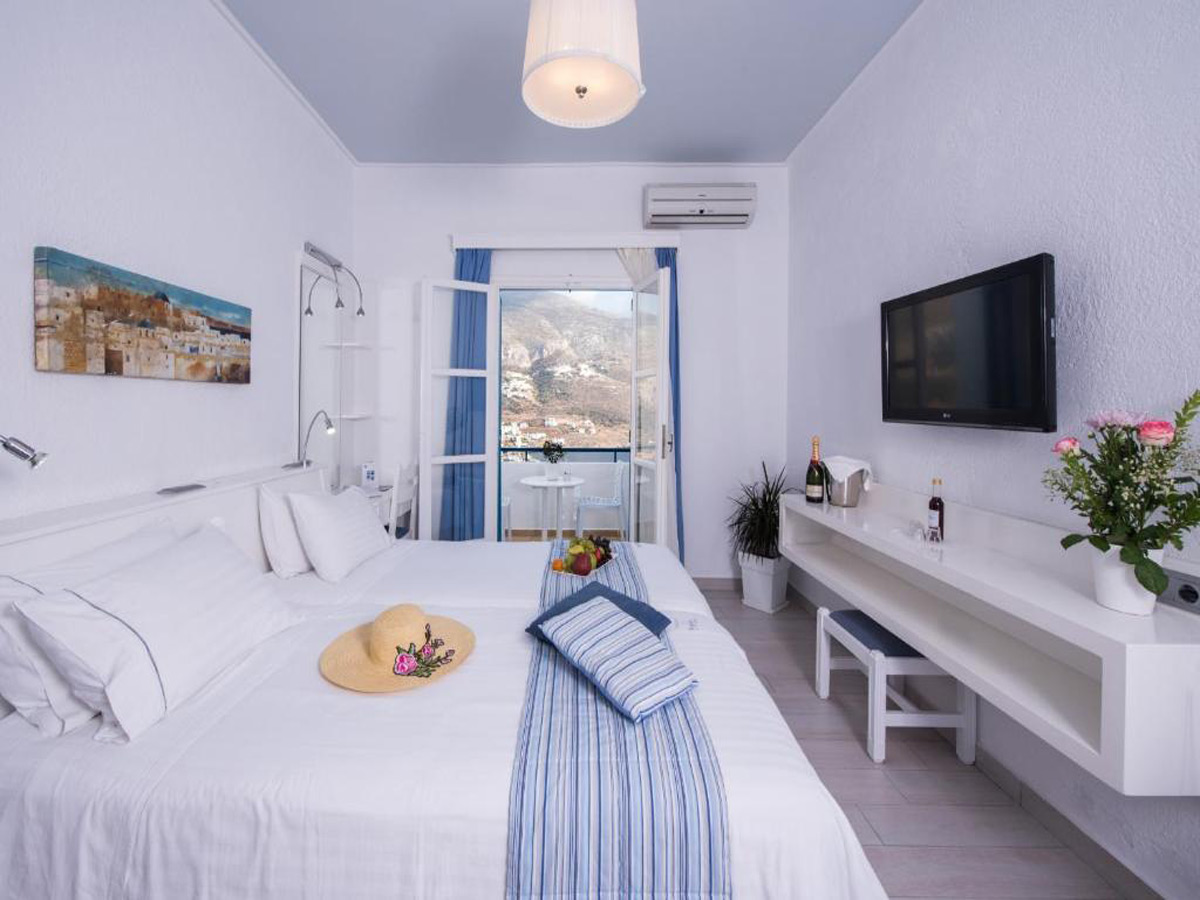 As one of the top Greece honeymoon hotels, Aegialis Hotel and Spa offer an epic 11 Day Luxurious Greek Honeymoon package.
Stick with us here, as that includes tours and transfers in Athens, Santorini, and Amorgos, a boat experience, a donkey ride, a cooking class with a tasting, three nights on different islands, breakfast and dinner daily, spa treatments, and ferry boat tickets.
The spa onsite features an indoor swimming pool, a jacuzzi, a sauna, a hammam, and a fitness center. You can book services like body exfoliations, hydro therapies, and different massage treatments.
Guests can enjoy the surrounding beaches, local restaurants, scuba diving, and more. This hotel and spa is one of the best honeymoon hotels in Greece.
Greece Honeymoon Tips: What You Need to Know
How to Get to Greece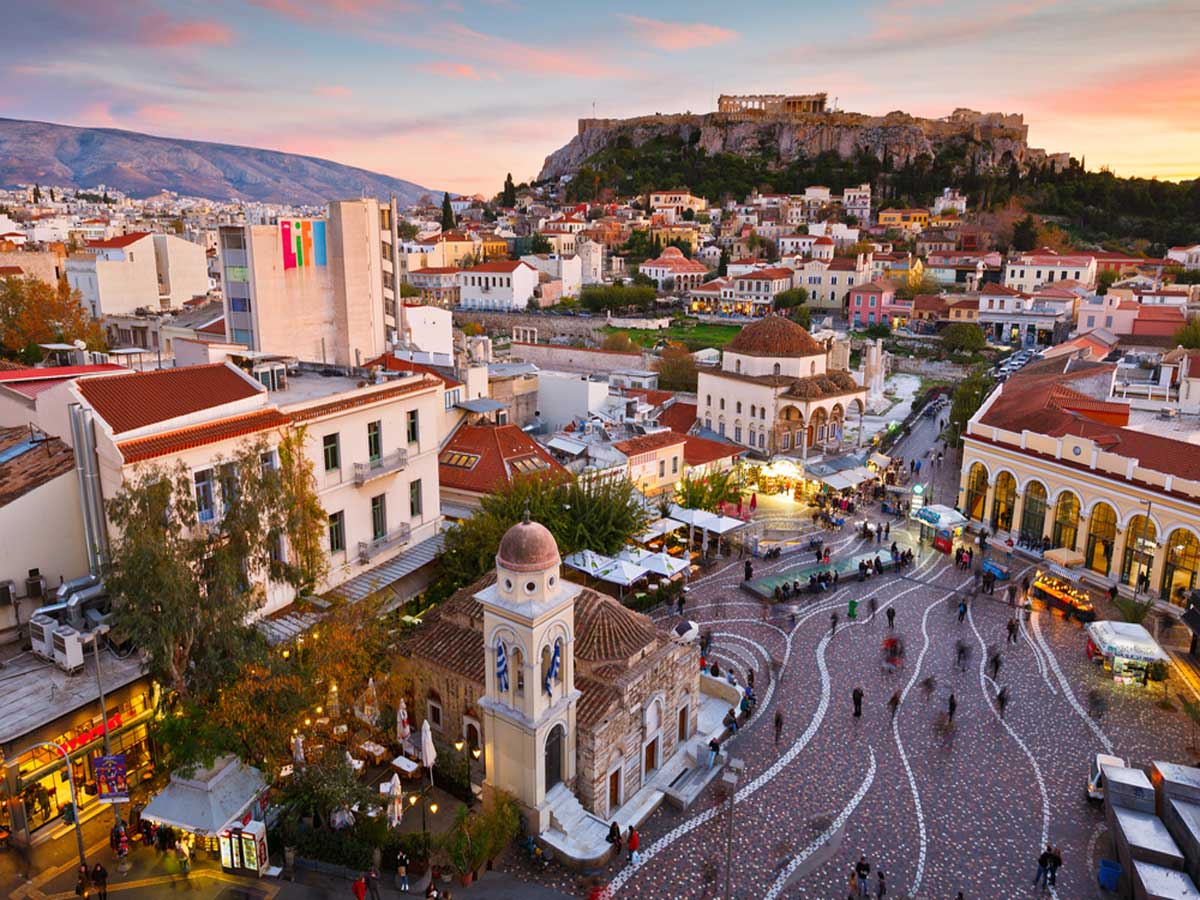 The two most popular airports in Greece that visitors fly into are Athens International Airport (ATH) and Thessaloniki Airport Makedonia (SKG). Once in Greece, you can travel around the islands by ferry, small planes, and mopeds.
The Best Greece Honeymoon Destinations
Sifnos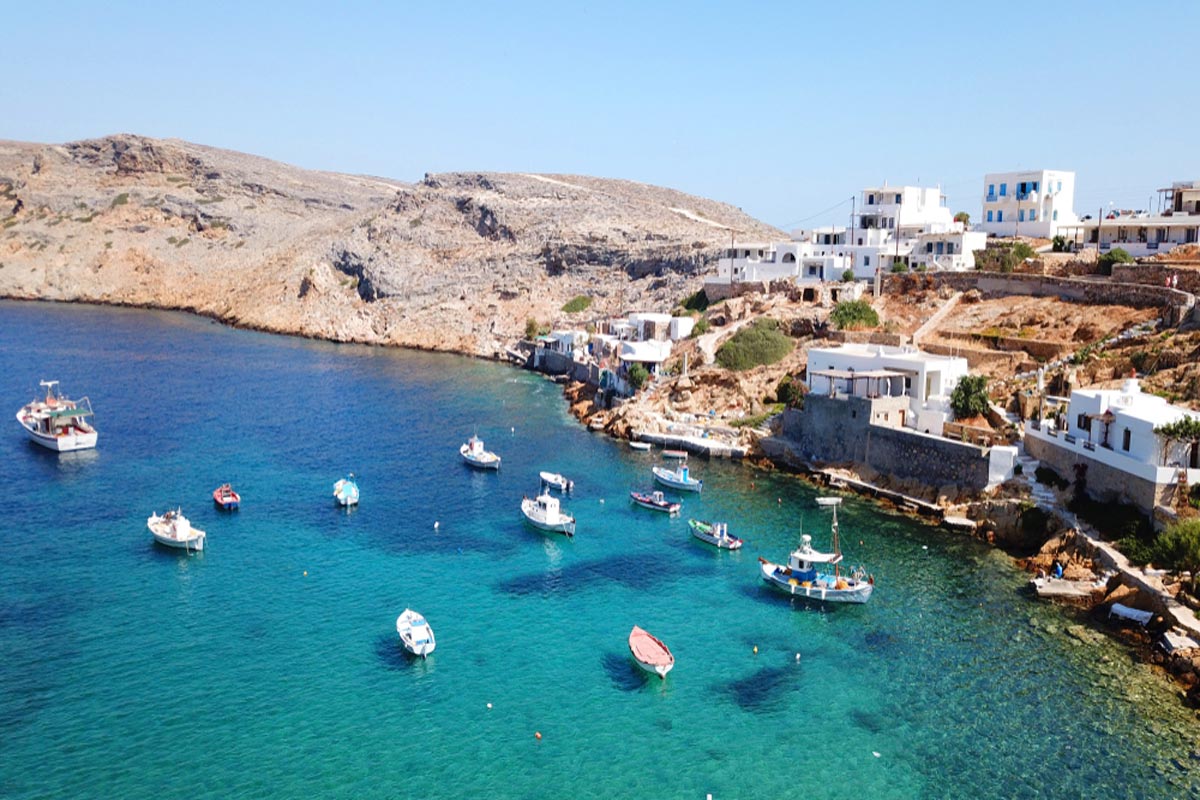 Sifnos is best known for its stunning beaches, mouth-watering cuisine, and fun but laid-back nightlife. Located among the Cyclades Islands, Sifnos is less visited by tourists than some of the other islands and features traditional architecture with whitewashed buildings.
Some of the top restaurants include Omega3, Astro, and To Steki, so you're never short of places to dine.
The island features plenty of things to see and do, including the medieval walled village of Kastro, countless secluded beaches and coves, The Chrisopigi Monastery which was built in 1650, and an epic hike to Panagia Poulati, a remote church built in the 1870s.
Santorini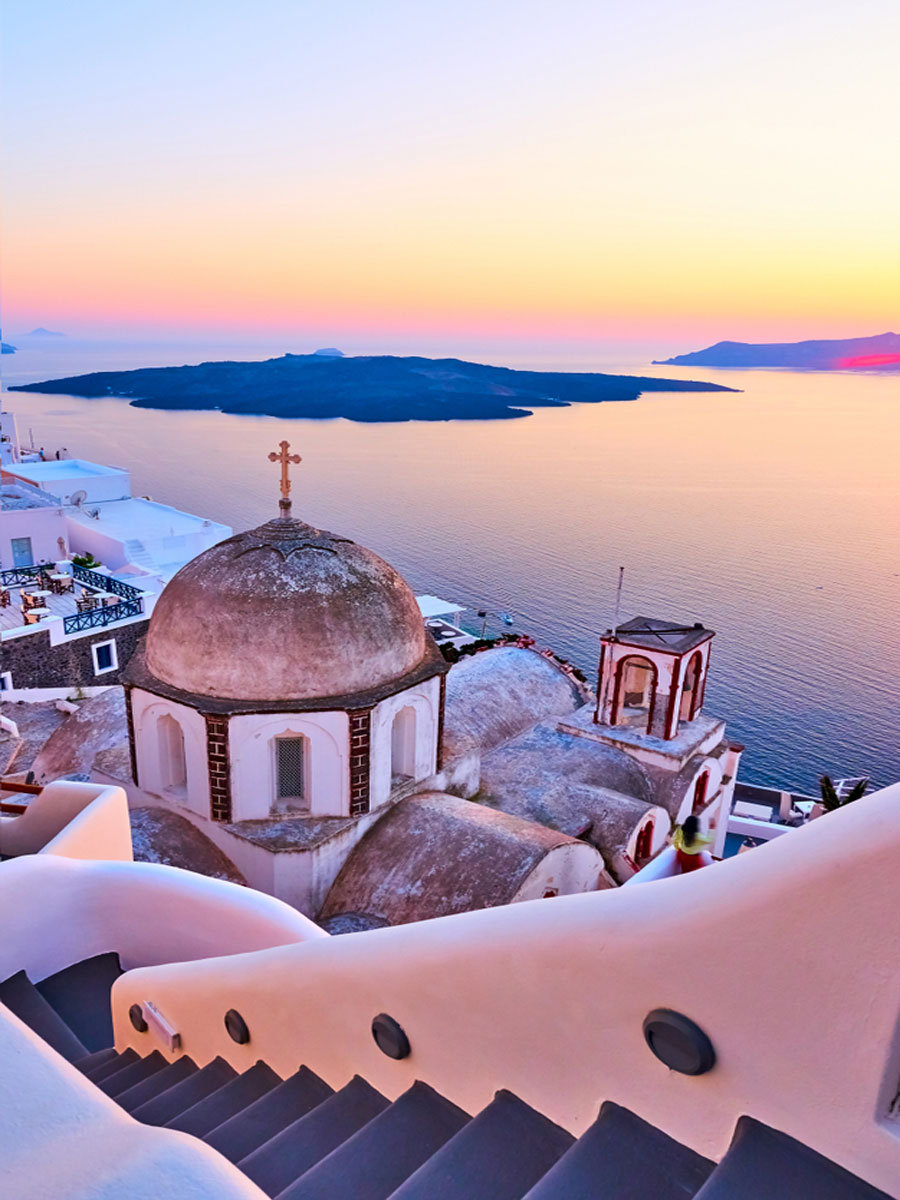 Famed for its volcanic beaches and unforgettable sunsets, Santorini is a super romantic island for couples. Though it's more popular with tourists than some other places, it's completely understandable.
Some of the top sites in Santorini include Skaros Rock, Ammoudi Bay, Agios Theodori Church, Imerovigli, and the red and black sand beaches. Taking a day trip to wine country is also a popular way to spend a vacay here.
Paros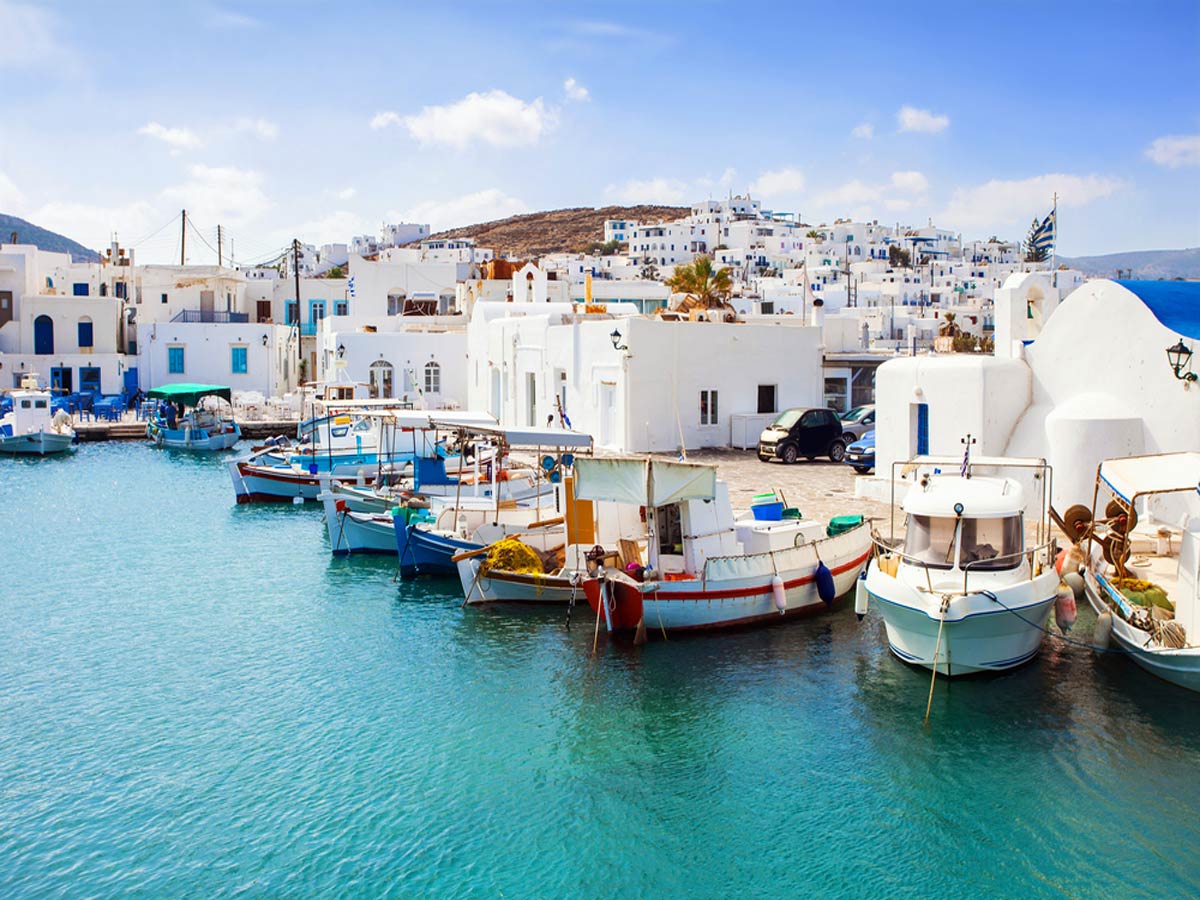 One of the most popular Greek honeymoon locations, Paros is a traditional village known for its beautiful white marble.
While visiting, you can enjoy windsurfing, boat tours, relaxing on the beaches, taking a trip to The Blue Lagoon, hiking, scuba diving, cliff jumping, plus so much more. It's a great island for adventure seekers.
Iraklia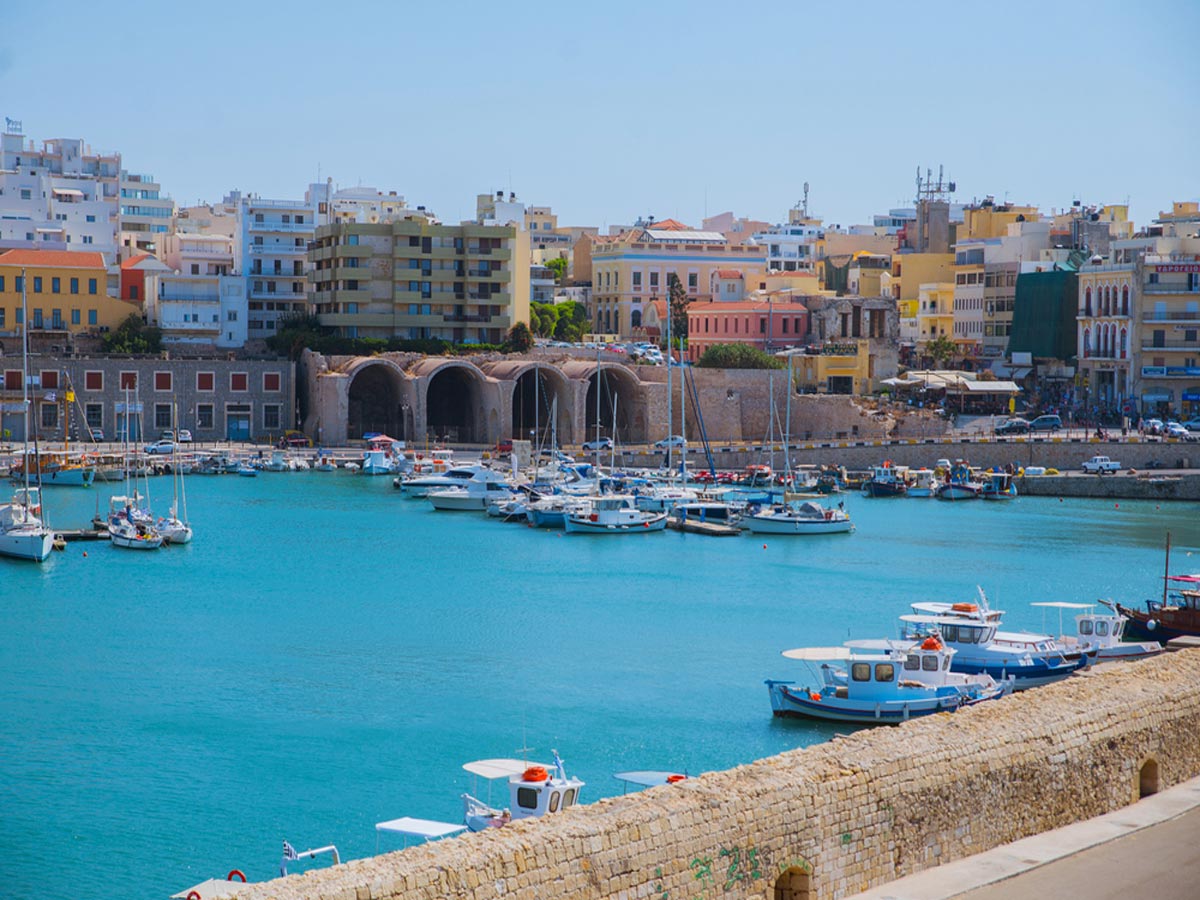 If you're looking for peace and tranquility, Iraklia is the spot for you. Slightly removed, this stunning beach is where the tree line and shore meet.
It's lightly populated with few tourist visits, leaving its beauty unrivaled, a laidback vibe, and not much to do but soak up the sun and admire the natural beauty all around.
Common sites and attractions include the Church of Panagia, the Cave of Saint John, hiking, snorkeling, diving, and bird watching.
Athens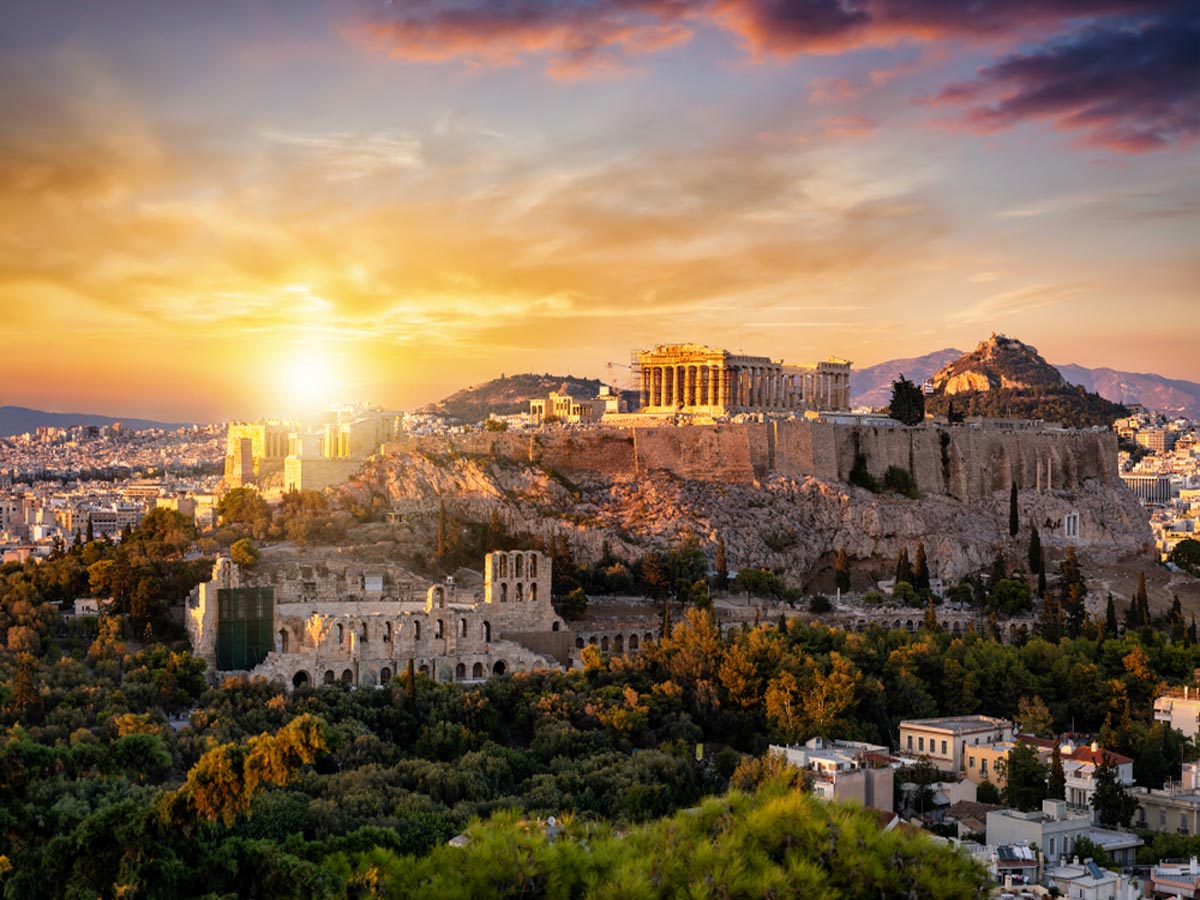 No Greece honeymoon guide is complete without Athens, right? Famous for its ancient history, ruins, and architecture, strolling through Athens is like stepping back in time.
Millions of people come from around the world to visit The Acropolis, the Parthenon, and the Temple of Olympian Zeus. Other popular things to see and do include museums, shopping in Plaka, Monastiraki Square, or visiting any of the rooftop bars for incredible views of the city.
Mykonos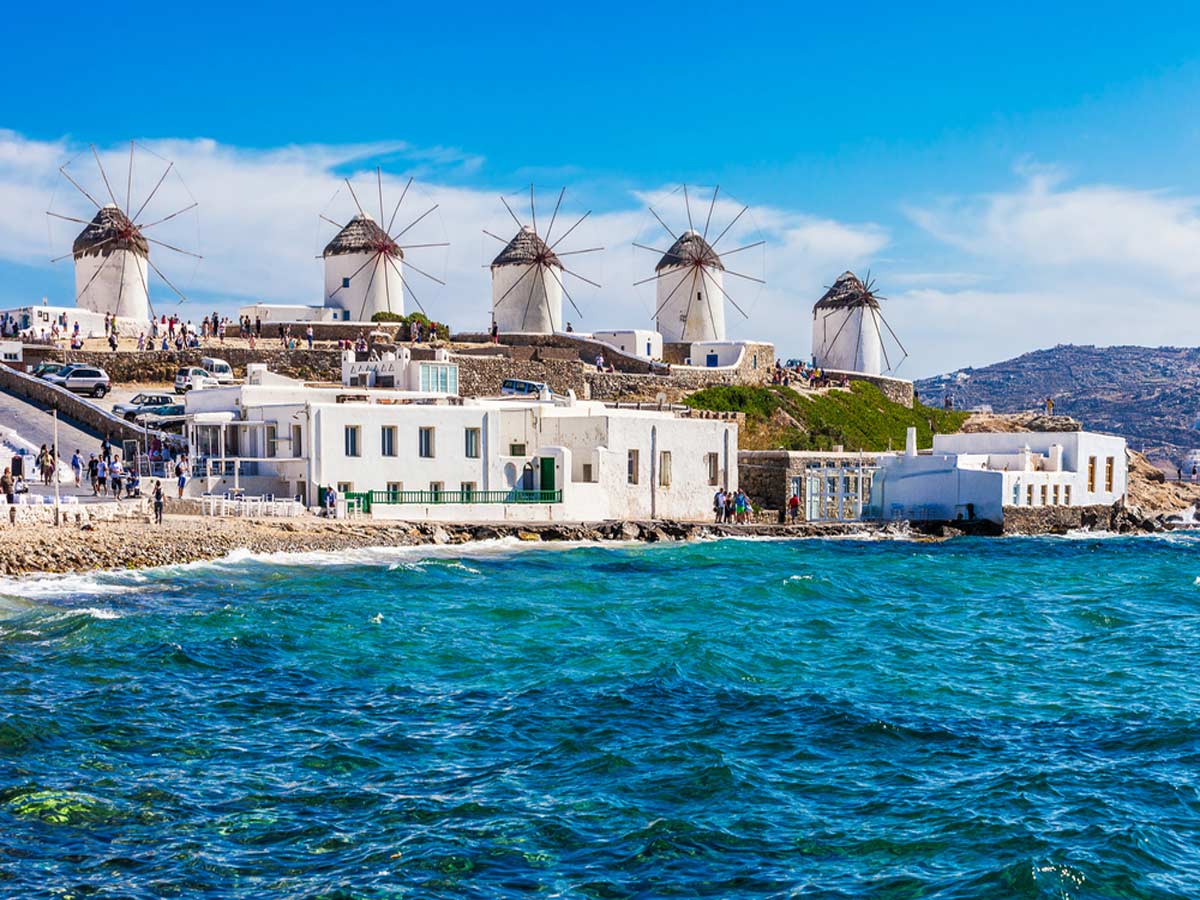 Mykonos isn't exactly under the radar, but it's one of the best honeymoon spots in Greece. Known for the classic white-washed homes and buildings that everyone pictures when they think of Greece, it has a little bit of a party reputation and has alluring beaches.
Points of interest in Mykonos are Little Venice, the Church of Panagia Paraporti, the Folklore Museum, the Monastery of Panagia Tourliani, and the Armenistis Lighthouse.
Fun things to do include snorkeling, scuba diving, kayaking, sailing, and (our favourite) wine tours.
The Best Time to Visit Greece
Since Greece is such a sunny destination, there really isn't a bad time to visit the islands. Summer is excellent, but it can be busy and costly. We recommend the months of May, September, and October to be the best.
How Long to Spend on Your Greece Honeymoon
For most honeymooners, anywhere between 7 and 10 days is ample time to explore the islands of Greece. That said, if you're traveling from place to place, three days in each destination is ideal.
How Much Does a Greece Honeymoon Cost?
Most couples can expect to spend anywhere between $2,000 to $4000 on a week-long honeymoon in Greece.
As always, the cost can be determined by many factors – it's important to take into account, flight costs, the number of excursions you plan on taking, how many islands you plan to visit and meal costs, etc.
One of the best ways to stick to a budget is to look for hotels and resorts that offer Greece honeymoon packages.
Greek Honeymoon Resorts: Map
Greece Honeymoon Guide: Read Next