Discover these unique honeymoon destinations – unusual honeymoon ideas for those that love to explore.
Want to have a honeymoon with a difference? Delve into the most unusual and unique destinations to celebrate your nuptials. From far-flung islands to ancient kingdoms, these are the top spots to consider.
17 Honeymoon Destinations
Roatán, Honduras
Best For: An unique island getaway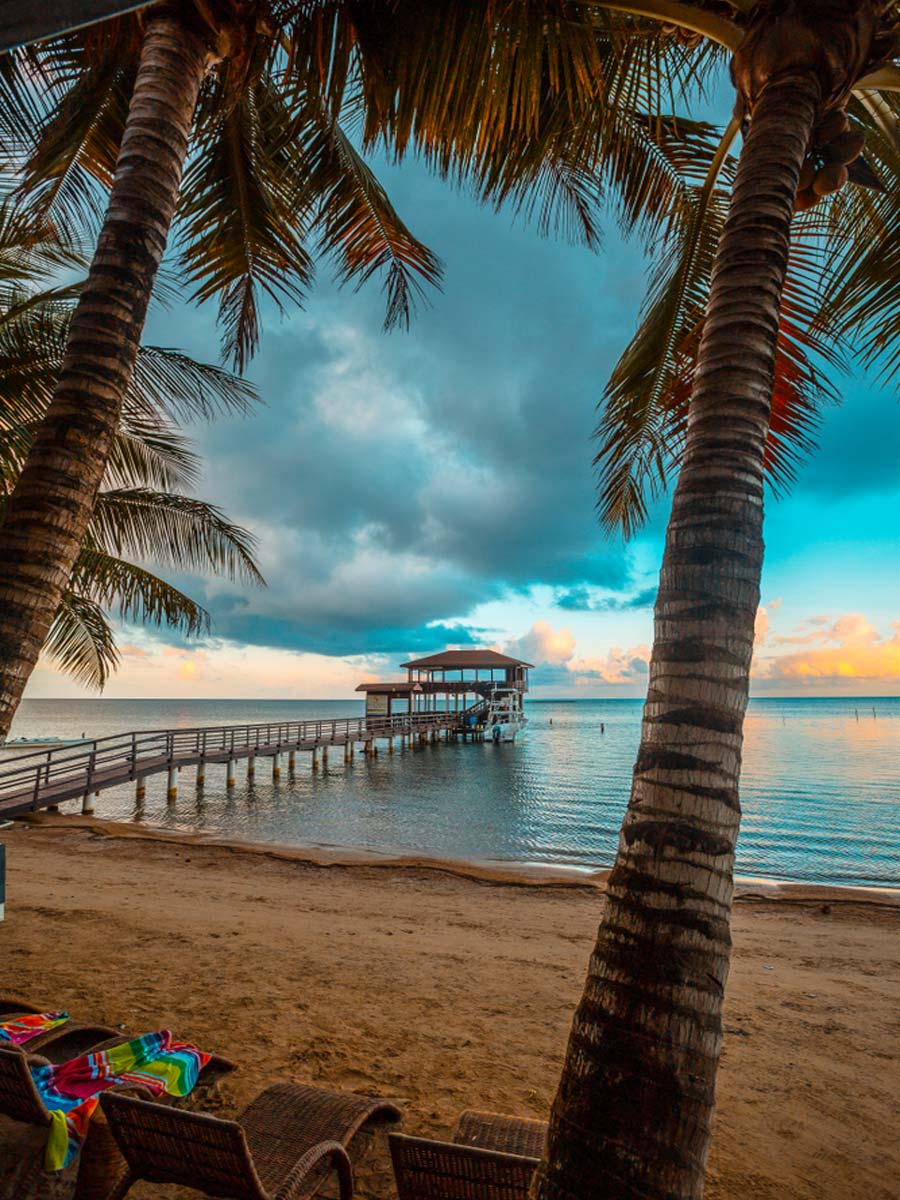 Isn't Roatan just another tropical island paradise? Well, yes, it's that and so much more.
Roughly 40 miles off the coast of Honduras, Roatán is the perfect alternative honeymoon spot.
Boasting some of the best snorkelling and diving in the world, its waters are teeming with sea life and ready for you to explore – you might even find a shipwreck or two.
Add to that a laid-back island culture and a ridiculously affordable price tag and you can see why Roatan is a winner.
Top Attractions
Gumbalimba Park – In this park, you can mingle with capuchin monkeys and find (a lot) of black iguanas and even sloths.
Carambola Gardens – A magical botanical garden, perfect for leisurely hikes and indulging in nature.
Suggested Honeymoon Duration: 7 days
Suggested Stay: Grand Roatán Caribbean Resort
Banff, Canada
Best For: A romantic outdoors escape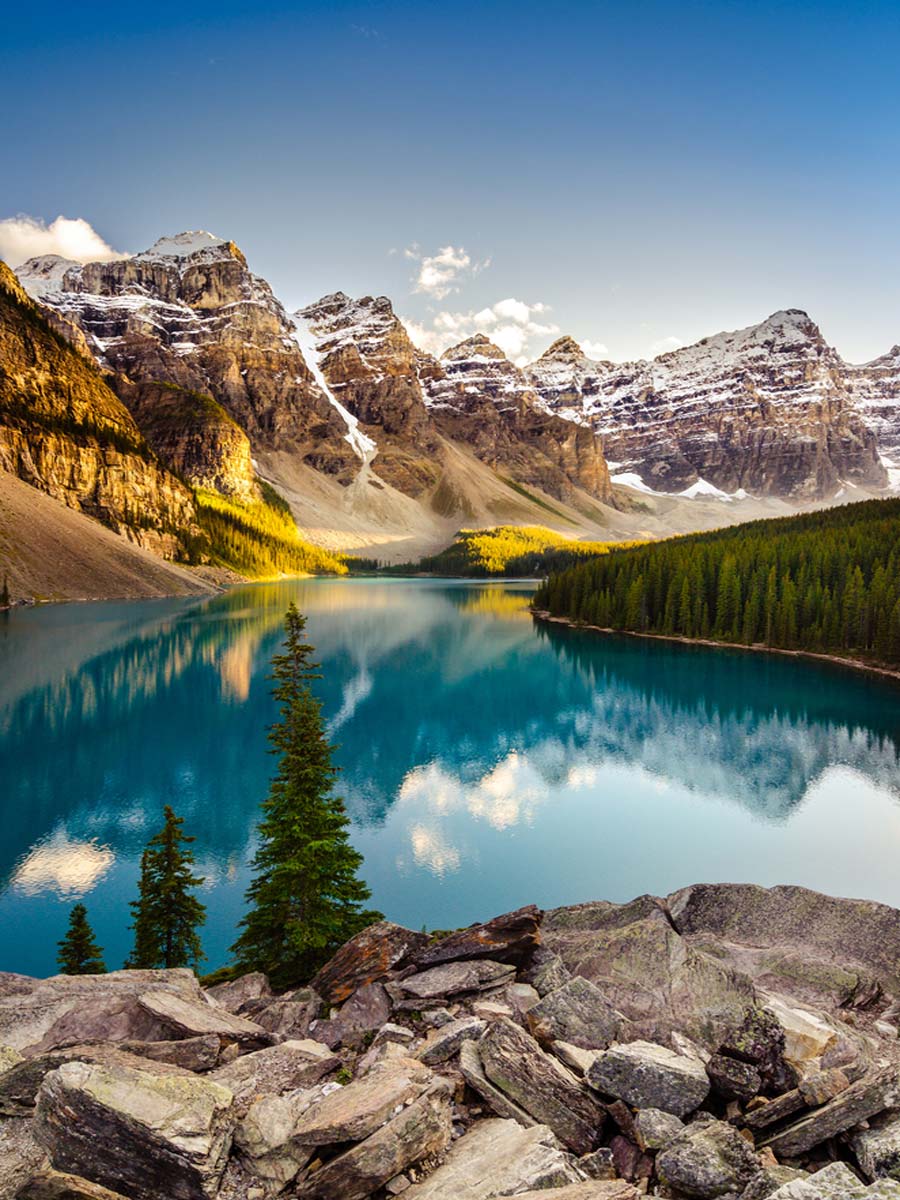 Not into the idea of a flop and drop honeymoon? Banff is the perfect antidote to all that. Sitting in the middle of two peaks of the picturesque Rocky Mountains, Banff is an outdoorsy couples' paradise with endless hiking opportunities in the summer and some serious skiing creds in the winter.
Top Attractions
Banff's Stunning Lakes – You've seen the azure waters of Moraine Lake and Lake Louise (among many others) all over the 'Gram… now it's time to see them in real life.
Banff Upper Hot Springs – A stunning natural hot spring with epic views of mountain peaks. We recommend visiting at night for a more intimate and memorable experience.
The Banff Gondola – Taking you and your partner to one of the most stunning viewpoints over the town.
Suggested Honeymoon Duration: 5 days
Suggested Stay: The Fairmont Chateau Lake Louise
Patagonia, Chile & Argentina
Best For: An adventure-focused retreat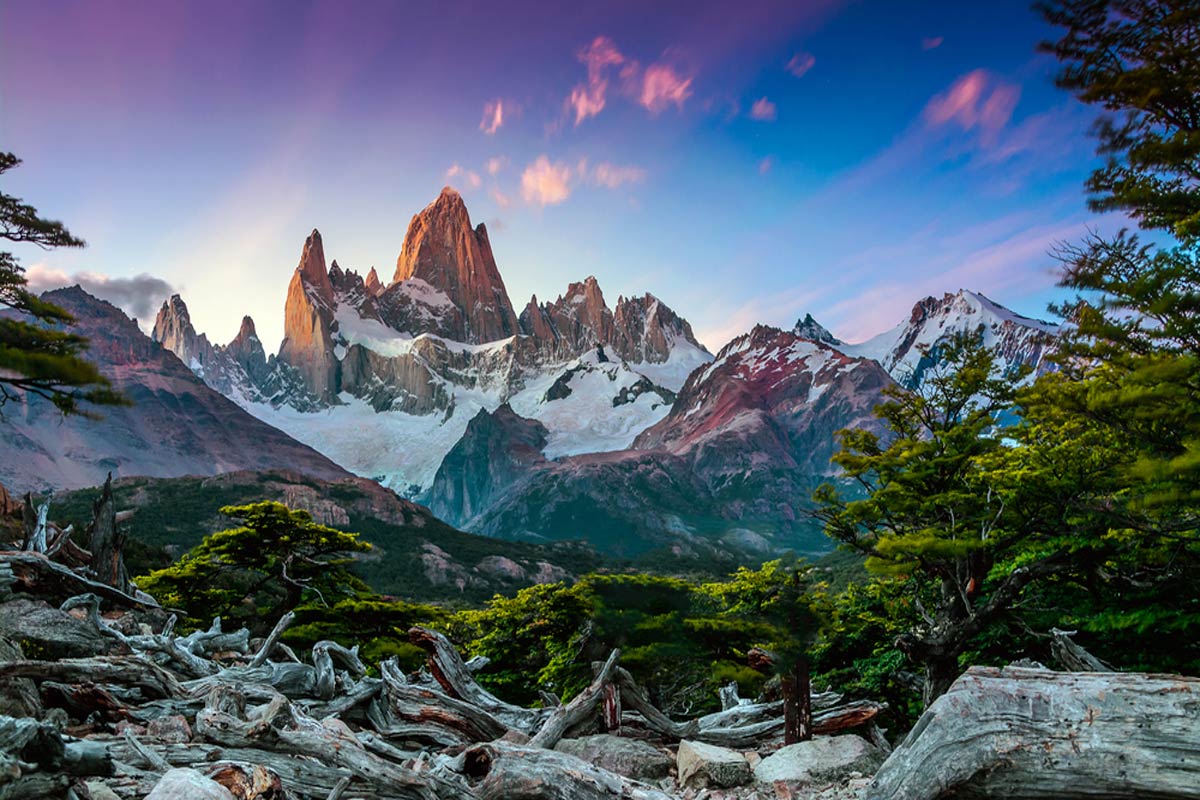 Straddling the southernmost tip of South America, the almost otherworldly Patagonia crosses through Chile and Argentina.
You're in the right place if you want an adventure-packed honeymoon with snow-capped mountains, glacier parks, and wildlife.
Top Attractions
Calafate – Dubbed the 'gateway to Patagonia' this small, vibrant town is a must-visit. From here, you can head out to the Perito Moreno Glacier.
Puerto Madryn – Inside the Valdes Peninsula, this is the perfect site for whale watching or visiting Magellanic penguin colonies.
Torres del Paine National Park – If you really want a challenge, set off into Torres del Paine to tackle the renowned W or O treks for stunning views and windswept landscapes.
Suggested Honeymoon Duration: 10 days
Suggested Stay: Explora Patagonia
La Rioja, Spain
Best For: Lovers looking for vino and vineyards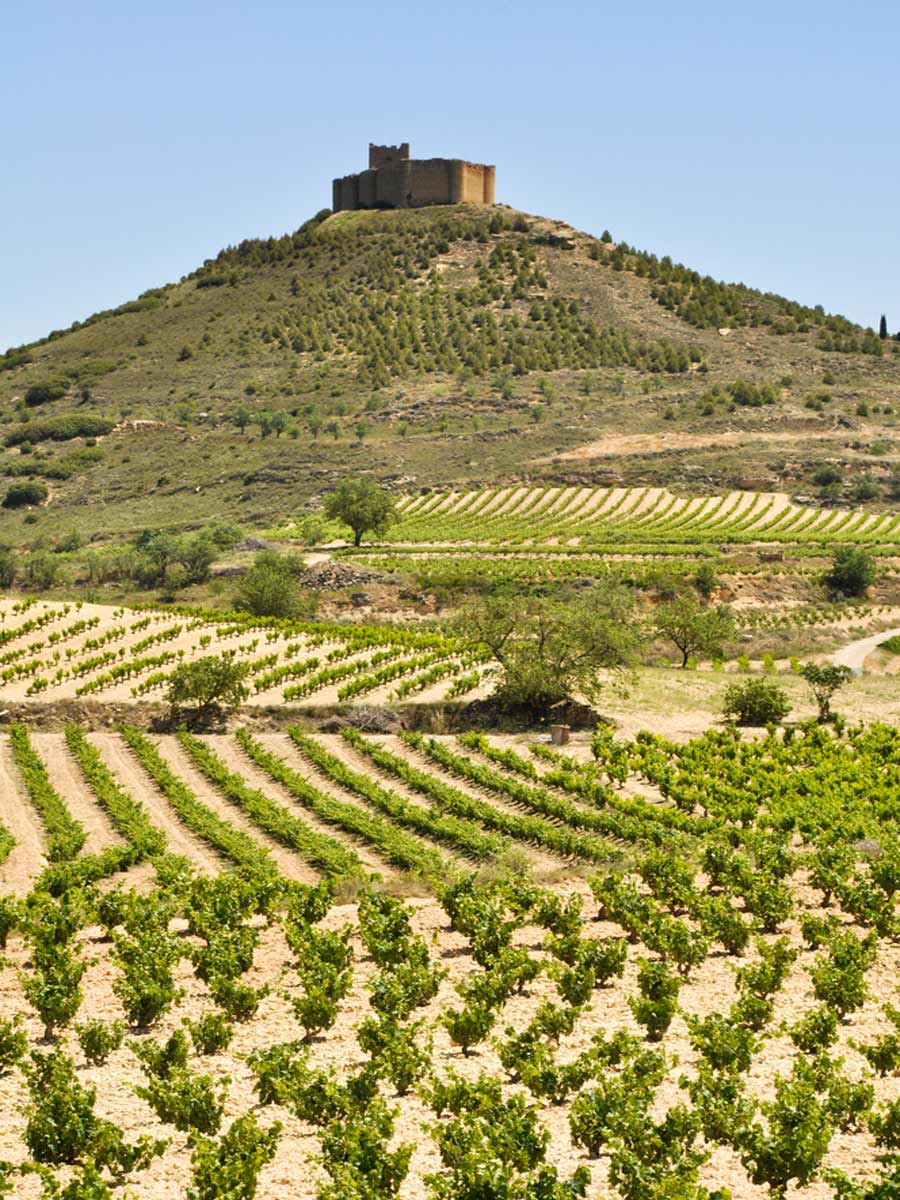 La Rioja is many things. It's Spain's northern wine region, but it's also brimming with cultural experiences that few other places can compare with.
It boasts a culinary scene near perfection, and did we forget to mention the picturesque rolling hills of vineyards?
Top Attractions
Vivanco Museum of Wine Culture – An eclectic but brilliant museum where bottles of wine from ancient Rome meet original Picasso paintings.
Caudalíe Vinothérapie Spa – This world-famous venue blends wine with relaxing spa treatments (quite literally) such as the Wine Maker's Massage.
Suggested Honeymoon Duration: 5 days
Suggested Stay: Hostería del Monasterio de San Millan
The Atacama Desert, Chile
Best For: A mind-blowing desert escape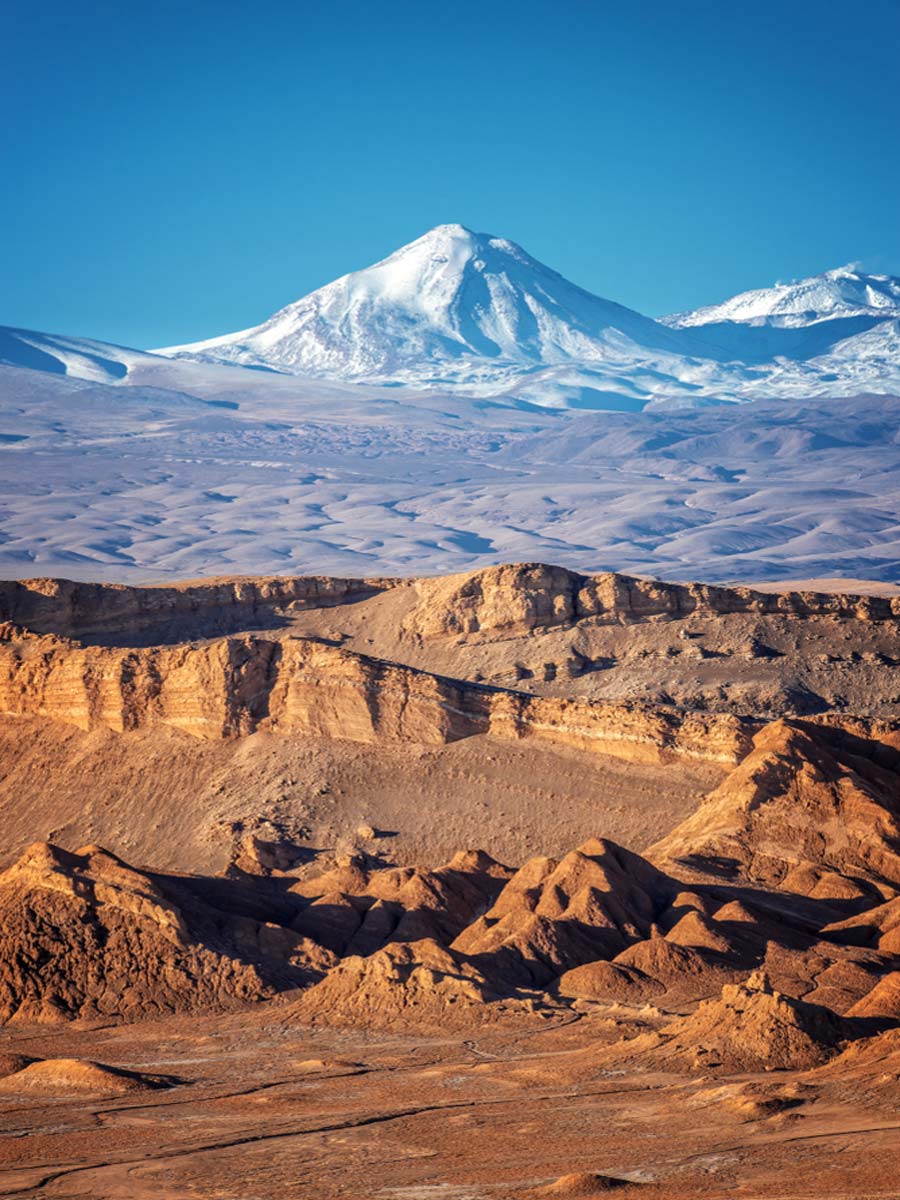 Is there anything more unique than spending your honeymoon in the driest desert in the world?
In an almost ethereal location, you and your partner can float in saltwater pans, hike volcanic trails, sandboard, see bizarrely-coloured lakes and stargaze like heaven on Earth.
Sounds perfect, right? It certainly is.
Top Attractions
Salar de Atacama – Unparalleled scenery lies within the largest salt pan in Chile, perfect for a candle-lit dinner.
Moon Valley – Located at the foot of the Andes, sunsets spent here are spectacular, with views of the mountains as they change in cascading colors on the salt-flecked landscape.
Suggested Honeymoon Duration: 7 days
Suggested Stay: Tierra Atacama
Cape Town, South Africa
Best For: A coastal city break filled with thrill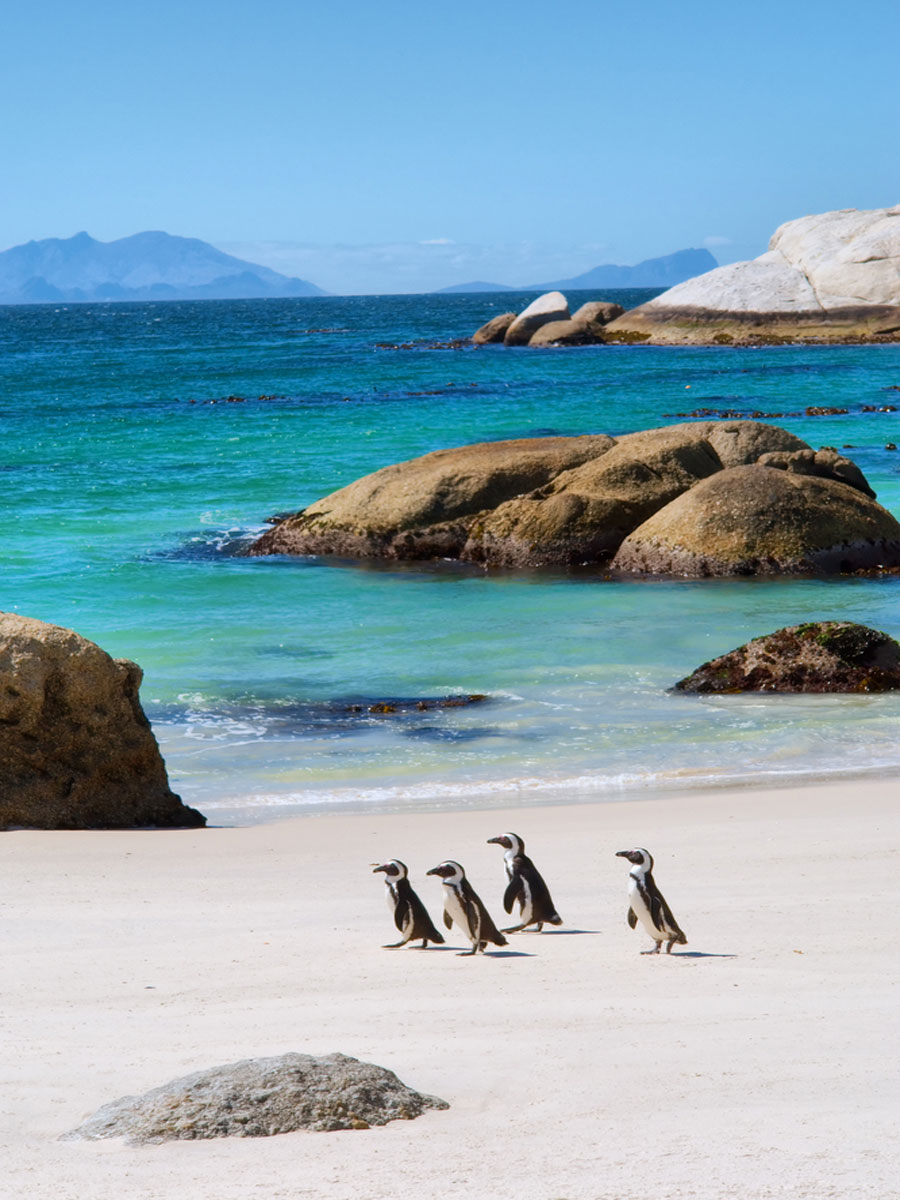 Cape Town is a unique destination where every aspect that makes a perfect honeymoon collides. You'll experience a mix of culture, natural beauty, incredible cuisine, and eclectic attractions.
Oh, and did we forget to mention the fantastic nightlife you can find too?
Top Attractions
Table Mountain – The highlight of Cape Town, Table Mountain is fantastic to gaze at for hours. But you can also hike its trails or take the cable car to the mountaintop restaurant and viewing deck.
Kirstenbosch National Botanical Garden – A magnificent natural wonder set to the backdrop of Table Mountain, you can get lost in nature or opt for a romantic picnic.
Suggested Honeymoon Duration: 5 to 7 days
Zanzibar
Best For: The perfect tropical retreat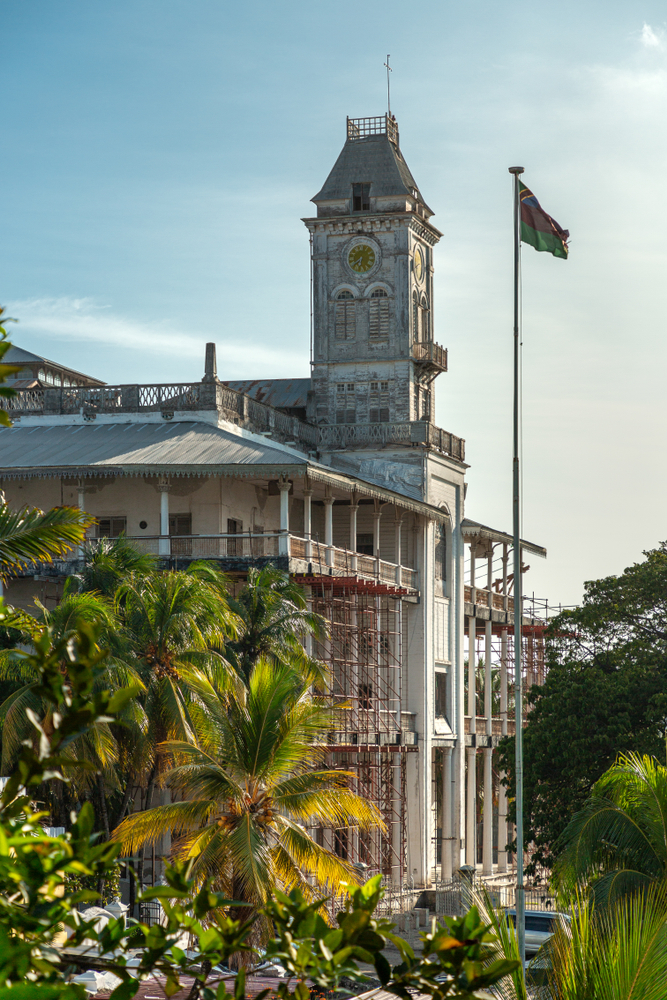 This island archipelago in the Indian Ocean sits just off the coast of Tanzania. Zanzibar offers you an incredibly unique place to honeymoon.
Nicknamed the 'Spice Island', its culture, beach excursions, and water sports are bound to spice things up for your honeymoon.
Top Attractions
Mnemba Island – A small island just off Zanzibar's coast, it's perfect for an intimate getaway and swimming with dolphins.
House of Wonders – In Stone Town, you'll find this palace built in 1883, which is now a museum filled with Zanzibari culture.
Suggested Honeymoon Duration: 7 to 9 days
Suggested Stay: SeVi Boutique Hotel
Réunion, France
Best For: A spectacular nature-focused escape
The Indian ocean clearly showcases some underrated honeymoon destinations. One of them is Réunion island off the Madagascan coast.
Its landscapes and mix of cultures are sure to leave you and your significant other spellbound.
Top Attractions
Cirque de Salazie – Located on the east side of Piton des Neiges, it presents numerous hiking trails of all difficulties through various landscapes.
Saint-Paul's Market – Every Friday and Saturday, the beachfront of Saint-Paul becomes a 300-stall open-air market fit for every honeymoon shopping list.
Suggested Honeymoon Duration: 5 to 7 days
Suggested Stay: LUX St Gilles
Giraffe Manor, Kenya
Best For: A genuinely African experience
Although this isn't a big city breakaway or a tropical adventure, few experiences come close to this unique honeymoon idea.
Both a giraffe refuge and hotel in Kenya's capital Nairobi, it's one of the best non-beach honeymoon destinations in the world. How cool does having breakfast with giraffes sound, though?
Top Attractions
Nairobi National Park – Close to Giraffe Manor, this magnificent park is home to an array of animals and is the perfect safari destination.
Malo Stables – Relish in the thrill of horseback riding through Kenyan forests with views of the Ngong Hills.
Suggested Honeymoon Duration: 7 days
Suggested Stay: Giraffe Manor
Egypt
Best For: A cultural honeymoon adventure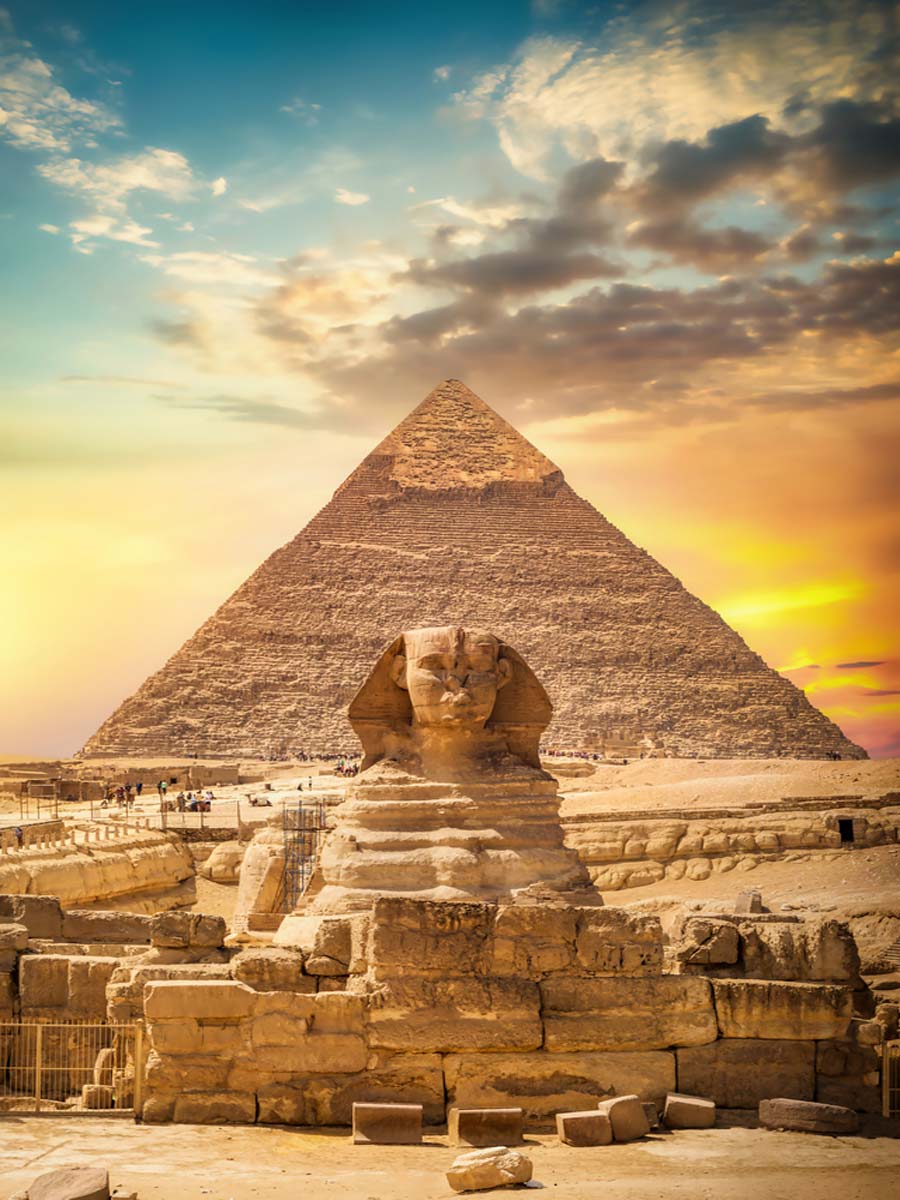 Delve into the wonders of the ancient world with a trip around Egypt.
The city of Cairo is a blend of beautiful chaos and rich history, while Luxor is home to treasures such as The Valley of the Kings and Karnak – a template for one of the most unique honeymoon destinations.
Still need convincing? Egypt is budget-friendly, steeped in culture, and overflowing with attractions you'll see on anyone's bucket list.
Top Attractions
Aswan – There is no better place to indulge in Egypt's history than Aswan. Highlights include Philae Temple and the magnificent Abu Simbel.
Luxor – Another hotspot of ancient Egyptian monuments, it's also the setting for romantic hot-air ballooning and the inimitable Valley of the Kings.
Suggested Honeymoon Duration: 10 days
Suggested Stay: Sofitel Cairo Nile El Gezirah although you're better off booking onto a guided tour for an Egypt trip
Bhutan
Best For: A secluded and serene escape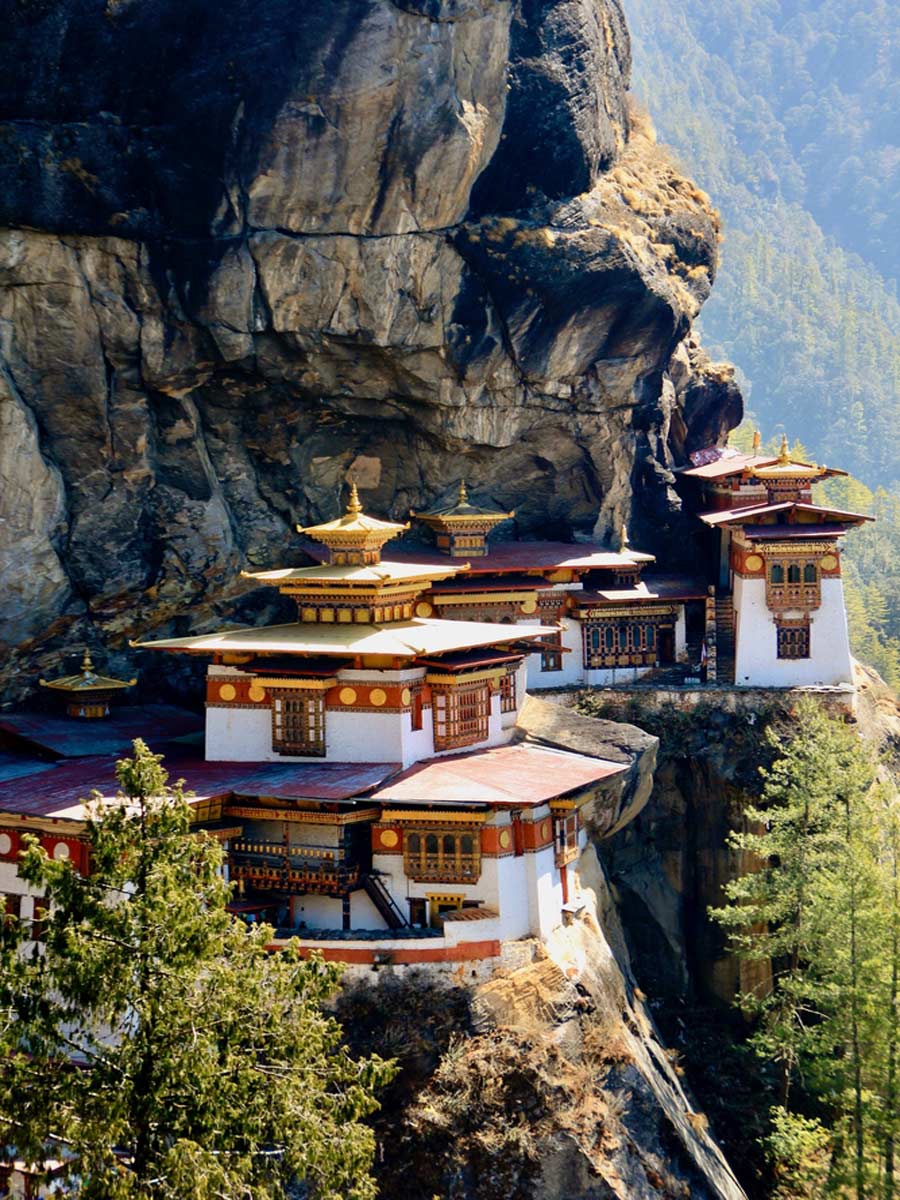 Few can say that they've honeymooned in the secluded Kingdom of Bhutan, but that makes it unique.
Sitting on the eastern edge of the Himalayas, you'll find yourself mesmerized by its natural beauty and cultural flair.
Top Attractions
Tiger's Nest Monastery – The most famous landmark in the country, this ancient monastery clings to the cliffs of Paro Valley.
Chimi Lhakhang – A stunning Buddhist temple, it's more commonly known as the temple of fertility (how ironic for a honeymoon).
Suggested Honeymoon Duration: 8 days
Suggested Stay: Taj Tashi Bhutan
San Blas Islands, Panama
Best For: An enchanting Caribbean getaway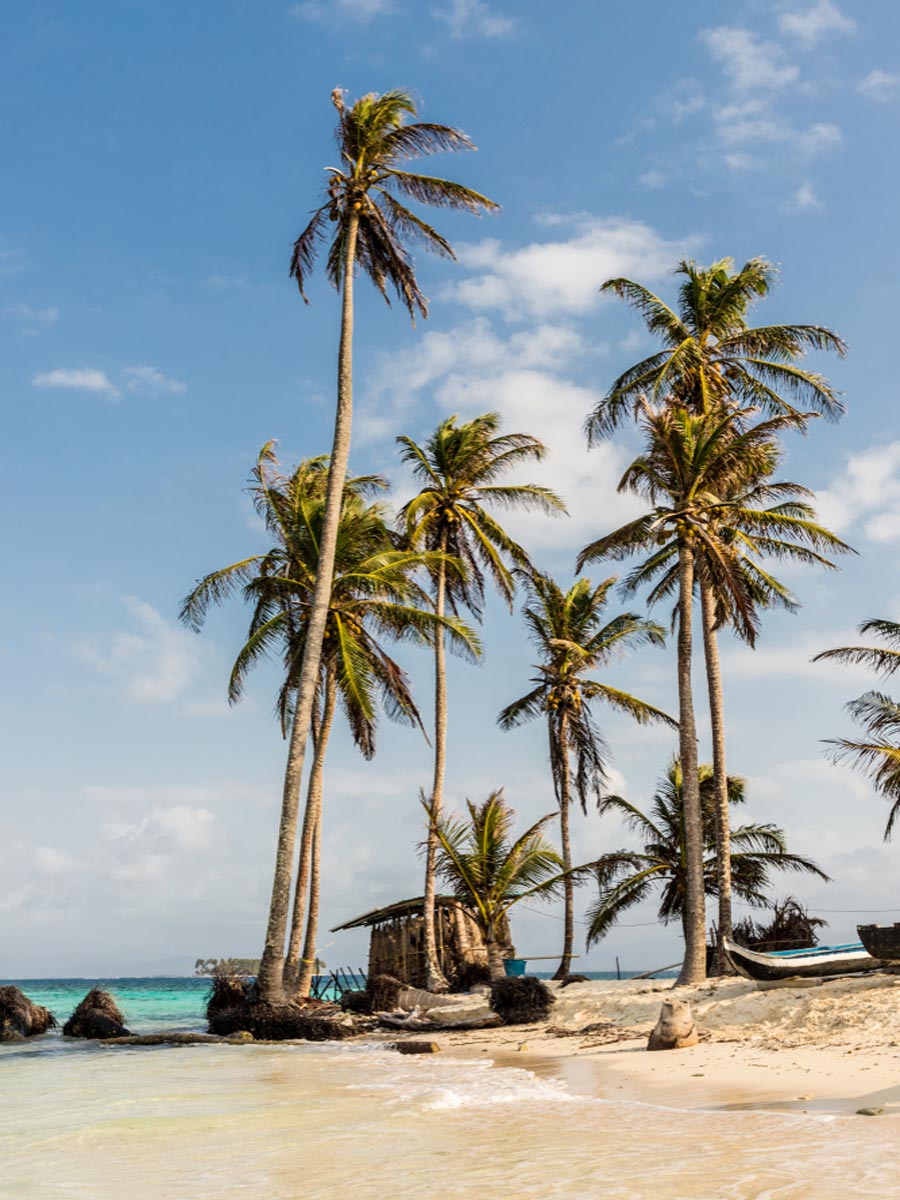 A truly unique place to honeymoon, the romantic San Blas Islands off the coast of Panama offers an incredible newlywed adventure.
Go to discover one of Central America's most stunning destinations, with massive natural biodiversity, vibrant culture, and traditional shopping markets.
Top Attractions
Monkey Island – A sprawling jungle island as part of San Blas, here you can get to know chatty Capuchins, Howler, and Tit monkeys.
The Panama Canal – Close to the San Blas, experience the majesty of the canal on a cruise as you venture through its docks.
Suggested Honeymoon Duration: 5 days
Suggested Stay: Cabañas Narasgandup (Naranjo Chico)
Hammerfest, Norway
Best For: A remarkable once-in-a-lifetime experience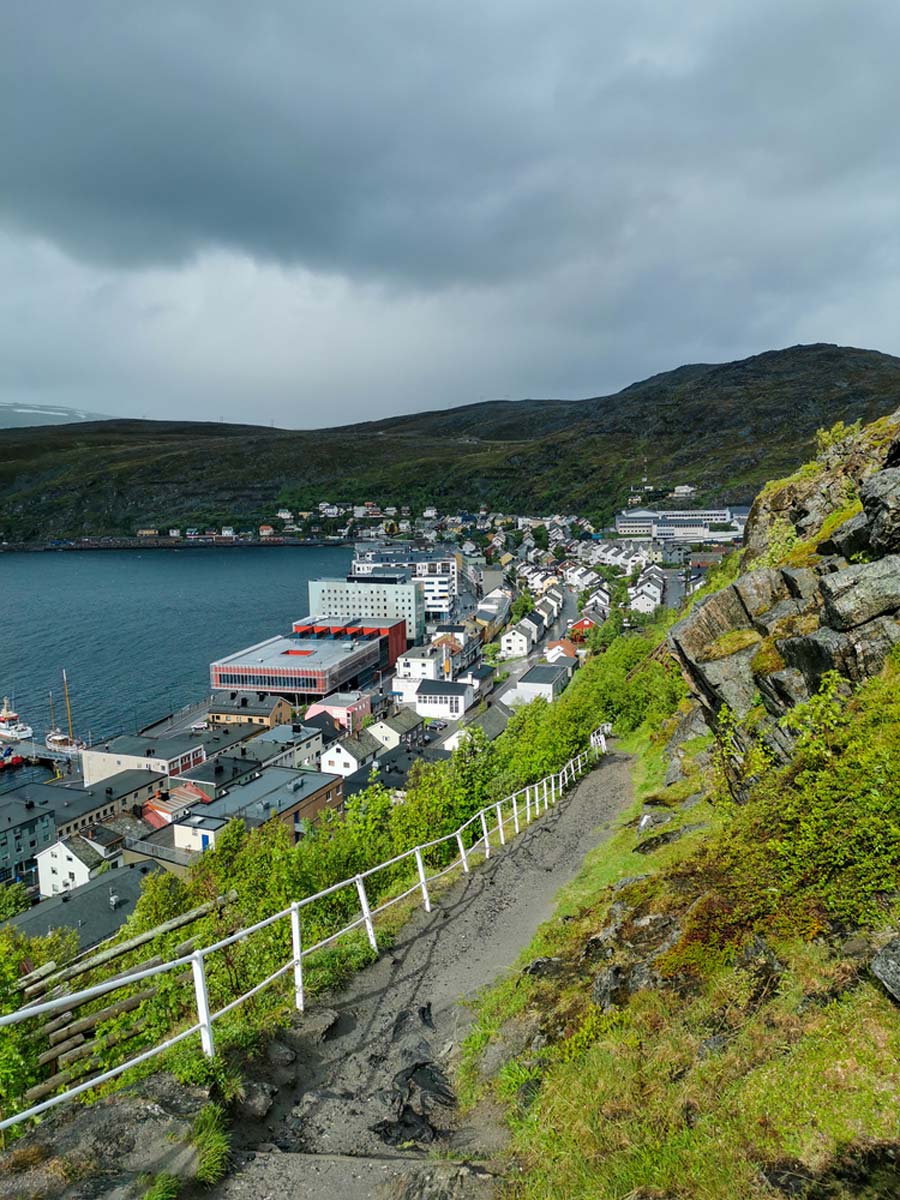 Often considered a secret honeymoon destination, Hammerfest in Norway is most definitely a hidden gem amongst honeymooners. What makes it so unique? Well, it's the best place on Earth to experience the Midnight Sun.
Top Attractions
Polar Bear Society – A protected habitat for polar bears, you can immerse yourself in their playful and tame nature here.
Soroya-Tarhalsen – An iconic part of Hammerfest's landscape, this massive icy slope is perfect for an intimate hike.
Suggested Honeymoon Duration: 6 to 8 days
Suggested Stay: Scandic Hammerfest
Kakslauttanen Igloo West Village, Finland
Best For: An intimate Northern Lights adventure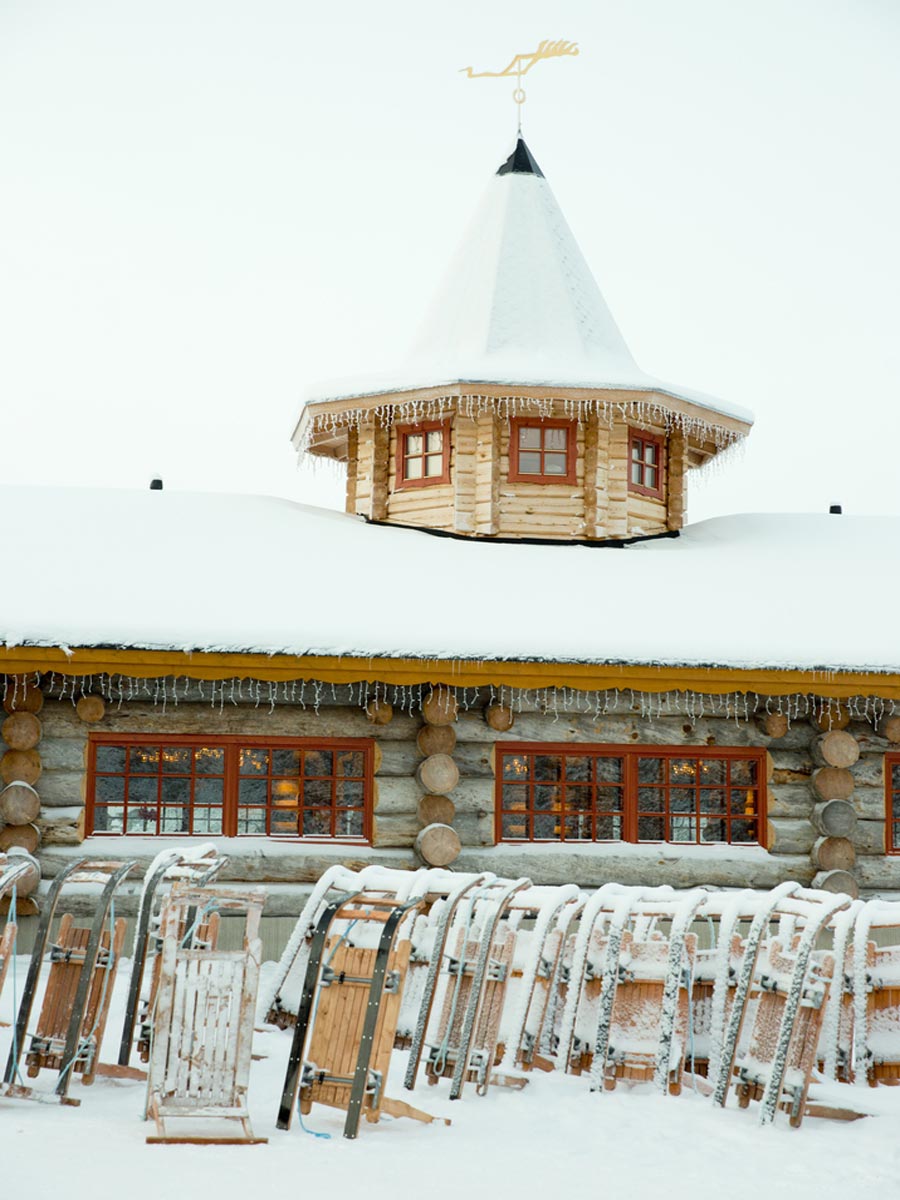 A magical honeymoon destination, the Kakslauttanen Igloo West Village, in Finland's Cusco region, few come close to its uniqueness.
This arctic resort offers some of the best northern lights views, where you can spend romantic nights with the dazzling display overhead.
Top Attractions
Reindeer Safaris – An almost otherworldly honeymoon must-do, sledding through Finland's forests with reindeer is pure magic.
Kiilopää – One of the highest arctic mountains, it's famed for hiking trails and numerous luxury saunas and spas.
Suggested Honeymoon Duration: 3 to 5 days
Suggested Stay: Kakslauttanen Arctic Resort
Azores Islands, Portugal
Best For: A relaxing slow-paced breakaway (LGBTQIA+ friendly)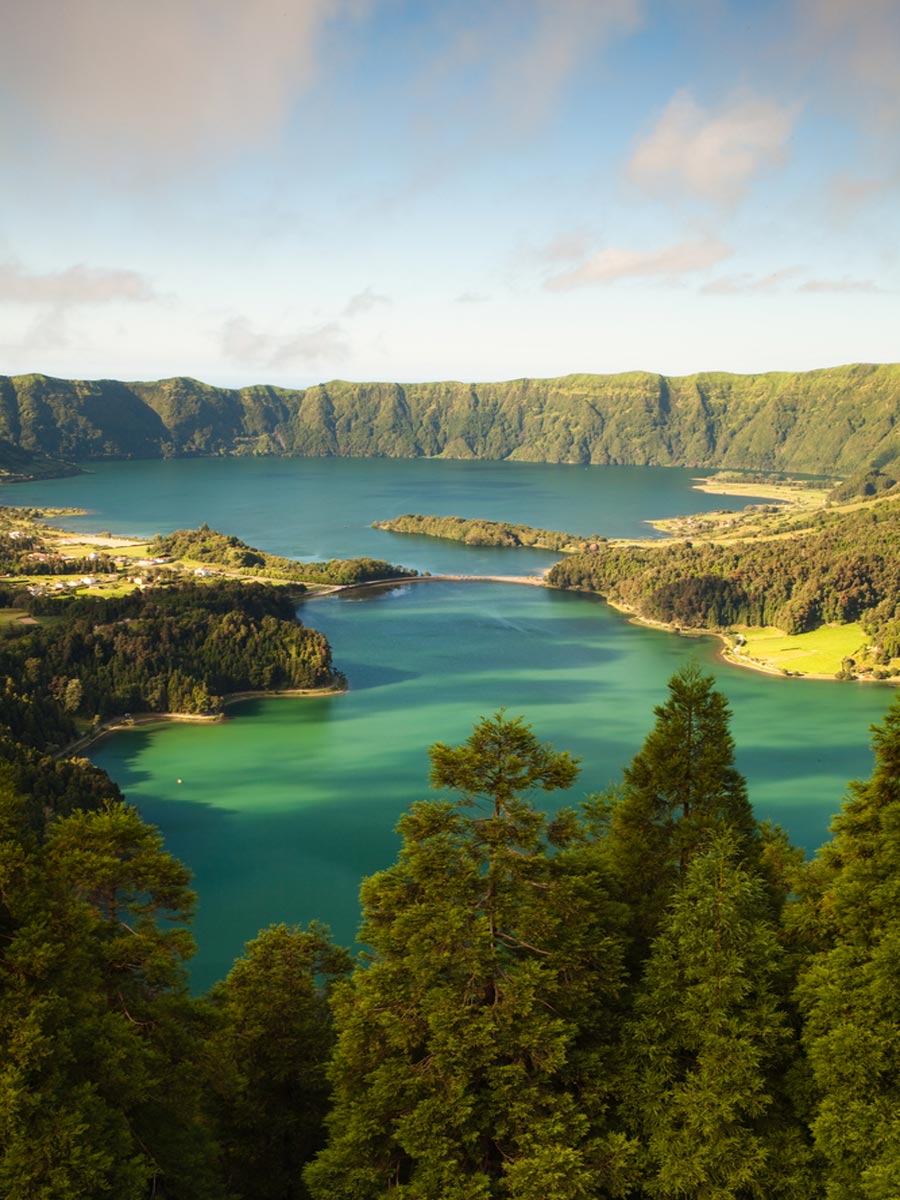 Comprising nine islands, the Azores within the Atlantic Ocean is a serene yet uncommon honeymoon destination.
Often overlooked for other islands such as Hawaii, the Azores offer epic landscapes, black sand beaches, and a deep love for food and wine.
Top Attractions
Terra Nostra – An inviting and euphoria-inducing natural thermal pool, it's the perfect spot to relax and unwind.
Pico – A UNESCO World Heritage Site, also called the 'island of wine', indulges in the best selection of volcanic wine.
Suggested Honeymoon Duration: 7 to 9 days
Suggested Stay: White Exclusive Suites & Villas
Vaadhoo Island, Maldives
Best For: A surreal beach experience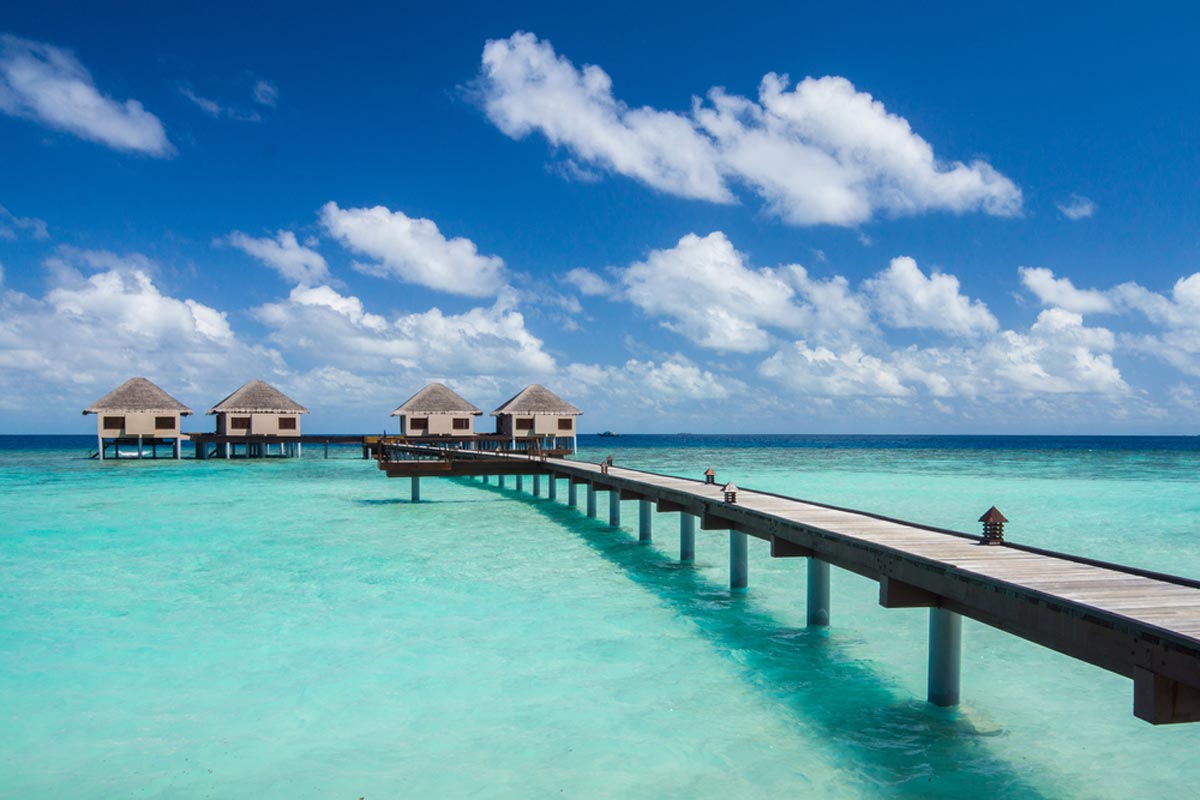 If you're looking for the most unique honeymoon, Vaadhoo Island in the Maldives will blow you away.
Yes, it features Maldivian staples, including calm waters, white sandy beaches, and epic sunsets, but it's also got a few surprises.
Top Attractions
Sea of Stars – A beach on the island famous for its glowing blue waves resulting from marine bioluminescence.
Lèn Be Well Spa – A world-class spa on the island perfect for unwinding in paradise with your significant other.
Suggested Honeymoon Duration: 7 days
Suggested Stay: Ayada Maldives
Cape Verde
Best For: The ultimate tropical honeymoon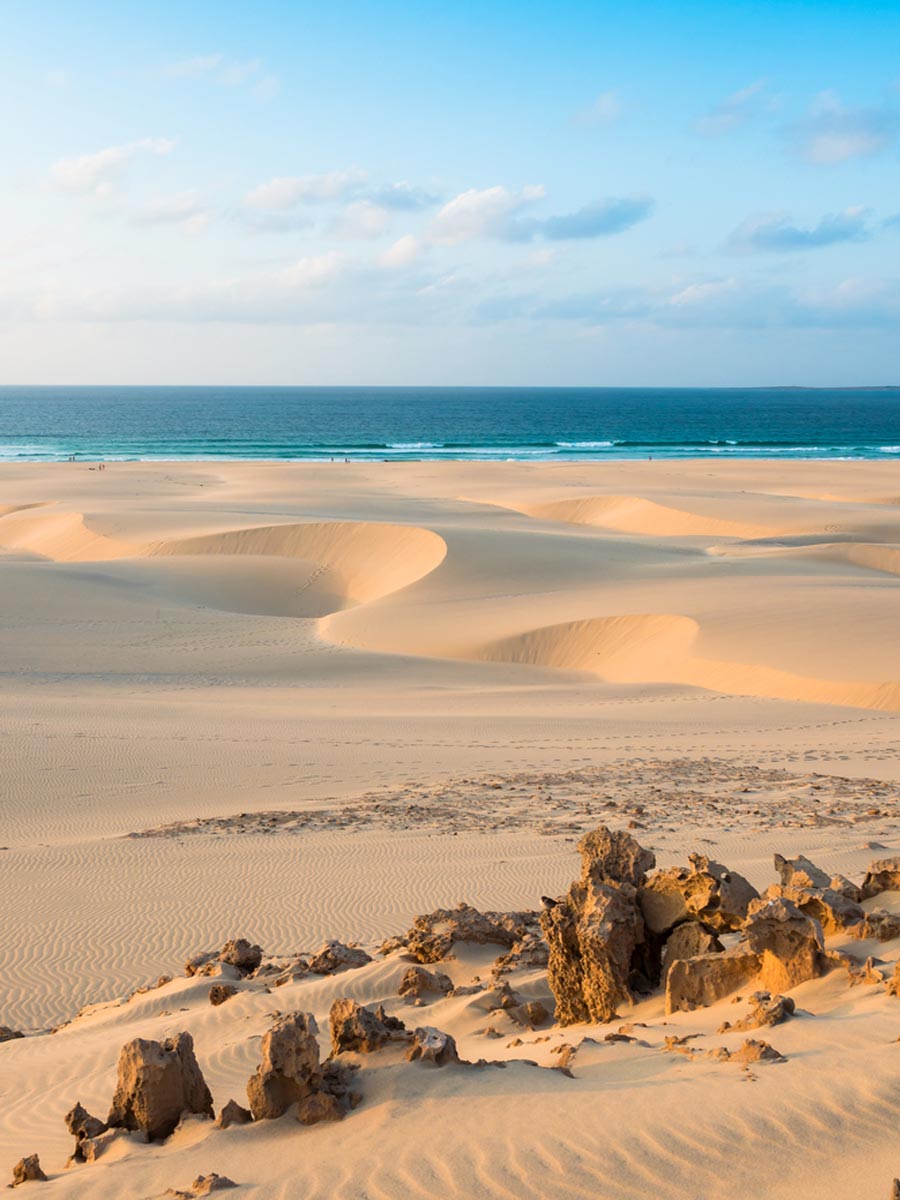 Most eager honeymooners have yet to catch onto the allure of Cape Verde.
This volcanic island nation off the coast of Northwest Africa, with its enticing tropical climate and relaxing beaches, make for an unforgettable experience.
Top Attractions
Pedra de Lume – A massive body of saltwater (said to be saltier than the dead sea), it's ideal to float underneath the tropical sky.
Fogo – An island boasting the largest volcano in West Africa, its hiking trails make for the perfect adventure with your partner.
Suggested Honeymoon Duration: 6 to 8 days
Suggested Stay: Hilton Cabo Verde Sal Resort
Practical Tips for Planning Your Unusual or Unique Honeymoon
Do not limit yourself when planning your honeymoon. Shop around with unique honeymoon destinations in Asia or enticing tropical honeymoon destinations.
Keep an eye on your budget, as the more unique or unusual the honeymoon destination, the higher the price tag to get there – although some places, like San Blas – are incredibly cheap once you're there.
Best Unusual and Unique Honeymoon Destinations: Map
Interesting Honeymoon Destinations: Read Next