Plan the ultimate Santorini honeymoon with the help of this handy guide – the top resorts and tips you need to know.
Santorini is a small island region of Greece with a big reputation. Vacationers flock here for the perfectly photogenic beaches, waters, and rugged coastline.
But that's not all – there's also fantastic food, wine, and high-end resorts that offer dramatic coastal views you won't find in many other places.
Sounds like the makings of a superb honeymoon? We think so, too. Read on to discover everything you need to know about planning an ultra-romantic Santorini honeymoon.
Why Honeymoon in Santorini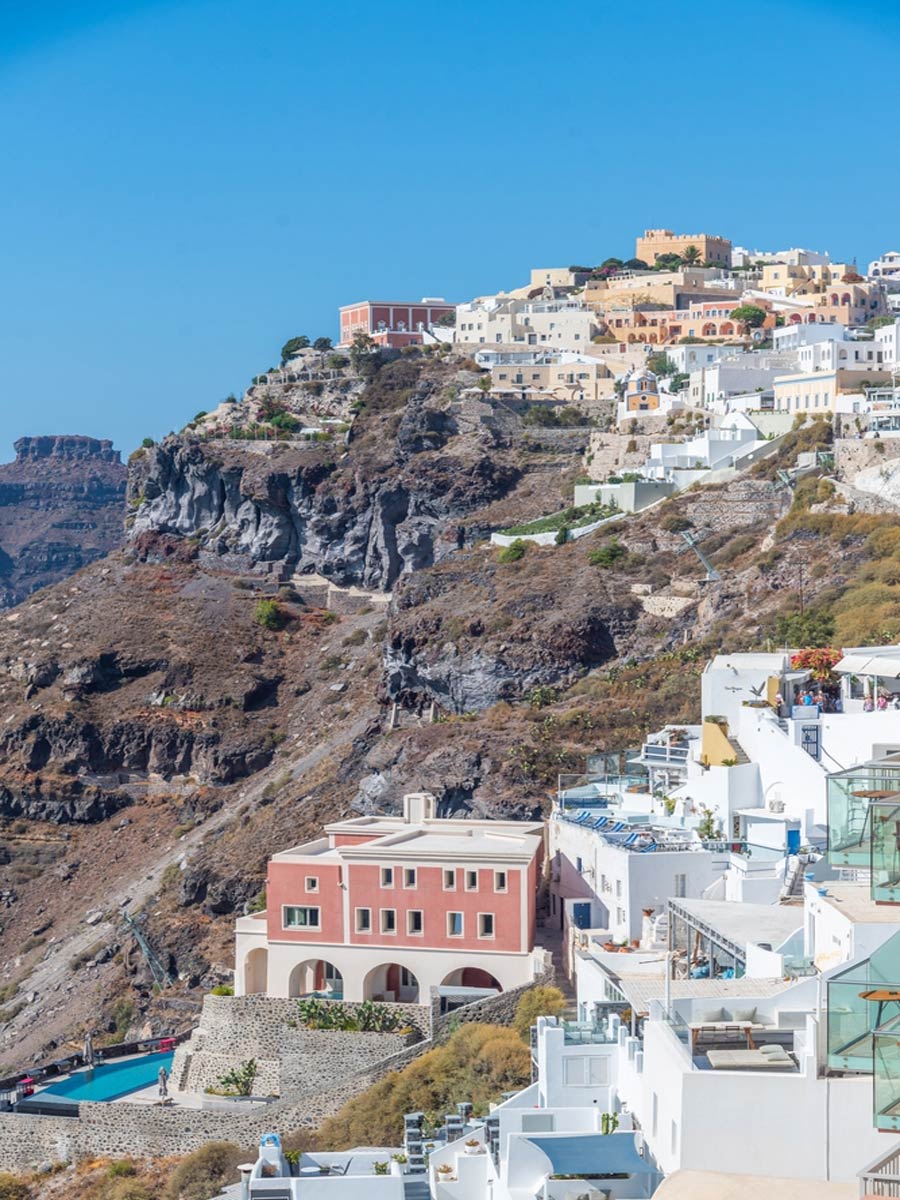 If a honeymoon filled with dreamy views, incredible dinners, and postcard-perfect beaches doesn't sound like a whole lot of you, then we don't know what to say.
A honeymoon in Santorini is one of the best options out there – it's slightly less expensive than other European honeymoon destinations and oozing with romance. Picture cobbled streets, whitewashed buildings, and glowing sunsets, and you're on the right track.
Best Honeymoon Hotels & Resorts in Santorini
Sun Rocks Boutique Hotel
Firostefani
$$$
Best for Modern and Elegant Santorini Honeymoon Resorts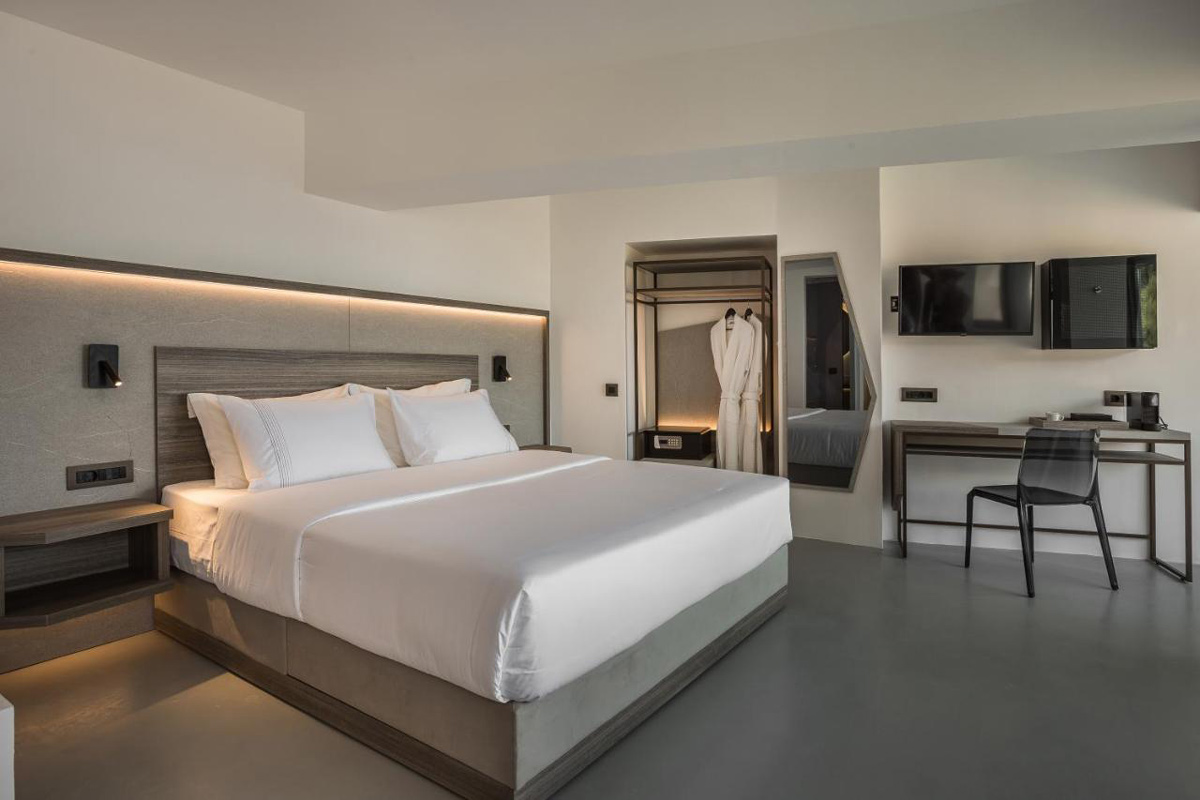 When considering the best hotels in Santorini for a honeymoon, Sun Rocks Boutique Hotel quickly comes to mind.
What makes this one of the best places to celebrate your recent marriage? We'll do our best to summarize, because there's a lot.
This resort is easily one of our favorite ideas for a Santorini honeymoon thanks to recent renovations, which updated each room to make them that much more luxurious. The expansive property also has round-the-clock service, bars, restaurants, and a swimming pool overlooking the deep blue ocean waters below.
Want the best room in the house? Choose the Honeymoon Suite with Hot Tub and celebrate your love for each other in one of the most stylish ways possible on your unforgettable honeymoon.
Vora Villas
Imerovigli
$$$
Best for a Luxury Honeymoon in Santorini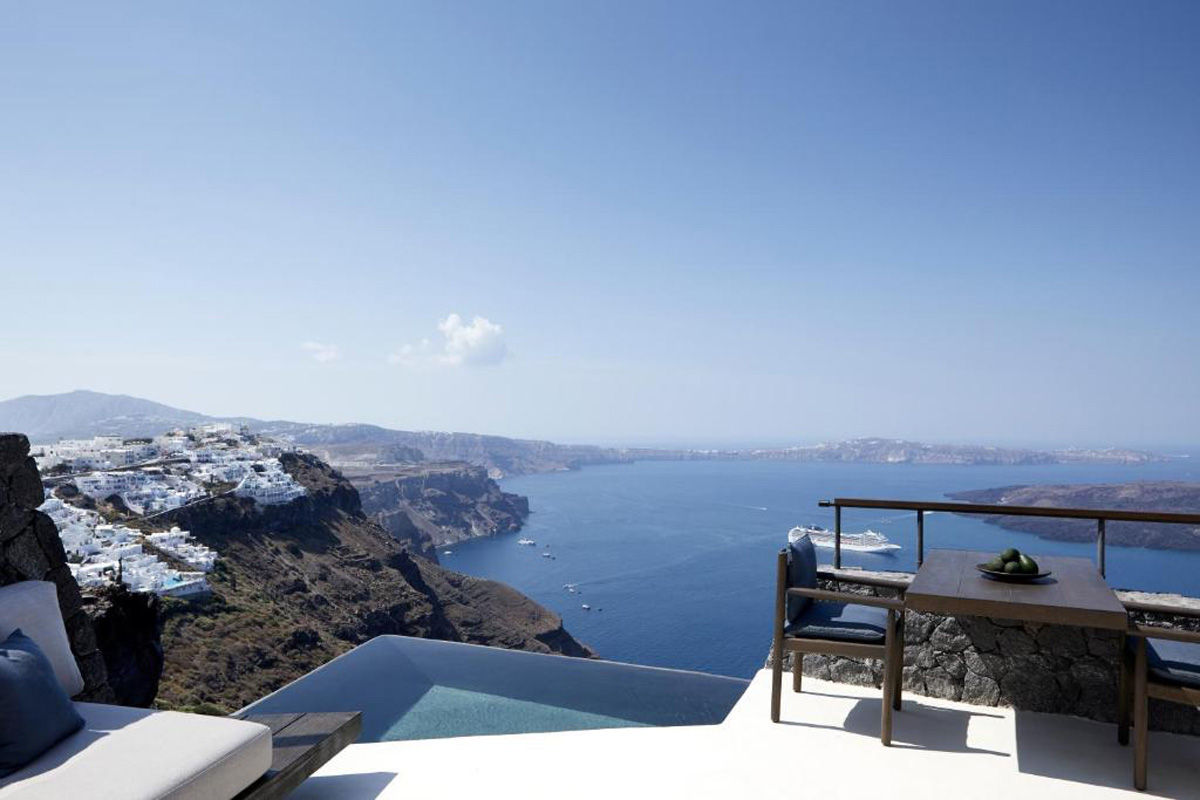 Choosing where to stay in Santorini for a honeymoon often comes down to figuring out what exactly you want during your stay. Vora Villas is a boutique hotel known for its incredible views, luxury suites, and staff that goes out of their way to help you plan the most amazing honeymoon imaginable.
Connect with the hotel before your stay to create the most memorable honeymoon surprise for your honeymoon, Santorini-style. They'll go above and beyond to curate an original honeymoon celebration for you and your partner that you'll never forget.
But no matter what champagne or activities you arrange, you can celebrate in your luxurious accommodations on the private balconies overlooking the Aegon Sea. It doesn't get much more romantic than that.
Azanti Suites
Megalochori
$$-$$$
Best for a Santorini Honeymoon Hotel with Romantic Views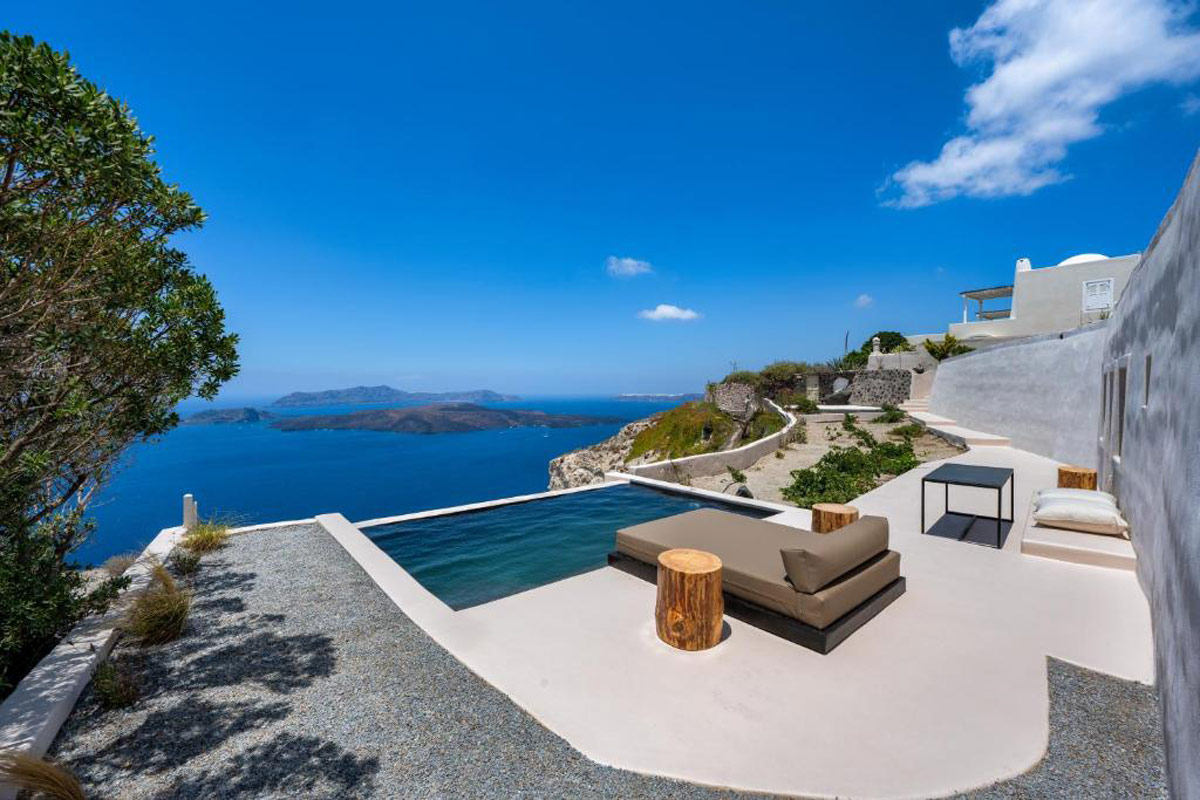 Finding the best views from a honeymoon suite in Santorini is less work than some of our other favorite honeymoon destinations – still, Azanti Suites goes above and beyond.
While there are some more affordable rooms at this popular hotel, we suggest booking the Honeymoon Suite with Private Infinity Pool. The name says it all.
In addition to the remarkable view you'll get from the edge of your private swimming pool, the suite offers a charming blend of modern amenities, stylish decor, and comfortable furniture you can relax on when you're not enjoying your picturesque outdoor space.
Black Diamond Suites
Akrotiri
$$
Best for a Bed & Breakfast with Seaside Views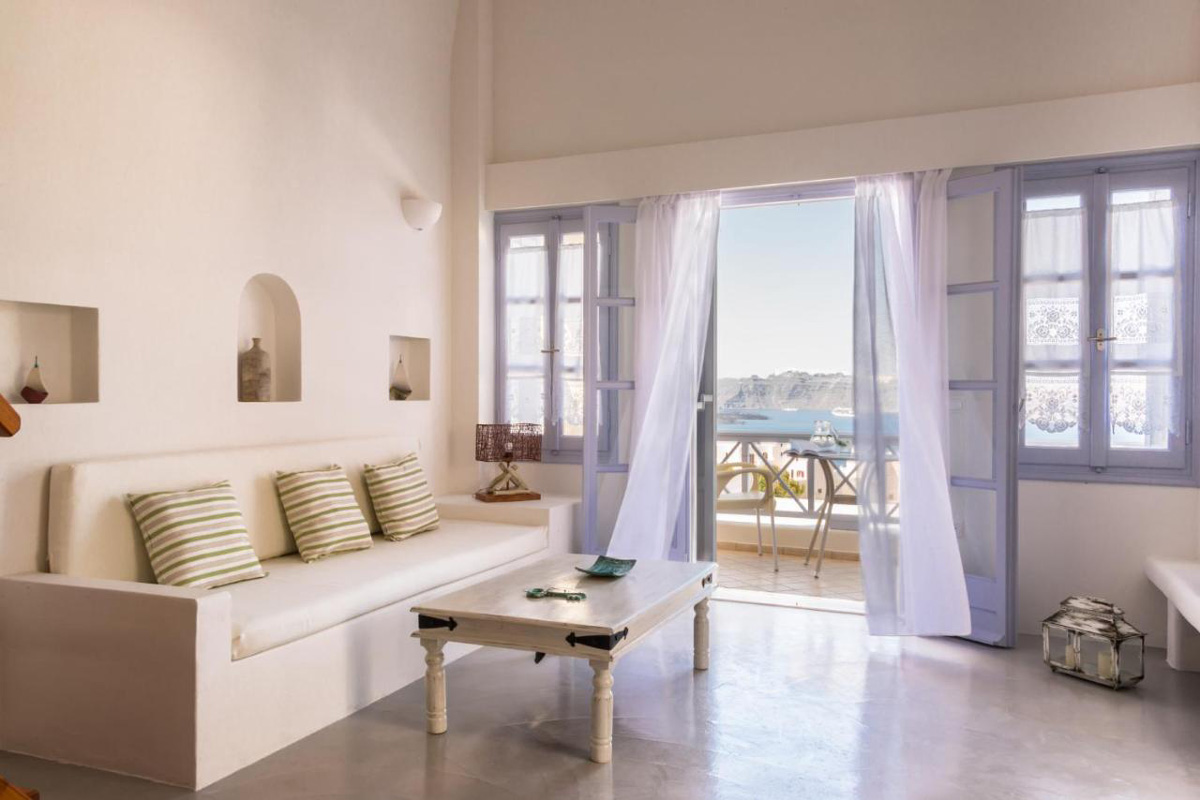 Look no further if you're searching for the best honeymoon hotels in Santorini with a private pool.
The Black Diamond Suites offer some of our favorite honeymoon suites in Santorini thanks to (you guessed it) ocean views, spacious patios, and effortlessly stylish rooms that are somehow extraordinary value for money.
The decor personifies Santorini's cool coastal vibe. Buttery soft white walls accented by natural wood furniture and a nautical charm will have you dreaming of the turquoise waters outside from your large queen bed.
The bedrooms and bathrooms are spacious and comfortable, but the patio is where most couples will want to spend their mornings and evenings admiring the incredible scenery from their private plunge pools.
Discuss some unique honeymoon activities with the concierge, like a romantic boat ride along the Aegon Sea, for a truly memorable moment with your life partner.
Callia Retreat Suites
Fira
$$
Best for a Santorini Honeymoon Suite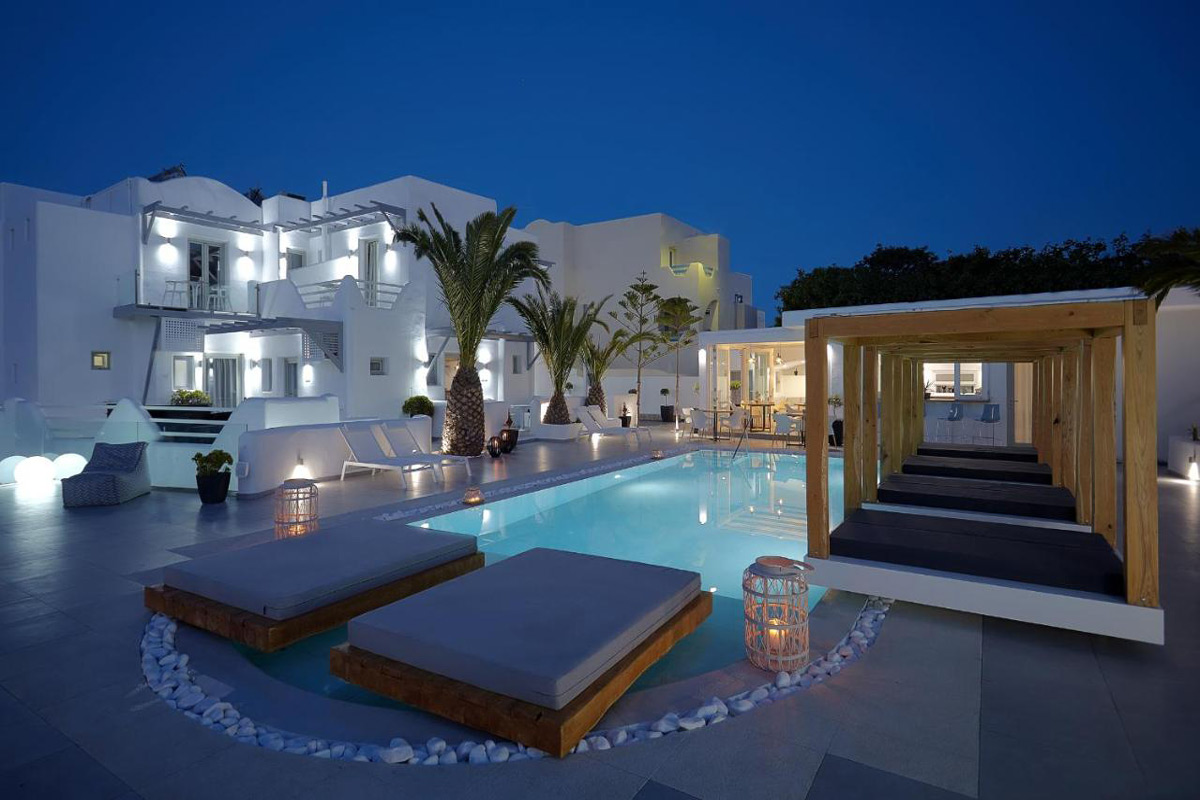 Finding the best Santorini honeymoon hotel may sound daunting, but don't worry. We've found plenty of great options, and Callia Retreat Suites is an adults-only resort with some of the most incredible honeymoon suites in Santorini.
Looking for an in-room jacuzzi for your romantic honeymoon in Santorini, Greece? The Premiere Suite with Outdoor Private Hot Tub features a gorgeous patio complete with a spa-style tub and furniture for your evenings under the warm Santorini skies.
The soundproof rooms also include breakfast, cable TVs, and bathrobes for those mornings you aren't quite ready to leave the room.
Enjoy some Greek cuisine at the pool bar, or try the breakfast buffets before you head out for the day on your Santorini honeymoon.
Oias Sunset
Oia
$
Best for a Budget-Friendly Santorini Honeymoon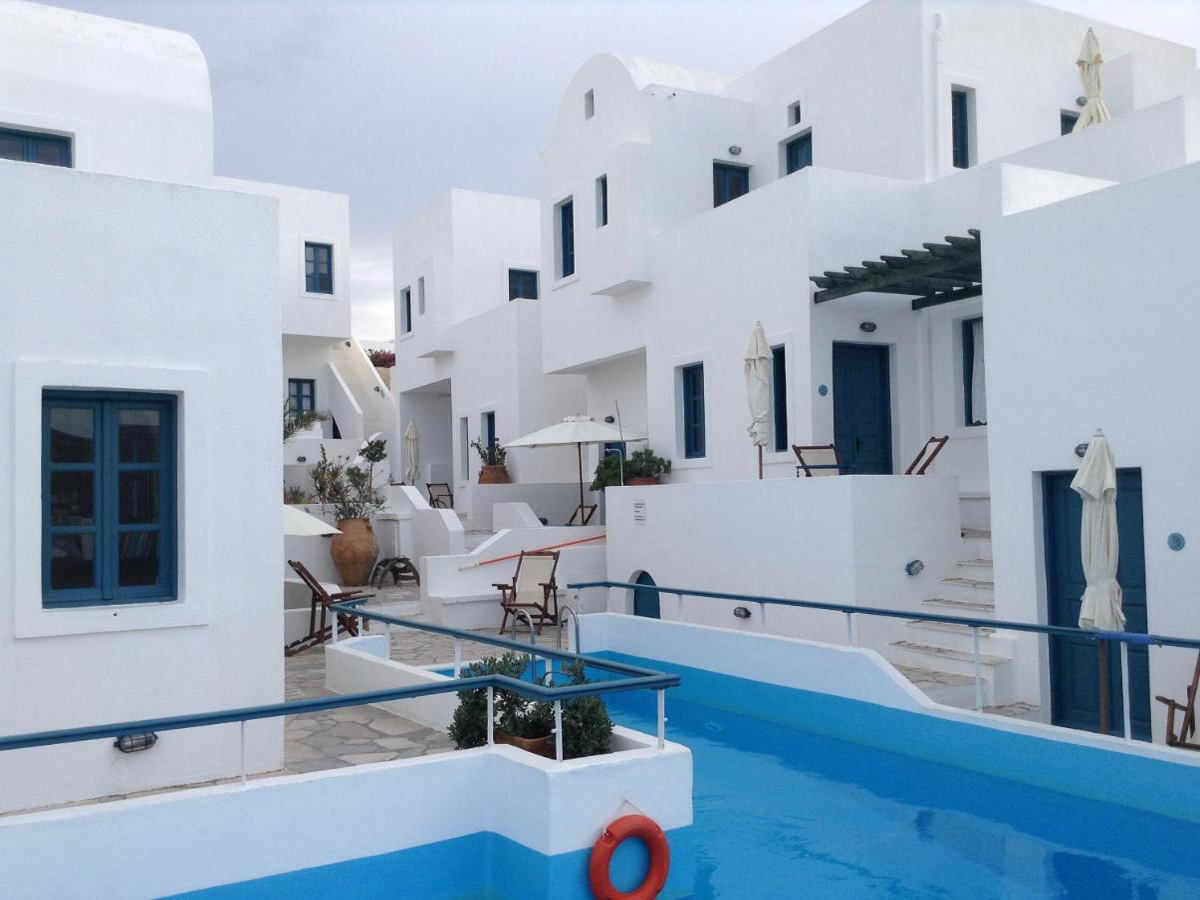 Where to stay on your Santorini honeymoon without breaking the bank? Oias Sunset is an affordable coastal retreat that leaves you plenty of extra money from your honeymoon fund to book the best restaurants, tours, and activities Santorini offers.
Not only is the hotel great value, but the villas are charming in every way possible. The white and blue color scheme that Oia is famous for shows up inside and out, with a cool coastal atmosphere that is undeniably Santorini.
Your apartment-style accommodations have a kitchen, WiFi, toiletries, and plenty of furniture to get comfortable and feel right at home on your honeymoon in Santorini.
You'll be in the heart of Oia, where you can walk to some of the beaches, cafes, and restaurants that make this area one of the best for any stay in Santorini.
Santorini Honeymoon Tips: What You Need to Know
How to Get to Santorini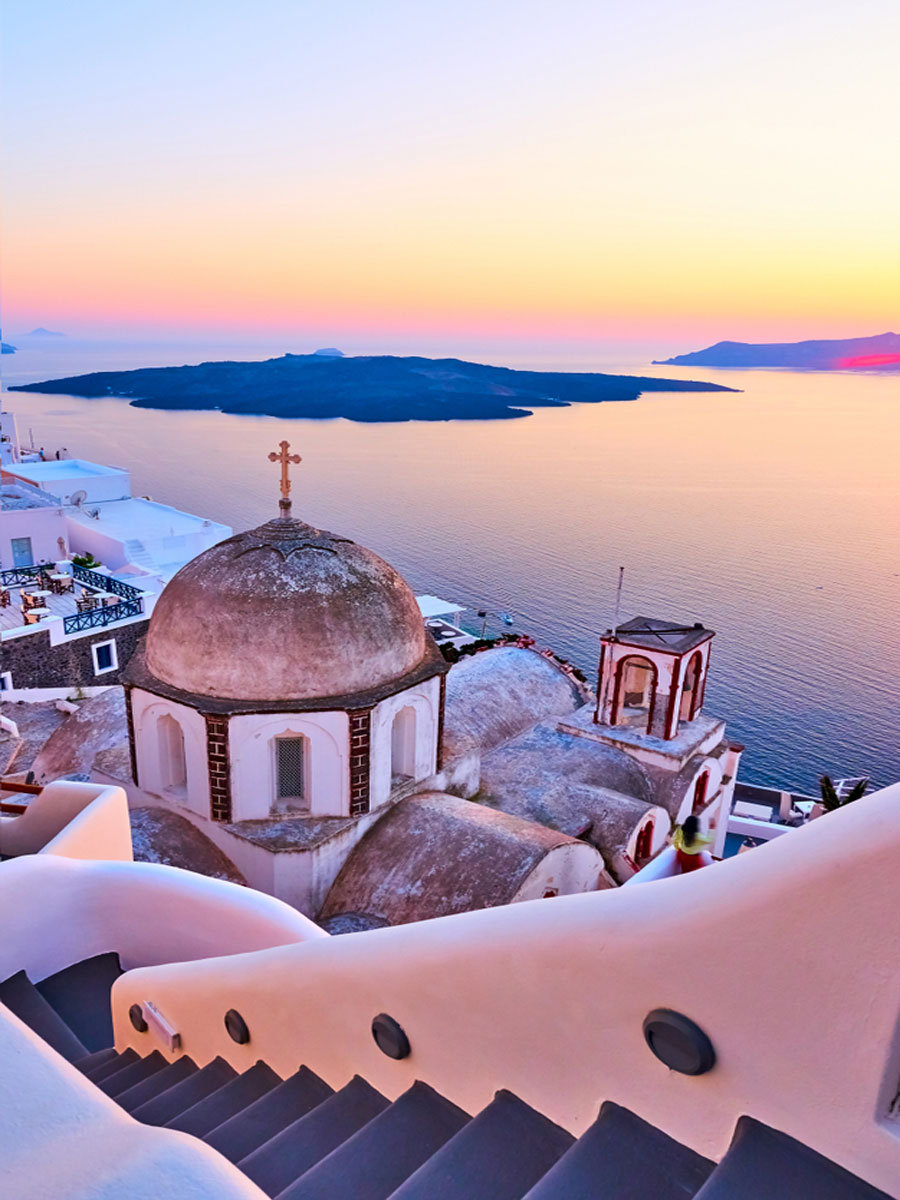 What's the best way to travel to your honeymoon in Santorini? You've got plenty of options.
The most popular way to get to this small Greek island is by airplane or boat. But while reaching Santorini by ferry is a perfectly romantic way to celebrate your marriage and kick off your honeymoon, there are more efficient options.
You can book a flight onto the island to save time and lower your honeymoon in Santorini cost. Most foreign travelers first fly to Athens International Airport (ATH) before connecting to Santorini via a second flight.
The Best Santorini Honeymoon Destinations
Oia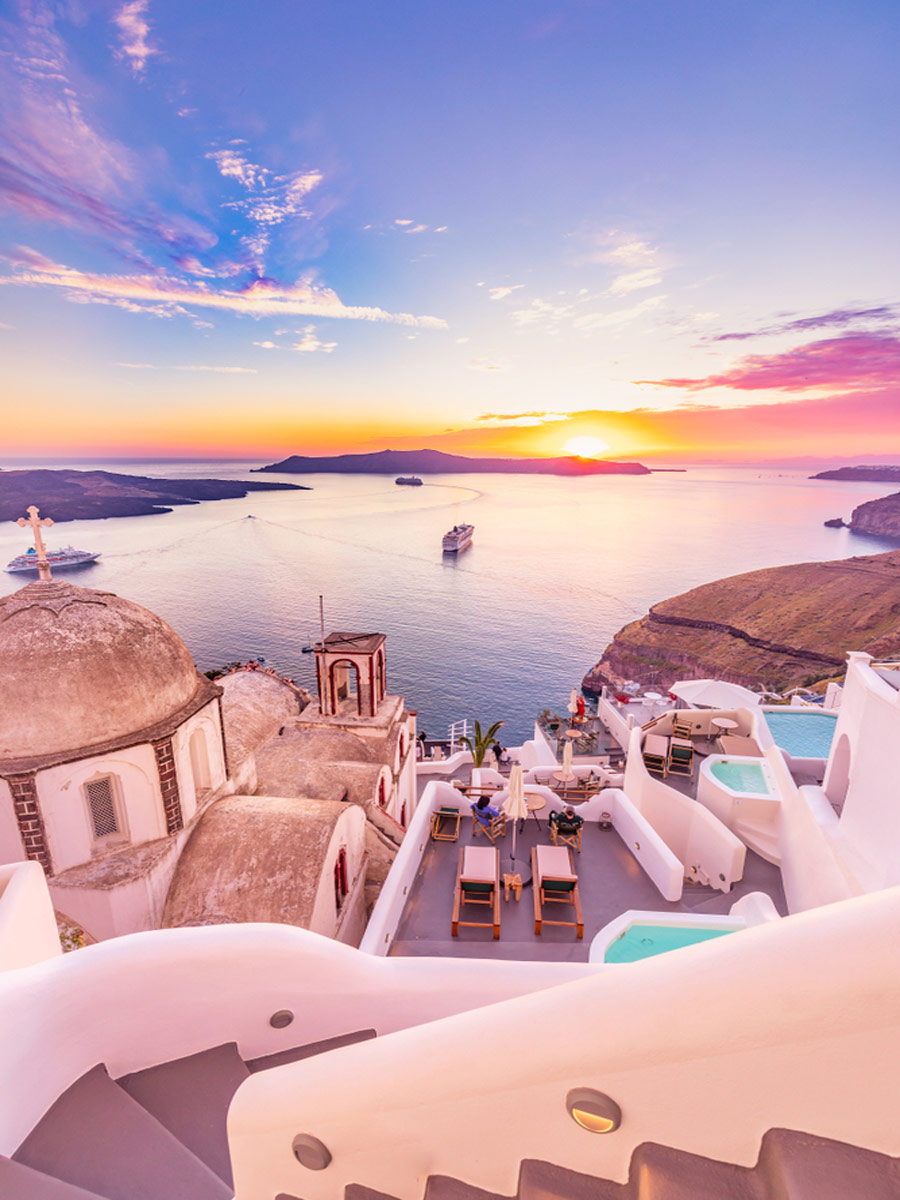 Oia is a town in Santorini and perhaps the most photographed location on the island. And why wouldn't it be? It's absolutely stunning.
Beautiful white, yellow, and blue houses blanket the coastal village along the length of its hillside. Not only is the architecture here seriously unique but the picturesque natural beauty ranks up making Santorini one of the best places for a European honeymoon.
Add to this sunsets that will simply take your breath away and some of the best honeymoon hotels in Santorini, it's no wonder Oia is so popular for newlyweds.
Fira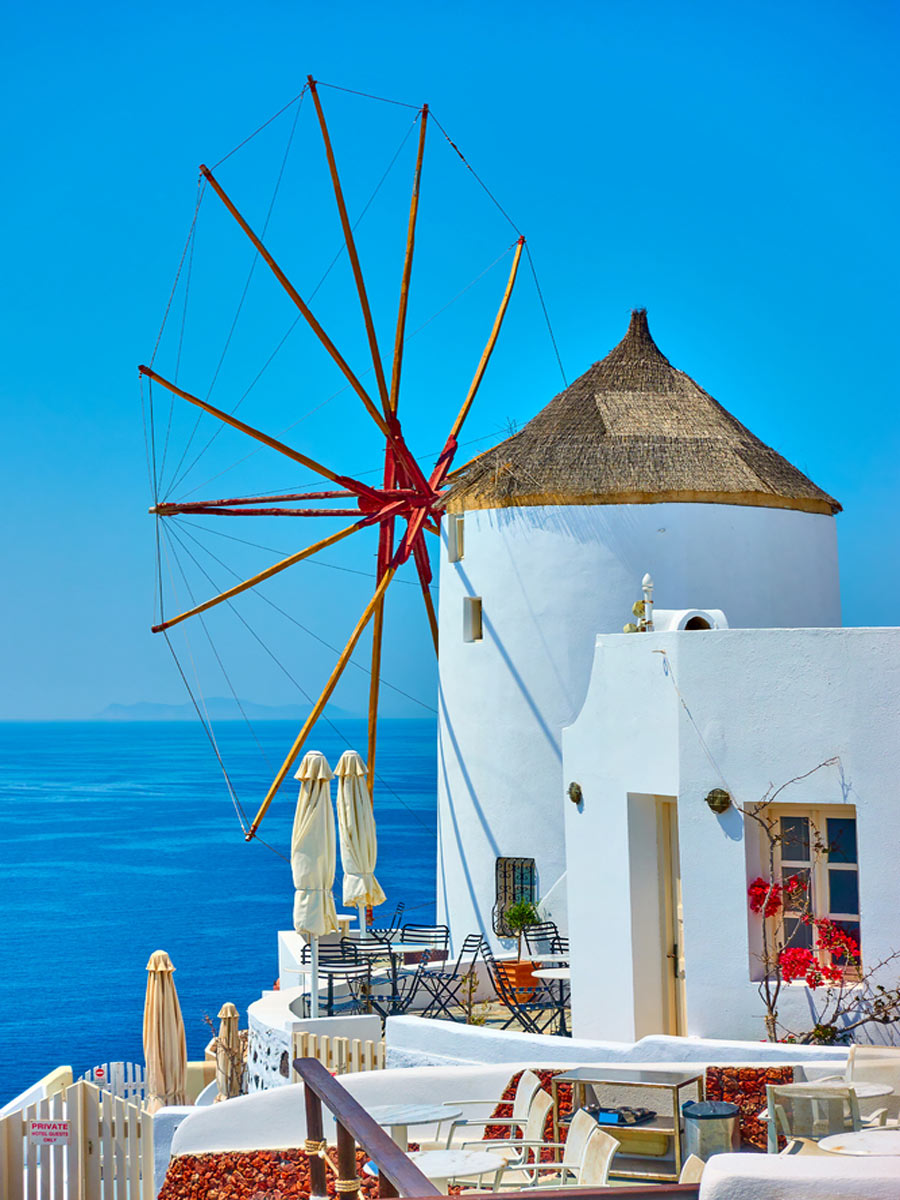 Looking to spend some time in Santorini's capital on your Greece honeymoon? You should make time to explore the vibrant city of Fira.
Whether you want to visit museums, wine and dine, or shop to your heart's content, Fira offers something for everyone.
Be sure to keep an eye out for some of the many famous sights here, including the Three Bells of Fira, the Church of St. John the Theologian, and the Old Port. Take a cable car ride for the most impressive views of Fira from above, and you'll realize why it's one of our favorite honeymoon destinations in Greece.
Skaros Rock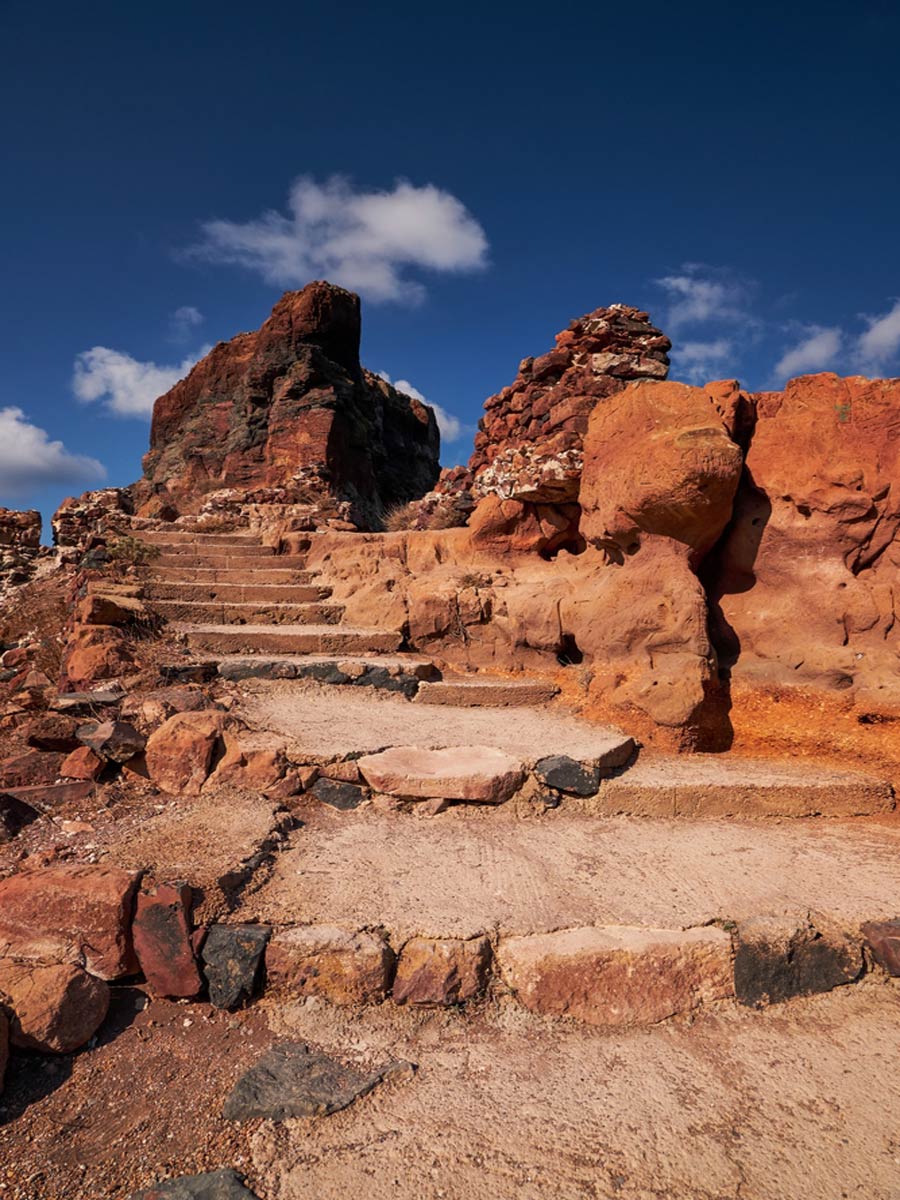 If you're feeling adventurous on your Santorini honeymoon, bring your hiking boots and prepare to tackle Skaros Rock.
The iconic stretch of coastline treats you to unique perspectives of the Greek Island and has a gorgeous church perched on the rocky shores once you make your way down near the trail's end.
You'll want to bring appropriate shoes and clothing for this hike, as it's a bit rugged and requires your total concentration along some regions of the rocky pathway.
Perissa Beach
Santorini is home to some beautiful beach honeymoon destinations, and Perissa Beach is no exception.
The black sands beach is a favorite location for couples who want to spend a day along the Santorini Coast. Not only are there great opportunities to swim, but excellent restaurants and accommodations also line the rocky volcanic shores.
Caldera Beach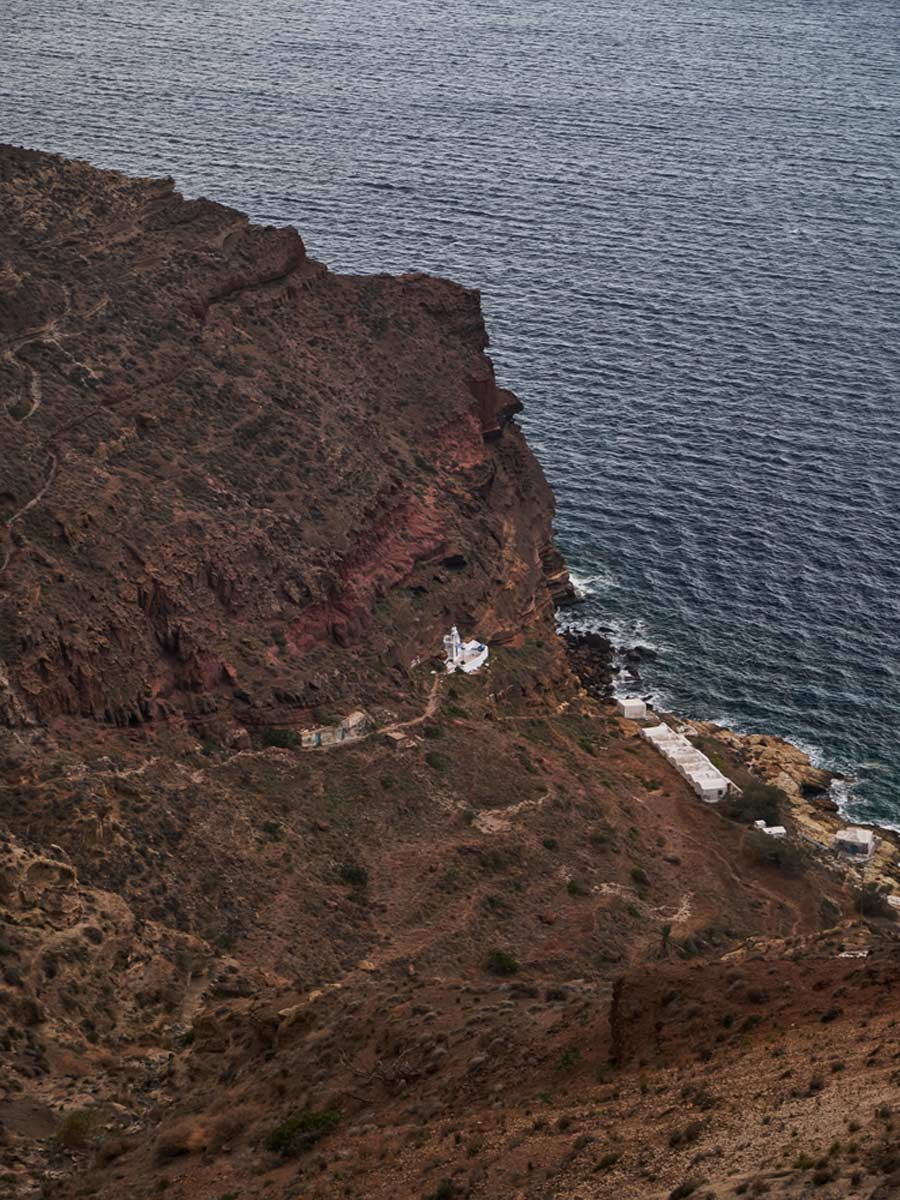 Head over to Caldera Beach if your idea for a time at the beach involves something a bit more adventurous, and see why it's one of the most well-loved spots for scuba divers on their Santorini honeymoon.
You'll want to bring your snorkeling or scuba diving gear, as the deeper waters make for some of the best opportunities for experiencing life below the water's surface on your honeymoon in Santorini.
White Beach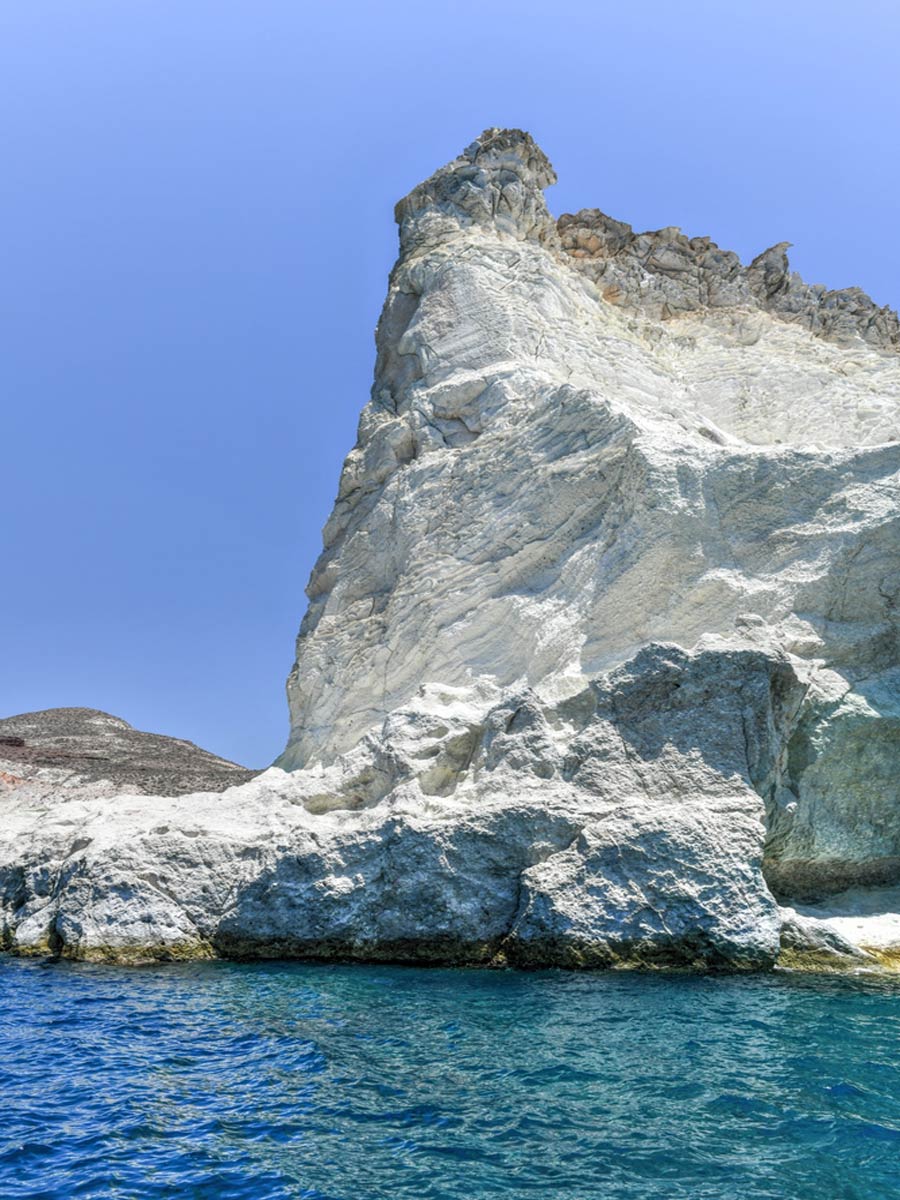 One more beach? Oh, go on then! Looking for a more secluded beach on your Santorini honeymoon? You'll need to book a private boat to get to White Beach, but you'll be happy you did.
The white sandy cliffs above make for a stunning backdrop contrasting the dark blue waters, beach chairs, and straw umbrellas available to rent.
Head here early and spend the afternoon in one of our favorite ideas for an intimate retreat on your Santorini honeymoon. Add the nearby Red Beach to your trip, and you'll enjoy two of the most famous beaches on your honeymoon in Santorini.
The Best Time to Visit Santorini
Choosing the best time to visit Santorini for a honeymoon? It's best to schedule your romantic trip together for the spring or fall. We like the idea of a honeymoon to Santorini in April or May, when the weather is colder in other locations but beautiful in Santorini.

You'll skip the summertime crowds that begin in June but still have wonderfully warm temperatures for your honeymoon in Santorini.
How Long to Spend on Your Santorini Honeymoon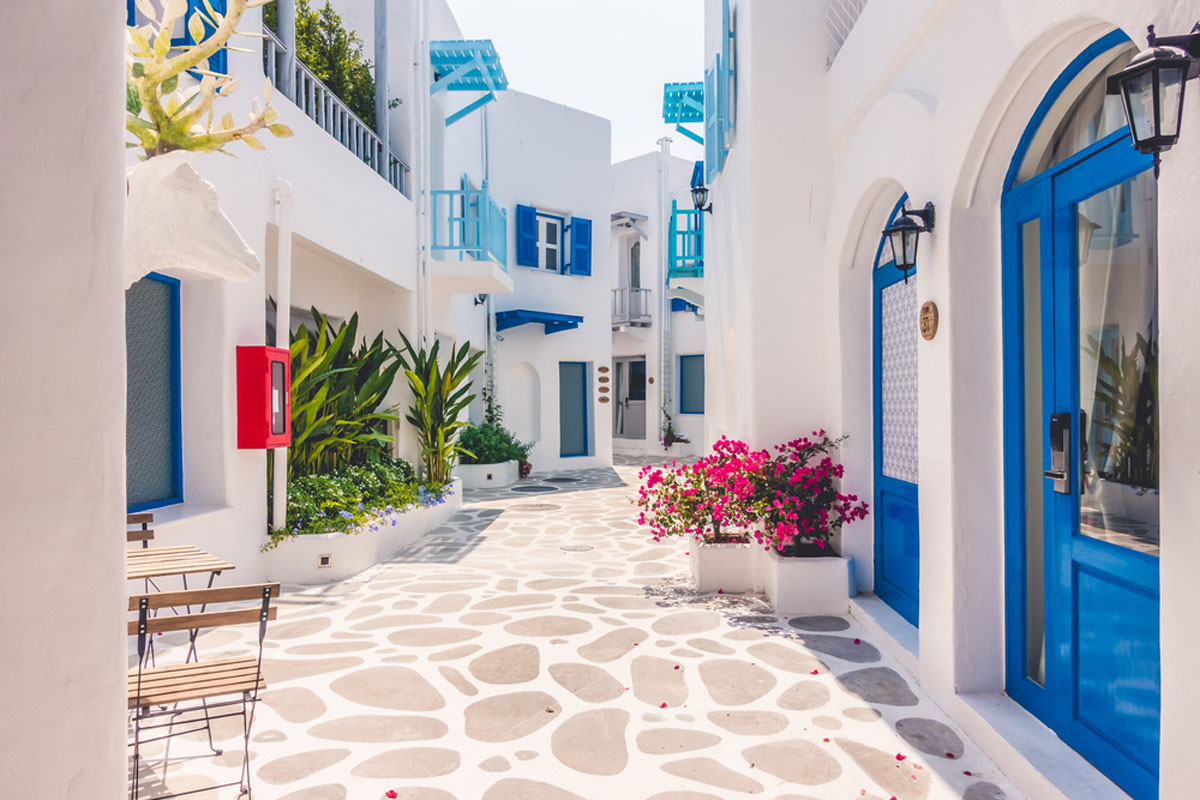 A Santorini honeymoon is a wonderful addition to any honeymoon in Greece. Because we love other locations nearby Santorini, we recommend spending four nights here so you can visit several islands or mainland Greece on your vacation.
How Much Does a Santorini Honeymoon Cost?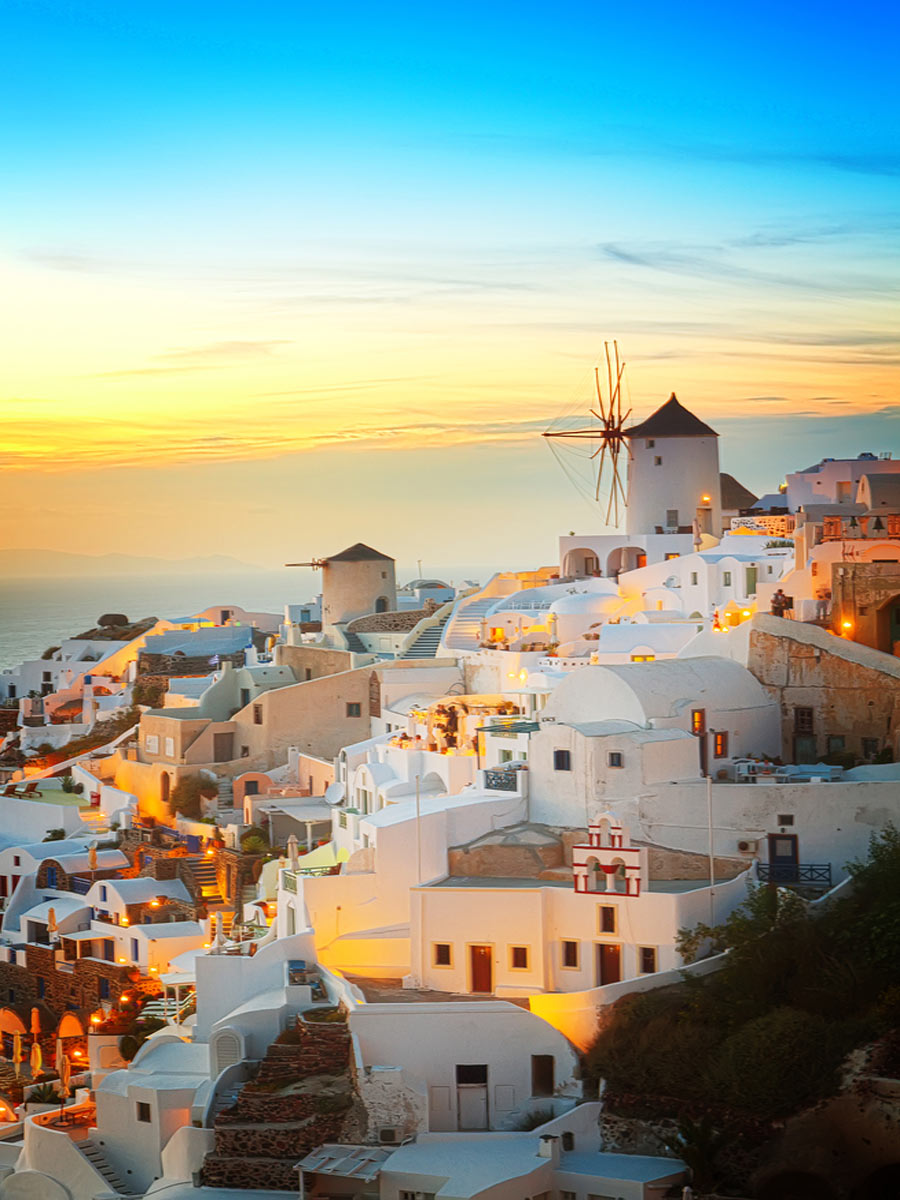 How much is a honeymoon in Santorini? While it costs more than some of our other favorite locations for a Greece honeymoon, resorts in Santorini are still relatively affordable.
For four luxurious nights in Santorini, consider setting aside around $2,000 for accommodations and flights when planning your honeymoon.
Santorini Honeymoon Resorts: Map
Santorini Honeymoon Guide: Read Next