Dreaming of a beach honeymoon with your new spouse? These destinations will have you ready to say "I do".
It's no surprise that so many couples opt to honeymoon beachside. We can't quite think of anything more relaxing (or indulgent) than spending a week on the soft, white sand – and moving only to dip your toes into the water.
Sounds perfect? Lucky for you, there are thousands of beaches throughout the world to choose from.
But do you book a luxurious resort in the Maldives? Or, do you spend a week or two in South Africa, admiring lions between sunbathing sessions? Well, that's up to you.
That's why we've written this handy to the best honeymoon beach destinations around the globe. From small islands to endless coastlines, there are honeymoon beach resorts to fit every budget, time constraint, and aesthetic.
Let's explore.
Beach Honeymoon Destinations
Maldives
Best for Staying in Overwater Bungalows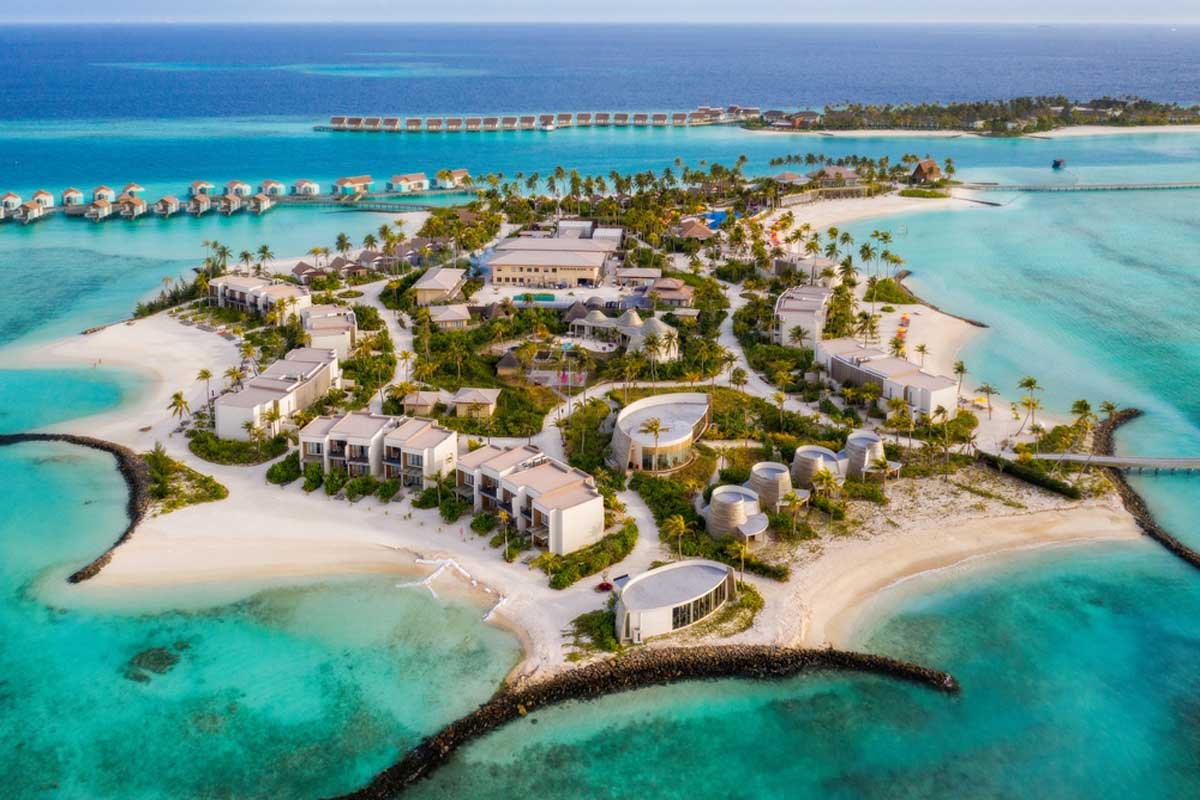 Situated to the southwest of Sri Lanka and India, the Maldives is made up of ​​1,200 small coral islands and sandbanks. But, with so many things to do, we promise you won't be feeling lonely on this isolated chain.
The islands are known for their luxurious over-water bungalows, which are perfect for a totally-Grammable honeymoon photo.
Diving and snorkeling are popular activities here because of the warm, calm waters, as well as the abundance of marine life in the pretty coral reefs.
Wondering when to book? The best time to visit the Maldives is from November through April.
Top Attractions
Undersea Restaurants – One of the most unique things you can do in Maldives is to dine, dance, and have drinks underwater as you watch marine life swim around you.
Banana Reef – Snorkeling and diving are one of the main reasons people visit the Maldives, you can swim with manta rays, tropical fish, sharks, dolphins, and more. There are options for beginners to experienced.
Beaches – Most resorts sit on private beaches (and the beaches in the Maldives are considered some of the most beautiful beaches in the world). Just relaxing on the shores can be some of the most revitalizing parts of your honeymoon.
Suggested Honeymoon Duration: 7-10 days.
Suggested Stay: Ayada Maldives
Mauritius
Best for White-Sand Beaches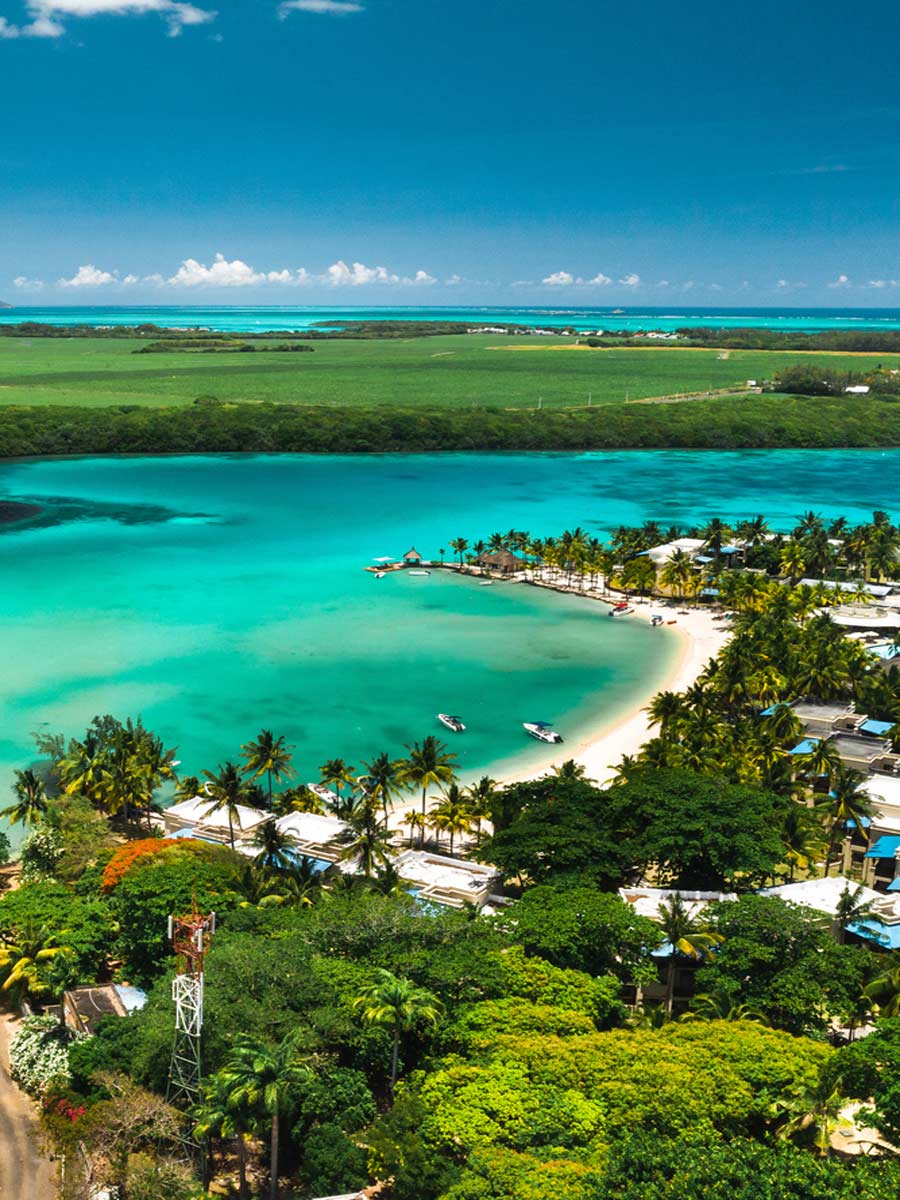 The remarkable island country of Mauritius can be found off the east coast of Africa.
Comprised of 16 islands, the country is highly sought after because of its soft, white sandy beaches and warm waters.
Mauritius is also known for its tea plantations where they grow some of the world's best tea leaves. Book you and your spouse onto a tour and we guarantee it will offer a fascinating insight into the drink – that is, if you can peel yourselves away from the idyllic beaches.
Mauritius has incredibly warm weather all year long, so there is no bad time to visit, making it one of the best beach honeymoon destinations.
Top Attractions
Grand Bassin – Grand Bassin is a sacred mountain lake that sits 1800 feet above sea level. There is a stunning Hindu temple and statues as well as walking trails around the lake and up to the peak.
Sir Seewoosagur Ramgoolam Botanical Gardens – These are the oldest botanical gardens in the Southern Hemisphere and one of the main attractions is the giant lily pads.
Black River Gorges National Park – A great way to get off the beach for a day or two, this park features gorges, canyons, and waterfalls with great hiking trails.
Suggested Honeymoon Duration: Between 7-10 days.
Suggested Stay: The Oberoi Beach Resort
Seychelles
Best for National Parks and Reserves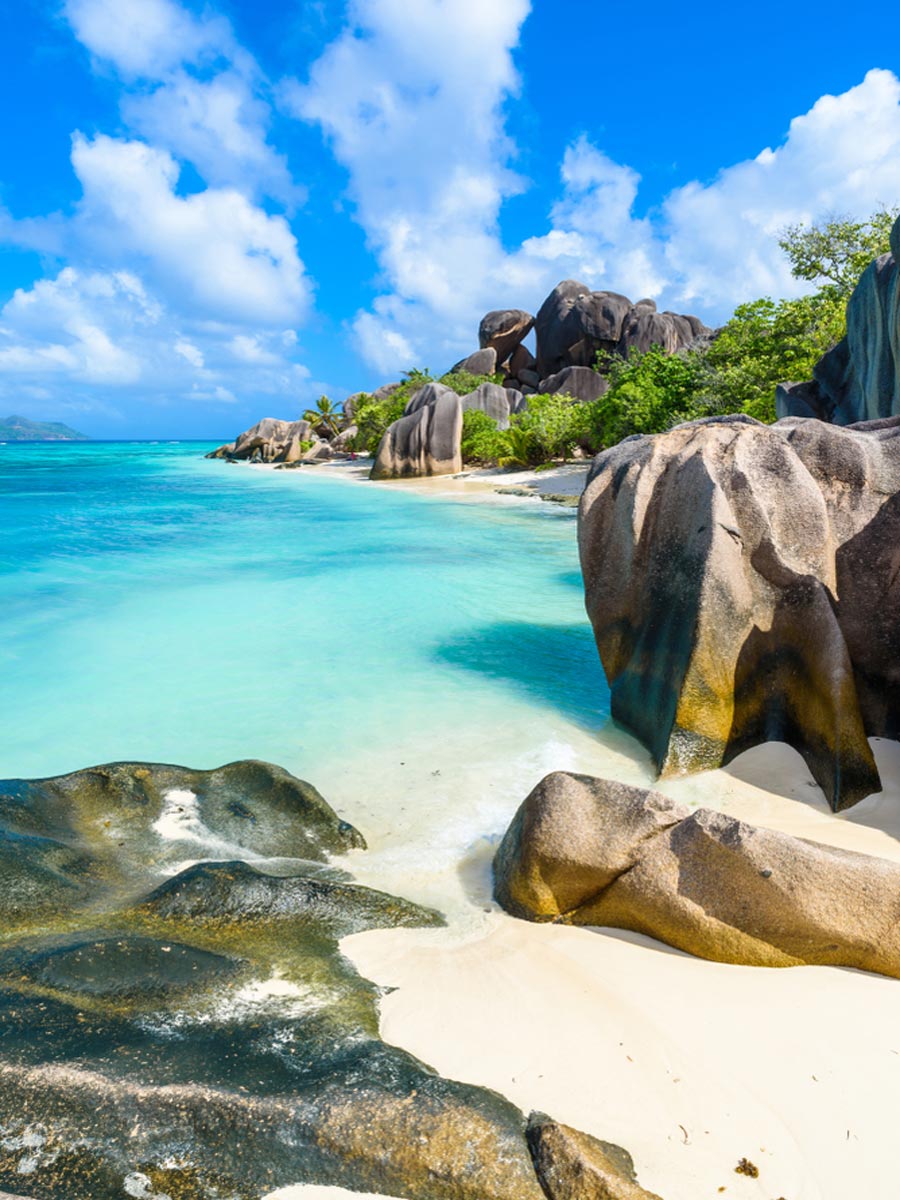 Seychelles can be found off the coast of East Africa and consists of 115 jaw-droppingly beautiful islands.
The landscape is made up of beaches, coral reefs, and nature reserves dotted with mountains covered in rainforests, so this honeymoon destination is perfect for those looking to escape the hustle and bustle and enjoy the peace and quiet with your new partner.
Speaking of nature, the islands protect rare species like giant Aldabra tortoises, Seychelles Scops Owl, and the Hawksbill sea turtles. All magical creatures to spot on your special vacay.
The best time to visit the islands is between April and May, or October and November.
Top Attractions
St Anne Marine National Park – This park is a combination of 6 islands surrounded by clear, blue waters. It's ideal for snorkeling where you might be swimming next to turtles and dolphins.
Silhouette Island – The third largest island in the archipelago, it's considered one of the most beautiful with thick, forested mountains and pristine beaches and waters. There are various hiking trails and secluded beaches.
Copolia Trail – Another stunning hiking trail is the Copolia Trail. It's about a 1.2-mile hike on an out-and-back trail. At the top, you'll get a whole different perspective of the beautiful beaches of Seychelles.
Suggested Honeymoon Duration: 7-10 days.
St Lucia
Best for Luxury Adventures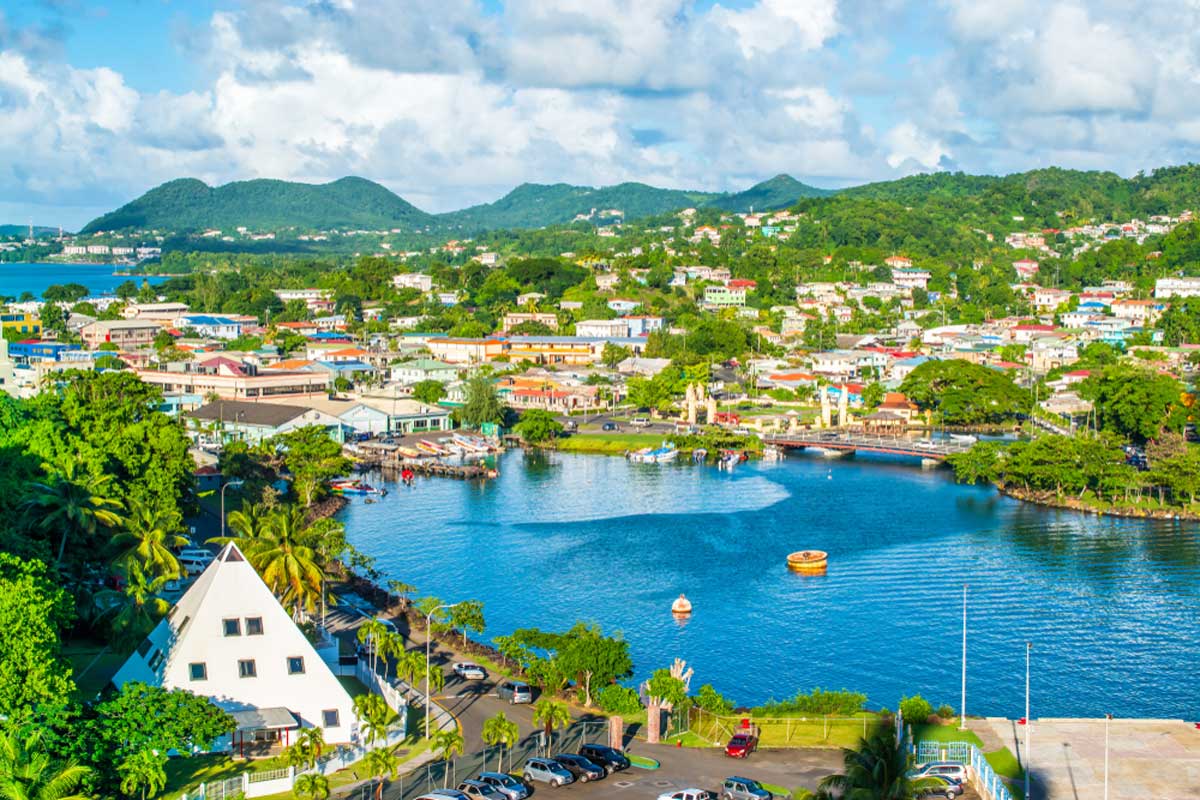 Situated in the Caribbean, St Lucia is just south of the Floridian coast. That means it's blessed with dreamy beaches and even better weather.
The islands are comprised of lush, vegetated mountains, beaches lined with palm trees, waterfalls, and dozens of snorkeling and diving spots. You can even get to learn the process of chocolate growing in St Lucia – and we can't quite think of anything more romantic than that.
The best time to visit St Lucia for sunny skies is Mid-December to Mid-April.
Top Attractions
Sulpher Springs Park – Touted as the only drive-in volcano in the world, you can soak in mudbaths that are said to make you look younger (yes please) and then wash off in the waterfalls. There are plenty of different tour options to choose from.
Hike Gros Piton – The Pitons are synonymous with St. Lucia, these two volcanos make up the highest points of the islands. You can hike to one or both peaks ranging anywhere between 3-6 hours. Views from the top are truly stunning.
Pigeon Island National Park – Here you can find historical artifacts and monuments, hike to breathtaking viewpoints, swim, snorkel, or relax on the two beaches, and you can enjoy the fresh cuisine at any of the local restaurants or pubs.
Suggested Honeymoon Duration: 5-7 days.
Suggested Stay: Jade Mountain Resort
Barbados
Best for a Chilled-Out Honeymoon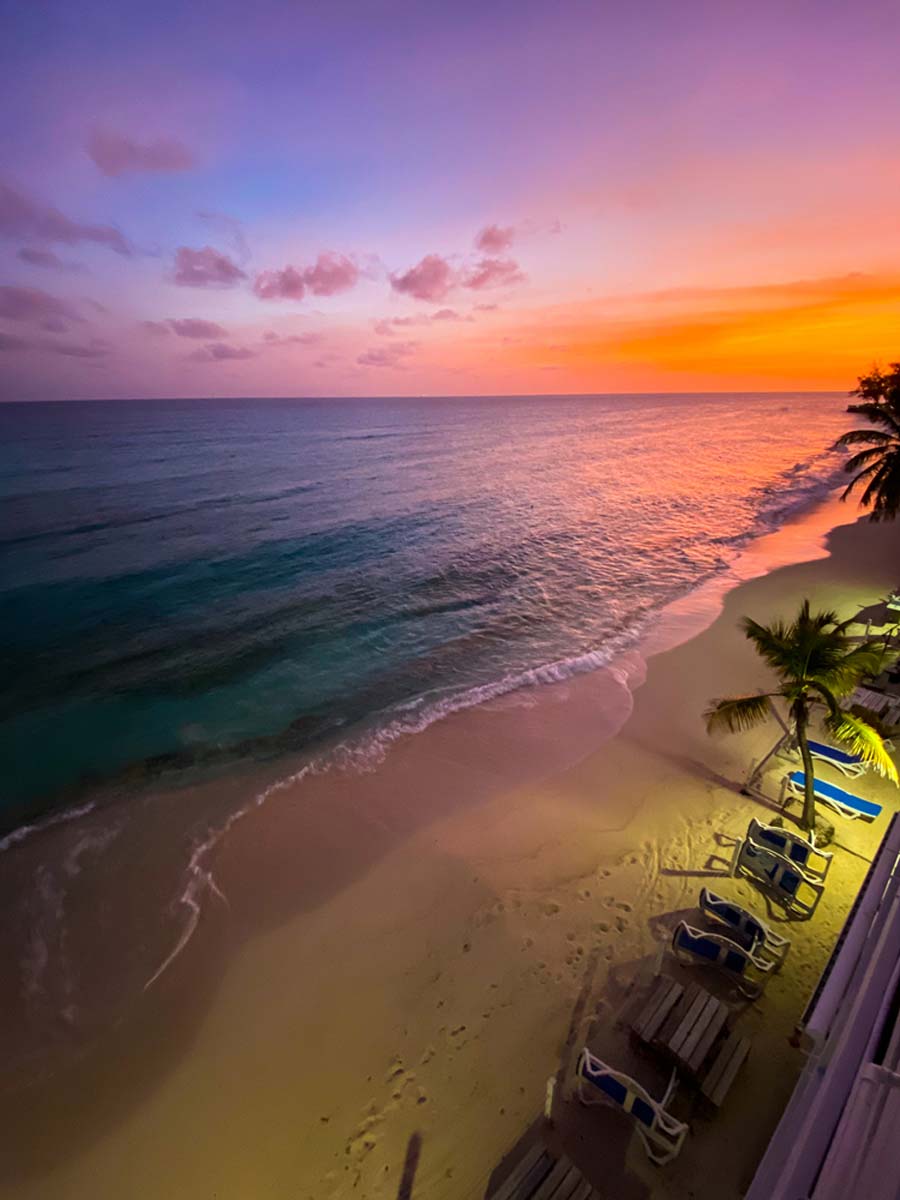 It goes without saying that Barbados has some of the best beaches for honeymoons.
The islands are also known for many things including being the birthplace of rum and Rihanna, pirate history, friendly locals and so much more.
Located in the southeastern Caribbean, the island is easily accessible from most places. The best time of year to visit Barbados is between mid-December and mid-April.
Top Attractions
Bathsheba Beach – This stretch of beach is home to the legendary surf spot called "Soup Bowls" and the iconic Bathesheb Rock that juts out of the ocean.
Barbados Boardwalk – The boardwalk is a mile long and runs between Accra and Camelot beaches. Keep your eyes open for turtles, dolphins, and other marine life. The boardwalk provides the perfect spot for a sunrise or sunset walk.
Harrison's Cave – A popular tourist attraction, this cave system has an impressive array of stalagmites, stalactites, and underground streams.
Suggested Honeymoon Duration: 5-7 days.
Suggested Stay: Hilton's The Crane
South Africa
Best for Wildlife Viewing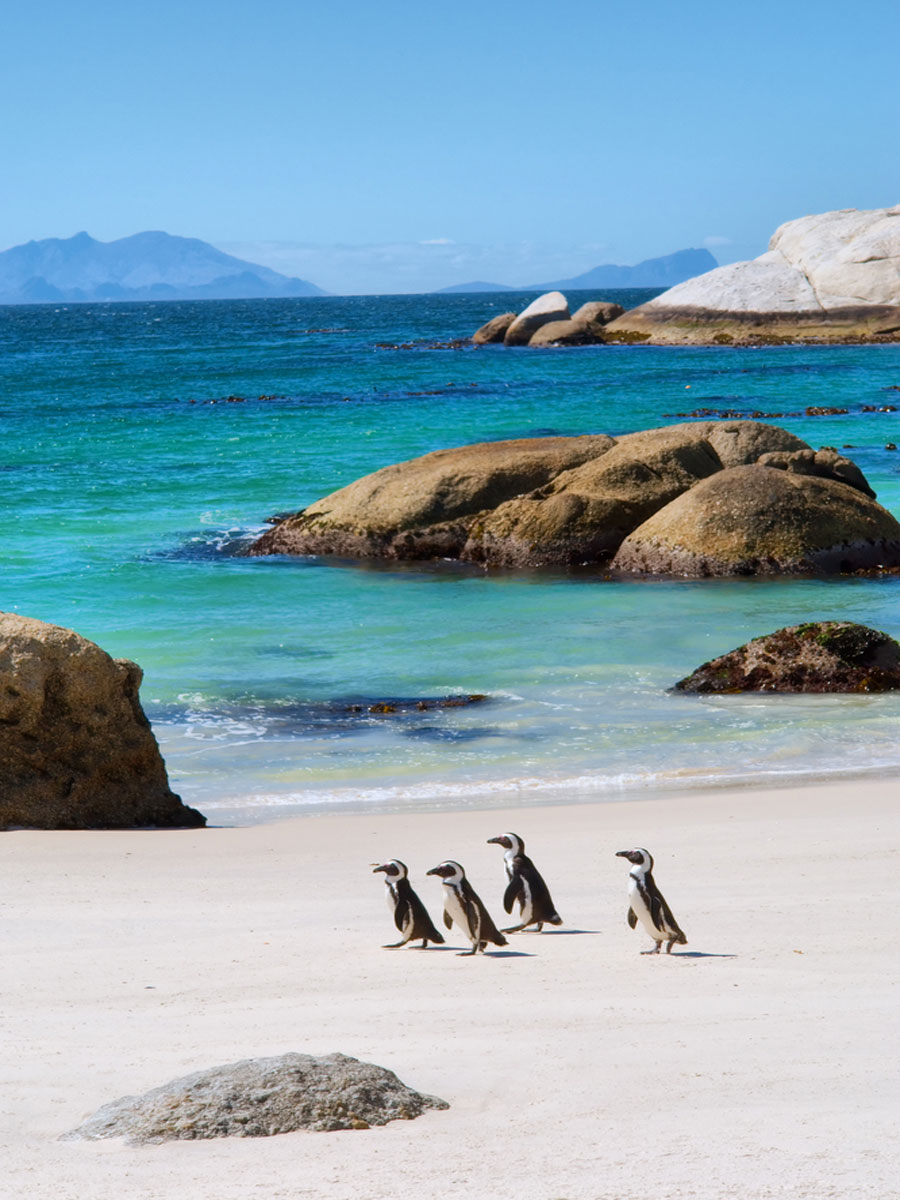 South Africa is a really unique and exotic honeymoon destination. With 1770 miles of coastline, 21 national parks, various UNESCO world heritage sites, mountains, plateaus, and rolling grasslands, South Africa is filled with endless opportunities for adventure.
The country is home to "the big five": The lion, leopard, rhino, elephant, and African buffalo. You can also view baboons, hippos, whales, penguins, great white sharks, and so much more.
Activities like safaris, shark dives, and whale watches are popular honeymoon activities, though the country also boasts dreamy beaches. The best time to visit South Africa is May through September.
Top Attractions
Wild Coast – Known for shipwrecks, rocky, oceanside cliffs, waterfalls, and stunning beaches, adventures like hiking, surfing, and scuba diving are popular activities along the Wild Coast.
Garden Route – The Garden Route area is another ideal option for hiking, surfing, kayaking, and cage diving with great whites.
Hluhluwe-iMfolozi Park – You can find all the "big five" animals in this national park, and then some. There are various tours available including day safaris and multi-day safaris.
Suggested Honeymoon Duration: 10-14 days.
Suggested Stay: Tintswalo Atlantic
Sri Lanka
Best for Culture and Cuisine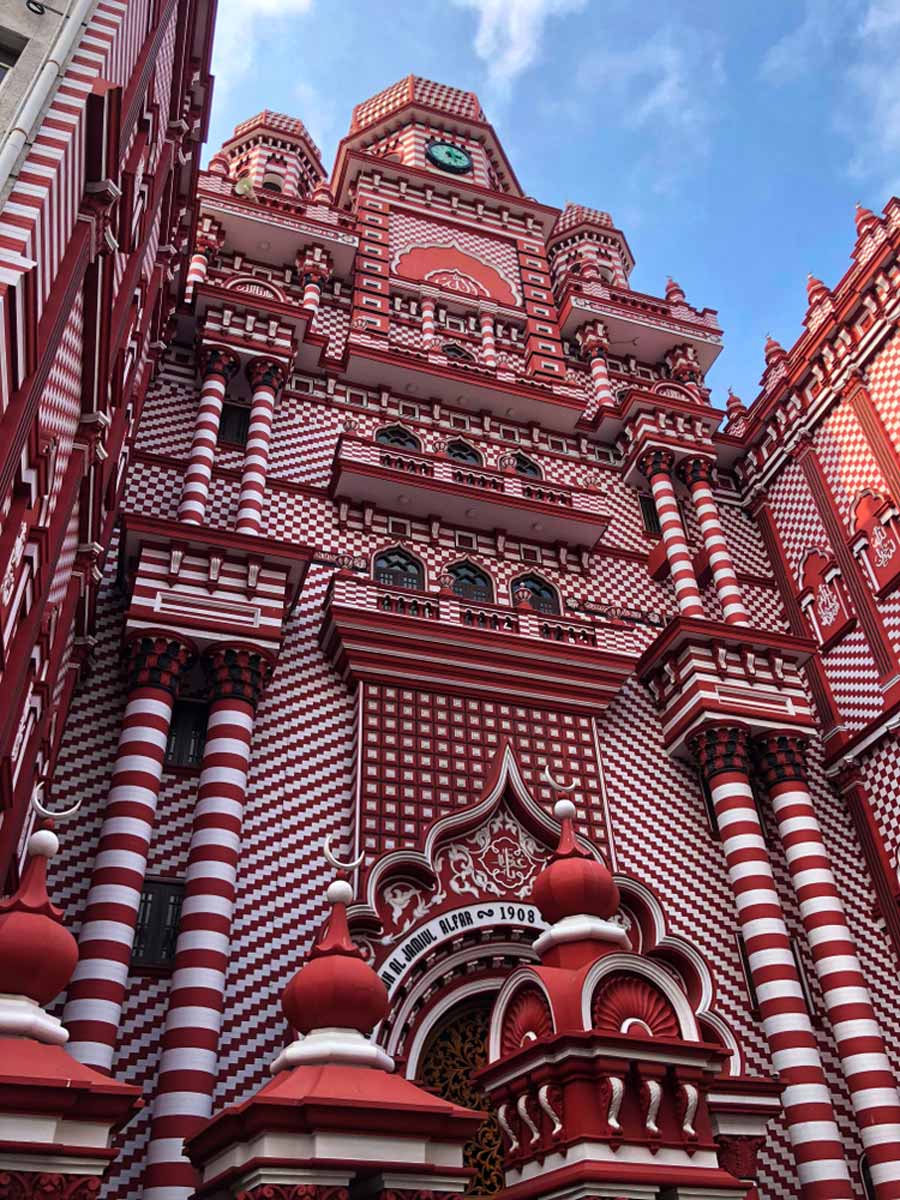 Sri Lanka is an independent island country in South East Asia. Known for spicy food, ancient history, stunning beaches, and lush jungles, Sri Lanka is an alluring option for your honeymoon.
Surfing, kitesurfing, hiking, dining, and animal viewing are all fun things to experience while visiting Sri Lanka.
Top Attractions
Visit the Temples – Sri Lanka has a long and important history. The country is home to some of the world's most intricate temples and places of worship. Visiting one of these sacred sites is a must when traveling in Sri Lanka.
Tea Plantation Tours – Sri Lanka is world-renowned for having the best tea leaves. There are dozens of tea farms and plantations where you can learn about the process of growing tea leaves.
Whale Watching Tour – If you're visiting between January and April, you have a good chance of witnessing the world's largest animal, the Blue Whale. They migrate from the Bay of Bengal to the western Indian Ocean and you can regularly see them swimming close to shore.
Suggested Honeymoon Duration: 7-10 days.
Suggested Stay: Uga Jungle Beach
Turks & Caicos
Best for Sailing and Island Hopping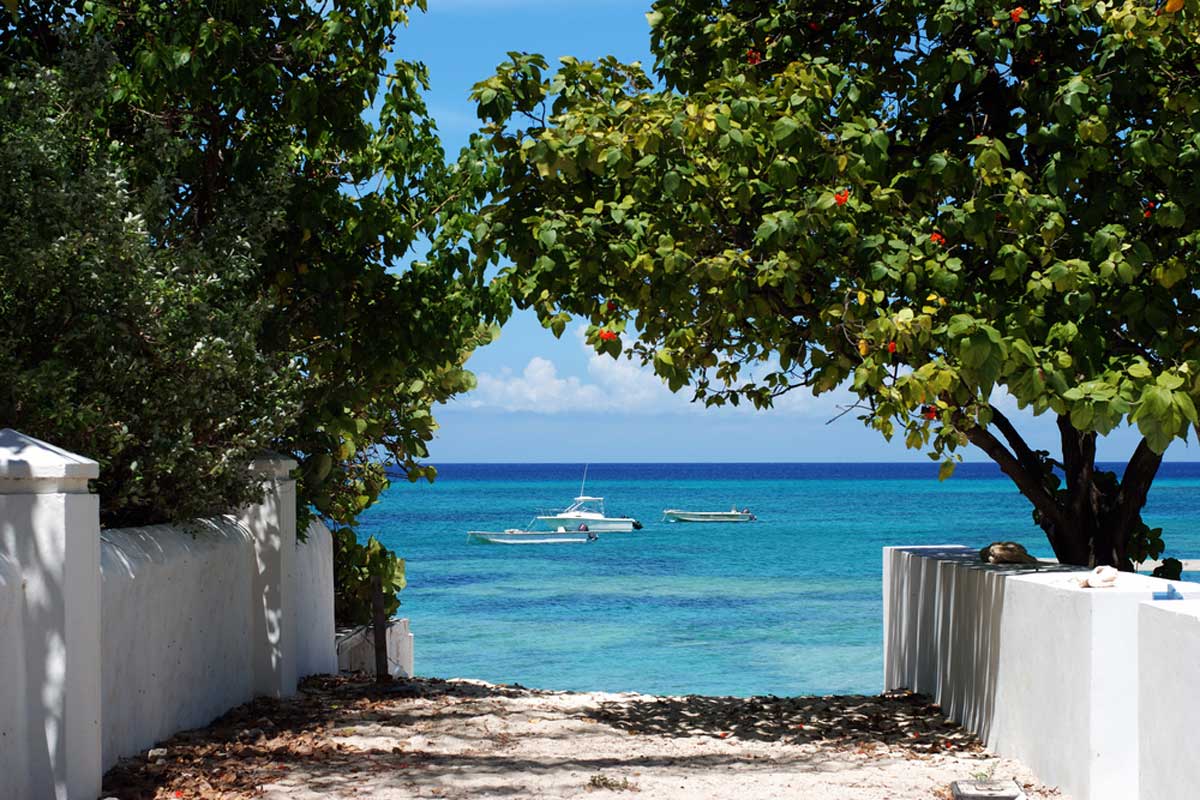 Honeymooning in Turks and Caicos is a classic option for any couple. The textbook definition of paradise, Turks and Caicos is known for its soft, sandy beaches and warm, calm cyan waters. The islands are also home to the widest blue hole in the world.
It comes as no surprise that most couples enjoy snorkeling and diving, sailing between the islands, hiking, and relaxing on some of the most gorgeous beaches in the world. The best time to visit is between December and March.
Top Attractions
Horseback Riding – For most, horses are majestic, powerful animals that evoke a sort of magic when you're around them. What better way to explore the stunning islands than riding a horse along the gentle lapping waves of a white sandy beach?
Boat Cruises – There are loads of islands scattered throughout the Turks and Caicos island chain and a great way to explore them is by boat. You can book catamaran cruises, glass bottom boat tours, and/or kayaking and paddle boarding adventures.
Snorkeling and Scuba Diving – As with most island destinations, snorkeling and diving are some of the main attractions, and Turks and Caicos are no different. The warm, calm waters offer ample opportunity to interact with marine life.
Suggested Honeymoon Duration: 5-7 days.
Suggested Stay: The Palms
Florida Keys
Best for Snorkeling and Diving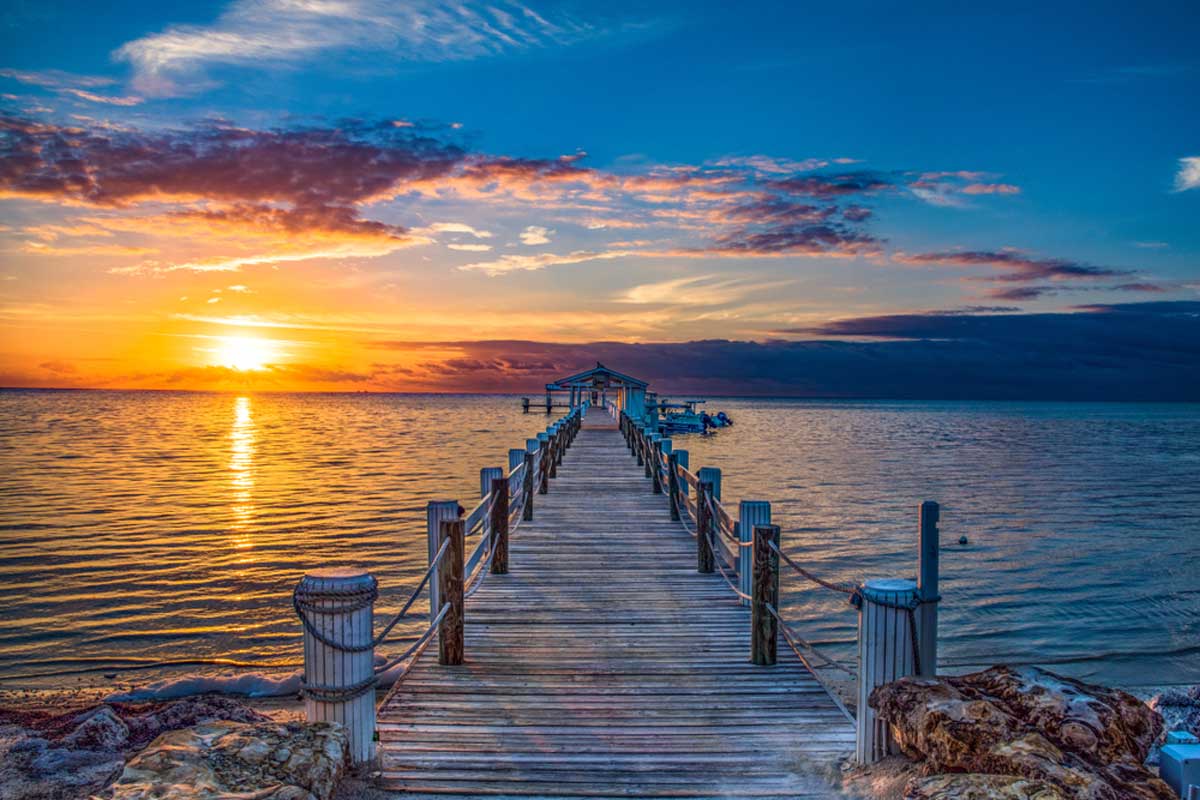 One of the best honeymoon beaches in Florida can be found at the Florida Keys – a chain of islands off the tip of Florida.
Best known for snorkeling, diving, and fishing, the FL Keys are a great option for honeymooning couples. You can find great seafood restaurants all through the FL Keys, from high-end dining to low-key establishments.
Although stunning all year round, the best time to visit the Florida Keys is between December and March when the crowds are thinner and the weather still pleasant.
Top Attractions
Charter a Fishing Trip – The FL Keys are known as the top sportfishing spots in the world. There are dozens of tour operators that can take you on a deep-sea fishing trip for a chance to catch Yellowtail Snapper, Grouper, Mahi Mahi, Marlin, Sailfish, and Swordfish.
Southernmost Point Buoy – A great photo opp, the southernmost point of the US is marked by a big buoy. It's especially romantic at sunset or sunrise.
Dry Tortugas National Park – This park is made of of mostly open water with sporadic islands popping up here and there. The park is known for diving and snorkeling but there is also an old fort on the islands as well.
Suggested Honeymoon Duration: 5-7 days.
Suggested Stay: Little Palm Island Resort & Spa
Hawaiian Islands
Best for Swimming and Hiking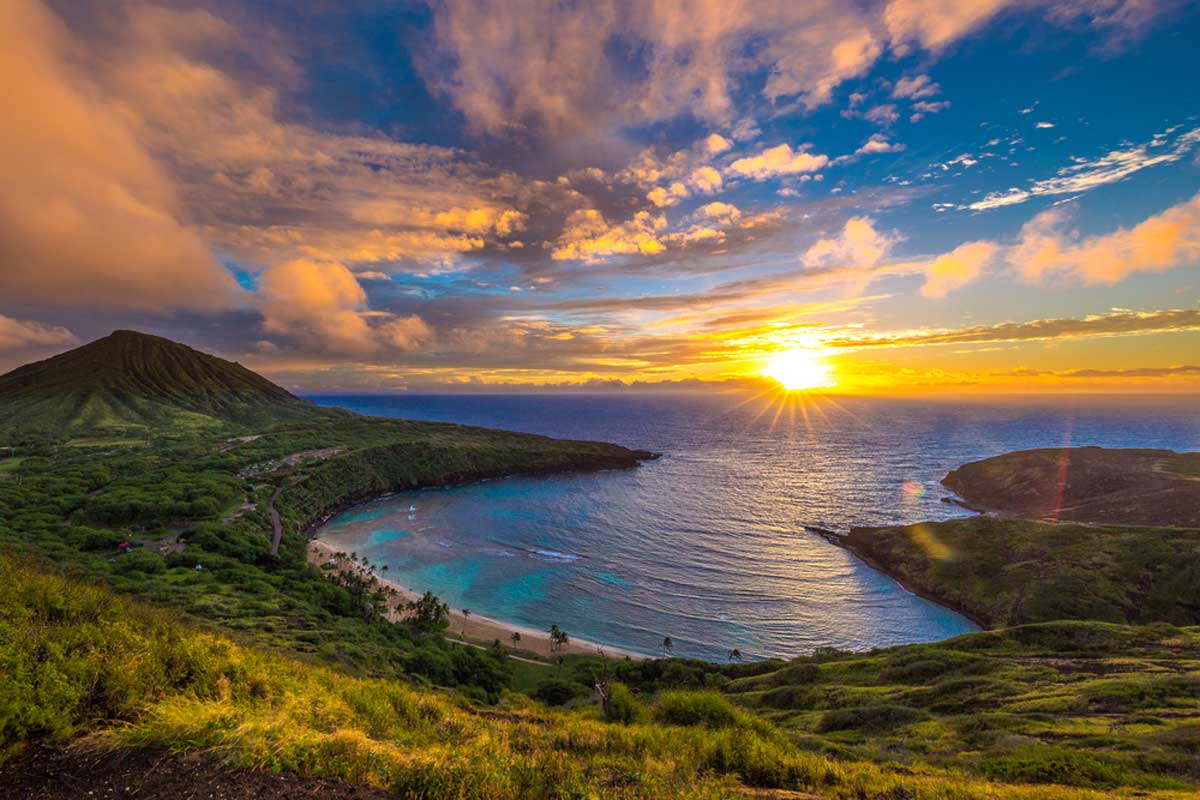 The Hawaiian Islands are considered one of the best beach honeymoon destinations in the US – and we're sure you can see why, right? The chain is made up of 7 main islands, all shrouded in beauty.
There are volcanoes, beaches, jungles, forests, waterfalls, and more just waiting to be explored. Take it from us – beach bums won't want to leave Waikiki Beach. And we don't blame you.
Hawaii is a magical land of adventure, and these picturesque islands are at their peak goodness from March through September.
Top Attractions
Volcanoes National Park – Volcanoes are some of the most powerful natural features in the world – and this park is home to two of the most active volcanoes in the world. The park is popular for hiking but also has a couple of scenic drives that you should definitely take on your honeymoon.
Surfing – Hawaii is synonymous with surfing. Whether you want to learn how to surf or just experience some of the biggest, most powerful surf spots in the world, Hawaii is perfect.
Snorkeling and Diving – Because of its clear, tropical waters, Hawaii is a popular destination for snorkeling and diving. If you ask us, Maui is the best spot to get under the water and swim with the locals.
Suggested Honeymoon Duration: 7-10 days.
Suggested Stay: Grand Hyatt Kauai Resort & Spa.
Read Next: Hawaii Honeymoon Guide
The Coromandel Peninsula, New Zealand
Best for Natural Beauty
The Coromandel Peninsula is one of the most beautiful places on Earth.
Don't believe us? From endless beaches to lush forests and stunning mountains, The Coromandel offers the best of everything – no wonder it's one of New Zealand's most popular destinations for locals and visitors.
The peninsula boasts a laid-back feel with hiking trails, surfing, and more. Ideal for a dreamy honeymoon with your new boo.
Top Attractions
Hot Water Beach – This unique beach is best visited within two hours on either side of low tide. You'll want to make sure to bring a shovel because you can dig your own little pools that then fill with hot water from the hot springs that flow underneath – quite a surreal experience.
Cathedral Cove – One of the most visited places in all of New Zealand, Cathedral Cove is a collection of natural rock formations with the centerpiece being a cave-like feature that resembles a cathedral.
The Lost Spring – This tropical hot spring retreat is a great option for honeymooners. You can find geothermal pools, unwind at a tree-top day spa, and refuel at their delicious restaurant.
Suggested Honeymoon Duration: 10-14 days.
Suggested Stay: Wairua Lodge
Nicaragua
Best for Surfing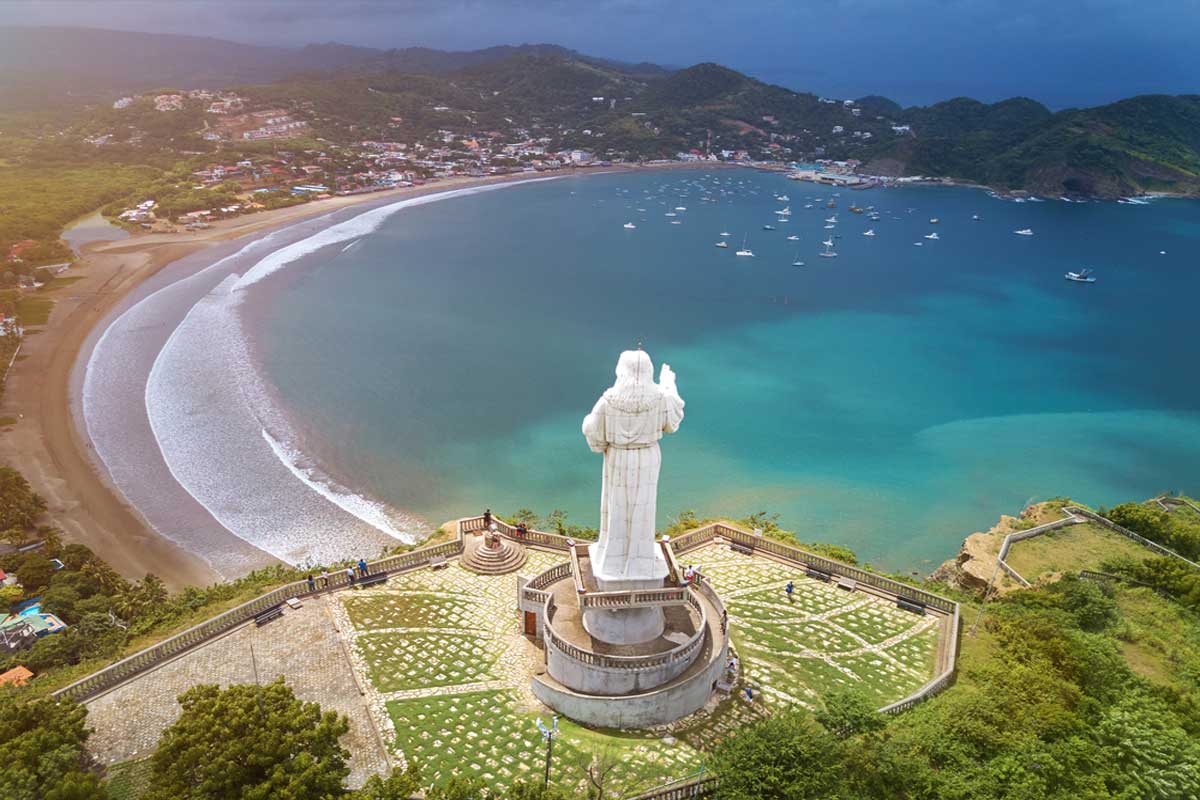 Nicaragua is quickly growing as a tropical destination vacation spot. It has been popular with surfers for decades – and now the general population is catching on.
If you're a surfer (or want to learn how to surf), you'll be happy to know that Nicaragua sees more than 300 days of offshore winds. This means the waves are almost always clean and rideable.
If you're not too keen on surfing, Nicaragua is also part of the Ring of Fire with many volcanoes you can visit. Add to this a criminally underrated cuisine and you've got a wonderful honeymoon filled with sand, sea, adventure, and snacks.
The best time to visit the Central American country is between November and May.
Top Attractions
Learn to Surf – One of the best places to learn to surf is in a little town called El Transito. Solid Surf Adventure offers surf lessons for all levels as well as yoga classes and a beach bar.
Cero Negro – For one of the most unique experiences in the world, visit Cerro Negro. This is an active volcano that you can hike with a sled and go sandboarding down the side. From the top, you can see other volcanoes along the ring of fire, old lava flows, and even the ocean!
Corn Islands – On the Caribbean side of Nicaragua are the Corn Islands. Many people travel here for the opportunity to go diving with hammerhead sharks.
Suggested Honeymoon Duration: 5-7 days.
Suggested Stay: Gran Hotel Victoria
Mexico
Best for All-Inclusive Resorts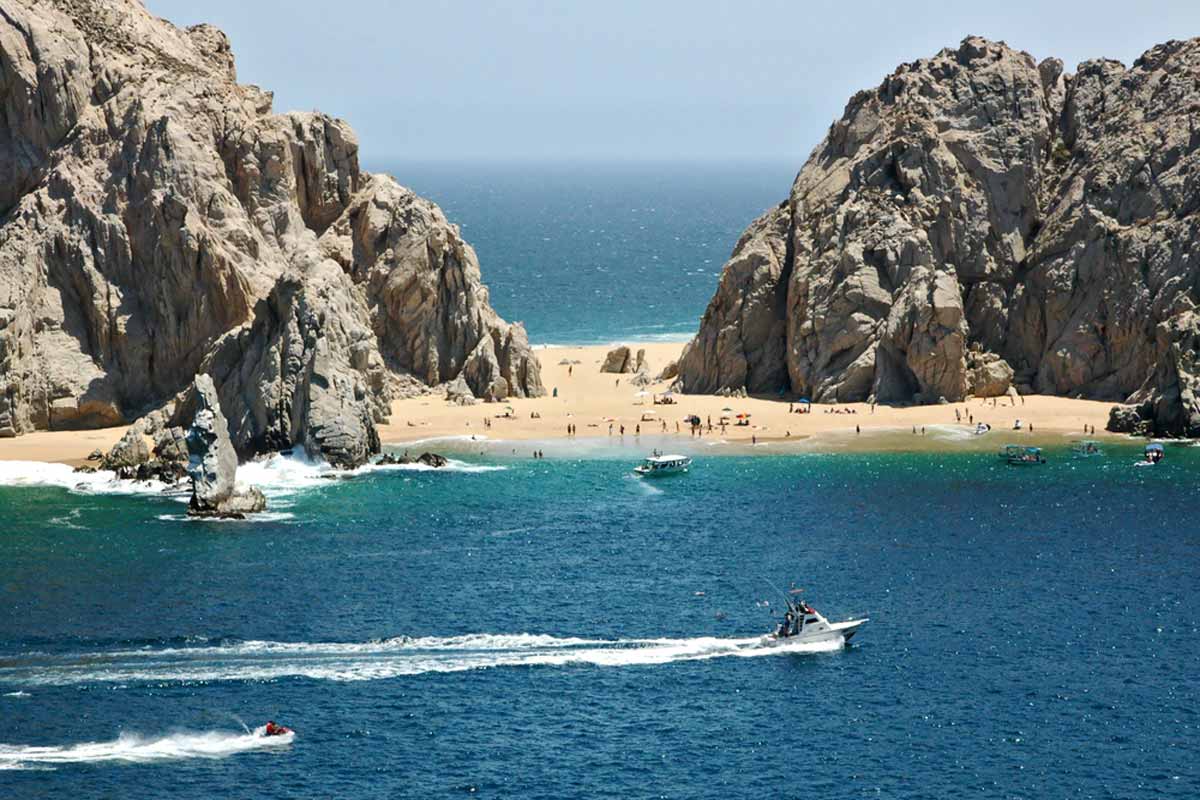 We're not surprised that Mexico is ever-increasing in popularity when it comes to honeymoon destinations. There are several parts of Mexico that are perfect for couples looking for a beach honeymoon including Cancun, Cabo San Lucas, Cost Maya, RIvereria Maya, and Playa Del Carmen.
Most of these places are catered to tourists and offer multiple options for all-inclusive resorts. Mexico is well known for boasting tropical waters, underwater caves, and ancient Mayan temples. The best time to visit Mexico is April to May and September to October.
Top Attractions
Tulum – Tulum is one of the most visited places in Mexico. With spellbinding ruins sitting atop a grassy cliff overlooking the cerulean sea below, most resorts can arrange an excursion for you with other guests from your hotel.
Snorkeling in a Cenote – These underground caves can be found all over Mexico. Filled with water, swimming or snorkeling in these cenotes is an otherworldly experience.
Cabo Pulmo National Park – Another great snorkeling or diving experience is the Cabo Pulmo National Park. Here you may swim into sharks, rays, whales, and sea turtles.
Suggested Honeymoon Duration: 5-7 days.
Suggested Stay: Hyatt Zilara Cancun
Read Next: Cancun Honeymoon Guide
Waiheke Island, New Zealand
Best for Wine Lovers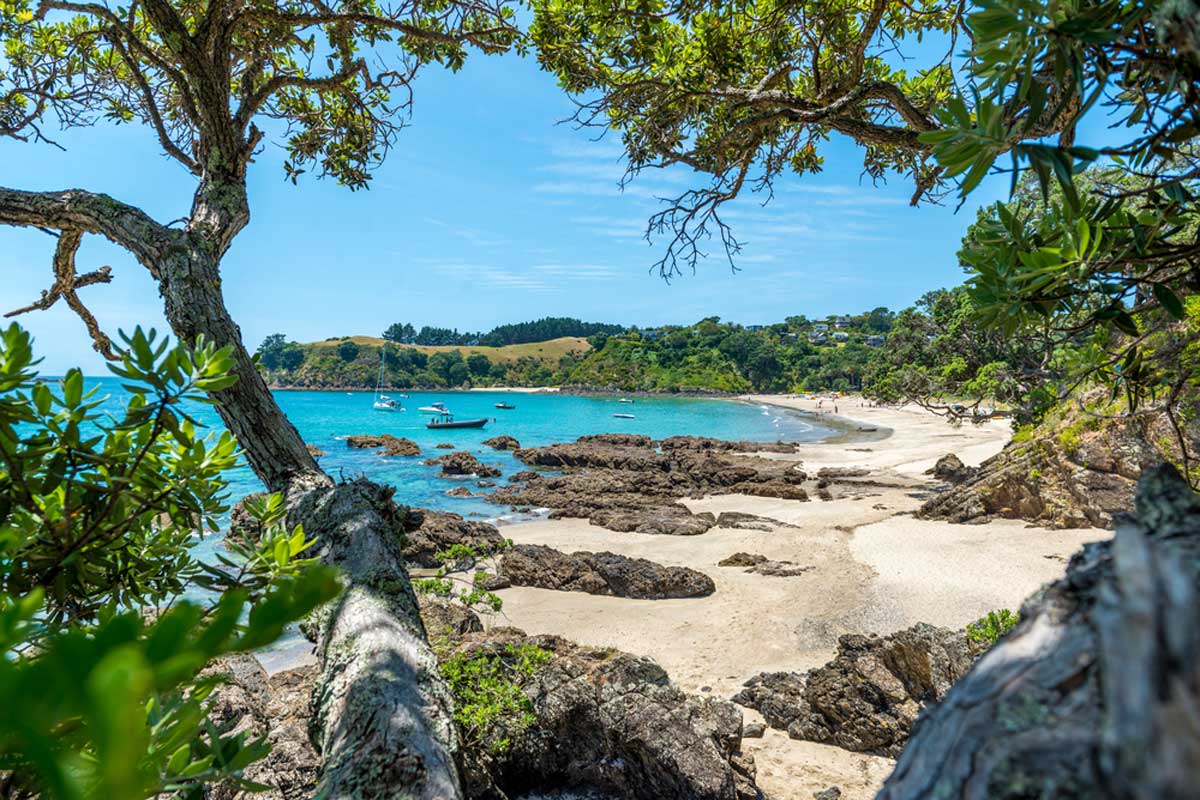 Known as "The Island of Wine", Waiheke Island can be found off the coast of the North Island in New Zealand.
With thriving vineyards, flourishing olive groves, and captivating beaches, this is one of the top spots for a sophisticated honeymoon near the beach. Couples can spend their vacation pottering between beaches and vineyards… And we can't think of a better way to toast to your marriage.
Just a 40-minute ferry ride from Auckland, the island offers a variety of wine tours, beach and water activities delicious dining options.
Top Attractions
Hop-on Hop-Off Bus Tours – This is the top reason people travel to Waiheke Island. The bus takes you to various vineyards around the island so you don't have to worry about driving while fully experiencing the divinity that is New Zealand wine.
Little Palm Beach – Something just for adults, this secluded beach is a clothing-optional beach, perfect for honeymooning couples.
The Oyster Inn – Oysters are rumored to be a natural aphrodisiac. The Oyster Inn is a perfect place for couples to test this theory out with some of the freshest seafood options around.
Suggested Honeymoon Duration: 5-7 days.
Suggested Stay: Delamore Lodge
Orange County, California
Best for a Star-Studded Beach Break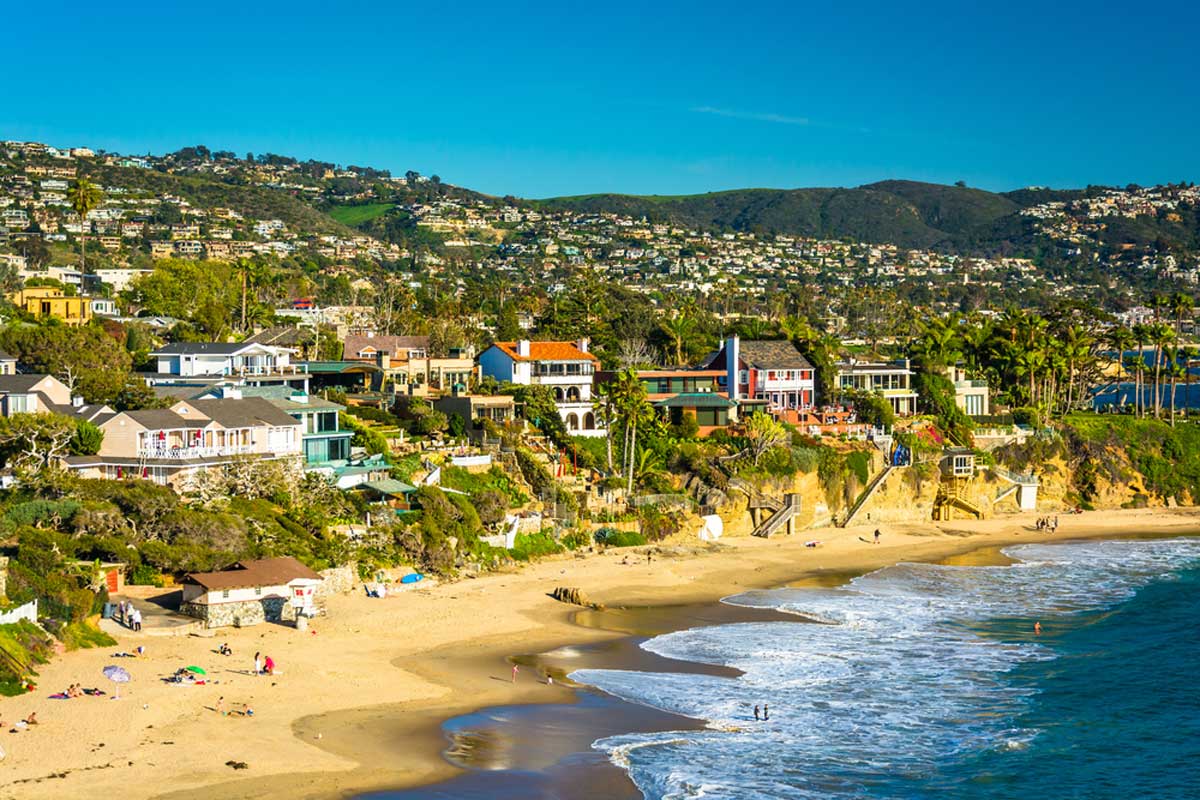 Orange County, or "The OC" as its affectionately called, is home to Disneyland, as well as some of the most well-known beach towns like Laguna Beach, Huntington Beach, and Newport Beach.
In particular, we love the main beach at Laguna – it's bustling and has volleyball courts and the famed lifeguard tower that features in many TV series and films.
The OC is a perfect destination for any time of the year.
Top Attractions
Disneyland – One of the biggest attractions in Orange County is Disneyland. Take a break from the beach and opt to spend the day in the amusement park seeking thrills and chowing down on iconic snacks.
Laguna Coast Wilderness Park – This park has 40+ miles of trails that wind through the wilderness along the coast, and coastal canyons, and offers panoramic views from the ridgeline. The park is also home to the only natural lakes in Orange County
Crystal Cove State Park – This park also has great hiking trails along with campsites if you're into camping. As well as this, it has beach access where you can find tide pools along the beach at low tide.
Suggested Honeymoon Duration: 5-7 days.
Suggested Stay: Waldorf Astoria Monarch Beach
Practical Tips for Planning Your Beach Honeymoon
Know the Signs of Heat Stroke
We don't want to scare you, but heat stroke is a common occurrence at honeymoon beach destinations. This happens when your body overheats, usually after prolonged exposure to high temperatures.
The good news is, though, that this is totally preventable (more on that later).
Symptoms of heat stroke include confusion, altered mental status, slurred speech, loss of consciousness, hot, dry skin or profuse sweating, seizures, and very high body temperature. Drinking alcohol can intensify these symptoms.
If you or your partner are experiencing symptoms of heat stroke, you'll want to make sure that you get to a shaded, cool area if possible and remove any excess clothing. Next up, place cold wet cloths on the skin and circulate air around. It's a great idea to put cold wet clothes or ice on the head, neck, armpits, and groin.
And, of course, get checked by a doctor or emergency personnel if possible.
Stay Hydrated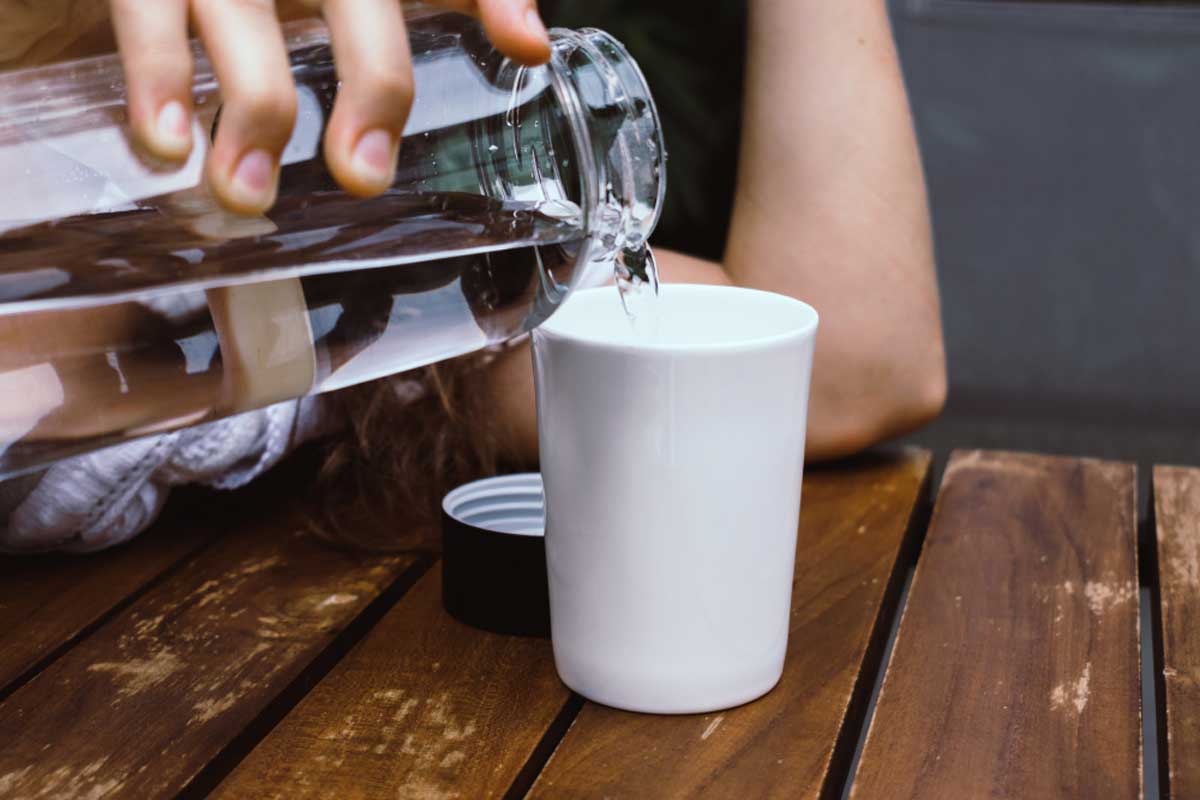 One of the easiest ways to ensure you have the very best beach honeymoon is to stay hydrated, especially if you're going to be drinking alcohol and spending lots of time in the sun. A great way to stay hydrated is to carry around a reusable water bottle.
You can add some extra goodness to your water by adding in things like ​​cucumbers, berries, watermelon, or citrus. Coconut water is also a great way to stay hydrated, so if you're in a tropical beach setting, dig into a fresh coconut.
Ocean and Reef Safe Sunscreen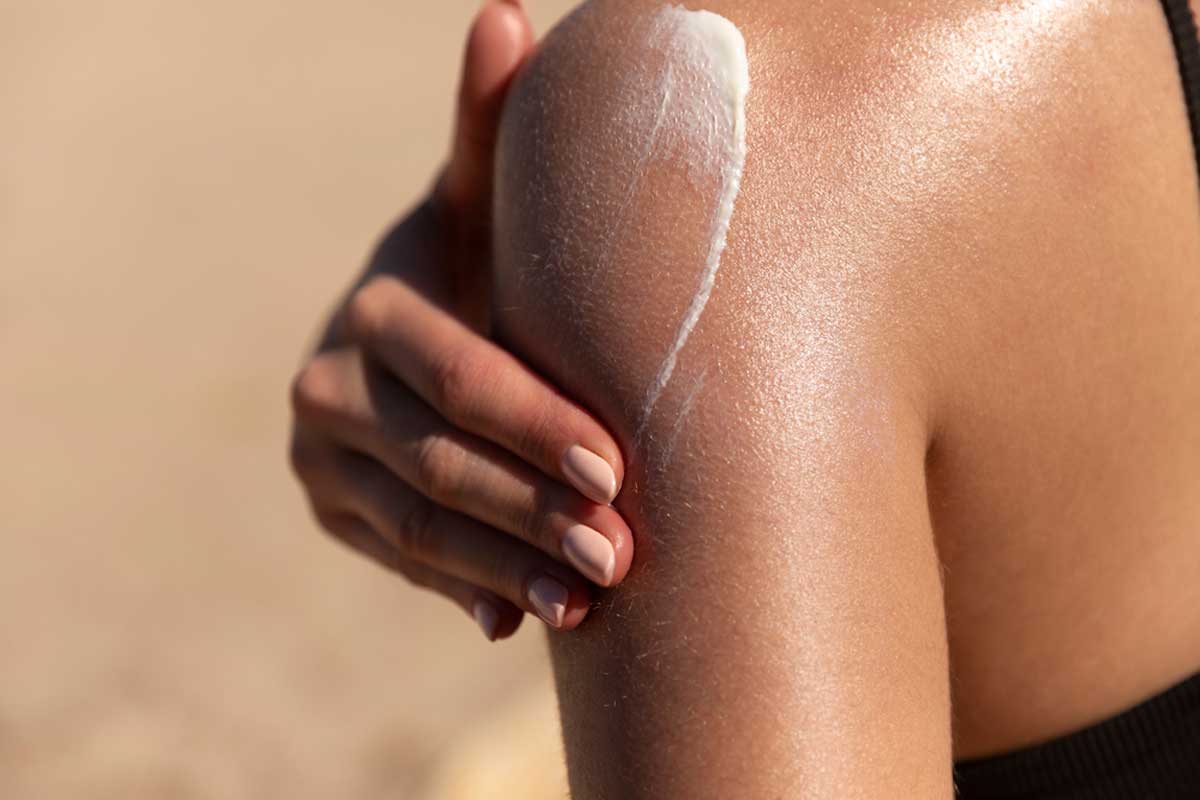 It's also important to keep your skin protected. Using ocean and reef-safe sunscreen not only protects you but also protects the beautiful environment you're honeymooning in.
Another way to protect your skin from the sun is wearing specifically made materials like UV cut clothing, UPF (ultraviolet protection factor), UVR (ultraviolet radiation), and SPF (sun protection factor) clothing.
Hats and sunglasses are also useful.
After Sun Aloe/Cream
Obviously, making sure you avoid sunburn is ideal – but sometimes, no matter how much sunscreen you use or how diligent you are about reapplying, it's likely you will still get some sunburn.
Even if you don't (gold star for you!), it's a good idea to properly take care of your skin after a day in the sun or on the water.
Lotions and creams with aloe vera, cocoa butter, or shea butter are great options to put on after showering. If you are experiencing some stinging, burning, or redness, you can put the aloe vera in the fridge or freezer for more of a cooling sensation.
Know How to Escape From a Rip Current
One of the most important things to consider before heading off on your idyllic beach honeymoon is ocean safety. Many people disregard the dangers that swimming at the beach can bring, however, just learning a few facts can help keep you and your partner safe.
Rip currents are powerful, narrow channels of fast-moving water that pull you out to sea.
Should you face one, the most important thing in these situations is not to panic.
If you notice you're being pulled farther and farther away from the beach, start swimming parallel to the shore to get yourself out of the current BEFORE trying to swim back to the beach.
Baby Powder
A fun (and ridiculously useful) tip for the honeymoon beaches you'll be visiting is to bring baby powder to get the sand off your skin. Sand gets into and on everything, especially places on your body like in between your toes and fingers.
You can use baby powder to remove that sticky sand by shaking some onto the desired spot after air drying for a few minutes. Rubbing the powder over the sand will remove stuck bits, leaving your skin super smooth and smelling fresh.
Waterproof Phone Cases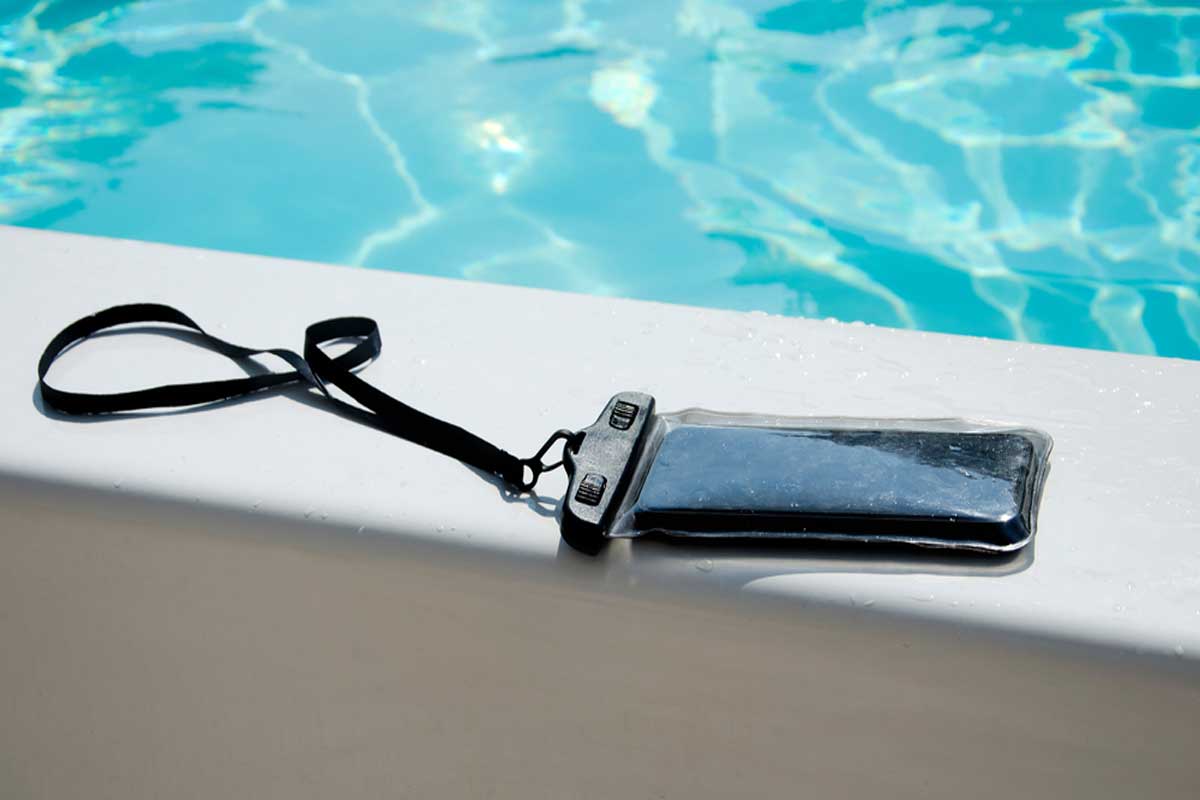 Most people document everything these days and that would surely include your time relaxing in paradise on one of the world's best honeymoon beaches. Sand, salt air, and ocean water can wreak havoc on your cell phone.
A great way to protect your phone is to put it in a waterproof case or bag. There are products that float, have a lanyard that goes around your neck, etc. At the very least, you can put your phone in a ziplock bag if you are hanging on the beach or by the pool.
Quick-dry Beach Towels
We think that one of the best things to ever be invented is quick-dry beach towels (you can even get sand-free beach towels!).
For beach honeymoon destinations, these are a must. You can pretty much find them anywhere, in any size, and to fit any budget.
Best Beach Honeymoon Destinations: Map
Beach Honeymoon Destinations: Read Next