Planning a Florida Keys honeymoon? Discover what the Florida Keys has to offer, from must-see destinations to the finest resorts and all-inclusive packages.
We'll make a bold statement: Florida Keys is the perfect honeymoon destination for nearly any couple. Home to the Southernmost point in the United States, the area boasts some of the best scuba diving and fishing you'll find on any USA honeymoon.
Eight hundred keys make up the large bridge-connected stretch of land that's one of the most unique geographic locations in the country.
And we're serious when we say that there's something for every traveler here, with activities ranging from museums to diving near one of the world's most extensive coral barrier reefs.
Ready to book your honeymoon in the Florida Keys? Read on to discover why it's one of our favorite destinations for relaxation and romance after tying the knot.
Why Honeymoon in the Florida Keys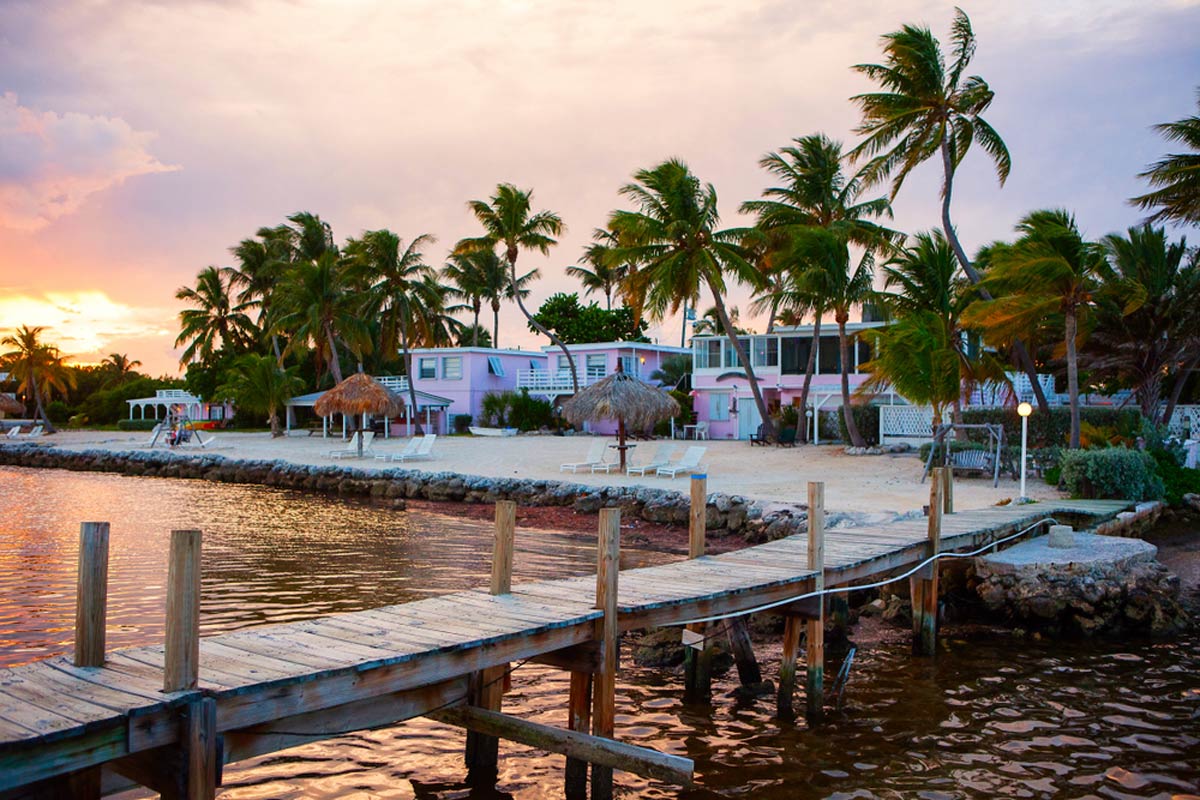 Why spend your honeymoon in the Florida Keys? If sunshine, scuba diving, and romantic sunset strolls are your idea of a perfect trip (we thought they might be), it's an easy decision.
Luxury resorts and charming bed and breakfasts dot the endless coastline of this beach honeymoon hot spot.
You can enjoy delicious culinary treats, relax on the sand, or visit a historic site on your honeymoon in the Florida Keys.
Sound like a perfect place to catch some R&R after you tie the knot? Thought so. Let's get into it.
Best Honeymoon Hotels & Resorts in the Florida Keys
Bungalows Key Largo
Key Largo
$$$
Best for Florida Key Honeymoon Bungalows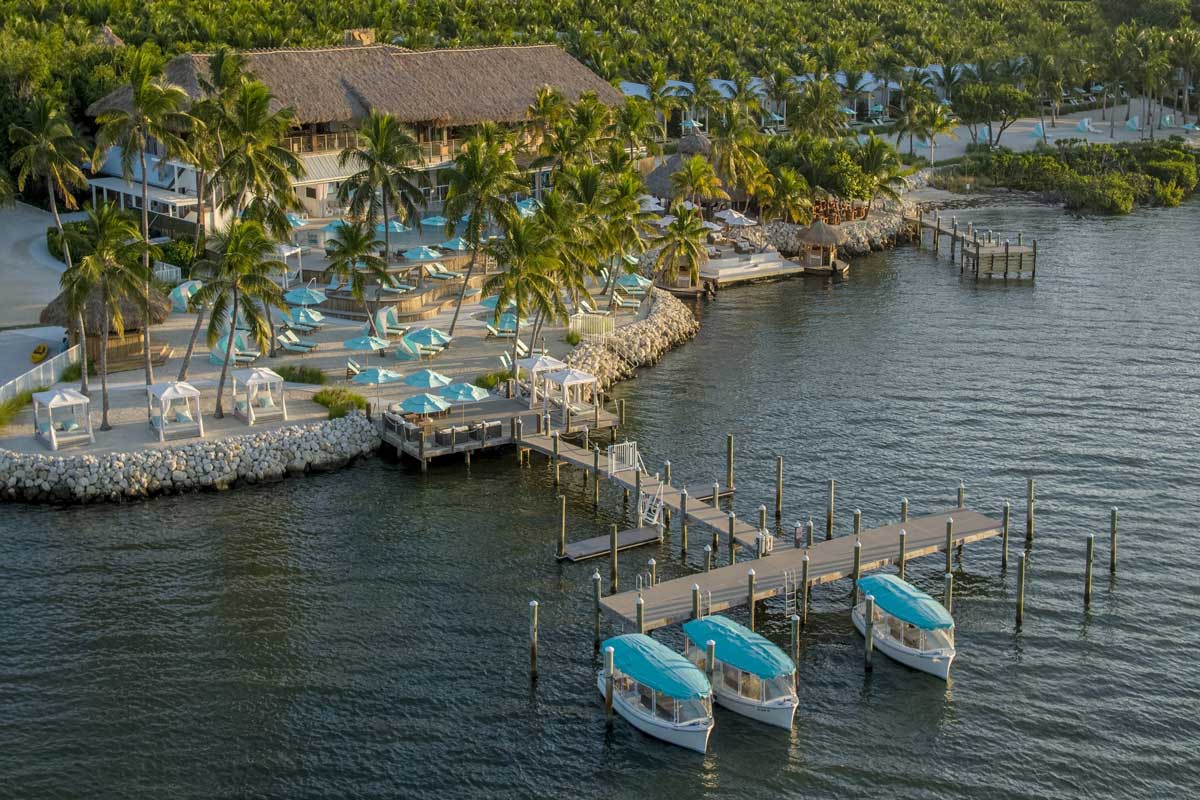 Looking for the perfect beach honeymoon? Let's be real – that's most likely why you chose the Florida Keys in the first place. And the Bungalows Key Largo is the quintessential place to stay if sun, sand, and surf are your top priorities.
This Florida Keys honeymoon all-inclusive resort has everything you need to enjoy the most incredible weekend in Key largo.
What makes it one of our favorite all-inclusive honeymoon packages?
The top-notch service and amenities are among the best you'll find on your stay in the Florida Keys. Airport transportation, beachside bungalows, and any outdoor activity you can dream up ensure you'll have the time of your life while here.
The 900-square-foot waterfront bungalows have in-room jacuzzis, comfortable beds and furniture, and a private patio where you can look out at an unrivaled ocean view.
Ready to book? We can see why.
Tranquility Bay Beachfront Resort
Marathon Key
$$$
Best for a Beachside Honeymoon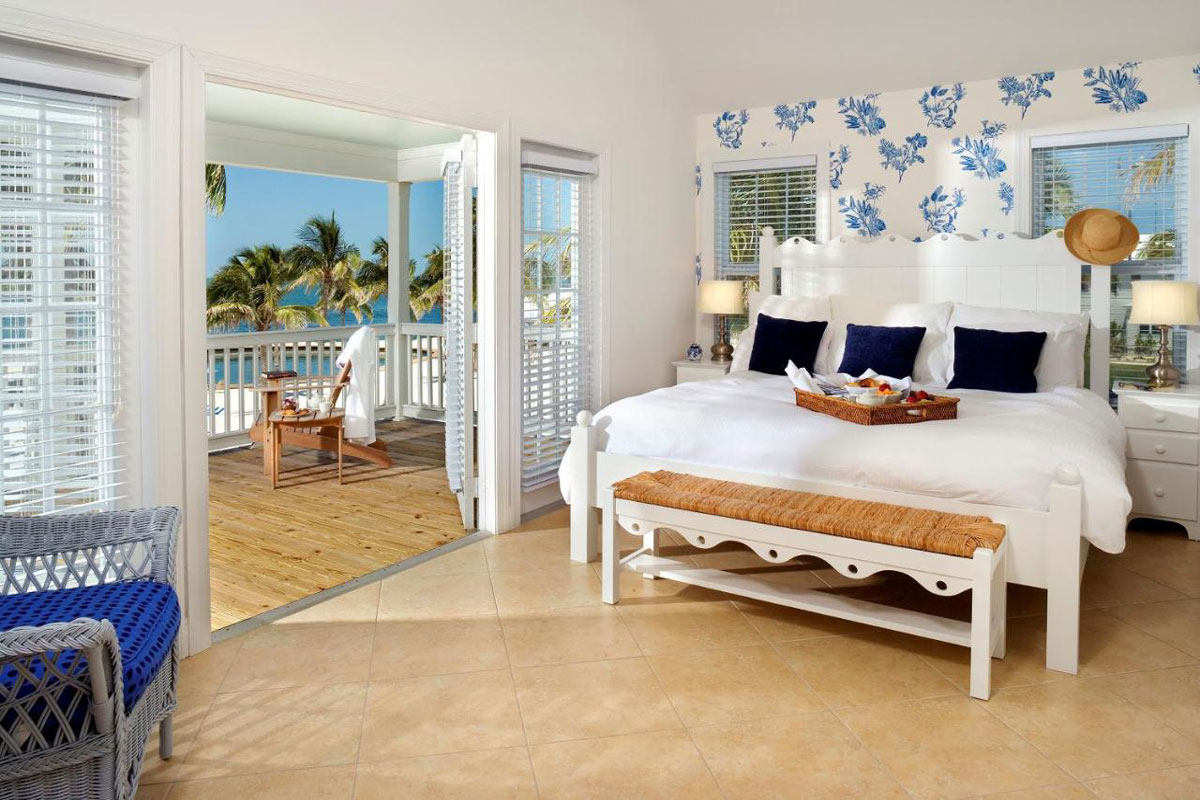 Looking for a unique Florida Keys honeymoon resort on Marathon Key? Tranquility Bay Resort is a quaint and cozy property on the beach that couldn't get much more charming.
The Victorian-style cottages are beautiful inside and out, and best yet, are just steps from the pristine white sand beaches around you.
What to do when you're here? Just about anything you imagine when you dream up a Florida Keys honeymoon.
You can kayak and paddle board or head to the fitness center to wake up each morning to work out with an idyllic view – making it an excellent choice for active couples.
Want a relaxing way to spend the afternoon between activities? How about an in-room couples spa to help you unwind?
And when you're ready to wine and dine, head to Butterfly Cafe and enjoy some freshly caught local seafood in a gorgeous setting outside. It's your honeymoon, after all.
The Porch on Frances Inn
Key West
$$$
Best for an Adults-Only Honeymoon Florida Keys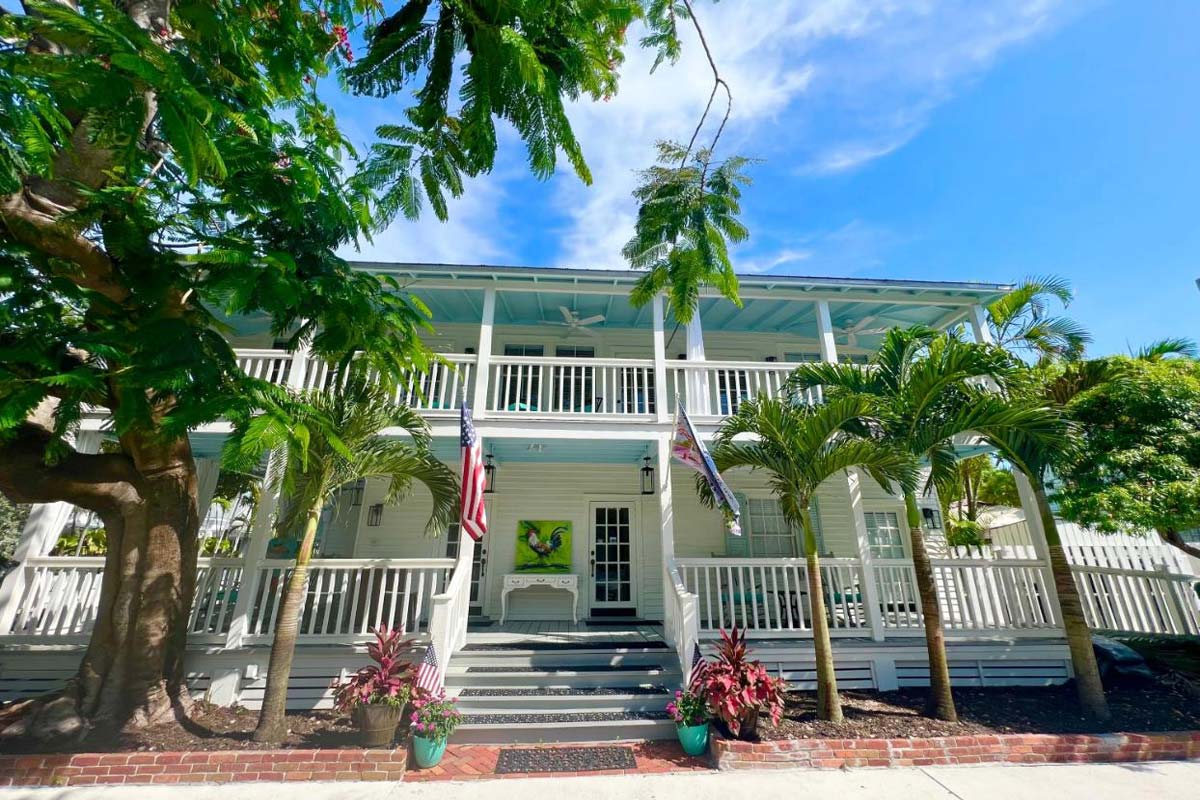 If you're looking for a Florida Keys honeymoon suite with some charm and vintage flare, look no further than The Porch on Frances Inn.
Our favorite part about this cozy historic inn is that it is close to nearby attractions like Mallory Square, and you'll be less than one mile from Higgs Beach.
Rooms are welcoming and comfortable, with everything you need to have a perfect evening together on the patio between romantic strolls through historic Key West. Each room here is unique, with vintage furniture and decor that bring out the historical splendor of the hotel.
Looking for Florida Keys honeymoon resorts with old-world charm that still feel fresh and vibrant? The Porch on Frances Inn was renovated in 2021 and is a favorite of tourists and locals alike.
We think you'll like it too.
Oceans Edge Key West
Key West
$$
Best for Florida Keys Honeymoon Packages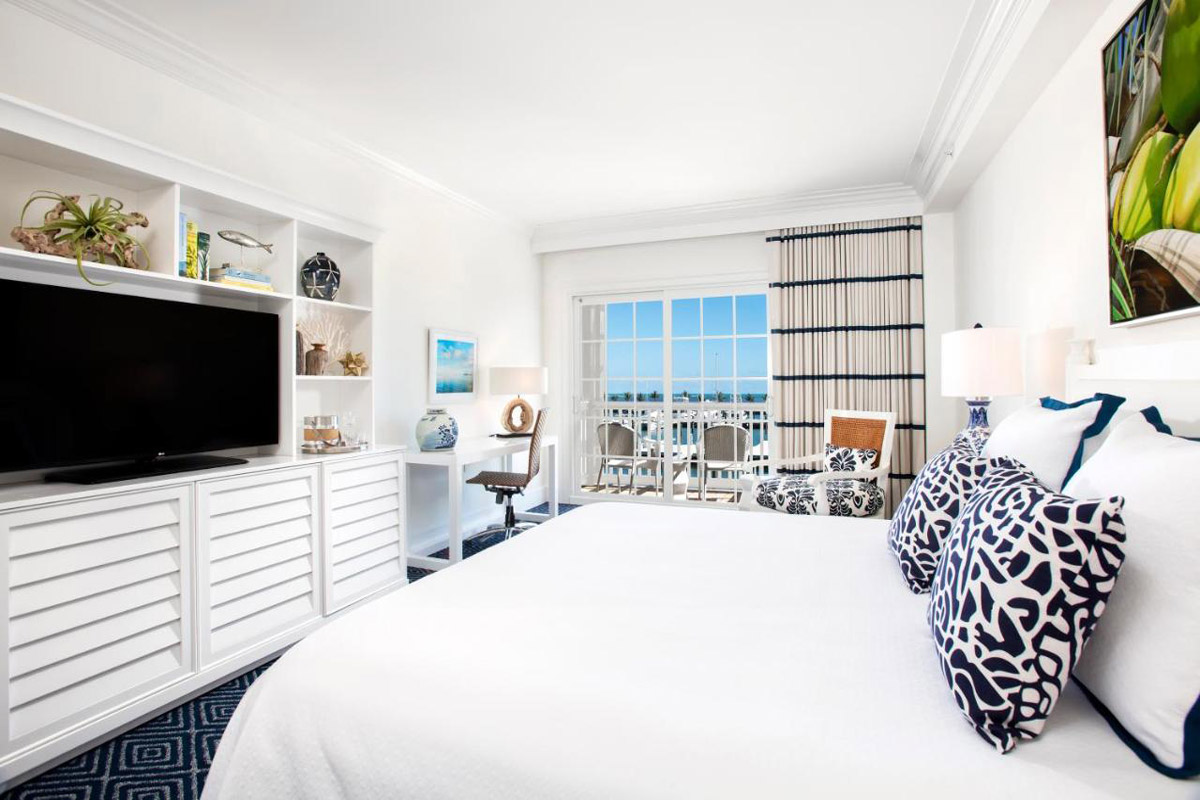 Looking for the best Florida Key for a honeymoon? Key West is on the shortlist, and one of our favorite Florida Keys Honeymoon Packages is at Oceans Edge Key West.
Oceans Edge Key West is an excellent choice for couples who want a romantic vacation package that gives them some quiet time together while enjoying all the amenities of a luxury property on their tropical honeymoon.
Book the Suite-est Escape, where you're treated to a quiet romantic time together in a luxury suite with gorgeous harbor and oceanside views. The package also includes a $50 dining credit each night so you can have a romantic meal while taking in the perfect setting of Key West.
Swim some laps in the pool or walk to the nearby beach to see why the turquoise waters and white sands of the Florida Keys are among the best you'll find on a USA honeymoon.
Amoray Dive Resort
Key Largo
$
Best for an Affordable Florida Keys Honeymoon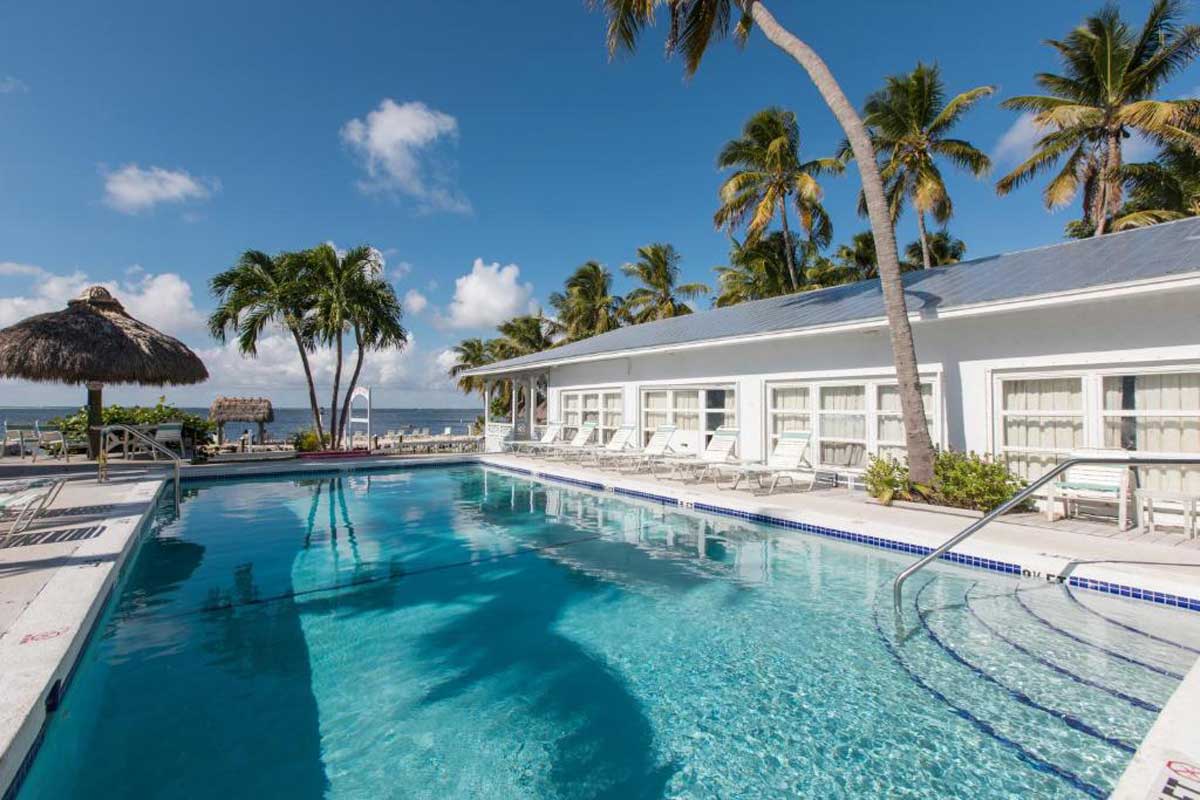 The Amoray Dive Resort is a perfect landing spot if you want to save money for scuba diving, snorkeling, or other outdoor adventures while in the Florida Keys.
Rooms are ideal for getting some rest between outdoor activities. For example, you'll have a comfortable bed, a fully stocked bathroom, and access to barbecue grills outside (great for grilling some freshly caught fish).
Upgrade to the Waterfront Queen Suite and enjoy a spacious patio where you can sip coffee in the morning or take a nap on the hammock while admiring the beauty of the Florida Keys.
It's an outdoorsy couple's dream spot with complimentary bicycles and an on-site swimming pool to give you plenty of chances for fun together in the sun.
We almost forgot to mention the Dive and Stay Package, where you'll get free access to all the diving gear you need and a chance to go out and see the best underwater adventures in the Florida Keys. Convinced yet?
Florida Keys Honeymoon Tips: What You Need to Know
How to Get to the Florida Keys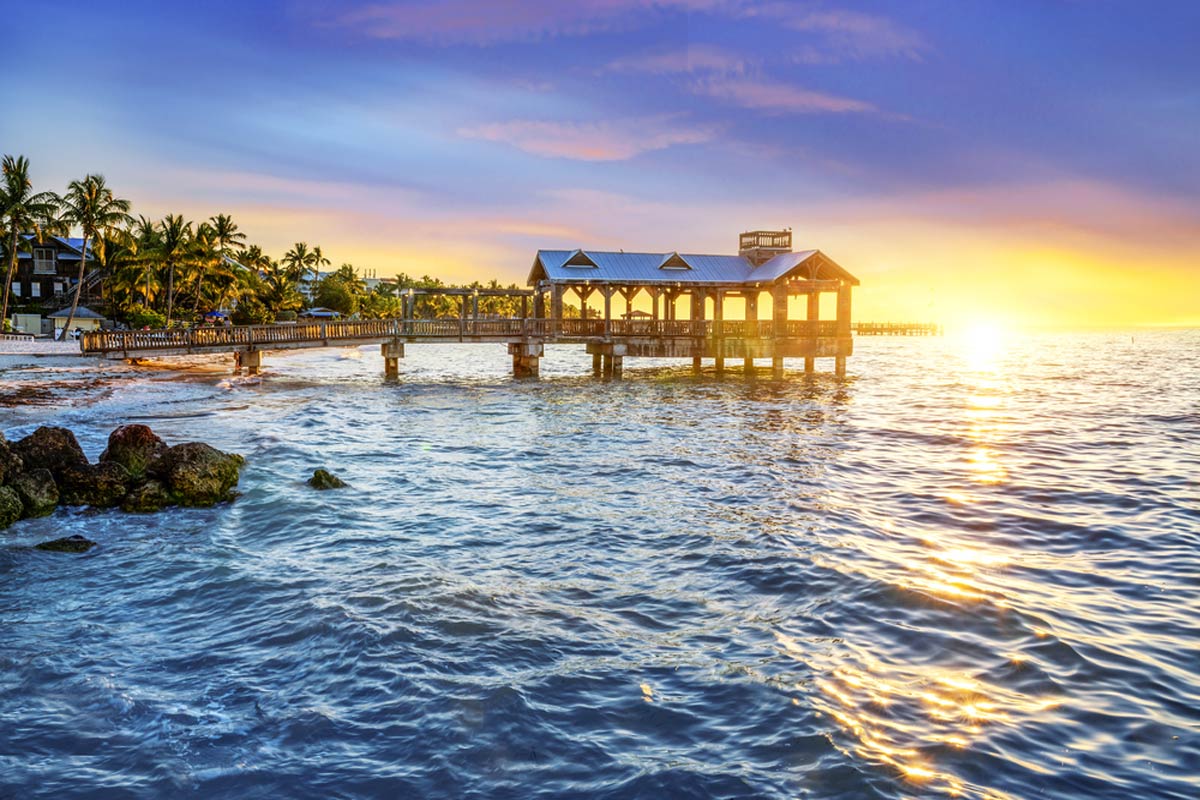 The Florida Keys is a long and narrow strip over 180 miles long. The good news is you can fly non-stop to your Florida Keys honeymoon and land directly on one of the keys.
The two most direct ways to access a Florida Keys honeymoon are the Florida Keys Marathon International (MTH) and Key West International Airport (EYW).
You can also travel to the Florida Keys from your honeymoon in Miami or other locations by renting a car and driving down. Though it may take longer, it's a great way to explore other beaches and national parks in the Sunshine State.
The Best Florida Keys Honeymoon Destinations
Key Largo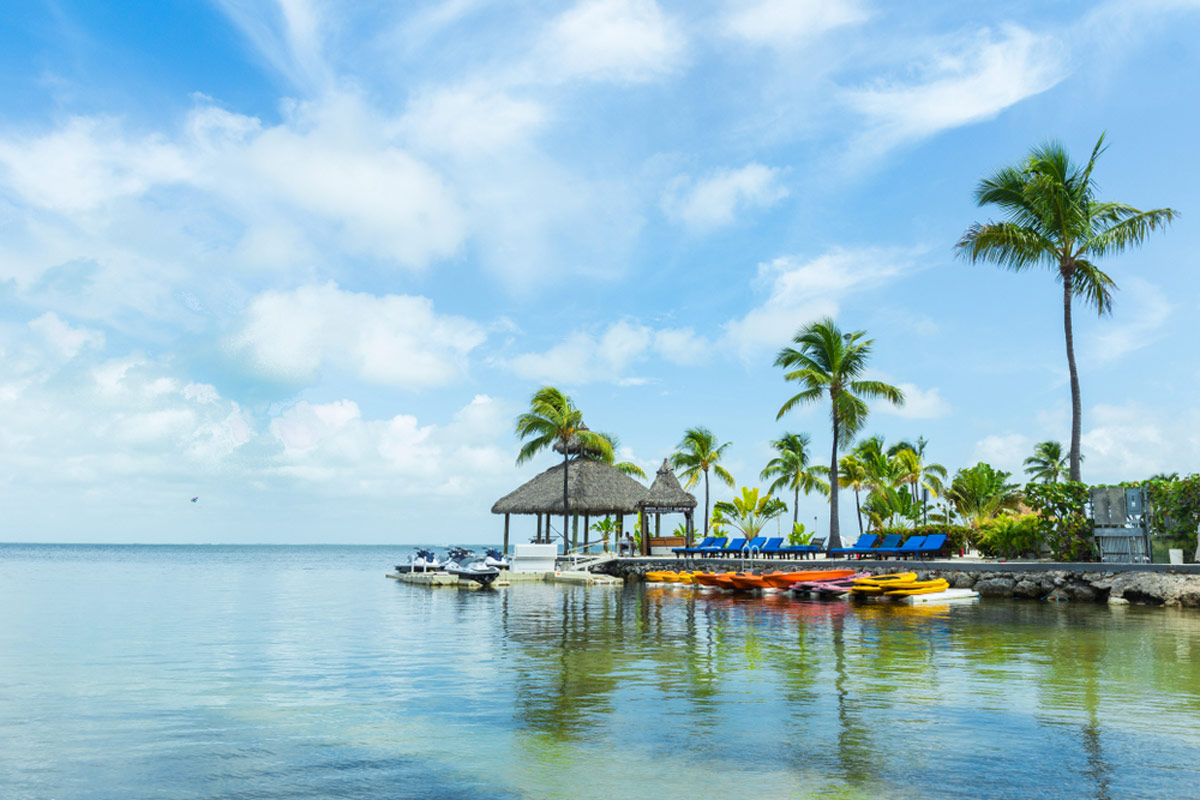 Snorkeling or scuba diving on your list of Florida Keys honeymoon ideas? We thought they might be.
Key Largo is an excellent location to dive deep undersea or skim the surface and see bright tropical fish and vibrant coral reefs.
You'll find exceptional underwater Florida honeymoon destinations in Key Largo, including John Pennekamp Coral Reef State Park, Spiegel Grove, and Molasses Reef.
There's plenty to do on land here, too, with the Florida Keys Wild Bird Rehabilitation Center being one the best honeymoon destinations in the Florida Keys.
Key West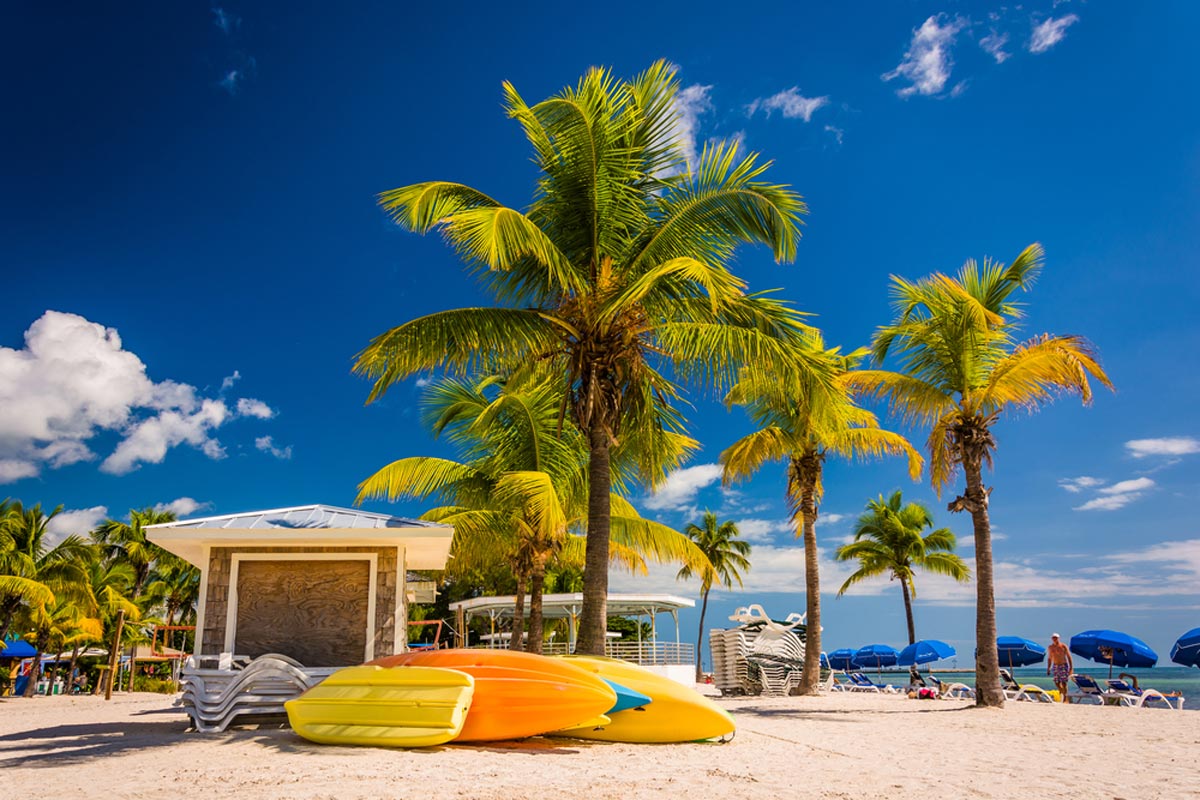 If you want to head to the southernmost part of the United States on your honeymoon in Florida Keys, head to Key West. Stop by the Southernmost Point Buoy and snap a photo for romantic bragging rights you can post on the 'Gram.
It's also simply one of the best islands in the Florida Keys for a honeymoon.
When you're there, choose from the many activities on the island, like visiting The Key West Butterfly and Nature Conservancy, stopping by The Hemingway Home and Museum, or seeing a historic lighthouse.
Don't worry; if you're more into lounging on the sand or snorkeling, there are plenty of excellent opportunities for that here too. Stop by Higgs Beach or Fort Zachary Taylor Historic State Park Beach for some fun in the sun.
Islamorada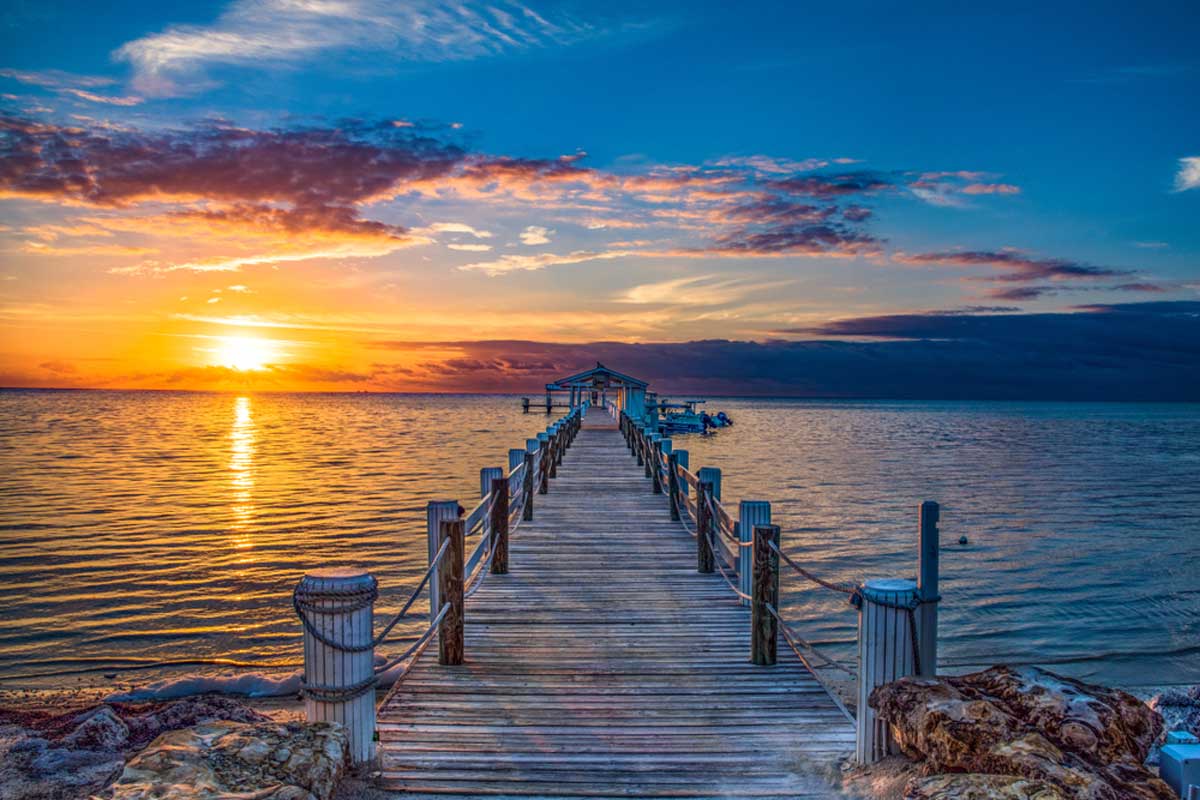 Want the best honeymoon Florida Keys has to offer? That's why you're here and Islamorada is a community of six Florida Keys that gives you every opportunity to have a romantic and unforgettable honeymoon.
Whether you want to stop by the History of Diving Museum or visit the Theater of the Sea, you'll have plenty of opportunities to learn about the ocean and underwater activities on your Florida Keys honeymoon.
Want a unique experience?
Drop by Robbie's of Islamorada, where you can rent a kayak or book a fishing expedition, but be sure to feed the tarpons while you're here for some fun memories with your life partner.
Marathon Key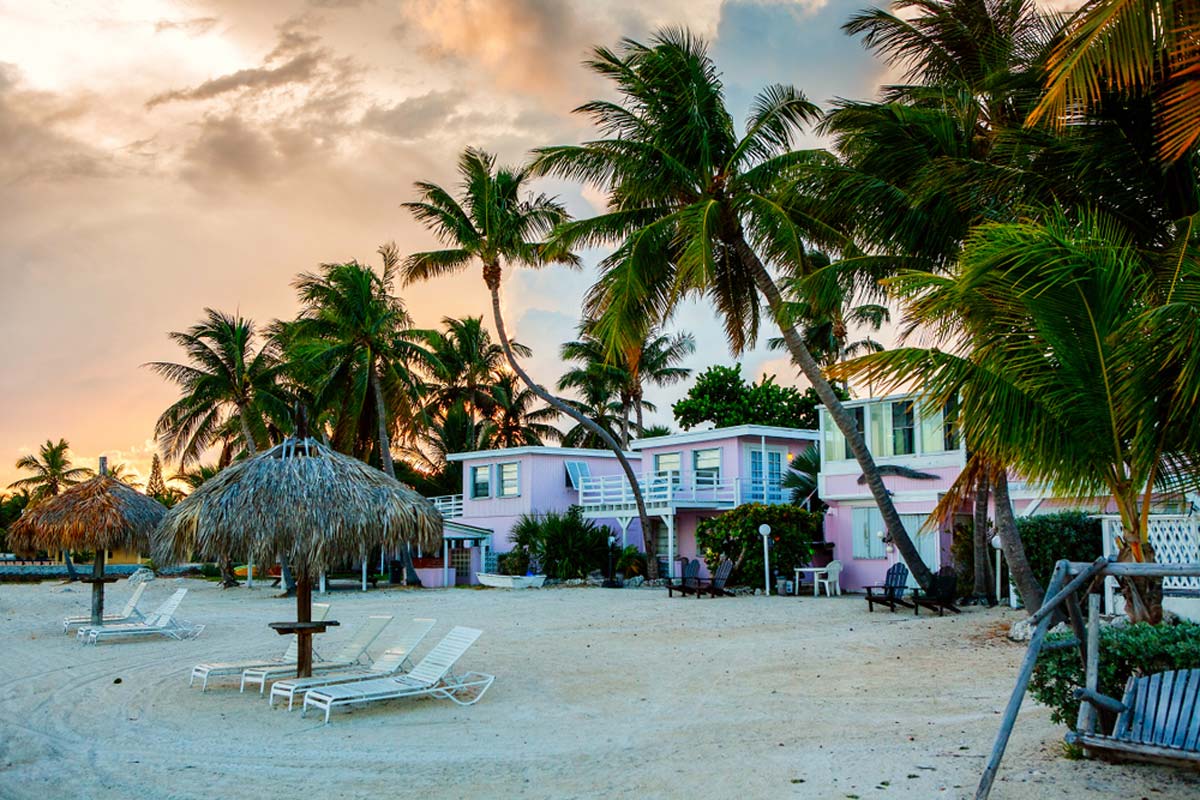 A Key West Florida honeymoon often starts or ends at Marathon Key.
It's home to one of the largest airports in the Florida Keys, so there's a good chance you'll be flying in and out of this airport. But there is much more to this destination than terminals and rental car kiosks.
If you and your spouse love fishing or want to try it out, Marathon Key is one of the best places to cast out your line to land "the big one." You may catch snapper, barracuda, or the ubiquitous grouper on your Florida Keys honeymoon.
What makes Marathon Key a fabulous Florida Keys honeymoon spot for fishing are the coral reefs that thrive here. There are also plenty of shipwrecks, which makes it a great place for snorkeling and scuba diving.
Bahia Honda State Park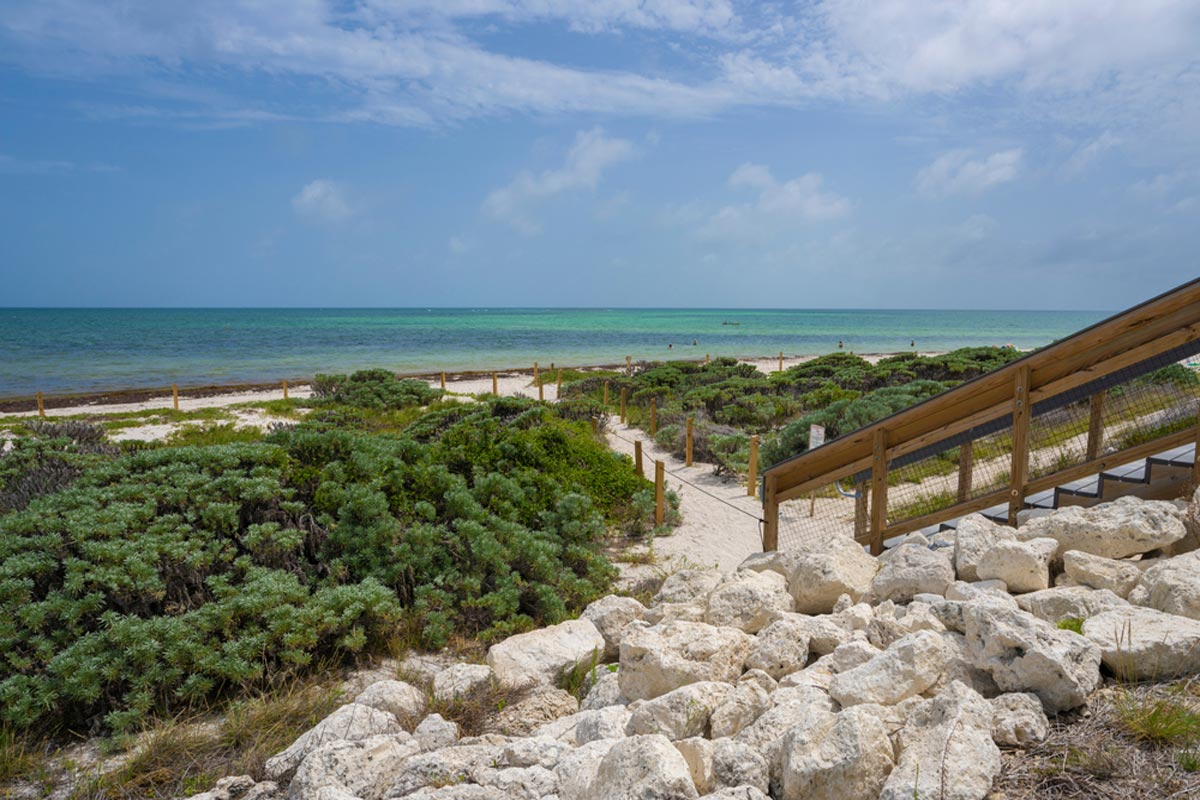 If you want to observe the beautiful nature of the Florida Keys, stop by Bahia Honda State Park on Big Pine Key. Here you'll have plenty of opportunities to lay on the beach, collect sea shells, or snorkel on the peaceful island.
Or if you're looking for a unique and unusual honeymoon, you can reserve a campground and have a romantic vacation sleeping under the stars.
Dolphin Research Center
Located on Grassy Key, you'll want to stop by Dolphin Research Center on your Florida Keys honeymoon.
Why? You'll get to meet the majestic animals up close and personal in a 90,000-square-foot protected area.
We can't think of a more romantic learning lesson than to bond with these social mammals.
The Best Time to Visit the Florida Keys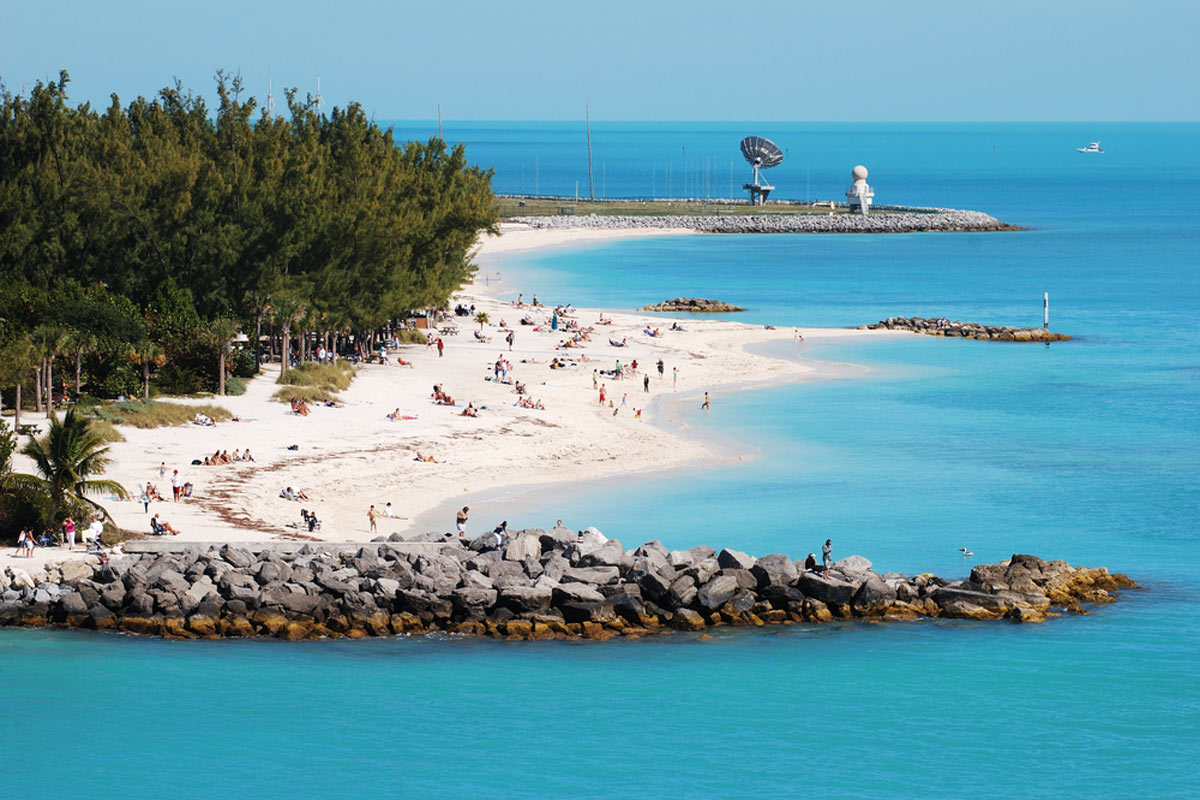 What's the best time to visit the Florida Keys?
If you're looking for non-stop fun in the sun, late fall and early winter is the best time for a Florida Keys honeymoon. Temperatures are warm, and you'll likely not get much rain during your vacation.
We think that best month to plan a Florida Keys honeymoon itinerary is November because you'll experience great weather and be there right before peak tourist season begins.
How Long to Spend on Your Florida Keys Honeymoon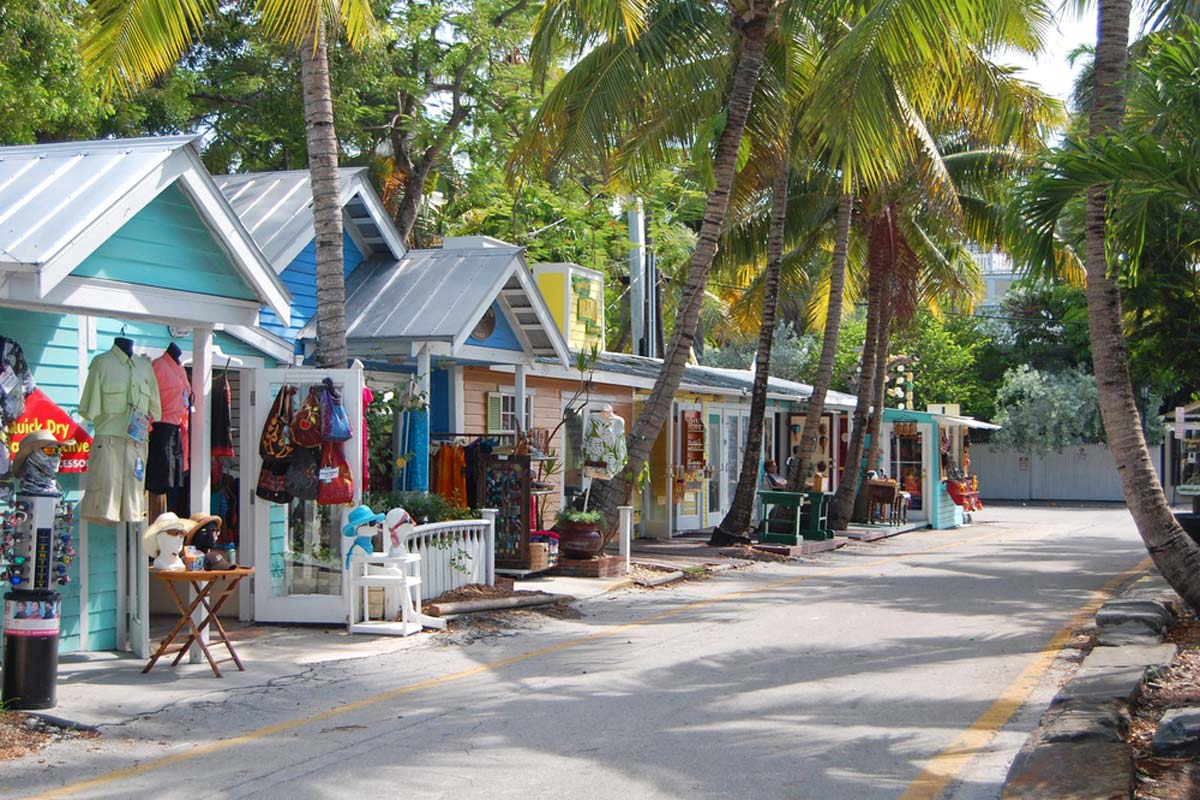 Traveling to the Florida Keys for your honeymoon can be a long drive, depending on which location(s) you're visiting on your beach honeymoon.
We suggest spending 7-14 days on your Florida Keys honeymoon to make the most of your trip and see numerous destinations.
How Much Does a Florida Keys Honeymoon Cost?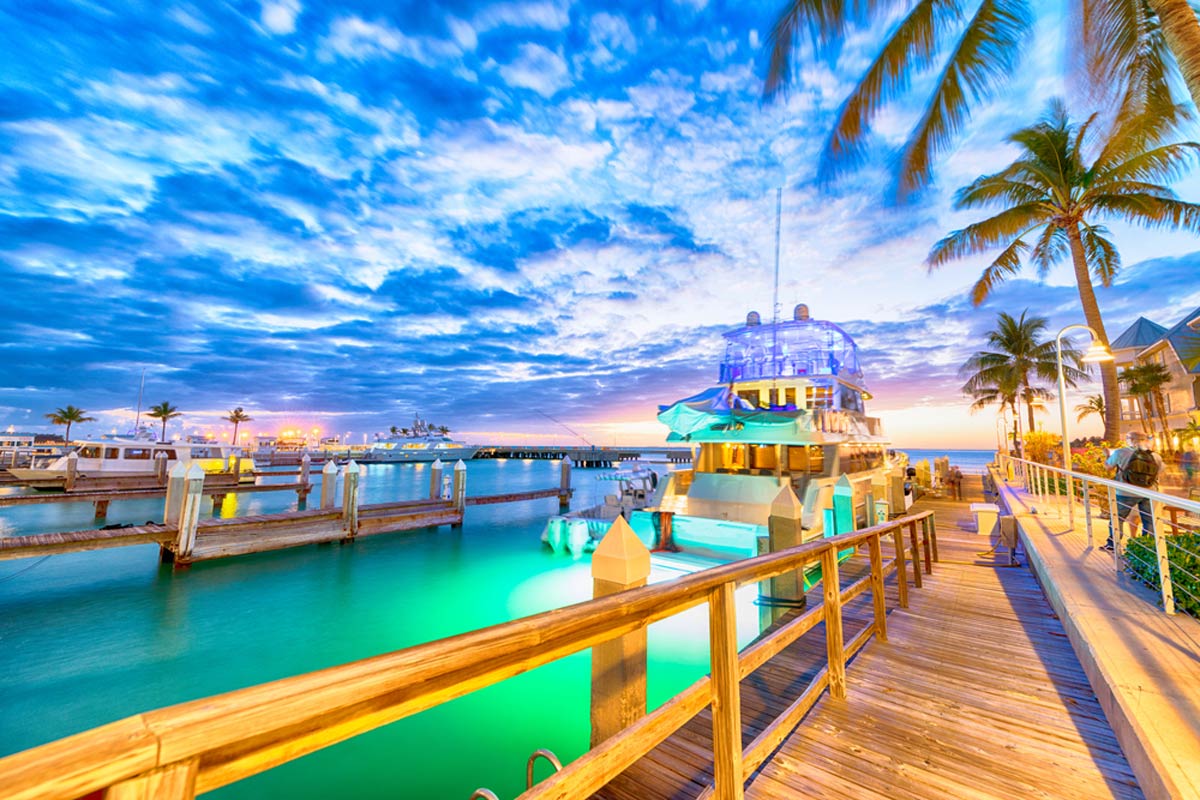 A vacation in the Florida Keys is a great way to enjoy a tropical honeymoon for less than some other popular destinations.
On average, a one-week honeymoon in the Florida Keys costs between $3,500-$5,000.
The price will go up a bit if you tack on a Disney honeymoon to your memorable trip, but if you can afford it, you'll have the time of your life.
Florida Keys Honeymoon Resorts: Map
Florida Keys Honeymoon Guide: Read Next