Dreaming of a honeymoon to Switzerland? This Switzerland honeymoon guide has got you covered when it comes to planning a romantic getaway.
Switzerland is home to idyllic mountains, historic cities along river banks and world-class luxury hotels.
Criminally underrated, a Switzerland honeymoon is an excellent idea. In fact, a Swiss honeymoon is pretty flexible: you can opt for a relaxing retreat or an adventure of a lifetime. Or, we say, do both.
o say JA! to an unforgettable Alpine vacation with this Switzerland honeymoon guide. Here's what you need to know.
Why Honeymoon in Switzerland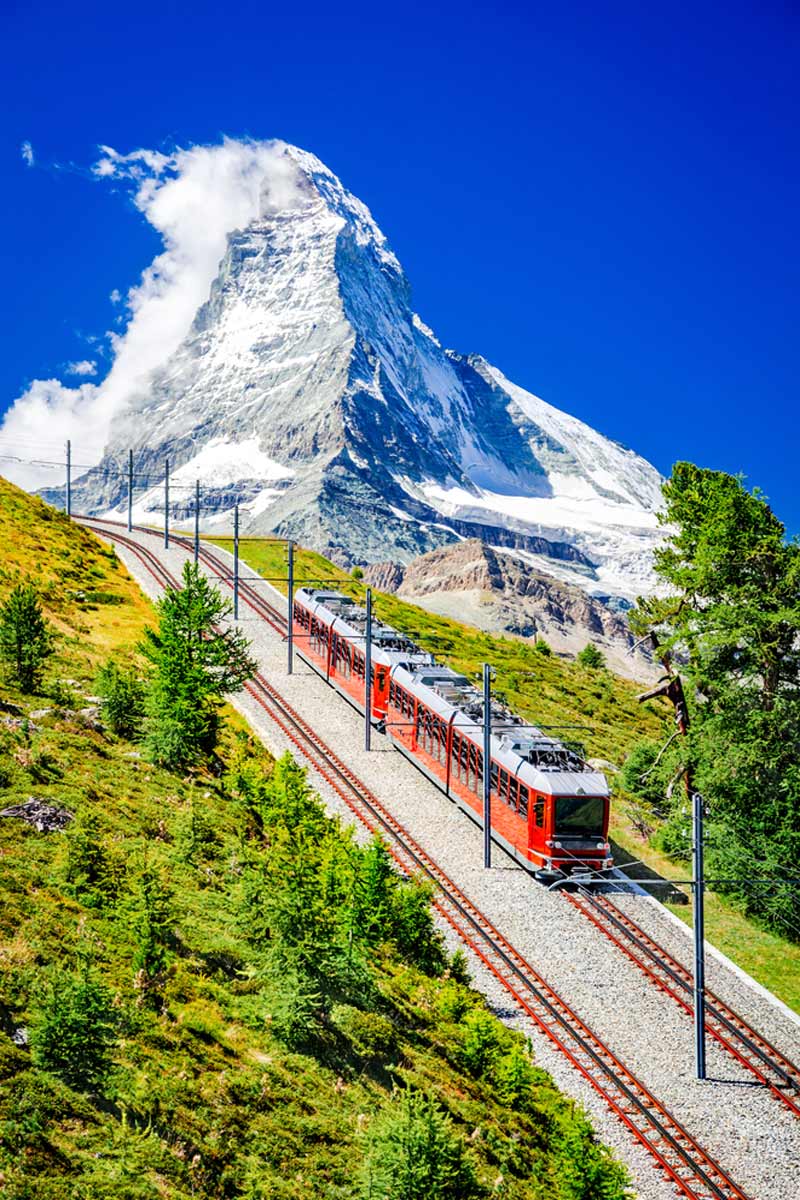 You probably already know just how beautiful Switzerland is. The snow-capped Swiss Alps, endless sparkling lakes and rivers, and storybook villages surprise travelers year after year.

But romantic resorts, breathtaking balcony views and fantastic cuisine all make a Switzerland honeymoon one we can't recommend enough.

So where should you book your hotel or plan a day trip to? Without further ado, let's explore everything that makes a honeymoon in Switzerland one for the books.
Best Honeymoon Hotels & Resorts in Switzerland
Hotel Eden Roc
Ascona
$$$
Best For a Relaxing Switzerland Honeymoon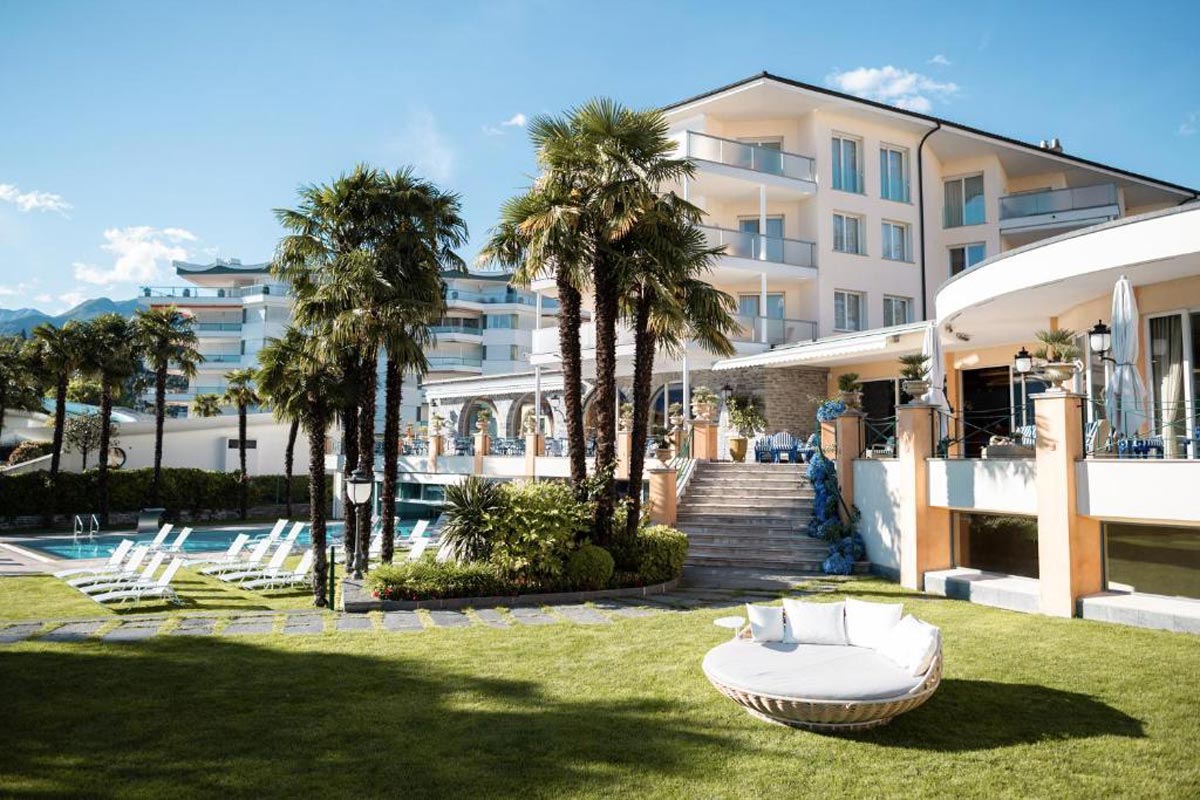 Peering out at the sparkling waters of Lake Maggiore and with the Ossola Alps framing it, we'll start by saying the views alone make Hotel Eden Rock worth a visit.

But when you and your spouse cozy up in one of the contemporary rooms or luxury suites at this 5-star resort, there won't be any doubt that it's among the best places to honeymoon in Switzerland.
Romance and relaxation are in the air in this charming town near the border of Italy. And when you head downstairs in this Switzerland honeymoon resort, amenities of the finest caliber are at your disposal.

From the high design at the lovely spa to the two-Michelin-starred La Brezza (with world-class Italian cuisine), you'll realize in no time that Switzerland honeymoons don't get any better than this.
Backstage Boutique SPA Hotel
Zermatt
$$$
Best For a Honeymoon in the Alps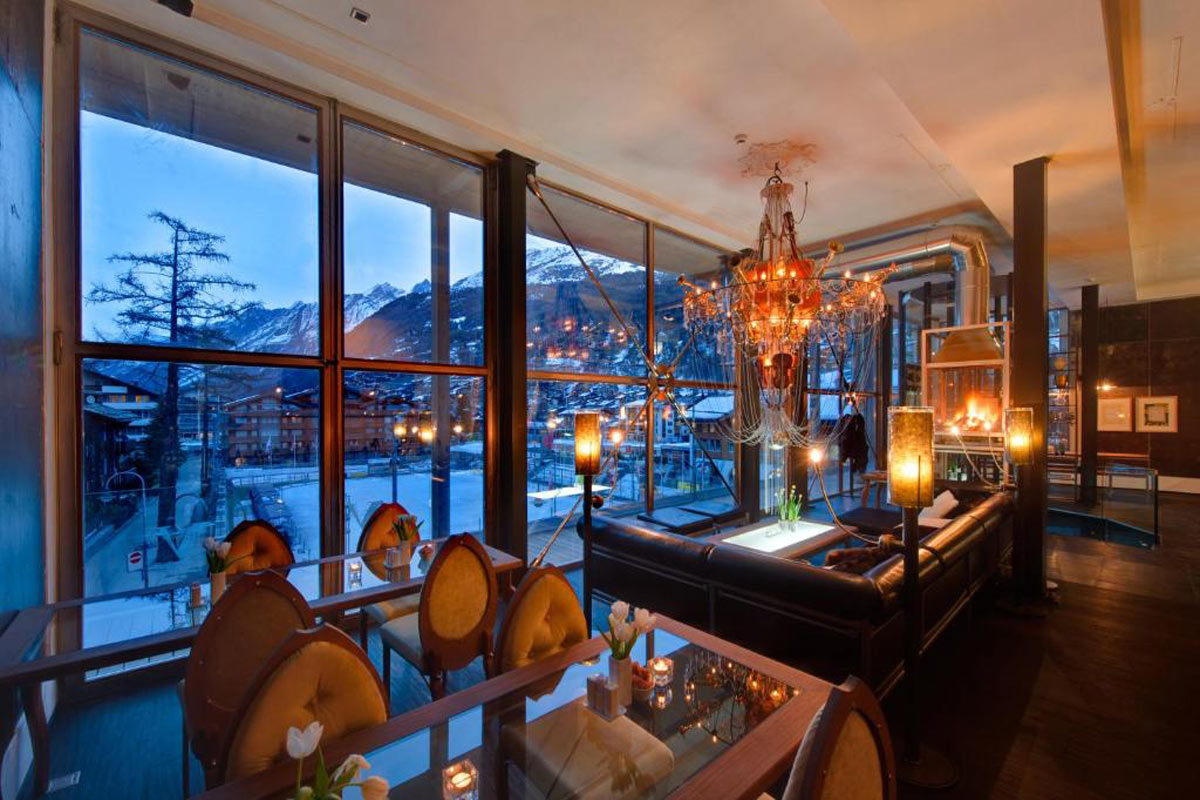 The best honeymoon spots in Switzerland seem to have it all. Luxury accommodations, romantic restaurants and picturesque scenery that looks like the set of a James Bond movie.

Backstage Boutique SPA Hotel has all of these things, including a Michelin-star restaurant, art gallery and even a movie theater on the property that sits right in the middle of the idyllic ski town of Zermatt.

The rooms are romantic (in a throwback Hollywood green room-meets-mountain-retreat kind of way) and quirky enough to keep you noticing new details every minute. In fact, celebrity designer and architect Heinz Julen calls the resort home, and it's no wonder why.

The funky interior features an intoxicating combination of vintage furniture, hardwood floors and high ceilings, and unique spaces – each with a balcony overlooking one of the premiere honeymoon destinations in Switzerland.
Victoria Jungfrau Grand Hotel & Spa
Interlaken
$$$
Best For Switzerland Honeymoon Packages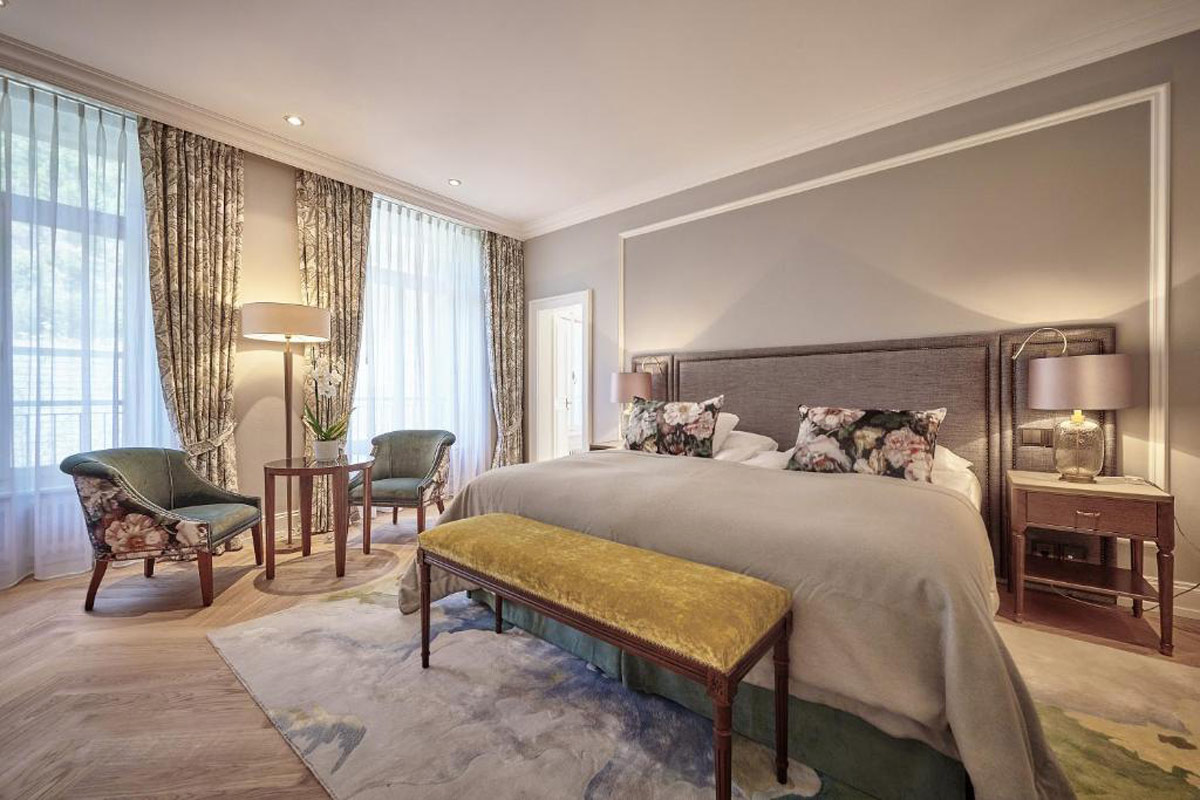 There are luxury honeymoons in Switzerland, and then there's Victoria Jungfrau Grand Hotel & Spa. If a honeymoon in Switzerland cost is the least of your worries, there's no better choice.

The location is right below the famous Jungfrau summit, and you can enjoy this from the balcony of the absolutely stunning Bel Air Suite. But what really separates this hotel from the rest are the expertly curated honeymoon packages from one of the top Switzerland honeymoon resorts.

Whether you want outdoor adventure or culinary surprises, the team at this five-star hotel put together some incredible activities and experiences.

Reserve the Jungfraujoch Package, and you'll have access to a breakfast buffet, dining credits for one of several excellent restaurants on-site, and train tickets to Jungfraujoch, where you can then ride high above the Swiss Alps on the Eiger Express.
Hotel Des Alpes
Lucerne
$$
Best For Idyllic City Views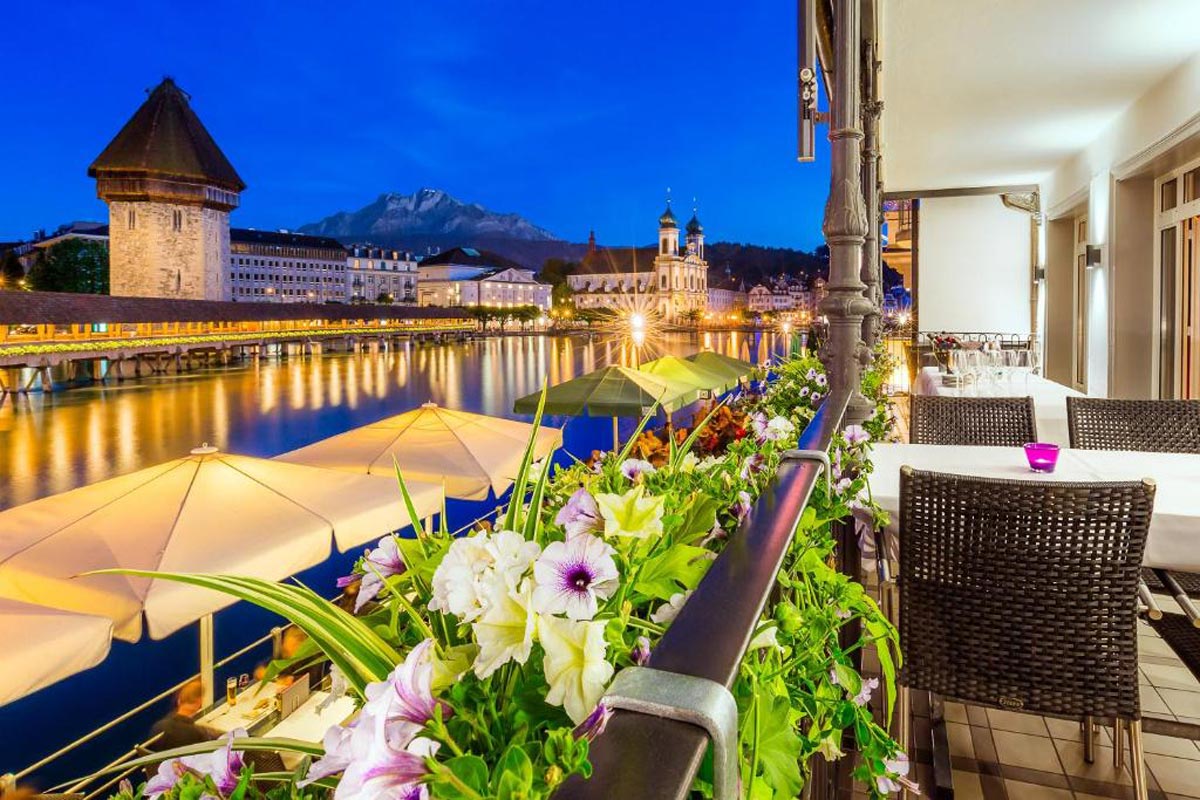 Lucerne is one of our favorite ideas for a honeymoon in Switzerland. Hotel Des Alpes sits right along the edge of the famous river Reuss and boasts a front-and-center look at the Chapel Bridge and nearby mountains in the distance.

The rooms aren't opulent but have a charm you can't quite put your finger on. Maybe it's the hardwood floors and antique light fixtures; more likely, it's the stunning city views from your window or private balcony.

The hotel restaurant serves delicious European cuisine with flavors from Switzerland and neighboring countries in a quaint setting with indoor and outdoor seating.

We think it's a tremendous all-around value for your Switzerland honeymoon.
Motel One Zürich
Zurich
$
Best For a Budget Switzerland Honeymoon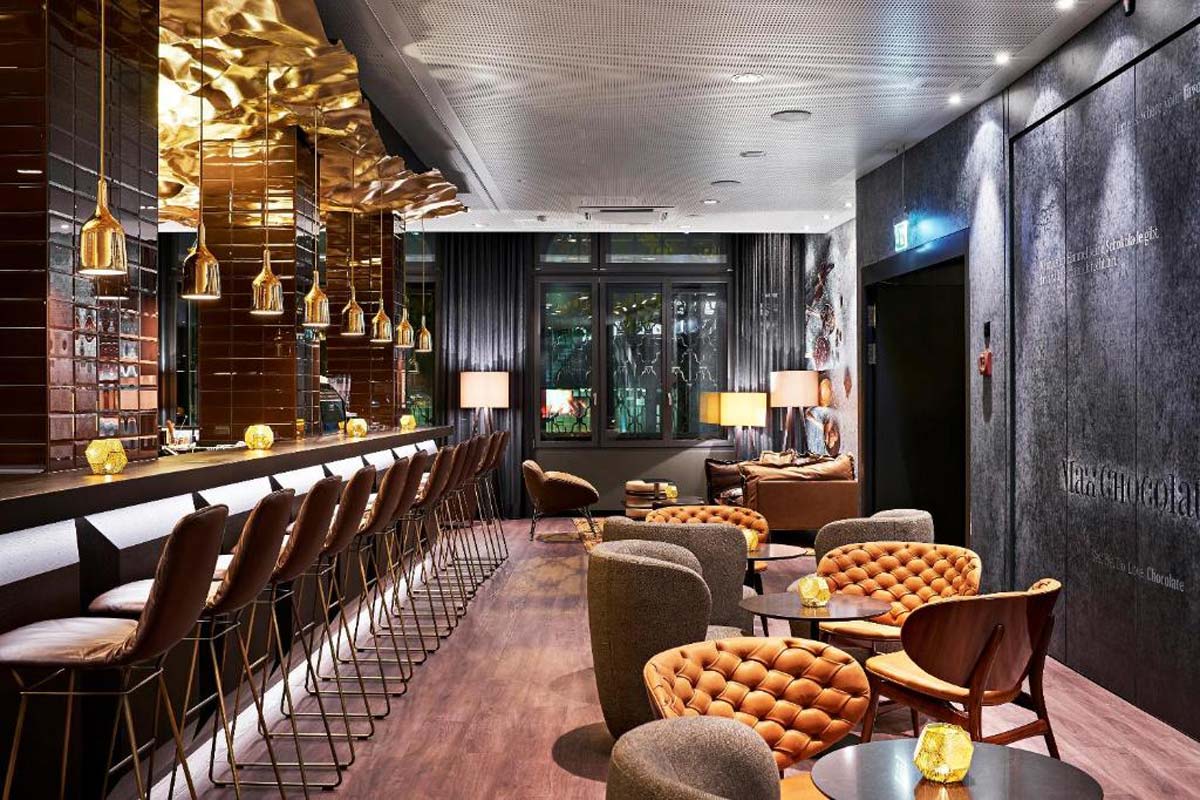 Motel One Zürich is the type of hotel where you walk in, look around, and double-check that you booked the right place for your unforgettable honeymoon in Switzerland. And we mean this in the best possible way.
Located in Old Town Zürich, you can stroll to many of the best restaurants and shops on foot in only a few minutes. But the affordable breakfast and stylish One Lounge are reason enough to explore the hotel beyond the four walls of your room.

Fun and funky while remaining effortlessly classy, the rooms have premium linens, ample lighting, and rain shower roses.

You and your partner will feel plenty cozy in the soundproofed accommodations with a flat-screen tv, free WiFi and king or queen-sized beds.
Switzerland Honeymoon Tips: What You Need to Know
How to Get to Switzerland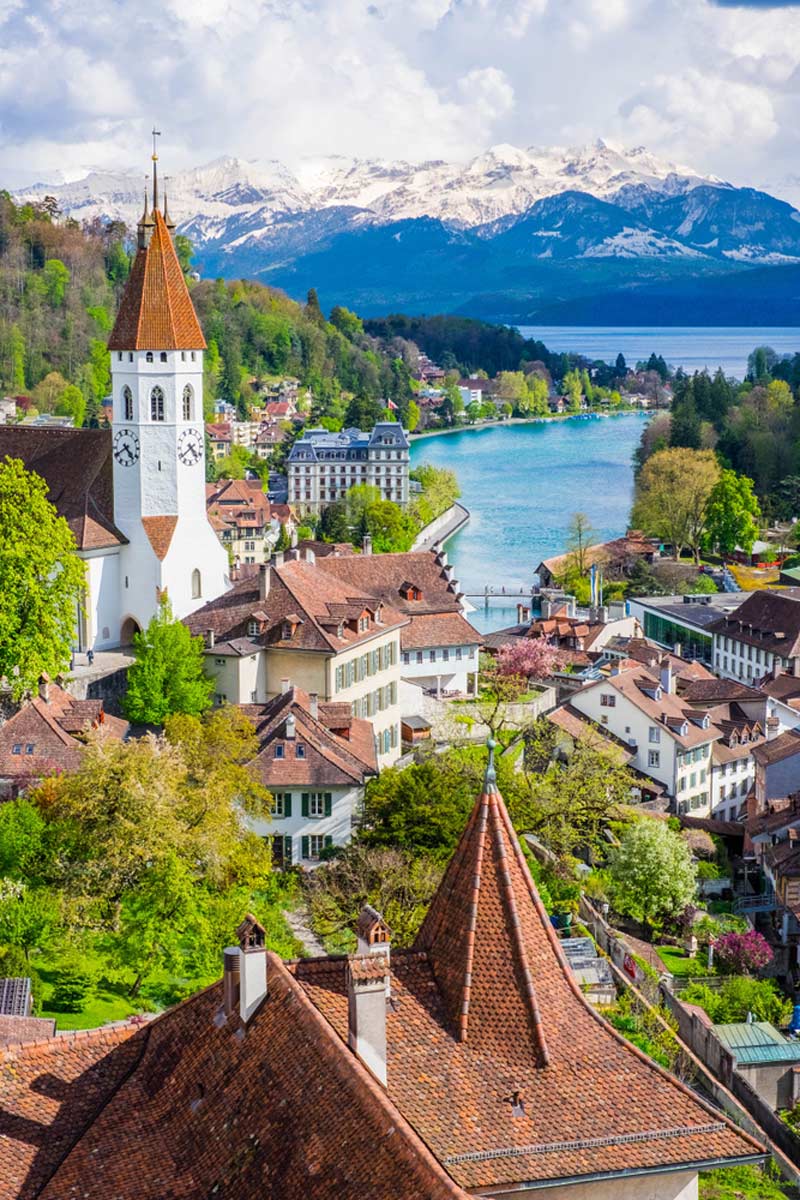 Getting to many of the top destinations in Switzerland is easy by airplane or train. So if you're flying, you'll likely land at one of seven international airports.

Whether you're trying to visit Interlaken, Zurich, Lucerne or Bern, you can take a train to Switzerland from Italy, France and other European countries.
The Best Switzerland Honeymoon Destinations
Zermatt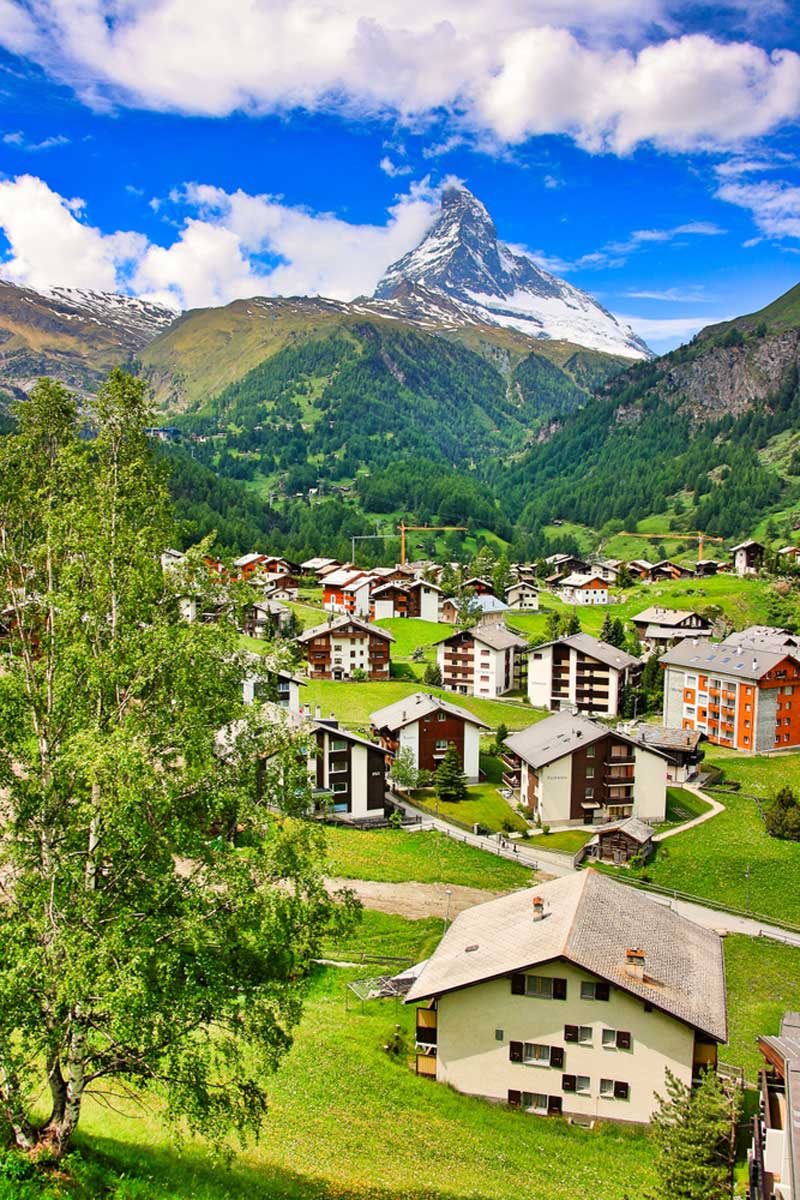 Many couples dream up images of spending a few days skiing on the slopes and warm evenings by the fire during a honeymoon Switzerland-style.

The Swiss Alps are the place to do this, and Zermatt is our favorite idea for honeymoons in Switzerland in the mountains.

The rocky cliffs that reach over 10,000 feet into the crisp, blue European skies make way for an impressive network of ski trails. You can even claim bragging rights of skiing in two countries in one afternoon when you head to Theodul Pass in Italy.

When you finish your day on the slopes, explore nearby restaurants or check into a romantic hotel and experience first-hand why it's one of the best honeymoon destinations in Switzerland.
Ascona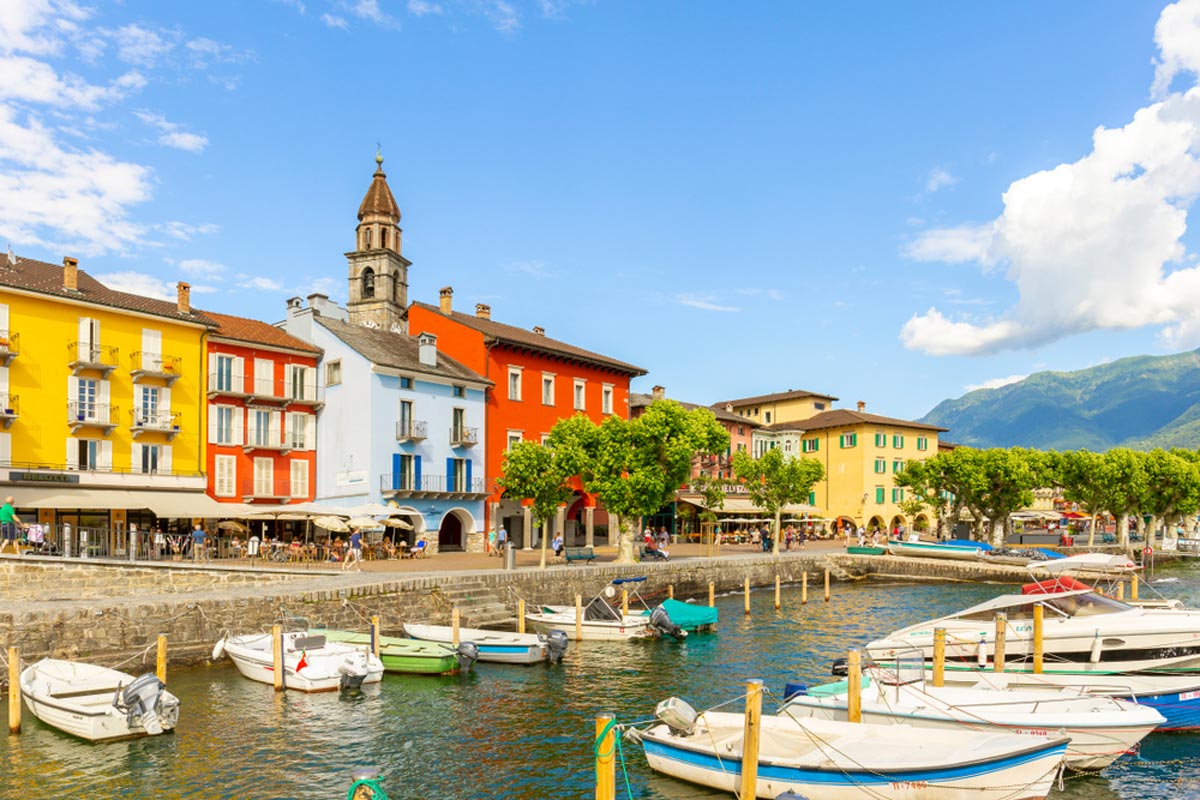 Planning a Switzerland honeymoon itinerary? Trust us when we tell you you can't afford to miss Ascona.

Sure, it's a small town without the fame of Geneva or the adrenaline-pumping terrain of Interlaken, but the quaint village on Lake Maggiore is relentless with charm.

Ascona is in the southern area known as Ticino, where you might mistake your stay for somewhere in Italy. You're not entirely wrong.

The food, culture and language in Ascona have obvious Italian influence but also a distinct character of their own, making it one of the most unique destinations to honeymoon in Switzerland.
Interlaken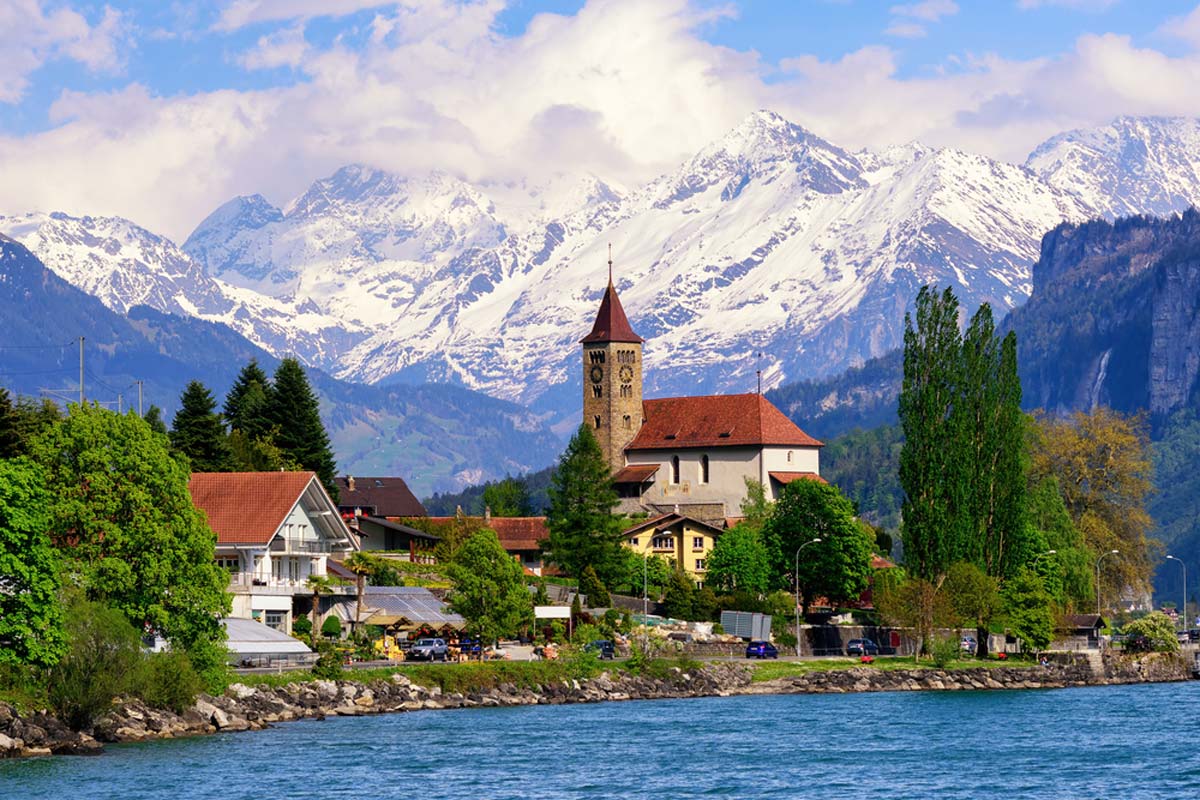 Many couples go to Switzerland for a honeymoon to relax and reflect on their future in high-end hotels overlooking peaceful lakes, rivers, and mountains.

Some of those couples want to take it a step further and book a Switzerland honeymoon package full of adrenaline and thrill-seeking surprises in those very places. Interlaken is among the best honeymoon places in Switzerland to do both.

Located between Lake Brienz and Lake Thun at nearly 2,000 feet up, the unique geography of an Interlaken honeymoon lends itself to some of the best hiking, photography, and rafting in Europe. In short, don't miss a chance to honeymoon in Interlaken.
Zürich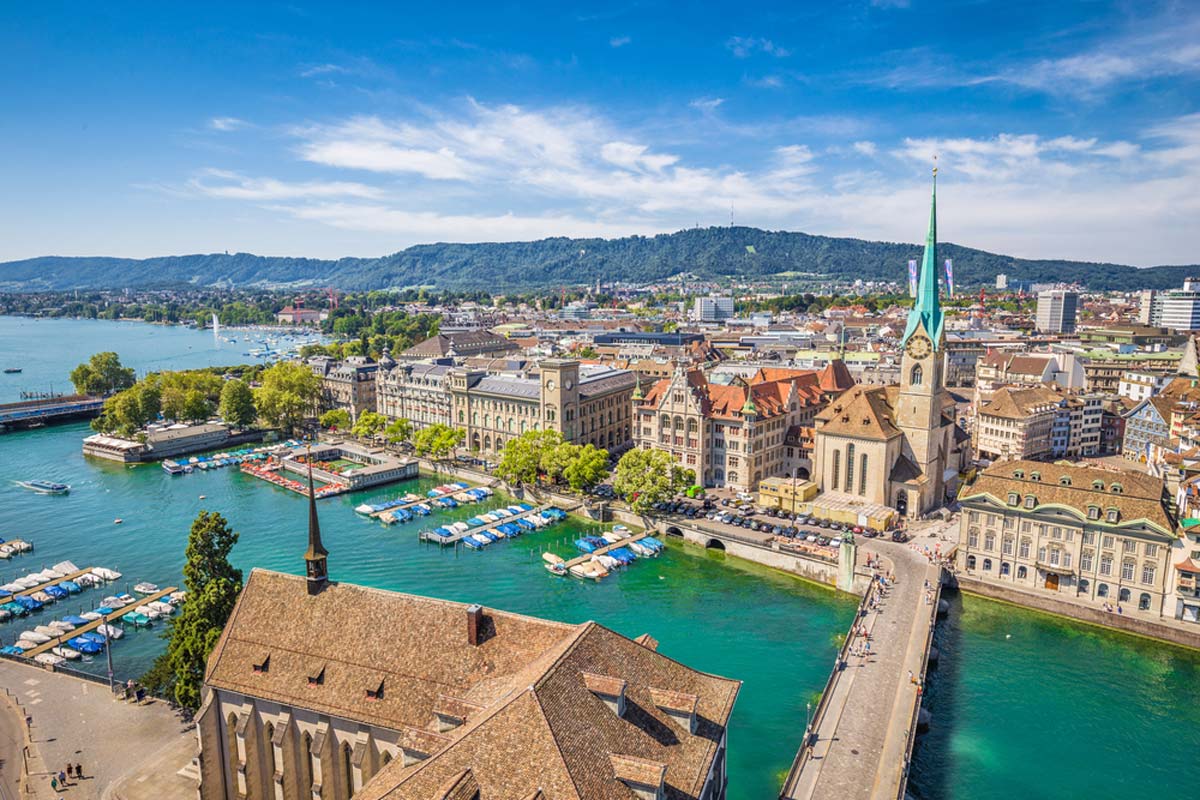 Looking for the best city in Switzerland for a honeymoon? While there are a few great choices, Zürich is our favorite.

What makes this Northern Switzerland city along the Limmat River ideal for a honeymoon?

How about staying in a vibrant modern city steeped in tradition and located a short distance from some of the most iconic mountains in Europe? We thought so.

The architecture in Old Town, concerts at the Opera House, shopping, and dining make it a popular choice for honeymooners looking for a cosmopolitan adventure near mountains and lakes.
Ready to learn more? Book a guided tour to experience the iconic city on foot, ferry, or an electronic tuk-tuk.
Lucerne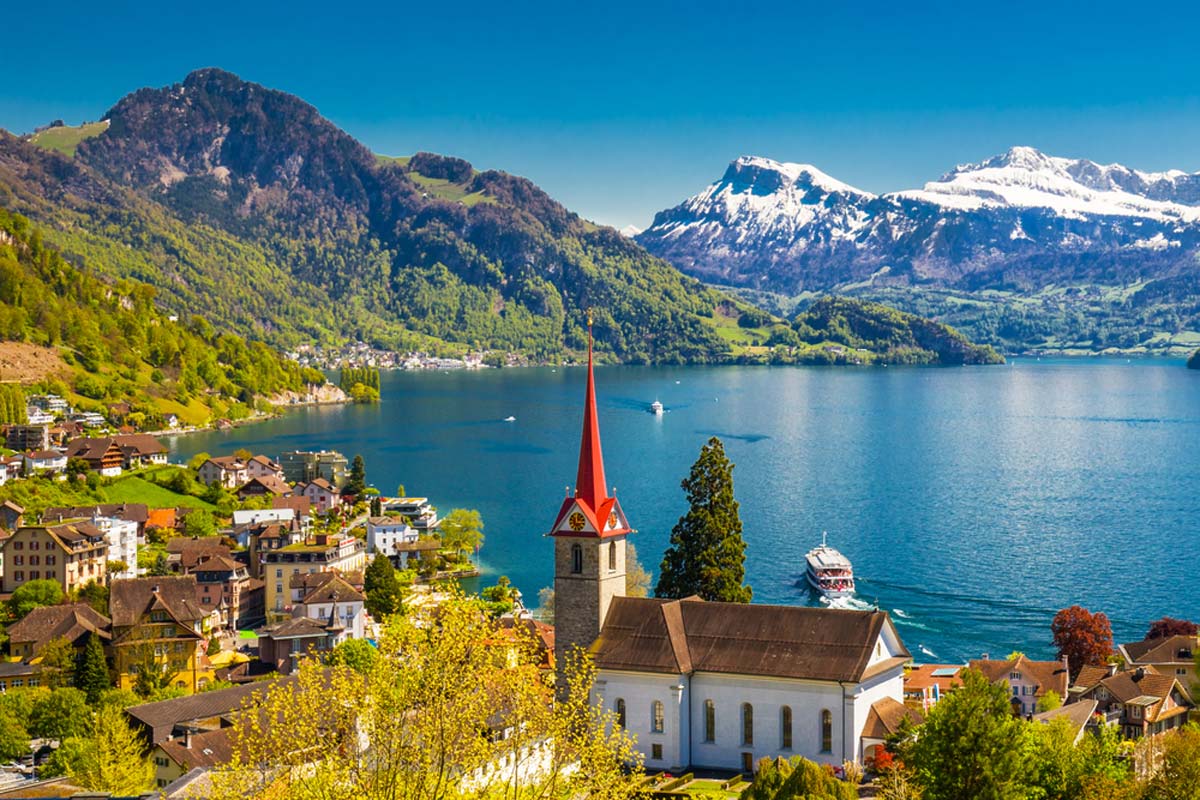 Lucerne has some wonderful Switzerland honeymoon resorts, and staying in the smaller city allows you to access the Swiss Alps quickly.

Explore the wonderful architecture in Old Town, walk the Chapel Bridge, and have a meal at a local restaurant overlooking River Reuss. We think you'll love every minute in Lucerne.
Bern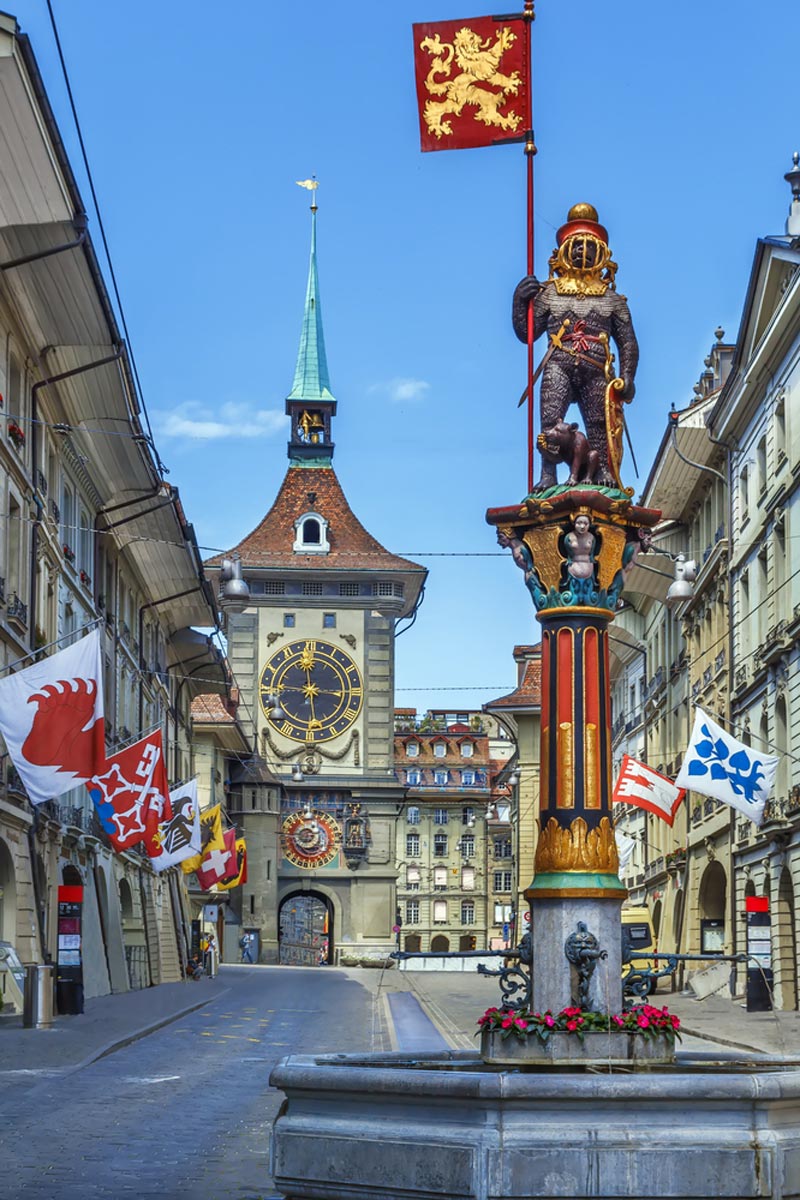 Planning your honeymoon around visiting the most picturesque cities in Europe? Add Bern to your honeymoon itinerary now. Like right now.
While Geneva and Zürich may be household names, Bern has a long history dating back to the 12th century and boasts some of the country's most stunning architecture and neighborhoods.
While you're on your Switzerland honeymoon, check out the UNESCO World Heritage Site of Bern Old Town to marvel at medieval architecture and timeless landmarks like the clock tower (Zytglogge), water fountains, and Parliament Square.
The Best Time to Visit Switzerland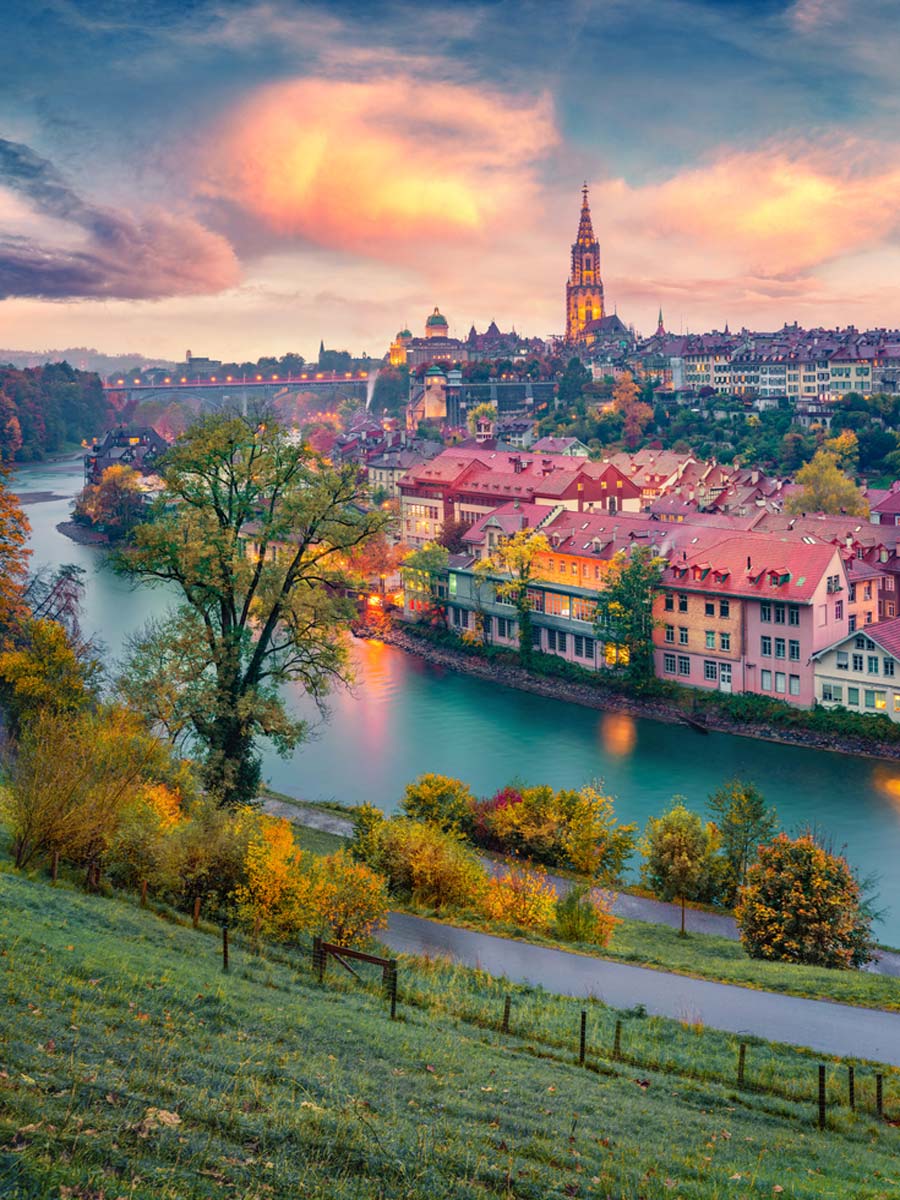 Deciding on the best time to visit Switzerland for a honeymoon? Fall is our favorite time to plan a romantic holiday in the charming cities and mountain villages.
But if you want to add skiing to your list of Switzerland travel plans, November is usually less crowded and when the resorts begin to open.
How Long to Spend on Your Switzerland Honeymoon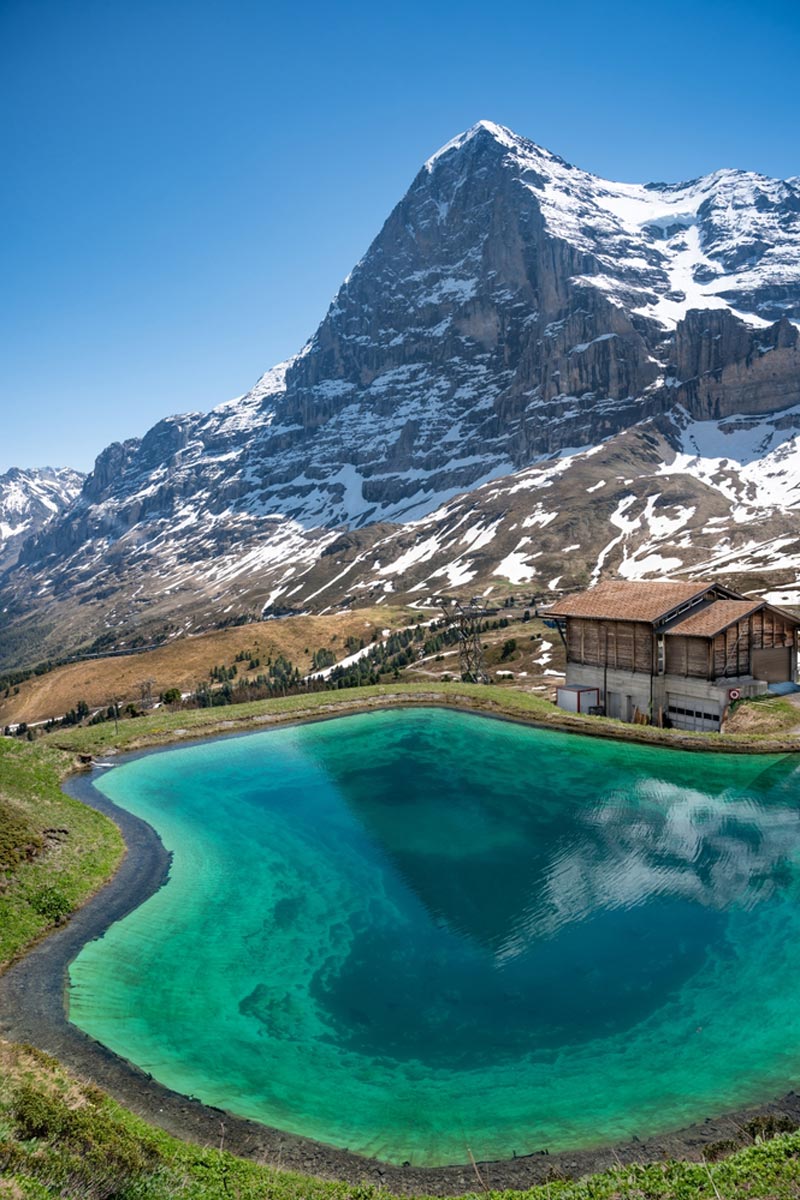 Planning a honeymoon to Switzerland and need a timeline? 5-7 days give you enough time to see many of the top landmarks in Switzerland while leaving enough time to visit other destinations in Europe.
Want a few ideas for where to parlay your honeymoon to next? Add Italy, France or Slovenia to your Switzerland honeymoon for a trip you'll never forget.
How Much Does a Switzerland Honeymoon Cost?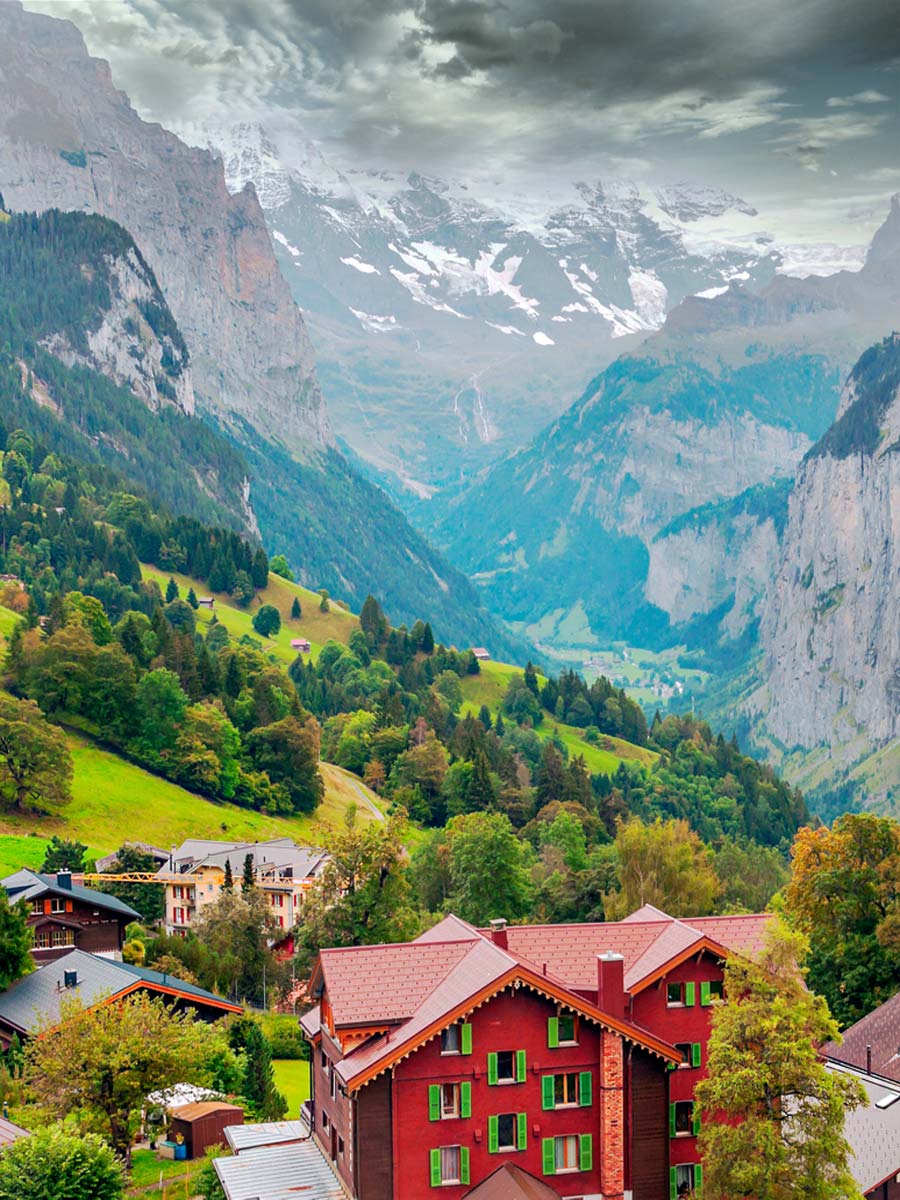 Starting a honeymoon fund? Good idea – you'll need to save up for a honeymoon in Switzerland.
The average cost of a honeymoon in Switzerland is $5,000 – $10,000, but it can run you considerably more.
Switzerland Honeymoon Guide: Read Next