Dreaming up the perfect honeymoon on the Amalfi Coast? You'll find delicious cuisine, incredible hiking, and striking architecture in the beautiful Southern Italian seaside region.
The Amalfi Coast is a photographer's dream destination. It's also an incredibly romantic area that inspires art and architecture worldwide.
So what makes an Amalfi Coast honeymoon one of our favorites? Just about everything. Read on to learn more.
Why Honeymoon in Amalfi Coast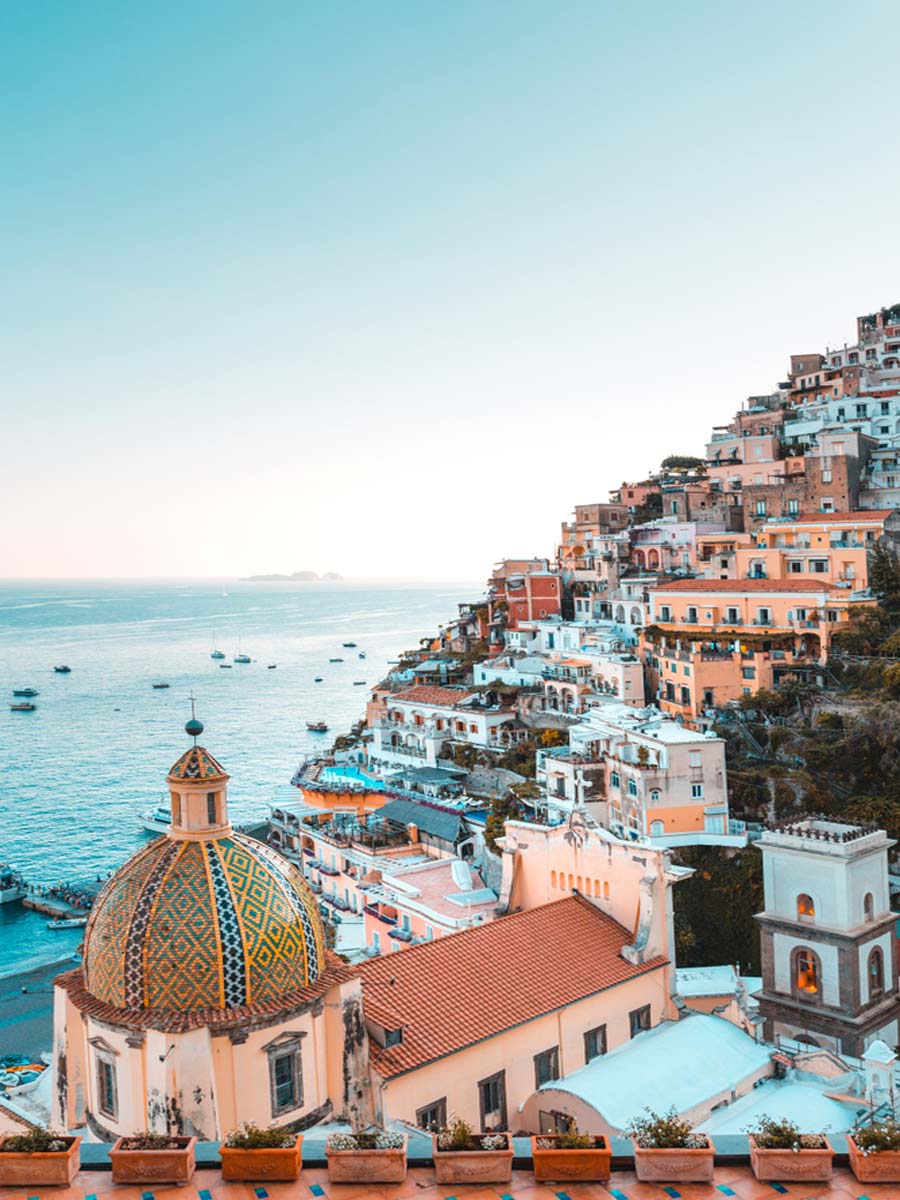 If walking down the aisle was the best feeling you've ever had, keep the good times rolling and plan a honeymoon on the Amalfi Coast. The food, wine, culture and history make for an unforgettable honeymoon like no other.

But that's not all. You'll also be amazed by the natural beauty and historic seaside villages that make the Amalfi Coast one of the most charming places in the world.
Convinced yet? We thought you might be. Here's a guide to our favorite Amalfi Coast honeymoon resorts and destinations for your vacation.
Best Honeymoon Hotels & Resorts on Amalfi Coast
Hotel Punta Tragara
Capri
$$$
Best for Amalfi Coast Honeymoon Packages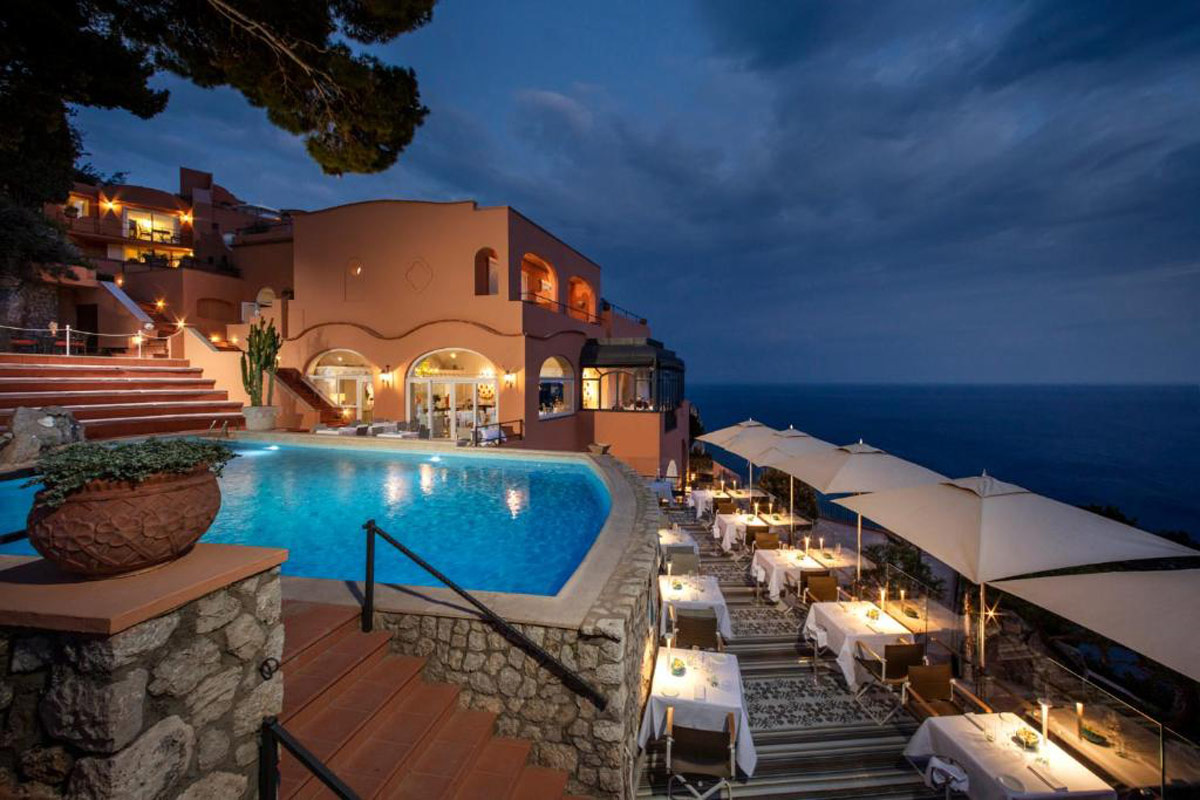 Capri is one of our favorite ideas for an Amalfi Coast honeymoon. So how do you make it even more memorable? Book the Capri Magical Temptation package at Hotel Punta Tragara.
When you arrive at the luxury 5-star hotel and check in to your Special Suite, you'll have a view of one of the most iconic destinations on the Amalfi Coast, the Faraglioni Rocks in Capri.
Once you've settled in and marveled at the stylishly opulent interior, you can head to the heated outdoor pool and breathe in the Mediterranean air in style.
One of the best hotels for an Amalfi Coast honeymoon also offers one of our favorite romantic bundles. You'll receive a 3-course menu at the restaurant, breakfast each morning and a couples massage.
If that wasn't enough to convince you, how about a guided tour of Capri on a boat? It has all the makings of an unparalleled Amalfi Coast honeymoon.
Hotel Luna Convento
Amalfi
$$$
Best for a Picturesque Amalfi Coast Honeymoon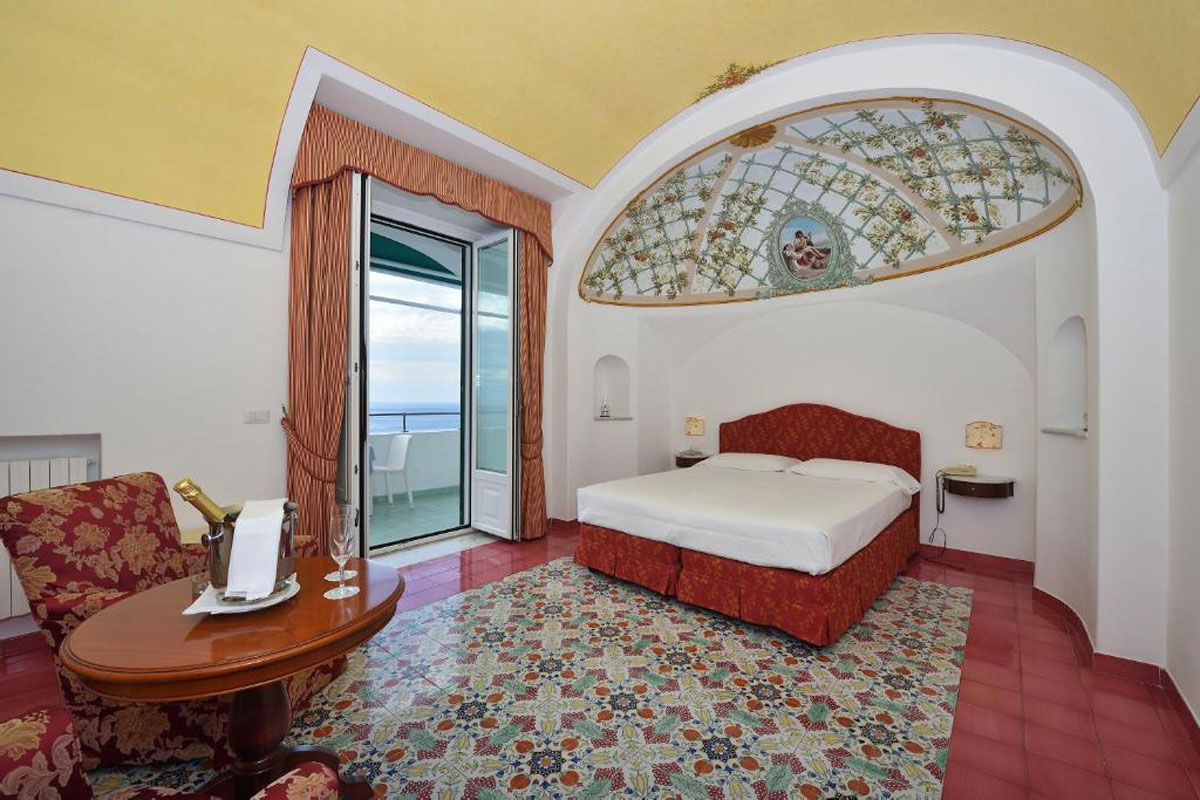 You need to stay at Hotel Luna Convento. Why? This covenant-turned-hotel has one of the most incredible backdrops of any Amalfi Coast honeymoon you'll find.
The courtyard, restaurants, and pool all have an old-world charm that combines with modern elegance to make Hotel Luna Convento the perfect choice for a romantic honeymoon on the Amalfi Coast.
Fancy enjoying idyllic seaside views on your Amalfi Coast honeymoon? We thought so.

Upgrade to the Suite – Annex with Terrace and Sea View. Your room will showcase vistas of the Amalfi Coast, rolling hills and nearby villas from a generous patio outside your room.
The suites are on the smaller side but offer charming decor and furniture that's a nod to the centuries of history in the building.
Hotel Onda Verde
Praiano
$$$
Best for Amalfi Coast Honeymoon All Inclusive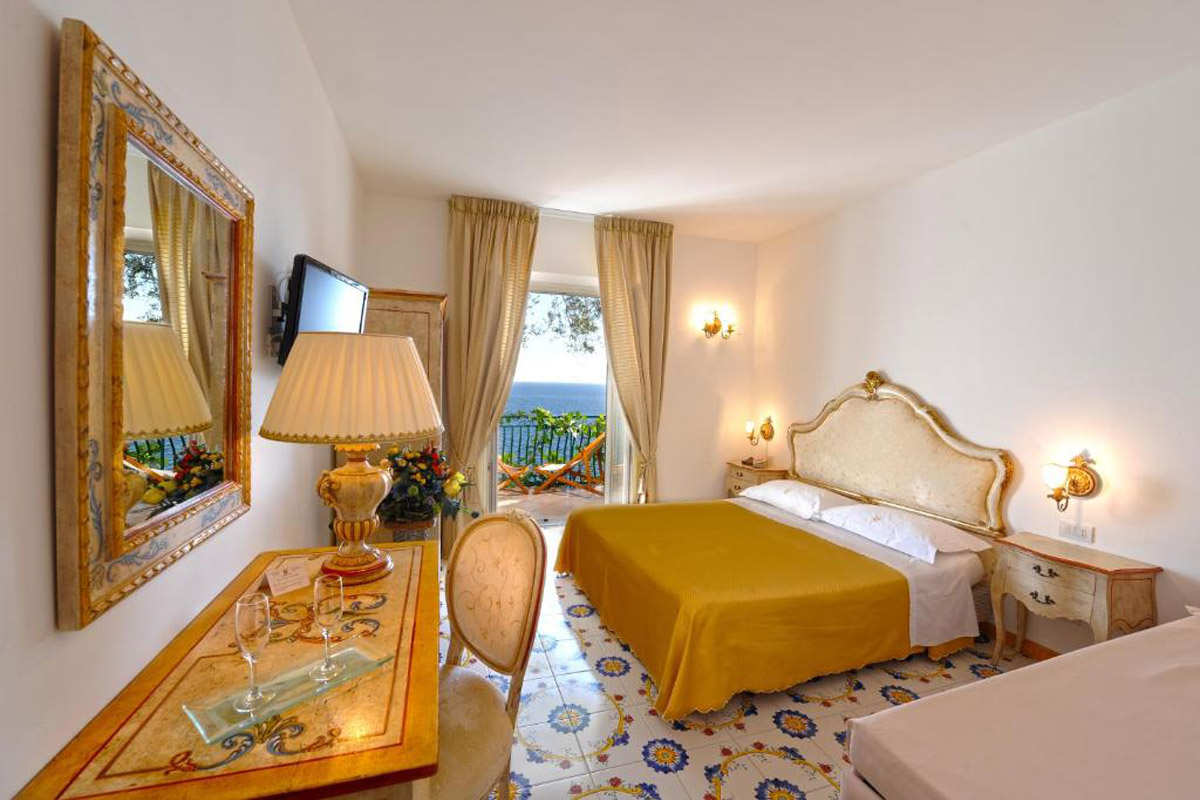 Hotel Onda Verde isn't just a great choice when staying in Praiano; it's one of the best overall Amalfi Coast honeymoon hotels.
Why do we love the resort? For starters, the property and rooms are gorgeous and have some breathtaking views of the stunning coastline of Praiano.

But what we really love about a honeymoon here is the All-Inclusive Vacation package. Featuring a buffet breakfast and your choice of a delicious meal made from local ingredients (think pasta and seafood), it's the perfect package for honeymooners who want to dine on Italian cuisine.
Our favorite part about this All-Inclusive Amalfi Coast honeymoon is that your taxi is taken care of to and from Naples so you can reach Praiano worry-free.
A tour of Capri is the icing on the cake for this post-wedding treat on your Amalfi Coast honeymoon.
Casa Teodora
Positano
$$$
Best for a Relaxing Amalfi Coast Honeymoon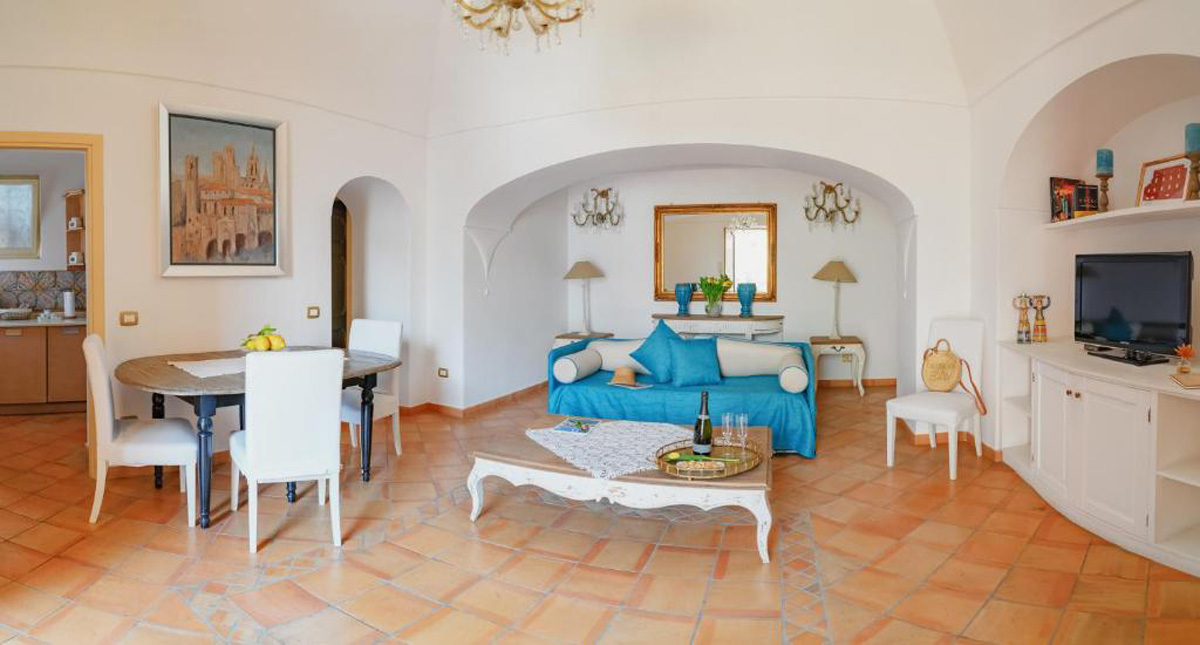 If your idea of an Amalfi Coast honeymoon involves waking up looking out of your apartment-style villa and looking down at the bustling local streets of Positano, we've got you covered.
Casa Teodora has everything you need for a romantic and stylish Amalfi Coast Honeymoon.
The rooms are light, spacious and vibrant. The space has a beach house feel – with bright colors, tile floors and a slightly funky overall style.
You can't do much better if you want to be in the heart of the action, so book your Amalfi Coast honeymoon here if you want a close connection with the city and surrounding nature on your trip of a lifetime.
Montagnella Relax
Maiori
$
Best for an Affordable Amalfi Coast Honeymoon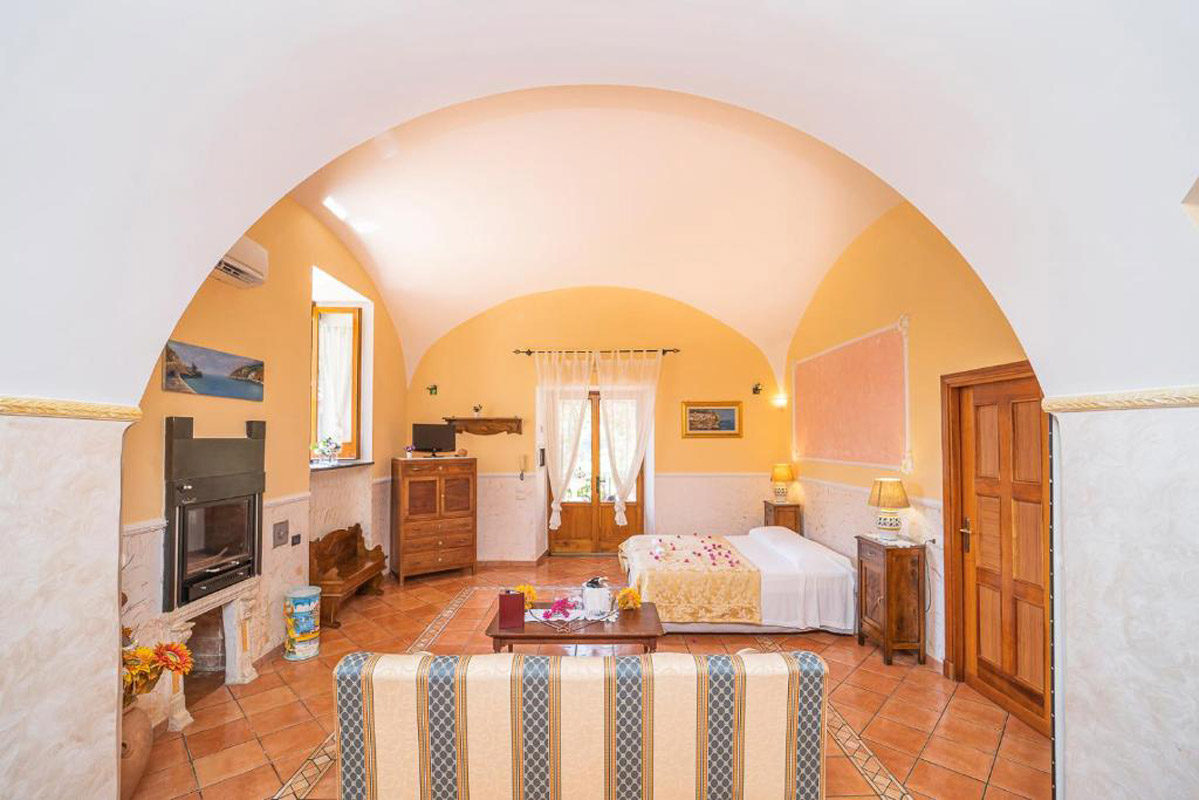 Montagnella Relax is an excellent choice for budget-minded travelers taking a honeymoon to the Amalfi Coast.
The gorgeous hotel grounds offer everything you need for an Amalfi Coast honeymoon. The terrace has incredible views of Maiori and the nearby Mediterranean Sea and is decorated with palms and Bougainvillea – making for a beautiful setting to enjoy a meal.
You'll get breakfast each morning and the opportunity to try a cocktail with a snack prepared using local Italian ingredients (Caprese, anyone?).
The rooms aren't overly spacious but perfectly romantic. The high ceilings and tasteful decorations will make you feel right at home.
If you're planning a honeymoon fund and want to save cash to travel to multiple locations, this is an excellent choice for an affordable week on the Amalfi Coast.
Amalfi Coast Honeymoon Tips: What You Need to Know
How to Get to Amalfi Coast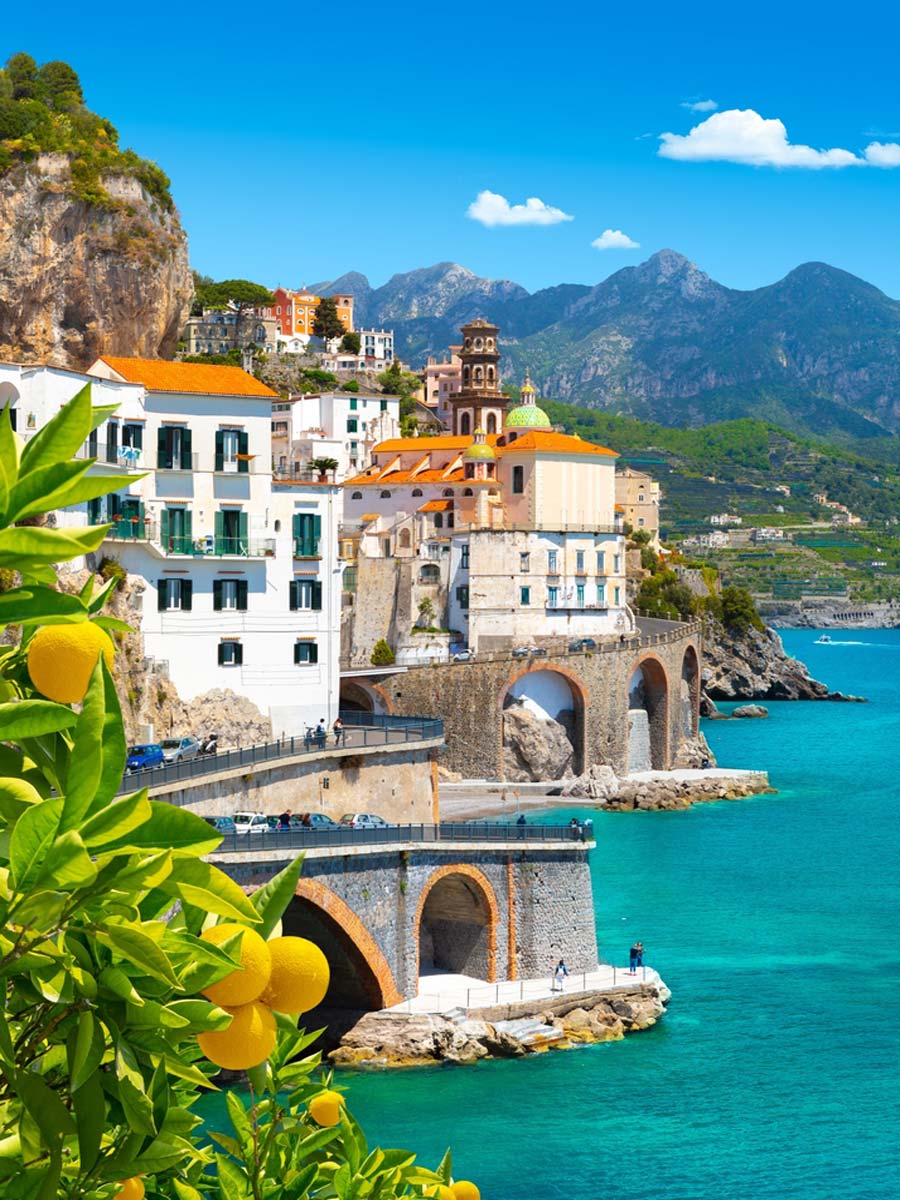 When you plan a honeymoon on Amalfi Coast, you'll likely fly into Naples International Airport (NAP), but many couples opt to fly into Rome International Airport (FCO).
Getting to the Amalfi Coast is quickest by car, but you can travel nearly as fast and feel quite a bit more relaxed going to and from the airport by a combination of train and bus.
If you're traveling from Naples, you'll take the train to Sorrento, whereas Rome will drop you off in Salerno before bussing to your Amalfi Coast honeymoon.
The Best Amalfi Coast Honeymoon Destinations
Capri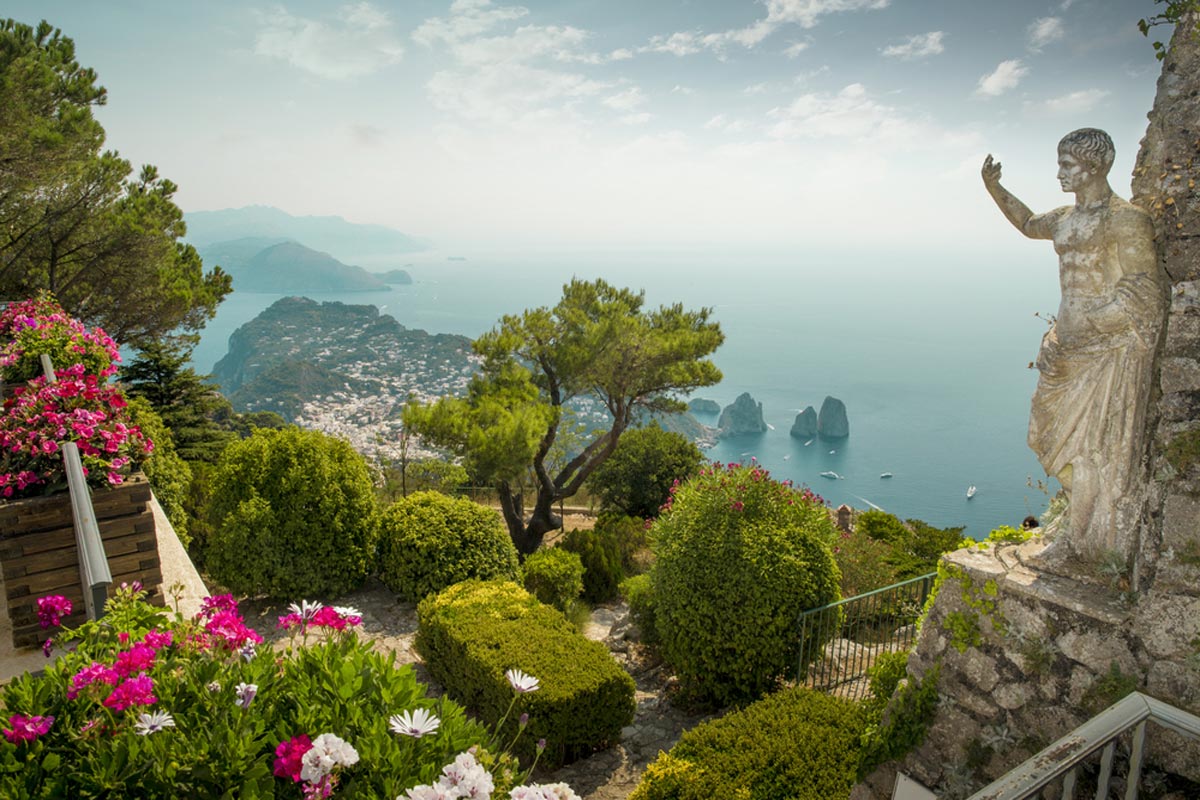 While most of the Amalfi Coast connects to continental Europe, the island of Capri is a must-see destination on your honeymoon on the Amalfi Coast.
When traveling to this beachside honeymoon destination, you can stay at some incredible Amalfi Coast honeymoon hotels and enjoy immaculate beaches and top-notch service.
But as wonderful as the food, beverage, and hospitality on Capri is, the natural beauty here is astounding.
Be sure to check out Blue Grotto, Via Krupp and the Faraglioni rocks, which all make for incredible photo ops. Frankly, Capri is one of the best places to visit on the Amalfi Coast for a honeymoon.
Positano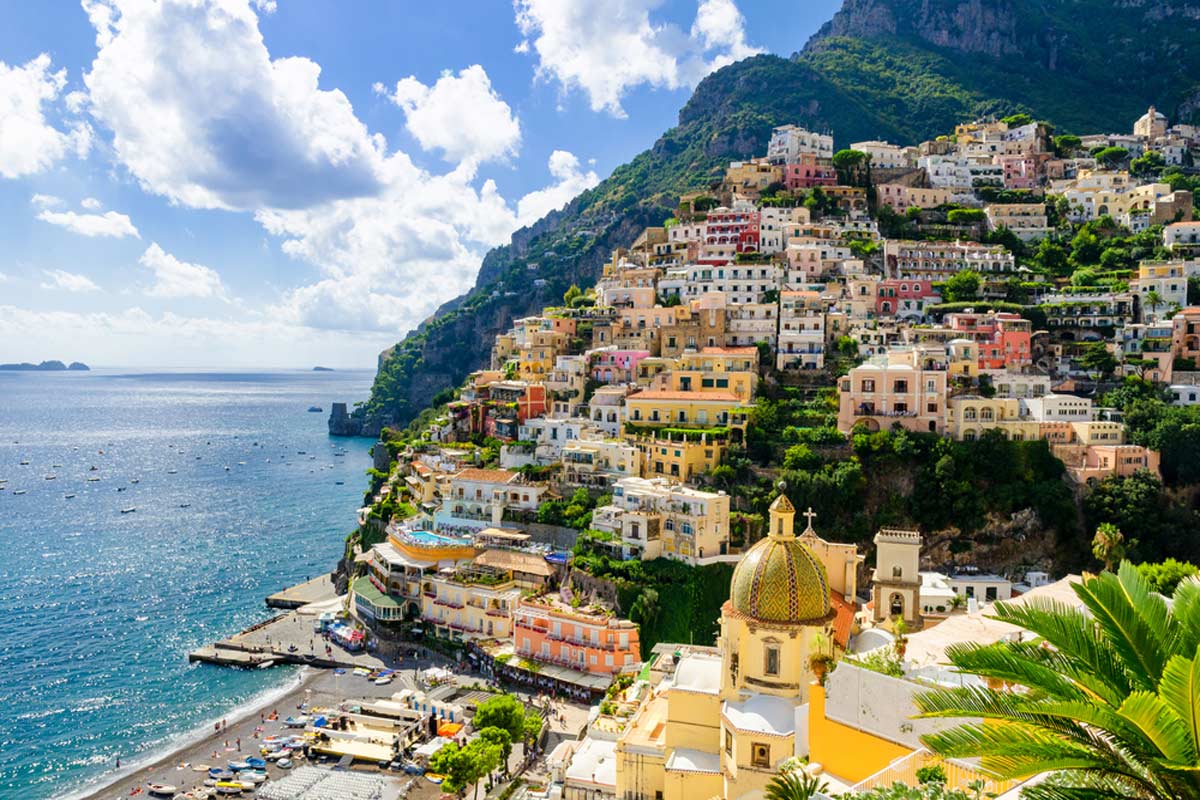 Looking for a honeymoon on the Amalfi Coast that dreams are made of? Positano is most likely the image you've imagined when thinking of fairytale romance in Italy.
Storybook villas, every shade of pastel, line the coastal bluffs of this vibrant town. It's one of the most romantic places on the planet and has crowds to prove its popularity.
Still, you can fall in love with the narrow streets lined with cafes and shops that make this city one of our favorite ideas for a Europe honeymoon.
What to do while you're here? Eat lots of pasta (duh!), try some local wine and marvel at the gorgeous Mediterranean Ocean below.
Sorrento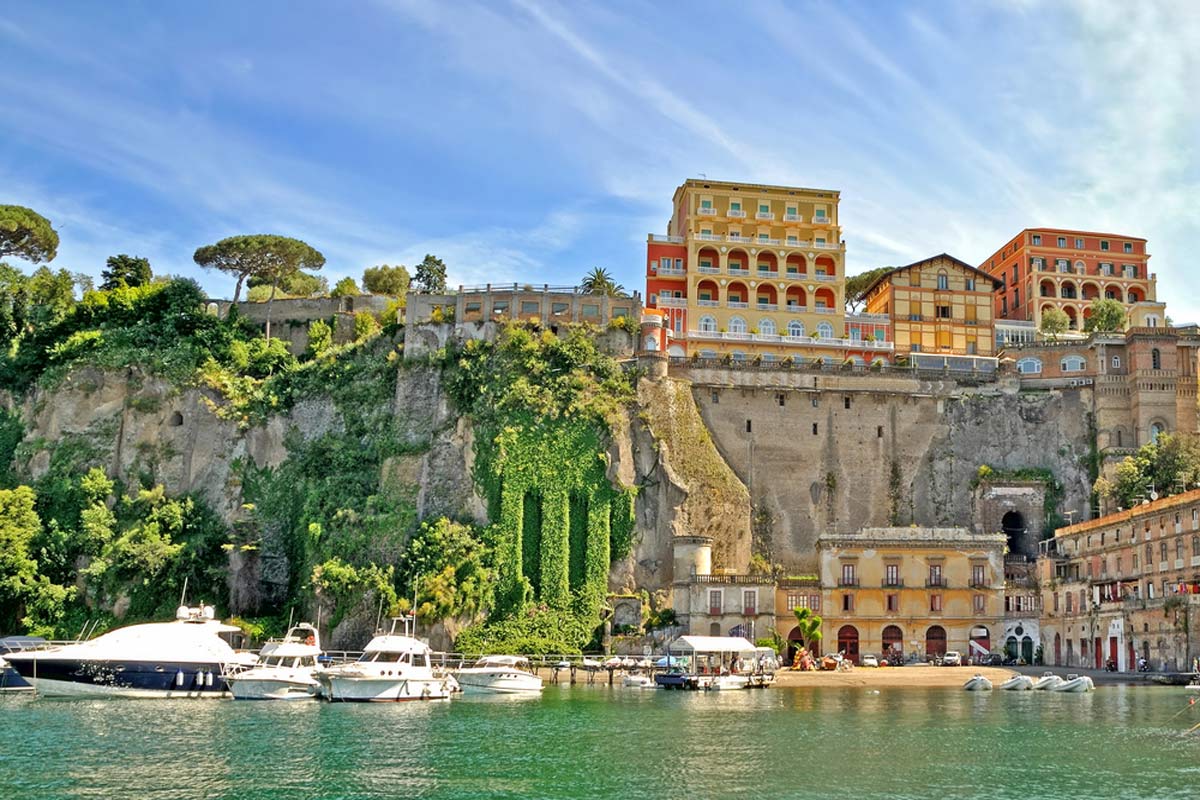 When you arrive in Sorrento and look around, it's hard not to take in the magnitude of dramatic vistas that make this one of the most incredible options for an Amalfi Coast honeymoon.
Whether the imposing beauty of Mount Vesuvius across the sea or the serene architecture of Chiesa di San Francesco – Sorrento will give you postcard-worthy views of Italy more than any location on the Amalfi Coast.
Villa Comunale de Sorrento, Vallone Dei Mulini and Basilica Sant'Antonino are all must-see destinations in Sorrento that will leave you with a lifetime of memories and the photography to back them up.
Ravello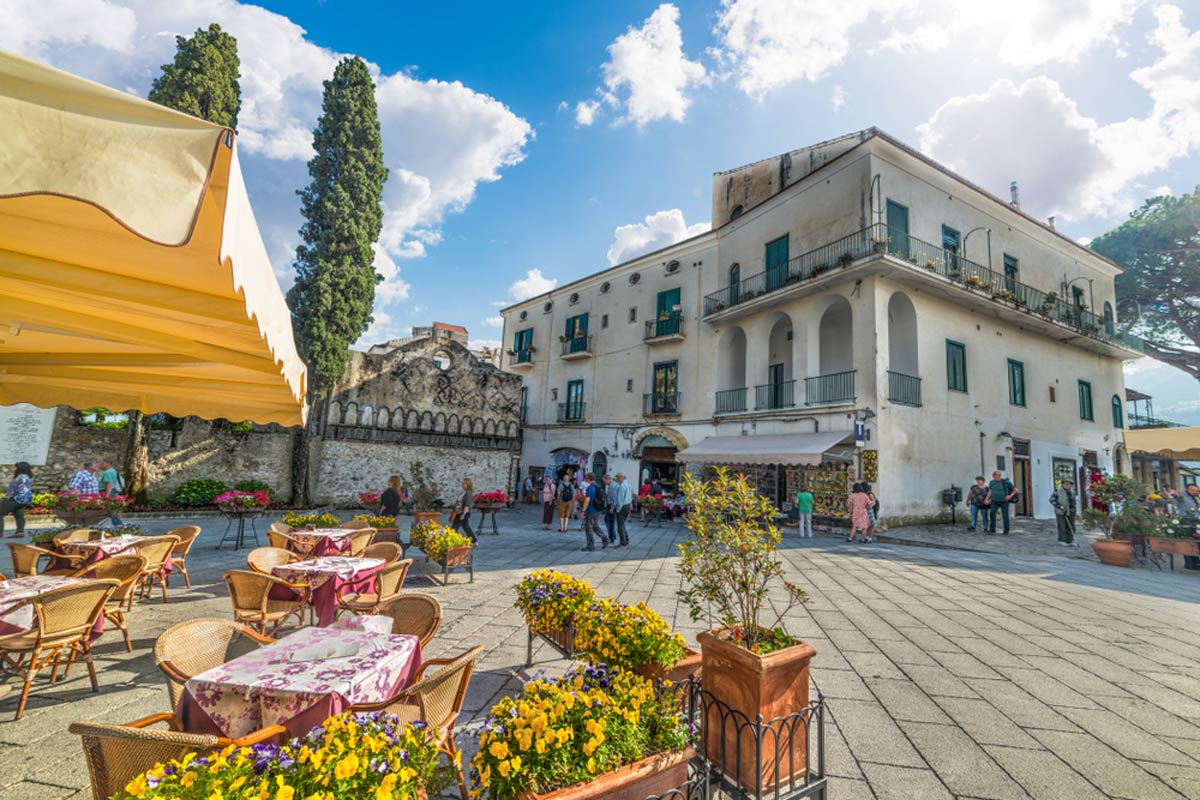 Known for its picturesque gardens, cultural festivals and amazing views high above the Tyrrhenian Sea, you will quickly fall in love with Ravello the moment you step foot on it.
What makes this stand out as a highlight for many couples on their Amalfi Coast honeymoon? The architecture, new and old, is awe-inspiring.
You can't miss seeing Villa Rufolo, Villa Cimbrone and their respective gardens to catch a glimpse of Ravello's sheer beauty and romance. And make time to see a concert at Oscar Niemeyer Auditorium or attend the Ravello Festival to see first-hand why it's named the City of Music.
The Best Time to Visit Amalfi Coast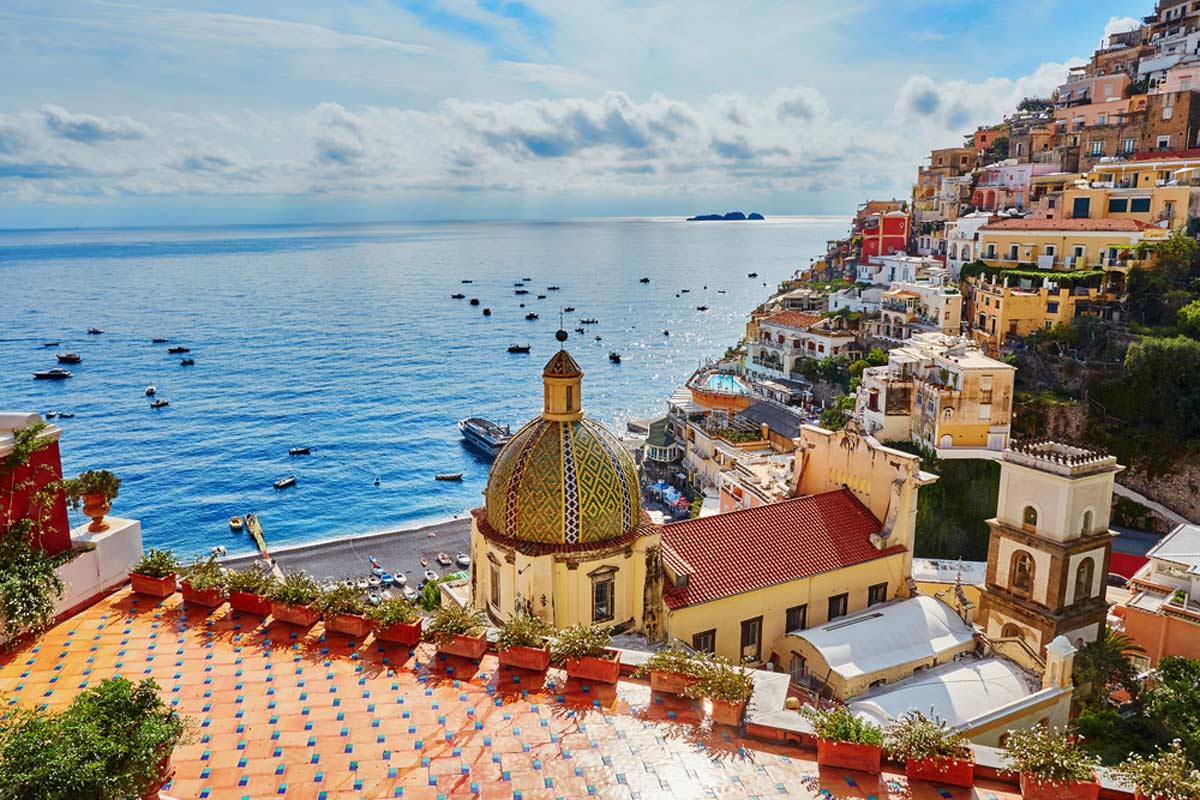 Head to your Amalfi Coast honeymoon in the spring or fall to avoid crowds and enjoy pleasant temperatures that average between 70°F and 80°F for the highs.
Our favorite time for a honeymoon in Amalfi Coast? If you want beach weather without the crowds, September is perfect.
How Long to Spend on Your Amalfi Coast Honeymoon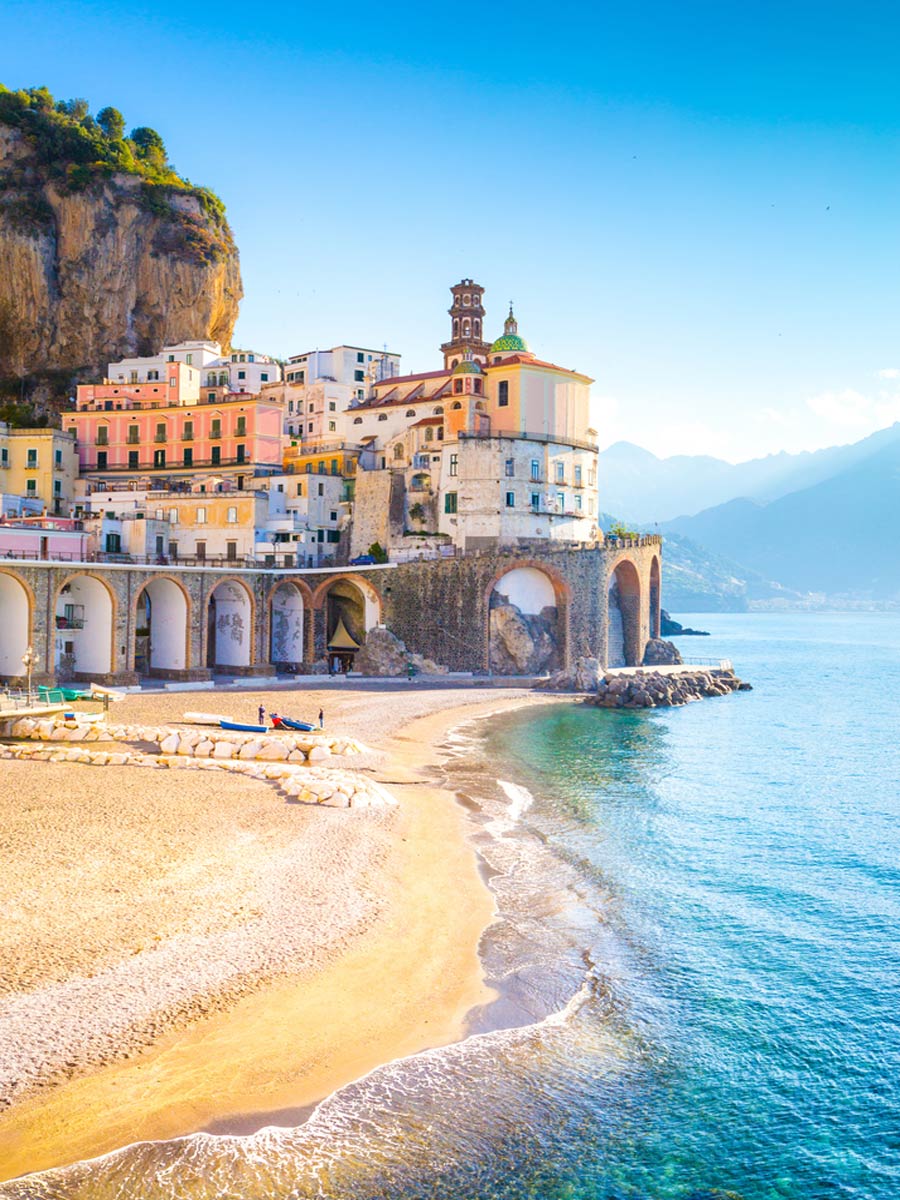 Going to the Amalfi Coast on your honeymoon in Italy? We recommend staying for at least one week to enjoy everything this romantic hub offers.
But if you have some extra time and plenty of Amalfi Coast honeymoon ideas, two weeks might suit you better. We think you'll be happy you extended your visit.
How Much Does an Amalfi Coast Honeymoon Cost?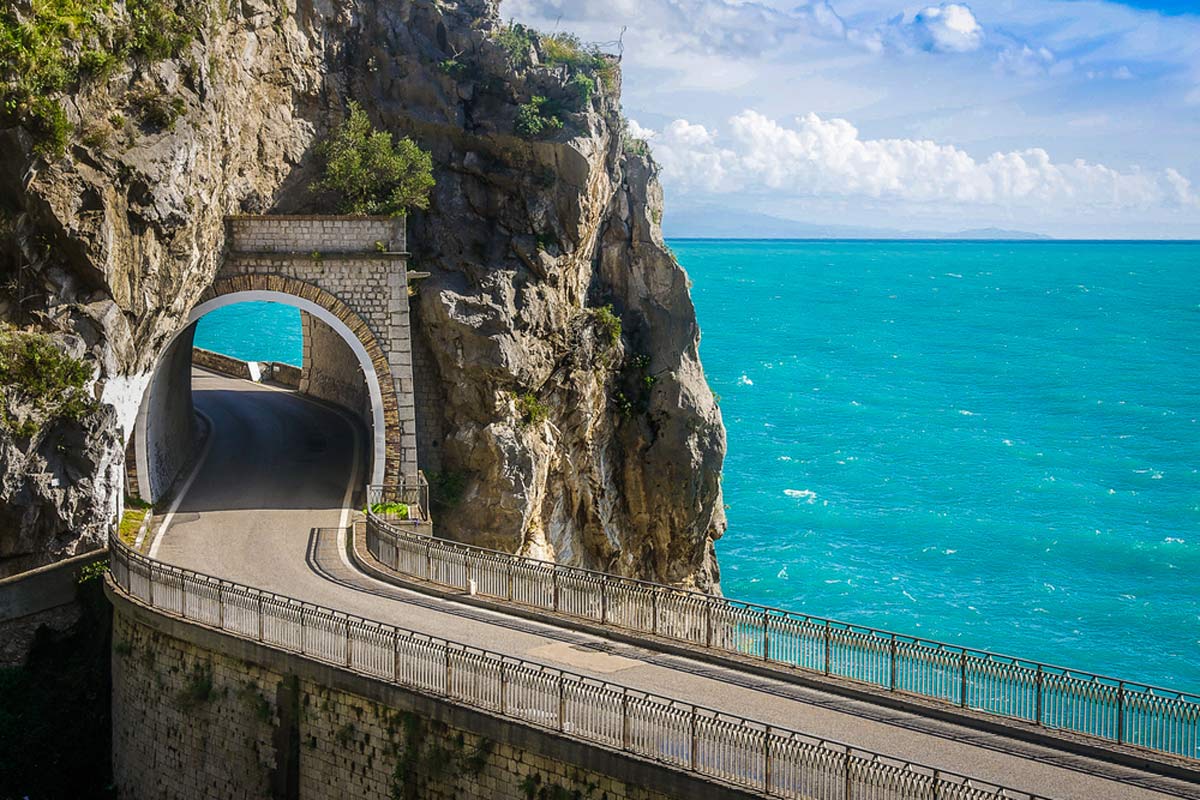 Wondering exactly how much an Amalfi Coast honeymoon costs?
A honeymoon on the Amalfi Coast is a dream vacation for many couples and can be affordable or a splurge trip, depending on your exact budget.
Set aside between $5,000-$10,000 a week with hotels, airfare, transportation and meals when planning your honeymoon to the Amalfi Coast.
Amalfi Coast Honeymoon Resorts: Map
Read More European Honeymoon Guides