Ready to embark on a honeymoon filled with wilderness adventures, action-packed days, and bright nights under the stars or cuddling near the fireplace? We thought so. Discover the best Alaska honeymoon resorts and activities with this helpful guide.
When you picture your ideal honeymoon, we bet you think of balmy weather, azure oceans and charming coastal towns, right? But, we're here to tell you that an Alaskan honeymoon can be just as magical.
Alaska has dramatic mountain landscapes, picturesque coastal villages and some of the best chances to experience the Northern Lights you'll find in the US. It seems like a pretty epic honeymoon destination if you ask us.
Why Honeymoon in Alaska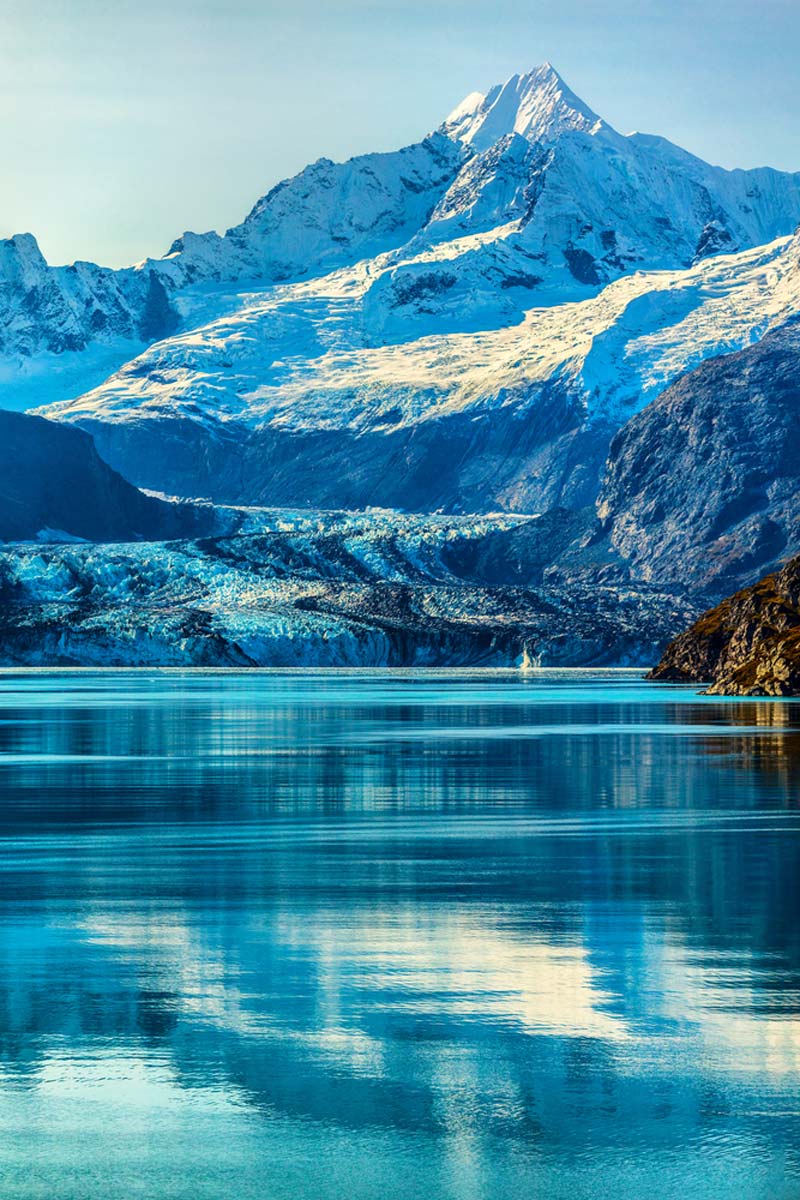 Alaskan honeymoon ideas are not in short supply. Unparalleled wilderness adventures, day trips navigating through the fjords and the chance to hike up the tallest mountain in the United States are just the beginning…

There are also charming hotels, blissful honeymoon cruises and unique cultural experiences that are among the most memorable in the country.

It might seem daunting to plan an Alaska honeymoon, but don't let the size, location and weather keep you away. A honeymoon in Alaska is unlike any you'll ever experience (in the best way possible).

Ready to discover the top activities and accommodations when visiting The Last Frontier? We've got you covered.
Best Honeymoon Hotels & Resorts in Alaska
Alyeska Resort
Anchorage
$$$
Best for an All-Inclusive Alaska Honeymoon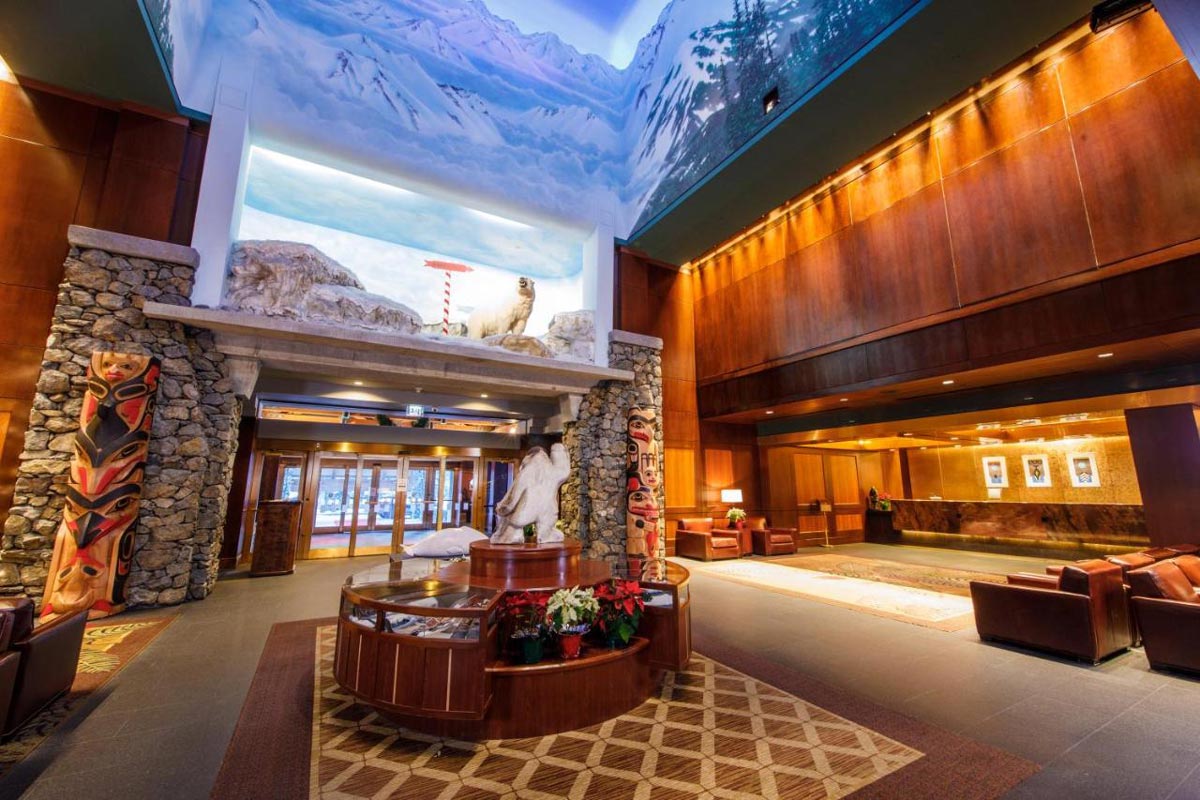 Looking for the best Alaska all-inclusive honeymoon resorts? Alyeska Resort is a top choice for couples who want Alaska honeymoon packages that include adventure around every turn.

The 4-star hotel is located in a prime setting for thrill-seeking couples who want to explore the mountains, rivers and forests around them. It also has plenty of comforts to come home to, including several great restaurants (head to Forte for some handmade pasta) and a private tramway that brings you to the very top of Mount Alyeska.

But the real draw of this Alaska honeymoon hotel is skiing and snowboarding right at the resort.
And the Stay + Ski + Spa Package gives you everything you need for an action-packed weekend with some pampering in between (naturally).

Book this package for two nights or more and receive lift tickets to the renowned ski resort for one day. When you're finished, enjoy some hydrotherapy treatment afterward. It's your honeymoon, isn't it?
For couples wanting a winter honeymoon destination in Alaska – you've found your perfect hotel.
A Taste of Alaska Lodge
Fairbanks
$
Best Alaska Honeymoon for Seeing the Northern Lights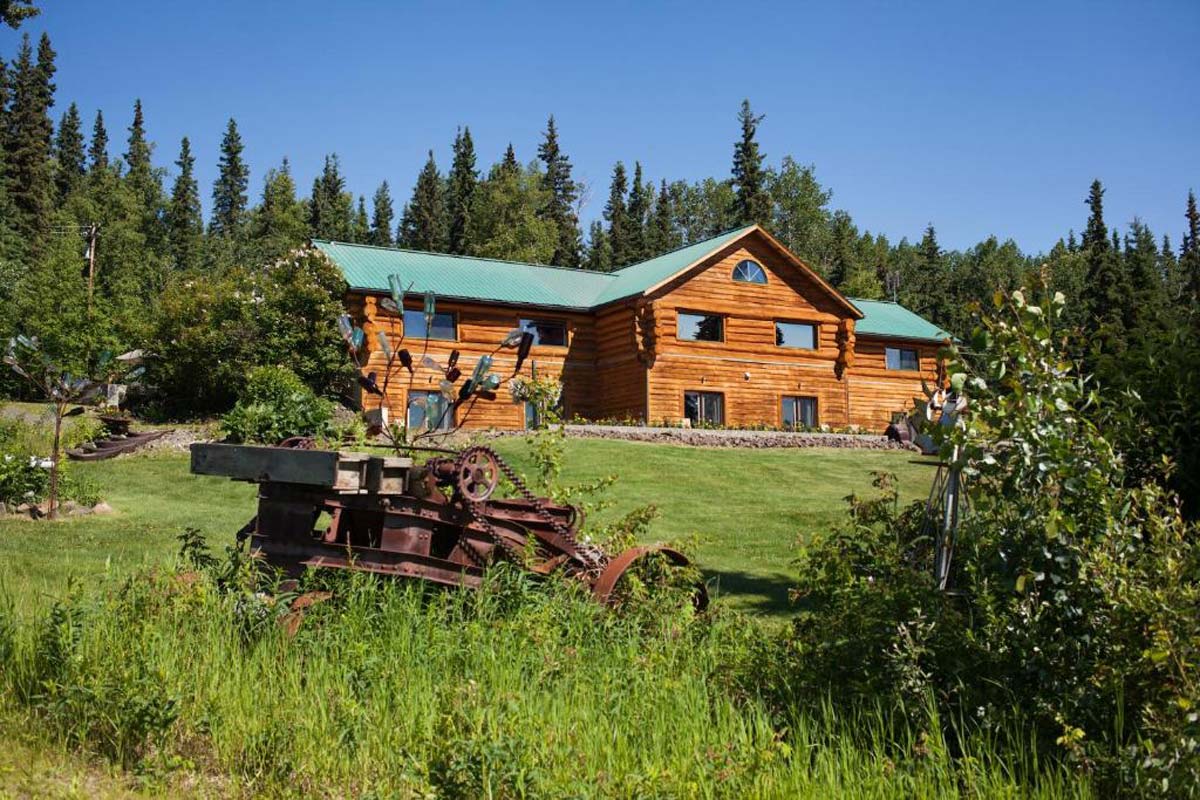 Planning an Alaska honeymoon in Fairbanks? A Taste of Alaska Lodge is a great choice for an Alaska honeymoon lodge in the wilderness.

The rooms at A Taste of Alaska Lodge are akin to the location, rustic. If Alaska honeymoon cabins are your dream setting, the log cabin interior with antique furniture, snowshoes and other vintage touches is for you.
Planning to enjoy nearby hiking, fishing and sightseeing? The location is ideal for honeymooners any time of year. In the winter, the remote location is perfect for taking a short stroll and catching the Northern Lights on your honeymoon in Alaska.
Pro Tip: You may want to reserve a larger cabin with a kitchen to enjoy your catch if you're here on an Alaska fishing honeymoon. But the free breakfast is excellent for honeymooners who'd rather let someone else do the cooking.
Silverbow Inn Hotel & Suites
Juneau
$$
Best for Mountain Views on an Alaskan Honeymoon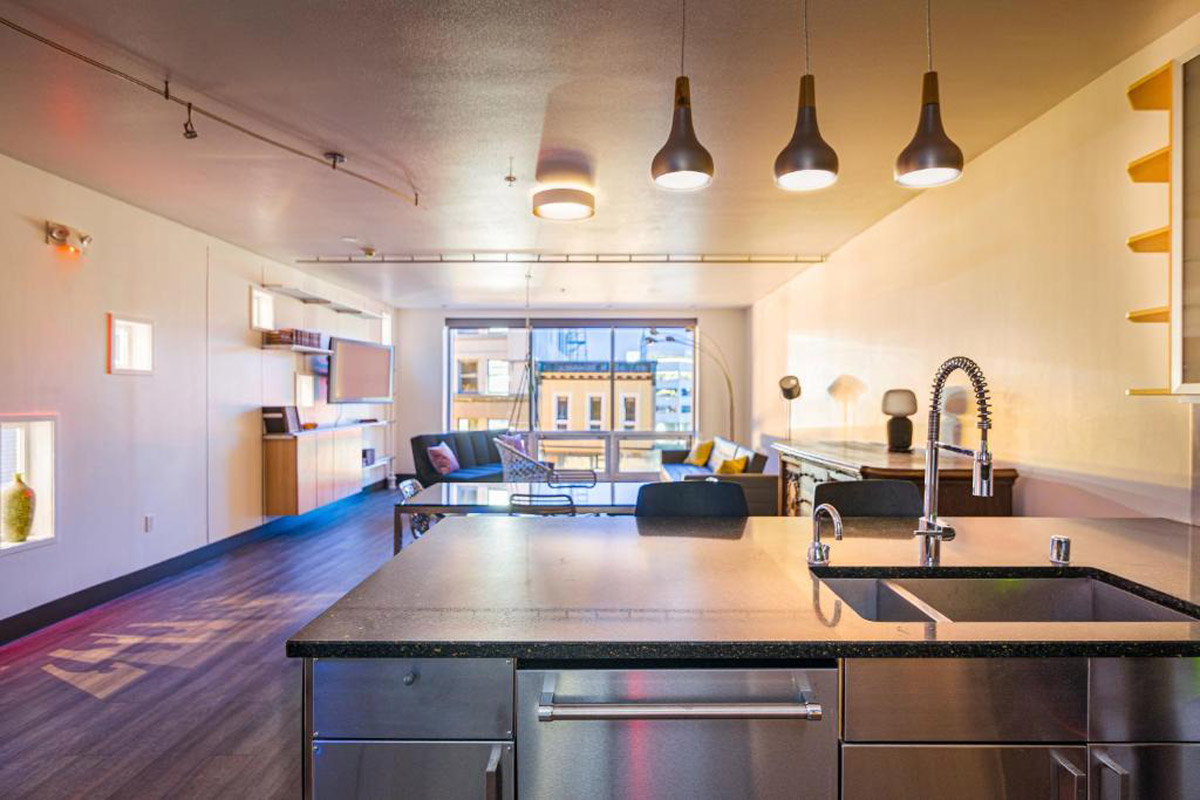 Fancy a room with a premiere location in downtown Juneau? Silverbow Inn Hotel & Suites sits along the Gastineau Channel, the gorgeous inlet between continental Alaska and Douglass Island.

Rooms are like small urban apartments, perfect for honeymooners who want to feel like locals when spending a few days in Juneau.

But if you stay at Silverbow Inn on your Alaska honeymoon and have some leftover cash in your honeymoon fund, book one of the top-floor suites. At a reasonable price, you'll have nearly double the space, a full kitchen and gorgeous views of downtown Juneau or the surrounding mountains.

Access to a washer and dryer, a shared hot tub and complimentary breakfast are all perks that make this one of our favorite ideas for a honeymoon in Alaska.

Want to enjoy one of the best seafood meals in Alaska? Walk over to Tracy's King Crab Shack and sample the famous king crab legs right next to the water. It doesn't get much better.
The Hotel Captain Cook
Anchorage
$$$
Best For a Luxurious Alaska Honeymoon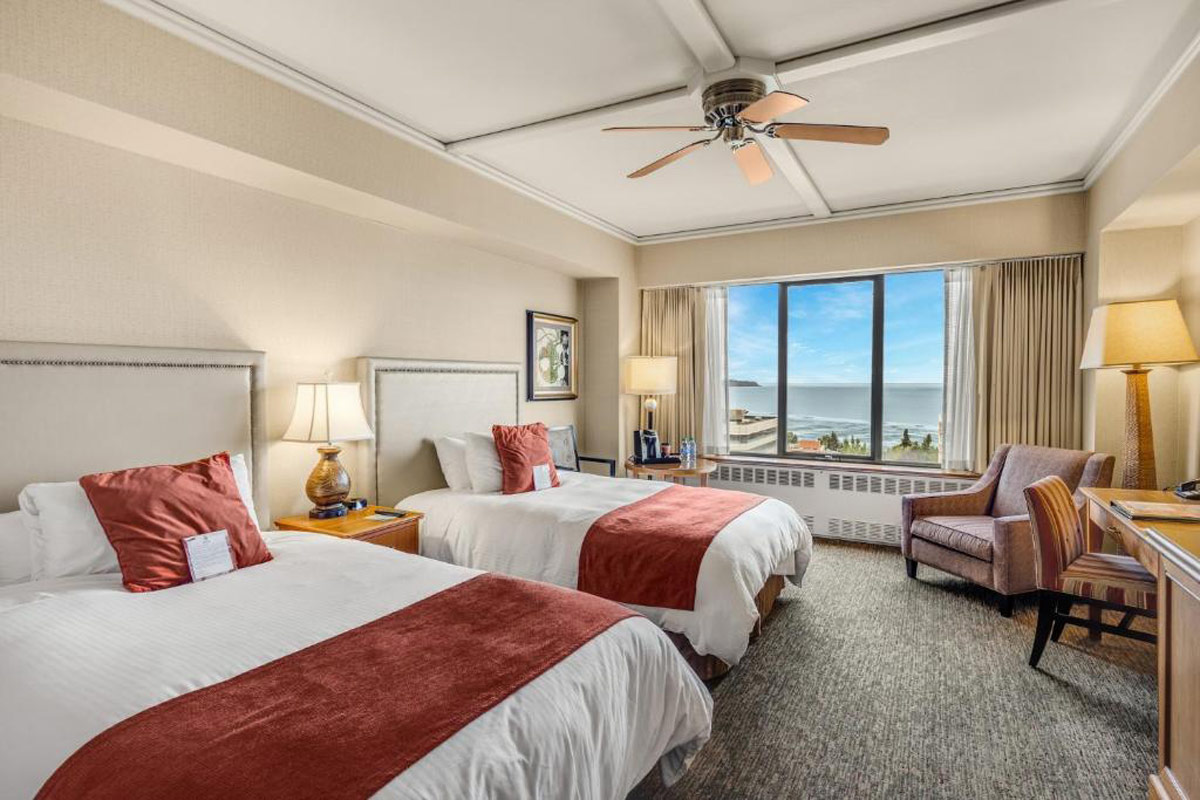 Looking for an upscale resort for your Alaska honeymoon? The Hotel Captain Cook in the heart of Downtown Anchorage is a four-star hotel with more amenities than you'll find in most Alaska honeymoon spots.
From the rooftop restaurant serving French-influenced fine dining to the cozy English pub with a menu and decor that feels more like you're in New York City than Anchorage – you won't find better dining options in an Alaska hotel.
The rooms lean traditional and are comfortable enough for a week-long stay. Ceiling fans keep you cool during summer honeymoons in Alaska, and the comfortable beds and blackout curtains are perfect for sleeping in.
And best of all, the short walking distance to the top attractions in Anchorage makes this our favorite option for an all-around great honeymoon in Alaska.
Gilmore Hotel, Trademark Collection by Wyndham
Ketchikan
$$
Best for a Honeymoon in Ketchikan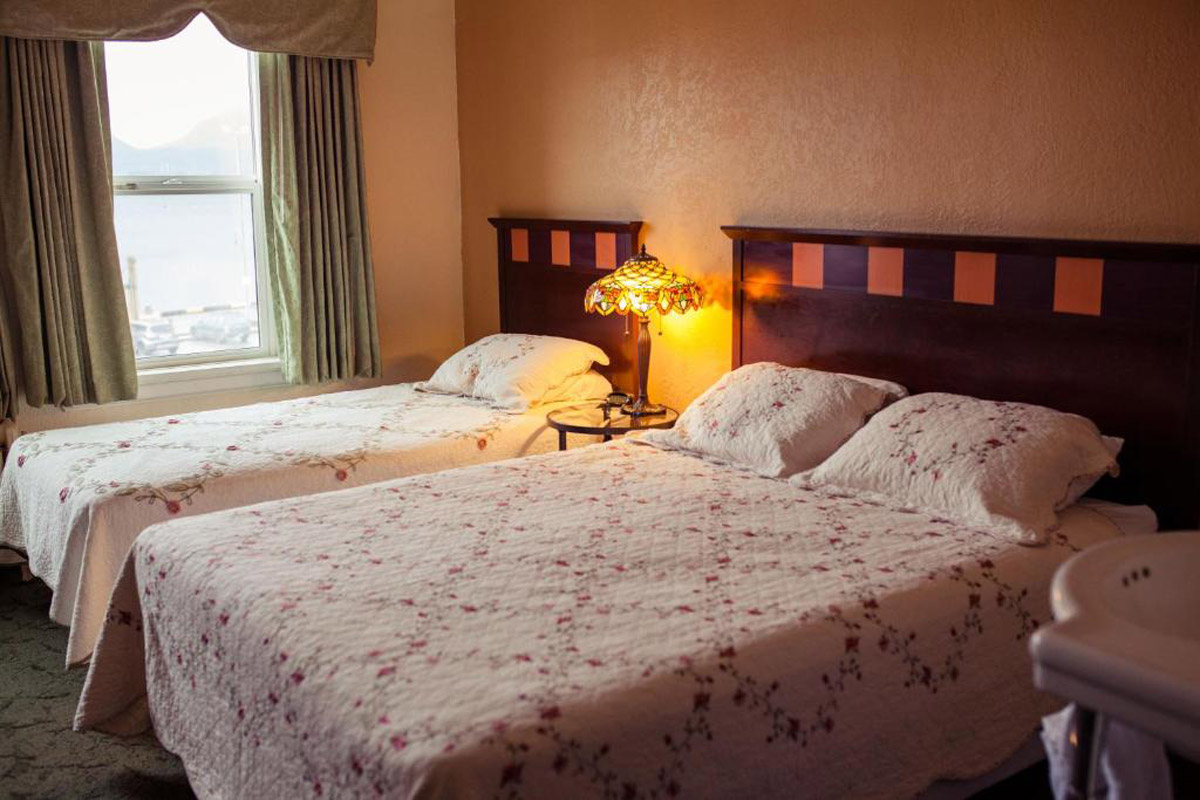 There's a lot to do when spending a couple of nights in Ketchikan during your Alaska honeymoon. Gilmore Hotel is close to many of the top attractions in the small coastal city and a wonderful place to base your special vacation.

You'll also want to explore what's around the quaint hotel in the historic neighborhood near the cruise ports. Some of our favorite Alaska honeymoon destinations, like Totem Heritage Center and the Great Alaskan Lumberjack Show, are steps away.

The rooms are on the smaller side but packed with character, and it's the perfect location for history buffs who want to spend the night in a historic property. Free Wifi, airport shuttles and wake-up service are great options for travel-weary honeymooners who wish to have a few details planned out in advance.

Speaking of plans… fancy some freshly caught seafood? Head down to Annabelle's Famous Keg and Chowder House to sample local shellfish in a bustling setting.

If you're looking for the best place to spend the night in Ketchikan on your Alaska Honeymoon, you'll want to consider staying at this historic property.
Alaska Honeymoon Tips: What You Need to Know
How to Get to Alaska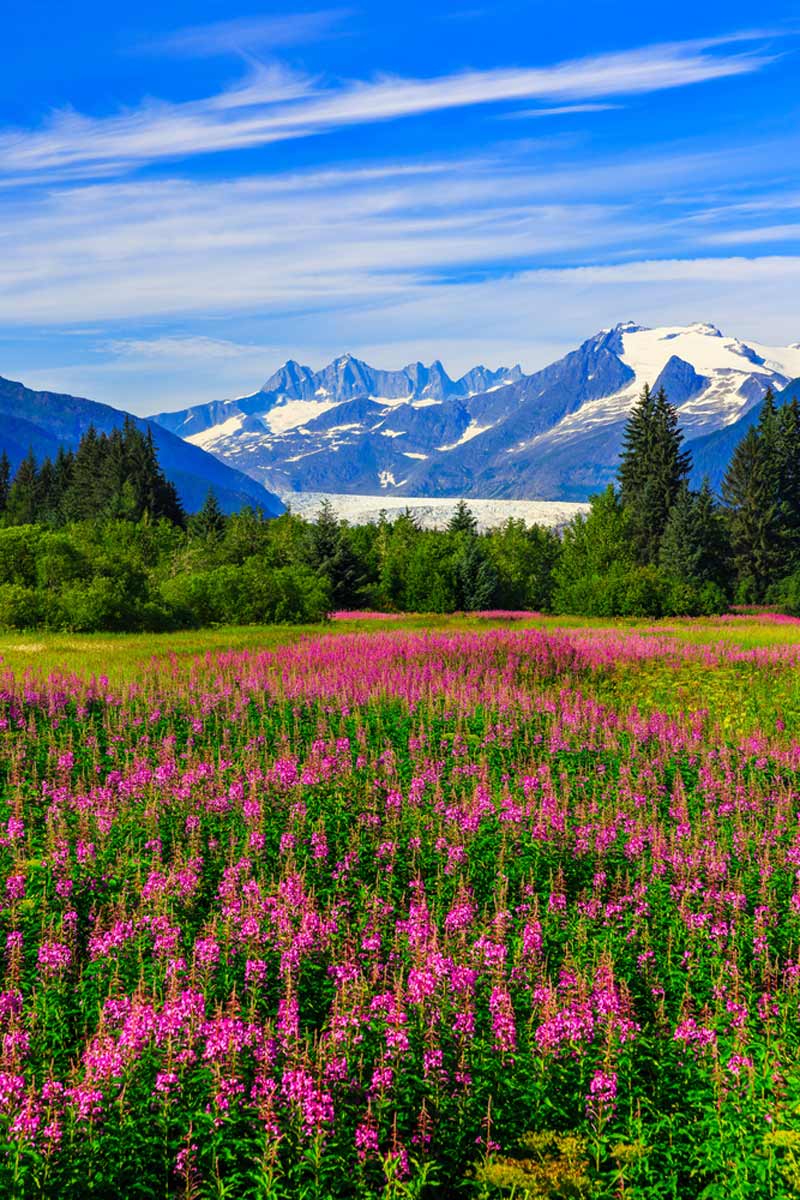 Most honeymooners reach Alaska in one of two ways. The two easiest ways to reach Alaska are flying to Ted Stevens Anchorage International Airport (ANC) or taking a honeymoon cruise to one of several ports in Alaska.

Either way is great for experiencing Alaska, but we can't help but lean towards planning a cruise for your Alaska honeymoon.
The Best Alaska Honeymoon Destinations
Denali National Park and Preserve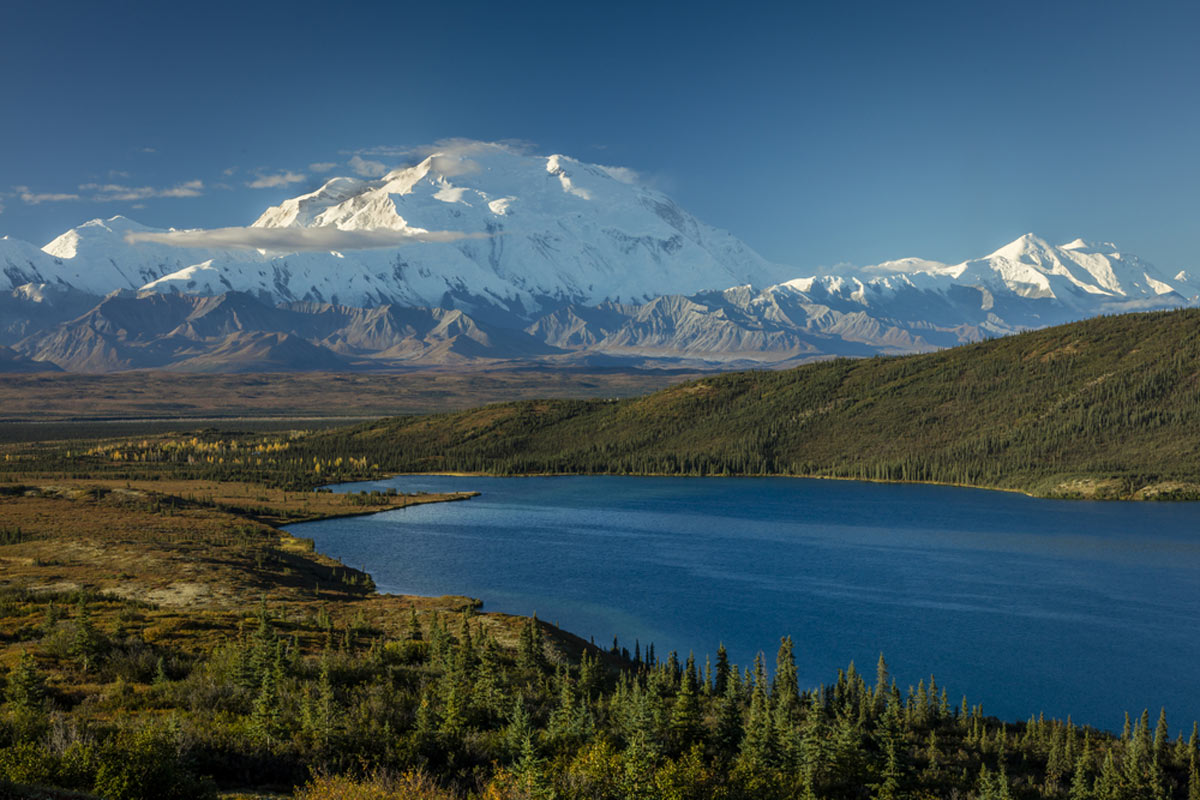 Is there a more famous choice for Alaska honeymoon destinations than Denali National Park and Preserve? Not that we know of. Schedule a few hours (or much longer) exploring the vast nature preserve that's larger than several states in the USA, and you'll quickly know why.

From dogsledding to climbing the highest mountain in the USA, you can plan an epic Alaska honeymoon itinerary in Denali that takes up your entire vacation if you want to.

Not up for a 3-week trek up 20,000 feet on your Alaska honeymoon? Not to worry. Enjoy wonderful hikes, bicycle rides,and nature photography locations all around this unforgettable honeymoon destination.
Kenai Fjords National Park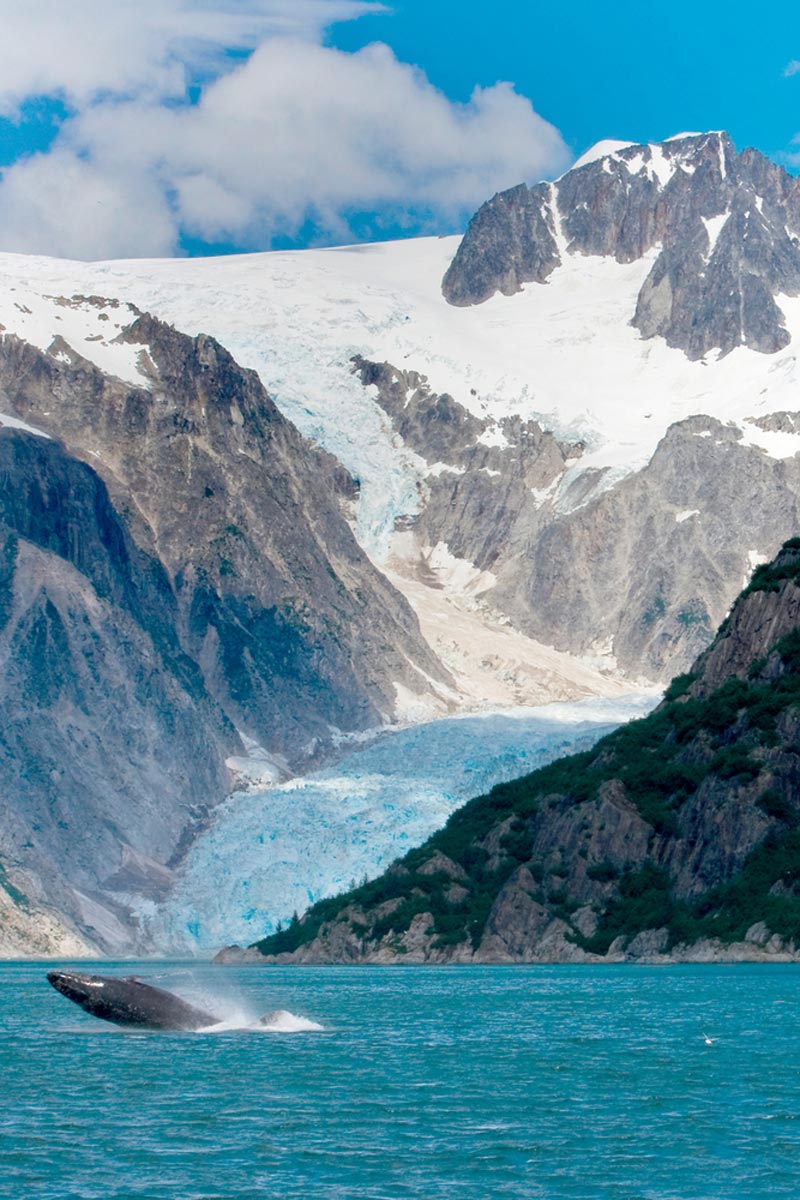 Thinking of going on an Alaska honeymoon cruise? The Kenai Fjords National Park is the perfect location to set sail with your significant other for a truly unique Alaska honeymoon experience.

What should you expect to see on a guided tour through the unrivaled Alaskan fjords? Towering peaks, massive glaciers, whale-watching and the occasional mountain goat sighting are some incredible sights to share on one of the premier Alaska honeymoon spots.

Rather stay on land? If you're up for an adventure, you can explore the hiking trails around the park. However, be warned that you may face numerous hazards, including avalanches, extreme temperatures and enormous falling chunks of ice that occur seasonally.

So do yourself a favor and check in with the park rangers before setting out on a romantic expedition.
Juneau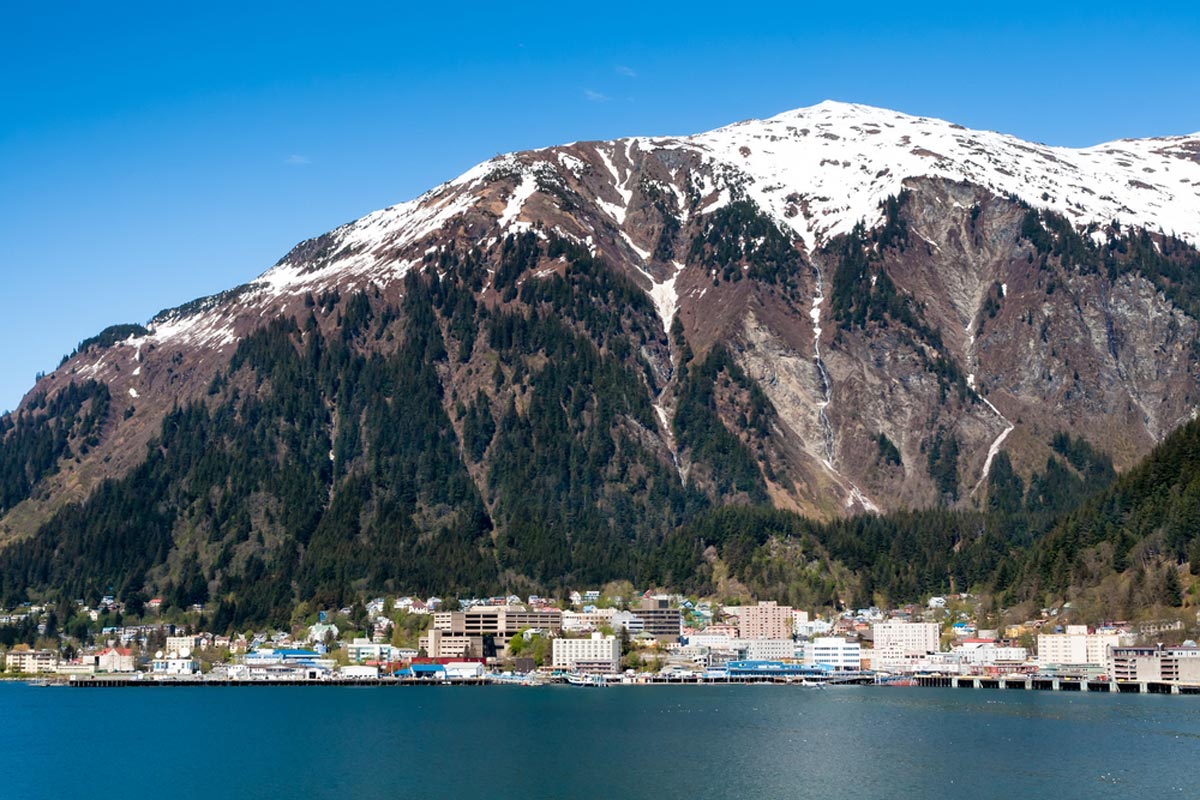 Keen to visit the capital city on your Alaskan honeymoon? Juneau is a really big city, in fact, one of the largest in the USA… by land mass.
There are only around 30,000 people that call the sprawling metropolis home, giving honeymooners more than enough space to spread their wings and discover secluded spots to explore.
Glaciers, fjords, waterfalls, and even rainforests (Glacier Gardens Rainforest Adventure features non-native plants in a gorgeous garden) are a few sightseeing opportunities in Juneau.
There are also museums, mill tours, and monuments for honeymooners wanting to learn the history and culture of Alaska.
Is Alaska good for a honeymoon for foodies? You bet. And Juneau has some great restaurants, distilleries, and breweries to hang out at between outdoor adventures.

Going on an Alaskan cruise honeymoon? You'll likely pass by Ketchikan or even dock there when traveling along the famous Inside Passage. We recommend booking Alaska honeymoon hotels in this smaller city in Southern Alaska to explore the many nearby attractions.

Cultural landmarks and events include the Totem Heritage Center, where you'll see remarkable displays preserved from indigenous cultures, or the Great Alaskan Lumberjack Show – offering a chance to see loggers compete in challenges centered around the historical industry.

Want to grab a snack or do some shopping? Creek Street is a scenic village where you can take an afternoon stroll.
Anchorage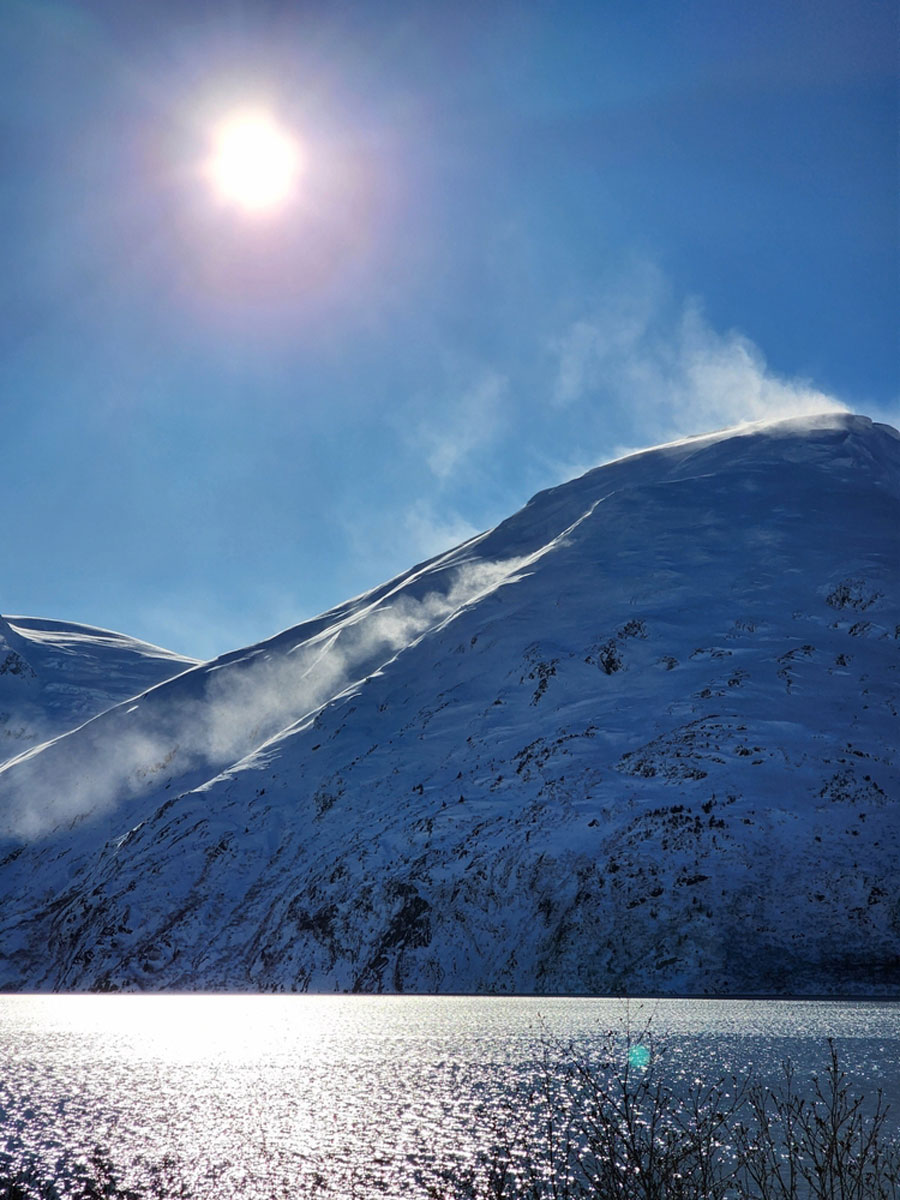 If you're looking for Alaska honeymoon packages that allow you to experience Alaska's unique food, culture and nature from one home base, Anchorage is an action-packed destination.
Immerse yourself in the Alaska Wildlife Conservation Center and take the 1.5-mile loop to see timberwolves, brown bears, lynxes and moose in a private sanctuary. Or head out into the wilderness at Chugach State Park and catch amazing views of the Portage Glacier from the historic Portage Pass Trail.
One distinct advantage of staying in Anchorage is the vast array of food choices. Wherever you go, seafood is likely on the menu and as fresh as you'll find anywhere.
Fairbanks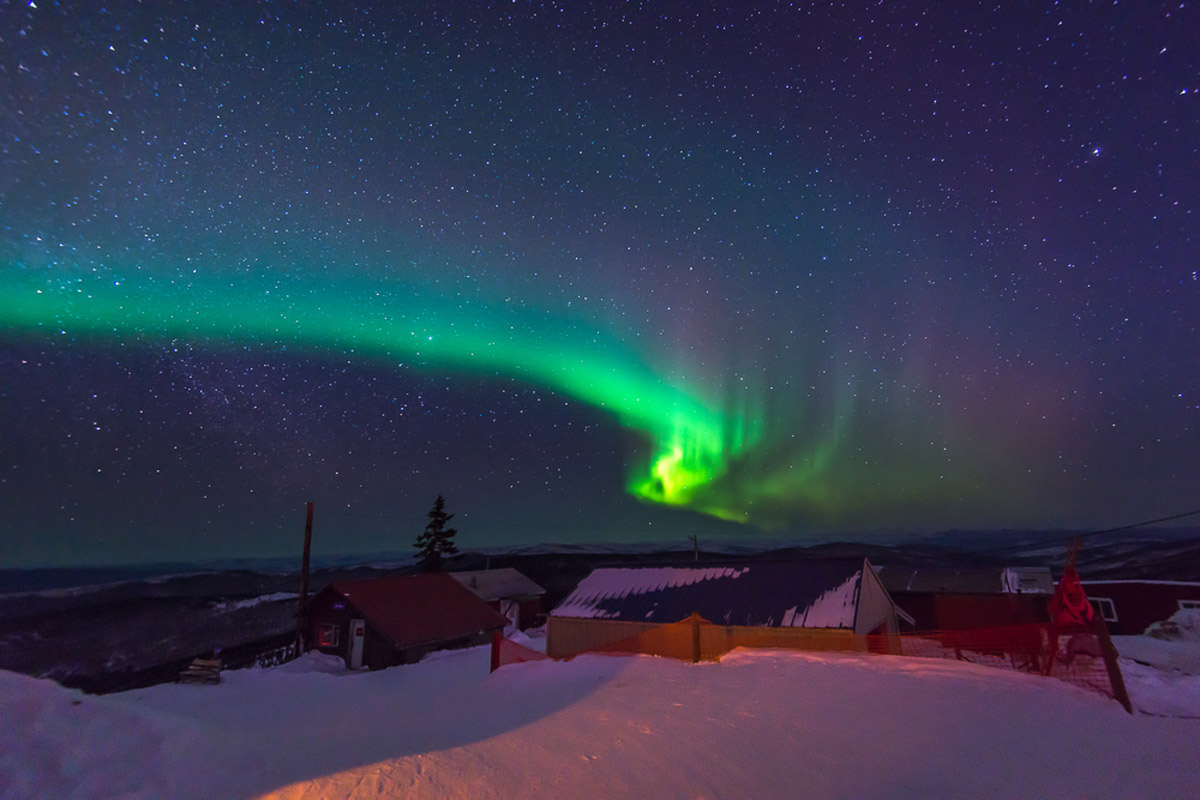 Going on an Alaska fishing honeymoon? Head to Fairbanks, and you can fish day or night in the "Land of the Midnight Sun" in many different spots along the highway.

But fishing isn't the only reason we love Fairbanks. The 24 hours of sunlight in the summer are contrasted by the best Alaska honeymoon Northern Lights viewing destinations you'll find in winter.

Ready to take a break from exploring the great outdoors? Fountainhead Antique Auto Museum and Morris Thompson Cultural & Visitors Center are two interesting educational experiences, the latter focusing on the rich history of Native American Culture in Alaska.
The Best Time to Visit Alaska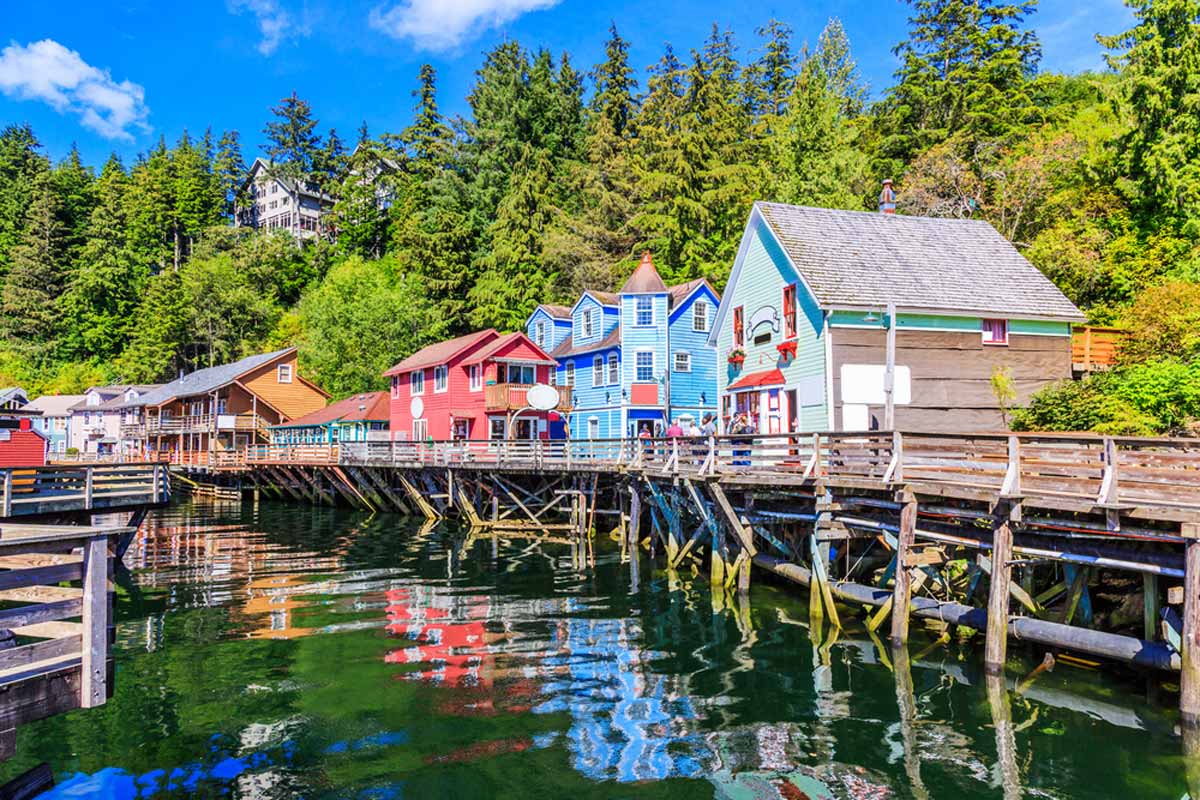 The best time to plan your Alaska honeymoon really depends on what you want to do while you're there.
Why? Well, more than nearly any other place, weather and conditions can vary immensely.
If you're interested in skiing, snowboarding, snowshoeing or just snuggling up by the fireplace with your new forever partner, winter in Alaska is magical. But you can also experience the Land of the Midnight Sun and the endless sunshine that falls upon the mountains, rivers and fields near Fairbanks in the summer.
You're in for a unique honeymoon experience whenever you plan your honeymoon in Alaska.
How Long to Spend on Your Alaska Honeymoon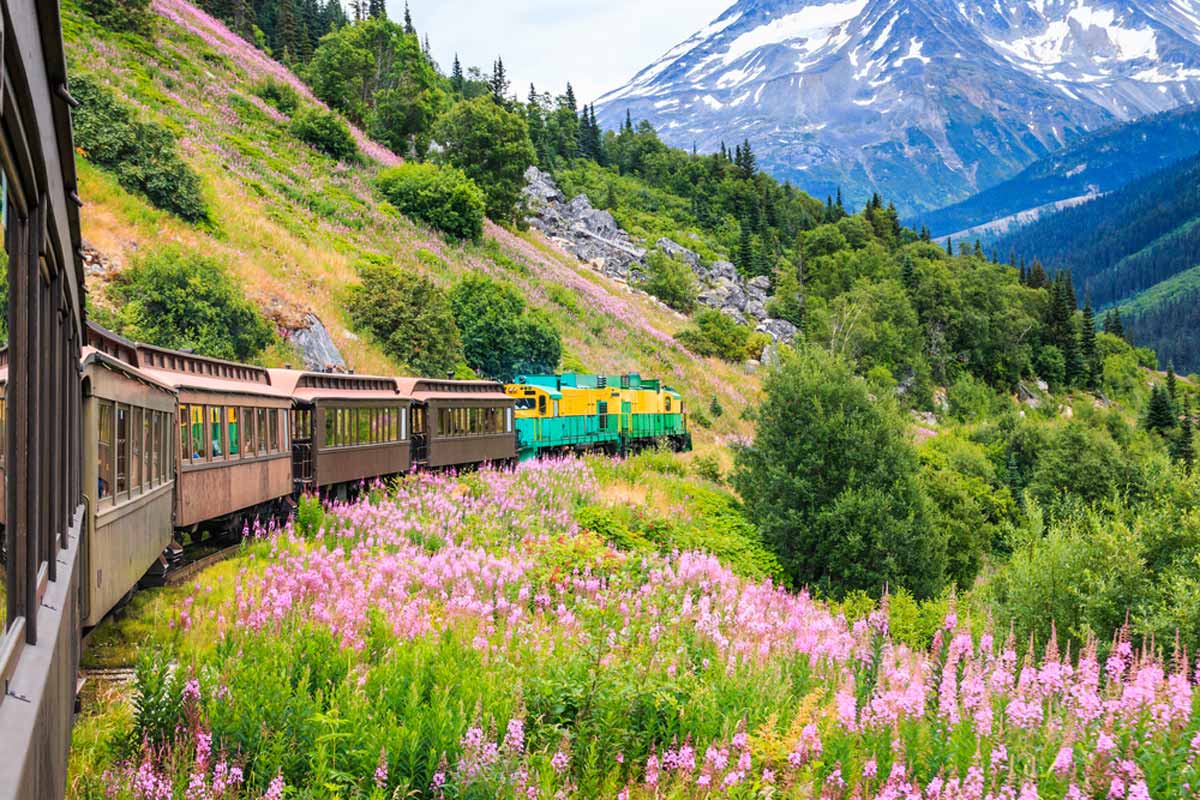 If you're planning your honeymoon to Alaska, you might wonder how long you should set aside for your once-in-a-lifetime trip.

Being the largest state in the USA, Alaska honeymoon trips are generally best if you plan to spend at least one week.

Our opinion? Ten days is the perfect amount of time to schedule all your Alaska honeymoon ideas and still have time for some R&R.
How Much Does an Alaska Honeymoon Cost?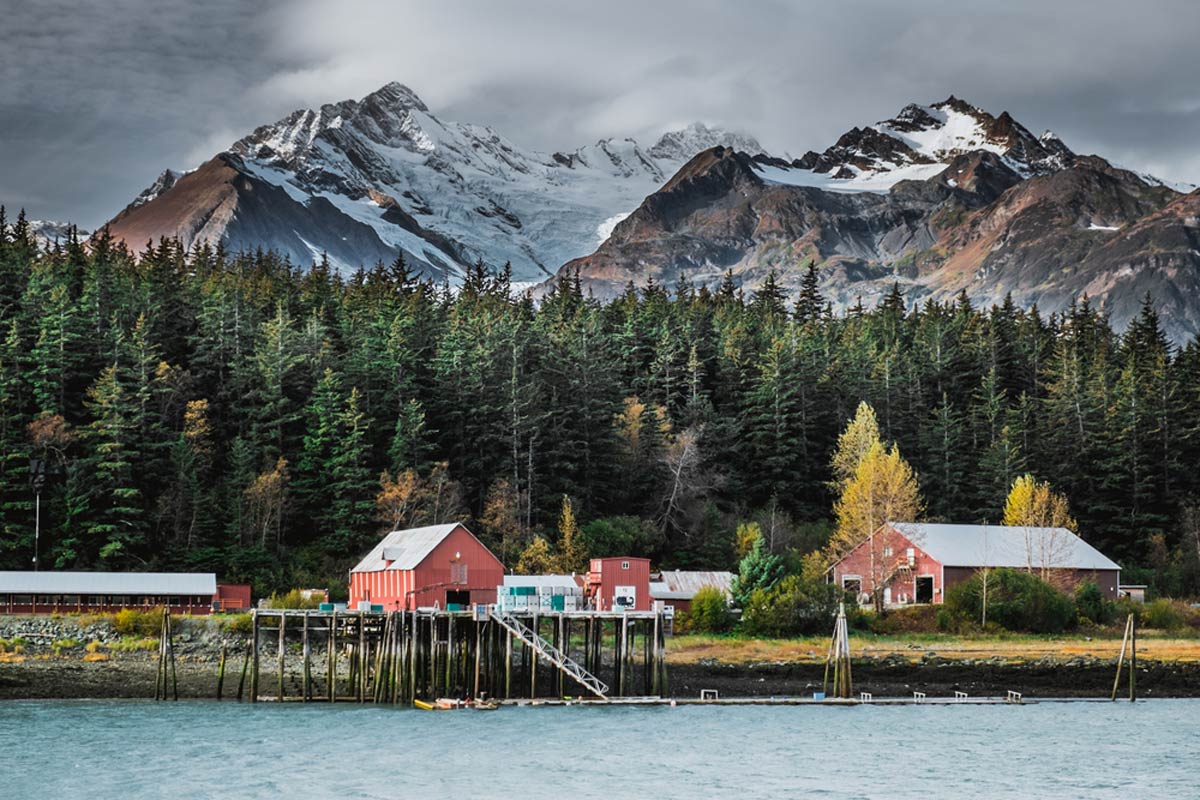 Because many honeymoons in Alaska are at least one-week trips involving multiple locations, Alaska honeymoons can make a dent in your honeymoon fund.

For an average honeymoon Alaska adventure, you'll want to budget between $7,000-$10,000 total. You can also save money by finding budget accommodations or scheduling your trip for springtime.
Alaska Honeymoon Guide: Read Next