Getting your ski boots or hiking shoes ready for a honeymoon in Lake Tahoe? We'll tell you everything you need to know to plan a trip full of adventure, romance and idyllic mountain scenery in the Sierra Nevadas.
Lake Tahoe is famous for crystal clear waters nestled below a stunning mountainous landscape that borders California and Nevada.

We know it's a popular place for families, thrill seekers and weddings. But what about a honeymoon Lake Tahoe retreat? Absolutely.
Here's how to plan the most incredible Lake Tahoe honeymoon.
Why Honeymoon in Lake Tahoe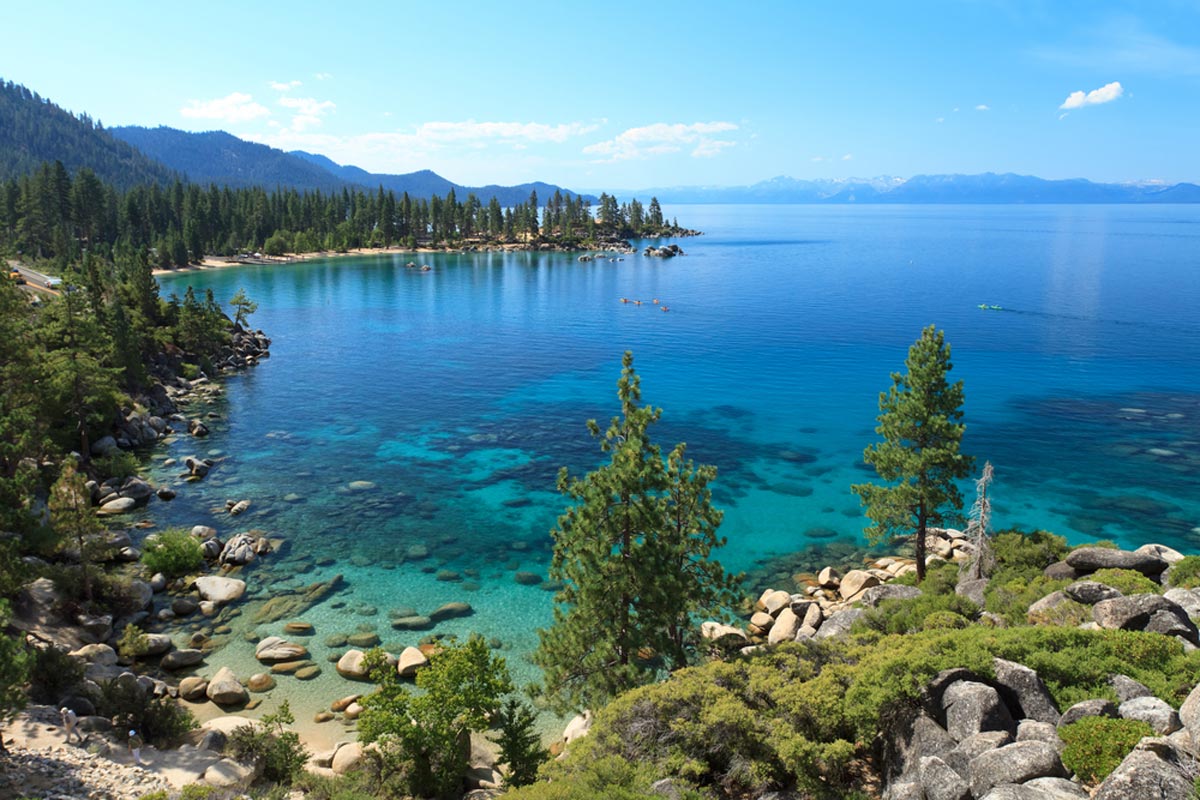 Can you think of anything more romantic than putting on your favorite cashmere sweaters (preferably matching for extra points), making a boozy hot chocolate and watching the snowfall outside while discussing your new life together? Didn't think so.

But summers in Tahoe are just as special, making any time of year a fantastic choice for booking honeymoon suites in Lake Tahoe.

Whether you're looking for a Lake Tahoe honeymoon cabin or want to book a spot at the top Lake Tahoe honeymoon resorts, we'll guide you to where to stay and what to do at the Jewel of the Sierra.
Best Honeymoon Hotels & Resorts in Lake Tahoe
Edgewood Tahoe Resort
Stateline
$$$
Best For Lake Tahoe Honeymoon Suites
Edgewood Tahoe Resort, located in South Lake Tahoe, is one of the most popular high-end resorts for honeymooners. Once you step foot into your honeymoon cottage Lake Tahoe-style, you'll understand exactly why.

Each room and suite has large living quarters that are comfortable any time of the year. On colder nights, use the wood-burning fireplace for kindling some romance before heading downstairs to enjoy a meal at the famous Edgewood Restaurant.

You can't get a better location next to the lake, with the private balconies and expansive property grounds overlooking Lakeside Beach in South Lake Tahoe. Be sure to book ahead.
The Ritz-Carlton, Lake Tahoe
Truckee
$$$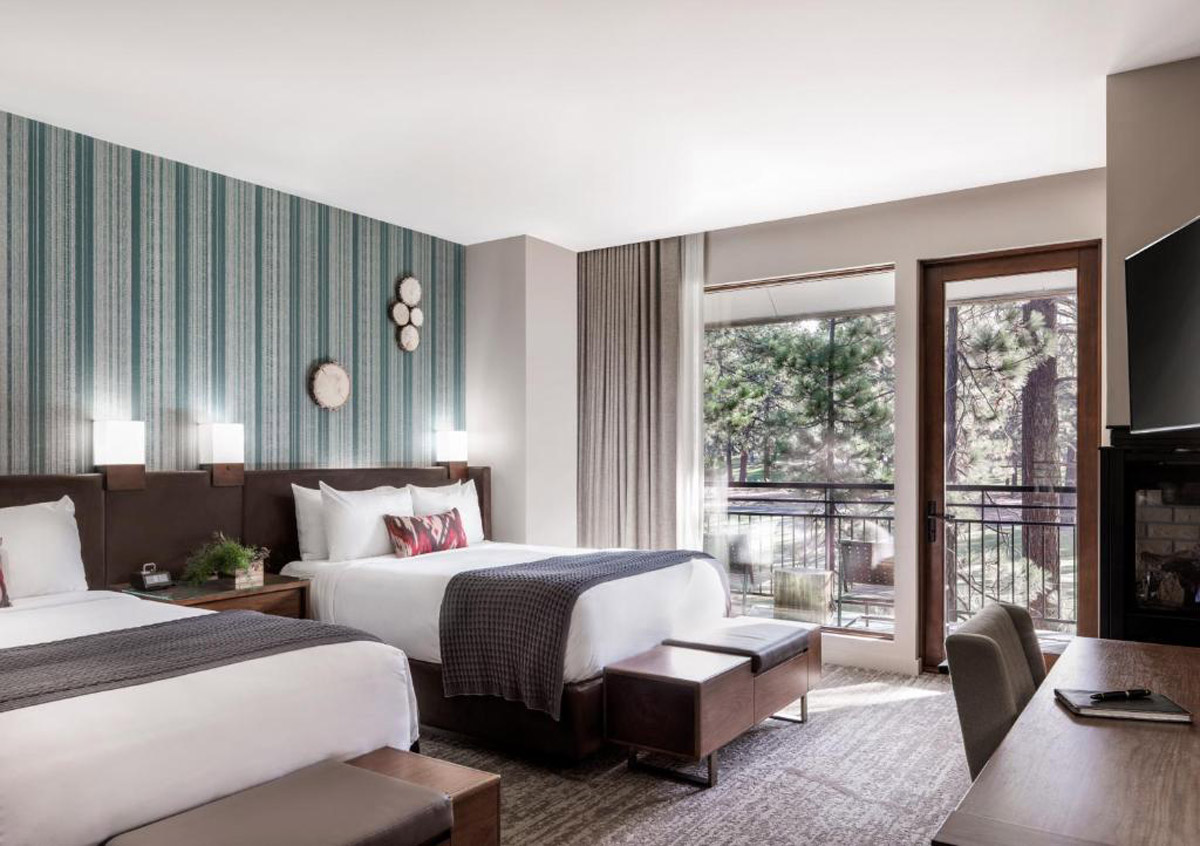 Best For Ski In Ski Out Honeymoon Suites
Head further up north to Truckee, and discover one of our favorite romantic trips near Lake Tahoe, Northstar California Resort.
The Ritz-Carlton, Lake Tahoe sits in the middle of the mountain, so you can ski or snowboard right up to your door or take a hike or mountain bike ride in the warmer months.
One-bedroom suites have a living room fully equipped with a built-in fireplace and epic mountain views, ideal for those long nights under a blanket, helping each other warm up after a chilly outdoor adventure.
Marble bathrooms are spacious and equipped with an in-room jacuzzi bath, where you can surprise your partner with a champagne toast before a romantic dinner for two at Manzanita.
The Landing Resort and Spa
Heavenly Village Ski Resort
$$
Best For Nightlife Near the Lake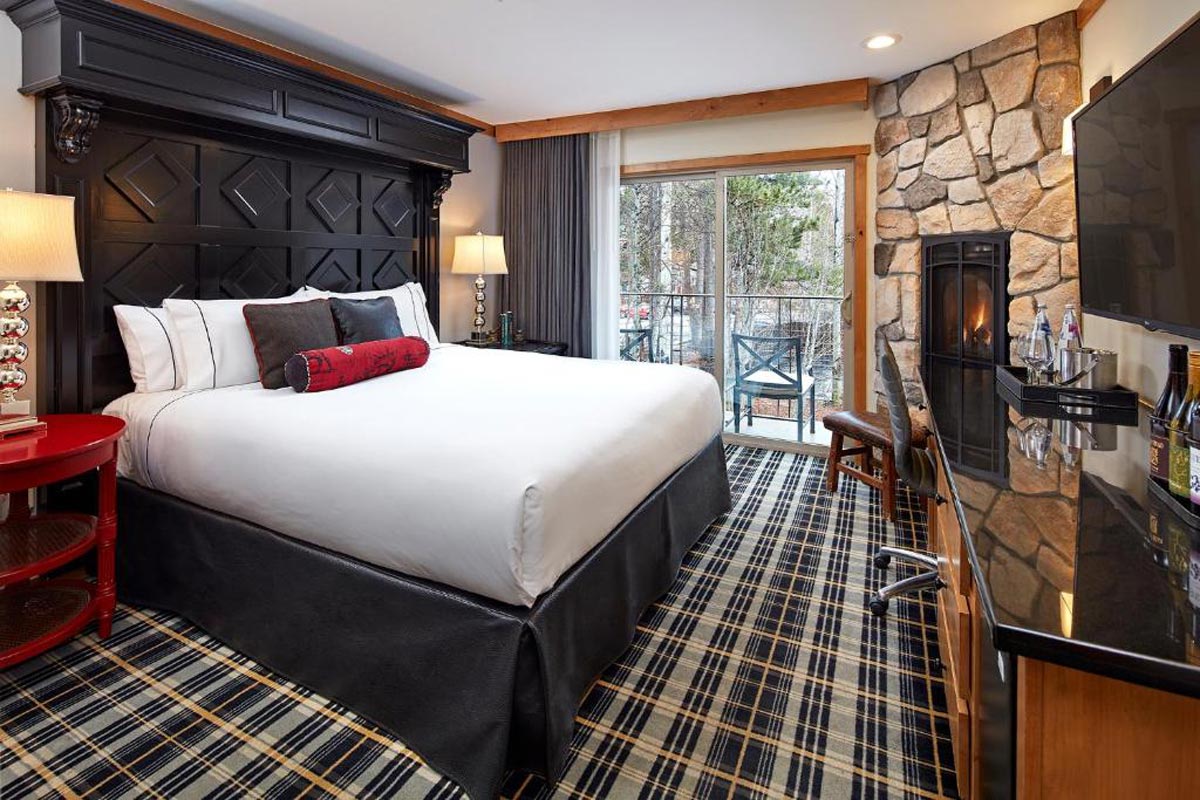 Heavenly Village has plenty of activities and sightseeing that are a great way to break up a day on the mountain. The Landing Resort and Spa is located in the middle of all the action and offers complimentary shuttles between the village and nearby casinos.
Standard rooms are perfectly charming, with a small built-in fireplace adorning a stone wall. And ornate mahogany headboards and tartan-style carpeting give the room an upscale cabin aesthetic that suits the surroundings hand-in-hand.
The five-star resort is a great place to celebrate your honeymoon or plan a destination wedding, with its pristine setting between the lake and Sierra Nevada mountains. What are you waiting for?
Hyatt Regency Lake Tahoe Resort, Spa And Casino
Incline Village
$$
Best For All-Inclusive Lake Tahoe Honeymoon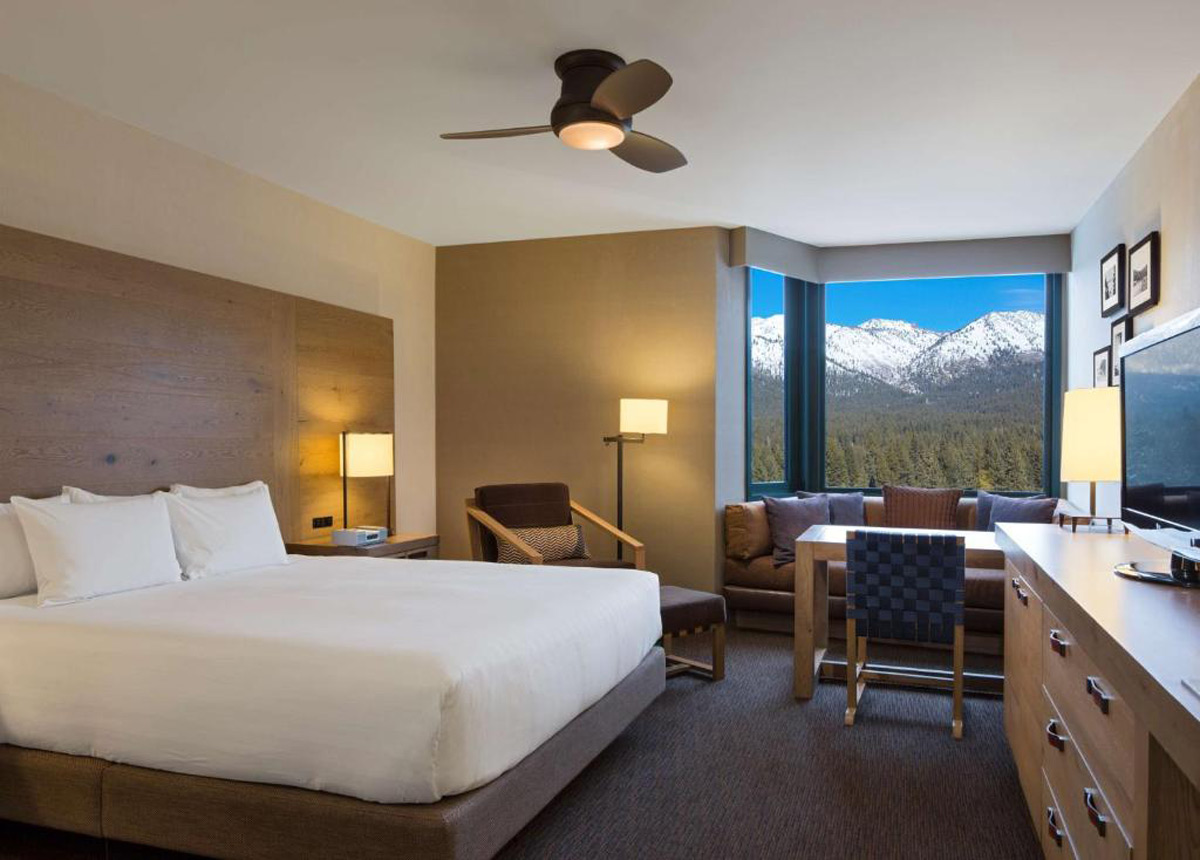 Hyatt Regency Lake Tahoe Resort, Spa, and Casino is just below the popular ski resort of Incline Village, near Tahoe East Shore Trail.
While you'll have to pay for entertainment and meals separately, the resort has everything you need right on-site.
Featuring a casino, spa, saloon and lakeside or poolside food and beverage service, you're set up perfectly for a relaxing honeymoon in Lake Tahoe at this four-star resort.
Playpark Lodge
Tahoe Valley
$
Best for Affordable Lake Tahoe Honeymoon Hotels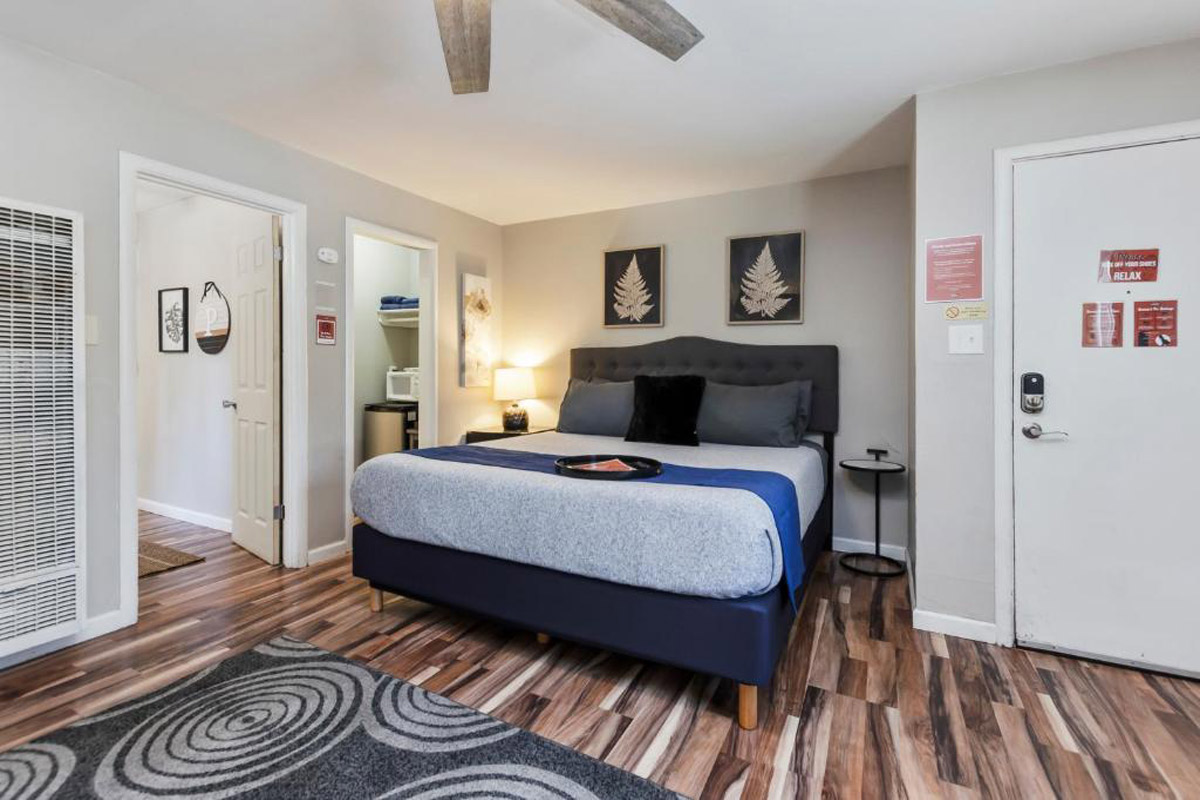 Playpark Lodge is a great choice for newlyweds who want to use their honeymoon fund for experiences and dining rather than on a Lake Tahoe honeymoon suite.

Located in Tahoe Valley, you're a short drive from many of your favorite activities, like golfing, hiking, skiing and gambling near Lake Tahoe.

Rooms are surprisingly plush for the price and boast comfortable beds, WiFi and a charming cabin-style decor that feels authentically Tahoe.
Lake Tahoe Honeymoon Tips: What You Need to Know
How to Get to Lake Tahoe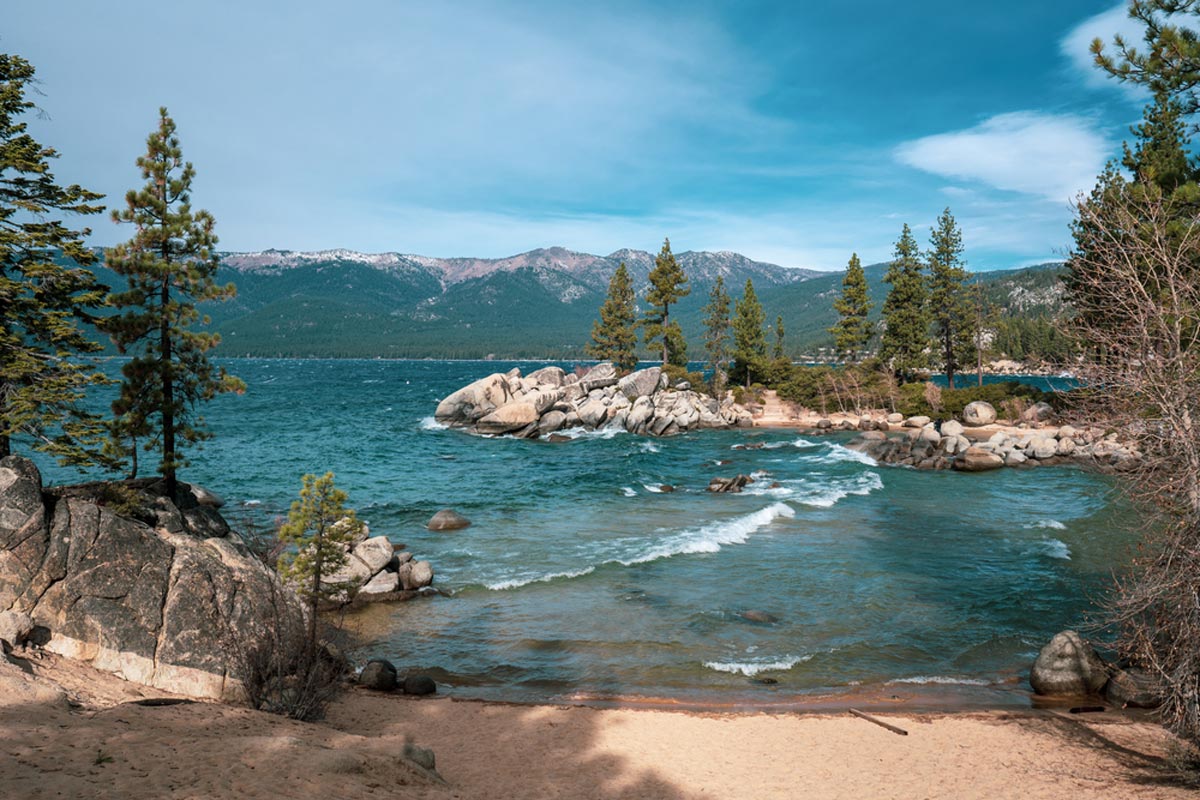 Arriving at your Lake Tahoe honeymoon resort isn't quite as clear-cut as other locations we like to cover.

Most people fly into Reno-Tahoe International Airport (RNO) or San Francisco International Airport (SFO), but you can also fly into Sacramento International Airport (SMF).

Or you can also drive from Las Vegas or Los Angeles to see more on your USA honeymoon, though both of these would take over seven hours.
The Best Lake Tahoe Honeymoon Destinations
Emerald Bay State Park
Whether it's your first time to the Sierra Nevadas, or you've been planning your elopement package by doing some R&D scoping out the best beaches and things to do around Tahoe – you can't afford to miss spending a few hours at Emerald Bay State Park.

There are plenty of great hiking trails around Emerald Bay, but none are more famous than Eagle Falls (and if you're planning your honeymoon for this summer or fall, the rapids are running faster than they have in years from the recent rain.)
But there are plenty of other hikes and photo ops you won't want to skip. So grab a trail map, talk to some friendly locals, and dive straight into the adventure around gorgeous Lake Tahoe on your unforgettable honeymoon.
Heavenly Mountain Resort
Heavenly lives up to its name at this iconic ski resort near the Stateline of California and Nevada. The views from the bottom or top are stunning no matter which season you visit.

Take a ride up the gondola in the winter or summer, and look down at Lake Tahoe from a bird's eye view. Magic.

The skiing and snowboarding are also fantastic, with plenty of runs for less advanced couples. It's a great place to take lessons together or set off and explore the mountain on your own for an adventurous honeymoon together.

When you're ready for dinner or drinks, head to Heavenly Village, where you can do some shopping, have a casual or romantic meal, or drink before heading back to your Lake Tahoe honeymoon suite. Rest up and repeat.
Casinos at the Stateline
One reason Lake Tahoe is a popular choice for so many California residents is the gaming you'll find near the Stateline is some of the best you'll find on the West Coast.

Head to Bally's Lake Tahoe (MontBleu), Hard Rock Hotel & Casino or one of the other popular casinos in South Lake Tahoe and try your luck at craps, blackjack or pick a parlay at the sports book.

You don't need to be a serious gambler to enjoy the nightlife at the casinos in Lake Tahoe. The vibe here is lighthearted, friendly and as much fun as you'll have outside Las Vegas in a casino.
Sand Harbor State Park
If you want to have a day of fun in the sun on your honeymoon in Lake Tahoe, head over to Nevada and check out Sand Harbor State Park.

You'll enjoy perfect conditions for swimming, diving, and kayaking from this gorgeous stretch of blue waters and mountain views in the Silver State.

If you're planning a beach honeymoon in Lake Tahoe, you can't do any better than Sand Harbor.
Palisades Tahoe
Another great choice for a winter honeymoon is Palisades Tahoe. Located on the Northwest side between Truckee and Tahoe City, this legendary ski resort was the site of the 1960 Olympics.

Best for couples who are serious skiers, you'll be able to shred some of the most challenging terrains in the Southwest at this gorgeous mountain resort near Lake Tahoe.
The Best Time to Visit Lake Tahoe
You can make a case for a Lake Tahoe honeymoon in just about any month of the year.

If you're planning a beach honeymoon and want to rent a boat for water play, July is the best month.

Planning a winter honeymoon full of snowboarding, skiing and cozying up next to the fireplace with a nightcap? Then you can't do much better than a Tahoe honeymoon in February.

Long story short, there's no wrong answer for the best time to visit Lake Tahoe.
How Long to Spend on Your Lake Tahoe Honeymoon
A Lake Tahoe honeymoon is a perfect weekend getaway, especially if you pair it with another exciting location on your California honeymoon.
How Much Does a Lake Tahoe Honeymoon Cost?
A Lake Tahoe honeymoon usually requires around $5,000-$7,000 from your honeymoon fund for 4-5 nights when you factor in accommodations, flights, car rental and any Lake Tahoe honeymoon ideas you may want to do while you're there.
Lake Tahoe Honeymoon Resorts: Map
Read More USA Honeymoon Guides