Planning a honeymoon in Hawaii? Start booking your flights and packing your bags – we've got the inside scoop on where to stay and what to do.
Arguably one of the most famous honeymoon destinations worldwide and certainly in the US, Hawaii is a tropical haven for those looking to honeymoon somewhere beautiful.
With its sprawling landscape, welcoming locals, and indulgent resorts, we don't blame you for eyeing up the archipelago for your post-wedding vacay.
Read on to discover the top Hawaii honeymoon resorts and places you need to visit.
Why Honeymoon in Hawaii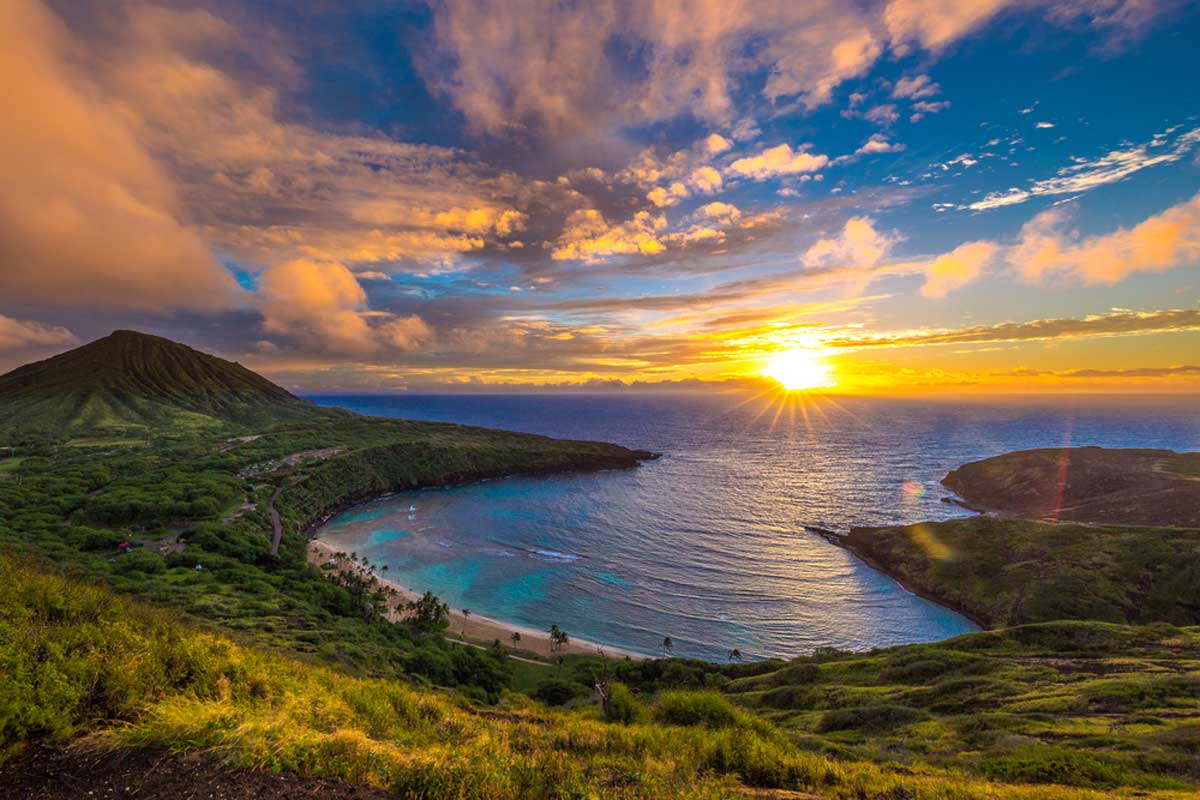 How much time have you got? We could ramble on forever about why you should honeymoon in Hawaii.
In all seriousness, it's an excellent place to kick off your marriage if snorkeling, sightseeing, and romantic dinners rank highly on your list of priorities. And they definitely should.
Hawaii honeymoon packages create memories that will last forever. So read on to discover our favorite resorts and activities on the islands.
Best Honeymoon Hotels & Resorts in Hawaii
Fairmont Kea Lani
Wailea, Maui
$$$
Best for Luxe Honeymoon Packages in Hawaii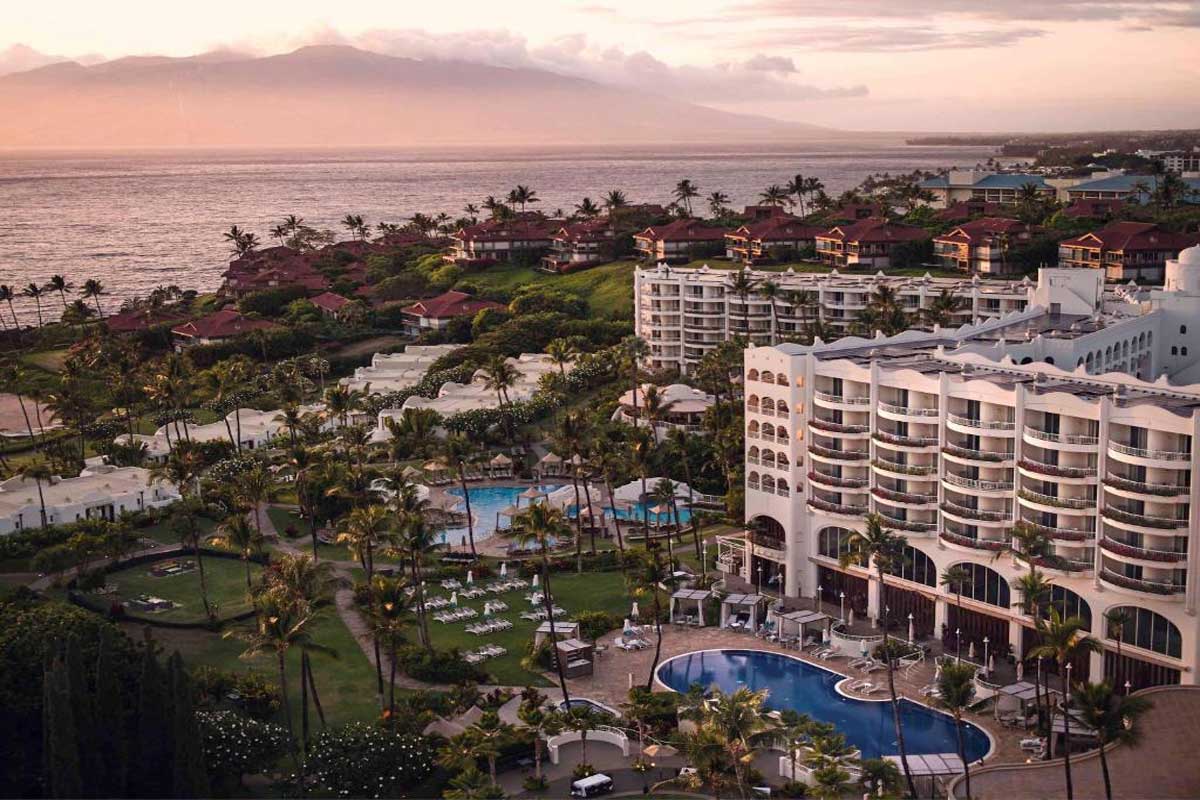 The Fairmont Kea Lani is the hotel you want to stay at if you want to save the planning for the concierge team. And, let's be honest, who doesn't?
From dinner and drinks to a private poolside hangout, the hotel staff sets it all up so you can worry about the crucial details of your honeymoon. You know, things like having fun and enjoying each other's company.
Rooms are super stylish and come with oversized balconies so you can have a romantic time together inside and out. Choose the mountain-view room and we guarantee you'll fall head over heels in love with the view.
Four Seasons Resort Hualalai
Kaupulehu, Big Island
$$$
Best for Golf Lovers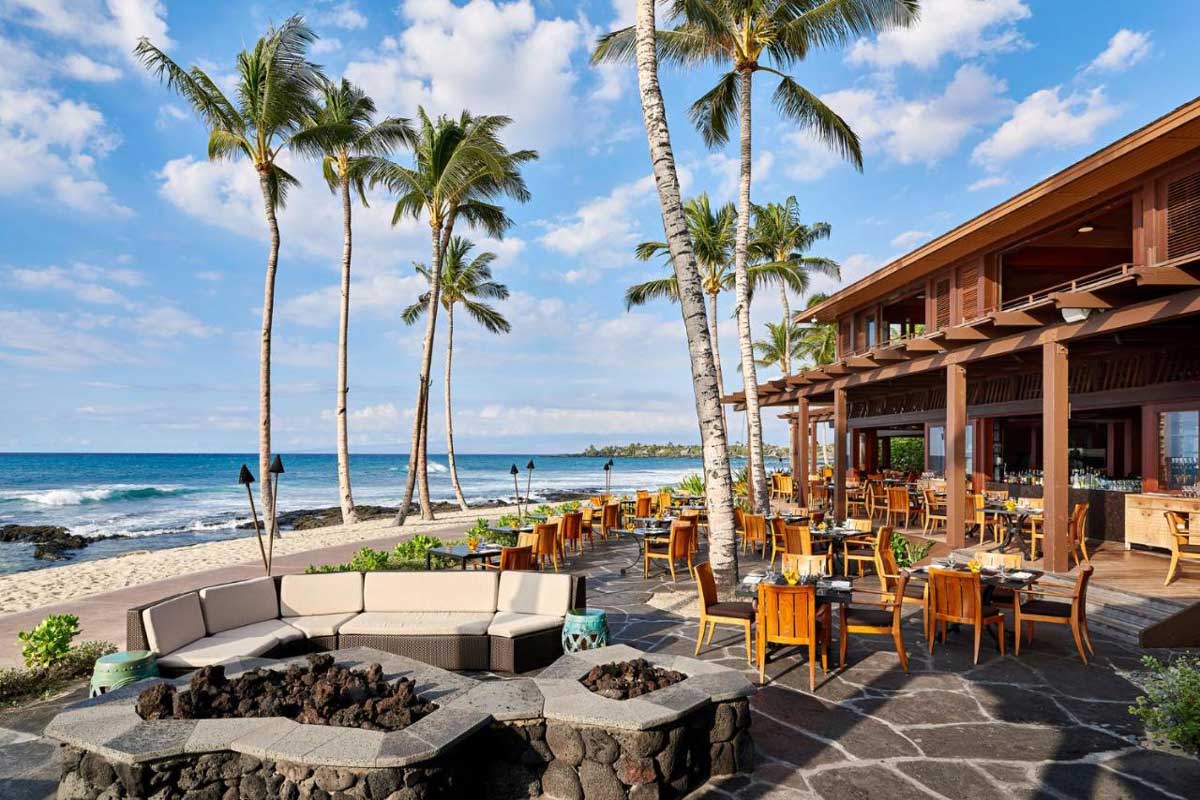 Want to hit the links during your honeymoon in Hawaii? The Four Seasons Resort Hualalai has one of the premiere golf courses on the Big Island – and it's right on the property.
The Jack Nicklaus course boasts 18 holes and is a Hawaii honeymoon cost you'll want to budget for if you and your spouse love golf.
As well as this, the five-star resort sits along white sand beaches and has its very own saltwater pool, extensive fitness center space, and three restaurants.
Looking for one of the premiere honeymoon packages Hawaii has for golf enthusiasts? Book the Unlimited Golf Package, and you'll get a delicious breakfast before you head out to the signature course each day.
Hana-Maui Resort
Hana Highway, Maui
$$$
Best for a Luxury Roadside Resort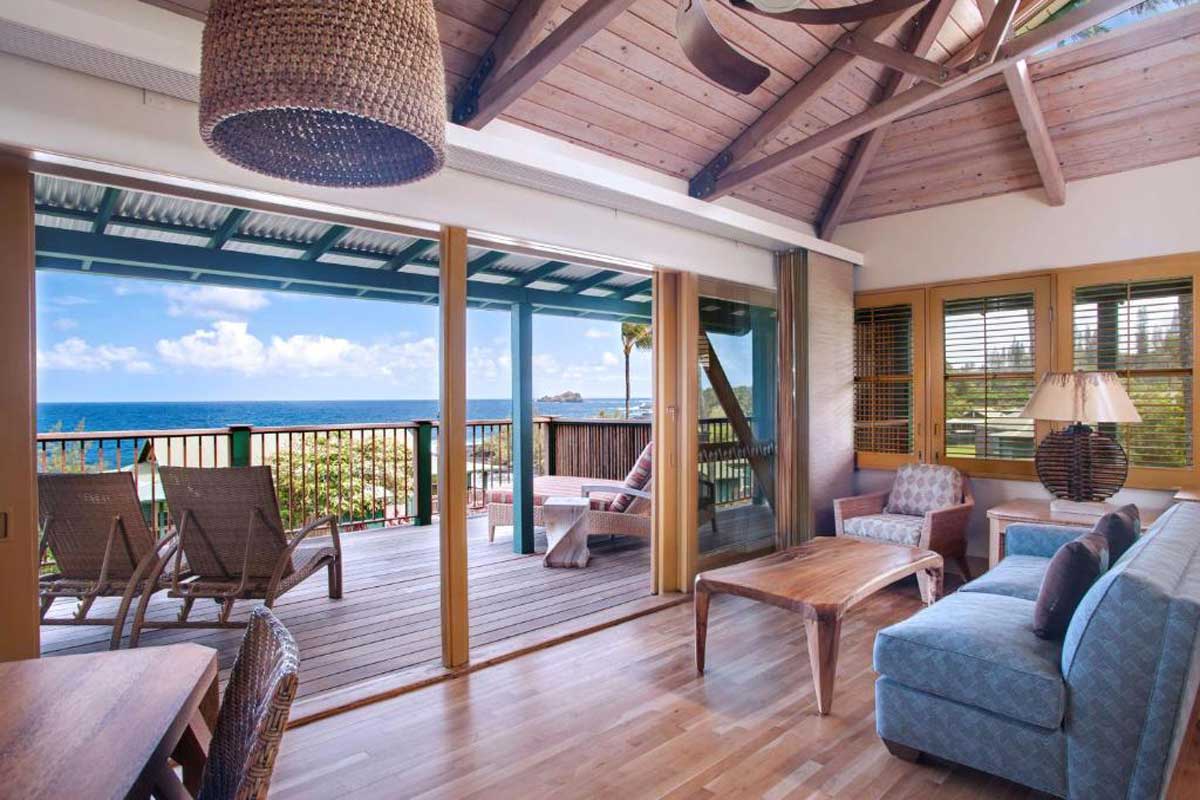 We think we've found the best place to honeymoon in Hawaii. Hana should be at the top of your list if you want to access some of Maui's most scenic waterfalls, cliffs, and coastlines.
Hana highway is one of the world's most famous stretches of roadway. But as incredible as the scenery is – it's a challenging highway. If you want to break up your drive and stay in one of the quieter sections of Maui, the Hana-Maui Resort is your best option.
You're surrounded by nature (a whopping 70 acres of it), giving you plenty of opportunities to check some boxes off your Hawaii honeymoon itinerary.
As incredible as all the nature is nearby, you might need a little more motivation to move far from your room. The bungalows have an outdoor terrace where you'll be able to enjoy some of the most scenic coastal views possible on your Hawaiian honeymoon.
Choose one of the best honeymoon packages in Hawaii for outdoor lovers. You'll have access to fishing poles, bikes, and paddle boards that you and your spouse can enjoy during your stay.
Princeville Mauna Kai 9
Princeville, Kauai
$$
Best for a Kauai Honeymoon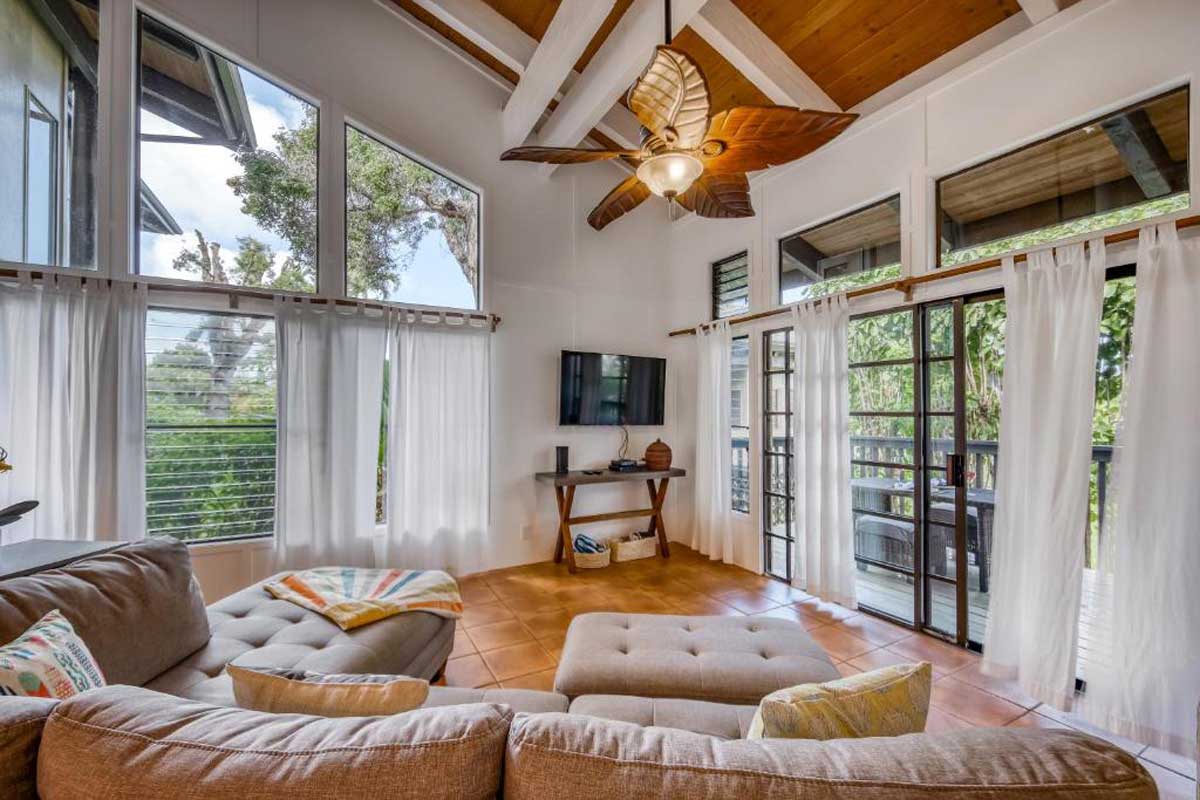 The Princeville Mauna Kai 9 is another excellent offering in Hawaii.
The large accommodations make you feel at home on the pretty island. From large bedrooms and living spaces to a full kitchen where you can cook up a moco loco breakfast, you'll be able to enjoy your Hawaii honeymoon like a local.
The bathrooms are fully stocked and have a shower and tub for soaking after a long day of hiking, snorkeling, or taking a helicopter tour over the volcanic mountains. Wow – it's such a hard life, we know.
Ready to stretch out on your balcony with a fresh cup of Kona Coffee? Your private outdoor terrace has ample space to enjoy a tropical honeymoon outdoors with your partner.
The Kahala Hotel and Resort
Honolulu, Oahu
$$$
Best for an All-Inclusive Honeymoon in Oahu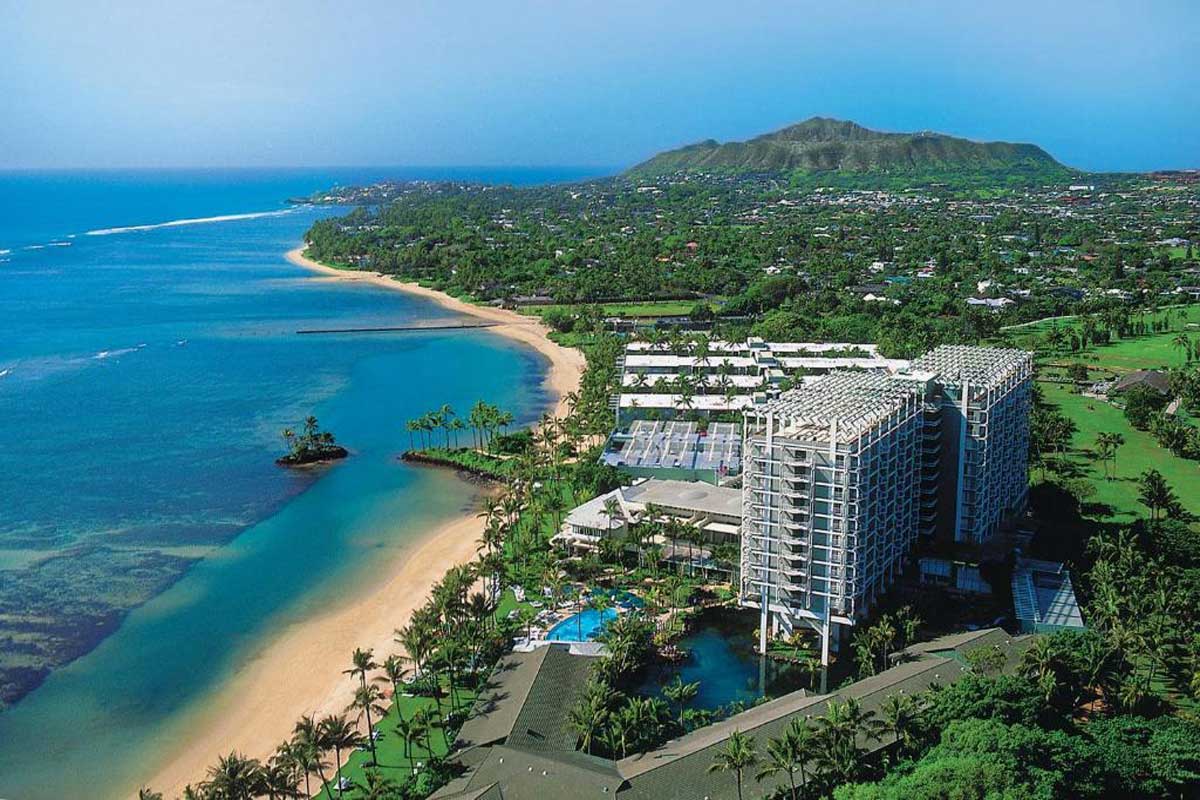 Dreaming of a honeymoon in Hawaii where everything is taken care of for you? The Kahala Hotel and Resort has numerous packages you can choose from if a Hawaii all-inclusive honeymoon sounds like a dream. It does to us.
While breakfast is the only meal you can add to your bill ahead of time, you can select from several bundles the hotel curates, including one where you pay for your airfare and hotel together.
Four restaurants are situated on the property, though you're not far from Honolulu's most delicious food options if you fancy venturing further.
Bedrooms and bathrooms are large and comfortable, and your balcony might just overlook the mountains above or the beaches below (we recommend specifying this in advance).
Hawaii Honeymoon Tips: What You Need to Know
How to Get to Hawaii
You should have no problem reaching most Hawaii honeymoon resorts by plane (there's at least one airport on each of the most popular islands), where you can then rent a car.
But if you want to island hop, consider traveling by boat. This can make it a little bit easier to jump from one location to another and save time in the security line (sign us up for that).
The Best Hawaii Honeymoon Destinations
Road to Hana
If you're looking for a scenic drive through the tropics that will take your breath away on your Hawaii honeymoon – the Road to Hana is it.
Over 50 miles of highway on the eastern side of Hawaii make up the incredibly scenic route – you'll get to admire some of the most breathtaking waterfalls, coastline, and clifftop views along the way.
Now, we don't want to tempt fate: It's not an easy drive and is often referred to as The Divorce Highway (YIKES) due to the challenging landscape that can feel quite dangerous. We recommend booking a guide for a stress-free journey.
Akaka Falls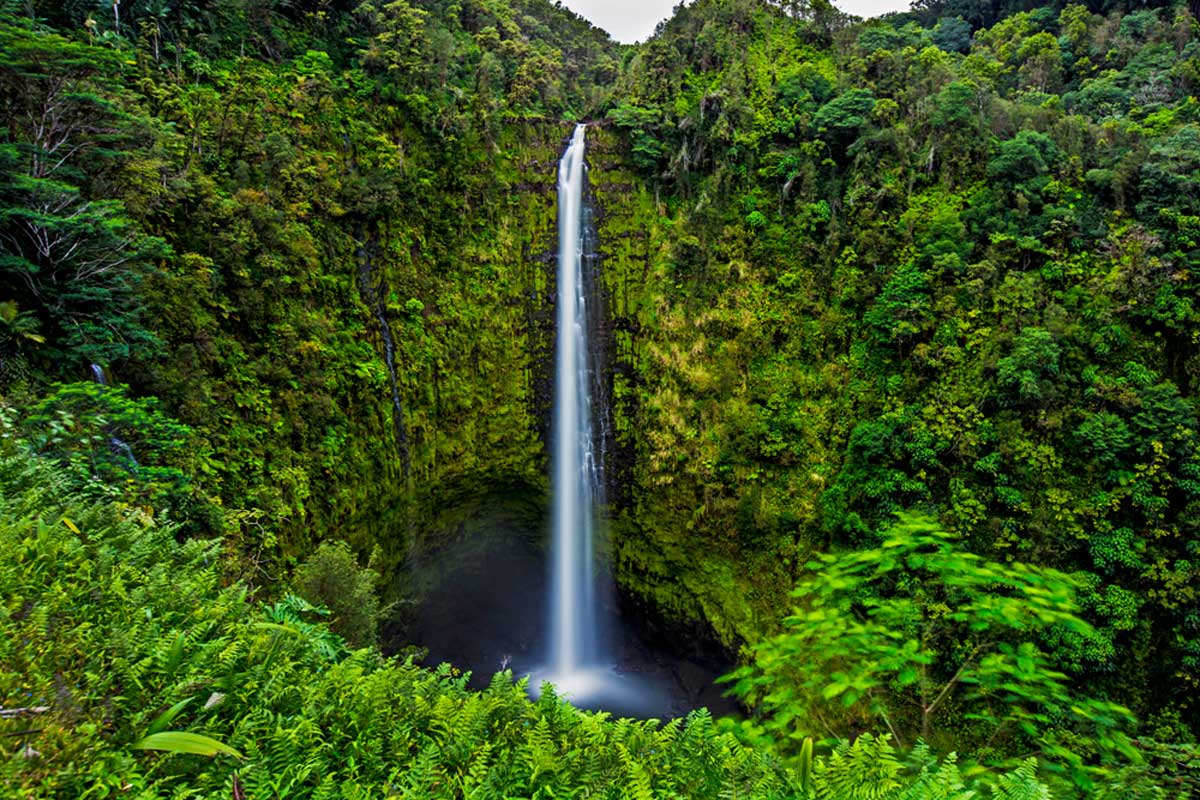 What's the best Hawaiian Island for honeymoon hot spots featuring waterfalls? We're hard-pressed to name just one, but the Big Island has some of the most stunning rapids you'll find on your Hawaii honeymoon.
If you're looking for one of the biggest and best waterfalls, 'Akaka Falls is where you'll want to go.
Hi'ilawe Falls is larger, but 'Akaka falls still stands over 400 feet tall, and you can catch a pretty spectacular view after hiking about 5-10 minutes through the jungle.
Nā Pali Coast State Wilderness Park
One of the most famous places on your Hawaiian honeymoon is Nā Pali Coast State Wilderness Park. And it's no wonder why.
The trail is extremely challenging and you'll need a permit to hike most of it – if you're up for the challenge, however, it's the hike of a lifetime.
One of our favorite places to snorkel, Ke'e Beach, is where you'll want to swim out and see tropical fish in Kauai – and it's just a few steps from a trail head.
Waimea Canyon State Park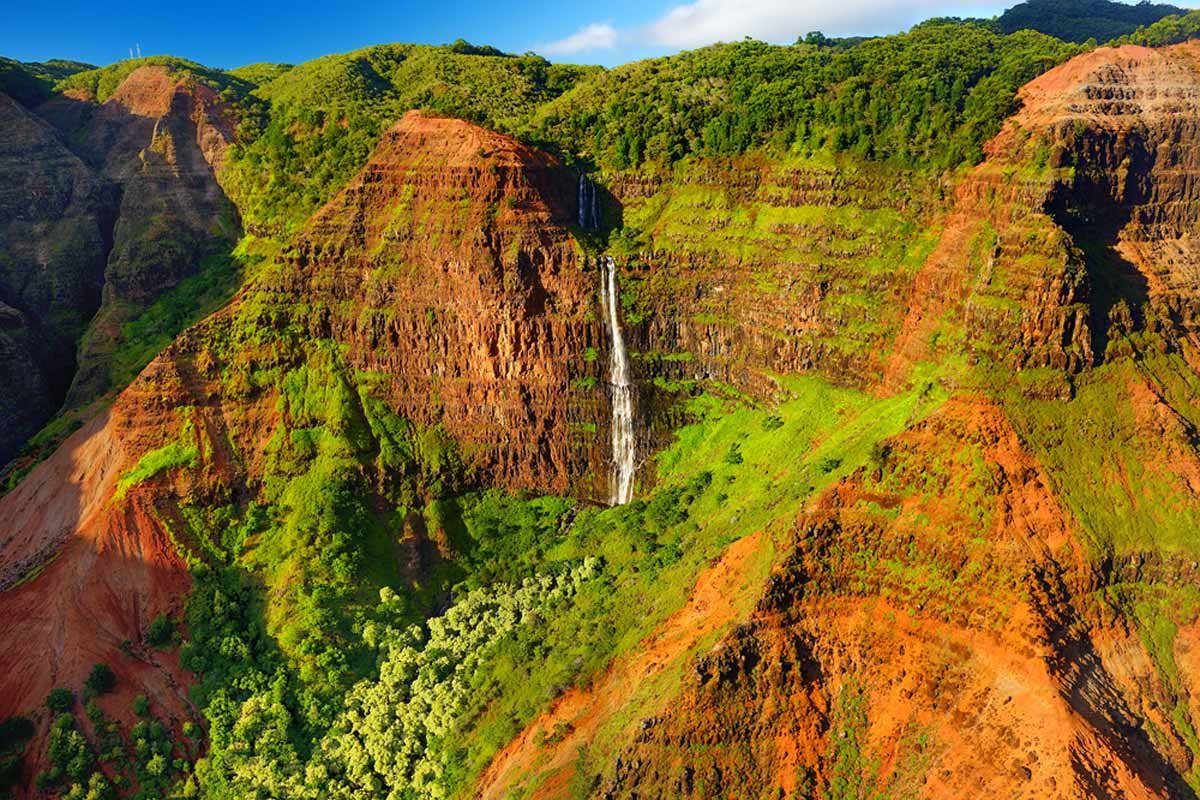 Searching for the best Hawaii island for honeymoon trips with a lot of hiking involved? Kauai is one of our favorite places to get out and explore, and Waimea Canyon State Park is a big reason why.
The large canyon is famous for its majestic views looking 3,000 feet down and the bright red earth that is unique to the area (be sure not to wear your favorite sneakers).
Hiking the many trails at Waimea is one of the very best things to do on Hawaii honeymoons. Allow time to see Waipo'o falls; it's one of the area's highlights.
Hawaii Volcanoes National Park
Drive to the Northeast side of Hawaii near Hilo to check out one of the most revered national parks in the United States.
When you arrive at the Volcanoes National Park, you want to head to the visitor's center to learn a bit about the active volcanoes and which parts are open for visits. The UNESCO world heritage site is one of the most incredible locations you'll see on your Hawaii honeymoon.
While you're here, bring your best hiking shoes (you will need them). Why? The national park soars from sea level to over 13,000 ft.
The diversity of the landscape is stunning. From natural arches in the ocean to ancient petroglyphs, you'll need to plan at least a full day here to take in all the natural beauty.
The Best Time to Visit Hawaii
Our favorite time to visit Hawaii is from September through November. The weather is usually still excellent and you'll likely miss the peak tourist season.
In the fall, the crowds are smaller, restaurant reservations are easier to get, and you may have better luck booking your rental car or hotel.
How Long to Spend on Your Hawaii Honeymoon
Plan to spend as much time as possible on your Hawaii honeymoon. Let's be real: You probably won't want to leave, no matter how long you're there.
We suggest at least seven days on your honeymoon in Hawaii – and even longer if you want to see more than one island.
How Much Does a Hawaii Honeymoon Cost?
A Hawaii honeymoon is not the most affordable option – but if you can do it, it's a vacation you'll remember for the rest of your life.
On average, a honeymoon in Hawaii will cost you between $5,000 – $15,000, depending on where you're traveling from, which hotel you choose and how long you stay.
Hawaii Honeymoon Resorts: Map
Hawaii Honeymoon Guide: Read Next