Planning a Disney World honeymoon? This guide will help you choose the best hotels, activities, and add-ons for your memorable trip.
They don't call it the most magical place on earth for nothin'.
There's nowhere better to celebrate your new marriage than at Disney World. That is, if thrilling rides, nostalgia-inducing characters, and epic (and we mean EPIC) food is your idea of fun. It certainly is ours.
Read on to discover everything you need to know before you pack your Minnie Ears and get your Disney Dollars ready…
Top Tips for Booking Your Disney Honeymoon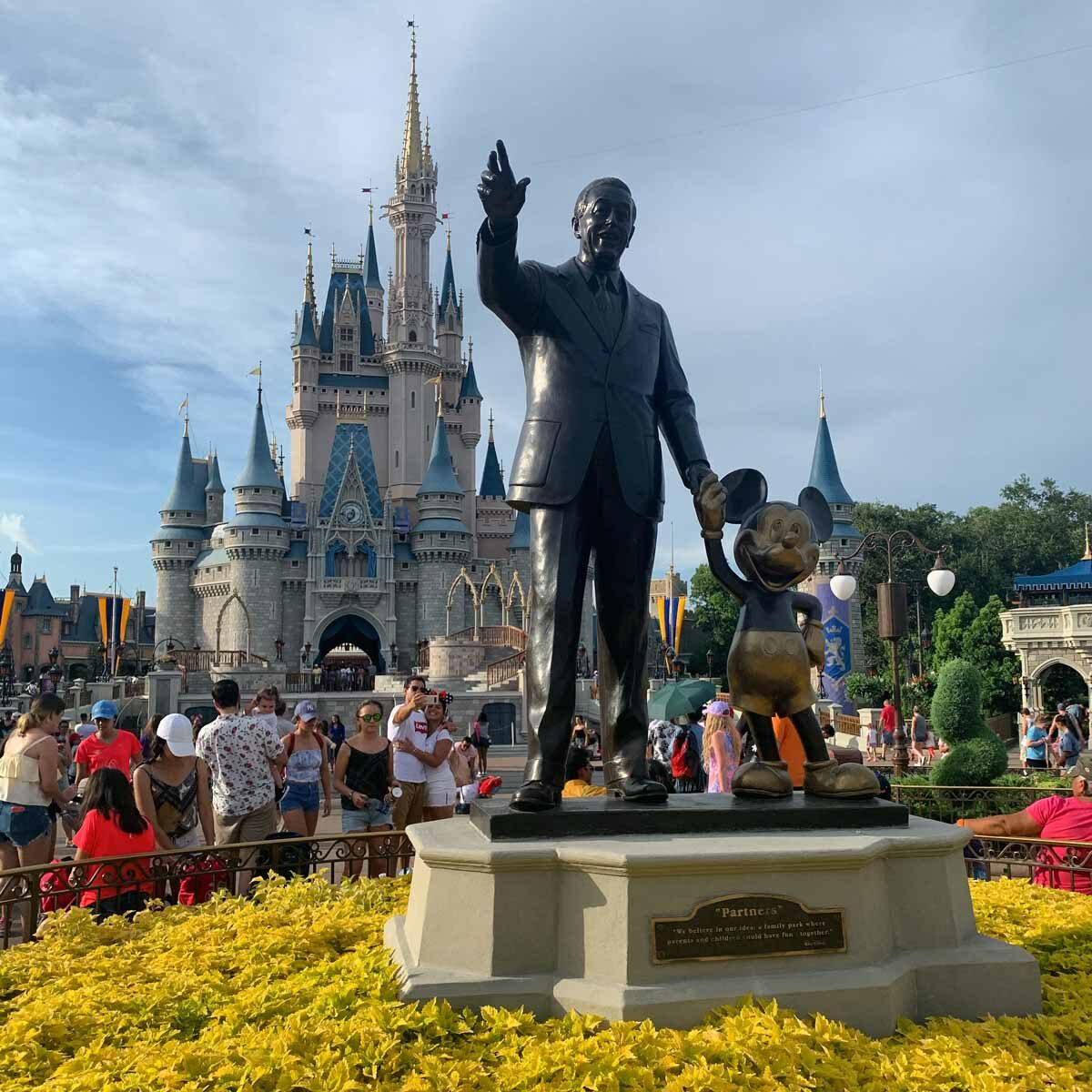 Tapping into the magic of Disney and remembering your favorite characters, rides, or movie sets is only part of the charm of a Disney honeymoon.
You can also do many of the same activities you find in tropical destinations in an amusement park setting – including lounging by the pool and scoffing ice cream on the beach (yes, really).
Our guide will share the best Disney honeymoon tips, so your trip is one you'll never forget.
Pick a Romantic Hotel
The first thing to do when planning a Disney World honeymoon is to decide where you want to stay.
Not a problem; you can choose from numerous romantic hotels for your Disney honeymoon package.
Whether you want to feel like you're on a safari adventure at Animal Kingdom Villas or dream of a classic fairytale romance at Disney's Grand Floridian Resort & Spa, picking a hotel for your Disney honeymoon is part of the magic.
If you ask us, The Grand Floridian is the way to go. If you're after total fairytale vibes, you won't be disappointed. And don't even get us started on the festive makeover the hotel gets near Christmas. Dreamy.
Start the Trip With an In-Room Celebration
What's the best way to kick off your Disney honeymoon? Plan a momentous in-room celebration to commemorate your honeymoon.
Pro tip: you'll want to book this in advance. Have no fear; you can do this online or by phone at (407) 939-4438. Ears to the Happy Couple is a popular choice and includes champagne, chocolates, and matching mouse ears (perfect, right?).
Disney honeymoon package prices vary; our favorite is between $137.99 to $524.99, depending on the kind of champagne you choose.
Cruise the Seven Seas Lagoon on a Private Yacht
What's more romantic than a private yacht? Not much. Booking a dinner for two and watching the Disney Wishes fireworks show turns the romance up a notch higher.
Make your dreams come true and reserve the cruise for $480 per hour plus the cost of dinner. You'll remember it for a lifetime.
Create a Disney Honeymoon Registry
Creating a Disney honeymoon registry is the perfect way to save up for your dream vacation.
Kitchen appliances and cash come in handy, but how about asking the people you love to help you with your Disney honeymoon fund? Your friends and family can choose from romantic gestures like pitching in for horseback rides or swimming with dolphins.
Register online with Disney Honeymoon Wishes (it's easy to use and free) to start planning your incredible trip together.
Where to Stay During Your Disney Honeymoon?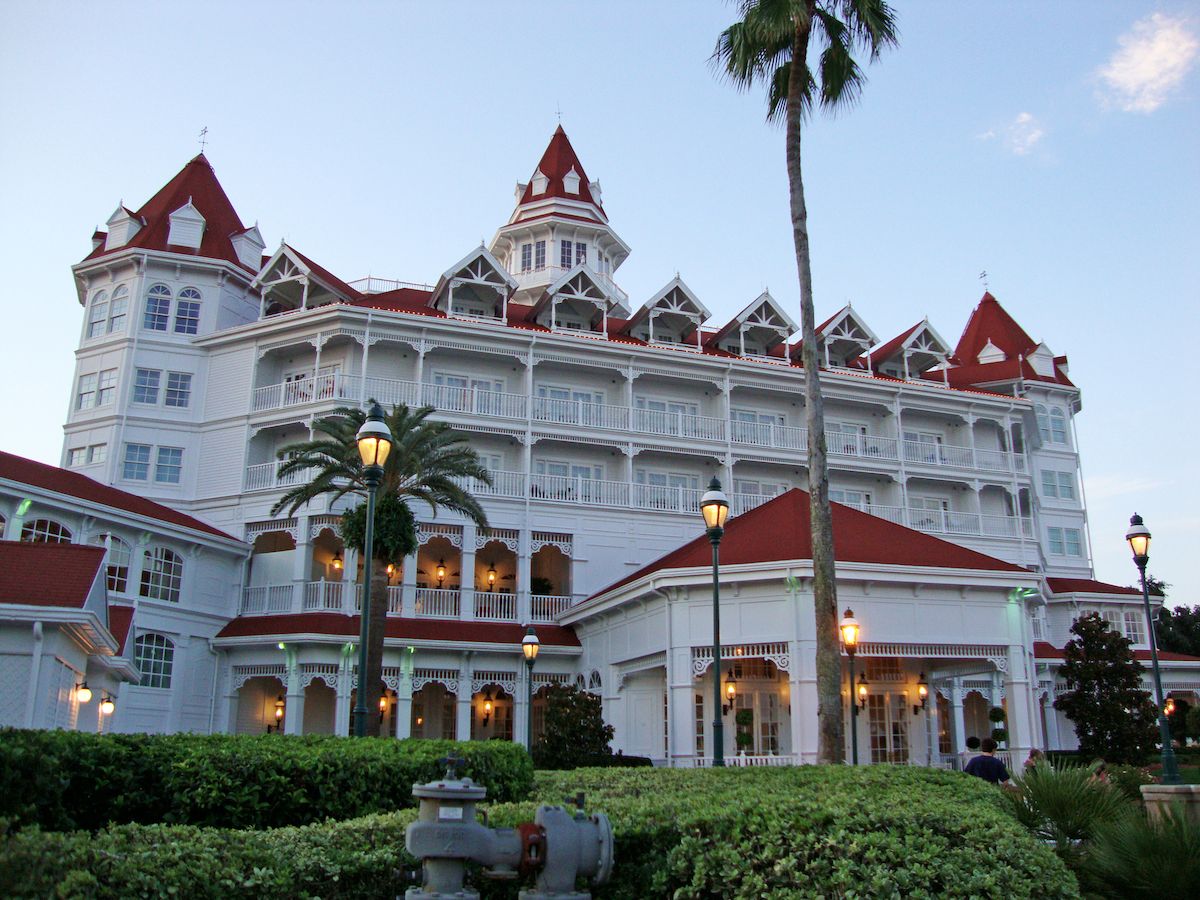 Deciding where to stay on your Disney honeymoon might be easier than ever with resorts and rooms for any budget. But the sheer number of resorts to choose from can be near-startling.
What's the best Disney hotel for honeymoons? It all depends on what you like – but there is something to make nearly any couple smitten.

Our favorite, Disney's Grand Floridian Resort & Spa, is tough to beat. Rooms are truly stunning – if not a little bit old-fashioned – and totally encapsulate the dream honeymoon experience.
If you're looking for a budget-friendly option (well, kinda, it is Disney of course), Port Orleans French Quarter is a gorgeous hotel with slightly more modern rooms and a jazz-themed soundtrack. And, of course, Port Orleans serves up those infamous Disney beignets.
Things to do During Your Disney Honeymoon
Now it's time to decide what to do on your Disney honeymoon.
Our advice? Pick a few can't-miss activities and plan in advance (when you can) to save time later.
Dress for the Occasion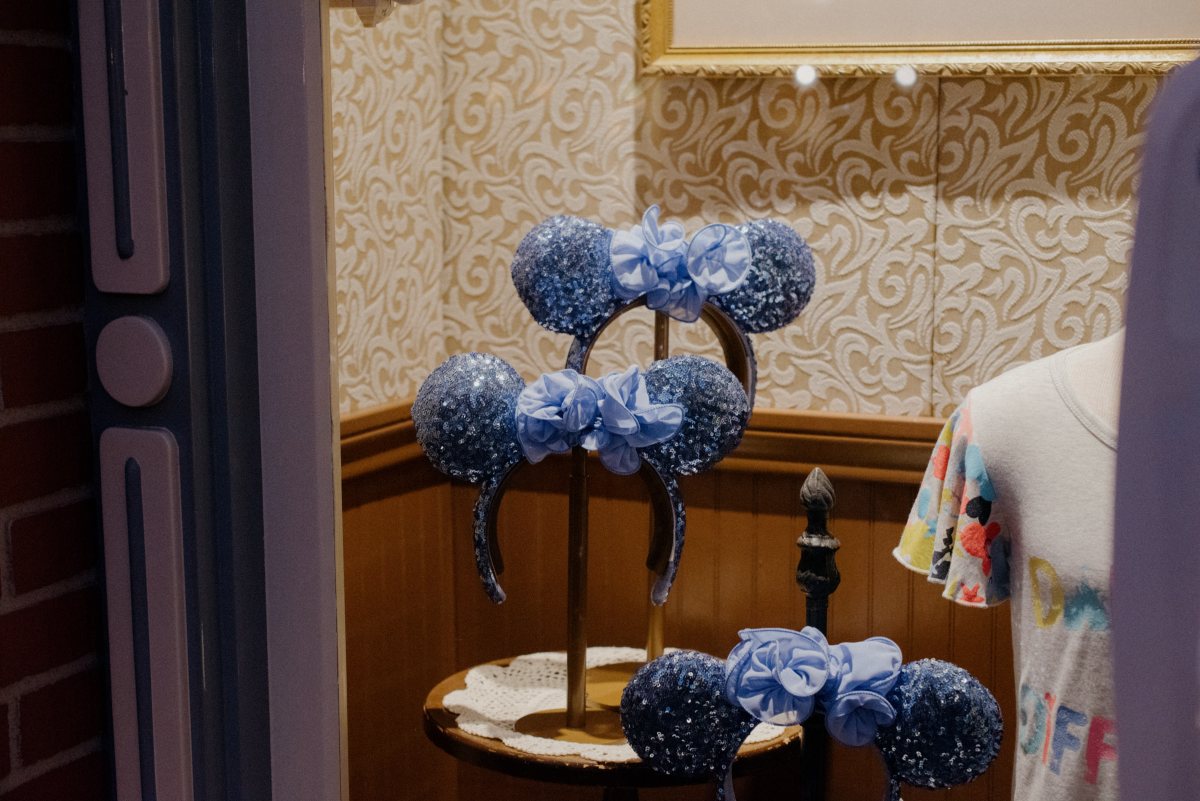 Half the fun of a Disney honeymoon is getting into character.
From matching shirts to rocking the gear of your favorite film or tv icon, make the most of your honeymoon at Disney World. Of course, there's plenty of merch on-site to buy when you arrive – Mickey ears are non-negotiable.
Book an Exclusive Experience
Whether it's a private yacht, a romantic carriage ride by horse, or the Savor the Savanna experience at Animal Kingdom – the alone time with your spouse will be priceless.
Go to the Beach
One of our favorite Disney World honeymoon tips is to head to the beach during your visit. Yes, you can actually do that. The Beach Club Resort has a small man-made beach where you can chill out and explore the adorable BoardWalk area nearby.
There are also six lakefront locations to lounge on, play volleyball or have a snack. You can even rent a boat if you want to head out on the water for some fun.
Have a Romantic Dinner for Two
Disney World has no shortage of top-notch dining options where you can wine and dine with the person of your dreams.
Craving seafood, steak, or spaghetti a la Lady and the Tramp? You can enjoy a romantic evening together while enjoying fine food, regardless of your favorite cuisine or ambiance.
Top picks include 'Ohana and Grand Floridian Cafe for romantic dinners and Olivia's Cafe at Old Key West for a cozy breakfast.
Shop, Dine and Stroll Through EPCOT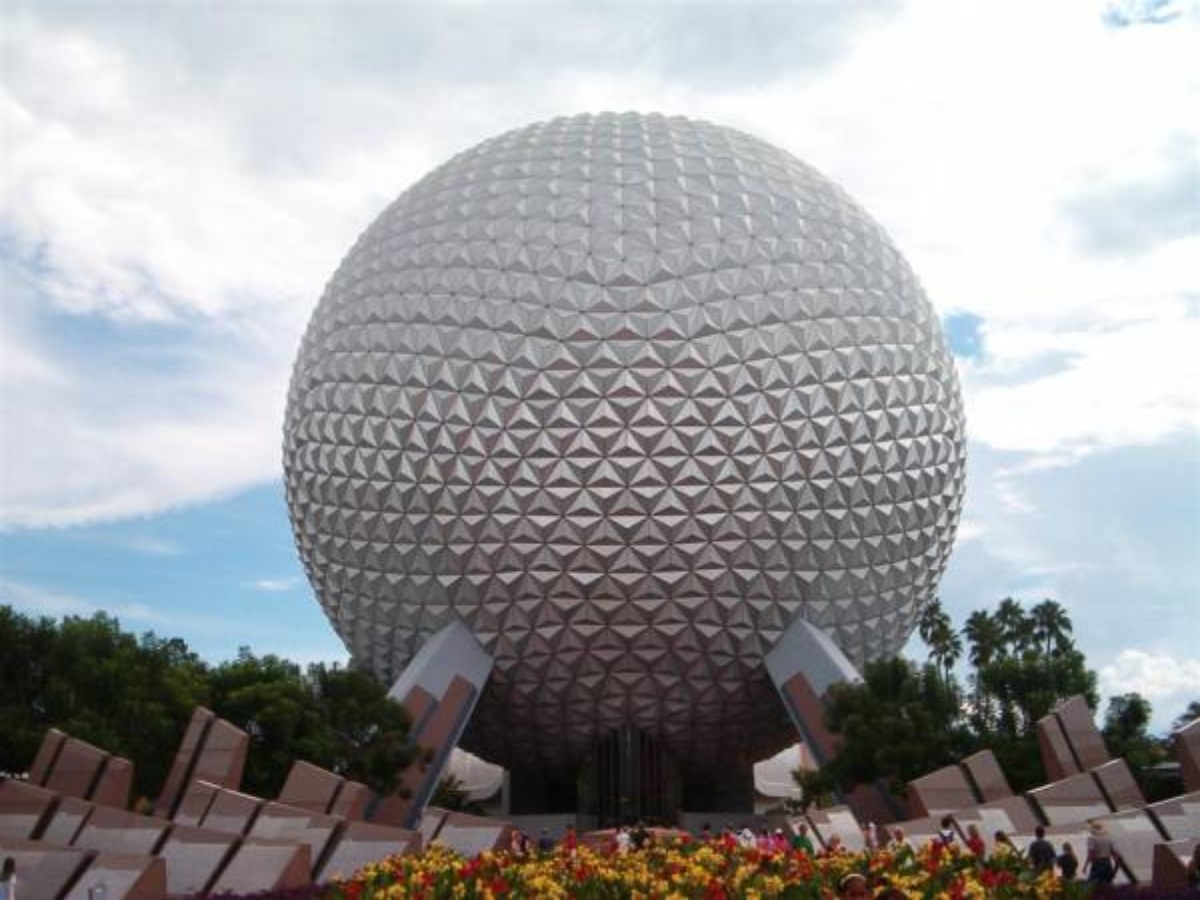 One of the four Disney World Parks, EPCOT (or the Experimental Prototype City Of Tomorrow) allows you to wander through different continents without even leaving the park.
With a number of pavillions facing a beautiful lake (stick around for the nighttime show), you can explore the likes of Mexico, China, France, Germany and Japan without even needing to catch a flight.
And, if it's thrills you're after, top rides in this park include Mission Space, Soarin', and Guardians of The Galaxy.
Famed for the "drink around the world" challenge, you and your significant other can sip Margaritas in Mexico and Champagne in France in the same afternoon. And when hunger strikes, the brand-new futuristic Space 220 restaurant has got you covered.
Disney Honeymoons: Frequently Asked Questions
When Should We Go on a Honeymoon to Disney?
A Disney honeymoon is fun no matter what month you go. But there are important considerations like weather and crowds.
Summer months are the hottest and have large crowds many days. Weekends and holidays also see peak tourism – since kids and parents are out of school.
It's busy, but the holidays are among our favorite times for a Disney honeymoon. The decorations for Christmas and Halloween will make your honeymoon that much more magical.
What is Included in Walt Disney World Resort Honeymoons?
You can include nearly anything on Walt Disney World Resort honeymoons.
It's up to you, your spouse, and your family and friends (you can set up a registry through Disney Honeymoon Wishes) to plan your unforgettable experience precisely the way you want.
From theme park rides to private tours, you can set up your dream vacation for your Disney honeymoon with no detail left unturned.
How Much Does a Disney Honeymoon Cost?
Disney is a magical place for a honeymoon, but you may need to save up to make the most of it.
You can expect to spend from $109-$189 per ticket for an amusement park (that's per day!). Want to do more than one? You can now enjoy park hopping, but you'll have to pay an additional fee.
When you factor in food, hotels, and airfare – you can expect to pay between $3,000-$6,000 for a weekend Disney honeymoon if you plan on going to the park all three days and adding some special perks.
As well as this, you'll need to have plenty in the bank for food and drink (and merch). Dinner can cost anywhere from $20-$200 per person, so we recommend saving some cash by dining at Disney Springs.
Are Disney Cruises Good for a Honeymoon?
A Disney Cruise is a fantastic way to celebrate your honeymoon – especially if you and your spouse are in love with the movies and characters.
Though most are known for family vacations, a Disney Cruise can be romantic, and many offer adults-only events that are perfect for a romantic journey together at sea.
Does Disney Have Honeymoon Suites?
You can make your honeymoon at Disney as romantic as you want, including the resort suites.
The Bora Bora Bungalows, Fairy Tale Suite (at Disneyland), and the Grand Suite at Disney's Grand Floridian are our top picks for Disney honeymoon suites.
Does Disney Do Anything for Honeymooners?
Disney are experts at making any special occasion you can think of that little bit more magical. So when it comes to a Disney honeymoon, you can count on perfection.
Whether you want to take unforgettable photos (you can do it in nearly any location imaginable), book a romantic room, or watch fireworks from a private yacht – Disney honeymoons will have you over the moon.
Disney World Honeymoon: Read Next