Want to head out on your perfect all-inclusive escape? Sandals Resorts has luxury and comfort down to a science. Here are the 15 best Sandals Resorts.

Sandals Resorts has a reputation for providing the perfect retreat for couples wanting to get away from it all for a little while in an all-inclusive paradise.
Some of our favorite Caribbean honeymoon destinations are home to the best Sandals Resorts, like Jamaica, the Bahamas, and St Lucia. These islands have more than one Sandals on site – which may complicate your decision.
Regardless of which Sandals Resort you choose, you'll enjoy their signature stress-free hospitality that blends luxury and hands-off honeymoon planning in a way few can mimic.

So, what is the best Sandals Resort? Not to worry, we review 15 of the top properties in this lineup of all-inclusive hotels from this iconic brand.
Factors to Consider When Choosing The Right Sandals Resort for Your Trip
Location and Accessibility
Because there are now 17 Sandals Resorts across numerous Caribbean Islands – you'll need to focus on where you want to stay and how you can get there.
Most Sandals Resorts are easy to reach by Taxi or a rental car from an international airport. But do you want to stay at a single resort or add more than one Sandals location to your tropical honeymoon?

While Antigua has a single (but amazing) Sandals Resort, Jamaica offers a whopping seven locations, allowing you to hotel hop on your unforgettable honeymoon.
Whatever you decide on, be sure you're in love with the location and know how you'll get around before booking your best Sandals Resort.
Accommodations and Amenities
Sandals resorts offer anything from budget-friendly honeymoon packages to over-the-top elaborate suites and amenities that would make any bride and groom feel content the moment they arrive.
Some locations offer the best scuba diving, golfing, or entertainment. Others wow visitors with dining options and pristine beaches. It's important to research what sounds like your dream honeymoon before booking.
Wedding Packages and Services
If you're planning an all-inclusive elopement (congrats!), you'll want to decide which location is best for your wedding – before planning your honeymoon. Key in on which venues, services, and packages work for you and your guests to plan the perfect destination wedding.

Some of the top-rated Sandals Resorts have incredible wedding venues right on site. Do you want a traditional chapel like at Montego Bay, or are you keen on an Oceanfront Gazebo in Whitehouse?

Whether you want your wedding to be a black tie event or to get married in flip flops, Sandals can help you with styling the intricate details of the decor, flowers, cake, and entertainment.
Be sure to chat with an expert staff member and decide if you want a personalized wedding package or a free wedding when you stay 3 nights. You can plan just about anything and everything you dream up.
Resort Reputation and Guest Reviews
Be sure to read up on guest reviews and the hotel's reputation. Sandals Resorts does an excellent job of keeping customers happy, but some locations might fit your needs and wants better.
You also may prefer a brand-new property with all the bells and whistles or opt for a legacy location that's stood the test of time and keeps customers coming back.

Read reviews, hone in on what people like and don't like, and determine if it's a good fit for you and your life partner.
Budget and Cost Considerations
Some Sandals Resorts are much more expensive than others. Discuss your budget and set up a honeymoon fund long before your trip to get an idea of how much you can spend on your bucket list honeymoon.
Once you know your budget, you can decide if the flights, accommodations, and amenities make sense for your cash flow.
Top Sandals Resorts Around the World
Sandals Grenada All Inclusive, Grenada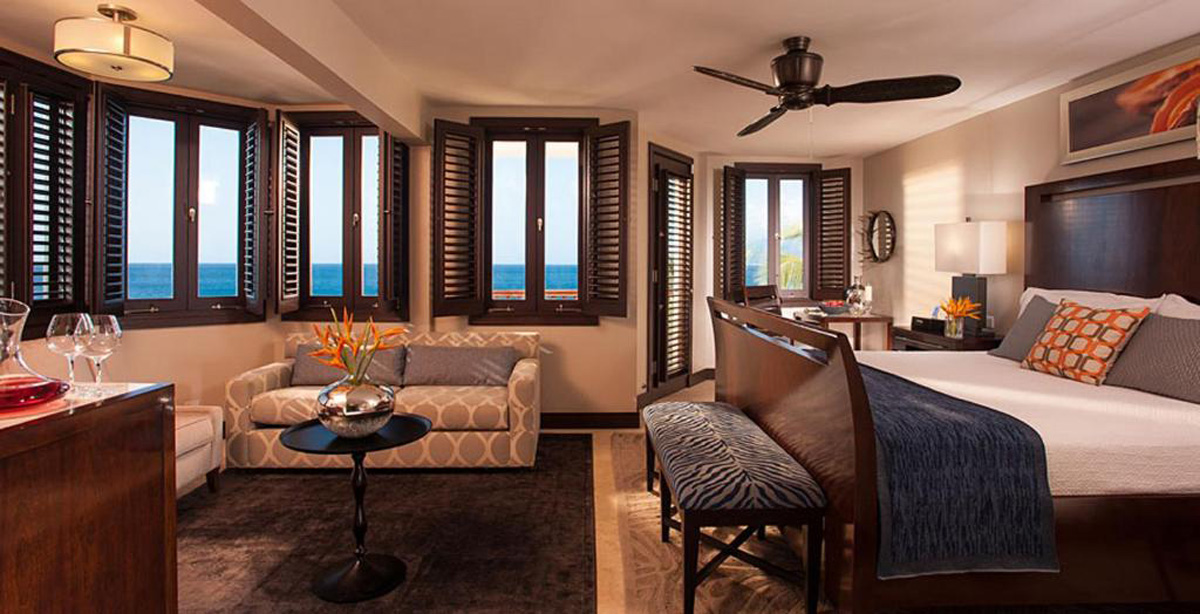 After a five-minute drive from the airport to Sandals Grenada All Inclusive, you'll land on one of the best beaches on the island, Pink Gin Beach.

Choose rooms with direct walk-out beach access or something more private like the Lover's Lagoon Hideaway, tucked away in the interior pool and garden space. Rooms are lovely, many offering soaking tubs and some offering swim-up room access from one of the five hotel pools.
Optional butler service sets you up with an expert butler to help you prepare dining plans, offer up suggestions for your Caribbean honeymoon itinerary, and help with any romantic surprises you may want to spring on your spouse.

But the activities and entertainment options make this one of the best Sandals Resorts for a honeymoon. PADI® certified scuba diving tours, windsurfing, paddle boarding, and kayaking are all available and ready to create lasting memories for you and your life partner.
Ten restaurants serve up delicious options like Japanese, French, and Mediterranean cuisine. There's even an excellent steakhouse, Butch's Chophouse.
Sandals Grande St. Lucian, Gros Islet St. Lucia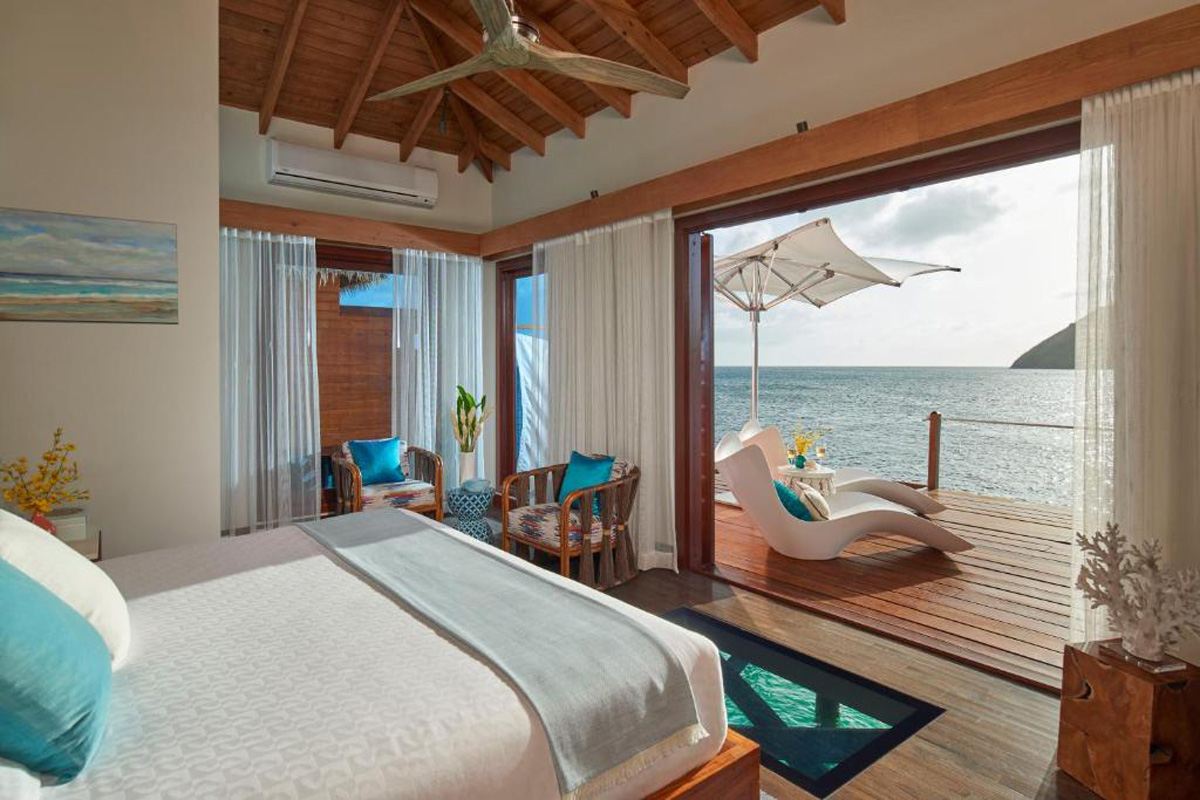 Sandals Grande St. Lucian is the best sandals resort for couples planning an elopement package or destination wedding. Really, is there a more romantic destination than St Lucia?
From your room, you'll have uninterrupted views of the lush tree-topped volcanoes, glistening cerulean waters, and white sands. But it's also the perfect place to tie the knot.
Featuring a wedding chapel located directly over the pristine waters of Rodney Bay, you won't have a more picture-perfect walk down the aisle anywhere. You can also take advantage of the "free wedding for stays of 3 nights or longer" special if you're getting married.
But not to worry if you're only here for your honeymoon – the hotel sets you up with the perfect Caribbean getaway. Choose from over 300 rooms and suites, with the gorgeous overwater bungalows being the standouts.
Access to 12 restaurants, five swimming pools, and the 18-hole Greg Norman golf course all make it a perfect place for a tropical getaway.
Sandals Royal Plantation, Ocho Rios, Jamaica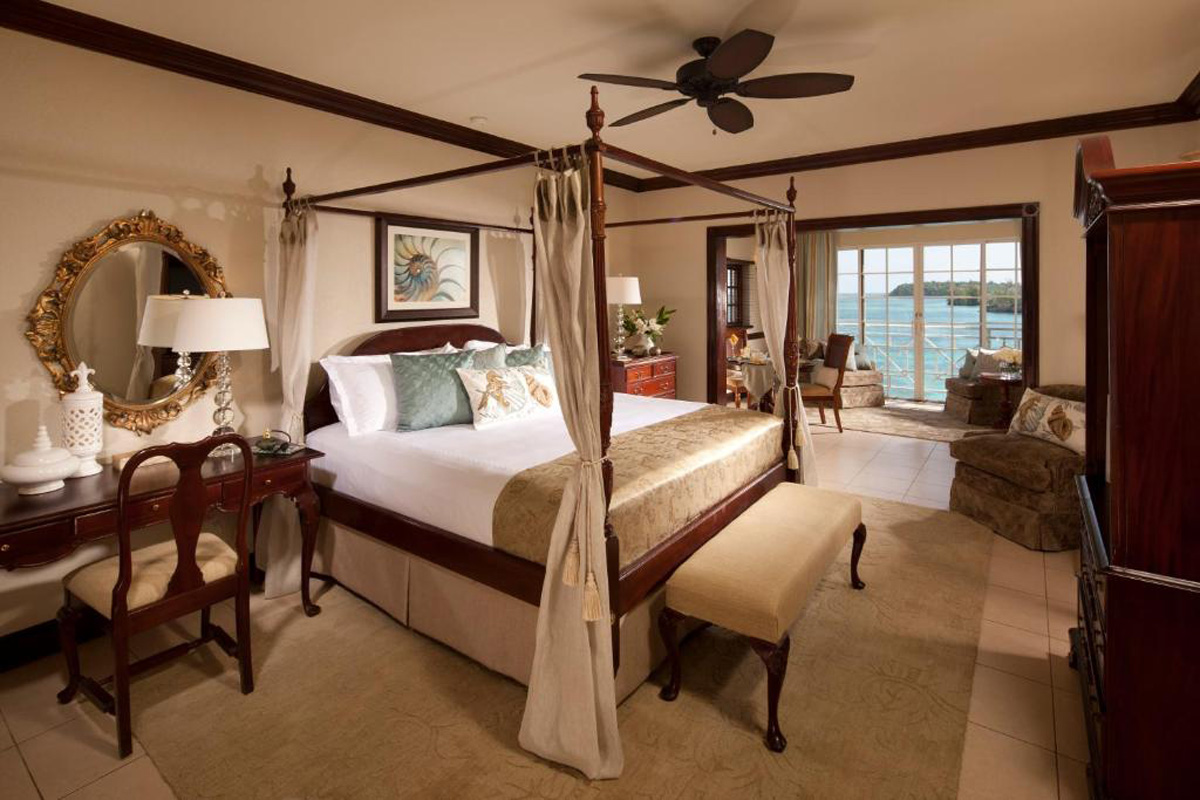 There's a reason that Sandals Royal Plantation wins awards and recommendations from US News, Trip Advisor, and Fodor's – many honeymooners think of it as the best Sandals resort anywhere in the Caribbean.
It's near some of the top attractions in Jamaica, but it might be difficult to peel yourself away from the beachside suites, expert butler service, and endless activities just steps away from your romantic honeymoon abode.
Ride on a glass bottom boat, kayak on the Caribbean Sea, or dive down deep with a PADI® Certified scuba instructor. Enjoy Blue Mountain coffee for breakfast, afternoon tea service, and French or Caribbean fare for your romantic dinner for two.
4-poster canopy beds, luxurious marble bathrooms, and a walk-out patio with pristine ocean views all offer up a dream-like experience for your honeymoon in Jamaica.

At a lower nightly rate than most Sandals, Royal Plantation offers you a relatively affordable honeymoon where you won't have a worry in the world.
Sandals South Coast, Whitehouse, Jamaica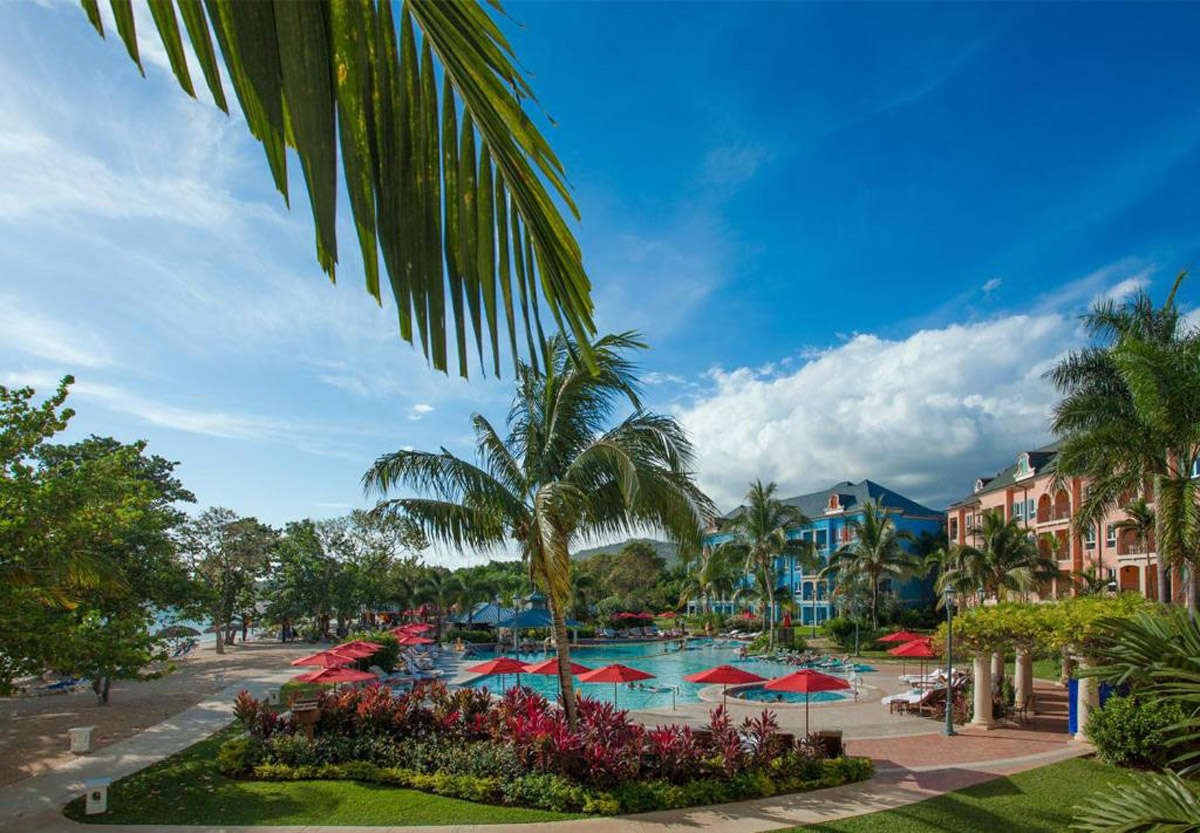 Imagine yourself walking down miles of private beaches hand in hand with your spouse on your Jamaica honeymoon. Sandals South Coast makes that dream come true with a two-mile stretch of some of the most gorgeous white sands and clear blue waters anywhere on the island.
Enjoy everything the Caribbean Sea offers, including water skiing, scuba diving with a trained professional, and sailing on Hobie Cats with the salty wind gently blowing through your hair.
Beachfront and swim-up poolside suites are all exceptional, and the optional butler service can take your R&R to next-level status.
Reserve an Over the Water Butler Honeymoon Bungalow for a tranquil thatched-roof suite on the large heart-shaped dock. You'll have a private airport transfer, VIP arrival, butler service, and a fully stocked bar to start your party at one of the top 5 Sandals Resorts.
Sandals Negril, Negril, Jamaica
Situated on some of the best white sand beaches in Jamaica, Sandals Negril appeals to couples who really love the surf and sand and is one of the best sandals resorts for a tropical honeymoon.

The Five Star Diamond Award winner is the perfect place to turn off your phones and drop your beach towels on a lounger or under the thatched umbrella for the duration of your trip.

Okay, we think you should schedule a few of the many activities offered, like certified scuba diving tours, wakeboarding expeditions, and amazing beach parties like Reggae Night, Carnival Beach Party, and Jamaica Day.
Seven restaurants and five bars give you plenty of options each night, but having a seafood snack on a sandy beach at Barefoot by the Sea is particularly fun.
Sandals Barbados, St. Lawrence Gap, Barbados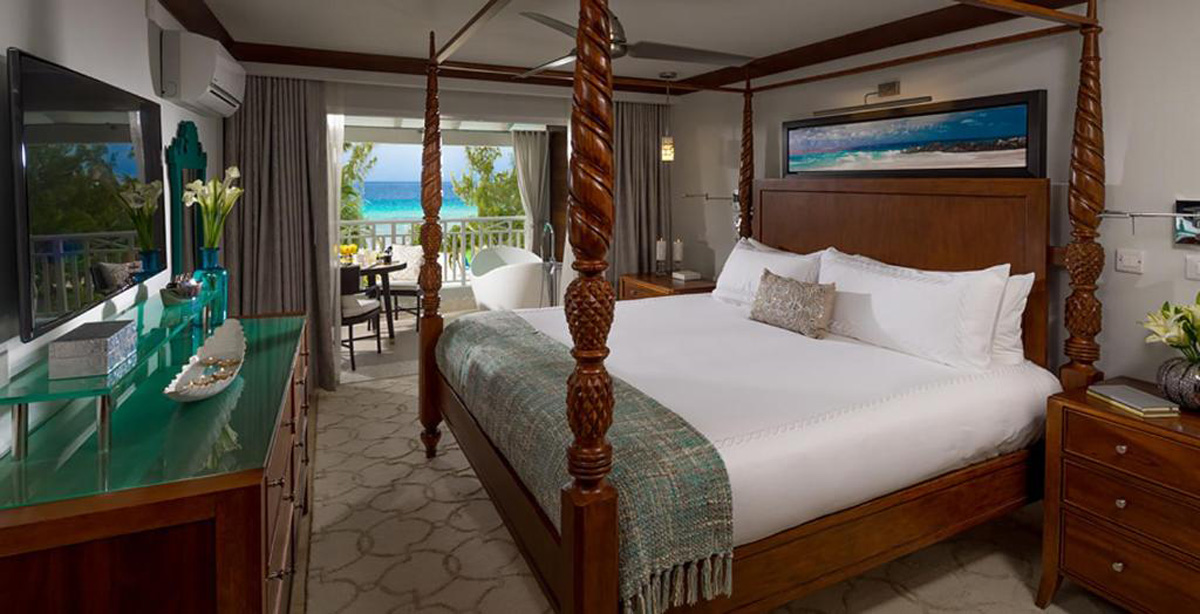 Looking for the best Sandals all-inclusive resorts? Sandals Barbados is a strong contender with luxurious rooms and suites at this sophisticated seaside escape.
Intricate details on dark hardwood poster beds, light, airy bedrooms, and large bathrooms featuring soaking tubs are perfect places to unwind between activities and dining on-site.
Step outside, and a world of adventure awaits.

The World Travel Award Winner boasts beach volleyball, yoga, bowling, and all the aquatic activities you love from Sandals. They'll even help set you up with nearby adventures like ziplining, horseback riding, and riding ATVs with Island Routes.
Dine at any of the 11 restaurants on-site, with choices like freshly caught seafood, pasta, pizza, and a lively British Pub with outdoor seating.

When you're ready for some pampering (yes, please), relax and enjoy couples massages at the Red Lane Spa.
Sandals Montego Bay, Montego Bay, Jamaica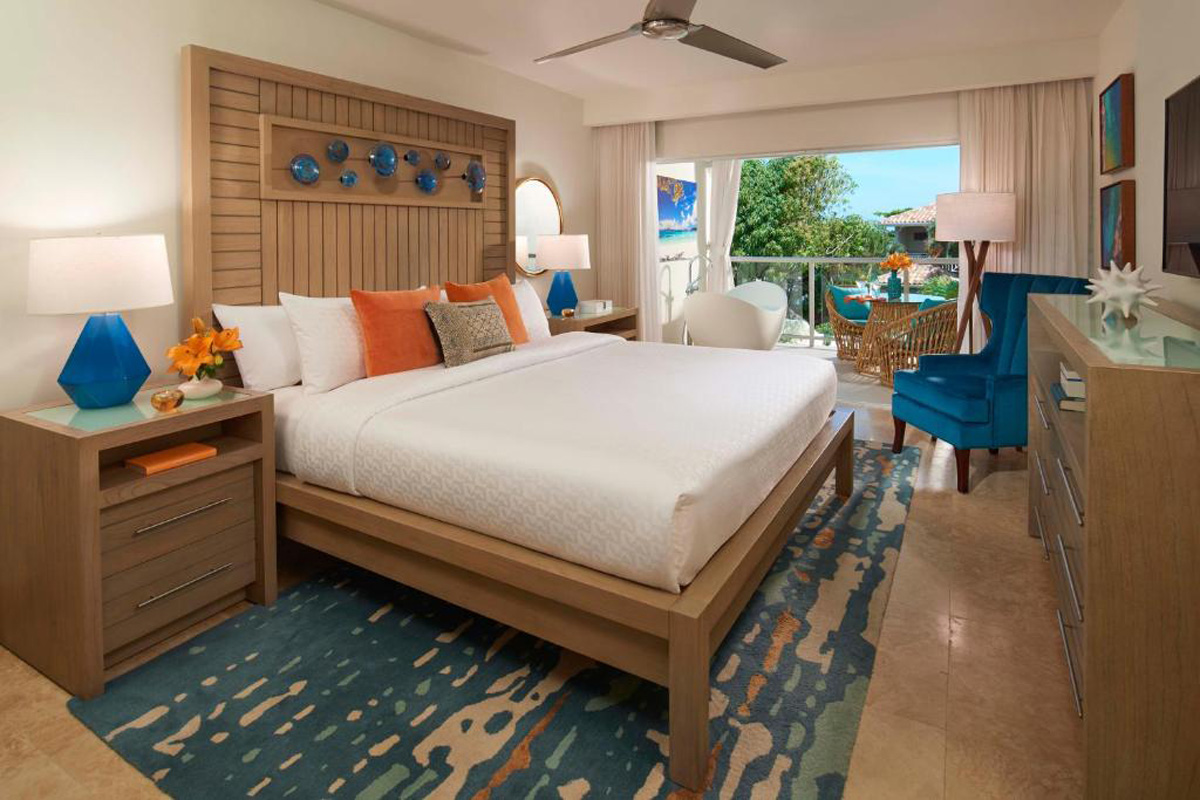 The company's legacy all began in Montego Bay, so it's fitting that Sandals Montego Bay is one of the best sandals resorts in the Caribbean.

You know that saying, "It's an oldie but a goodie?" Well, Montego Bay stepped up its game recently and added some much-needed changes in 2019.

Now the five-star property features a more contemporary lobby, a thatched-roof bar perched over the Caribbean Sea, and updates to the rooms that brought the quality up several notches.
You can choose from beachfront, oceanview, or the more intimate Caribbean Luxury rooms if you want more privacy. Some rooms are available with butler service, and many have tranquility tubs where you can relax and soak while staring out at the ocean and beach below.
Upgrade to a Romeo & Juliet or Crystal Lagoon Suite and have more space indoors and out, with private balconies where you can watch the sunsets together.
Sandals Regency La Toc, Castries, St. Lucia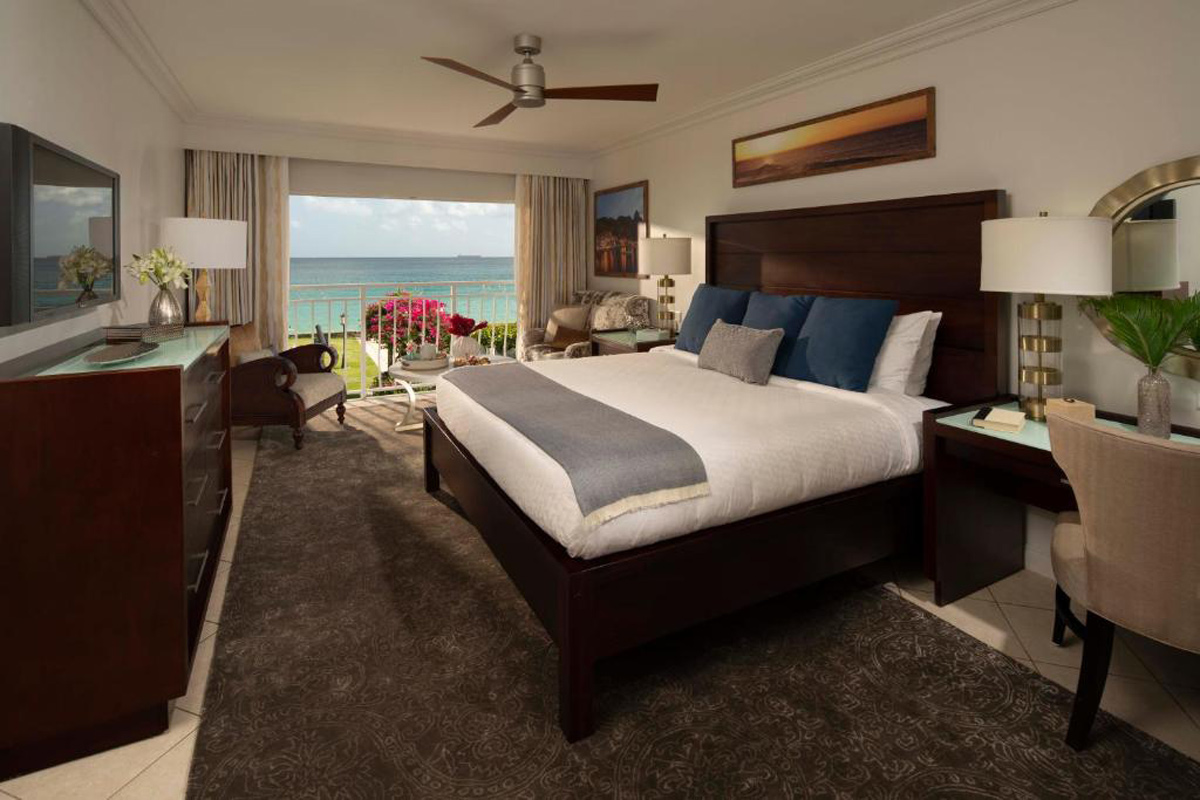 Which Sandals Resort is the best? Sandals Regency La Toc makes a case for itself with the views from private villa suites featuring private pools or tranquility tubs overlooking the coast of La Toc Beach.

What we love most is how unique and homey each room feels inside and out, allowing you to settle in and enjoy your stay within minutes of arriving.
But do take time to explore the property. There's an incredible amount to see and do – starting with your dining options. Romantic Italian dinners at Armando's and seaside lunches at Neptune's will give you plenty of time to discuss the fun you'll have together on your St. Lucia honeymoon.

Explore shipwrecks with a certified diving instructor, tee off at La Toc Golf Course, or check out the Jump Up-style beach parties St. Lucia is famous for without even leaving the hotel.
Sandals Royal Barbados, Christ Church, Barbados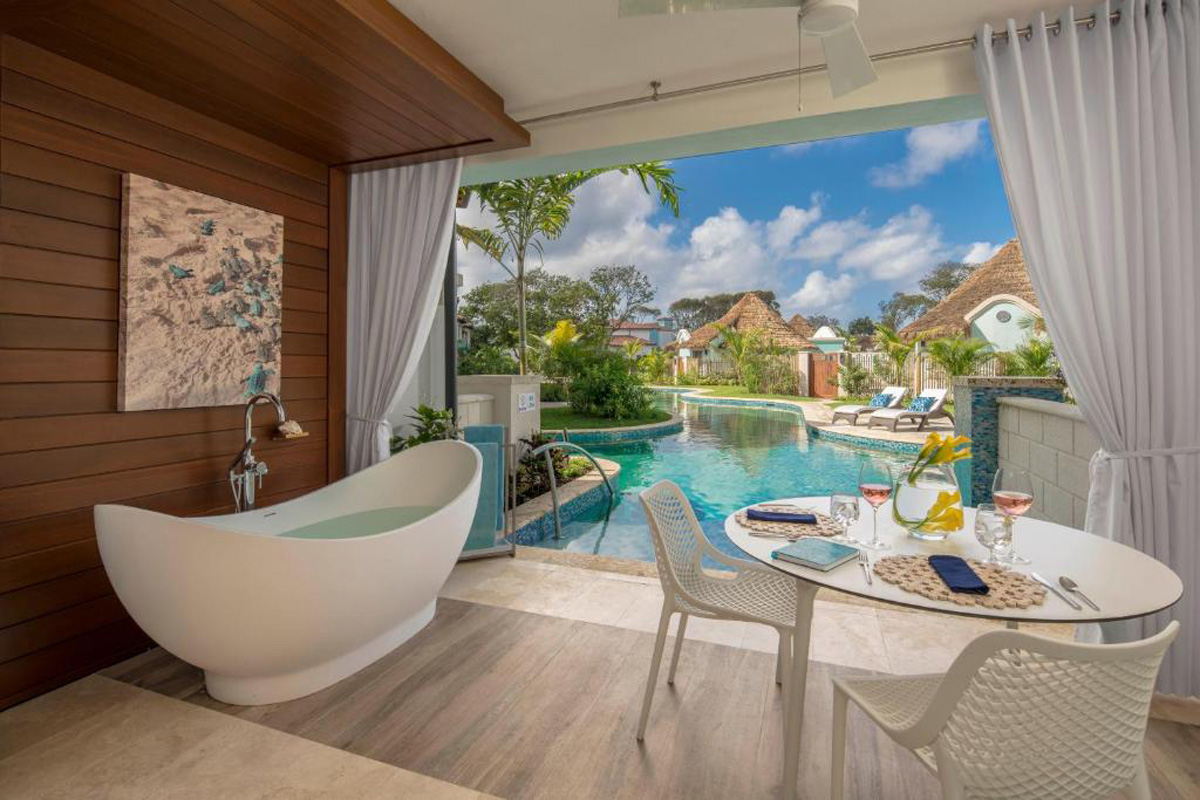 If you're wondering what's the best Sandals Resort in Barbados, be sure to check out the other option you'll have in St. Lawrence Gap, Sandals Royal Barbados.
So what sets these Sandals apart from the other choices on the lively Caribbean Island? This all-suites property is perfect for couples who want ocean-themed rooms, beach or poolside access, and a casual beachy vibe with a high attention to detail and upscale service.
Dining options are endless and unique, with the Jerk Shack dishing out unique island flavors in a casual setting perfect for grabbing a snack between adventures. You can also have a farm-to-table meal at Greenhouse or stick to lighter fare at the juice bar Heart & Soul.

Spend the day on the white sands beach, or have some fun on land – with bocce, cricket, and billiards tables waiting steps away from the surf and sand.
Sandals Halcyon Beach All Inclusive, Vigie, Saint Lucia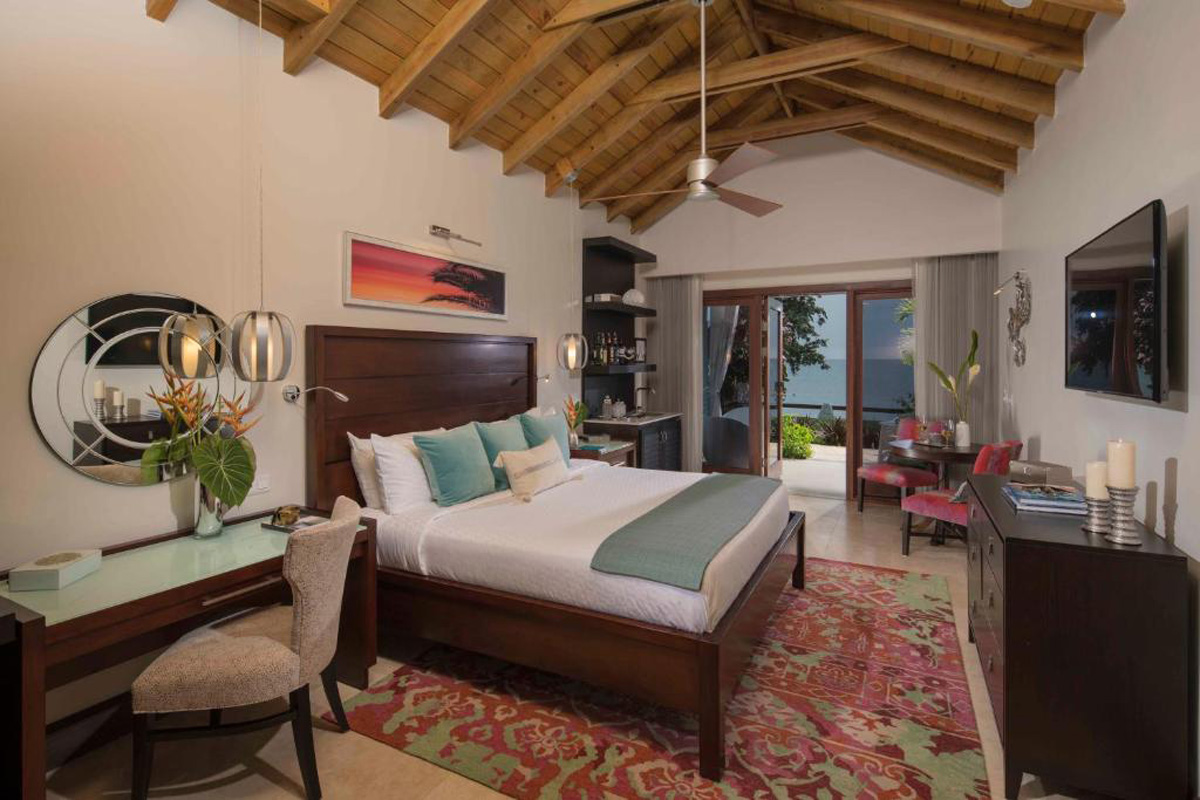 What is the best Sandals Resort in Saint Lucia? You've seen a few great choices already, but Sandals Halcyon Beach All Inclusive makes a case for itself as an underrated choice among the 3 locations on the island.
Think white sand beaches underneath towering palm trees right out your gardens or ocean view balcony. It's special.
Our favorite rooms? The Beachfront Honeymoon Walkouts offer oceanfront splendor with a romantic beach house vibe featuring vaulted ceilings, hardwood furniture, and walkout patios with soaking tubs overlooking Halcyon Beach.
You'll enjoy a tennis court, lawn chess, and nonstop fun on the beach day or night. Fancy a few rounds of golf? A shuttle service takes you to both Sandal's Golf Courses on the island, making a fun day trip to see other areas of St. Lucia.
When you're ready for romance, work with the expert team to schedule a candlelit dinner in a setting of your choice. But we think it doesn't get more romantic than on the sands of the Saint Lucia shores.
Sandals Royal Bahamian, Nassau, Bahamas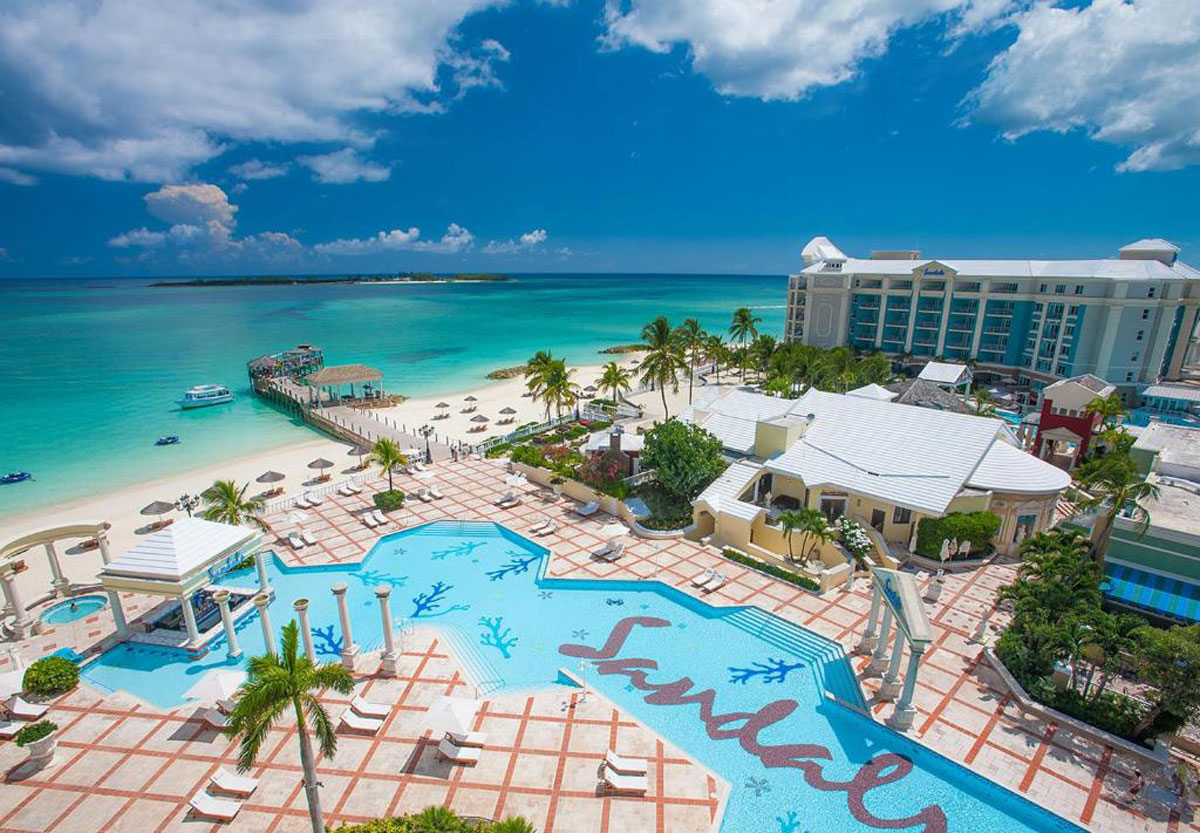 Tucked away along the north shores of the unforgettable honeymoon island of Nassau is Sandals Royal Bahamian. There's a lot we love about this property along the white sandy banks of Cable Beach.
For starters, you'll have access to the exclusive private island of Barefoot Kay. Take a short boat ride, and you'll have access to hidden beaches and world-class snorkeling that you get to enjoy as a Sandals guest.

Premium liquor and gourmet cuisine will keep your spirits up at luxurious dining options like the elegant French restaurant La Plume, stylish Butch's Island Chop House, or seafood on the enchanting Gordon's on the Pier.

Add to that the Rolls Royce airport transfer when you book some of the most coveted suites, and we think this is a perfect choice for a splurge honeymoon in the Bahamas.
Sandals Emerald Bay, Exuma, Bahamas
Sandals Emerald Bay is on the small but idyllic island of Exuma, and it's one of the best choices if you want a luxurious retreat for your honeymoon in the Bahamas.
Choose from 18 different room and suite types, allowing you to go as extravagant or pared back as you want.

For couples who want to enjoy their stay on a budget, Beach House Luxury Club Level Rooms are affordable but still have elegant and romantic decor and private balconies overlooking the gardens, palms, and ocean.

What is the best Sandals Resort suite at Sandals Emerald Bay? We love the Beachfront Oversized Walkout Butler Villa Suite, where you'll enjoy island luxury, butler service, and access to a quiet stretch of white sands just steps from your four-poster bed.

For couples who love to golf, the 18-hole course by Greg Norman will give you lots of practice together on the links.
Sandals Royal Curacao, Nieuwpoort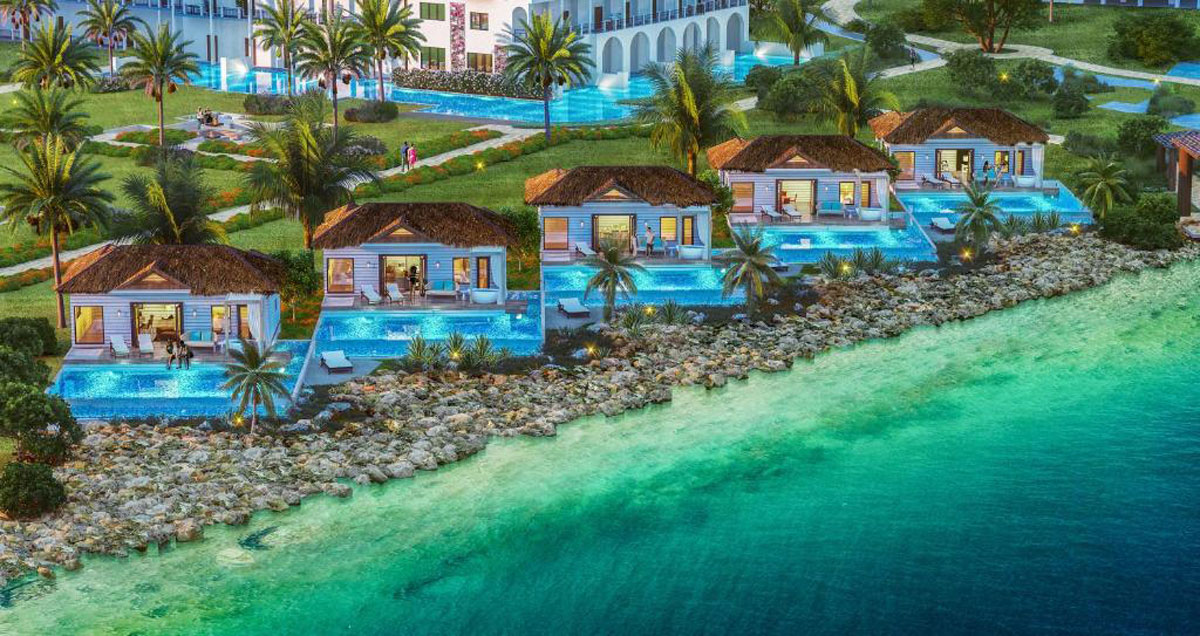 If you're looking for a peaceful retreat along the Southern Caribbean Sea, Sandals Royal Curaçao is a wonderful option.
Interested in some incredible snorkeling and scuba diving? This property is a clear winner for couples who want to share some underwater adventures hand in hand.
While Curaçao is known for having a desert setting on much of its interior, the beaches and open waters are nothing short of incredible. Take advantage of the PADI-certified scuba diving expeditions, and you'll see fish of nearly every color imaginable.

Venture out with an expert diver to the famed Alice in Wonderland scuba spot, or just throw on your fins and swim out from the sandy beaches at this water lover's dream honeymoon Sandals Resort.
Sandals Dunn's River, Ocho Rios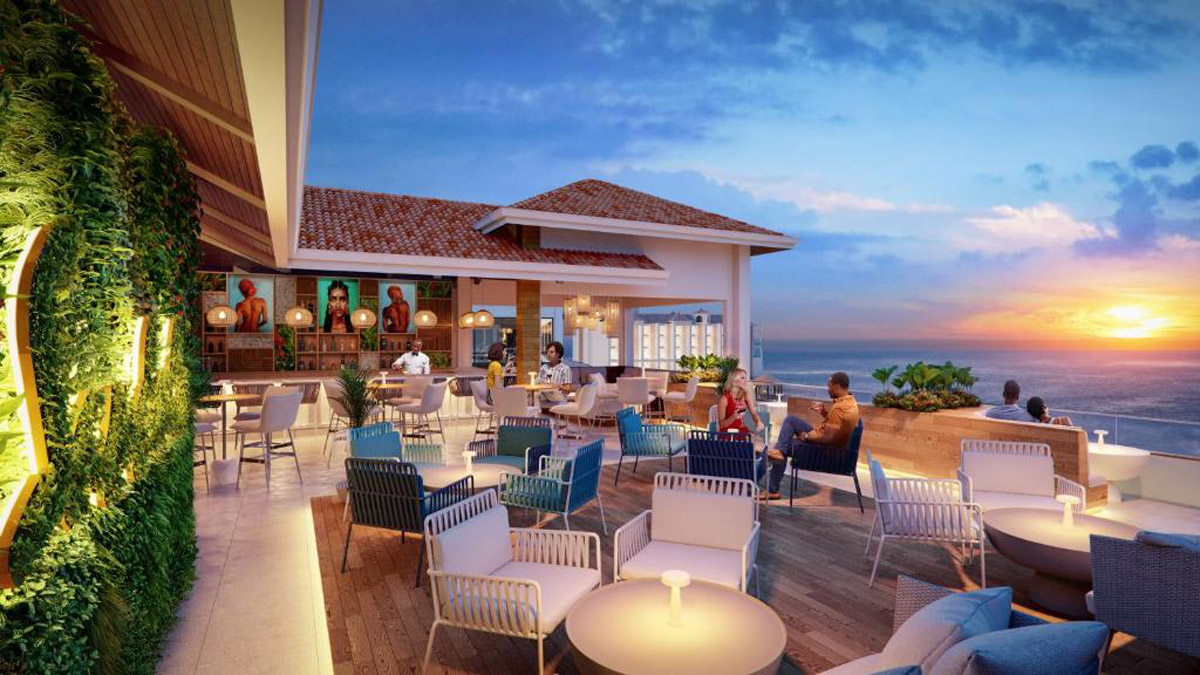 This property has a longstanding history of hosting one of the most iconic hotels in Ocho Rios over the years. But it only recently reopened as Sandals Dunn's River, and the 250+ rooms and suites are ready to welcome you to your honeymoon in the Caribbean.
Looking for the newest and best Sandals Resort in Jamaica? You're off to a good start if you reserve a spot at this iconic property. Five pools and two rivers run through the dreamy island real estate alongside nine bars and 12 restaurants at the beachfront property.
Couples can choose from standard rooms or more lavish suites. We love the idea of the Tufa Terrace One Bedroom Skypool Butler Suite that sets you up with a private infinity pool and soaking tub overlooking the Caribbean Sea.
Sandals Grande Antigua, St. John's Antigua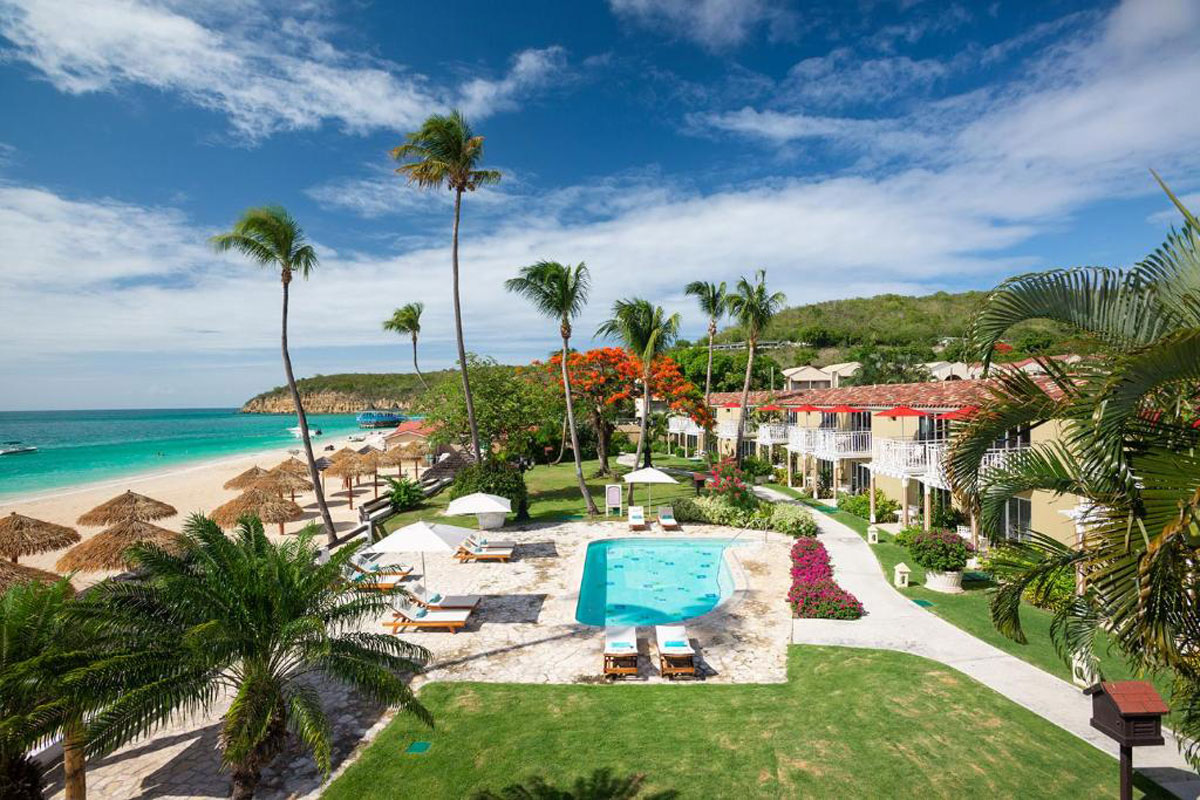 Planning an Antigua honeymoon? You won't find many better all-inclusive hotels than the Sandals Grande Antigua.
First of all, the location in Dickenson's Bay puts it near some of the best shopping, entertainment, and beaches in Antigua. So if you want to venture out from your hotel a bit – it's an excellent option.
But Sandals brings the beach party right to your front door with seven bars, 11 restaurants, and thatched umbrellas under lounge chairs right in the heart of Dickenson Bay.
Rooms and suits are in airy, modern lodgings that match the laid-back vibes of Antigua perfectly.
Sandals Ochi Beach Resort, Ocho Rios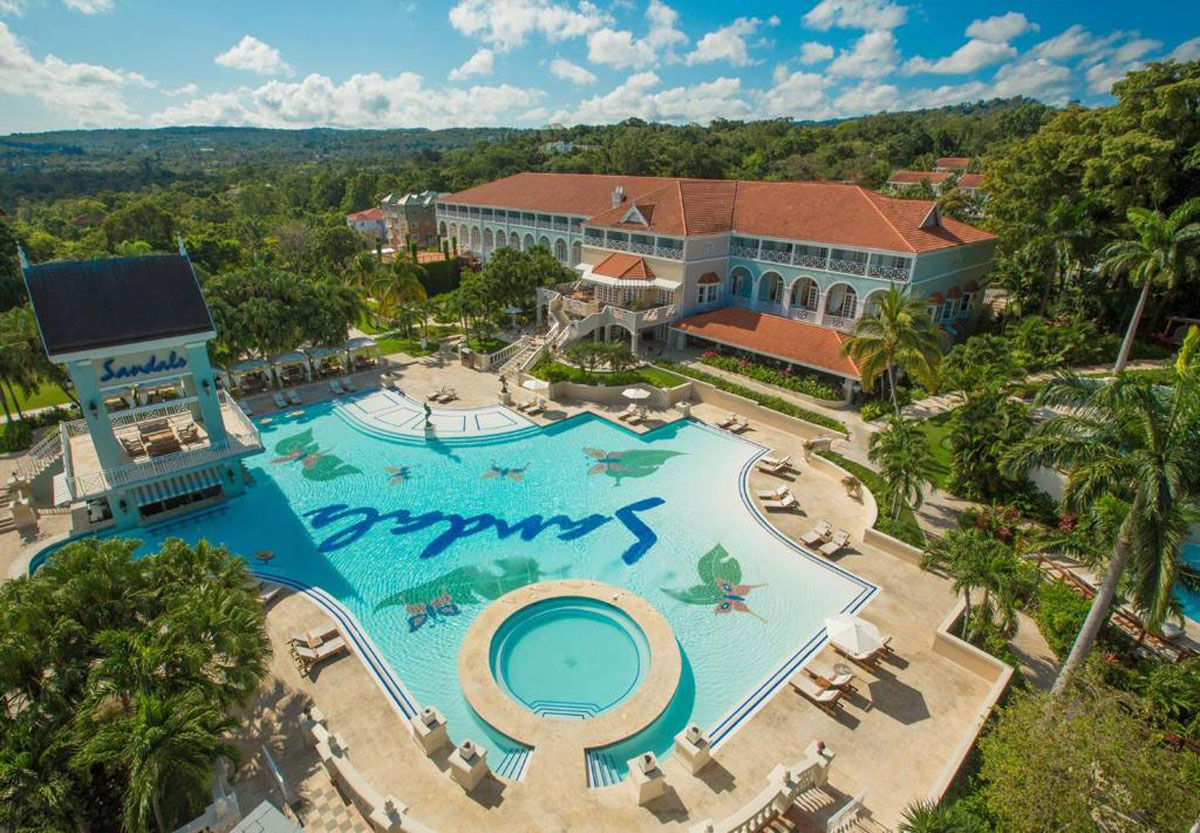 Looking for one of the flagship locations? Sandals Ochi Beach Resort is a longstanding resort property, which we love for its reputation, location, and amenities.

There's just one minor problem with this location (same with Dunn's River) – it's a 90-minute drive from Sangster International Airport (MBJ). But couples looking to get away from it all can do it here, with rooms and suites tucked between verdant garden grounds and Sandy Beach Bay.
You'll find your favorite underwater adventures, lively parties on the beach, and a mind-boggling 16 restaurants to choose from on the sprawling 529-room resort. The speakeasy "Rabbit Hole" offers something different for guests wanting a luxury cocktail experience.

Most of the rooms are quite nice, but if you want to upgrade to a honeymoon suite, the Romeo & Juliet Sanctuary offers you a private villa with a Roman pool and jacuzzi where you can spend perfect evenings together between activities and dining.
Practical Tips for Planning Your Trip to a Sandals Resort
Make sure you choose the best sandals resort for you – take a good look at what you want from your honeymoon resort and if that particular location offers the amenities and accommodations you're looking for.
Plan your honeymoon as far ahead as you can. Many of the overwater bungalows and top-rated suites fill up months, if not years, ahead.
If you're planning a destination wedding, decide whether to customize your own or take advantage of the "free wedding" specials the hotel famously offers.
You may want to avoid the properties in Ocho Rios if you don't want a long airport transfer.
Choose a Sandals Resort in One of These Iconic Destinations
Love This? Save and Share on Pinterest