Looking for honeymoon suites in Las Vegas? We made a list of the best choices for your once-in-a-lifetime trip.
A honeymoon in Las Vegas stirs up images of extravagant dinners, broadway-caliber shows, and rolling the dice (literally) to try to replenish your honeymoon fund.

With a seemingly endless stretch of bright lights and towering hotels in the Mojave Desert, it's safe to say you'll find some great places to stay.

But what if you want to level up and take your honeymoon to the next level? You'll want to book a honeymoon suite.
So where can you find the best Las Vegas honeymoon suites for any budget? We found the top resorts where you can wine, dine, and live like royalty for a few memorable nights.
Why Book a Honeymoon Suite in Vegas?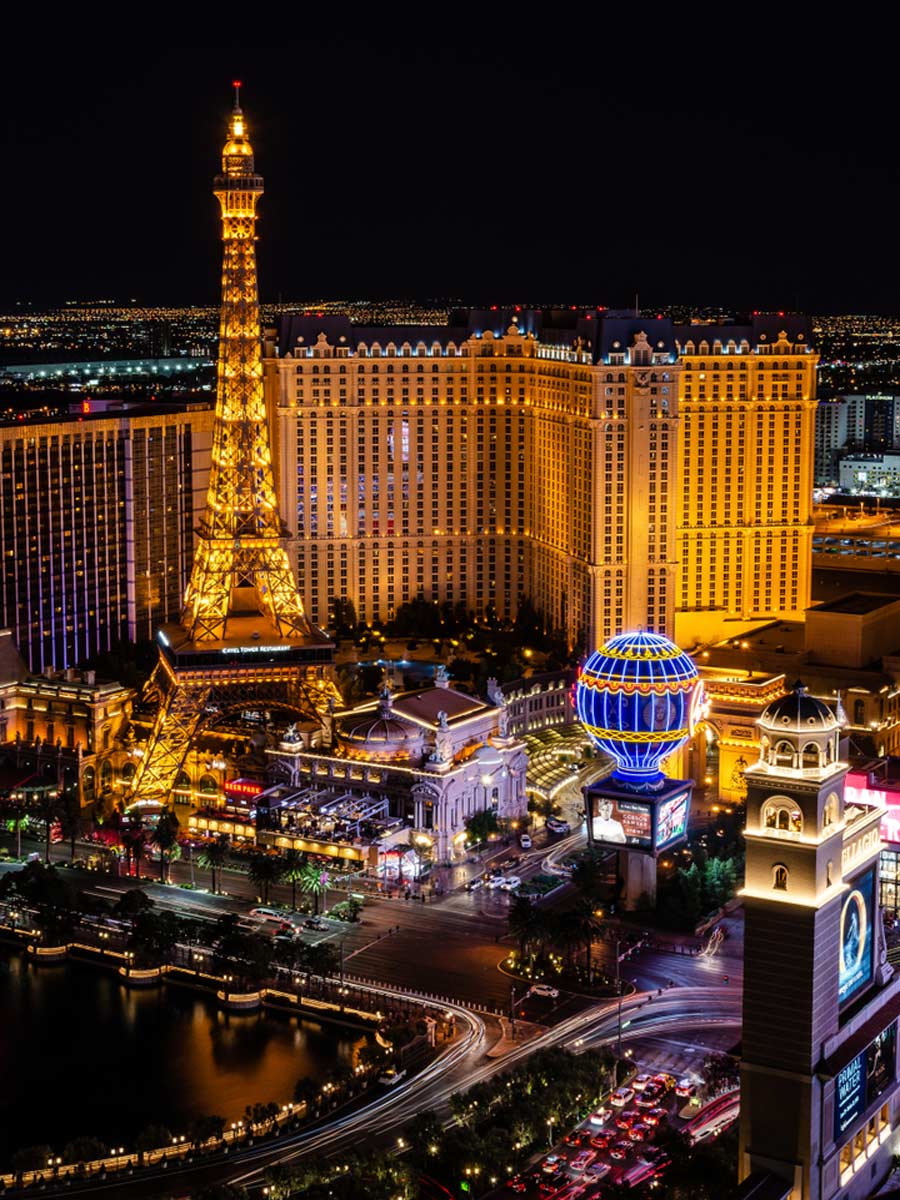 Whether you're letting loose after your big day back home or are planning to elope in the Marriage Capital of the World, you need somewhere to stay.
But a honeymoon suite in Las Vegas is the perfect choice for couples looking to spare no expense. Whether you're staying Downtown or on The Strip, we found the very best honeymoon suites Las Vegas offers. Enjoy.
Best Honeymoon Suites in Vegas
Cypress Suite, Belaggio
$$$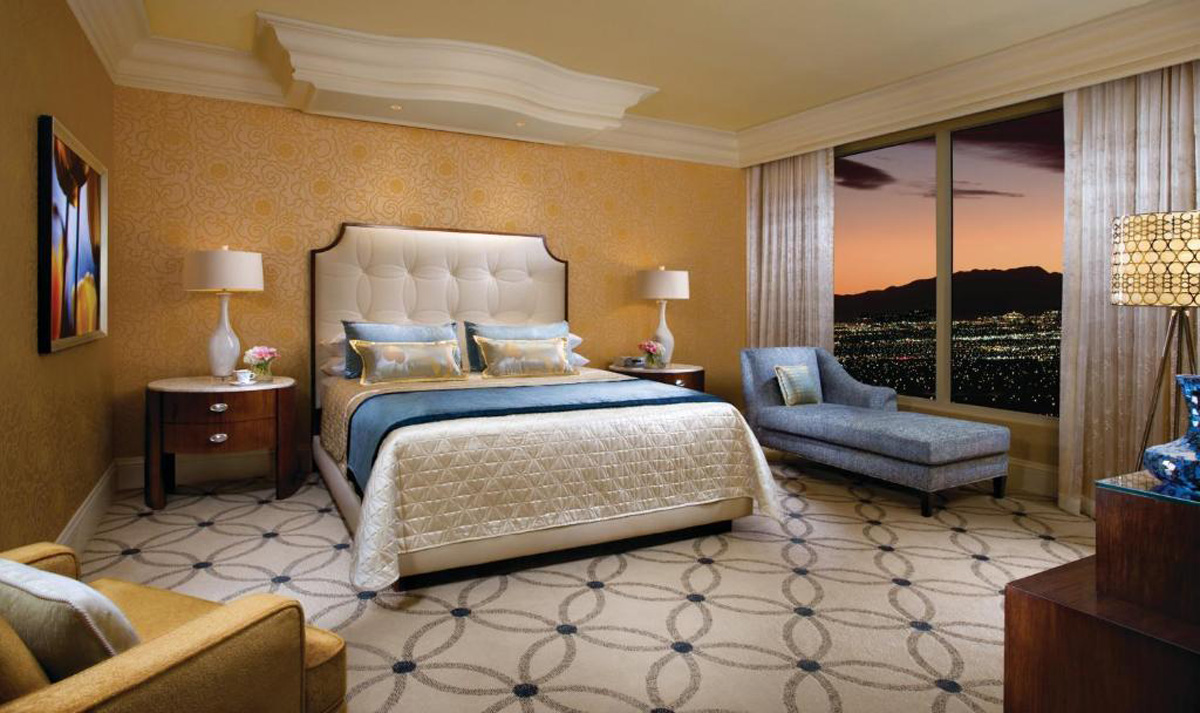 Few places conjure up the grandeur of the hotels and resorts, filling the desert landscape of Las Vegas quite like the Belaggio.
The Cypress Suite is one of the top honeymoon suites in Vegas, in no small part because of all the action below. Dinner at Michael Mina or seeing the Bellagio Fountain show offers romance and excitement for nearly any couple.

But inside your suite, you're treated with over 1500 square feet of luxury, where you can relax and enjoy features like mood lighting, an in-room jacuzzi, and the ever so comfy Bellagio Cashmere Super Pillow Top Mattress.

High-tech gadgets like an iHome docking station and automatic window shades are just icing on top of the cake.
Book The Cypress Suite at the Bellagio Here
Encore Tower Suite King, Wynn Las Vegas
$$$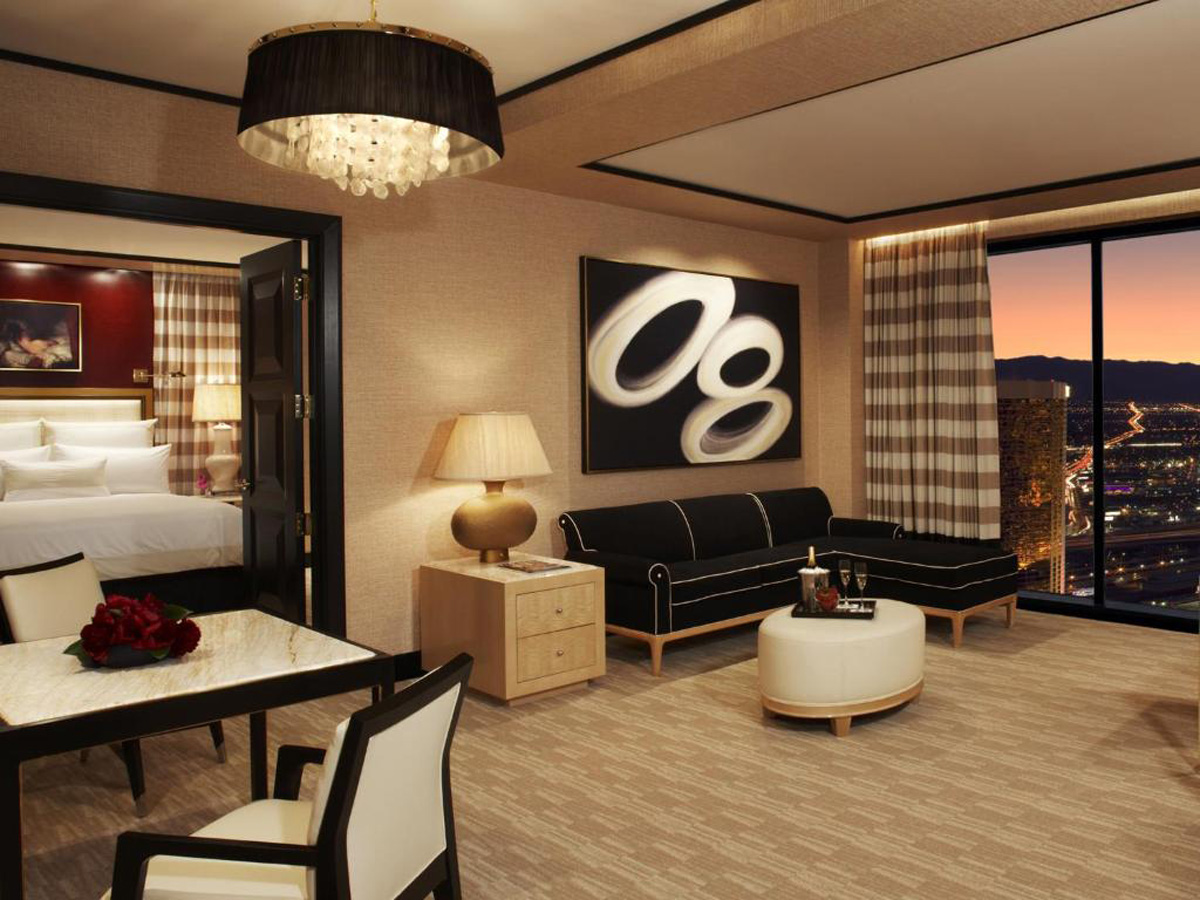 Wynn Las Vegas may be nearing the 20-year mark, but the eye-catching waterfalls and mountain out front still pull curious travelers inside to explore the 215 acres of dining, entertainment, and gaming.
With a reputation for an opulent design and expert service, it's no surprise it's home to one of our favorite Vegas honeymoon suites.
Couples who reserve the Encore Tower Suite King in the newer addition to the storied hotel will relish over 700 square feet of luxurious amenities.

You'll enjoy pillow-top mattresses, bathrooms featuring Italian marble and separate showers and tubs, and a $50 breakfast credit for a romantic morning of mimosas and freshly baked pastries in bed.
Book The Encore Tower Suite King Here
Tower Spa Suite, MGM Grand
$$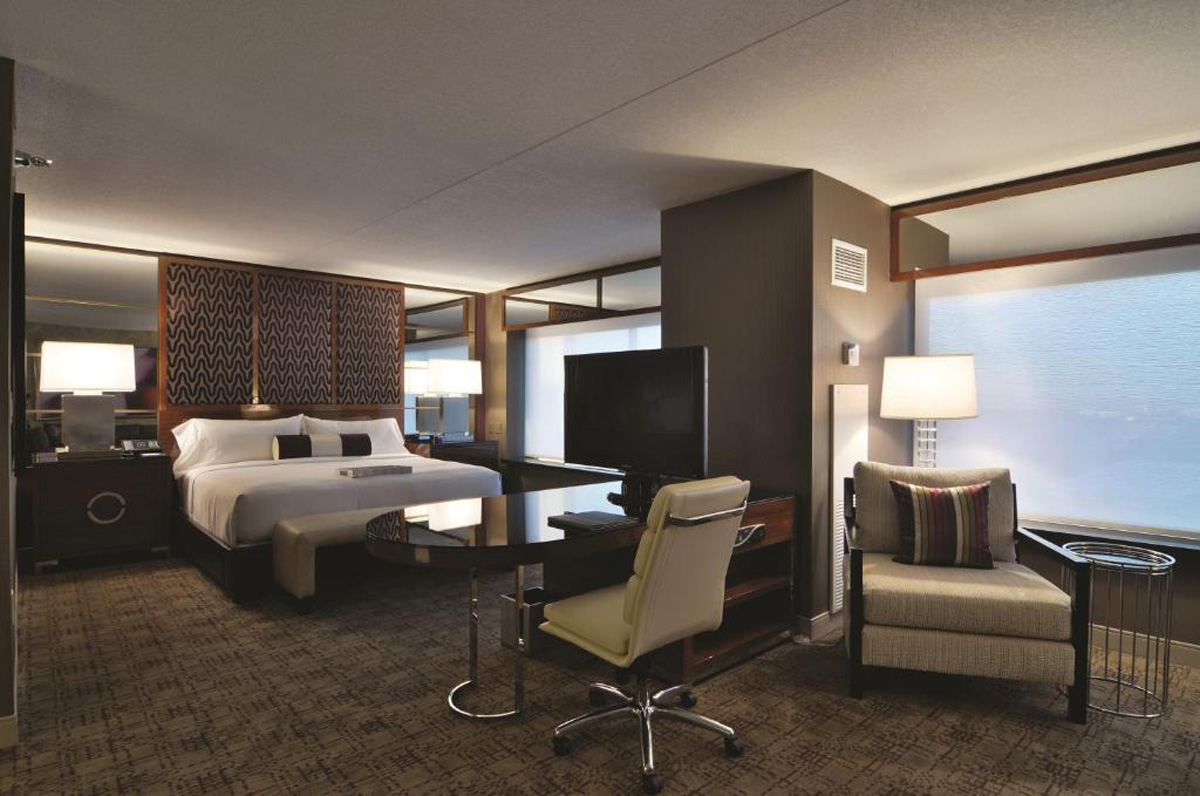 MGM Grand offers honeymooners intimate and luxurious Vegas honeymoon suites on the heart of The Strip.
The hotel itself is renowned for world-class entertainment and casinos. Shows at David Copperfield Theatre or Cirque du Soleil KÀ are perfect choices for an evening out.

Still, you can enjoy a surprisingly mellow retreat upstairs with blackout curtains, Carrera marble bathrooms, and in-room dining any time of day.
Book the Tower Spa Suite for your honeymoon and enjoy your in-room jacuzzi and a king-sized bed in one of the most romantic honeymoon suites in Vegas.
Book The Tower Spa Suite at MGM Grand Here
Delano Scenic Suite, Delano Las Vegas at Mandalay Bay
$$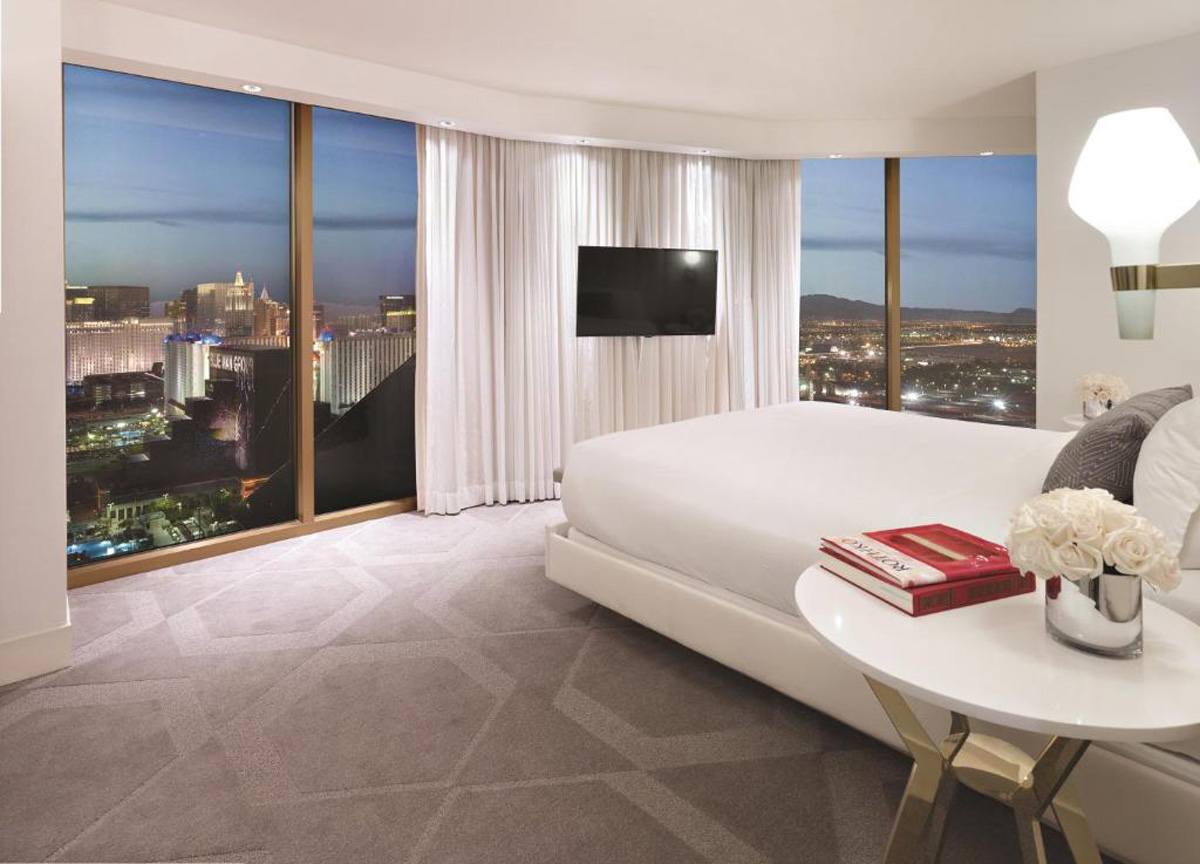 Staying at Delano Las Vegas allows you to choose any of the rooms at the iconic aquatic-themed resort on the southern end of The Strip for cheap honeymoon suites in Las Vegas.

We particularly like the Delano Scenic Suite, which for around $300 per night, offers you spacious accommodations overlooking the desert sky and bright lights of Sin City.

You'll also have a spa tub, marble bathroom, and lots of space for a champagne toast in your living room before heading to bed. Wake up and enjoy the Lazy River and sandy beach below.
Book The Delano Scenic Suite at Mandalay Bay Here
One-Bedroom Suite, Four Seasons Hotel Las Vegas
$$$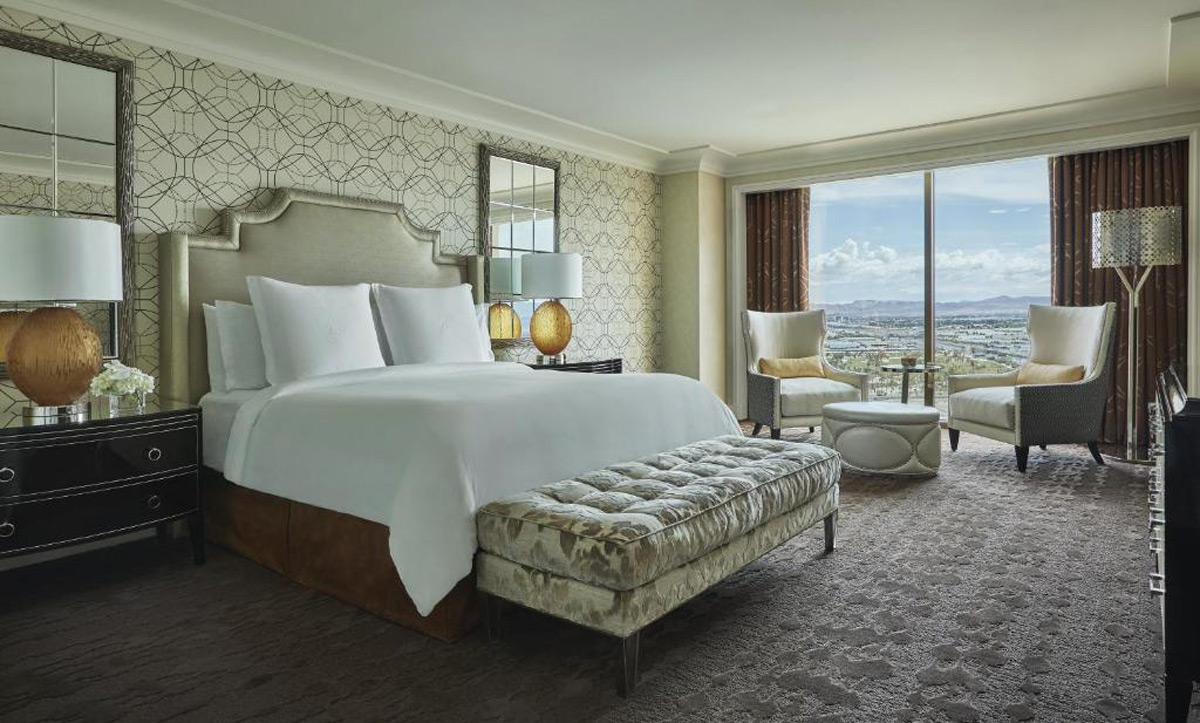 At the Four Seasons Hotel Las Vegas, you can experience a lavish Las Vegas honeymoon suite in the Studio with Strip View.
High up in the 5-star hotel, your suite will stretch over 1100 square feet, with a king-sized bed, marble bathroom, powder room, and views of the Stadium or Strip.
Located on the southern end of the strip, youn can take advantage of a full day of pampering at the Forbes five-star spa on site.
Book The One-Bedroom Suite Here
Circa Suite, Circa Resort & Casino
$$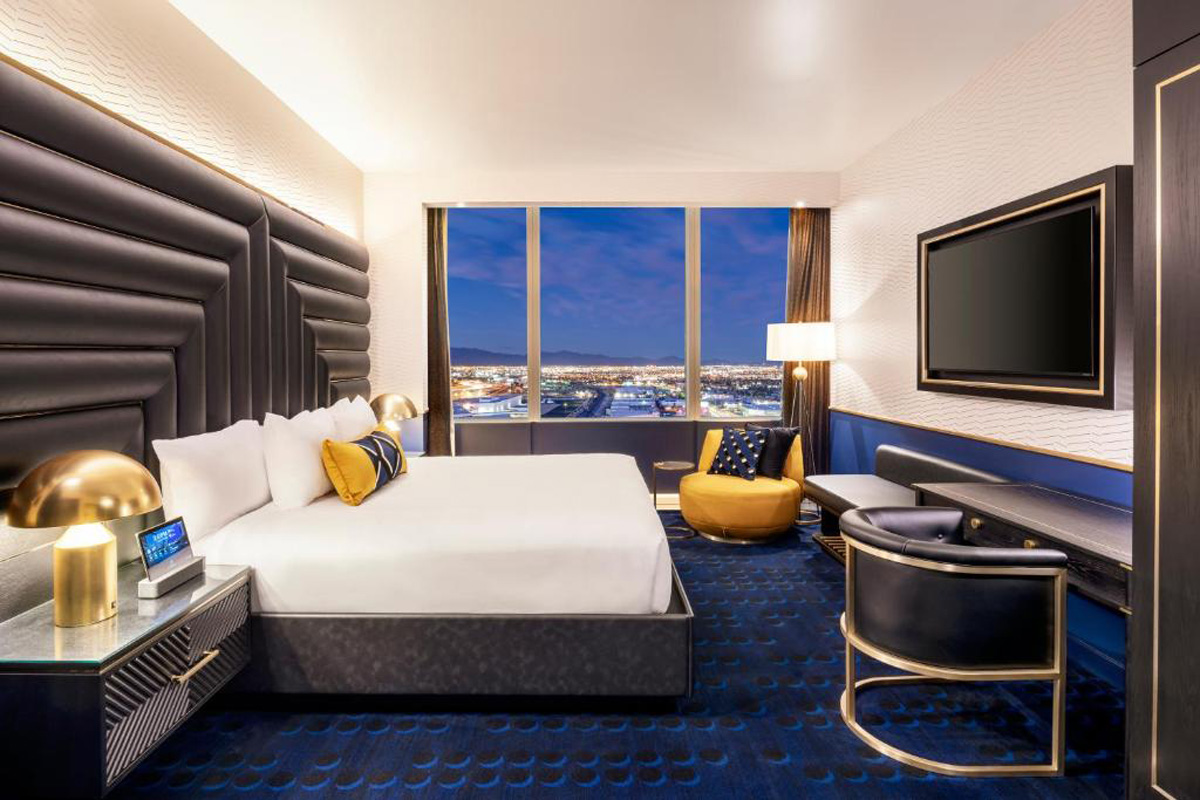 Feeling all grown up now that you're married? The Circa Resort & Casino offers amazing Circa suites at an adults-only property Downtown.

A fun and vibrant interior features modern furniture and cool shades of blue and gold. Views of downtown or the absolutely incredible pool will get you primed for an evening on Fremont Street exploring this up-and-coming area of Las Vegas.
If you're looking for a honeymoon suite in Las Vegas with a private bar, spacious dining room, and access to the best swimming pool in town (seriously), look no further.
One-Bedroom King Suite, Hilton Grand Vacations Club
$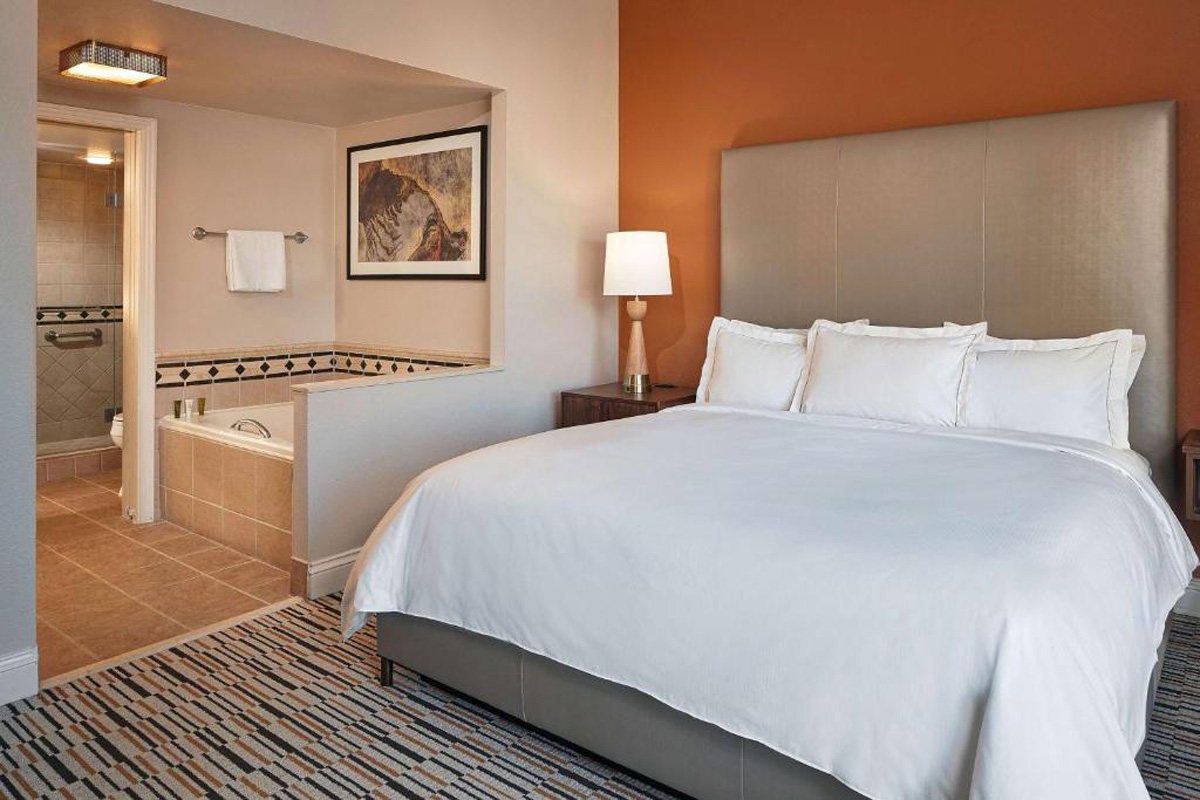 The One-Bedroom King Suite at Hilton Grand Vacations Club allows guests to book a honeymoon suite Las Vegas Strip-style at an affordable price.

It's not just a great value. We love these suites for the spacious interiors, full kitchens, and living rooms stocked with HBO so you can binge on Game of Thrones.
Looking for honeymoon suites with a jacuzzi in Las Vegas? We got you covered on cool desert nights, as each room features a large spa tub next to the bed.

The outdoor pool is another reason we love this Las Vegas honeymoon hotel, where you can spend romantic evenings under the palm-lined pools and fountains before heading into your room for the night.
Book The One-Bedroom King Suite Here
Grand One-Bedroom Suite, The Venetian Resort Las Vegas
$$$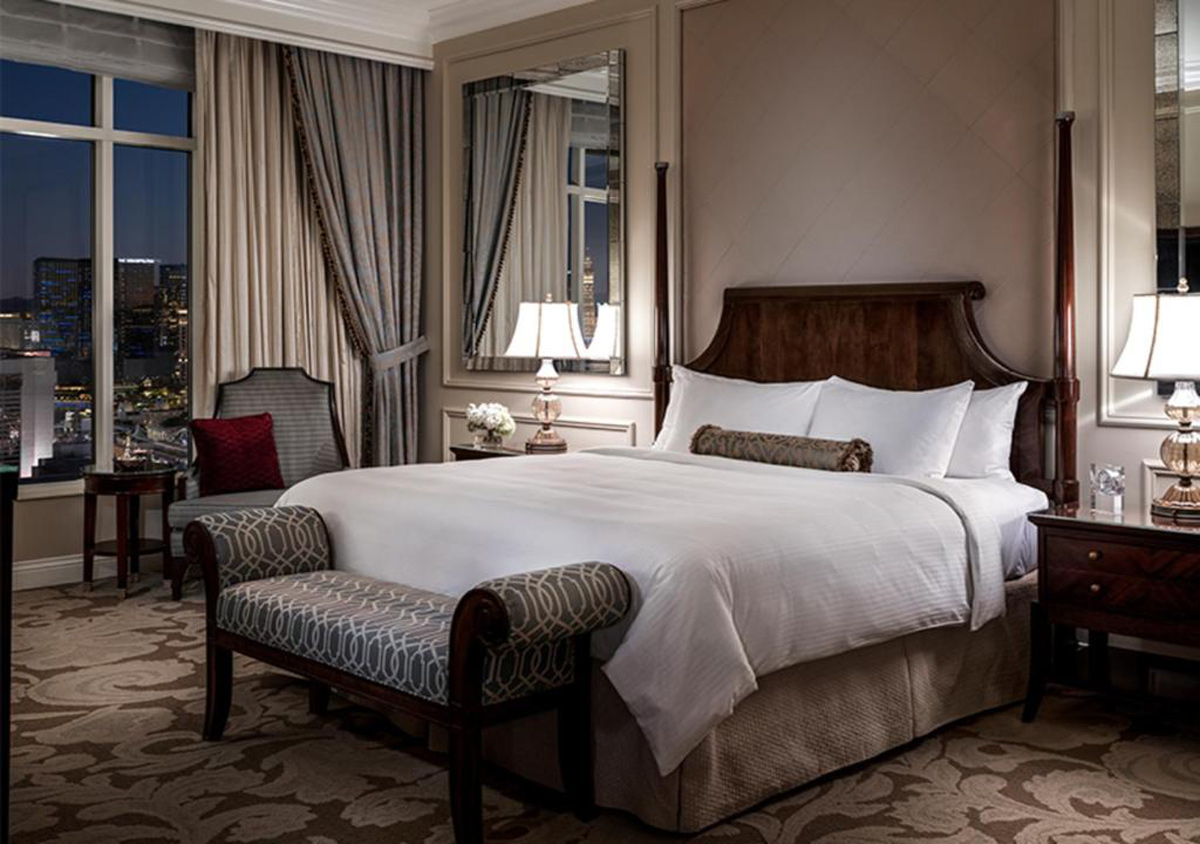 We love any of the best honeymoon suites in Las Vegas at The Venetian Resort, but the Grand One-Bedroom Suite offers a perfect mix of luxury and value.

You'll have 1,300 square feet to relax high up above the strip with a grand living room, private bar, and enormous bathrooms with two separate vanities.

Feeling romantic? Head downstairs for a romantic Gondola ride through the iconic canals of Venice, just like in Italy. Well, close enough.
It's also one of our favorite honeymoon suites with a jacuzzi in Vegas, so order some champagne and chocolate and spend a romantic evening in one of the nicest hotels on The Strip.
Book The Grand One-Bedroom Suite Here
One-Bedroom King Suite, Resorts World
$$$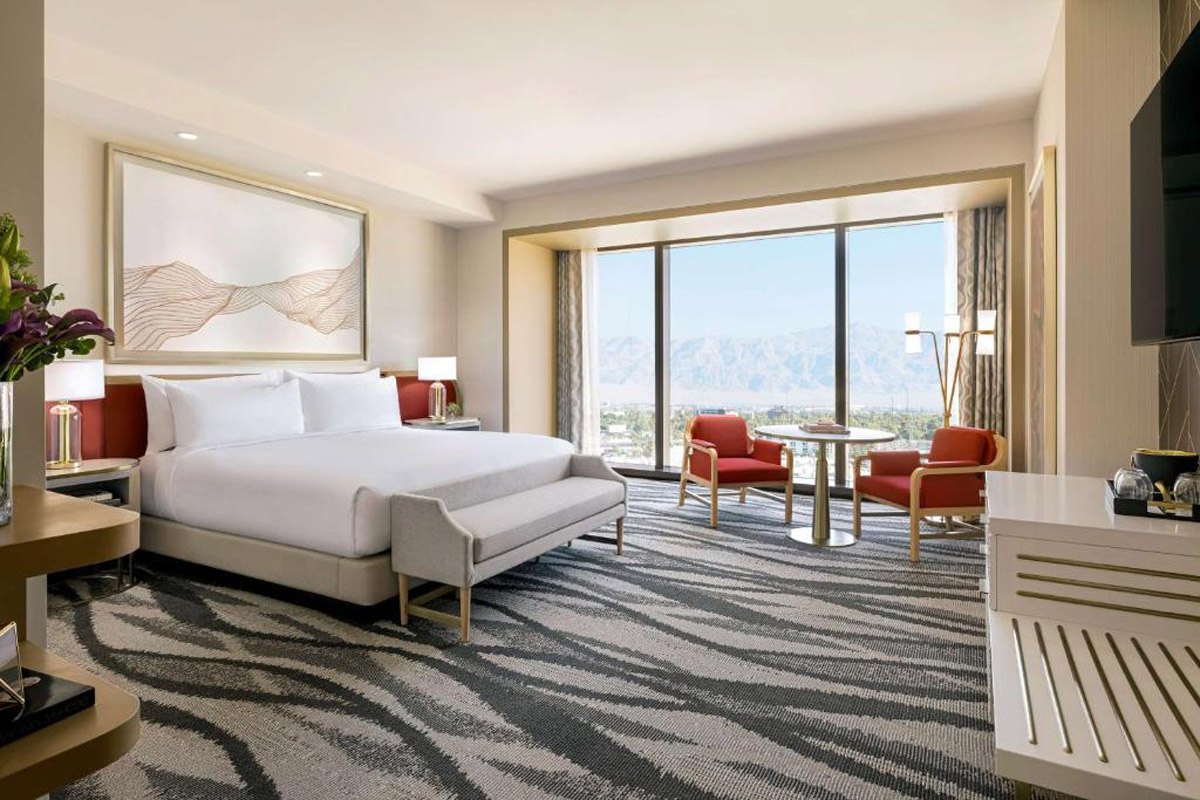 Stay in the Conrad Hotel at Resorts World to experience luxury and entertainment on a grand scale, even by Las Vegas standards.

Each suite has over 1100 square feet of romantically designed interiors with warm tones of red and pink, setting a romantic mood for your stay.

But it's all about choices at this expansive property featuring over 40 dining outlets and 3,500 rooms and suites. Choose from seeing world-class shows by entertainers like Tina Fey or Katy Perry, or dine on Japanese Wagyu beef at Carversteak.

Looking for Las Vegas honeymoon packages? Use Red, their digital concierge service, to plan meals, experiences, and entertainment on your honeymoon in Las Vegas.
Book The One-Bedroom King Suite Here
Luxury Lanai Suite, Cosmopolitan Las Vegas
$$$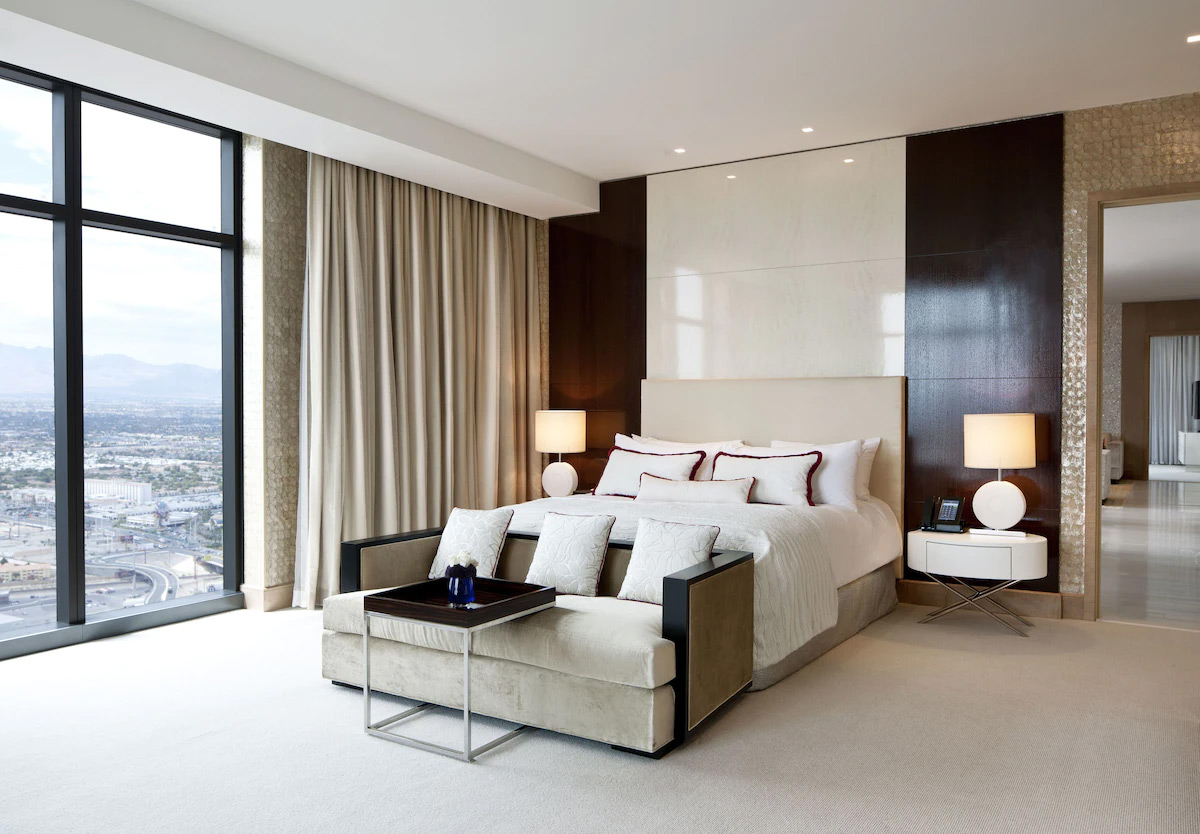 Couples looking to party it up in the Las Vegas summer sunshine will love the Luxury Lanai Suite at the Cosmopolitan in Vegas.

Why? Walk right out to the pool from this two-story suite that epitomizes everything we love about Las Vegas.

A private bar, stylish design, personal hot tub, and views of the pool give you everything you need to celebrate your special day in style.

When you're ready for bed, walk up to the second floor, and get some rest on the pillow-top king-sized bed.
Book The Luxury Lanai Suite at the Cosmopolitan Here
Pyramid Suite, Luxor
$
Featuring one of the most unique designs of any hotel on The Strip, The Luxor has become a landmark since the pyramid-shaped resort first popped up into the desert sky.

Stay in the Pyramid Suite for a perfect example of Postmodern architecture influenced by Ancient Egypt. Rooms feature a bright color palette, modern furniture, and over 800 square feet to spread out.

Ready to relax and enjoy some Las Vegas views? A jacuzzi bath next to the window makes perfect use of the angles of the vaulted ceiling.
Book The Pyramid Suite at Luxor Here
Sky Suites One Bedroom Penthouse, Aria Resort & Casino
$$$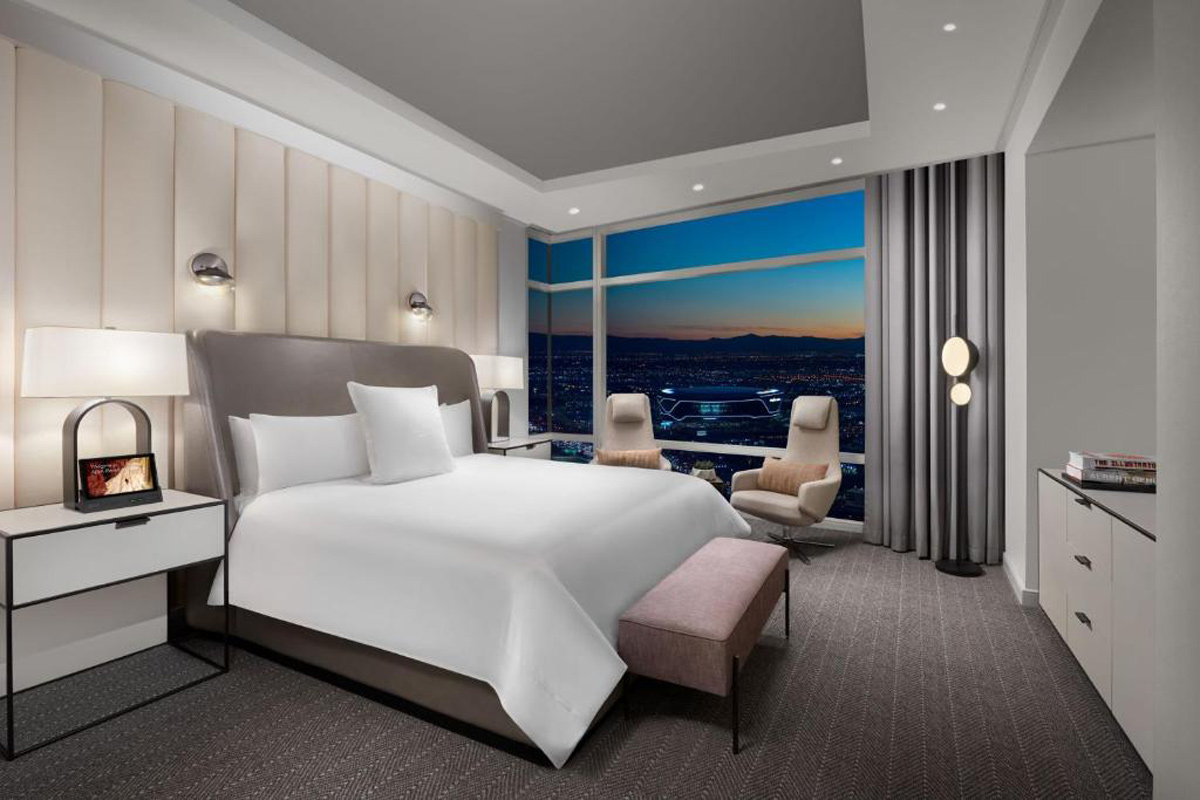 Staring out at the sun setting over the red rocks and the Mojave Desert only miles from The Strip is worth the price of booking the Sky Suites One Bedroom Penthouse, Aria by itself.

But amenities like a private entrance into the hotel exclusively by limousine, personal check-in, and a jacuzzi bath and stone shower in the spacious bathroom will have you feeling like members of the royal family at your honeymoon suite Las Vegas.

When you're ready for a fun evening, check out the 150,000-square-foot casino with every gaming experience imaginable.
Book The Sky Suites One Bedroom Penthouse Here
Rush Tower Junior Corner Suite, Golden Nugget Resort & Casino Las Vegas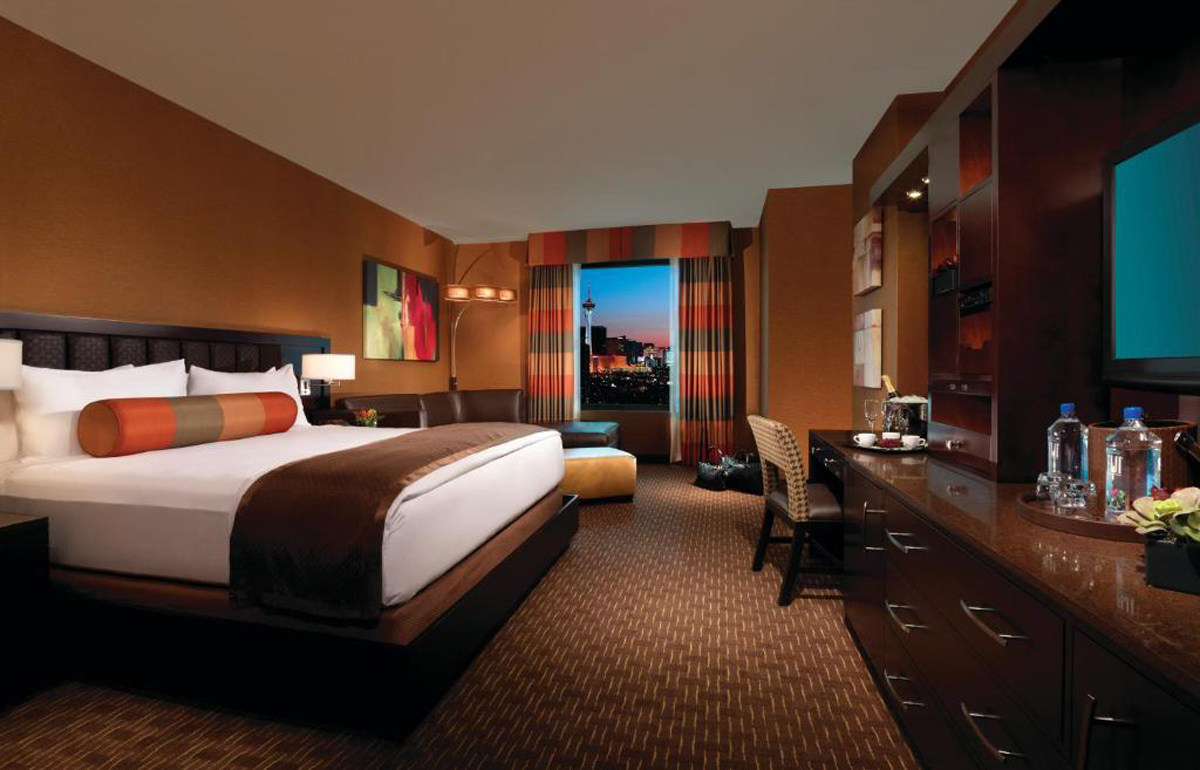 Head to Downtown Las Vegas, and book a suite at one of the oldest and most iconic properties around.

The Rush Jr Corner Suite allows you to stay in one of the best honeymoon suites Las Vegas offers at a reasonable rate.
You'll enjoy a warm and romantic interior with old-school stylings that transport you to the early Las Vegas days.

Large bathrooms with rain shower heads are perfect for showering off after enjoying the famous shark tank pool downstairs. Don't worry; you won't be swimming with the fish.
Book the Rush Tower Junior Corner Suite, Golden Nugget Resort Here
Practical Tips for Booking Your Honeymoon Suite in Vegas
Never hesitate to tell the hotel staff it's your honeymoon. Las Vegas has a way of going above and beyond for hotel guests.
Ask your hotel concierge about recommendations for dining and entertainment in the constantly evolving city.
Book your hotel suite in advance if you want the most choices at reasonable rates.
Autumn and Spring are the best times to visit Vegas, and you can find surprisingly great deals.
Winter honeymoons in Vegas are colder than you think. In-room jacuzzis are a great way to warm up and have a romantic evening together.
Plan Your Las Vegas Honeymoon
Love This? Save and Share on Pinterest