Though small, St. Lucia has no shortage of charm, beauty, and biodiversity. Ready to plan your St Lucia honeymoon? Discover the best resorts and destinations with this expert guide.
St. Lucia has thousands of plants and animals, young and old volcanoes, vibrant coral reefs, and incredible beaches for you to enjoy with your spouse.
Why Honeymoon in St. Lucia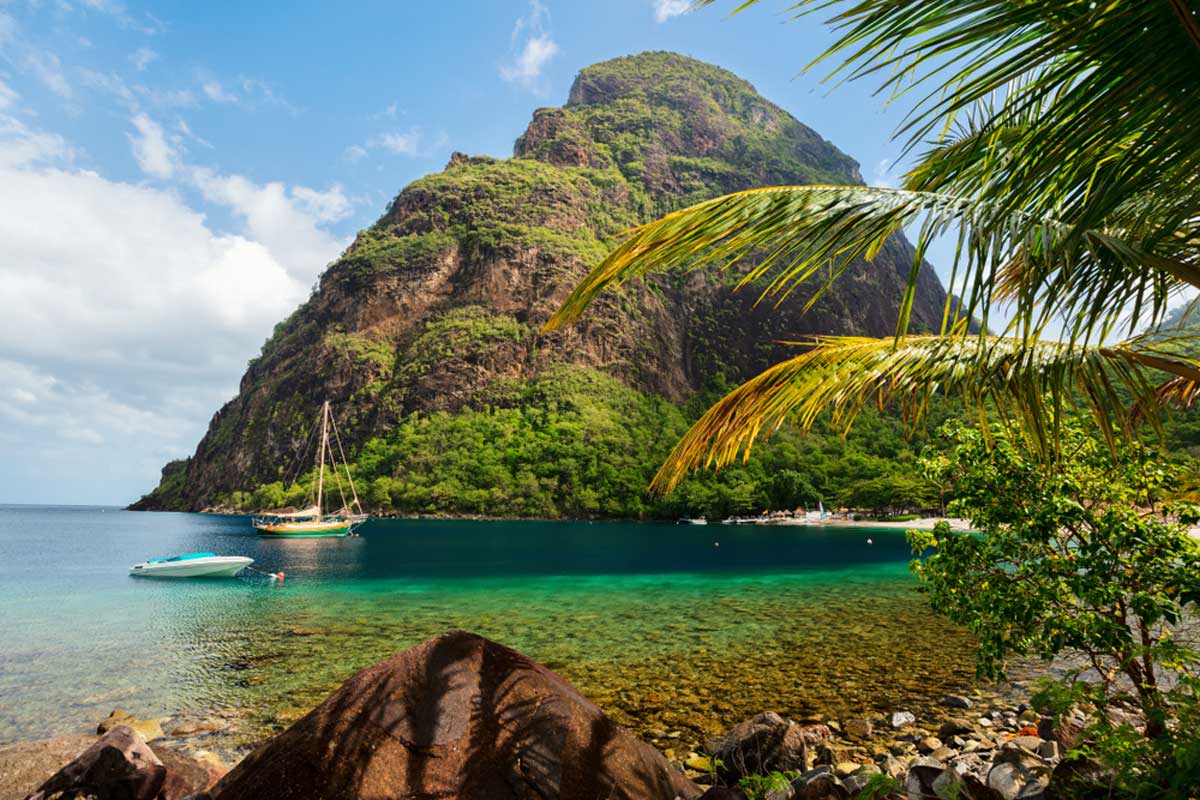 If you're planning a Caribbean honeymoon, chances are, you're going to spend lots of time deciding which location is best for you.
St. Lucia is one of our favorite places for special occasions. Whether you're keen to pull on your hiking boots and go deep into the jungle or sunbathe on some of the most lovely beaches in the world, your dream vacation awaits.
Cuisine with bright and flavorful local ingredients, festivals celebrating local music, culture, and commerce, and topography that's as diverse as it is breathtaking are all reasons to plan a St. Lucia Honeymoon.
Are you thinking of taking a honeymoon to St. Lucia? We're going to help you discover the island's outstanding hotels, activities – along with advice about the best honeymoon destinations on St. Lucia.
Best Honeymoon Hotels & Resorts in St. Lucia
Cap Maison Resort & Spa
Smuggler's Cove
$$$
Best for High-End Dining During Your Stay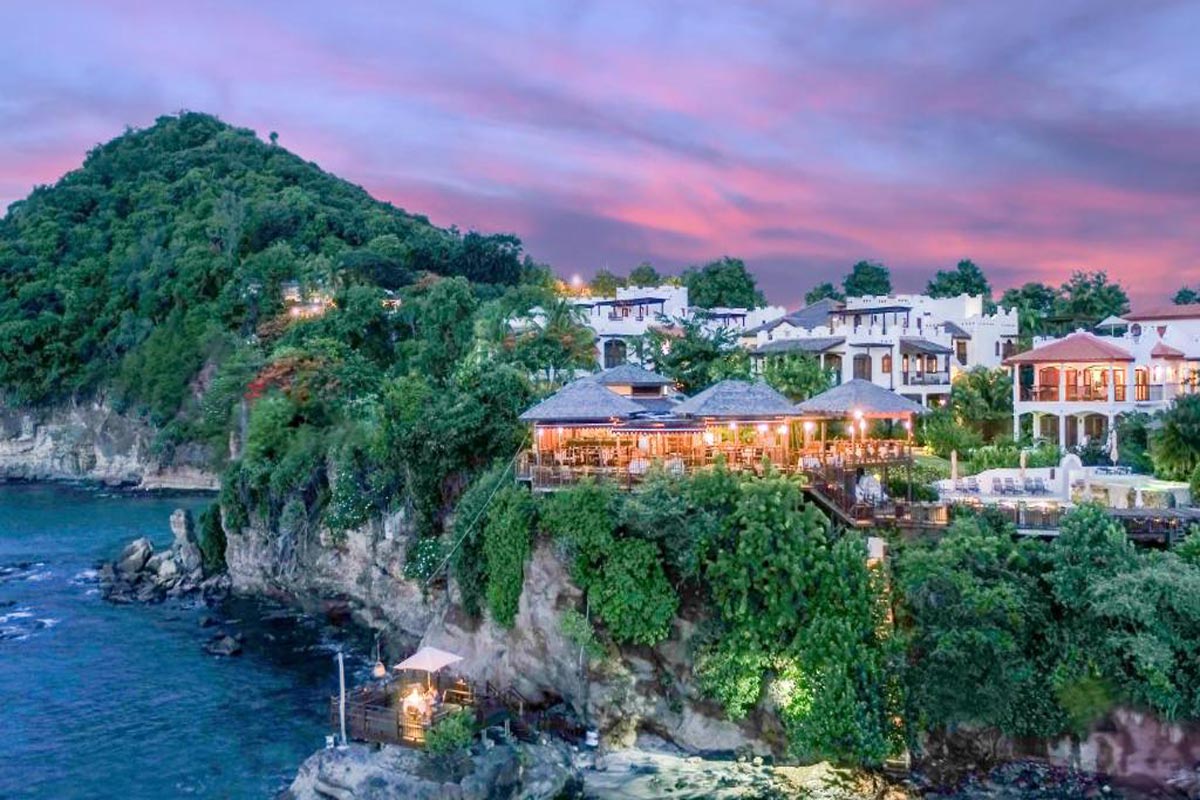 Cap Maison is an ideal St. Lucia honeymoon spot if you're looking for some of the best food on the island without leaving your hotel grounds.
It's a popular restaurant that's typically fully booked. But as a guest, you can arrange to have a spot perched overlooking the Caribbean Sea while sampling the exciting menu at The Cliff at Cap.
Book the private deck, Rock Maison, if you want an exclusive dining experience like no other honeymoon St. Lucia offers. Take in the magnificent sunset and toast with some bubbly brought to you on the world-famous champagne zip line.
That's only some of what makes Cap Maison one of the premiere honeymoon resorts in St. Lucia.
You can book a suite overlooking the garden and pool, or overlooking the bay below. You'll also find comfortable beds, air conditioning, and Wi-Fi in any room you choose.
Enjoy your experience at the privately owned resort that showcases St. Lucia's best service and scenery.
Sandals Halcyon Beach
Vigie
$$$
Best for an All-Inclusive Honeymoon to St. Lucia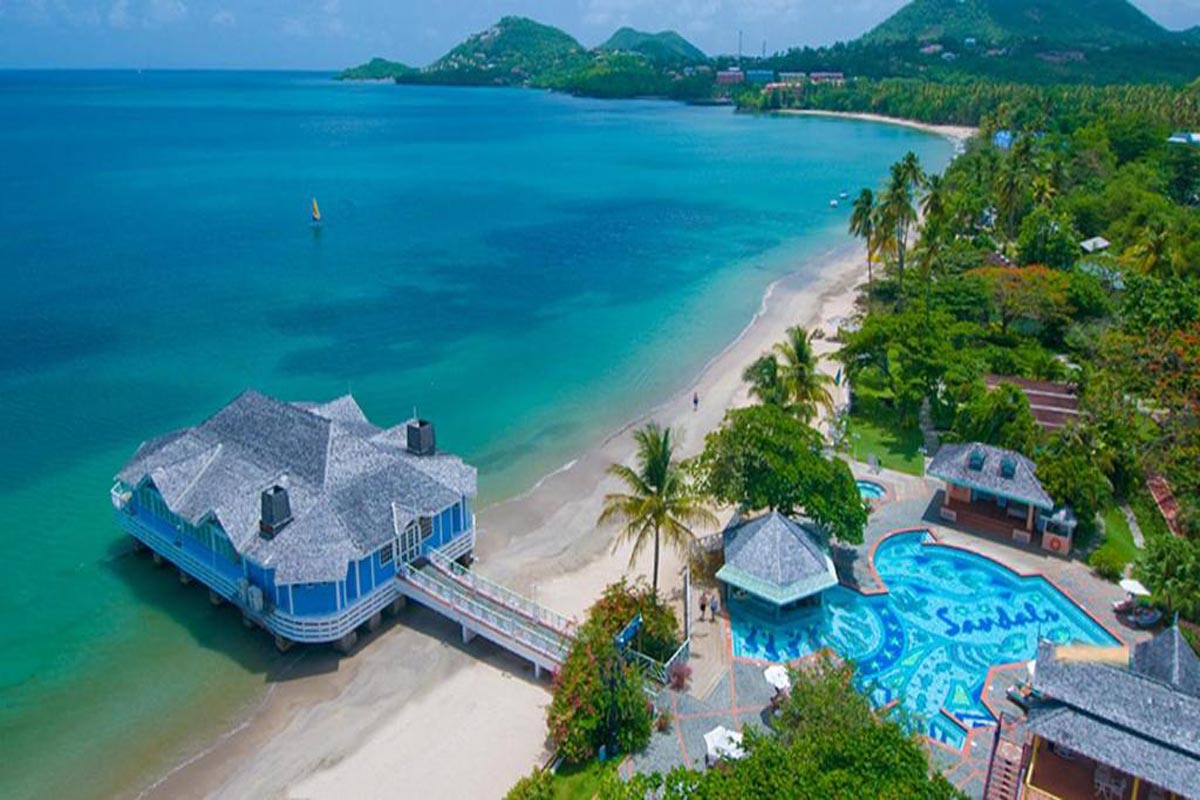 Let's face it, after the stresses of planning a wedding, even the idea of making travel arrangements for your dream St. Lucia honeymoon may sound overwhelming.
Not to worry, you can leave your car in the complimentary parking lot and let the excellent hotel staff at Sandals Halycon Beach handle the rest.
Cocktails, food, and entertainment are all part of your all-inclusive St. Lucia honeymoon, and it's all top-notch. Take your pick from from six different dining options ranging from a sushi bar to an Italian.
A free shuttle will bring you to numerous locations nearby when you feel like you need a change of scenery. But you'll most likely spend much of your St. Lucia honeymoon taking in everything this popular resort offers.
St. Lucia honeymoon packages like this are curated for couples only, allowing you to relax at the pool or Vigie Beach with other newlyweds and seasoned lovebirds. Make new memories and meet new friends at one of St. Lucia's best all-inclusive honeymoon destinations.
Windjammer Landing Villa Beach Resort
Labrelotte Bay
$$
Best for Spending Your Time at the Pool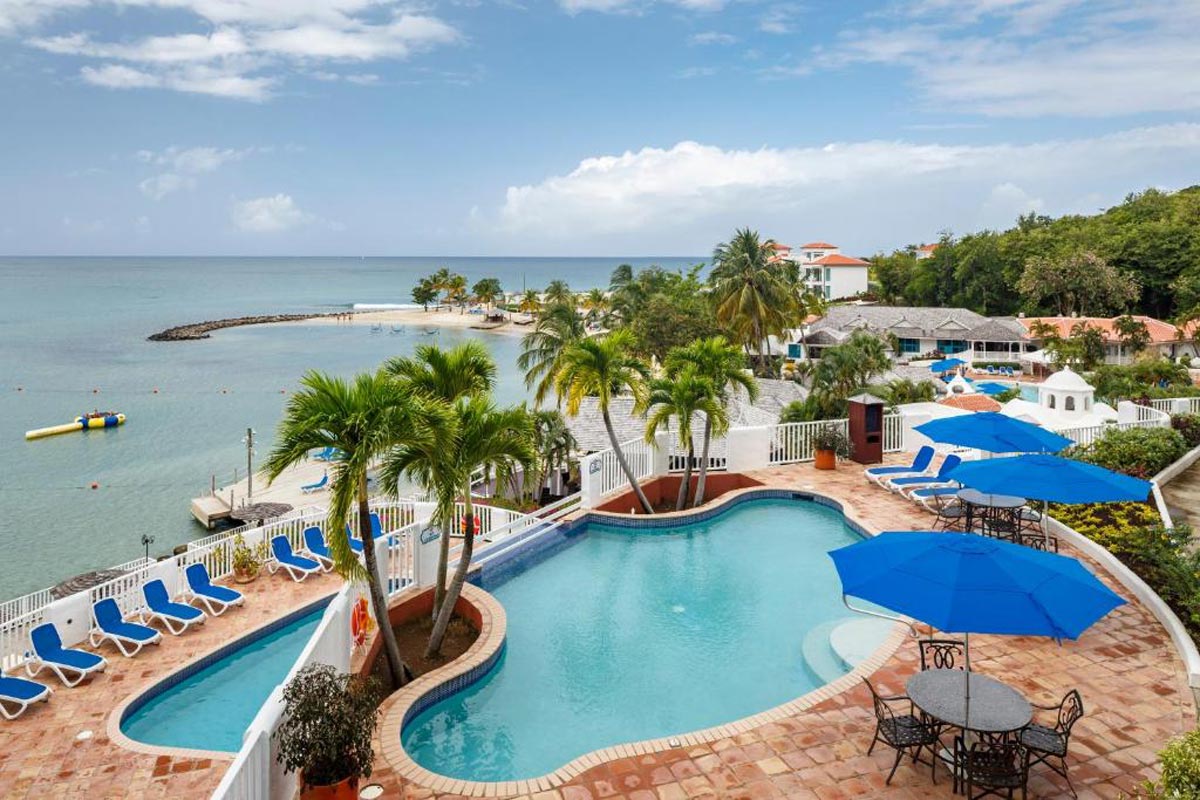 St. Lucia honeymoon resorts are often famous for their beaches and pools. Windjammer Landing goes above and beyond with an impressive six outdoor pools.
The standard villas at Windjammer Landing have Queen or Twin Beds, Wi-Fi, and ocean views. You can upgrade to an all-inclusive package or choose from luxury villas.
Want to level up? Make it the most memorable of St. Lucia honeymoons by booking one of the upgraded room options.
When you reserve a villa at Windjammer Landing, you can get a luxury experience with ocean vistas, multiple rooms, and the option of a private pool.

You can't do much better than a honeymoon in St. Lucia that includes lounging poolside while breathing the fresh Caribbean air outside your room.
Royalton Saint Lucia
Gros Islet
$$$
Best for Staying Active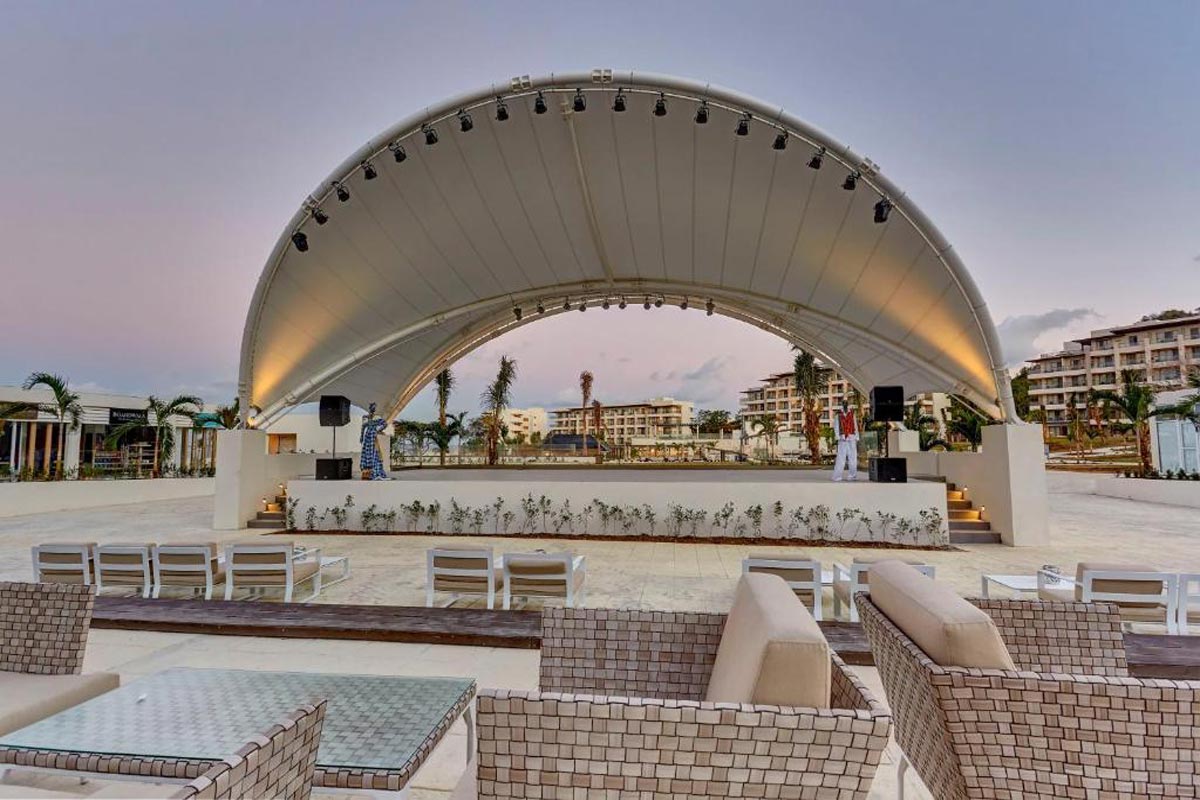 Want to keep on top of your fitness schedule while enjoying many of the comforts of a St. Lucia all-inclusive honeymoon? A stay at the Royalton St. Lucia should be on your list.
Choosing a St. Lucia all-inclusive resort honeymoon with just as many outdoor activities as buffet options gives you the best of both worlds. Who wouldn't love the idea of playing tennis, using the gym, or riding the complimentary bicycles to burn off the second pastry you reached for at breakfast?
But you'll also enjoy every minute of nightlife on your St. Lucia honeymoon with top-notch service at the hotel. Alternatively, take a short drive to the bustling Rodney Bay, where you can sample local cuisine and cocktails and participate in the famous Gors Islet street parties.
When you're ready for rest, turn into one of the large suites with king beds, Wi-Fi, and ocean views. You can even wake up to a patio that steps directly into the swimming pool for an extraordinary St. Lucia honeymoon all-inclusive experience.
Bay Gardens Hotel
Gros Islet
$
Best for Budget-Minded Honeymooners
Want to celebrate your St. Lucia honeymoon with a private terrace or balcony without breaking the bank? The Bay Gardens Hotel is an excellent choice.
One of the most economical options for a honeymoon in St. Lucia, you'll still enjoy every minute of your vacation in paradise.
Settle in to a relaxing retreat in one of the poolside rooms with free Wi-Fi, cable television, and an occasional cocktail party, compliments of the management staff.
Rooms have king beds, a refrigerator, and beautiful views of the outdoor pools. The rooms are spacious and charming, giving you a casual yet comfortable Caribbean living space.
If you're thinking of what to do in St. Lucia on your honeymoon, use the free shuttle to reach nearby beaches and spas. For couples who want to see St. Lucia for longer periods, this is a great option to cut back costs on accommodations.
St. Lucia Honeymoon Tips: What You Need to Know
How to Get to St. Lucia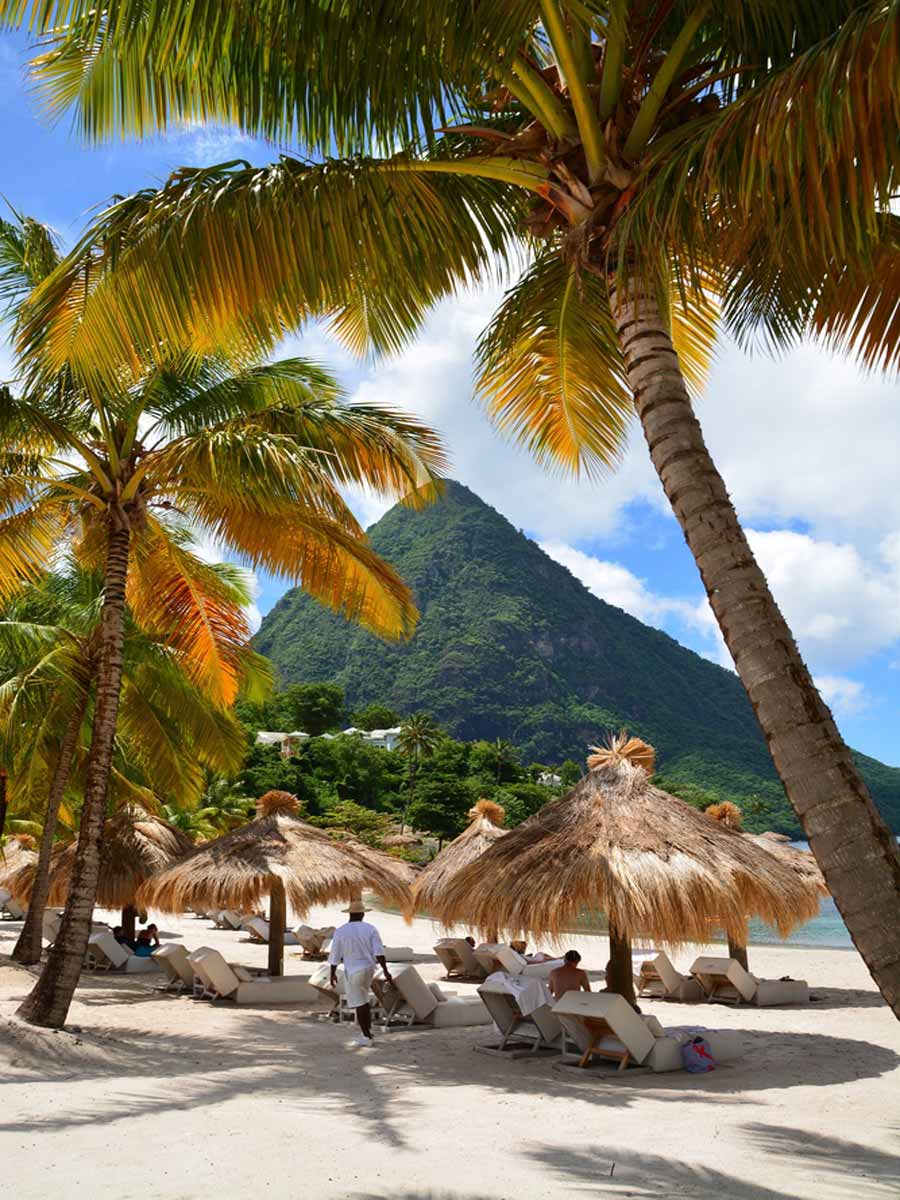 Now that you know where to stay, you may wonder how to get to St. Lucia (preferably as fast as possible). You can take a ferry from nearby Martinique, book a cruise, or fly from numerous international airports.
You can schedule a flight direct or connect from many cities worldwide to St. Lucia. The most common airport for international travelers is the Hewanorra International Airport (UVF), but there's also the George F.L. Charles Airport (SLU).
Rent a car or use a shuttle service to access the airport. But be aware that you must possess an International Driving Permit (IDP) to drive a vehicle while visiting St. Lucia.
The Best St. Lucia Honeymoon Destinations
The island is full of great activities and adventures for your St. Lucia honeymoon. Let's look at some of the best places to check out while you're there:
The Pitons
If you've ever received a postcard from St. Lucia, you've probably seen The Pitons. The volcanic mountains that meet the Caribbean Sea are something you cannot miss when traveling to the island.
Given the honor of being a UNESCO World Heritage Site, The Pitons are recognized worldwide as an extraordinary landmark.
Be sure to follow the rules and book a tour guide when hiking The Pitons. Because it is a steep and lengthy climb, and due to numerous endemic species (meaning they're only found here), you have to book on a group or private tour.
Pigeon Island National Park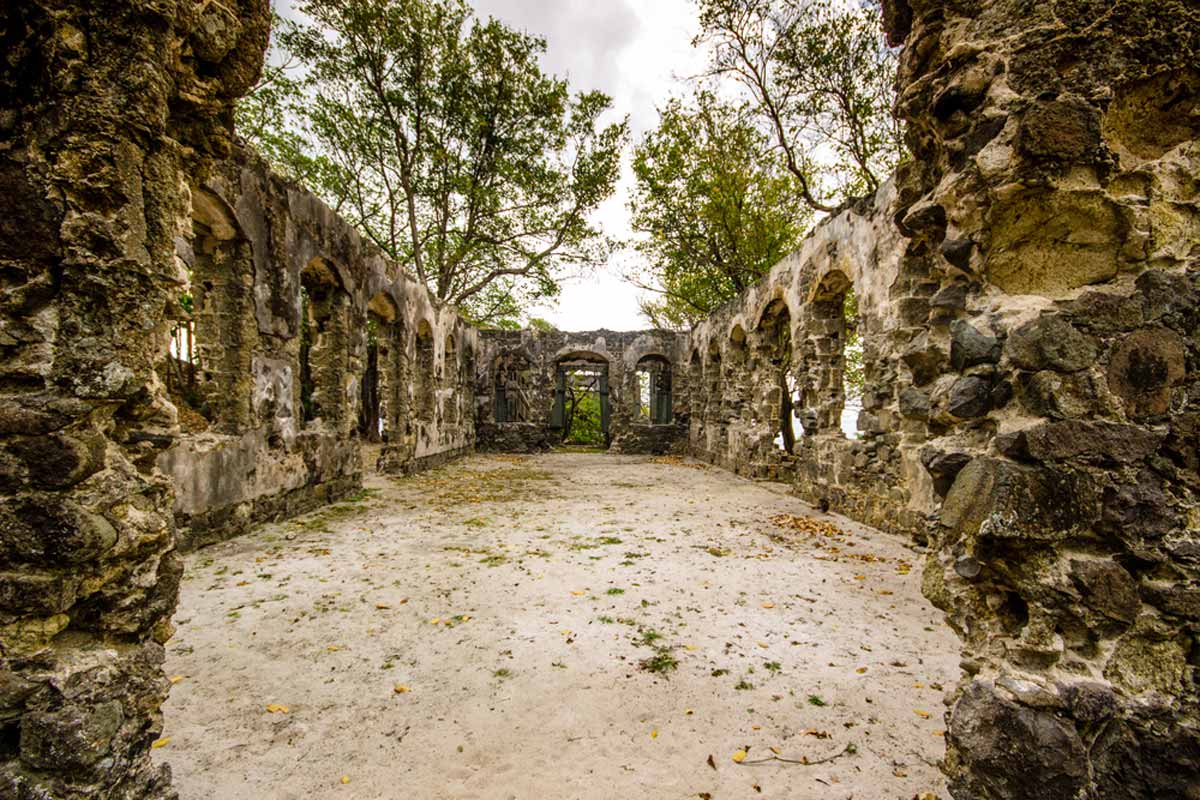 Ready for a full day of activities on your St. Lucia Honeymoon? Head out to Pigeon Island National Park. With something for everyone, the island can teach you a lesson in history, marine life, and music on the same day.
Home to the annual St. Lucia Jazz Festival, the island has a rich tradition of musical artists who have filled the ocean air with beautiful music each spring.
While the island hosts the music festival just once a year, you can enjoy the park's many attractions year-round . Hike through former military grounds, marvel at stunning coastal views, or snorkel from the shores below on your honeymoon in St. Lucia.
Lesleen M. Wreck
If you want to dive deeper than your snorkeling gear allows, you'll want to check out the Lesleen M. Wreck near Anse Chastanet Beach. It requires you to go over 60ft (18.28m) below the surface to see, but you'll be happy you did.
If you and your spouse want your St. Lucia honeymoons with a bit of adventure, what's better than exploring a relic sunken under the sea?
Do so to spot numerous sea creatures, with some divers reporting a rather giant eel that has made its presence known.
Anse Chastanet Beach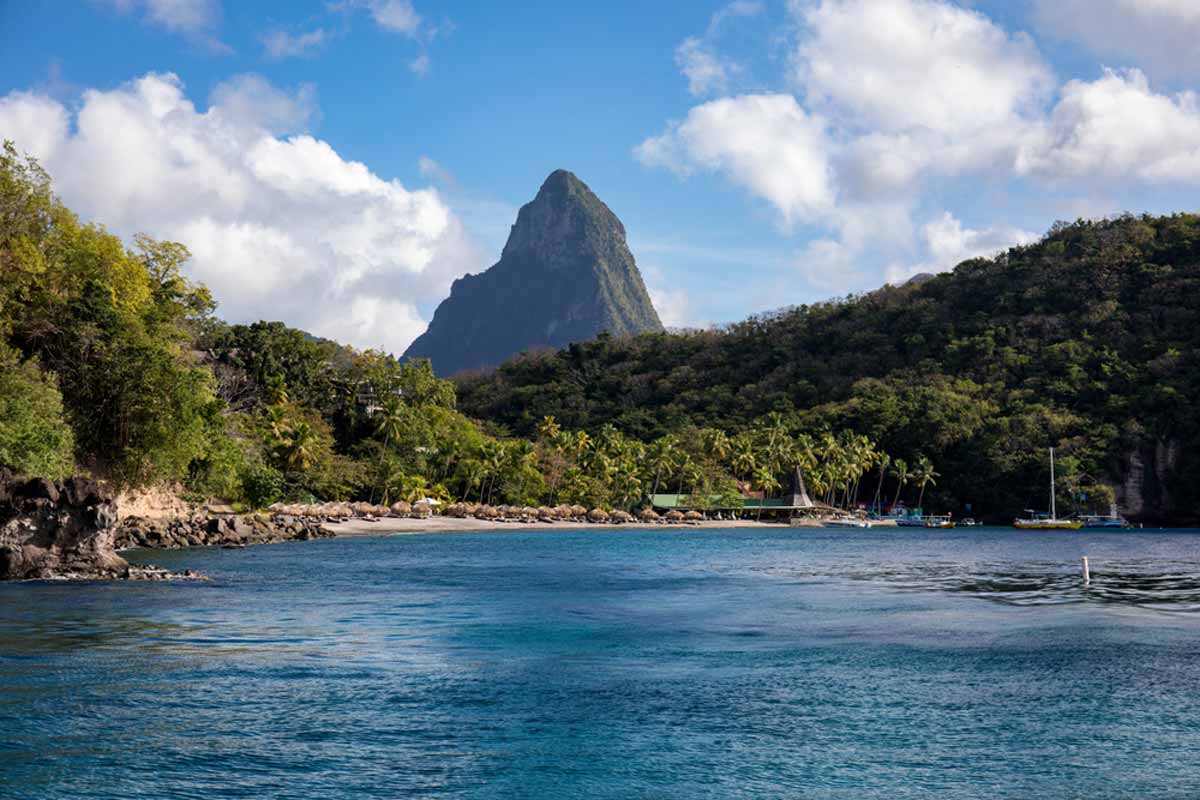 Do you want to experience one of the best St. Lucia spots for aquatic life but need more expertise or equipment before scuba diving? We understand, and the good news is St. Lucia is home to one of the best snorkeling spots in the Caribbean – Anse Chastanet Beach.
The same shores that lead you to the Lesleen M. Wreck also have excellent beachfront snorkeling. Parking and beach access are open to the public and provide some of the top snorkeling in St. Lucia.
Look for coral reefs that showcase stunning colors and some beautiful tropical fish. You may see the occasional crab or sea turtle, too.
Diamond Botanical Gardens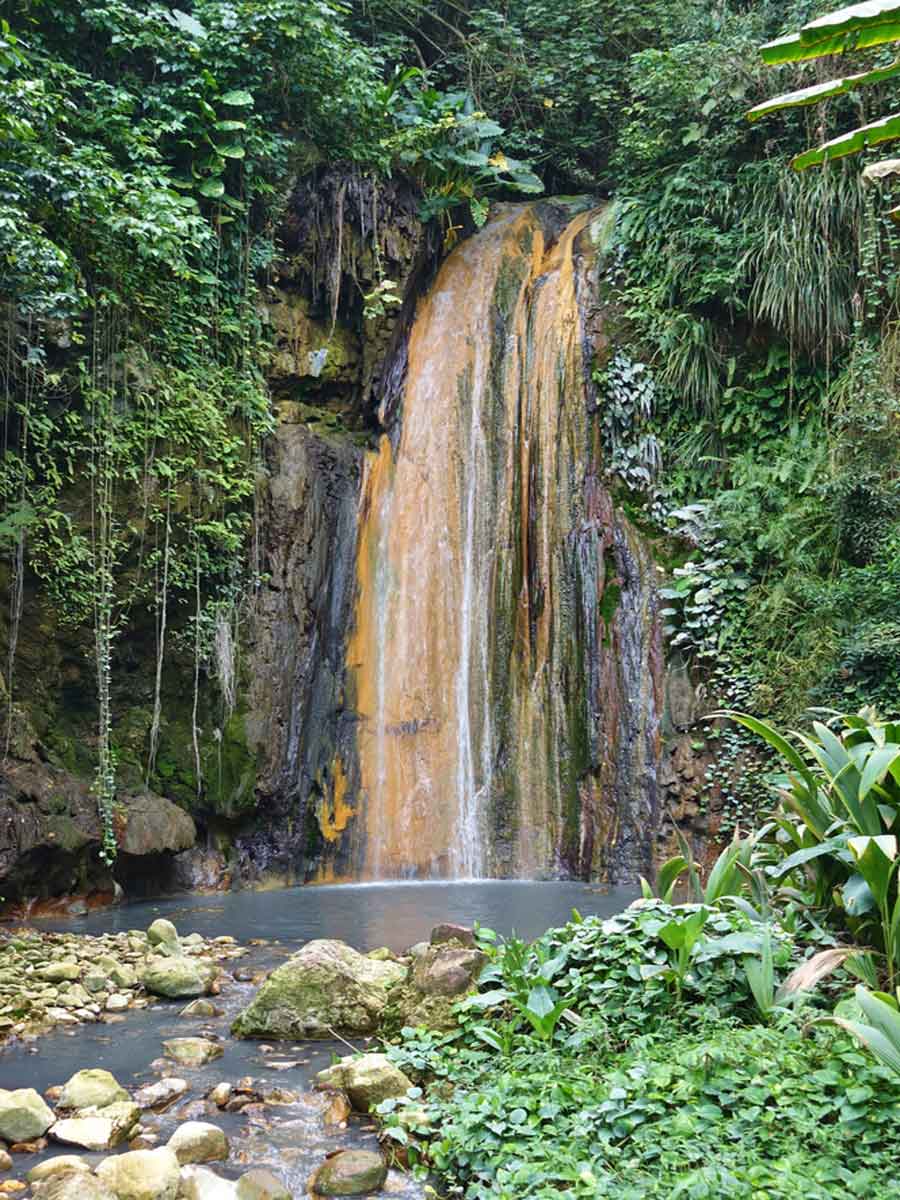 You can't plan a Caribbean honeymoon without hiking to see a waterfall. OK, you technically can, but we strongly recommend taking some time to see one of the most impressive sites on any Caribbean island at Diamond Botanical Gardens.
Here you'll catch a glimpse of the Diamond Waterfall. The water is rich with unique minerals from the volcanic rocks nearby, giving it an impressive variety of colors, depending on when you view it.
It's not the tallest waterfall you can see on your honeymoon in St. Lucia; that honor goes to the gorgeous Errand Falls (or Dennery Falls). But it is a can't-miss site that is uniquely St. Lucian.

You'll also see gorgeous wildlife, including well-kept gardens featuring beautiful tropical flowers and mineral baths.
The Best Time to Visit St. Lucia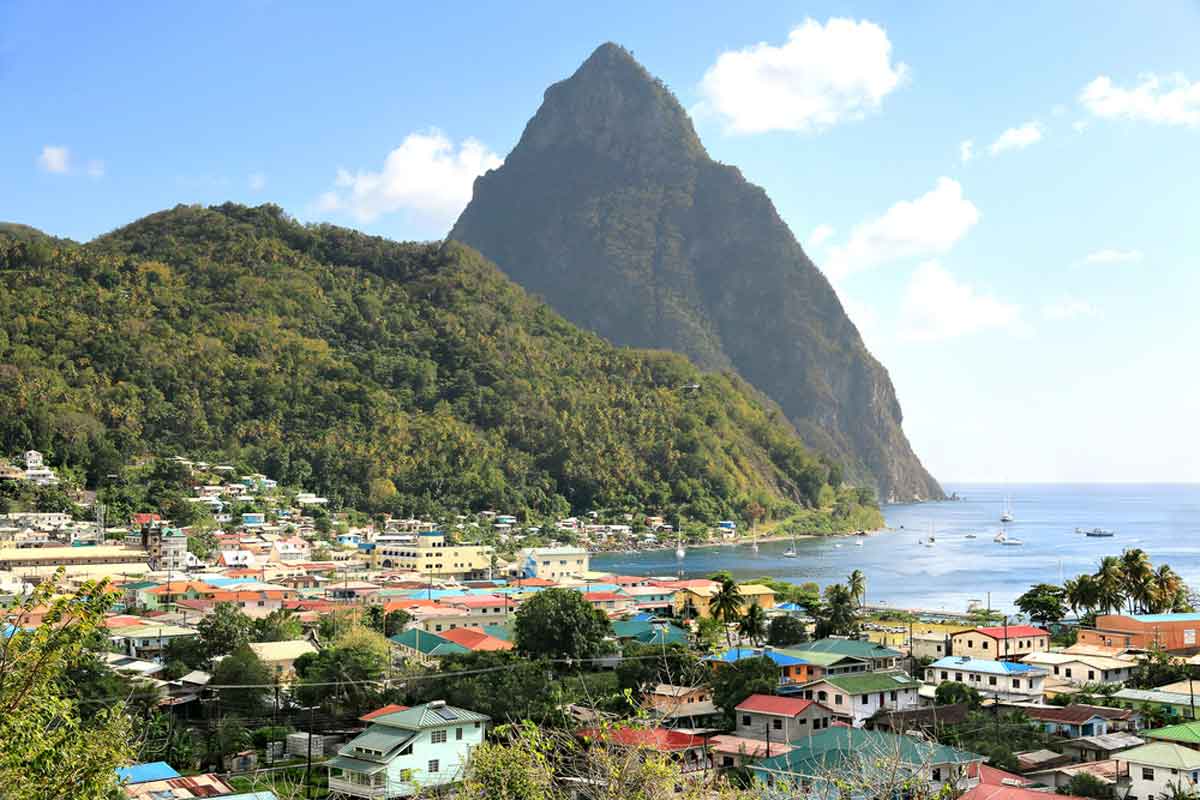 A honeymoon in St. Lucia is lovely most of the year. But the best months to plan a St. Lucia honeymoon are from December until May.
You'll miss hurricane season and have the best chance of seeing sunshine and warm temperatures throughout your stay.
How Long to Spend on Your St. Lucia Honeymoon
When deciding how long to plan your St. Lucia honeymoon for, it really comes down to how long you can afford to be there.
We want to dedicate months to experiencing the island and all its beauty. While that's more dream than reality, we recommend trying to stay at least 1-2 weeks.
How Much Does St. Lucia Honeymoon Cost?
A honeymoon in St. Lucia is hard to put a price on. It depends on how long you want to stay, what you plan to do, and which hotel you book. But hotels often range from $100-$665 per night before tax.
St Lucia Honeymoon Resorts: Map
Honeymoon in St. Lucia: Read Next