The Caribbean is a destination that's perfect for your honeymoon. White sand beaches, azure waters, and vibrant nightlife make it an ideal place to celebrate your marriage.
The Caribbean comprises 700 seemingly perfect islands – so narrowing it down to a dozen of the best locations to honeymoon may sound like a daunting task.
We've chosen the best islands for your tropical escape. So you can focus on packing your bags, sunscreen, and sandals and start dreaming of snorkeling or sunbathing on your Caribbean honeymoon.
Why Honeymoon in the Caribbean?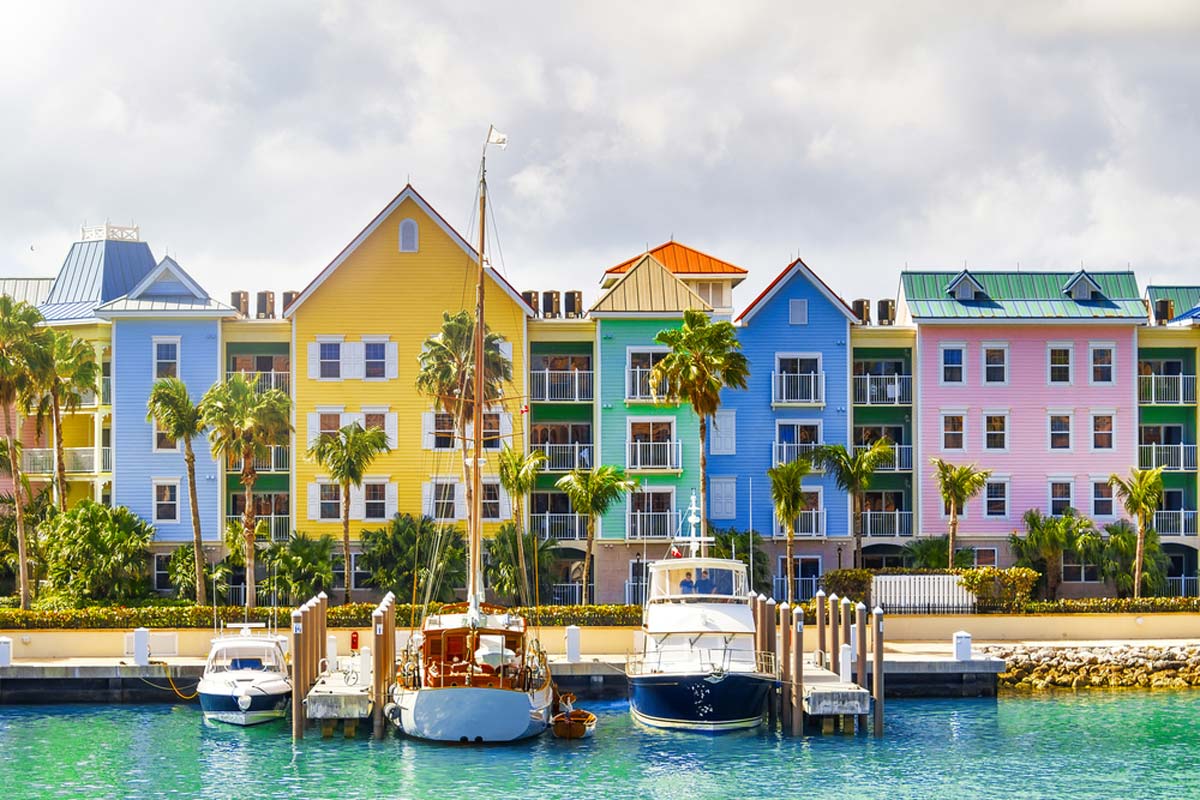 Why not honeymoon in the Caribbean is a better question. It's a cliche, but the Caribbean really does have something for everyone.
When considering the best Caribbean islands for a honeymoon, you'll need to decide what it is you're looking for.
Are you keen to soak up the sun on idyllic beaches every day, or are you keen to explore the underwater realm with several diving trips? How about taking an epic hike? Or eating your way around island specialties?
Choosing the right Caribbean honeymoon destination will ensure that you can explore and adventure in whichever way you want (or not at all if that's your wish) to your heart's content.
These are the top islands to consider.
Best Caribbean Honeymoon Destinations
Saint John, U.S. Virgin Islands
Best Caribbean Honeymoon for Leaving Your Troubles Behind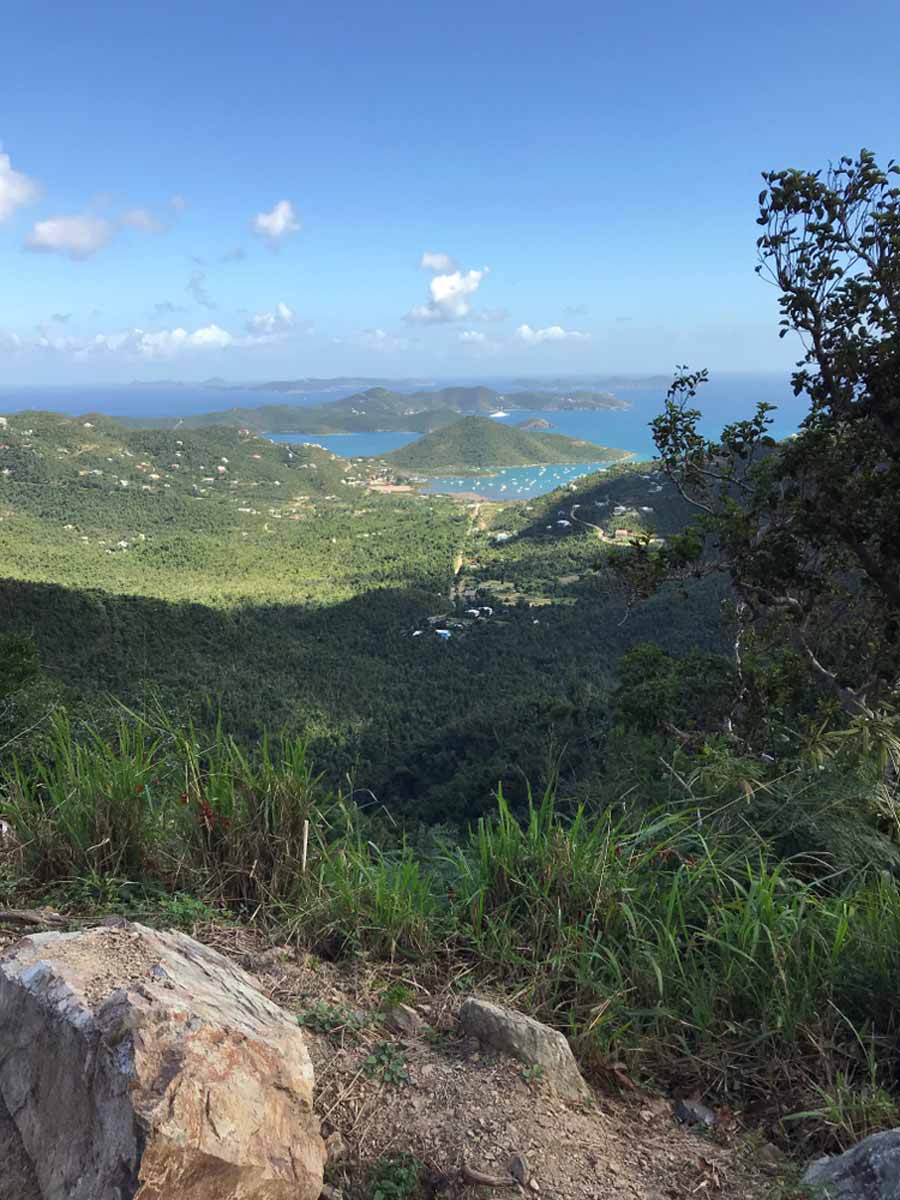 Why is St. John a great location to escape to?
Over 60% of the island is dedicated to national parks, and you can only access the island by ferry or personal watercraft, leaving much of the land untouched.
Abundant nature makes Saint John an outdoor lover's dream destination and will give you peaceful opportunities for hiking, diving, and enjoying the incredible nature around you.
Drive out to the beautiful Francis Bay to enjoy some of the best snorkeling on the island on one of the most incredible beaches in the Caribbean. You're likely to spot tropical fish, stingrays, and maybe even a sea turtle.
Top Attractions
Virgin Islands National Park makes up over half the island. Hiking the Reef Bay Trail, observing ancient Taino petroglyphs, or camping near the beach are all can't-miss activities.
Maho Bay lets you snorkel with Green Sea Turtles in their natural habitat. You'll have the opportunity to see a lot of them.
Try Lind Point Trail to Honeymoon Beach. You'll take a stroll that leads you to one of the U.S. Virgin Island's unparalleled beaches.
Suggested Honeymoon Duration: 7-10 days
Suggested Stay: The Westin St. John Resort Villas
St. Lucia
Best Honeymoon for Couples Who Want Adventure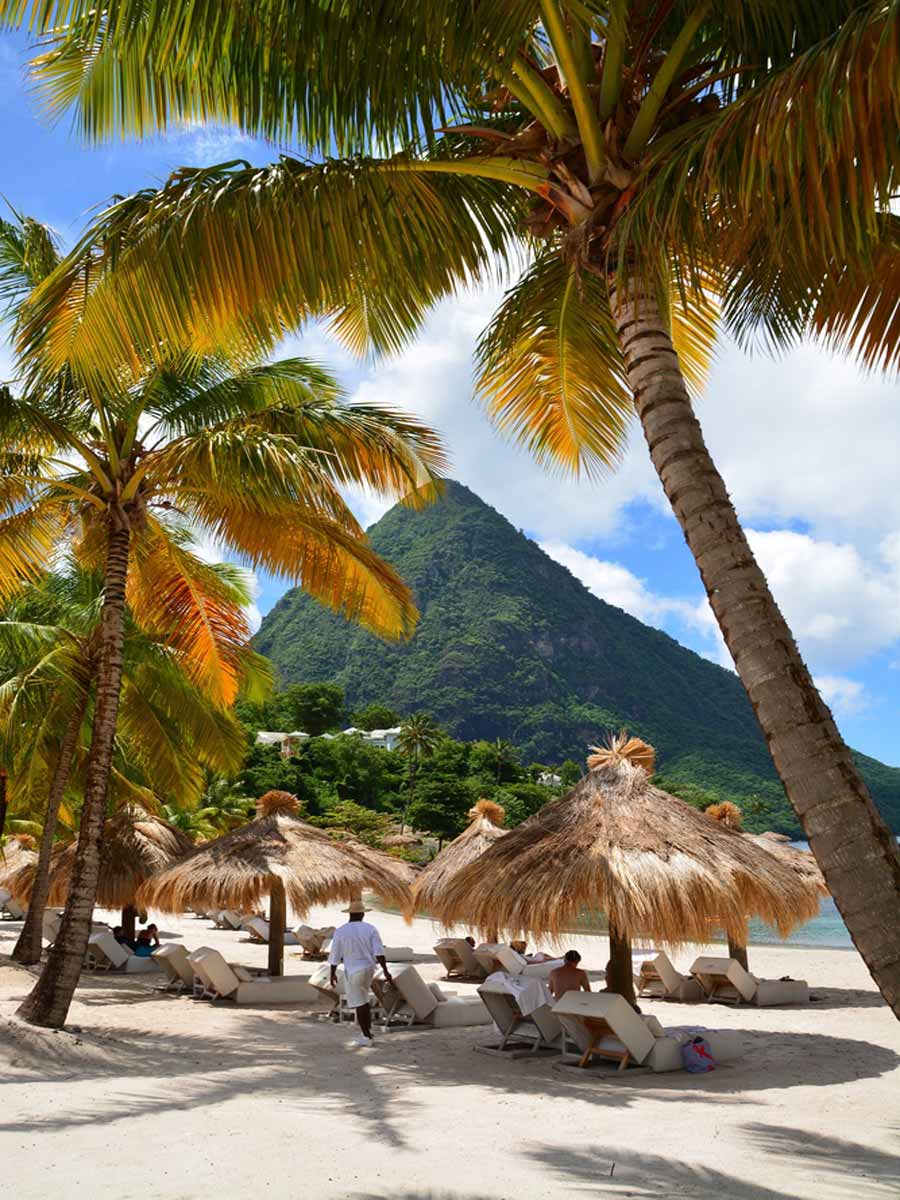 A Caribbean honeymoon is about having a great time. And when planning your vacation, you'll want to consider St. Lucia if adventure and excitement are your things.
A short flight from most Caribbean honeymoon destinations, St. Lucia has a unique vibe. Mountains, volcanoes, jungle, and coral reefs teeming with colorful tropical fish make up the island's natural beauty.
Enjoy the incredible biodiversity of St. Lucia by hiking, snorkeling, or scuba diving. And when you're done enjoying the great outdoors, head into town to experience one of the island's famous "jump-ups" or enjoy dining and dancing in Rodney Village Bay.
St. Lucia is full of surprises, which makes it a location we think is one of the best Caribbean honeymoon destinations for adventurous couples.
Top Attractions
The Pitons are two volcanic mountains that lie between the land and the sea. Lush tropical plant life, wildlife species you can only find here, and natural hot springs and waterfalls define The Pitons.
Pigeon Island National Landmark is home to any activity you can imagine. You can snorkel, hike to unmatched views or attend an annual jazz festival.
The Lesleen M Wreck should be on your itinerary if you like scuba diving and exploring shipwrecks. Although a little spooky to some, exploring a sunken ship should be top of your list.
Suggested Honeymoon Duration:1-2 weeks
Suggested Stay: Cap Maison Resort & Spa
Jamaica
Best Caribbean Island for a Honeymoon in the Winter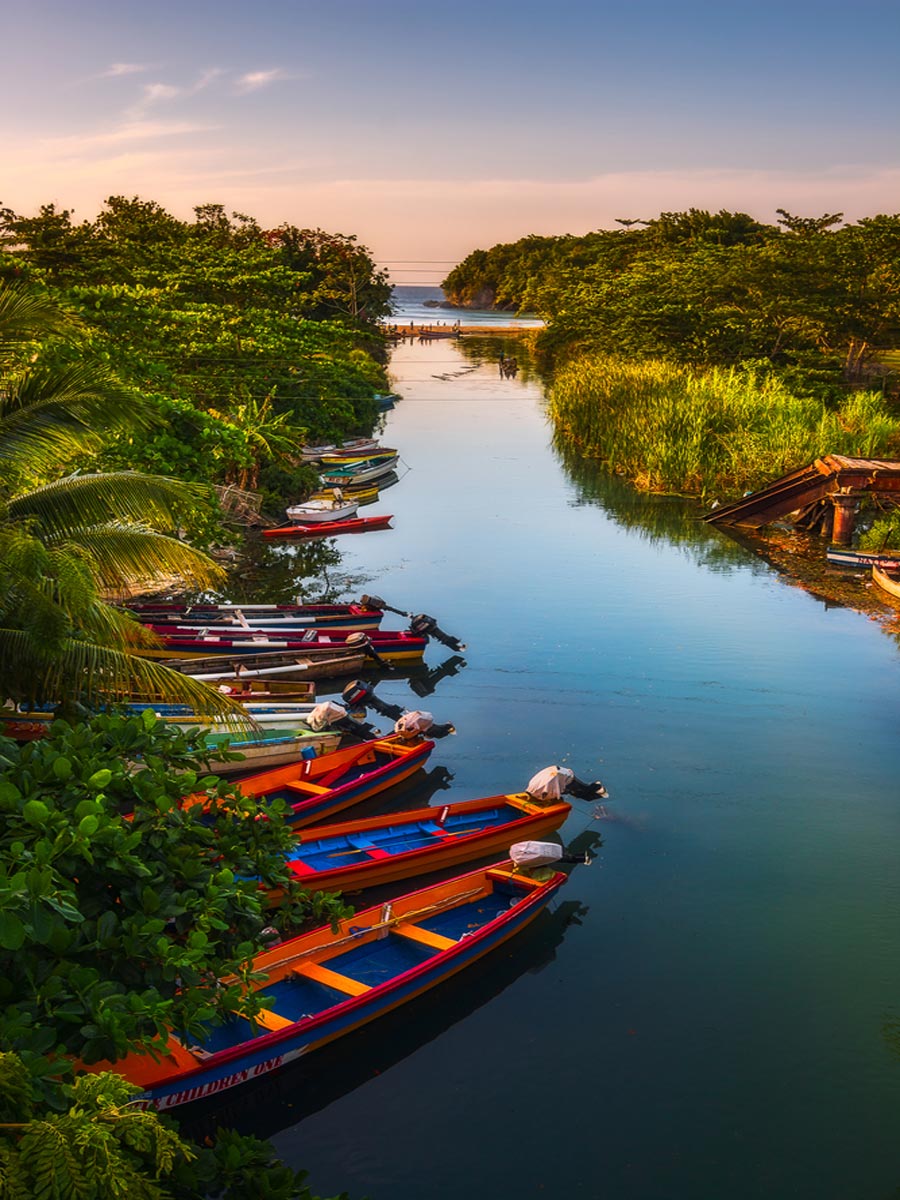 By January, you may be tired of dreary gray clouds, cold rain puddles, and snow piles.
The waterfalls, beaches, and world-famous music scene make Jamaica an excellent Caribbean honeymoon destination. And it is one of our favorite destinations for winter travel.
Want to warm your soul with delicious food and drink? The island's Blue Mountain Coffee, Jerk Chicken, and pot still rum will transport you to paradise with their unique flavors, all representative of Jamaica.
Any honeymoon in the Caribbean islands sounds excellent in the winter (sign us up). But dancing to roots or dancehall on the beach in the birthplace of reggae can make you forget all your cold weather blues.
Top Attractions
Blue Hole is a can't-miss swimming and cliff-jumping spot in Ocho Rios. You'll have access to the gorgeous pool at the bottom of a waterfall to swim and explore.
Dunn's River Falls & Park is likely the most well-known waterfall in Jamaica (but who's counting?) Get your best pair of shoes and hike the roughly 90-minute trek to the impressive 180ft (56.86m) falls.
Visit the Bob Marley Museum, learn about Jamaica's most famous musician, and see important items from his past.
Suggested Honeymoon Duration: 5-10 days
Suggested Stay: S Hotel Jamaica
Aruba
Best Places to Honeymoon in the Caribbean for Windsurfing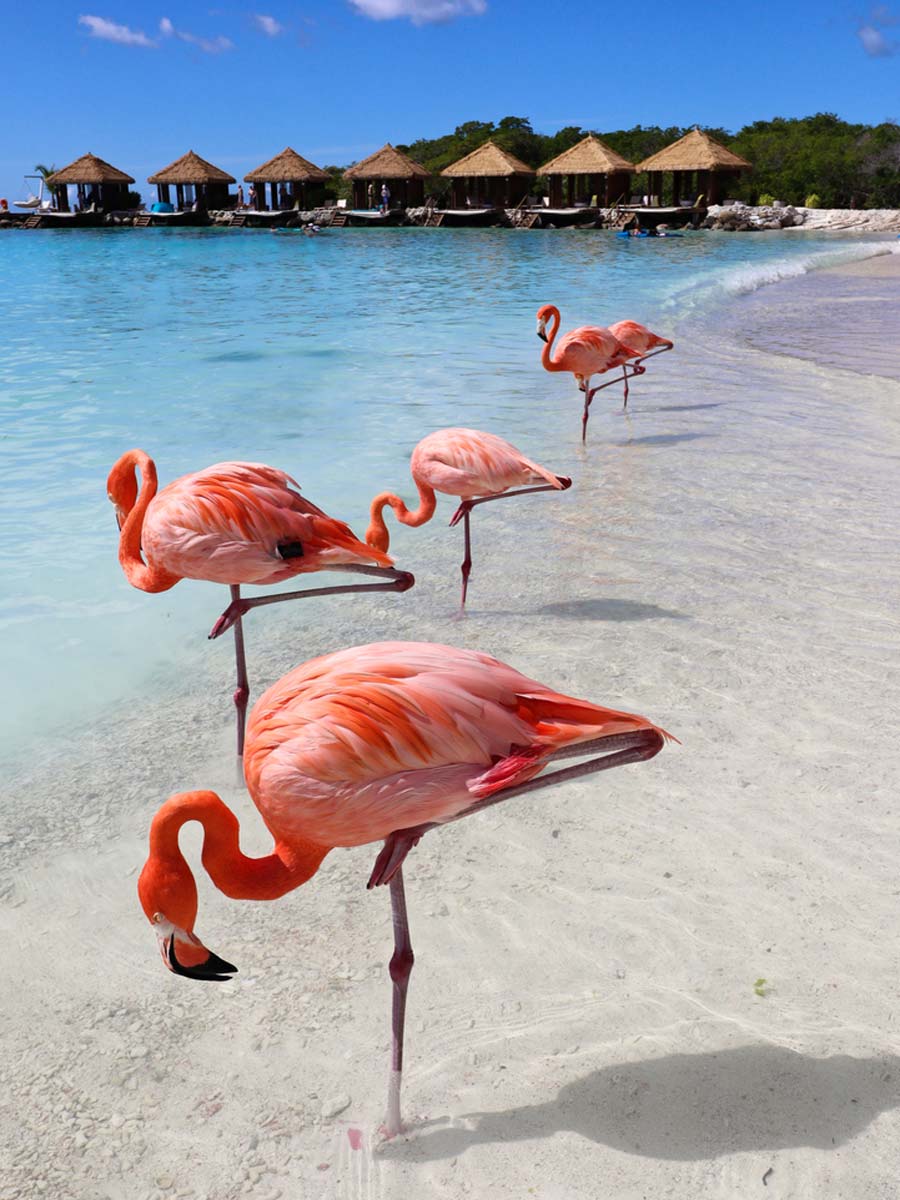 We love to travel and adventure and also chill at the beach. Aruba provides all that and more.
With impeccable white sand beaches, mesmerizing blue waters, and moderate to high winds, this is a destination for people who love to play in the water.
Don't worry; if you discover you don't like the ocean, you can still have fun. Aruba does offer more than just sand and sun.
But if you and your partner love to windsurf, sail, or fish (what better time to learn than now?) Aruba is a Caribbean honeymoon destination for you.
Top Attractions
Malmok Beach has clear blue water, great swimming conditions, and excellent windsurfing when conditions are right (wind is usually not lacking here).
Take a drive on an ATV to the Natural Pool and jump into the turquoise water.
Visit Palm Beach for one of the best sailboat spots in the Caribbean.
Suggested Honeymoon Duration: 3-5 days
Suggested Stay: Bucuti & Tara Boutique Beach Resort
Barbados
Best Honeymoon for Stunning Beaches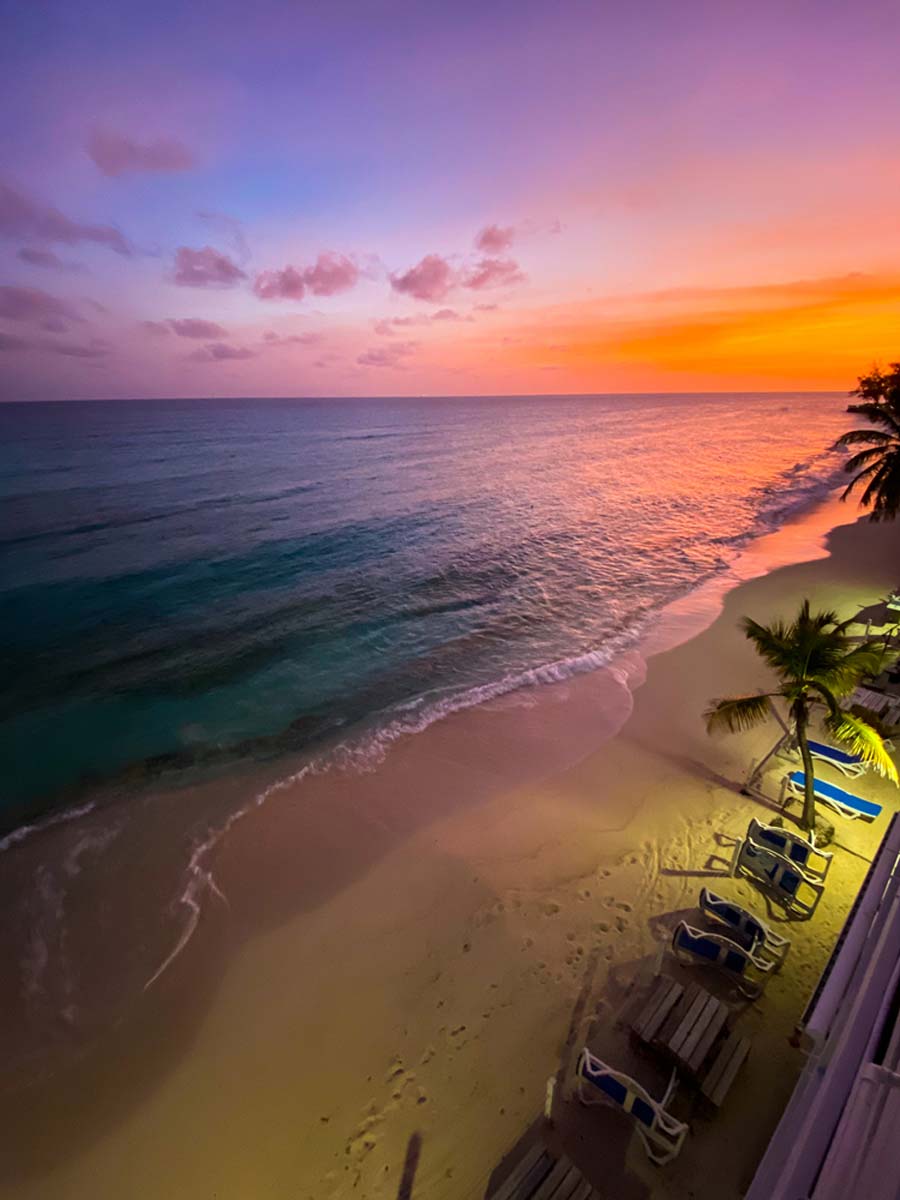 If your idea of a honeymoon includes adventure, outdoors, and many beaches, try Barbados.
You'll enjoy beautiful white sands, coastal hiking, delicious cuisine, and bars and restaurants on the beach.

Try the flying fish, fish cakes, and other delectable seafood caught just off the shores.
From some of the best luxury honeymoon resorts in the Caribbean on the West side to the surf-friendly beaches down south, You'll have plenty of fun in the sun and sand in Barbados.
Top Attractions
Dover Beach is a great spot to learn how to surf with your spouse.
Shark Hole (don't worry, there are no sharks here) is great for taking a dip at a somewhat less crowded location.
Visit Animal Flower Cave and take in the natural beauty of Northern Barbados. You may even see whales.
Suggested Honeymoon Duration: 10-14 days
Suggested Stay: The Sandpiper
Anguilla
Best Island for a Luxury Getaway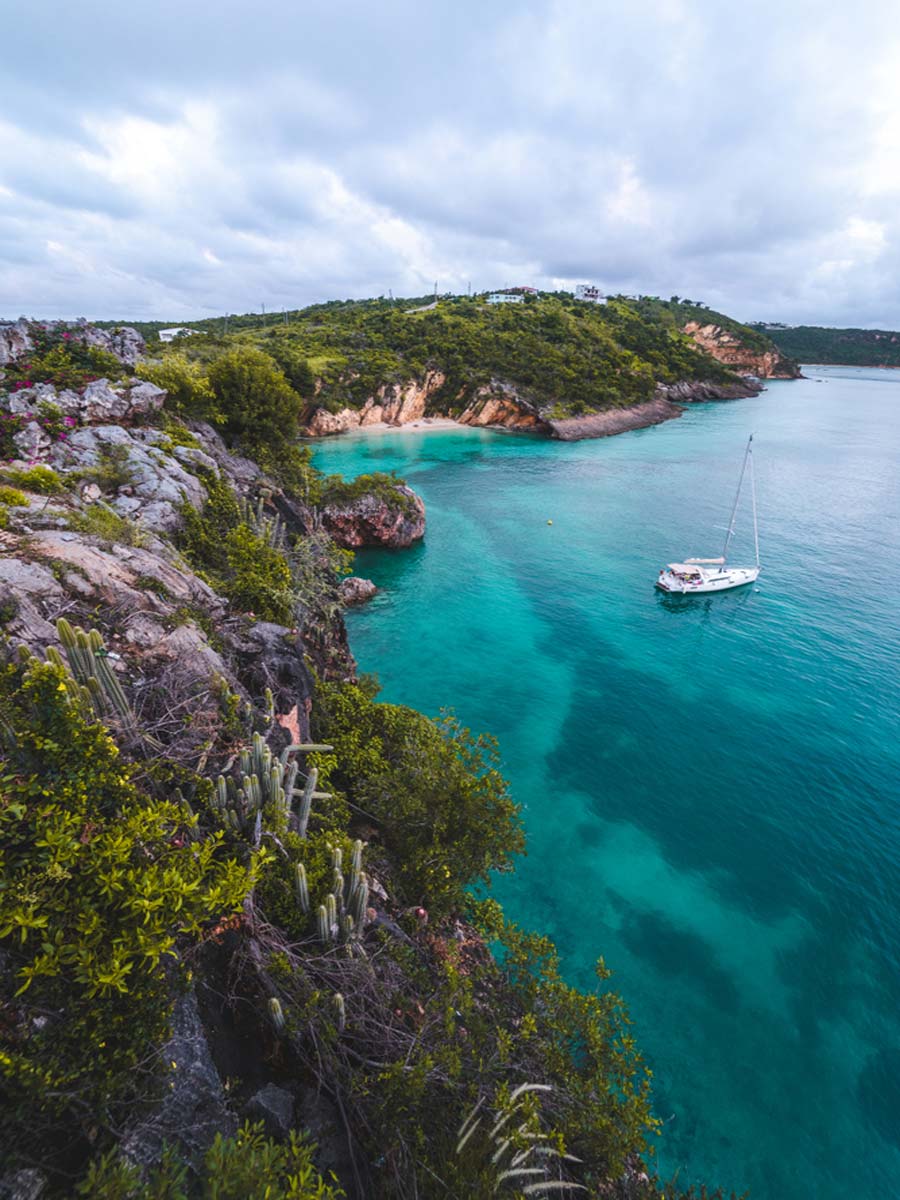 Anguilla is a smaller island renowned for its beaches, food, and high-end resorts. What better time to check out one of its incredible hotels than on your honeymoon?
Relax, wine, and dine while enjoying everything the island offers.
Whether you want to golf or hang out at the poolside of your hotel, Anguilla boasts world-class resorts and beaches.
You'll also find golfing, boating, and swimming to keep you entertained.
Top Attractions
Maundays bay is a famous beach perfect for a lazy day with your loved one.
Go underground and observe ancient petroglyphs at Fountain Cavern National Park.
Barnes Bay has fewer crowds and good conditions for snorkeling.
Suggested Honeymoon Duration: 7 days
Suggested Stay: Four Seasons Resort and Residences Anguilla
Grand Cayman Island
Best Caribbean Honeymoon for a Car-Free Vacation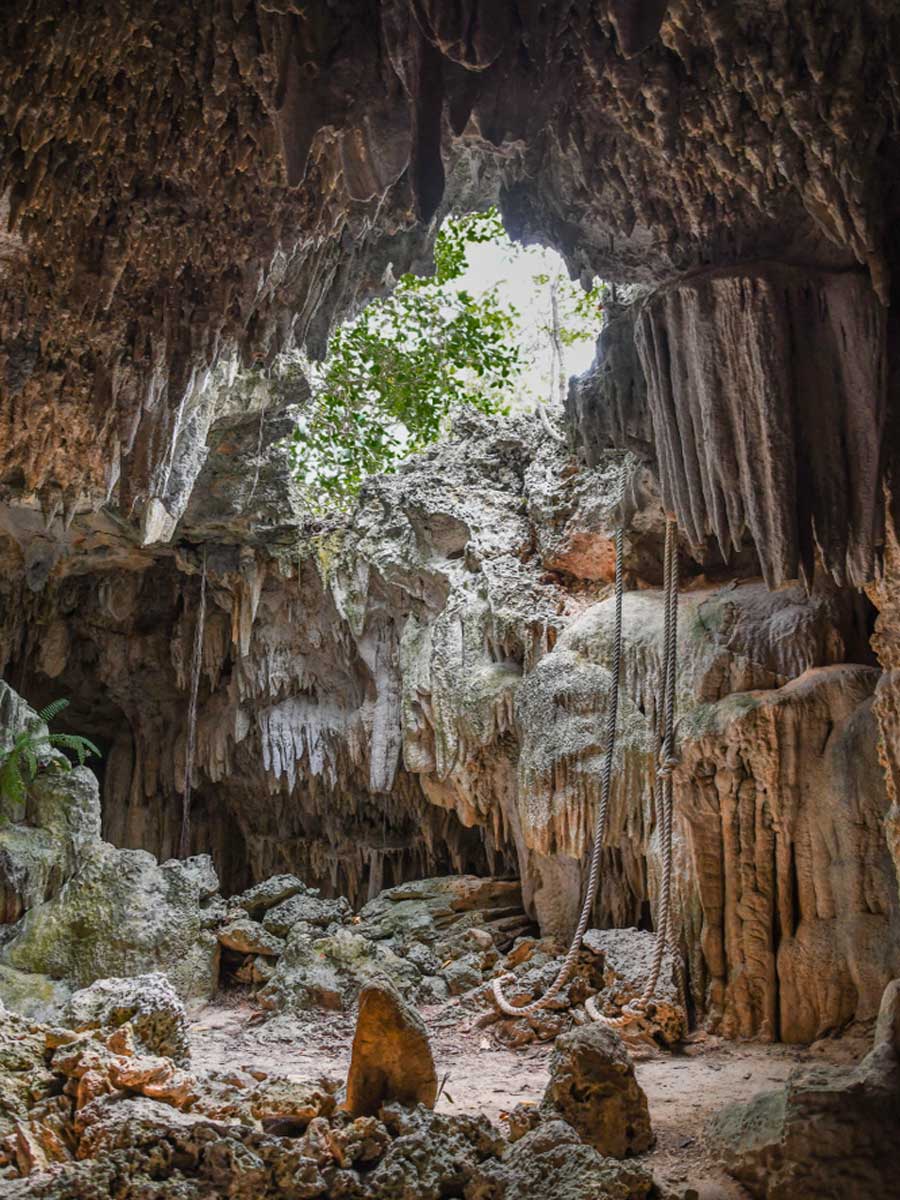 Traveling is a lot of fun, and having a vehicle can open up opportunities for new adventures.
But doesn't a honeymoon without the stress of parking and pumping gas sound even better?
While many people recommend renting a car here to see other areas of the island, we think a honeymoon along Seven Mile Beach is perfect.
There's a lot to see on Grand Cayman, but the high-end hotels, shopping, and white sands that cover Seven Mile beach will give you more than enough to do by foot on your honeymoon. Enjoy snorkeling on private beaches or sunset buffets without leaving your hotel.
Top Attractions
Swim with rays at Stingray City
Governor's Beach waters are clear and calm, and you'll see numerous fish while snorkeling here.
Walk or bicycle around Seven Mile Beach and marvel at the luxurious all-inclusive Caribbean honeymoon hotspots.
Suggested Honeymoon Duration: 3-5 days
Suggested Stay: The Ritz-Carlton, Grand Cayman
Dominican Republic
Best Honeymoon Spots in the Caribbean for Longer Stays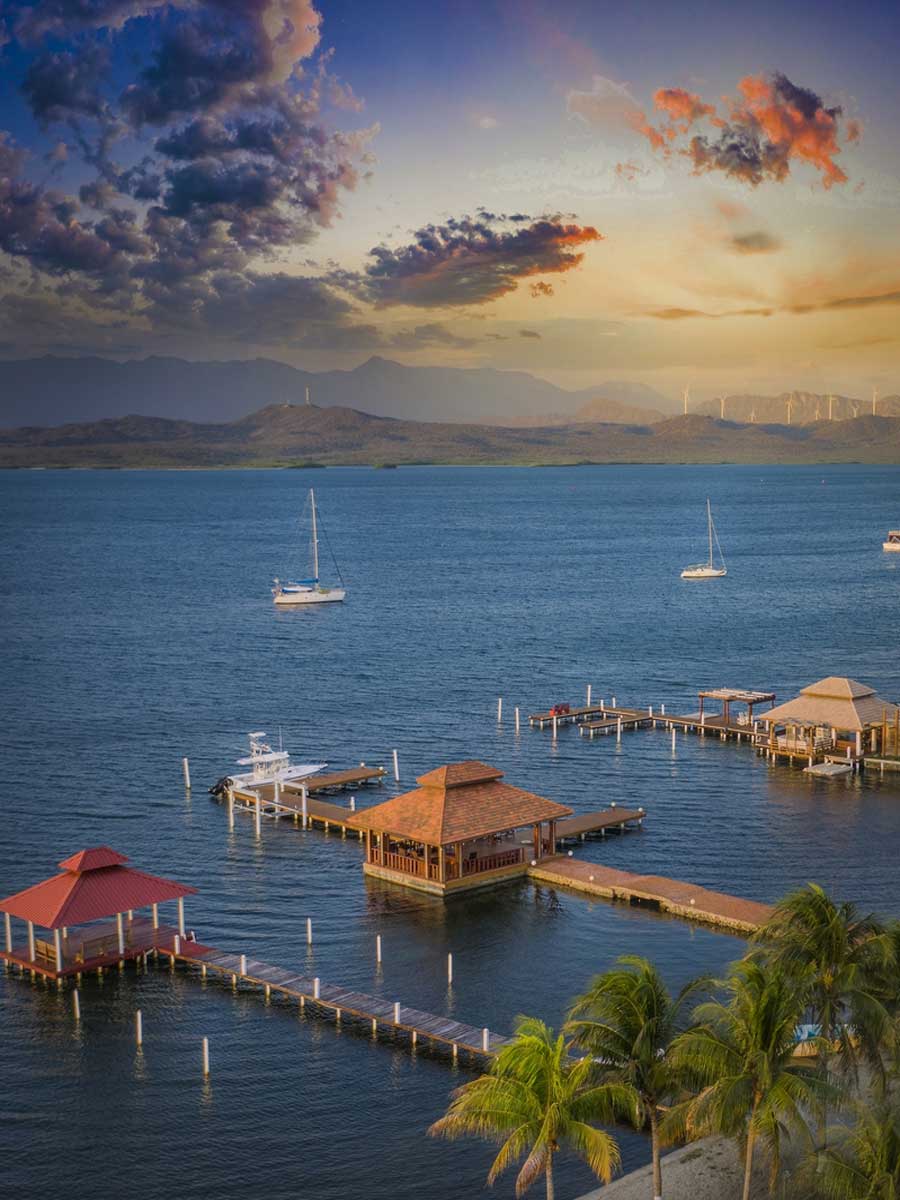 If you're planning on turning your honeymoon into a retirement party (as in… you'll never want to leave), we suggest the Dominican Republic as a destination to consider.
We could spend weeks or even years in the Dominican Republic and not even begin to feel ready to jet back home.
Enjoy epic hikes with waterfalls like Emerald Pool Falls and endless beaches that offer numerous activities, from kayaking to deep-sea fishing.
The nightlife in the Dominican Republic is perfect for celebrating your Caribbean honeymoon. Whether you go to Punta Cana or stay at your all-inclusive, you'll enjoy fantastic food, cocktails, and music.
Top Attractions
27 Waterfalls of Damajagua are a great way to spend the afternoon hiking or cliff jumping.
Santo Domingo is the oldest modern city in the Caribbean and remains vibrant and impressive. Check out a museum or cafe, or marvel at the centuries-old architecture.
Punta Cana is a hub for all-inclusive resorts that feature snorkeling, golf, and wonderful beaches.
Suggested Honeymoon Duration: 2+ weeks
Suggested Stay: Bahia Principe el Portillo
Bonaire
Best for a scuba-diving honeymoon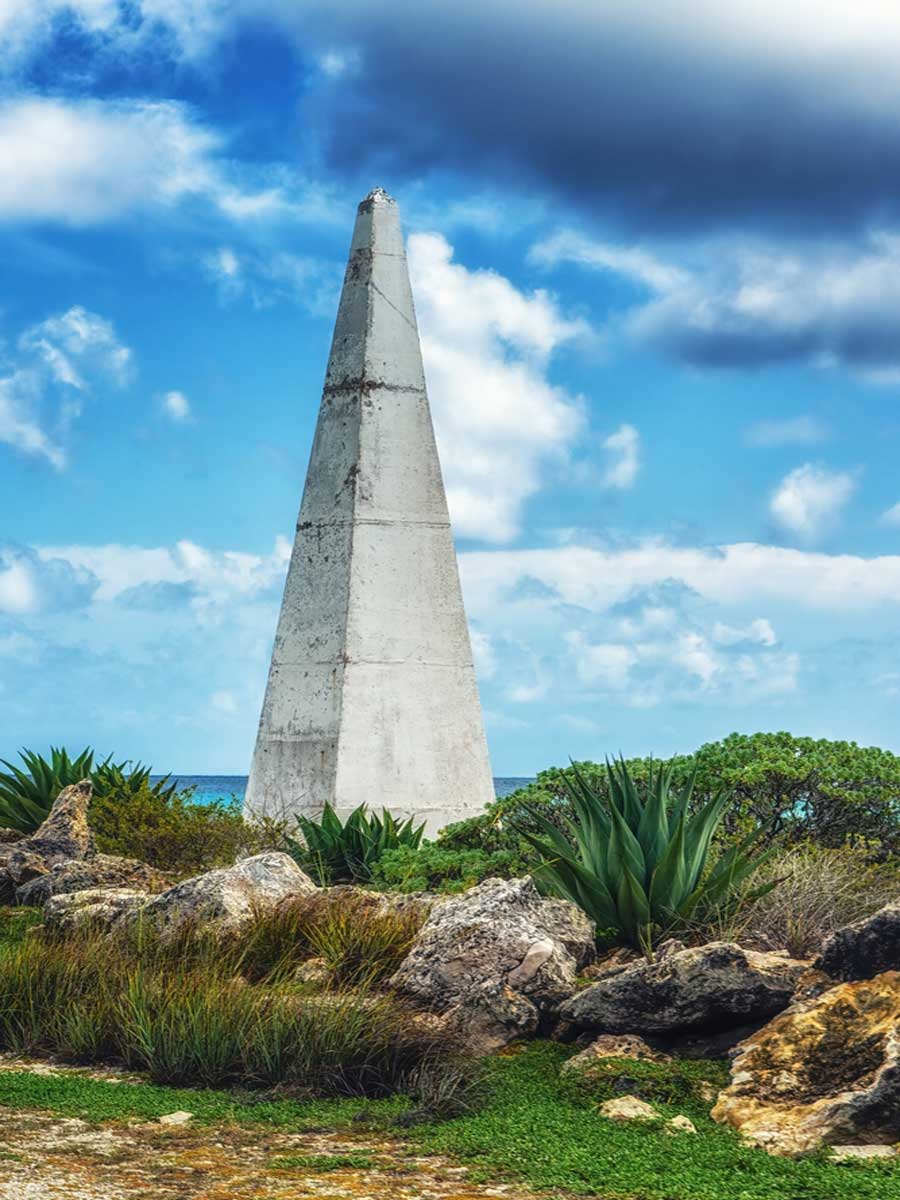 Nothing conjures up romance like the pristine waters of the Caribbean sea.
So if you and your partner want to allow your marriage to begin blossoming underwater, you'll want to consider Bonaire.
If you have only a few days and are snorkeling and scuba diving buffs (or want to learn to be), Bonaire should be a top Caribbean honeymoon destination.
Dive among the best coral reefs you'll find anywhere and some of the calmest waters in the Caribbean.
Top Attractions
1,000 steps is a popular spot for both scuba divers and snorkelers. You'll have access to a coral reef, numerous aquatic species, and picture-perfect conditions.
Klein Bonaire is close to the main island, and you can charter out to enjoy pristine scuba diving with a jaw-dropping number of tropical fish.
Go to Pekelmeer Flamingo Sanctuary and observe the pink salt flats and matching birds.
Suggested Honeymoon Duration: 5-7 days
Suggested Stay: The Bellafonte – Luxury Oceanfront Hotel
Cuba
Best Honeymoon for History Lovers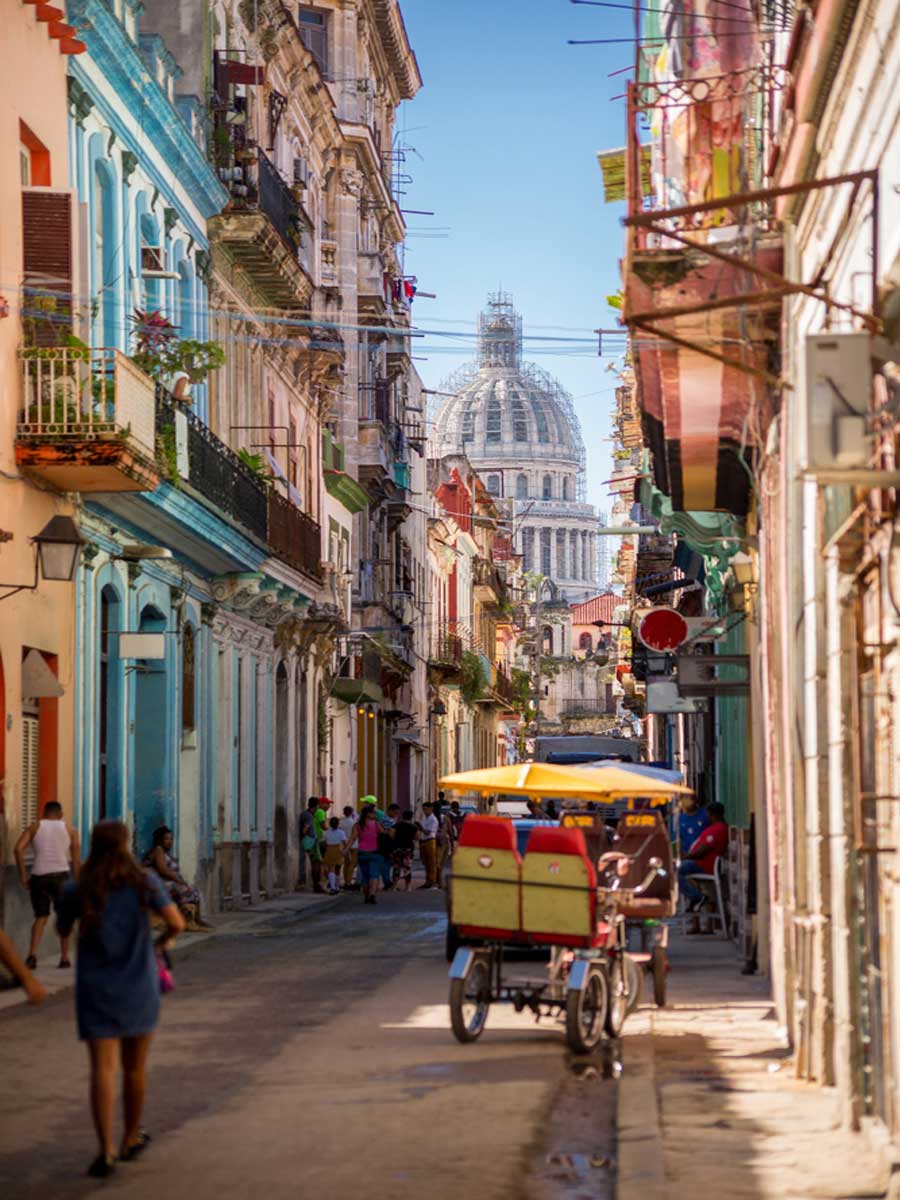 If sand, water, and sun aren't the focus of your dream vacation, that's ok.
Not everyone's idea of the perfect Caribbean honeymoon involves snorkeling and sailing.
You can do those things in Cuba too, but if you want to dig deeper and get a glimpse into one of the most well-known islands in the world, you'll want to honeymoon here.
Brimming with culture, Cuba is a must if you want to immerse yourself into a vibrant destination with lots to see and do. Admire colorful historic buildings and classic cars. Then visit legendary hotels, bars, and restaurants.
Top Attractions
Go to the Museu Nacional de Belas Artes de Cuba and find some wonderful Cuban art.
Finca Vigía, or Ernest Hemingway's Cuban residence and now a museum, is worth a visit.
Suggested Honeymoon Duration: 5-7 days
Suggested Stay: Hotel Nacional de Cuba
St. Kitts
Best Honeymoon Island in the Caribbean You Haven't Heard Of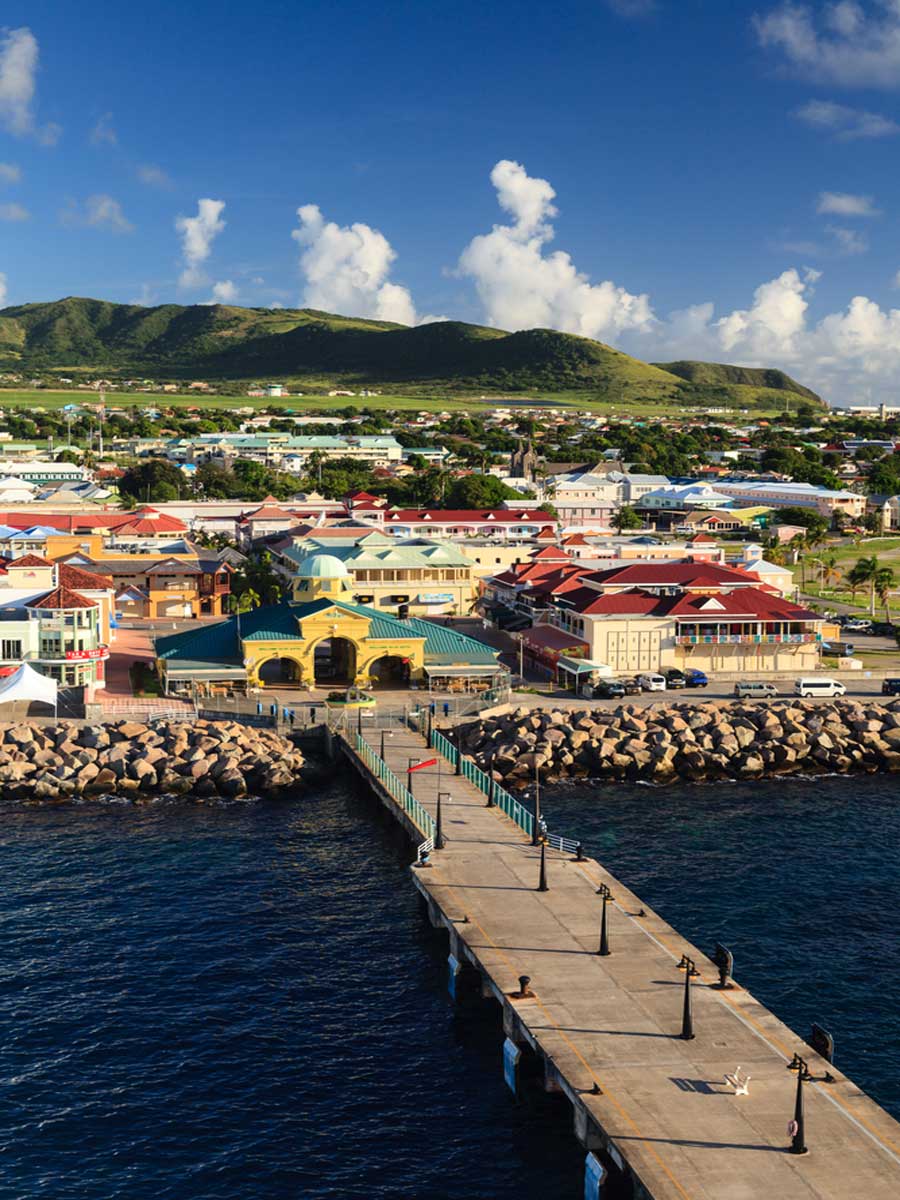 St. Kitts and Nevis are under-the-radar spots offering the best of the Caribbean.
We love Nevis but were excited when we found out about the charming scenic railway and epic hiking on nearby St. Kitts.
St. Kitts has beautiful beaches ideal for your favorite water activities.
But if your Caribbean honeymoon requires more adventure, try hiking, as the island has mountains as high as 4,000ft (1219.2m).
Top Attractions
St. Kitts Scenic Railway is a great way to see the island while taking a relaxing ride.
Visit the Central Forest Reserve National Park. The large protected area features amazing hikes like the challenging Mount Liamuiga. But don't worry; there are hikes for all skill levels here.
The Circus is a historic town square and home to popular local events.
Suggested Honeymoon Duration: 1 week
Suggested Stay: Sunset Reef St. Kitts
Cozumel, Mexico
Best Caribbean Honeymoon Vacations in Mexico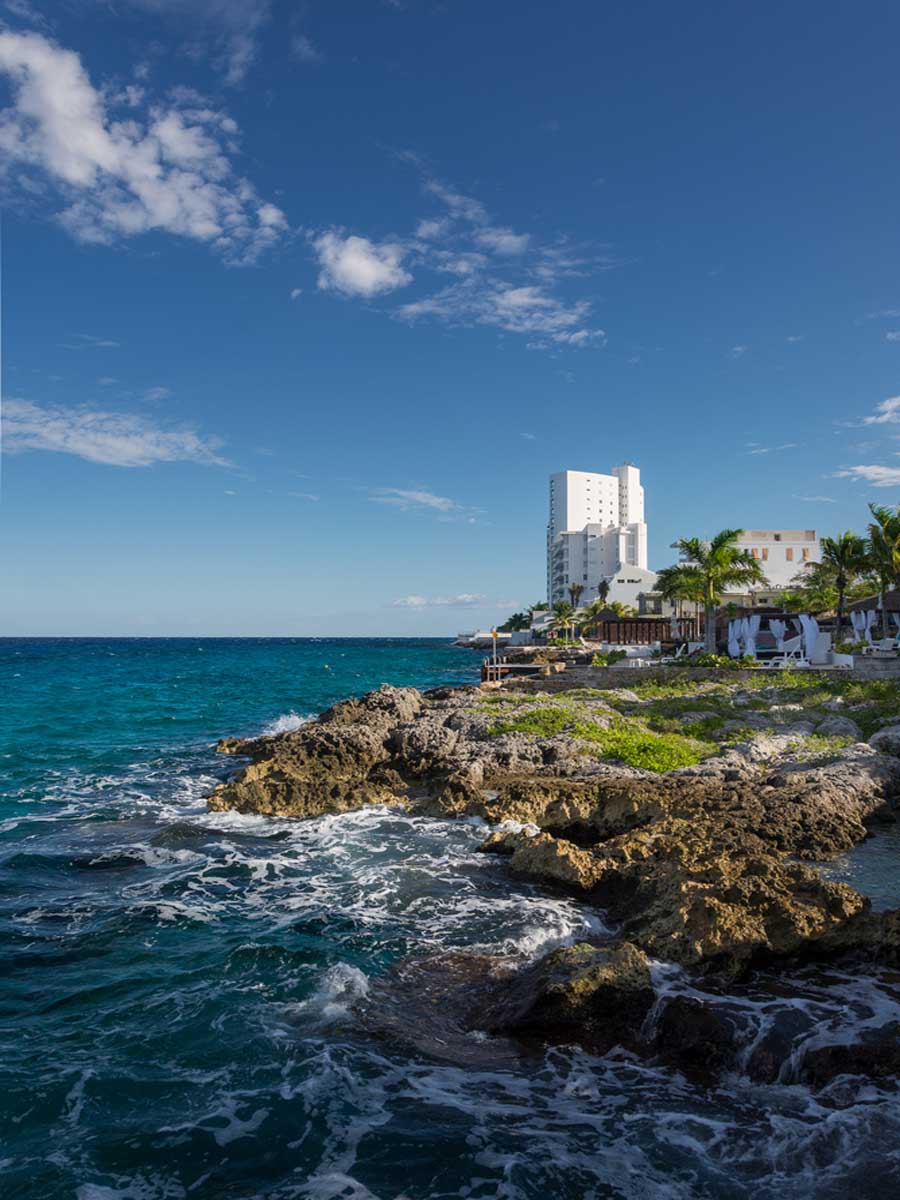 When you think of honeymoon destinations in the Caribbean, Mexico may not be the first location that comes to mind.
But one of our favorite places along the Caribbean Sea is just off the Yucatán Peninsula. Here you can swim with dolphins, visit Mayan ruins, and enjoy days of island fun.
Do you like to snorkel or scuba dive? You're in luck with one of the world's most extensive reefs.
Do you want to tour a chocolate-making company and watch the centuries-old process? It's one of many culinary adventures you can have with your spouse in Cozumel.
Top Attractions
Palancar Reef is one of Cozumel's best snorkeling and scuba diving locations. You'll see the coral reefs, exotic fish, and various rays.
Zona Arqueológica San Gervasio is a Mayan ruin you can see without leaving the island. You'll see restored ancient ruins and maybe some iguanas, too.
Suggested Honeymoon Duration: 5-7 days
Suggested Stay: Presidente InterContinental Cozumel Resort & Spa
Best Honeymoon Hotels & Resorts in the Caribbean
The Westin St. John Resort Villas
$$
Great Cruz Bay, Saint John U.S. Virgin Islands
Best Hotel for Relaxation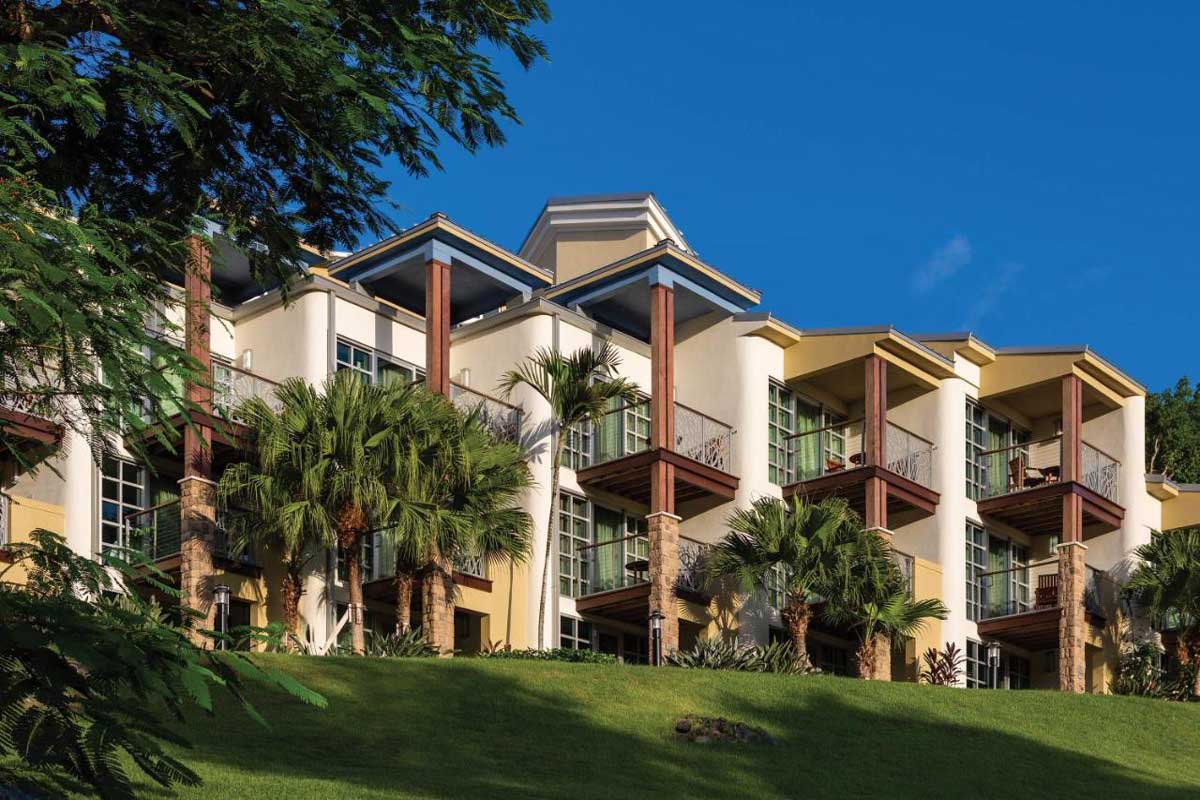 The Westin St. John Resort Villas is a beautiful resort to choose for your honeymoon in the Caribbean.
We love the convenience and laid-back feel of The Westin. You won't even need to leave the property if you don't want to.
There's a large private beach, villa-style suites with a kitchen and dining area, and two on-site restaurants. The swimming pool is steps from the sandy shores where world-class snorkeling and swimming await you.
Cap Maison Resort & Spa
$$$
Smuggler's Cove, St. Lucia
Best Hotel for Culinary Caribbean Honeymoons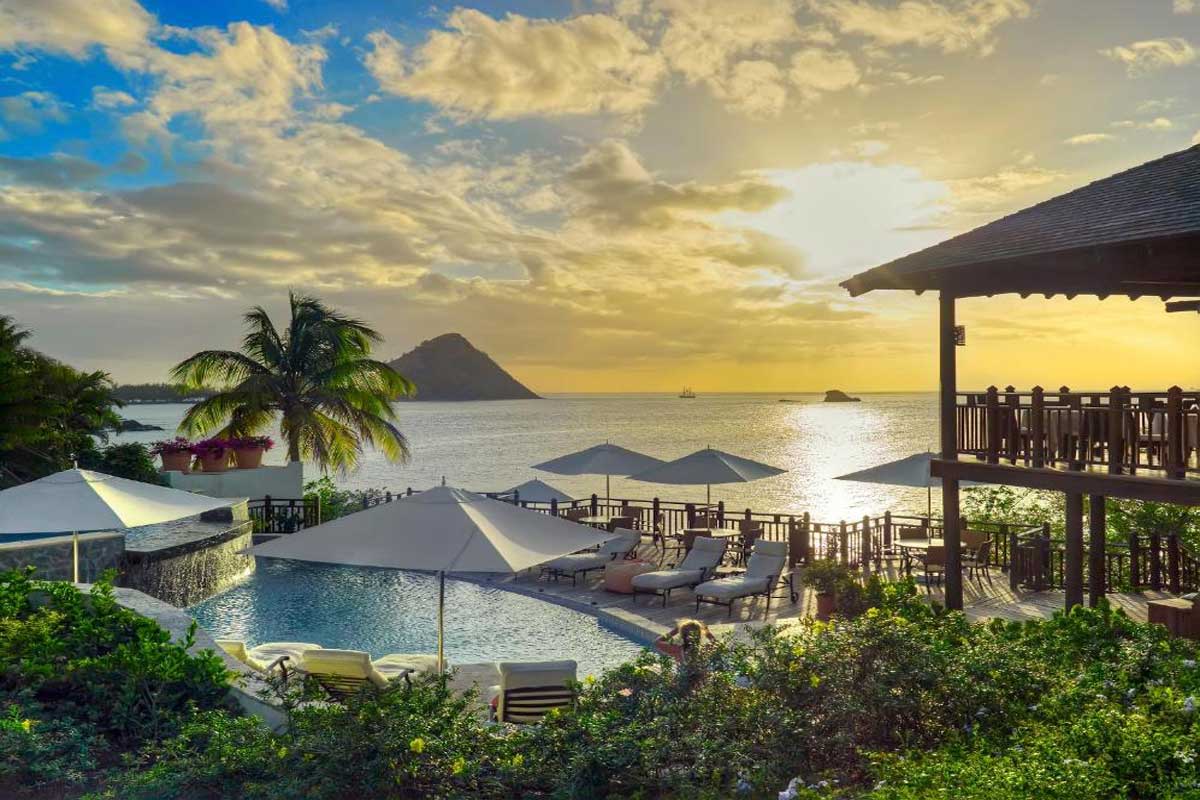 Cap Maison Resort & Spa is a top choice if you want a 5-star hotel experience with a taste of St. Lucia cuisine. Located overlooking Smuggler's Bay, the views of the rocky shores underneath are incredible.
What differentiates this hotel is the famous Cliff at Cap. Overlooking the beautiful Caribbean Sea, you can dine on spectacular seafood and local produce.
Cap Maison is one of the best overall Caribbean honeymoon resorts featuring pristine gardens and personalized service.
Bucuti & Tara Boutique Beach Resort
$$$
Eagle Beach, Aruba
Best Kid-Free Caribbean Honeymoon Resorts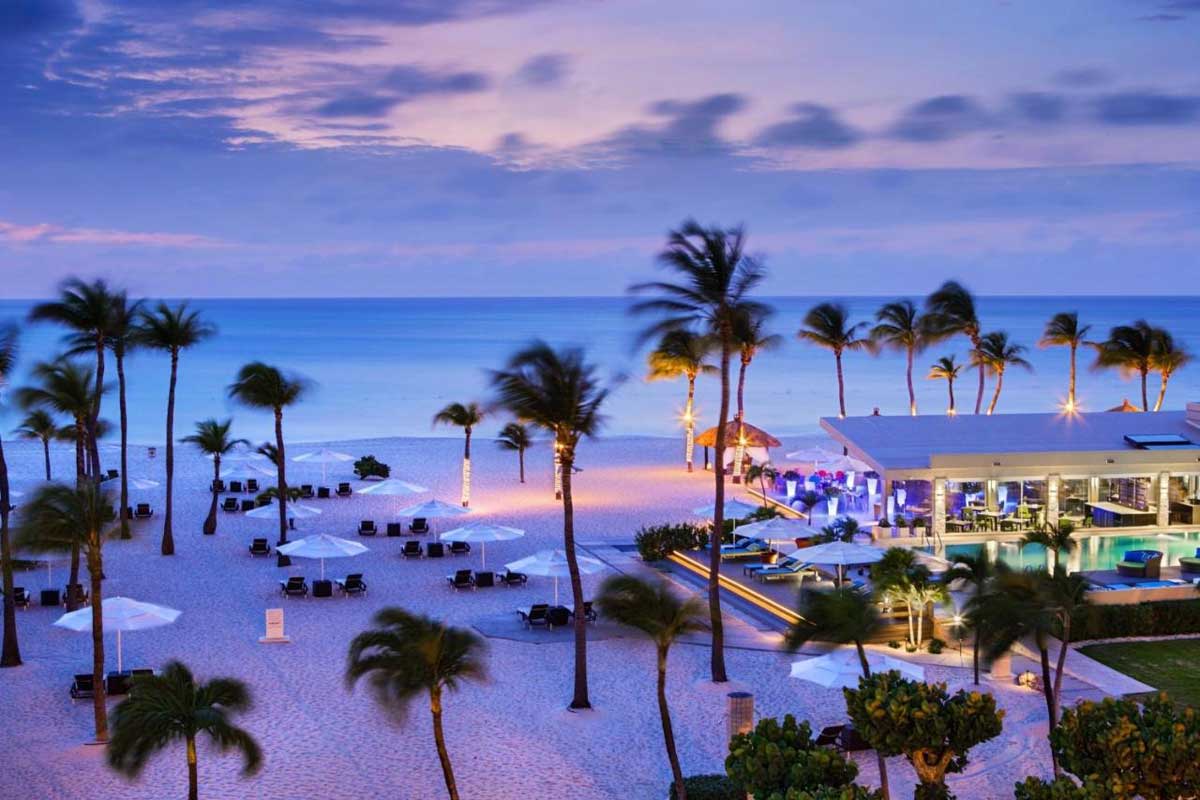 Nestled right on the idyllic Eagle Beach, this adults-only resort has all the makings of an unforgettable location to honeymoon in the Caribbean.
Enjoy a quiet outdoor pool, fine dining on the sandy shores, and 14-acre beach access. It's popular and has around 100 rooms, so plan your honeymoon in advance.
The Ritz-Carlton, Grand Cayman
$$$
Seven Mile Beach, Grand Cayman
Best Resort for Staying On Property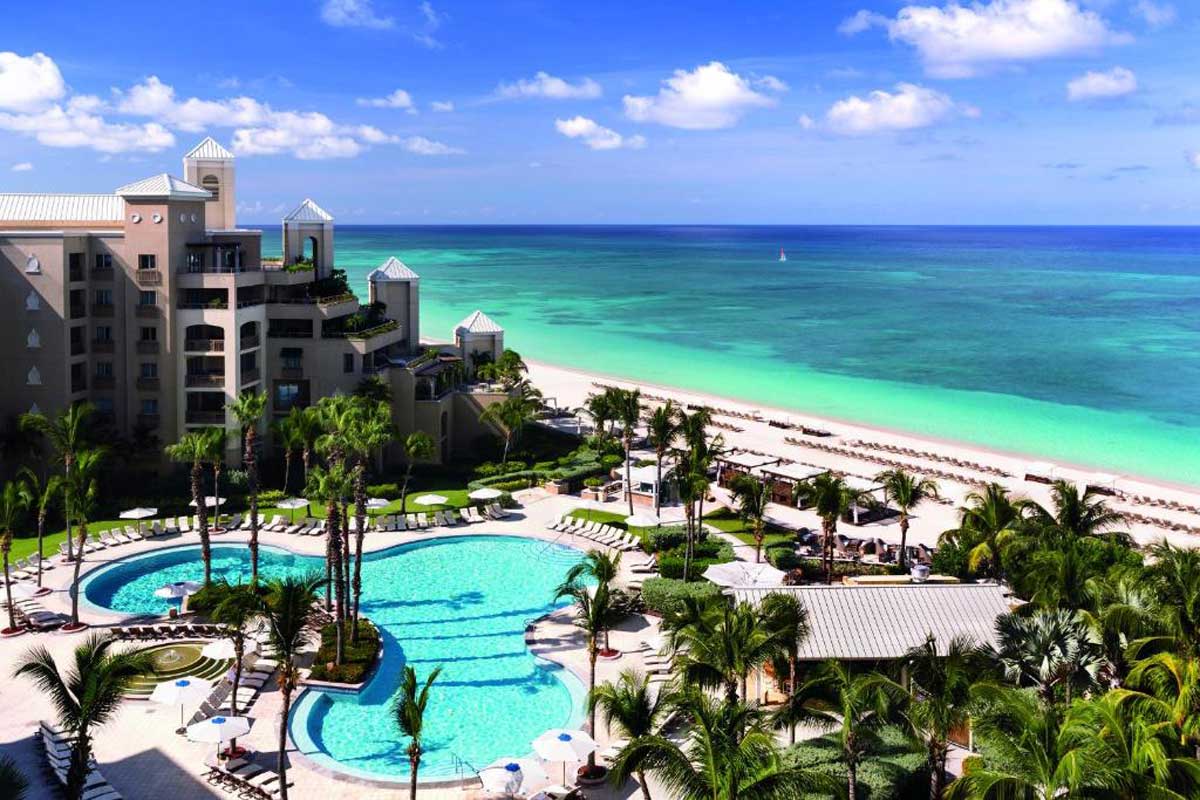 Enjoy all the beauty and comfort of The Ritz-Carlton, Grand Cayman, located along Seven Mile Beach.
The luxurious hotel has multiple dining options, including a restaurant from the world-renowned chef Eric Ripert.
Other highlights include La Prairie Spa and access to kayaks, snorkeling, and other water activities. You'll have any amenity imaginable within steps of your room.
Bahia Principe Grand El Portillo
$-$$
Las Terrenas, Dominican Republic
Best Resort for a Lengthy All-Inclusive Caribbean Honeymoon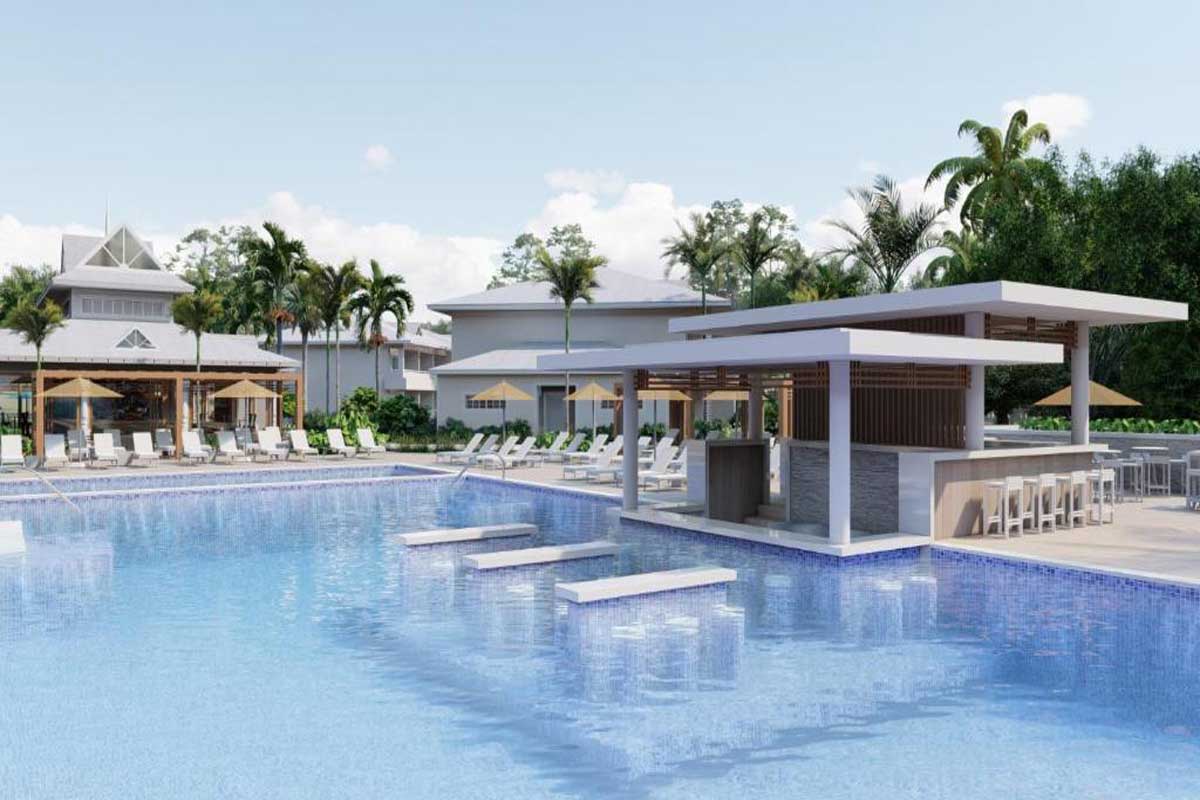 The Bahia Principe Grand El Portillo gives you the all-inclusive Caribbean honeymoon experience at a price that may allow you to extend your stay.
Two pools, multiple dining options, and numerous outdoor activities ranging from archery to boogie boarding keep you busy on your all-inclusive Caribbean Honeymoon.
The Bellafonte – Luxury Oceanfront Hotel
$$-$$$
Bonaire St. Eustatius and Saba
Best Resort for Aquatic Couples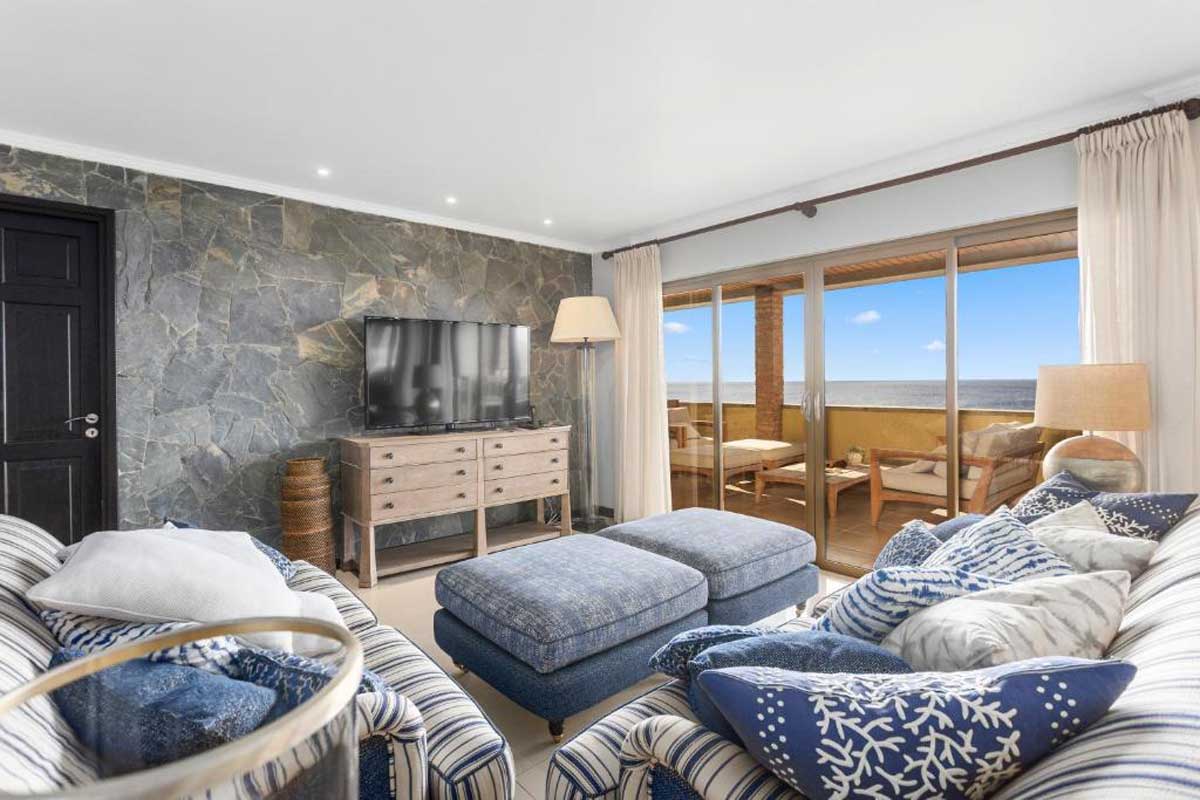 The Bellafonte – Luxury Oceanfront Hotel is ideal for honeymooners who want the feeling of home while traveling. The apartment-style hotel has a kitchen, Wi-Fi, and a living room with comfortable furniture.
The private dock at the hotel is an excellent bonus for snorkeling and scuba enthusiasts, and the beautiful beach and pool will keep you content throughout your stay.
Four Seasons Resort and Residences Anguilla
$$$
Meads Bay, Anguilla
Best Luxury Resort Caribbean Honeymoon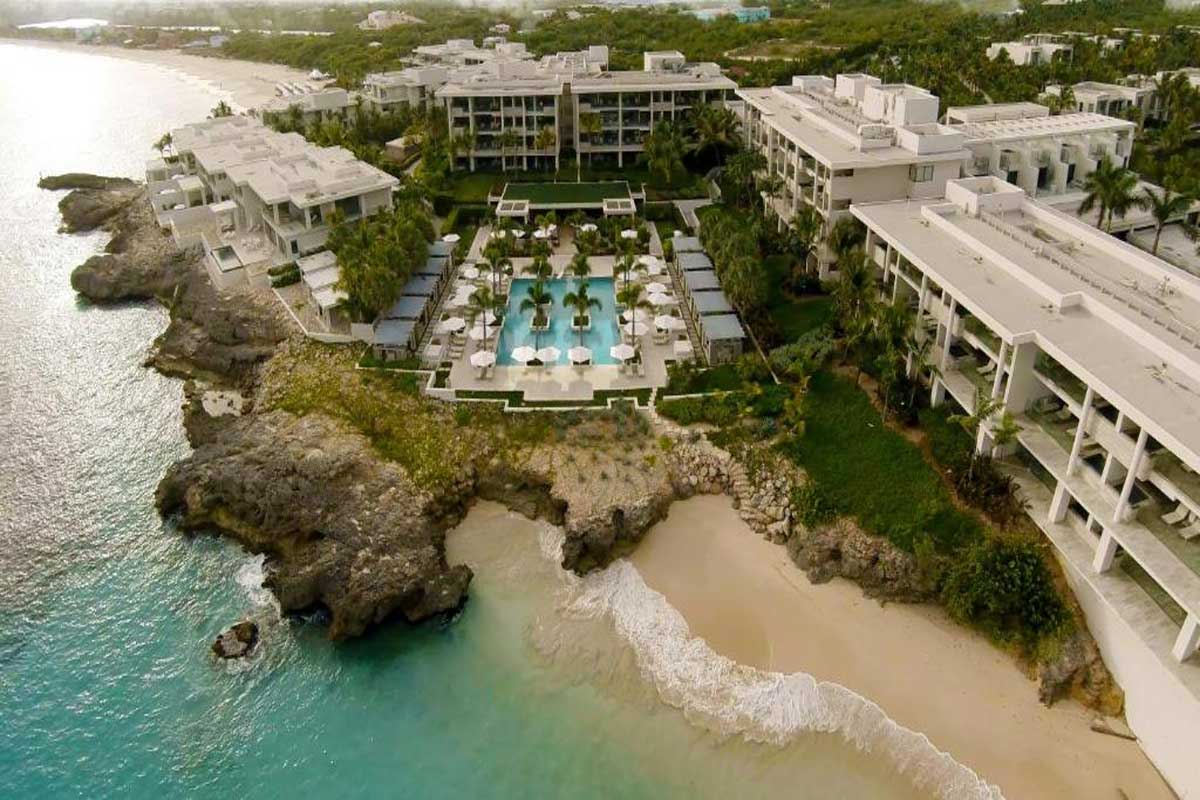 The Four Seasons Resort and Residences Anguilla is the ideal five-star Caribbean honeymoon retreat.
Stunning architecture, unbeatable service, and options like luxury villas with private pools make this a top choice for a honeymoon fit for royalty.
Hotel Nacional de Cuba
$$
Havana, Cuba
Best Historic Spanish Style Hotel
Hotel Nacional de Cuba is famous for having guests from Winston Churchill to Marlon Brando.
Rooms here are basic, but you're located next to the oceanfront landmark El Malecón and staying in one of the most historic hotels on the Caribbean Island of Cuba.
Sunset Reef St. Kitts
$$$
Palmetto Point, Saint Kitts and Nevis
Best Kept Secret Caribbean Honeymoon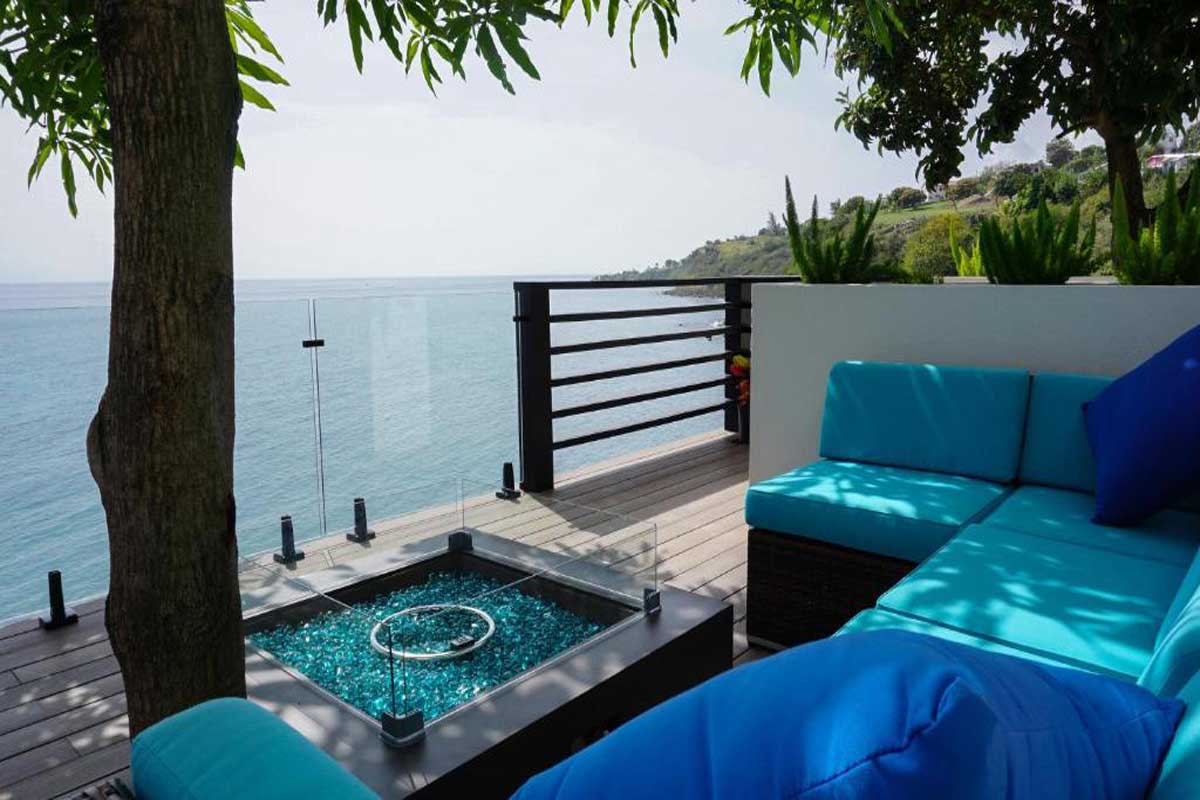 People rarely mention Sunset Reef St. Kitts among the best Caribbean honeymoon destinations, but it should be at the top of your list.
Truly boutique at just seven all-suite rooms, the hotel is perched over a beautifully landscaped garden overlooking the crystal blue waters near Palmetto Point.
It has a gorgeous infinity pool, king-size beds, and large patios where you can share the view with the person of your dreams.
Plan Your Caribbean Honeymoon: Read Next