Planning a Bahamas honeymoon? Here's everything you need to know to create the ultimate Bahamian honeymoon experience.
When daydreaming about a tropical paradise for your ideal honeymoon, you probably conjure up images of the Bahamas without even knowing it. Picture crystal clear waters, palm trees that line soft, sandy beaches, and gentle waves lapping at the shore.
The Bahamas are a chain of 700 islands, located off the east coast of Florida. And, while most of these islands remain uninhabited, people from all over the world come to enjoy the archipelago.
The 3 main islands that people live and visit are New Providence, Grand Bahama, and Abaco, with many others having smaller populations and fewer tourist attractions. No matter what your style, vibe, and budget are, there is a Bahamian island waiting for you and your partner.
Why Honeymoon in the Bahamas?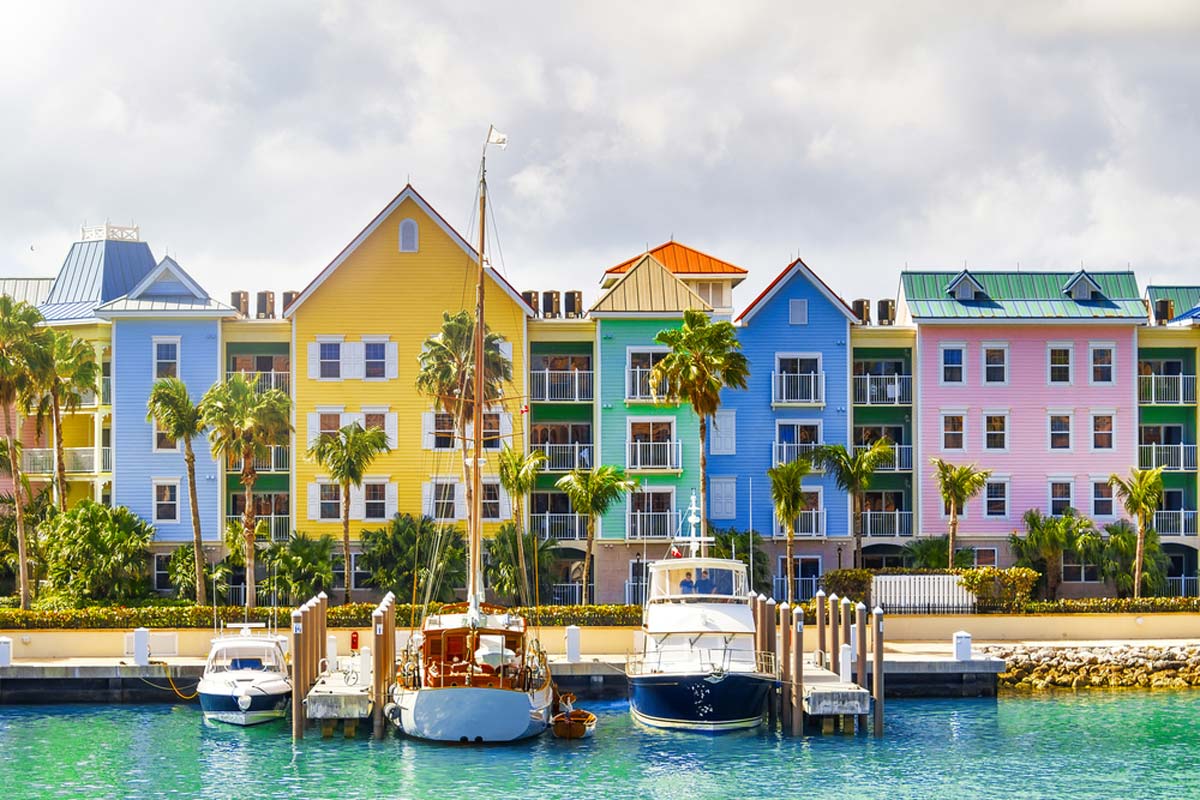 Booking a honeymoon to the Bahamas is a dream come true for many couples. The islands boast warm, sunny skies for most of the year and are easily accessible, especially from the US.
There are copious amounts of things to do in the Bahamas, from low-key, tranquil beaches to casinos and raucous night life, the Bahamas has something for everyone. You can partake in water adventures like snorkeling and sailing, book couples spa treatments, visit the world's third largest wine cellar, plus much more.
Since the Bahamas are a top tourist destination, they have hundreds of accommodation options to fit every budget and personality for the dream Bahama honeymoon.
Many resorts offer Bahamas honeymoon packages and there are other options like all-inclusive honeymoon resorts in the Bahamas, making planning a breeze. That leaves you more time to celebrate your marriage.
Read on to learn more about the best honeymoon resorts in the Bahamas and get planning your magical honeymoon RN.
Best Honeymoon Hotels & Resorts in the Bahamas
The Cove Eleuthera
Gregory Town
$$$
Best for privacy and seclusion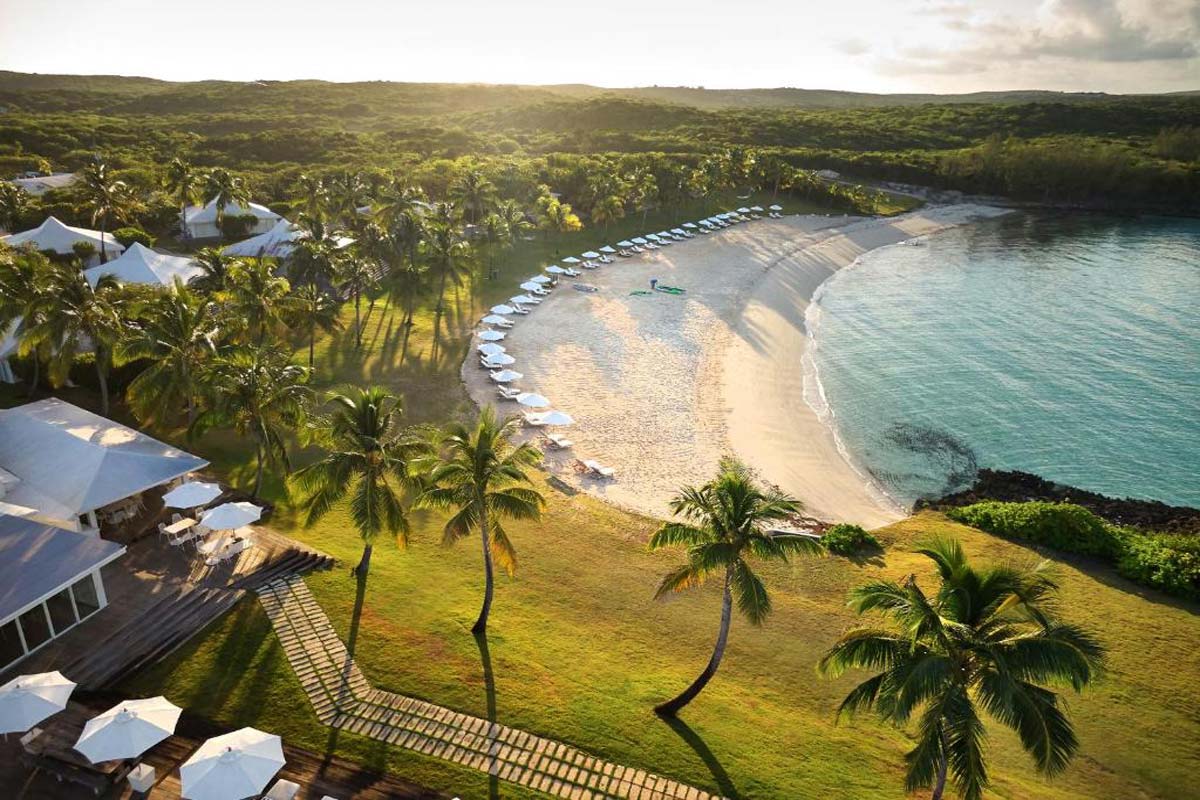 Popular with celebrities because of its seclusion, The Cove Eleuthera is one of the best Bahamas honeymoon resorts. Featuring two private beaches, gourmet restaurants, a hilltop infinity pool, and a fitness center, The Cove creates a dreamy atmosphere for a honeymoon.
They offer several styles of accommodation including rooms, suites, and villas to suit whichever level of luxury fits your budget. Each accommodation option offers a/c, wifi, and outdoor patios to enjoy the lush surroundings.
Onsite you can find Freedom Restaurant & Sushi Bar, and the Point Bar. Or, to make things even more special, you can book a private dining experience with breakfast in bed or an intimate beachfront dinner for just the two of you.
Better yet, The Cove is pet friendly and offers various excursions including snorkeling, kayaking, paddleboarding, garden tours, sunrise and sunset yoga plus more.
Fowl Cay Resort
Exhumas
$$$
Best for luxury honeymoons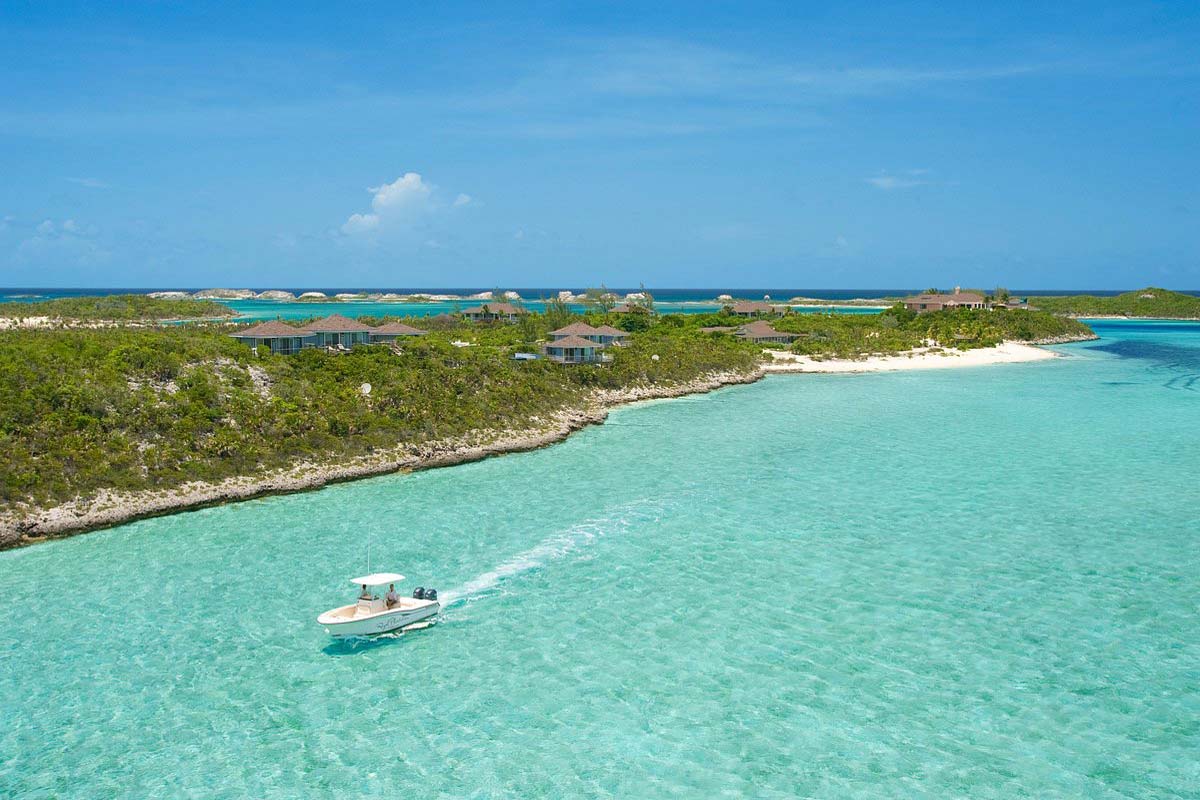 Located on a private island, Fowl Cay Resort truly offers a once-in-a-lifetime experience. If you're looking for an unforgettable Bahamas honeymoon, this is the resort for you. It's one of the most stunning Bahamas honeymoon all-inclusive resorts.
Included in each villa stay are boat rentals, food and drink (alcohol included – woohoo!), golf carts, meals at The Hill House, pools and beach access, tennis and bocce ball courts, kayaks, snorkels, and other beach toys and water gear, as well as fishing gear.
So, pretty much anything you could think of then.
There are one, two, and three-bedroom villa options, and each is outfitted with fully equipped kitchens that are stocked with food, as well as ocean views with sliding glass doors that lead to a patio with personal motorboats.
Riu Palace
Paradise Island
$$
Best for adults only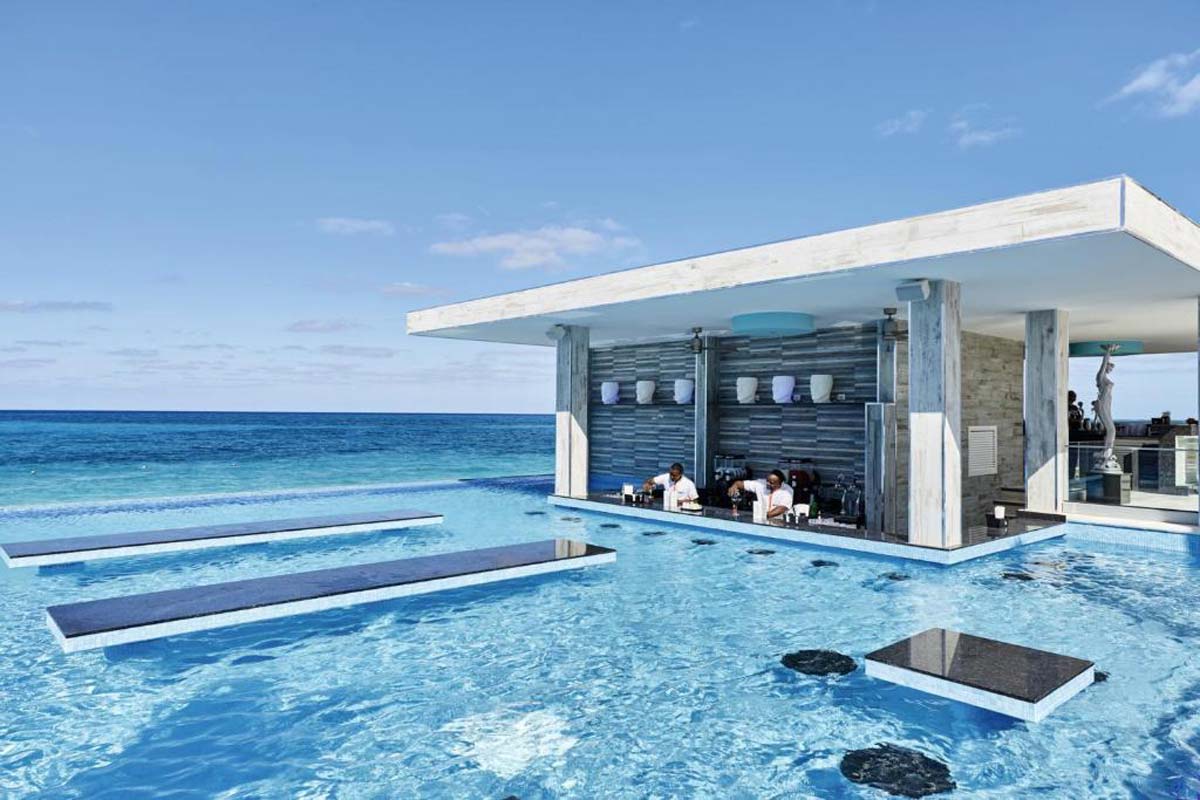 Riu Palace is an adult-only, all-inclusive Bahamas honeymoon resort, making it a perfect place to honeymoon with your sweetheart.
Set along the white sand beaches of Paradise Island, Riu Palace stays include breakfast, lunch, and dinner, 24-hour room service, all drinks and snacks (including alcohol), a sauna, and a whirlpool bath. This is as well as daily entertainment like live music, shows, and evening programs.
Totally relax with your new spouse by booking a couples massage, or unleash your competitive streak on the golf course.
All rooms are air-conditioned and come with a mini fridge, with most rooms boasting picturesque sea views.
You'll also find two swimming pools, one with a swim-up bar, and a sun deck with shady spots available (beverage service is included, so you can channel your inner diva). Better yet, there is direct access to the reserved beach area where you can find hammocks to nap and relax in.
Small Hope Bay Lodge
Andros Island
$
Best for all-inclusive on a budget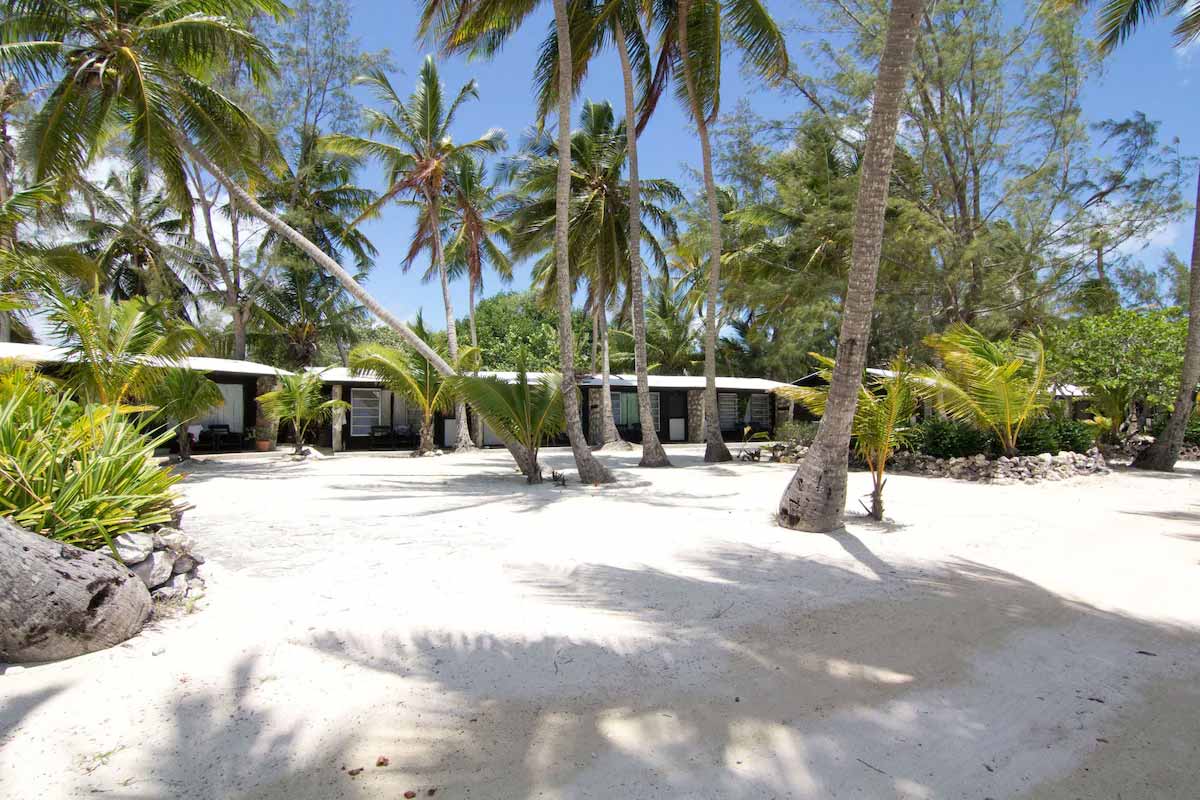 This eco-friendly resort is made up of cozy, waterfront cabins and, while it might be a wallet-friendly option, that does not mean the resort skimps on experiences.
Your stay includes all your meals and an open bar, bikes, and kayaks, as well as 1 free scuba or snorkel lesson. There are also private beaches, a hot tub, a library, hammocks, and lounge chairs dotted around the resort's main area.
If you're looking for a peaceful place to enjoy each other's company surrounded by nature, Small Hope Bay Lodge is the perfect option for a honeymoon in the Bahamas. You can opt to go fishing or explore the 140-mile-long reef that is associated with Andros Island.
As mentioned, all drinks and meals are included. The lodge serves locally-caught lobster and fish, and a range of other international and Bahamian dishes. They can even prepare vegan, vegetarian, dairy-free, and gluten-free options when notified prior to your arrival.
St Francis Resort
Stocking Island
$
Best for getting off the grid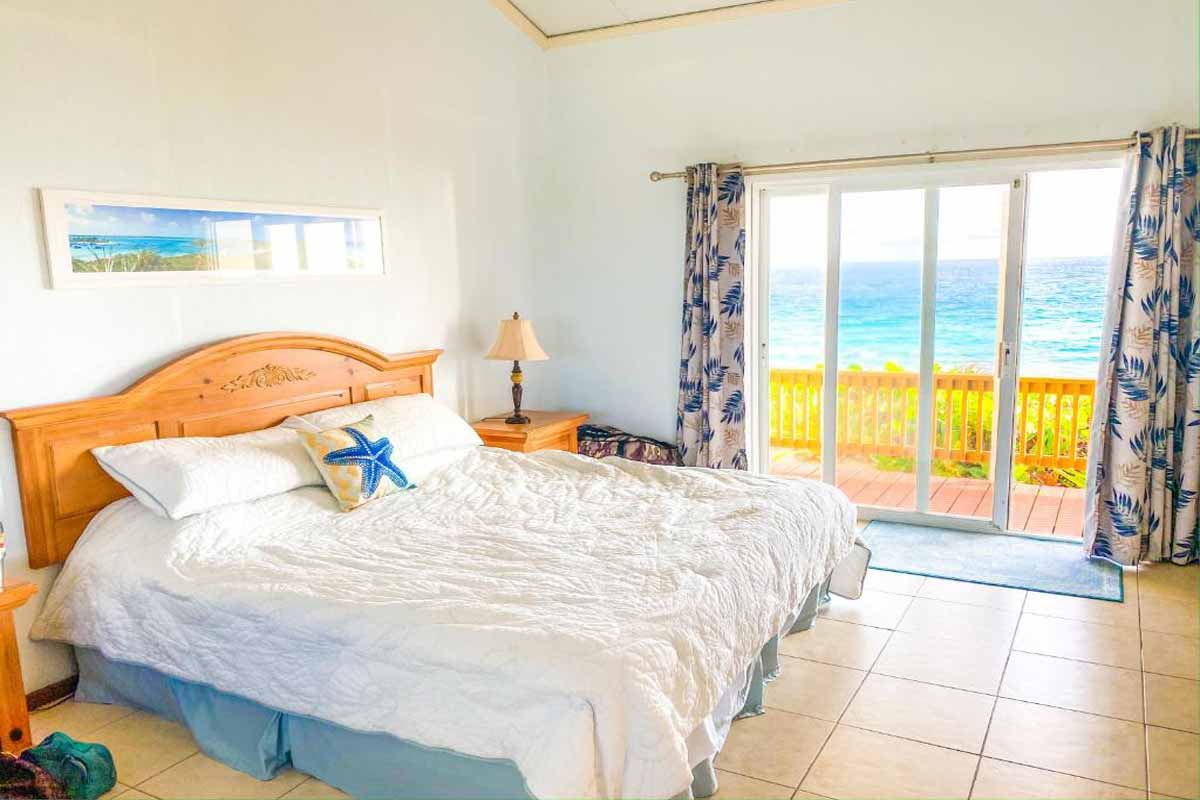 If you want to leave everything (bar your new spouse) behind, you can get off the grid by staying at the St Francis Resort, located on a private island.
This resort is perfect for couples who want an authentic experience in the Bahamas. You won't find the traditional sense of luxury here but what you will find is adventure, relaxation, and serenity.
Guests can choose from bungalows on the beach, cabins on a mega yacht, or renting a houseboat, all with or without meals included (we say go with – it's your honeymoon after all).
Nature lovers will adore this resort – they offer exciting excursions like swimming with sea turtles, kayaking, boating, diving, kite surfing, and plenty more.
There are 2 miles of private, white sand beaches for romantic strolls on the beach – day or night – hiking trails, yoga, sailing, and even swimming pig tours.
You can visit the barefoot beach bar, indulge in a pig roast (eeeeeeek), enjoy sushi night or spend evenings with your partner creating your own meals from fresh ingredients found across the island.
Bahama Honeymoon Tips: What You Need to Know
How to Get to the Bahamas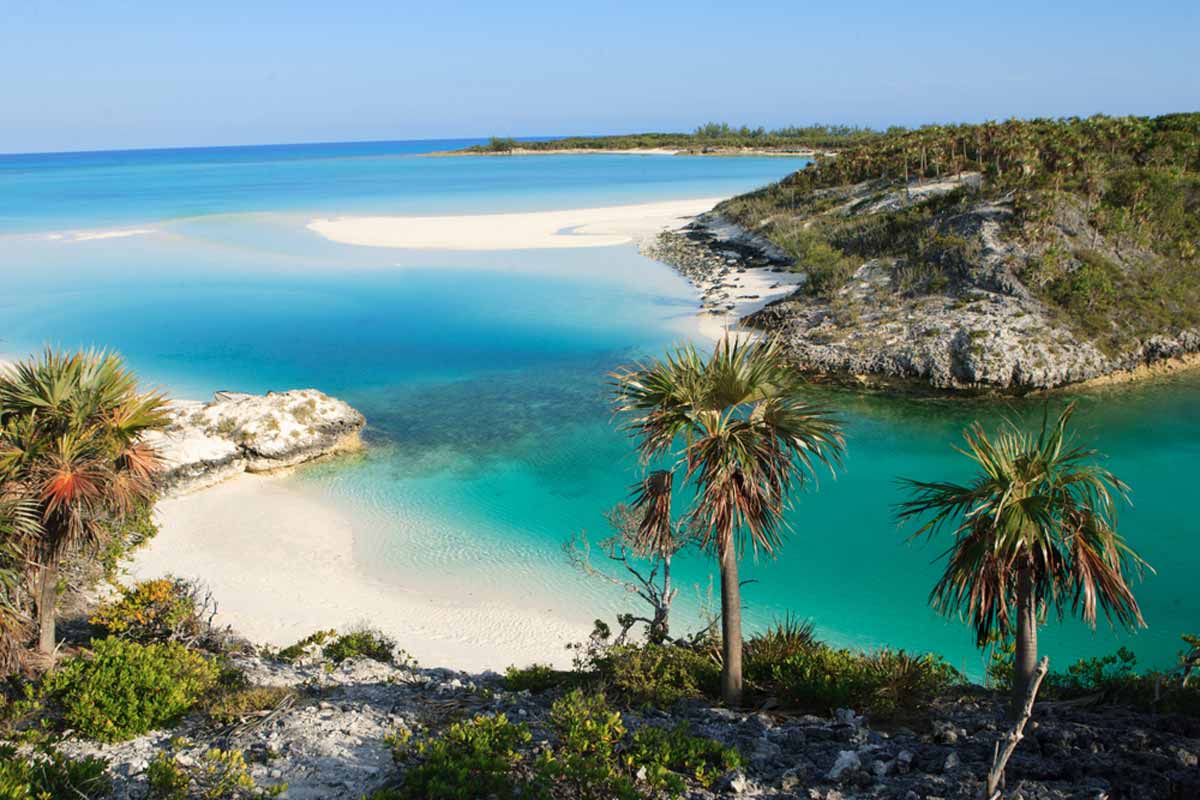 The Bahamas are located off the coast of Florida. Most people fly into the Lynden Pindling International Airport (LPIA) and either take local, connecting flights to smaller islands or embark on water taxis.
Depending on which island you're staying on, some people opt to rent cars while others rely on taxis, shuttles, bikes, boats, and water taxis to get around. If we're honest, we don't think that renting a car is neccessary.
The Best Bahama Honeymoon Destinations
Pink Sands Beach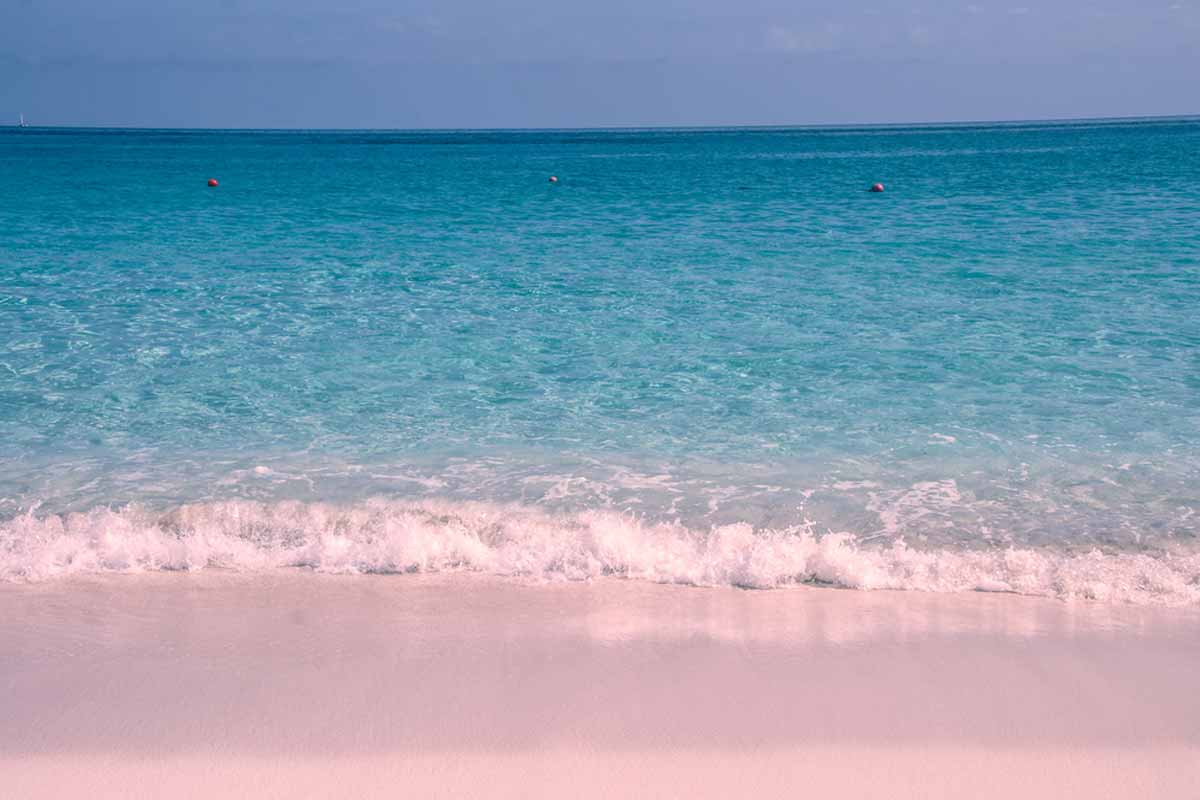 While most of the beaches in the Bahamas are adorned with bright, white sand beaches, Harbor Island is world famous for its pink sand.
The beaches stretch on for miles with gentle waves kissing the shores. The pink sand comes from foraminifera – is a marine animal that has a red shell. The shells break down and mix with the white sand creating the magical pink sand beach.
Sailing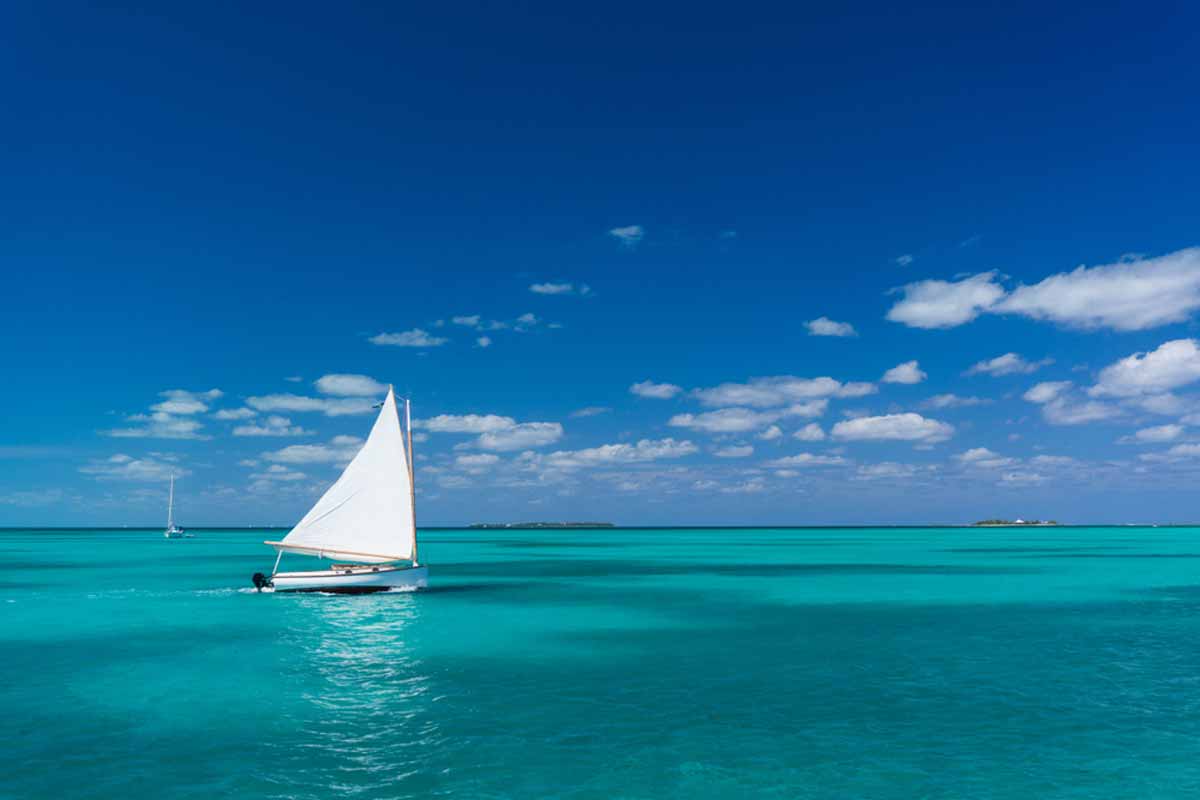 Sailing is an optimal way to spend a day in the Bahamas. What better way to explore the islands than floating across the calm, clear waters? Seahorse Sailing Adventures offers guests a sunset dinner sail as well as a snorkel and sail day trip.
Snorkeling and Diving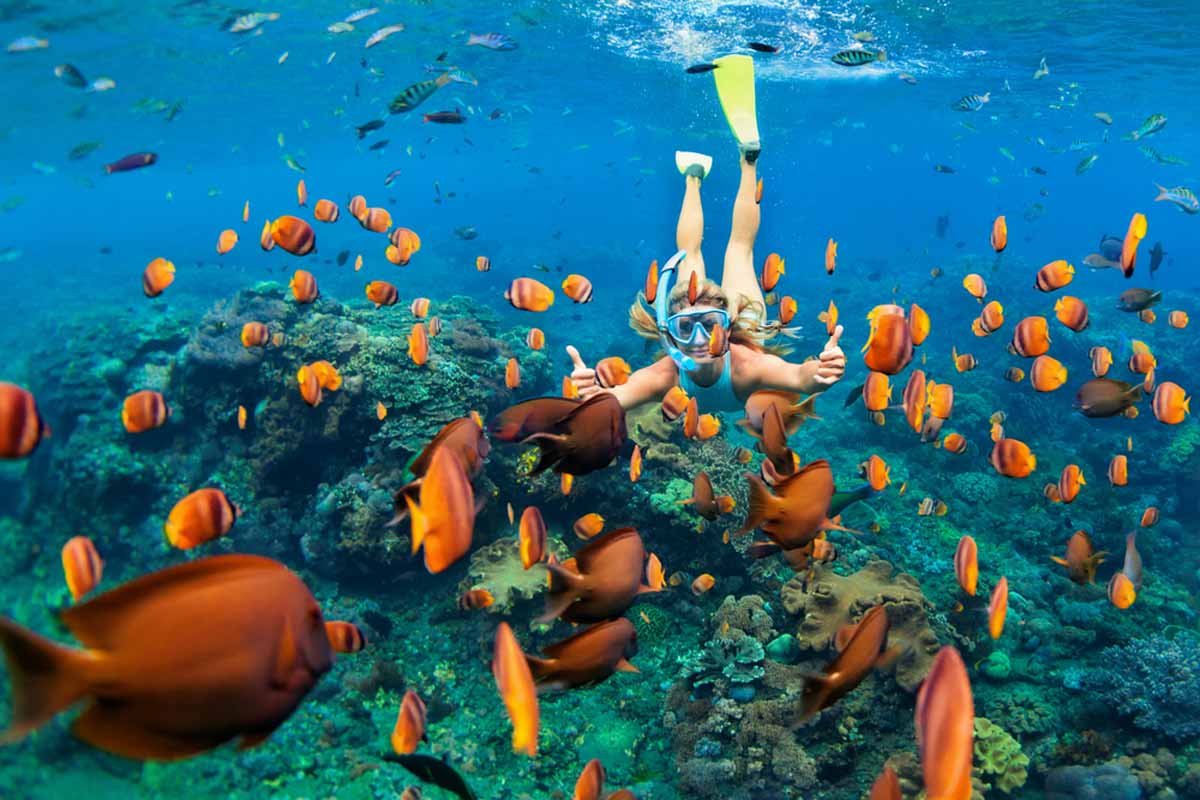 One of the best ways to experience the Bahamas is by exploring the sea. There's a variety of tour operators that specialize in teaching beginners, as well as taking advanced divers on epic excursions.
Because of the unbelievably clear conditions, snorkeling or diving is truly an unforgettable experience on a Bahamian honeymoon.
Lucayan National Park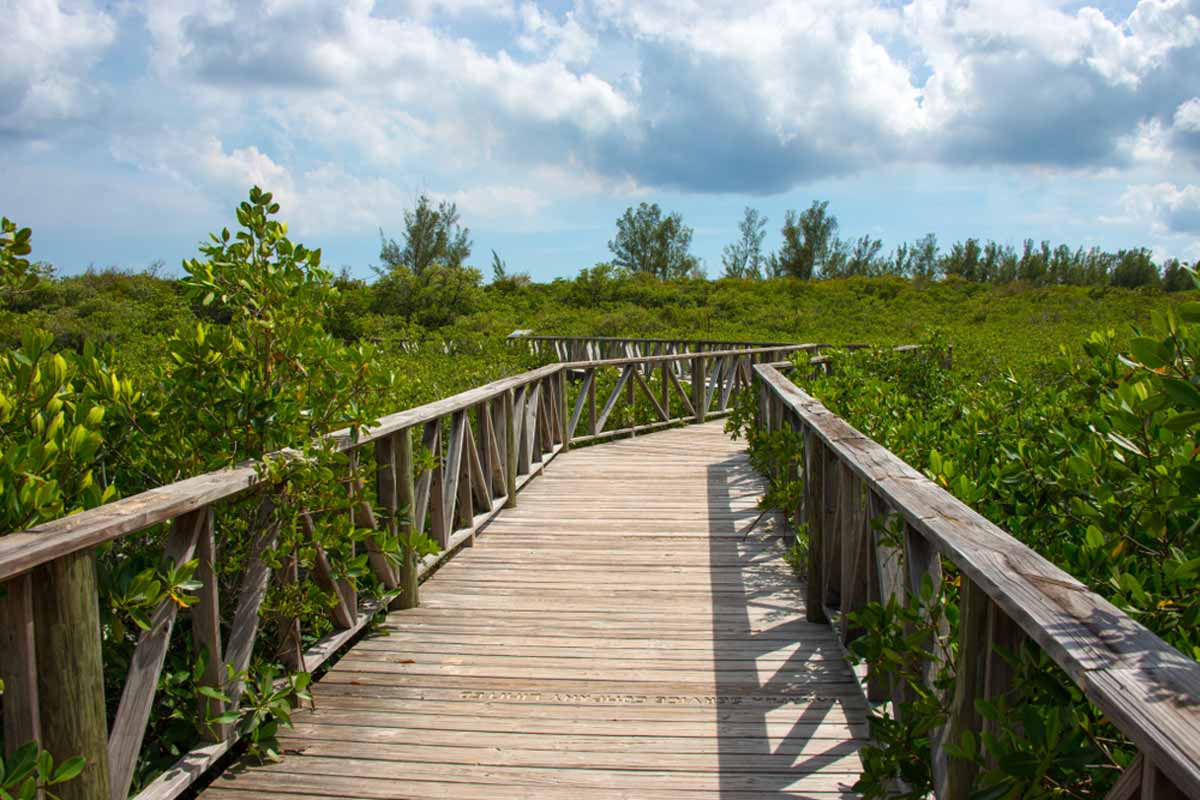 Home to one of the world's longest-charted underwater cave systems, Lucayan National Park is a unique place to visit. The park boasts a boardwalk and hiking trails, beach access, bathrooms, and a visitors center.
Pig Beach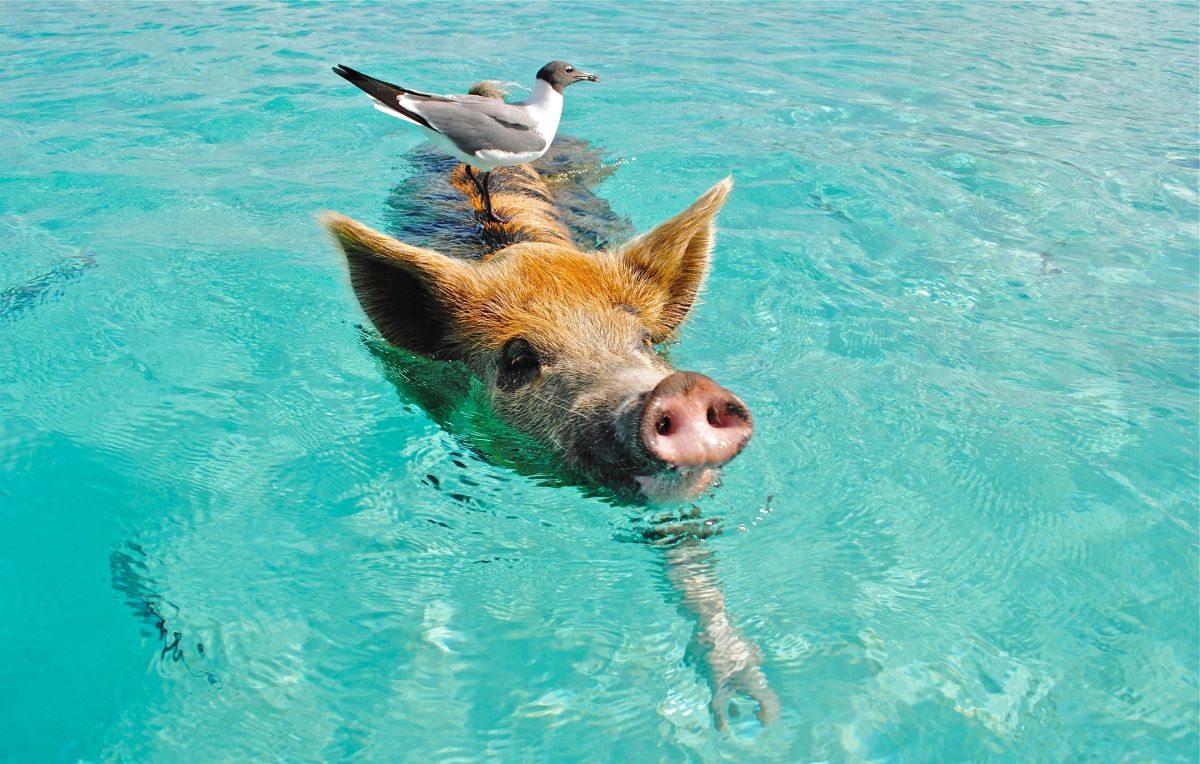 One of the most popular tourist attractions in the Bahamas is Pig Beach. This section of Big Major Cay is inhabited by a feral group of pigs.
No one really knows how the pigs got there but in recent times, the area has become popular with tourists looking for a one-of-a-kind experience. The pigs are friendly and used to interacting with humans (please be kind to the pigs), even snuggling up for some perfect photo ops.
Unless you have your own boat, you'll have to book a tour to get to the island, but it is well worth it.
The Best Time to Visit the Bahamas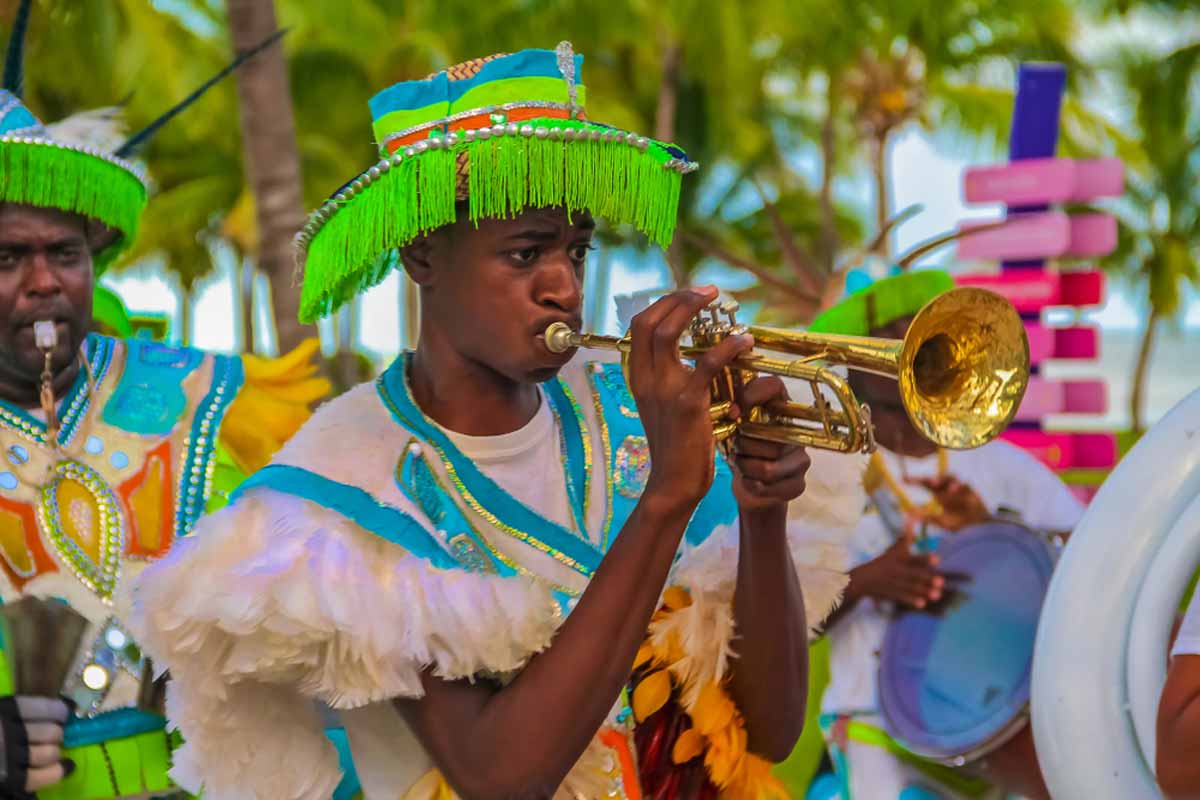 The peak season for the Bahamas is from mid-December to mid-April – this is outside of hurricane season and temperatures are warm and mild.
Though the islands see sunny weather all year long, the rainy season runs from May through October, with hurricane season running from June through November.
How Long to Spend on Your Bahama Honeymoon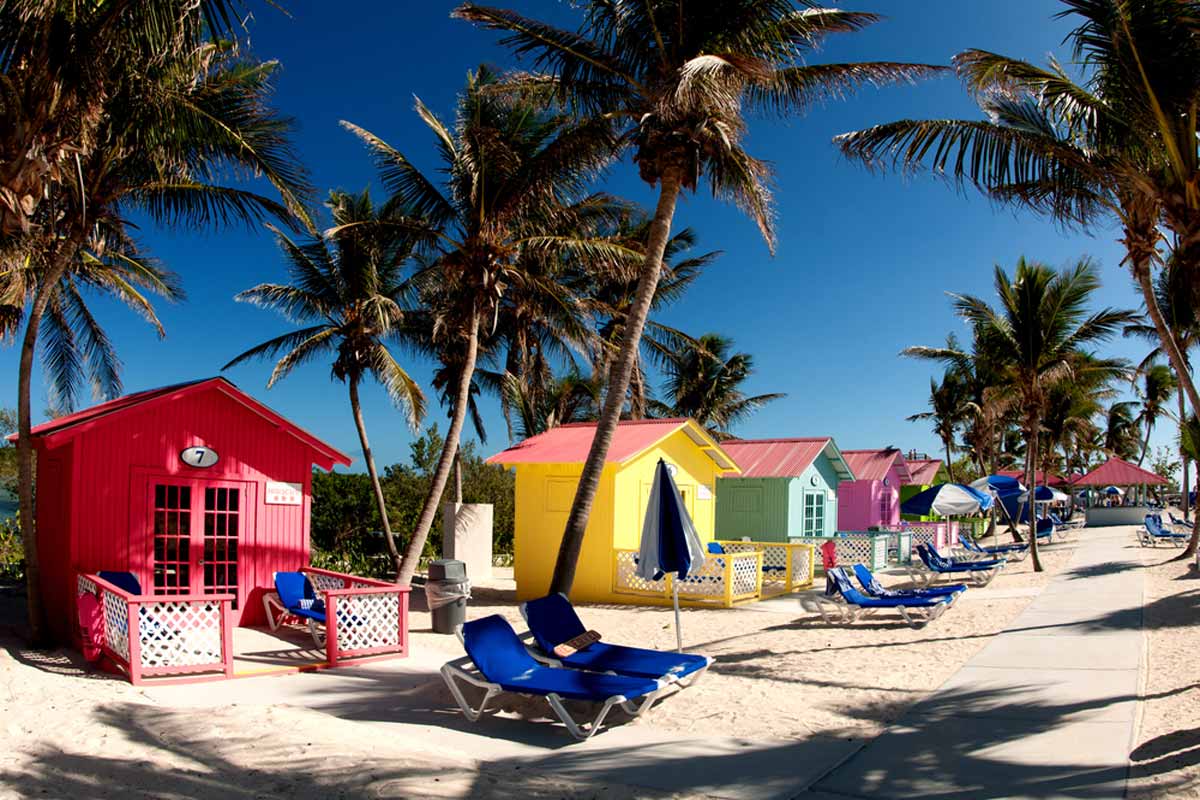 Most people visiting the Bahamas on their honeymoon stay 7-9 days. Depending on your time allowances, budget, and interest in activities, there isn't a right or wrong number of days to stay in the Bahamas.
How Much Does a Bahama Honeymoon Cost?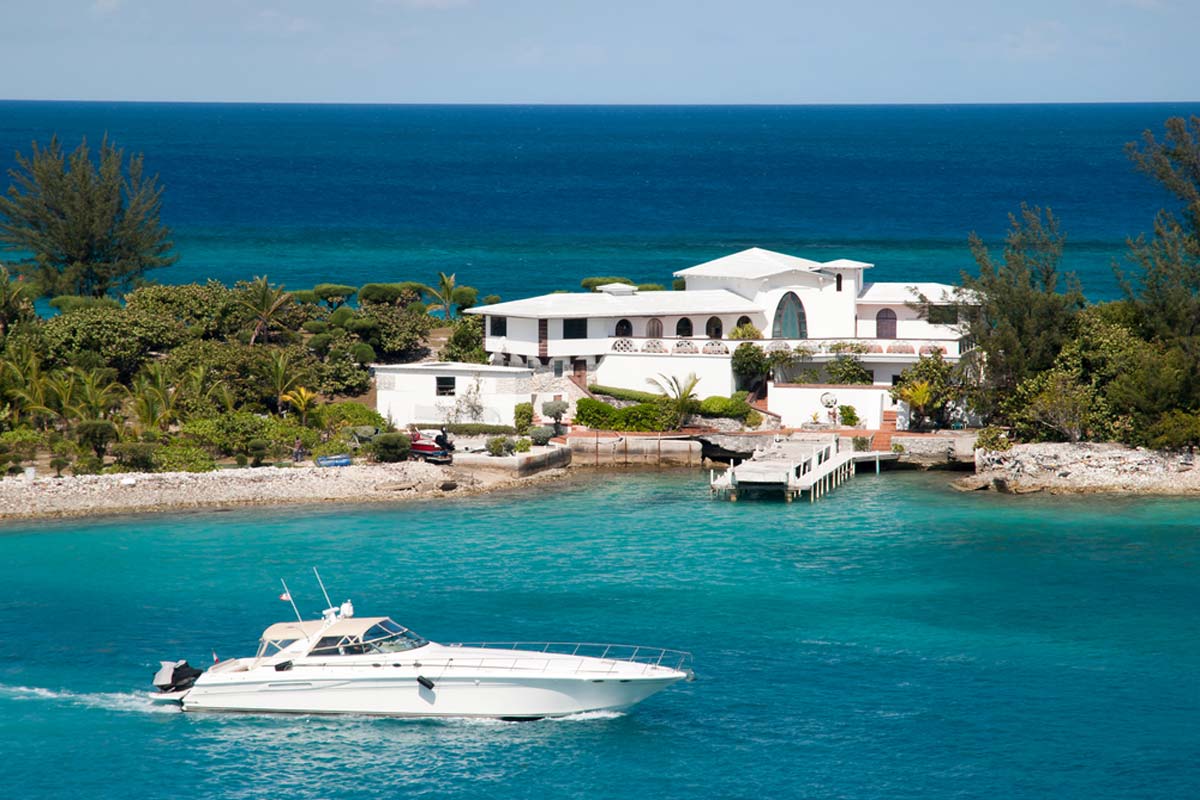 On average, honeymoons in the Bahamas cost anywhere from $4,000 to $8,000 a week. Of course, this is dependent on many factors including flights, packages, excursions, time of year you're traveling, and where you stay.
There are so many options for Bahama honeymoon accommodations that you're sure to find one within your budget.
One of the easiest ways to stay within your budget is to book a Bahamas all-inclusive honeymoon resort or talk to a resort that can help you create your ultimate Bahamas honeymoon package.
Bahama Honeymoon Resorts: Map
Bahamas Honeymoon Guide: Read Next