Planning a honeymoon in Seychelles? Read on to discover the best destinations and resorts in the country.
Nestled away in eastern Africa is the island nation of Seychelles, home to some of the world's most pristine seaside sites.
White sands and sparkling blue waters make this one of the most popular tropical vacation spots in recent years. Add to this that it's also rich in culture, cuisine, and wildlife, and it's no wonder that it makes an excellent choice for nearly any traveler.
Ready to pack your bags for a honeymoon in Seychelles? We thought you might be.
Why Honeymoon in Seychelles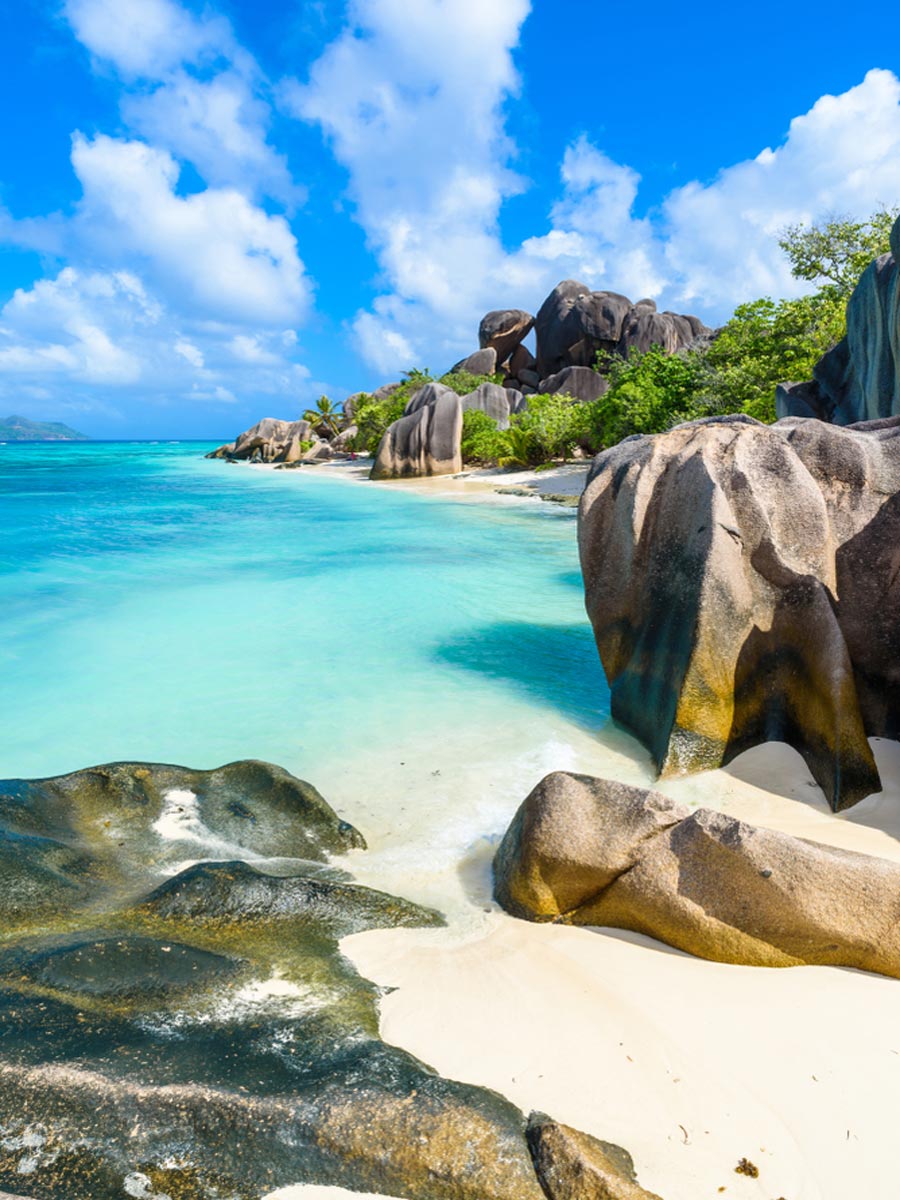 Is Seychelles good for a honeymoon? You bet. It's incredible.
Seychelles is not only one of our favorite beach honeymoon destinations, but it's also an adventurer's dream. Protected wildlife areas are abundant, making a Seychelles honeymoon an excellent choice for couples who love nature and hiking.
What are you waiting for? Let's explore the best Seychelles honeymoon packages and resorts now.
Best Honeymoon Hotels & Resorts in Seychelles
Constance Ephelia
Port Glaud
$$$
Best for a Luxury Seychelles Honeymoon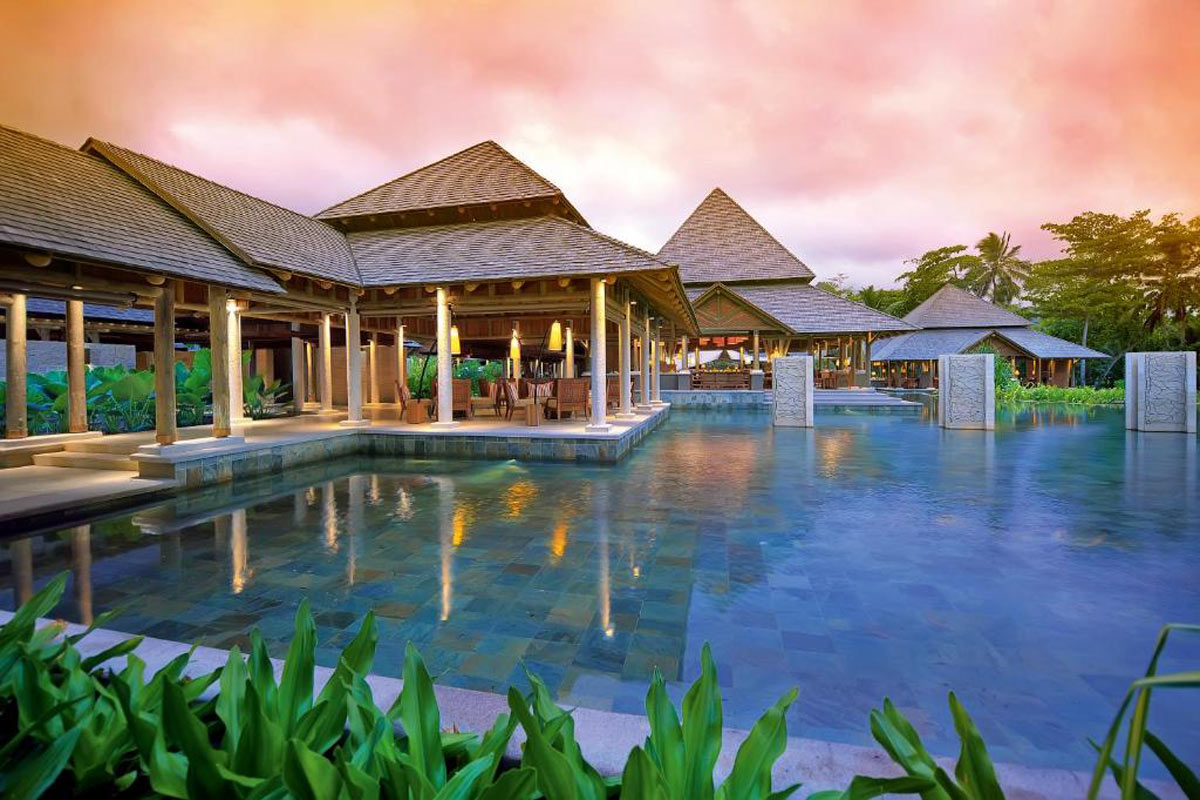 For total luxury, there really is no better place to spend your honeymoon than overlooking the Indian Ocean at Constance Ephelia.
This resort really does have it all: Swish rooms with tropical garden views, 5 incredible restaurants serving up a mix of local and international cuisine, 6 bars, and 5 pools to enjoy your cocktails beside.
If you fancy getting out and exploring the area, Morne Seychelles National Park is just five minutes away, though there's plenty of opportunity to kayak, hike, and swim near the resort, too.
Four Seasons Desroches
Desroches Island
$$$$
Best for a Secluded Honeymoon in Seychelles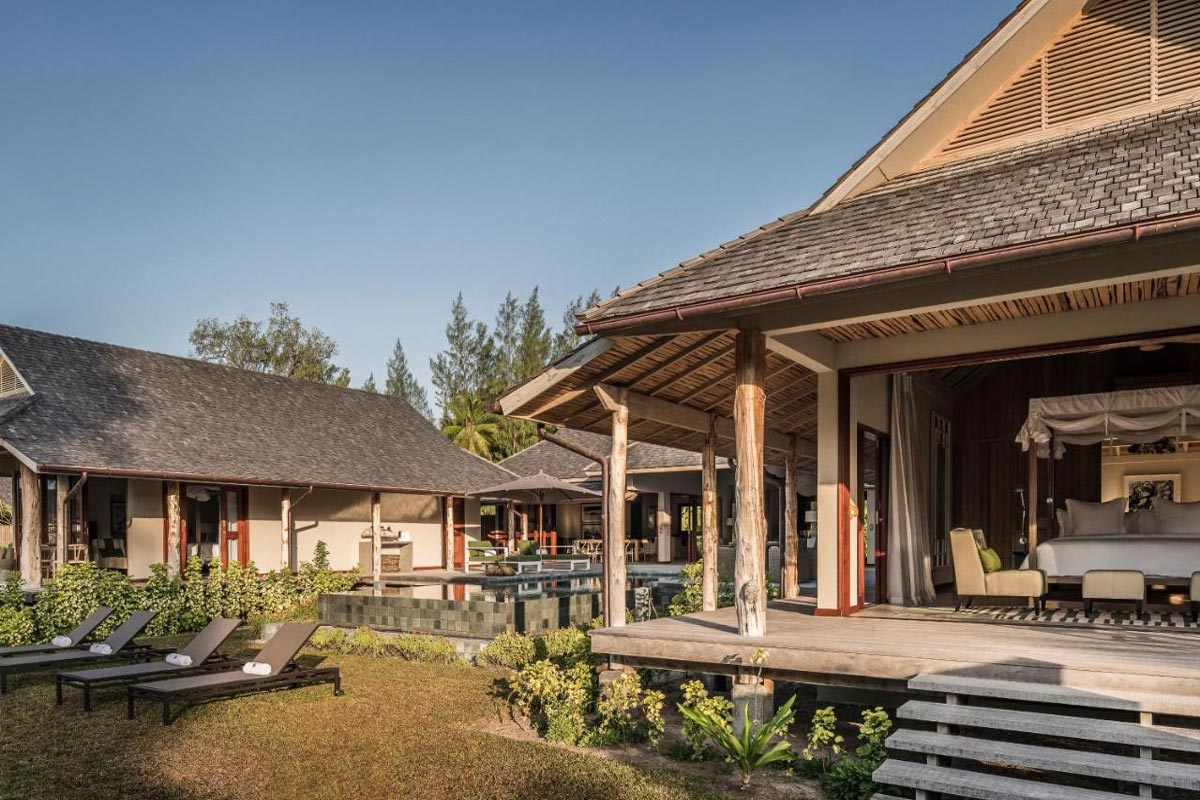 For those of you with an extremely generous budget, we think the Four Seasons Desroches might just be the best honeymoon resort in the entire world.
No, we're not being dramatic – for one, this resort is the only one on the entire island (private island, anyone?) and is surrounded by miles and miles of white sand beaches flanked by palm trees. If it's a truly serene honeymoon you're after, you won't do much better than this majestic Seychelles resort.
Snorkeling, swimming, kayaking, and lounging on a private beach are just a few of the unmissable activities you can get up to on a honeymoon at Four Seasons Desroches. That is, if you're not too busy hanging out at one of the restaurants, bar, or deli.
Six Senses Zil Pasyon
Felicité Island
$$$
Best for an Idyllic Seychelles Honeymoon
Six Senses Zil Payson gives you a chance to experience one of the best Seychelles honeymoon hotels from a perspective you'll never forget. Arrive by boat to the picturesque island and find yourself staying at one of the most magical resorts in Africa.
Reserve the Panorama Pool Villa and marvel at the ocean paradise around you from your private patio pool, luxury bathtub, or adorable swinging bench inside your beautiful room.
The living area opens up completely, giving you full access to the hardwood deck outside, where you can toast to your future together from one of the most incredible honeymoon destinations we've discovered so far.
Anantara Maia Seychelles Villas
Anse Louis
$$$
Best for a Seychelles Honeymoon All-Inclusive Package
If it's an all-inclusive Seychelles honeymoon you're after, you're in the right place. Anantara Maia Seychelles Villas has one of our favorite honeymoon packages.
Your romantic luxury accommodations begin with a champagne toast before embarking on an exclusive helicopter tour over Seychelles' beautiful beaches, mountains, and waters.
Once you land from your adventure above, you'll arrive home to spa treatments, opulent hotel grounds, and delicious meals, including a tailor-made dinner for two on a night of your choice.
Wake up in your Ocean View villa with the sights and sounds of the sea around you in the unparalleled setting at one of our favorite Seychelles honeymoon resorts. Pure bliss.
Mango House Seychelles
Mahé, Seychelles
$$$
Best for a Honeymoon in Mahé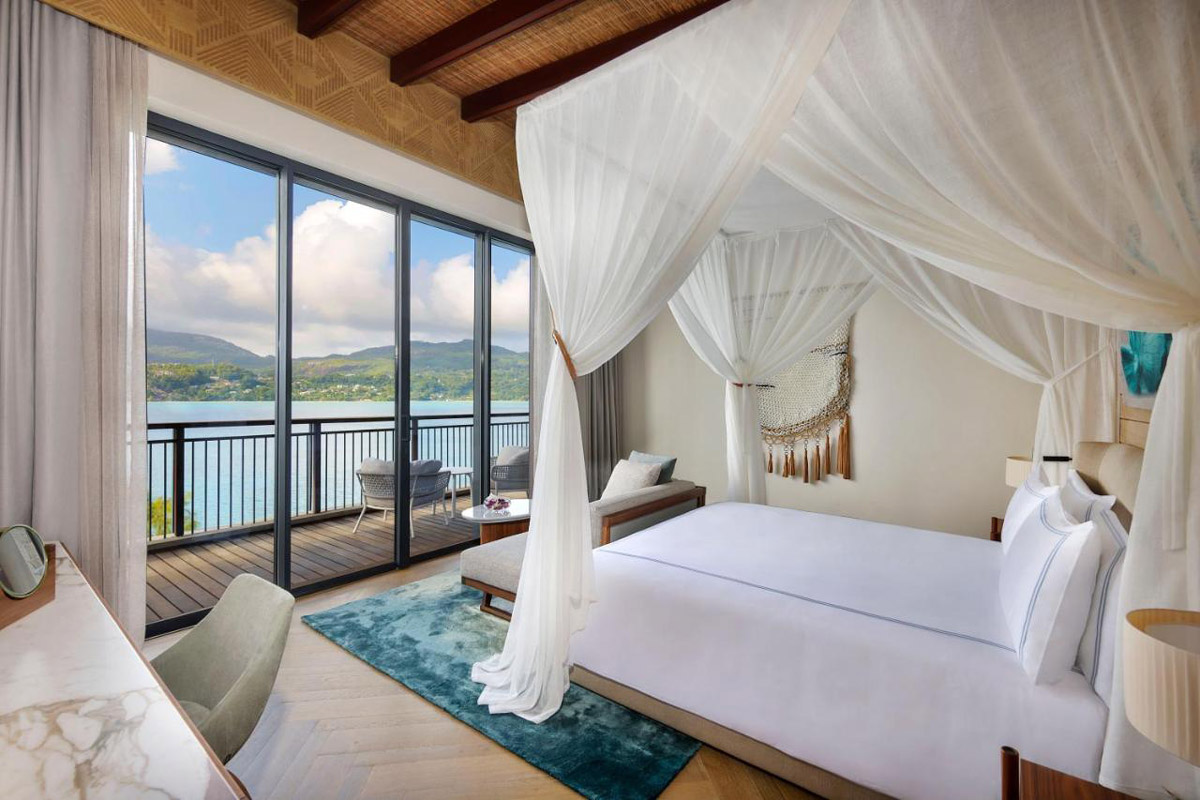 You land in Mahé and want to check out the main island on your Seychelles honeymoon, and you want the perfect place to stay. So where should you go?
Mango House Seychelles is one of our favorite destinations for an African honeymoon and an excellent choice when you fly into Seychelles.
Whether you book a villa with an ocean view or a suite in the Bay House with a private plunge pool, you'll experience elegant island beauty on your honeymoon in Seychelles.
Five restaurants and bars on-site let you choose from excellent menus ranging from Italian to Creole cuisine. Sign us up for that.
Free Wi-Fi, digital entry, and EV charging are just a few modern amenities you'll experience while staying here. Welcome to Seychelles; we think you'll love it.
North Island, a Luxury Collection Resort, Seychelles
Ile du Nord
$$$
Best for a North Island Seychelles Honeymoon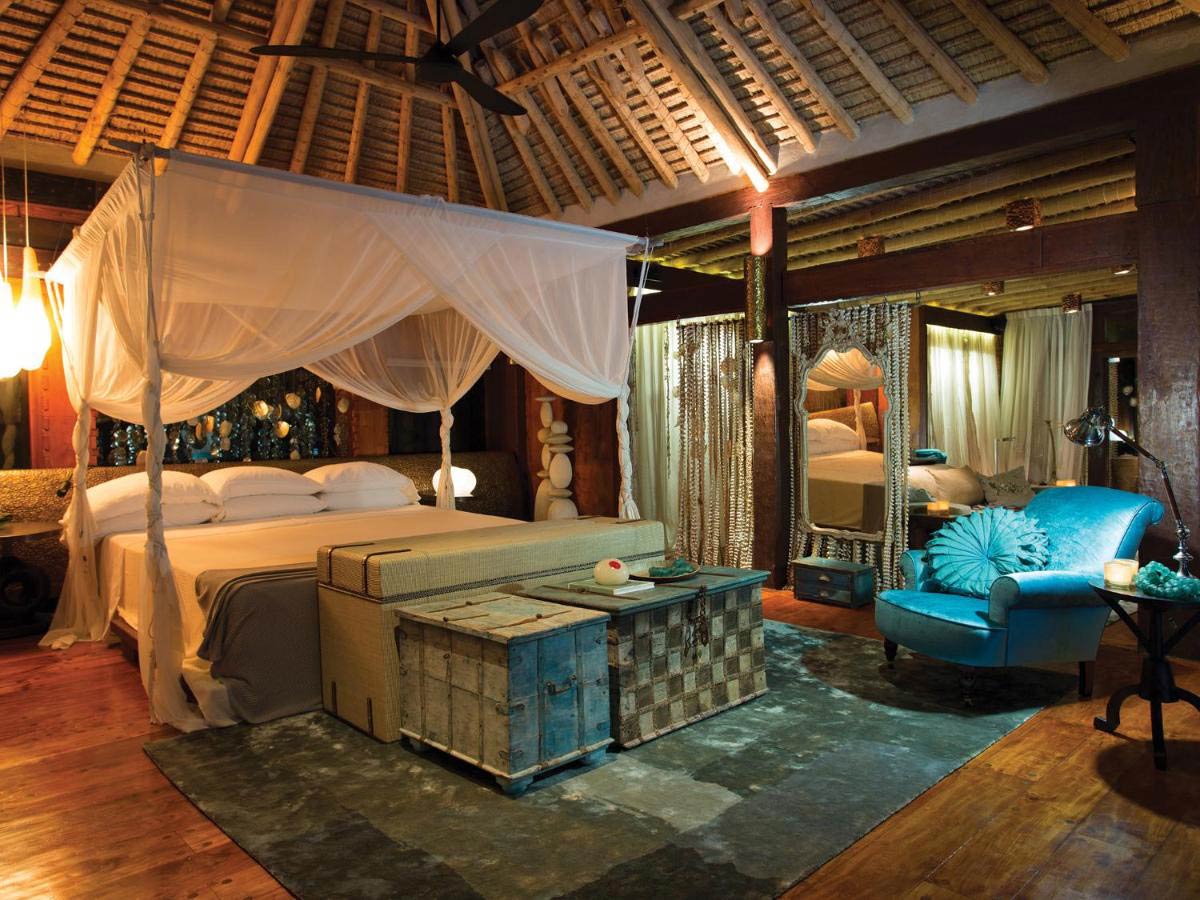 What if we told you that one of our favorite Seychelles honeymoon destinations also features one of the most incredible hotels?
North Island, a Luxury Collection Resort in Seychelles, makes you feel like you're on a private island with the person of your dreams. You basically are.
The 11-villa property is the perfect place to spend a romantic week with your forever partner while you take in the remote island backdrop of Ile Du Nord.
The hotel also provides you access to any outdoor activity you want, including diving tours among shipwrecks, afternoons observing turtles with conservationists, and daily access to surfboards.
As for the accommodations? You won't find a better example of Seychellan architecture and craftsmanship than the handmade beachside villas. Make yourself at home in the expansive suite with every amenity you can dream of at your disposal.
La Petit Maison and Sea Splash
Praslin
$
Best for an Affordable Honeymoon in Seychelles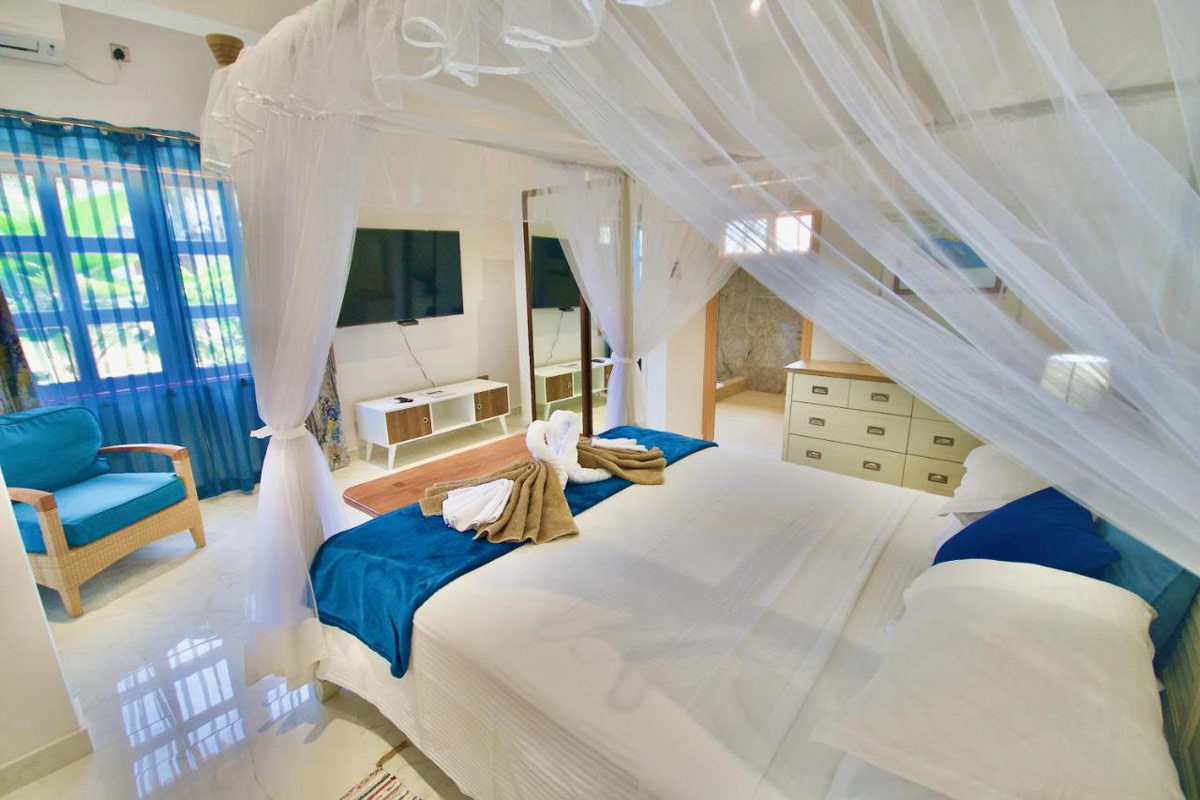 If you're looking for budget Seychelles resorts on your honeymoon, you'll want to visit La Petit Maison and Sea Splash.
Walk to some of the best beaches in Seychelles in minutes from the beautiful property next to Anse Consolation Beach.
When you're ready to relax, settle into the tastefully simple suites equipped with kitchen essentials, large walk-in showers, and views of the beautiful ocean outside your patio.
Upgrade to a King Suite with Sea View and take advantage of a spacious patio and room where you can relax and romance at the best price you'll find on your honeymoon in Seychelles.
Seychelles Honeymoon Tips: What You Need to Know
A honeymoon in Seychelles is a wonderful idea that more and more couples explore daily. But there are some crucial considerations when visiting the Seychelles island nation.
Is Seychelles Safe for a Honeymoon?
Overall, Seychelles is a very safe place to go on a honeymoon. Take standard safety precautions, and you will be just fine visiting this unforgettable honeymoon destination.
How to Get to Seychelles
Chances are, you'll arrive at Seychelles on the island of Mahé at Seychelles International Airport (SEZ). Most visitors will have at least one transfer, with Dubai (DXB) being the most common layover destination.
The Best Seychelles Honeymoon Destinations
Mahé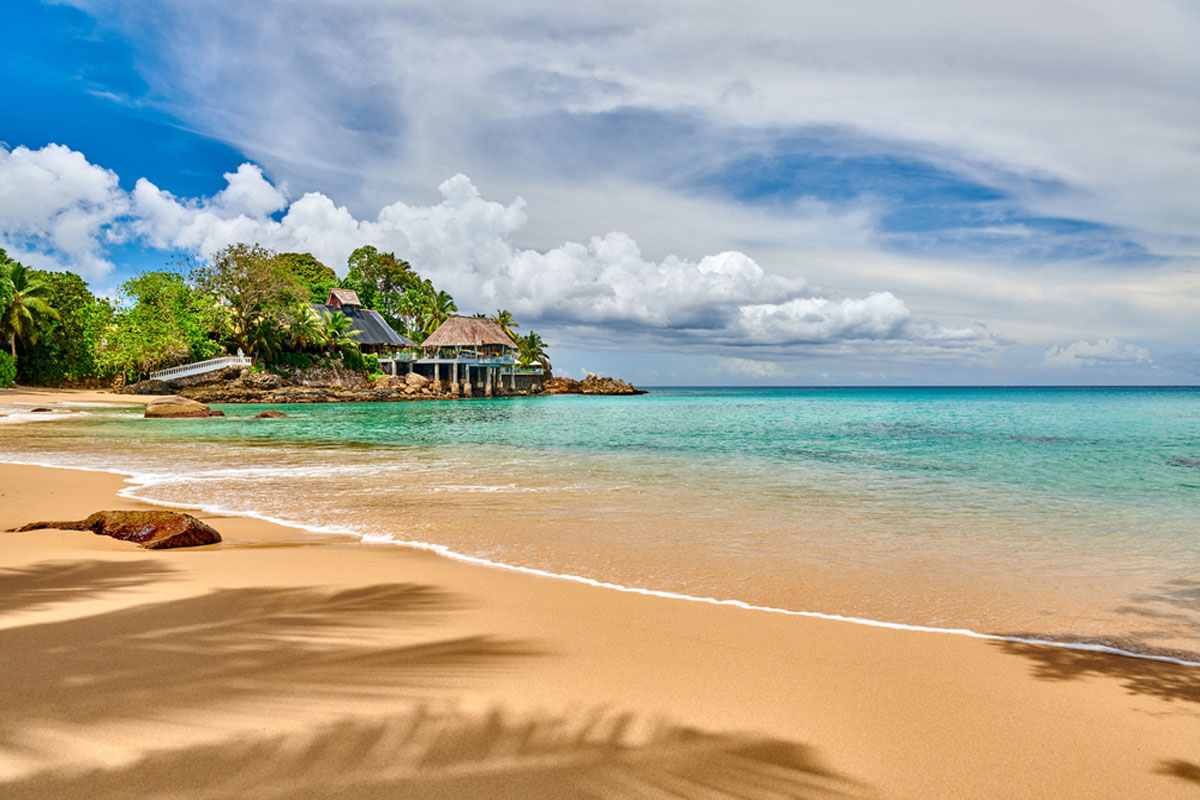 Going on a Seychelles honeymoon? More often than not, you'll arrive via Mahé.
And it just so happens that the largest island in Seychelles has endless choices for the best things to do.
Highlights include beaches galore, our favorite being Anse Soleil, and the hiking here is also incredible. Check out Morne Blanc for a relatively leisurely stroll with some great views at the end.
Curieuse Island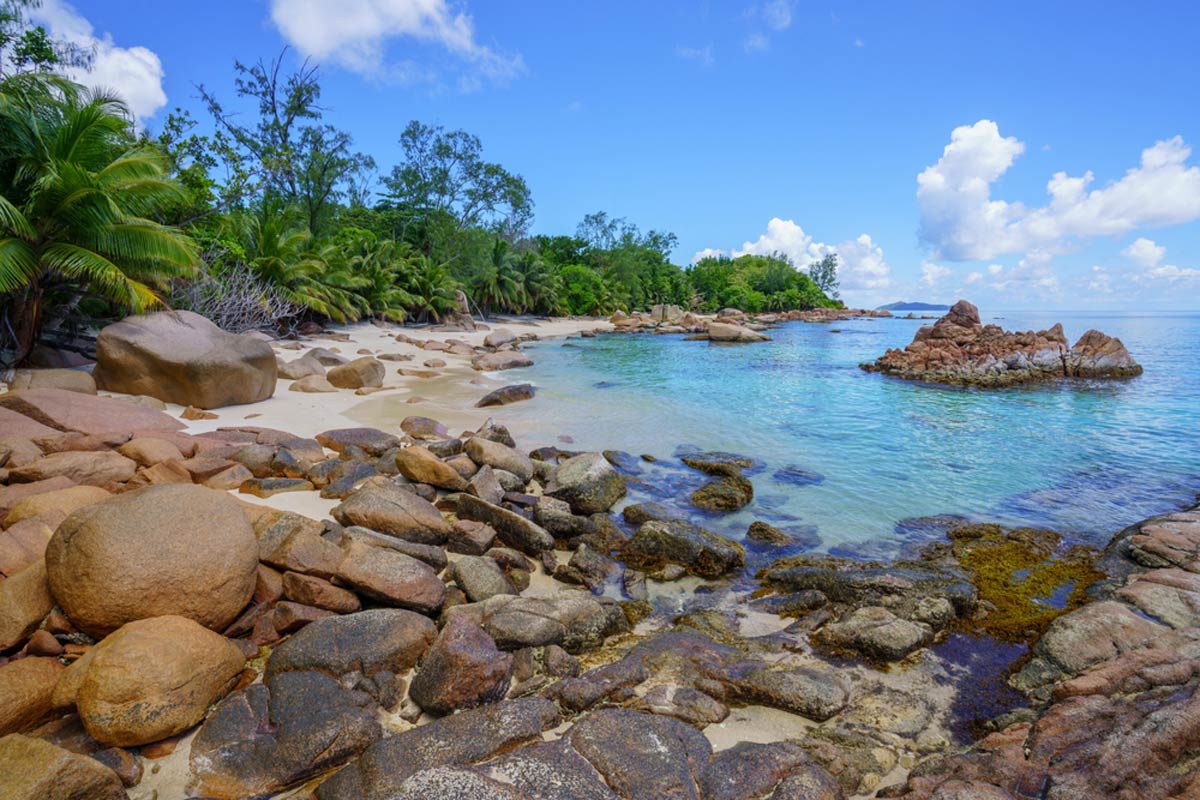 Want to hang out with some animals you'll only find on your Seychelles honeymoon? We thought so, and Curieuse Island is the place to do it.
From endemic wildlife species to giant tortoises, you and your partner have every chance to see incredible nature while you're on your African honeymoon in Seychelles.
It's also one of the only places you'll find the Lodoicea or Coco de Mer tree, known for its gigantic fruit that can weigh up to 100 pounds.
But the fun isn't just on land here; the snorkeling and scuba diving are also noteworthy. Head over to Curieuse Island and see why it's one of the top-rated locations for a Seychelles honeymoon.
St Anne Marine National Park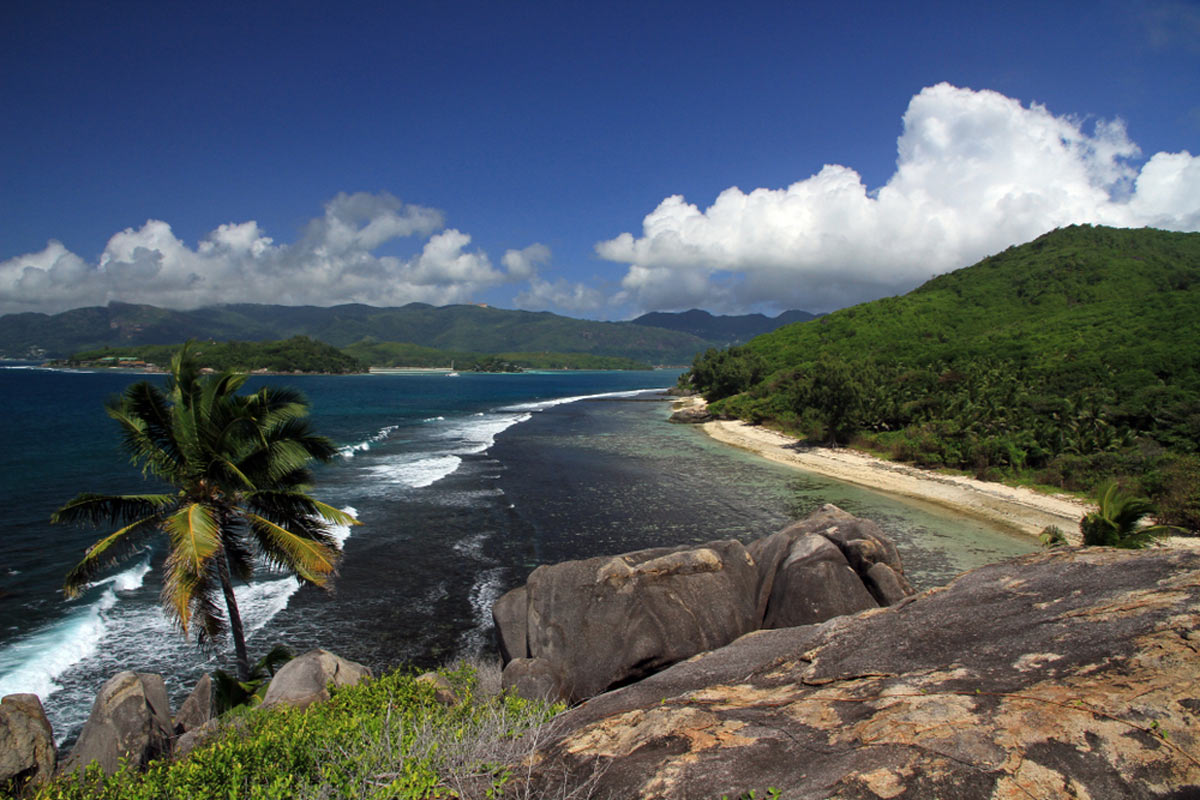 Fancy a romantic honeymoon in Seychelles while enjoying one of the best-protected spaces in the country? St Anne Marine National Park needs to be on the top of your Seychelles honeymoon itinerary.
You'll find dolphins, turtles, and endless meadows of seagrass at this renowned nature reserve. What's special about one of the largest seagrass sites in Seychelles? They're a popular food source for sea turtles and give you a great chance to spot the elusive creatures up close.
St Anne Marine National Park is also home to some of the best Seychelles honeymoon resorts and restaurants, giving you countless options for your romantic trip together.
Silhouette Island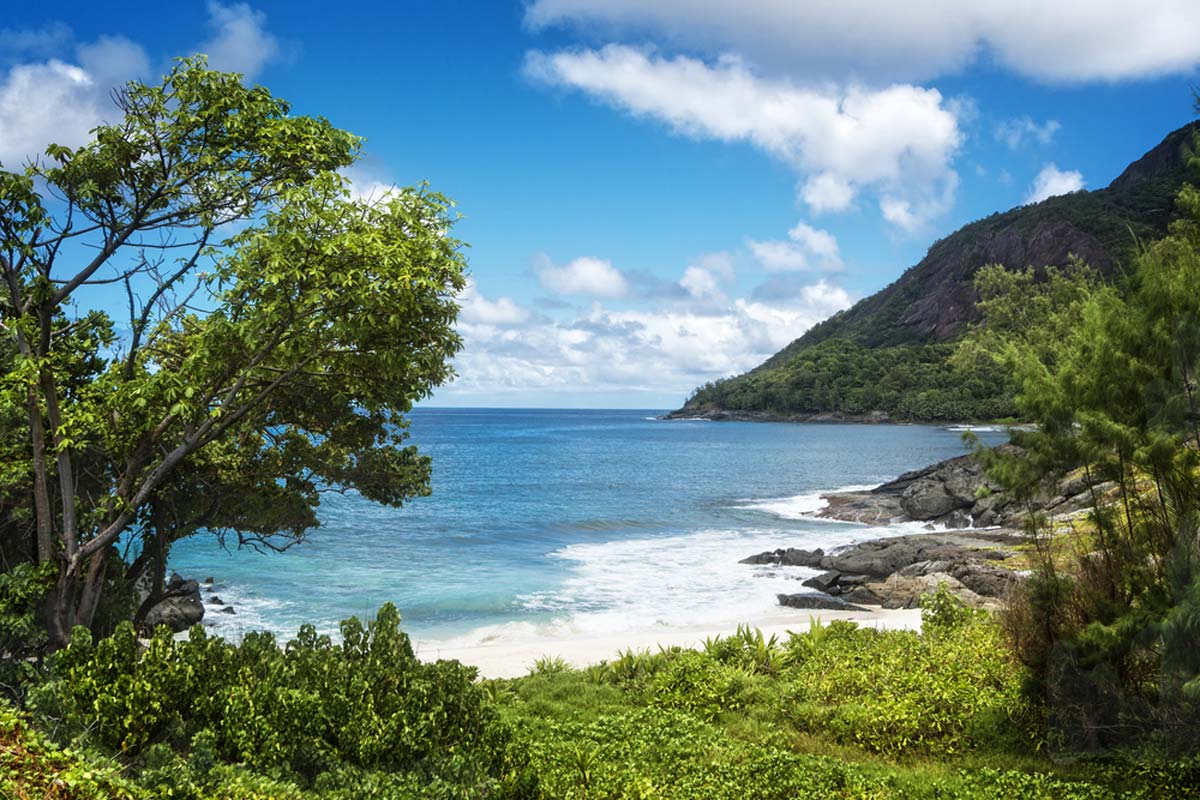 Looking for one of the top destinations for your honeymoon in Seychelles?
Silhouette Island is an excellent choice for its mountain landscape that gives you some of the best hiking opportunities on your tropical vacation.
You'll find unique wildlife in Africa here, including endangered animals like the Seychelles sheat-tailed bat and flowers you won't see anywhere outside of Seychelles.
Want to get some steps in? Hiking is everywhere on this incredible honeymoon destination, with over 90% of the island designated as a national park.
Ile du Nord
If you're dreaming of a North Island Seychelles honeymoon, be sure to book the hotel on Ile du Nord and experience luxury and tropical beauty like nowhere else on your honeymoon in Seychelles.
When you're not enjoying your 5-star accommodation, you can see the coastal beauty of Phare du Borgot and Monument Aux Pêcheurs or do some shopping, dining, and sightseeing on the wonderful island.
You can also book a diving, fishing, or sailing expedition, and see what makes this part of Seychelles a favorite amongst honeymooners worldwide.
The Best Time to Visit Seychelles
When is the best time to go on your Seychelles honeymoon? Spring and fall are usually the best, with October being our favorite time to plan a honeymoon in Seychelles.
How Long to Spend on Your Seychelles Honeymoon
What's the right amount of time for a Seychelles honeymoon itinerary? While it ultimately depends on your budget, we think planning to spend 7-10 days in Seychelles is just right.
How Much Does a Seychelles Honeymoon Cost?
So you've locked in on Seychelles as the perfect location for your honeymoon in Africa, but what does a Seychelles honeymoon cost?
Again, this depends on what level of luxury you're after. Generally, though, airfare, accommodations, and meals in Seychelles will typically run you between $7000-$10,000 for a romantic Seychelles honeymoon.
Seychelles Honeymoon Resorts: Map
Read More Honeymoon Guides