Planning the ultimate honeymoon in Zanzibar? Read our expert guide on the top destinations and hotels for your Zanzibar honeymoon.
We think that Africa is ridiculously underrated when it comes to honeymoons. And, if there was a single destination to prove its worth, it's Zanzibar.
This archipelago is a short distance from the coast of Tanzania and is peppered with serene beaches, dense tropical forests, and rich culture and history.
We know it's a great place to vacation, but how about taking a honeymoon in Zanzibar? Here's why it's an unforgettable location for a honeymoon.
Why Honeymoon in Zanzibar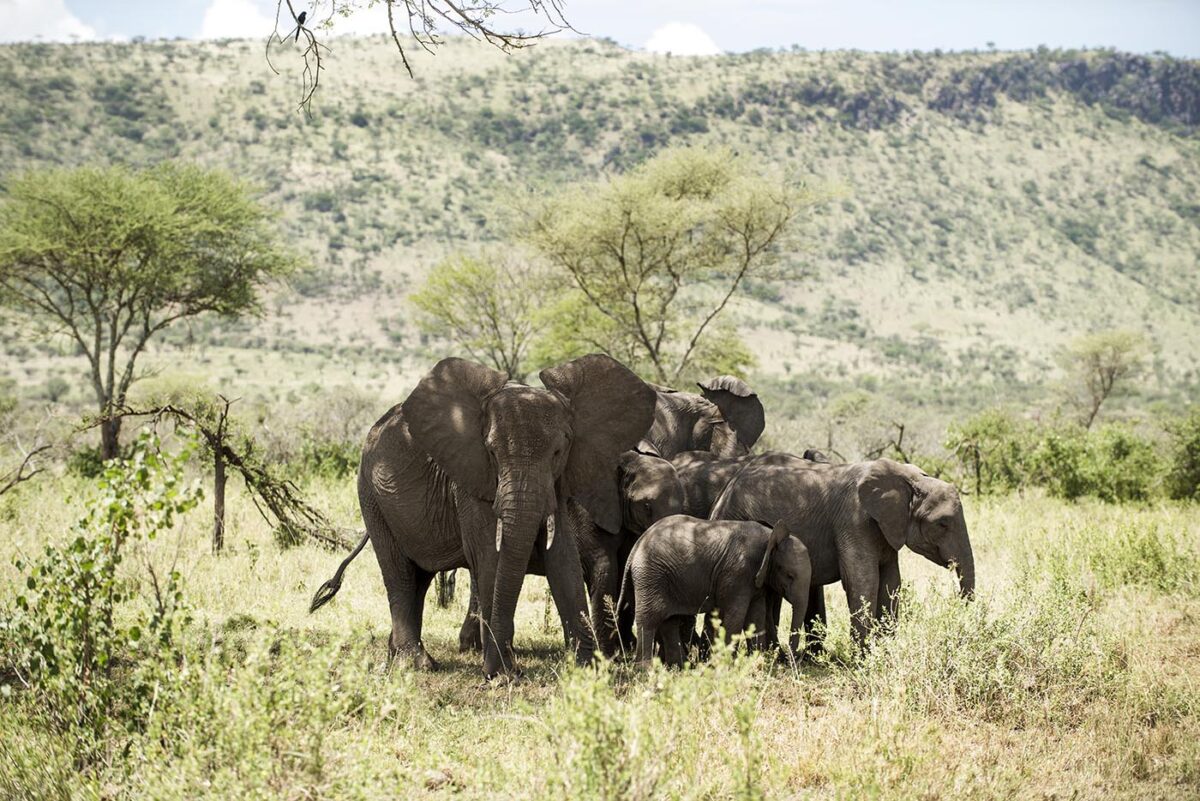 The Tanzanian island of Zanzibar is awash with culture and beauty. That alone should be enough to convince you.
Whether you're a history buff intent on exploring ancient Zanzibar City or are more likely to spend your time on the beach worrying about nothing more than your next swim, a Zanzibar honeymoon is a perfect choice.
Read on to discover our favorite ideas for a honeymoon in Zanzibar.
Best Honeymoon Hotels & Resorts in Zanzibar
Tulia Zanzibar Unique Beach Resort
Pongwe
$$$
Best for a Private Beach Honeymoon in Zanzibar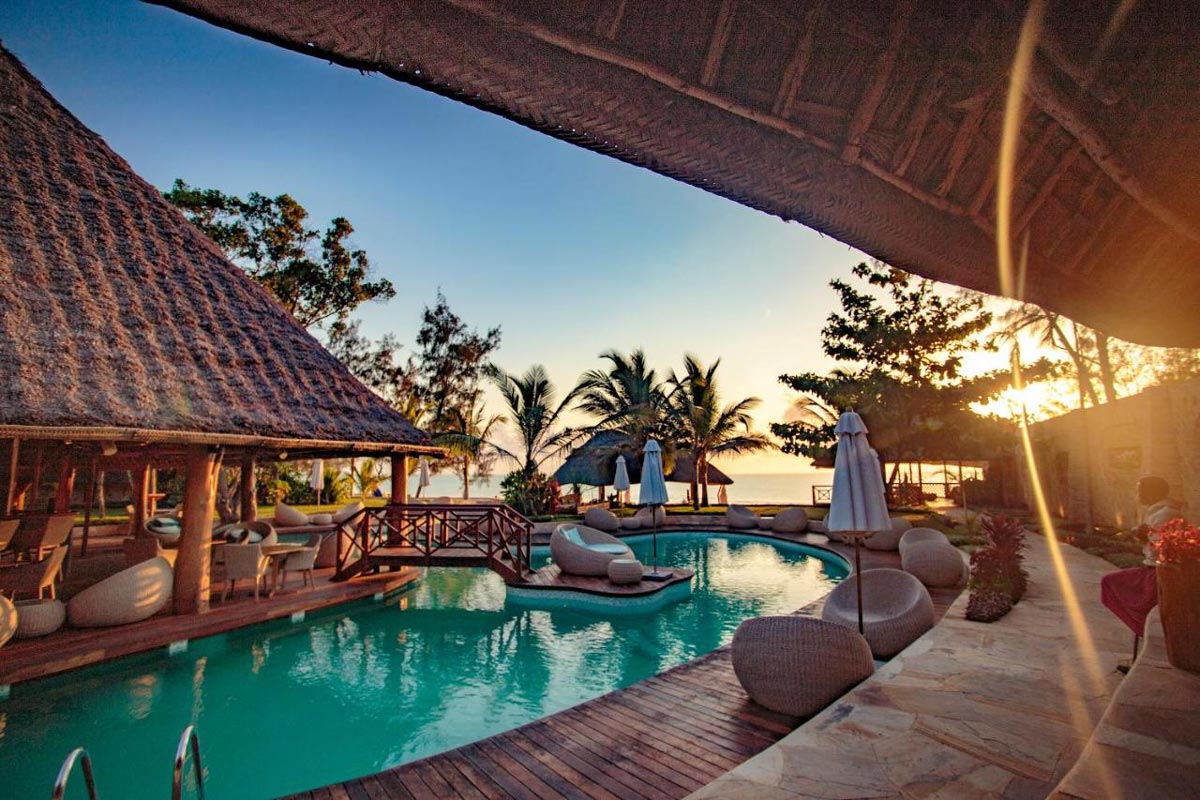 Looking to relax and romance on a private beach during your honeymoon in Zanzibar? That seems like a rhetorical question – but we thought we'd ask anyways.
The Tulia Zanzibar Unique Beach Resort will exceed any expectations you may have about a beachside retreat and ranks up high with any waterfront location we've discovered in Africa, including Seychelles, for a honeymoon.
Where to stay when you visit this boutique hotel on the Indian Ocean? The Beach Front Villas are the crown jewels of the property.
The thatched roof suite is immaculate inside and features a modern design and amenities that make you feel at home.
But you'll also want to set aside plenty of time to lounge on your patio, where you can stroll right out to white sand beaches to begin your perfect day on your Zanzibar honeymoon.
Kiwengwa Beach Resort
Kiwengwa
$$$
Best for a Luxurious Zanzibar Honeymoon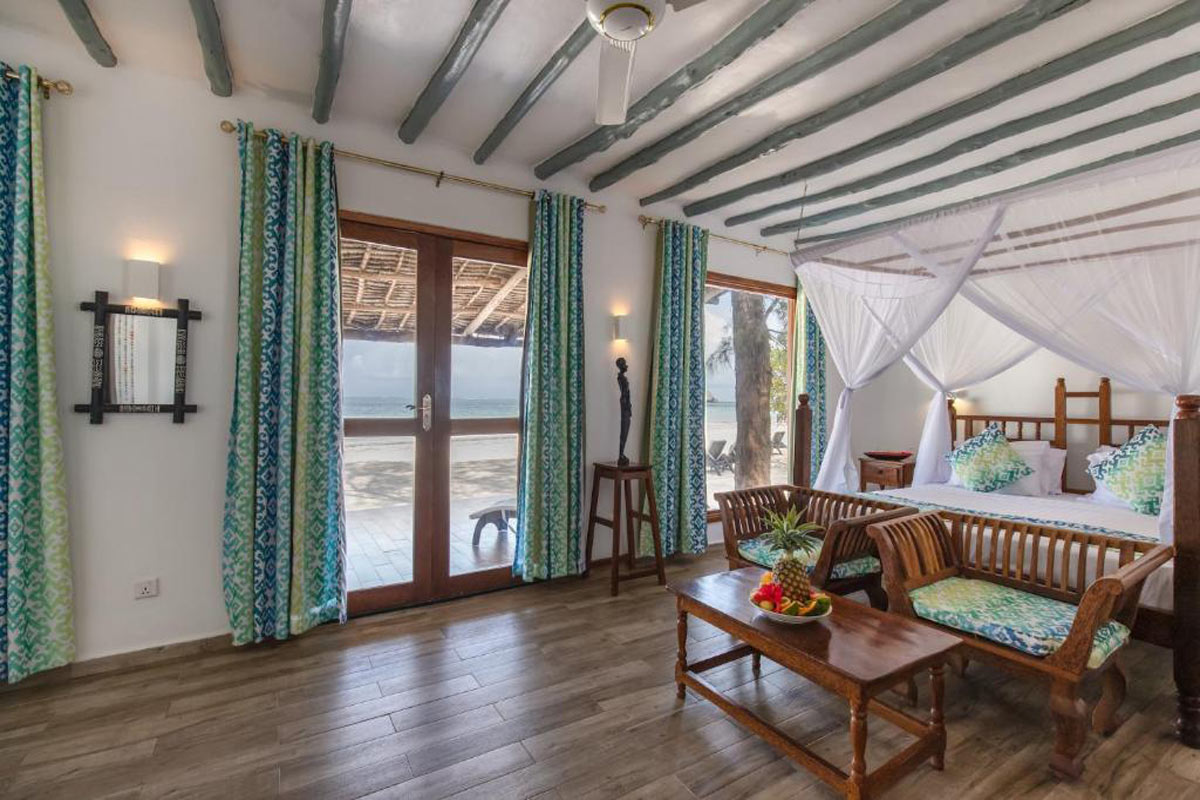 The best honeymoon hotels Zanzibar offers are often next to the beach. And, why not – the small Tanzania archipelago is big on white sands, blue waters, and fun in the sun.
So, where do you stay if you want a high-end honeymoon in Zanzibar near the water? We love the idea of a Zanzibar honeymoon at the Kiwengwa Beach Resort.
What makes this the best hotel in Zanzibar for a honeymoon filled with seaside luxury.
This 5-star property boasts excellent service, plenty of space to lay out by the pool and relax, and comfortable and elegant rooms.
Try to book the Luxury Suite with Sea View, and spend your evenings relaxing on the loveseat or unwinding in the in-room jacuzzi. You can reflect on everything you love about each other and this wonderful African honeymoon destination from one of our favorite luxury resorts.
Kilindi Zanzibar
Kilindi, Tanzania
$$$
Best for Honeymoon Packages in Zanzibar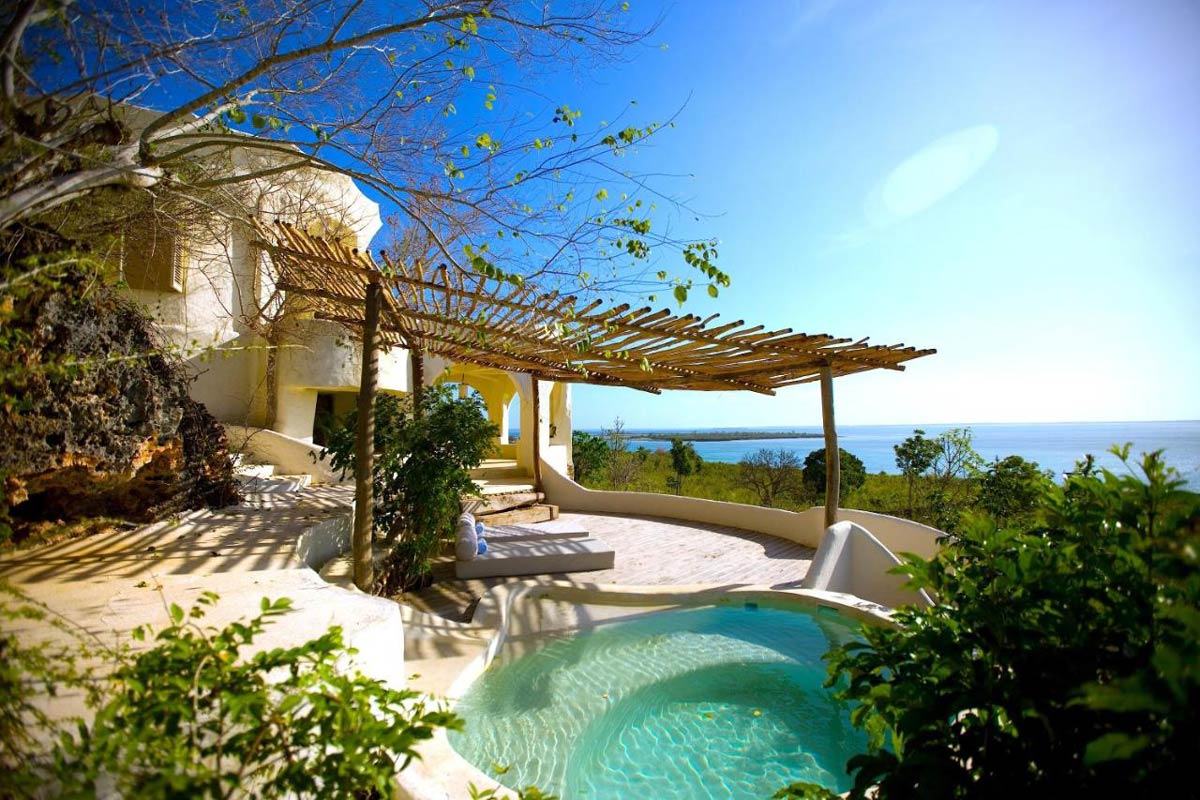 It's more than likely you had an ABBA song playing at your wedding – and we're here for that. But how about staying at a resort originally designed for one of the pop sensation's members?
When you see the stylish pavilions that inhabit over 50 acres of garden paradise at Kilindi Zanzibar, you'll instantly consider it among the best honeymoon hotels in Zanzibar.
The rooms here are spectacular and feature rain-style showers, gorgeous views of the ocean, and private plunge pools.
If you want to turn the romance up even more (it is your honeymoon, after all) how about an excellent Zanzibar honeymoon package that will romance you with a candlelight dinner, discounted room rates, and a champagne toast under the star-studded Zanzibar Sky?
Tembo House Hotel
Zanzibar City
$
Best for an Affordable and Romantic Zanzibar Honeymoon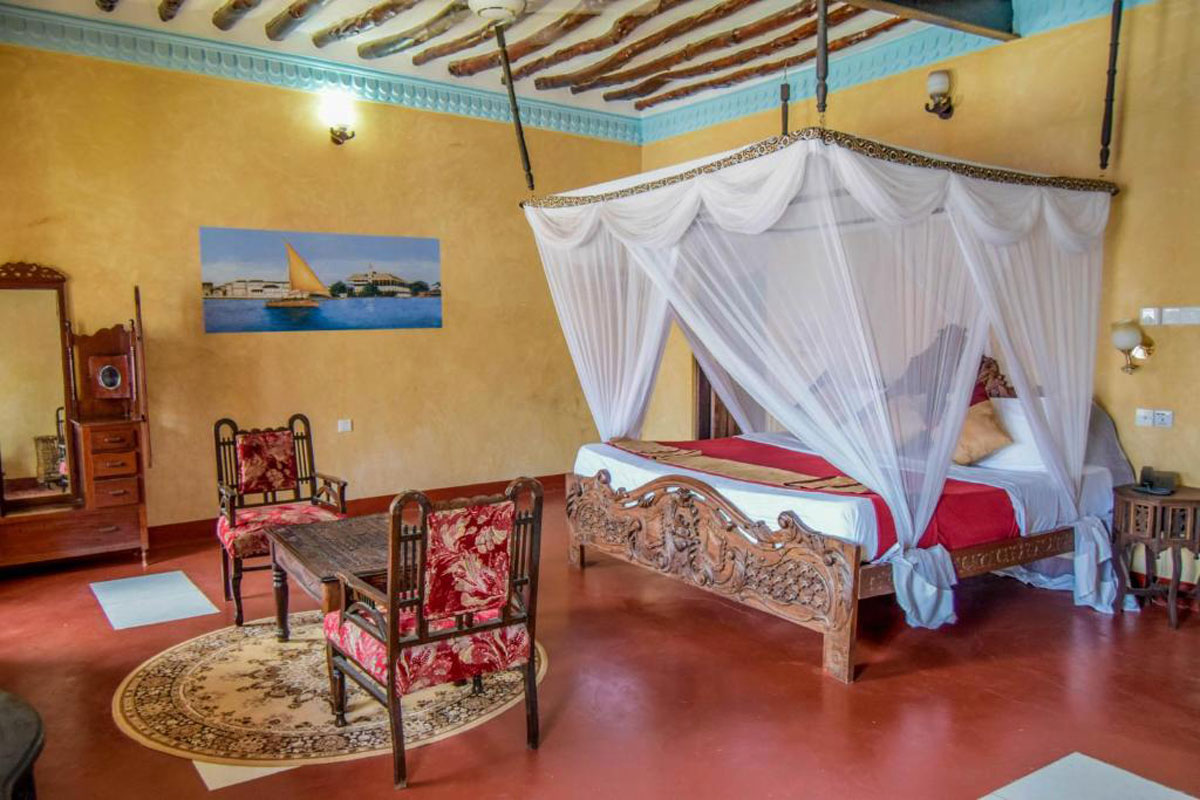 Romance sometimes has a steep price tag, but the Tembo House Hotel proves that the best place to stay in Zanzibar for a honeymoon can be quite affordable.
What makes this one of our favorite Zanzibar honeymoon hotels? Just about everything. The location is central to much of which makes Zanzibar City unique – allowing you to walk to iconic sites like Old Fort.
But the hotel grounds have some magic of their own. The long-standing hotel is charming, funky, and welcoming, with an excellent pool and restaurant on site.
The rooms are cozy but make up for the lack of space with unique design and all the amenities you come to expect, like a wake-up service, coffee maker, and flat-screen TV.
SeVi Boutique Hotel
Kigomani
$$
Best for a Honeymoon Zanzibar Beach Resort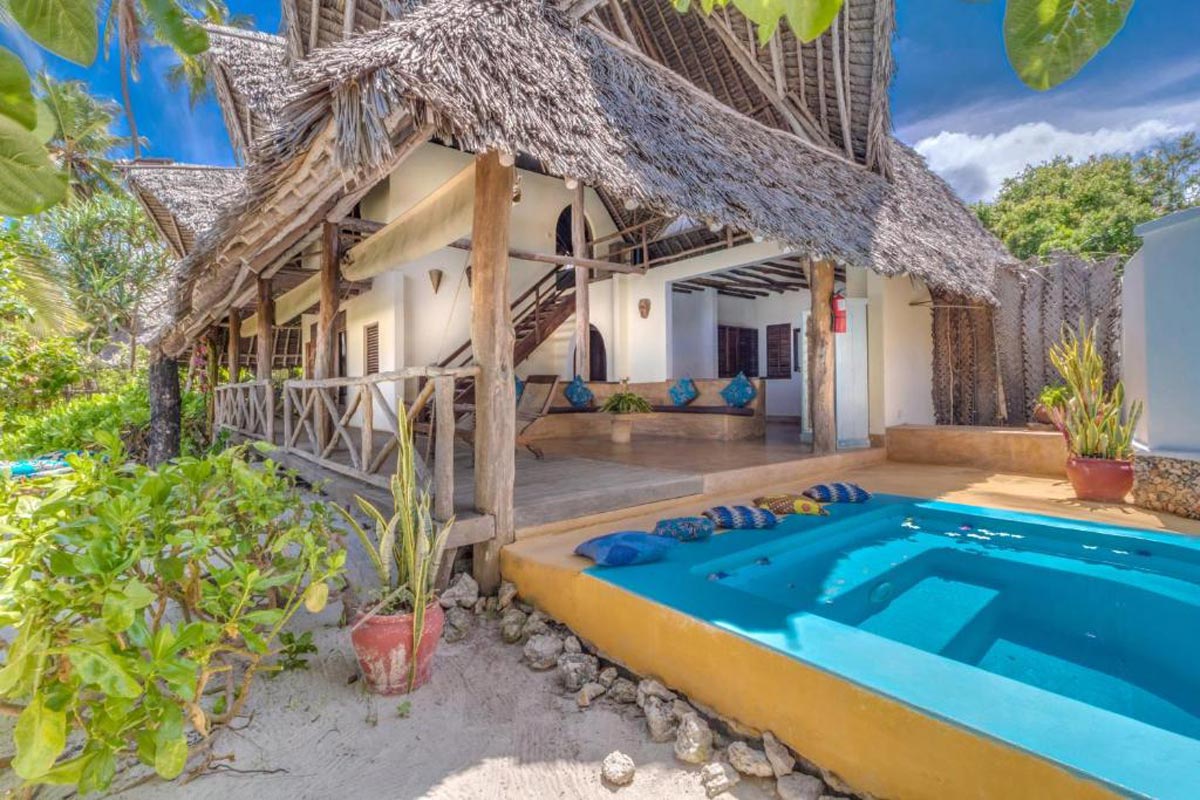 Zanzibar is one of our favorite beach honeymoon destinations, so it makes perfect sense that while you're here, you'll want to stay, well… by the beach.
The SeVi Boutique Hotel is located on the northeastern side of Zanzibar and is where to book in Zanzibar for a honeymoon by the beach.
You're steps away from white sands and sparkling blue waters where you can swim, sunbathe, snorkel, or fish.
Hungry? The hotel's restaurant serves a menu focusing on local ingredients, including freshly caught fish.
Reserve the Bungalow Water Front, and you'll get a romantic villa overlooking the water with a beautiful interior that doesn't get any more romantic. A canopy bed with lofted ceilings, rustic hardwood furniture, windows, and support beams will transport you back in time on your romantic Zanzibar honeymoon.
Zanzibar Honeymoon Tips: What You Need to Know
How to Get to Zanzibar
Zanzibar is typically reached by plane or ferry. If you fly, you'll land at Abeid Amani Karume International Airport (ZNZ).
The Best Zanzibar Honeymoon Destinations
Stone Town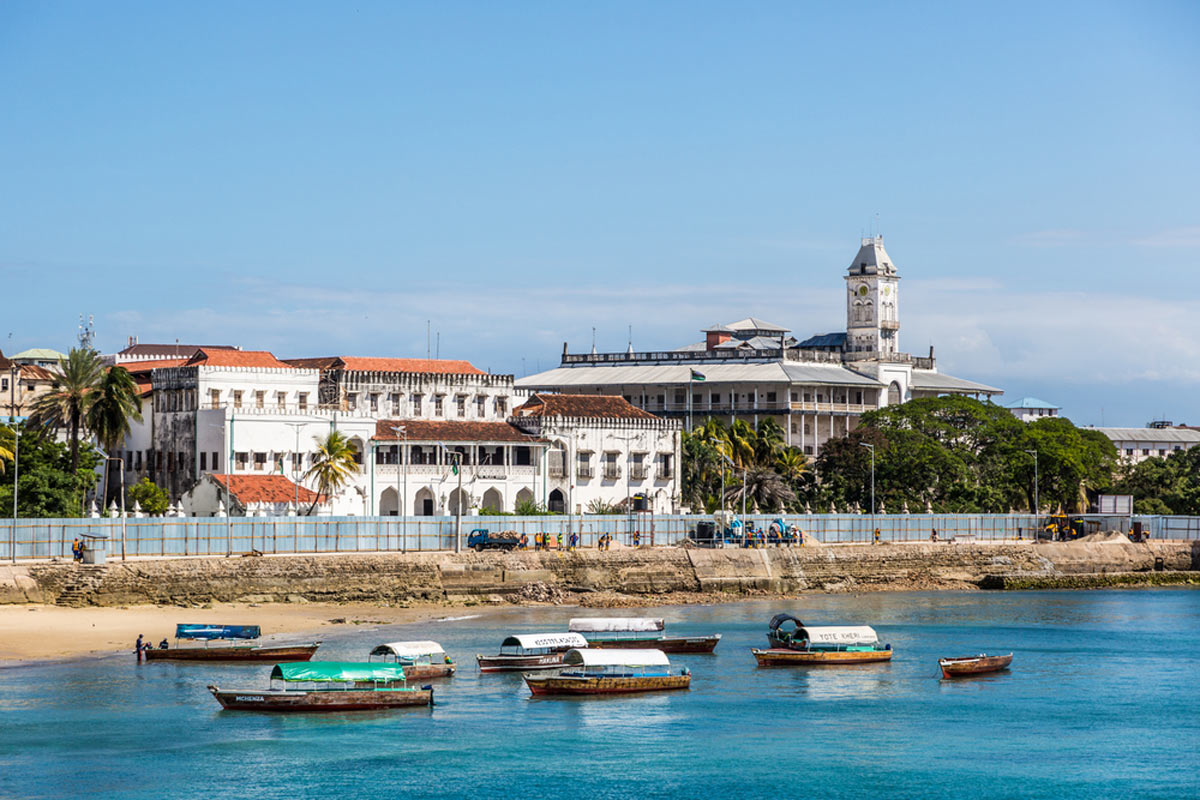 Stone Town is a destination you truly can't miss when planning a honeymoon in Zanzibar. In fact, you're going to want more than one day to visit this bustling Zanzibar honeymoon hot spot.
The ancient village lives and breathes its history through the narrow streets, centuries-old buildings, and vibrant marketplace.
So what should you do on your Zanzibar honeymoon in Stone Town? For starters, just walk. Really, you'll want to travel by foot and take in the incredible town the way the locals do.
Shop at the many boutique stores, hike up to Old Fort to see a 17th-century relic, and be absolutely certain you stop by a local market to try some street food. You won't be disappointed.
Jozani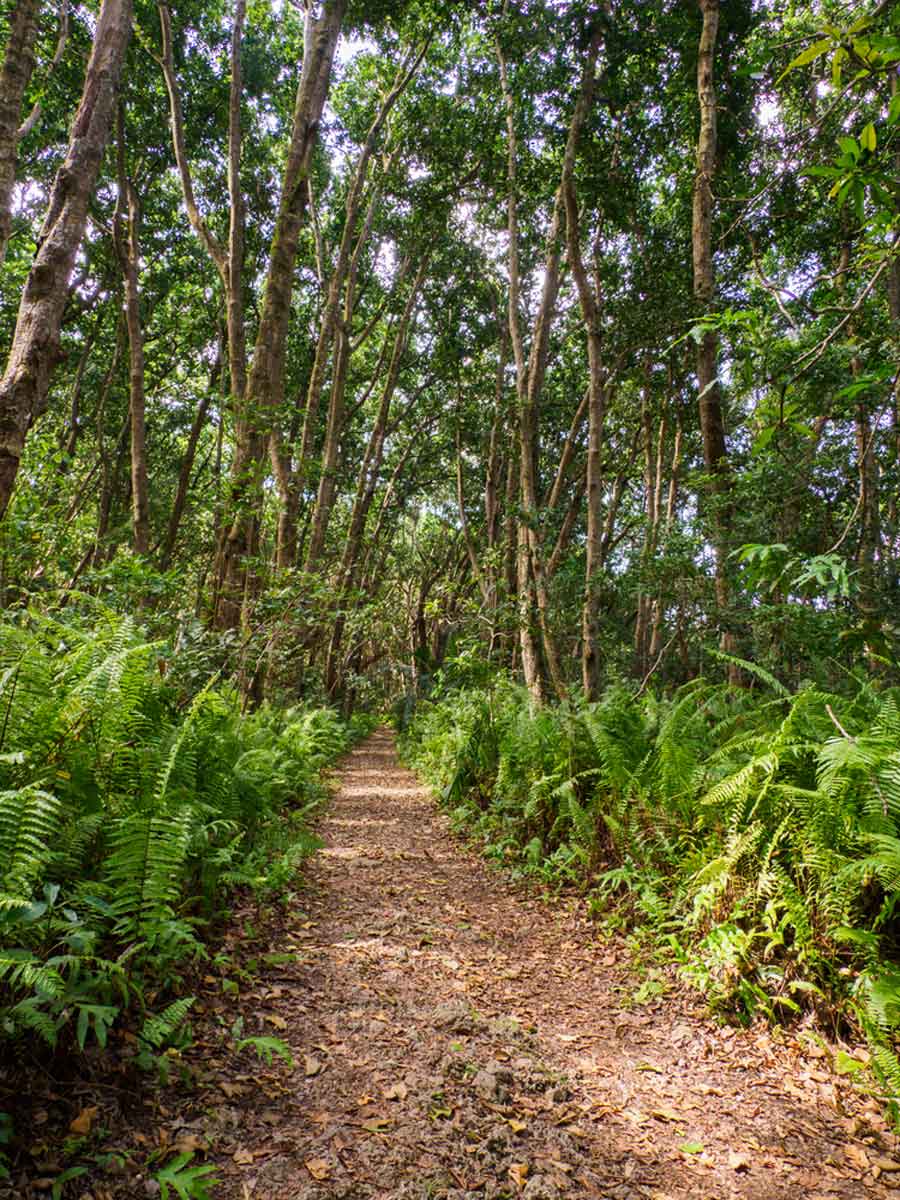 If you want to experience jungles and wildlife, you'll want to head to one of the most popular honeymoon destinations in Zanzibar at Jozani. Here you'll see the unique Red Colobus rainforest and abundant wildlife that's among the best on the island.
You'll find Sykes monkeys, butterflies, galagos, and hyrax among the many adorable animals on your walk through the park.
Make sure you hire a tour guide when you visit the park, as tourists are forbidden to travel without one.
Changuu Island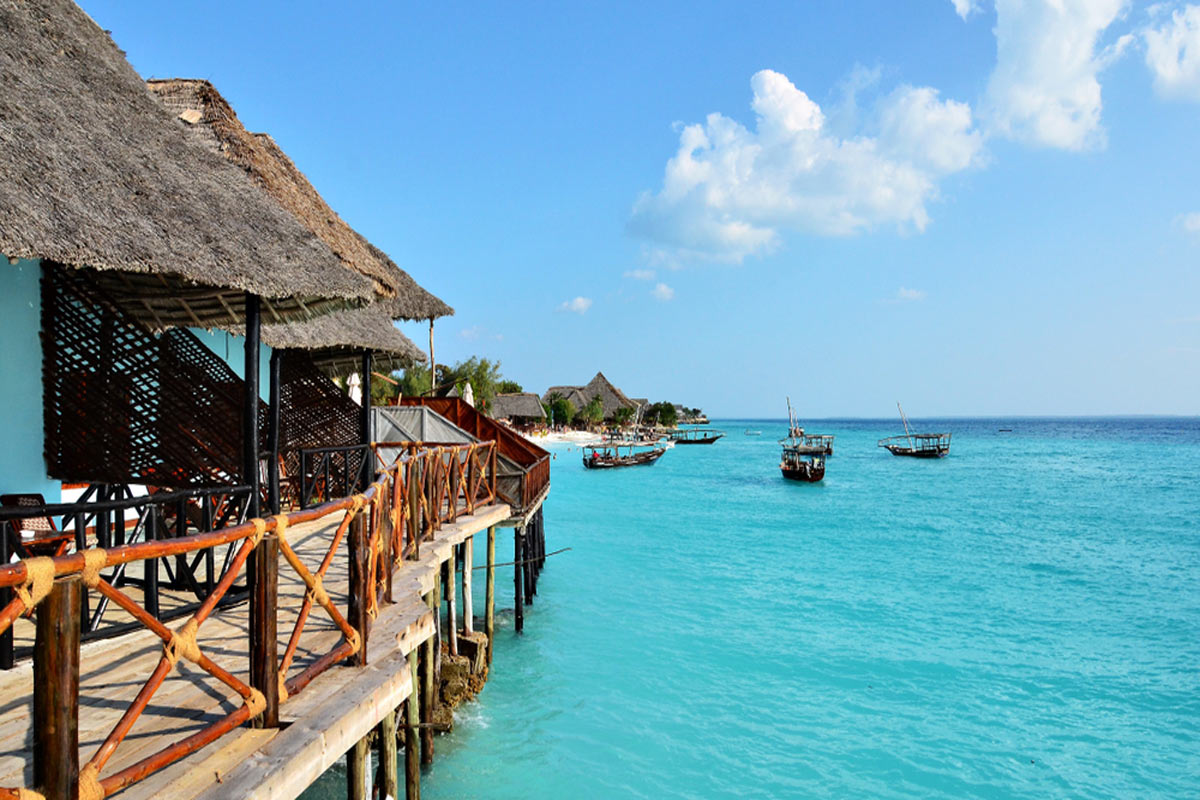 Also known as Prison Island, Changuu Island is a place you'll want to visit on your Zanzibar honeymoon.
If you're interested in Zanzibar's beaches, you're in the right place. You can only access the island by boat – which means that the beach is less crowded than other popular locations.
The water is clear, snorkeling is splendid, and you'll find some pretty intact coral here, too.
Another highlight of Changuu Island is the Tortoise Sanctuary, which is a fantastic way to meet giant turtles up close and personal.
Cheetah's Rock
Want to combine a safari and a Zanzibar honeymoon?
We love the idea of booking a safari honeymoon and extending your stay to visit the beautiful island afterward. And if you haven't gotten enough animal photos for the 'Gram – check out Cheetah's Rock.
You can meet cheetahs, hyenas, and Chaka, the Zebra Stallion.
Fuerte Viejo de Zanzibar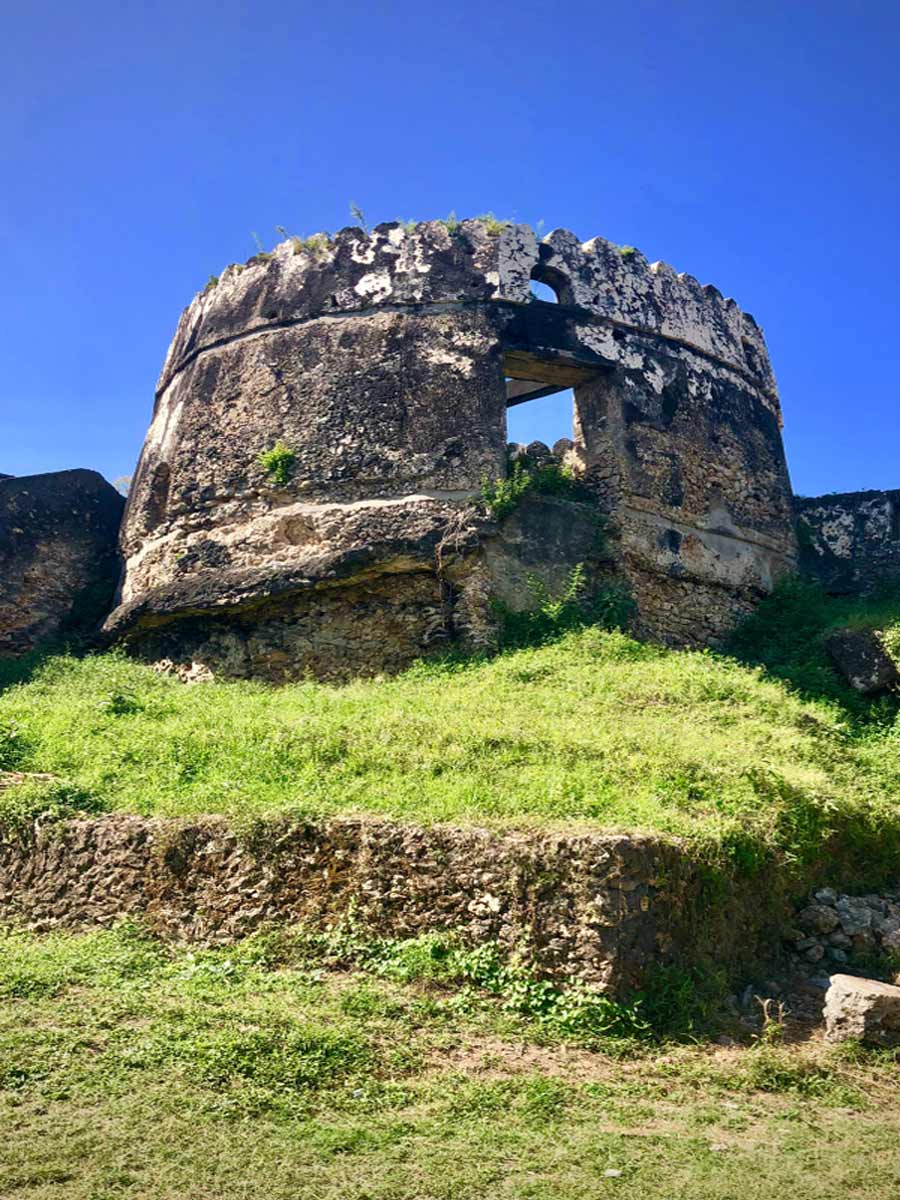 Fuerte Viejo de Zanzibar, or Old Fort, is a destination in Stone Town worthy of its place on any list of things to do in Zanzibar on a honeymoon.
What makes it special? The castle-like building is hundreds of years old, features a beautiful amphitheater, and serves as the location for local vendors selling their handmade wares.
You'll also have a great look at the city and sea below – putting everything into perspective on your honeymoon in Zanzibar.
Kendwa Beach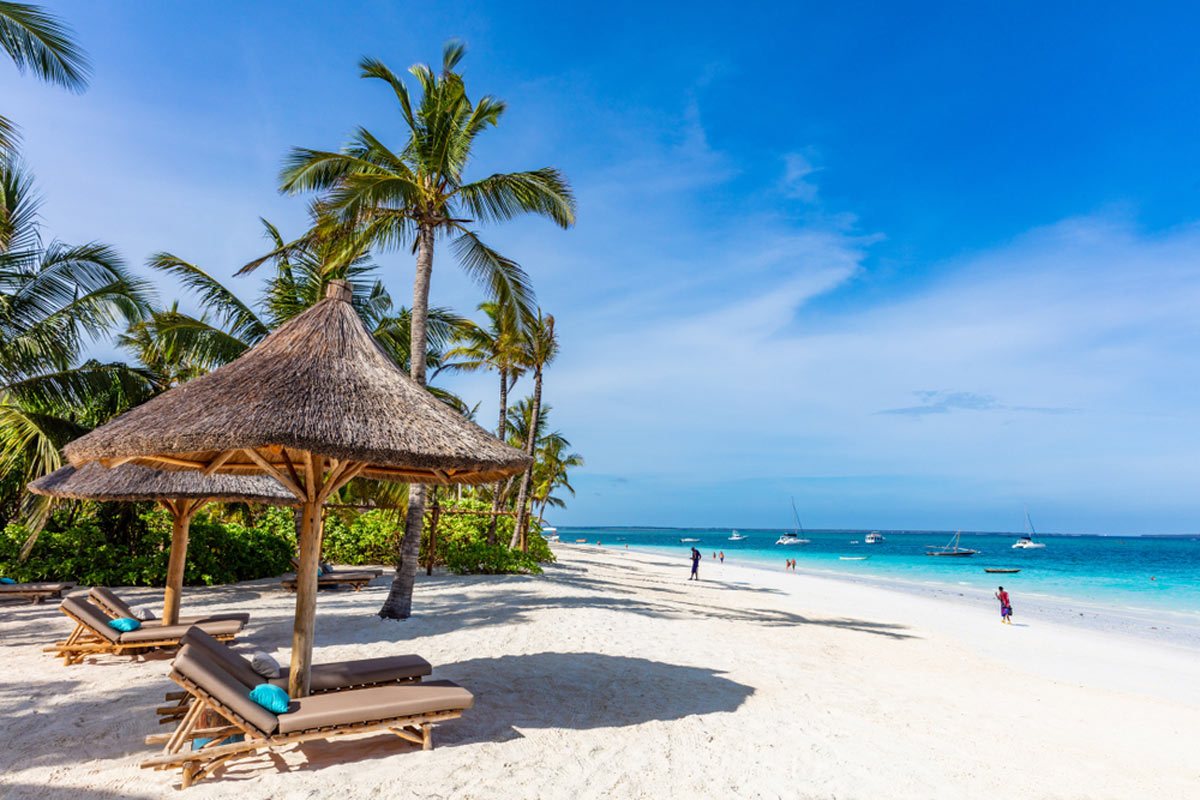 Trust us when we say that you'll want to take advantage of Kendwa Beach on the island's north side.
Why is this a Zanzibar honeymoon idea you won't want to miss? The clear blue water and soft sands make it a famous spot to swim and snorkel. Plus the vibrant area is sprawling with brilliant places to dine.
The Best Time to Visit Zanzibar
Is Zanzibar a good honeymoon destination year-round? For the most part, it is.
You can experience beautiful weather and warm temperatures at almost any time of the year on a Zanzibar honeymoon. You may want to skip a trip in the springtime, however, as March to May can have frequent rain showers.
How Long to Spend on Your Zanzibar Honeymoon
Whether you've planned a Tanzania and Zanzibar honeymoon or spent your whole trip in Zanzibar, how long do you need to experience this archipelago fully?
To enjoy the best of your Zanzibar honeymoon resort, do some epic hiking, and explore the cultural epicenter of Stone Town, you will want at least one week on your Zanzibar honeymoon.
How Much Does a Zanzibar Honeymoon Cost?
On average, a honeymoon in Zanzibar costs between $3,000-$5,000.
You'll definitely end up spending more if you want to see more of Tanzania – and we recommend seeing both if you're already traveling long distances.
Zanzibar Honeymoon Resorts: Map
Zanzibar Honeymoon Guide: Read Next