Planning a safari honeymoon? These are the wild destinations you need to consider.
If you ask us, there's no honeymoon idea more unique (and magical) than a safari. For most people, images of lions, tigers, giraffes, and elephants come to mind when they hear the word safari… But that's just part of the magic.
In addition to these powerful animals, the landscapes tend to be striking and dramatic, making for some incredible memories. And plenty of photo ops, of course.
A safari honeymoon is a remarkable way to solidify the start of your marriage – whether you're keen to embark on a luxury safari or don't mind roughing it out in a tent.
Ready to discover the best safari honeymoon destinations in the world? Let's get started.
Safari Honeymoon Destinations
Kalahari Desert, Botswana
Best for Big Cat Sightings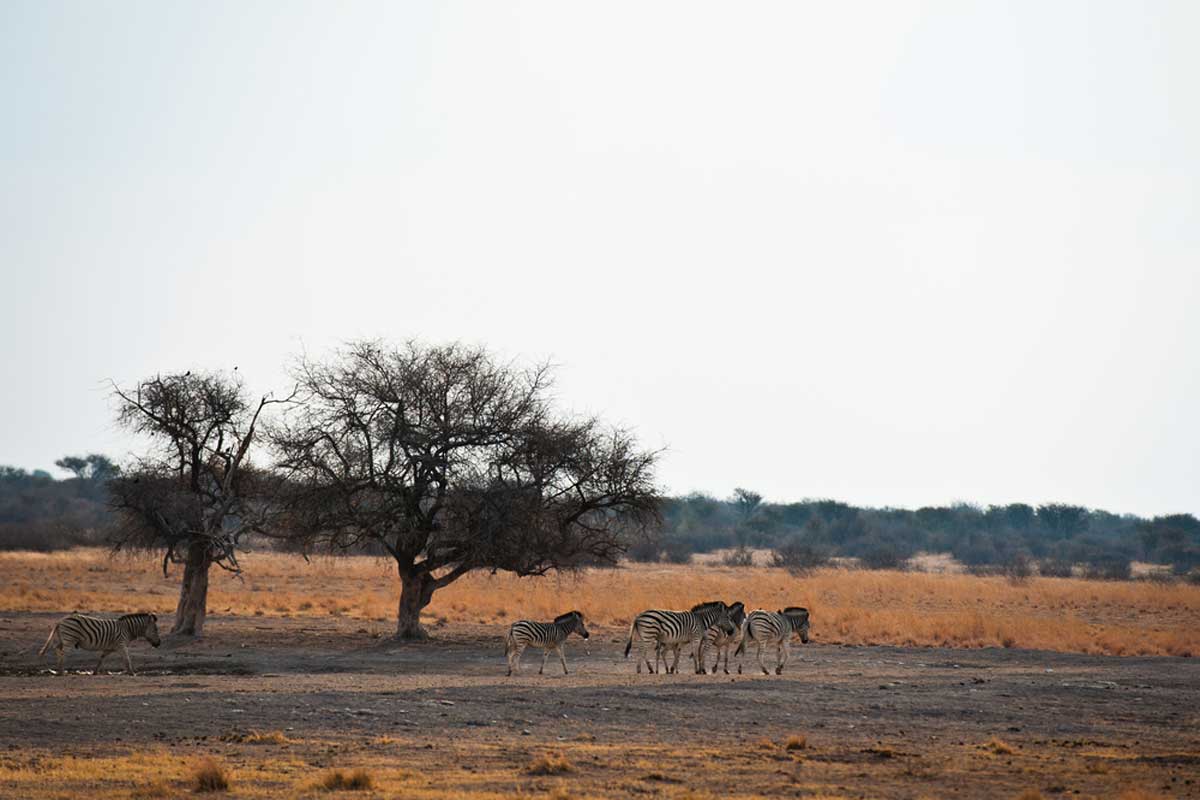 Alright, so the Kalahari Desert actually spans 3 countries, Botswana being one of them. Located in the center of the southern half of Africa, Botswana has devoted nearly 40% of its total land mass to national parks, reserves, and wildlife management areas, so it's a no-brainer that it's an epic safari honeymoon spot.
One of the best places to go on safari is in the Central Kalahari Game Reserve. Some of the most prominent animals seen in the park are lions, leopards, and cheetahs. You'll also have the opportunity to see zebra, elephants, giraffes, hyenas, and more (if you're lucky).
The best time to visit Botswana for an African safari honeymoon is between May and October.
Top Attractions
Kgalagadi Transfrontier Park – This is one of the last unspoiled ecosystems in the world and home to the black-maned Kalahari lion. The park also features red dunes and dry rivers.
Okavango Delta – A UNESCO World Heritage site, the Okavango Delta is made up of permanent marshlands and seasonally flooded plains. The Delta is also home to endangered animals such as the white rhinoceros, black rhinoceros, and the African wild dog.
Makgadikgadi Salt Pans – These salt fields are the largest in the world. During the dry season, plains of salt expand past what the eye can see and, during the rainy season, the pans fill up creating a shallow lake that attracts large animals such as zebra, springbok, wildebeest, and even flamingos.
Suggested Honeymoon Duration: 5-7 days
Suggested Stay: The Grasslands Bushman Lodge
Masai Mara Reserve, Kenya
Best for Safari Honeymoon Packages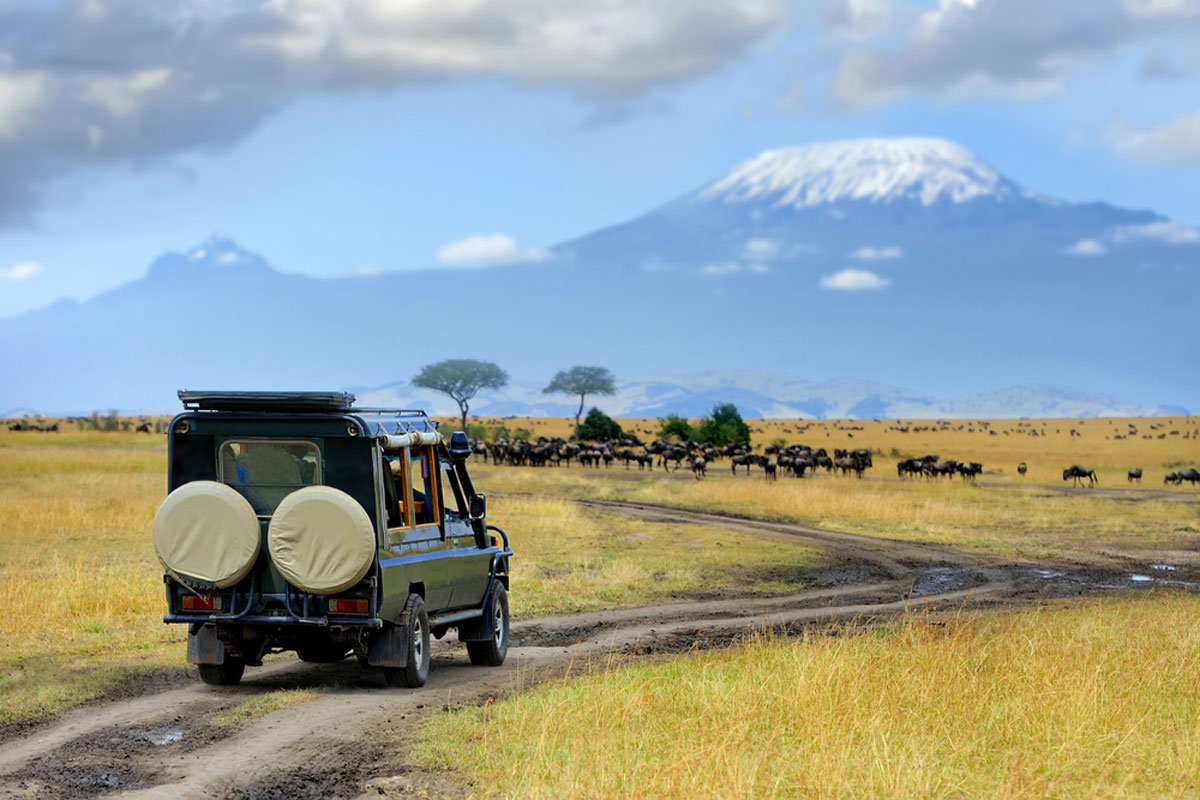 The Masai Mara Reserve in Kenya is one of the most visited reserves in the world. The staff have perfected the art of taking visitors on safari and getting up close – but not too personal – with the captivating wildlife.
On safari at this reserve, you frequently see lions, elephants, rhinos, leopards, African buffalos, cheetahs, giraffes, hippos, zebras, and dozens of other animals. In fact, it's one of the only safaris where a sighting of the Big 5 is near-guaranteed.
The Masai Mara Reserve is one of the most magical African safari honeymoon destinations. They offer different safari packages and offer different accommodation styles including tent camping, lodges, and private houses.
The best time to visit Masai Mara Reserve is June through October.
Top Attractions
Hot Air Balloon Ride – If you're not afraid of heights, taking a hot air balloon ride over gives you a unique perspective on the vastness of the reserve.
Horseback Riding – For a more intimate experience, taking a horseback ride through the grasslands is a great way to connect with nature.
Visit a Masai Village – To really appreciate and learn more about the traditions and history of Masai, a trip to a local village is a must.
Suggested Honeymoon Duration: At least 3 days in Masai, but 5-7 days is ideal
Suggested Stay: Sand River Masai Mara by Elewana
Yala Park, Sri Lanka
Best for Spotting Leopards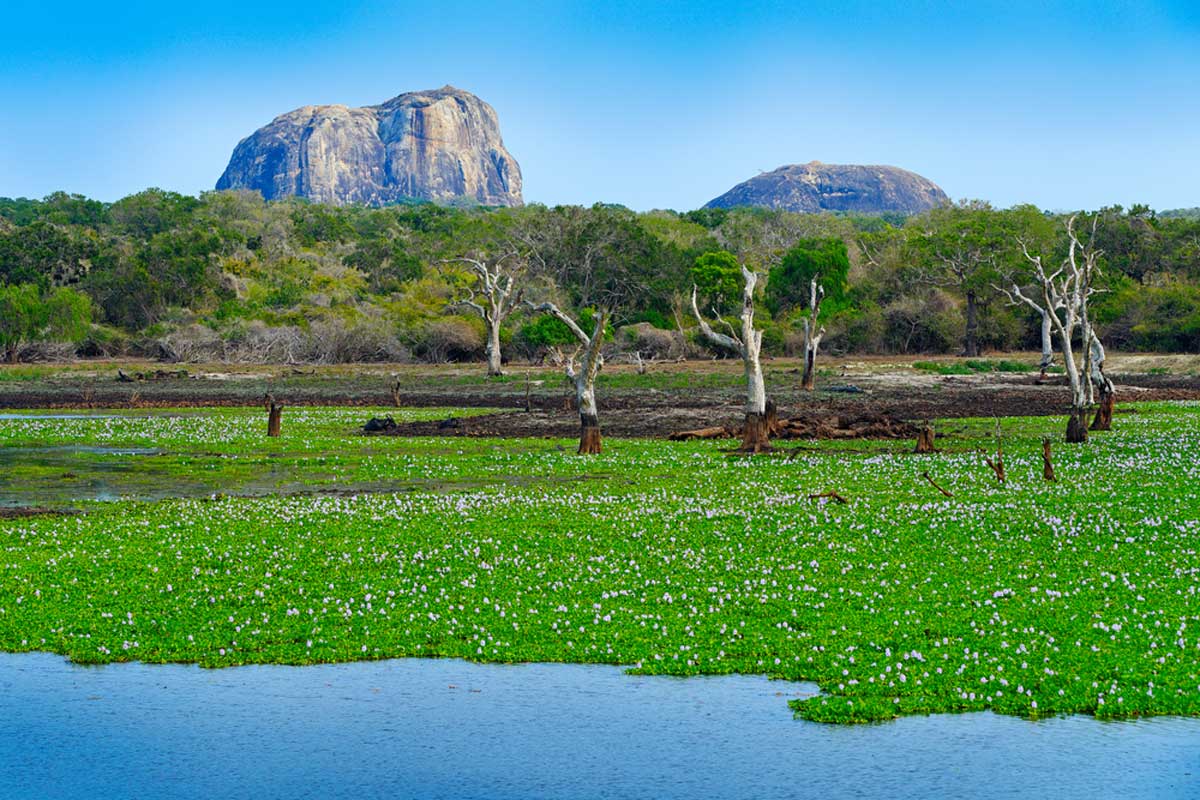 Why visit Yala Park in Sri Lanka? It has the largest leopard population in Asia – enough said.
The park is also home to Sri Lankan elephants, sloth bears, monkeys, and crocodiles along with many other animals, including aquatic birds. In fact, if you want some numbers, more than 100 leopards and 300-500 elephants roam free in Yala.
This reserve started out as a hunting ground (boo) but became a wildlife sanctuary in 1900 (yay) and was then designated as a national park in 1938. It has played an important role in saving the leopard and elephant species ever since.
The best time to visit Yala Park is from February to June.
Top Attractions
Buduruwagala – This is a rock temple created in the 9th century. The prominent feature here is the 7 large buddha statues carved into the cliff.
Asokaramaya Buddhist Temple – Noted as one of the most colorful temples in Sri Lanka, this temple was created in the 1800s.
Take a Private Tour – A more romantic option to enjoy the park is by booking a private tour.
Suggested Honeymoon Duration: 5-7 days
Suggested Stay: Wild Coast Tented Lodge – Relais & Chateaux
Serengeti, Tanzania
Best for a Classic Safari Experience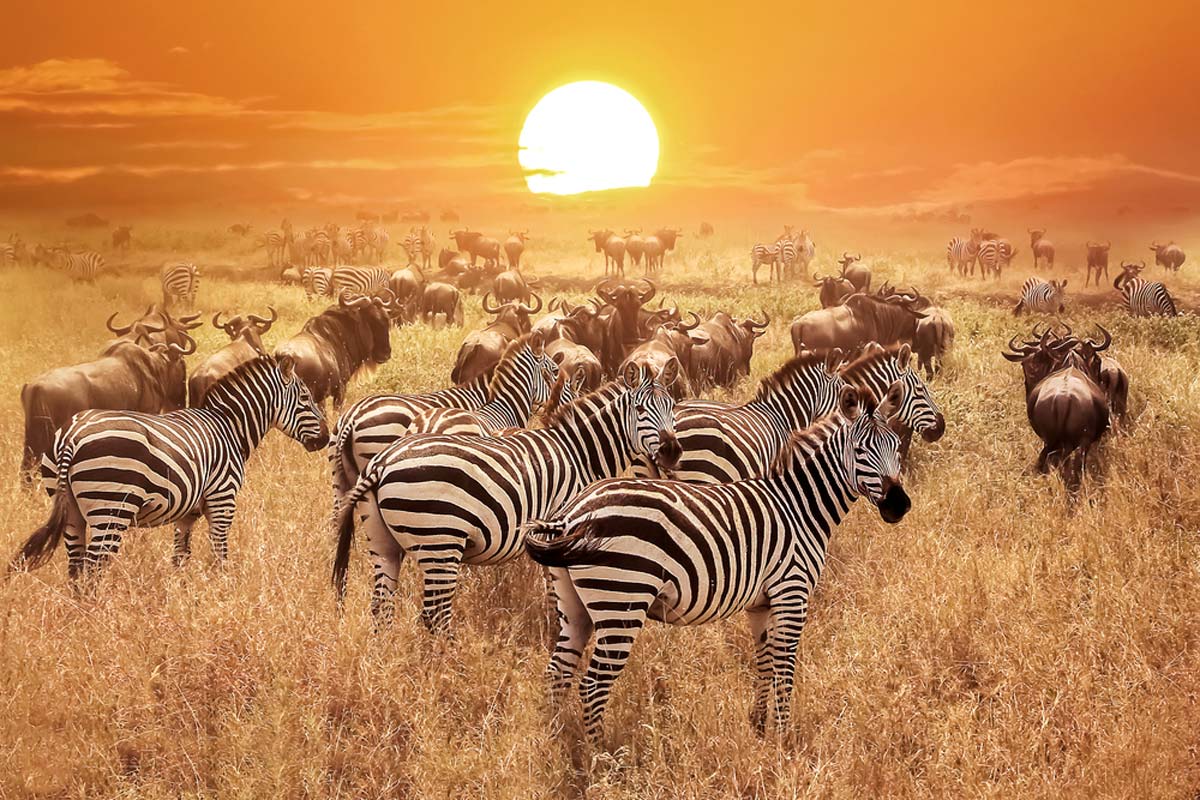 The Serengeti is arguably one of the most well-known destinations to go on safari. Famous for its "great migration", Serengeti National Park is where thousands of zebras and wildebeest can be found crossing the plains.
The Serengeti is actually made of up rolling grasslands that are home to more than 2 million ungulates, 4000 lions, 1000 leopards, 550 cheetahs, and nearly 500 bird species (we wonder who's counting?).
The best time to visit the Serengeti is late June to October so you can witness the infamous great migration for yourselves.
Top Attractions
Hot Air Balloon Ride – An exhilarating to experience the Serengeti from a bird's eye view.
The Great Migration – The number one reason people choose to safari in the Serengeti. This is one of the most impressive wildlife events and truly a once-in-a-lifetime experience.
Private Safari – If you want a more intimate and romantic option, you can book a private safari with a more catered itinerary.
Suggested Honeymoon Duration: 7-10 days
Suggested Stay: Mbali Soroi Serengeti Lodge
Kruger National Park, South Africa
Best for Multiple Adventures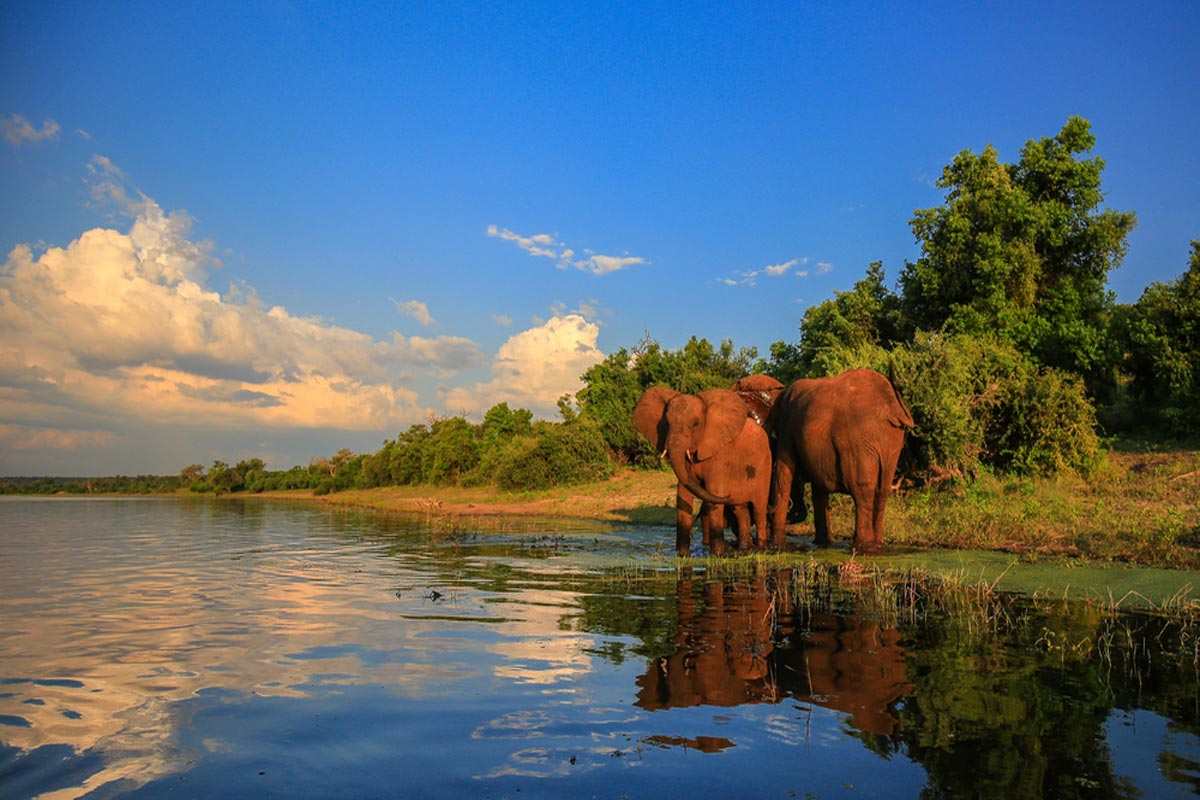 Kruger National park has a number of reasons to choose it as an African safari honeymoon destination. It's a popular spot for viewing The Big 5: African lions, African leopards, rhinos, African elephants, and Cape buffalos.
The park also features rainforests, waterfalls, and gorges creating a transcending landscape. This park is the biggest and oldest in the world and welcomes more than a million visitors a year, so you're in good hands.
The best time of year to visit Kruger National Park is May to October
Top Attractions
Hiking Trails – The Kruger National Park has numerous wilderness hiking trails. Some of the most popular are the Sabi River Sun Trail, Kruger Park Lodge Trail, and Crocodile Bridge Trail.
Viewing The Big 5 – This park is perfect for seeing African lions, African leopards, rhinos, African elephants, and Cape buffalos.
Bird Watching- Kruger is also a top birding destination for rare and exotic birds.
Suggested Honeymoon Duration: 5-7 days
Suggested Stay: Jock Safari Lodge
Okavango Delta, Botswana
Best for Lush Scenery and Spotting Endangered Animals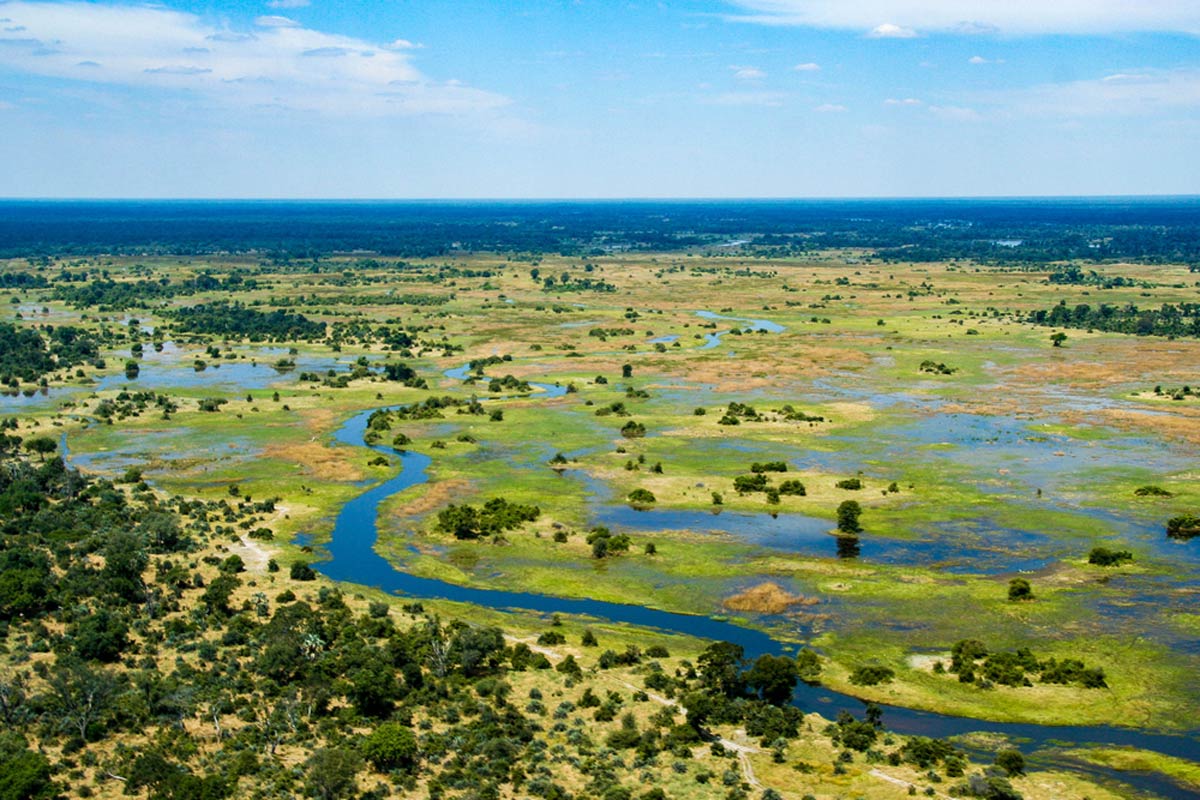 The Okavango is an oasis. Literally. It's the world's largest inland delta surrounded by desert.
Some of the world's most endangered animals gather here, including cheetahs, white rhinoceros, black rhinoceros, African wild dogs, and lions.
It's a UNESCO World Heritage Site and is considered to be one of the most exclusive wilderness destinations in the world. Pretty apt for a romantic honeymoon, we think.
The best time to visit the Okavango Delta is between June and August or from September to October, although you can view animals all year long due to the permanent wetlands.
Top Attractions
Motorboat Safari on the Okavango River – For a unique perspective, take a boat safari through the wetlands of Botswana.
Horseback Safari – Instead of hopping into a jeep or a boat, you can explore the park on horseback. Giddy up!
Chiefs Island – The largest island within the Okavango Delta, it is home to elephants, lions and warthogs, plus much more. You can explore the area in dug-out canoes.
Suggested Honeymoon Duration: 5-7 days
Suggested Stay: Nxabega Okavango Tented Camp
Ranthambore National Park, India
Best for Viewing Tigers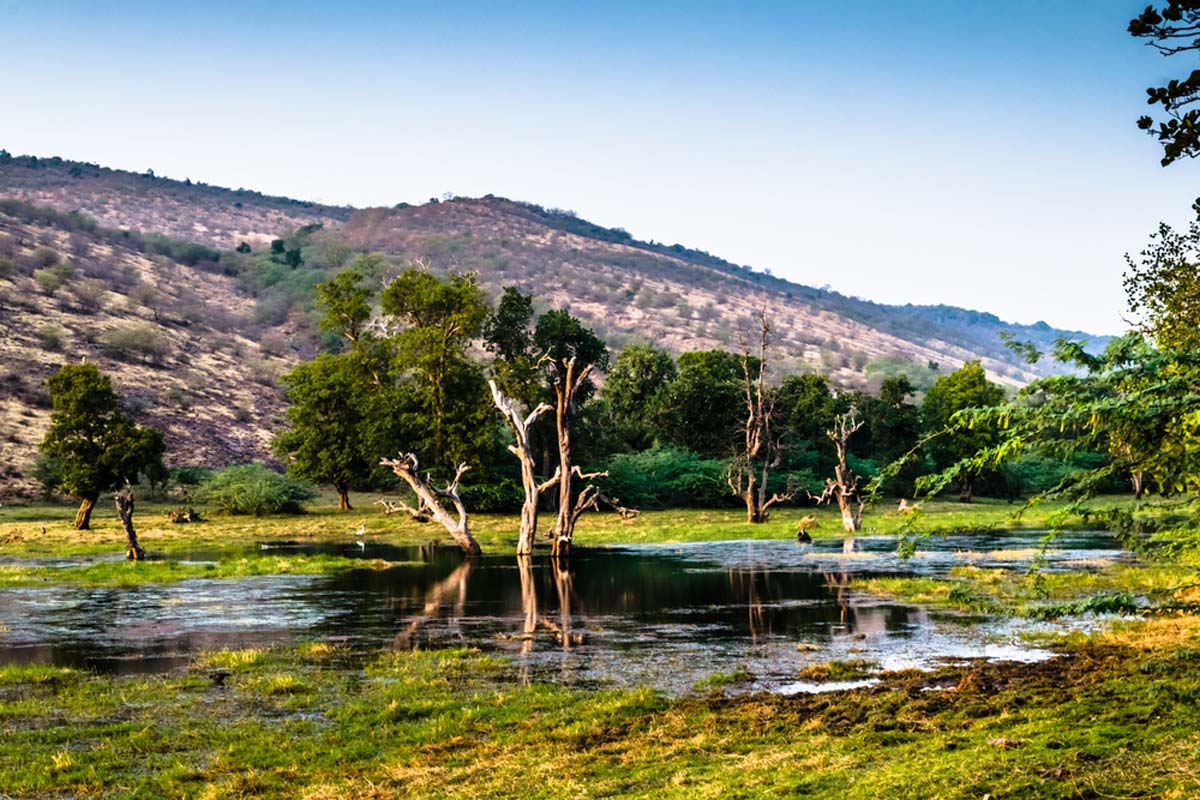 Ranthambore National Park is the jewel in India's stripy tiger crown. In fact, it's one of the most well-known places in the world for watching tigers in their natural habitat.
In addition to tigers, Ranthambore is also home to tigers, leopards, striped hyenas, crocodiles, monitor lizards, tortoises, and snakes – so you're in excellent company.
The best time to visit Ranthambore National Park is between October and March.
Top Attractions
Helicopter Rides – One of the best ways to view the whole park and its natural beauty is from the sky. You can book helicopter joyrides for an intimate experience.
Ranthambore Fort – A UNESCO world heritage site, the Ranthambore Fort is believed to have been built in 944 AD. It features temples, tanks, massive gates, and huge walls. From the fort, you can get an unobstructed view of Ranthambore Park.
Suggested Honeymoon Duration: 5-7 days
Suggested Stay: The Kipling Lodge- Nature Kalp
Ngorongoro Conservation Area, Tanzania
Best for Viewing Endangered Species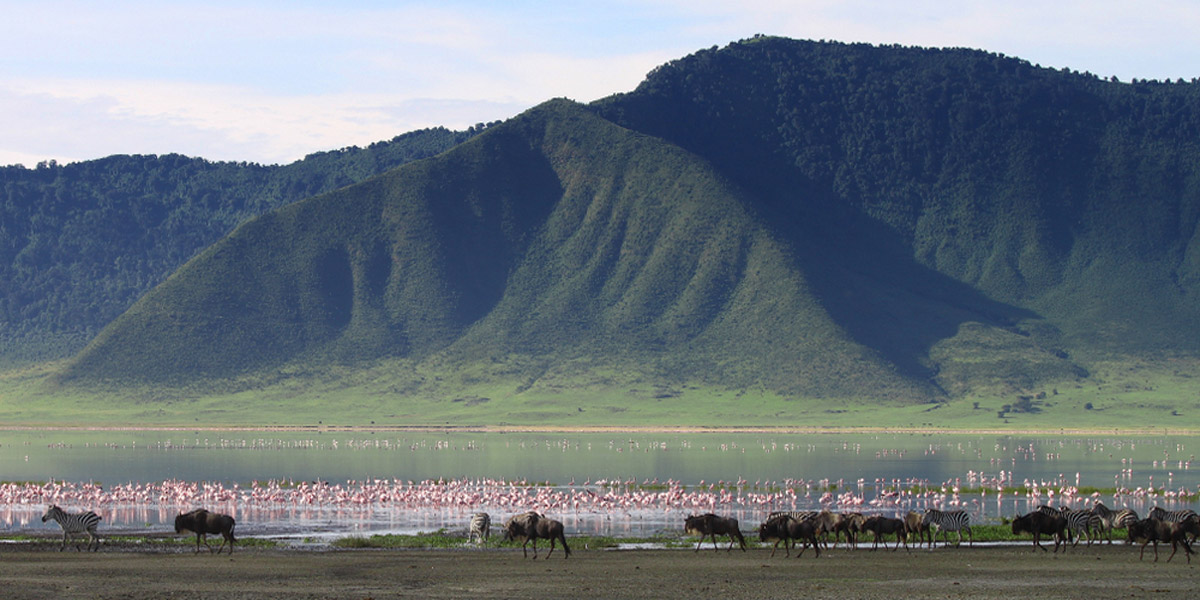 Looking for something really special? Of course, you are. One of the most captivating Tanzania honeymoon safaris you can go on is in Ngorongoro Conservation Area. This park is known for protecting endangered and rare creatures such as the Black Rhino, wild hunting dog, and Golden Cat – and more than 500 species of birds.
The conservation area also sees a huge migration of 1 million wildebeest, 72,000 zebras, and 350,000 gazelles. The landscape is one of the most diverse African parks and includes highland plains, savanna, savanna woodlands, and forests.
The best time to visit Ngorongoro Conservation Area is from April to May.
Top Attractions
Ngorongoro Crater – The Ngorongoro Crater is the largest known inactive and intact volcanic caldera on the planet and is considered one of the Seven Natural Wonders of Africa.
The Engare Sero Footprint Site – One of the most intriguing sites to visit while in Tanzania is Engare Sero, the largest site of human fossil footprint in Africa. You can view 400 human footprints encased in the ancient volcanic mudflow.
Philipo Coffee Farm – If you or your partner are coffee connoisseurs, you'll definitely want to check out this family-owned coffee plantation. Even if you're not, this cozy farm teaches you about the entire coffee production and process. Then you'll get a chance to roast and grind your own coffee.
Suggested Honeymoon Duration: 7-10 days
Suggested Stay: Neptune Ngorongoro Luxury Lodge
Etosha National Park, Namibia
Best for Viewing Salt Flats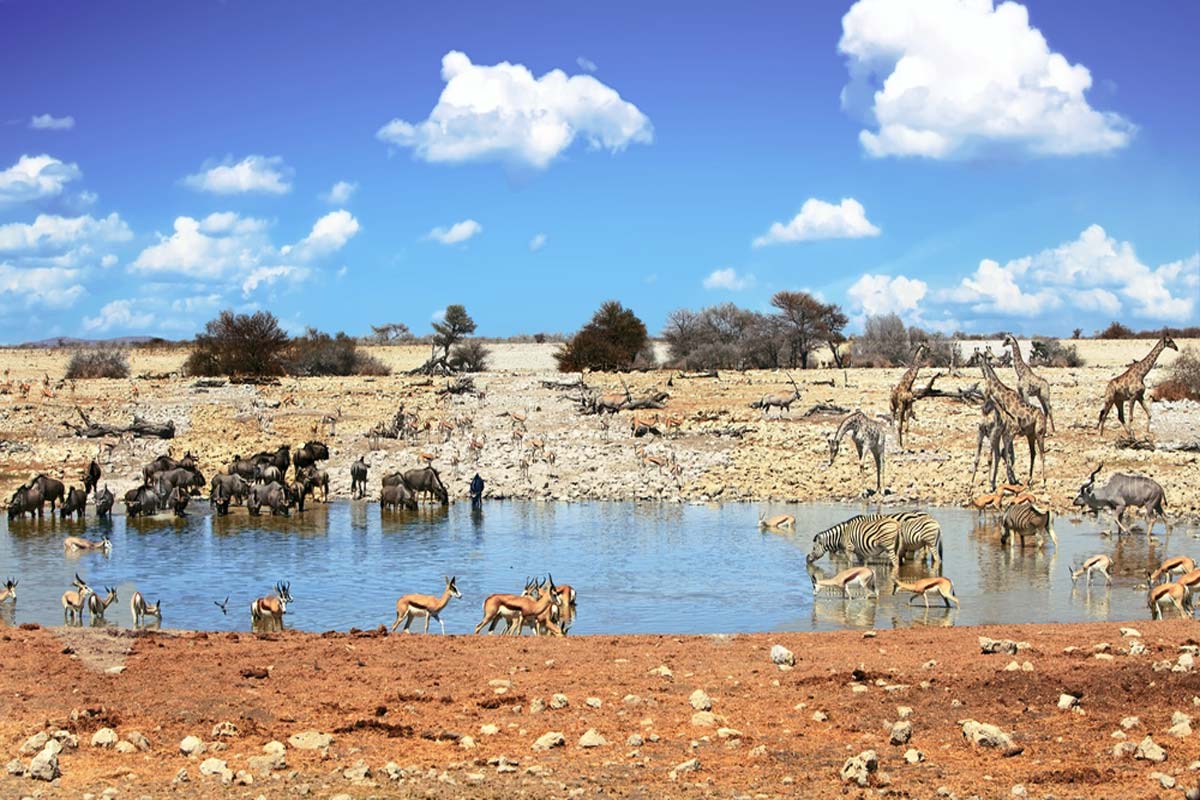 Meaning, "the great white area", Etosha National Park is home to some of the biggest salt pans in Africa.
After it rains, these pans fill with water, attracting thousands of animals of all shapes and sizes. You can see everything from lions, elephants, leopards, giraffes, cheetahs, hyenas, springboks, and two kinds of zebras.
The best time to visit the park is from July to October.
Top Attractions
Visit the Waterholes – These are easily the biggest attraction of the park. Animals gather here to get the nutrients they need for the rest of the year. You can sit right by the waterhole and capture amazing photos.
Sunrise Guided Walk – Watch the safari slowly wake up with this intriguing morning walk.
Stargazing – With no light pollution, stargazing in Etosha Park is unbelievable. Looking up at the sky you can clearly view constellations such as Southern Cross, Orion's Belt, the Jewel Box Cluster, and Omega Centauri.
Suggested Honeymoon Duration: 5-7 days
Suggested Stay: Onguma Bush Camp
Bwindi Impenetrable National Park, Uganda
Best for Viewing Gorillas
The Bwindi Impenetrable National Park features rolling plains as well as forested mountains, making for a unique safari experience. The park protects more than half of the world's remaining Mountain Gorilla population. It is also home to chimpanzees, L'Hoest's monkeys, and red-tailed monkeys.
The park is one of the most biologically diverse parks in all of Africa and also happens to be one of the oldest – thought to be at least 25,000 years old. The forest is thick and lush, covering a mountainous region that hides a small population of elephants.
The best time of year to visit Bwindi is late June through March.
Top Attractions
Gorilla Trekking – The number one reason people visit the park is to view gorillas. You can choose from a traditional jeep safari or a biking safari.
Hiking – Hiking through the forest is one of the most remarkable activities you can do in the park. Some popular trails include the Waterfall Trail, Muzabajiro Trail, and the Bamboo Trail.
Lake Mutanda – This small freshwater lake is surrounded by fertile lands with epic views of the Virunga Mountain Range – which includes 3 prominent volcanoes. You can go canoeing, hiking, and mountain biking at Lake Mutanda.
Suggested Honeymoon Duration: 3-7 Days
Suggested Stay: Nkuringo Bwindi Gorilla Lodge.
Practical Tips for Planning Your Safari Honeymoon
Plan Ahead
Though there are many options for honeymoon safaris, they tend to book up fast due to their limited capacities. It's imperative to book far in advance with a reputable company to ensure you have the most magical experience possible.
Get Your Vaccinations
As you're going to be visiting remote areas with rare animals, it's vital that you ensure you're protected against disease.
When traveling to Africa, the CDC and WHO recommend vaccinations for Hepatitis A, Hepatitis B, Typhoid, Cholera, Yellow Fever, Rabies, Anthrax, and Meningitis at the very minimum (it's likely that you will have already had many of these). You'll also want to talk to your doctor about Malaria tablets.
We promise that getting up to date with your shots and taking prior precautions will be well worth it for the honeymoon of your dreams.
Pack for Warm and Cold Weather
You might think that Africa and Asia are HOT. And, while you're generally right, temperatures can wildly vary. Temperatures fluctuate from morning to night so you'll want to be prepared for all sorts of weather.
Bring a light jacket and long sleeves with you to protect yourself against mozzies. Bug spray is also crucial.
Plan Your Safari Based on What Animals You Want to See
Each safari will offer something slightly different, so remember to book your honeymoon based on which animals are at the top of your list to see.
If you want to see the big 5, you'll want to book an African safari, but if monkeys, crocs, and leopards excite you, head to somewhere like Sri Lanka.
And whatever you do, remember that these are wild animals in their natural habitat. Be patient and hopeful with what you want to see – nothing is completely guaranteed.
Best Safari Honeymoon Destinations: Map
Safari Honeymoons: Read Next