Considering a honeymoon in Africa? Read on to discover the top destinations and resorts on the continent.
Africa is a place of breathtaking beauty, dramatic landscapes, and magical sights around every turn.
So when we think of an African honeymoon, our minds begin racing with ideas of epic safari adventures, enormous waterfalls, and archeological discoveries that go back to the beginning of civilization as we know it.
If this all sounds a little too tempting, read on to discover our guide to the best destinations and accommodations for your Africa honeymoon.
Why Honeymoon in Africa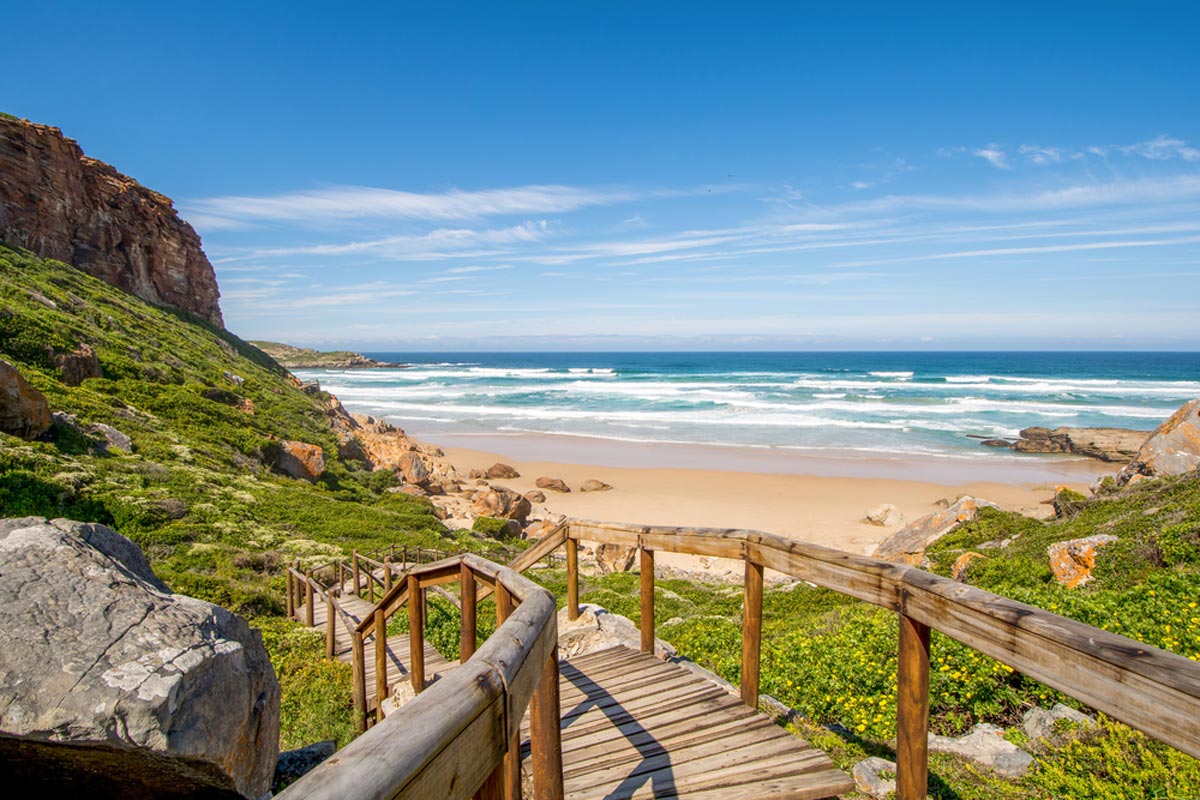 If you're planning a honeymoon in Africa, you might be wondering where to go. Clear your calendar because the list of potential destinations in Africa is long enough to fill your entire honeymoon planner guidebook.
Tropical islands, remote rainforest jungles, ancient pyramids, and up-close wildlife encounters make an African honeymoon the vacation of a lifetime.
Convinced yet? We thought you might be – so let's look at where you need to visit on your honeymoon in Africa.
Best Africa Honeymoon Destinations
Seychelles
Best for Beachside African Honeymoon Resorts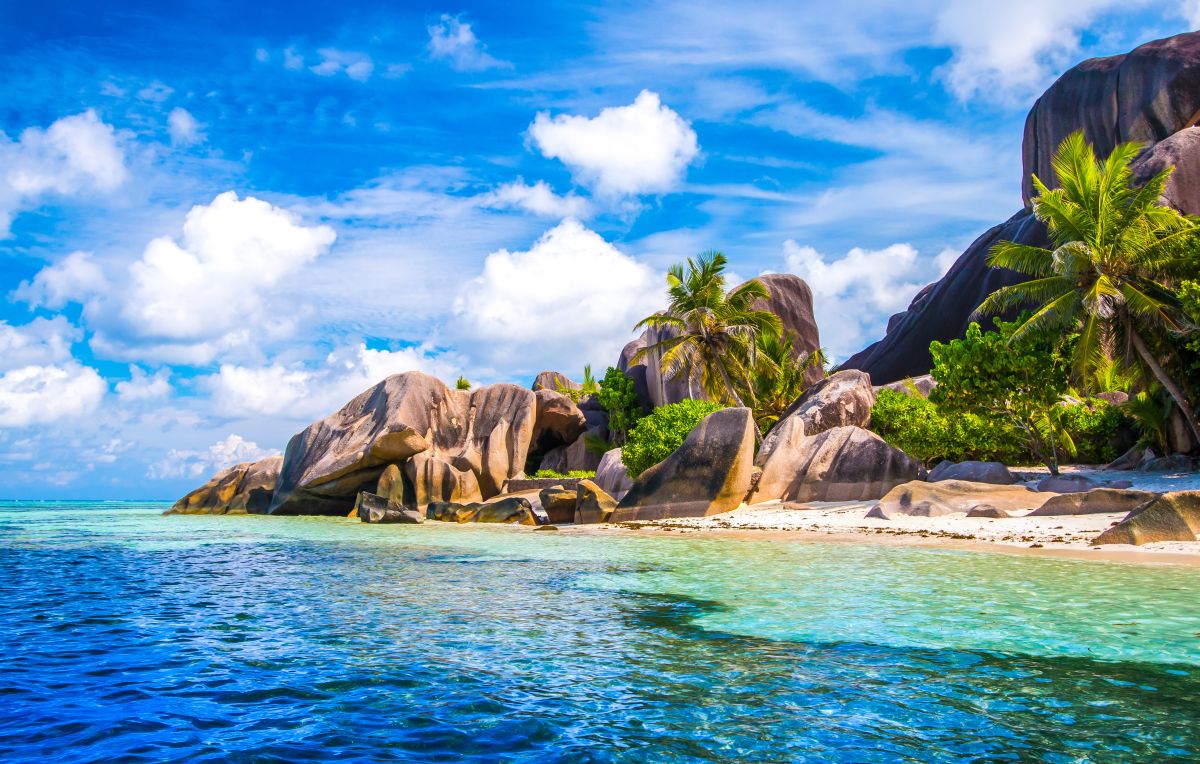 Looking to stay on a tropical island during your honeymoon in Africa? Wait, aren't we all, though? Seychelles has over 100 of them, and many are virtually untouched.
You really can't do much better than Seychelles if you want a week of scuba diving, sunbathing, and luxe accommodations on your Africa honeymoon.
Top Attractions:
Mahé is the nation's main island and home to absolutely stunning beaches. Beau Vallon Beach and Anse Soleil are two of the most popular places to snorkel, sun tan, or swim.
Curieuse Island is a famous location to see Giant Tortoises in a protected space.
Suggested Honeymoon Duration: 1 week
Suggested Stay: Mango House Seychelles
Masai Mara, Kenya
Best for a Safari Honeymoon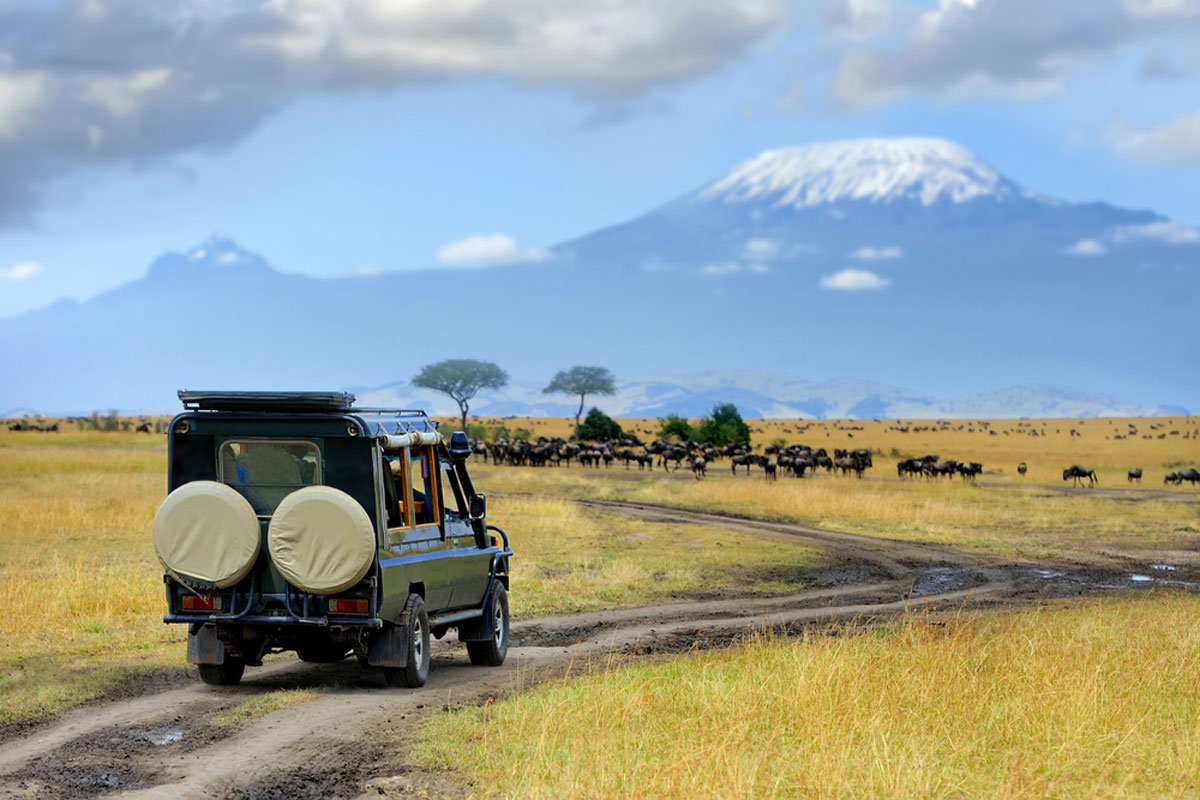 If it's a safari honeymoon you're after, Masai Mara in Kenya won't disappoint. The biodiversity here is among the best you'll find on an African safari honeymoon and gives you a great chance of spotting leopards, lions, and giraffes.
Top Attractions:
Ol Kinyei Conservancy lets you see some of the most pristine wilderness possible on your Africa honeymoon.
Eluai Plain is an excellent place to book a wildlife tour and capture incredible honeymoon photos together.
Book a ride with Governors' Balloon Safaris and see the Savannah from an unrivaled perspective.
Suggested Honeymoon Duration: 3-5 days
Suggested Stay: Sand River Masai Mara by Elewana
Zanzibar
Best for Foodies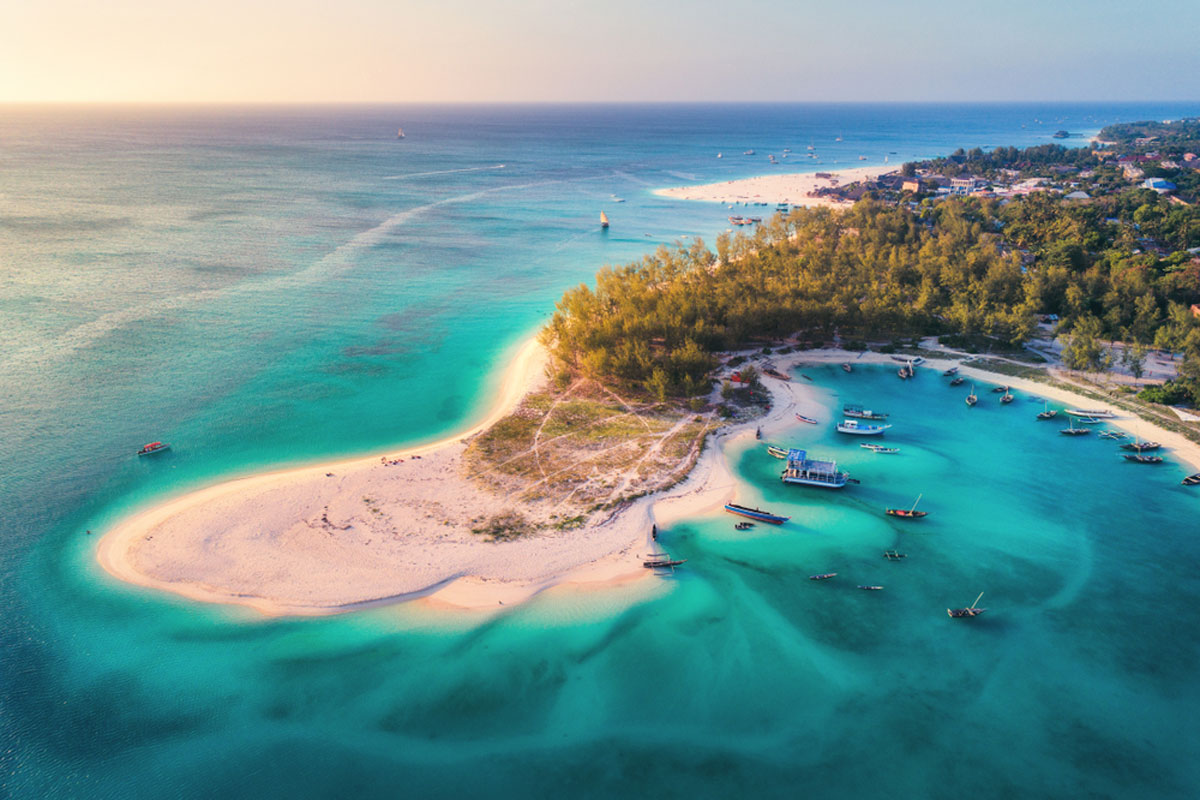 If you're like us, food is often a priority when visiting a country. To experience some of the most incredible flavors in Africa (yes, please), your Africa honeymoon itinerary needs to have Zanzibar at the top.
Top Attractions:
Stone Town of Zanzibar gives you a taste of a historic marketplace that is still an active multicultural epicenter with incredible food and architecture.
Cheetah's Rock is a protected area for the majestic big cats where you can get up close and personal.
Suggested Honeymoon Duration: 5-7 days
Suggested Stay: Kilindi Zanzibar
Nile Cruise, Egypt
Best for a Honeymoon Cruise in Africa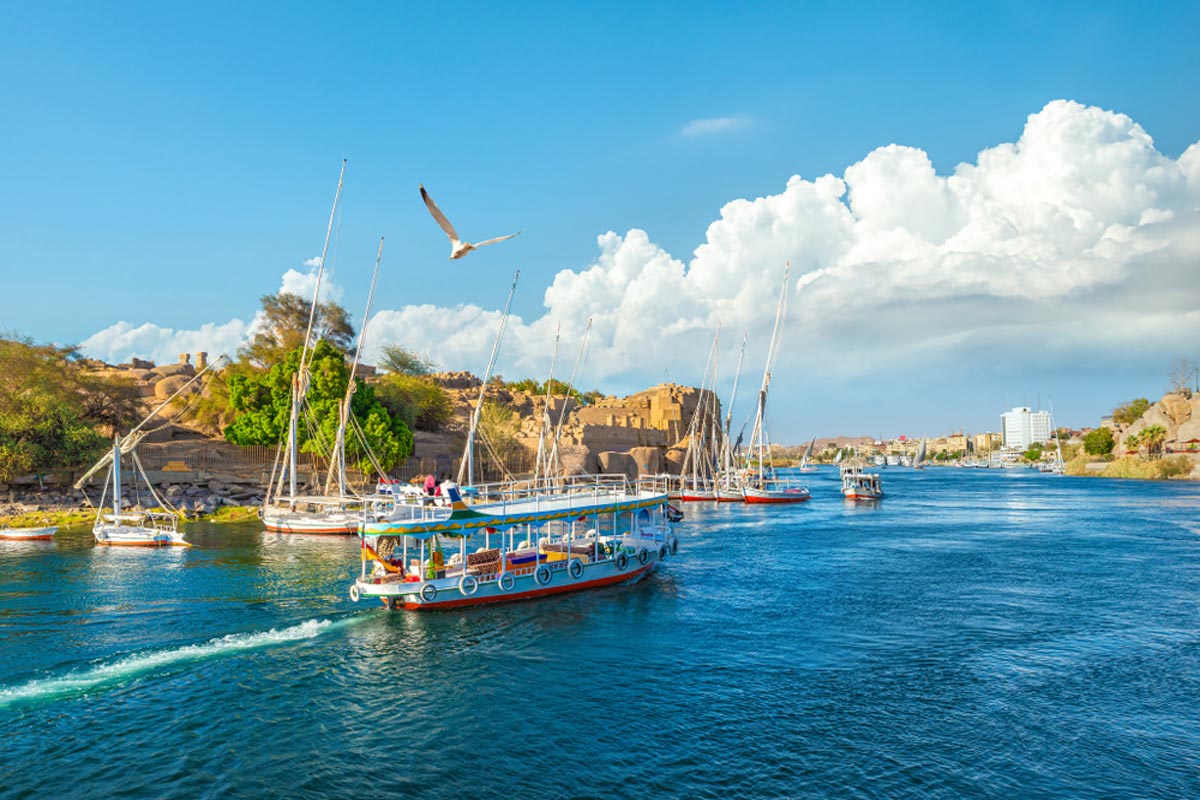 Planning a honeymoon cruise? We can't recommend it enough, and floating down the River Nile on your dream vacation seems like the type of African honeymoon idea that's too good to be true.
Top Attractions:
You'll see the Great Pyramid of Giza and the incredible archeological marvels around it.
King Tut's Tomb is another memorable site along the way.
Visit the city of Luxor and the rich history of the ancient village along the Nile.
Suggested Honeymoon Duration: 2 weeks
Suggested Stay: Oberoi Philae
South Africa
Best for Exploring National Parks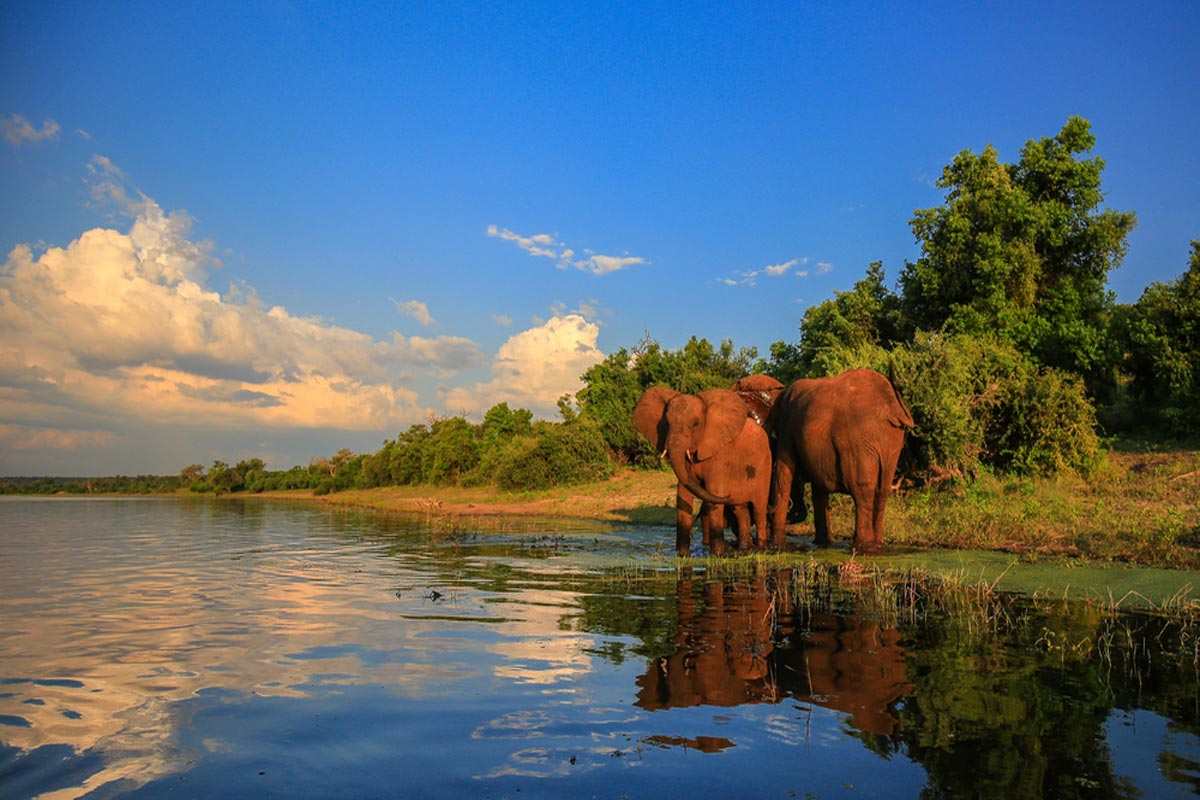 If nature and adventure are at the top of your Africa honeymoon list, South Africa is a destination you won't want to miss.
Incredible national parks, surreal waterfront villages, and the vibrant city of Cape Town are beautiful sights you can explore with your spouse on your honeymoon in Africa.
Top Attractions:
The historic port city of Cape Town is the place to go for history, architecture, and cuisine in South Africa.
Looking for an African Safari Honeymoon? Kruger National Park is the one to go on during your African Honeymoon.
Kgalagadi Transfrontier Park is a nature lover's dream. The massive nature reserve is actually 2 National Parks that connect South Africa's wilderness to Botswana.
Suggested Honeymoon Duration: 10-14 days
Suggested Stay: Jock Safari Lodge
Namib Desert
Best for Stargazing on Your African Honeymoon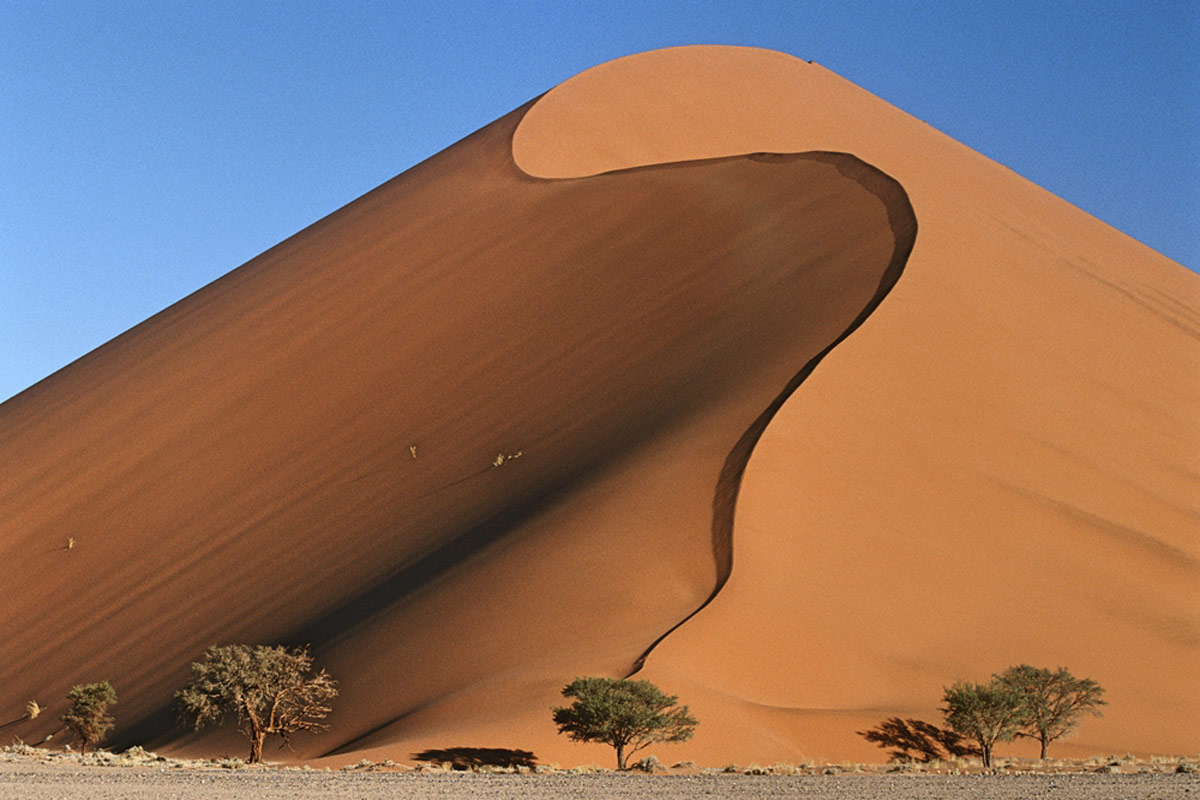 What's more romantic than looking up at the sky and seeing nothing but stars on a perfect night with your partner? We can't think of a single thing.
And there's no better place to catch a glimpse of nature's nighttime beauty than the Namib Desert.
Top Attractions:
Desert, mountains, and incredible opportunities to stargaze await you at Damaraland Camp.
The Sossusvlei dunes are a fantastic site in the daytime or to look at the sky at night from a luxury rental.
Suggested Honeymoon Duration: 5-7 nights
Suggested Stay: Damaraland Camp
De Hoop, South Africa
Best for Protected Coastlines in South Africa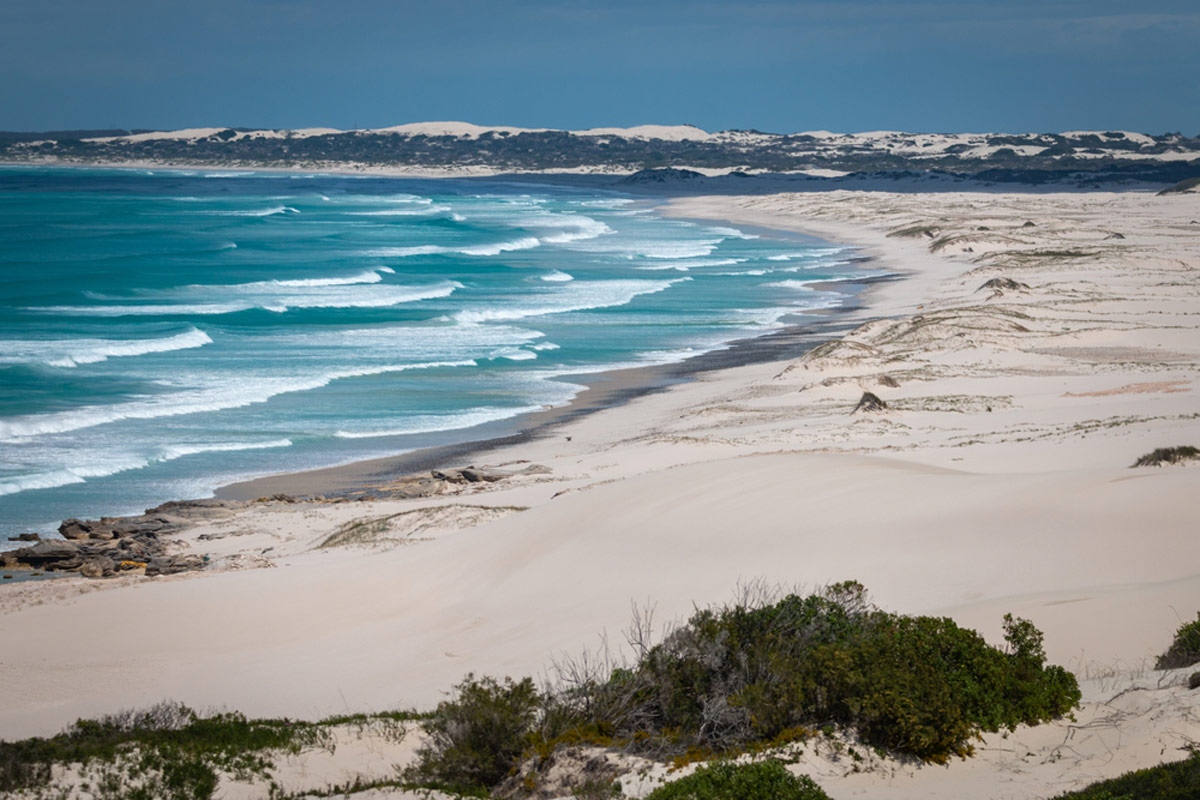 A destination in South Africa that's worthy of a honeymoon in its own right, De Hoop is a stunning display of natural beauty along the Indian Ocean.
Marvel at animals on land and sea, including zebras, whales, and hundreds of other exciting finds.
Top Attractions:
Be sure to stop by Potberg and observe the endangered Cape Vultures.
Schedule a hike along De Hoop Whale Trail, where you can try a rather epic 5-day trek with a high chance of whale sightings.
Suggested Honeymoon Duration: 3-5 days
Suggested Stay: De Hoop Collection Suites
Marrakesh (Morroco)
Best for a City Honeymoon in Africa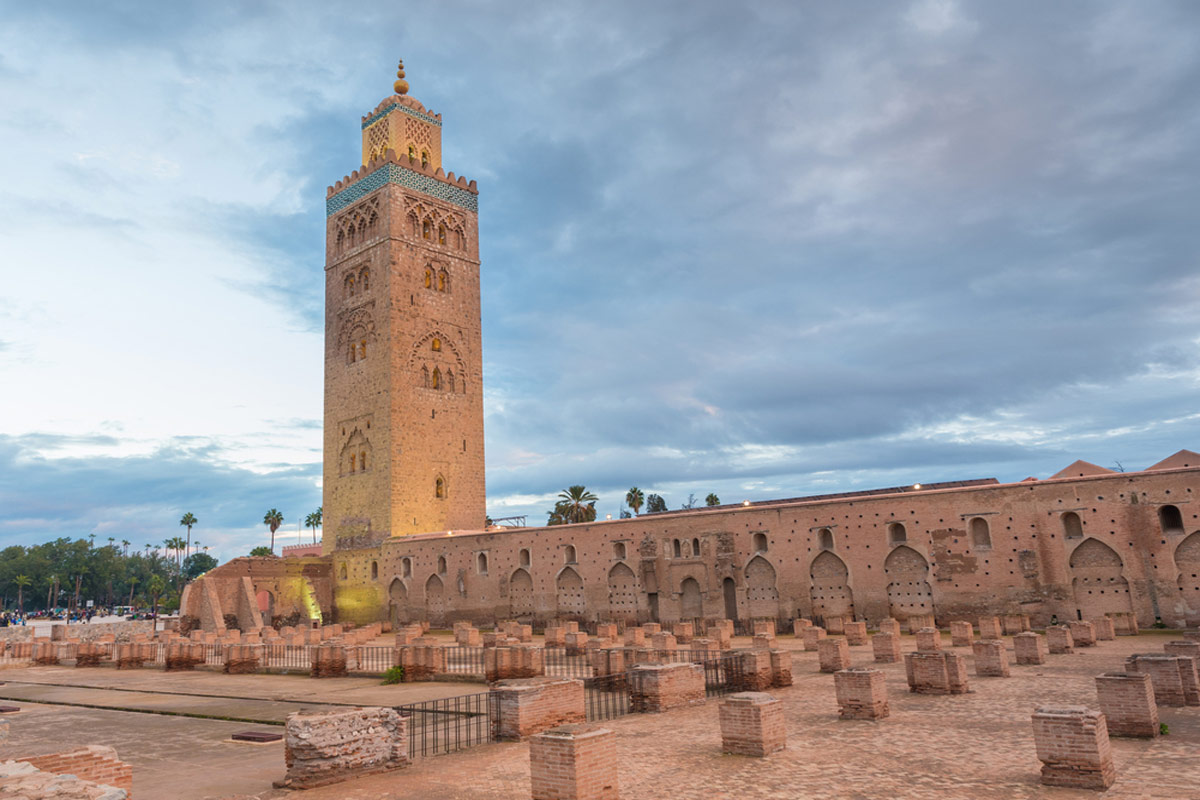 Bustling marketplaces with local produce and entertainment, meats and vegetables accented by some of the world's best spices, and historical sites that will leave you in awe are just some of the reasons why Marrakesh is an unforgettable honeymoon destination.
Top Attractions:
Jemaa el-Fna is a historic center serving as a bustling marketplace you won't want to miss.
Take a short trip near the Atlas Mountains and see the Ouzoud Falls for some of the best waterfalls in Africa.
Suggested Honeymoon Duration: 3-5 nights
Suggested Stay: La Claire Fontaine
Zambia
Best for Admiring Natural Landmarks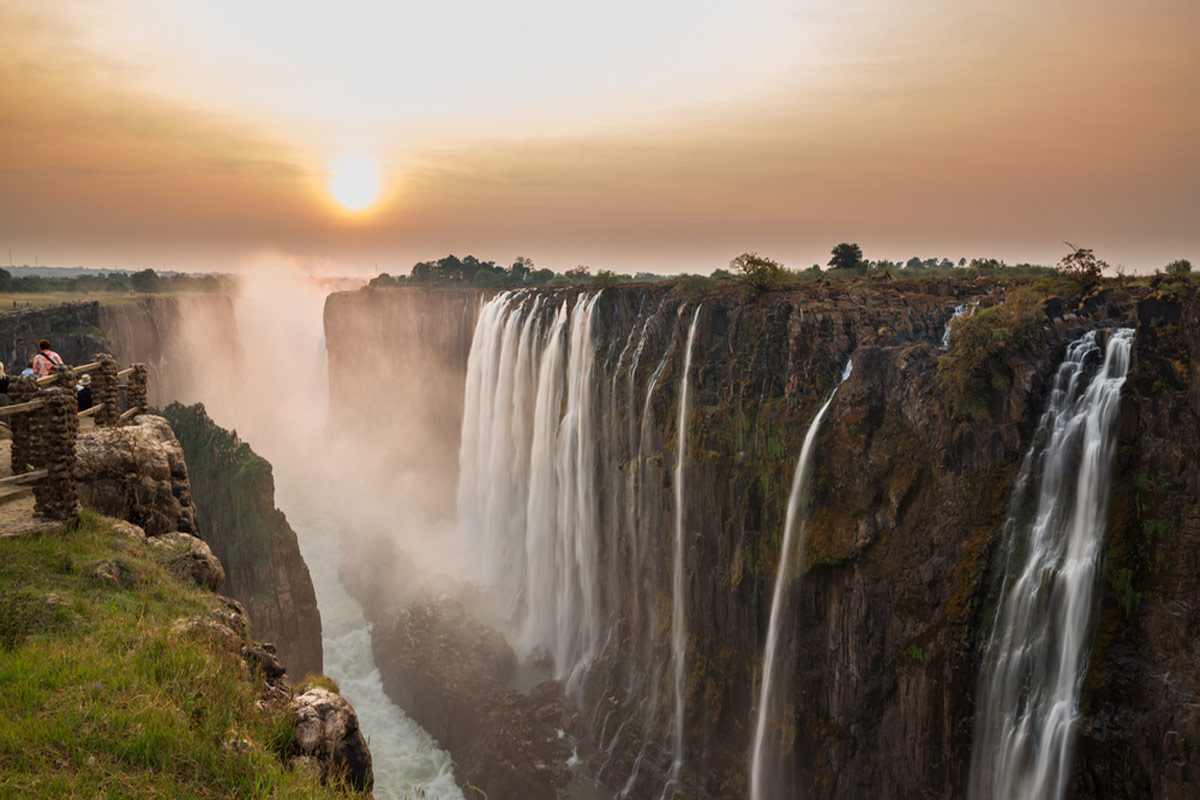 Zambia is famous for its safaris, waterfalls, and awe-inspiring natural beauty. But one thing it has you won't find anywhere else is the most incredible aquatic backdrop for a photo you'll ever see.
Top Attractions:
Victoria Falls are likely the most stunning waterfalls you'll see anywhere in the world, and definitely on your honeymoon in Africa.
Devil's Pool is where you can take a selfie at the edge of the world, at least it seems like it (if you dare).
South Luangwa National Park offers some of Zambia's best wildlife viewing opportunities.
Suggested Honeymoon Duration: 7-14 days
Suggested Honeymoon Stay: Royal Zambezi Lodge
Serengeti, Tanzania
Best for a Wildlife Adventure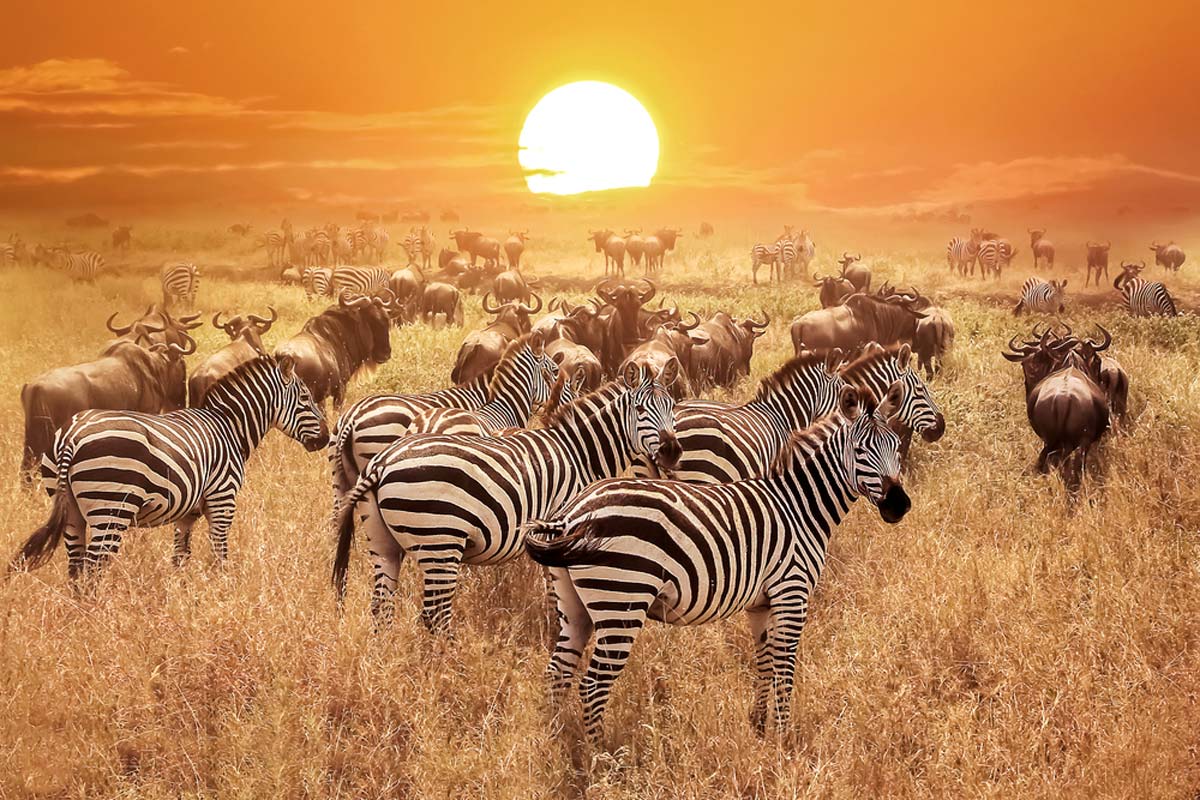 Tanzania is a spectacular destination with mesmerizing wilderness and surprises around every corner, and the Serengeti is perhaps the country's biggest draw.
Why visit the Serengeti? The list of reasons is endless; you'll witness natural beauty that'll leave you with a new perspective on your honeymoon in Africa.
Top Attractions:
Moru Kopjes is the only place nearby where you'll find Black Rhinocerous in all their glory.
If big cats are a top priority on your African honeymoon safari, check out Lobo Valley. You may see lions, leopards, and cheetahs in the same afternoon.
Suggested Honeymoon Duration: 5-7 days
Suggested Stay: Mbali Mbali Soroi Serengeti Lodge
Mauritius
Best for a Luxury Honeymoon in Africa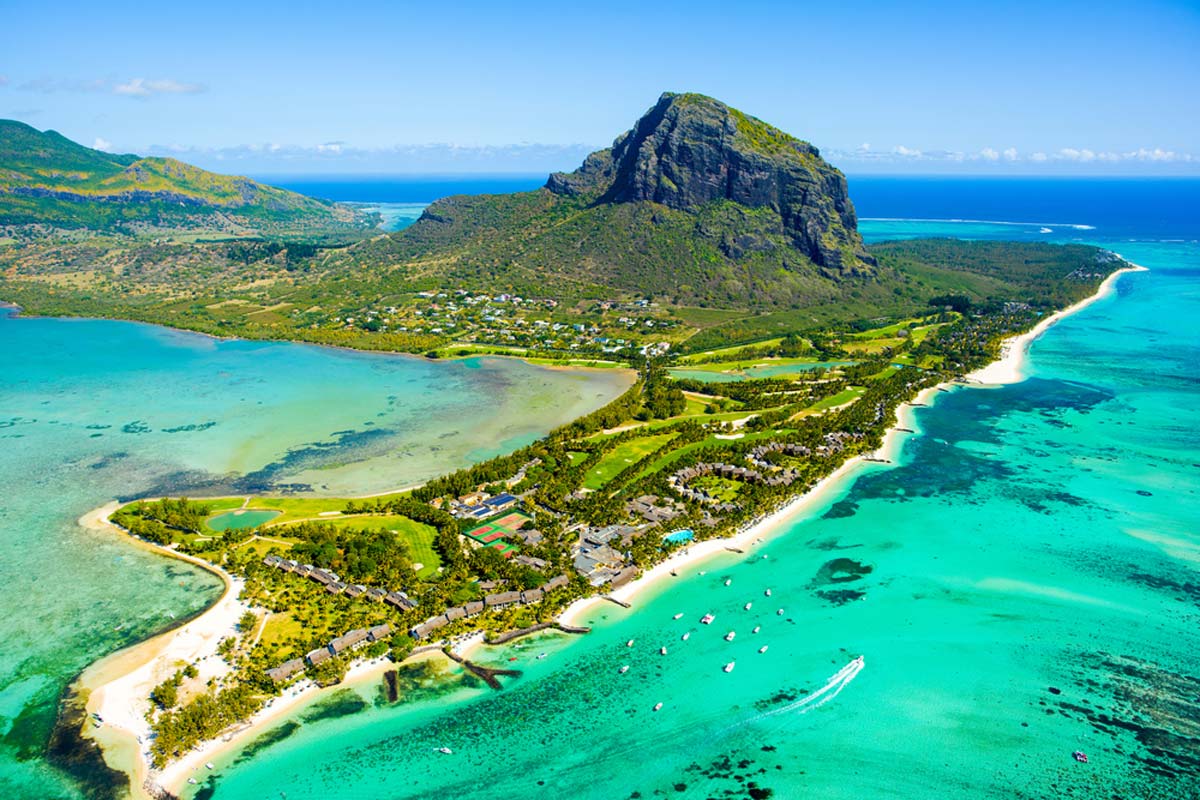 Mauritius is a place of striking natural beauty, but the hospitality and African honeymoon packages make the island getaway most popular among newlyweds who want to spare no expense.
Top Attractions:
You'll find one of Mauritius's last natural jungles and rainforests in Black River Gorges National Park. You can also see Alexandra Falls here.
Take a hiking tour up to Le Morne Brabant and enjoy the sweeping coastal views of the Indian Ocean.
Grand River South-East Waterfalls is a great way to see one of Mauritius' best waterfalls and local wildlife.
Suggested Honeymoon Duration: 7-10 days
Suggested Stay: Constance Prince Maurice, Mauritius
Cape Winelands
Best for Wine Lovers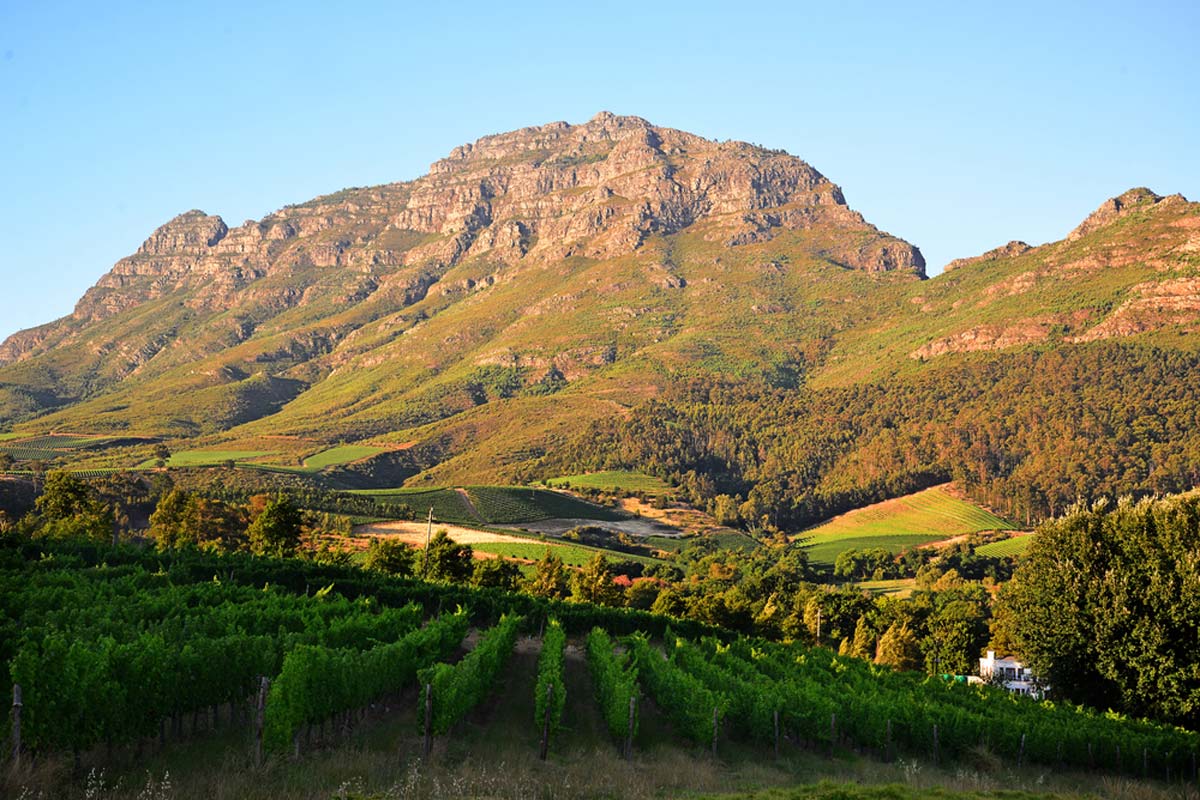 We can't quite think of anything more romantic than an afternoon spent swishing and glugging wine with your new spouse.
If you want to add wine tasting to your Africa honeymoon itinerary, head to Cape Winelands, just outside Cape Town, South Africa.
Top Attractions:
If you want to see where it all started, visit Constantia and see the oldest vines in the region.
Book a tour along the Stellenbosch Wine Route and see one of South Africa's best vineyards with hundreds of wineries to choose from.
Suggested Honeymoon Duration: 3-5 days
Suggested Stay: Grande Roche Hotel
Best Honeymoon Hotels & Resorts in Africa
Mango House Seychelles
Mahé, Seychelles
$$$
Best for an Oceanside Retreat in Africa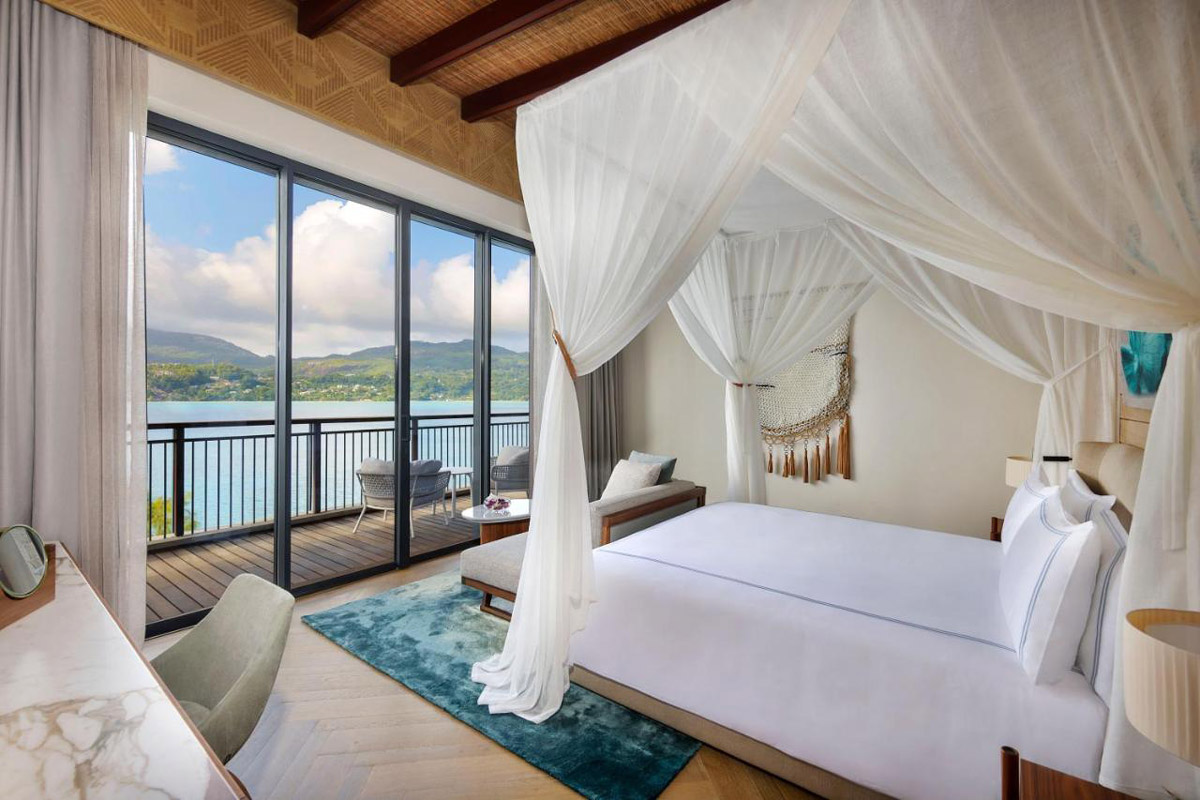 Dreaming of a lush Seychelles honeymoon? Add a few nights at the incredible Mango House Seychelles and see why it's one of our favorite places to have a romantic honeymoon near the beach.
And, if you fancy taking your honeymoon up a notch, book the One-Bedroom Bay House Suite with Plunge Pool and step right out of your sleek resort accommodations and into your private pool.
When you dry off, head to one of the excellent restaurants on the property and have a snack while admiring the ocean views surrounding you on your island honeymoon in Africa.
Jock Safari Lodge
Kruger National Park
$$$
Best for a Luxury African Safari Honeymoon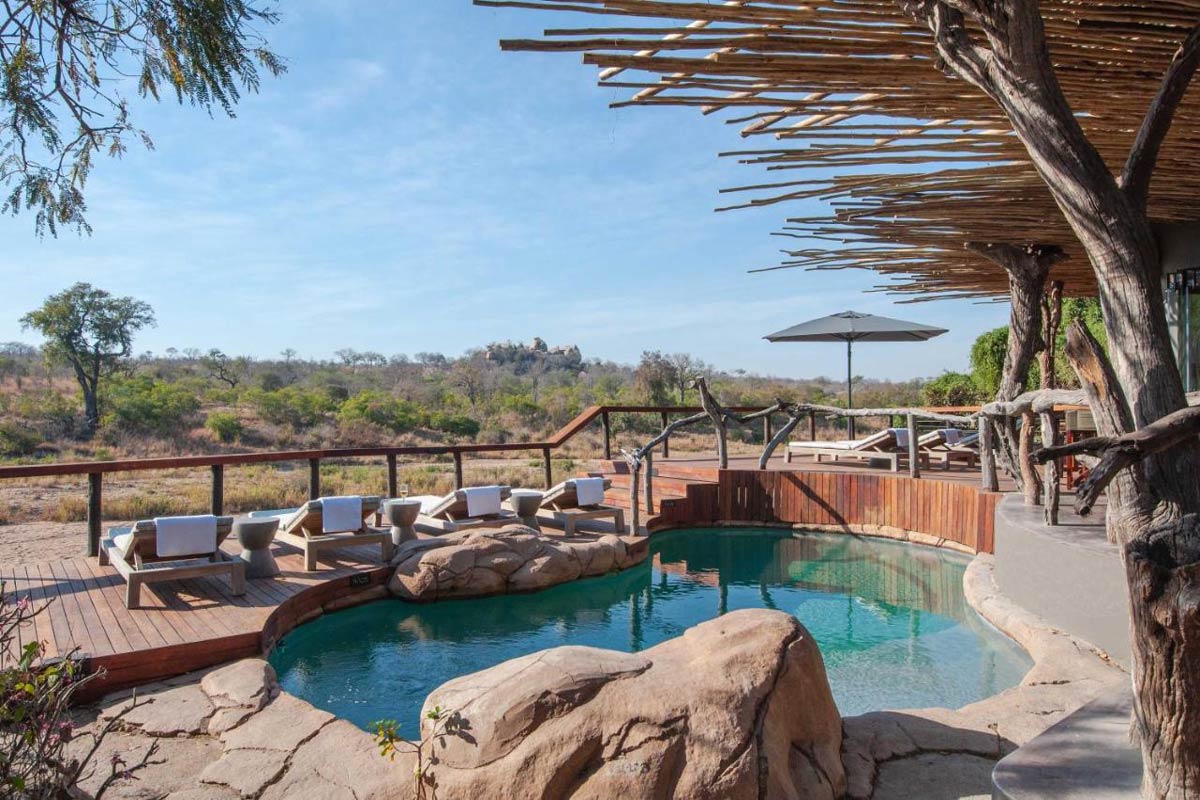 How does a safari with one of the best chances of seeing the "Big 5" sound on your honeymoon in Africa? We think it sounds downright amazing.
How to make it even better? Stay at Jock Safari Lodge, where you'll get private tours of Kruger National Park during the day and return to spa treatments and luxurious accommodations at night.

If that sounds too good to be true, it's not. The suites are equally impressive, blending tribal art and decor tastefully and elegantly.
Villas are expansive, charming, and romantic, leaving no detail unturned. Soak in your private plunge pool, snuggle by the fireplace, or stare out at the vast wilderness surrounding you from your patio and remind yourself that it doesn't get much better than this.
Kilindi Zanzibar
Kilindi, Tanzania
$$$
Best for Africa Honeymoon Packages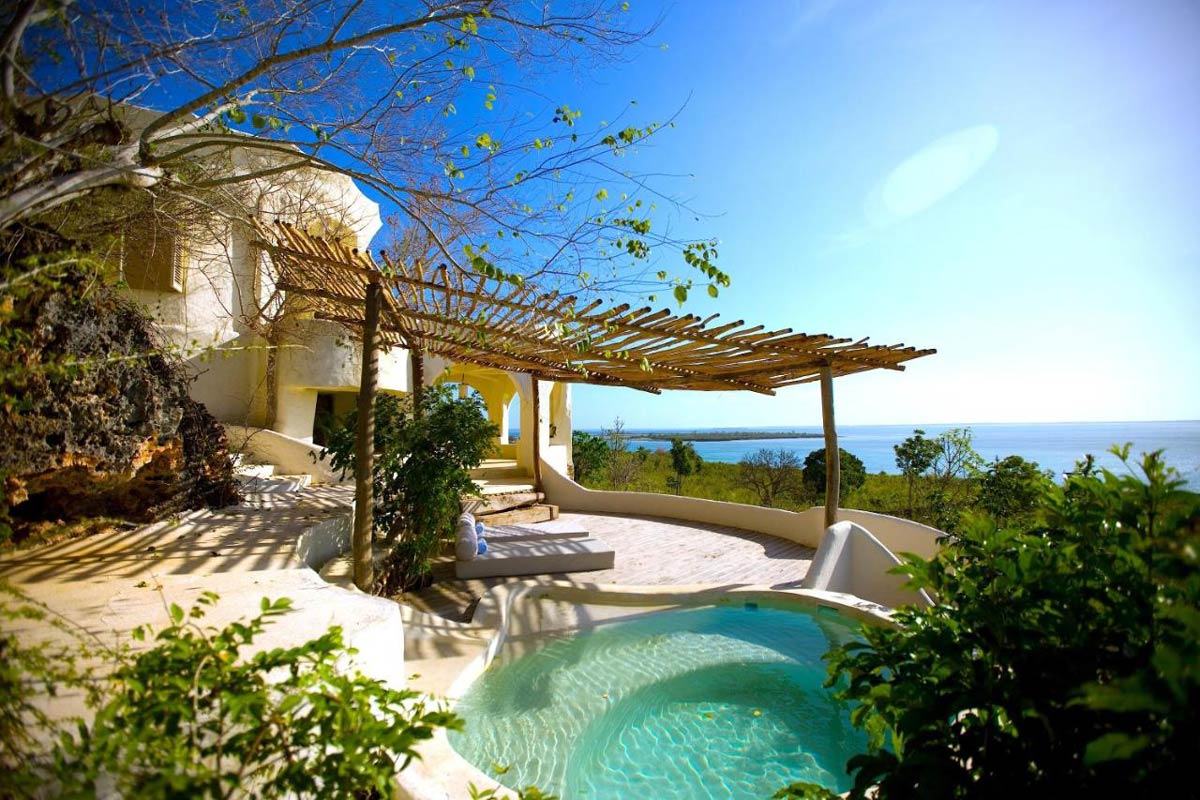 If your idea of Africa honeymoon resorts includes beachside accommodations with gorgeous weather, excellent snorkeling, and world-class service, the Kilindi Zanzibar will surely impress.
The off-white pavilion suites complement the clear blue skies above and feature private pools out front where you'll likely be spending a lot of time.
What makes us fall in love with this African honeymoon resort? The honeymoon packages include flowers, a candlelight dinner, a bottle of sparkling wine, and a henna tattoo for the bride. Add a 25% discount on the room rate, and you have a luxury honeymoon in style.
Mbali Mbali Soroi Serengeti Lodge
Serengeti, Tanzania
$$$
Best for a Honeymoon in the Serengeti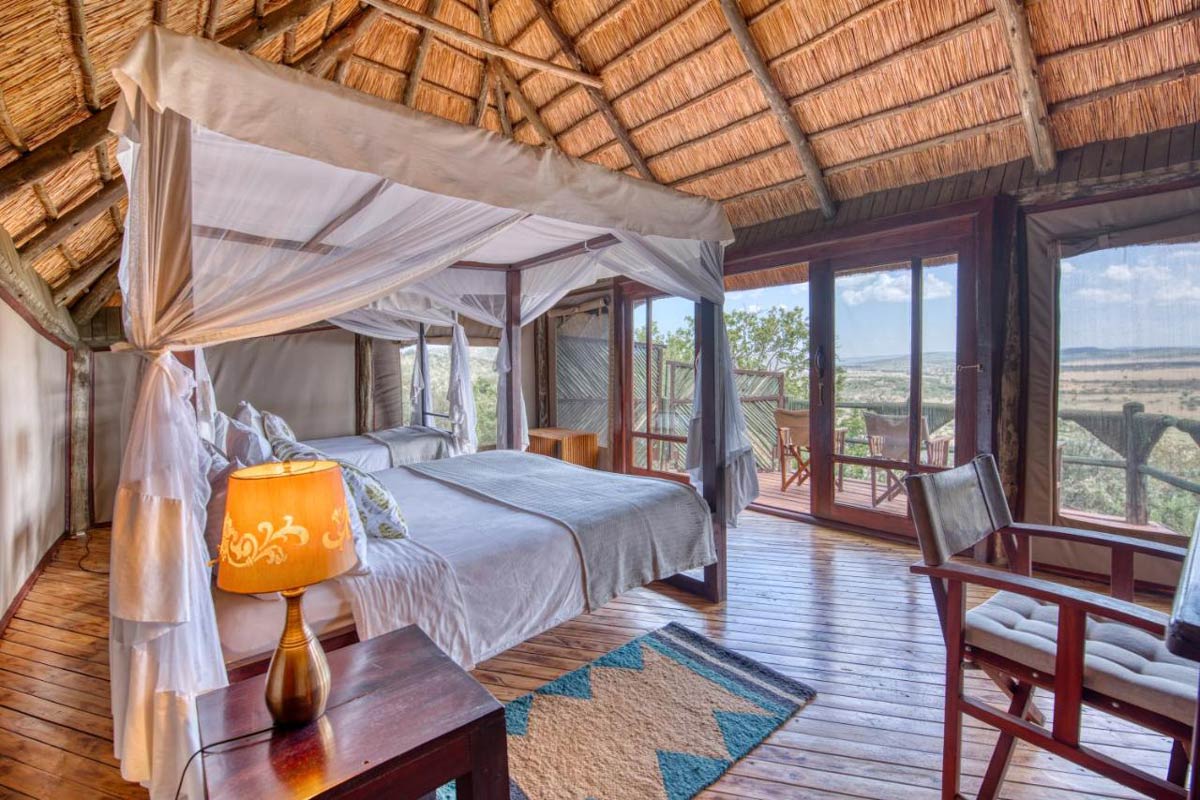 Imagine waking up with your partner after walking down the aisle and looking out at endless beauty in Serengeti National Park from your African honeymoon resort. Book a room at the Mbali Mbali Soroi Serengeti Lodge, and you'll be doing just that from the idyllic thatch roof villas in the heart of the African wilderness.
Start your day watching the world wake up from your patio before you embark on a safari adventure of a lifetime.
When you return, enjoy a meal and cocktail and fall asleep in the canopy-style bed, dreaming of the discoveries that await you tomorrow.
Pro tip: book your room between May and July, and you'll have a chance to see The Great Wildebeest Migration up close to the hotel grounds. Enough said?
Constance Prince Maurice
Poste de Flacq, Mauritius
$$
Best for an Overwater Bungalow in Africa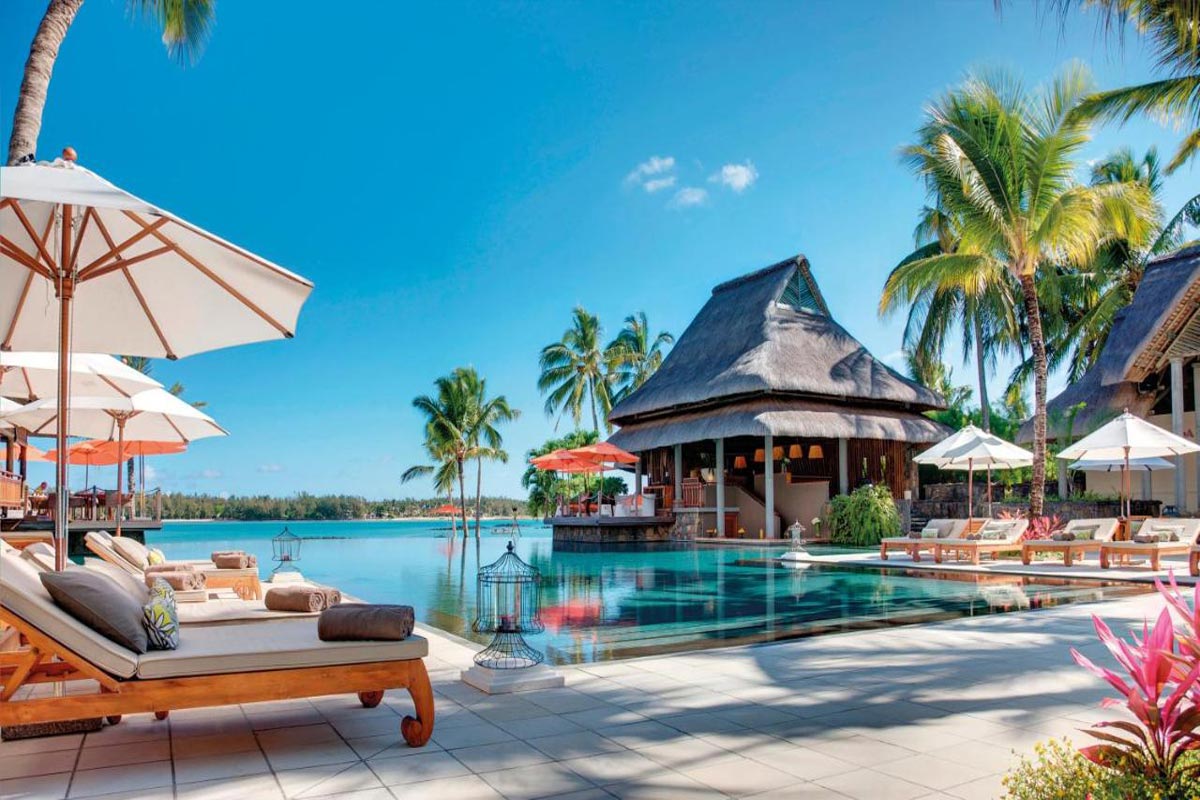 You're thinking of a honeymoon in Africa but want a coastal experience? We think Mauritius is the best island in Africa for a honeymoon, and Constance Prince Maurice is hands down the best value you'll find for the quality.
What makes this resort special? In a word, everything.
The spa, floating restaurant (yes, really), and ocean views are all reasons to stay here on their own. But the overwater bungalows will leave you speechless, especially for the price.
Try staying in the Junior Suite – Over Water which has over 700 sq. ft of charming space, including a private deck overlooking the bay below.
Africa Honeymoon: Map
Read More Africa Honeymoon Guides