Planning your dream honeymoon in Mexico? Get ready to discover the must-see destinations and best places to stay with this helpful guide.
Mexico is a huge country abundant in culture. But that's not all, the country features many unique regions, affordable destinations, and no shortage of incredible nature, entertainment, and food to enjoy.
So, it should come as no surprise that choosing your dream Mexico honeymoon is exciting – but can be totally overwhelming. Do you head to the cool capital? Or, do you opt to stay in Tulum for a week of total rest and relaxation?
That's where we come in. We've put together a handy guide filled with everything you need to know about where to stay and what to see on your honeymoon in Mexico.
Now you can start planning your trip of a lifetime.
Why Honeymoon in Mexico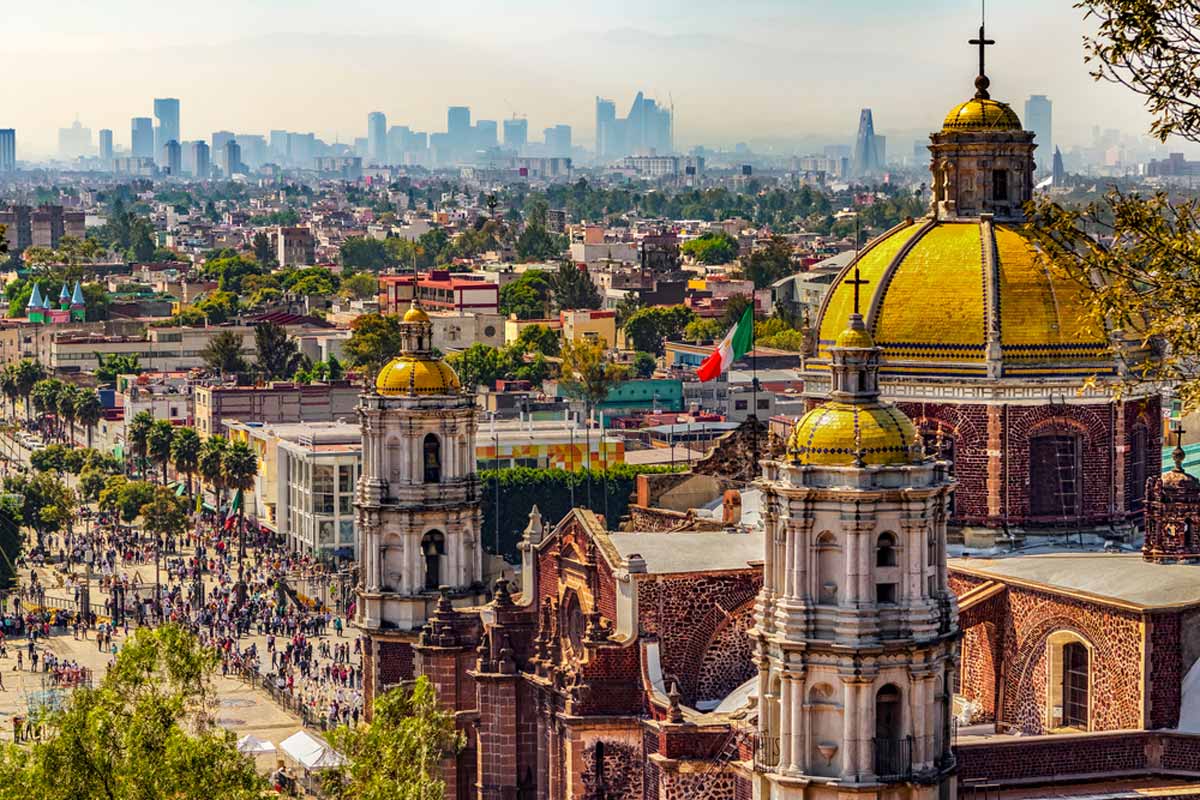 Mexico might be a well-known vacation destination, but why exactly should you choose to plan your honeymoon here?
For starters, Mexico is a massively diverse country with landscapes of forests, mountains, deserts, and beaches. The culture is rich and the food is among the best in the world. Post-wedding tacos? Yes, please.
Snorkeling in the Caribbean Sea, hiking up ancient Mayan pyramids, and dining at 3-Michelin-star restaurants are just a few wonderful adventures you can encounter on Mexican honeymoons.
Tempted? We thought you might be.
Best Honeymoon Hotels & Resorts in Mexico
La Valise
Mexico City
$$$
Best for Romantic Honeymoons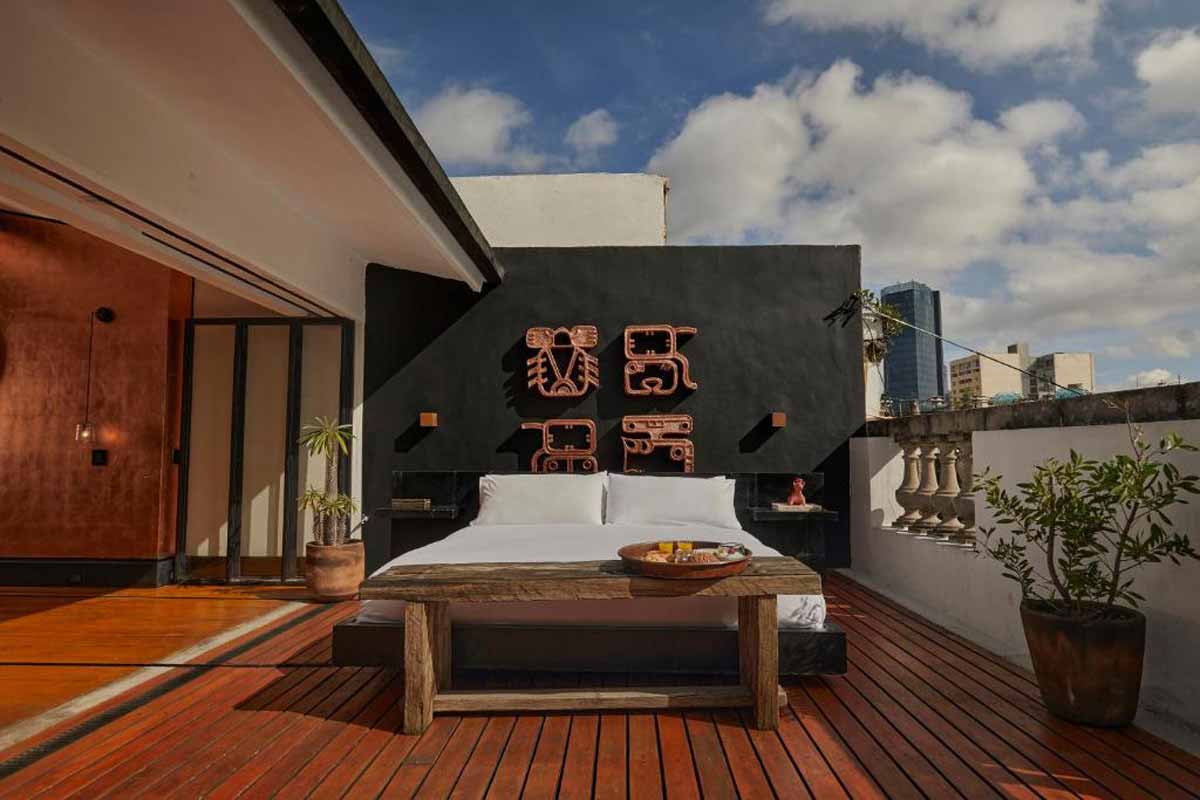 For a totally romantic getaway, La Valise Mexico City in Roma Norte is one of the most charming hotels for a Mexico honeymoon. Situated in a vibrant neighborhood in a hotel that has a casual yet refined feel, you're guaranteed the honeymoon of your dreams.
You'll want to choose La Terraza if it's available for your honeymoon in Mexico (or, plan your honeymoon around it – it's worth it). The large apartment-style suite is on the top floor of the mansion-turned-resort and is the hotel's most talked about room because it's so gorgeous.
Hardwood floors, locally sourced art and furniture, and a stunning balcony overlooking the neighborhood make you feel at home on your Mexico honeymoon.
Having a well-curated breakfast in bed from a local bakery on the private terrace (your bed rolls in and out of the room) makes this one of the best honeymoon spots in Mexico.
Fairmont Mayakoba
Playa del Carmen
$$$
Best for an All-Inclusive Experience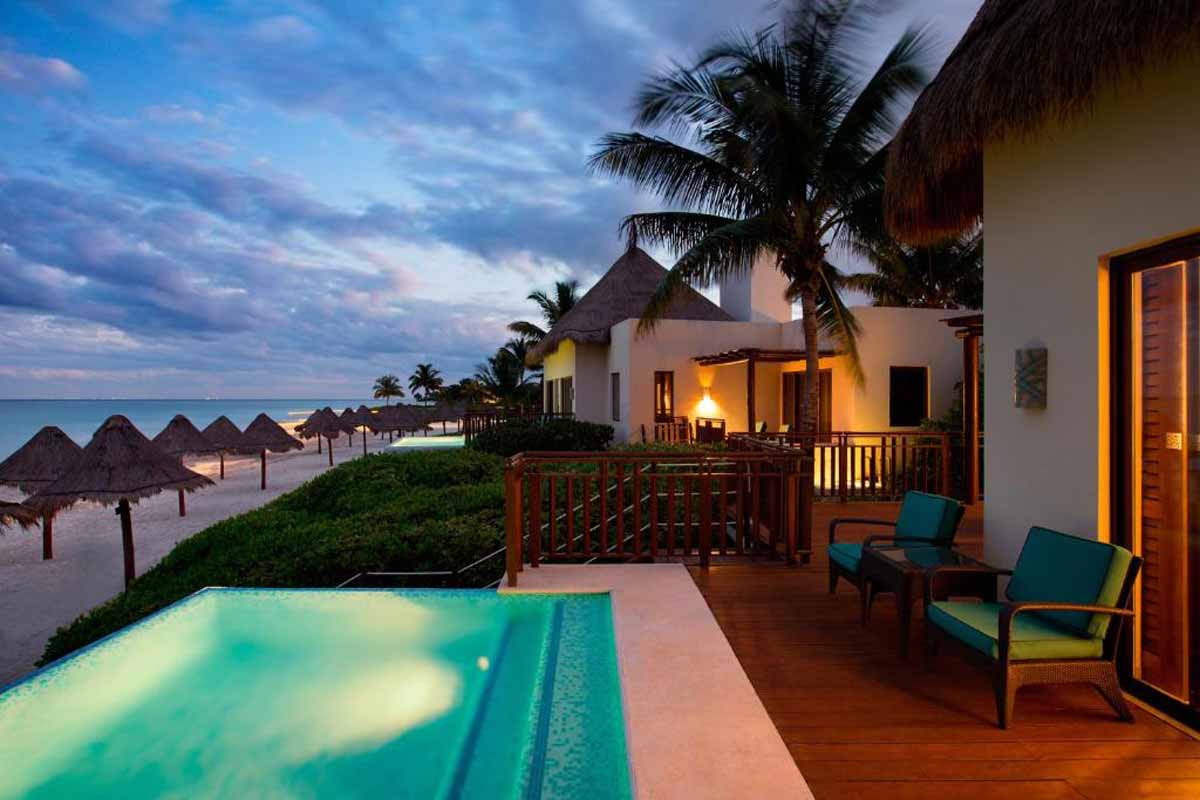 Nestled between the popular resort towns of Cancun and Playa del Carmen along the Riviera Maya, the Fairmont Mayakoba is one of the best all-inclusive honeymoon resorts in Mexico.
Wake up to the unique sounds of the forest or ocean along the 45-acre property. When you book a deluxe casita, you'll have a private residence for the week, complete with a large walk-in bathroom and balcony.
Dining options here are as extensive as the property grounds and feature beachside Korean bbq (a unique choice, but we're totally here for it), locally sourced seafood, and a fantastic breakfast buffet.
Need a workout? Lift weights at Muuk Gym, swim at one of five pools or take a kayak from the resort's private oceanfront.
You can reserve one of the best Mexico honeymoon packages by choosing the all-inclusive experience and enjoy unlimited cocktails, meals, and romance during your stay.
Coco Hacienda Tulum
Tulum
$
Best for an Affordable Honeymoon in Mexico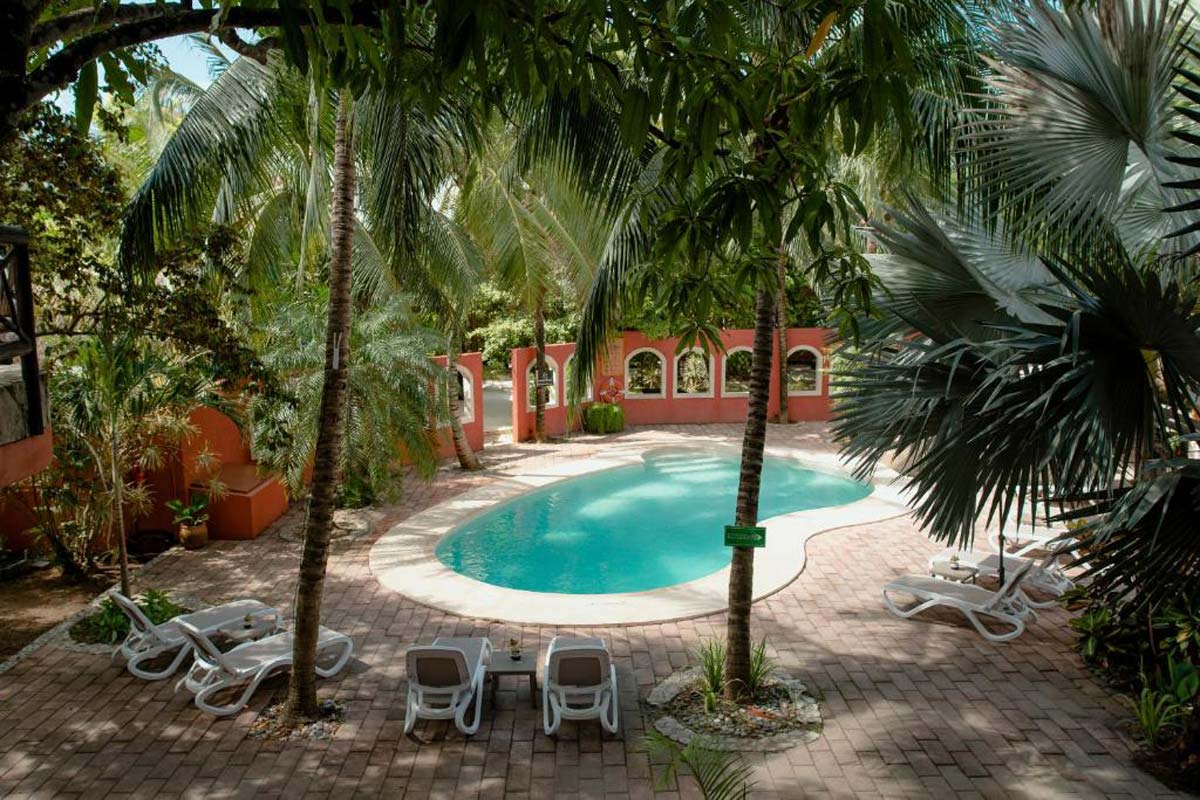 Coco Hacienda Tulum is a lovely boutique hotel with an eclectic style that sports vibrant colors inside and out. The airy rooms and private balconies look out onto the jungle garden and pool that make this one of our favorite Mexico honeymoon resorts.
If you want to choose from honeymoon suites with an in-room jacuzzi, the Deluxe Suite High Floor with Hot Tub and Terrace is one of the best value options you'll find on your Mexico honeymoon.
Grab a casual meal from the cafe or venture out to nearby Tulum and sample excellent local cuisine during your honeymoon in Mexico.
And, when your day is winding down, hop into your private jacuzzi, relax, and marvel at your near-perfect surroundings at an equally incredible price.
Presidente InterContinental Cozumel Resort & Spa, an IHG Hotel
Cozumel
$$$
Best for Snorkeling and Scuba Diving Access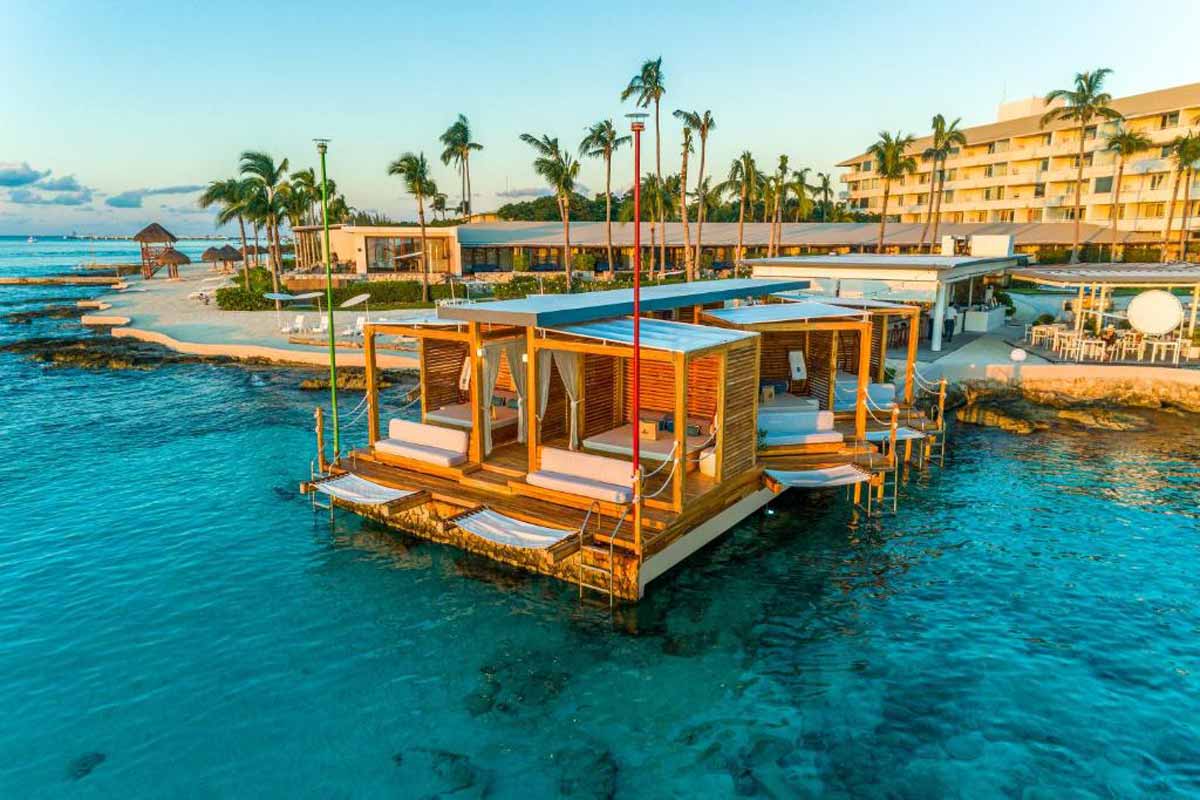 Cozumel is excellent if you want a Caribbean honeymoon without leaving Mexico. You'll find the country's most beautiful beaches and incredible diving and snorkeling opportunities here.
And there's nowhere better to stay than at the Presidente InterContinental Cozumel Resort & Spa.
Hang out at the private beach, book a private diving tour, or sip a delicious cocktail poolside just steps away from the Caribbean Sea. You'll also try local dishes in comfortably elegant settings at one of several dining options on-site.
Whether in a poolside suite or ocean-view room, the modern interior features bold blues and greens contrasting with warm hardwood furniture. The color scheme is the perfect complement to the natural landscape surrounding the property.
Casa Dorada Los Cabos Resort & Spa
Cabo San Lucas
$$
Best for a Lively Honeymoon in Mexico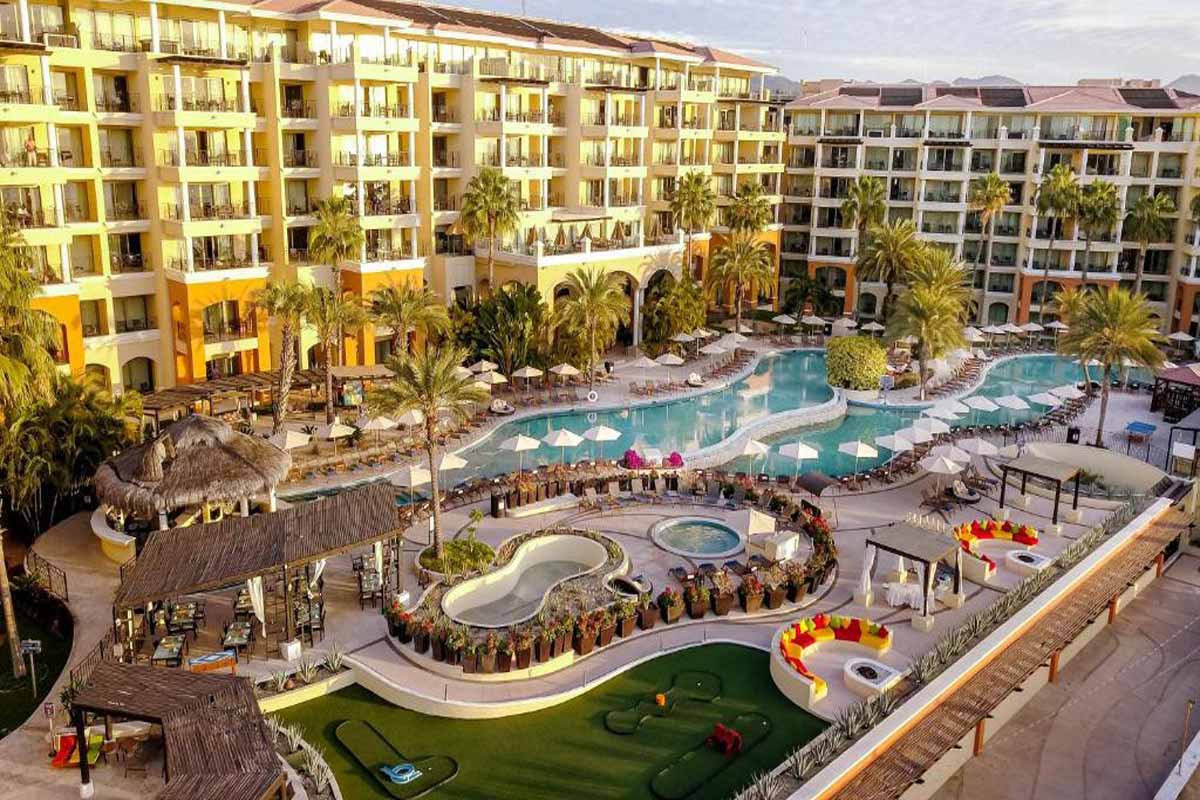 Casa Dorada Los Cabos Resort & Spa is one of the best resorts to honeymoon in Mexico if you want to be in the heart of the action.
Spend the day at the pool, looking out at the Arch of Cabo San Lucas from Medano Beach – or shop, drink, and dine in town. You'll have access to numerous tours and excursions near the hotel.
When ready for rest or romance, head back to your room and enjoy the air conditioning, cool tile floors, and comfortable beds inside and out on the balcony.
Be sure to book a suite with an ocean view, as this is one of the best honeymoon resorts in Mexico to toast your future together while looking out at a million-dollar view.
Mexico Honeymoon Tips: What You Need to Know
How to Get to Mexico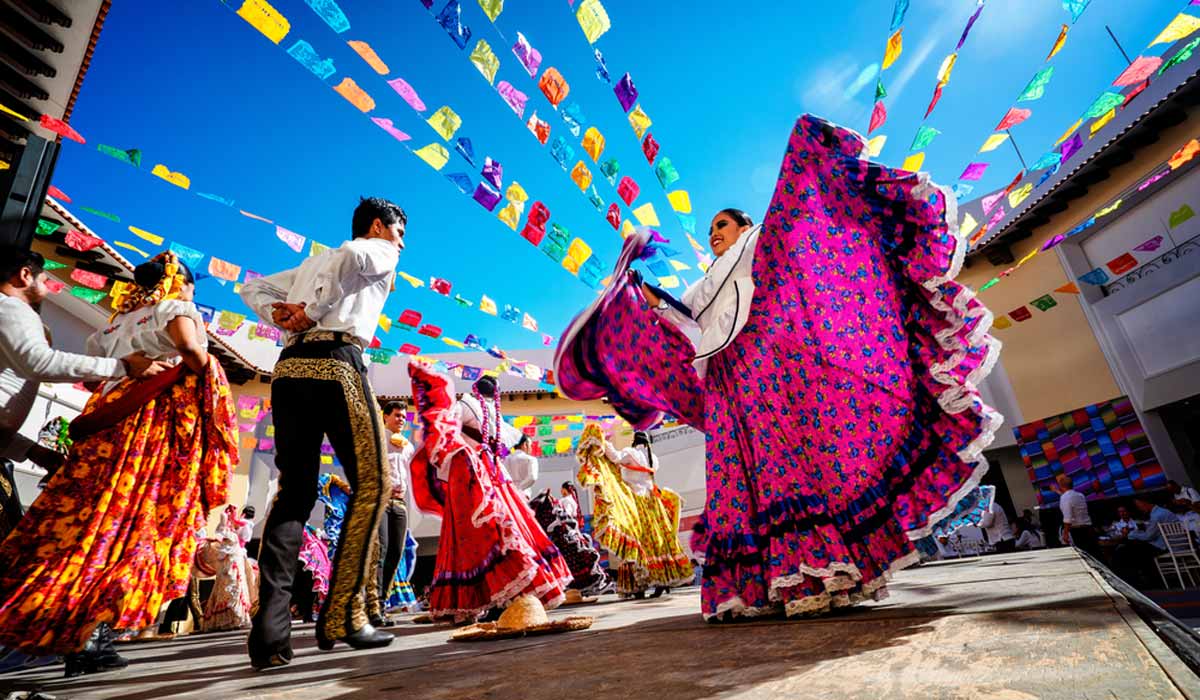 Getting to Mexico is relatively easy, as many of the top Mexico honeymoon destinations are close to major international airports – there are over 100 here.
However, you can access the locations we've mentioned in this guide from a few convenient options. Cancun International Airport (CUN), Cozumel International Airport (CZM), Benito Juárez International Airport (MEX), and Los Cabos International Airport (SJD) are all excellent choices.
Chances are, wherever you're staying for your honeymoon in Mexico, you can drive from the airport. Mexico is relatively easy to navigate by car, and you can use your driver's license from most countries you're visiting from.
The Best Mexico Honeymoon Destinations
Mexico City
Mexico City is quickly becoming one of the most popular alternative honeymoon destinations. For couples who want an urban escape for their dream vacation, choose one of the most dynamic cities in the world for your Mexico honeymoon.
For one, you'll have delicious food right on your doorstep. Whether you're sampling Al Pastor street tacos near the stunning city square of Zócalo or dining at the three-Michelin-star Pujoil in the upscale Polanco, the food is second to none.
The architecture is equally impressive. You'll see ancient Aztec ruins unearthed directly within the colonial-inspired historic center, providing the most striking example of the varying construction and design on your Mexico honeymoon in CDMX.
Visit one of the head-spinning 150+ museums or stroll through the incredible Chapultepec Park and see why Mexico City is quickly becoming a top honeymoon destination.
Teotihuacan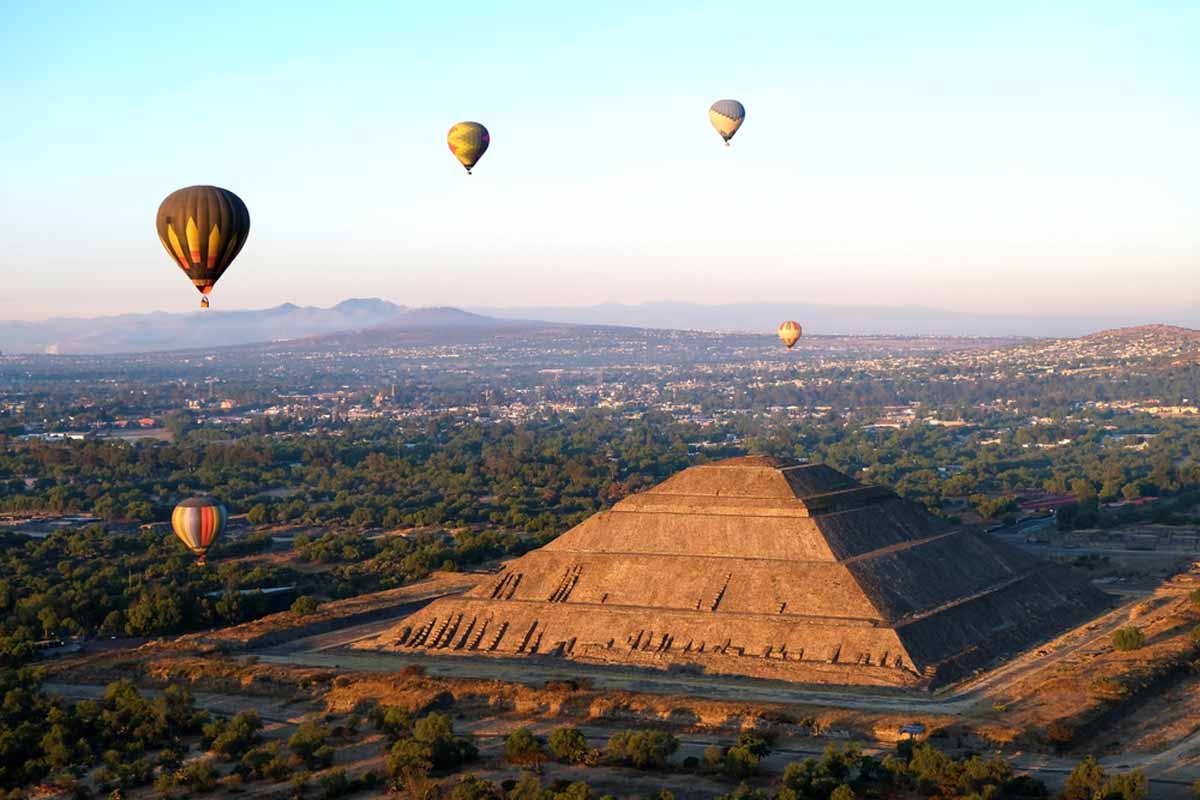 Only about an hour from Mexico City by car is one of the most iconic archeological sites in the world. Here you'll see pre-Columbian ruins like the Pyramid of the Sun and the Avenue of the Dead.
Book a private tour or take a ride share to the site and see magnificent structures that have been here for over 1,000 years. We suggest getting tickets ahead to avoid long lines and grabbing a delicious tamale from a vendor near the entrance.
You can combine this visit with a hot air balloon ride overhead, but you'll need to wake up early as they take flight around sunrise.
Cabo San Lucas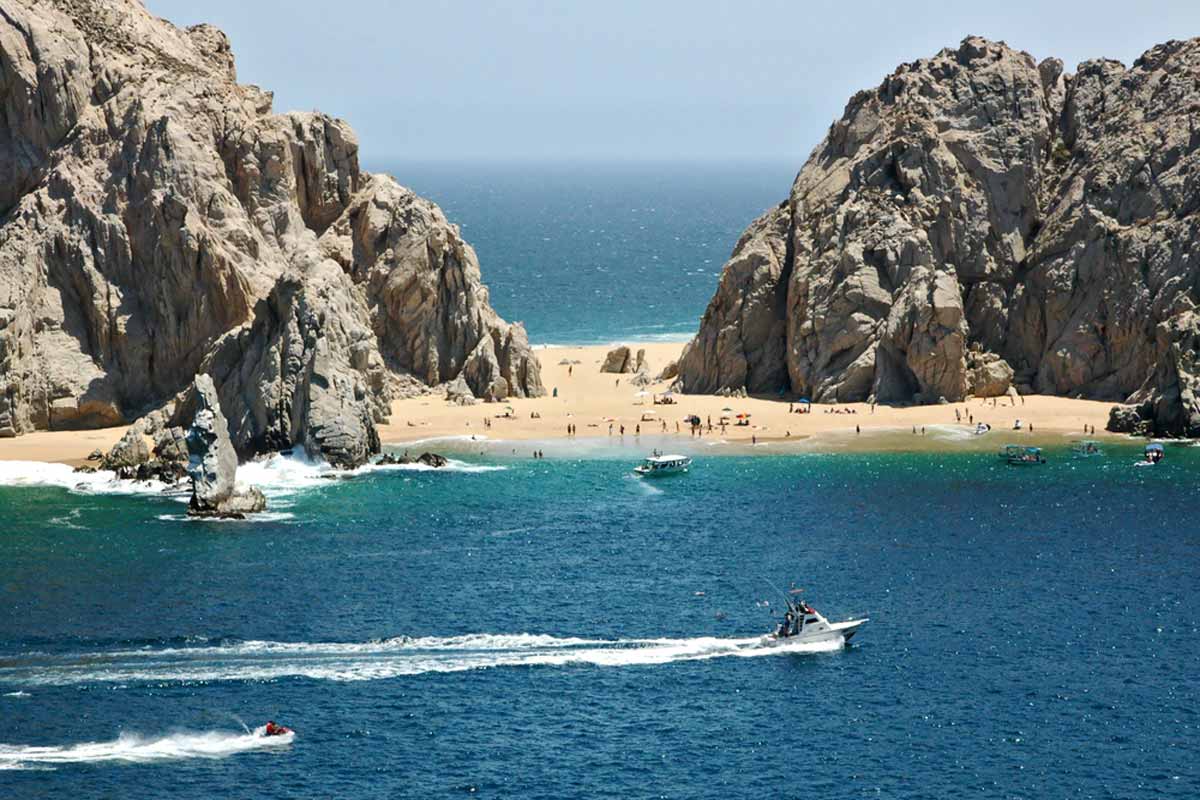 Head down the Baja California Peninsula, and you'll discover some of the best honeymoon resorts in Mexico.
Known for a perfect mix of daytime activities and nightlife, it's one of those Mexico honeymoon destinations you can't go wrong choosing.
Book a fishing expedition, ATV tour, or cruise around the idyllic beach town where you may see whales or dolphins, depending on when you go.
Whether you want to enjoy the nightclubs and restaurants of downtown Cabo San Lucas or take in the charming old Mexico vibes in nearby San José del Cabo, you'll have plenty to do on your honeymoon to Mexico.
Cozumel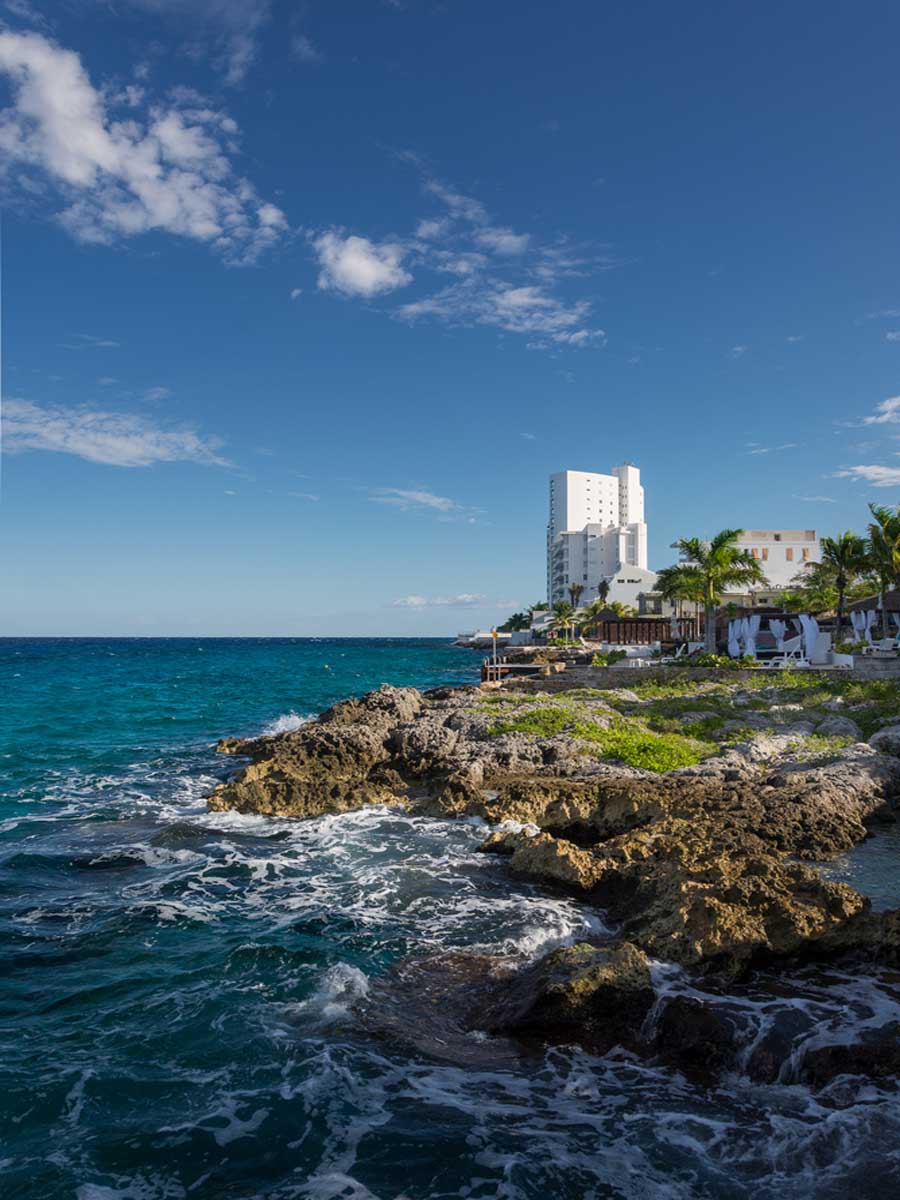 Head to Cozumel for some of Mexico's best snorkeling and scuba diving.
Whether you want to check out the Adventure and Eco Parks of Punta Sur or Chankanaab Beach or head out on a diving expedition – you'll find plenty of exciting opportunities on your Mexico honeymoon.
Cozumel has one of the most extensive reef systems in the world and plenty of world-class diving spots to enjoy. You'll see colorful tropical fish and may even spot the occasional sea turtle or manatee.
When you want to dry off and see what Cozumel offers on land, check out the Zona Arqueológica San Gervasio to see some Mayan ruins.
There are plenty of high-end resorts along the waterfront where you can enjoy your honeymoon in Mexico with a peaceful sunset stroll looking out at the Caribbean Sea.
All this makes Cozumel a top choice for an island paradise on your Mexico honeymoon.
Playa del Carmen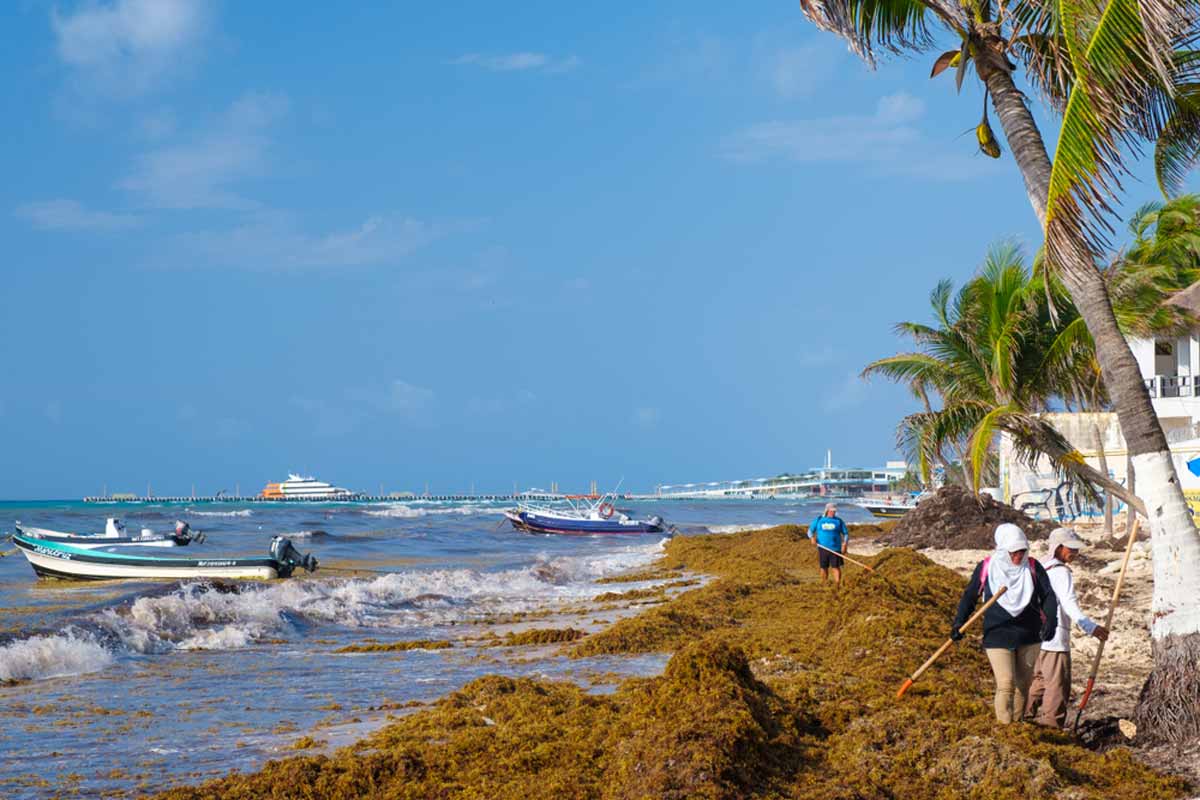 While quieter than nearby Cancun, there's still a bustling city center and many great places to drink and eat in Playa del Carmen.
Walk the streets around sunset and enjoy excellent cuisine at many of the best honeymoon resorts in Mexico or a more casual local favorite. Grab some excellent tacos at El Fogón after a couple of margaritas at a nearby rooftop bar for the perfect evening in Playa del Carmen.
You can swim in a cenote, enjoy an afternoon at an adventure park like Xcaret, or set out snorkeling at the incredible beaches. Playa del Carmen offers no shortage of fun any time of the day, and we consider it one of the best honeymoon destinations in Mexico.
Tulum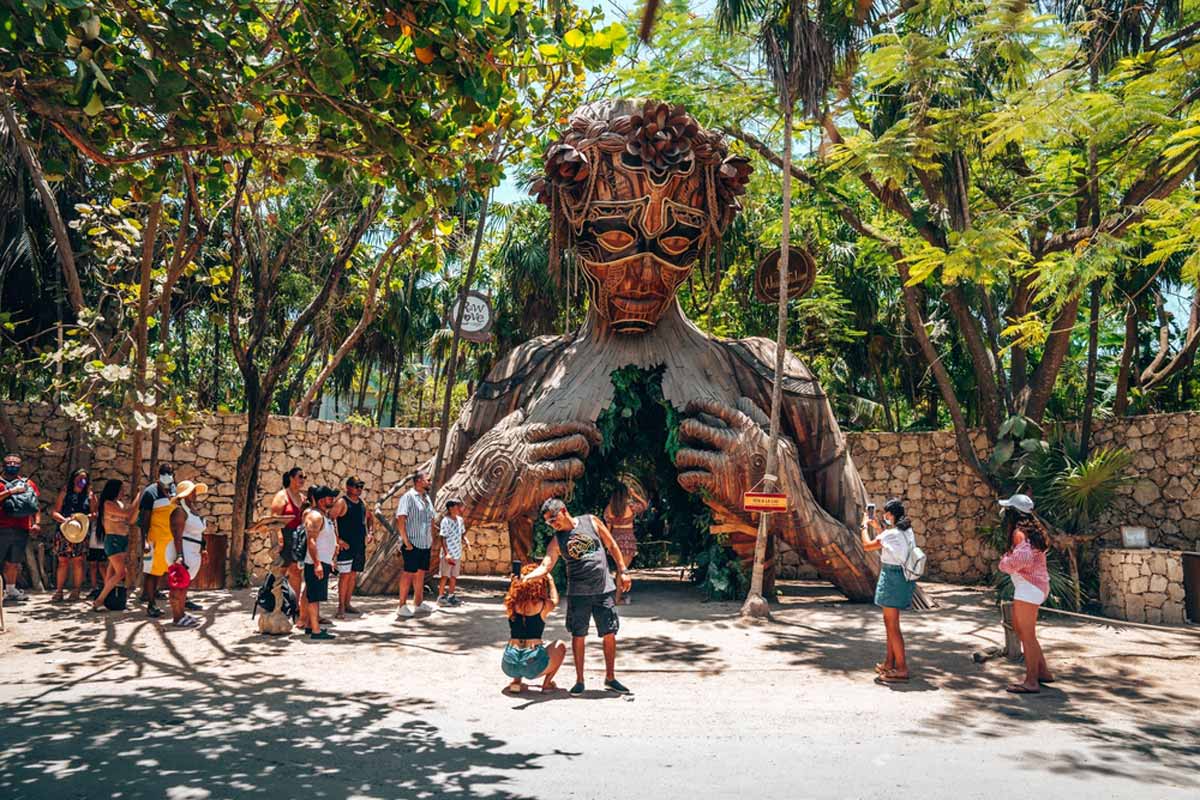 You can reach the ultra-cool Tulum less than an hour from Playa del Carmen.
You'll enjoy many of the same activities as you do further up the Riviera Maya. But Tulum has direct access to Mayan ruins along the beautiful Yucatán Peninsula, setting it apart.
Take a short drive to Coba, and see another of the world's most impressive historic Mayan sites for an extraordinary honeymoon in Mexico.
Tulum is also home to many of Mexico's best spas, resorts, and dining. Whether you want a fancy dinner for two by the water on your Mexico honeymoon or a casual taco lunch downtown – you can find it at one of our favorite destinations.
Read Next: The Insiders Tulum Honeymoon Guide
The Best Time to Visit Mexico
The best time of year to visit Mexico is in the spring. Why's this, we hear you ask? You'll typically have excellent weather and less rain from March to May.
It gets swelteringly hot in the summer in many parts of Mexico. However, Mexico City's year-round temperate climate makes it a fantastic location for your honeymoon anytime.
How Long to Spend on Your Mexico Honeymoon
You can plan your honeymoon to Mexico for as short or as long as you'd like. Chances are, no matter how long you stay, you'll have a great time.
While many tourists plan quick trips to Mexico because it is easy to get there from most major U.S. airports, spending some extra time here is often a good idea.
1-2 weeks in Mexico will let you experience all the wonderful country has to offer. You can check out multiple cities and beach towns along the way.
How Much Does a Mexico Honeymoon Cost?
A honeymoon in Mexico can fluctuate in cost depending on where and when you decide to go. So while you can spend a lot of money on the best all-inclusive resorts Mexico honeymoons offer, you can also stay at many excellent accommodations for a reasonable price.
Rooms will typically cost $100-$400 a night for many of our favorite hotels and resorts. Airfare is often affordable to many Mexico honeymoon destinations, and (pro tip) rideshares can cost much less than other countries we've visited.
Mexico Honeymoon Resorts: Map
Mexico Honeymoon Guide: Read Next