Make your dream Tulum honeymoon a reality. Don't miss this guide to the best hotels and top sites for your magical vacation.
With its stunning Caribbean coastline, abundance of things to do, and plenty of romantic dining spots, it's no wonder that many couples choose Tulum for their honeymoon.
So, if you're dreaming of days lounging on a serene beach with a cocktail in hand, you've come to the right place. Read on to discover the best places to honeymoon in Tulum, Mexico…
Why Honeymoon in Tulum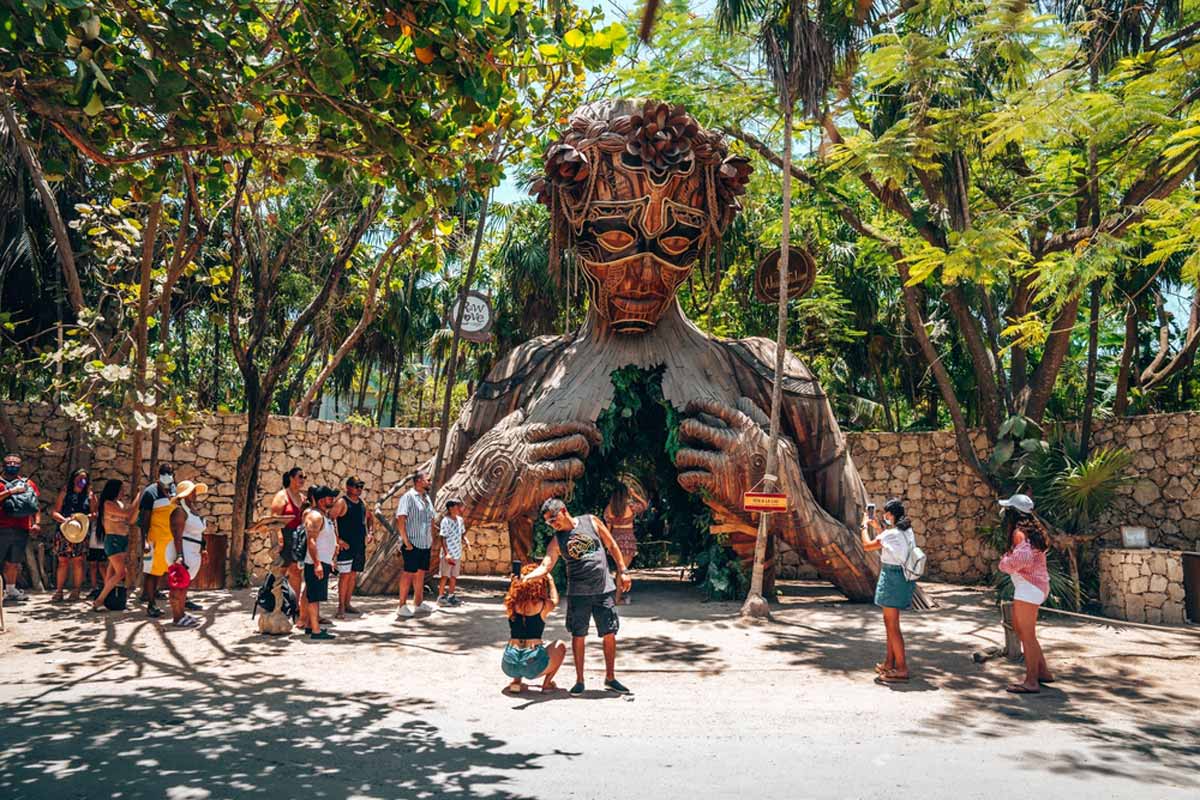 Situated along the Riviera Maya, a Tulum Mexico honeymoon is one of our favorite affordable destinations for romance.
What used to be a quiet town less traveled (compared to Playa del Carmen or Cancun in the North) is now a thriving destination for travelers worldwide.
And why wouldn't it be? Jaw-droppingly gorgeous cenotes, incredible food, world-famous nightlife, and top-notch resorts at reasonable prices are just a few things we love about a Tulum honeymoon.
Best Honeymoon Hotels & Resorts in Tulum
Xperience Tulum Hotel
Tulum City Center
$
Best for a Budget-Friendly Honeymoon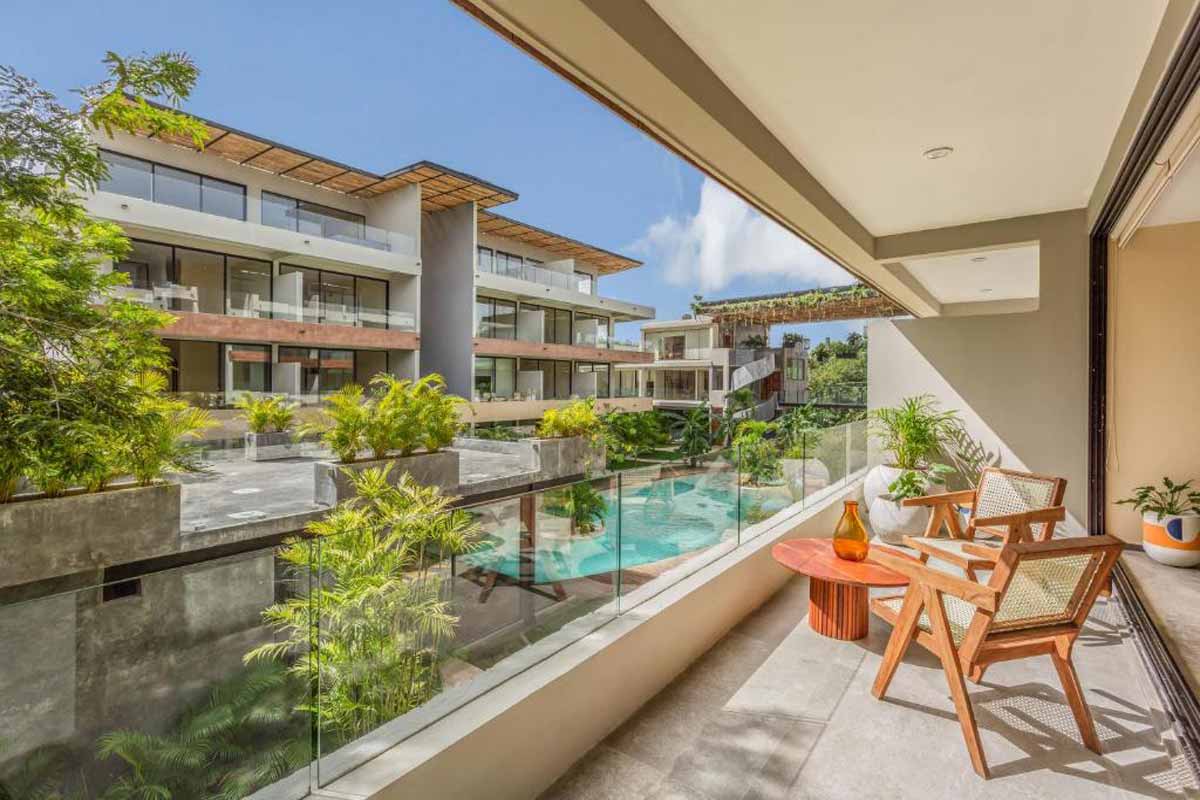 Xperience Tulum Hotel is somewhere you'll want to consider for your Tulum honeymoon if you're dreaming of a central location at a reasonable price. We think it's a steal.
You'll be only a few miles from most of the must-see sites in Tulum. You can get to the top destinations by shuttle or ride share – or take advantage of the free parking on the property and rent your own car.
Your non-smoking room is spacious and has a kitchen, coffee maker, and views of the courtyard or pool. Speaking of rooms, they're decorated with signature Tulum flair – we're talking white linens, wooden furniture and warm lighting.
We suggest spending a bit more (it's your honeymoon, after all) and reserving a Deluxe Studio with an in-room jacuzzi.
Hilton Tulum Riviera Maya
Akumal
$$$
Best for an All-Inclusive Tulum Honeymoon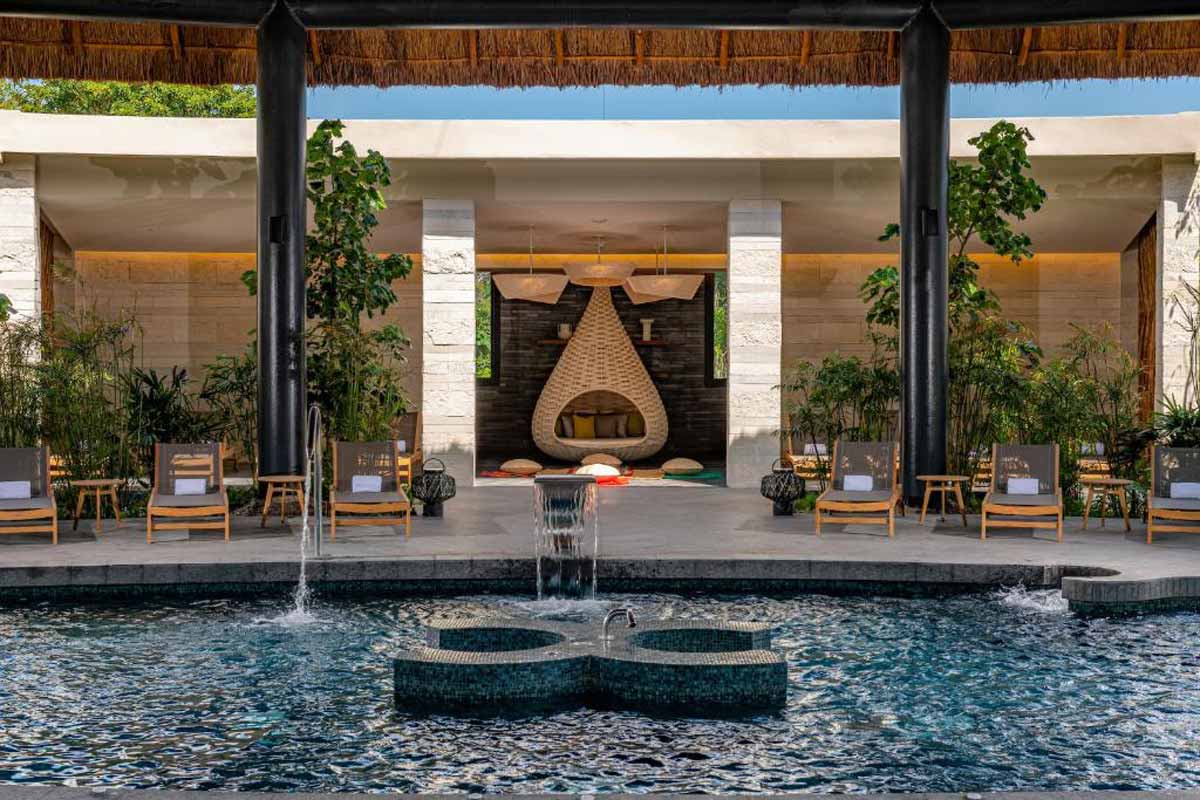 If it's a Tulum all-inclusive honeymoon you're after, the Hilton Tulum Riviera Maya has everything you need.
The live entertainment, excellent snorkeling, and on-site water park are just the tip of the iceberg. Add to that an ultra-stylish design and you're onto a winner.
Technically a bit removed from Tulum, the hotel grounds are extensive, gorgeous, and sitting right along the unmatched beauty of the Riviera Maya.
Nine restaurants, including a steak house, sushi spot, and several Mexican restaurants, are there for you to choose from on one of our favorite Tulum honeymoon packages.
Kimpton Aluna Resort Tulum
Aldea Zama
$$
Best for Style and Sophistication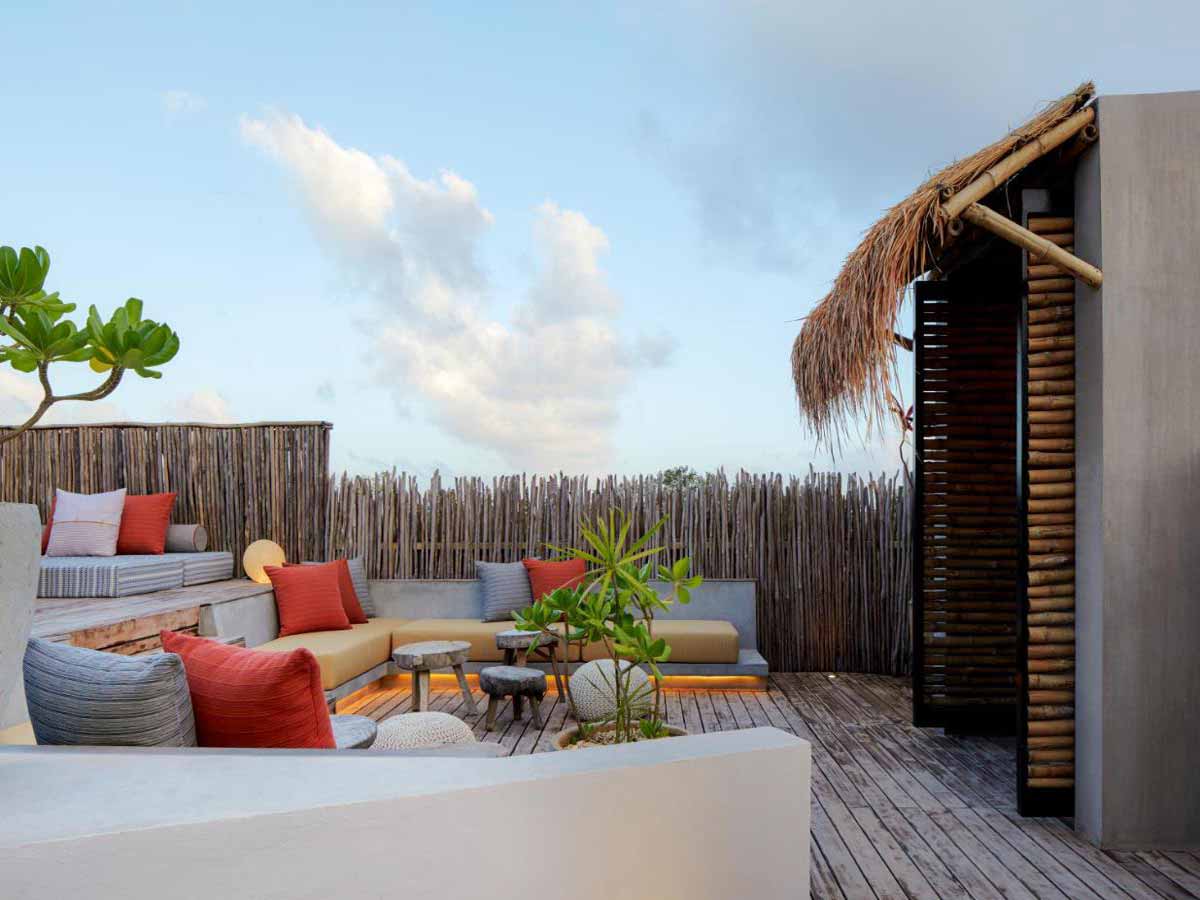 If you and your spouse want a modern and fashionable hotel, The Kimpton Aluna Resort Tulum makes every effort to ensure your stay is one you'll write home about (or at least share videos of on TikTok).
From the incredible pools and restaurants – both available as rooftop options – to the free cruiser bikes, you'll have plenty to marvel at on-site or on wheels.
Ready to enjoy a quiet evening indoors together? A private patio, a large king bed, and flat-screen TV are perfect for a romantic night together on your Tulum honeymoon.
Dune Boutique Hotel Tulum
Hotel Zone
$$$
Best for Being Close to the Party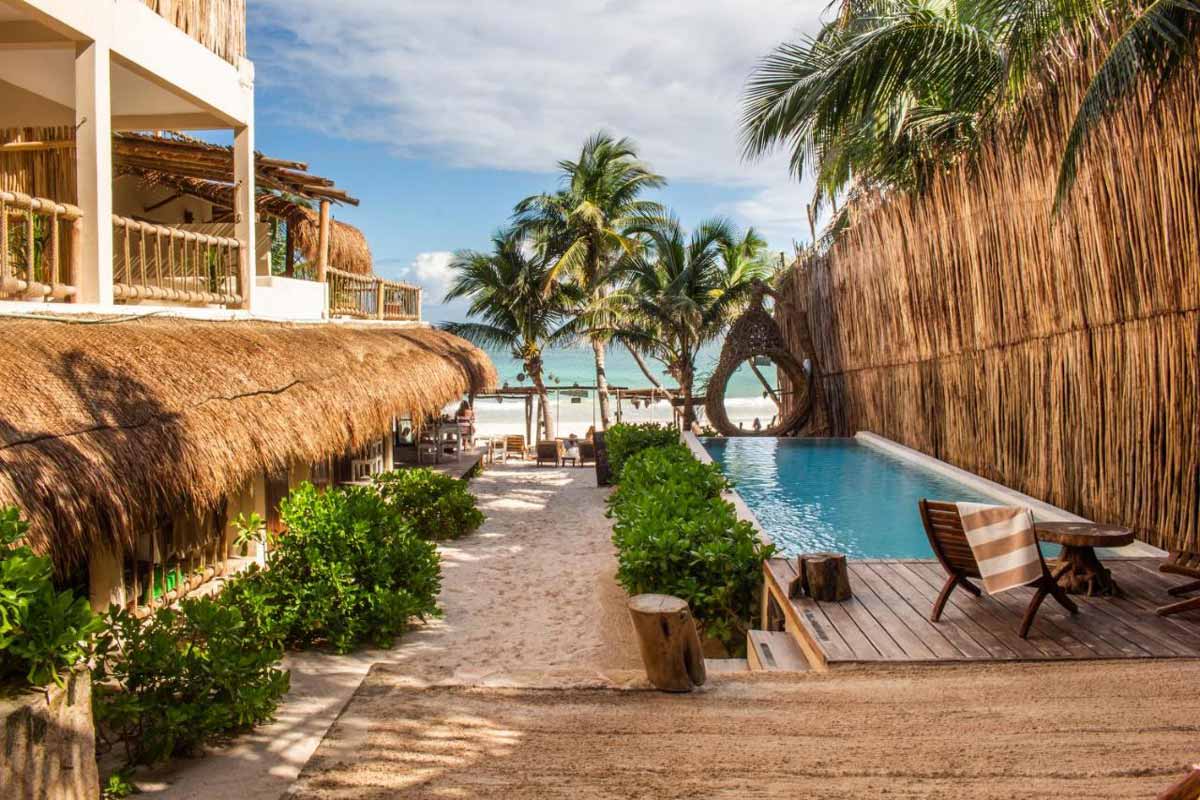 Visiting Tulum for the nightlife? Dune Boutique Hotel Tulum is one of the premiere honeymoon hotels in Tulum for close access to some of the best parties on the Yucatan Peninsula.
That's all fun and games, but what happens if you want some quiet time with your partner during the day?
Not to worry – the gorgeous hotel has a juice bar, delicious breakfast, and a swimming pool to start your day on the right foot.
Be sure to book a room with a patio where you can relax and reflect under a thatched roof. Some even feature a hammock, which we think is an incredibly romantic thing to do on your Tulum honeymoon.
Azulik
Hotel Zone
$$$
Best for a Romantic Honeymoon in Tulum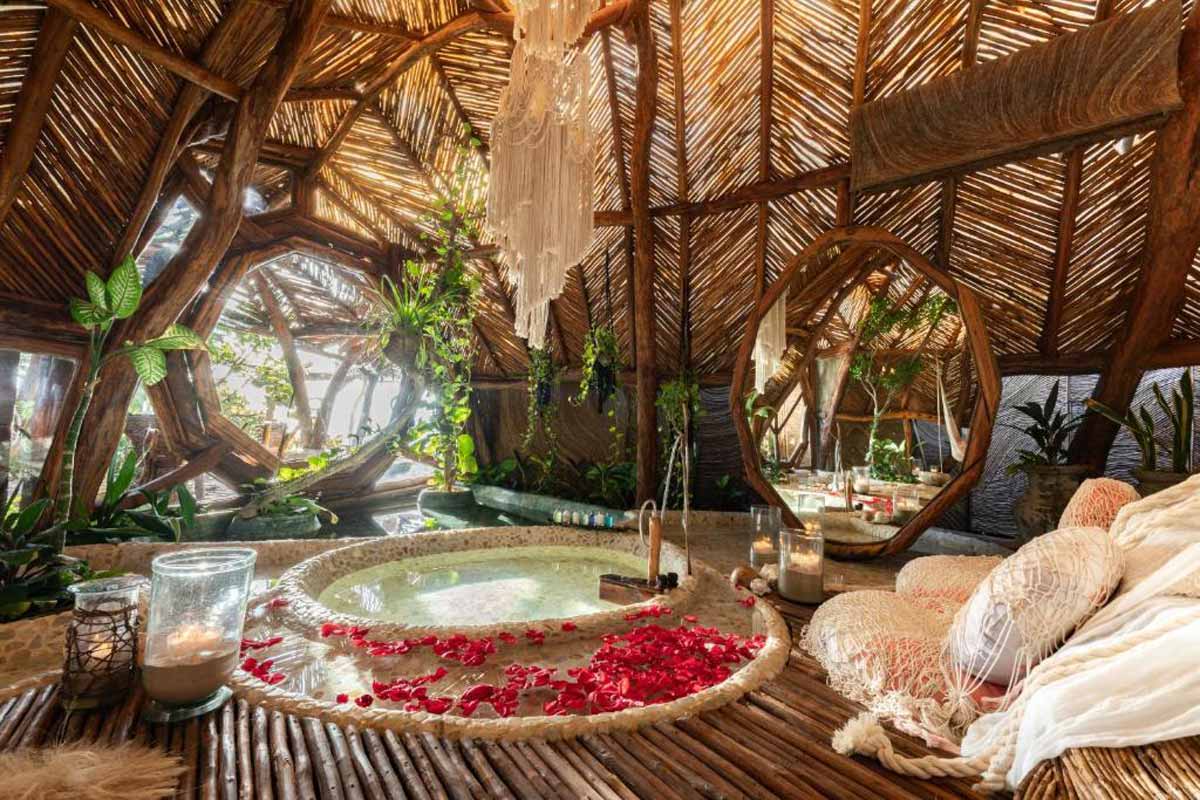 When you're dreaming up ideas for your future honeymoon getaway in Mexico, you may wonder if your honeymoon will be everything you imagine it will be.
If you book a honeymoon suite at Azulik Tulum, your expectations will likely have been too modest.
The fascinating architecture looks like something out of a movie set. And the treehouse-style hotel sits right on the beach (which is adults only and clothing optional).
You're going to want the Moon Villa when you stay here (trust us on this one). A king-size canopy round bed, hanging plants, and a private balcony overlooking the Caribbean Sea are a few reasons you'll love this hotel on your Tulum honeymoon.
Tulum Honeymoon Tips: What You Need to Know
How to Get to Tulum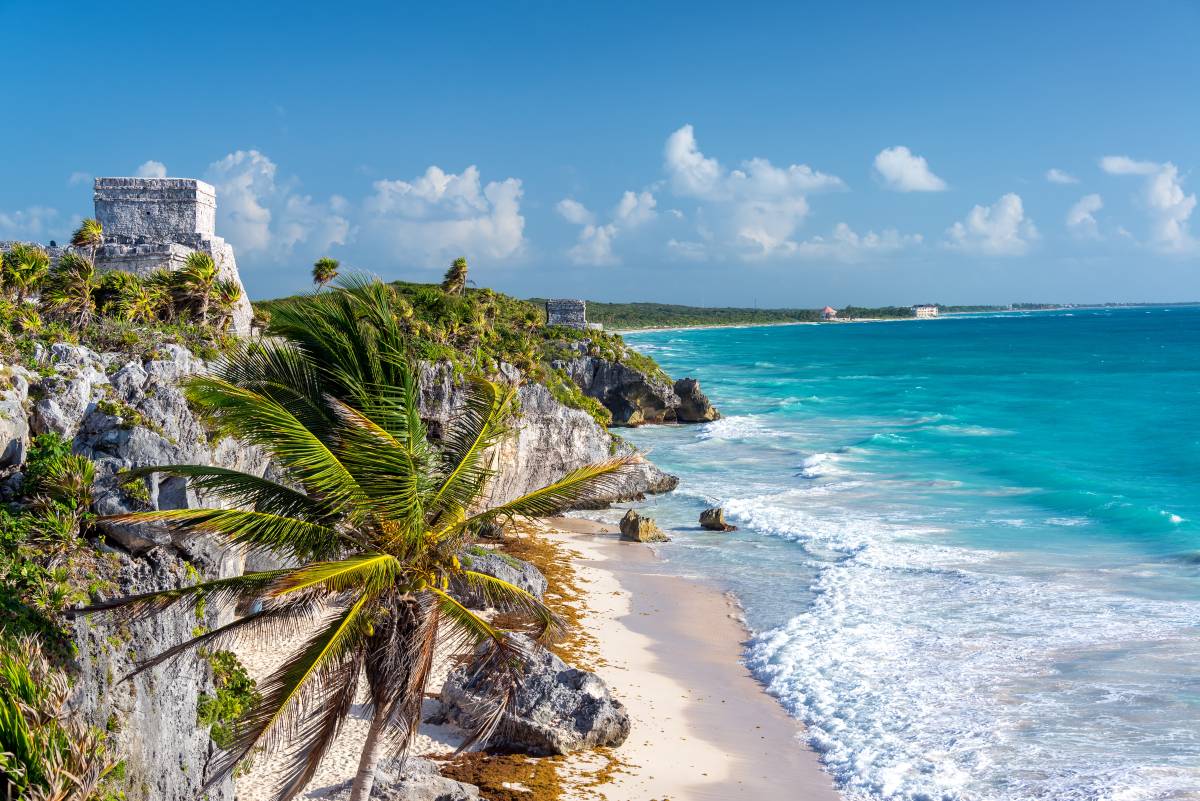 Tulum doesn't have a major international airport. The most common way to kick off your Tulum honeymoon is by flying to Cancun.
Fly into Cancun International Airport (CUN) and rent a car. After you get your keys, you can drive to Tulum in under 2 hours.
The Best Tulum Honeymoon Destinations
Dos Ojos
Dreaming of a honeymoon destination in Tulum full of mystery and adventure underwater? Dos Ojos is a location you won't want to miss.
Not only is it one of the most exciting scuba diving sites in Mexico, but it's one of the most unique. Dos Ojos is a cenote (think natural swimming pool) renowned for its large underwater tunnels, clear waters, and gorgeous cavernous scenery.
One of the reasons Dos Ojos is a popular Tulum honeymoon spot is that the incredible natural landscape sets up some great photos. But don't just take our word for it; you'll definitely want to check it out yourself.
Kaan Luum Lagoon
A honeymoon in Tulum isn't complete without a visit to a cenote. So it's only right that cover not one – but two – of them as our must-see destinations.
But the Kaan Luum Lagoon is a bit different than many you'll see in the area. Not only is it above ground, but it is more of a lagoon than a cenote. The draw here is the crystal clear shallow waters and a large dock you can lounge on.
If you want to hang out with locals on your Tulum honeymoon, this is a great place to do it. Just be sure you stay on the shallow side of the fenced-off section – the deep waters of the cenote are forbidden as they have life-threatening currents.
Naná Rooftop Bar
When you're chilling on your Tulum honeymoon, you'll want to head out and enjoy the great food and drink the area is famous for.
Nightlife is also a big draw in this region. And one of the most popular places is Naná Rooftop Bar.
You and your spouse can enjoy local music, dine on a menu filled with exciting food and cocktails, and check out an eclectic ambiance that is definitively modern Tulum.
Naná Rooftop Bar is a destination you won't want to skip on your honeymoon in Tulum.
Tulum Archaeological Zone
Having trouble deciding between visiting an ancient Mayan ruin or spending some time on the Yucatan Coast? Not to worry – you can see both at the same time.
The Tulum Archaelogical Zone is a breathtaking historical site on the edge of the Caribbean Sea.
It's incredible how well-preserved the oceanfront archeological site is, and the views are equally impressive.
You don't have to be content marveling at the ocean from afar – there's a beach just steps away from the ruins if you need to cool off during your historical expedition on your honeymoon in Tulum.
Maya Spa
When staying at the stunning Azulik hotel, the Maya spa is the quintessential luxury experience you and your partner will want to book on your Tulum honeymoon.
One of our favorite ideas for Tulum honeymoon packages is staying at this legendary hotel and booking its spa services.
Connecting your body and mind with the surrounding nature, ancient traditions, and incredible architecture of the hotel – the Maya Spa is a unique experience you'll remember for a lifetime.
The Best Time to Visit Tulum
Want to time your honeymoon perfectly? Try booking your trip to Tulum in November.
You'll miss the rainy season (with some luck). Of course, you'll also miss peak crowds, so you should find lower rates and a more serene experience.
How Long to Spend on Your Tulum Honeymoon
Trying to decide how long to stay on your honeymoon in Tulum?
You can see one of our favorite tropical destinations in 4-5 days. But you'll have an unforgettable time no matter how long you stay.
That said, we recommend 7-10 for total rest and relaxation.
How Much Does a Tulum Honeymoon Cost?
Tulum was once famous as a low-cost option for experiencing everything the Riviera Maya offers.
Visiting Tulum can still be affordable, but being one of the top tourism destinations in Mexico, it can now range from $100 per night to $1,000 per night for hotels.
Tulum Honeymoon Resorts: Map
Tulum Honeymoon Guide: Read Next