Prepare for the Cancun honeymoon of a lifetime with this handy guide. The top resorts and tips you need to know.
Famed for its endless beaches, popular resorts, and buzzing nightlife, Cancun is an ideal honeymoon destination – perhaps more than anywhere else in Mexico.
The high-end hotels that line the white sand beaches are the perfect landing spot for vacation goers bound for the Yucatan peninsula or the Caribbean Sea. And there's also the lively downtown area where you can dine, shop, and explore Cancun like a local.
Excited to spend a couple of weeks in the sun? Thought so.
Why Honeymoon in Cancun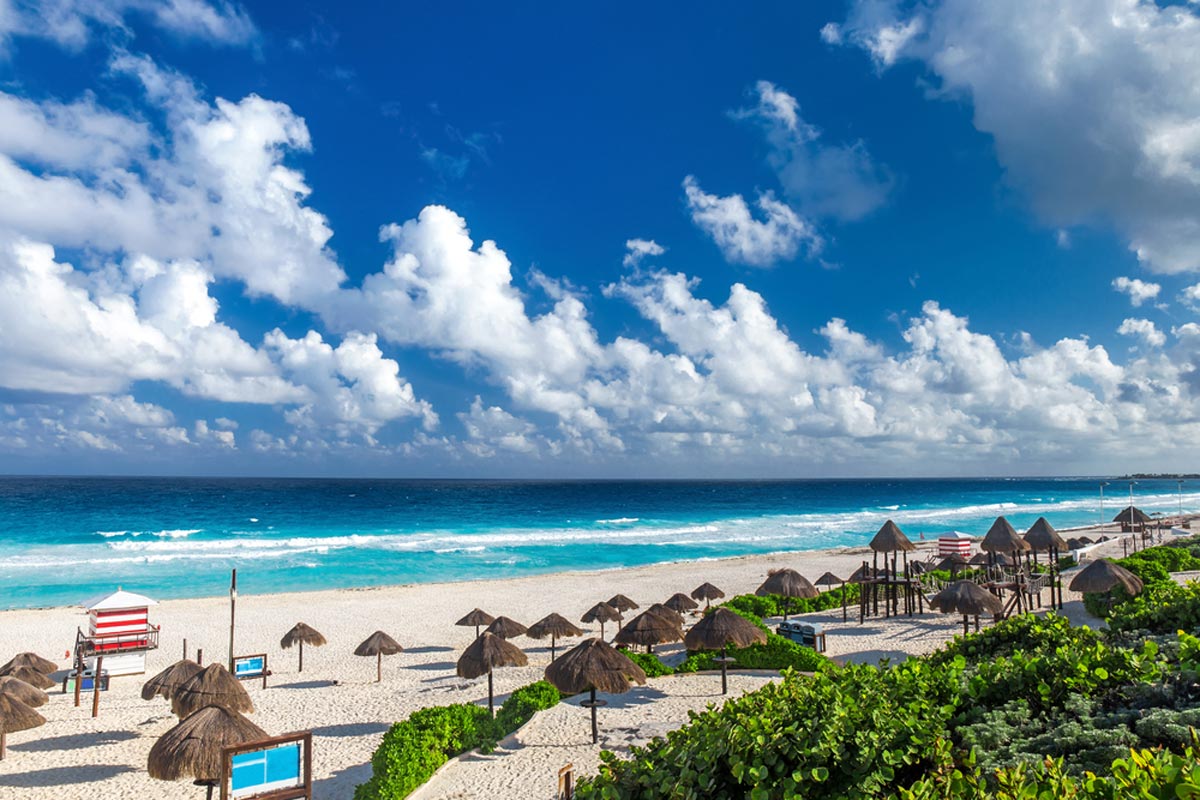 When discussing tropical destinations perfect for celebrating your recent walk down the aisle, a honeymoon in Cancun is often our first thought.
What's not to love? Cancun honeymoon packages can be as modest or elaborate as you want them to be. And no matter your budget, you'll have an unforgettable time in this gorgeous vacation hub.
Although well-known for raucous spring break parties, there's a romantic side to the Yucatan resort town that will make it hard to leave your Cancun honeymoon suite.
With help from our guide, you'll soon see why Cancun honeymoons have a near-perfect balance of entertainment, hospitality, and adventure. Read on to discover all our favorite spots to relax, unwind, and get cozy with your forever partner.
Best Honeymoon Hotels & Resorts in Cancun
Hyatt Ziva Cancun
Punta Cancun
$$$
Best for Beach Honeymoons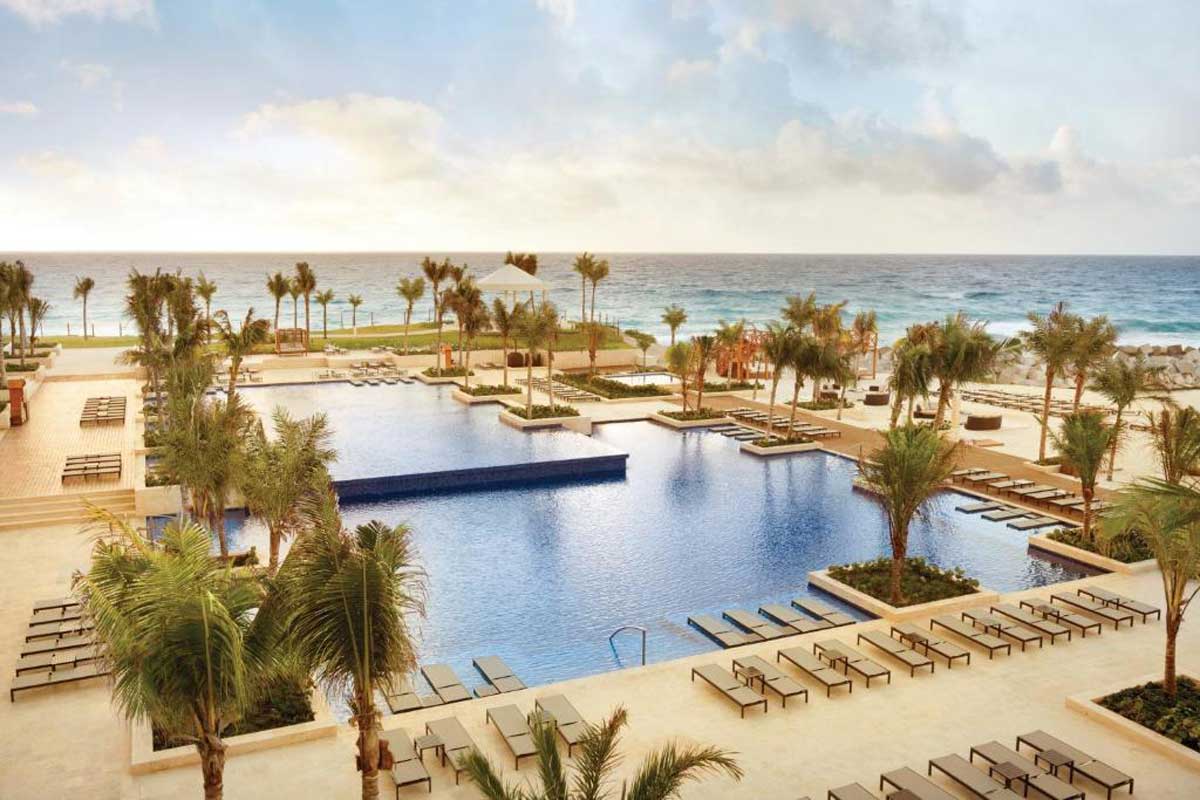 Looking to stay at one of the most lavish Cancun honeymoon resorts? Hyatt Ziva Cancun definitely fits the bill.
With an exclusive location in Punta Cancun in the heart of the hotel zone, you'll settle right in on your Cancun honeymoon. The beaches near the hotel are some of the best in the area – think mellow waves, crystal blue waters, and pillowy-soft white sand.
Cancun honeymoon resorts are known to pull out all the stops, and the Hyatt Ziva is no exception. Three infinity pools, a kayak and paddle board access, and an outdoor amphitheater hosting different events every night are just a few memorable activities you can participate in.
Hungry yet? Don't worry – there are eight restaurants to choose from on your Cancun all-inclusive honeymoon.
And when you're ready for a cocktail, you can bar hop without leaving the hotel in one of six lounges. There's even a brewery on site when you want to cool down before dinner.
Hotel Riu Latino
Costa Mujeres
$$
Best for a Peaceful Getaway Near Cancun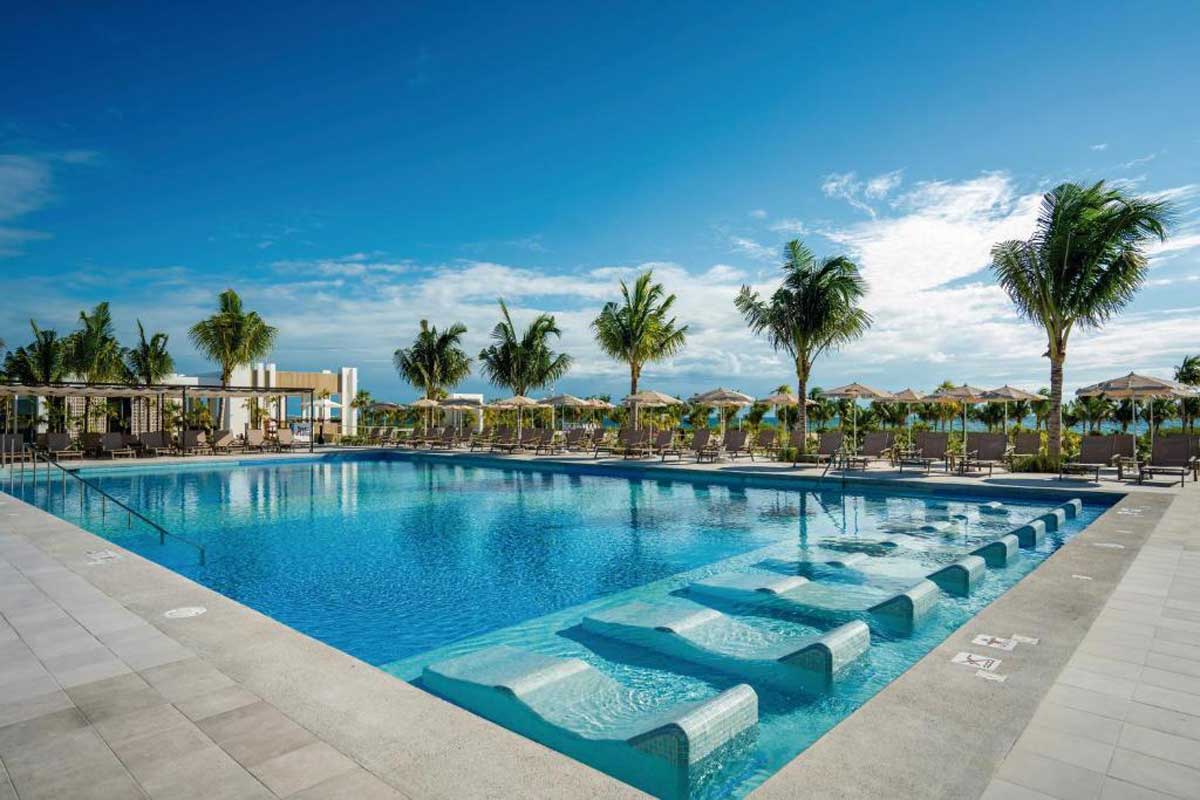 Hotel Riu Latino is just up the coast from the city center of Cancun. This adults-only resort is perfect if you want some peace and quiet on your Cancun honeymoon.
Enjoy round-the-clock service at one of the top honeymoon resorts in Cancun. Food options include a three-meal buffet and several options for dinner, including a steakhouse and an Italian restaurant.
Ready for a swim? You're in the right place – there are six swimming pools and a beach on the property.
When you're keen to have alone time with the person of your dreams, head into your stylish and modern room. The decor is lighthearted and fun; a perfect backdrop for admiring each other and the beauty of Costa Mujeres.
Villa del Palmar Cancun Luxury Beach Resort & Spa
Punta Sam
$$$
Best for Views of the Caribbean Sea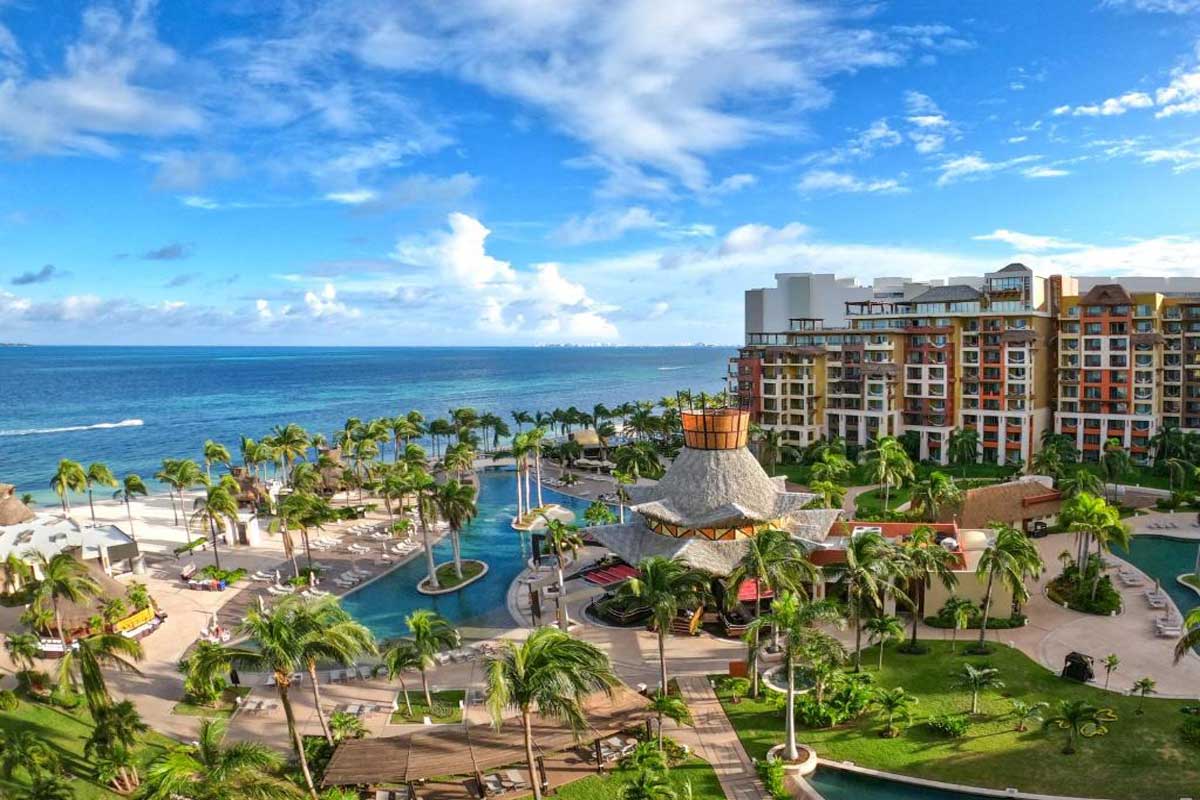 Villa del Palmar Cancun Luxury Beach Resort & Spa is a five-star resort in Punta Sam, situated just outside the hustle and bustle of the Zona Hotelera. The hotel staff is friendly and accommodating, making your Cancun honeymoon the vacation you've dreamt of.
The beach's warm waters and cool breezes are ideal for snacking and sipping some tropical treats while admiring the picturesque scenery around you from a chair or towel.
Choose a loft suite and look at the ocean below from your second-level bed featuring an in-room jacuzzi next to where you sleep.
When you wake up, potter over to the nearby ferry and visit Isla Mujeres for a phenomenal day trip on the water. Or stay at the hotel and enjoy your honeymoon in Cancun at the grand waterfront resort.
Casa Neem Studios
Downtown
$
Best for Exploring Downtown Cancun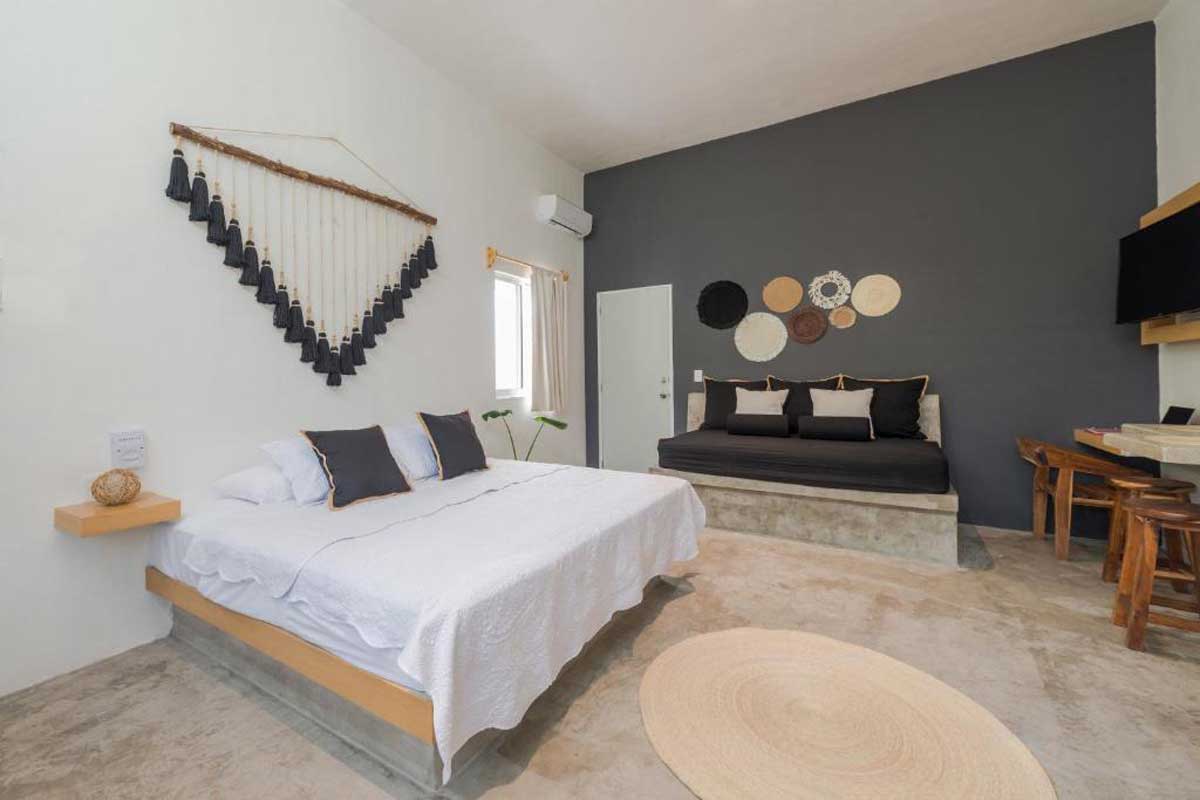 Prefer to stay downtown instead of beachside on your Cancun honeymoon? No problem – we got you covered with a great hotel option that has you in the middle of all the action on your honeymoon in Cancun.
Downtown Cancun has lots to offer, and if you want to get to know the city center better, Casa Neem Studios is where you'll want to stay. Experience life like a local with great shopping, dining, and nightlife at reasonable prices.
If you and your spouse have a knack for stylish digs, there's no shortage here. The rooms are decked out with vibrant art and modern furniture – making you feel right at home.
Have a cup of local coffee on your urban terrace before heading out with your partner for any adventure. Can you think of a better routine to start the day on your Cancun honeymoon?
Wyndham Alltra Cancun All Inclusive Resort
Zona Hotelera
$$$
Best for Endless Activities Day or Night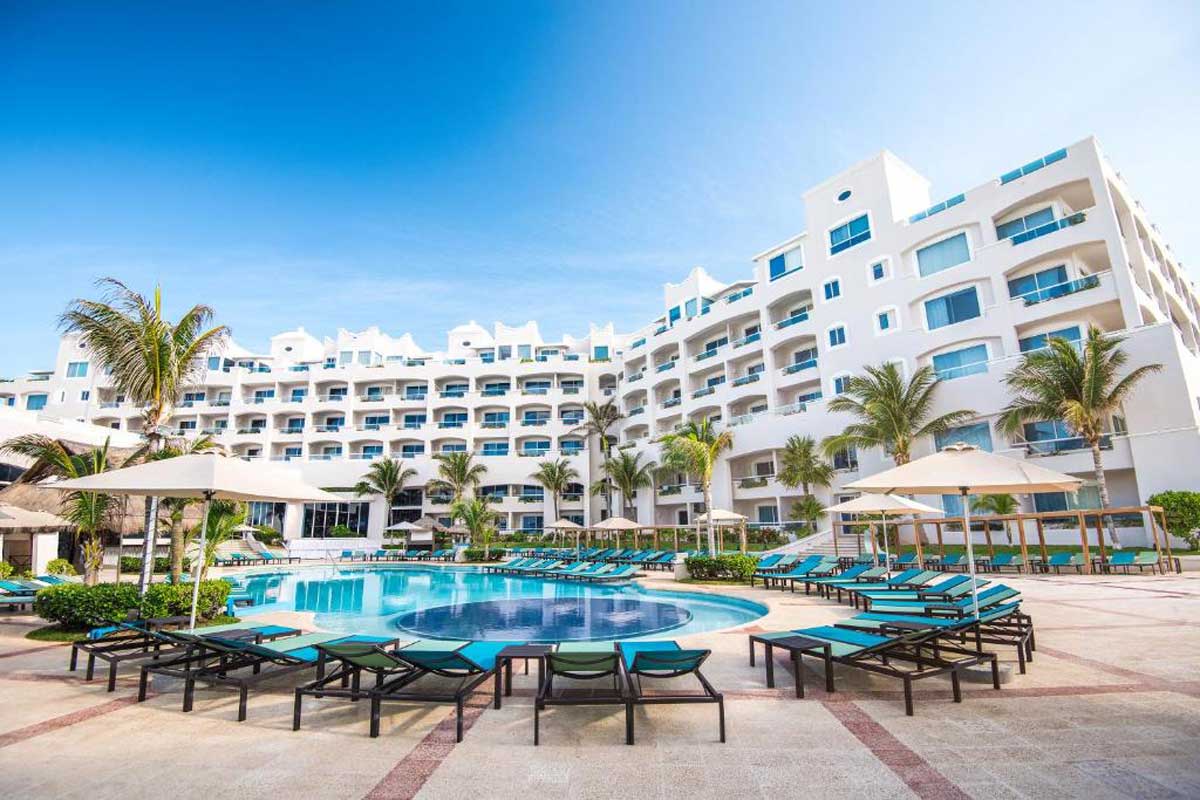 Wyndham Alltra Cancun All Inclusive is the perfect Cancun honeymoon all-inclusive resort for couples who want adventure and entertainment throughout the day.
Want to get some exercise and have fun in the process?
Meet other couples and burn some calories while playing a game of beach soccer. Then, swim laps in the pools or take a yoga class to start your day.
The resort is known for its evening entertainment, and you'll find some of the best shows on your Cancun honeymoon here.
When you're hungry, try the taco bar or Casa De Rosa, where you can scoff local flavors right outside your room.
Accommodations here are excellent, but we'd recommend upgrading to the large suites with Ocean Views. You'll enjoy one of the best balconies at any Cancun all-inclusive hotel.
Oleo Cancun Playa Boutique All Inclusive Resort
Zona Hotelera
$$
Best for All-Inclusive Romance at a Lower Price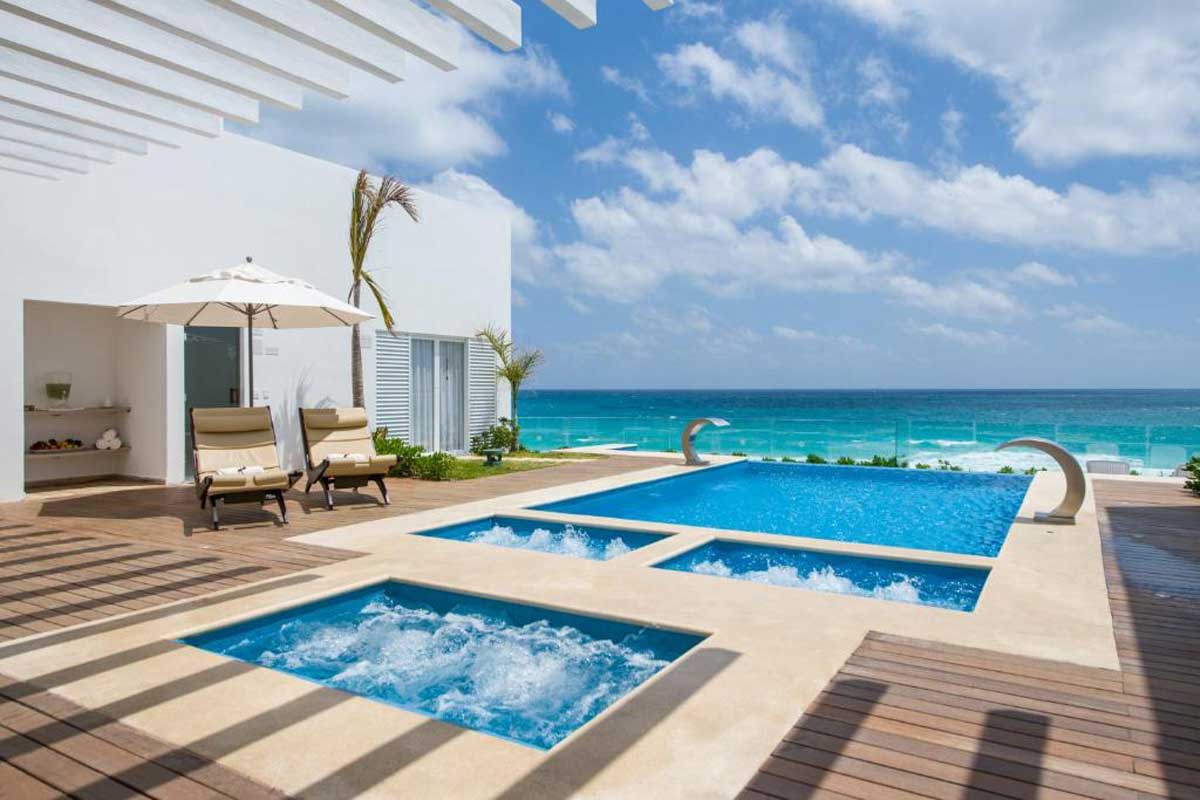 Want to kick back and enjoy the beach on your Cancun All-Inclusive honeymoon? The Oleo Cancun Playa Boutique All Inclusive Resort is one of our favorite spots in Mexico.
The pools, spa, and ocean access here are on par with the best in the area – and at a friendly price tag.
The rooms are comfortable with a laid-back styling that features a full-size mirror and flat screen TV just across from the large beds. The spacious bathrooms have toiletries and bottles of water for your convenience.
When you head out of your room (newlyweds have to eat), choose from two popular restaurants or try the buffet.
Overall, we think it's one of the best honeymoon hotels in Cancun for the price.
Cancun Honeymoon Tips: What You Need to Know
How to Get to Cancun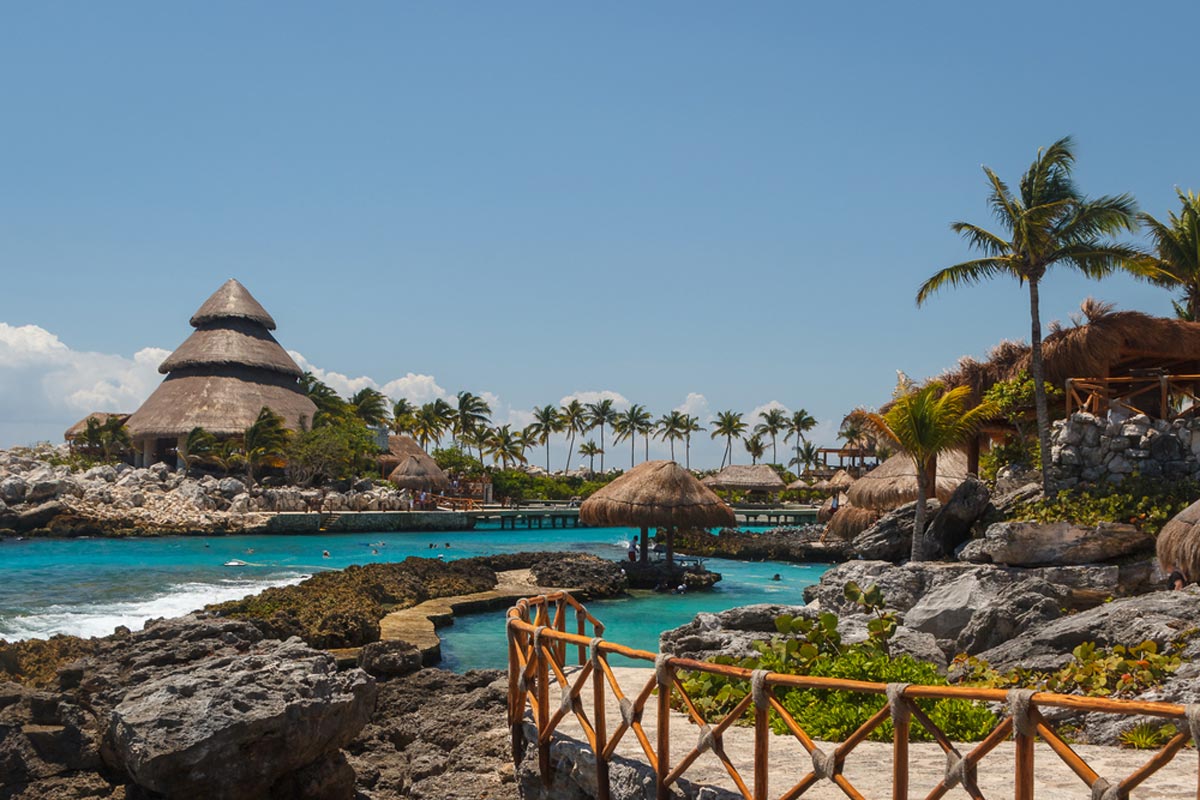 When you travel to Cancun, you will most likely arrive by plane. The Cancun International Airport (CUN), one of the busiest airports in the world, is your best bet for reaching the area.
Once you're in Cancun, rent a car or take a taxi to your hotel – Uber is reliable here, too. Your driver's license from home is OK to use if you rent a car.
You can get to Cancun by boat if you're taking a ferry or a smaller vessel, but no larger ships can dock here. Major cruise lines go to nearby Playa del Carmen.
The Best Cancun Honeymoon Destinations
Playa Delfines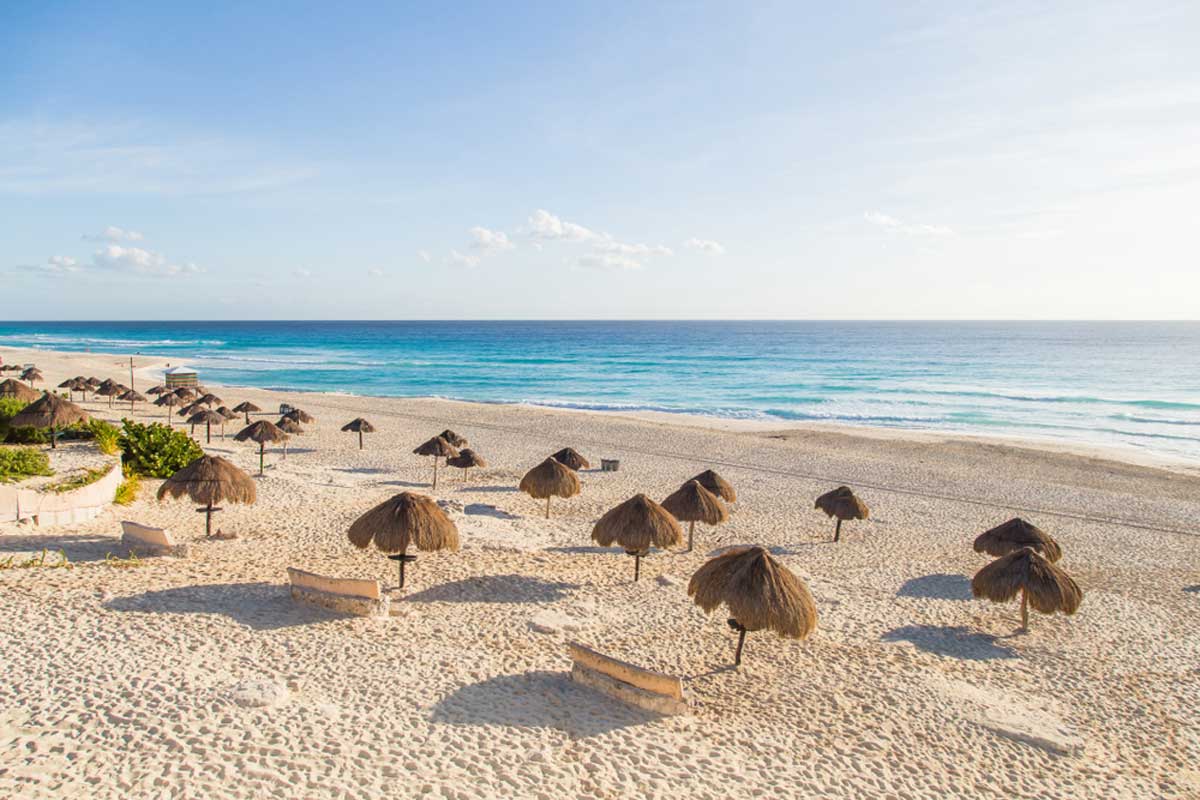 When you plan a honeymoon in Cancun, beach time will – without a doubt – be one of the first things you'll want to do.
Playa Delfines is one of the most popular spots to relax and enjoy the gorgeous Caribbean Sea for a good reason. Slightly removed from the busy hotel district just up the coast, you and your spouse are in for a laid-back treat when you visit Playa Delfines.
Picture-perfect white sands, gentle waves that pack enough punch for a fun day of boogie boarding, and an overall sense of calm away from the busy tourist center nearby.
Don't leave your Cancun honeymoon without spending some time at one of the most idyllic beaches in the area.
Punta Nizuc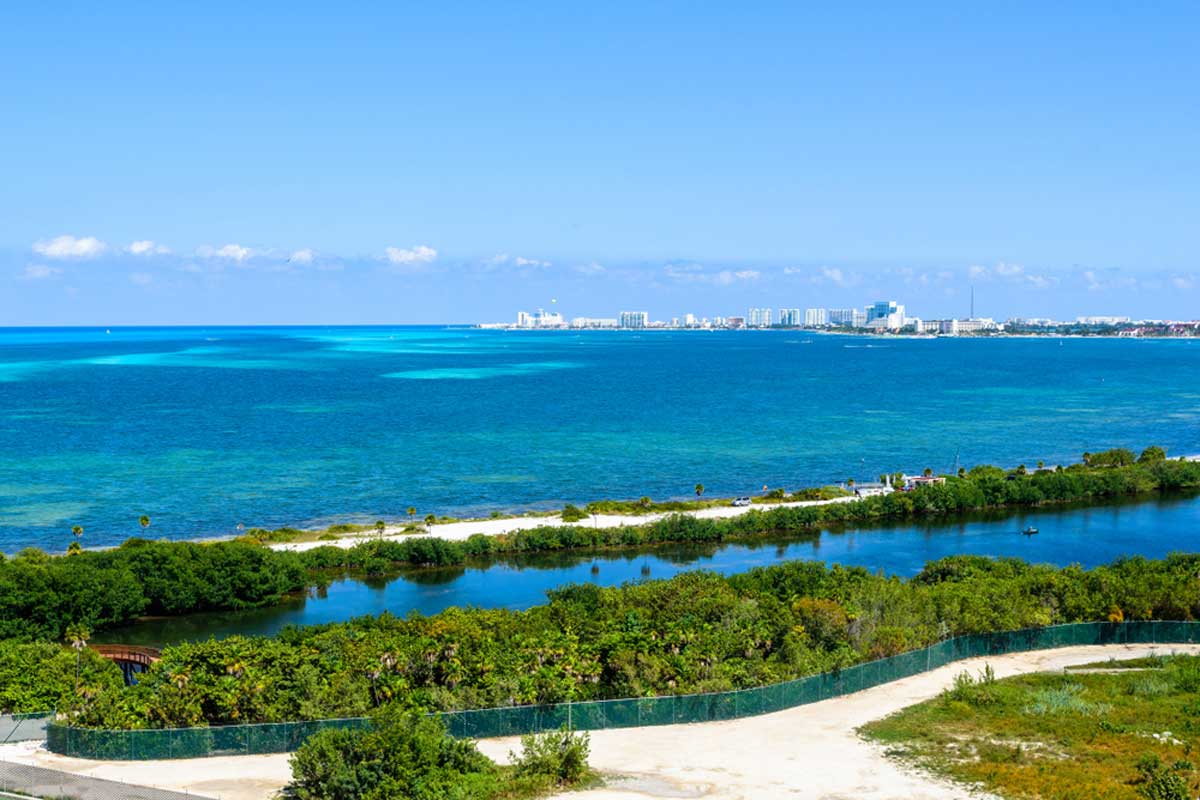 Are you and your partner ready to embark on a deep-sea adventure on your Cancun honeymoon? If you're staying in the central hotel district, you won't need to venture far.
Punta Nizuc allows you to explore one of the most impressive coral reef systems in the world, whether you're snorkeling or scuba diving.
Book a diving tour or have them drop you off in shallower waters if you want to stick to snorkeling. Either way, you're bound to see fish – as there are hundreds of species you may encounter on any given day.
We don't need any extra excuses to snorkel or scuba dive, but Punta Nizuc has something that will make your Cancun honeymoon even more memorable.
The Underwater Museum of Art in Cancun (MUSA) displays hundreds of underwater sculptures. Coral grows on the statues, making it a truly unique place to go diving or snorkeling while admiring the art of Jason deCaires Taylor.
El Rey Ruins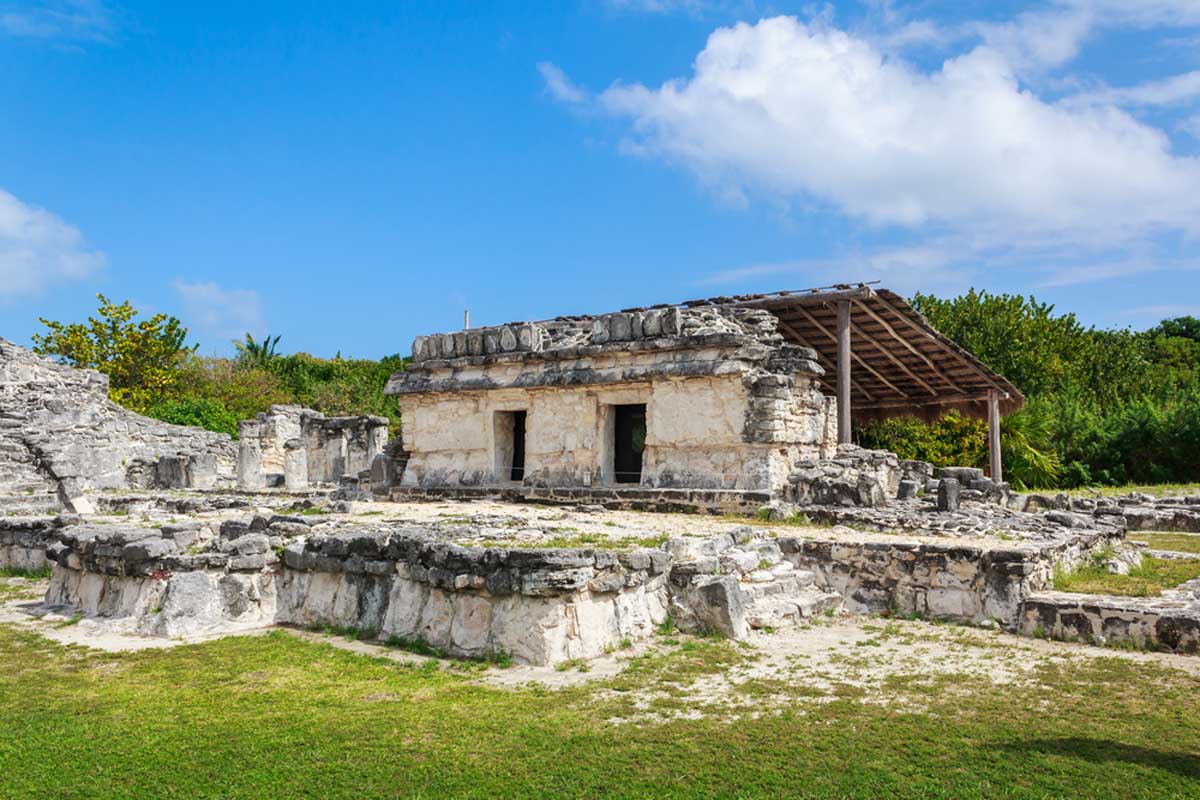 Are you and your spouse looking to learn a little on your Cancun honeymoon?
We don't blame you – mixing a little history lesson with sun, sand, and cocktails with umbrellas is always wise in our book.
While scheduling trips to the not-so-far Chichen Itza and Coba are among our favorite things to do in Mexico – we understand that sometimes you don't want to stray far from your home base.
The good news is that you can check out El Rey Ruins without booking a tour or renting a car. The archeological site is right in the middle of the central hotel district of Cancun.
Looking for a great photo op? The resident iguanas are a tourist attraction themselves – you're sure to see one of the dozens (or more) roaming around the ancient ruins.
El Parque de las Palapas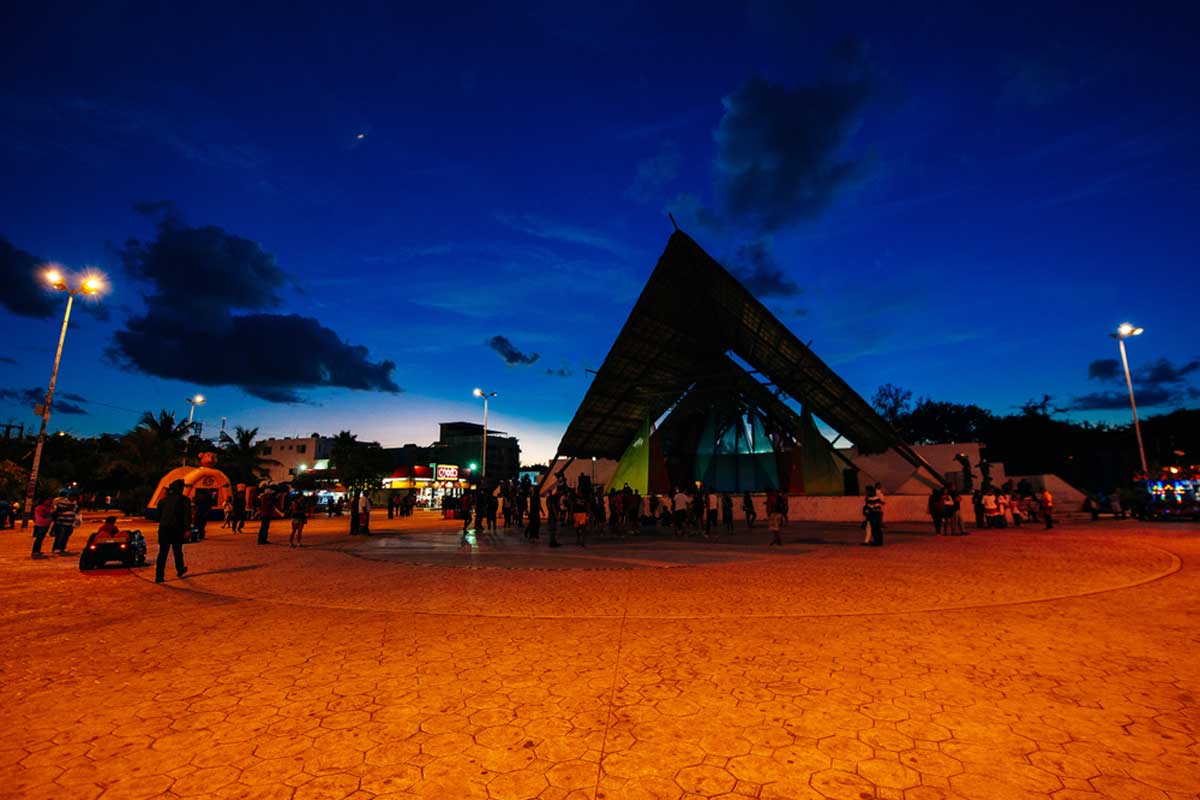 Heading into downtown Cancun is something you'll want to make time for in Cancun. One place you need to check out when you're there is El Parque de las Palapas.
This area is as popular with locals as it is with visitors. The park serves as a gathering spot for people of all ages and is especially lively in the evenings.
El Parque de las Palapas is a great spot to witness local entertainment and see some great live music on the weekends.
Come here with an appetite – the street food vendors are some of the best in Cancun. Try ordering tacos, elotes, and churros and see why it's one of the most popular locations to grab a snack on your honeymoon in Cancun.
La Isla Shopping Village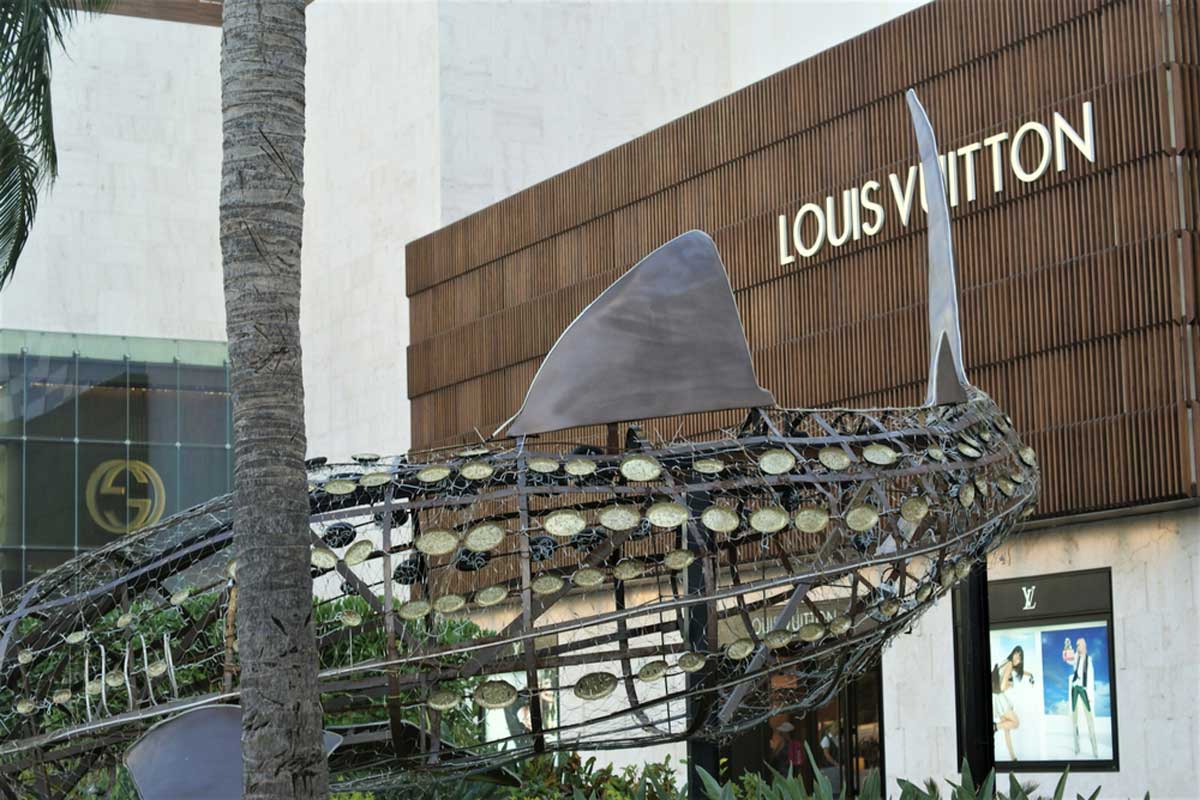 OK, you can't come all this way without getting some souvenirs from your Cancun honeymoon. Not a worry – La Isla Shopping Village is right in Zona Hotelera and covers all your shopping needs.
The open-air mall has everything you need to remind you of your fun together on your honeymoon in Cancun.
There are big-name chain stores if you're homesick but stick to the boutiques and local vendors selling small items. Bring back a locally made unique souvenir to remind you of your dream vacation in Mexico.
There's also a Ferris Wheel here if you want to get a romantic snapshot of your time together while reaching new heights in your relationship. We know that sounds a bit cliche, but trust us, you'll look back and love it.
The Best Time to Visit Cancun
Cancun is popular to visit year-round. The weather is always warm, and you can access the beaches, cenotes, and nearby nature regardless of the season – but be ready for some extra summer heat.
For the best weather between peak tourist times, you should plan your honeymoon in Cancun for January to March.
How Long to Spend on Your Cancun Honeymoon
How long should you spend for the best honeymoon Cancun offers? That's entirely up to you- but we suggest spending at least one week here.
After all: you only get one honeymoon – so if you can swing it, stay longer. The more time you have on your Cancun honeymoon, the better.
Staying for a week or longer allows you to settle in, enjoy the brilliant beaches and excellent food, and take a couple of tours to other unique locations in Mexico.
How Much Does a Cancun Honeymoon Cost?
One of the reasons we love Cancun? It's an affordable place to enjoy a tropical paradise without stretching your vacation savings too thin.
Expect to spend about $300-$750 per night for an all-inclusive Cancun honeymoon package in Zona Hotelera at many luxury resorts.
That said, you can have a honeymoon in Cancun for much less if you stay downtown or go when it's not peak tourism season.
Cancun Honeymoon Resorts: Map
Cancun Honeymoon Guide: Read Next