Plan your Puerto Rico Honeymoon with this guide. The top resorts and tips for the perfect honeymoon.
Puerto Rico is the quintessential postcard picture of paradise. With palm tree-fringed beaches, warm, turquoise waters, and warm year-round temperatures, it is the ideal place to spend your honeymoon.
The beaches of Puerto Rico have been voted some of the best in the world and have some of the best waters for fishing. There are bioluminescent lagoons and bays and even home to the world's largest rum distillery.
Sounds pretty perfect right? It is.
Thinking of honeymooning in Puerto Rico? In this guide, we're going to help you plan the perfect Puerto Rico honeymoon – we'll cover the top honeymoon resorts, destinations you have to visit, along with insider tips.
Why Honeymoon in Puerto Rico?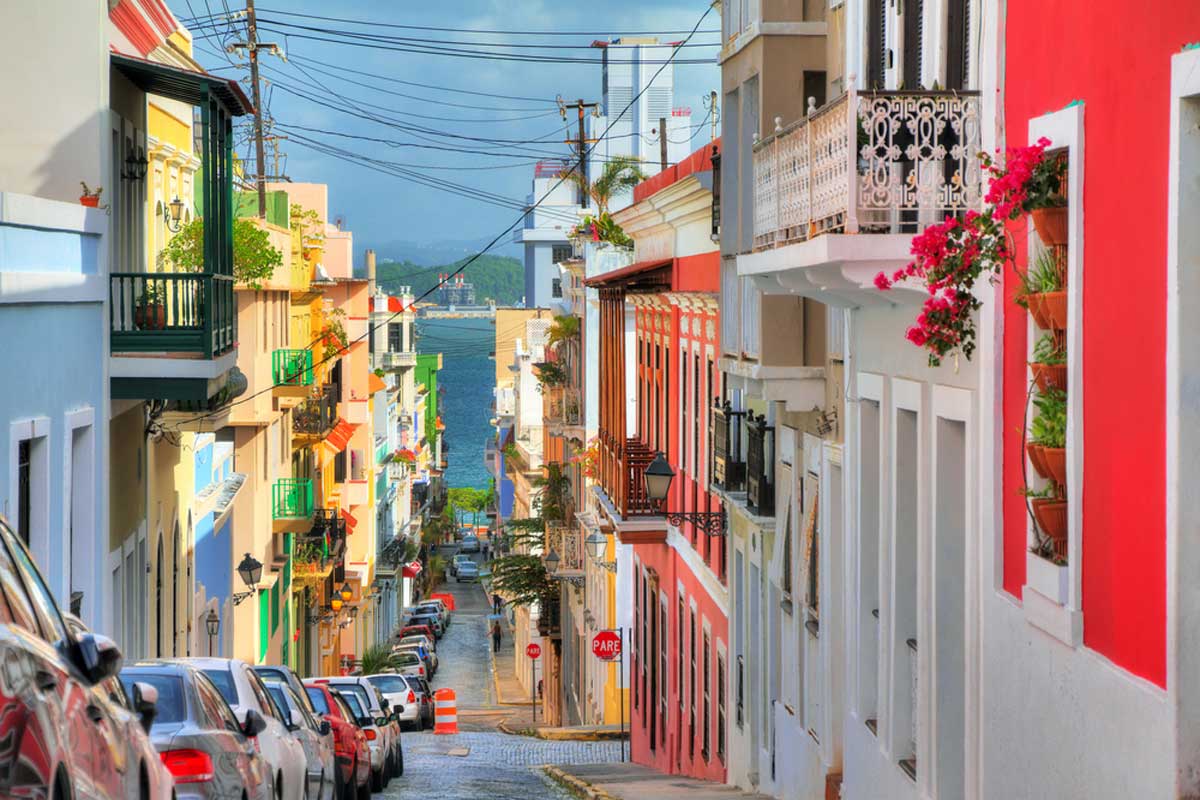 Puerto Rico, known as The Island of Enchantment is a top honeymoon destination for many reasons.
There are palm tree lined beaches, the only rainforest in the US, waterfalls, history, and culture, fresh seafood, and endless opportunities for an adventure like exploring the most extensive cave network in America.
Whether you're looking for something relaxing and romantic, something exciting and adventurous, or anywhere in between, Puerto Rico honeymoons are a magical experience.
Best Honeymoon Hotels & Resorts in Puerto Rico
Dorado Beach
Dorado
$$$
Best for a luxury escape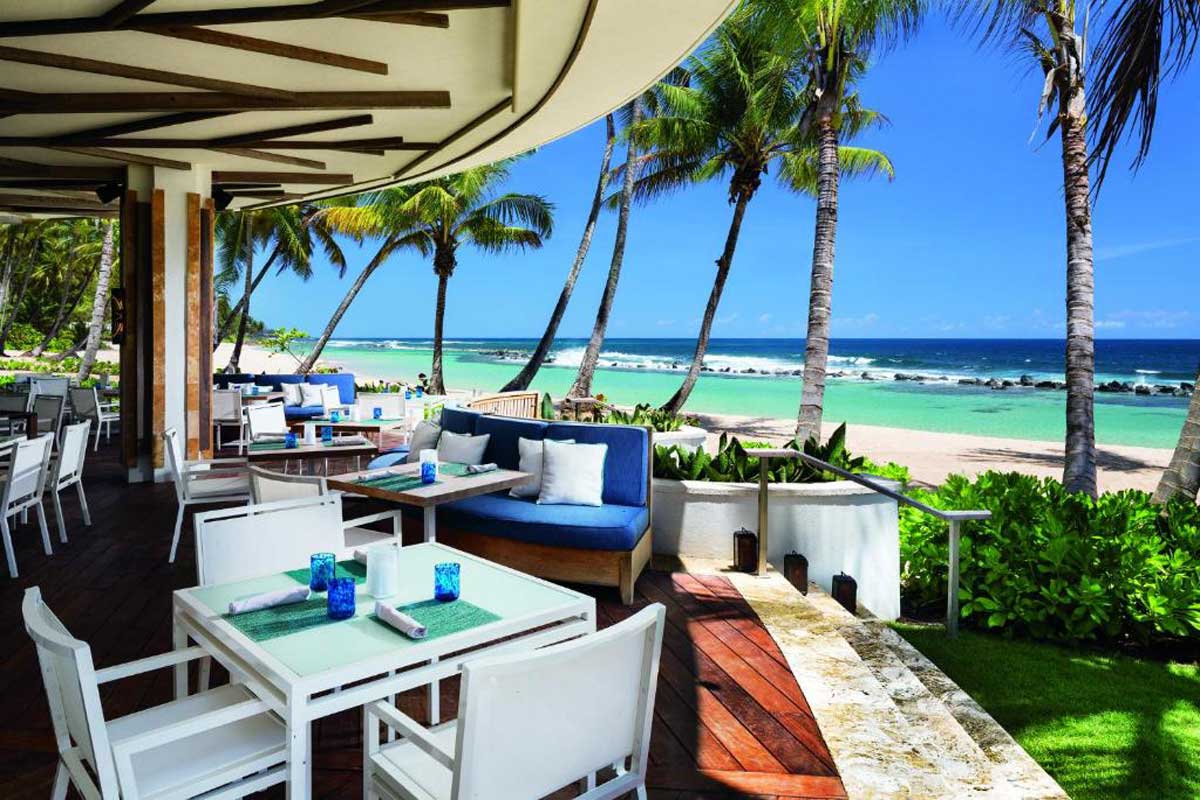 A Ritz-Carlton Reserve, Dorado Beach is a dreamy place to stay. The resort offers guests suites and residencies. Accommodations feature outdoor living spaces as well as open-air showers.
There are 4 dining venues on-site including Coa, La Cocina Gourmet, Posi + Ivo Sandbar, and the Culinary Center. There is a fitness center as well as a spa.
Book in for one of the "Couple's Rituals" – whether you opt for Apothecary Play, Tamarind For Two, Rainforest Reconnection, and Noche Romántica Botánico – they're all ideal options for a couple on their honeymoon.
The resort can also arrange for exciting experiences and excursions like sailing, kayaking, snorkeling, and fishing. You can also rent bikes, play golf, swim in the pools, or visit the waterpark.
Royal Isabela
Isabela
$$$
Best For spoiling yourselves and golfers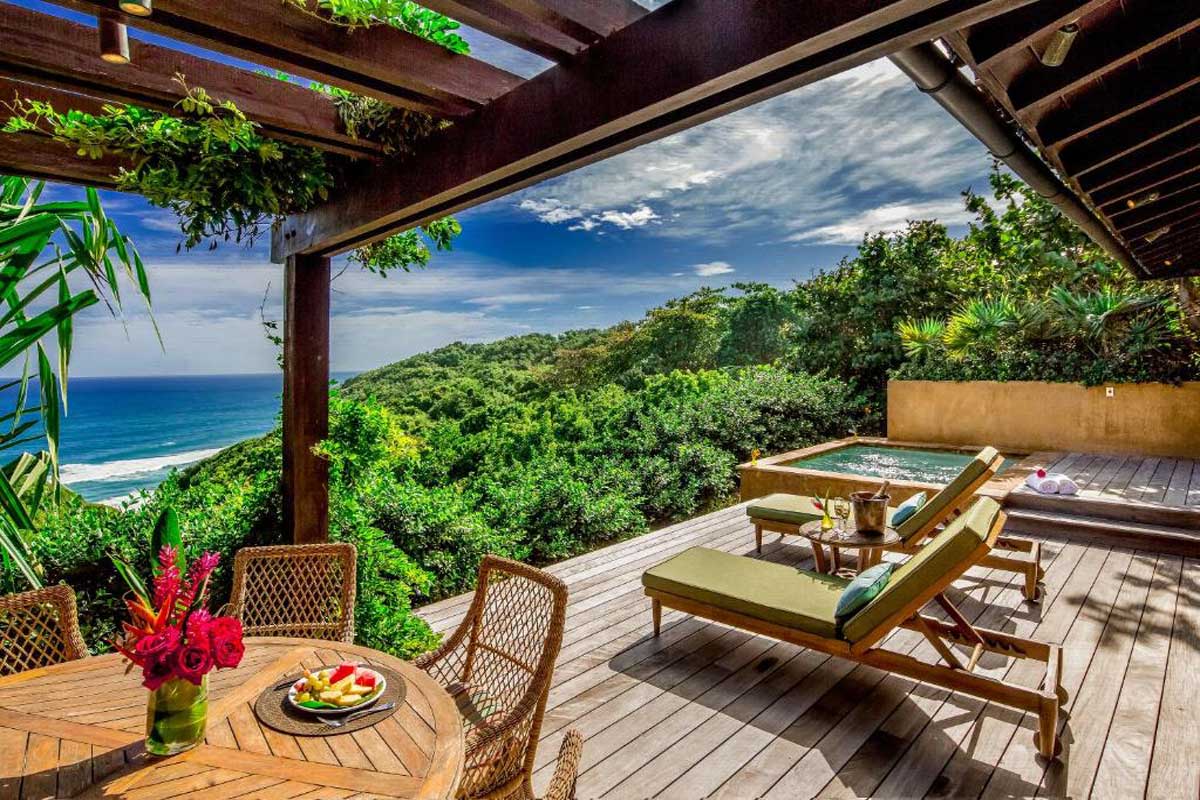 The Royal Isabela is one of the best Puerto Rico honeymoon resorts, thanks to its private casitas that include a plunge pool and terrace, which are perfect for spending intimate time with your partner.
The resort also features swimming pools, tennis courts, a fitness center, trails, and two miles of sandy beaches for long, romantic walks, day or night. There is a farm-to-table restaurant located on-site as well as an open-air bar.
That's all before we get to the golf course. Love golfing? Royal Isabela is your go-to spot. The golf course sits along cliffs that soar 200 feet above the Atlantic Ocean and include natural sand dunes along the sea.
This resort strives to create your ultimate Puerto Rico honeymoon. Their guest services can help you create your ideal Puerto Rico honeymoon package.
Malecon House
Vieques Island
$$
Best For getting off the main island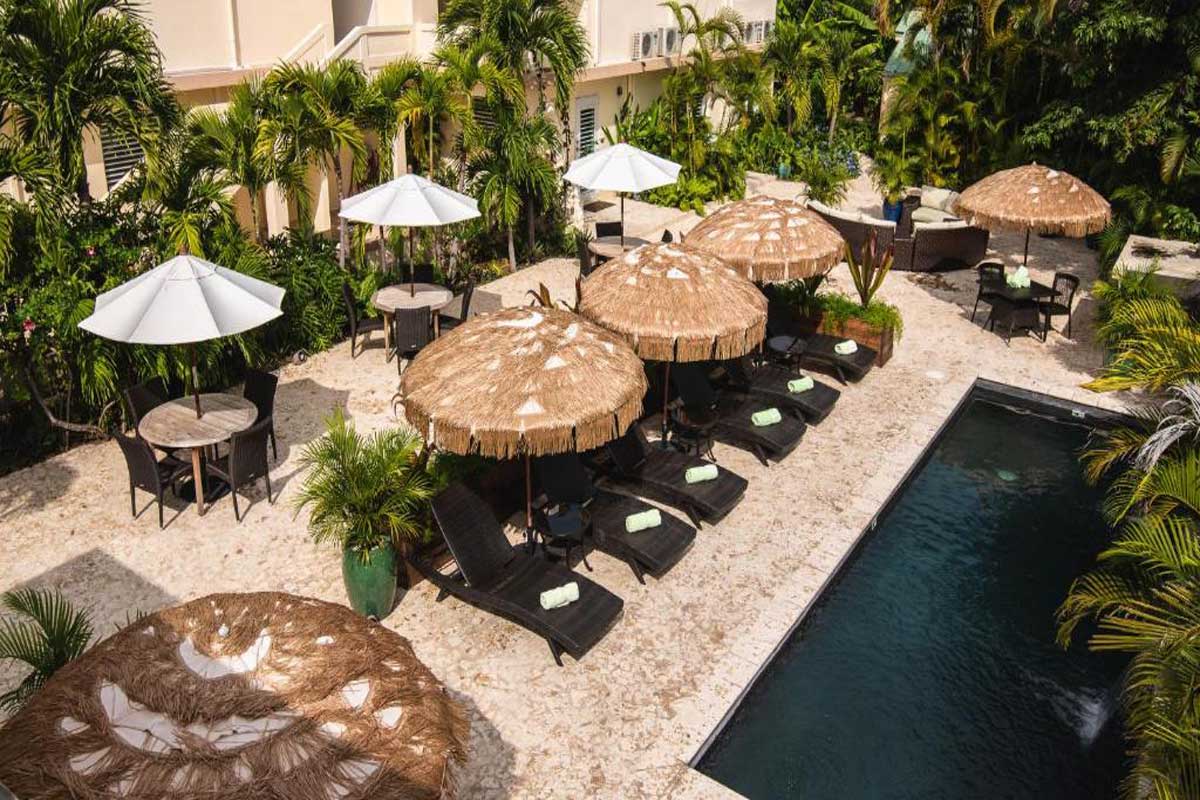 Malecon House is located on the island of Vieques.
The boutique hotel provides couples with intimate waterfront rooms with a laid-back vibe. There is a pool and sundeck as well as a tropical garden you can wander through.
You can spend mornings drinking coffee and eating breakfast while looking out over the sea or you can watch the dazzling sunsets on the rooftop deck.
If you want to get out and explore, the hotel is also conveniently located within walking distance of the vibrant town of Esperanza where you can find restaurants, bars, shops, cafes, and galleries or take a walk along the boardwalk.
Hotel El Pretexto
Cayey
$$$
Best for foodies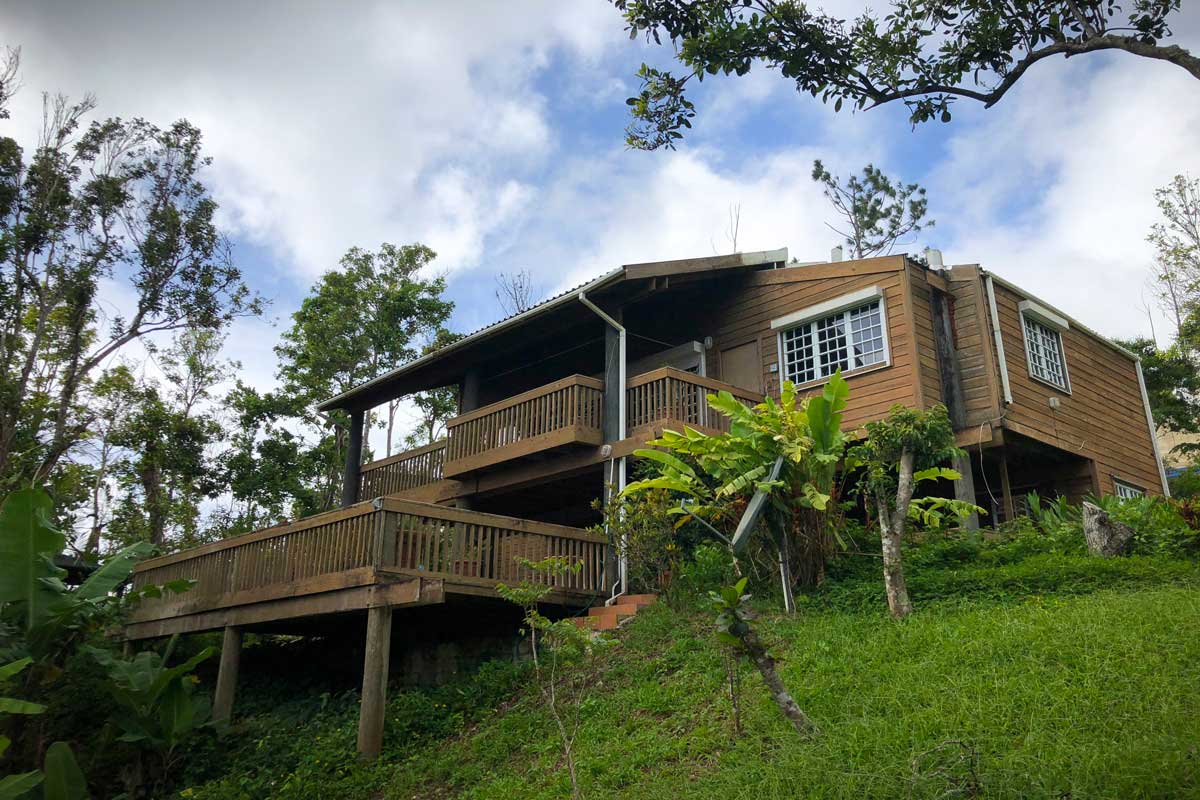 One of the first and only Puerto Rico honeymoon hotels that focuses on a culinary experience, Hotel El Pretexto is a unique and intimate way to spend your honeymoon. Tucked away in the forest-filled mountains is "Puerto Rico's first culinary farm lodge.
Ran out of a lavish, private residence, Hotel el Pretexto offers guests private villas, homecooked, farm-to-table meals, full body massages as well as yoga classes. If you're looking for a unique honeymoon, staying at Hotel El Pretexto, is a magical experience.
There are only two villas dedicated to guests making this exclusive experience perfect for a honeymoon. If you want to skip the traditional beach honeymoon, El Pretexto was made for you.
Tres Sirenas Beach Hotel
Rincon
$$
Best for surfers and adventurists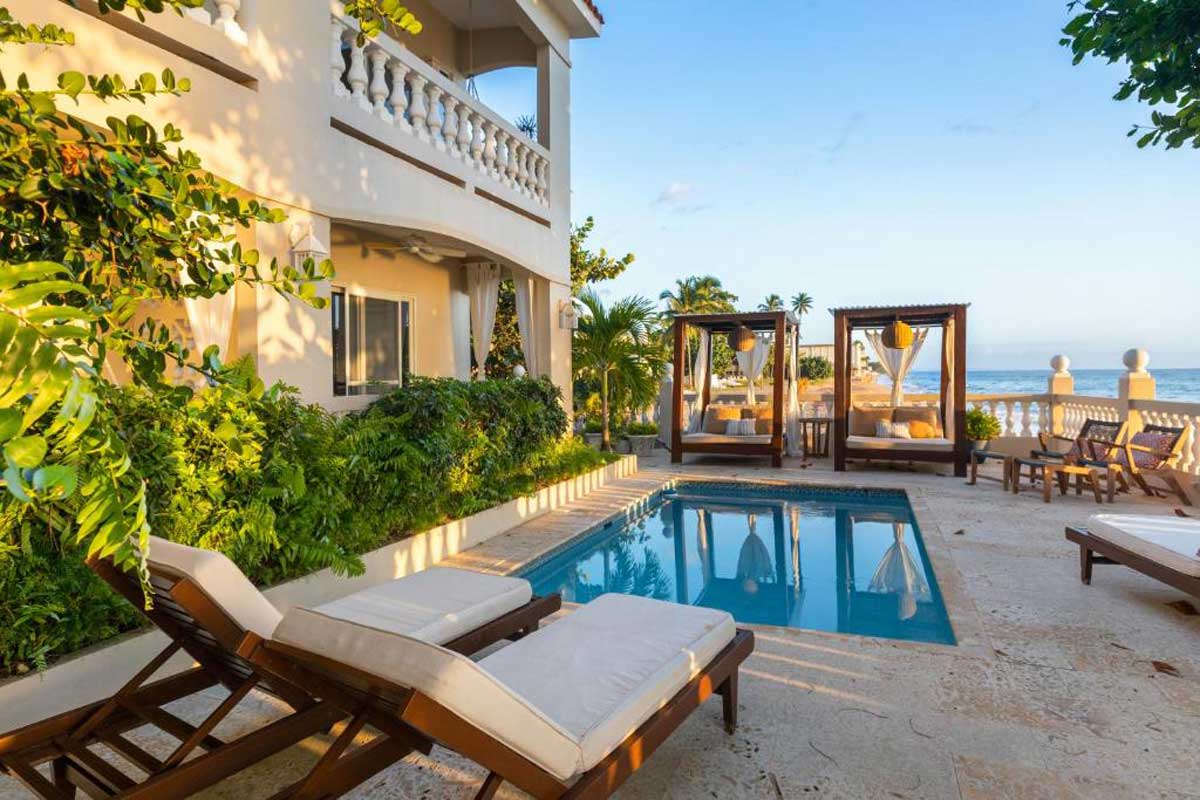 One of the top-rated Puerto Rico honeymoon resorts is Tres Sirenas Beach Hotel. This boutique hotel offers accommodation options including apartment suites or deluxe oceanfront rooms with private terraces. It was voted "best of the best" by Tripadvisors travelers choice contest and it's easy to see why.
Set in the classic surf-style town of Rincon, Tres Sirenas is located right on the beach, offering guests stunning sunrises and endless ocean views.
Breakfast is included with your stay as well as booking opportunities for adventures like snorkeling, kayaking, paddle boarding, fishing, surfing, hiking tours, and much more. There is a pool and cabana, as well as a shop onsite, in case you forgot anything.
Puerto Rico Honeymoon Tips: What You Need to Know
How to Get to Puerto Rico
There are two main airports that people use while traveling to Puerto Rico, San Juan International Airport (SJU) and Aguadilla, officially known as Rafael Hernández Marín International Airport (BQN).
There are various smaller airports throughout the islands as well. Most people opt to rent a car once arriving in Puerto Rico.
The Best Puerto Rico Honeymoon Destinations
El Yunque National Forest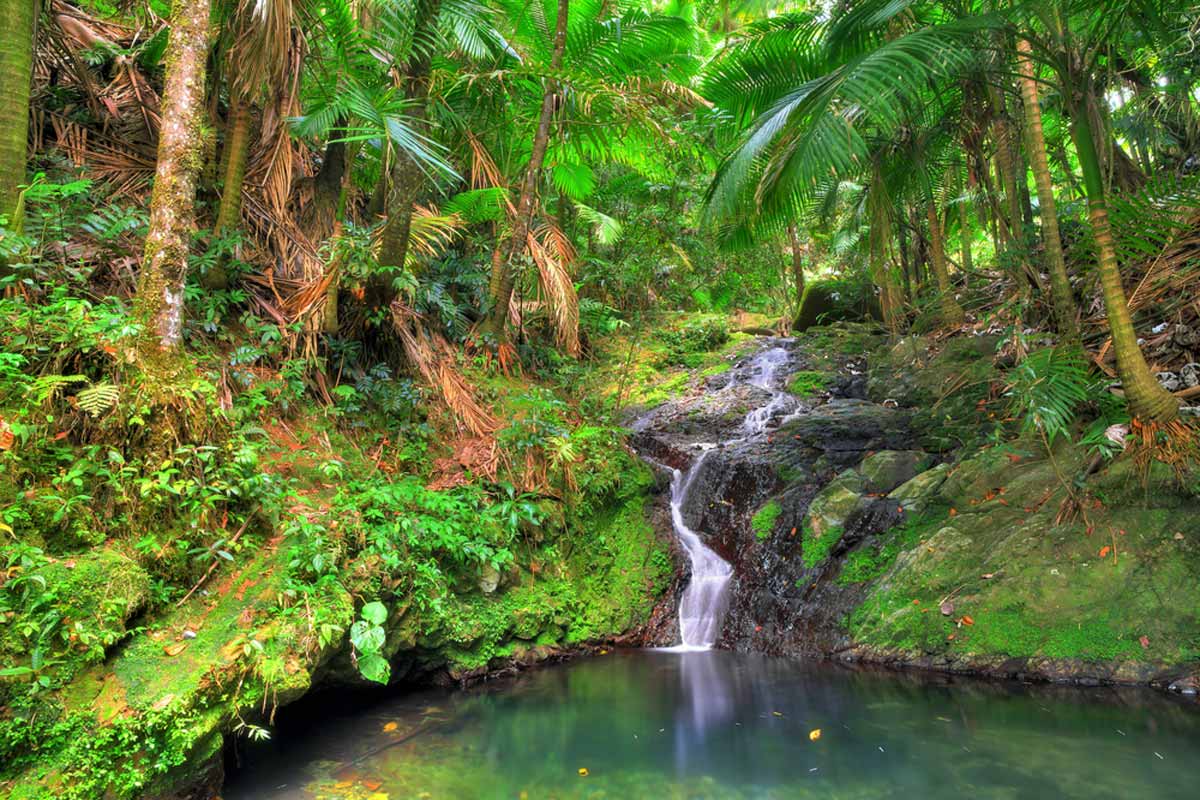 Touted as the only rainforest in the US, El Yunque National Forest is enjoyed by both visitors and locals. You can find hiking trails, swimming holes, waterfalls, and viewing towers.
The La Coca trail winds down into the forest where you can find swimming holes to cool off in. The El Angelito trail has a rope swing as well as another lagoon where you can jump and dive into.
You can also visit the Yokahú Observation Tower which stands at 1,575 feet providing panoramic views of greens and blues.
Old San Juan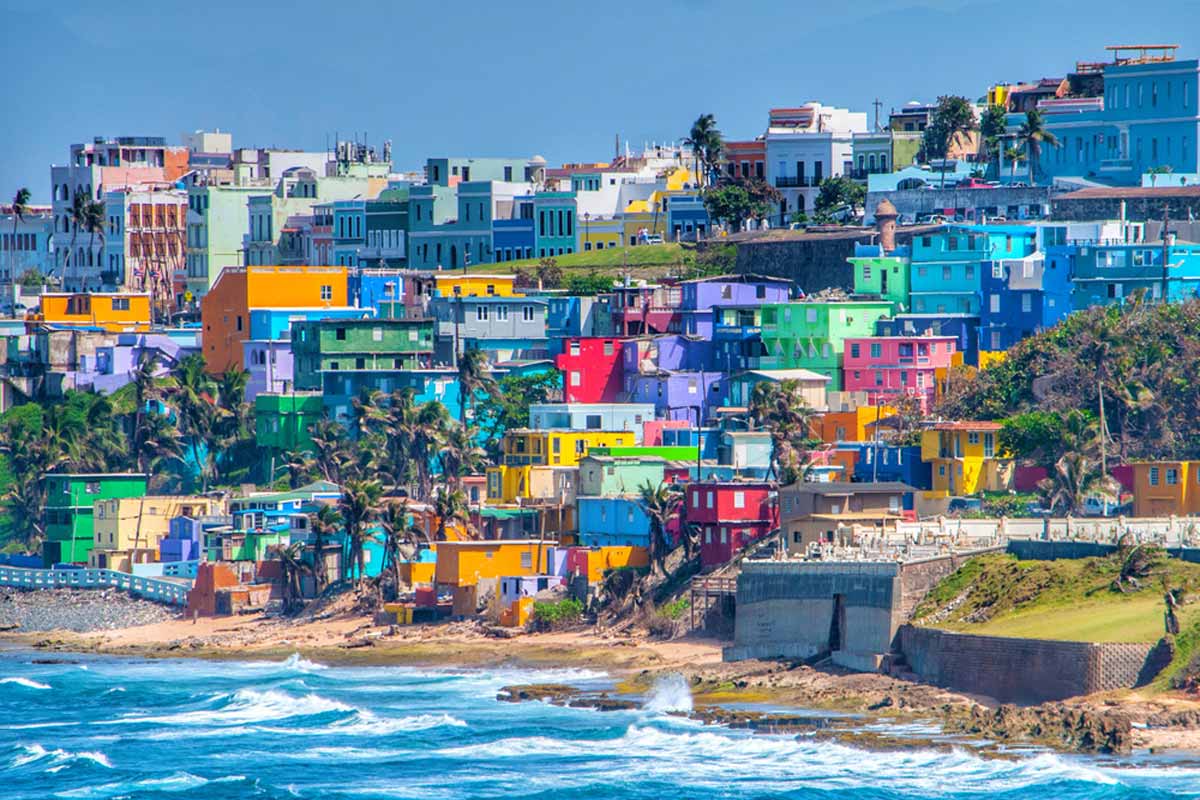 Old San Juan is a charming city known for its history, food, and culture. There are cobblestone streets, shops, museums, restaurants, cafes, and a fun, exciting nightlife.
Founded in 1521, this vibrant town was once the capital city of Puerto Rico. It's the oldest city under U.S. sovereignty. There is an ancient wall that partially surrounds the city and an old castle called Castillo de San Cristobal.
You can walk along the Paseo del Morro, take in the sights of San Juan Bay, and marvel at the old, stone city wall. The path is only about ¾ of a mile and leads to El Marro.
Mosquito Bay
Famous for its bioluminescence, Mosquito Bay was designated as one of the 7 wonders of the world in 2020. If you really want to experience something magical, visiting Mosquito Bay should be at the top of your list.
The best time to paddle through the glowing waters is during the phase of the new moon (so plan accordingly). It's known as the brightest "bio bay" in the world and was voted as one of the 50 most romantic places on Earth.
There are various tour groups that guide you out onto the waters by kayak or paddle board.
La Parguera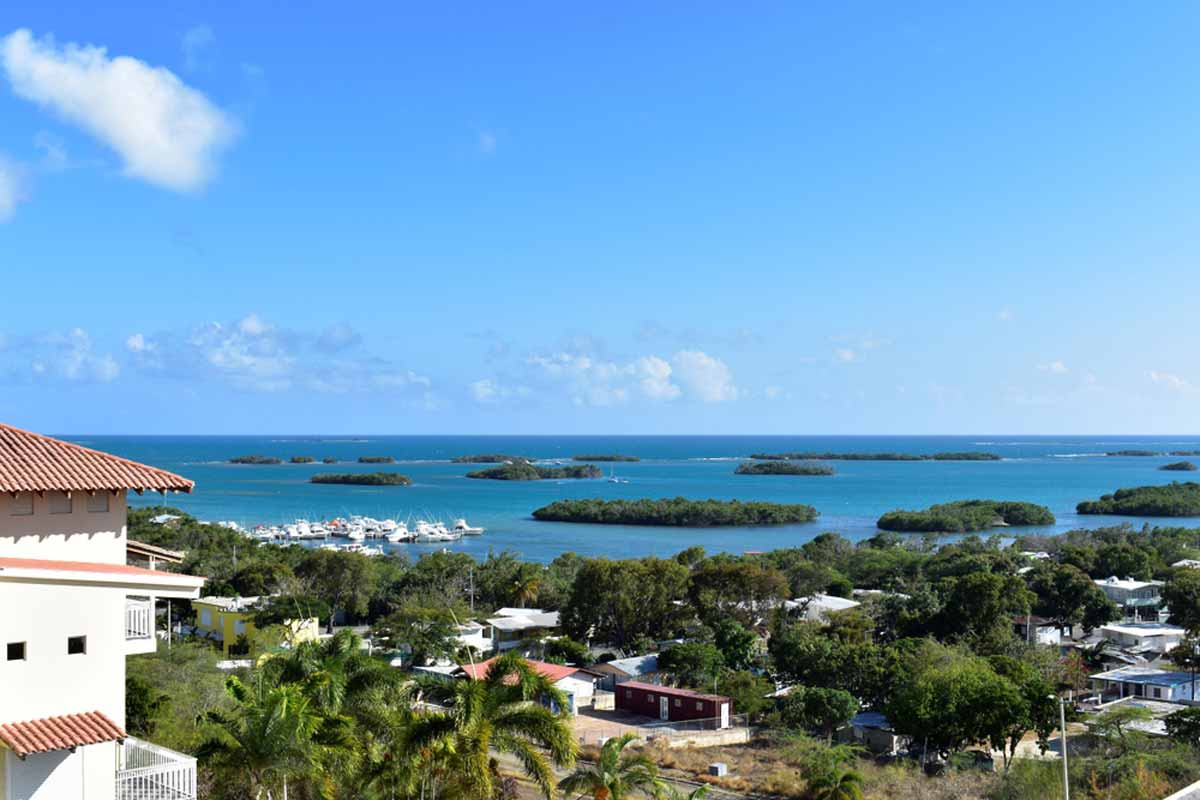 For a day surrounded by pristine nature, visit La Parguera. You won't find your typical beach town here, rather you'll be surrounded by cays and emerald water. Arrange for a tour or rent your own boat or go snorkeling, diving, hiking, birdwatching, and/or biking.
There is a boardwalk as well as little souvenir shops, and eclectic bars. If you're looking for something a little removed from the regular hustle and bustle of island life, check out La Parguera.
Casa Bacardi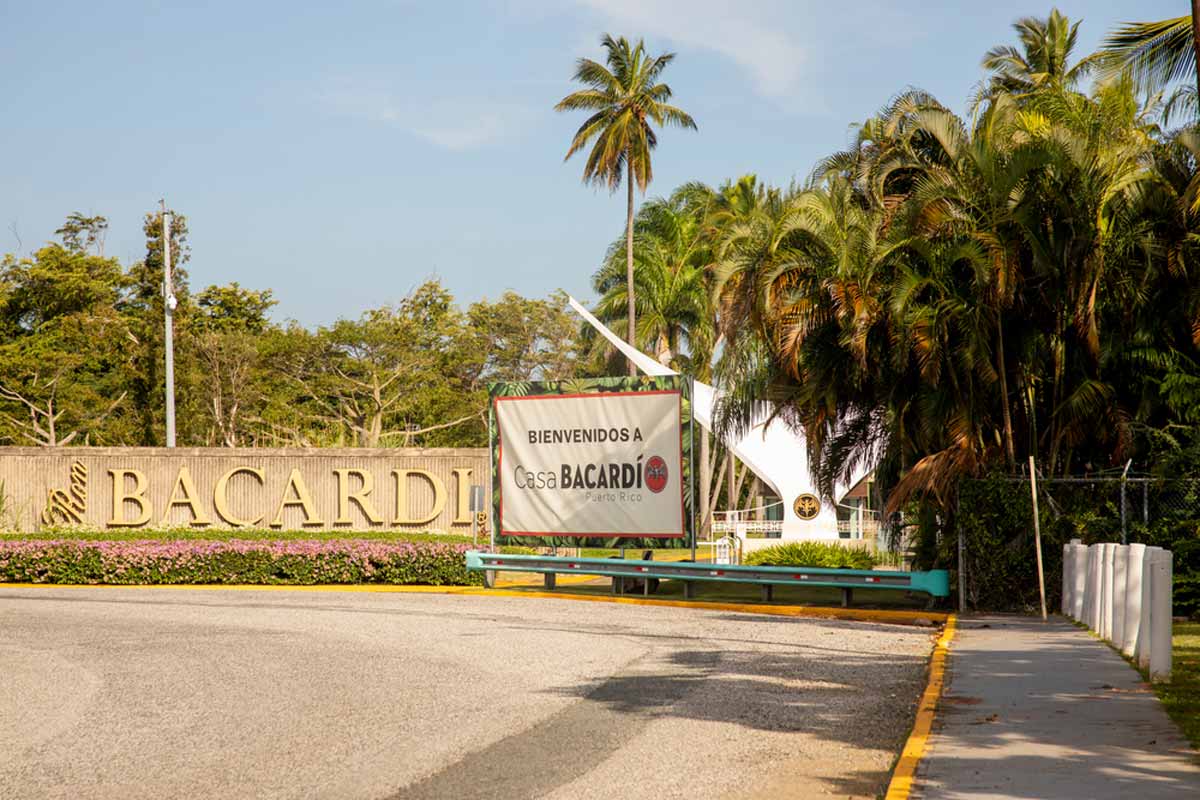 As mentioned before, Casa Bacardi is the largest rum distillery in the world. Book rum-tasting tours, cocktail-making classes as well as a legacy tour of the factory. There is also a gift shop onsite. If you are a rum fan, this can be a fun tour to see where and how your favorite liquor is made.
Gozalandia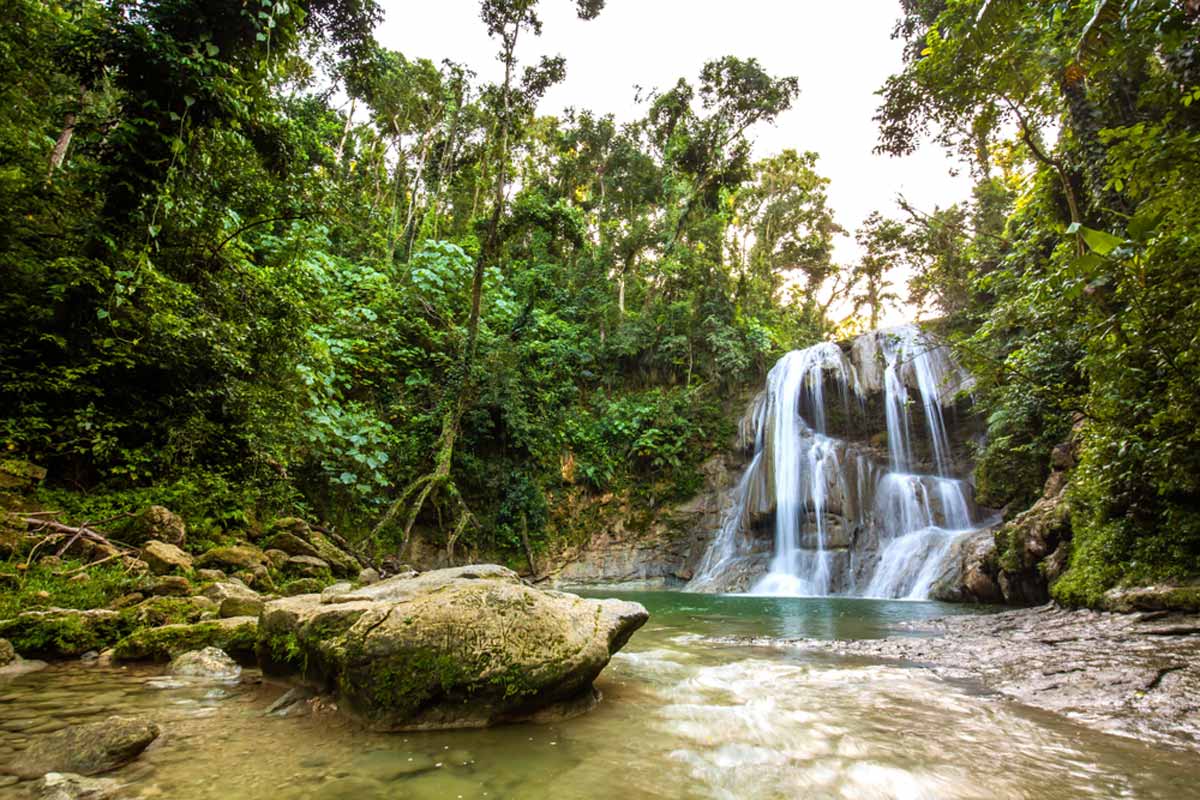 One of the most visited waterfalls in Puerto Rico, Gozalandia reaches 60 feet in height and has a deep pool you can swim in at the bottom. There is also a small cave you can swim into and an area where you can (carefully) jump off the rocks into the pool.
Jobos Bay Reserve
The Jobos Bay Reserve is made up of seagrass beds, mangrove forests, wetlands, upland dry forests, and lagoons.
The reserve consists of 3,000 acres of protected lands where animals like endangered brown pelicans, hawksbill turtles, peregrine falcons, yellow-shouldered blackbirds, and the West Indian manatee call home. The reserve is also home to different corals, fish, and other marine life.
The Best Time to Visit Puerto Rico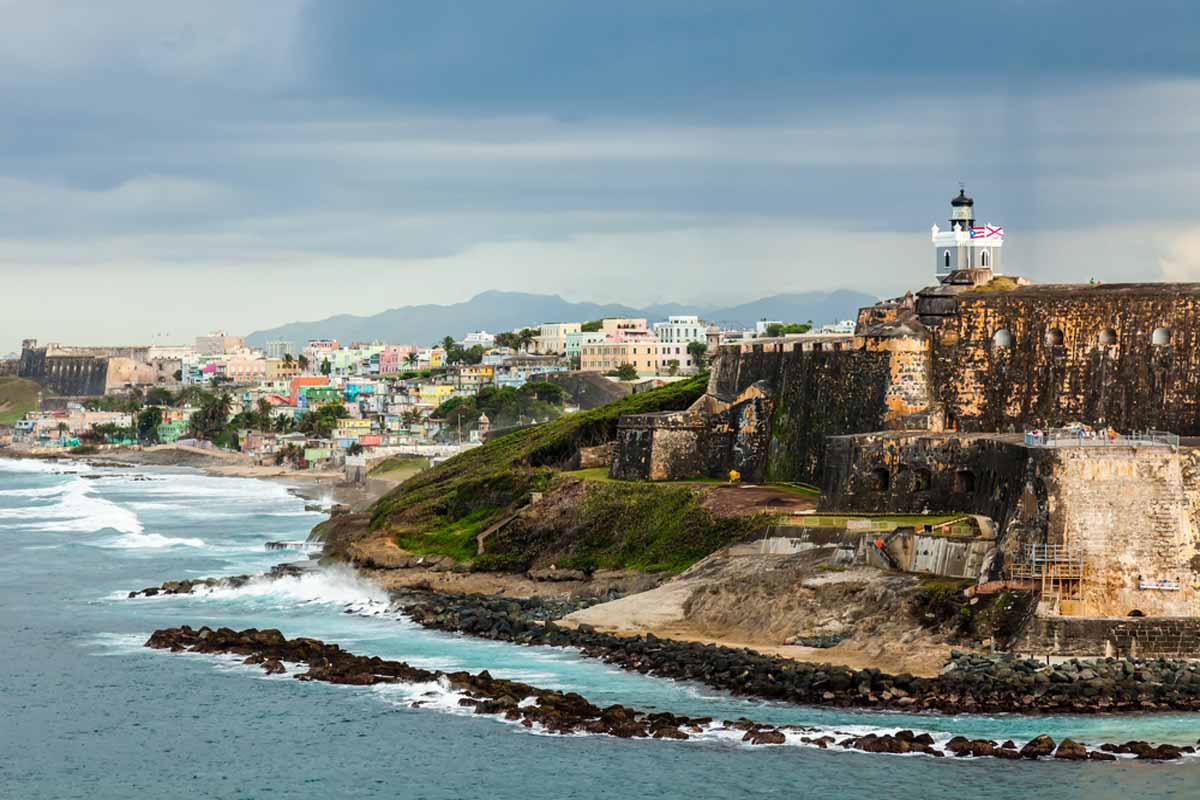 The best time to visit Puerto Rico is from the months of April through June, though June is one of the hottest on the island. This is just after the busy season (December through March).
July through September is their "off-season" where you can find cheaper deals and fewer tourists. However, this is during hurricane season.
October and November are also great months to go as it's the end of hurricane season and right before the busy high season.
How Long to Spend on Your Puerto Rican Honeymoon
Most people decide to spend anywhere between 5 and 7 days honeymooning in Puerto Rica. If you're looking for more of a relaxing vacation, 5 days may be enough.
However, if you are looking to explore and have some adventures, you'll probably want to stay at least 7 days if not more, depending on your budget.
Some resorts offer all-inclusive Puerto Rico honeymoon packages that come with a set amount of days and others can help you create your own Puerto Rico all-inclusive honeymoon.
How Much Does a Puerto Rican Honeymoon Cost?
The cost of a Puerto Rican honeymoon can vary depending on the time of year. Sometimes resorts and hotels offer up Puerto Rico honeymoon all-inclusive deals throughout different times of the year.
On average, the cost for two people to honeymoon in Puerto Rico ranges from $2500 to $5500 for 1 week.
You should take into account flights, car rentals, a night out dancing, and any extra excursions you may want to take.
Puerto Rico Honeymoon Resorts: Map