Dreaming of a Dubai honeymoon? Read our guide to choosing the best Dubai honeymoon hotels and tips for your trip to the City of Gold.
Dubai is a fabulous city in the United Arab Emirates that is famed for its skyscrapers, shopping malls, and world-class entertainment.

But it's not only a popular stop for business travelers and families; it's also a perfect place for couples and one of our favorite ideas for a honeymoon in 2023/2024.
Why Honeymoon in Dubai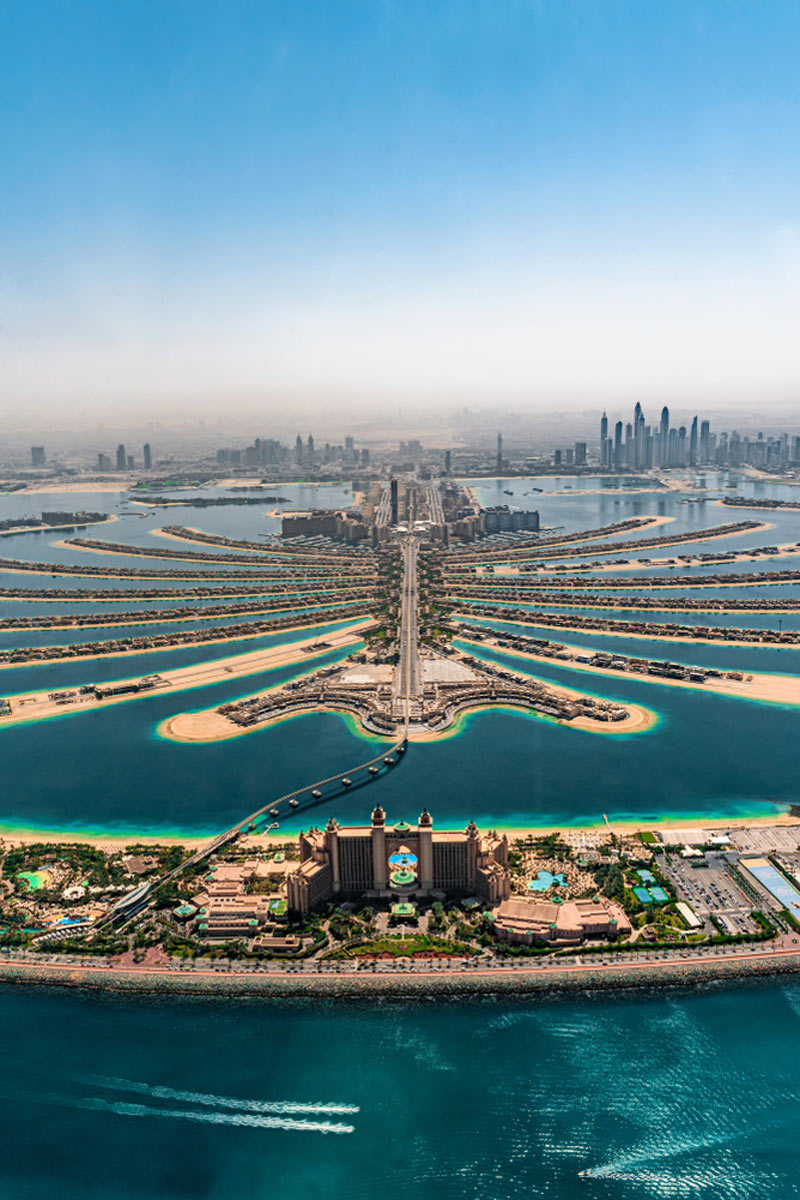 Palm-shaped islands, ultra-modern architecture, and luxury resorts that you have to see to believe make a honeymoon in Dubai a unique and unforgettable locale for celebrating your walk down the aisle.

But what if I told you that you can also go snow skiing (indoors), scuba diving, off-roading in the desert, or take in the views high above while skydiving? True story.

A Dubai honeymoon package can turn your dreams into reality with design touches and next-level service that makes you feel like you're living in a fairytale.

So where are the top honeymoon spots in Dubai for lavish dinners, opulent suites, romance, and adventure? We found a few you won't want to gloss over. Let's go.
Best Honeymoon Hotels & Resorts in Dubai
Burj Al Arab Jumeirah
Jumeirah
$$$
Best for a Dubai Honeymoon Resort on a Private Island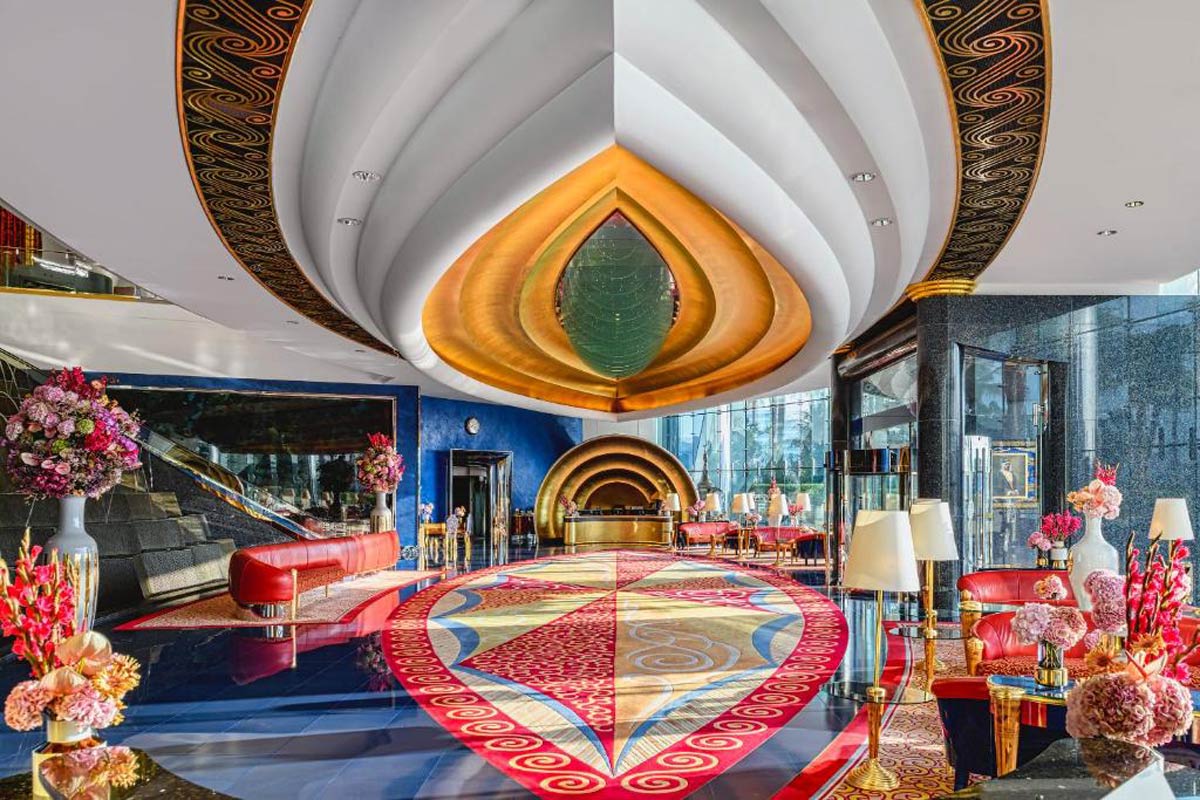 Located on a private island just off the small coastal neighborhood of Jumeirah, Burj Al Arab Jumeirah stands out as (arguably) the top hotel in Dubai.
Trust us. This is saying something.
Let's start with your airport transportation. Some guests choose to arrive in a private Rolls Royce, while others land via helicopter. We're guessing either option may suit you just fine.

Deluxe suites are lavish, with deep royal blue, gold, and red accents. In-room jacuzzis, soundproof walls, and sweeping ocean views all add to the romance and splendor on your honeymoon in Dubai.

For dinner, Michelin-star French cuisine at Al Muntaha, modern local dishes at Al Iwan, or casual seaside dining at Bab al Yam are just a few of the amazing restaurants to choose from.

And if you're setting up your honeymoon fund, the luxury hotel offers unique packages and gifts that are perfect additions to your honeymoon registry.
Atlantis The Royal
Palm Jumeirah
$$$
Best For a Honeymoon Suite on the Palm Islands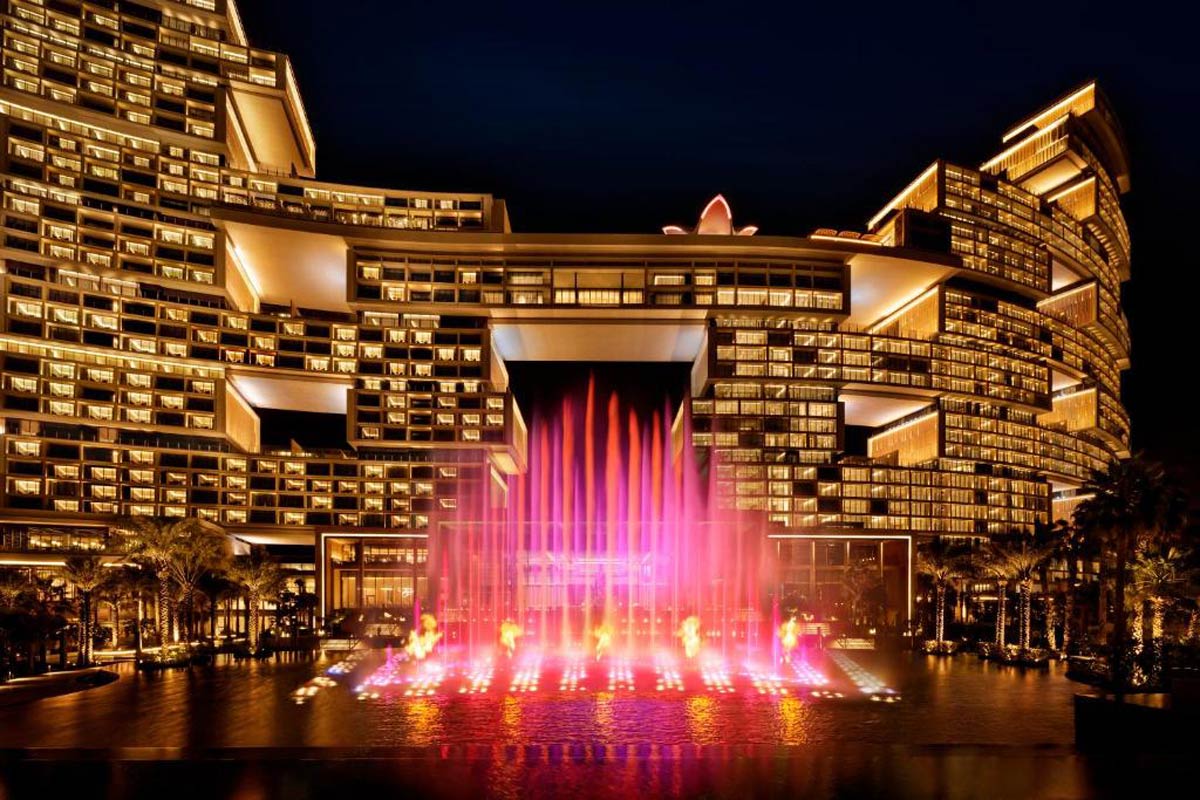 Remember hearing about the private Beyonce concert in Dubai that broke a four-year stretch of her not performing live on stage? Well, that helped kick off the opening of one of the most iconic hotels in UAE, Atlantis the Royal.
It's hard to summarize everything that makes this a Dubai honeymoon resort you'll remember for a lifetime because the list goes on and on.
Guests are treated to Michelin Star dining experiences at Dinner by Heston Blumenthal, while Ariana's Persian Kitchen, La Mar by Gaston Acurio Dubai, and Jaleo by José Andrés Dubai also bring high-caliber dining experiences from celebrity chefs.
Lost Chambers Aquarium is home to over 65,000 underwater creatures, Ling Ling allows you to celebrate your future from an upscale lounge overlooking Dubai, and Awaken Wellness takes the luxury spa to the digital era.
Even standard rooms will wow you with opulent bathrooms and living spaces, balconies overlooking the Arabian Sea, and almost any amenity you can dream up.
Palazzo Versace Dubai
Bur Dubai
$$
Best For a Dubai Honeymoon in a Palace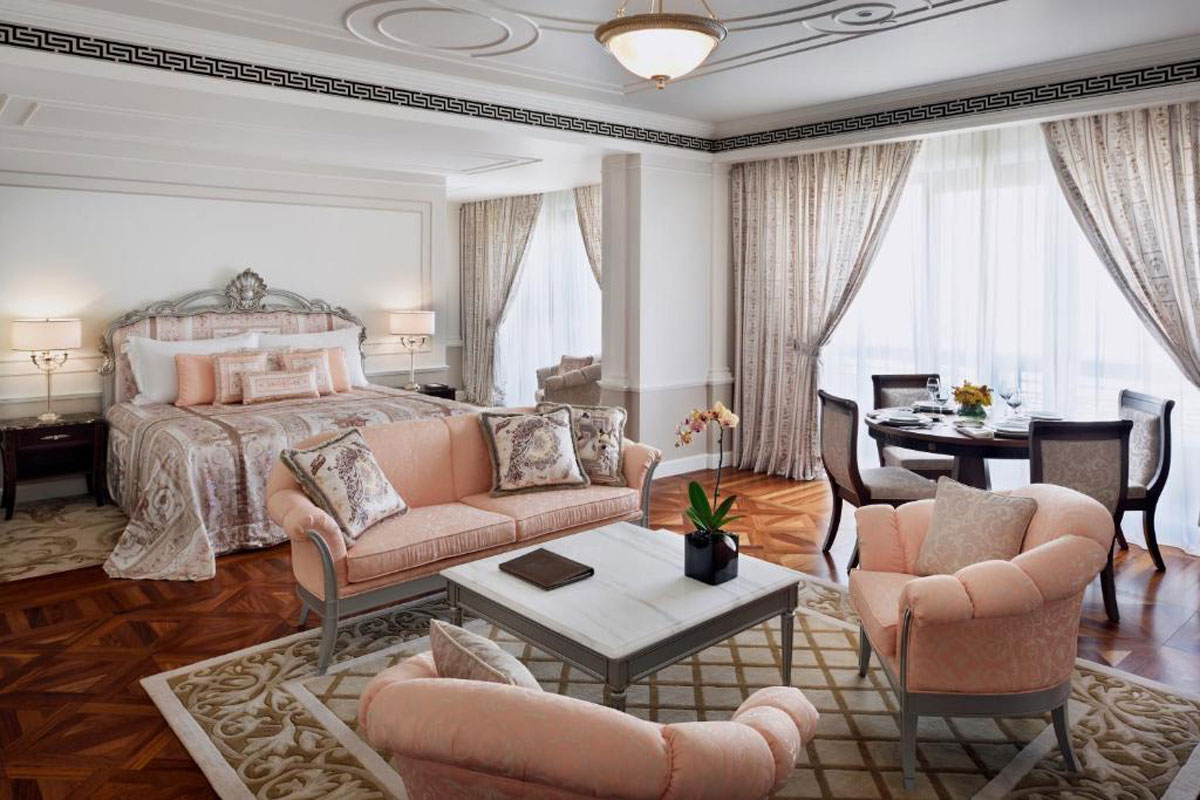 Step into the lobby, restaurants, or any of the rooms at Palazzo Versace Dubai, and you're instantly transported to Italy.
The architecture and interior design evoke classic 16th-Century European style with just enough Middle Eastern influences to remind you of your luxury Dubai honeymoon locale. It works.
Rooms have romantic shades of peaches and tans complemented by soft white walls and gorgeous mixed hardwood floors.
If you want one of the best Dubai honeymoon packages, opt for the Versace Honeymoon and Romance Offer, where you stay in a Versace-designed suite and enjoy every amenity imaginable. Perks include a three-course candle-lit dinner, couples massage, personalized bath menu, and late checkout.
Jumeirah Al Qasr
Area
$$$
Best For Arabian Gulf Views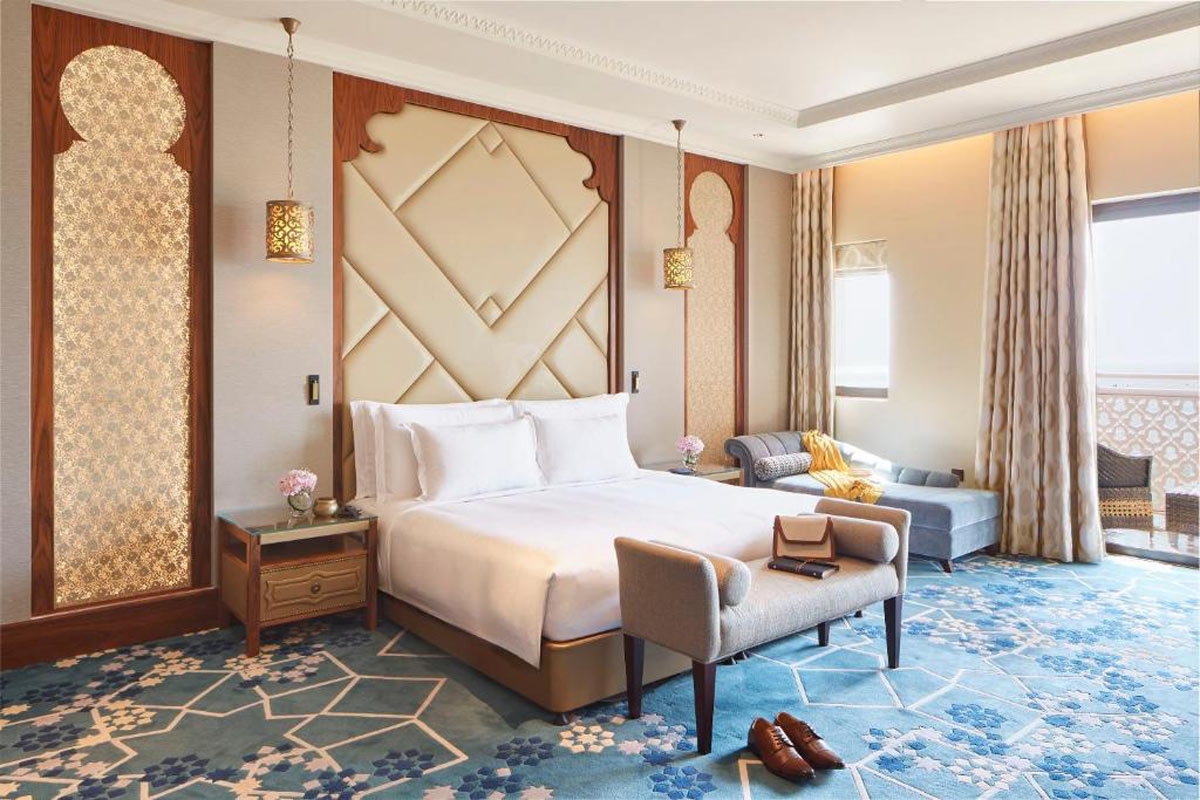 One of the reasons a Dubai honeymoon is so special is the proximity to the gorgeous Arabian Gulf. You'll enjoy front-row seats of the gentle waves rolling in at Jumeirah Al Qasr.
Not only do you have access to a private pier that allows you to walk over the Arabian Sea, but the adults-only pool, Al Nafoorah restaurant, and Abra Tour through the lagoon allow you to embrace the local flavors and scenery that evoke the nearby ocean.
Rooms are elegant with grand classical architecture and design, proudly displaying Middle Eastern influences from floor to ceiling.
You may be transported in time in the best possible way at one of the premier hotels in Dubai for a honeymoon.
JW Marriott Marquis Hotel Dubai
Business Bay
$
Best For an Affordable Dubai Honeymoon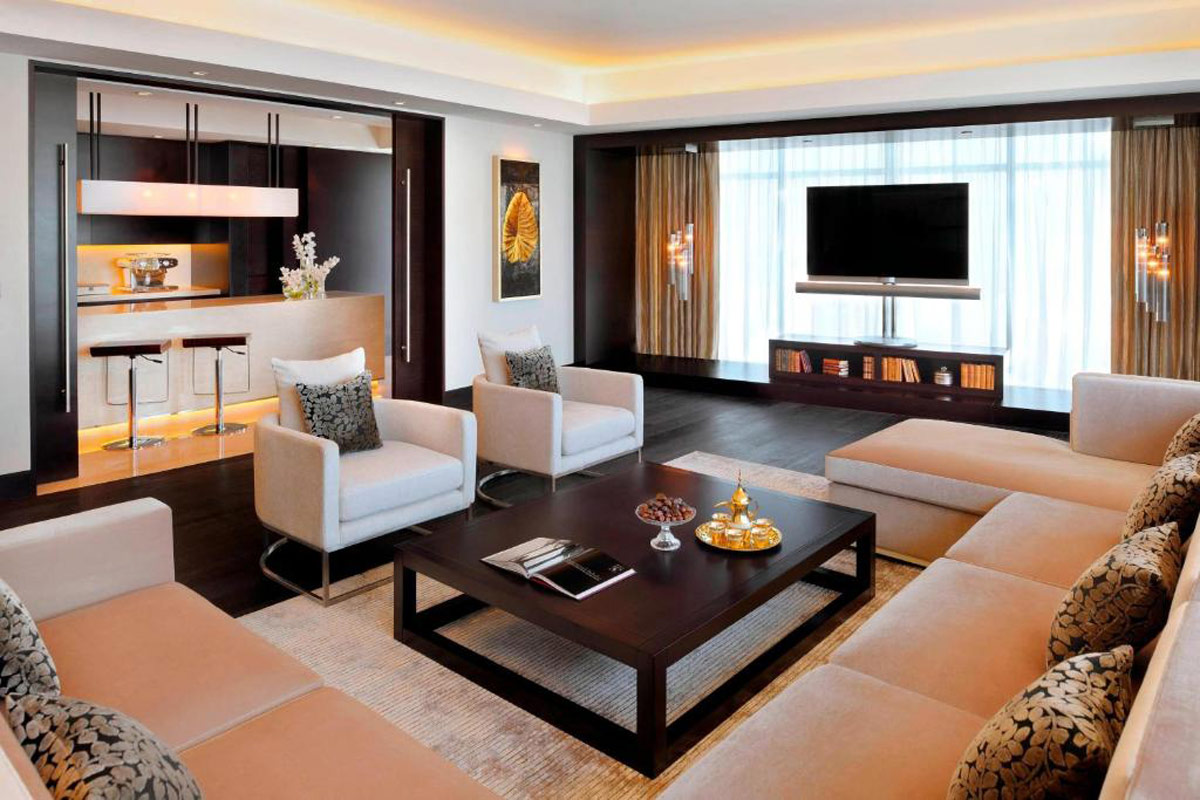 JW Marriott Marquis Hotel Dubai sits right along the Dubai Water Canal near downtown and offers honeymooners a high-end hotel experience at a surprisingly affordable rate.
The 1,600+ rooms at the massive five-star property feature a smart aesthetic that blends contemporary design with classic urban sensibilities.
Although a business hotel at heart, romance isn't an afterthought. Dubai honeymooners can celebrate in style at Prime68 Steakhouse before having a nightcap on the 72nd floor at the swanky cocktail lounge Vault for an idyllic evening together.
If you're planning a destination wedding, the expert staff can host events for up to 1,000 of your closest friends and family.
Dubai Honeymoon Tips: What You Need to Know
How to Get to Dubai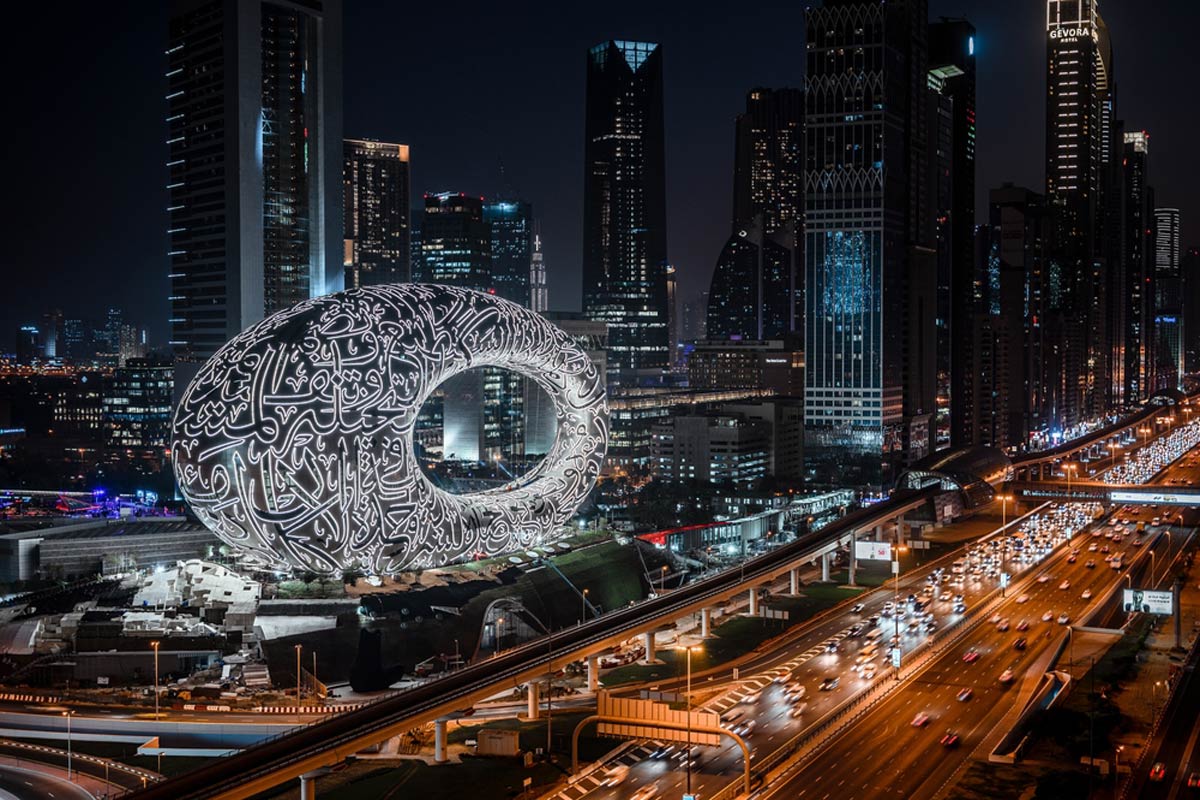 Planning a honeymoon Dubai retreat? Numerous daily flights from the USA take you to Dubai International Airport (DXB).

But if you can book a flight on Emirates, your Dubai honeymoon will be off to a fantastic start, as they offer one of the most luxurious airline experiences you'll find anywhere.
The Best Dubai Honeymoon Destinations
Aquaventure at Atlantis The Palm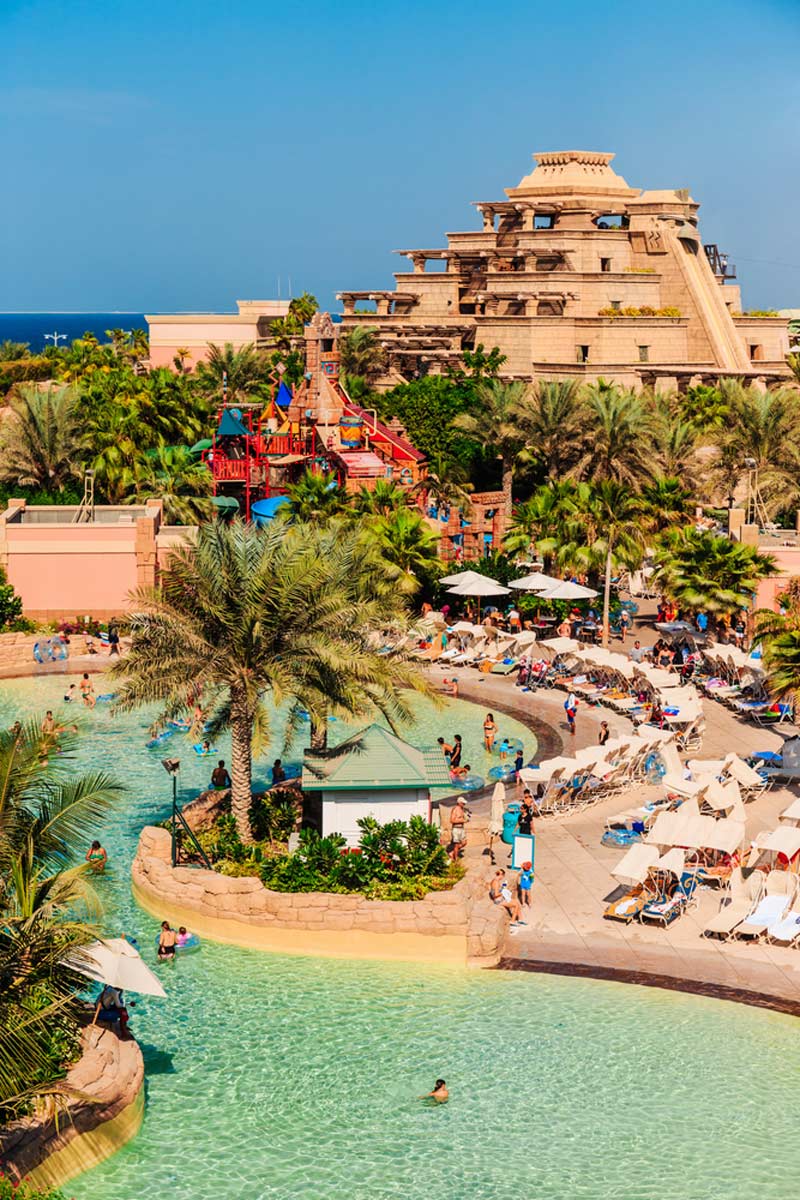 You'll find a lot of Dubai honeymoon places set the bar high when it comes to their respective niche. Aquaventure is no exception, as the 100+ water slides and 17-hectare space is one of the most incredible water parks you'll find anywhere.
If you and your spouse want a thrill ride on your honeymoon in Dubai, you'll find it here.
You can drop down record-breaking plunges and take an adrenaline-inducing tube ride through the Shark Lagoon, where you'll pass through schools of white-tip sharks, Arabian carpet sharks, and rays. Not to worry, a tubed enclosure fully separates you from the large aquatic creatures.
Dubai Mall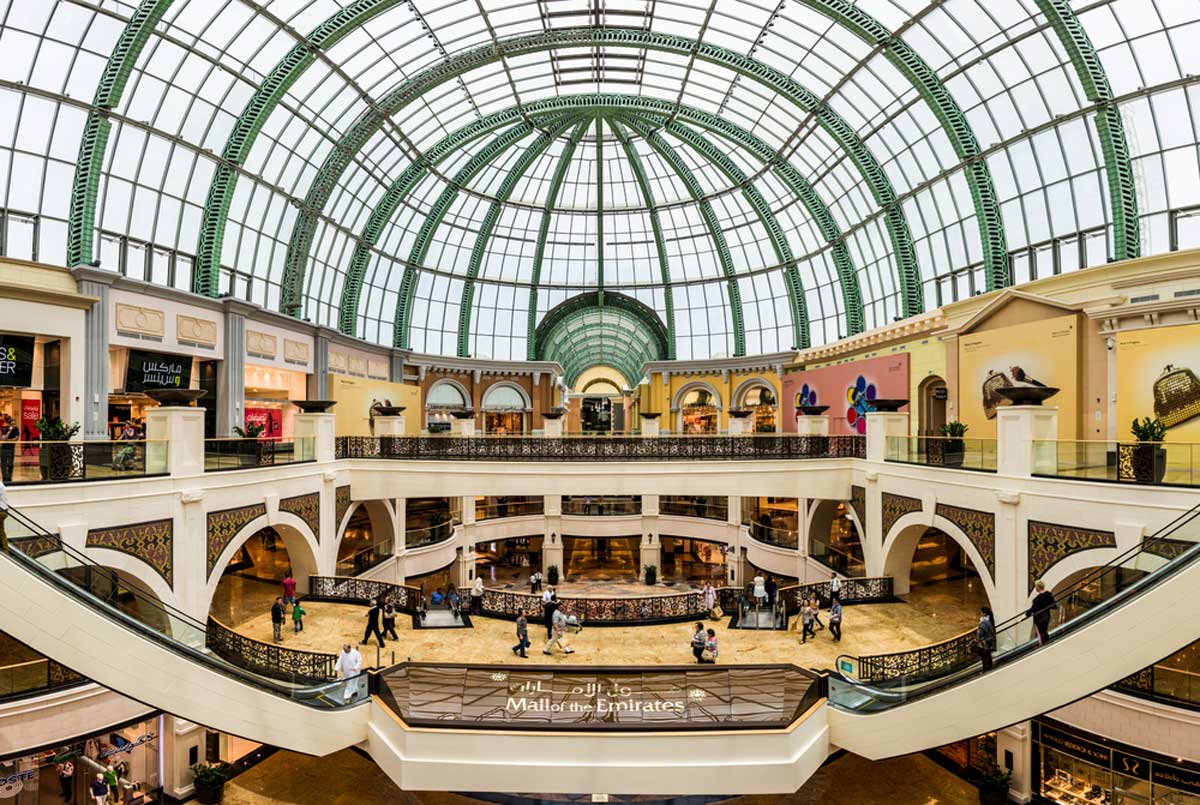 Dubai Mall is a massive indoor shopping center known for having over 1,000 stores and 200 dining options spread over four floors and 13 million square feet.
So what is there to do on your Duba honeymoon at the mall? Plenty.
Between snacking and shopping, you can visit the Dubai Aquarium & Underwater Zoo, walk through the interactive art gallery Infinity Des Lumieres, go ice skating, or see the Diplodocus Longus Dinosaur at Dubai Dino.
You can spend all day here and likely barely touch the surface of Dubai's best shopping mall.
Palm Islands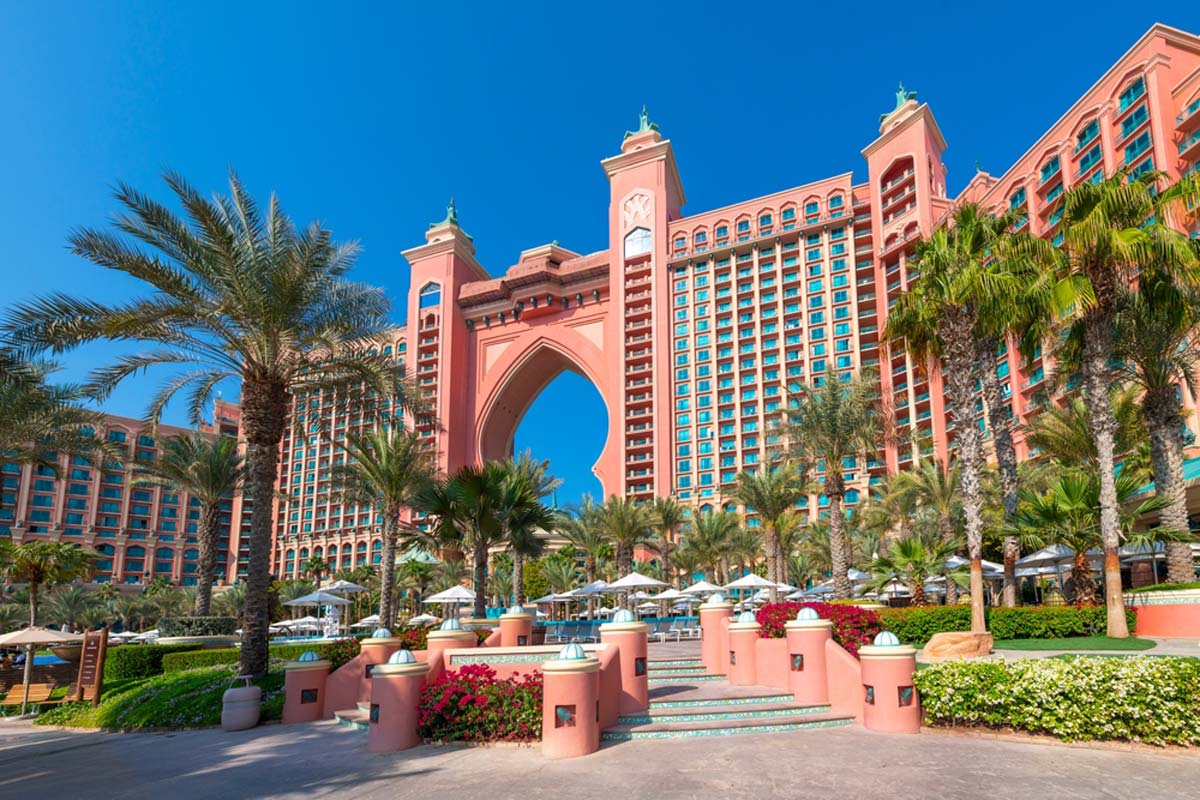 You've likely seen aerial shots of The Palm, the three islands popping up from The Gulf.
Palm Jumeirah is home to the most incredible hotels and restaurants in the United Arab Emirates, making it the perfect palace to settle in for your Dubai honeymoon.
Explore The Palm and celebrate your forever partner with an extravagant brunch, stroll around the boardwalk, or have a shopping spree at the high-end malls. Matching designer jewelry, anyone?
Burj Khalifa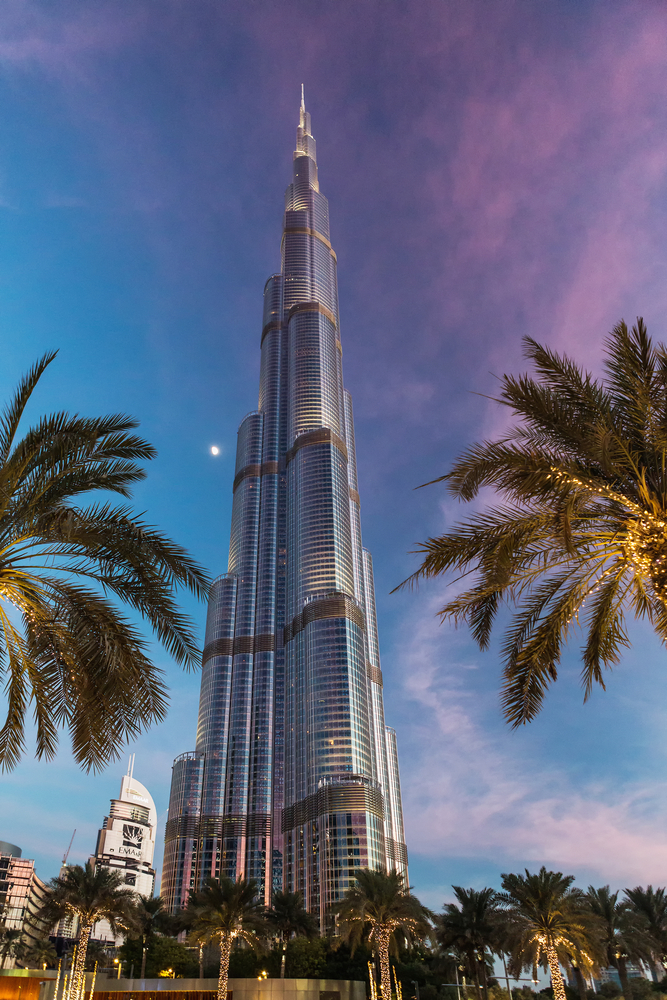 If you take a honeymoon in Dubai, you likely won't miss the world's tallest building, Burj Khalifa. While it's a marvel to witness from the ground, you won't want to miss heading up to the observation deck on the 124th floor.
There's also a fine dining restaurant called At.Mosphere on the 122nd floor, which is the perfect place to commemorate your future over dinner and drinks. If you like foie gras with a view, you're in for a treat.
Dubai Marina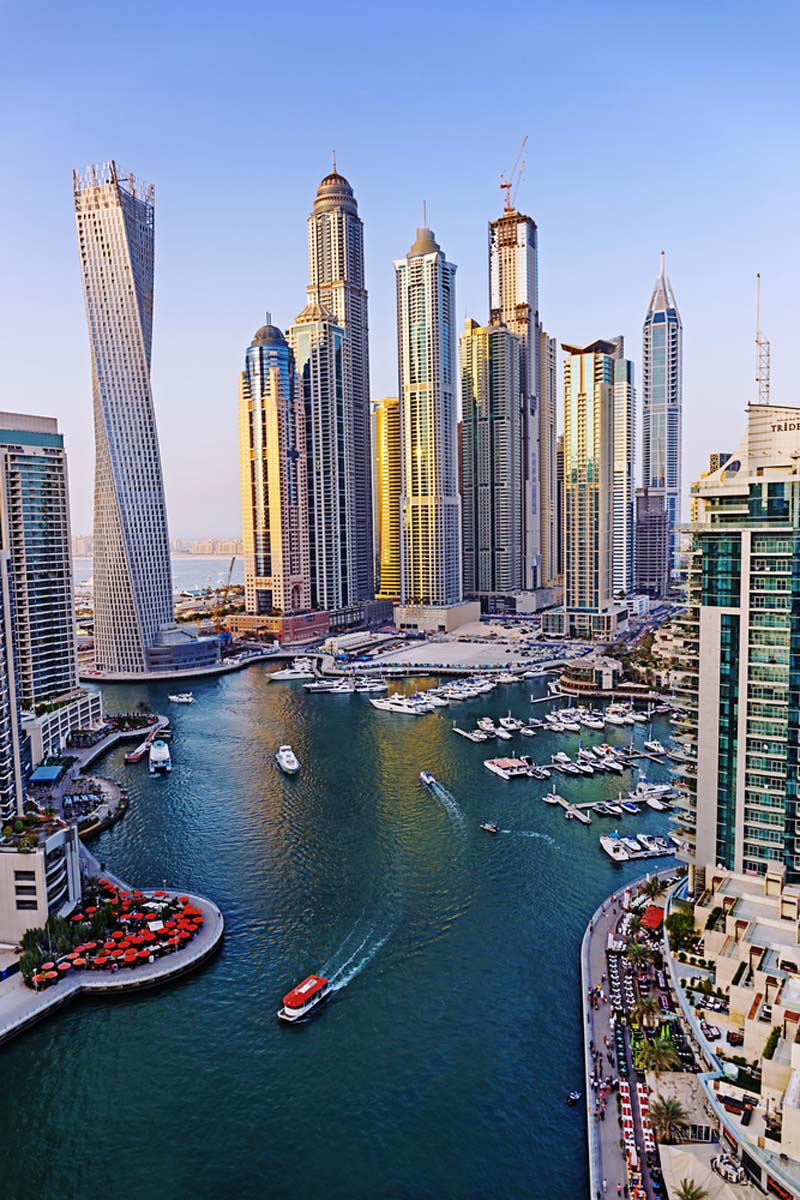 Located at the edge of the coast overlooking The Palm, Dubai Marina is an upscale community filled with high-end restaurants, luxury hotels and apartments, and gorgeous views of the Arabian Gulf.
If you're seeking out adventure, you can set sail on a romantic cruise, rent scuba diving equipment gear, or go skydiving over the marina and The Palm. Whatever activities you decide on for your Dubai honeymoon, boredom isn't an option.
Ski Dubai
Remember when we mentioned indoor skiing in Dubai? Head to the Mall of the Emirates and enjoy the large indoor ski slopes that are a welcome escape from the summer heat on your Dubai honeymoon.
It won't give Banff a run for its money, but you can have plenty of fun carving some powder in a shopping mall at Ski Dubai.
The Dubai Fountain
If you're at the Dubai Mall or Burj Khalifa, you'll want to spend some time around The Dubai Fountain. The fountain shows that are choreographed throughout the days and evenings are a wonderful experience on your Dubai honeymoon, with the water blasting up as high as 500 feet.
Tribes Dubai Mall is a popular African steak house that is a great place to enjoy a celebratory meal while watching the fountain show.
The Best Time to Visit Dubai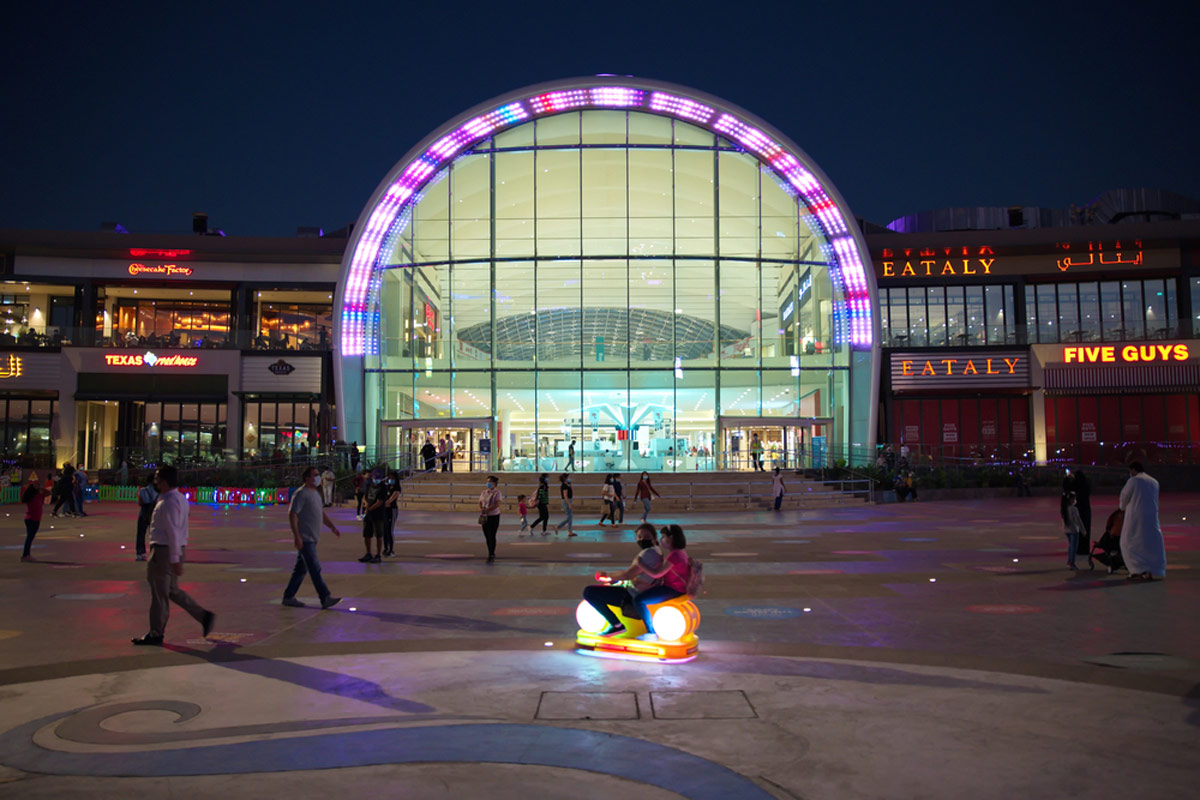 September to May is typically a wonderful stretch to plan a Dubai honeymoon. The weather is pleasant before the heat of summer kicks in.
How Long to Spend on Your Dubai Honeymoon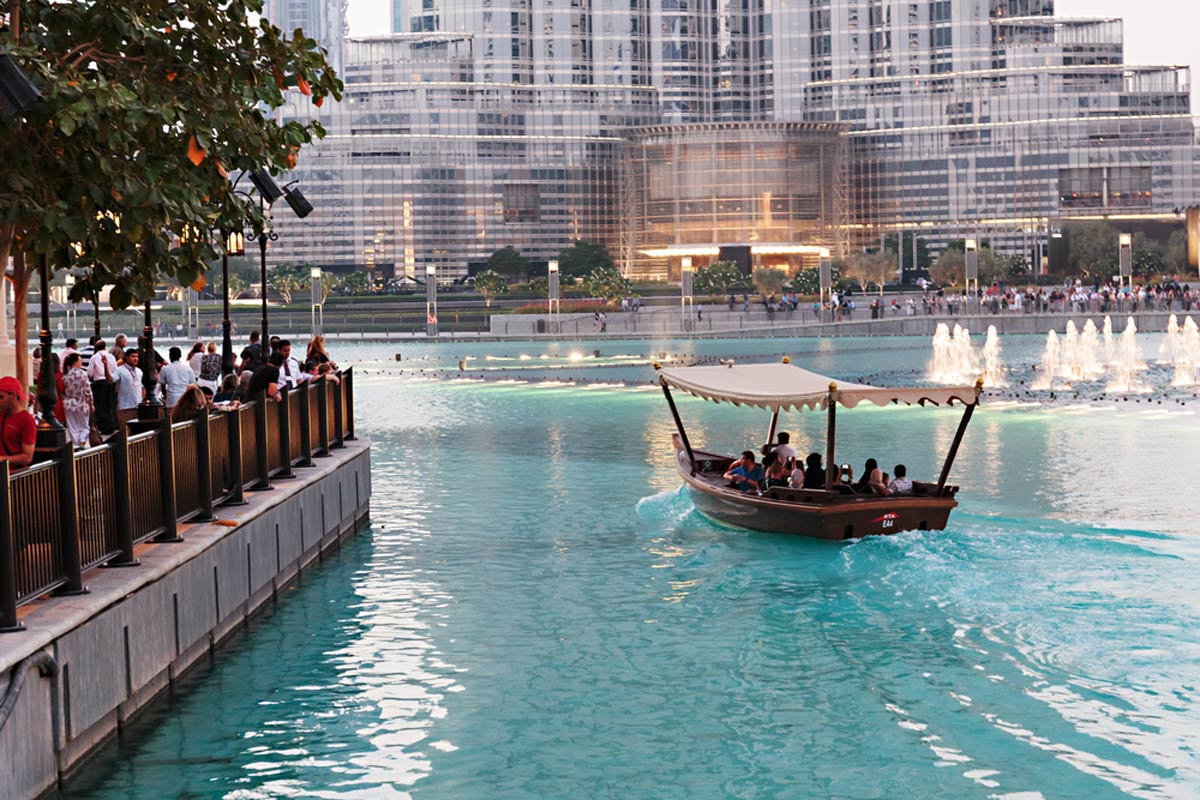 5-7 days is the perfect amount of time to spend on your honeymoon in Dubai. You'll have ample time to sightsee, shop, dine, and have some indoor and outdoor adventure.
How Much Does a Dubai Honeymoon Cost?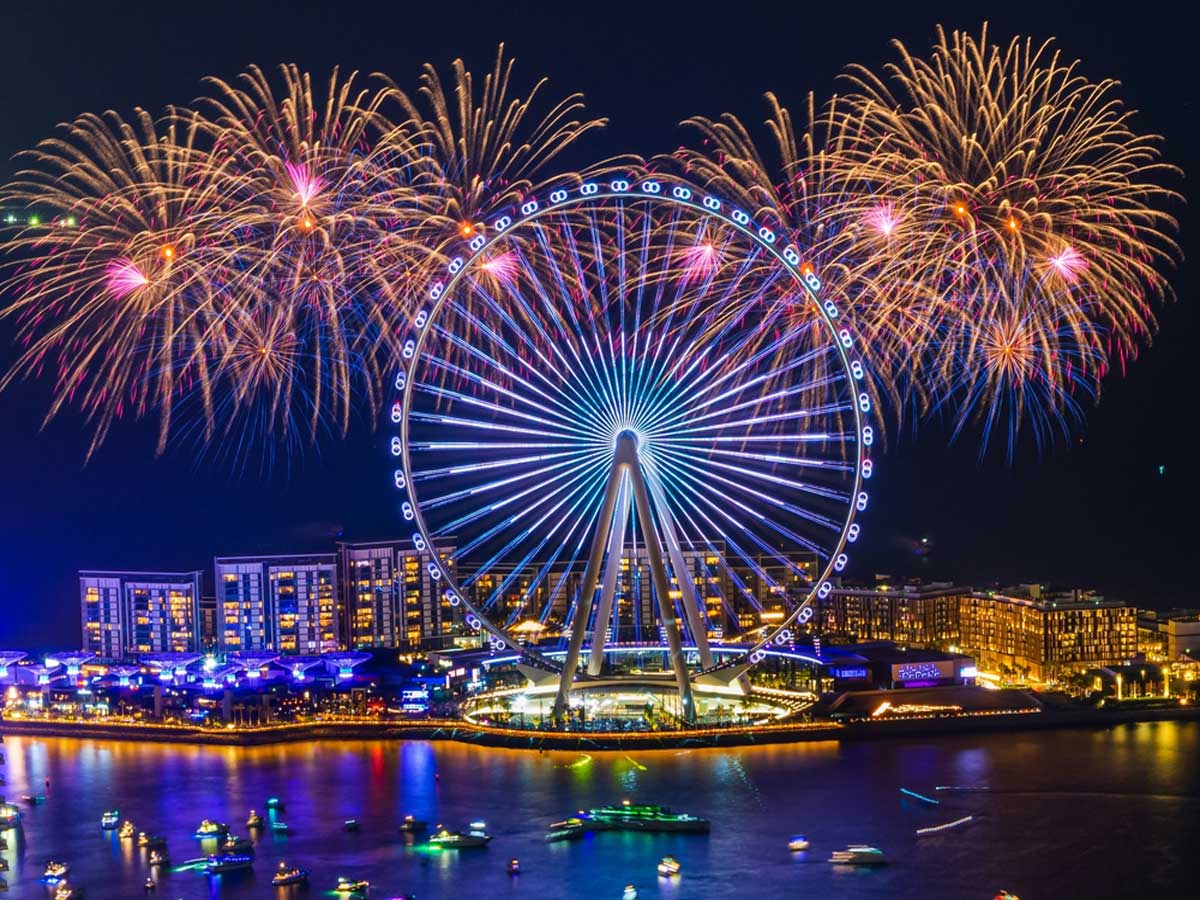 You can plan a honeymoon in Dubai for a surprisingly affordable amount. But you can also spend a literal fortune, with the country offering resorts, shopping, and experiences that may tempt even the most conservative travelers.
On average, a Dubai honeymoon will cost you between $5,000 – $10,000.
Dubai Honeymoon Guide: Read Next