Planning a honeymoon to Austin, Texas? You're not alone. Here's why the City of the Violet Crown is a perfect location for your honeymoon and how to plan your own dream escape .
Austin has joined the ranks of San Francisco, New York, and Las Vegas as one of America's favorite vacation destinations. It's no surprise, as the food, beverage, and music scene are all top-notch.

But what about an Austin honeymoon package? Absolutely. We'll show you everything you need to know about a honeymoon in Austin, Texas.
Why Honeymoon in Austin, TX
An Austin honeymoon is full of unexpected charms in the growing city in Southwestern USA.

Whether you pose for photos in front of the cheeky "I love you so much" mural or cool off from the Texas heat at a hotel pool, there are activities and locations for every budget and interest.

Horseback riding, paddle boarding, and bikes with brews keep active couples plenty busy, while the food and beverage scene will provide every opportunity for some R&R.
Ready to learn more about a honeymoon in Austin? Giddy-up, let's go.
Best Honeymoon Hotels & Resorts in Austin
Austin Proper Hotel
Downtown
$$$
Best For Music Lovers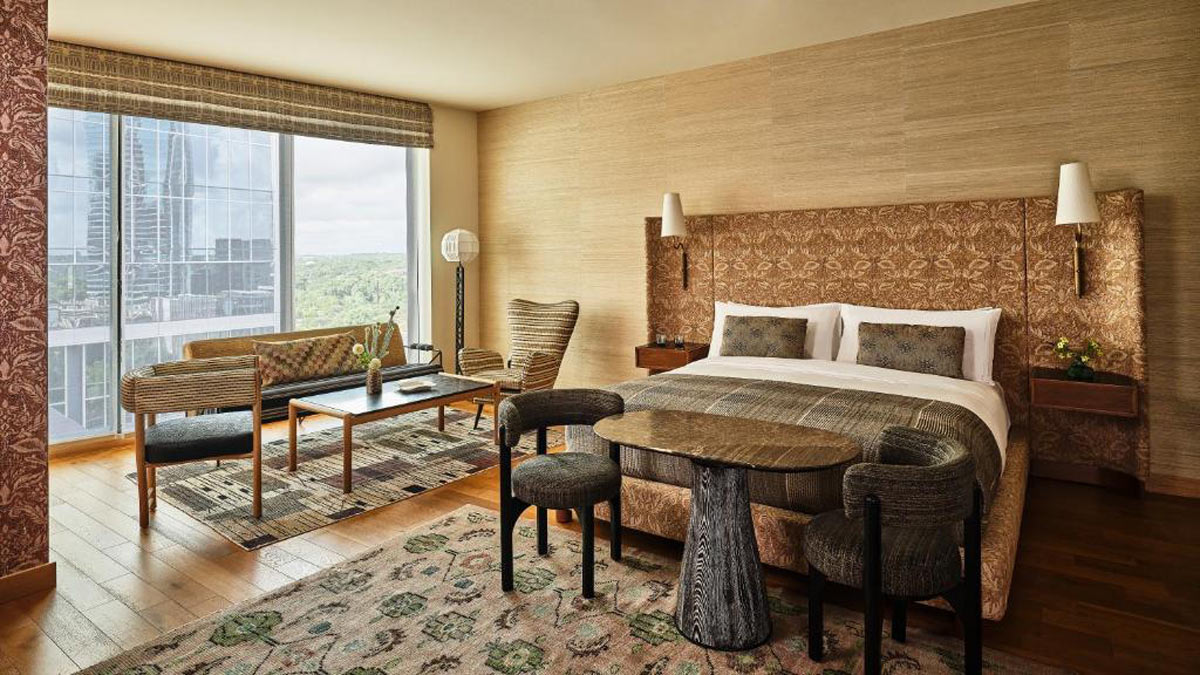 If you're looking for an Austin honeymoon package during the famous Austin City Lights Music Festival in October, Austin Proper Hotel has you covered. The location in downtown Austin is a short walk from the famous festival and hooks you up with the best rates and a $50 dining credit you can use on snacks and drinks before and after the show.
The hotel has several stylish restaurants and bars, with The Peacock being a popular gathering place for stylish locals and vacation goers, serving up Mediterranean fare.
Verbena Spa allows you to indulge in body scrubs, customized massages, and couples treatments you can order in your room. We'd recommend it.
Accommodations have an elegant southwestern flare that balances romance with class and sophistication effortlessly in one of our favorite places for a honeymoon in Austin, Texas. What are you waiting for?
Hotel Van Zandt
Rainey Street Historic District
$$$
Best For Boutique Austin Honeymoon Hotels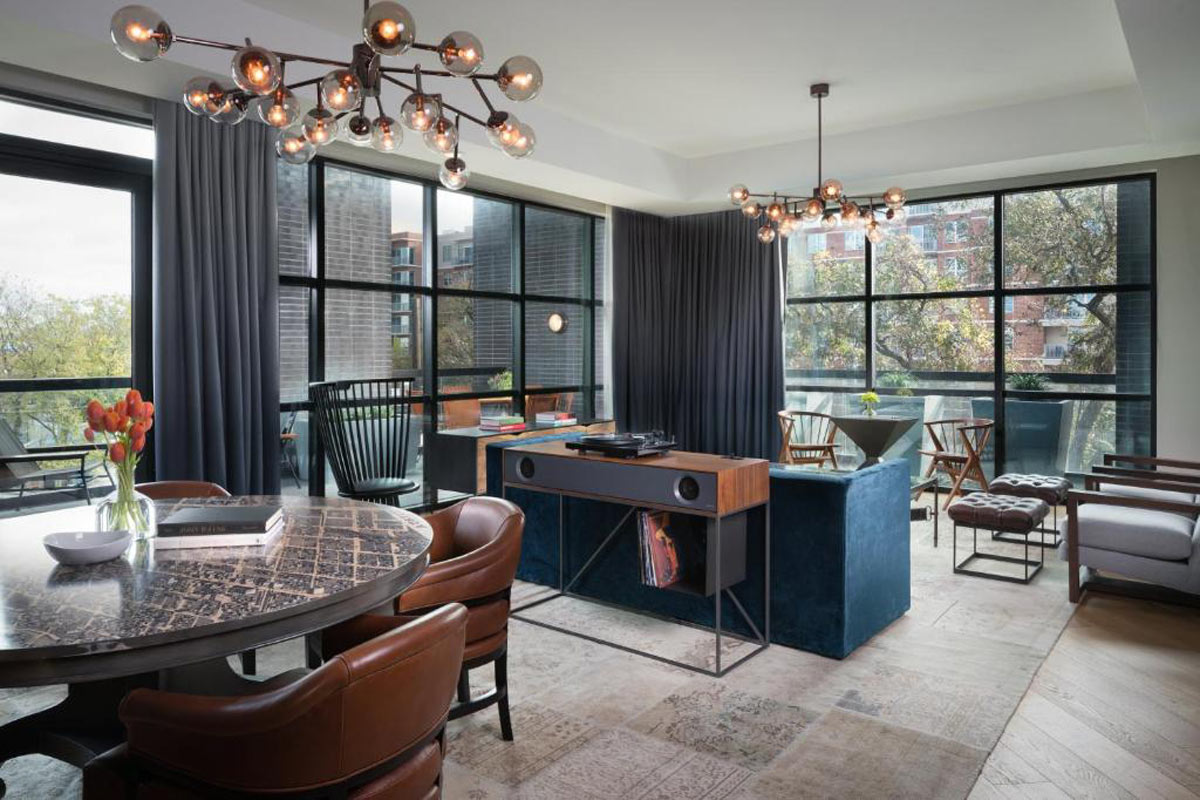 Hotel Van Zandt is the perfect choice if style and contemporary design translate to a romantic atmosphere for you and your spouse.
Dark hardwood customized furniture pairs with varying shades of blue, evoking the ocean waves to provide a warm, inviting ambiance in each room. Want an upgrade? Book the "How Suite It Is" package for one of the best honeymoon suites in Austin, TX.
Hungry? Head down to Geraldine's for a laser-focused menu breathing new life into classic Texas cuisine with inventive dishes and live music. Or venture out for a night on the town and enjoy easy access to some of the most celebrated restaurants and nightlife hot spots in the city.
Be sure to ask the expert team for Austin honeymoon ideas. The expert team is all about Southern hospitality.
The Driskill
Financial District
$$
Best For a Historic Austin Honeymoon Hotel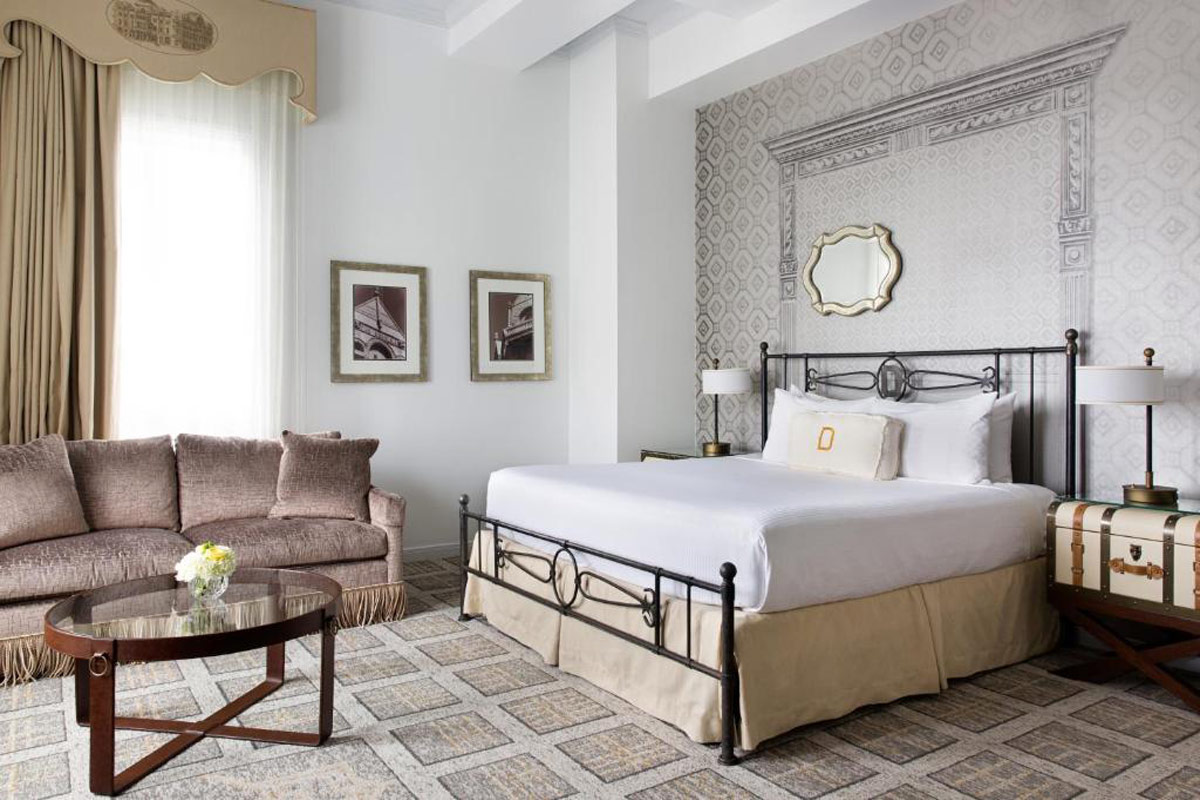 If you're looking for historic honeymoon hotels in Austin, all roads lead to The Driskill.
Built in 1886, Hyatt now manages this long-standing luxury property, but every ounce of its charm remains intact.
From live music featuring world-class musicians in the bar to 4-course dinners with beer pairings in 1886 Café & Bakery, you don't need to venture far to have a great time.
The rooms have a Victorian-era feel with some modern staples like flat-screen TVs and WiFi. They're comfortable and charming.
Book this hotel if you want an Austin honeymoon with a little old-school romance as the backdrop.
Fairmont Austin
Waller Creek District
$$
Best For a Luxury Honeymoon Austin-Style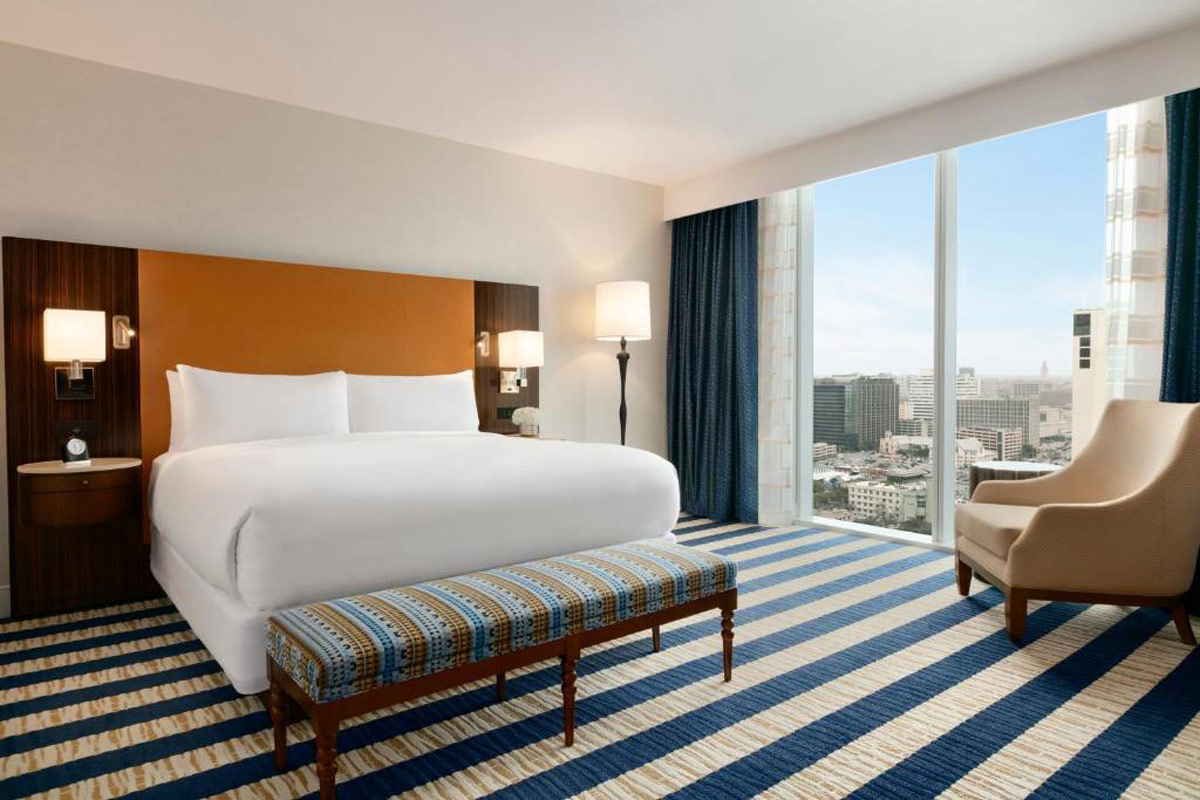 Located in the bustling Waller Creek District downtown, the Fairmont Austin is a wonderful (and surprisingly affordable) luxury accommodation for your Austin honeymoon.

Standard rooms have a bold glue and blue color palate with modern furniture and decor throughout.

Upgrade to the Fairmont Gold Experience and enjoy one of our favorite ideas for a honeymoon Austin Texas style – with private check-in, an exclusive lounge, an honor bar (yes, please), and free snacks.

Feel like celebrating? Enjoy a meal at Wine Spectator award-winning Garrison or head up to the spa and take advantage of VIP couples suites where you can enjoy luxury spa treatment before moving to the eucalyptus steam room or saline soaking tub. It's your honeymoon, after all.
The Wayback
Senna Hills
$$
Best For a Relaxing Honeymoon Near Austin
If you're looking for an idyllic getaway outside the city, head west to The Wayback, where your charming Texas cottage awaits you on your Austin honeymoon.

Your personal Austin honeymoon suite has romantic, classic decor with doors that open up to close views of the pool and garden on-site.

Enjoy the shade of the live oak trees in the Texas Hill Country with an outdoor pool that's perfect for hot summer days and warm evenings.

Ready for dinner? Grab a meal and cocktail at the restaurant on-site, dishing up delicious plates like shrimp and grits, braised short ribs, and freshly made salads.

The restaurant is closed on Mondays and Tuesdays, so make plans in the city if you visit early in the week.
East Austin Hotel
Central East Austin
$
Best for a Budget Austin Honeymoon Hotel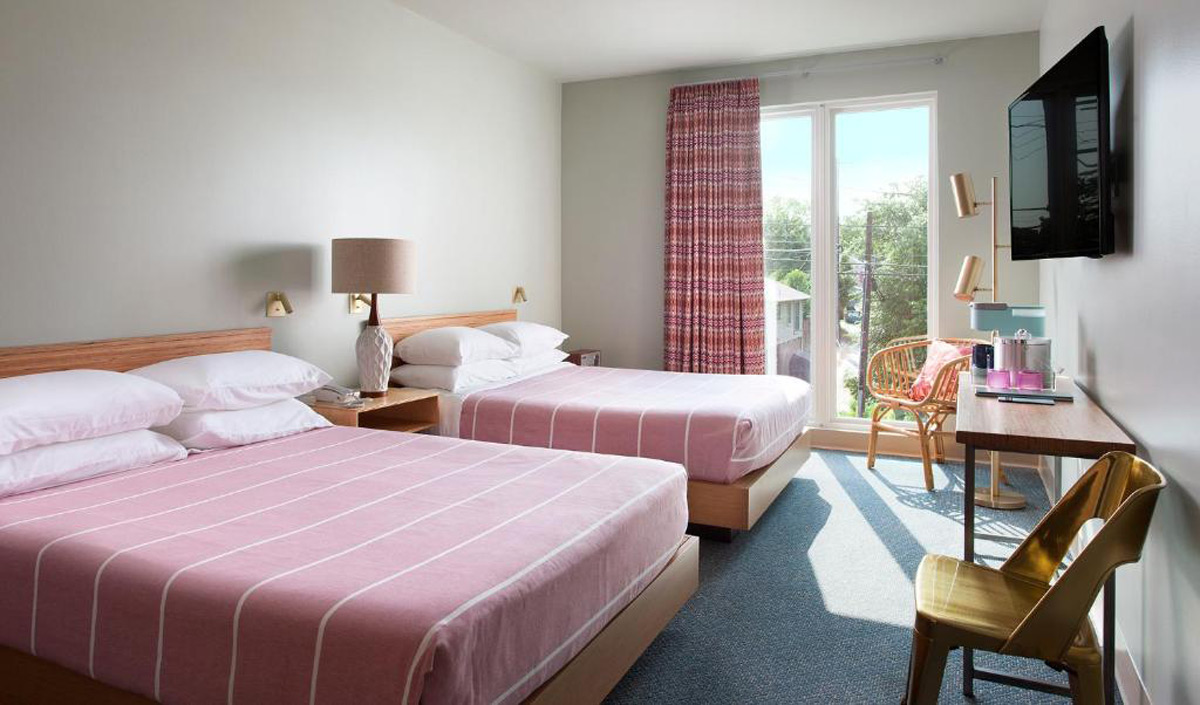 Looking for a honeymoon suite in Austin, TX, without spending too much from your honeymoon fund? East Austin Hotel offers funky, contemporary honeymoon suites full of charm and personality at a reasonable cost.

Pink linens, blue carpeting, and off-white walls set the stage for the vibrant nightlife and entertainment nearby.

Opt for an upgrade to a king or superior room to ensure private bathrooms, or spend a bit more to enjoy a private balcony with a pool view. It's worth the extra investment for both.
Austin Honeymoon Tips: What You Need to Know
How to Get to Austin, Texas
Getting to your Austin honeymoon is easier than ever, with direct flights from numerous airports throughout the USA.
Fly into Austin-Bergstrom International Airport (AUS) and arrange transportation to your Airbnb or hotel from there. The ride from the airport should take between 15-20 minutes.
The Best Austin Honeymoon Destinations
Lady Bird Lake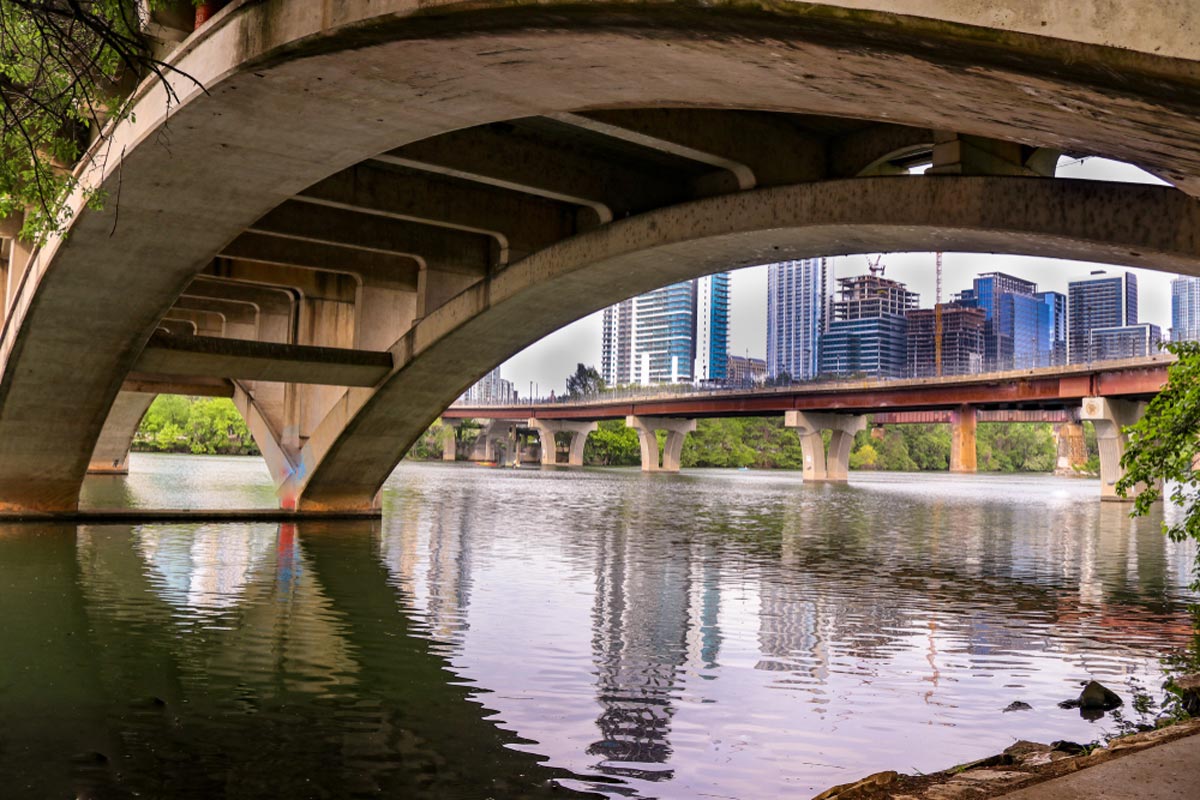 Lady Bird Lake is a favorite destination for locals and tourists visiting Austin. Located just outside of the busiest stretches of downtown, the reservoir along the Colorado River is a perfect spot to share some romance on your trip to Austin.

Have a picnic near the shores (or bring some bbq from a local smokehouse) and enjoy the afternoon while relaxing al fresco.

Or, if you want to save the R&R for the hotel, rent bicycles or kayaks and get some exercise while taking in the beauty of the downtown Austin backdrop along the famed lake.
Lady Bird Johnson Wildflower Center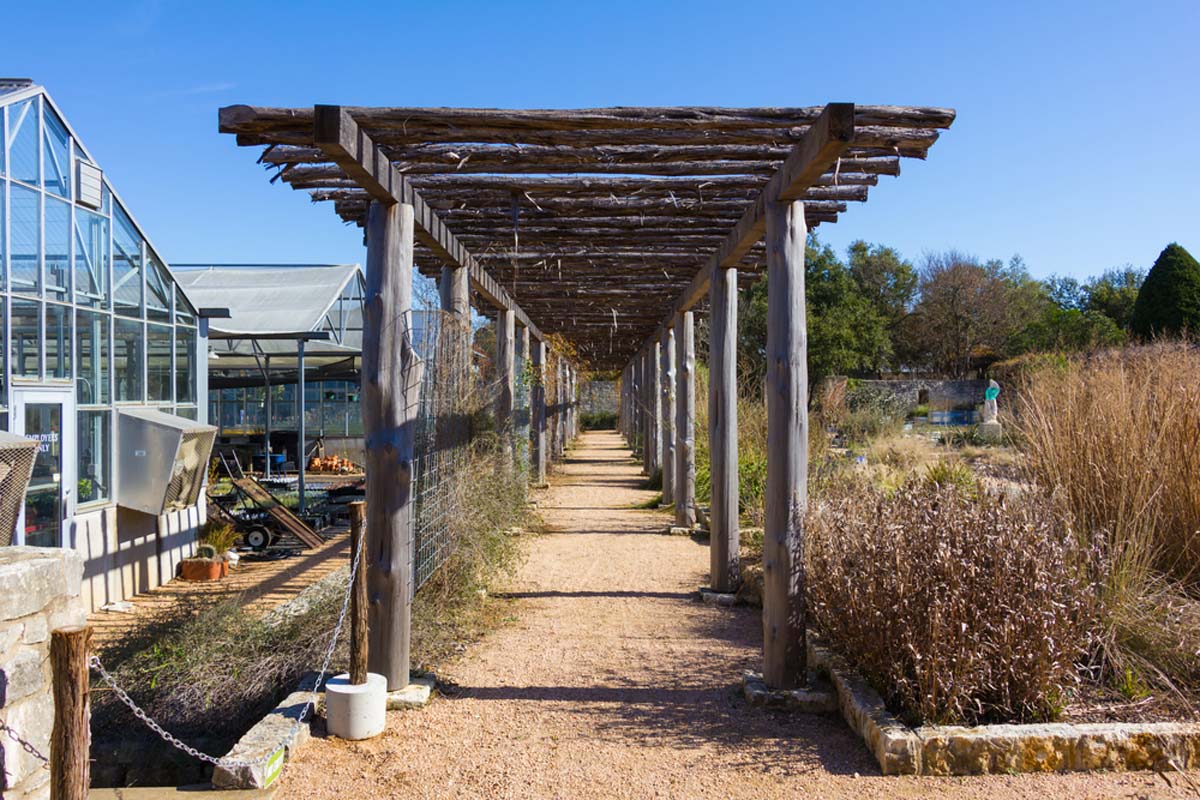 Ok, so you may wonder by now who exactly is Lady Bird. President Lyndon B. Johnson and First Lady Claudia Alta Johnson (Lady Bird) were Texas natives, and she spent her final years in Austin, Texas.

The Lady Bird Johnson Wildflower Center is located at the University of Texas Austin and displays hundreds of native plants amongst idyllic stone structures, waterfalls, and gardens.

Visit on your Austin honeymoon to take a casual stroll, book a class in photography or watercolors, or events like Luminations with night-time light displays.
Tristar Farm
What's more romantic than riding horseback with your forever partner on your Austin honeymoon? We can't think of much, and Tristar Farm is the place to go if you want to book an hour or two to try your luck at being true Texas cowboys and cowgirls.

Ride the trails of Central Texas, or get a lesson from a trained expert on the farm. Either way, you'll have some great memories when heading out to Tristar Farm on your Austin honeymoon.
Franklin Barbeque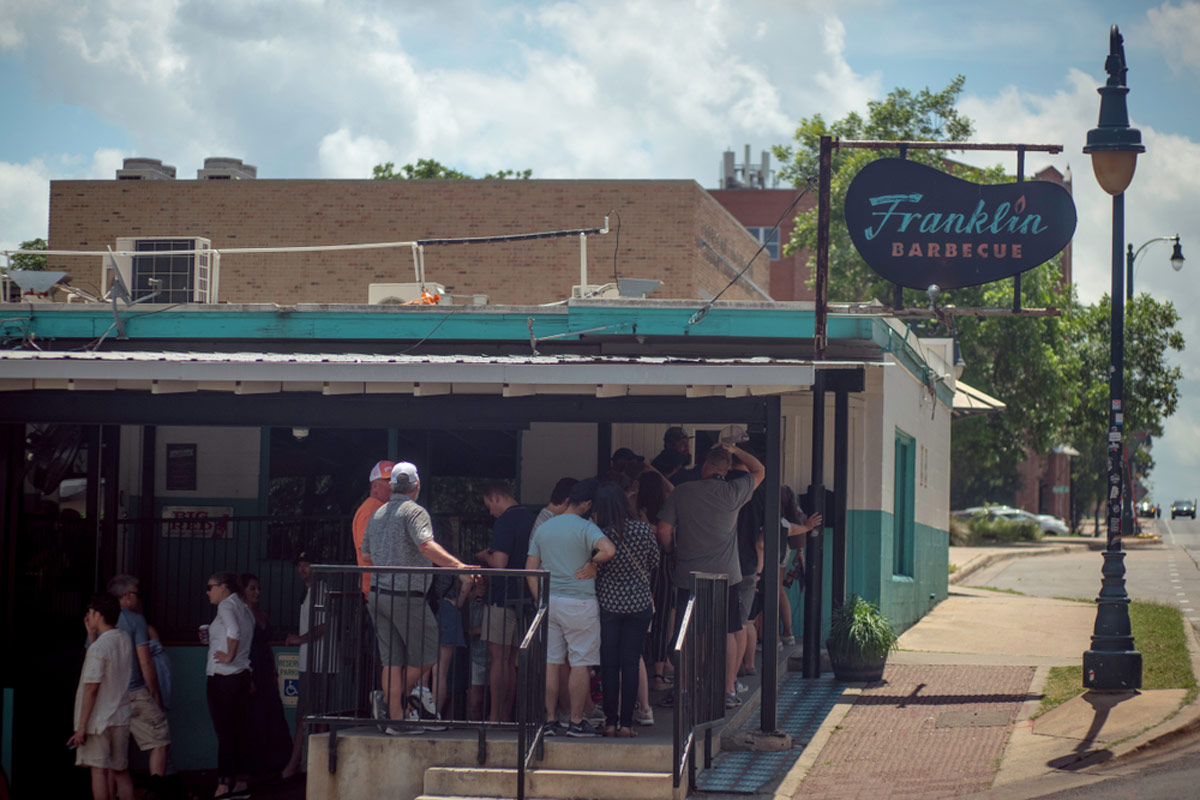 You've probably heard the stories of tourists and locals waiting in lawn chairs on the sidewalk for hours to get some tasty brisket or tender pork from the legendary Austin Texas BBQ joints. Franklin Barbeque may be the most famous and serves up James Beard Award Winning smoked meats and sides.

Arrive early or order ahead to try some of the best BBQ around on your honeymoon in Austin.
Blanton Museum of Art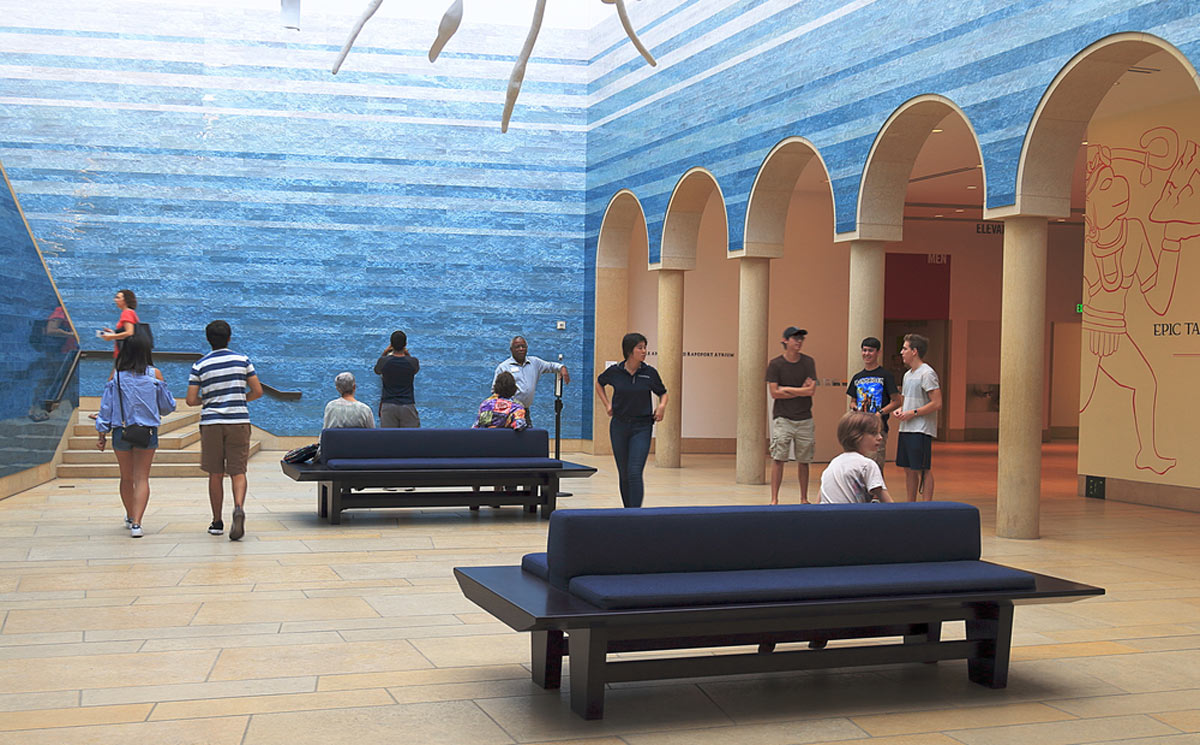 Keen to soak in some culture on your Austin honeymoon? Visit the Blanton Museum of Art and check out the collection of exhibitions, galleries, and events at the most famous art museum in the area.

First, start with one of our favorite permanent exhibitions, Ellsworth Kelly's Austin. You'll see the 2,715-square-foot structure that Ellsworth Kelly designed with sculptures and colorful glass windows that is now a focal point of the museum.

The ever-changing events and collections are also worth checking out, with Latin American artwork and Italian Renaissance pieces being among the most celebrated.
South by Southwest
Perhaps the most famous festival in Austin, South by Southwest, offers one of the more comprehensive arts and entertainment festivals in the world.

The event is more like a collection of numerous events hosted during the same week in March and often features well-known or soon-to-be well-known musicians, actors, artists, and writers.

For couples who want an Austin honeymoon centered around celebrities and entertainment, don't miss this incredible chance to visit SXSW.
Austin City Limits Music Festival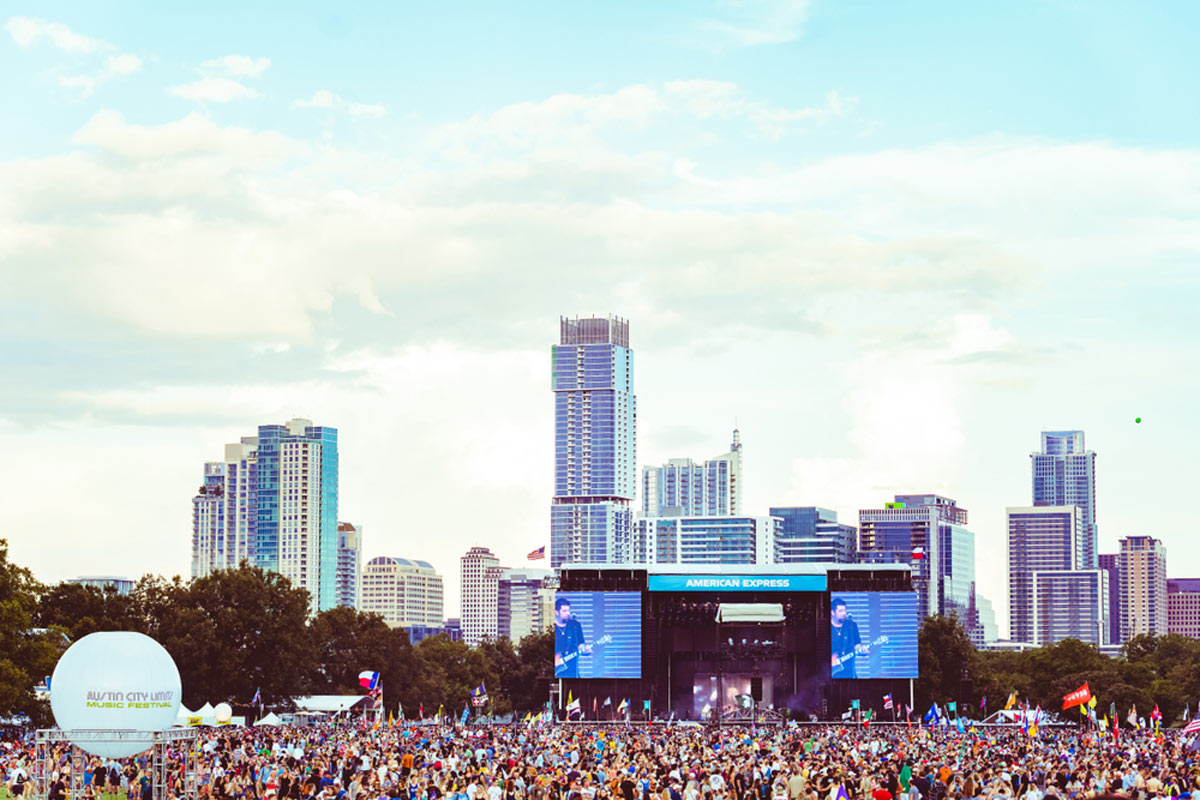 If you and your spouse are music lovers, you'll want to check the schedule in October for the famous Austin City Limits festival.

It's mainly focused on country music, but you'll find other genres like EDM, folk, or rock and roll when you attend the famous ACL festival on your Austin honeymoon.
The Best Time to Visit Austin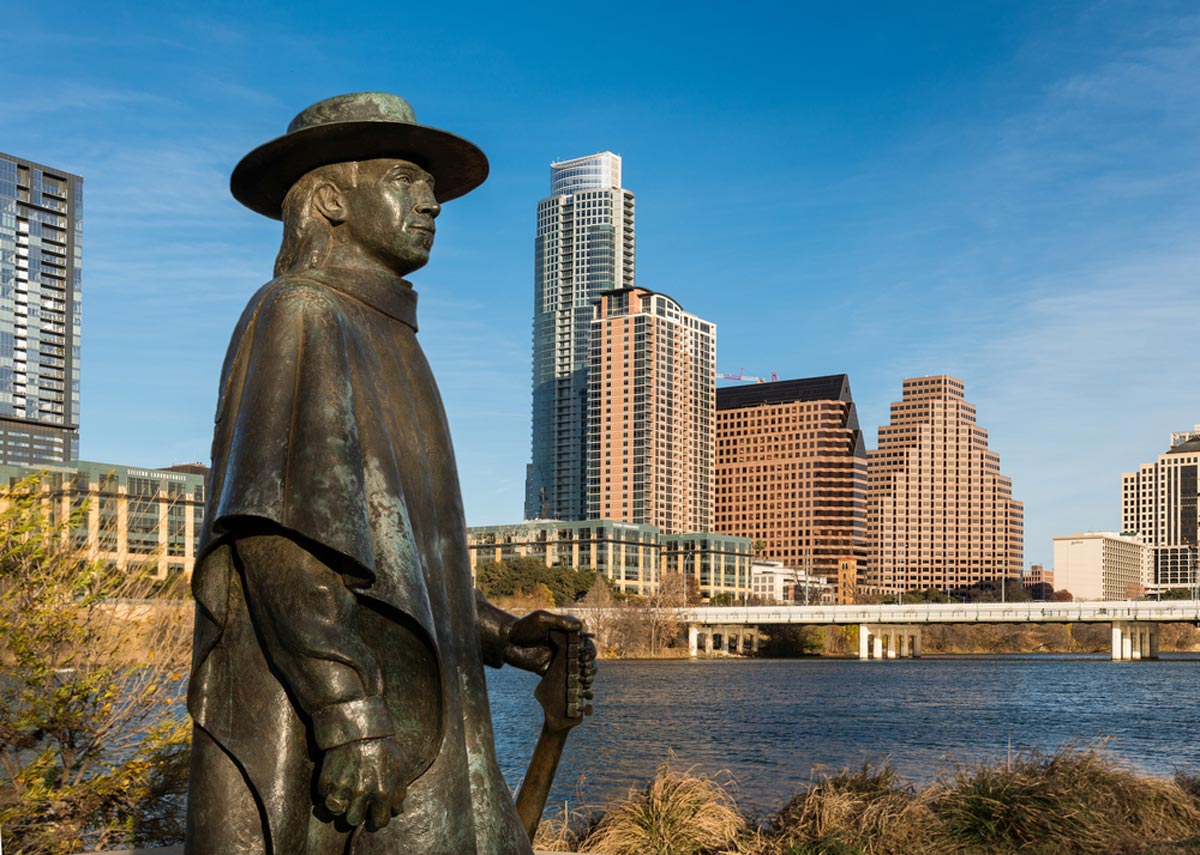 Austin, like most of Texas, has sweltering summers with temperate to chilly winters. Weather-wise, spring, and fall are the best times of the year, with high temperatures generally between 70-85 degrees.
How Long to Spend on Your Austin Honeymoon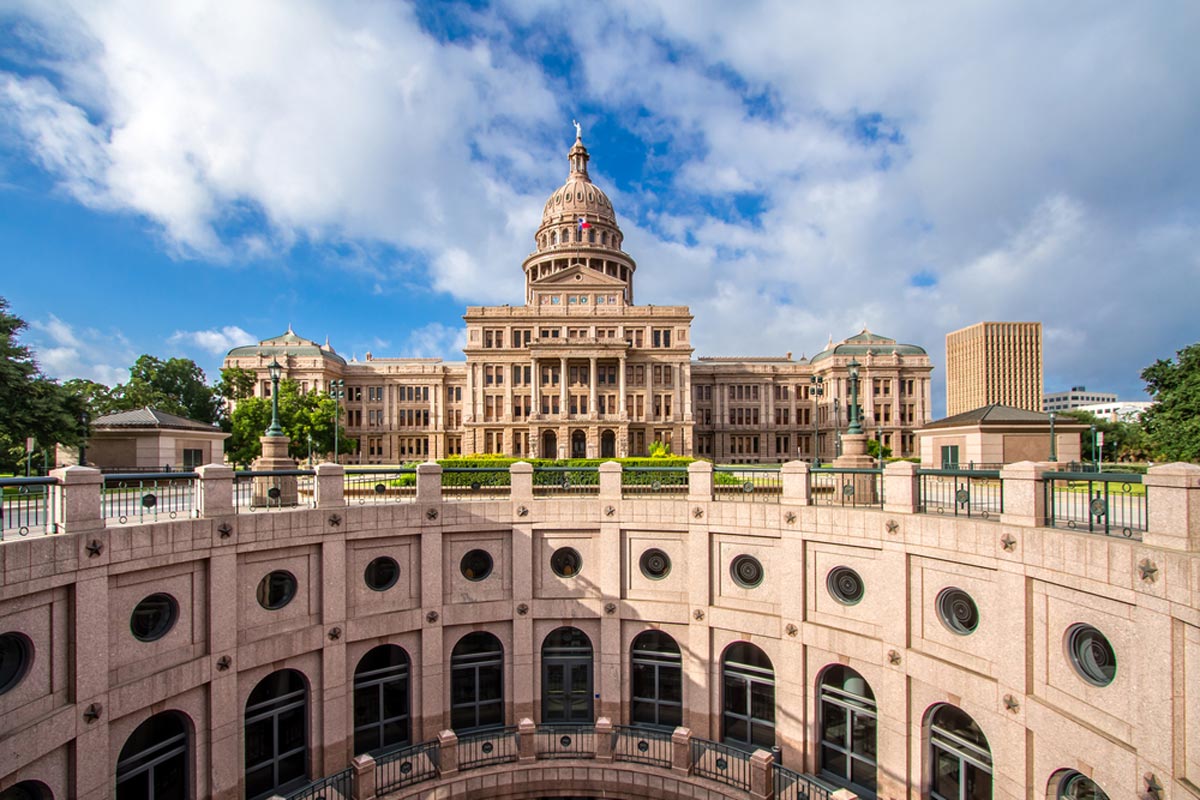 We recommend spending 3-5 days on your honeymoon in Austin to give you enough time to relax, party, and plan fun activities.
How Much Does an Austin Honeymoon Cost?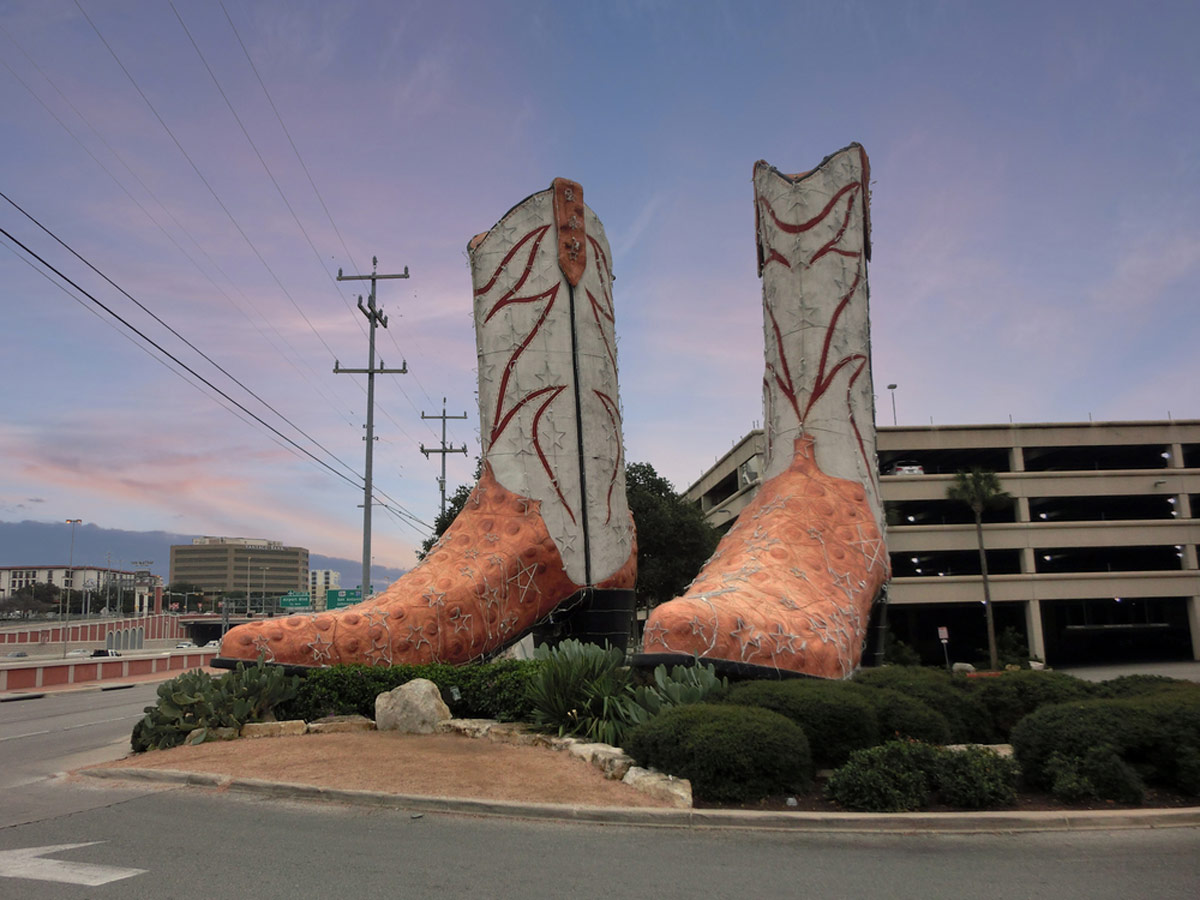 A honeymoon in Austin typically costs around $2,000-$3,000 with airfare, hotel, food, and entertainment. Expect to pay considerably more if you attend during SXSW or ACL festivals.
Austin Honeymoon Resorts: Map
Austin Honeymoon: Read Next