Deciding how to plan a honeymoon in Italy? We have you covered with the ultimate 2-week adventure starting in Rome.
Italy honeymoons offer one of the most romantic trips you can take anywhere in the world. Seriously.

Imagine walking hand in hand through ancient cities, sharing a bottle of the finest wine, or sampling perfect handmade pasta… all on the same day.
And the scenery? Dramatic coastlines, sandy beaches and rolling green hills are just a few of the ridiculously photogenic backgrounds you'll find along the way.
Ready to discover why an Italy honeymoon is one you'll never forget? We have the perfect 2 week Italy honeymoon itinerary for you to enjoy. Let's get started.
Italy Honeymoon Itinerary
Day 1 – 2 Italy Honeymoon: Rome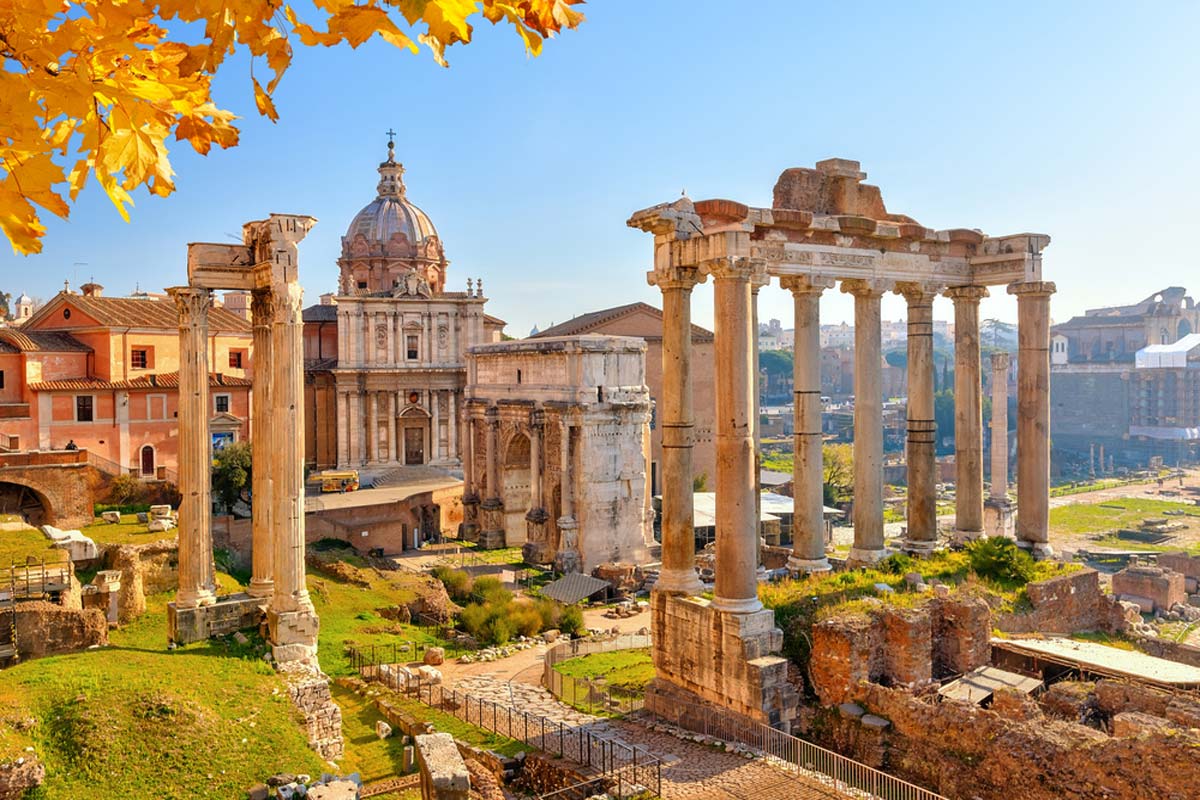 Rome is easily the most popular choice for many lovebirds planning an Italy honeymoon itinerary.

Not only is it convenient to fly in and out of, but romance is all around you, from the iconic architecture to the fantastic food scene.
Things to do in Rome
Take a Tour of Vatican City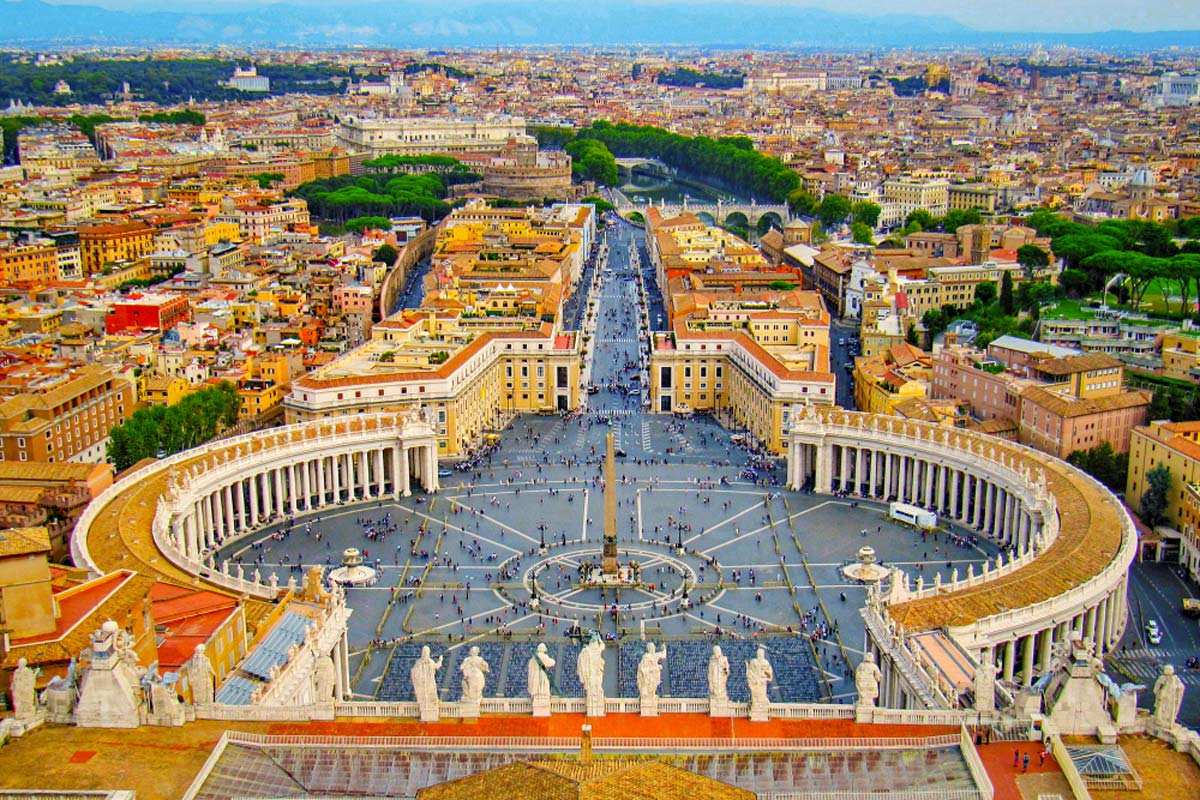 Is there a better way to kick off your Italy honeymoon itinerary than starting with a guided tour of the iconic Vatican City? Doubtful.

You can take in some of the most famous (and romantic) scenery in the world while exploring the galleries, museum, and Michaelangelo's famous works at the Sistine Chapel.
Have Lunch Near Trevi Fountain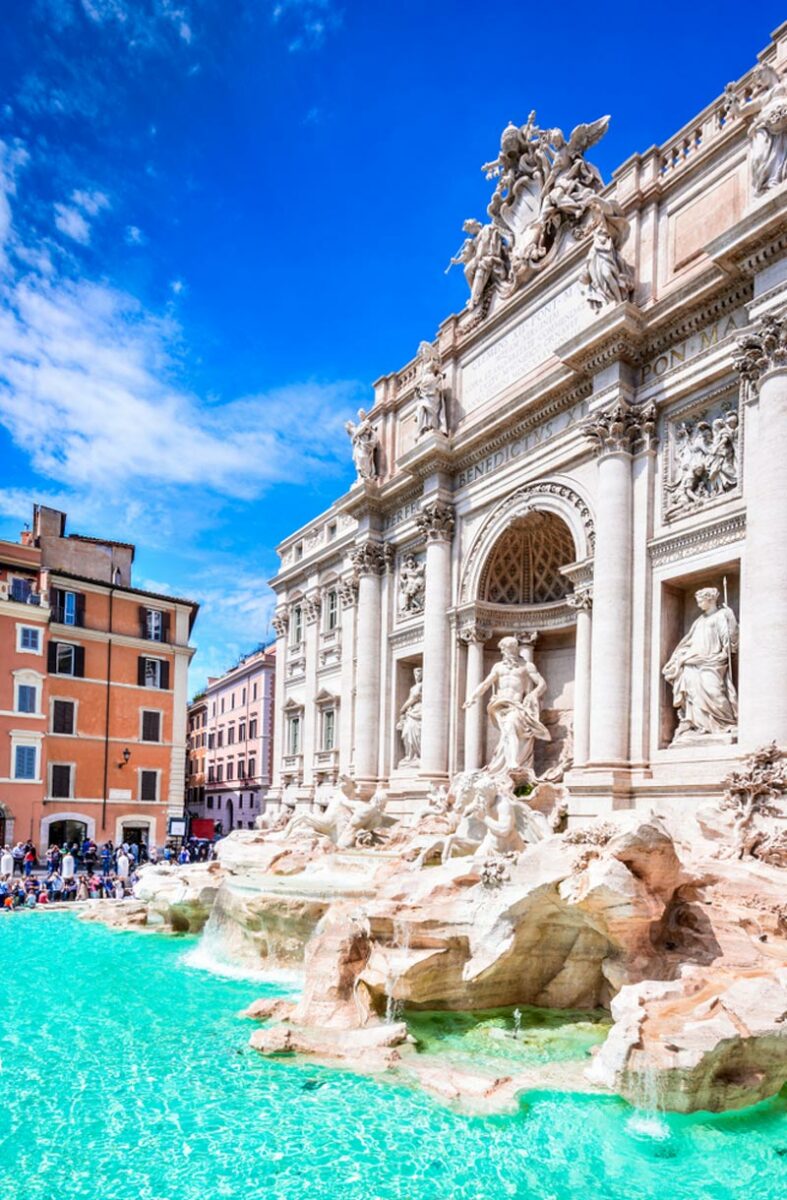 Trevi Fountain is a gorgeous landmark with a storied past dating back to Ancient Roman times.

Toss a coin in the famous wishing well and start your marriage on the right foot. Then head to Pizza in Trevi for a romantic lunch before your next adventure.
Visit the Colosseum and Pantheon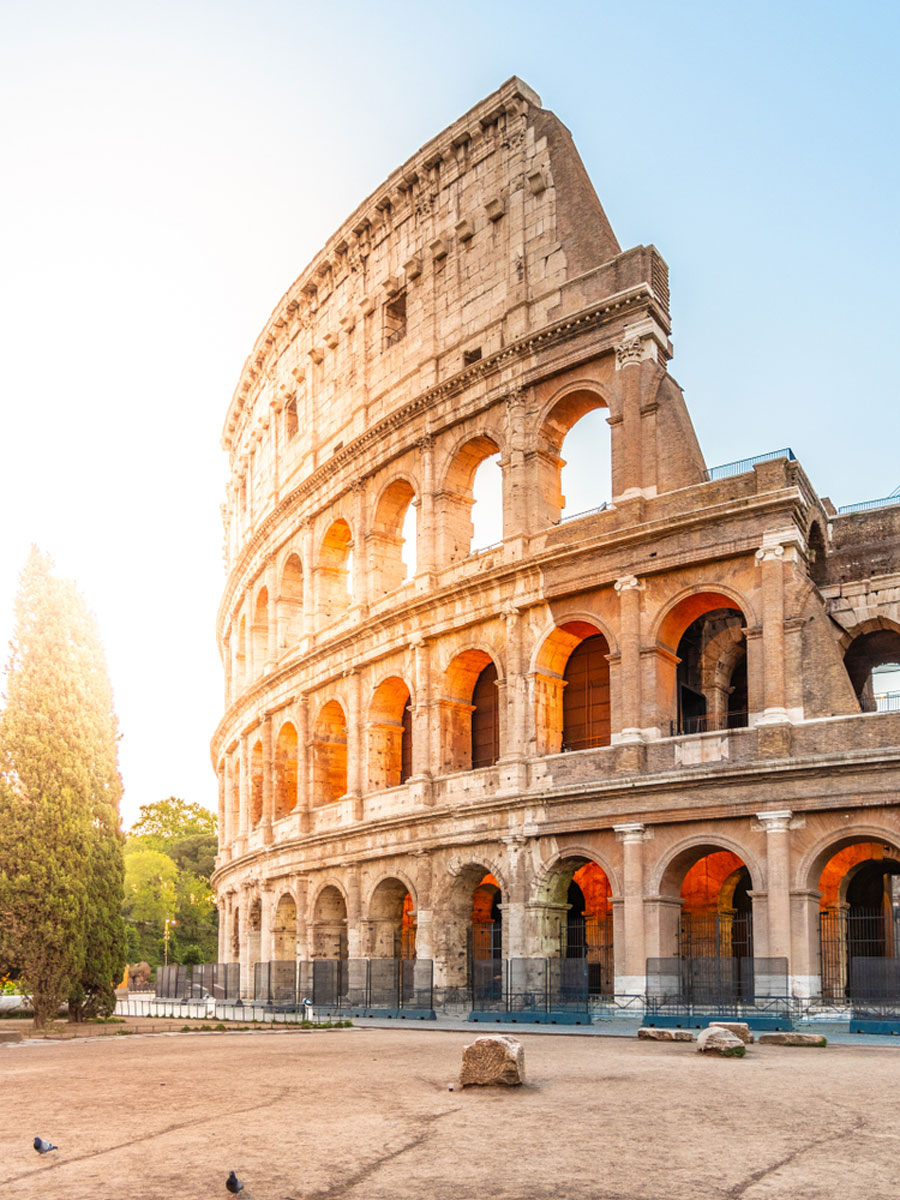 No honeymoon in Italy is complete without visiting the Colosseum and Pantheon to see the ancient Roman ruins.

Start with a tour of the Pantheon, where you'll see influences from ancient Rome and Greece on the outside and Renaissance art inside.

Then go to the Colosseum, where you can marvel at the ancient theater. It's history is (in a word) morbid, but the impressive architecture makes for some stunning honeymoon photos.
Getting to Rome
Fly into Rome – Fiumicino International Airport (FCO) and take the high-speed train into the city. You can also take a honeymoon cruise to Rome if you have the time and budget.
Suggested Stay for Rome on your Italy Honeymoon Itinerary: J.K. Place Roma
Start your honeymoon Italy itinerary off on the right foot by staying at the luxurious J.K. Place Roma in the heart of Rome, just a short walk away from the Spanish Steps.
Rosewood 4 poster bed frames, artisanal canopies, and luxury linens will help alleviate the jet lag before you embark on your once-in-a-lifetime Italy honeymoon itinerary.
Check prices and availability for J.K. Place Roma on Booking.com
Alternatively, check all accommodations in Rome on Booking.com
Day 3 – 4 Italy Honeymoon: Amalfi Coast & Capri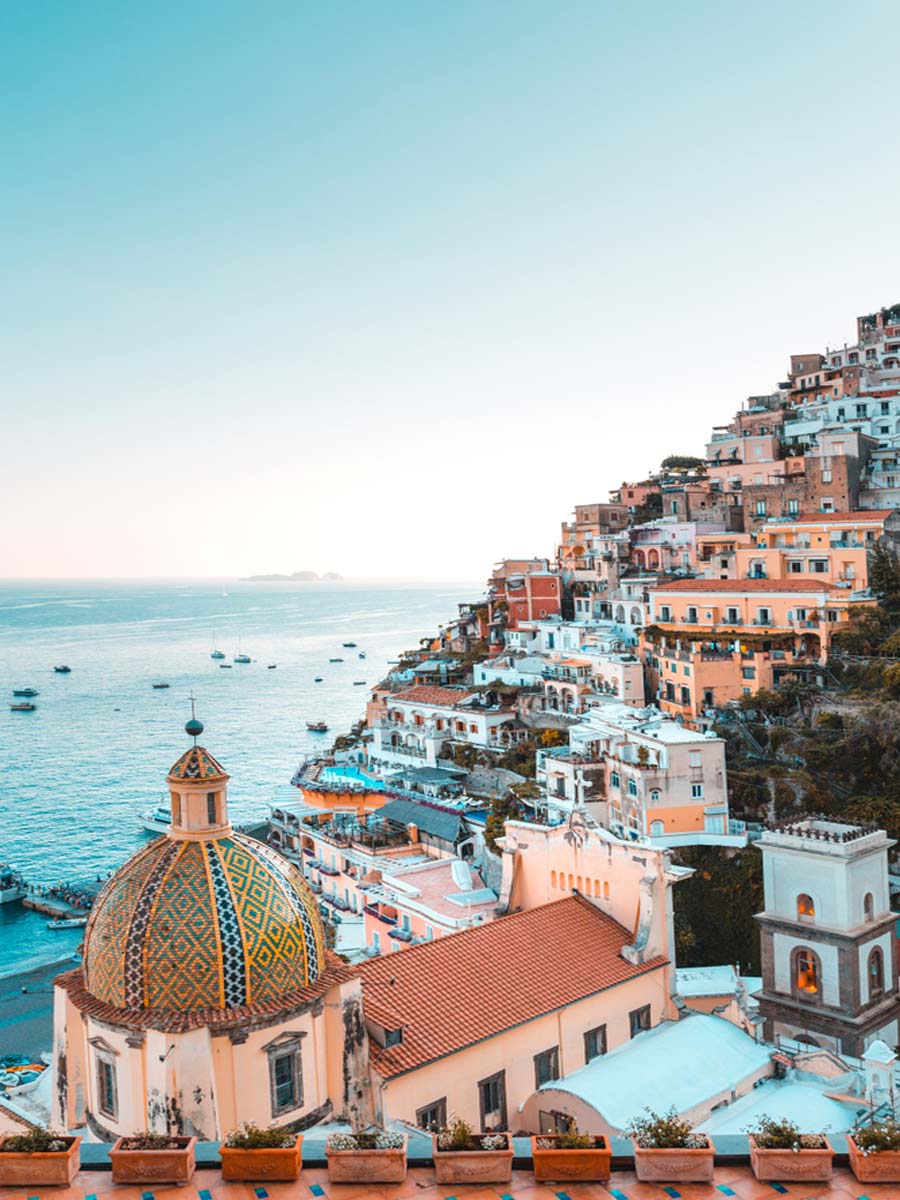 Adding a visit to the Amalfi Coast on your honeymoon Italy itinerary is a must for its charming villages filled with architectural masterpieces (we're looking at you, Ravello), luxury hotels with postcard views, and amazing food and drink.

An Aperol Spritz at the iconic Bellavista Cocktail Bar Sorrento, a tasting menu at Rossellinis in Ravelo, and a glass of expertly curated wine paired with salumi and cheese at Salotto Bohèmien – Wine Lounge Terrace are all musts during your 2 days along the Amalfi Coast.
Things to do on Amalfi Coast
Take a Ferry to Capri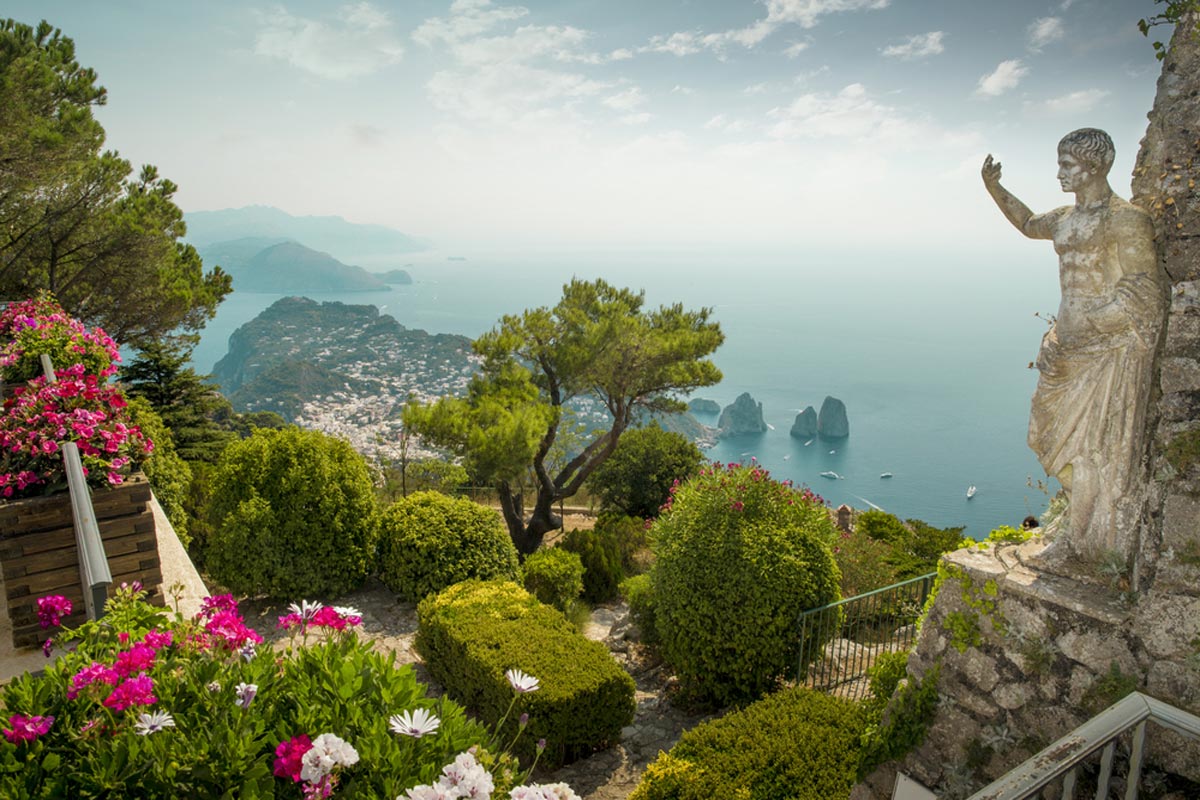 Though technically an island off the Amalfi Coast, Capri is a fabulous place to visit (or stay at) on your honeymoon in Italy itinerary.

In less than 30 minutes, you can boat from the heart of the Amalfi Coast (Sorrento) to Capri, where you'll find some of the most delicious cuisine in Italy. Be sure to try the famed ravioli Capresi at Ristorante Buca di Bacco.
Admire the Architecture and Coastal Views in Sorrento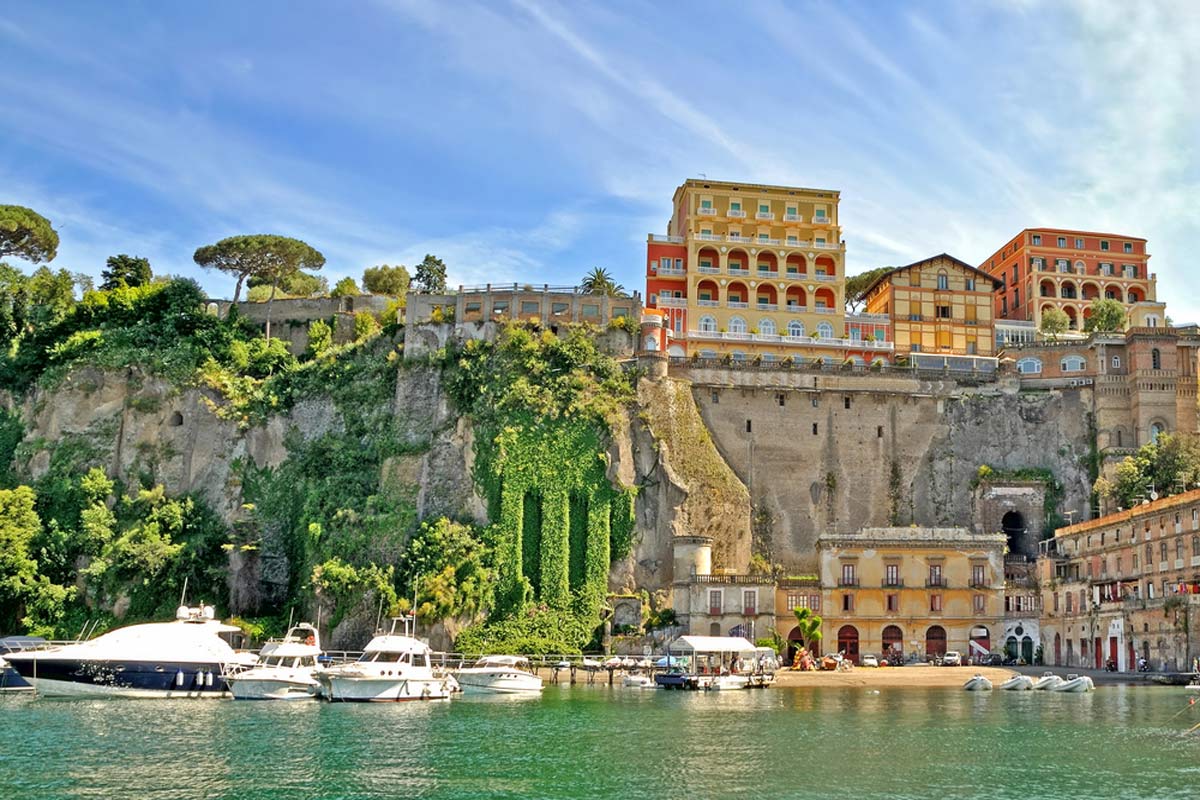 Take a walk around Sorrento and marvel at famous landmarks like the fountains and gardens at Villa Comunale di Sorrento and the Romanesque Basilica Sant'Antonino for a perfect afternoon on the Amalfi Coast.
Visit Villa Rufolo in Ravello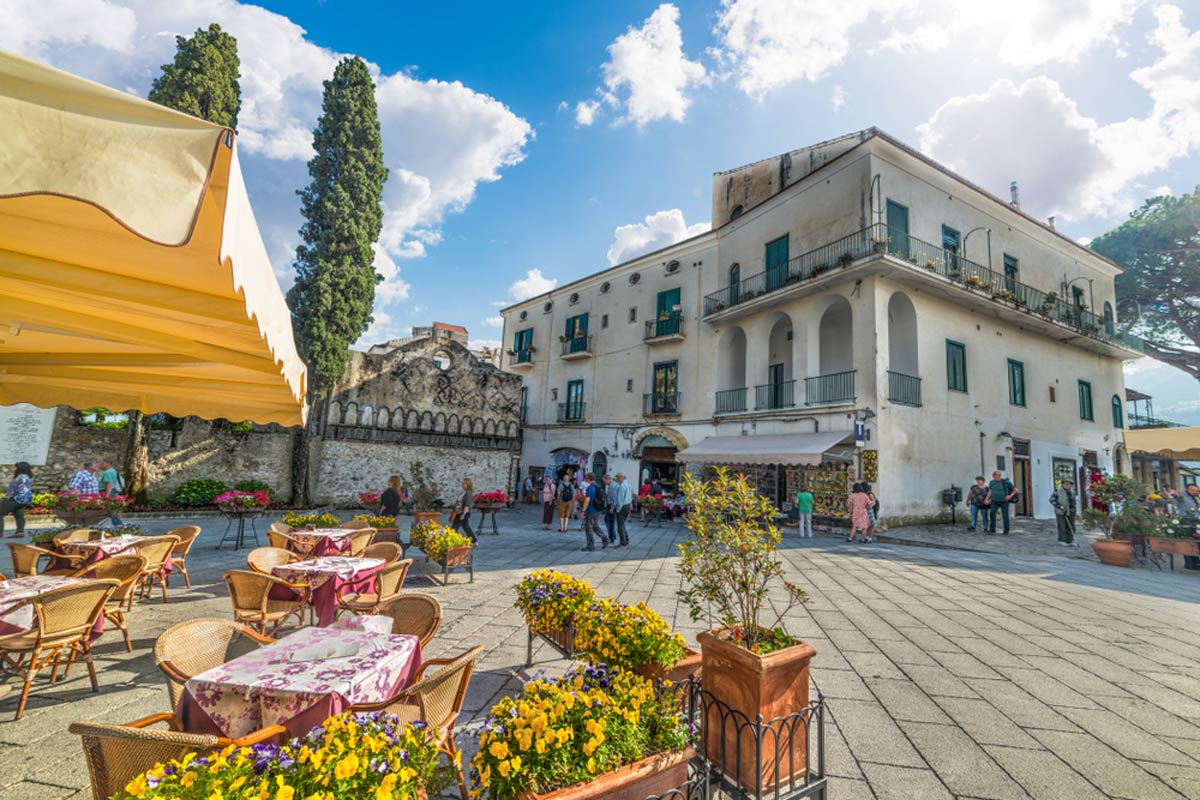 See why a visit to stroll the gardens and vistas at the 13th-century Villa Rufolo are a must-do on any romantic Italy itinerary. Walk over to Villa Cimbrone Hotel afterward and have a romantic seafood dinner high above the Mediterranean Sea at Il Flauto di Pan.
Getting to the Amalfi Coast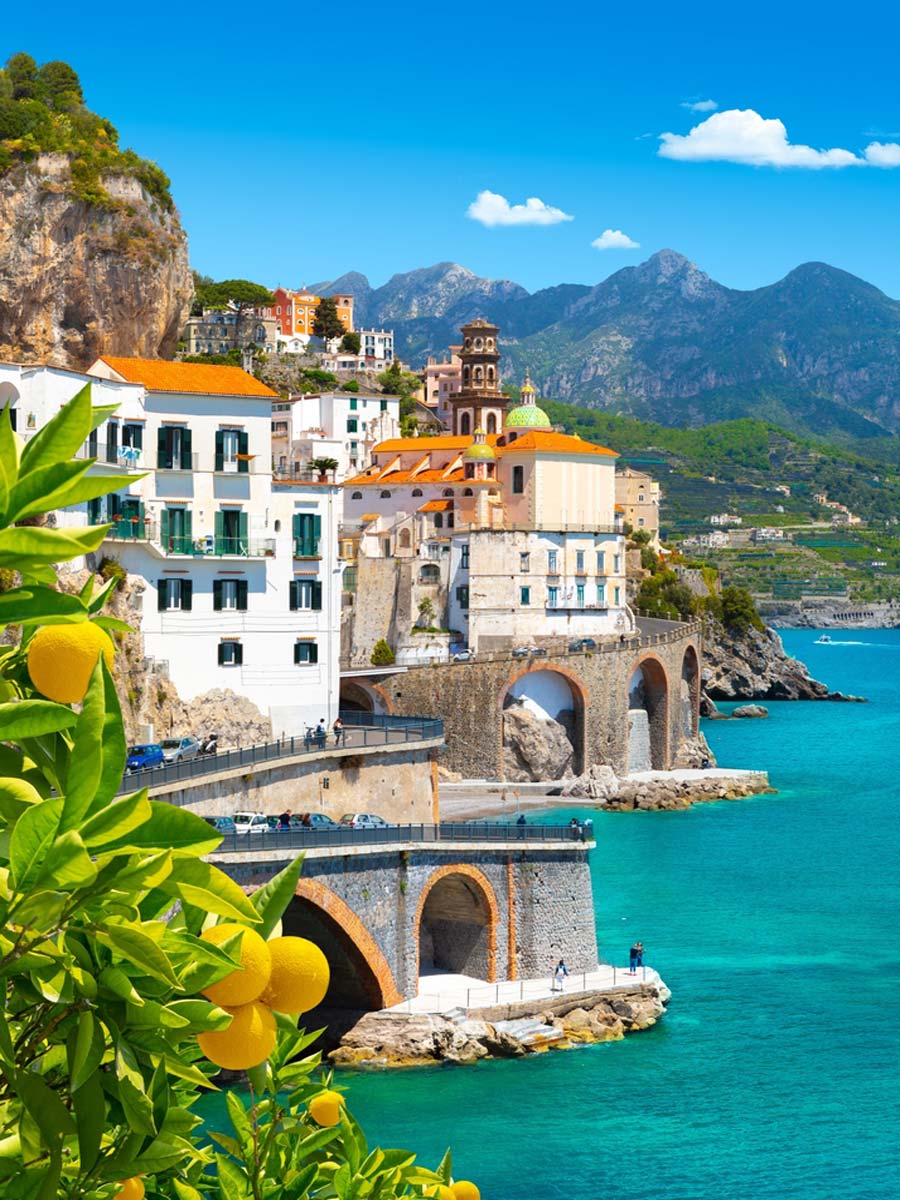 Our suggestion for getting to the Amalfi Coast on your Italy honeymoon? Take the high-speed train from Rome to Naples, and then transfer to a bus that brings you to Sorrento.

Or Drive from Rome, where you can jump around to some of the best destinations on the Amalfi Coast in a little over 3 hours.

If you stay in Capri, you can ferry to Sorrento or Naples.
Suggested Stay for Amalfi Coast on your Italy Honeymoon Itinerary
Hotel Punta Tragara is the best of the best for honeymooning in Italy — a five-star resort perched above the Faraglioni Rocks in Capri.

Honeymoon packages include romantic meals, couples massages, and a ride around the Amalfi Coast near Capri. It's a winner.
Check prices and availability for Hotel Punta Tragara on Booking.com
Alternatively, check all accommodations in Amalfi Coast
Day 5 – 7 Italy Honeymoon: Puglia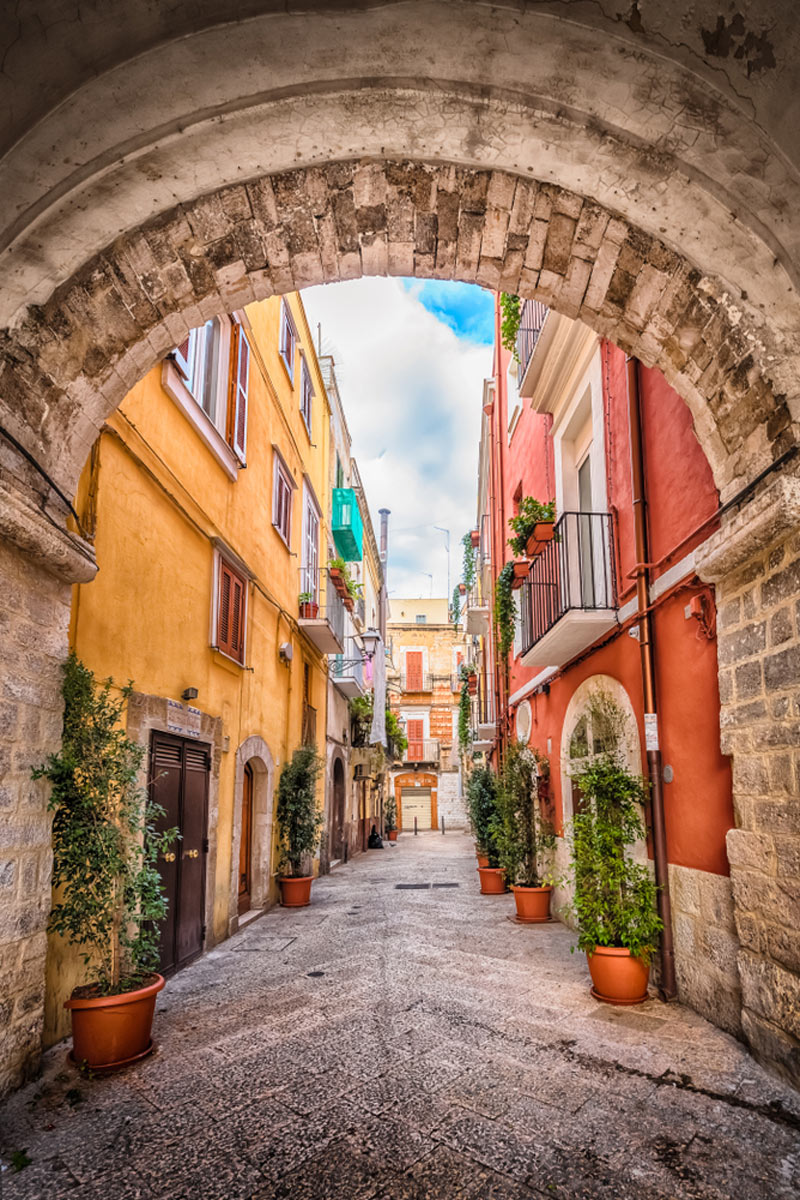 We'll let you in on a little secret, Puglia (Apulia) is the must-add destination for the best Italy honeymoon itinerary of 2023.

We've been big fans of the beaches, food, and architecture in Italy's heel of the boot for some time, and somehow it remains less crowded than other honeymoon hotspots. That may change.

Visit charming towns like the white-washed hillsides of Ostuni to truly unforgettable meals in Monopolis that make Puglia one of our favorite locations for any Italian honeymoon itinerary.
Things to do in Puglia
Explore the Architecture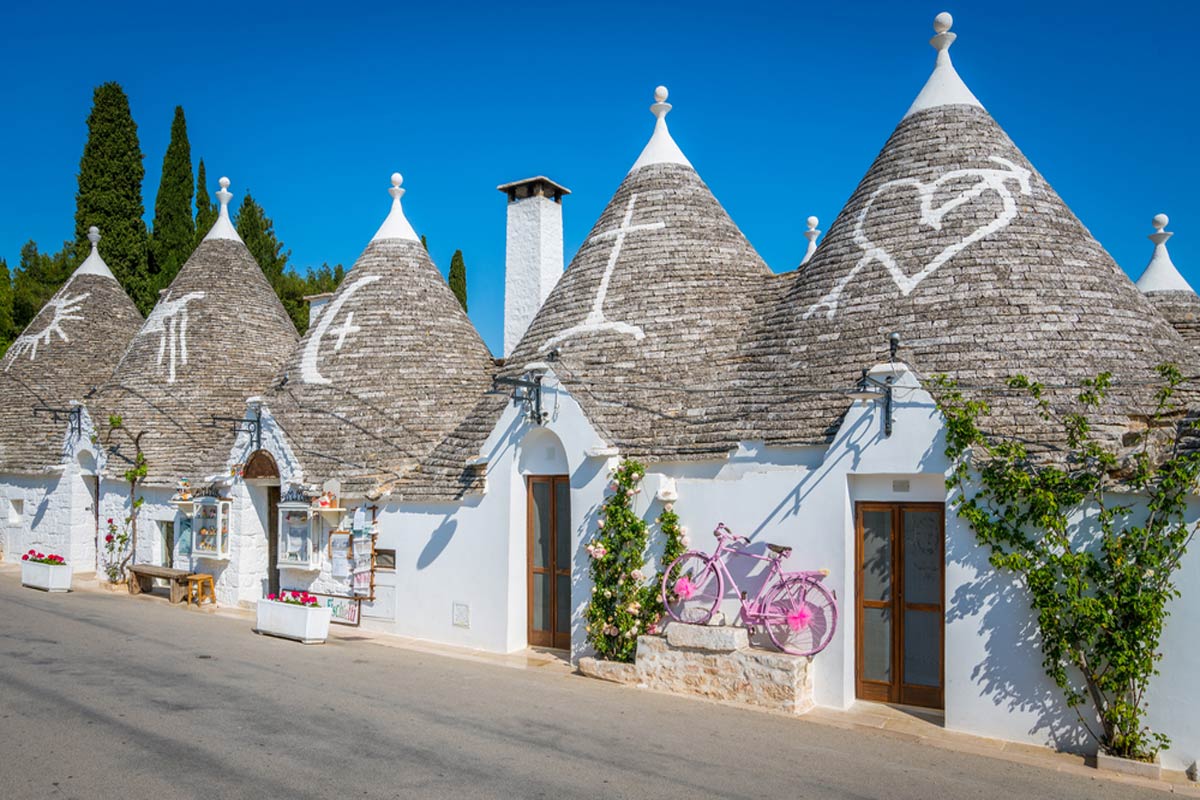 Whether you're visiting Alberobello to see the unique Trulli (cone-shaped houses), walking around seeing baroque buildings like the 17th-century Basilica Di Santa Croce or the Church of Sant'Irene in Lecce, or the stunning Castel del Monte in Andria, Puglia is full of memorable architecture for your Italy honeymoon itinerary.
Dine at Masseria
For the most romantic (and delicious) meal in Puglia, head to the iconic Masseria Il Frantoio hotel and try any and every dish possible. Using ingredients sourced from the 500+ year old farm, you can't find a more authentic italian meal than at this gem in Monopolis.
Go Beach Hopping in Gallipoli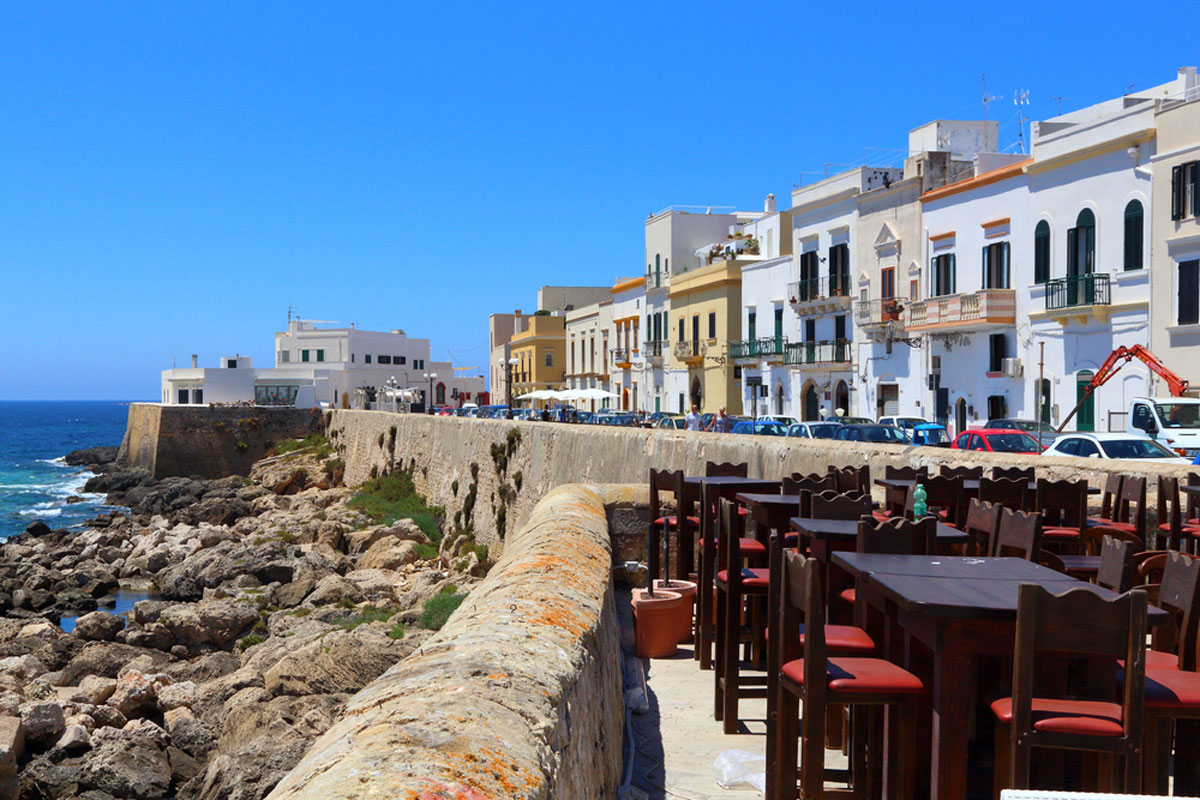 Having a car on this portion of your honeymoon itinerary in Italy allows you to explore stunning beaches like Torri Lapillo, Samsara Beach, and Spiaggia di Baia Verde. But many are accessible from town by taxi or bicycle, too.
Getting to Puglia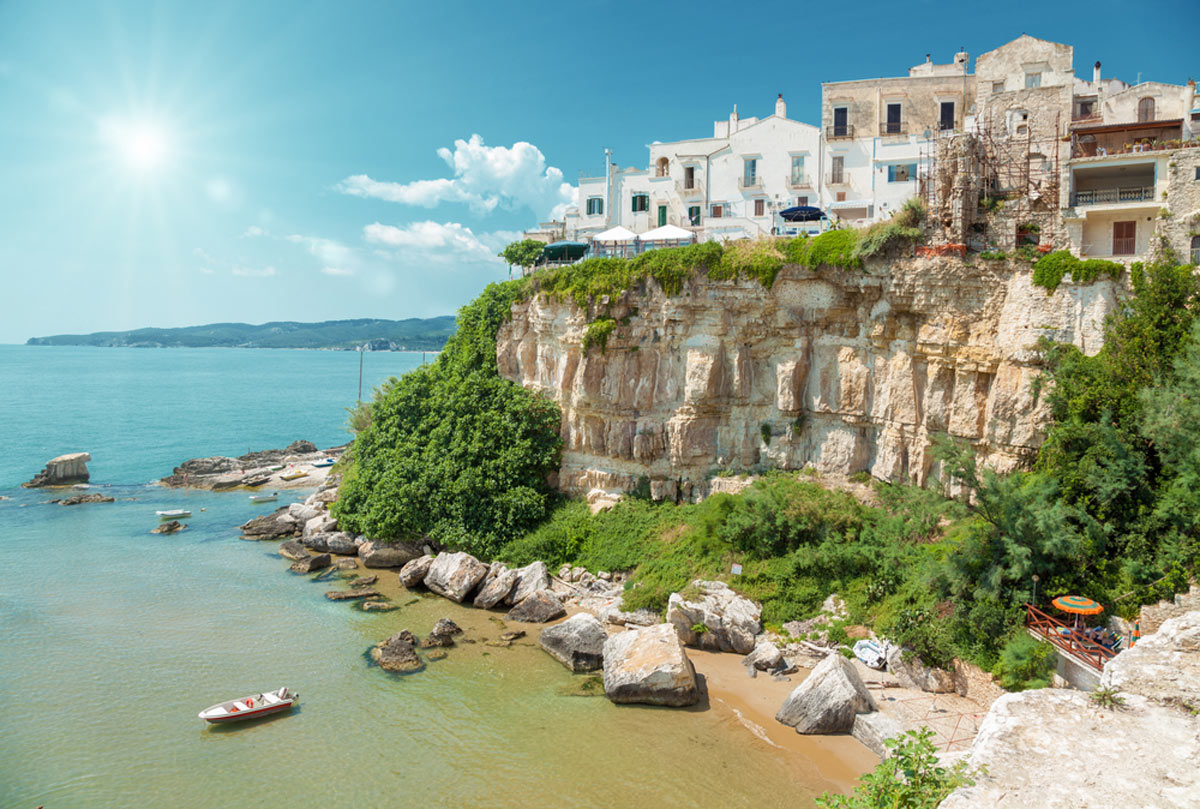 If you ferry back from Capri to Naples, you can get to Puglia by train, but it requires two transfers.

We suggest a leisurely drive from the Amalfi Coast to Puglia to see the many incredible villages along the way.
Suggested Stay for Puglia on your Italy Honeymoon Itinerary: La Sommità Relais & Chateaux
La Sommità Relais & Chateaux, located in one of our favorite cities in Puglia (Ostuni) sets honeymooners up in style with a Michelin-starred restaurant and luxury spa in a stunning garden setting near the top landmarks in Ostuni.
Check Prices and Availability for La Sommità Relais & Chateaux
Alternatively, check all accommodations in Puglia on Booking.com
Day 8 – 10 Italy Honeymoon: Venice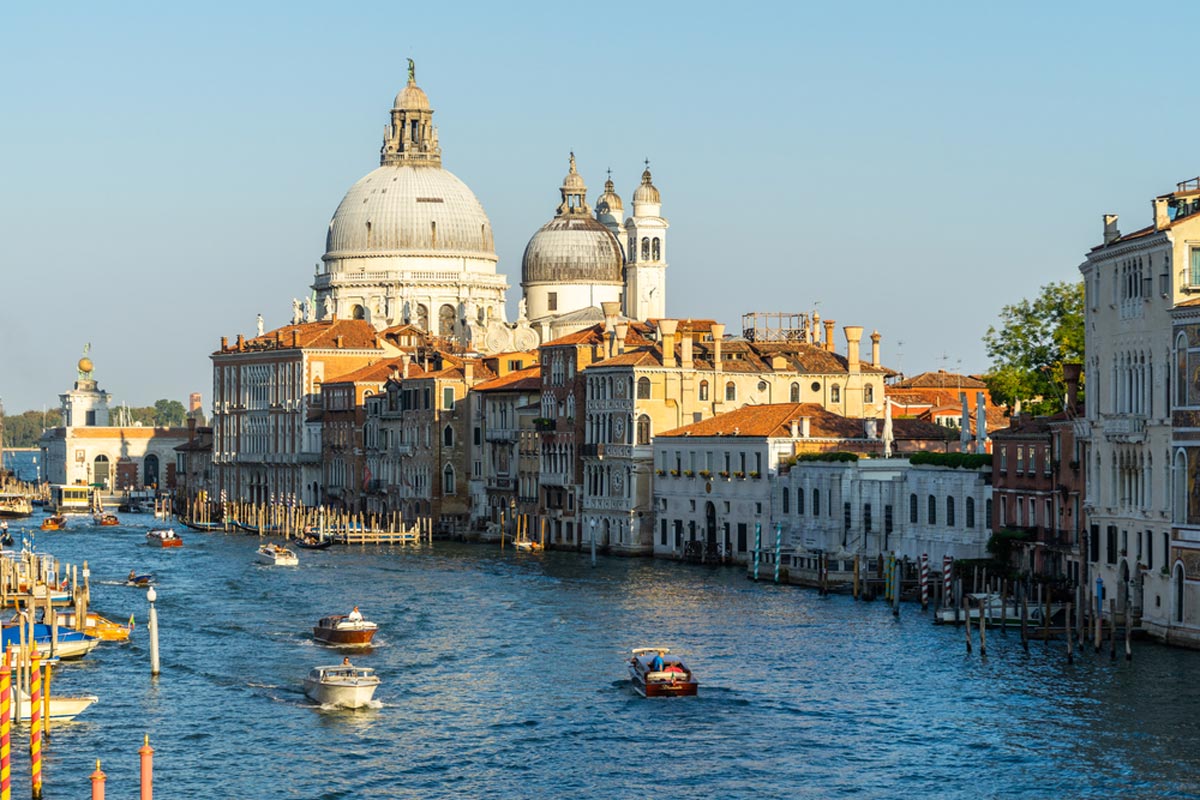 Is there anywhere in the world more perfect for a honeymoon than Venice? We've explored many of the best, and not many match the charm of the Queen of the Adriatic.
Floating around the canals in a guided gondola tour is the quintessential thing to do on any Italy honeymoon itinerary.

But you'll also be charmed by the city's gorgeous architecture, delicious cuisine, and charming neighborhoods.
Things to do in Venice
Try Venetian Cuisine
You'll find unique and delicious dishes in Venice, like Baccala Mantecato (a delicious salt cod mousse on crostini) at the casual El Sbarlefo or fresh seafood with squid ink pasta at Al Conte Pescaor.
Take a Gondola Ride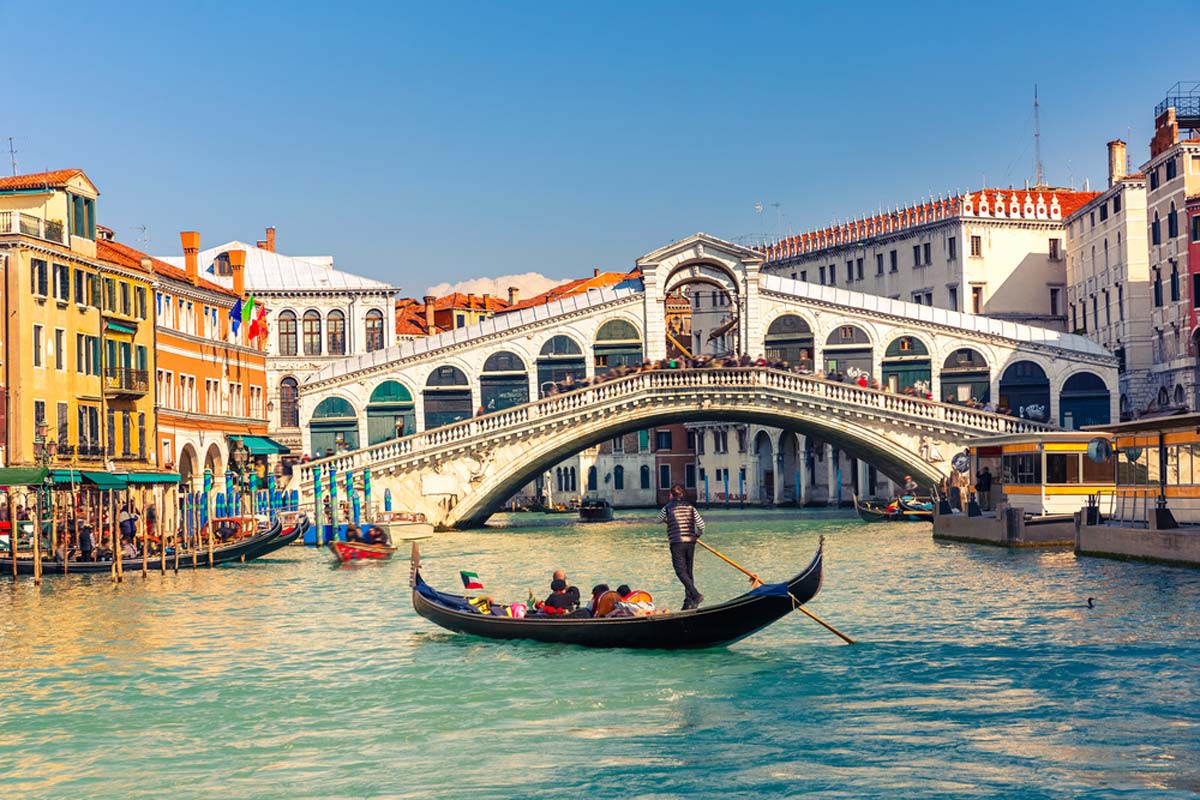 Float down the Grand Canal and take in the sight and sounds of the city on a guided tour with a group or on a romantic ride together as newlyweds.
Walk Around St Mark's Square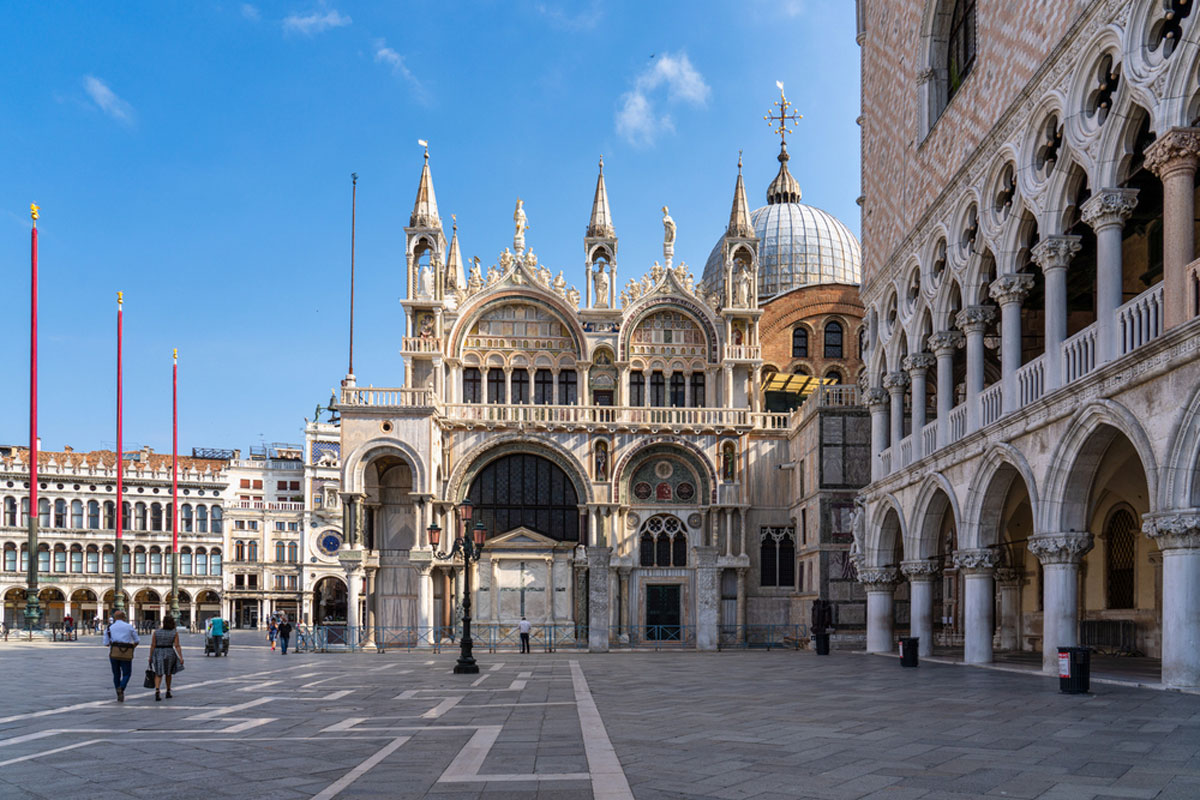 St. Mark's Square is a perfect place to take a romantic walk around and see St Mark's Basilica, the iconic tower of St Mark's Campanile, and have a glass of wine paired with cicchetti (think Venetian tapas) at Bacaro da Fiore.
Getting to Venice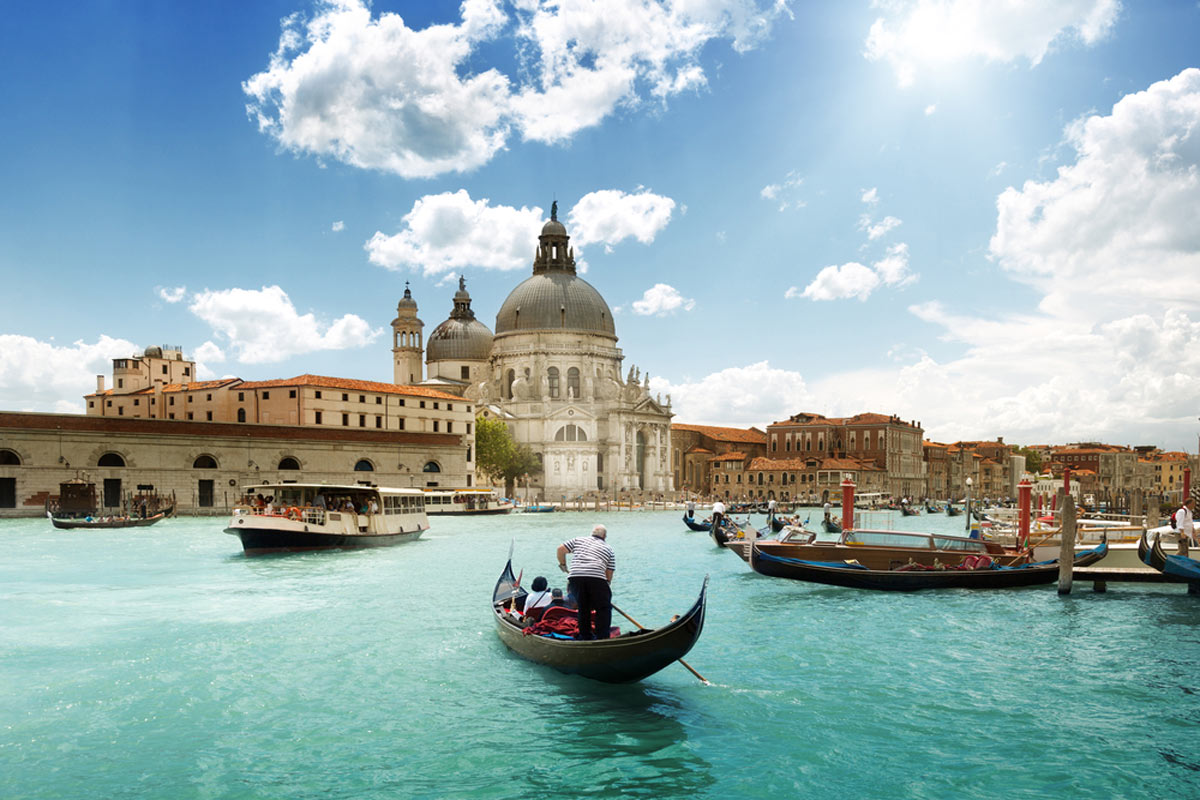 Venice is easy enough to reach by car or train, but coming from Barri, we suggest taking a short flight to save a half day of travel. Flights are usually under $100, and it takes a little over 1 hour in the air.
Suggested Stay for Venice on Your Italy Honeymoon Itinerary: Londra Palace
Located right on the water just 5 minutes from St Mark's Square, the luxury hotel Londra Palace has a romantic atmosphere that feels timeless.
The rooms are as romantic as they come, with beautiful decor inside and views of the canal that will have you falling in love all over again.
Check Prices and Availability for Londra Palace on Booking.com
Alternatively, check all accommodations in Venice
Day 11 – 13 Italy Honeymoon: Tuscany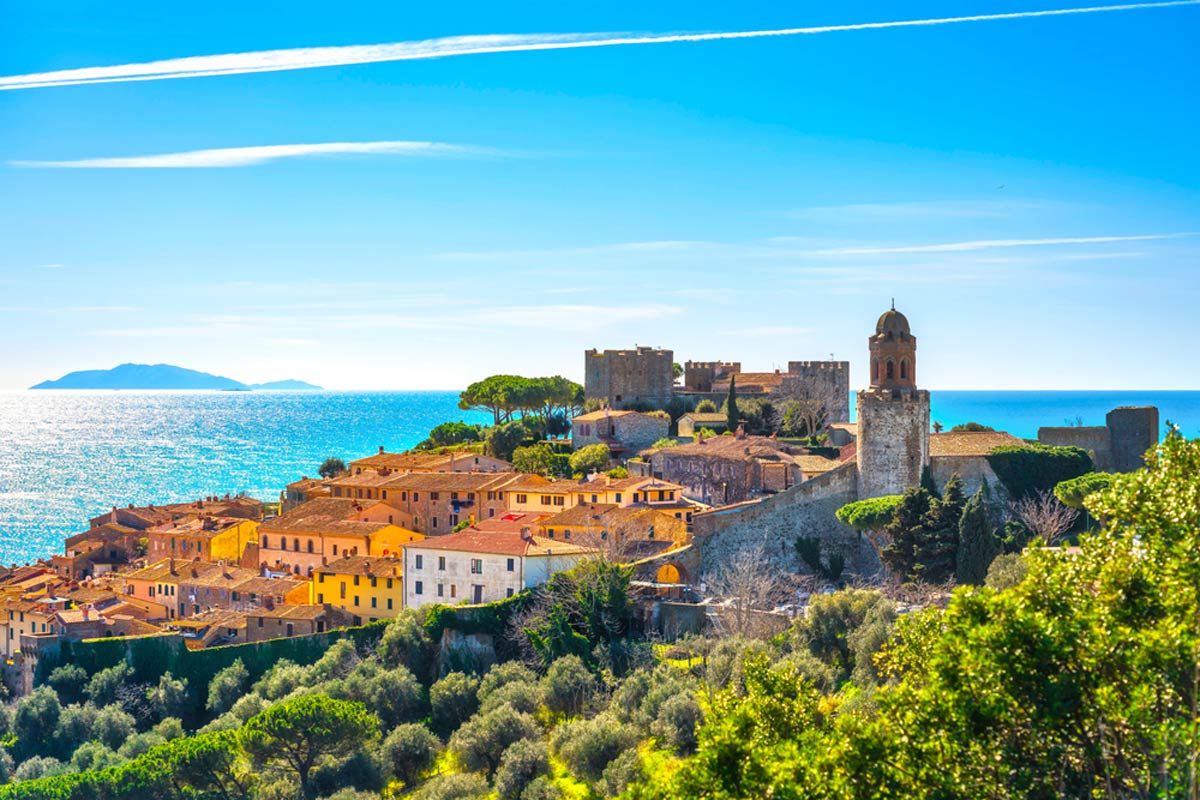 Relaxing in a vacation rental or hotel in the Tuscany countryside is a perfect addition when planning a honeymoon in Italy.

After all, what's more romantic than watching the sun rise and set over the rolling hills and ancient vineyards while discussing your future plans together?
But the cities are just as alluring, with the architecture and cuisine both ranking up as the best you'll find anywhere in Italy.
Things to do in Tuscany
Explore Florence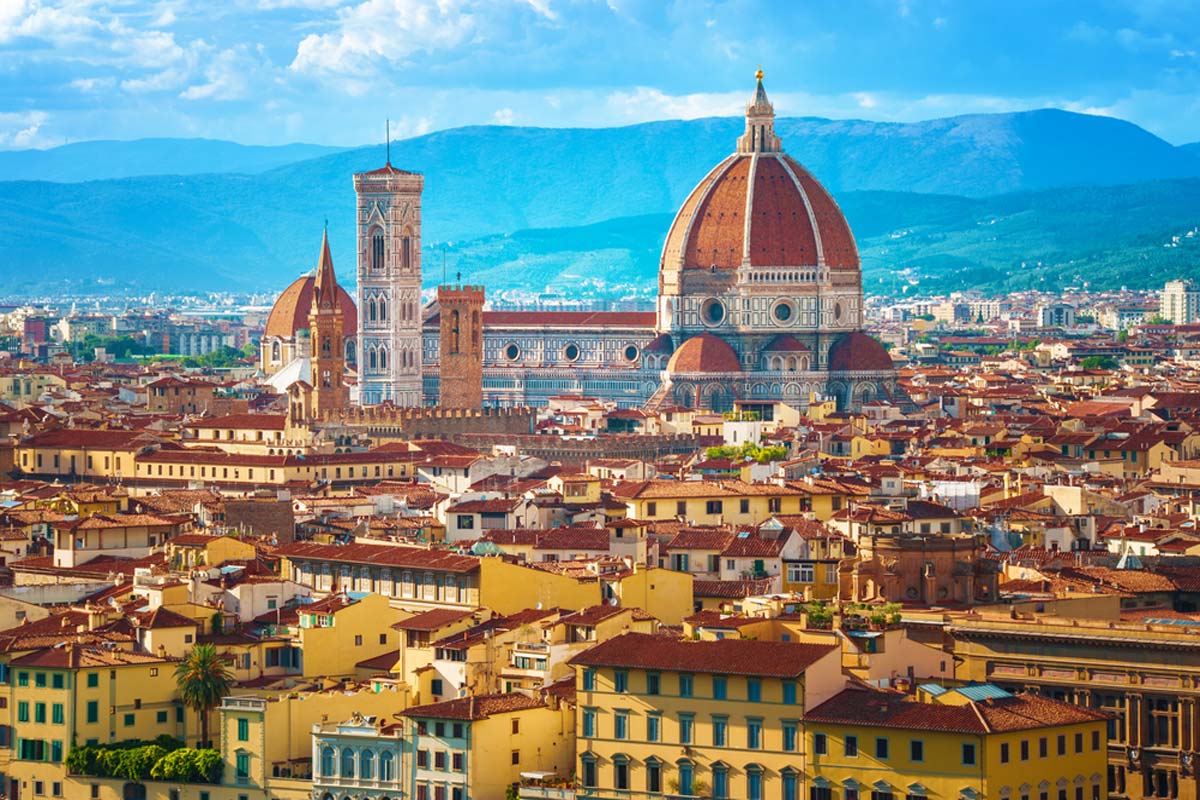 Florence is an iconic city that is a must when planning an Italy honeymoon itinerary. From visiting the incredible Duomo to walking across Ponte Vecchio, a day in Florence has no shortage of charm and romantic scenery for your honeymoon photos.
Climb the Towers at San Gimignano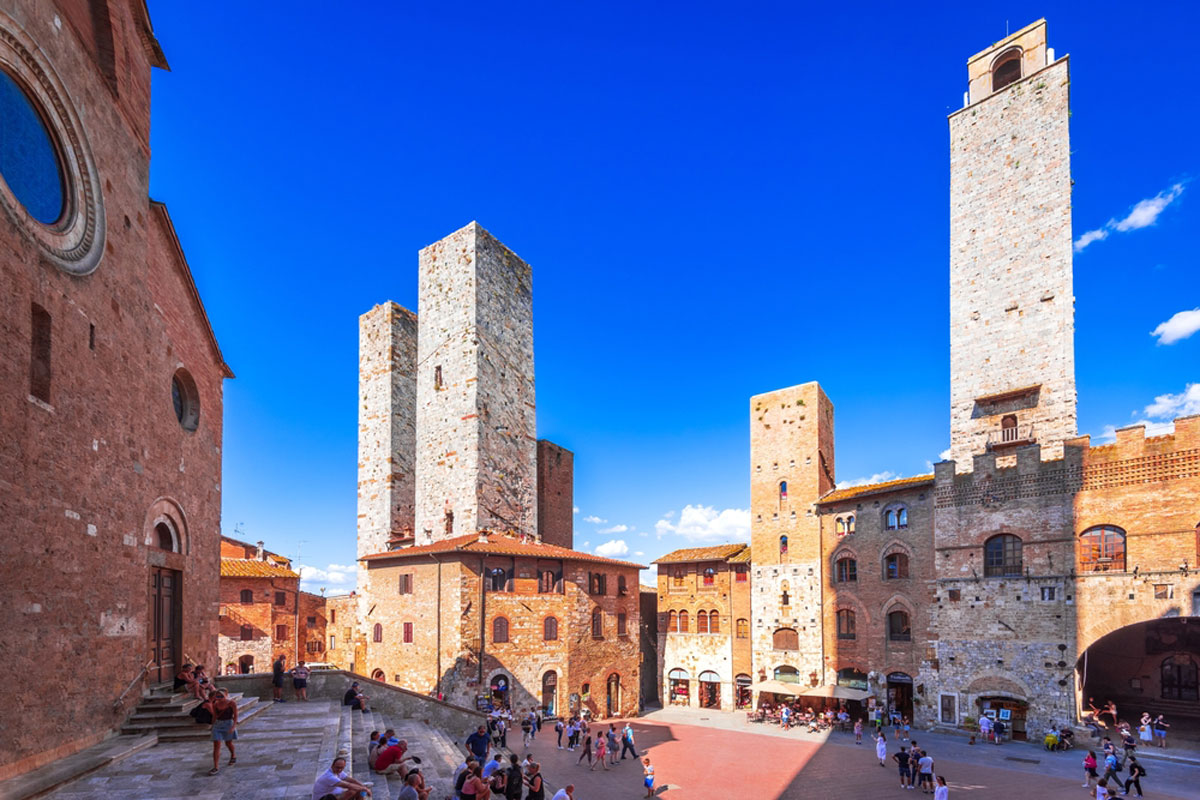 See the UNESCO World Heritage site of San Gimignano and climb one of the iconic towers overlooking the medieval town below.

After you work up an appetite, head to Gelateria Dondoli and try a scoop made with saffron and pine nuts. Trust us.
Go Wine Tasting at Tenuta Torciano
Tuscany is renowned for its vineyards, both as a place to enjoy the scenery and the amazing wineries that call the idyllic countryside home.

Our choice for the perfect winery for a honeymoon? Tenuta Torciano where you can enjoy truffle hunting, cooking classes, or sampling Brunello, Chianti, and other fine wines just below San Gimignano.
Getting to Tuscany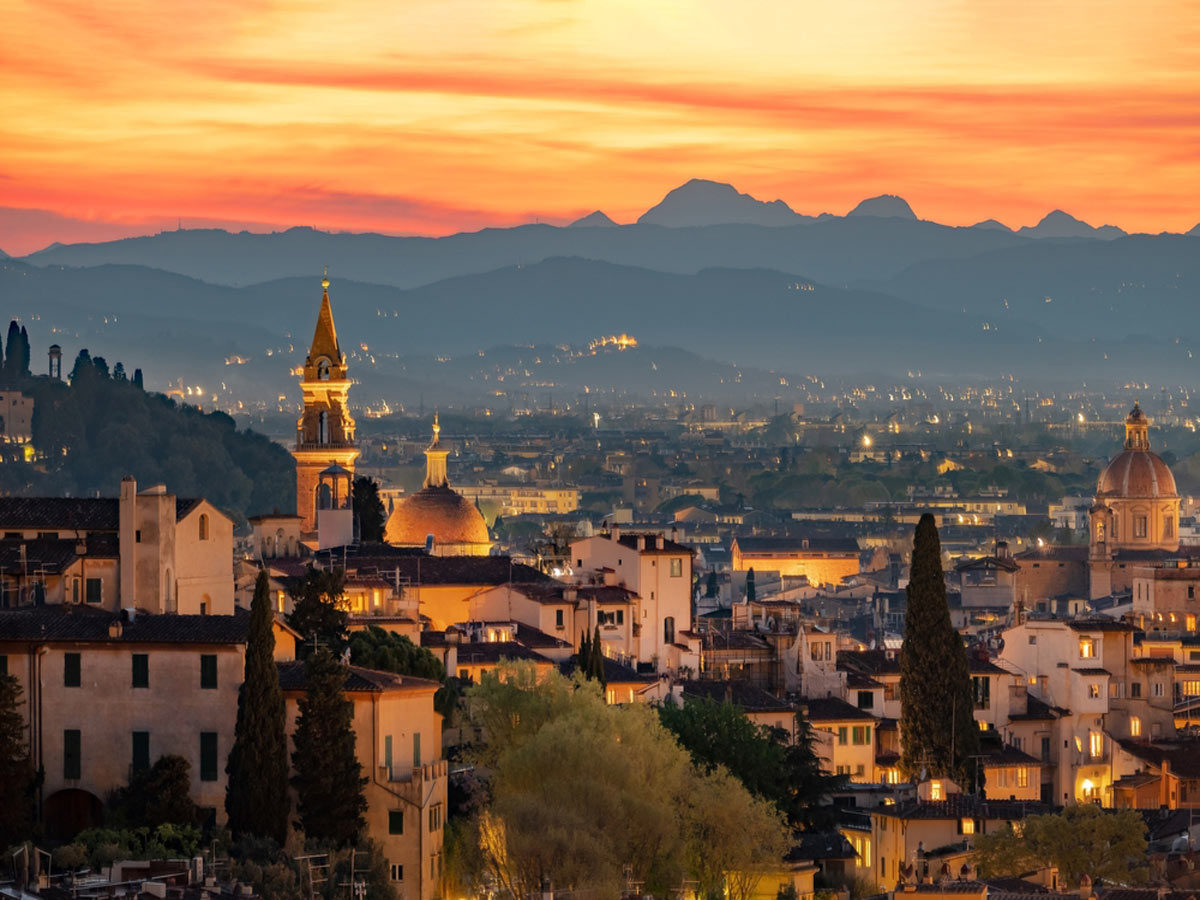 Take the high-speed train to Florence from Venice in around 2 hours or drive the A13, which takes about 3 hours.

From Florence, you can drive or take a bus to San Gimignano.
Suggested Stay for Tuscany on your Italy Honeymoon Itinerary: Hotel & Restaurant Casolare Le Terre Rosse
Hotel & Restaurant Casolare Le Terre Rosse is a quaint hotel just outside of San Gimignano in an idyllic open space.

Rooms are old-school but comfortable and offer great views of the Chianti countryside. The restaurant on-site provides an authentic taste of Tuscany at the breakfast buffet, bruschetta bar, and for dinner at Hostaria Le Terre Rosse.
Check prices and availability for Hotel & Restaurant Casolare Le Terre Rosse on Booking.com
Alternatively, check all accommodation in Tuscany on Booking.com
Day 14 Italy Honeymoon: Rome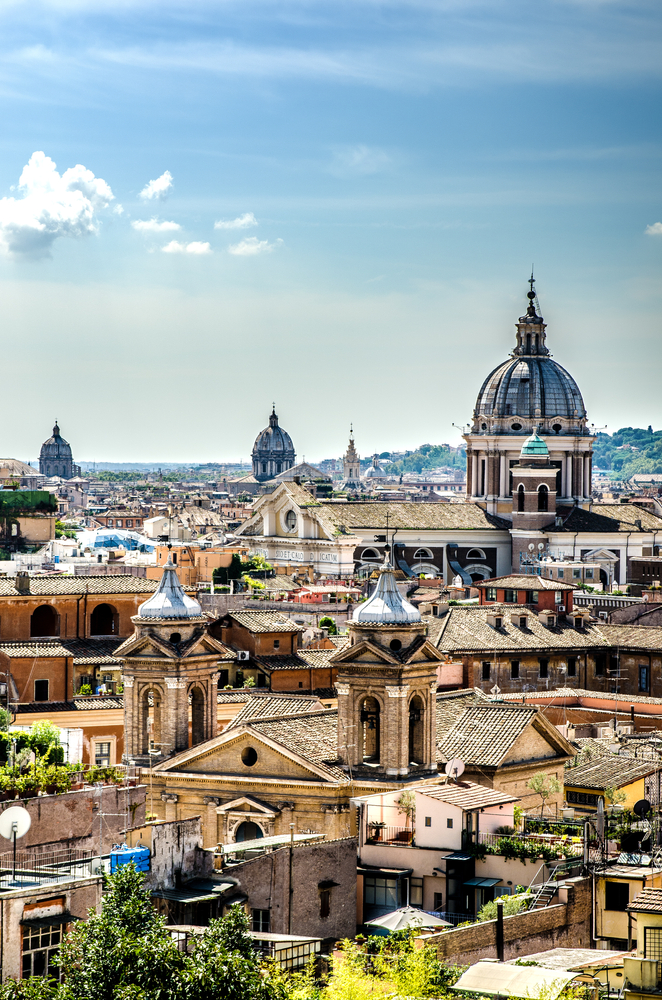 Now that you've been to Rome once, you can focus on hitting some of the under-the-radar honeymoon spots around the famous city.

We recommend arriving hungry and thirsty; your final day in Italy will involve treating yourself to some Roman delicacies. Of course, you'll find time to see an iconic Roman landmark or two, as well.
Things to do in Rome
Explore the Catacombs
Take a tour underneath the city and see the subterranean burial grounds that are a must-add to any Italy honeymoon itinerary.

While it's a troubling reminder of the city's past, it's also extremely interesting to take a guided tour, and the Catacombs of San Callisto, in particular, really have a unique beauty.
Have a Cocktail at Cielo Terrace
Hike up the Spanish Steps and you'll find one of the best rooftop bars in Rome at Hotel de la Ville.

Cielo Terrace doesn't just offer iconic views, but the cocktail list is impressive, too. Jupiter is the perfect honeymoon cocktail, a wild strawberry-infused gin concoction sure to send you off from Italy in good spirits.
Eat Pasta
There are too many great restaurants in Rome to narrow down, but Labottega Pastificio con Cucina Roma offers a laid-back setting to try some of the best handmade pasta. Try the Chitarrine pasta for something different.
Getting to Rome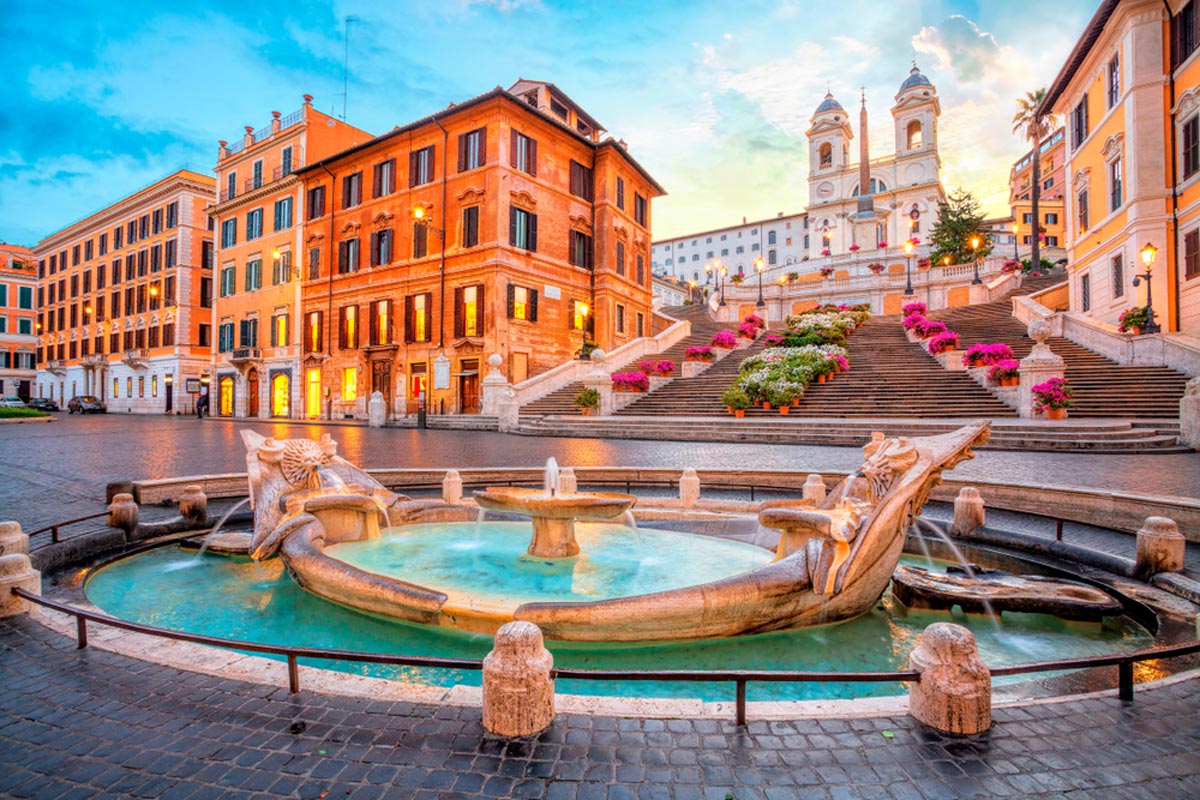 From Florence, you can take a high-speed train or drive. The train is much easier, and we'd recommend it unless you have a car for the duration of your trip.
Suggested Stay for Rome on Your Italy Honeymoon Itinerary: Princeps Boutique Hotel
Princeps Boutique Hotel provides the perfect send-off with romantic soundproofed rooms looking over the Monti district in Rome.

The central location and elegant design make it a comfortable and convenient option before heading to the airport at the end of your Italy honeymoon itinerary.
Check prices and availability for Princeps Boutique Hotel Booking.com profile
Alternatively, check all accommodations in Rome on Booking.com
How to Adjust for a 10-Day Italy Road Trip
Only have enough time for a 10-day honeymoon itinerary in Italy? No problem.

You can spend one less day in Rome in the beginning and save Venice or Tuscany for a future trip.
Handy Tips for Planning Your Italy Honeymoon Itinerary
What You Need to Know Before Planning a Honeymoon in Italy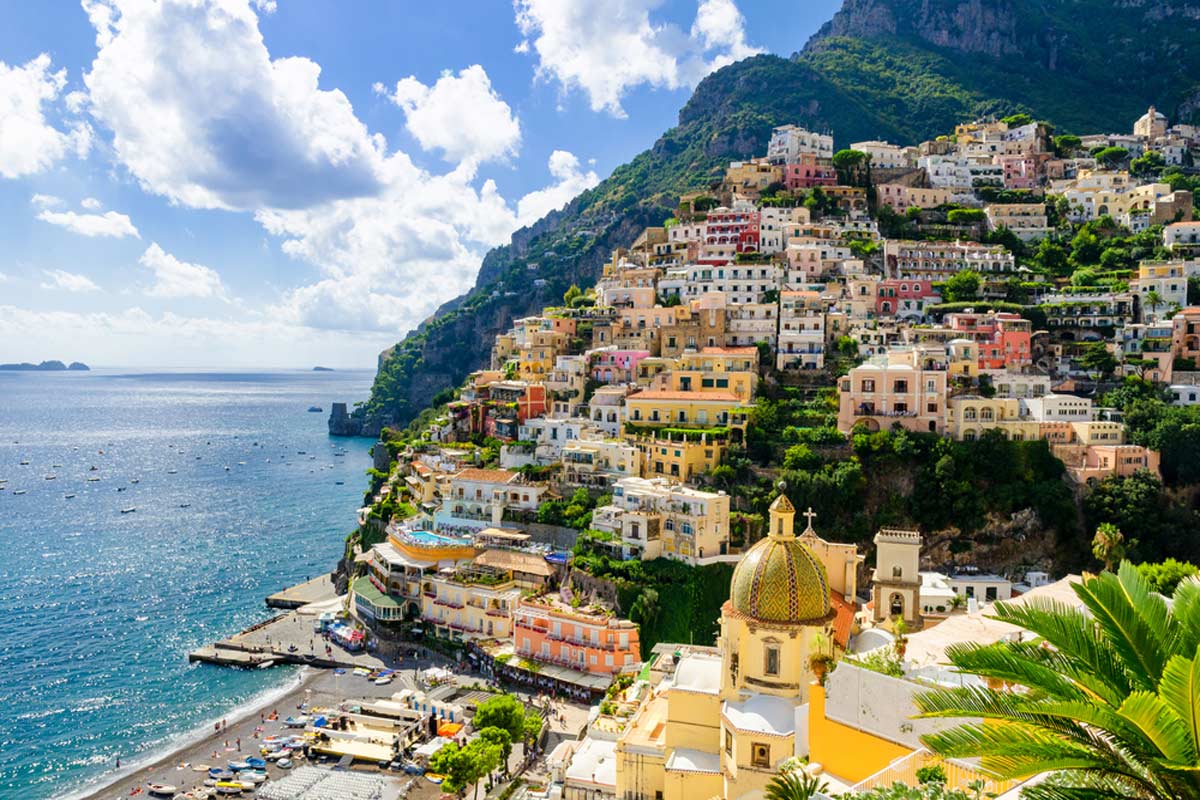 Planning a honeymoon in Italy doesn't have to be stressful, but it involves carefully choosing where you want to go, how to get there, places to stay, and how much you'll need to save in your honeymoon fund.
Flights to Italy
Most honeymooners choose Rome as a place to fly in and out of. Prices are reasonable, and there are direct flights to

Alternatively, many couples choose to fly into Milan, which connects with Rome by train in around 3.5 hours.
Rental Cars
Renting a car gives you the most flexibility to visit more villages in Tuscany, the Amalfi Coast, or Puglia.
You'll find most of the major car rental agencies in Italy (check Rentalcars.com), and rates are usually reasonable. Be sure to apply for an International Driving Permit if you're traveling from the USA.
Travel by Train
You can get from place to place on this 2-week Italy honeymoon itinerary almost entirely by train and/or bus if you choose, with most train rides taking under 4 hours.
Plan to rely on trains for your honeymoon? Purchase an interrail pass on Eurail to save money if you plan on taking multiple rides. Just note that a 2-week unlimited pass will cost you at least $500 per person, so it's bes for the busiest itineraries.
What to Pack for Your Italy Itinerary
Daypack – You'll want a daypack for walking around the city or hiking in the Italy countryside.
Everywhere Bag – An everywhere bag is easier to carry around the cobbled streets and small enough to navigate busy subways and streets than rolling luggage.
Packing Cubes – Stay organized on longer honeymoons in Italy with a set of packing cubes.
Passport – Can't leave home without it.
Reusable Water Bottle – Bring a refillable bottle to save some cash and travel sustainably.
Walking shoes – I like multi-purpose shoes like the Tropicfeel Monsoon that are perfect for the airport, city walks, or some moderate hiking trails.
Sandals or Water Shoes – Bring your Birkenstocks, flip-flops, or water shoes for those obligatory beach days in the spring and summer.
Dress Shoes – You're on your honeymoon, so you'll likely want a nice (but not over-the-top) pair of dress shoes when going out.
Torch – Torches come in handy when hiking, and you never know when you'll need one.
Power Pack – A portable charger is never a bad idea when travelling through Italy.
Camera – Capture those newlywed smiles on film.
Memory Card – These come in handy more often than you think, especially when photographing your honeymoon.
Sunglasses with UV protection – Italy's summers get lots of sunshine. Prepare with UV glasses.
Suntan Lotion – Protect your skin from the Mediterranean sunshine.
Swimsuit (Summer)
Raincoat (Winter)
Pants – You'll want dressy, lightweight pants for dinners.
Dresses – Bring a stylish (not flashy) dress for dinners and events.
Lightweight Short Sleeves and Long Sleeves – Short sleeves for lunches and hiking and long sleeves for churches and dinners.
Travel Adapter – Italy uses C, L, and F plugs. Bring an international adaptor to charge your favorite devices.
Useful Resources for Booking Your Italy Honeymoon
Italy Honeymoon Itinerary – Map
More for Your Italy Honeymoon Itinerary