Planning a honeymoon in Greece? We've set out the perfect 10-day Greece honeymoon itinerary with where to stay, what to eat, and which landmarks to visit for a dreamy escape.
If you're planning a Greece honeymoon, you're already well aware of the rich culture, history, and cuisine that makes it a popular destination for newlyweds after tying the knot.
But do you know how to plan the perfect itinerary for a Greece honeymoon in 10 days? We hit the books and dusted off some maps and an old atlas or two (just kidding) to uncover the best possible plans for your dream vacation in Greece.
Ready to start planning your honeymoon? Here's everything you need to know about scheduling a 10-day honeymoon itinerary in Greece.
Handy Tips for Planning Your Greece Honeymoon Itinerary
What You Need to Know Before Planning a Honeymoon in Greece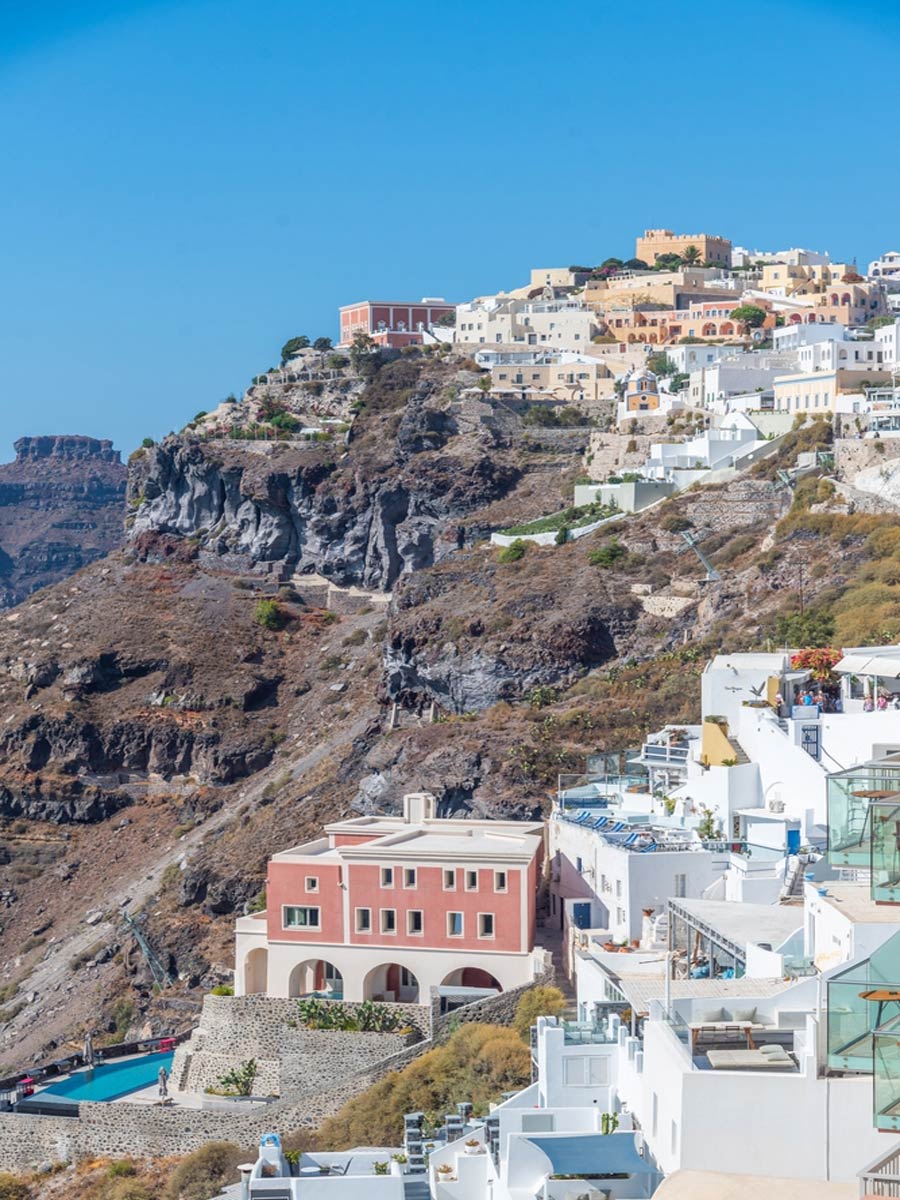 Flights to Your Greece Honeymoon Itinerary
Flying in and out of Athens International Airport will usually give you the best possible rates. From there, it's about a 30-minute taxi ride.
Add Travel Insurance
You never know when you need to take an unexpected trip to the hospital (hopefully not on your honeymoon) or reschedule your post-wedding plans. Always add travel insurance before your honeymoon in Greece.
Rental Cars
You can rent a car in Greece if you want to explore the mainland or any of the islands. But for this honeymoon in Greece itinerary, we're mostly going island-hopping, so lucky for you, no car is needed.
Ferries
On this Greece honeymoon itinerary, you'll be taking ferries from one island to the next. Ferryhopper is the best resource for scheduling your travel around the Cyclades.

Book as far in advance as you can, as these fill up early and often during the summer months.
What to Pack for Your Greece Itinerary
Passport and IDs – Bring all necessary documents in your Travel Holder.
Travel Adapter – Carry an international adaptor. Greece uses Type C and F plugs.
Daypack – Perfect for hiking, sightseeing, and visiting ancient ruins.
Hardshell Luggage – Bring a four-wheel hardshell suitcase for island hopping and traveling through Greece.
Dress Clothes– Bring lightweight dresses (kaftans), cover-ups, and dress shoes for restaurants.
Shorts and Short Sleeves – Ideal for hot days in the sun.
Long Sleeves – In the winter, temperatures can get very cold and wet. Bring a warm (water-resistant) jacket and pants, especially for nights out.
Comfy Shoes – Walking shoes and hiking trainers are essential for traversing the countryside and city streets in Greece.
Sandals – You'll want a pair of Birkenstocks or other beach-appropriate shoes.
Sunglasses with UV protection – The sun is hot (and bright) protect your eyes accordingly.
Suntan Lotion – Be sure to protect your skin. Summer weather is sweltering. We love the convenience of sun sticks.
Swimsuit – Days are warm, and the beaches are lovely, don't forget your swimsuit on your Greece honeymoon in the Cyclades most of the year.
Reusable Water Bottle – You'll want one any time of year, but it's especially important in the summer months to stay hydrated.
Torch – Torches are excellent when hiking, especially considering Greece has a fair amount of scorpions (eek).
Power Pack – It's your honeymoon in Greece, be sure you have backup power when snapping about a million photos.
Essentials – Medications, deodorant, feminine hygiene, toothbrushes, and any bath product you may need.
Useful Resources for Booking Your Greece Honeymoon
Greece Honeymoon Itinerary
Day 1-2 Greece Honeymoon Itinerary: Athens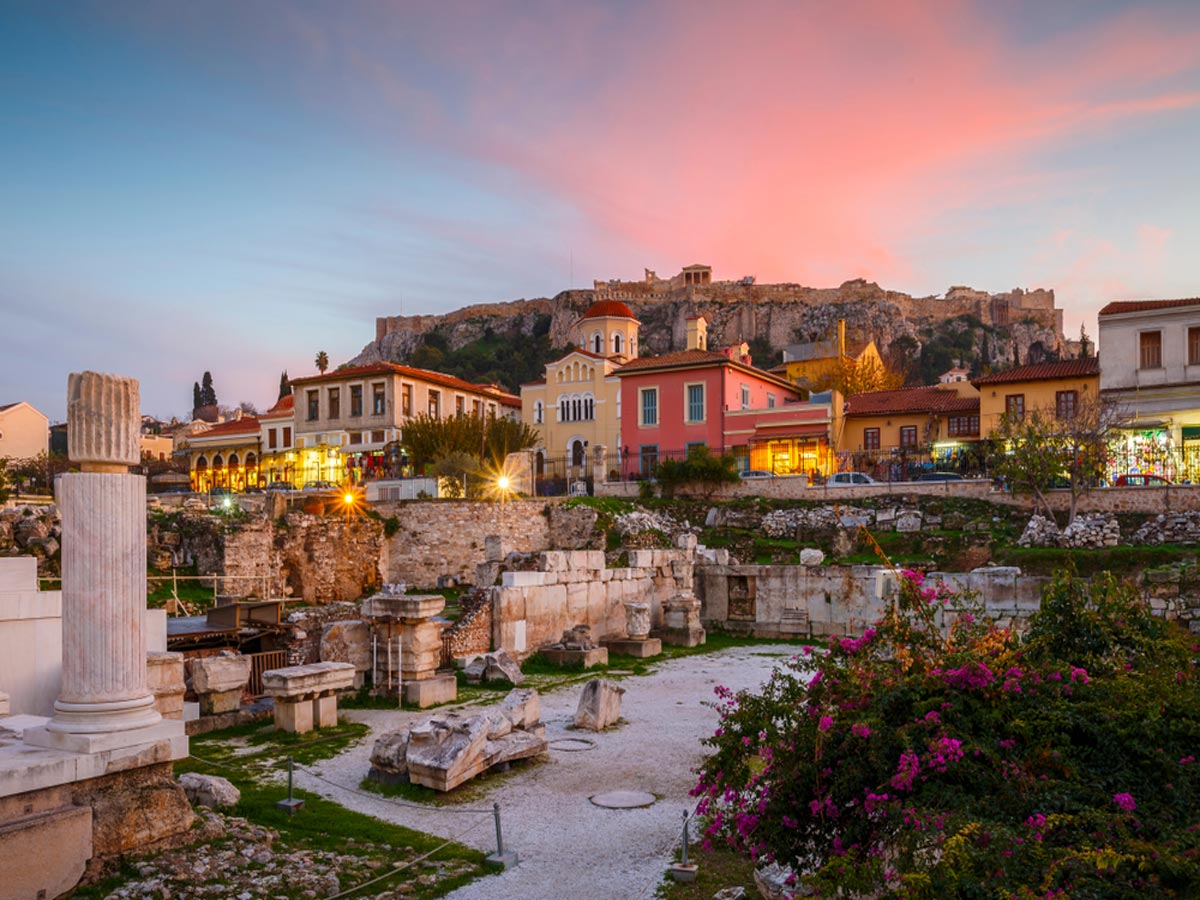 Athens has a rich cultural history spanning thousands of years. Walk around the city, and you'll see plenty of evidence in immaculately preserved buildings that have long stood the test of time.
But there's a romantic side to Athens beyond the folklore and history, with incredible cuisine, lively nightlife, and romantic city streets to stroll hand in hand.
Things to Do in Athens
Visit the Acropolis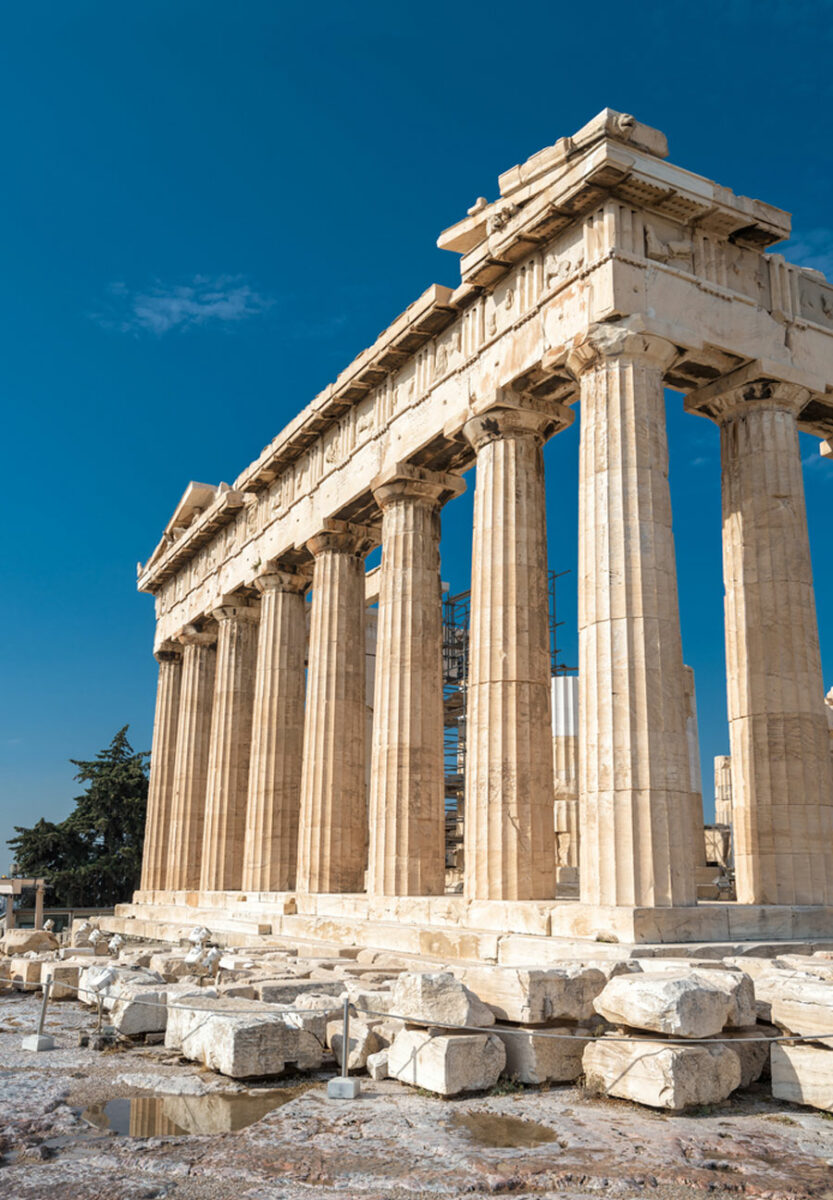 There's no sense waiting to add this to your Greece honeymoon itinerary; simply make it the first stop.
The vast archeological complex is home to the Parthenon, the Propylaea, and the Erechtheion, which you can explore on your own or with a guided tour. Be sure to spend extra time marveling at the Parthenon, which is an homage to the Greek Goddess Athena.
Acropolis Museum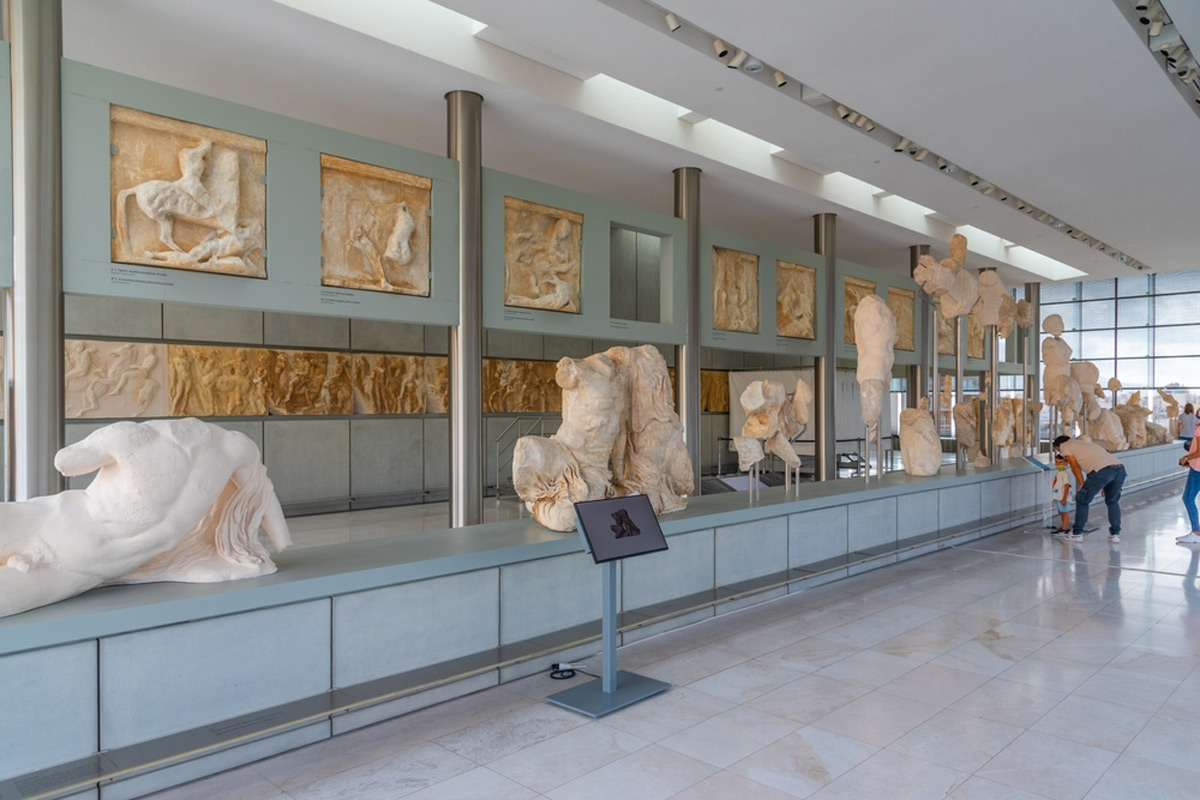 While visiting the Acropolis, adding the Acropolis Museum to your Greece honeymoon itinerary is a must. You'll see ancient artifacts from the Ancient Greeks, Romans, and Bronze Age.
Take a Day Trip to the Temple of Poseidon
If you have time for a day trip on your Greece honeymoon in Athens, head to Cape Sounion, where you can see one of the most legendary Ancient Greek ruins and catch a magnificent sunset on the Attica Peninsula on this guided tour.

You can swim at the gorgeous Sounio Beach if you hire a car or taxi for a perfect half day from Athens.
Dine at Aleria Restaurant
If you have time for one splurge meal in Athens, save some of your honeymoon fund to try Aleria Restaurant. The restaurant in a 19th-century home and courtyard is as romantic as they come.

Try one of two carefully curated tasting menus revolving around Earth & Sea or Garden & Nature.
Getting to Athens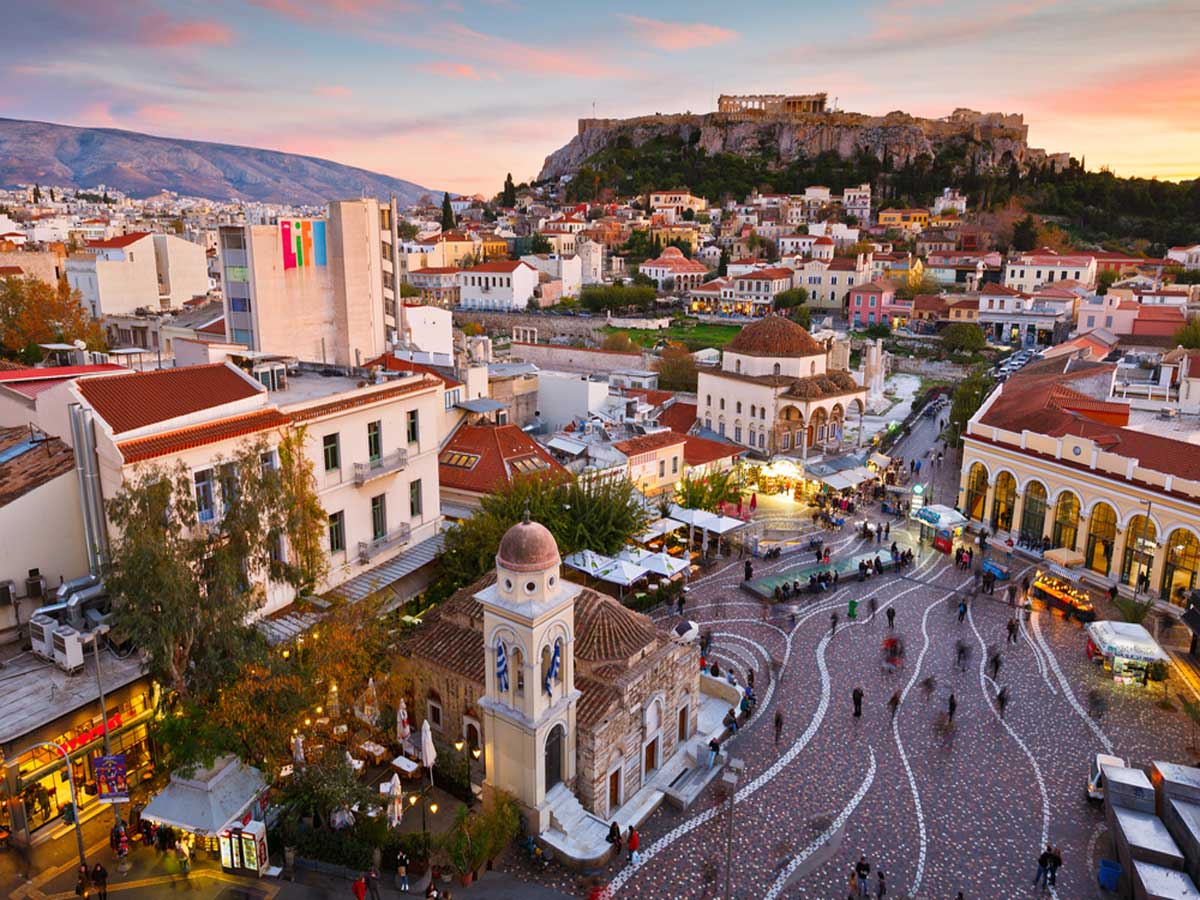 Most Greek honeymoon itineraries begin with a flight to Athens International Airport (ATH) or a honeymoon cruise to Piraeus Port.
If you're wondering how to honeymoon in Greece, Athens is generally a perfect starting point.
Suggested Stay for Athens on your Greece Honeymoon Itinerary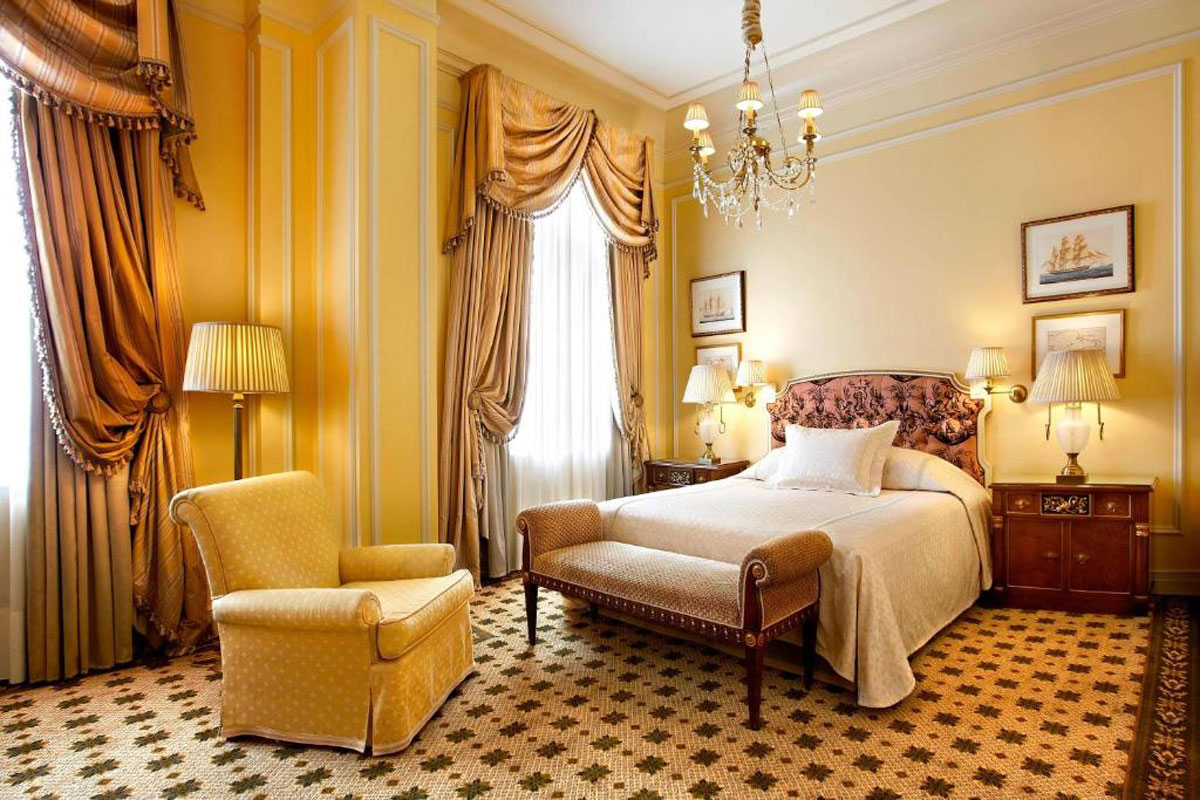 We can't think of a better hotel to celebrate your walk down the aisle than Hotel Grande Bretagne in Athens. Located near many of the best Greece honeymoon itinerary hot spots, this five-star luxury resort pulls out all the stops.
You'll have access to opulent rooms with luxury linens, marble bathrooms, and courtyard or city views.

Ready to go out for the evening? Enjoy a romantic dinner for two at the award-winning GB Roof Garden, where you can pair expertly prepared Mediterranean cuisine (think prawn risotto and grilled sea bream) with a fantastic wine list and unrivaled views of the Acropolis and the Parthenon.
Check prices and availability for Hotel Grande Bretagne on Booking.com
Alternatively, check all accommodations in Athens on Booking.com
Day 3-4 Greece Honeymoon Itinerary: Santorini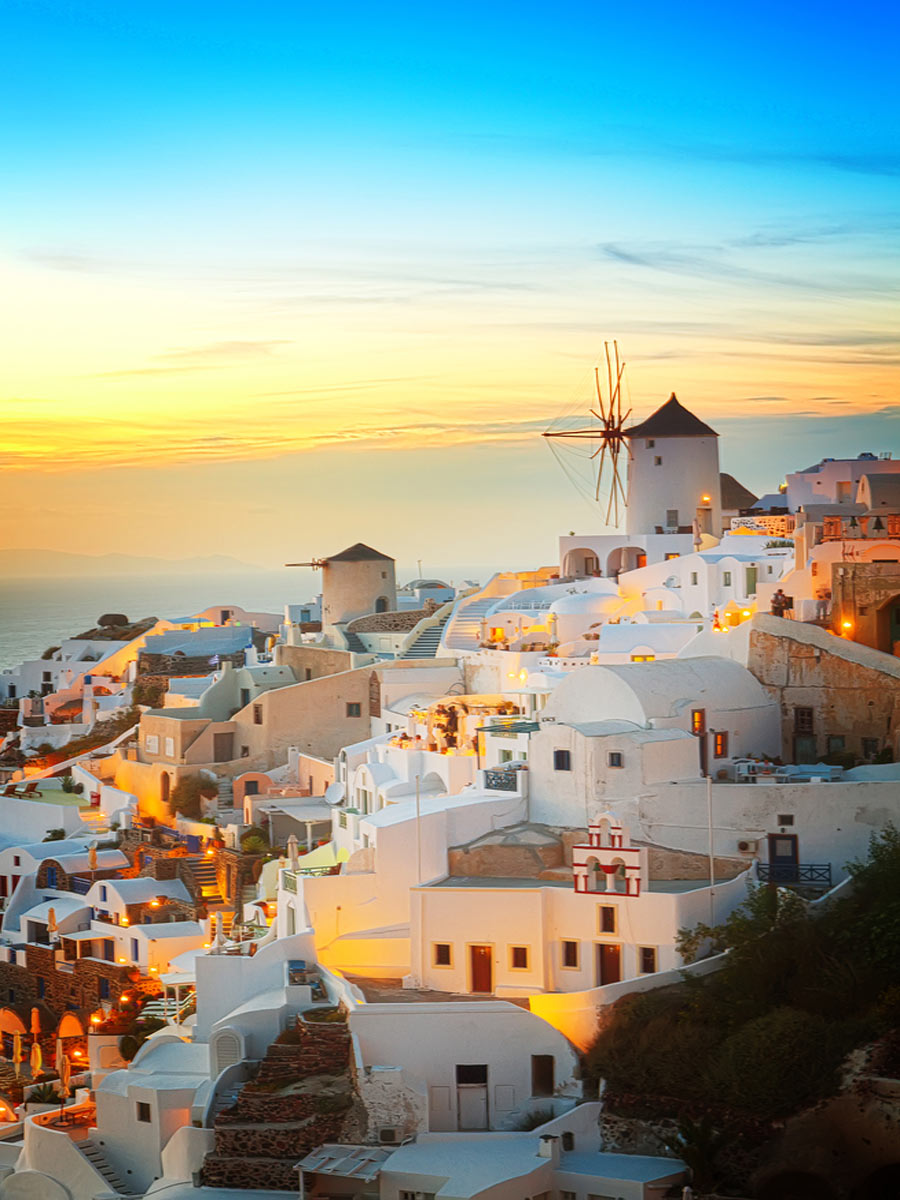 Wondering how to honeymoon in Greece? Get ready to explore the Cyclades Islands.
Spectacular beaches, even better sunsets, and delicious (often very affordable) food and wine make Santorini a romantic's dream honeymoon in Greece.
Things to Do in Santorini
Catch a Sunset in Oia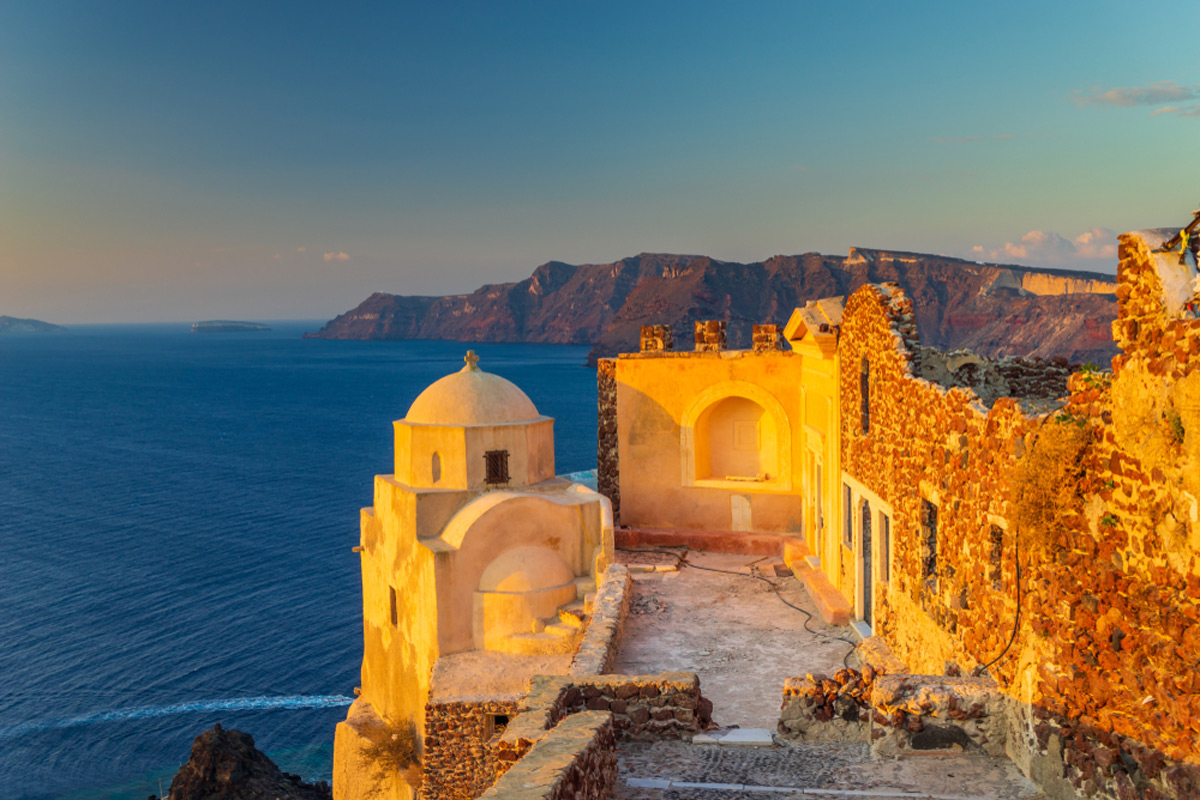 You can arrive early at the Castle of Oia, where you'll likely share the observation deck with others, or take our advice and have a meal at Fino Restaurant & Cocktail Bar, where you can enjoy the view with fresh seafood and local wine.
Go Beach Hopping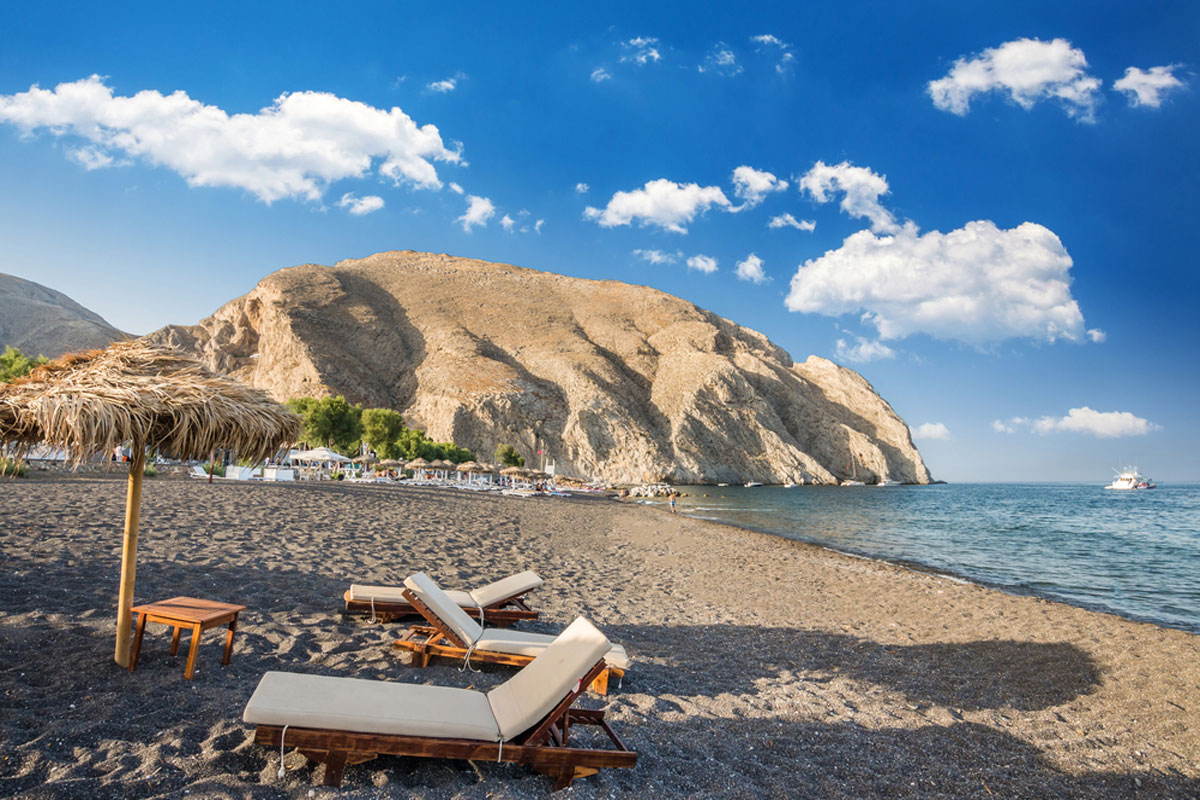 Santorini is the perfect place to add beach hopping to your Greece honeymoon itinerary.

Don't miss the black sands at Perissa Beach or the picturesque blue waters and white cliffs at White Beach. Both are great places to spend a few hours admiring the beauty of the Aegean Sea.

If you have time for one more, head to the favorite diving site, Caldera Beach.
Wine Tasting in an Idyllic Garden
Don't miss the storied cellars and garden courtyard at Pelican Kipos, where you can sample from a superb wine list (from an underground cellar) and pair the local whites and reds with tasty dishes.

Lobster spring rolls are a thing here, pair them with a glass of vinsanto.
Getting to Santorini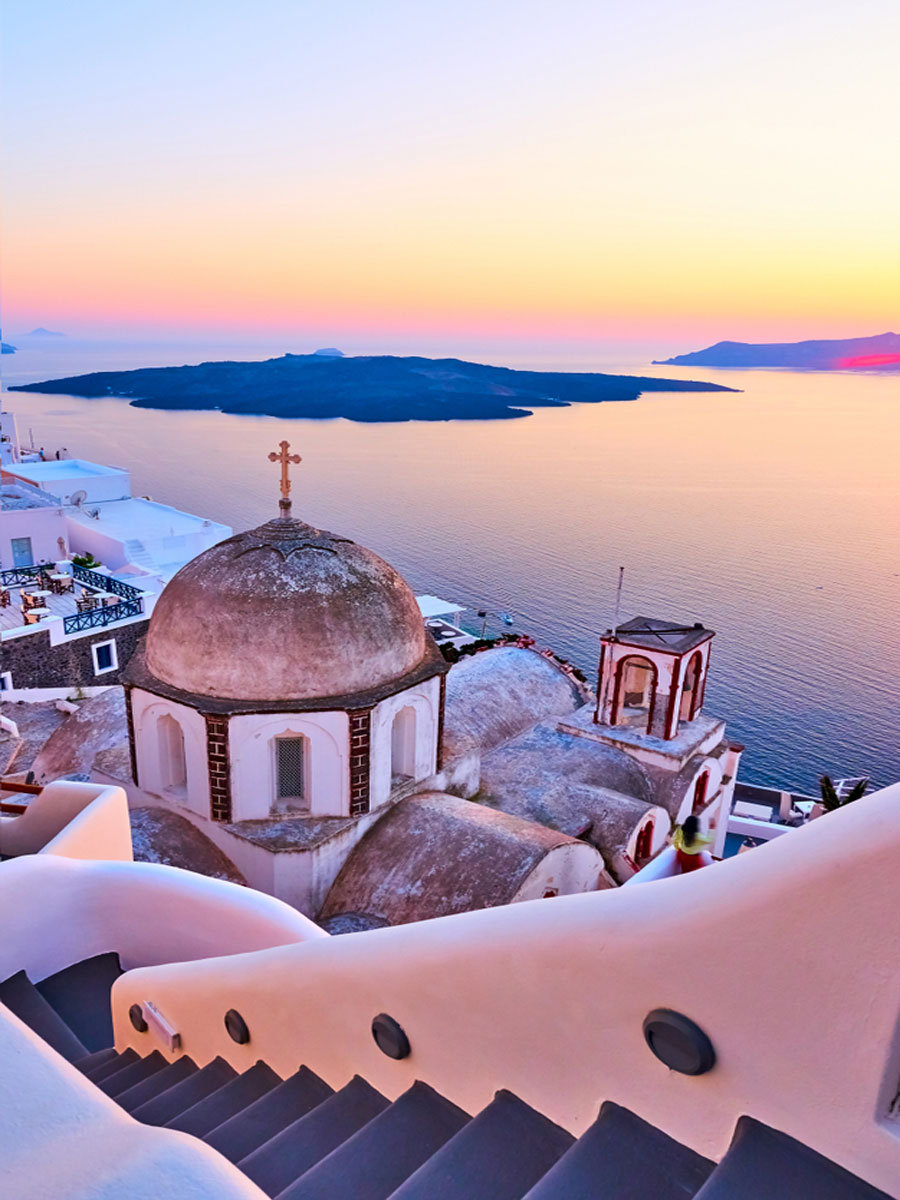 Take a short 1-hour flight to Santorini to experience the magic of the white-washed village perched high on the Aegean Sea.
Suggested Stay for Santorini on Your Greece Honeymoon Itinerary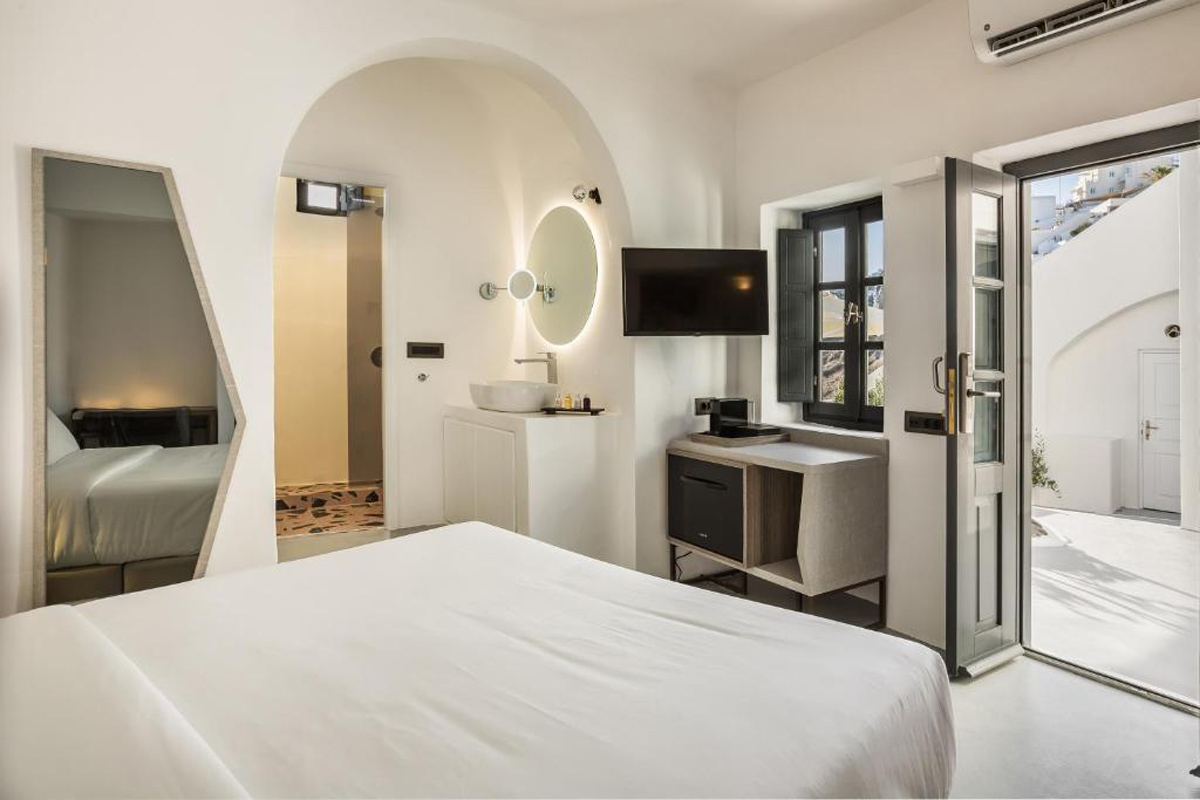 Gorgeous views of the Aegean Sea are best from the pool, restaurant, or your private room or suite perched high on the cliffs at the luxury Sun Rocks Boutique Hotel.
Check rates and availability for Sun Rocks Boutique Hotel
Alternatively, check all accommodations in Santorini on Booking.com
Day 5-7: Paros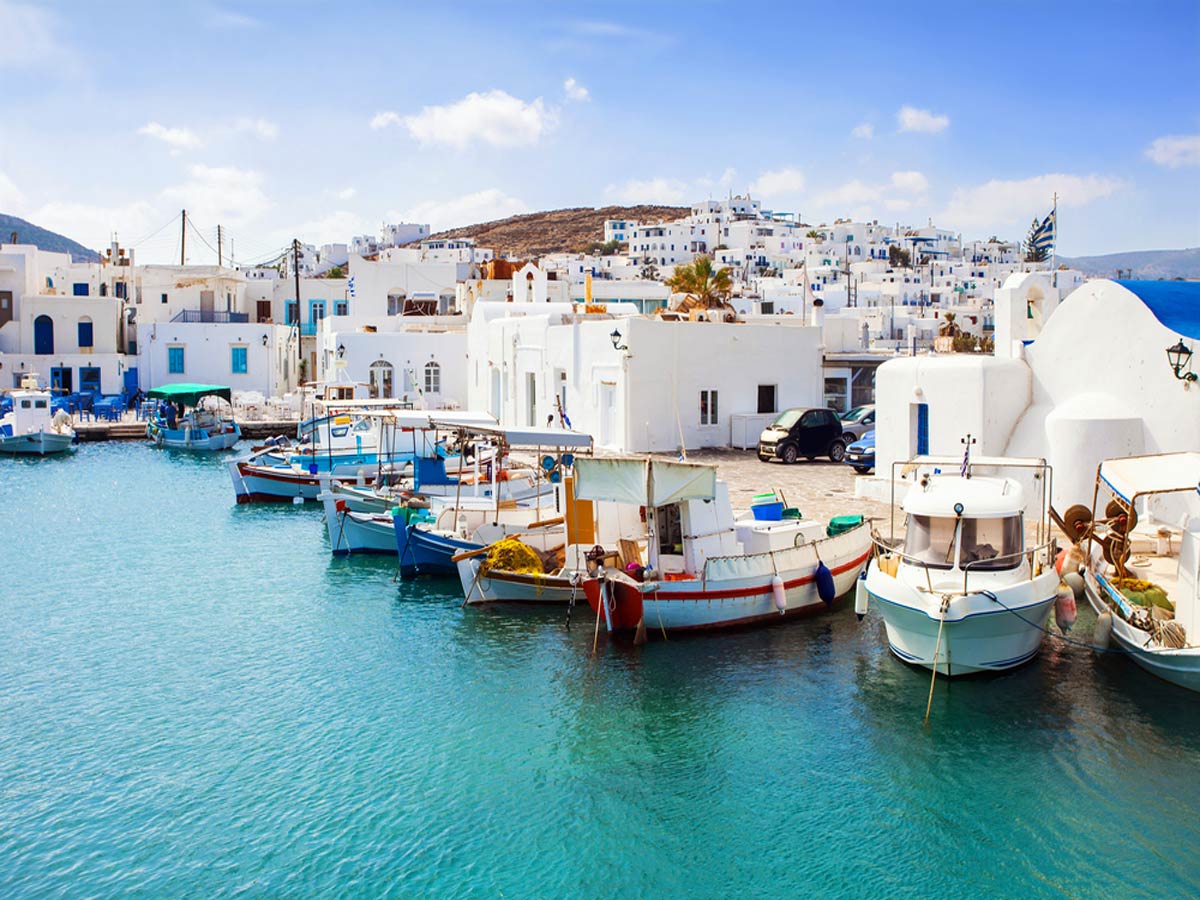 If you ask us, Paros ranks up as the most gorgeous island in The Cyclades.

From exploring the 15th-century Venetian Fortress of Naoussa on the coast to admiring the absolutely gorgeous white-washed villages of Parikia and Naoussa on foot, a trip to Paros has no shortage of unforgettable scenery for your honeymoon itinerary in Greece.
Things to do in Paros
Lounge at the Beaches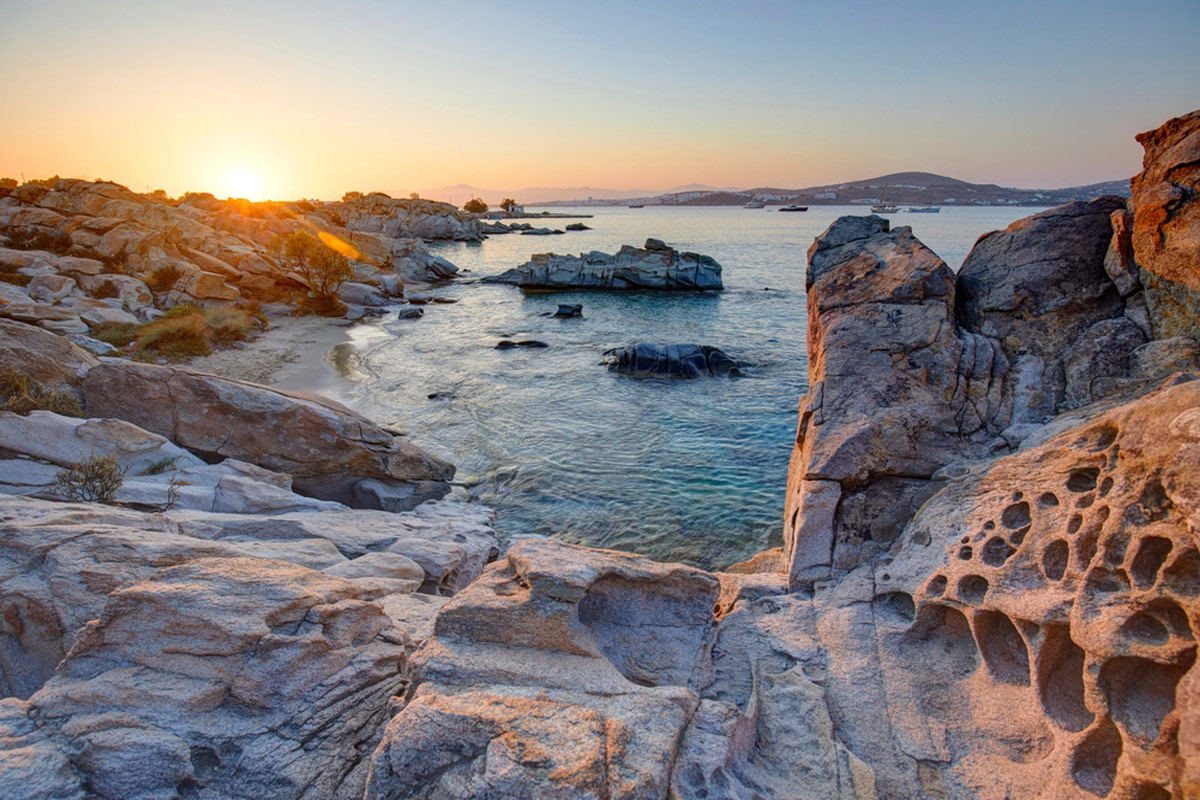 Make no mistake about it; Paros has some of the most scenic shores in Greece. Some beaches are also perfect for a leisurely afternoon (or entire day).
Kolymbithres Beach offers rocky shores yielding clear blue waters perfect for a day of snorkeling or water sports around the coasts. It's easily our favorite.

Paralia Lolantonis is another popular location for swimming and suntanning in Paros if you want to hit another beach on your Greece honeymoon itinerary in Paros.
Visit the Butterflies Nature Reserve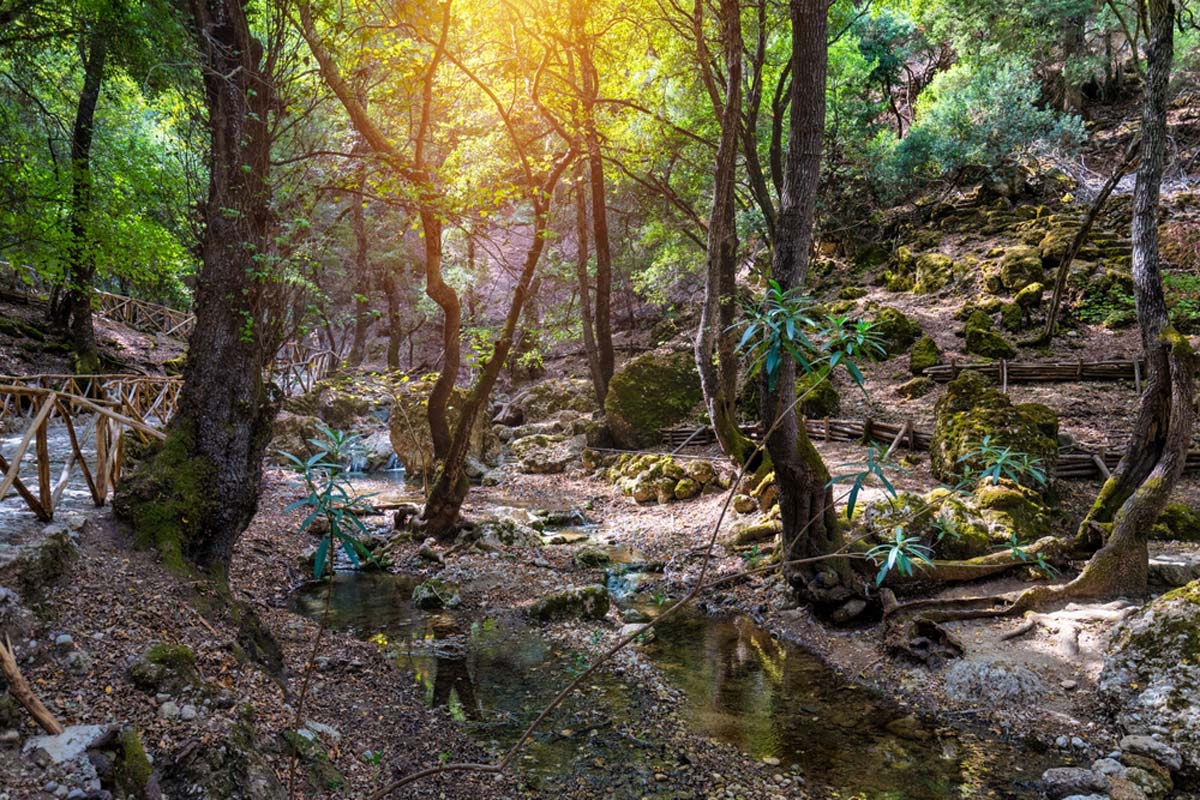 One of the most romantic things to do in Greece may not even be on your radar. We got you covered.

Visiting the Butterflies Nature Reserve is a magical experience from May to August, where the Jersey Tiger Moths migrate here in droves.

They then make the gorgeous gardens filled with cypress trees and oleanders their summer home. We can't blame them one bit.
Have a Seafood Dinner at Archipelagos Restaurant
Head to Naoussa and discover some of the best food in Paros at the popular Archipelagos Restaurant. Order the grilled sea bream (or any freshly caught fish) and pair it with a freshly prepared salad at this well-known institution in Paros.
Take a Day Trip to Naxos
Naxos is a wonderful day trip from Paros and has some of the most incredible beaches you'll find anywhere in Greece. Luckily, it's only about a 30-minute ferry from Paros, making it a perfect day trip to enjoy some fun in the sun.
Be sure to visit Paralia Grota and Amitis Beach, which are both a quick taxi from the cruise port.

Before heading home, also take a guided tour to learn about the ancient Demeter's Temple and stop by the Eggares Olive Press Museum for some fresh olive oil.
Getting to Paros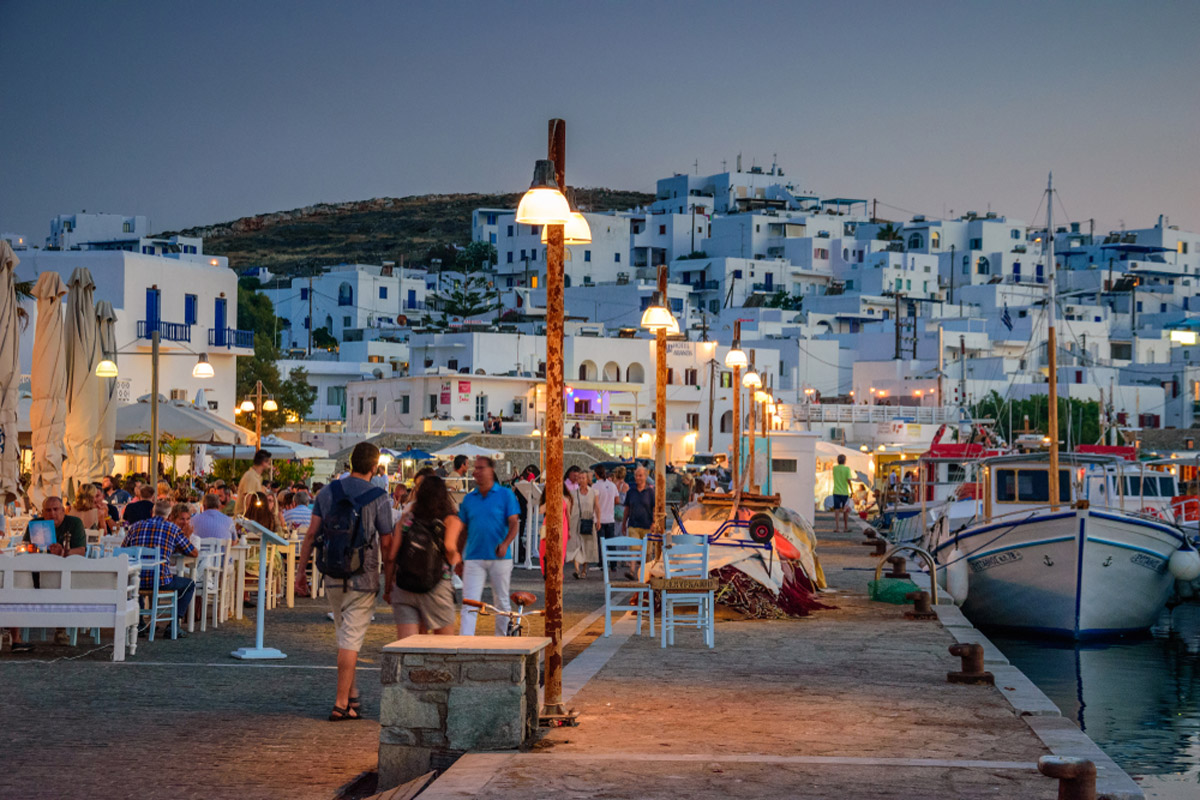 Take a ferry from Santorini, which will take you around 2-3 hours, typically. From Paros, you can reach Naxos in just 30 minutes.
Suggested Stay for Paros on your Greece Honeymoon Itinerary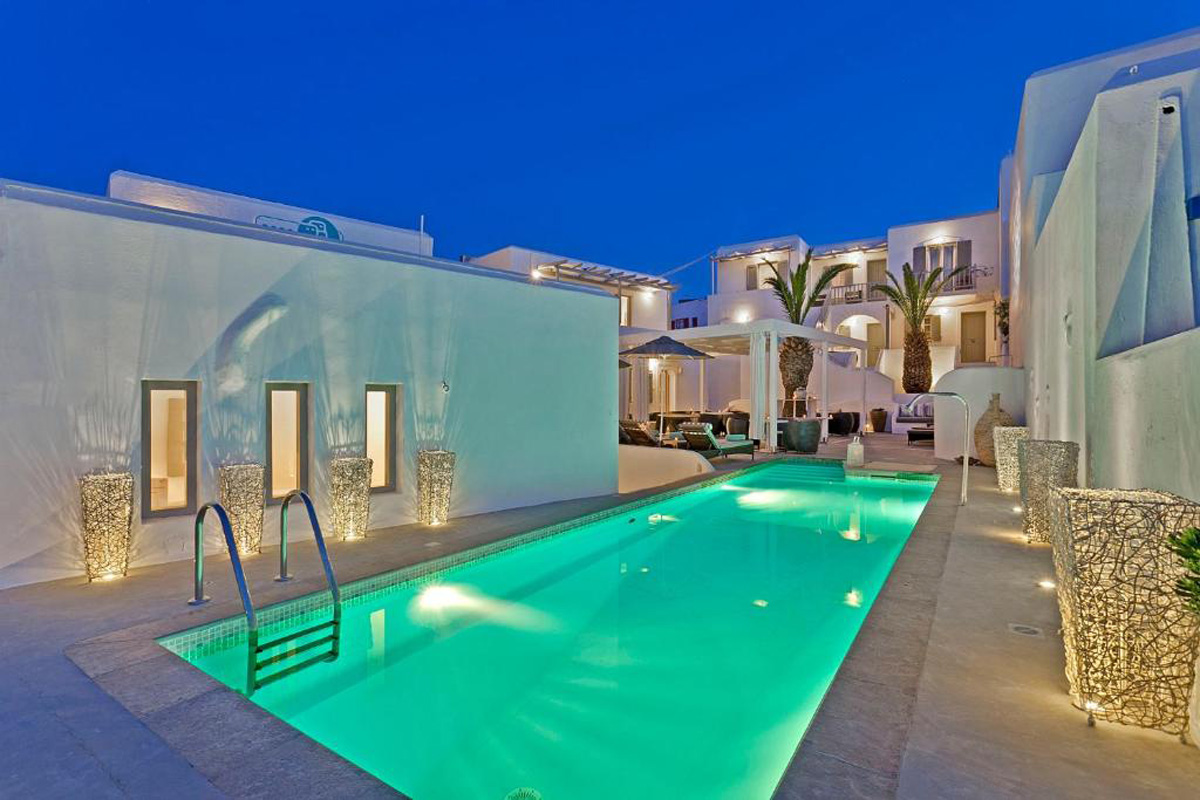 In the charming village of Nasou in Paros is the adults-only romantic retreat Lily Residence.

You'll enjoy a stay at one of the most authentic and unique properties in Paros, with award-winning accommodations highlighting local art and architecture.

Book the Junior Suite with Heated Private Infinity Pool & Sea View to enjoy the most serene views of the Aegean Sea from your private balcony and pool.
Check rates and availability for Lily Residence
Alternatively, check all accommodations in Paros on Booking.com
Day 8-9: Mykonos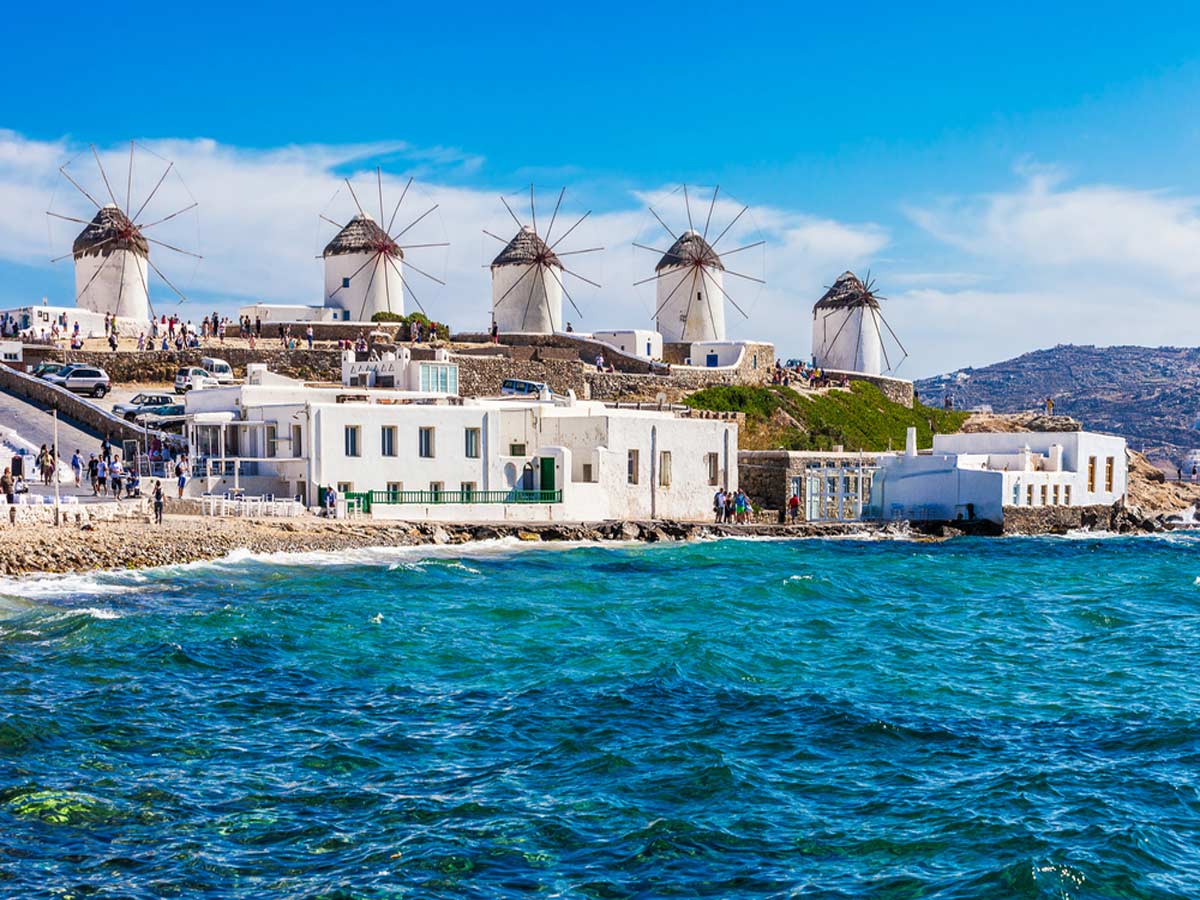 Pulling up to the sandy shores, whitewashed villages, and iconic Windmills of Mykonos and it'll take you no time at all to know why it is a must-visit location when deciding how to plan a Greece honeymoon.
But the cuisine, nightlife, and hiking also make Mykonos a favorite for adventurous honeymooners when visiting Greece.
Things to do in Mykonos
Take a Scenic Hike
Many of the best hikes in Mykonos are quite easy, making it popular for couples, regardless of their skills or experience on the trails.
But this four-mile loop above Agios Sostis is challenging, scenic, and often quite windy. For a more laid-back stroll, hiking around the Windmills of Mykonos along the water is a popular choice for honeymooners visiting Mykonos.
Sundowners at Oniro Sunset Bar – Restaurant
Sunsets in the Cyclades are legendary and, of course, best enjoyed with a celebratory cocktail or two.
For the most scenic views and friendly wait staff, head up above the shores below to enjoy a glass of bubbly and a shared plate or two while watching the day fade away at Oniro Sunset Bar.
Have Lunch on the Beach at Yialo Yialo Restaurant Mykonos
Head to Yialo Yialo Restaurant Mykonos after lounging on the popular sandy shores of Paralia Platis Gialos to enjoy some of the best food in Mykonos (which is saying something).

The setting is casual (right on the beach), and the seafood is way better than expected (order the octopus or fried squid). Best of all, you can book a lounger on the beach by calling the restaurant in advance.
Getting to Mykonos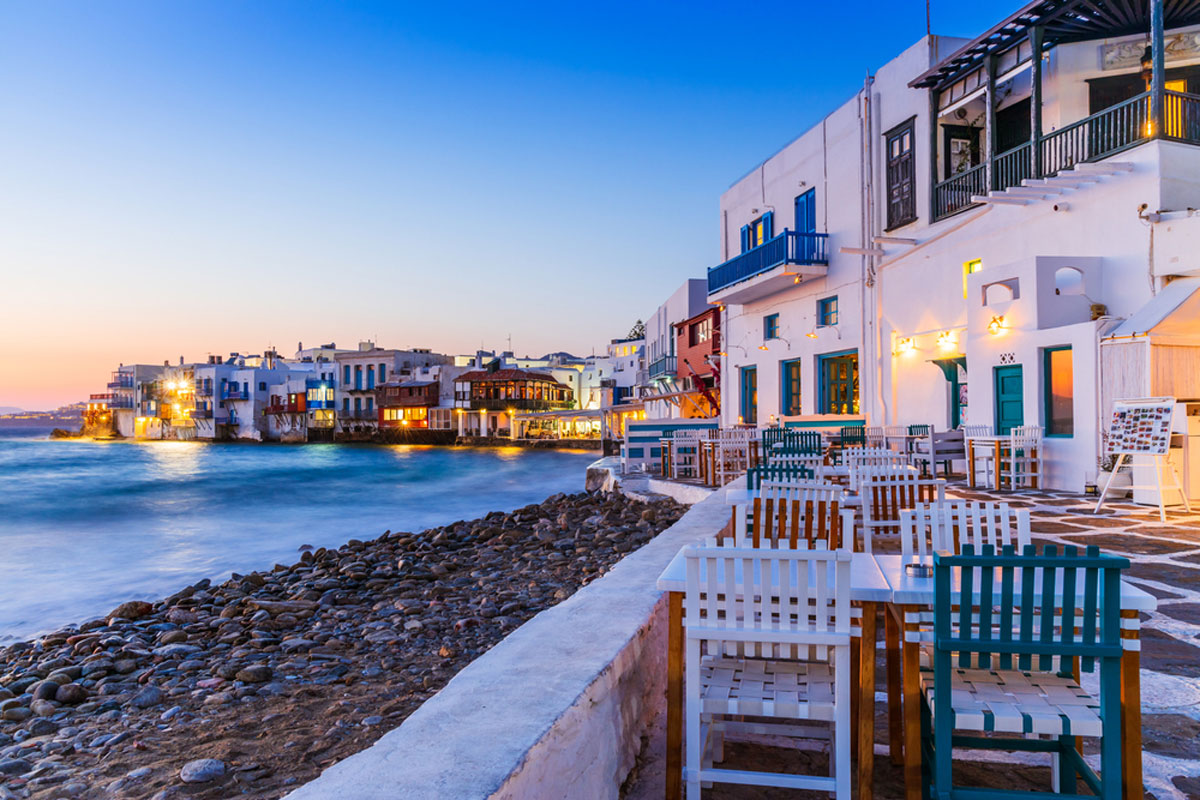 Take a ferry from Paros to Mykonos. It generally takes around 1 hour to 1.5 hours to get there.
Suggested Stay for Mykonos on your Greece Honeymoon Itinerary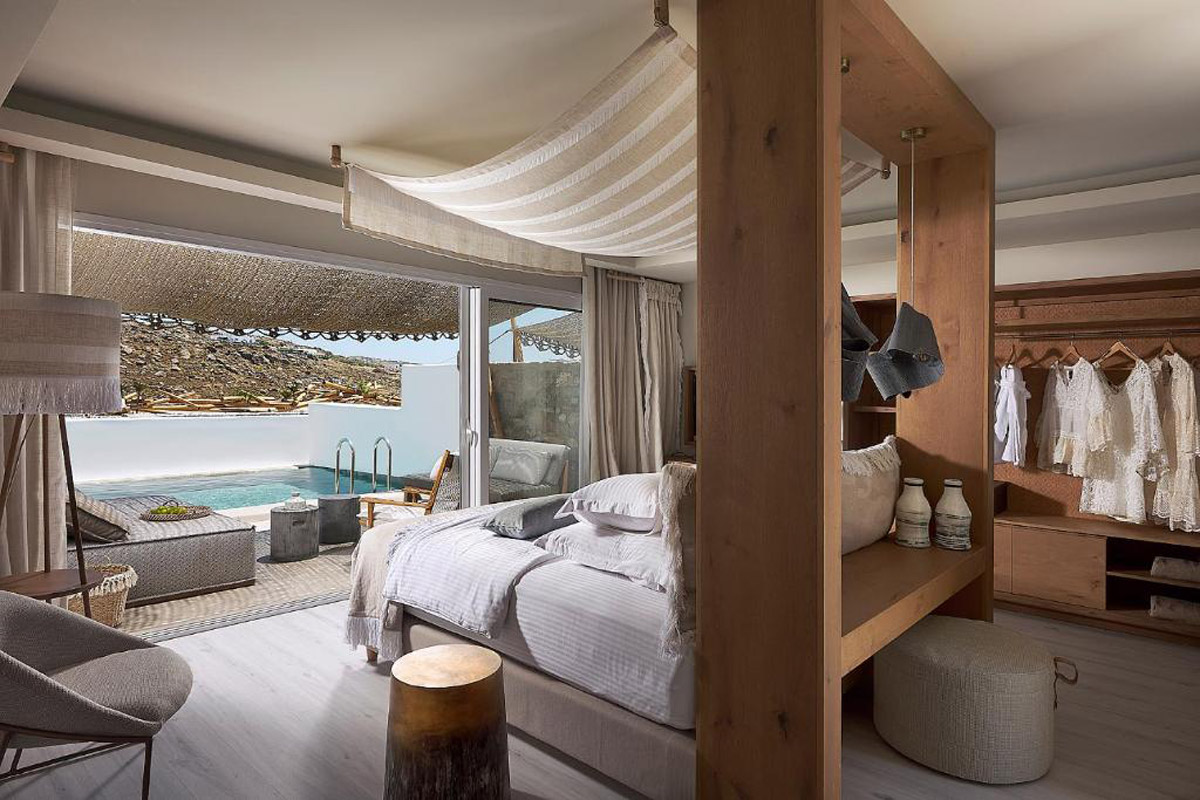 Take a quick taxi ride about 15 minutes from the cruise port to Palladium Hotel near the idyllic clear blue cove at Psarou Beach and the buzzing nightlife at Nammos Beach.
Rooms are stunning, with romantic beach-chic decor and views of the Aegean Sea. But the hotel boasts the Greek-Mediterranean restaurant La Veranda, two swimming pools, and access to the best bars and restaurants in Mykonos nearby, so you may not get much sleep.
Check rates and availability for Palladium Hotel
Alternatively, check all accommodations in Mykonos on Booking.com
Day 10: Athens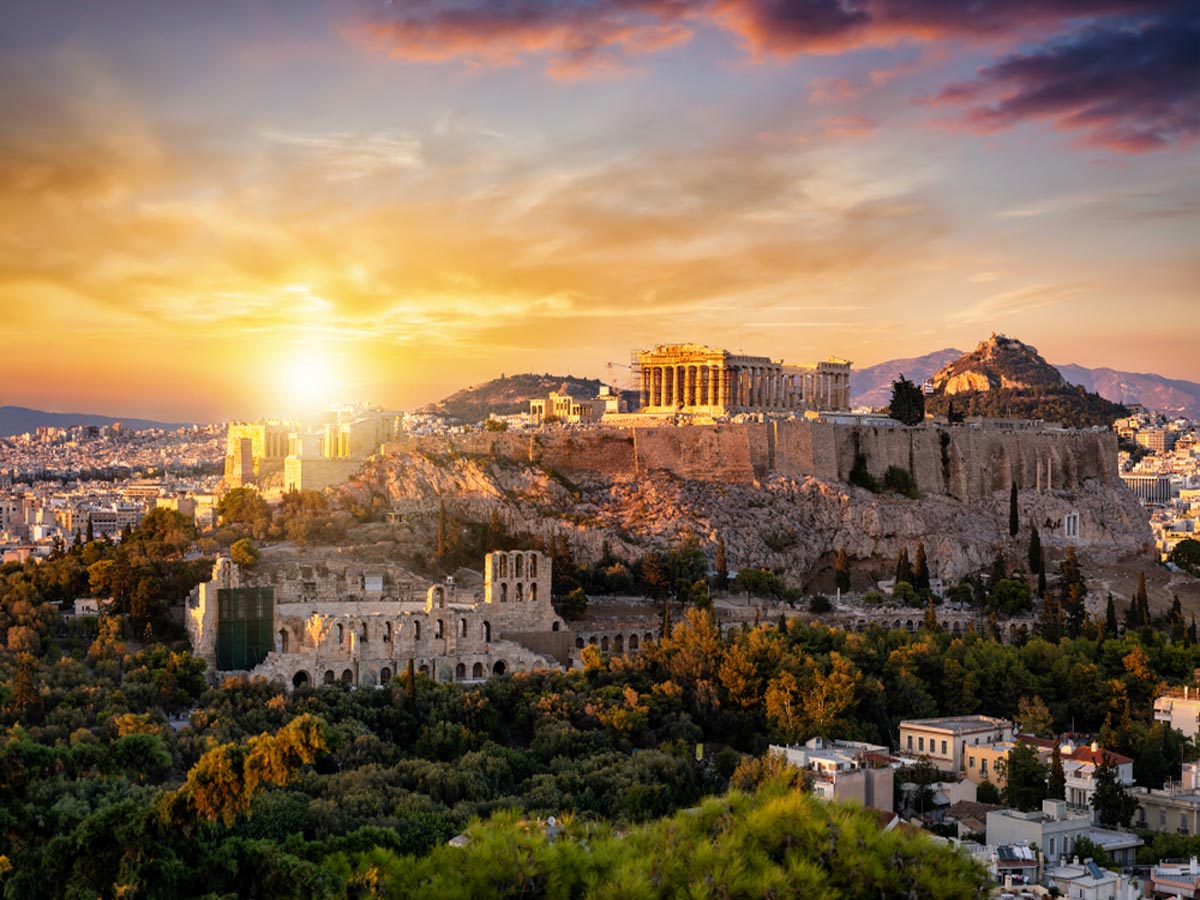 Now that you spent the past 9 days getting to know the most idyllic honeymoon spots around, it's time to check out some hidden gems in Athens.

Here are a few of our favorite places to hang out in Athens, like a local.
Things to do in Athens
Panathenaic Stadium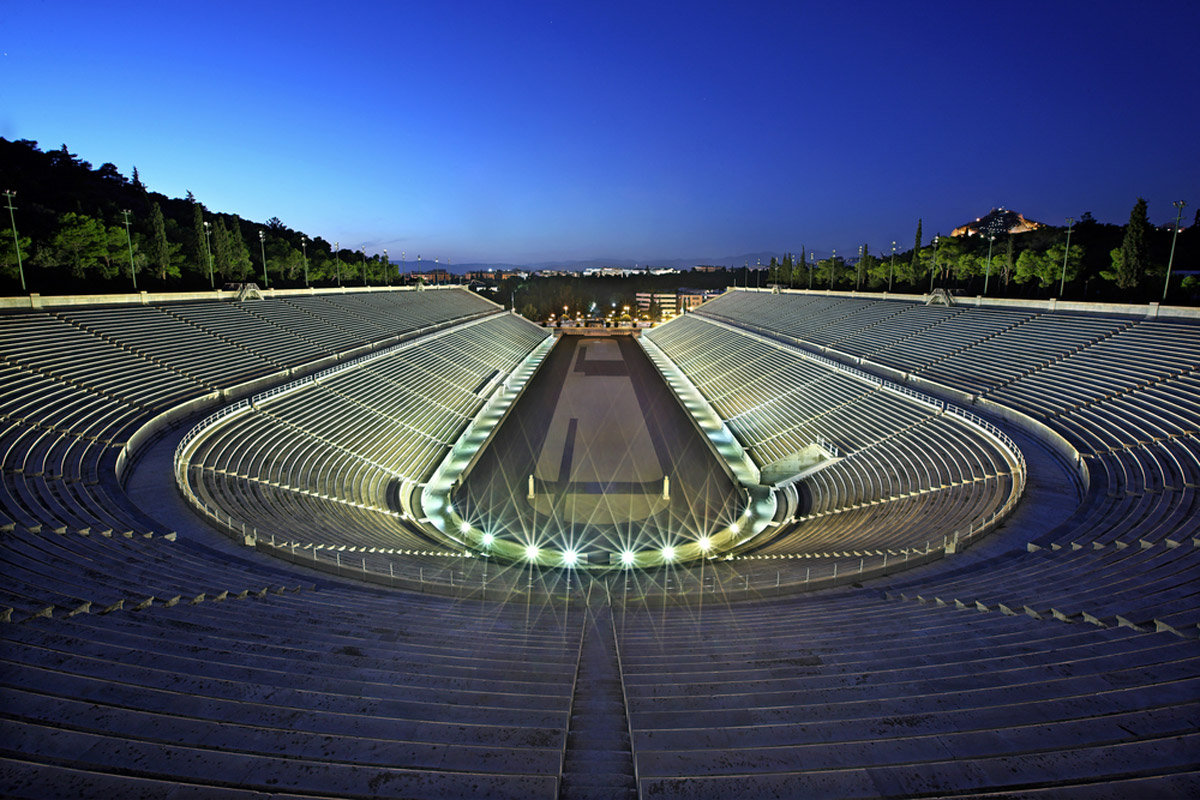 If you're keen to see where the first Olympic Games (of the modern era) were held, look no further than the Panathenaic Stadium.
Want a fun idea for your Greece honeymoon itinerary? Bring your gym clothes and best pair of trainers, this guided tour allows you and your partner to compete Olympic-style in the iconic marble stadium.
Monastiraki Square and Flea Market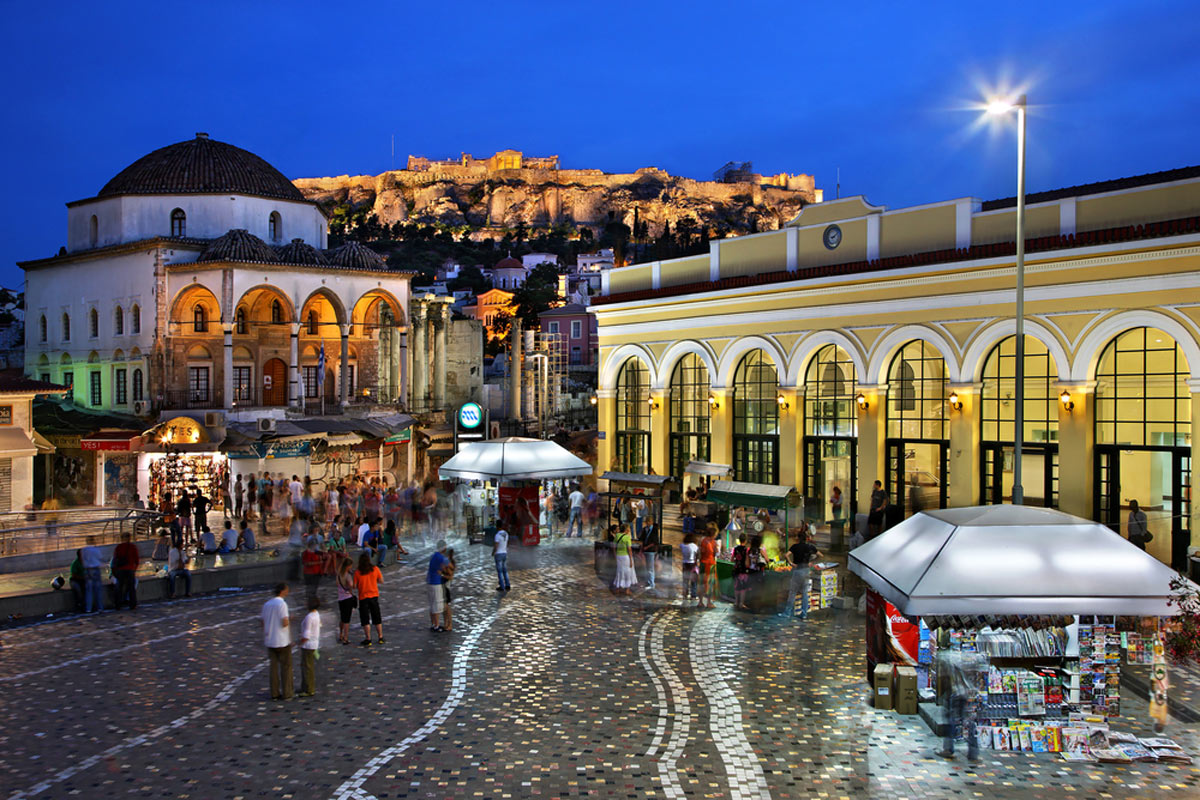 Do some last-minute souvenir shopping at this local favorite with too many vendors to count.

Sure, there are some tourist traps here, but the rich history and culture shine, and there are quite a few hidden gems for locally made crafts. You can also find some excellent olive oil.
Dinner at Kir Aristos
By now, you've probably penciled in enough all-day sightseeing and fancy dinners to hold you over for some time. How about a casual (but exceptional) dinner to end your holiday?

Kir Aristos is a lively (yet laid-back) restaurant that specializes in kebabs. Order any and every meat option you can find room to eat, add the pita and enjoy the complementary hummus, grilled tomatoes, and fresh lemon. Divine.

Oh yeah, their wine list is extensive (and delicious), so don't be shy.
Getting to Athens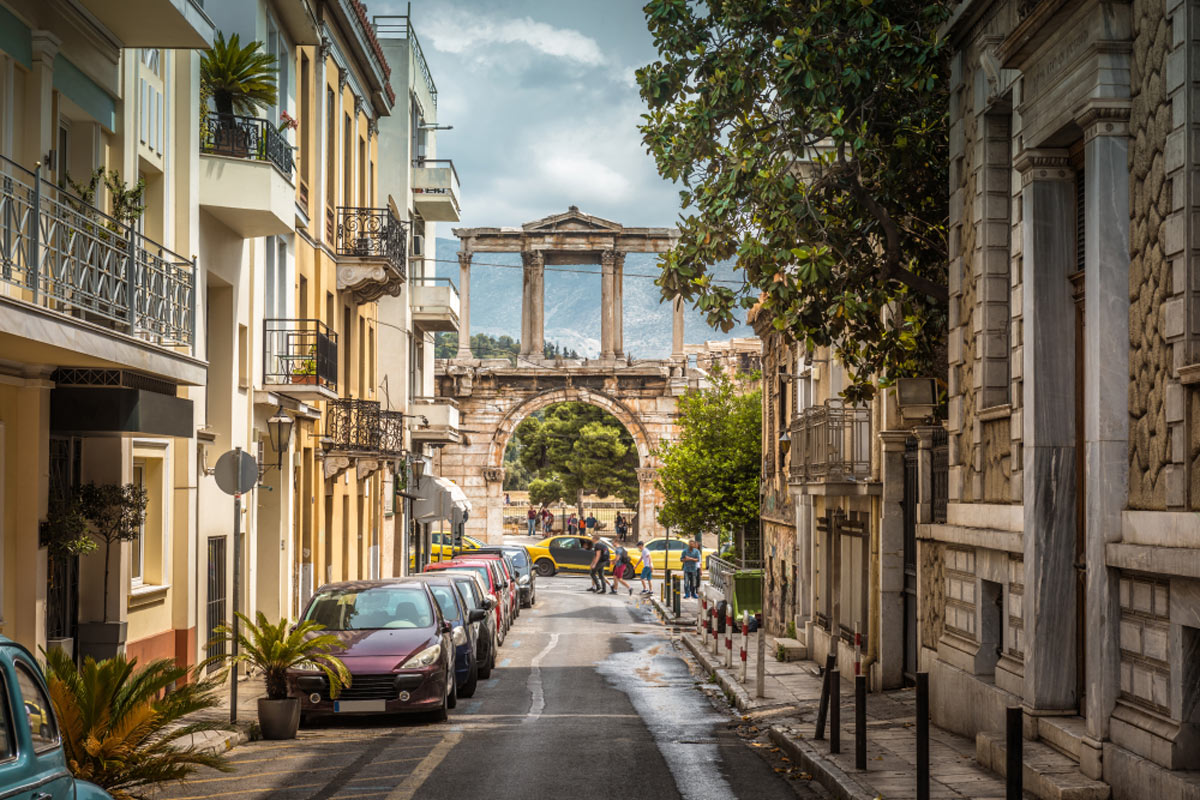 Take a ferry back from Mykonos island to the Piraeus Harbor.
Suggested Stay for Athens on your Greece Honeymoon Itinerary
Stay at The Modernist in the peaceful Kolonaki neighborhood, where you'll have close access to many of the best sightseeing and dining options.
Rooms are adorned with contemporary design and hardwood floors, making it a comfortable and homey setting for the final day of your Greece honeymoon itinerary.
Check prices and availability for The Modernist
Alternatively, check all accommodations in Athens on Booking.com
How to Adjust for a 2-Week Greece Honeymoon Itinerary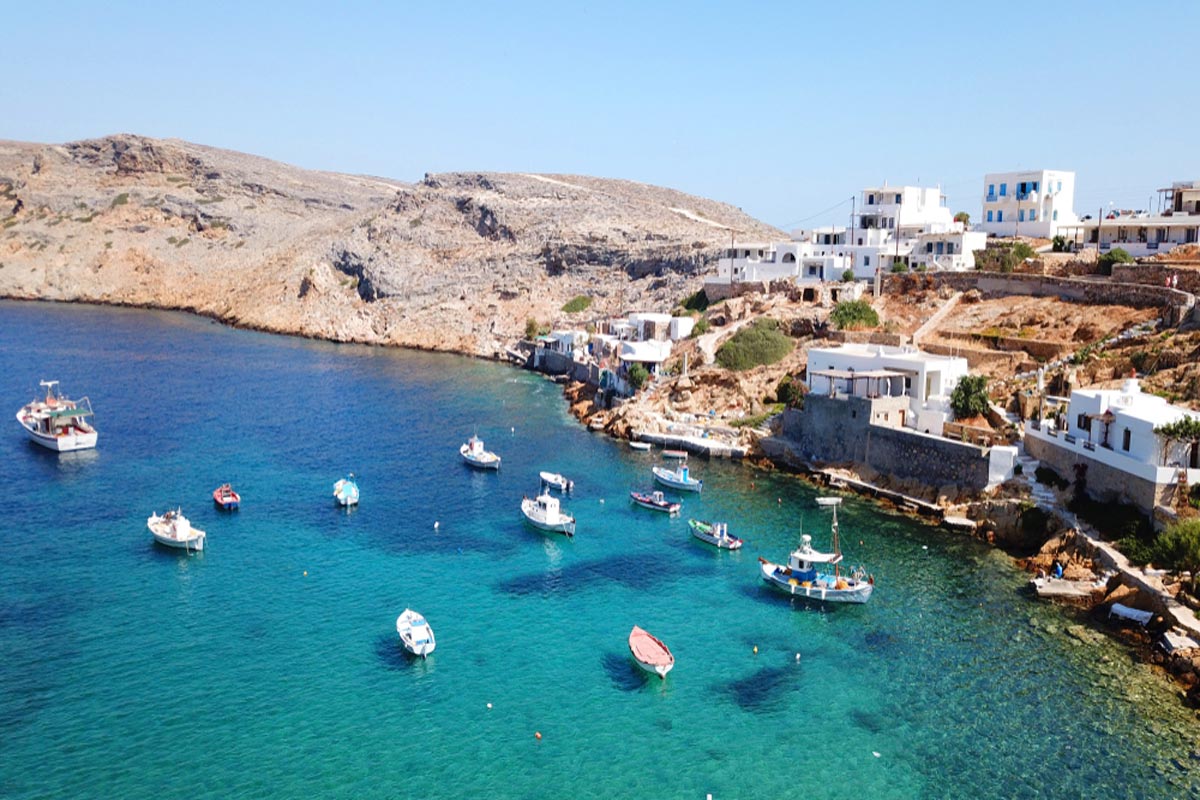 If you have a little extra time (lucky you) and can make it a 2-Week Greece honeymoon, go for it!

Add a destination or two to your island-hopping adventure. We suggest including a full-day trip to Delos and a couple of nights in Syros if you have time.

Alternatively, you can take a flight from Athens to Corfu to experience the beautiful Ionian Islands for a couple of days.
Greece Itinerary – Map
More for Your Greece Honeymoon Itinerary