Plan your Aruba honeymoon with this insider's guide. The best destinations and honeymoon resorts in Aruba, plus tips for making your romantic getaway a reality.
One of the most desirable islands for a honeymoon in the Caribbean, Aruba has become one of the region's coveted honeymoon destinations.
Combining a low crime rate, and the fact that it's typically bypassed by most storms and hurricanes, Aruba is a reliable (and gorgeous) destination for a romantic getaway.
The island is known for its pristine, white sand beaches, sparkling emerald water, and quintessential island life.
It's also easy to get around, yet there is ample opportunity for excursions and adventures.
Ready to plan your Aruba honeymoon?
Why Honeymoon in Aruba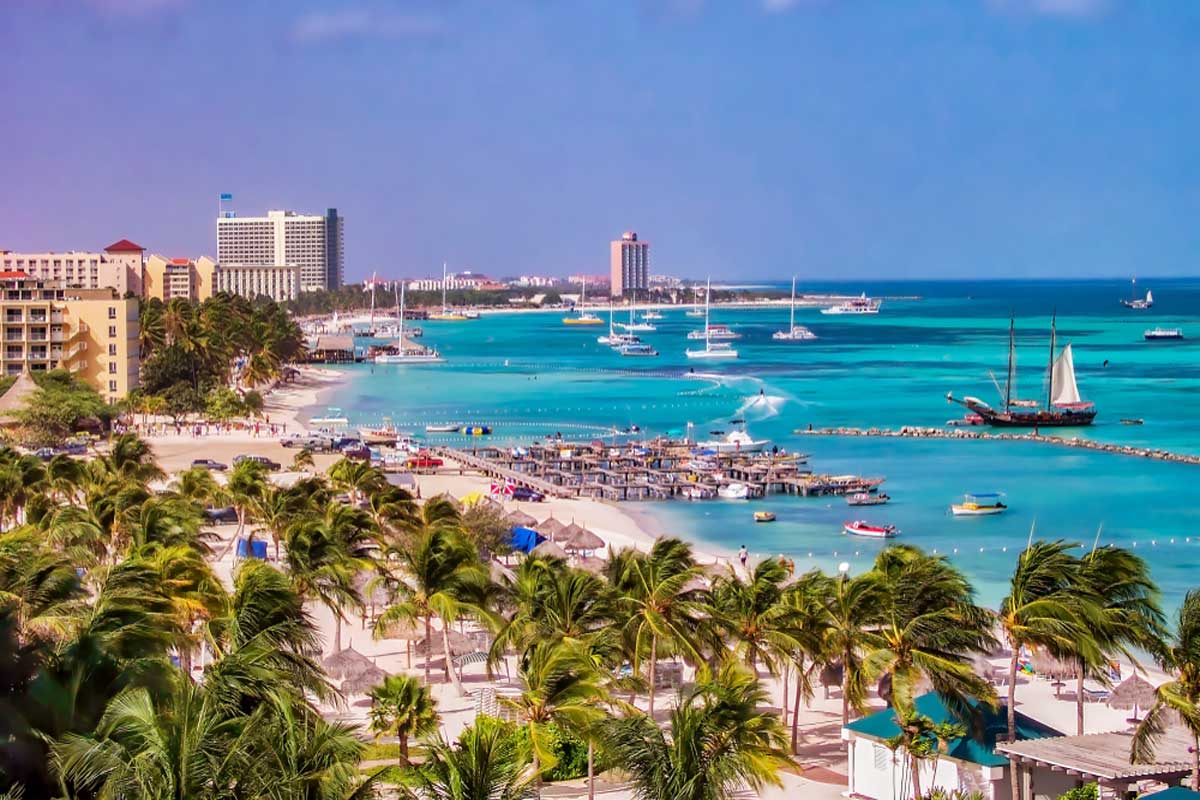 An Aruba honeymoon is a magical place for any couple. With nearly perfect weather all year long, you can't go wrong booking a honeymoon in Aruba.
The beaches here are covered in fine white sand made up of crushed shells and coral. The sand never gets hot, making it a perfect destination for taking long romantic strolls on the beach.
Aruba honeymoons are a great way to start your life as a married couple because it offers something for everyone. Whether you're looking for peace and privacy, adventures and fun nights out, or something in between, there are dozens of Aruba honeymoon ideas.
There are honeymoon resorts in Aruba that meet every budget and style, restaurants with mouth-watering cuisine that satisfies every tastebud, and a culture that embraces happiness, making going to Aruba for a honeymoon unforgettable.
To make things less stressful, there are Aruba honeymoon packages and resorts that offer Aruba all-inclusive honeymoon deals.
Best Honeymoon Hotels & Resorts in Aruba
The Ritz-Carlton Aruba
Noord
$$$
Best For a Blowout Luxury Experience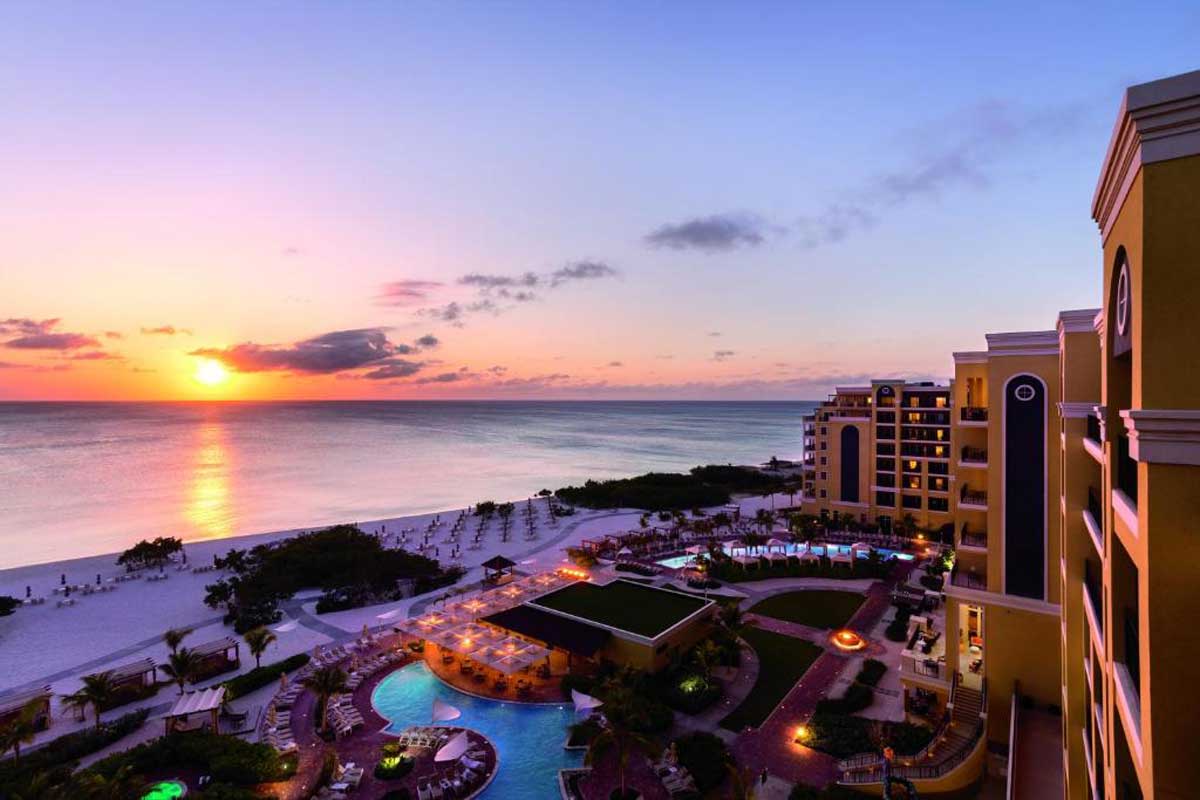 The Ritz-Carlton Aruba is located on the northwest coast of the island, close to many of Aruba's top attractions.
The name Ritz-Carlton and luxury go hand in hand, so it's little surprise that the hotel offers a high-end experience with first-class accommodations and amenities.
Guests can enjoy stunning views of the Caribbean Sea from their rooms, as well as from the hotel's outdoor pool area. The Ritz-Carlton Aruba also offers a full-service spa, several restaurants, and a well-equipped fitness center.
Sure, the Ritz-Carlton Aruba is one of the most expensive hotels on the island, but it's worth every cent. If you're looking for a luxurious and relaxing vacation in Aruba, this is the place to stay.
Hyatt Regency Aruba Resort, Spa & Casino
Palm Beach
$$$
Best For a High End Stay in a Central Location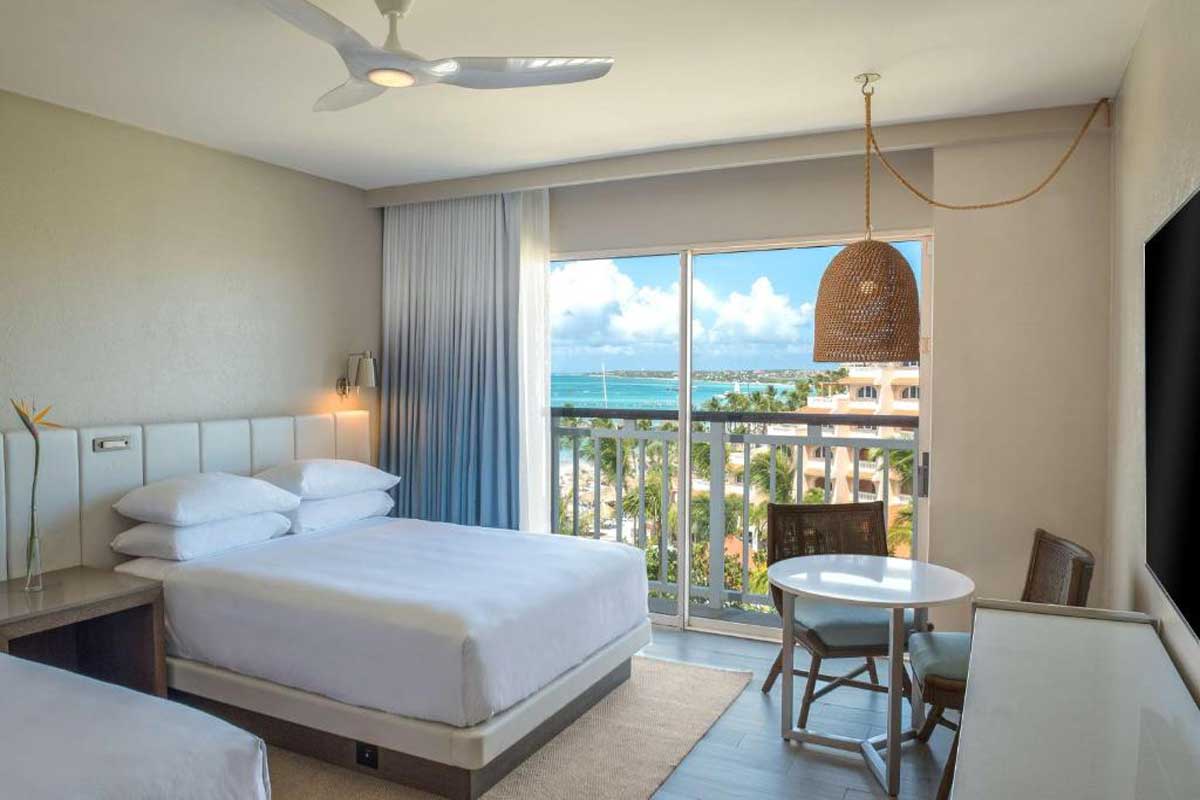 The Hyatt Regency Aruba Resort & Casino is located in a covetable location on the island's Palm Beach strip.
The hotel offers a variety of room types to choose from, as well as an on-site casino, several restaurants, and a spa. Of course, it's not a honeymoon in Aruba without a sea view and the rooms at the Hyatt Regency Aruba do not disappoint.
The Hyatt Regency Aruba is a great option for those looking for a resort with plenty of activities and amenities. The hotel's location on Palm Beach also makes it a great choice for those who want to be close to the action.
Marriott's Aruba Surf Club
Palm Beach
$$$
Best For beach lovers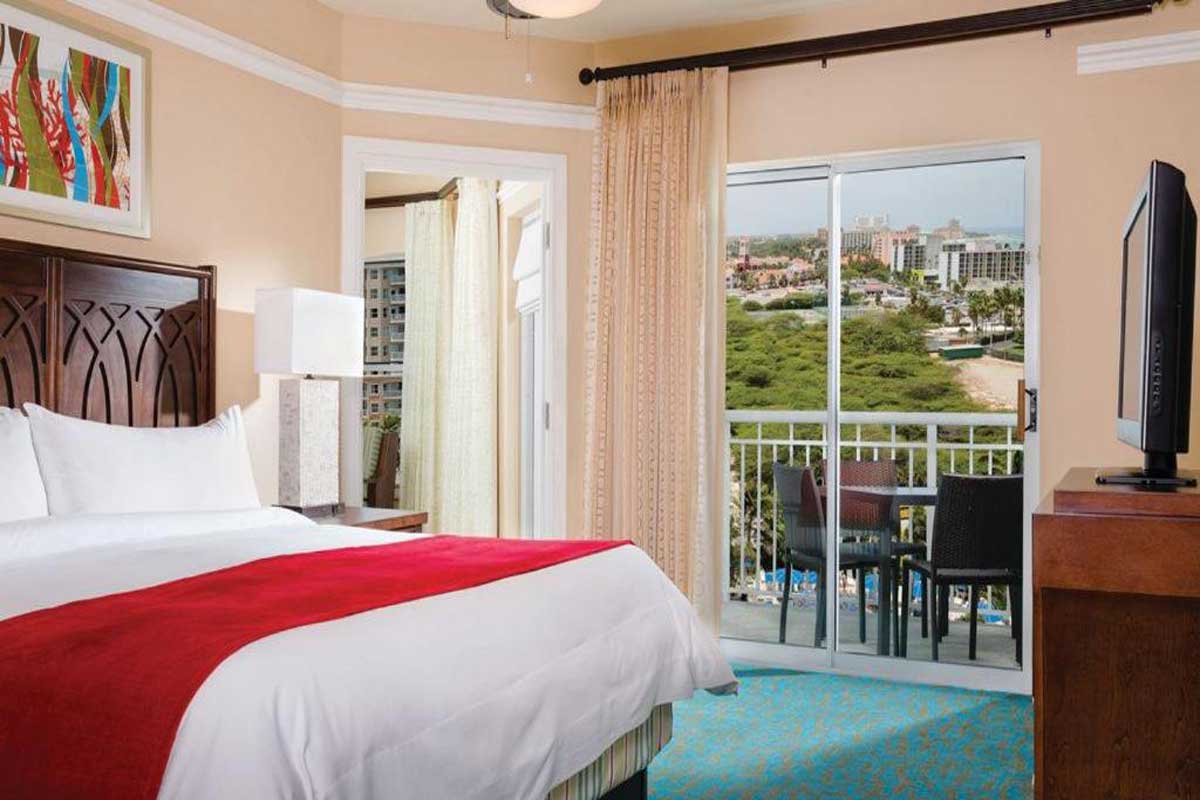 The Aruba Surf Club is one of the most popular Aruba honeymoon resorts. It sits on oceanfront property where you can choose from villas or guest rooms. You can find several dining options on site including Pool Bar and Grille, Beach Bar, and The Market Place.
There is a lazy river, multiple pools, a fitness center, as well as a spa.
Bricknell Bay
Palm Beach
$$
Best for peace and quiet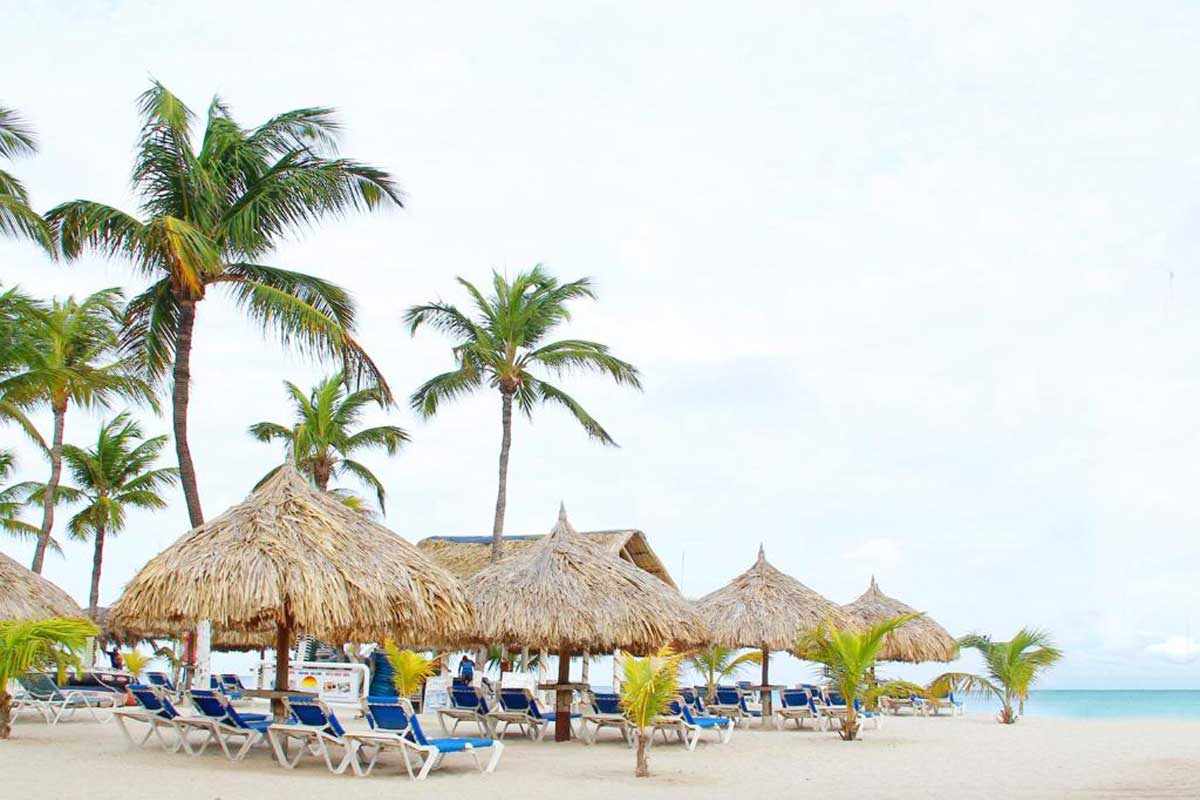 Bricknell Bay Resort is an adult-only boutique hotel, making it the best hotel in Aruba for a honeymoon. Bricknell Bay occasionally offers an Aruba honeymoon package or other romance packages. The hotel has a freshwater pool, spa, and fitness room, and is direct across the street from the beach where you can use chairs and umbrellas.
Caribbean Palm Village Resort
Palm Beach
$$
Best for relaxation
The Caribbean Palm Village Resort offers a quiet retreat from some of the other areas of Aruba, but close enough that you won't feel isolated.
CPVR offers suites that come fully equipped with kitchens or kitchenettes and balcony views. There is a restaurant onsite called Ceviches Restaurant where you can get breakfast, lunch, and dinner.
There are 2 pools and jacuzzis for guests to use as well as complimentary beach shuttles that can take you to several different beach locations.
Coconut Inn
Noord
$
Best for honeymooning on a budget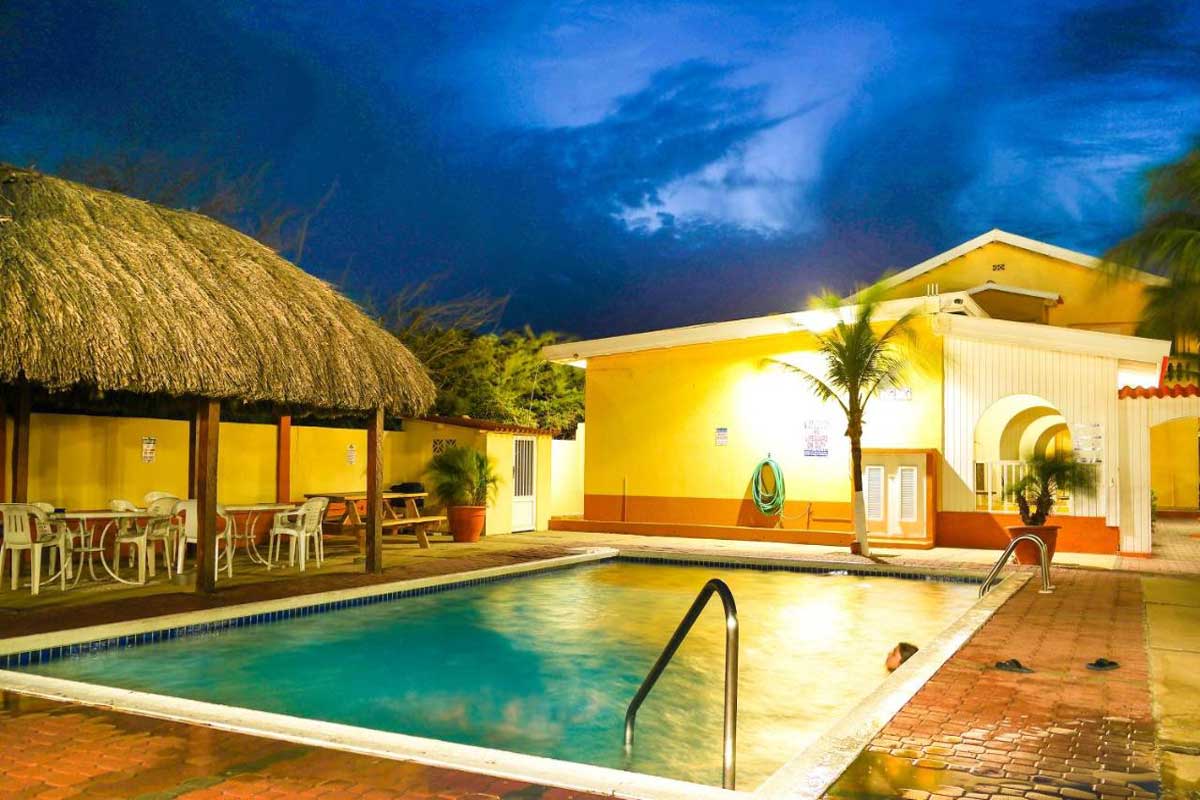 If you're traveling on a budget, like a majority of us, one of the top-rated Aruba honeymoon hotels is Coconut Inn.
At Coconut Inn you can find tranquility and simplicity. This cozy bed and breakfast provides guests with a swimming pool, a sun deck, as well as a bar and restaurant.
Check Rates and Availability
Aruba Honeymoon Tips: What You Need to Know
How to Get to Aruba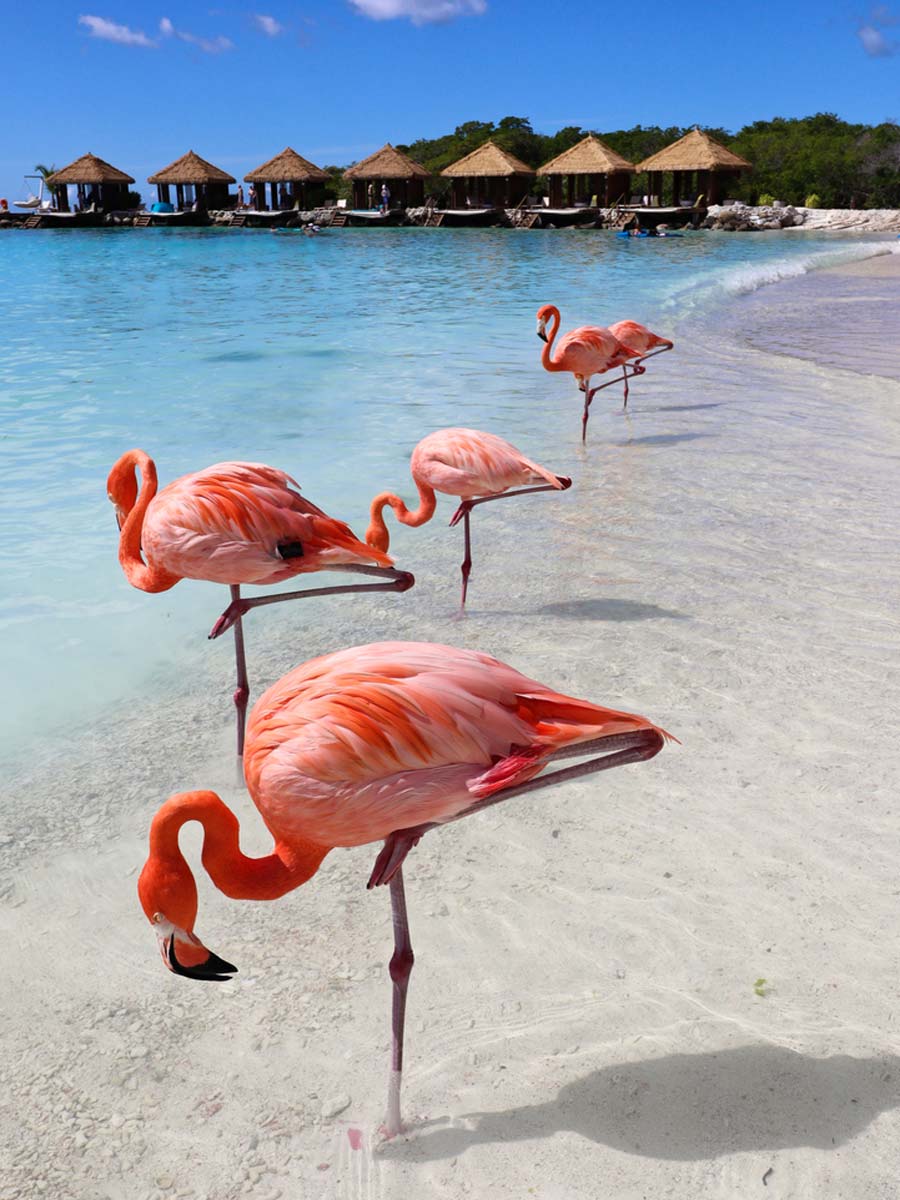 There are only 2 ways to get to Aruba, by sea or by air. There are dozens of cruise ships that stop in Aruba but most people get to their Aruba honeymoon destinations by air. You can only fly into and out of The Queen Beatrix International Airport (AUA).
Many of the hotels and resorts in Aruba offer airport shuttles but you can also rent a car (or even a boat), scooters and dirt bikes, public transportation, and bicycles.
The Best Aruba Honeymoon Destinations
Eagle Beach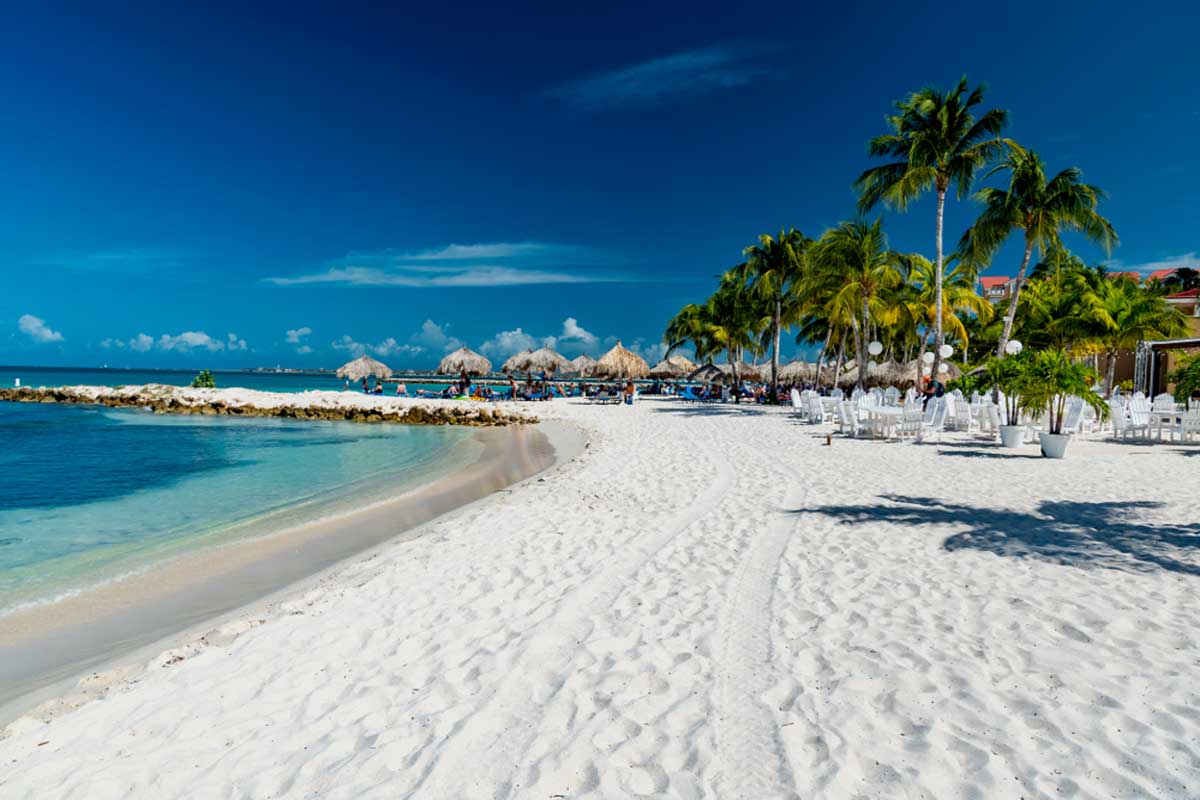 Rated one of the best beaches in the world, Eagle Beach is one of the island's top destinations.
It's the widest beach on the island so you can find plenty of space to lay out a towel and soak up the sun, take a stroll on the beach, hang out in a beach hut, or cool off in the sea in various ways.
Head out swimming or snorkeling with sea turtles, rent kayaks or paddleboards, and jet skis, or go parasailing – alternatively, book onto one of the many boat and fishing trips exploring the surrounding waters.
This beach is ideal for sunset as it faces the west, you can also view the Fofoti tree, which is the most photographed tree in Aruba. These trees are exclusive to Aruba and also face a southwestern direction.
Renaissance Islands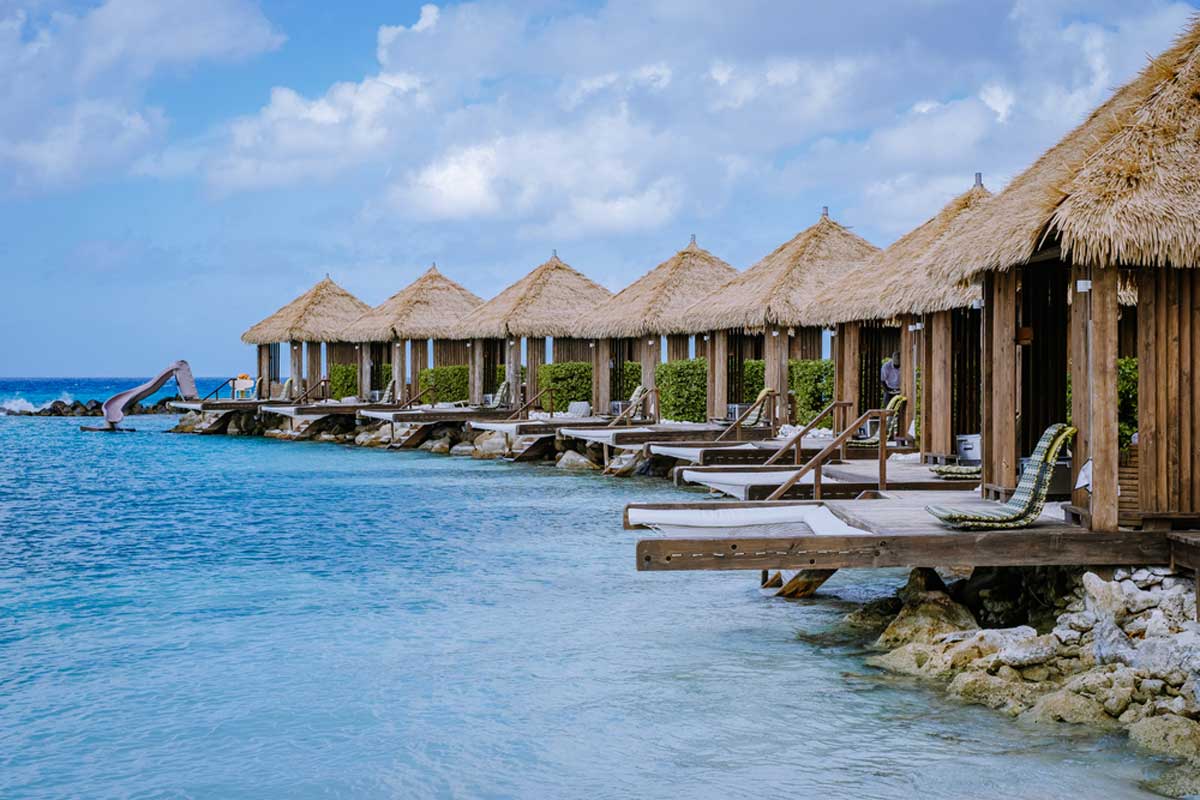 The Renaissance Islands are Aruba's only privately owned islands and are most famously known for their flamingos.
Since the beach is private, you'll need to buy a day pass for $125. This includes one meal and one drink.
The islands have a family-friendly side as well as an adult-only side. The flamingos are on the adult-only side and there are little dispenses that you can put a quarter in and get food to feed them.
The island also has beach chairs and towels, equipment like snorkels, paddle boards, kayaks, and floats.
The islands have 2 restaurants on them: Papagayo Bar & Grill and the Mangrove Beach Bar and snack options at Mangrove Beach Bar & Fish Shack.
Want to enjoy some alone time with your sweetheart? Book a couples' massages at Spa Cove or book the Dinner Under the Stars experience.
Natural Pool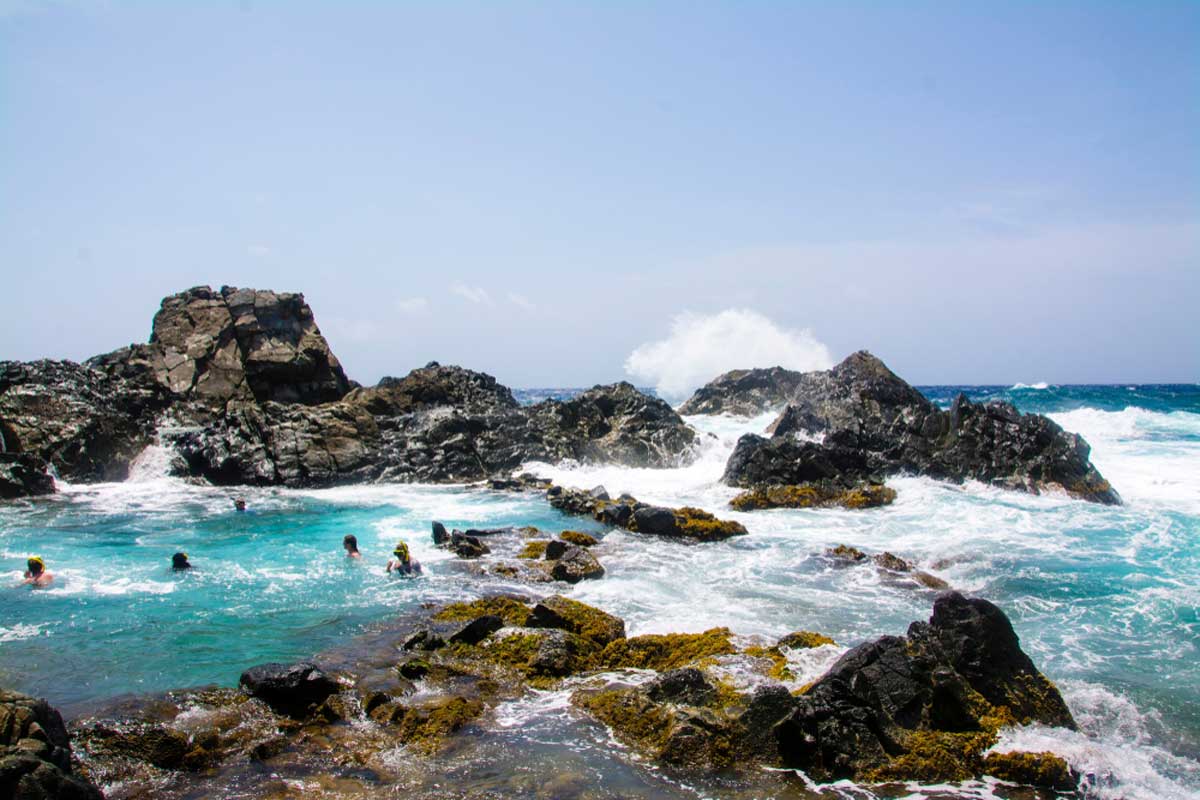 Also known as Conchi, this tourist attraction is one of Aruba's most remote, yet popular destinations, for locals and visitors.
This natural pool was formed by volcanic rocks and is only reachable by foot, 4×4, or horseback and many people opt to book a tour with a local guide.
Go swimming in the pool, jumping off the surrounding rocks if you dare.
There are actually two natural pools, the bigger pool sits at the bottom with a smaller upper one on top. Waves often crash into the pool and the deepest part is up to 15 feet deep.
Arikok National Park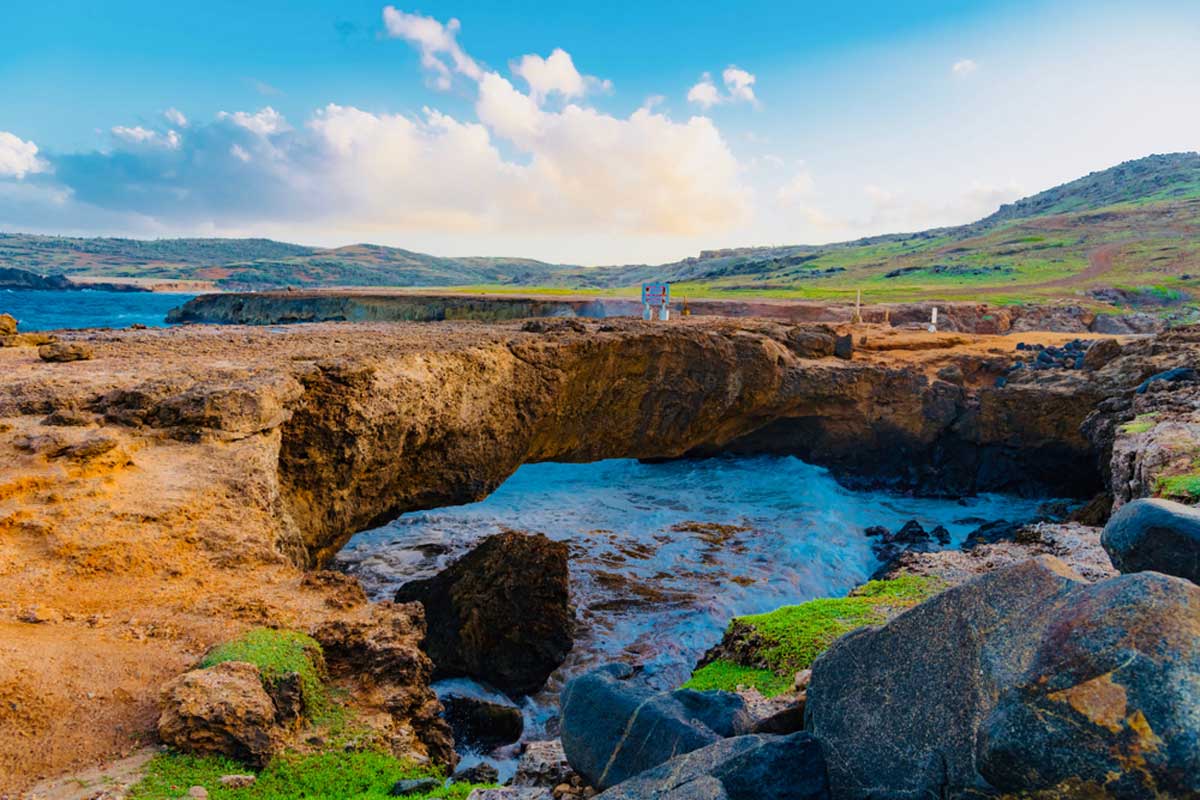 This national park was established in 2000 and protects 7907 acres of land. A majority of people take a tour of the park in a 4×4.
There are many points of interest in the park including Fontein Cave and Quadirikiri Cave, and Dos Playa where you can go swimming, surfing, and bodyboarding. The park is home to several species of animals that are online found in Aruba including the Aruban rattlesnake, Aruban whiptail lizard, Aruban burrowing owl, and Aruban parakeet. You can also see iguanas, goats, donkeys, and migratory birds.
Oranjestad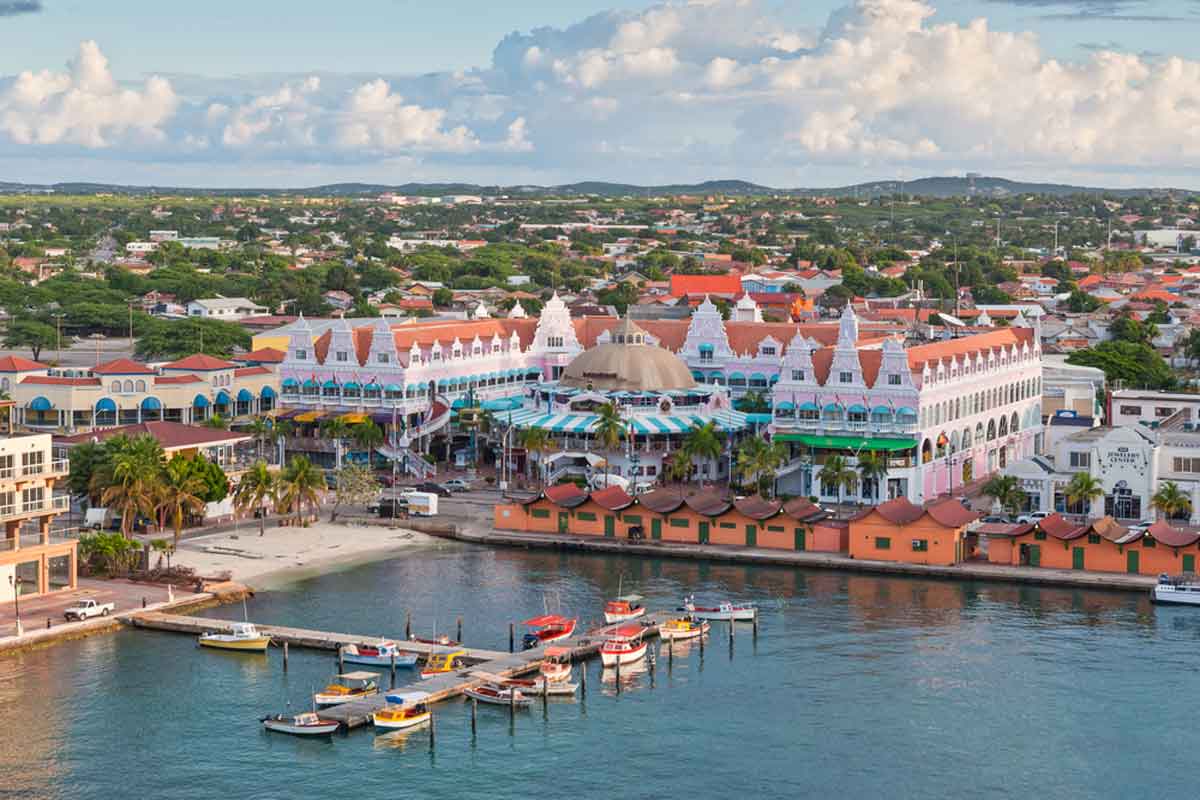 Oranjestad is the vibrant capital city of Aruba and deserving of at least one trip during your time on the island.
Bursting with shops, galleries, museums, restaurants, bars, and cafes, it's a cool city with a laid-back vibe.
Shoppers will love The Renaissance Mall which contains more than 60 stores and entertainment options.
Looking for something more peaceful? Sit on the docks and watch large ships pull into port or stroll around to ogle the multi-colored Dutch architecture. Be sure to add stops at Linear Park, a local market, Plaza Daniel Leo, or take a walk down Main Street.
De Palm Island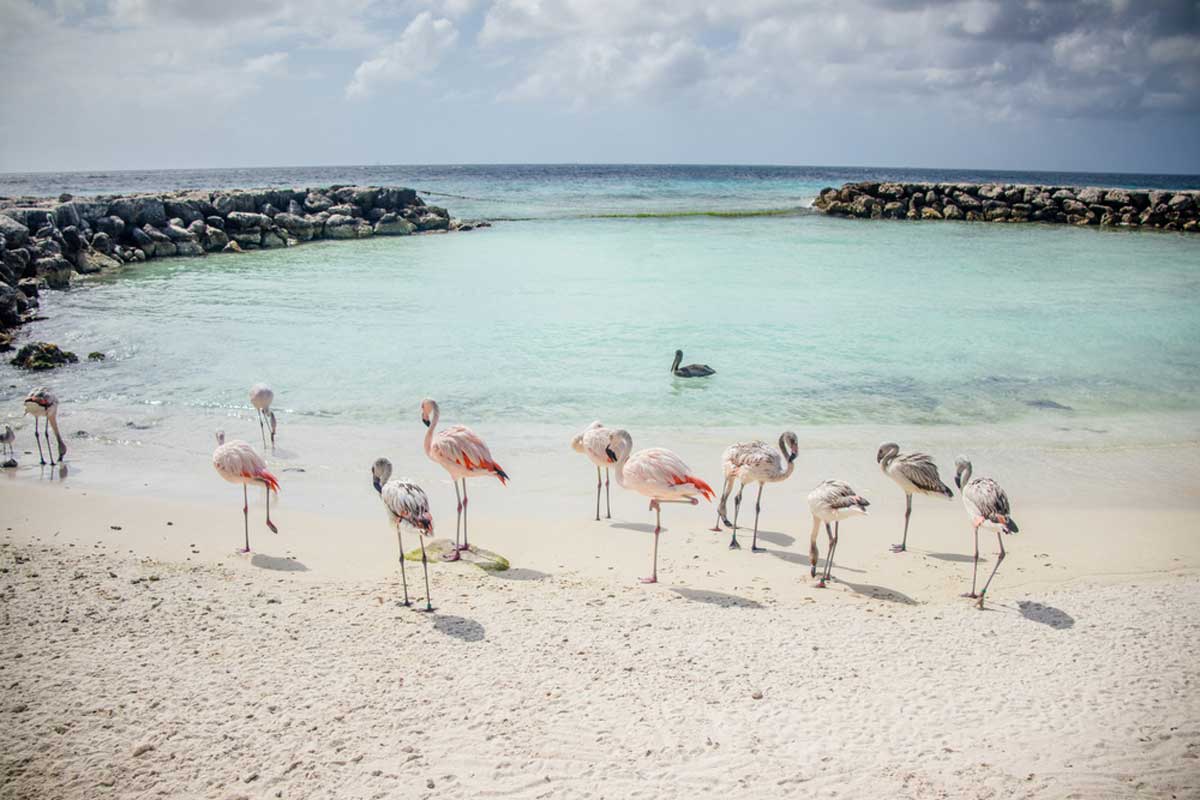 De Palm Island is a private island that features an open bar, water activities, and flamingos! While there is a resort on the island, you can also purchase a day package.
A day package includes food and beverages, snorkel gear, free snorkeling tours, unlimited banana boat rides, and body drop slides.
Hooiberg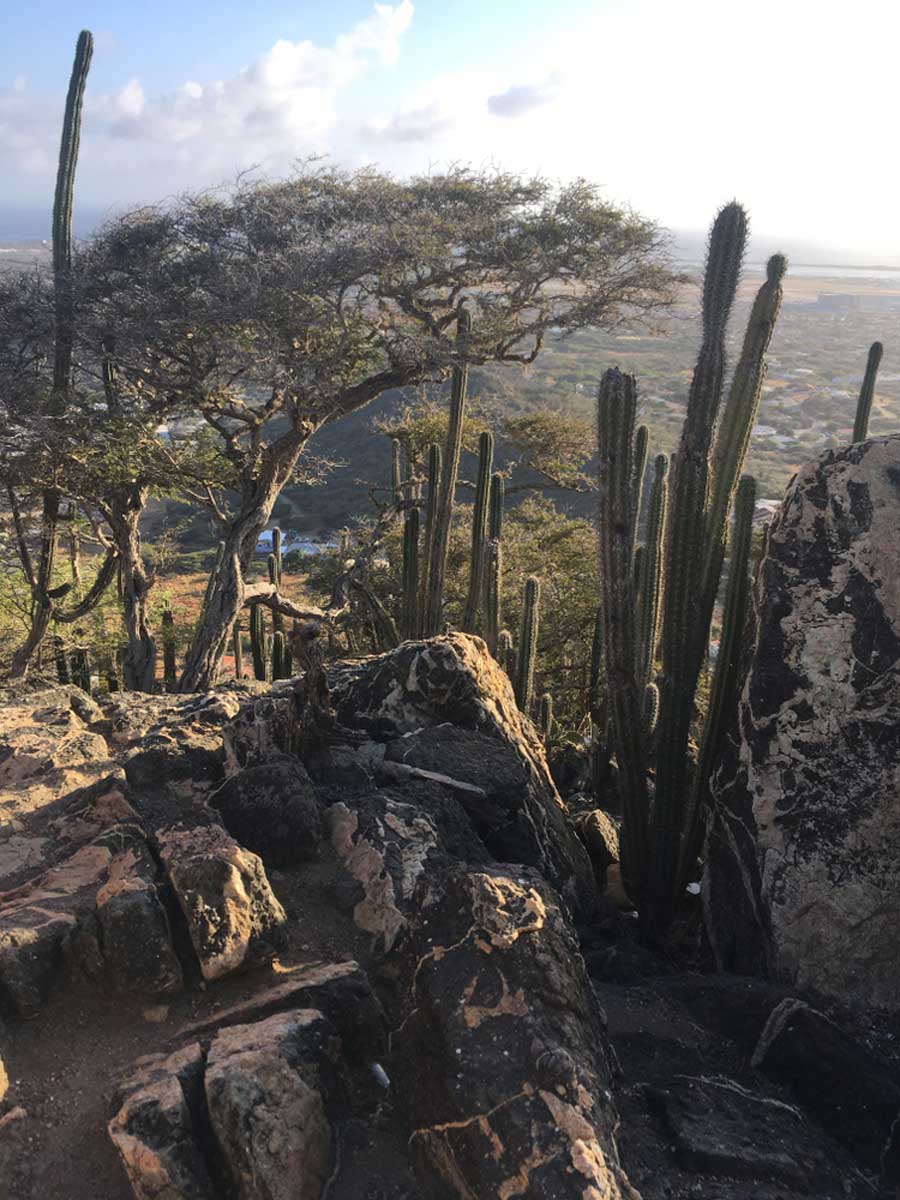 Visit Hooiberg to explore a different side of Aruba. This volcanic rock formation has 587 steps leading to the top, rewarding hikers with a great view of the island.
There is a nice gazebo halfway up where you can rest and relax or have a picnic.
The Donkey Sanctuary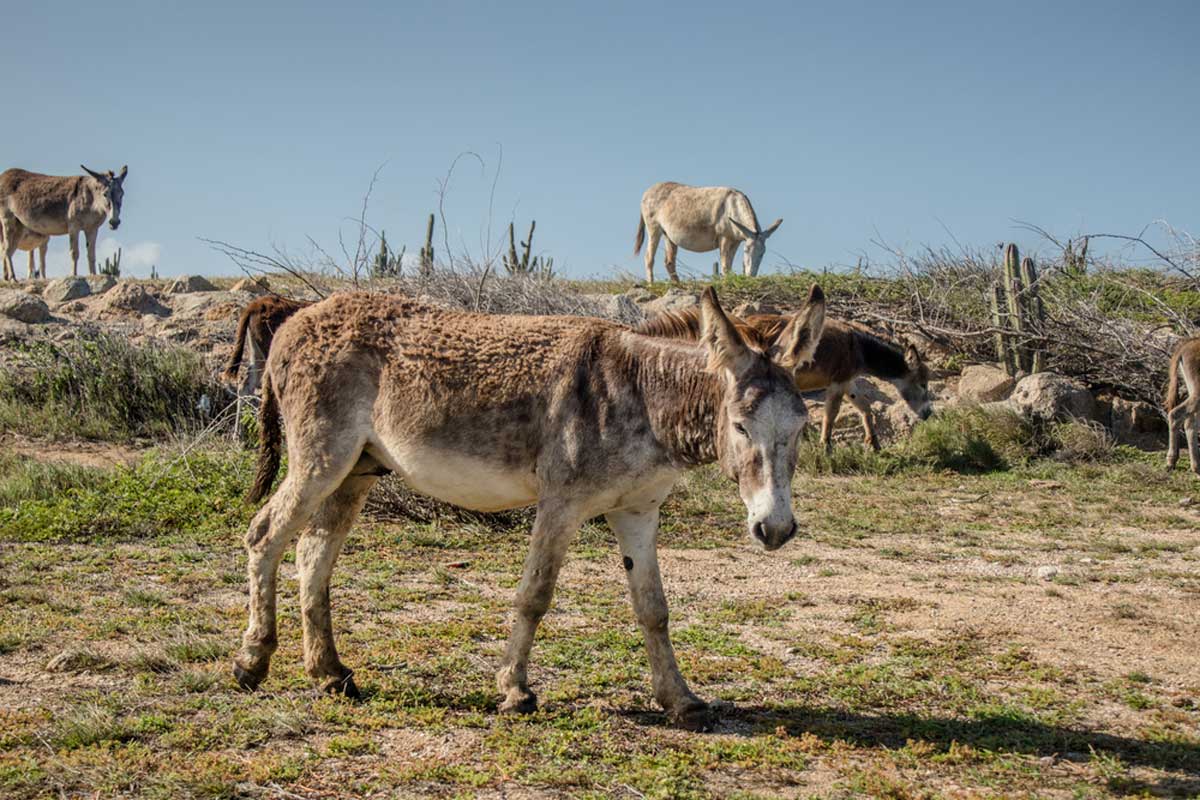 Most people who visit Aruba take a trip to The Donkey Sanctuary. The sanctuary protects over 100 donkeys that were found injured or abused.
The Donkey Sanctuary offers guests a private 30+ minute hugging and petting session. Lovely.
The Best Time to Visit Aruba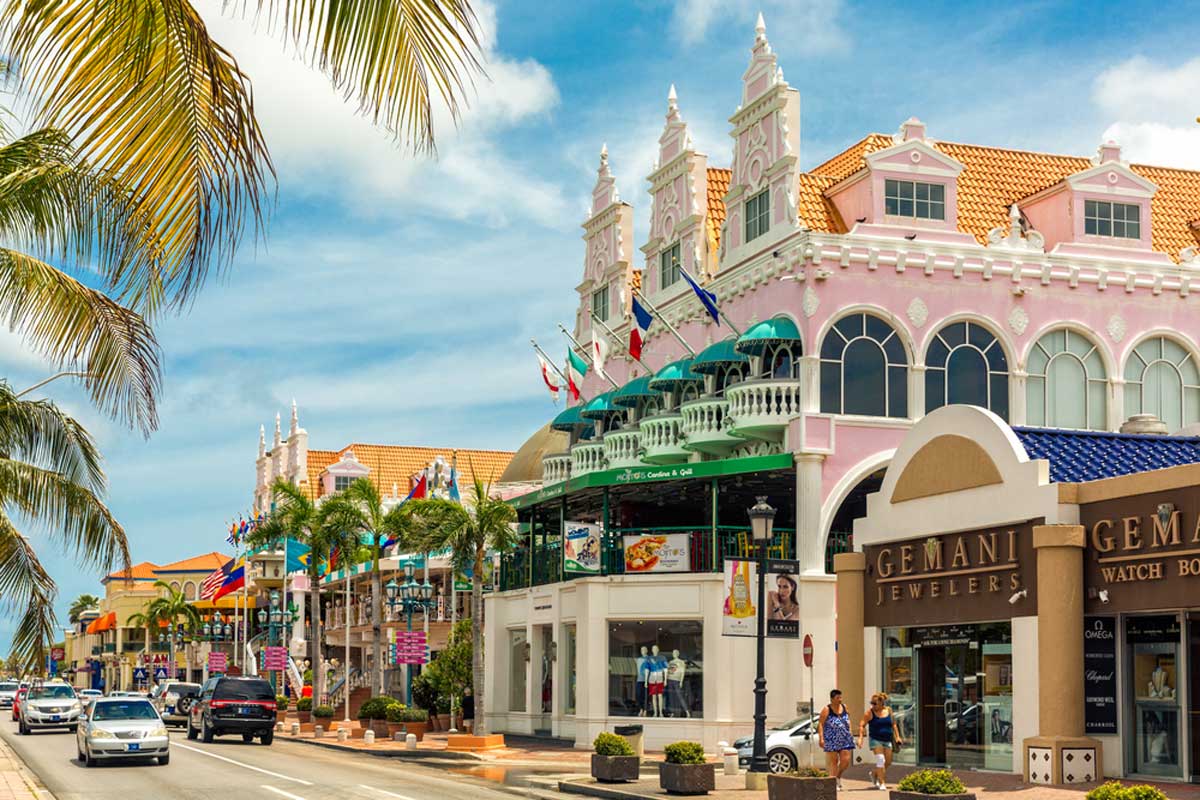 There really isn't a bad time to visit Aruba. It's out of the path of hurricane alley and they have clear and sunny skies for the majority of the year, only seeing about 15 inches of rainfall a year.
The average temperature is in the low 80s and there is always a trade wind blowing so it is very rarely overwhelmingly hot.
How Long to Spend on Your Aruba Honeymoon
You can find honeymoon packages in Aruba for various lengths of time. Most couples spend between 5 and 7 days honeymooning in Aruba.
How Much Does an Aruba Honeymoon Cost?
There are various things to think about when planning for your Aruba honeymoon cost, but broadly you should plan for $2,500 upwards for a stay of five-seven days.
To make things easier, there are some resorts that occasionally offer an all-inclusive Aruba honeymoon package while others can help you curate your ideal honeymoon.
An all-inclusive honeymoon in Aruba is probably the cheapest way to go. Some packages include airport pickup and drop off and some even include flights.
Aruba Honeymoon Resorts: Map
Aruba Honeymoon Guide: Read Next