Lush green landscapes, luxury accommodations, incredible dining and adorable llamas. These are all reasons to choose a Peru honeymoon for your dream getaway – here's how to do it.
Whether you're looking to spend a week or two hiking through the rainforests and mountains or would rather have an urban retreat, Peru has something for everyone on their South American honeymoon.

Breathtaking scenery, ancient Inca ruins, friendly locals, and vibrant flavors are all reasons why we can't recommend a honeymoon in Peru enough. But how long should you visit for, what should you do, and where should you stay? We got you covered.

We put together an in-depth look at everything you need to know about a Peru honeymoon. Ready for an unforgettable trip? Let's go.
Best Honeymoon Hotels & Resorts in Peru
Palacio del Inka, a Luxury Collection Hotel, Cusco
Cusco
$$$
Best For a Historic Honeymoon Hotel in Peru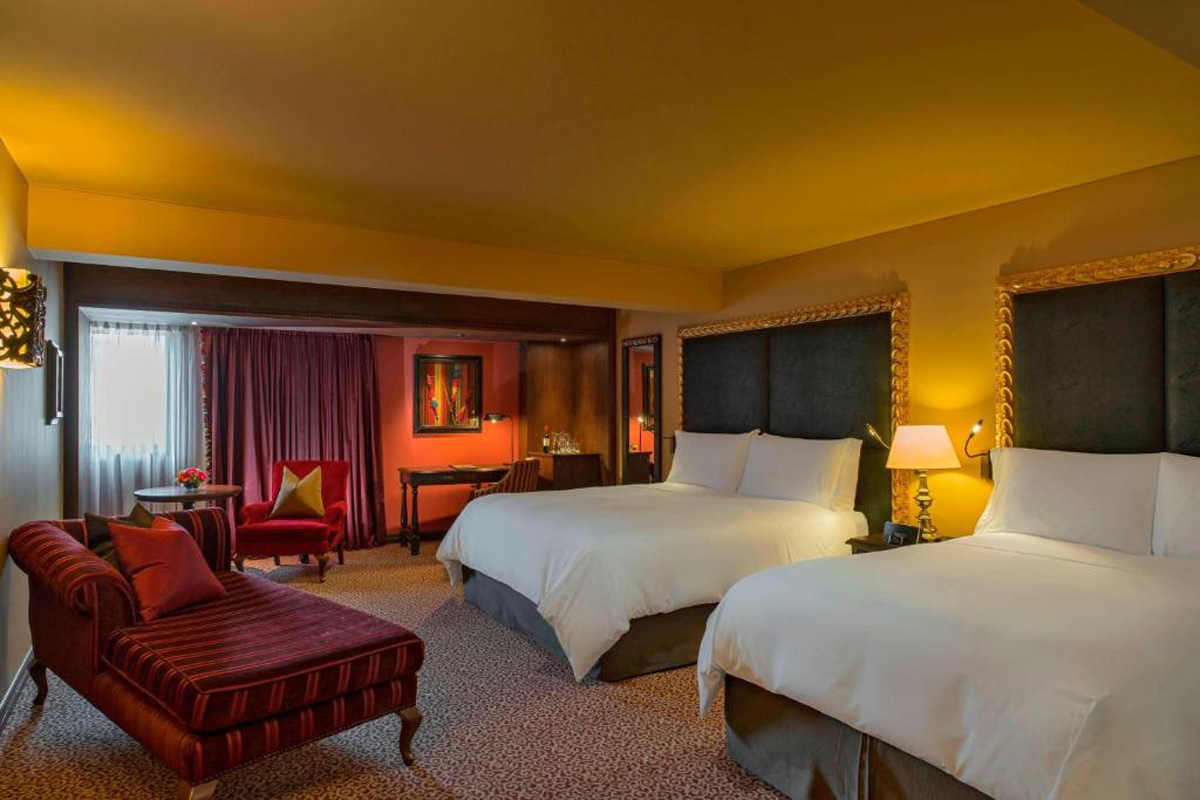 Located in the center of Cusco, this luxury property is one of the finest Peru honeymoon resorts you can choose for your unforgettable getaway. It's also a perfect choice for timeless romance.
Palacio del Inka, a Luxury Collection Hotel, Cusco sits in a 500+-year-old historic building next to the famous Qoricancha, or temple of the sun.

You'll quickly fall in love with the stone walls and arches opening up to an elaborate lobby highlighted by the grand atrium, ornate chandeliers, and bold tones of blue and red that immediately create a sense of welcoming hospitality upon arrival.
Dine at Inti Raymi in the ornate dining room or (charming garden on nicer days) for superb Peruvian cuisine that's most popular for the decadent breakfast buffet.

When you're ready for some R&R (it's your honeymoon, after all), head to your room or suite. Each creates a sense of romance and tranquility with luxury linens, warm color palettes, and views of historic Cusco outside your windows.
Palacio Nazarenas, A Belmond Hotel, Cusco
Cusco
$$$
Best For a Luxury Peru Honeymoon Package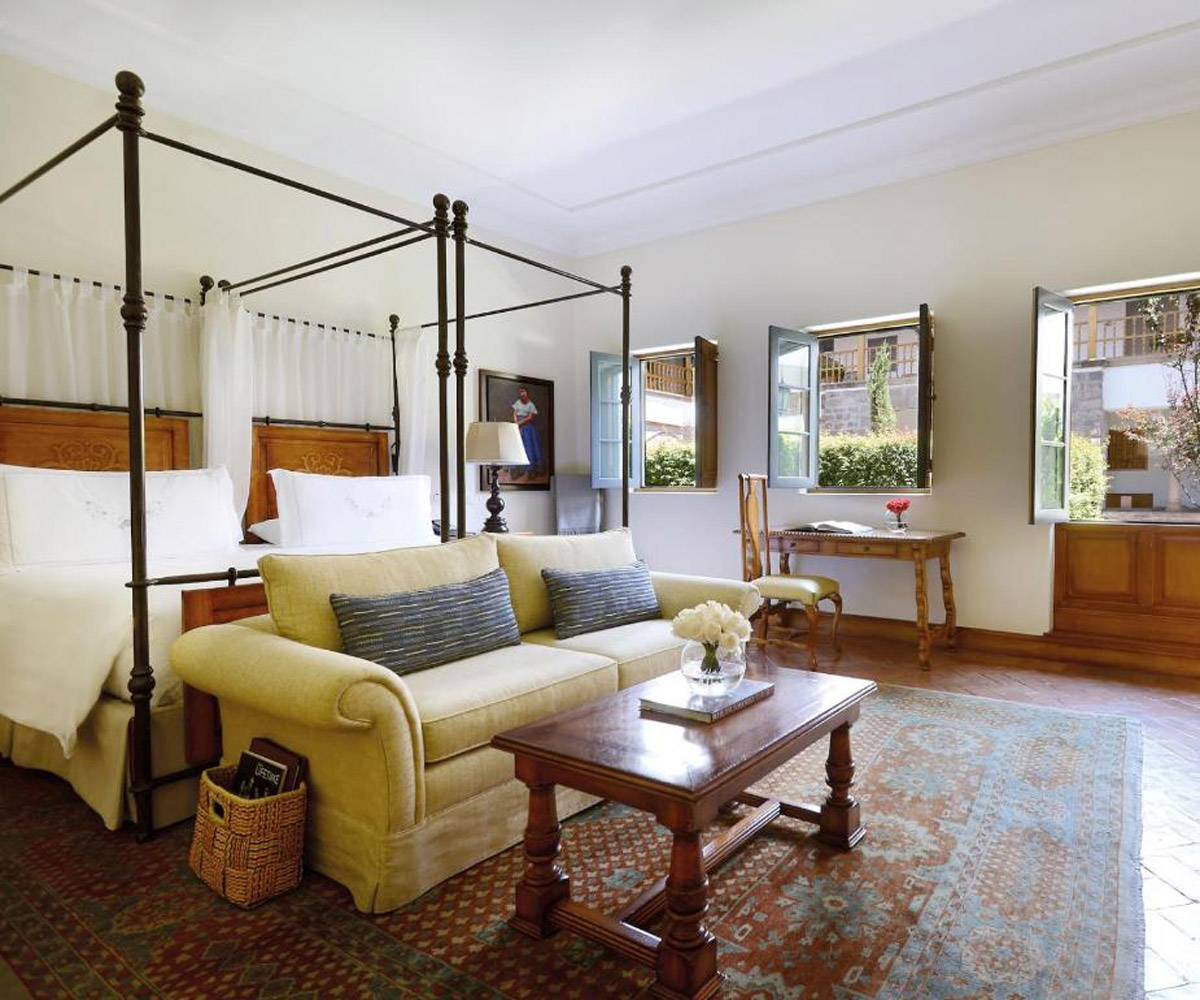 Palacio Nazarenas, A Belmond Hotel, Cusco, offers a uniquely Peruvian experience on your honeymoon in Cusco.
From the Inca stone walls to a well-liked spa that uses local ingredients like Andean pink salt and purple corn, you'll feel completely in the moment during your Peru Honeymoon at this five-star resort.
But what really sets this hotel apart are the Peru honeymoon all-inclusive packages.

Contact the hotel before your arrival, and you can arrange romantic details like salsa dance lessons, cooking classes, and candlelit dinners at the hotel restaurant, Senzo (near the stunning outdoor pool).

The suites are impossibly romantic, with dark hardwood floors, antique furniture, and four poster canopy beds.

You'll even have a private butler assigned to your room, making it a perfect choice for a leisurely Peru honeymoon where your only concern is enjoying each other's company for the week.
JW Marriott Hotel Lima
Lima
$$$
Best For a Honeymoon in Lima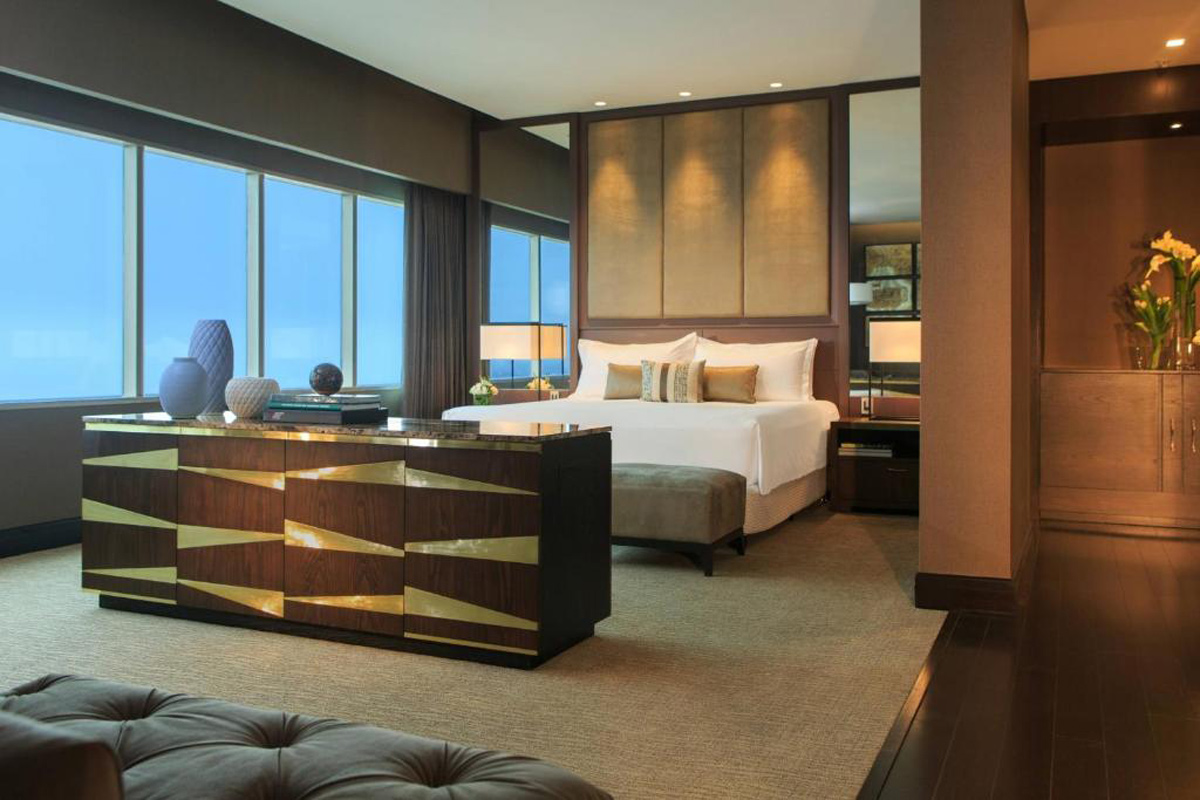 JW Marriott Hotel Lima looks out at the Pacific Ocean shores from the heart of Lima, making it an ideal landing spot if you want to spend a few days in the capital city of Peru.

Near the hotel, you'll have access to the incredible shopping and dining along July 28th Drive and the ancient adobe pyramid of Huaca Pucllana Site Museum. If you want to stay closer to home, you can enjoy Asian-Peruvian fusion at La Vista or cocktails at JW Lounge.

Rooms are modern and elegant, offering an urban-chic vibe and spectacular Ocean views, king-sized beds, and large walk-in showers in the spacious bathrooms.

Pillow Top mattresses, 24-hour in-room dining, and optional upgrades to suites with in-room jacuzzis make this hotel a perfect place to unwind between sightseeing on your honeymoon in Peru.
El MaPi by Inkaterra
Aguas Calientes
$$
Best For a Machu Picchu Honeymoon
If the views of Machu Picchu are just too enchanting to leave, you might consider booking your Peru honeymoon package at El MaPi by Inkaterra.

Located in the heart of Aguas Calientes (Machu Picchu Village), this modern four-star hotel boasts stylish, comfortable accommodations in the most convenient setting for your Machu Picchu honeymoon.

Rooms and suites have excellent lighting and a relaxed decor that's ideal for couples who care more about comfort and value than opulent furnishings. You'll enjoy breakfast and dinner included in the cost of the reservation, which is already quite affordable.

A flat-screen tv, minibar, and toiletries ensure you'll have everything you need to relax between hiking and sightseeing on your honeymoon in Peru.
Aranwa Sacred Valley Hotel & Wellness
Urubamba
$$
Best For a Honeymoon in the Sacred Valley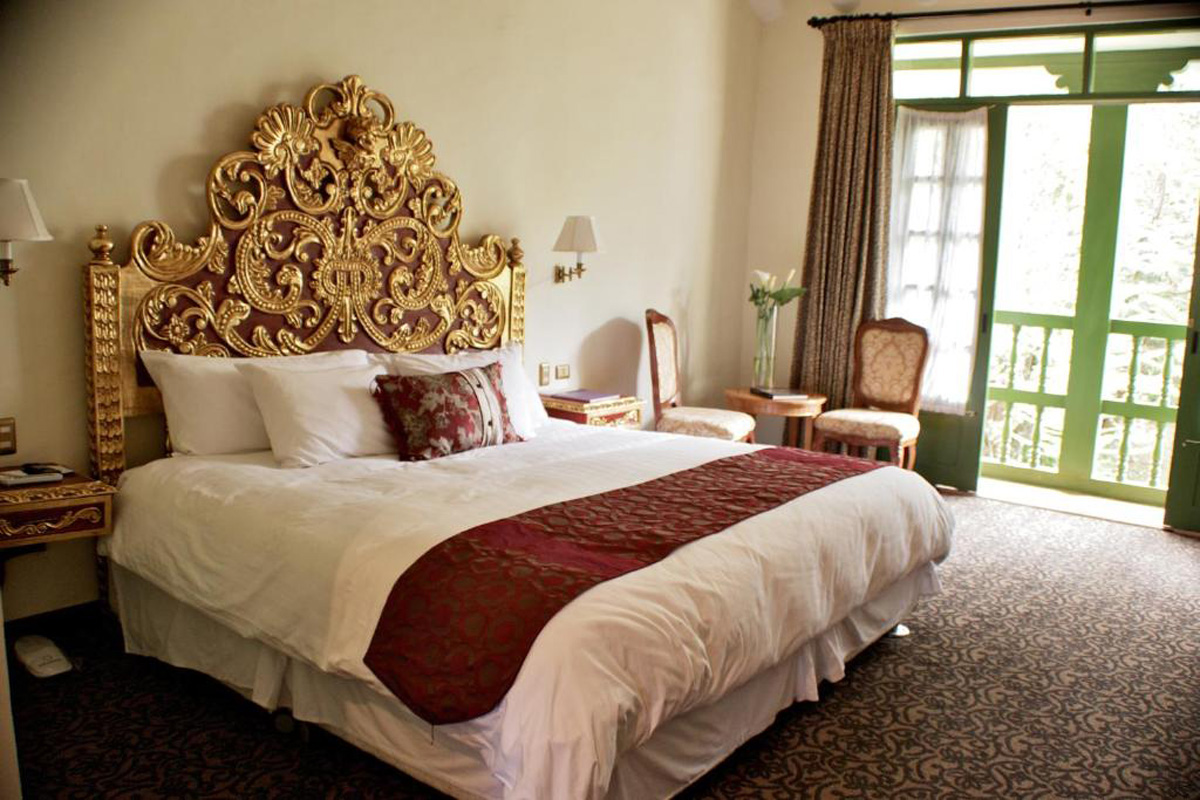 When you approach the 17th-century hacienda that's now the idyllic Aranwa Sacred Valley Hotel & Wellness, you can't help but feel the romance in the air.

Surrounded by a pristine backdrop of mountains and forests, this beautiful five-star property along the Vilcanota River has no shortage of charm.
Rooms are a mix of colonial architecture and contemporary design. Some feature ornate headboards, vaulted ceilings, and colonial architecture adorn others have canopy beds, hardwood floors, and spa tubs overlooking the stunning riverside setting outside.

Amenities include a popular spa that features locally sourced ingredients and a popular Japanese-Peruvian restaurant with delicious cuisine and excellent choices of wine by the bottle or glass.

It's safe to say no matter what your definition of a romantic holiday is, you'll find it in the Sacred Valley.
Hotel Riviera Inka Paracas
Paracas
$
Best For Budget-Friendly Peru Honeymoons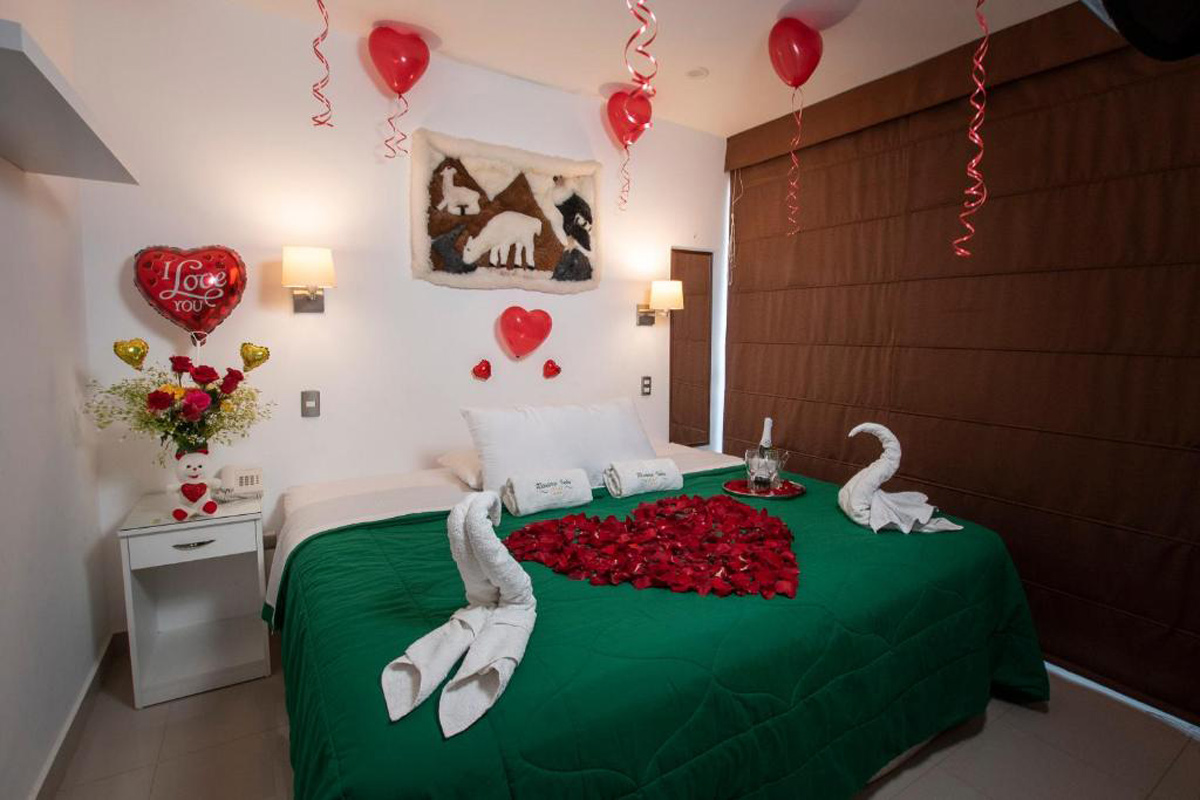 Hotel Riviera Inca Paracas offers affordable rooms near the Paracas Port, making it a perfect getaway for couples looking for a honeymoon resort near the Ballestas Islands (more on that later).
Rooms are small but conveniently located and have large, comfortable beds and walk-in showers.
Spend a little extra for a sea view room, and you'll enjoy the extra space on a private balcony. Ideal for couples who want to cut back on their Peru honeymoon cost, you won't have to dig too deep into your honeymoon fund for this hidden gem.
Peru Honeymoon Tips: What You Need to Know
How to Get to Peru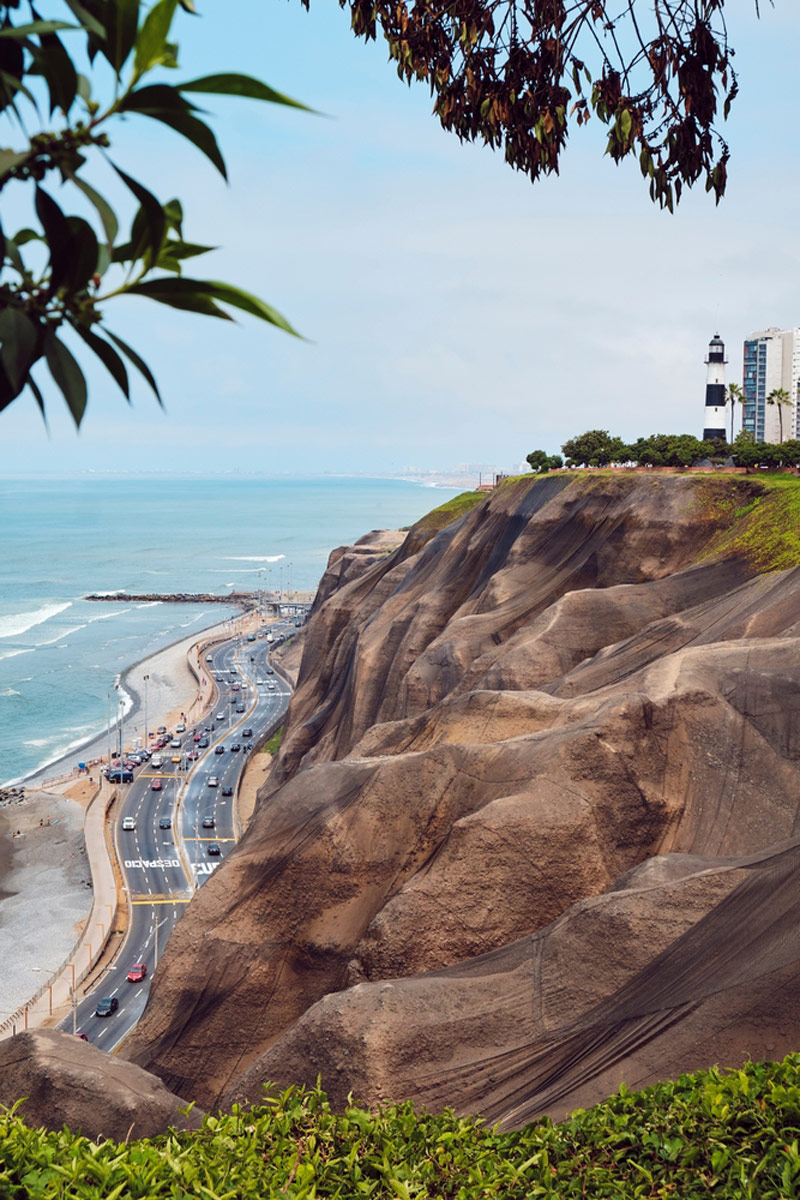 Getting to your honeymoon Peru accommodations is typically easiest by flying into Jorge Chavez International Airport (LIM) in Lima or Alejandro Velasco Astete International Airport (CUZ) in Cusco.

Cusco is the closest international airport to Machu Picchu, where you can take a train ride on Inca Rail or PeruRail to Aguas Calientes and a bus from there.
The Best Peru Honeymoon Destinations
Cusco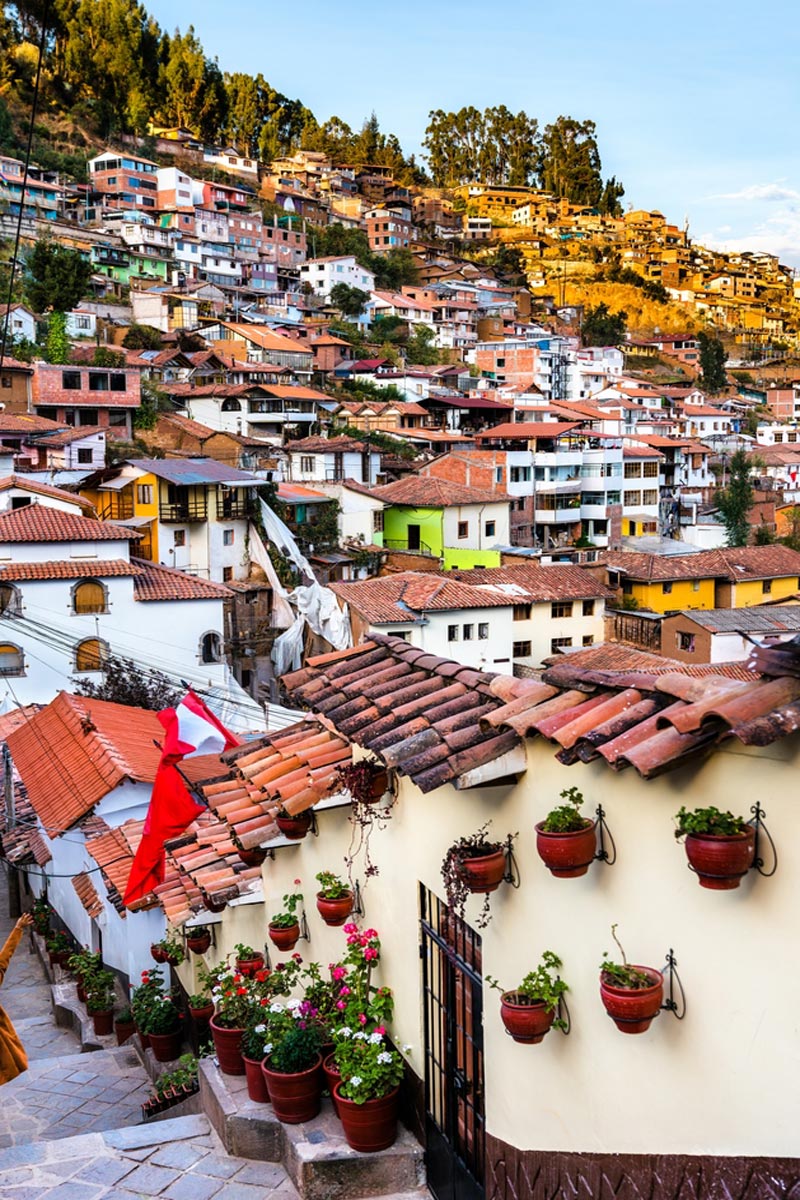 Start your Peru honeymoon on the right foot with a trip to one of our favorite locations in Peru, the ancient Inca city of Cusco.

Friendly locals, and a rich array of historical sites make this a favorite for honeymooners wanting to learn more about Peruvian culture.

Visit the Plaza de Armas in the city center, where you can see colonial architecture with Inca influences (and stolen materials) in relics like the 16th-century Cusco Cathedral. Take notice of the ancient stones from Sacsayhuaman and art depicting the Virgin Mary as the Inca Pachamama.
Sacsayhuaman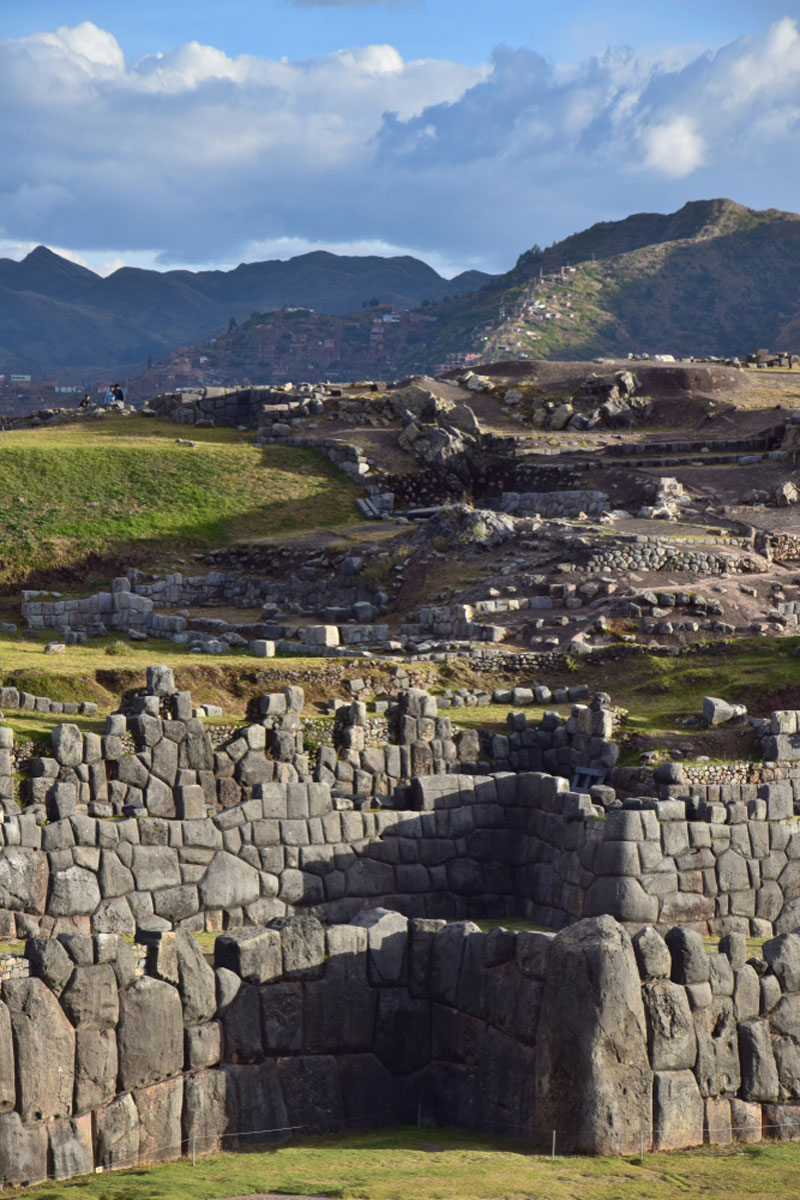 Remember when we mentioned the Spanish using stones from Sacsayhuaman to build the Cusco Cathedral?

Many of the original stones are no longer here, but walking around the vast Inca complex (which many think was a temple dedicated to the sun) is still very impressive.

You can take a rideshare or taxi from Cusco (it takes about 15 minutes), but we love the idea of a long stroll up to the complex, which takes about 30-45 minutes. Buy a Cusco S/.130.00 ($36) at the COSITUC near Centro Historico in advance.

Not only will you have a chance to walk around the vast fortress complex, but the views of Cusco from the top are a perfectly romantic way to spend a day on your honeymoon in Peru.
Machu Picchu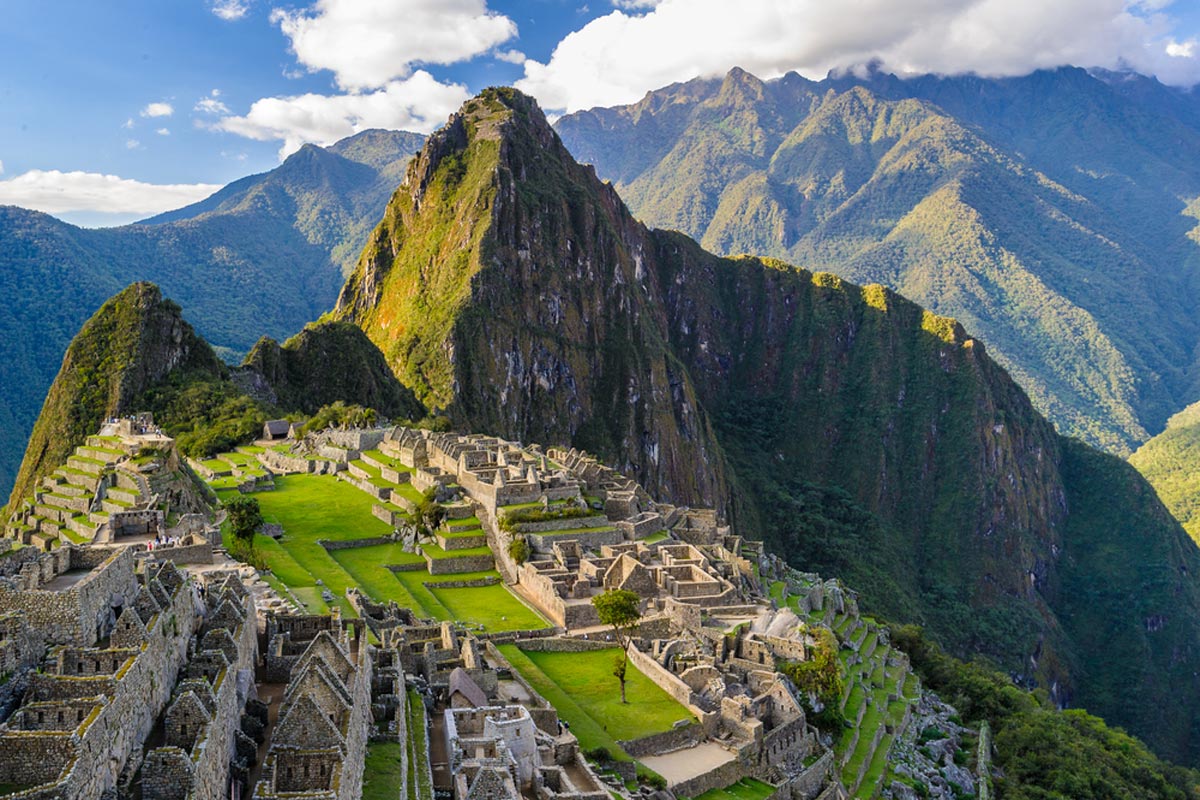 Visiting Machu Picchu (the iconic Inca ruins located nearly 8,000 feet up in the Andes Mountains) is undoubtedly one of the most popular Peru honeymoon destinations.

Whether you choose to take a romantic 4-day trek or a train from Cusco, you can't go wrong. Seeing the 15th-century Inca citadel and resident llamas above the Amazon Rainforest is one of the most incredible examples of archeology blending with nature anywhere in the world.
Purchase your tickets in advance, which we recommend booking with GetYourGuide well in advance.
Pro Tip: A Machu Picchu honeymoon involves a very high elevation change, so you may want to do it a few days into your trip once you've acclimated to your surroundings in Cusco.
Rainbow Mountains of Peru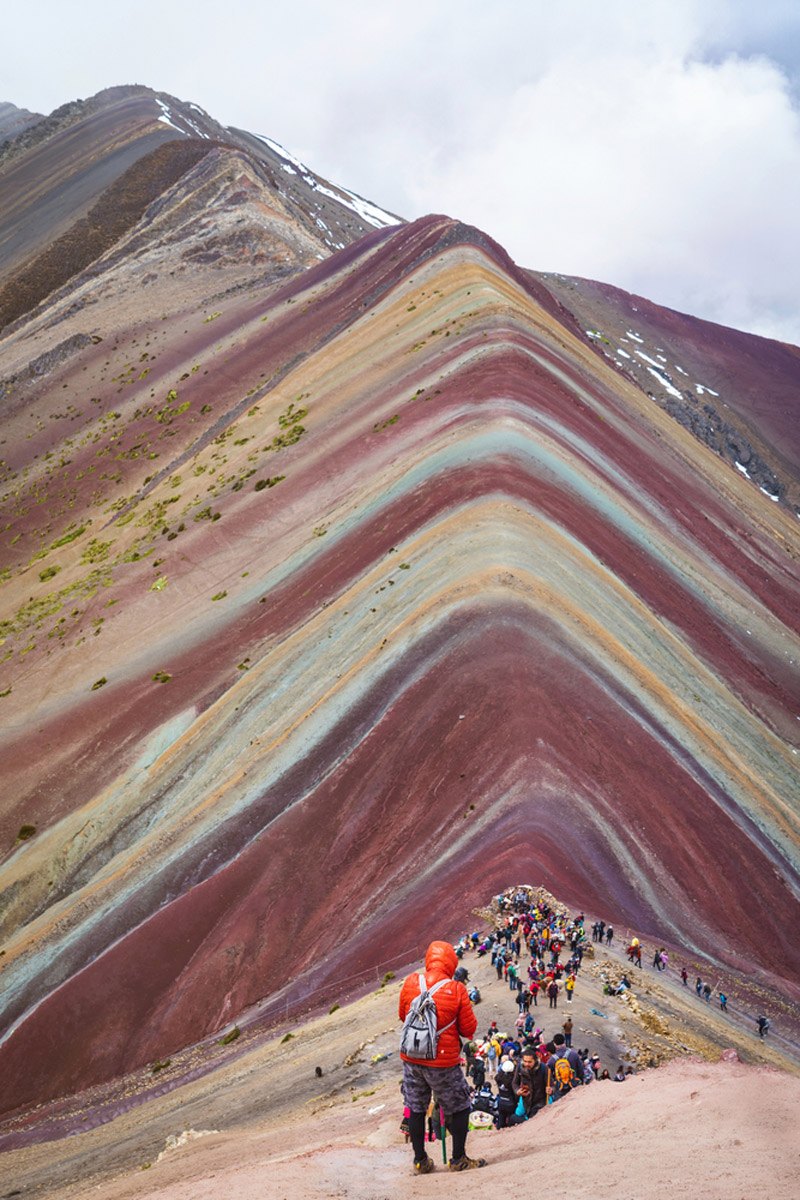 Another one of our favorite Peru honeymoon ideas is a trip to the Rainbow Mountains of Peru (Vinicuna).

The good news is you can book a tour of Rainbow Mountain and Machu Picchu over 2 days, making it a perfect way to see two of the best places to honeymoon in Peru stress-free.

Hiking this section of the Andes offers the unique experience of seeing the results of climate change first-hand. It's tragic, but nature has a way of surprising.

Only ten years ago, if you visited these mountains, you'd be walking on snow and ice. Now they offer an incredible color palate of violet, amber, turquoise, and red, unlike any location you'll ever see.
Sacred Valley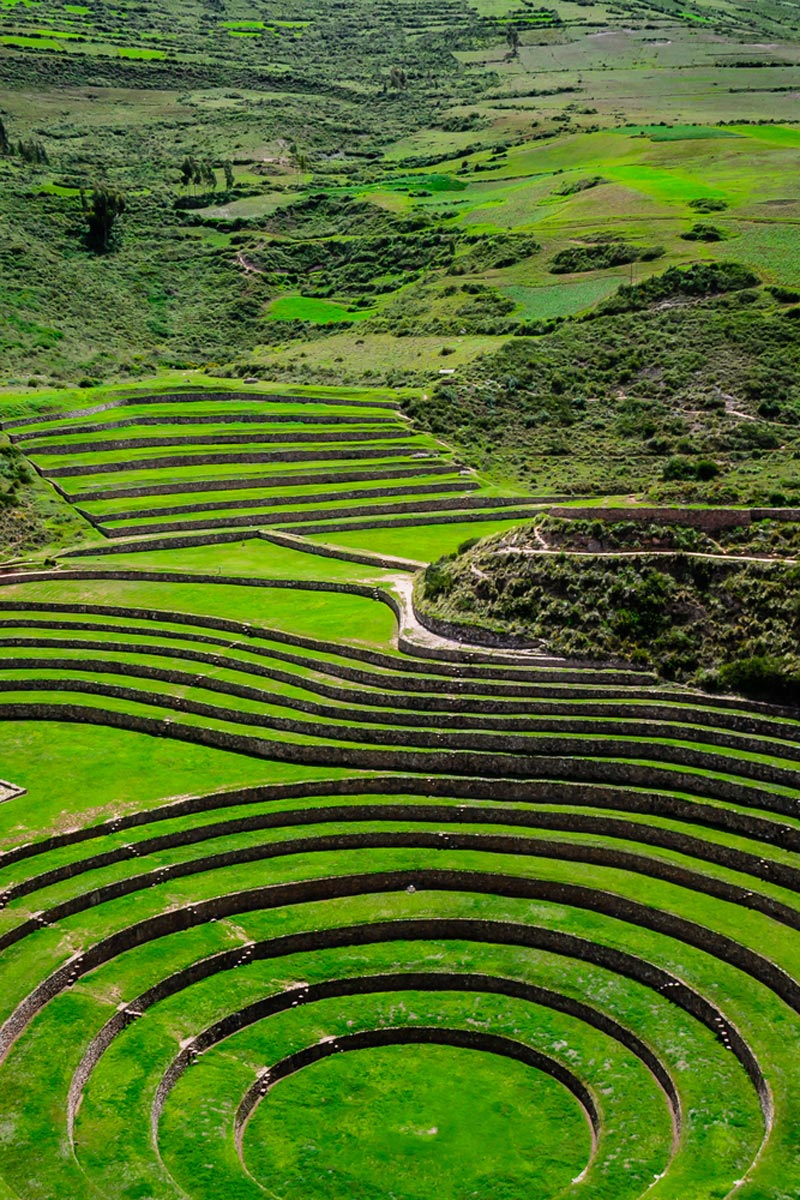 If you're noticing a theme, honeymoons in Peru are all about getting outside and enjoying the incredible natural beauty of the mountains and forests.
Sacred Valley allows you to mix in some local villages and markets alongside nature and archeology over a full-day trip from Cusco. Visit the market in Pisac, where you can purchase handmade pottery, clothing, and souvenirs from the Quechua residents.

Also, be sure to try some Peruvian cuisine in Ollantaytambo, with Apu Veronica Restaurant being a favorite for many couples on their Peru honeymoons.
Ballestas Islands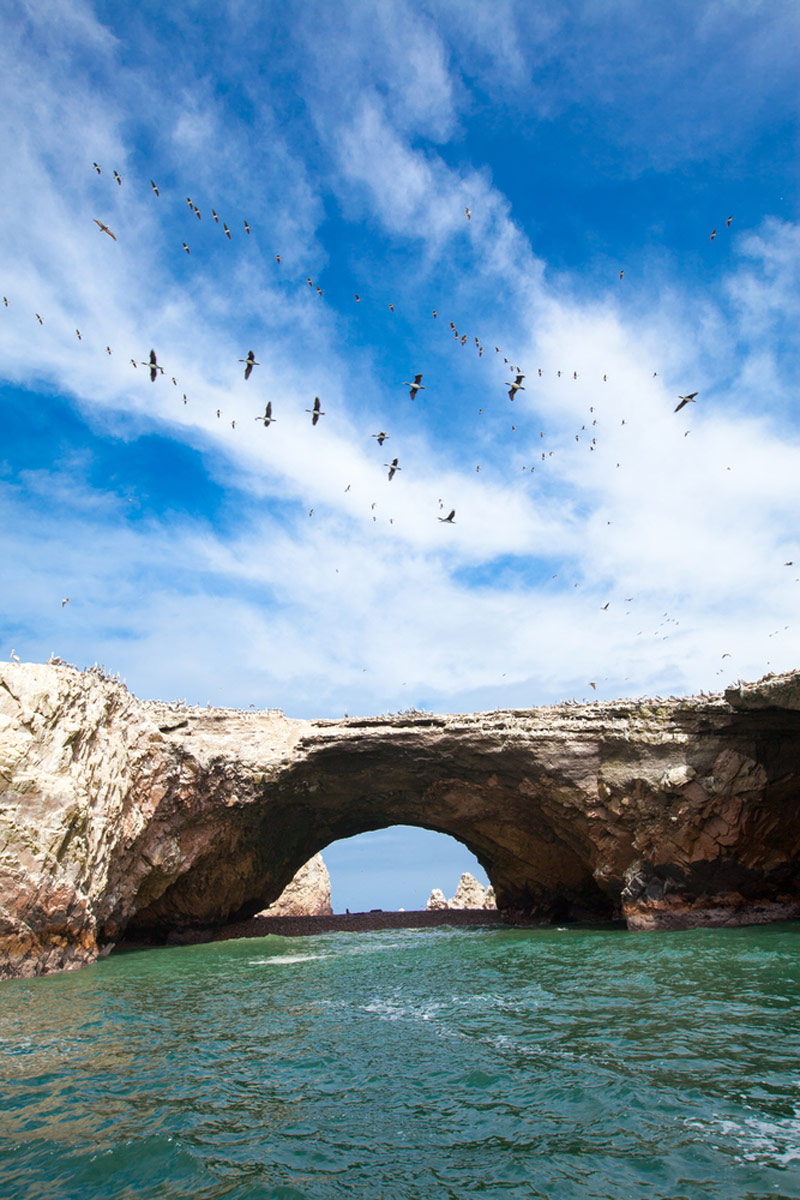 Looking for something different on your Peru honeymoon? Head to one of our favorite hidden gems, Ballestas Islands.
A nature lover's paradise, you and your partner can make a day trip from Paracas to see penguins, orcas, and dolphins. If you book a tour in Paracas, head to the Paracas Port before 8:00 am or 10:00 am to hire a guide.

But we think booking a skip-the-line ticket is worth the extra cost, as you'll have your spot on the boat reserved in advance.
The Best Time to Visit Peru
Plan your Peru honeymoon itinerary for April – May or September – October during the beginning and end of the dry season.

By avoiding the summer months, crowds aren't quite as large at Machu Picchu and other popular locations.
How Long to Spend on Your Peru Honeymoon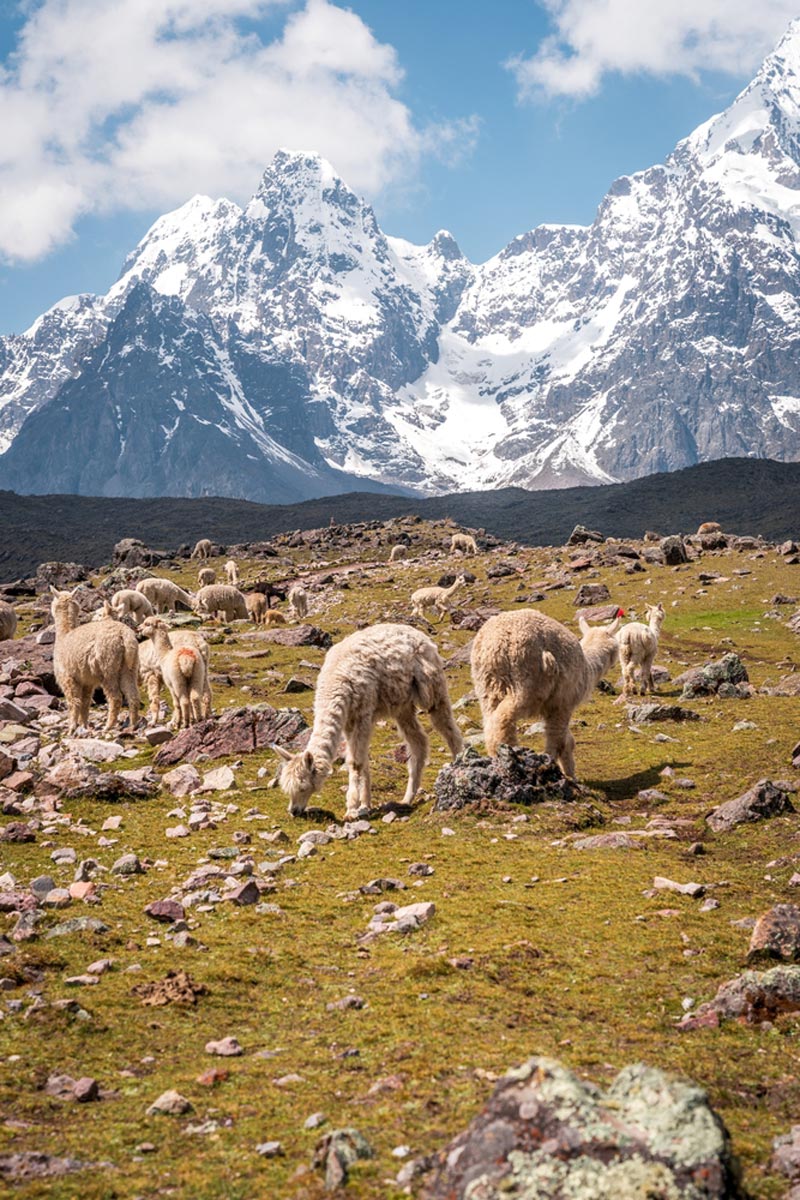 If you want to enjoy a leisurely honeymoon to Peru, spend 10 – 14 days seeing several locations without feeling too rushed.
How Much Does a Peru Honeymoon Cost?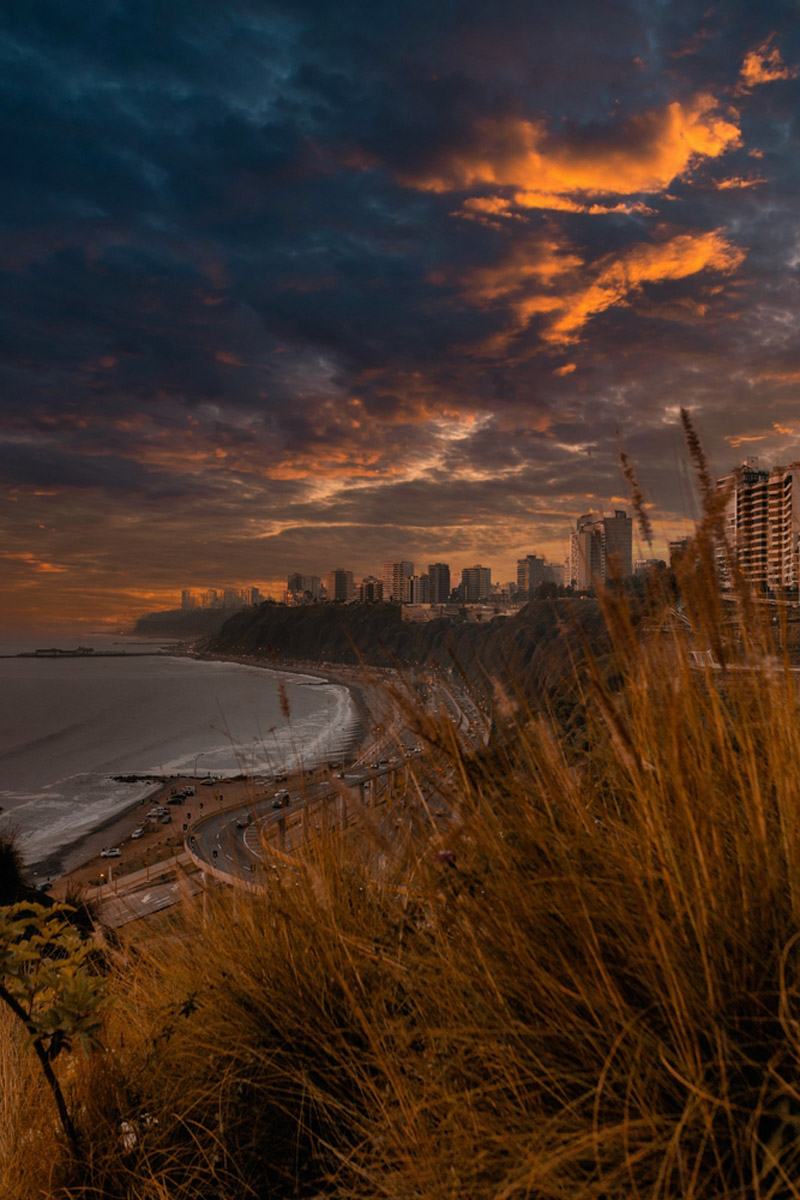 Peru honeymoons usually cost between $5,000 to $7,000. If you want to save a little more in your honeymoon fund, you can choose luxury Peru honeymoon itineraries that can be as luxurious as you wish.
Peru Honeymoon Resorts: Map
Peru Honeymoon Guide: Read Next