Planning your Fiji honeymoon? Here's what you need to know before you say I do.
Located north of New Zealand and west of Australia, Fiji is an enchanting destination for your honeymoon.
With its calm cerulean waters, Fiji is known as the "soft coral capital of the world" – so it's no surprise that many people visit to go snorkeling, dive, and enjoy the exotic beaches.
More than 300 islands make up the Fijian archipelago, many of which are volcanic in origin and flanked by lush forests of various shades of green. But that's not all: In addition to their famed water and beaches, you can also find jungled-covered mountains, raging rivers, and uninhabited islands.
Dreaming of paradise? Fiji is certainly it. You can't go wrong with choosing Fiji for your honeymoon.
Why Honeymoon in Fiji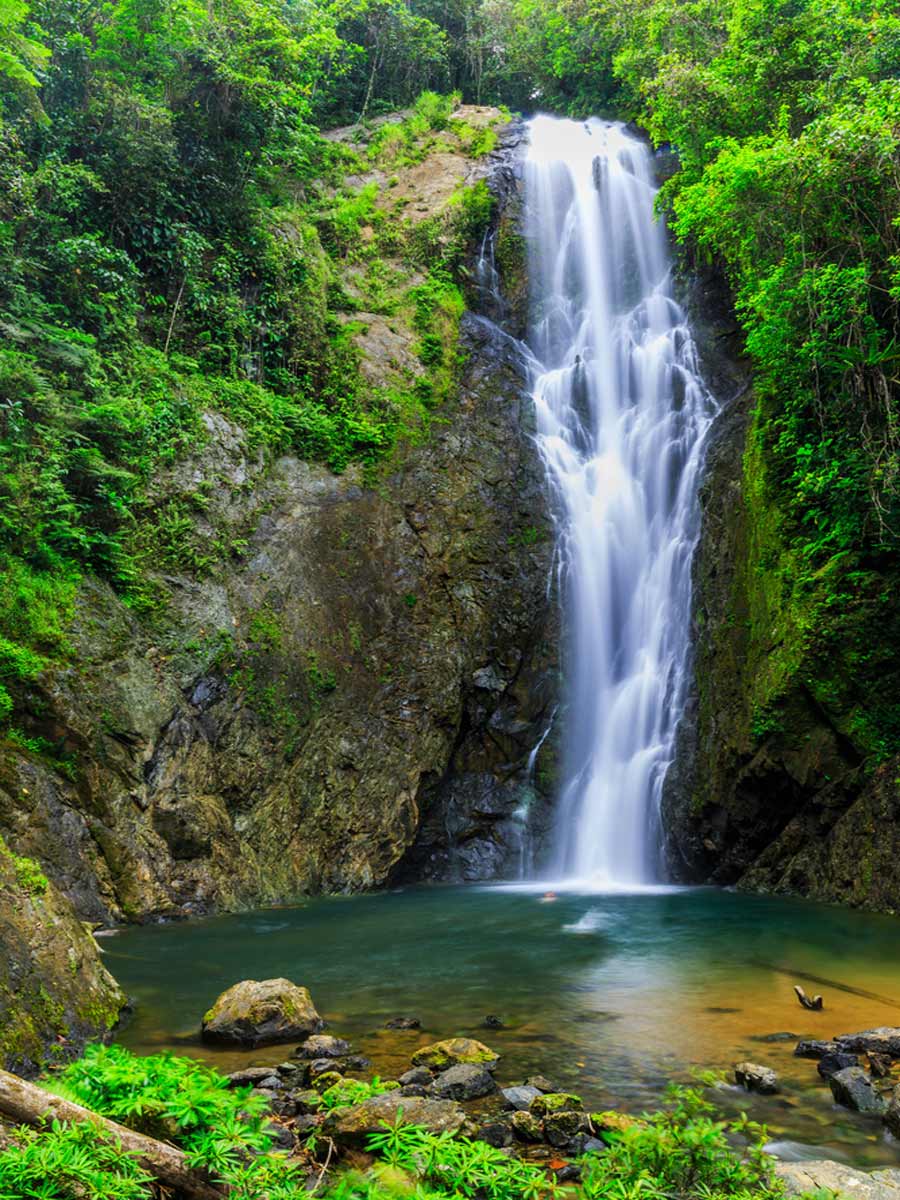 Fiji's islands are serenity IRL. There are endless opportunities for adventure on land, in the sky, or at sea, flavorful cuisine, an intoxicating culture to learn about, and meaningful memories to make.
Fiji is one of the most popular destinations for a honeymoon because of its vibrant landscape combined with modern amenities and luxuries. You can find 5-stary luxury resorts, eco-friendly resorts, and everything in between.
Keep reading to discover how to make a dream Fiji honeymoon a reality.
Best Honeymoon Hotels & Resorts in Fiji
Castaway Island Resort
Castaway Island
$$$
Best for a Secluded Escape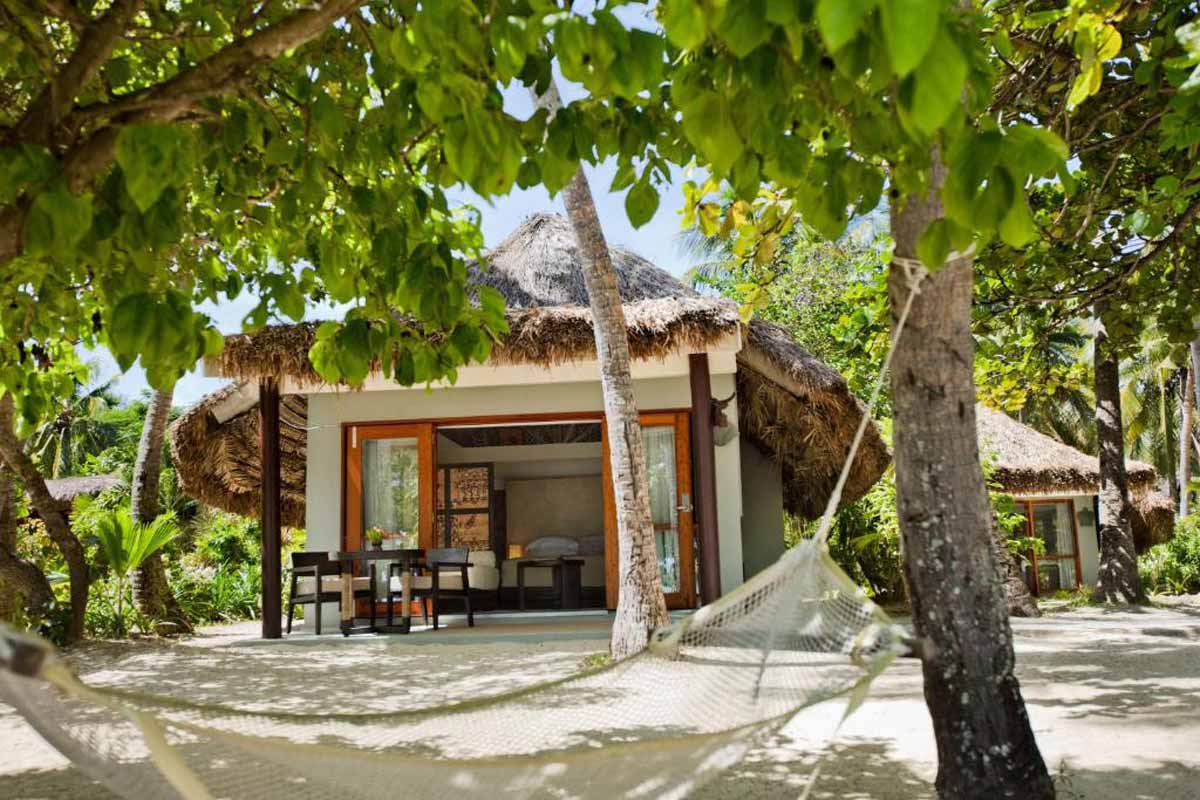 Castaway Island Resort might just be our favorite honeymoon resort in Fiji. It might not be as luxurious as some of the other options in this guide, but it's drenched in peace and serenity.
Opt for the Bungalow with Ocean View for the ultimate experience. Just steps away from a gorgeous beach and surrounded by plenty of greenery, this apartment boasts everything you need for a cozy stay (and more).
When it comes to facilities, there's no excuse to be bored at this resort: The hotel boasts 4 restaurants, free watersports, a tennis court, and miles of stunning coral reef to explore.
Likuliku Lagoon Resort
Malolo Island
$$$
Best for a Luxurious Honeymoon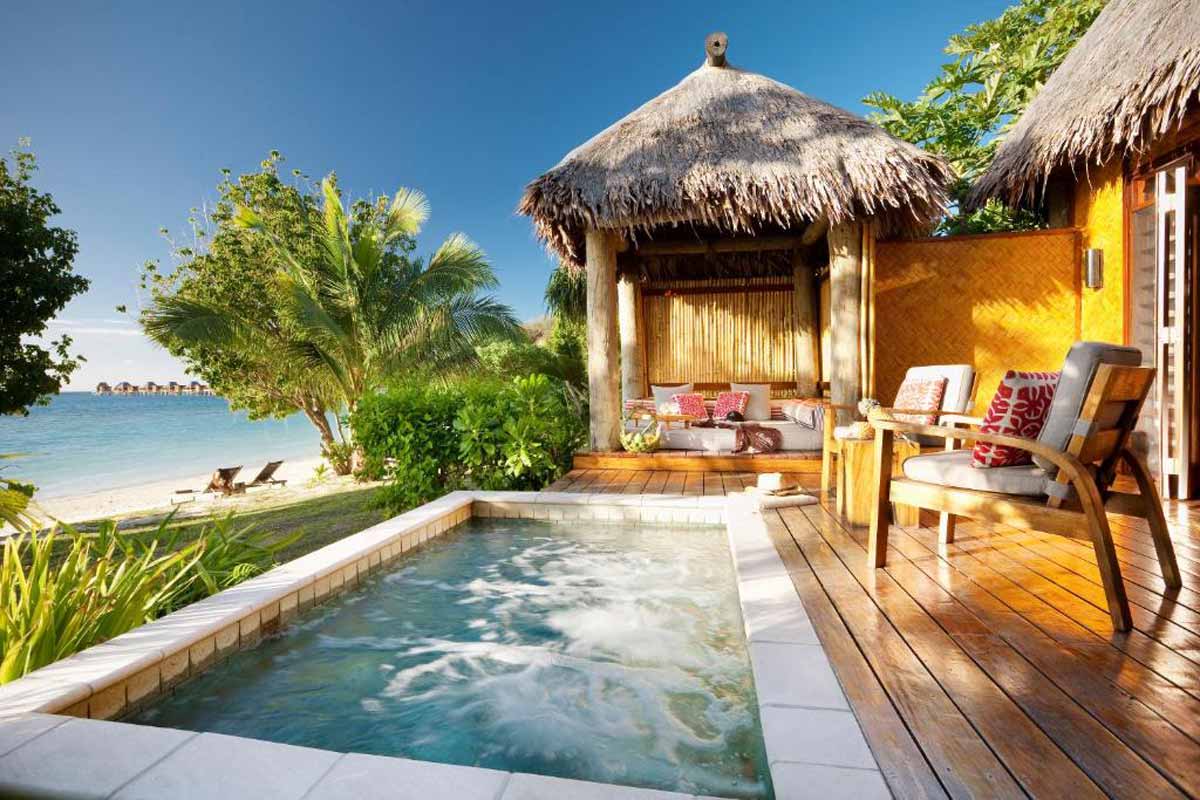 We'll make a bold statement: Likuliku Lagoon Resort is one of the best honeymoon Fiji resorts. It's not hard to be bowled over by the resort's over-water bungalows situated in a natural ocean lagoon and surrounded by a protected marine sanctuary.
The resort is adults-only, making it even more ideal for your honeymoon stay. And, better yet, stays include all meals, a welcome refreshment, and exclusive Likuliku Lei, Likuliku Sulu (a sarong), use of non-motorized water sports and activities including snorkeling, and weekly cocktail parties on Fridays with traditional Fijian entertainment.
Your stay already includes stand-up paddle boarding, kayaking, sailing, and windsurfing, as well as snorkeling equipment, but you can also book excursions such as fishing, diving, and surf trips, village tours, and plenty of boat trips if you're looking to make your stay more magical.
Tokriki Island Resort Fiji
Nadi
$$$
Best for Foodies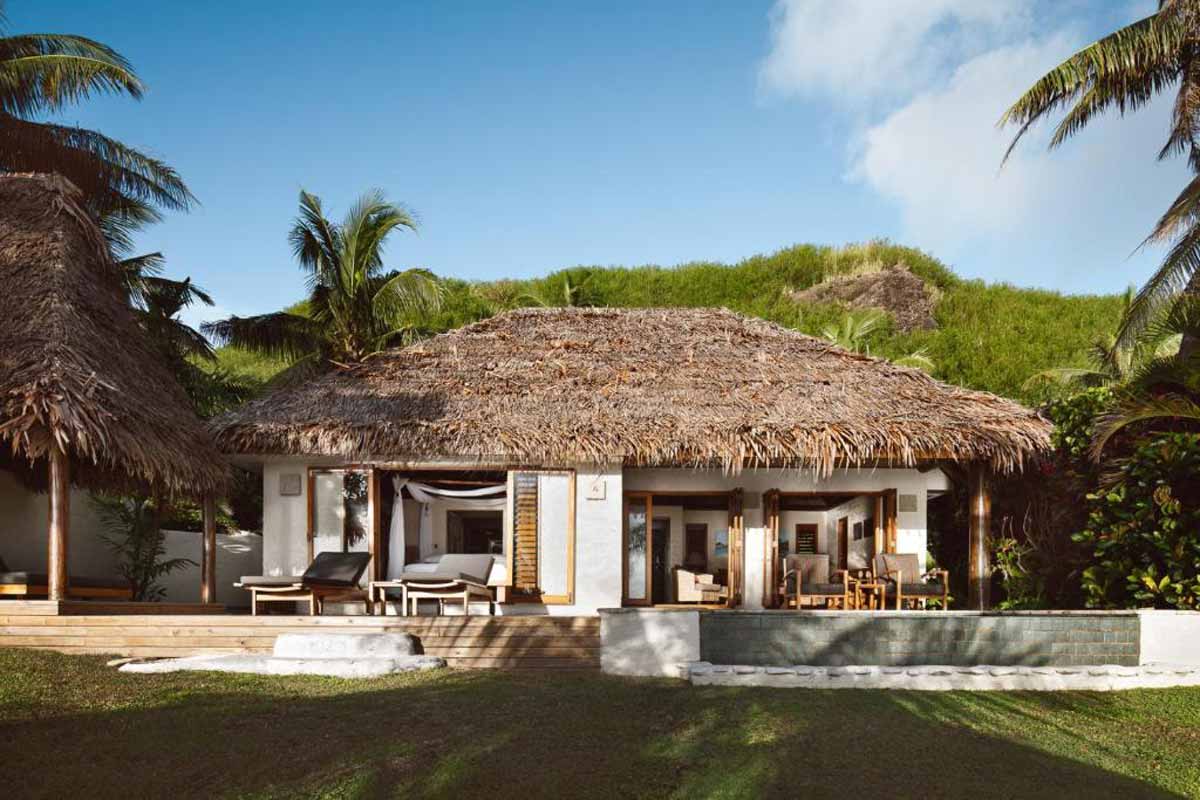 Widely considered one of the best hotels in Fiji for a honeymoon (and we agree), Tokriki Island Resort has won a variety of awards from different travel publications.
There are several styles of accommodation available at the resort including Beachfront Bures & Villas, Beachfront Pool Bures, Beachfront Pool Villas, and Pool Villas.
Seen those stunning floating breakfasts on the 'Gram? This resort offers that and plenty more. Enjoy a Champagne & Sashimi Dinner, Champagne Oceanfront Dinner, Exclusive Jetty Dinner, Free Flow French Sparkling Wine Dinner, an In-Villa Indulgence as well as an Island Beach Picnic. In other words, the gastro-experiences are unbeatable.
The main activities at the resort include snorkeling and diving, kayaking, paddleboarding, swimming, glass-bottom boat trips, hiking, fishing, and surfing trips. That is, if you can be bothered to leave the beach.
Tadrai Island Resort
Mana Island
$$
Best for Budget-Conscious Travelers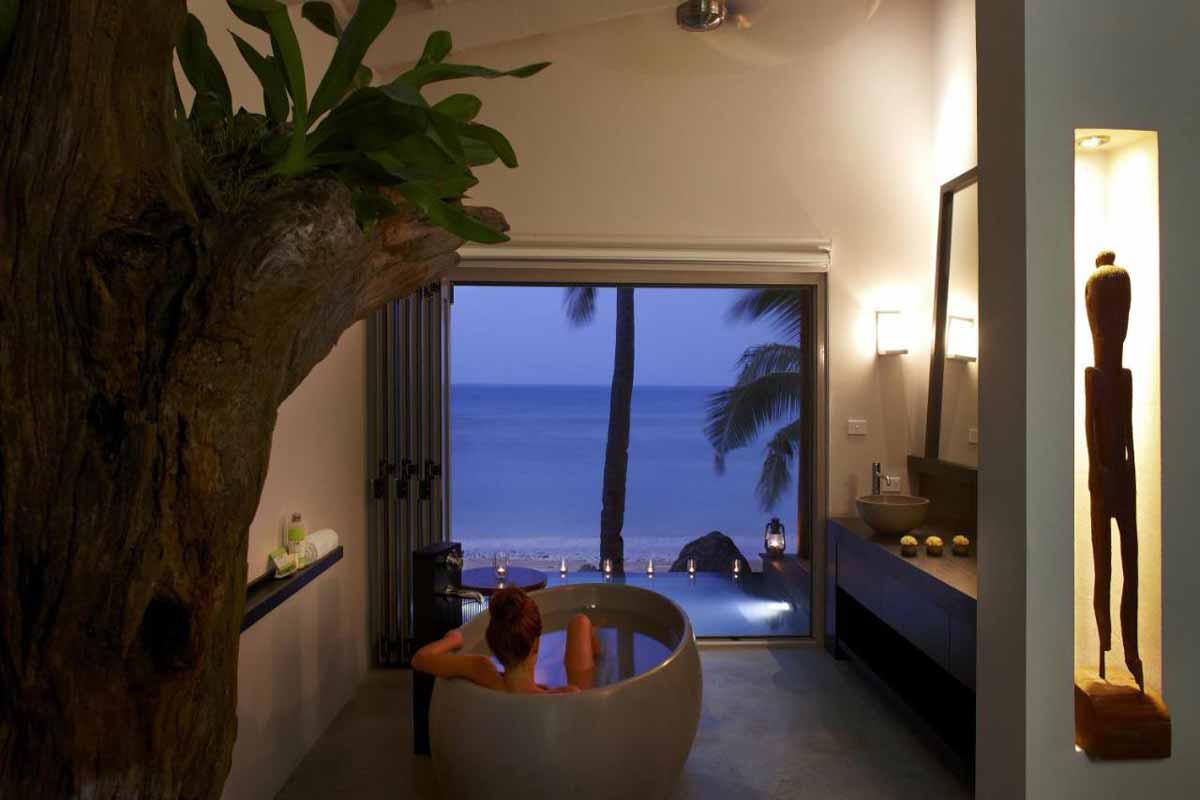 Tadrai Island Resort is one of the new all-inclusive resorts for a Fiji honeymoon. Designed exclusively with couples in mind, Tadrai takes all the pressure of planning away.
With only 5 villas, this resort is quiet, cozy, and romantic, perfect for a honeymoon. That said, each accommodation comes with a plunge pool, elevated decks, and unobstructed ocean views – so you won't be missing out.
The spa onsite offers a couples sunset massage as well as other relaxing treatments. And, if you're raring to go, fishing, surfing, snorkeling, diving, taking a hike around the island, island hopping, jet skiing, and more await you.
End the day with a cocktail at Na Vatu Bar. Paired with the sunset, this is a truly magical experience.
Mantaray Island Resort
Yasawa Islands
$
Best for Diving and Snorkeling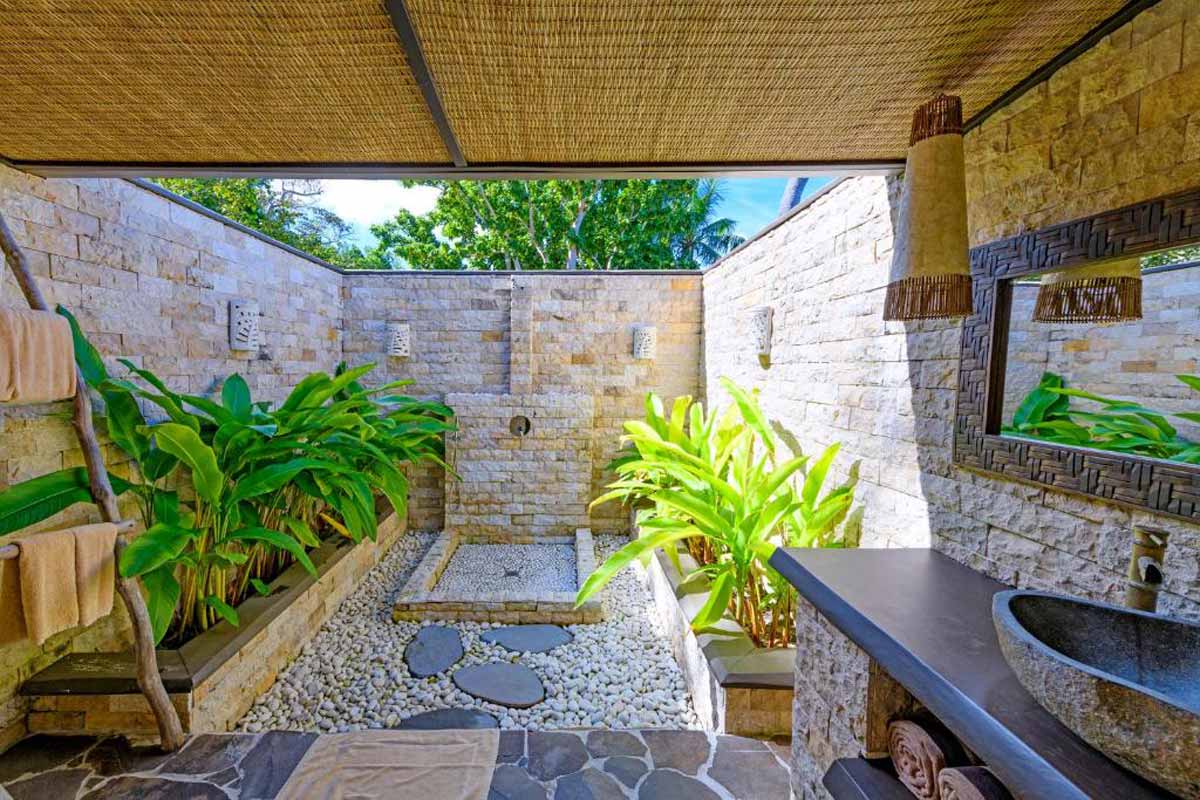 Mantaray Island Resort is ideal for couples who are certified to suba dive – or for those who want to learn as a special honeymoon treat. Fiji is world-renown for diving and Mantaray Island has some of the best diving locations in the archipelago.
The resort offers accommodation options for all budgets, from standard options up to high-end luxury and everything in between. Choose to stay in a beach-front villa, Reed Bures, Jungle Bures, or Tree House Bures.
Mantaray Island Resort is known to have some of the best Fijian food on the islands and they use the freshest ingredients and feature freshly caught fish and tropical fruit (once you try Fijian fruit, you'll never go back). They also offer vegetarian options and can accommodate other dietary restrictions upon pre-request.
And, if you fancy learning some new skills for yourself, you can also take a Fijian cooking class.
But, we'll be honest, most couples visit this resort to dive. The dive excursions include different dive sites, wreck sites, shark dives, and night dives. No matter your ability (or bravery), there'll be a water excursion for you.
Fiji Honeymoon Tips: What You Need to Know
How to Get to Fiji
The international airport in Fiji is Nadi International Airport (NAD). The main airlines that fly to the island are Air New Zealand, Air Pacific, and Qantas Airways. Most people connect through New Zealand or Australia.
The easiest way to get around the islands is by ferry, water taxi, or small plane. Some resorts offer helicopter transportation.
The Best Fiji Honeymoon Destinations
Diving and Snorkeling
By far, scuba diving and snorkeling are the most popular activities in Fiji. The calm waters, vibrant reefs, and abundance of marine life make it enjoyable and exciting.
Many resorts and hotels have partnerships with tour guides and can set you up on excursions. And most resorts also provide snorkel gear at no extra cost, which is a huge bonus.
Coral Coast
One of the most popular tourist destinations amongst the islands, the Coral Coast is remarkably beautiful. This area is great for snorkeling, and beginner-friendly surfing – or you can even go tubing down the river if you're feeling adventurous.
Lavena Coastal Walk
This walk is an out-and-back trek of about 5km (3.1 miles each way). The path takes you around the beach to Wainibau Falls and a swimming hole. You'll cross a white sand beach as well as a black sand beach – and multiple smaller waterfalls – as you trek through the thick jungles.
There are options to hike one way and hire a boat to take you back. A word of warning: Many people wear their swimsuits under their clothes as there are no bathrooms or changing areas once the trail starts.
Sabeto Hot Springs and Mud Pool
One of the best honeymoon destinations in Fiji is the Sabeto Hot Spring and Mud Pool. Popular with honeymooners, you can indulge in a natural mud wrap and a hot pool followed by a traditional Fijian massage. Sabeto is owned and operated by locals who provide natural therapeutic treatments, so you're also supporting the local economy.
Sigatoka Sand Dunes National Park
One of the smallest yet unique national parks in Fiji is Sigatoka. Here, the sand dunes reach up to 200 feet! The dunes are thousands of years old and are actually a designated UNESCO World Heritage site.
There are 2 designated trails within the park and hiking them both take about 3 hours. You can also walk along the beach and up and down the dunes if you're after a more leisurely trek.
Island Hopping
Island hopping is another popular activity when visiting the Fijian Islands. There are numerous tour operations that offer multi-day excursions.
There are also flightseeing tours that can take you to different islands – ask your hotel concierge, as they will likely be able to arrange this for you.
If you're looking for a more budget-friendly option for island hopping, there are some islands you can take ferries to and from.
Sky Diving
One of the best ways to see all of the Fijian Islands is from above – and what better way to beat the thrill of a new marriage than jumping out of an airplane?
We kid – but if you're a couple that likes to experience a rush together, you should give skydiving a try.
The whole experience takes about 3 hours and includes a safety briefing, gear, and the option of a photo/video package. Skydive Fiji offers jumps at 10,000ft, 12,000ft, and 14,000ft with freefalls of 30 seconds, 45 seconds, and 70 seconds respectively.
The Best Time to Visit Fiji
June through September is when the majority of people travel to Fiji. May and October are great months to visit as they are right before and after the "high season", so prices are cheaper and attractions are typically less crowded.
How Long to Spend on Your Fiji Honeymoon
You'll want to spend anywhere from 7-10 days on your Fiji honeymoon. Depending on your budget, time restraints, and how much you want to see and do, there isn't any wrong number of days.
Some Fiji all-inclusive honeymoon packages have a minimum night stay which is typically 5 days.
How Much Does a Fiji Honeymoon Cost?
Fiji is certainly not one of the cheapest honeymoon destinations. A week in Fiji can cost anywhere from $4000 to $8000. Of course, the price varies on the level of luxury you choose and the amount of time you stay.
One of the biggest Fiji honeymoon costs is the flight to and from your starting destination. A great way to stay within your budget is to choose Fiji honeymoon all-inclusive packages.
Fiji Honeymoon Resorts: Map
Fiji Honeymoon Guide: Read Next