Planning a Tanzania honeymoon? We've got you covered with this guide to the best resorts and destinations in the country.
Many people know Tanzania for its tall Mount Kilimanjaro and wildlife-watching opportunities. But what if we told you that it's also a pretty romantic honeymoon destination?
You might laugh, but it's a country of true natural beauty – not to mention that there are plenty of luxury Tanzania honeymoon resorts to feast your eyes (and bodies) upon.
Are you sold yet? Either way, read on to discover how you can have an idyllic honeymoon in Tanzania.
Why Honeymoon in Tanzania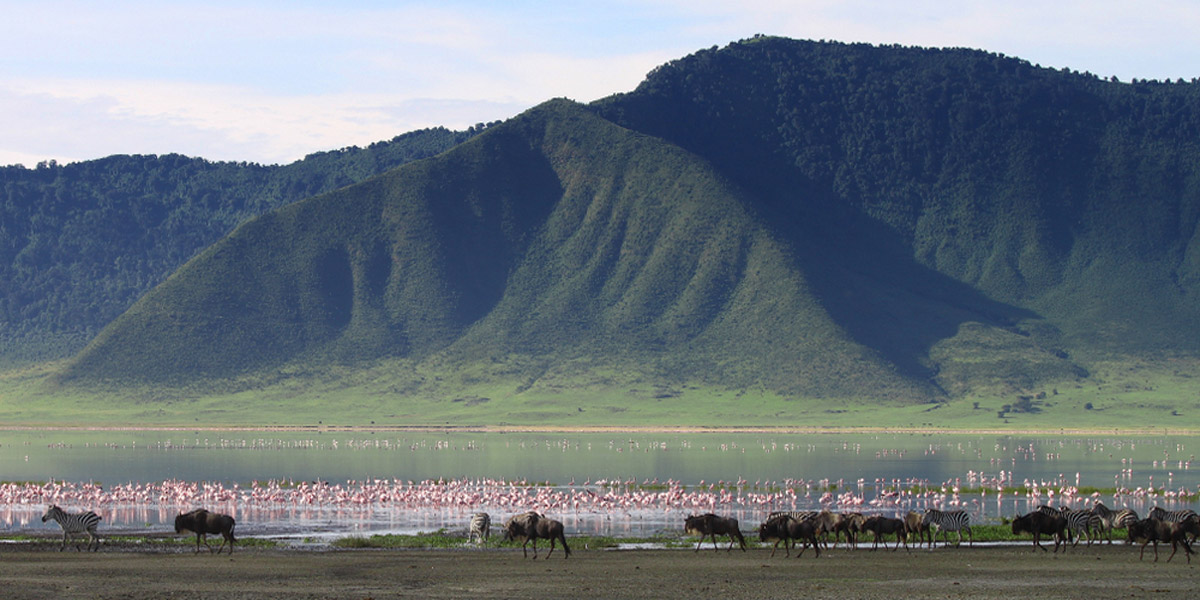 Why choose Tanzania for a honeymoon? We can't think of a good reason not to.
A destination for both adventurous couples and honeymooners who want a laid-back beach vibe – a Tanzania honeymoon can come in many different forms.
From climbing Mount Kilimanjaro (we'll be honest, it's not our idea of romance) or experiencing one of the best Safari honeymoons in Africa, there's plenty to do.
Or, spend some time vertically on a Zanzibar beach. It's totally up to you.
Read on to discover the best resorts and destinations for your Tanzania honeymoon.
Best Honeymoon Hotels & Resorts in Tanzania
Kaliwa Lodge
Moshi
$$
Best for a Hiking-Based Honeymoon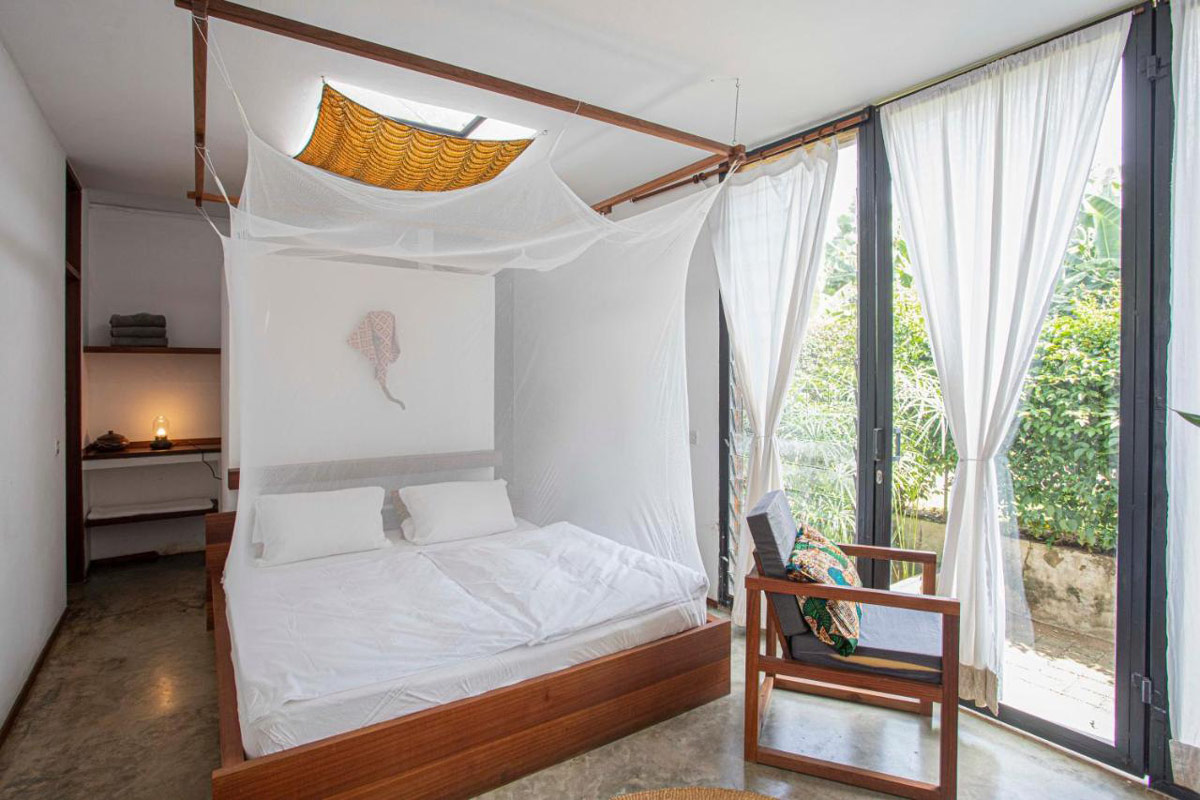 Mount Kilimanjaro is a bucket list location for many couples. And, if you want to add it to your Tanzania honeymoon itinerary, Kaliwa Lodge is a perfect place to stay.
The resort is a short drive from the Machame Gate, where you enter the incredible Kilimanjaro National Park.
But location isn't the only thing we love about this luxury Tanzania honeymoon resort… Although the views from the hotel make it worth the price of admission on their own.
The boutique hotel has a laid-back vibe perfect for younger honeymooners who want an unfussy, modern resort for their Tanzania honeymoon.
Dining options are excellent, focusing on local ingredients and blending European, African, and Asian flavors.
Ready for a nightcap after a day of adventure? Papa's Whisky Bar offers up some delicious options for you to sip on when reminiscing on the natural beauty and romance around you.
Neptune Ngorongoro Luxury Lodge
Tanzania
$$$
Best for a Safari Honeymoon in Tanzania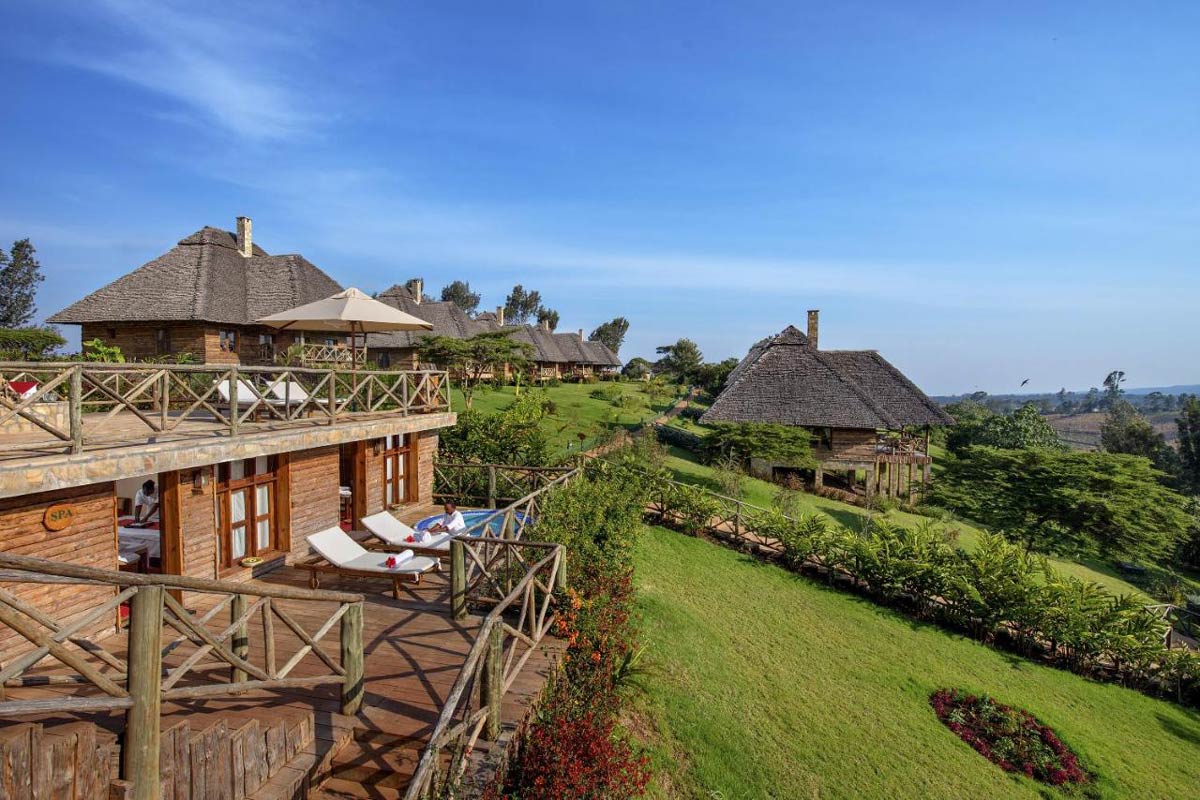 One of the top reasons for booking a vacation to this country is to head out on a Tanzania honeymoon safari.
When you stay at Neptune Ngorongoro Luxury Lodge, you'll be right in the heart of the Ngorongoro Conservation area and treated to one of the best Tanzania honeymoon packages.
The all-inclusive Tanzania honeymoon resort will shuttle you from the airport, prepare your meals, and arrange nature walks and safaris during your stay.
The rooms are luxurious, and you'll have countless amenities like butler service, 24-hour assistance, and access to swanky restaurants and lounges on-site.
But a honeymoon safari Tanzania-style wouldn't be complete without direct access to the Ngorongoro Crater and Conservation Area, just minutes from your villa.
We think this is one of the best all-around Tanzania honeymoon packages – see why?
Kijongo Bay Beach Resort
Pangani
$$
Best for a Beach Honeymoon in Tanzania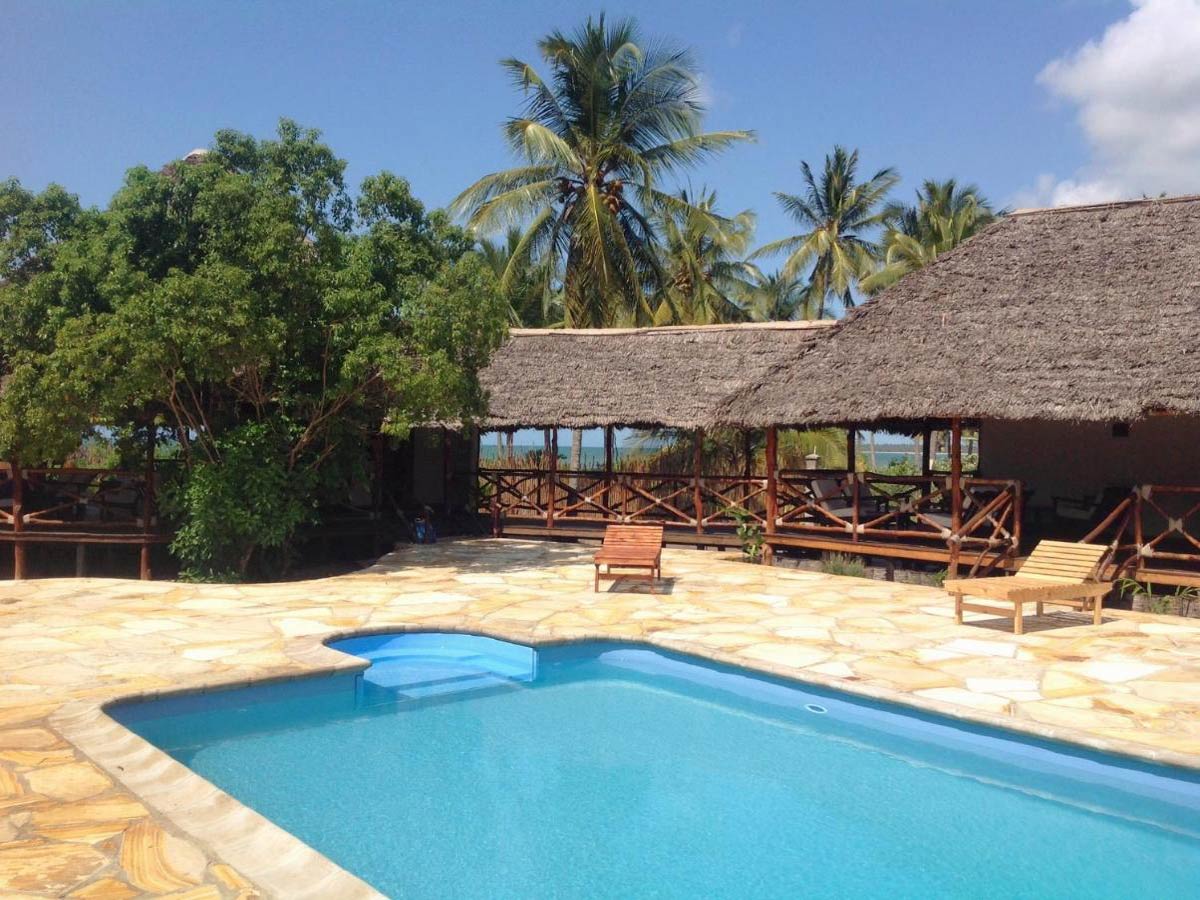 Tanzania honeymoons offer a wide range of activities, but sometimes it's nice to kick back and chill.
Welcome to Kijongo Bay Beach Resort, where you can choose a beachfront villa and take in the incredible Indian Ocean around you from a seriously charming resort.
When you settle into your room, you'll have a large canopy bed in a cool oceanside space with mosquito netting, fans, wake-up service, and complimentary toiletries.
If you want to spend your evenings outside, the large patio out front is the perfect place to have a glass of wine and plan your next adventure together on land or sea.
Asmorein Hotel
Babati
$
Best for a Budget Honeymoon in Tanzania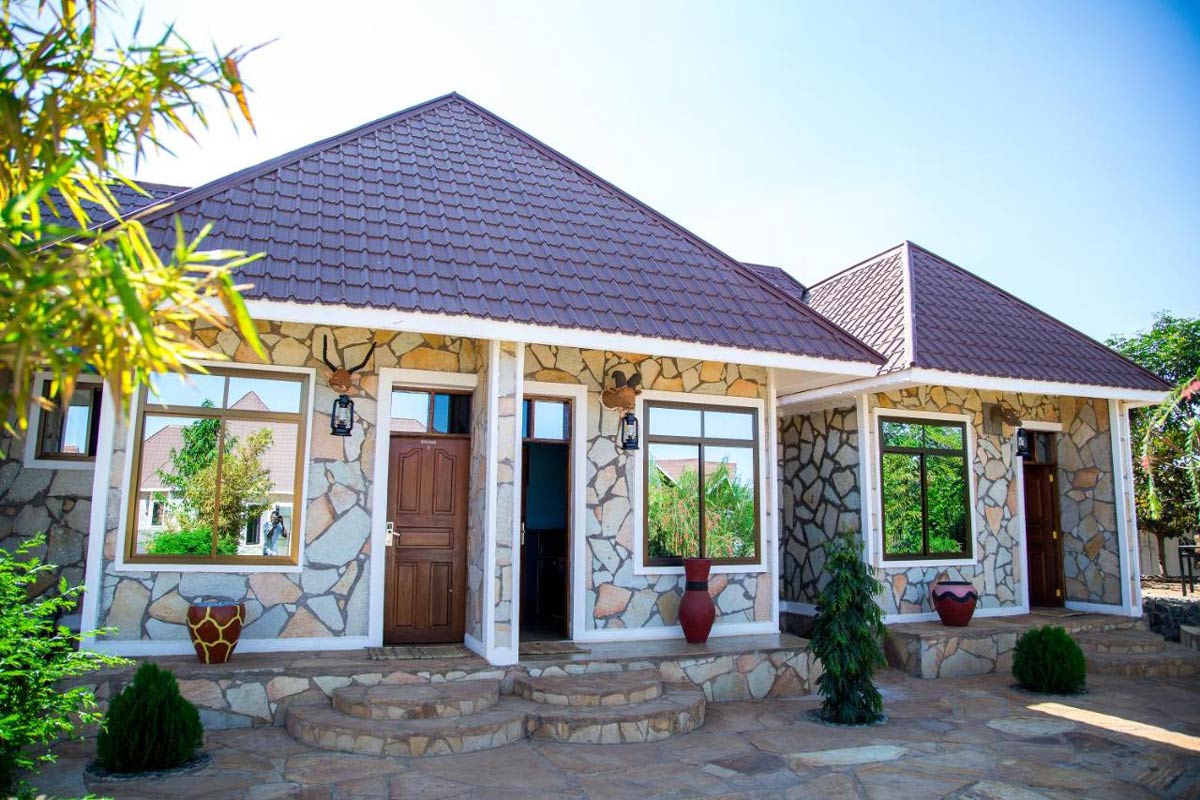 Now, Tanzania honeymoons don't come too cheap, but we've found a gem of a resort that offers an incredibly comfy stay that won't break the bank.
Asmorein Hotel gives you close access to Tarangire National Park at an unbelievable price.
Couples who want to take a longer trip and see as many sites as possible will love this resort which is less traveled than some of the other destinations on our list.
You'll be glad to know that what you save in cost, you don't sacrifice on comfort. The rooms are perfect for travelers who want a clean, safe place to stay between adventures. Amenities include air conditioning, gorgeous views, and a flat-screen TV (not that you'll need it).
Kilindi Zanzibar
Kilindi, Tanzania
$$$
Best for a Luxury Tanzania Honeymoon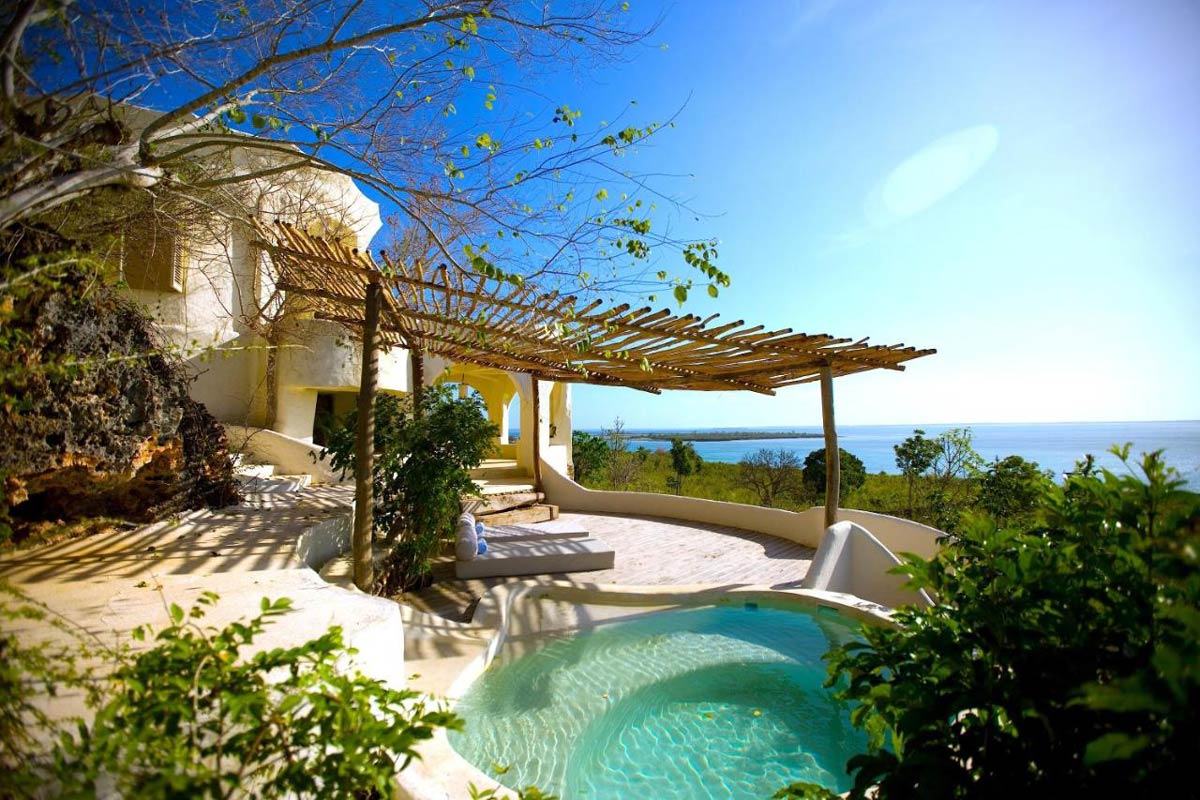 Next up, our favorite Tanzania honeymoon resort. That's Kilindi Zanzibar, in case you were wondering.
First, the hotel is expansive and full of beautiful gardens, mesmerizing white sands, and turquoise waters. But the villas here are what make this hotel a conversation starter.
The pavilion-style suites are truly works of art and beautiful inside and out. Your private plunge pool may be the first thing you notice – and be sure to take advantage of it – but there's no detail left untouched upon entering the resort rooms.
From ornate headboards and canopies hanging over the beds to the shutter-style windows that open up to palm trees and salty ocean breezes, it'll be hard to leave the nearly perfect accommodations at this Tanzania honeymoon hotspot.
Tanzania Honeymoon Tips: What You Need to Know
How to Get to Tanzania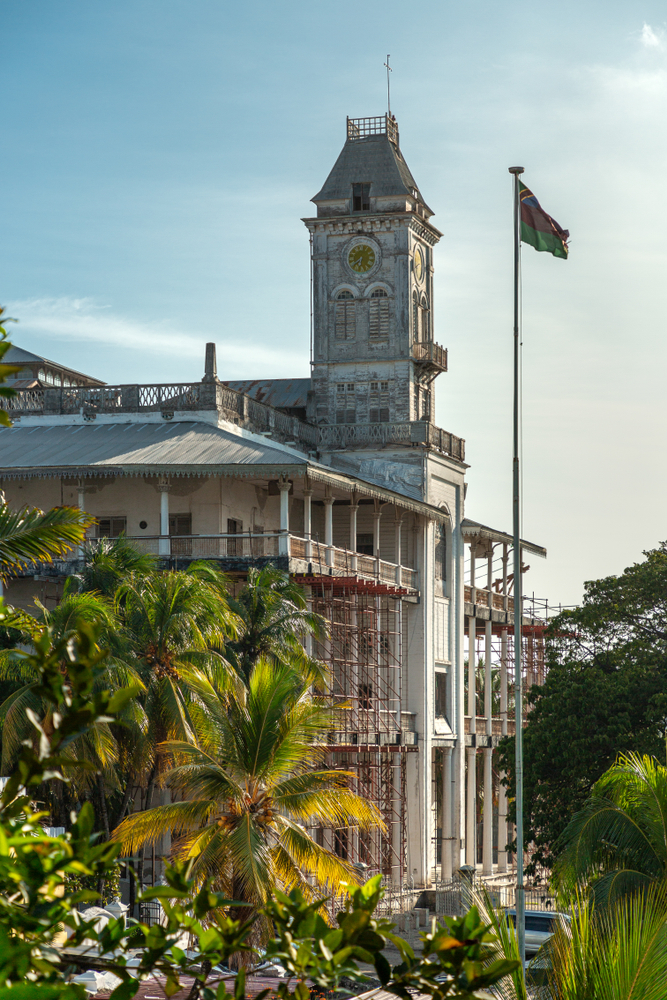 Arriving at your Tanzania honeymoon is relatively easy. You can take an airplane, ferry, or cruise ship to access various parts of the country.
Your options might be more limited, but plenty of major airlines, such as KLM, fly to Tanzania's main airport – ​​Julius Nyerere International Airport (DAR).
The Best Tanzania Honeymoon Destinations
Serengeti National Park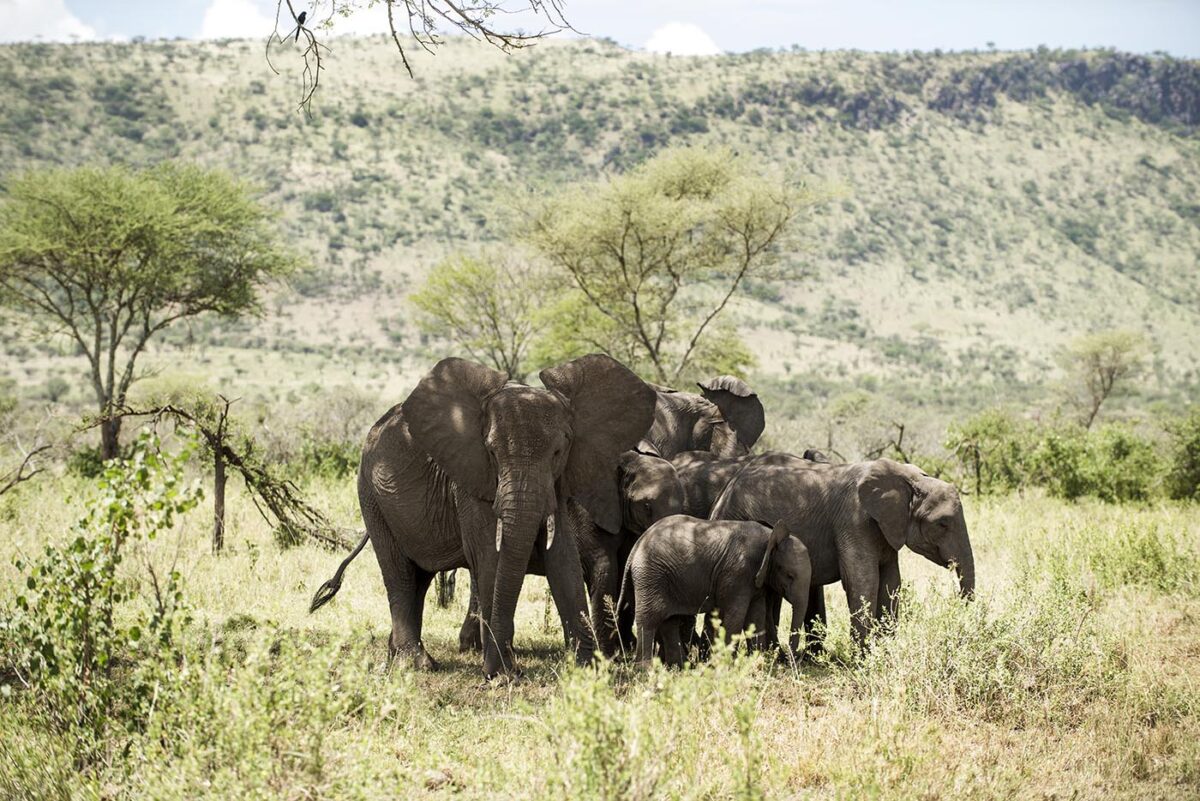 Looking for the best safari honeymoon while in Tanzania?
Serengeti National Park offers an incredible chance to see some of Africa's wildest creatures, including leopards, zebras, and wildebeests. Which makes for a pretty special honeymoon, if you ask us.
While in the park, be sure not to miss the Retima Hippo Pool and book a guided tour to one of many amazing locations.
Mount Kilimanjaro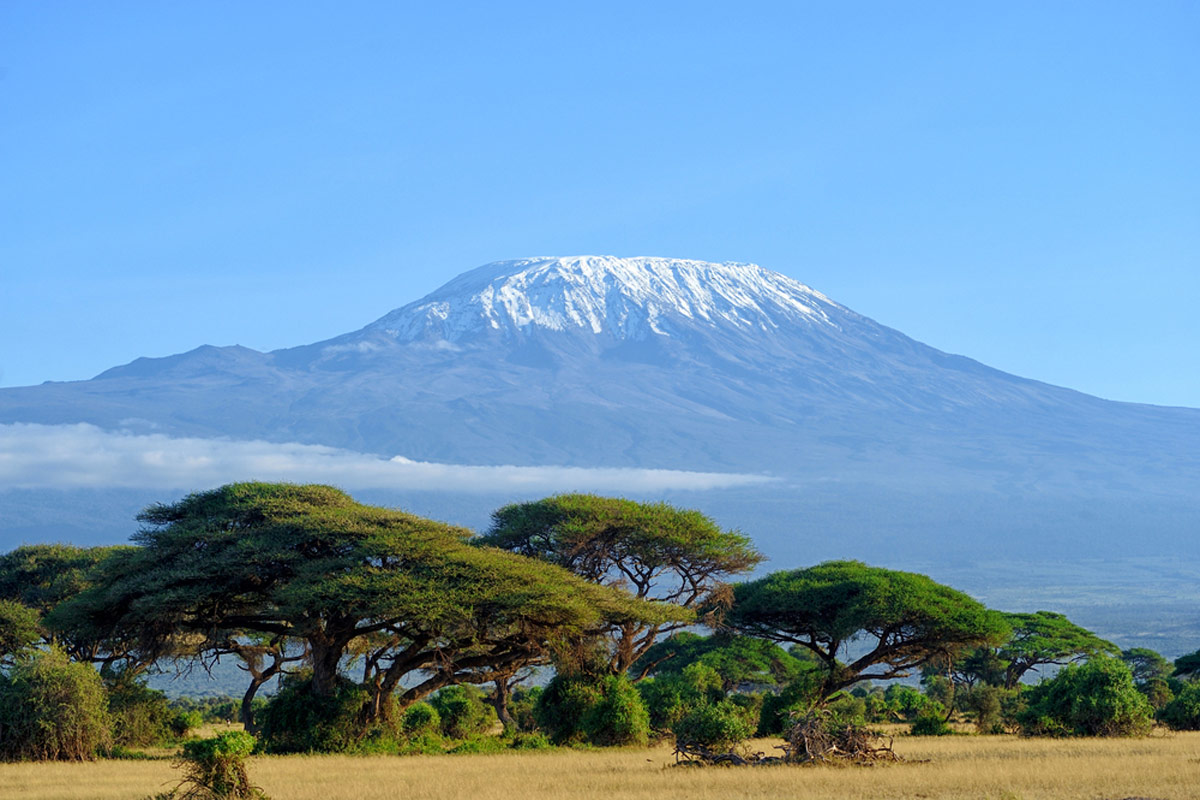 Ask any thrill-seeking couple their top priority for a Tanzania honeymoon, and Mount Kilimanjaro is likely at the top of that list.
Why? The tallest mountain in Africa has earned its place in international folklore throughout the centuries.
Whether you're content with seeing the mountain from afar or scheduling a guided hike up the nearly 20,000 feet trek, Mount Kilimanjaro is a Tanzania honeymoon destination you can't afford to miss.
Lake Manyara National Park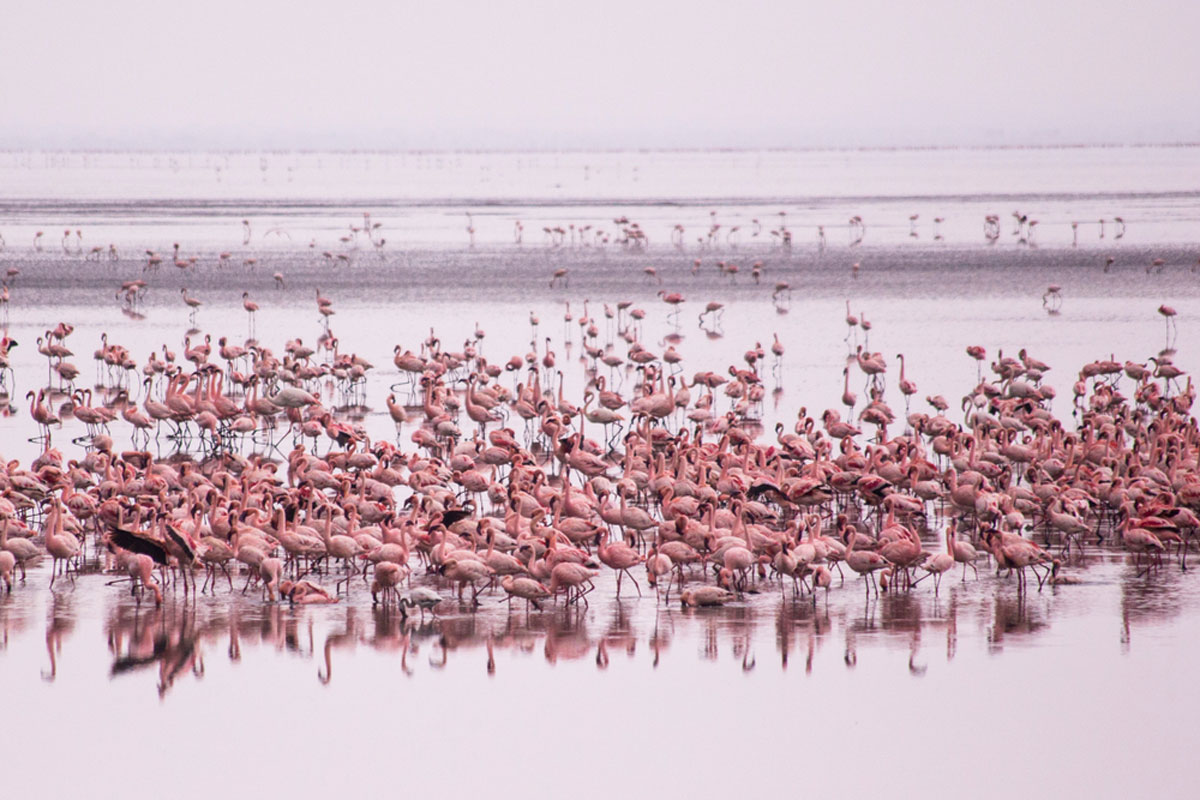 Looking for one of the best bird-watching spots on your Tanzania honeymoon? Head to Lake Manyara National Park and see the hundreds of bird species that flock to this protected wilderness area.
Ornithologists and hobbyists alike will see Narina trogons, emerald cuckoos, crowned eagles, and millions of flamingos that inhabit the lake.
Ngorongoro Conservation Area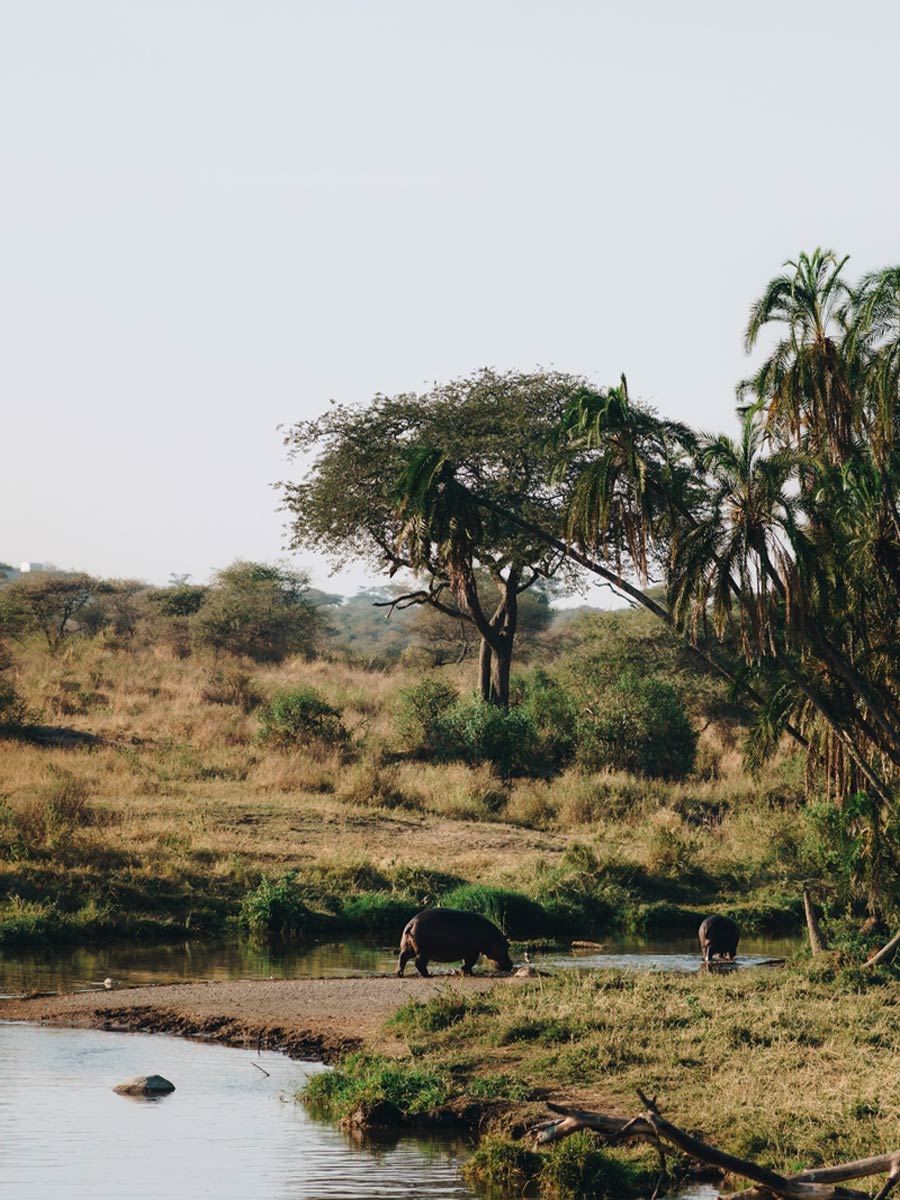 The Ngorongoro Conservation Area is one of the most beautiful destinations in the country. Not only can you get up close to thousands of wild animals, but the background here is absolutely stunning.
The lush greenery and mountainous hills will give you countless opportunities to take photographs you'll never forget. Oh, and Ngorongoro Crater is a volcanic crater in the middle of the park that is a draw in its own right.
Gombe National Park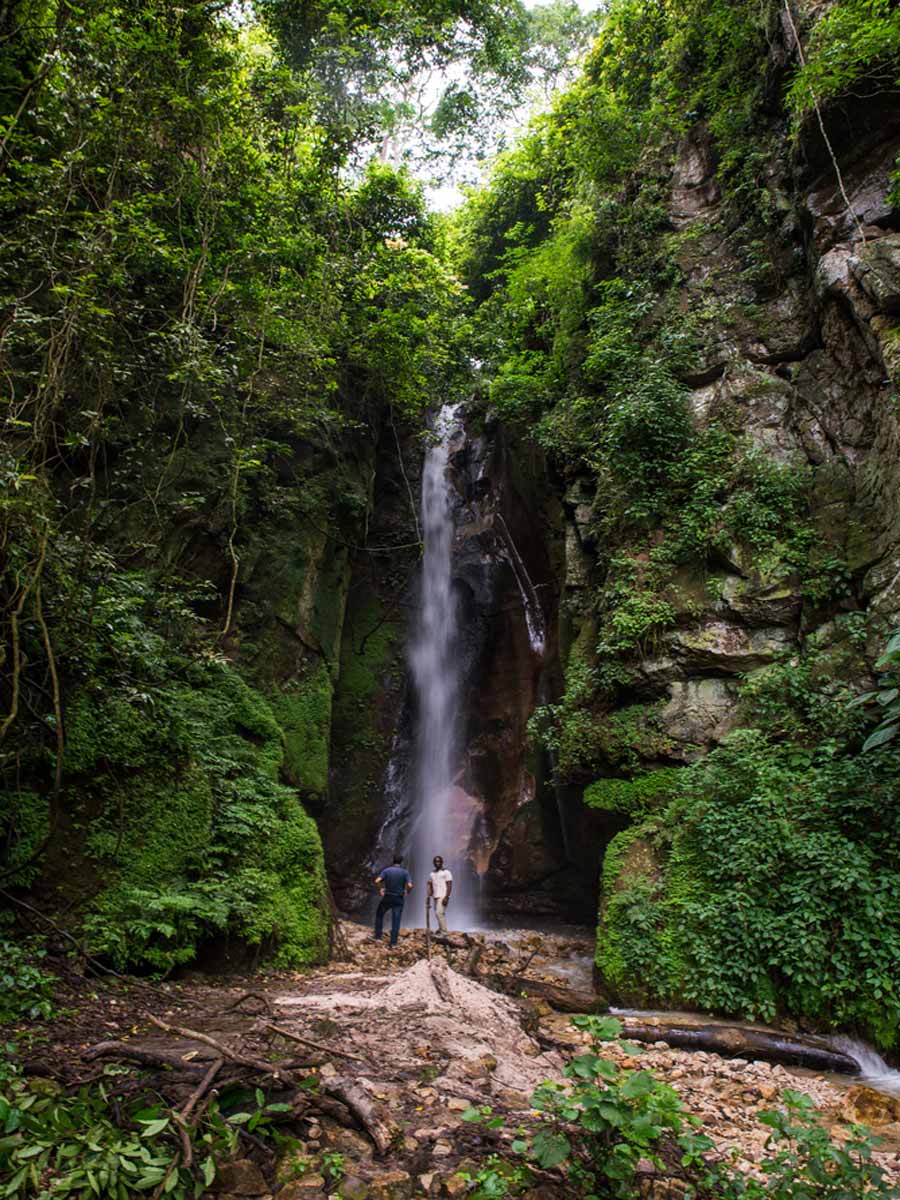 Want to see some wildlife outside a safari in Tanzania? Gombe National Park is a beautiful area home to large valleys and tropical forests that boasts amazing opportunities to see nature on your Tanzania honeymoon.
You'll see chimpanzees, baboons, and several species of monkeys when hiking through the smallest national park in Tanzania. Saying it's tough to get to is an understatement, so even the most dedicated Tanzania honeymooners will need to plan far ahead of time to go.
Dar es Salaam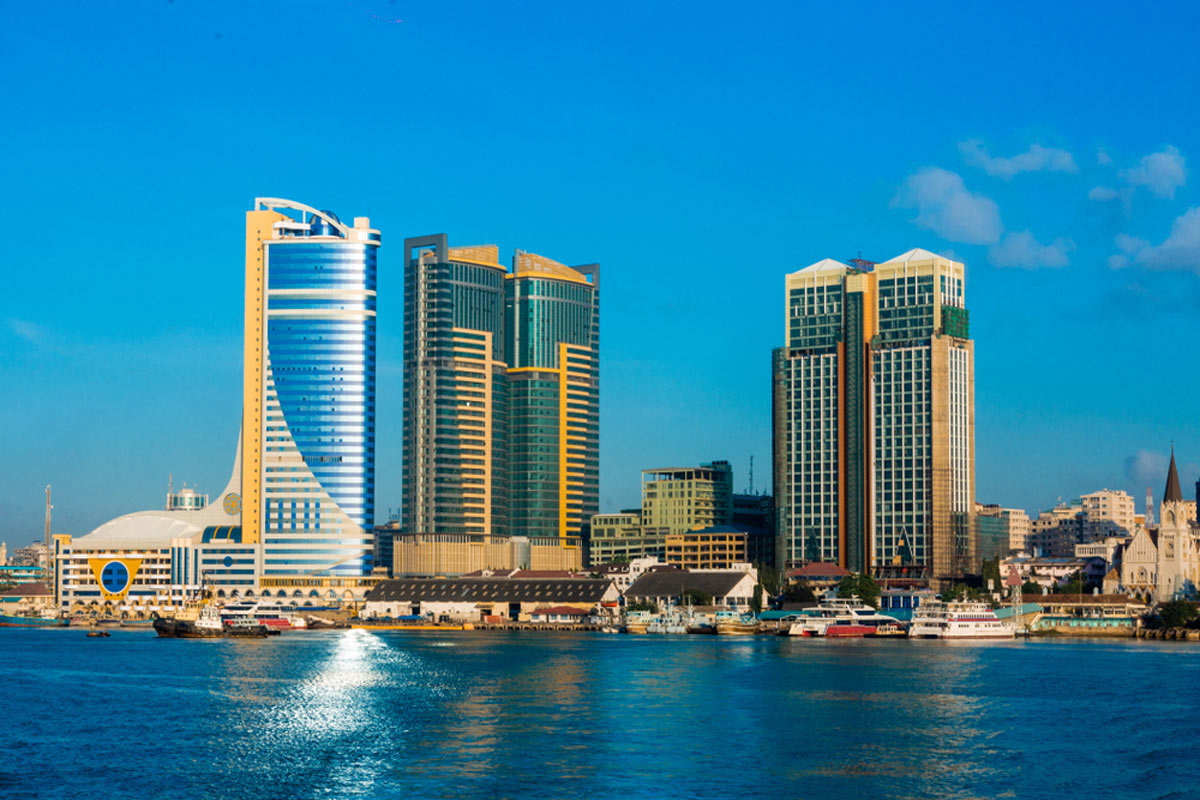 If you want to see the most vibrant city on your Tanzania honeymoon, spend an afternoon in Dar es Salaam.
The food, music, and culture here are worth a visit if you want to spend a few hours during the day checking out the busy city.
Zanzibar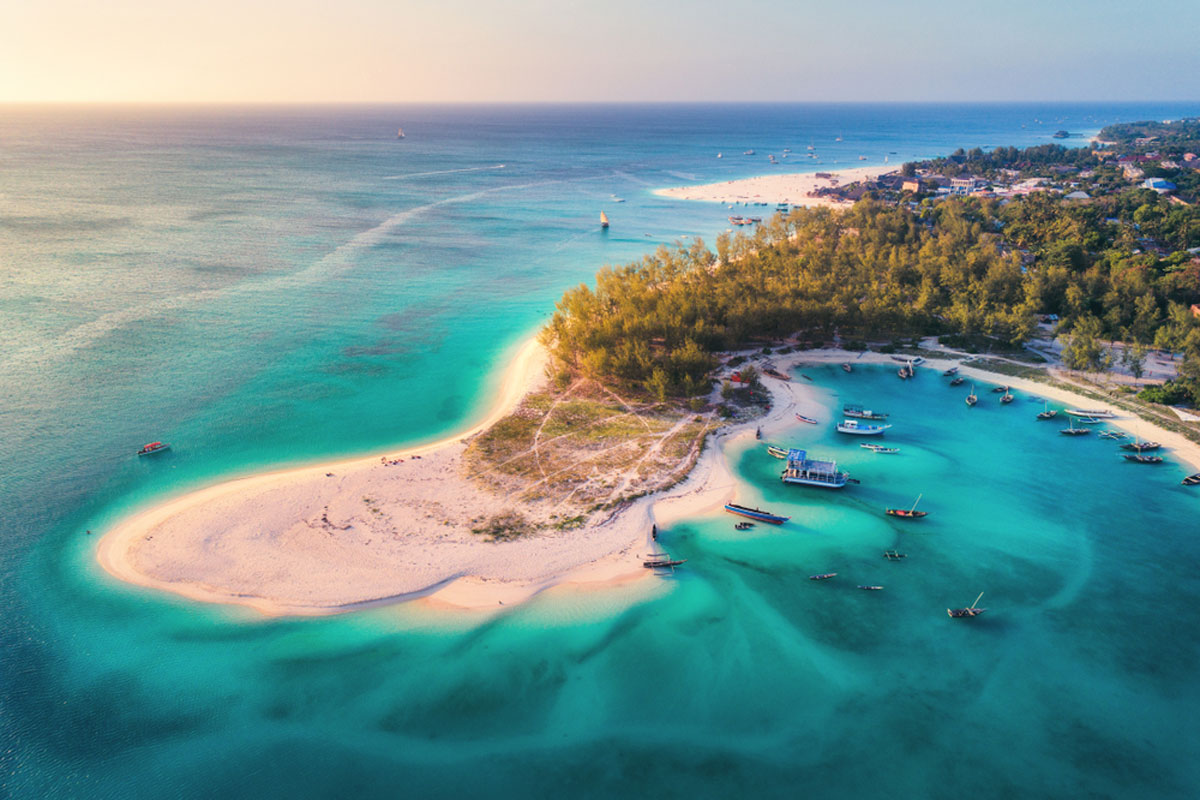 A Tanzania and Zanzibar honeymoon is one of our favorite combos. On the same trip, you'll experience deserts, mountains, forests, and beaches.
Why is Zanzibar a must-visit location for your Tanzania honeymoon? The white sands and translucent sapphire waters offer premiere beachside destinations on your honeymoon in Tanzania.
While you're here, be sure to spend time exploring a rainforest, swimming near waterfalls, and spending some time in Zanzibar City and Stone Town.
The Best Time to Visit Tanzania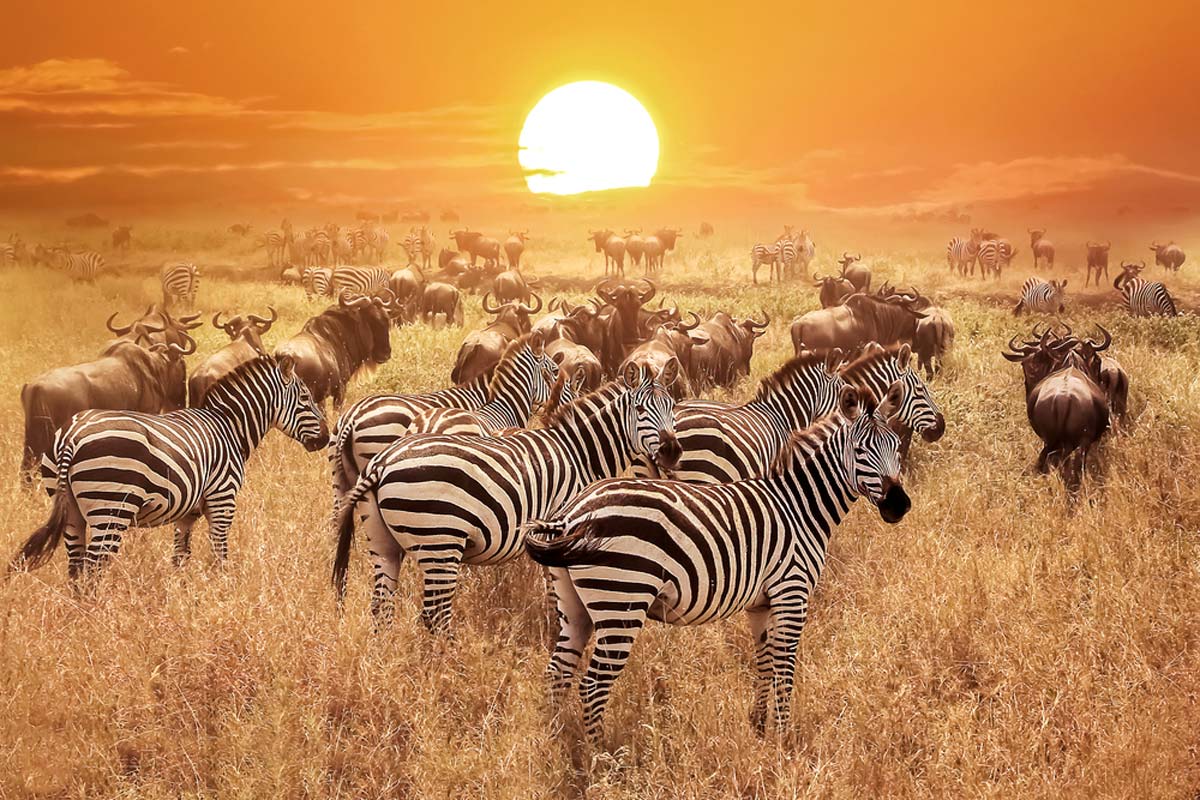 You'll want to plan your Tanzania honeymoon for August to October if you want to avoid rain and have the best chance of seeing wildlife on your Africa honeymoon.
How Long to Spend on Your Tanzania Honeymoon
Tanzania is filled with so much exceptional beauty that, we'll be honest, it would take a lifetime to see everything. Add that to the fact that many people combine other destinations, like Zanzibar and Seychelles, and you'll want plenty of time on your honeymoon in Tanzania.
We think that 2-3 weeks is sufficient if you plan to see Tanzania and any nearby Islands on your honeymoon in Africa.
How Much Does a Tanzania Honeymoon Cost?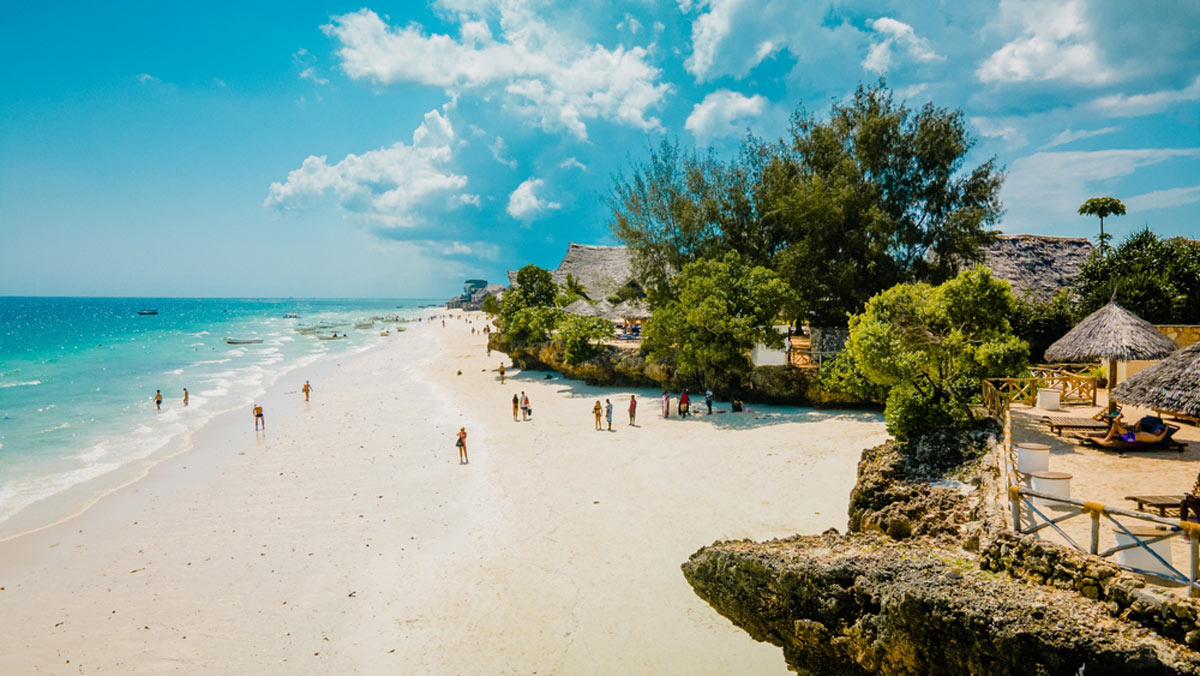 A honeymoon in Tanzania can cost more than other destinations if you take advantage of all the amazing opportunities for wildlife and nature.
If you plan to hike Mount Kilimanjaro, take a safari, and travel to other locations nearby, you can expect to pay between $10,000- $30,000 for your honeymoon in Tanzania.
Tanzania Honeymoon Resorts: Map
Tanzania Honeymoon Guide: Read Next