Planning your dream Paris honeymoon? Read on to discover the best destinations in Europe's most romantic city.
Strap in folks, this is going to be a biggie. It's time to discover how you can plan the ultimate Paris honeymoon.
Sure Paris has historic landmarks, high-end hotels, and exquisite cuisine wherever you look, but there's another side to the city. One filled with plenty of green spaces that are ideal for a romantic stroll, bike ride, or picnic in the park.
Whether you want your Paris honeymoon to be filled with culture-seeking and croissants or long strolls in Jardin du Luxembourg (or, even better – a combo of the two), you're going to need somewhere to stay.
Cue this excellent guide.
Why Honeymoon in Paris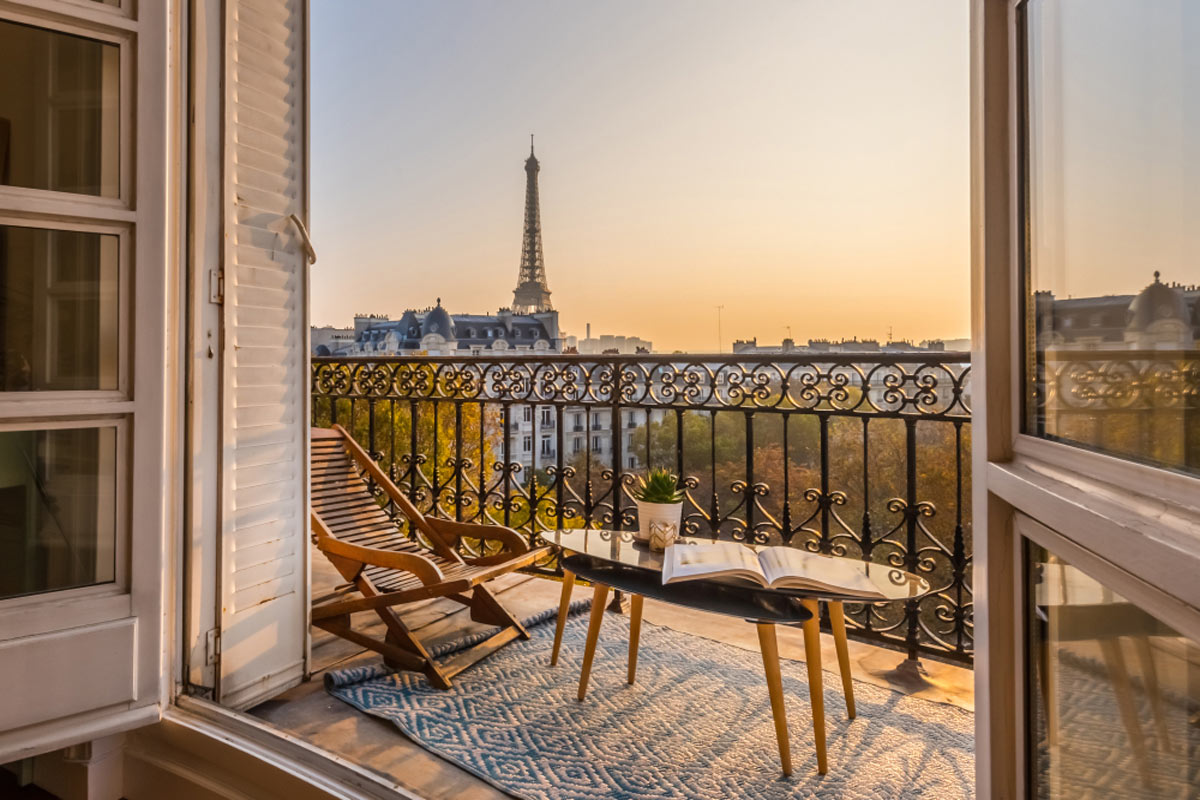 Do we even need to explain? A honeymoon in Paris is a top destination for couples around the world. And we understand why.
Paris is a city that makes us smile just thinking about it. The City of Light, or Love, or the Louvre… no other location seems as tailor-made for a romantic vacation as Paris, France.
A stunning honeymoon destination, Paris will delight you with its Hausmann-style architecture, world-class museums, and charming neighborhoods.
Keep reading to discover why a honeymoon in Paris is one of the best choices you can make together – after saying I do, of course.
Best Honeymoon Hotels & Resorts in Paris
Shangri-La Paris
16th Arrondissement
$$$
Best for Views of the Eiffel Tower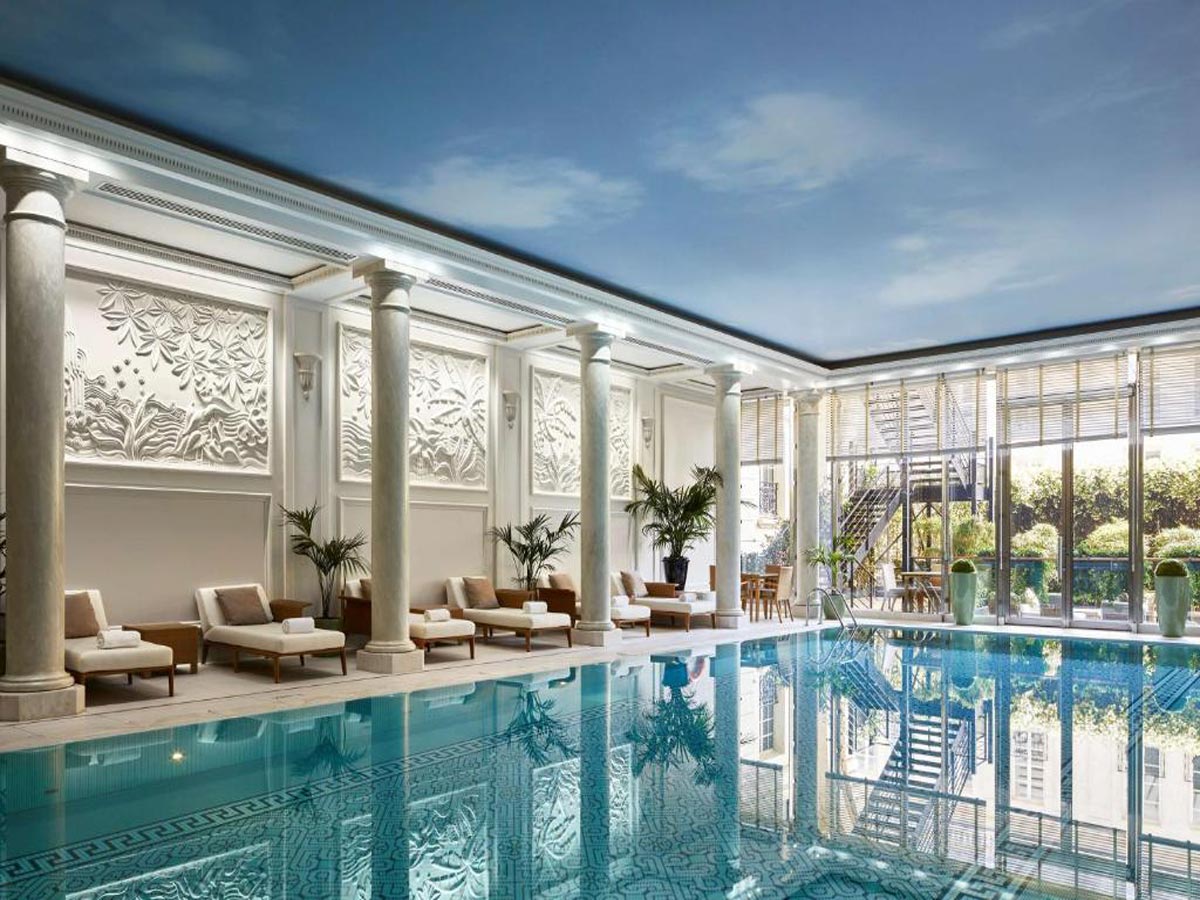 Dreaming of staying at the best honeymoon hotel in Paris? The Shangri-La Paris is easily one of the top places to stay. The decor is a stylish blend of Asian and European influences that gracefully balances lighter shades of several colors.
Choose from two restaurants that highlight French and Chinese cuisines with great success, one of which has earned itself a Michelin star.
But the real star of the show is The Duplex Eiffel View Suite, a two-level residence that offers an incredible view of the Eiffel Tower directly from your King bed. You can catch it sparkling from your private balcony. What more could you want?
Le Pavillon de la Reine
Le Marais
$$$
Best for a Weekend Getaway to Paris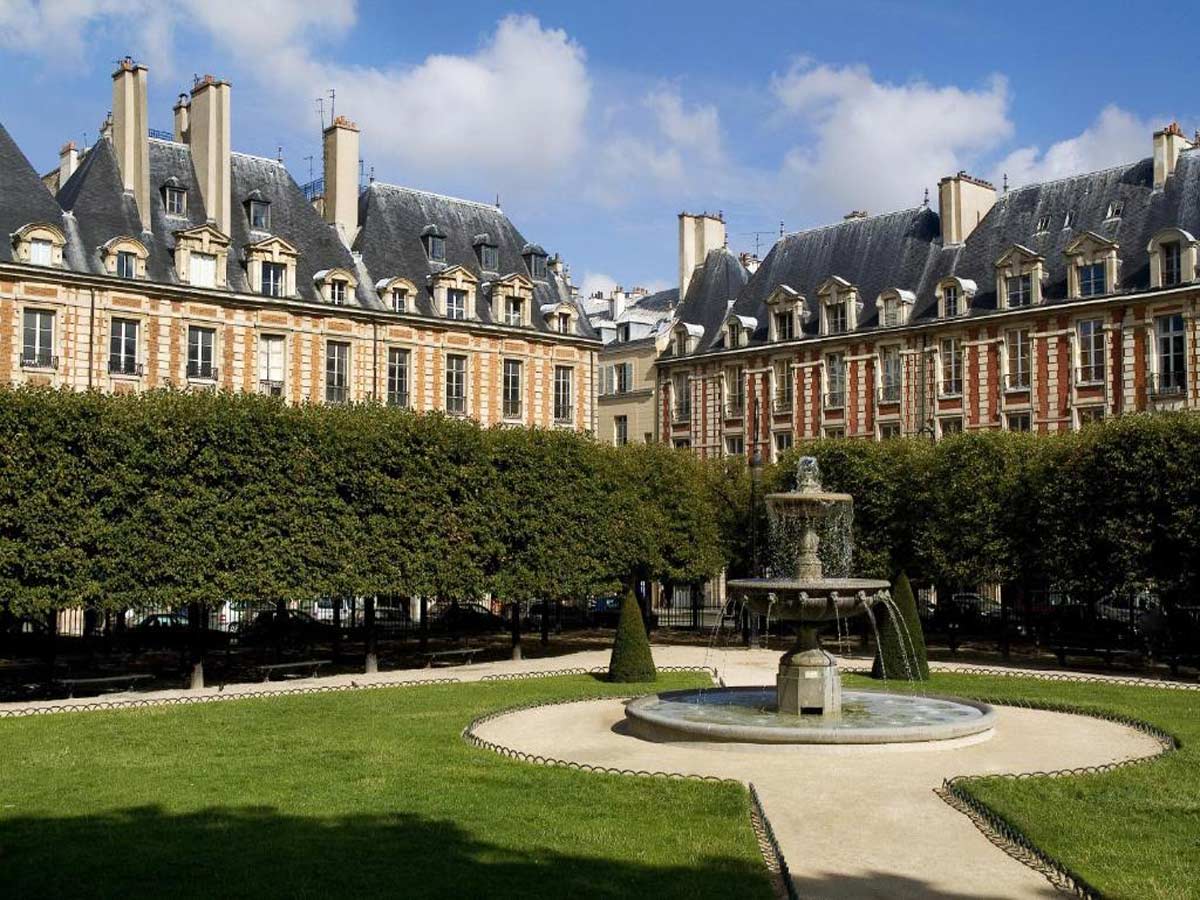 Le Marais is the neighborhood that most people picture when they think about classic Parisian afternoons. It's perfectly walkable, especially on Sundays when cars can't access many of the picturesque streets.
Le Pavillon de la Reine is where you want to book if you're spending a weekend in Paris. It's a quintessential Paris honeymoon hotel that looks as stunning outside as when you're indoors.
Each room is decked out in a style of its own, but they all share the quiet, romantic ambiance that the hotel is famous for. Book a suite and enjoy the extra space in your room that is unabashedly Paris in style.
The restaurant and spa are both popular and worth spending a couple of hours enjoying together on your honeymoon in Paris. We don't think you'll regret a minute of it.
Hotel Le Six
6th Arrondissement
$$
Best for a Budget-Friendly Paris Honeymoon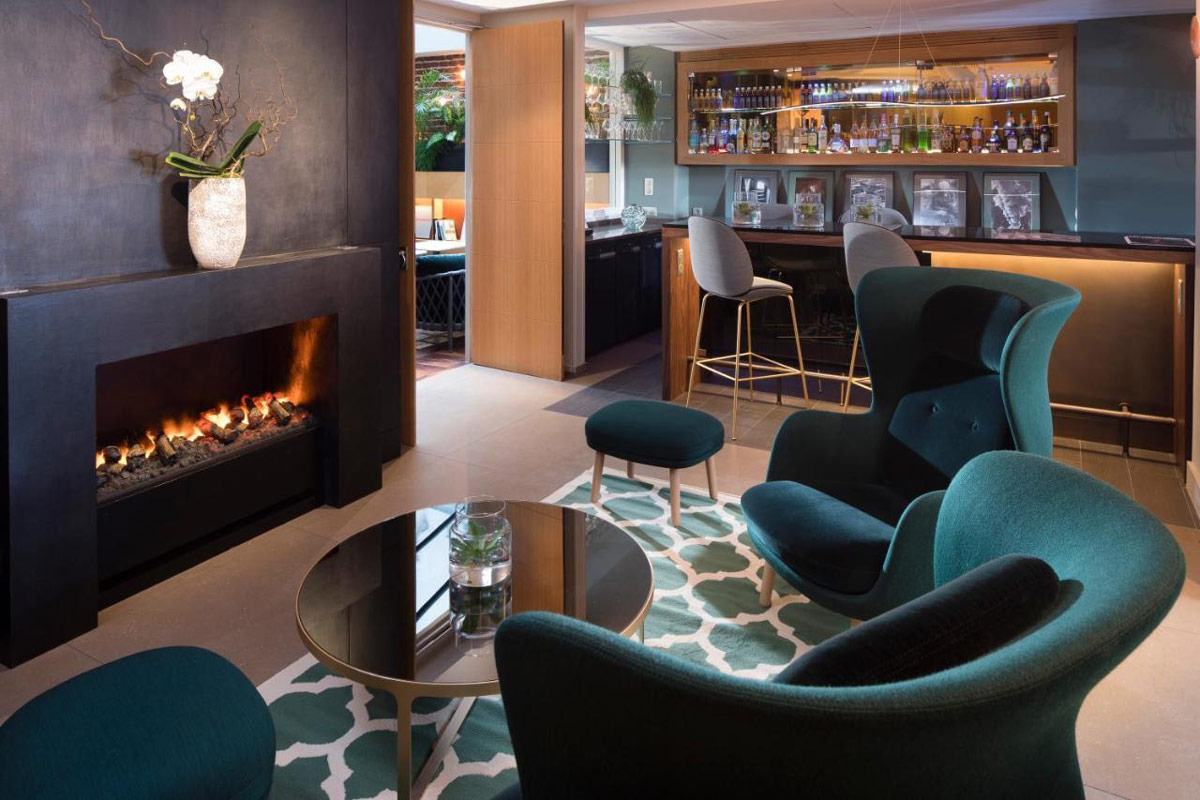 Hotel Le Six is within easy walking distance from some of the most famous neighborhoods in Paris.
It's a short jaunt to Luxembourg Gardens, Saint Germain-des-Prés (Paris's oldest church), and Montparnasse. You can also head to some of the most iconic cafes and restaurants in Paris, just minutes from the hotel.
The rooms here are comfortable and well decorated – especially for the bargain price. The furniture, curtains, and walls all have an airy, unfussy quality that matches the hardwood floors, making the room feel larger than it is.
Look out your window and see the bustling city right outside, waiting for you to explore.
Want to have a romantic start to your day in Paris? Order breakfast in your room, add some optional champagne and reserve the private spa downstairs.
La Planque Hotel
Belleville
$
Best for an Off-Beat Paris Honeymoon
Are you less interested in staying near Notre Dame, Eiffel Tower, or other classic tourist hotspots on your Paris honeymoon?
La Planque Hotel is in the Belleville district, not too far from Canal Saint-Martin – one of Paris's more vibrant and energetic neighborhoods.
Though it's been catching on with out-of-towners over recent years, you can still get great value on this hotel which puts you right in the center of one of the coolest areas in Paris.
The no-frills rooms are perfectly cozy but have everything you need for comfort and no-fuss romance on your honeymoon in Paris. The breakfast buffet is popular, room service is available when needed, or you can walk to numerous cafes and restaurants nearby.
If you want the best honeymoon hotel in Paris for a budget-friendly vacation in a trendy neighborhood, La Planque is the one for you.
Le Bristol Paris
8th Arrondissement
$$$
Best for a Honeymoon in the Fashion District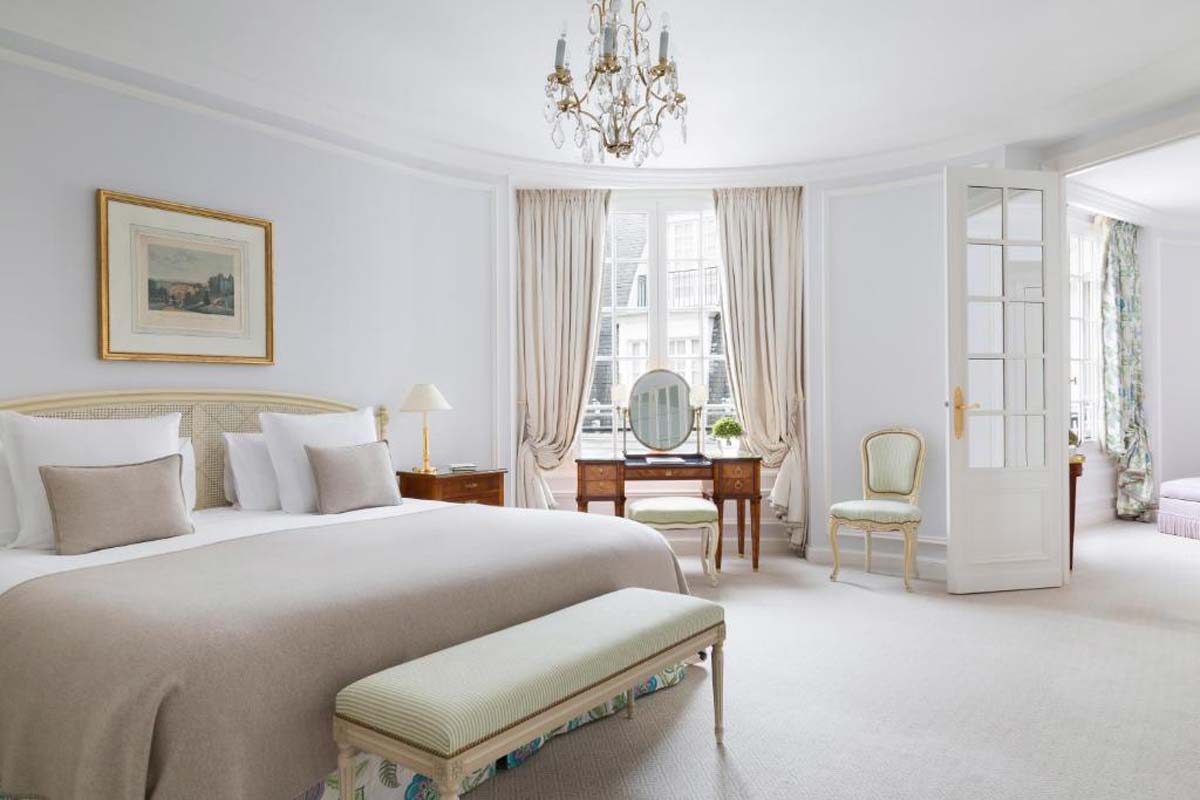 If you fancy staying at the best honeymoon hotel in Paris replete with opulence, consider staying at Le Bristol Paris. The five-star, almost 100-year-old hotel knows a thing or two about luxury and style.
You'll be staying in the heart of the Fashion District on your Paris honeymoon, and it's evident in the care put into the lobby, restaurants, and rooms at the iconic property.
From special events like a Gabriella Hurst pop-up residence to the three-Michelin star masterpiece Epicure, your honeymoon in Paris will be sophisticated and grand at Le Bristol Paris.
Each room in the hotel looks near-perfect, but it's worth splurging if it's in your budget.
The best room in the house? The Terrace Suite with Outdoor Spa is one of the most photo-worthy spaces in the hotel, with a spectacular in-room jacuzzi (and an outdoor option, too).
La Réserve Paris Hotel & Spa
8th Arrondissement
$$$
Best for Luxury Paris Honeymoon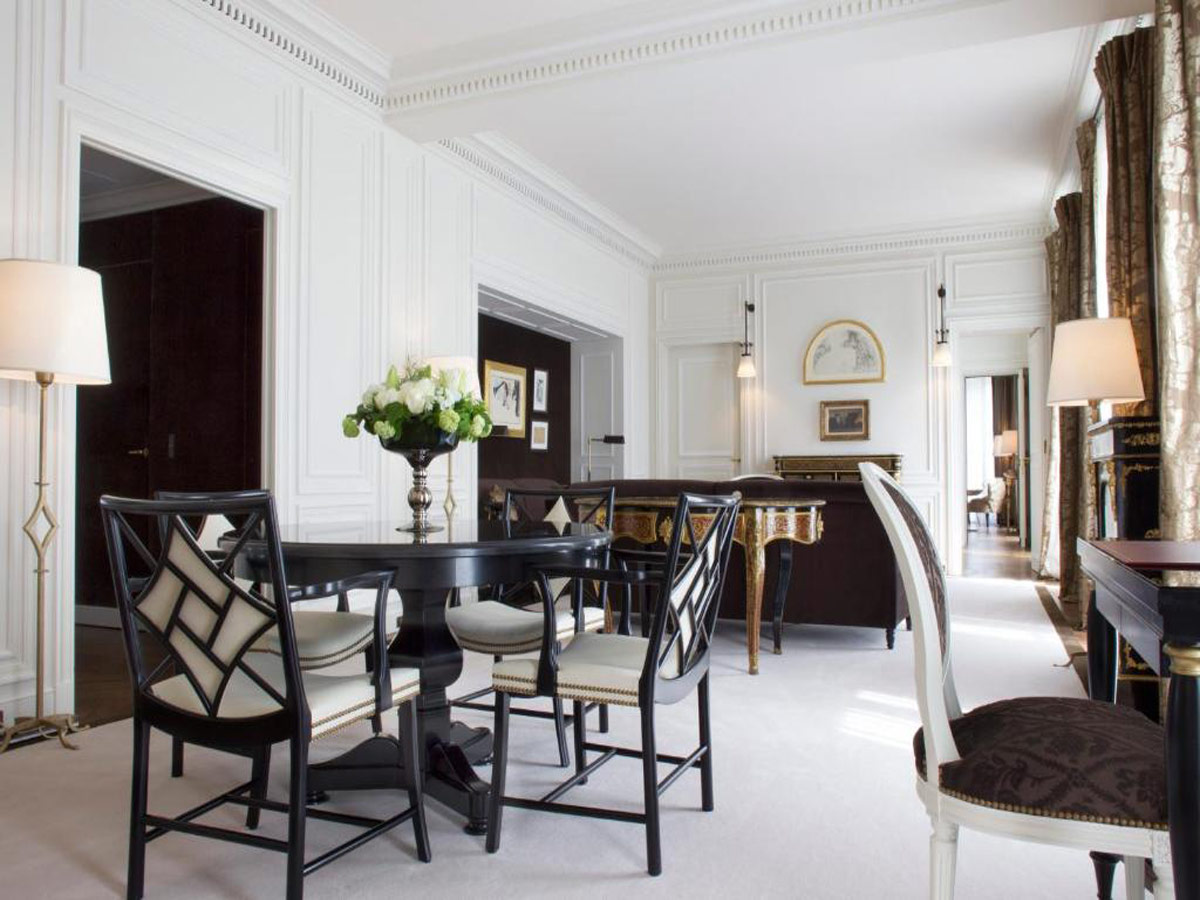 An underrated Paris honeymoon hotel, La Réserve Paris Hotel & Spa has everything you can imagine in a beautiful boutique hotel setting.
If you want a Paris honeymoon package like no other, you will want to contact the concierge team. Boasting some of the most incredible experiences in the city, La Réserve makes special occasions come to life like no one else on your honeymoon in Paris.
Need an example of how their team comes up with perfect Paris honeymoon ideas? You can tour the Vigne du Clos Montmartre with a private guide. Usually not open to the public, you can visit the storied winery and taste the products on-site. Sign us up.
When you head back to the hotel from the nearby shopping district, relax in the stunning public spaces or one of the rooms and suites styled by the legendary Jacques Garcia. We can't think of a better way to honeymoon in Paris today.
Paris Honeymoon Tips: What You Need to Know
How to Get to Paris
Getting to your Paris honeymoon is a breeze from many destinations. Charles de Gaulle (CDG) is the main International airport, with over a thousand flights landing there nearly every day.
The train system is also fantastic, with several stations supporting numerous lines that connect the city with countries throughout Europe.
The Best Paris Honeymoon Destinations
Eiffel Tower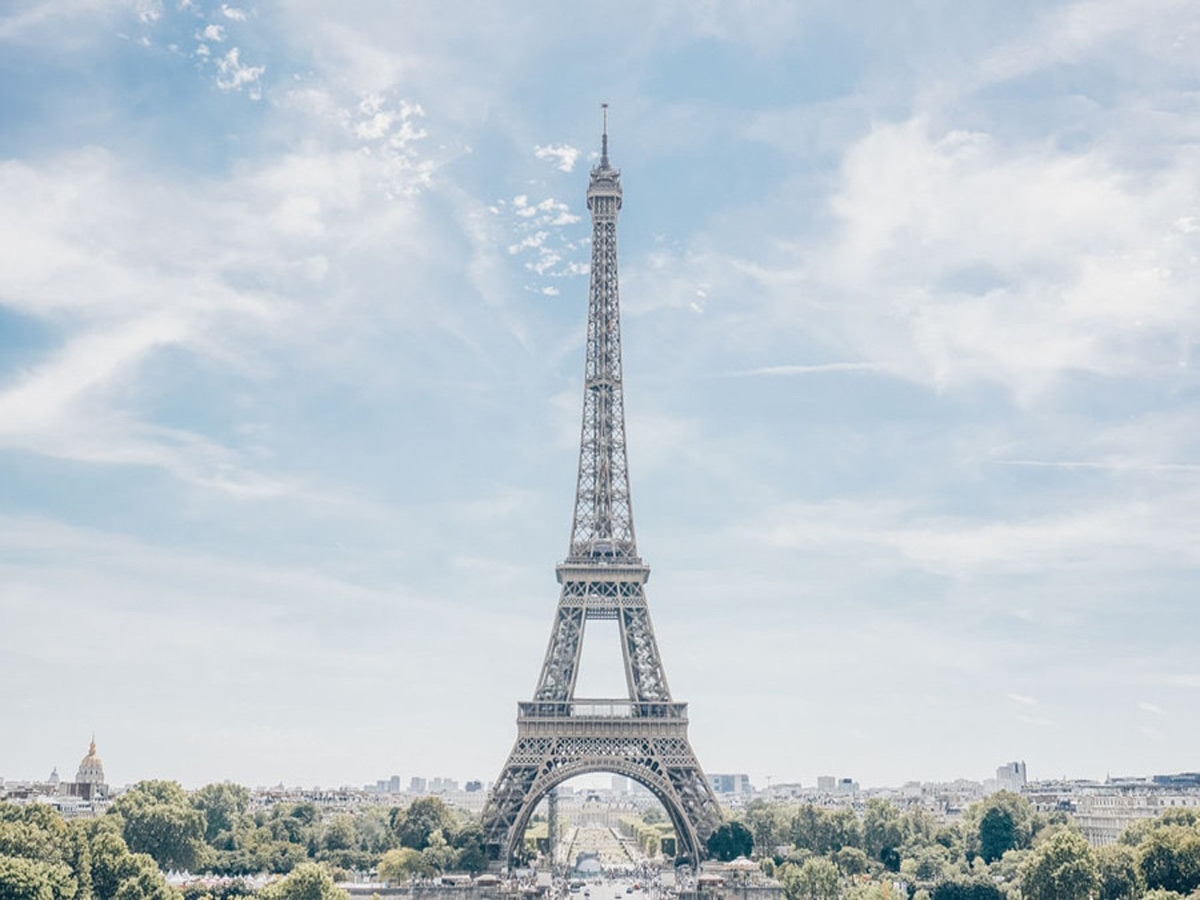 We can't discuss Paris without this big guy – the Eiffel Tower is an imposing iron structure built for the World's Fair in 1899.
Don't let the scale deceive you, the impressive height means it stands out, even if you are farther away than you think.
Bring your best pair of shoes and get carbed-up on croissants, climbing the stairs is an excellent way to experience the views and magnitude of the landmark on your Paris honeymoon.
You can also take one of several elevators, including a private lift to the Jules Verne restaurant for some excellent French cuisine and 2nd story views.
Louvre Museum
Want to check out the Louvre on your honeymoon in Paris? You're not alone, as it's one of the most famous destinations in the world.
No wonder many honeymooners make it a point to visit the iconic art museum – it's stunning.
The Louvre sits on former fortress grounds that were later home to a palace. The building still stands (but has undergone some renovations) and is now home to art from around the world.
The palace and the newer (but no less impressive) Louvre Pyramid are exceptional to look at from the outside.
Once you step inside, the art collection is equally amazing. The original Mona Lisa, Great Sphinx of Tanis, and Venus de Milo are just a few of the many wonders at the Louvre.
Musée d'Orsay
Want to see one of the more unique museums on your Paris honeymoon? How does an art museum in a former train station sound?
The Musée d'Orsay rests in what was once the Gare d'Orsay train station.
The building is a large part of the draw here – we can't think of a much more excellent space. The barrel-style vaulted ceiling is impossible to ignore and lends perfect lighting to the sculptures and paintings inside.
The large antique clock upstairs is one of the main attractions and provides the setting for one of the most timeless photos you can take on your Paris honeymoon.
Montmartre
Why is spending a day exploring Montmartre one of the best honeymoon ideas in Paris? The whimsical streets are famous for cobbled terrain, dramatic vistas from the top of a large hill, and excellent restaurants.
Have you seen Amélie? The impossibly cute village in Paris is where the film takes place.
Make sure you check out Sacré-Cœur, Place du Tertre, and Vigne du Clos Montmartre (from outside) while you're in the area.
Jardin du Luxembourg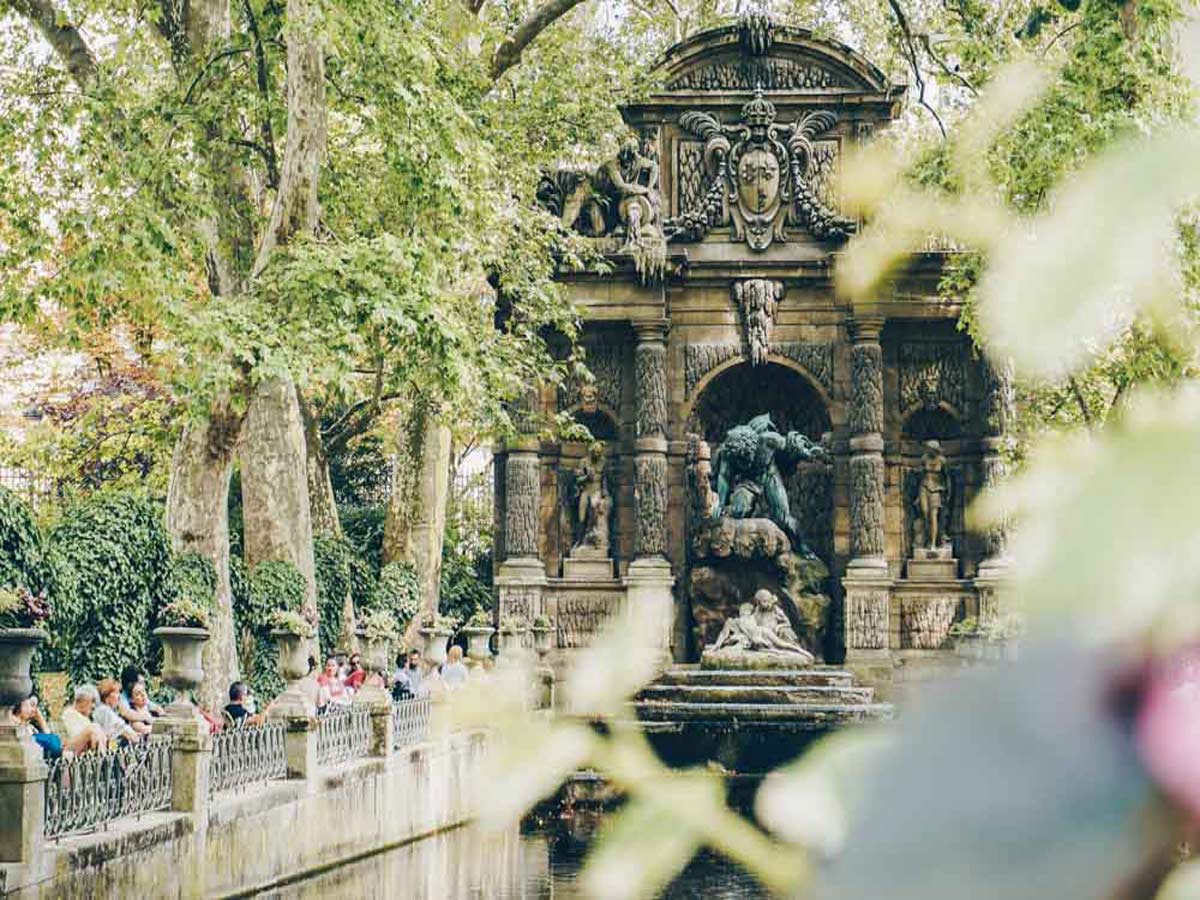 Want to see one of the lovely parks that makes Paris so beautiful? The palace grounds are perfect for getting some fresh air when you're on your honeymoon in Paris.
Sailing model boats, enjoying lunch near the fountain, or admiring the gorgeous flowers are just a few activities you can do at one of the best outdoor spaces in Paris.
Cafe de Flore
You can't have a Paris honeymoon without visiting a cafe, right? There are cafes on nearly every street in the beautiful city – but none more famous than Cafe de Flore.
The food here is good (not great). But the main reason many people stop by the famous restaurant on their Paris honeymoon is its rich history.
From Picasso to Hemmingway, some of the greatest icons of the 20th century spent time drawing inspiration and probably enjoying a meal or beverage at this iconic cafe.
Notre Dame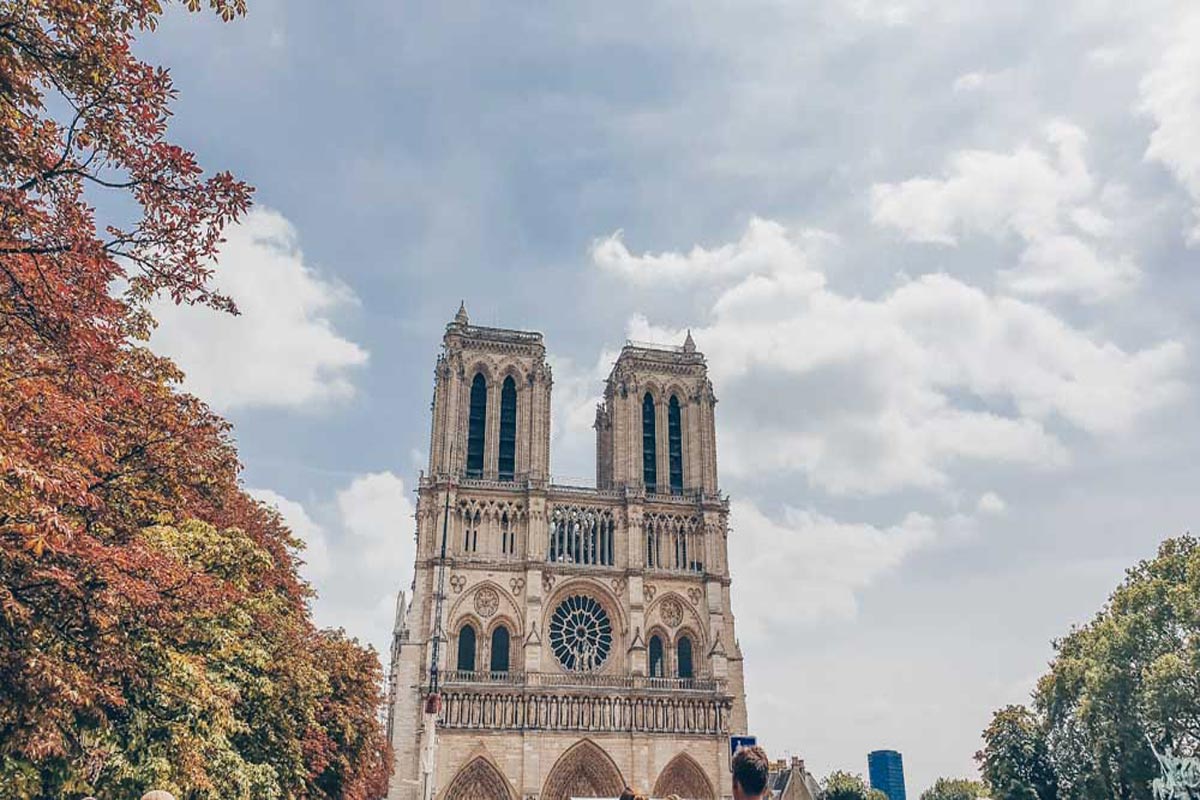 One of the most iconic landmarks in all of Europe, Notre Dame is a Gothic building that has been open since the 1300s.
Currently closed to the public, if you're planning on taking a honeymoon in Paris in 2024 or later, you'll be able to visit the iconic building once again.
The Best Time to Visit Paris
The best time for a Paris honeymoon is in the fall or winter.
We love the idea of a Paris honeymoon around the holiday season. But if you want something other than a winter honeymoon, September to November will be the best time to go.
You'll have an unforgettable honeymoon in Paris with plenty to do, excellent opportunities for autumn photos, and the perfect weather for eating some of our favorite dishes like Bouchée à la Reine.
How Long to Spend on Your Paris Honeymoon
Visiting Paris is something that many married couples want to do at some point. But how long is the perfect Paris honeymoon?
5-7 days on your Paris honeymoon is usually the perfect amount of time.
How Much Does a Paris Honeymoon Cost?
How much does a honeymoon in Paris cost? On average, a Paris honeymoon costs more than many stunning yet affordable honeymoon destinations.
On average, the best honeymoon hotels in Paris will cost over $3500 a week. You can, however, find some great bargains if you're willing to stay in far-out neighborhoods, go during off-peak seasons, and shop around for savings.
Paris Honeymoon Resorts: Map
Paris Honeymoon Guide: Read Next