Planning your Australian honeymoon? Read this guide packed with dreamy hotels and brilliant tips.
Australia's laidback reputation is well-known, though it's not all shrimps on barbies and catching waves. Though, that is a huge pull for many couples planning an Australian honeymoon.
But the country boasts so much more: The Great Barrier Reef, guaranteed sunny skies, over 60 wine regions, and magical rainforests are just a handful of reasons why you should book yourself an Aussie honeymoon.
Not to mention the country boasts a diverse array of wildlife – because where else are you going to spot kangaroos, koala bears, and sugar gliders?
So, if we haven't totally convinced you to book your stay yet, read on to discover the best places to stay, as well as some top tips for planning your dream vacation.
Why Honeymoon in Australia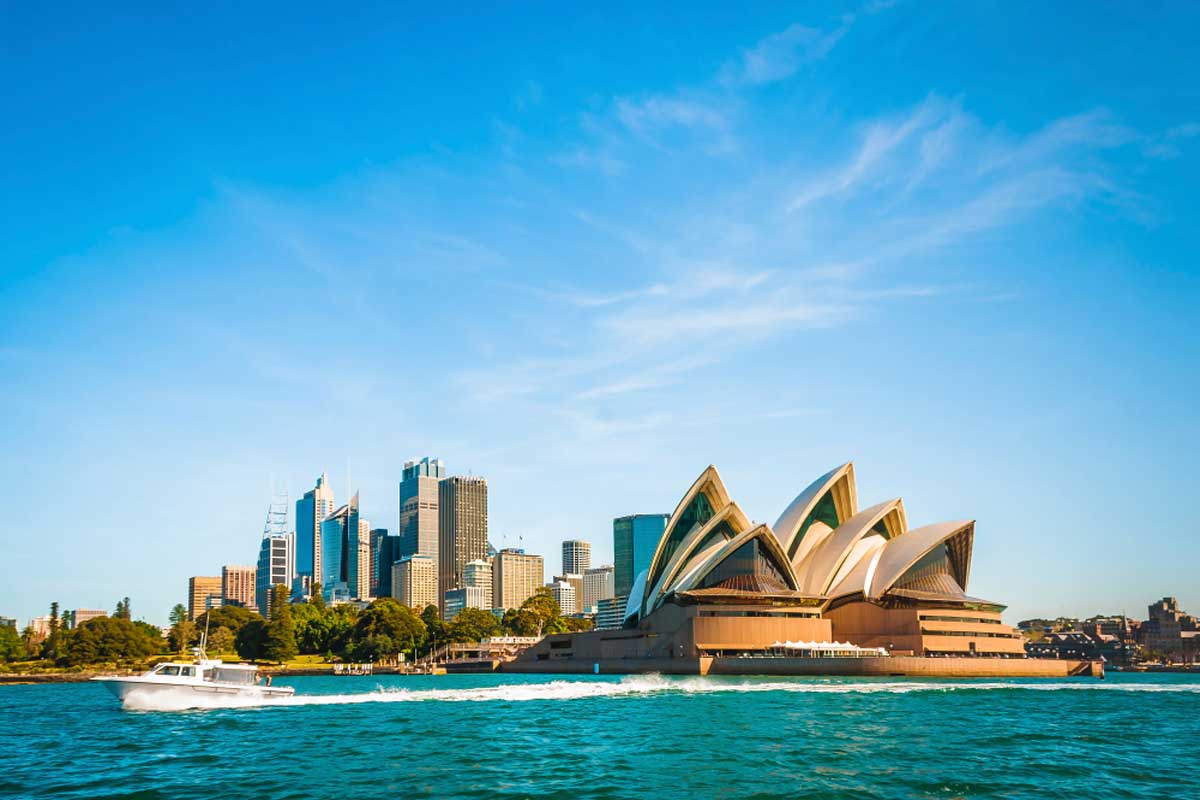 Wild and mysterious, honeymoons in Australia are the perfect fit for couples who enjoy exploration and adventure.
Snorkeling, diving, surfing, snowboarding (yes, really), and hiking are just some of the adventures you can have while on an ​​Australian honeymoon.
From beach-chic to high-end, all-inclusive vacations, this alluring country offers numerous creative Australian honeymoon ideas.
If you're ready to "go down under" for your honeymoon in Australia, keep reading.
Best Honeymoon Hotels & Resorts in Australia
Oceans Mooloolaba
Sunshine Coast
$$$
Best for Total Luxury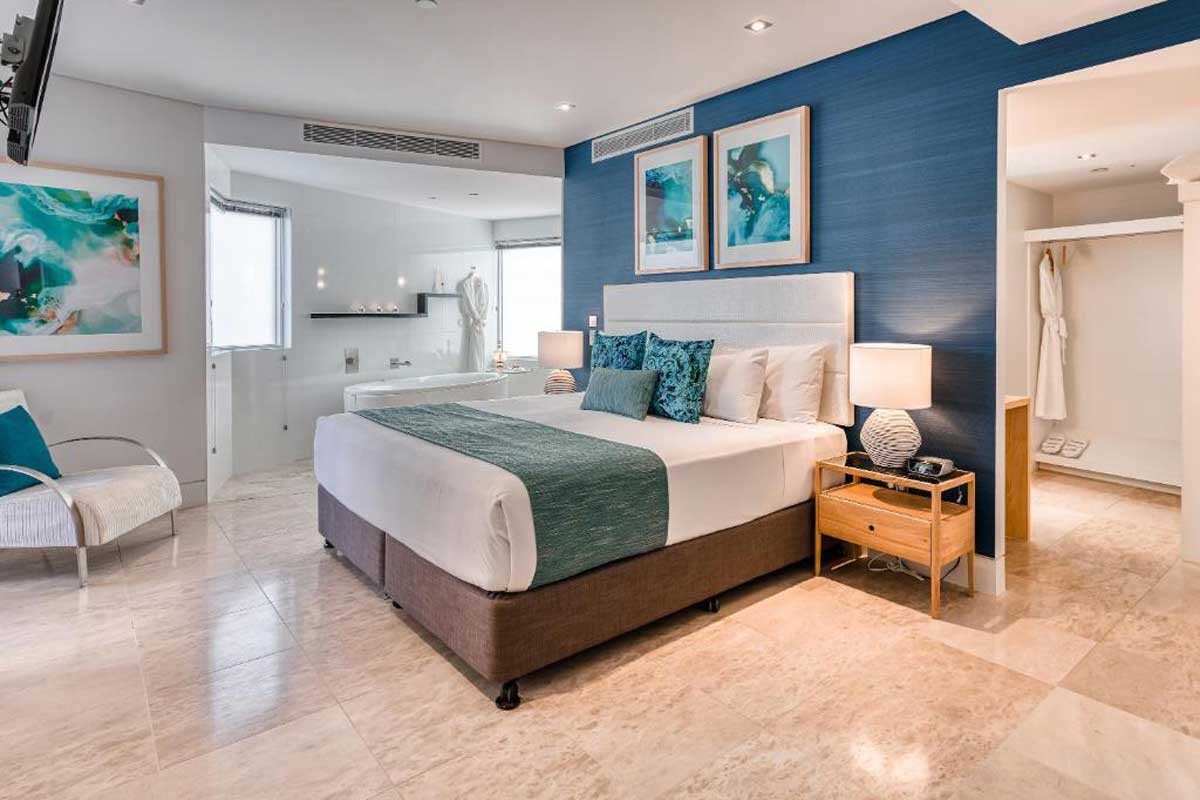 If you're looking to go all out on your honeymoon in Australia, Oceans in Mooloolaba Beach is the resort for you.
This 5-star luxury hotel offers guests spacious, sun-soaked rooms and suites, a heated outdoor pool with a 25m lap pool, a sun deck with a heated spa, and a fully equipped fitness room.
Oceans offers a Romance Package that includes 2 nights in a 2 bedroom ocean view suite, high tea on arrival, a bottle of chilled wine and chocolates, a 1/2 dozen red roses, and turn-down service with candles and mood lighting.
We can't think of a better way to celebrate your marriage.
This resort is located right on the beach so you can spend your days basking in the sun, learning to surf, and taking classic, romantic strolls on the beach. The area is also filled with opportunities for other water sports, local markets, and the chance to indulge in romantic dinners at their various fine dining spots nearby.
Kittawa Lodge
King Island, Tasmania
$$$
Best for a Secluded Getaway
Looking to spend some uninterrupted quality time with your boo? We've got just the option for you.
Tasmania is located just 150 miles south of the mainland and is known to have some of the freshest air quality in the world – this island state of Australia is what dreams are made of.
Kittawa Lodge, actually located on an island off the coast of Tasmania (an island on an island, if you will) is like stepping into a fairy tale.
King Island boasts a pristine, untouched landscape that creates an intimate, tranquil ambiance, ideal for this special part of marriage. There are beaches, uncrowded surf breaks, rolling grasslands, walking trails, golf courses, and thriving wildlife to explore.
,
The lodge offers several packages that are perfect for an all-inclusive Australia honeymoon.
Each package comes as standard with all your meals included. The meals provided at the lodge are award-winning and highly praised by guests. Only fresh and local ingredients are used in preparations.
Day Dream Island Resort and Living Reef
Day Dream Island, Queensland
$$
Best for Diving in the Great Barrier Reef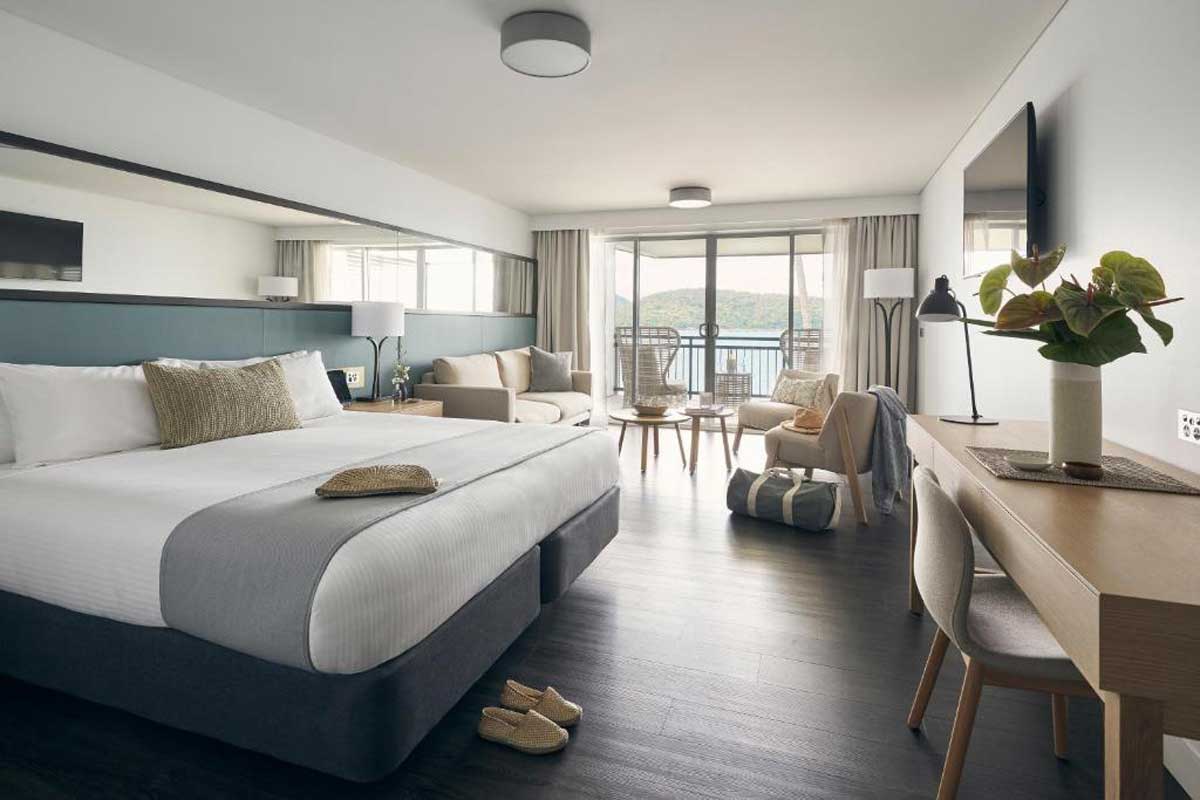 Day Dream Island got its name for obvious reasons – if you've ever dreamt of paradise, this is it. Think soft, white sand beaches lined with palm trees and the reef, backlit by the enchanting rainforest.
Located on the Whitsundays Islands, off the Queensland Coast, this resort is known as the gateway to the Great Barrier Reef. As a preview of the real reef, the resort is centered around a free-form coral lagoon, complete with fish, small sharks, and rays.
Accommodation options include a variety of rooms and suites with stunning views and natural light. On site you can also find 3 restaurants and 4 bars including the "Lovers Cove" bar – pretty apt for a honeymoon, we think.
The resort offers an abundance of water activities like jet skiing, swimming, sailing, paddle boarding, and of course snorkeling and diving. You can also book air tours and tours of the Great Barrier Reef.
The Langham
Melbourne
$$
Best for a City Honeymoon
Good news! The Langham offers luxury accommodation for most budgets. They boast simpler rooms, larger suites, and even club rooms if you're looking for sheer indulgence.
Keep your eyes peeled as the hotel occasionally offers a "Celebrate Romance Package" that includes French champagne and chocolates, breakfast in bed, and a bouquet of fresh-cut flowers.
For dining options, you can visit Melba Restaurant and Aria Bar & Lounge, or experience the tradition of The Langham Afternoon Tea. And, of course, there are endless dining options in the city.
If you need a little bit extra R&R, there's a spa on site that provides various massages and treatments including options for couples.
Thala Beach Nature Reserve
Port Douglass
$$
Best for Eco-Friendly Couples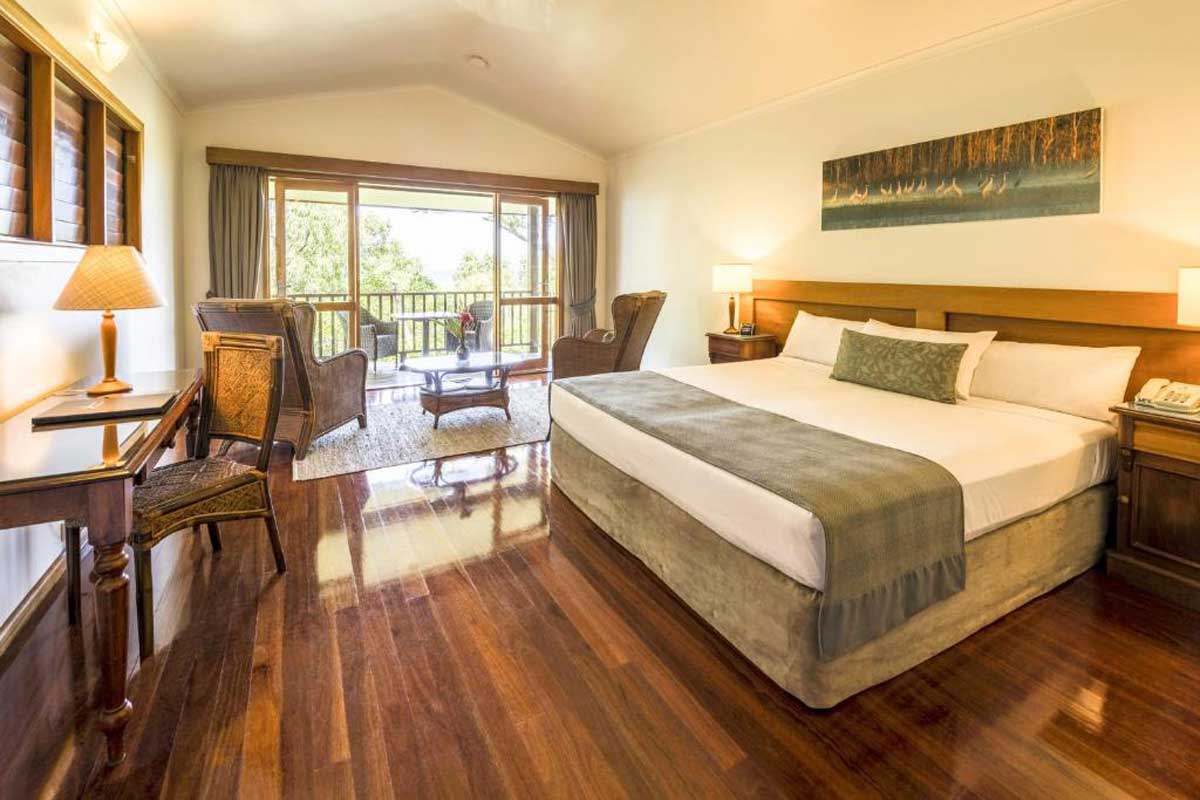 This unique resort is located on a private nature reserve and offers deluxe accommodation options that are placed strategically throughout the area. It's no wonder that this is one of the top honeymoon destinations in Australia for those seeking an intimate escape.
Accommodations and the restaurant are all built on stilts, giving you a unique vantage point during your stay.
Other than the magical bungalows, your stay includes complimentary activities like stargazing, nature and garden walks, a coconut odyssey (go with it – it's a plantation), bird and butterfly walks, and, of course, full access to the private beaches.
The spa on-site offers various massages, wraps, and scrubs for relaxation and rejuvenation.
Australia Honeymoon Tips: What You Need to Know
How to Get to Australia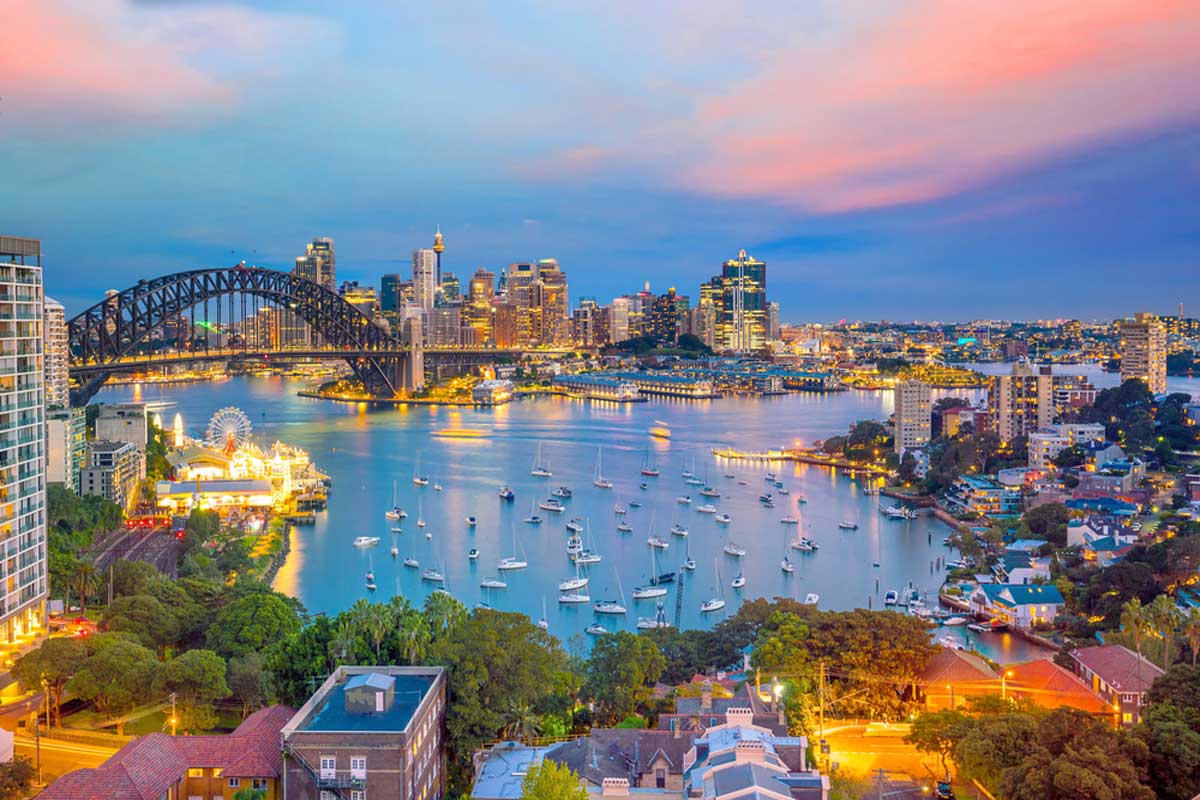 Australia is a sizeable country (it's actually similar in size to the continental US) and, because of this, there are numerous international airports to use.
The major airports most frequently used by tourists are; Sydney International Airport (SYD), Brisbane International Airport (BNE), Melbourne International Airport (MEL), and Perth International Airport (PER). There are hundreds of smaller airports that might be closer to your ultimate destination.
Most people who visit Australia opt to rent a car or van. Some resorts and hotels offer shuttle services and there are also public transportation and car services such as Uber and Lyft.
The Best Australia Honeymoon Destinations
The Great Barrier Reef
Arguably one of the most recognized symbols of Australia is The Great Barrier Reef. Made up of more than 3,000 individual reef systems, coral cays, and islands, the reef is one of the most popular destinations in the world. Most people explore the reef by snorkeling or diving, but you can also book excursions on glass-bottom boats and even go skydiving over the reef for a truly inspiring experience.
Considered one of the seven wonders of the natural world, the Great Barrier Reef is the only living thing on earth visible from space. There are thousands of animals that call the reef home including tropical fish, rays, sharks, whales, dolphins, porpoises, sea turtles, sea snakes, and more.
Catch a Wave
There's thought to be a whopping 34,000 kilometers (21126.621 miles) of coastline in Australia, making it very appealing for couples who surf or want to learn to surf together. Australia is known to have world-class waves on the likes of Bells Beach, Snapper Rocks, and Margaret River – who knows, you maybe even be able to catch a pro surf contest.
If you have the desire to learn to surf, there are dozens of beginner-friendly waves where you can take lessons and/or find rentals. The most popular spots for beginners include Noosa, Surfer's Paradise, and Cooloongata.
Sydney Opera House
The Sydney Opera house is another iconic symbol synonymous with Australia. One of the country's "favorite buildings", heading to the Opera House is the perfect opportunity to get dressed up and spend a night out in Sydney.
The Opera House is also open during the day for a more chilled out concert experience. You can even opt for a food tour of the concert hall. Yes, please.
Visit a Winery
It might surprise you (or not, if you're a fellow boozehound) that Australia is one of the top wine producers in the world. We think a vineyard tour on your Australia honeymoon itinerary is a great way to celebrate your marriage.
As mentioned before, there are more than 60 wine regions throughout the country. The country is known for Shiraz, Aussiefied Syrah, and different Chardonnay varieties. Top wineries include Yarra Yering, Penfolds, Yalumba (our favorite), and Cullen Wines.
Kangaroo Island
Affectionately called a "zoo without fences", a visit to Kangaroo Island is a must if you want to experience Australian wildlife. You can explore the island on your own or book a guided tour.
The island is inhabited by kangaroos, sea lions, koalas, echidnas, wallabies, goannas, and marine mammals like whales, sea turtles, dolphins, and porpoises.
It's also a top destination for adventures both on land and in the sea. You can find hiking trails, ATV trails, sandboarding, fishing, cave exploration, sailing, snorkeling, and diving experiences.
Points of interest on Kangaroo Island include the American River, the Cygnet River, Kingscote, North Coast, Parndana, Penneshaw and Dudley Peninsula, South Coast, and West End.
The Best Time to Visit Australia
Everyone seems to have a different opinion on when the best time to visit Australia is. This is probably because each part of Australia offers something different and special.
Generally speaking, if you're honeymooning in the northern states, it's useful to know that the wet season is from October to May and the dry is from June to September.
The southern states experience more of a 4 season cycle but if you're looking for a beach-centered honeymoon, the warmer months of September to April can be found in New South Wales and November to March in Western Australia.
If you want to experience the Outback, your best bet is to go in the cooler months of May to August and the best time to visit Tasmania is the warmer months from October to March.
Finally, if you want to experience skiing and snowboarding in the Australian Alps, June through September is when the ski resorts are generally up and running.
How Long to Spend on Your Australia Honeymoon
The amount of time to spend in Australia is dependent on many things. Time available, budget, what you want to do and see, and where you're visiting from are just a few examples.
If you're traveling from the opposite side of the world, you may want to spend anywhere between 10 days and two weeks. If you're traveling from somewhere closer, you might just need 5-7 days.
How Much Does an Australian Honeymoon Cost?
Again, the price of a honeymoon in Australia depends on several factors. The average Australia honeymoon trip package for 10 days ranges from $5,000- $10,000 (USD).
This all depends on where you're staying, if you're moving around to different areas, and how many excursions you want to do.
Honeymooning in Australia can add up quickly, however, it's easier to stay within your budget by choosing resorts with Australian honeymoon packages that include everything.
Australia Honeymoon Resorts: Map
Australia Honeymoon Guide: Read Next