Planning a honeymoon in Costa Rica? Jungles, beaches, and magnificent accommodation await you. Discover the top sights and places to stay on your Costa Rica honeymoon with some help from this guide.
Costa Rica is one of the best tropical honeymoon destinations to choose, and there's little mystery why.
Verdant tropical forests, rugged mountains and volcanos, peaceful ocean waters, and ideal weather year-round make it one of the best locations to honeymoon in Central America.
Intreagued? You should be. Read on to learn more about what to see and do, and which resorts to choose on your Costa Rica honeymoon.
Why Honeymoon in Costa Rica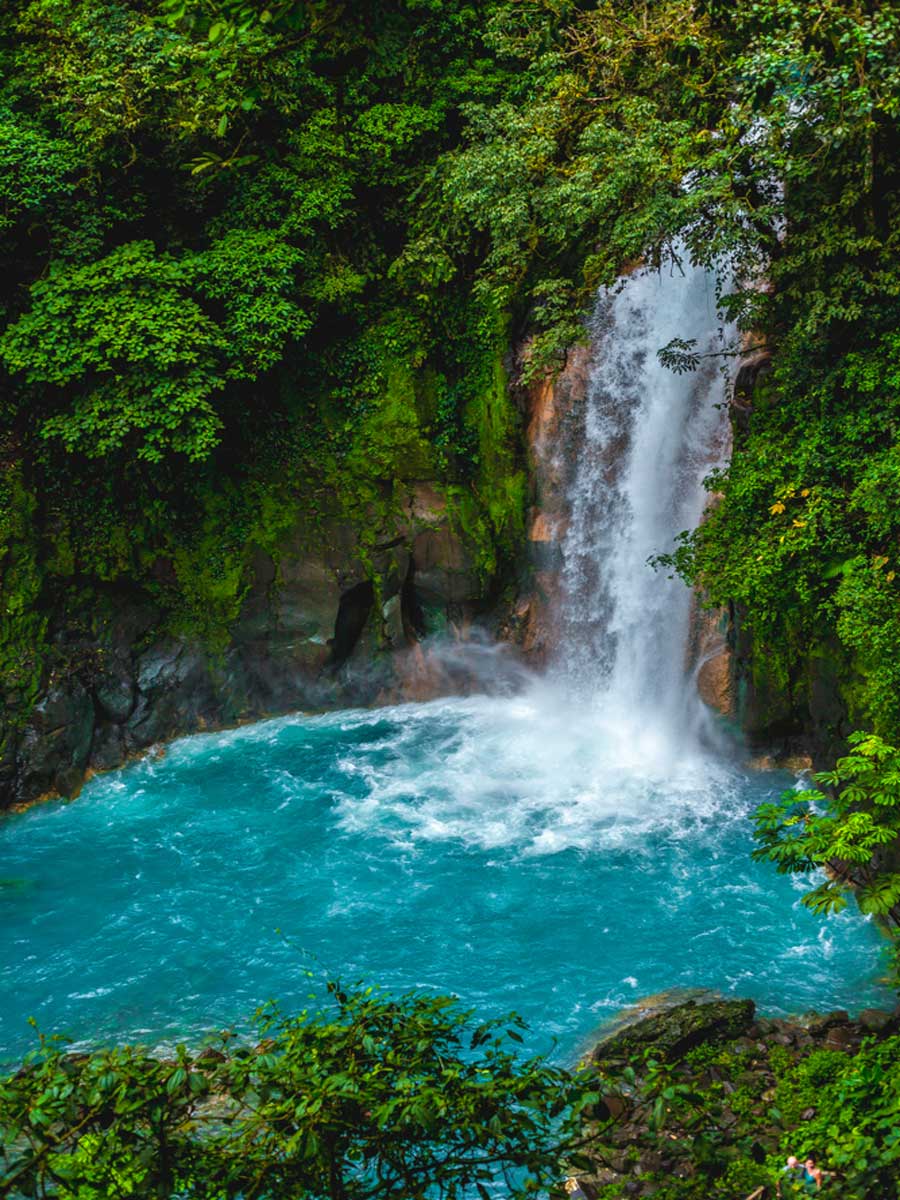 So… You've submitted your time-off request at work and are all set to plan your dream honeymoon together. But why should you and your spouse choose Costa Rica?
A honeymoon to Costa Rica sounds kind of perfect, doesn't it? Well, it is.
Hiking here is first-rate, you'll find more national parks than anywhere in Central America, and the resorts are among the best in any location in the world.
You can spend a low-key week with your life partner, adventure into the jungle, or enjoy the nightlife and culture in San Jose.
So, the question really is: Why not honeymoon in Costa Rica?
Best Honeymoon Hotels & Resorts in Costa Rica
The Westin Reserva Conchal
Playa Conchal, Costa Rica
$$$
Best for a Costa Rica All-Inclusive Honeymoon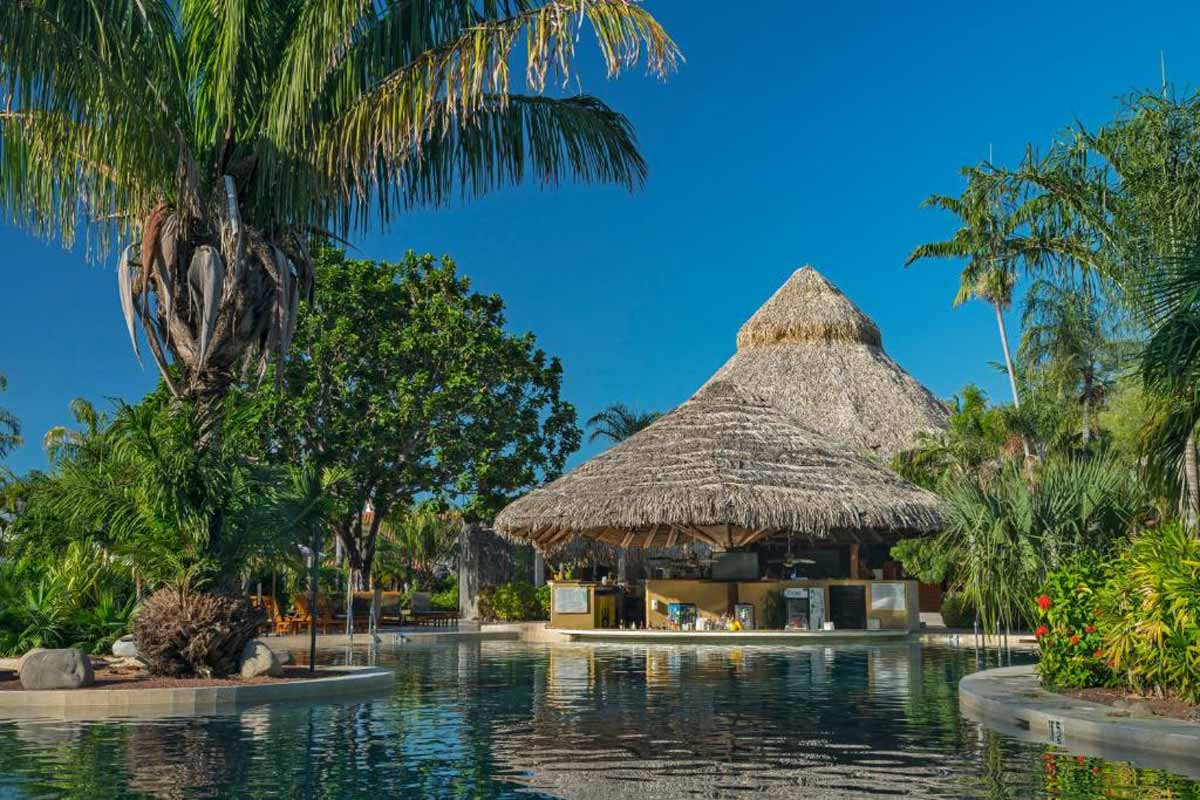 Want to mellow out at the beach and forget all your troubles after walking down the aisle? The Westin Reserva Conchal is perfect for couples who want a Costa Rica Honeymoon itinerary chock-full of R&R.
One of the most popular honeymoon resorts in Costa Rica is on one of its most famous beaches, where you can lounge around whilst sipping a tropical drink and enjoying the sunset.
And, we don't know about you, but we think a honeymoon is 50% romance and 50% food. The Westin Reserva Conchal has got both covered. With several restaurants on site, there's no need to even think about touching a kitchen utensil during your honeymoon.
But, if two weeks or so of lounging sounds a little bit too slow for you, there are activities galore to enjoy. Spend your day swimming in two different pools, watching live entertainment, biking on property grounds, or booking some tee-time on the nearby golf course.
Comfort and adventure await at this Costa Rica honeymoon all-inclusive resort.
Dream Las Mareas Costa Rica
El Jobo
$$$
Best for a Private Beach Honeymoon in Costa Rica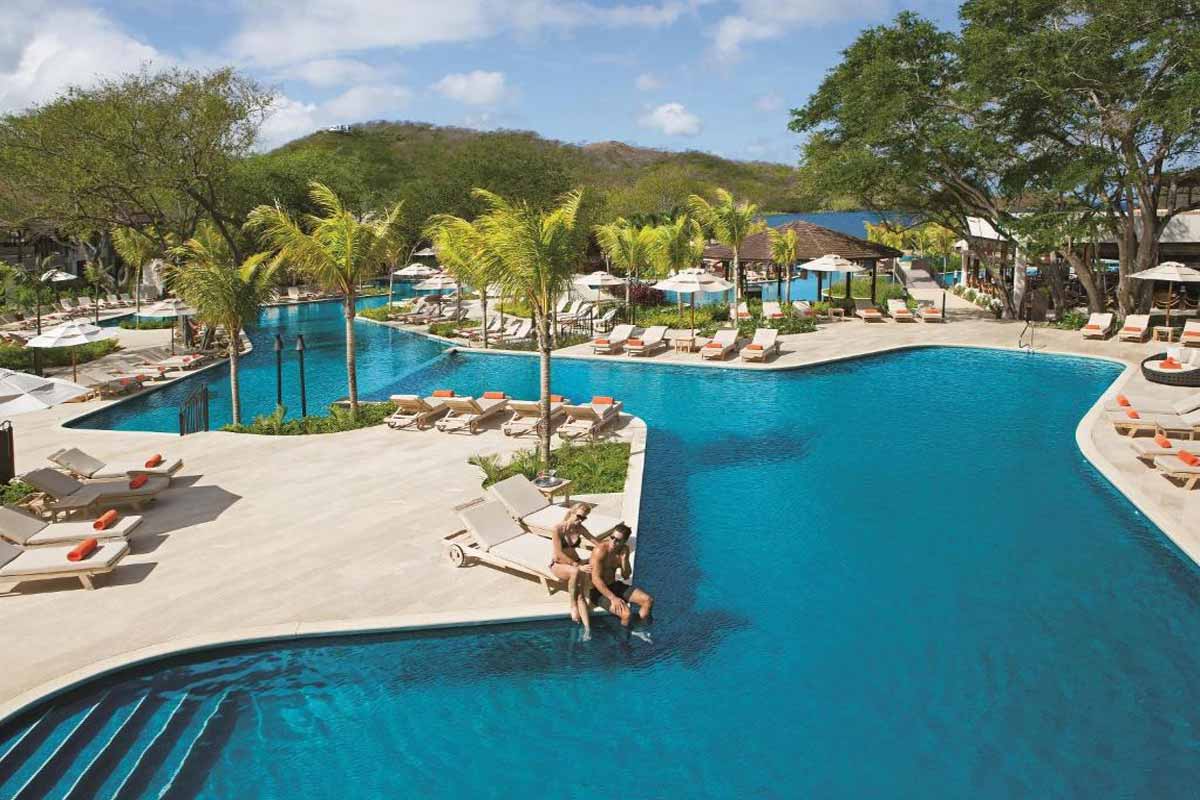 Looking for a whole lotta luxury? Dreams Las Mareas Costa Rica is a stunning Costa Rica honeymoon all-inclusive resort that's situated next to a private beach overlooking the beautiful Salinas Bay.
You'll have easy access to national parks, jungles, and the ocean near the resort.
Though, we won't blame you if you and your spouse refuse to venture far from the hotel – this Costa Rica honeymoon package effortlessly blends luxury and style in the rooms and grounds around the property.
Spending the day in the sun enjoying the idyllic private beach and lounging around Costa Rica's biggest swimming pool both sound very, very tempting.
Sip cocktails and nosh on snacks from one of the eight dining options on site – whether you're after a relaxed poolside lunch or a fancy dinner date, you're not short of options here.
Gran Hotel Costa Rica
San José
$$
Best for a Culture-Filled Honeymoon
Stay at a hotel the Costa Rican Government named an official monument, The Gran Hotel Costa Rica. The architectural marvel is stunning inside and out after receiving a complete makeover in 2016.
The rooms are comfortable and modern, featuring large pillow-top mattresses, flat-screen TVs, and high-speed Wi-Fi.
Toast to the future ahead of you while looking out at the city in the piano bar upstairs on your Costa Rica honeymoon.
You'll be staying in the heart of San José, where you can walk downtown in minutes to the main cultural attractions. Make your Costa Rica honeymoon rich with discoveries in the capital city, and stay at this historic property, just steps away from all the action.
The Springs Resort & Spa at Arenal
Fortuna
$$$
Best for Views of Arenal Volcano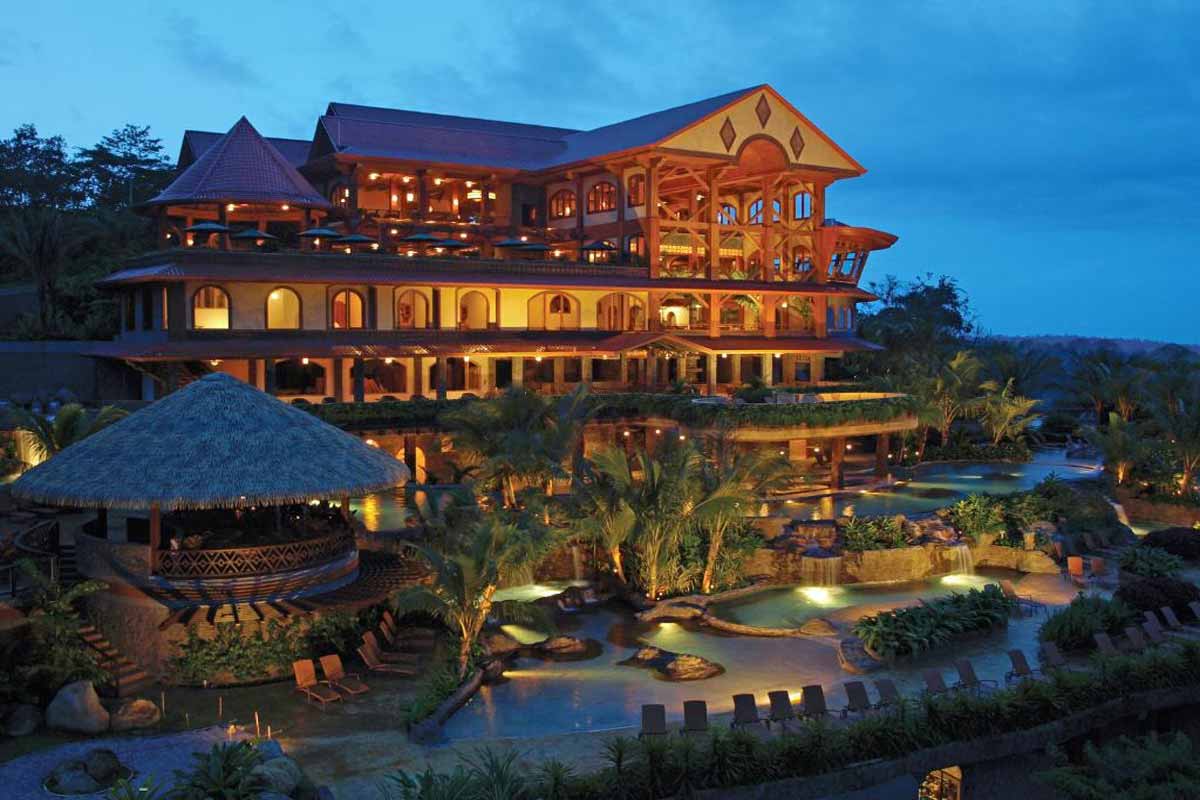 Sitting on a nearby mountain range, The Springs Resort & Spa at Arenal offers world-famous views of the breathtakingly beautiful Arenal Volcano.
Not only will you have an unbeatable backdrop for your honeymoon in Costa Rica, but you'll experience 5-star service and amenities in one of the most iconic resorts in the world.
The property spans a jaw-dropping 165 acres and has 28 hot springs on site. A full fitness center and spa let you feel like your best self while staying in this indulgent honeymoon resort in Costa Rica.
Rooms showcase class and refinement with high-quality furniture, private balconies, and jacuzzis. And dinner at the romantic Las Ventanas sets the tone for a love-filled break – that is, if you can peel yourself away from the bedroom.
Check for Rates and Availability
Millenium Manuel Antonio
Manuel Antonio
$
Best for National Park Access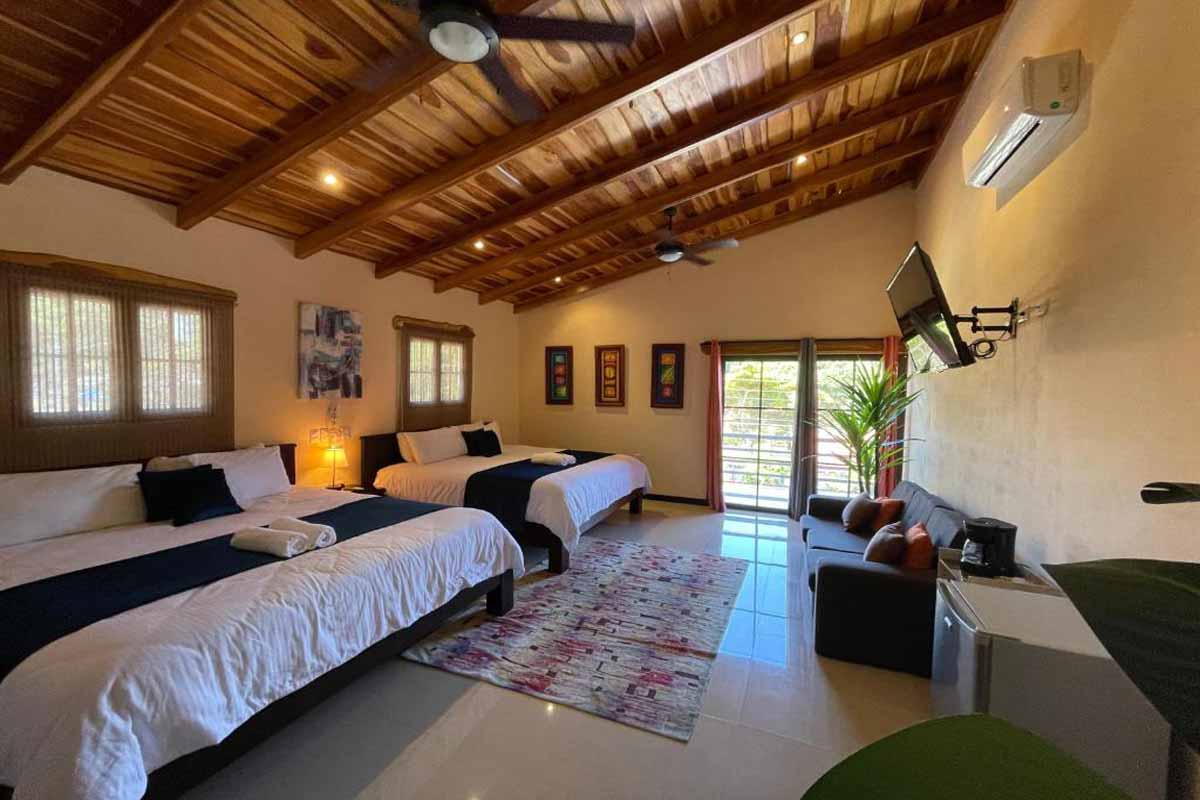 The Millenium Manuel Antonio is one of the best Costa Rica honeymoon resorts you can choose if you want nature in your backyard.
Don't believe us? You should – it's located only steps from the must-see Manuel Antonio National Park. You'll get to experience the incredible bio-tourism Costa Rica offers you just outside the resort.
Can't get enough of the natural beauty here? Not to worry, your balcony and hotel room look directly into the park. Opt for the Deluxe King Suite for the ultimate experience.
Speaking of rooms, they're equipped with everything you could possibly need for a romantic getaway including air conditioning, comfy beds, power outlets, and Wi-Fi.
Better yet? This is one of the most budget-friendly places to stay for a Costa Rica honeymoon – which means more cash to spend on adventures, we think.
Costa Rica Honeymoon Tips: What You Need to Know
How to Get to Costa Rica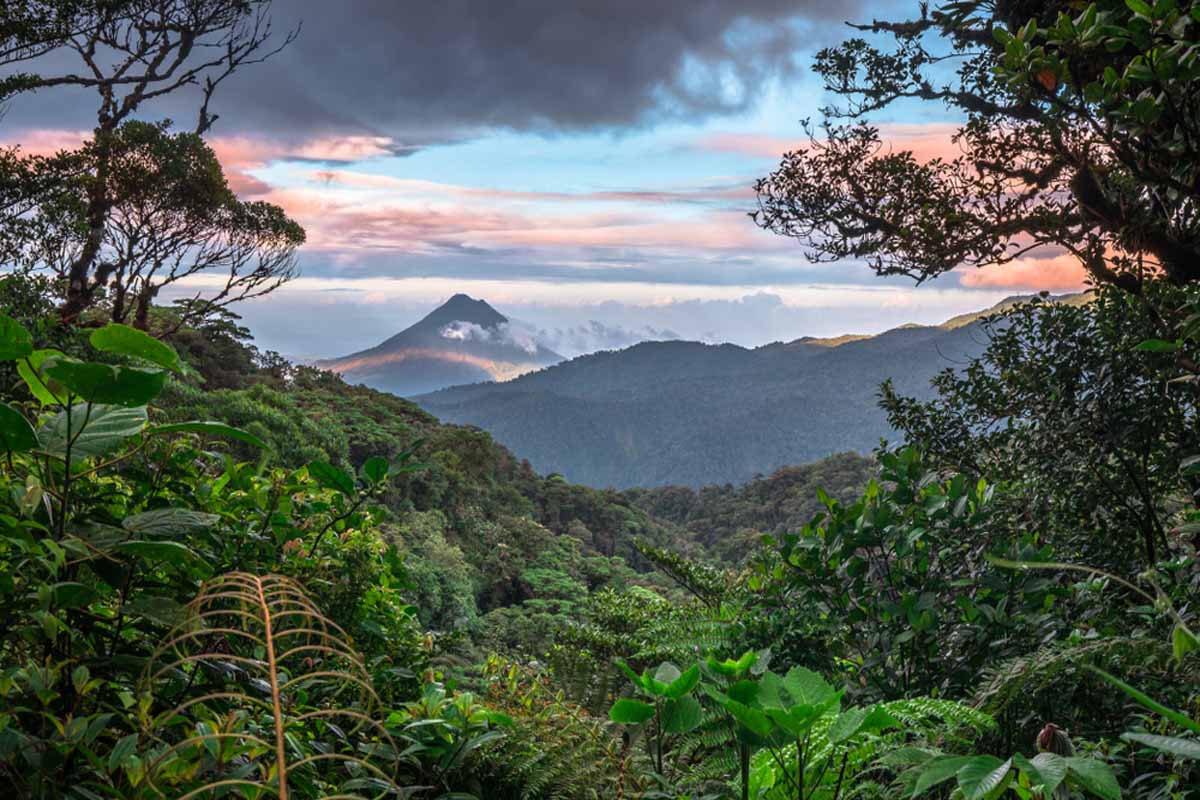 The best way to travel to Costa Rica is by airplane or cruise ship. While you can technically drive from the United States, it's a long and challenging journey that we don't recommend. Not to mention that a long, sweaty drive doesn't exactly scream romance.
You'll choose from two major airports for your Costa Rica honeymoon. Juan Santamaría International Airport in San José (SJO) and Daniel Oduber Quirós International Airport in Liberia (LIR).
Both airports are relatively central, but Juan Santamaría International Airport in San José (SJO) is the most common choice for affordable flights.
Once you land, you'll need to rent a car or taxi to your destination. Though having a vehicle is convenient, roads and signage can be tricky, so you'll want to keep your driving to a minimum when possible.
The Best Costa Rica Honeymoon Destinations
Manuel Antonio National Park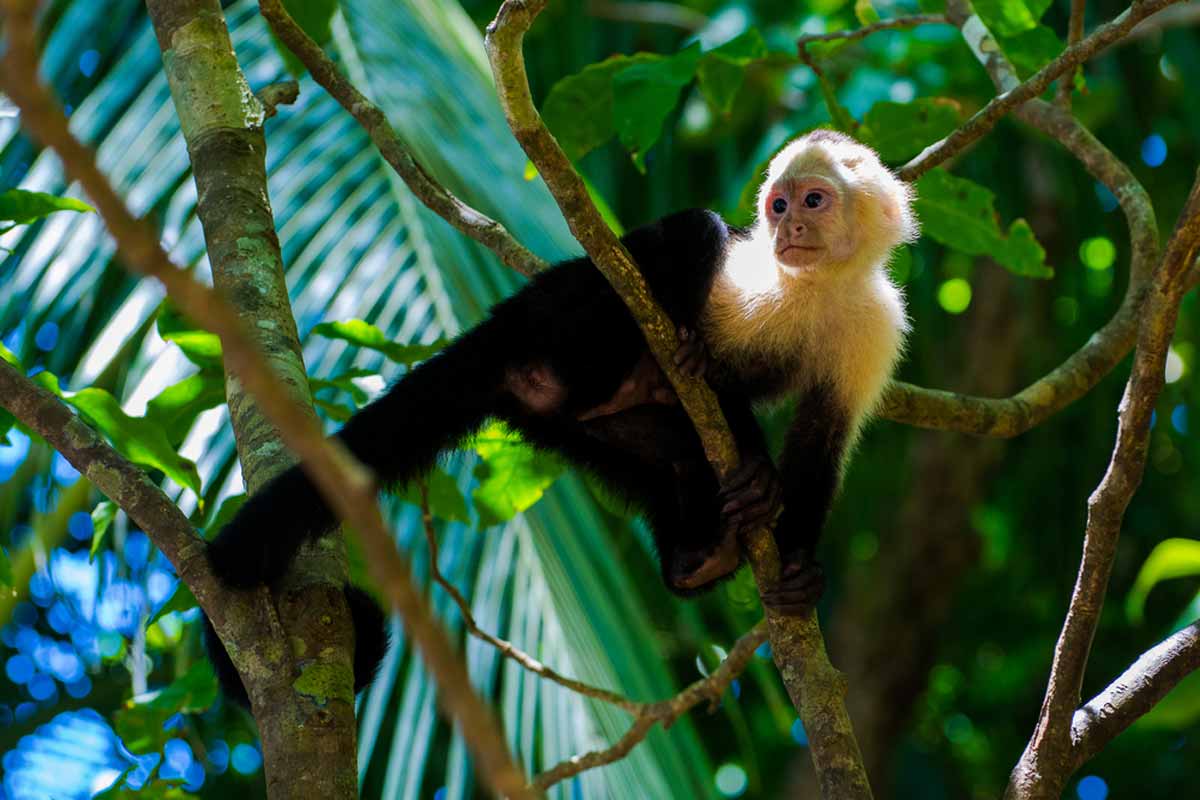 Manuel Antonio National Park is a destination not to be missed on your honeymoon to Costa Rica. Here you'll find serene beaches with silky soft sand and calm waters that allow you to snorkel off from shore.
You won't find many people while exploring the beaches, as the secluded options here are generally not crowded. But you may interact with the occasional Capuchin monkey (seriously) while lying on the sand.
The nature at Manuel Antonio National Park is among the best you'll find on your Costa Rica honeymoon. Keep your eyes peeled for birds, dozens of sloths, and a few endangered squirrel monkeys.
You can visit the national park alone, but we suggest scheduling a guide to get the best possible experience. Book a nature tour by foot or in an off-road vehicle to experience even more of this stunning national park on your honeymoon in Costa Rica.
Corcovado National Park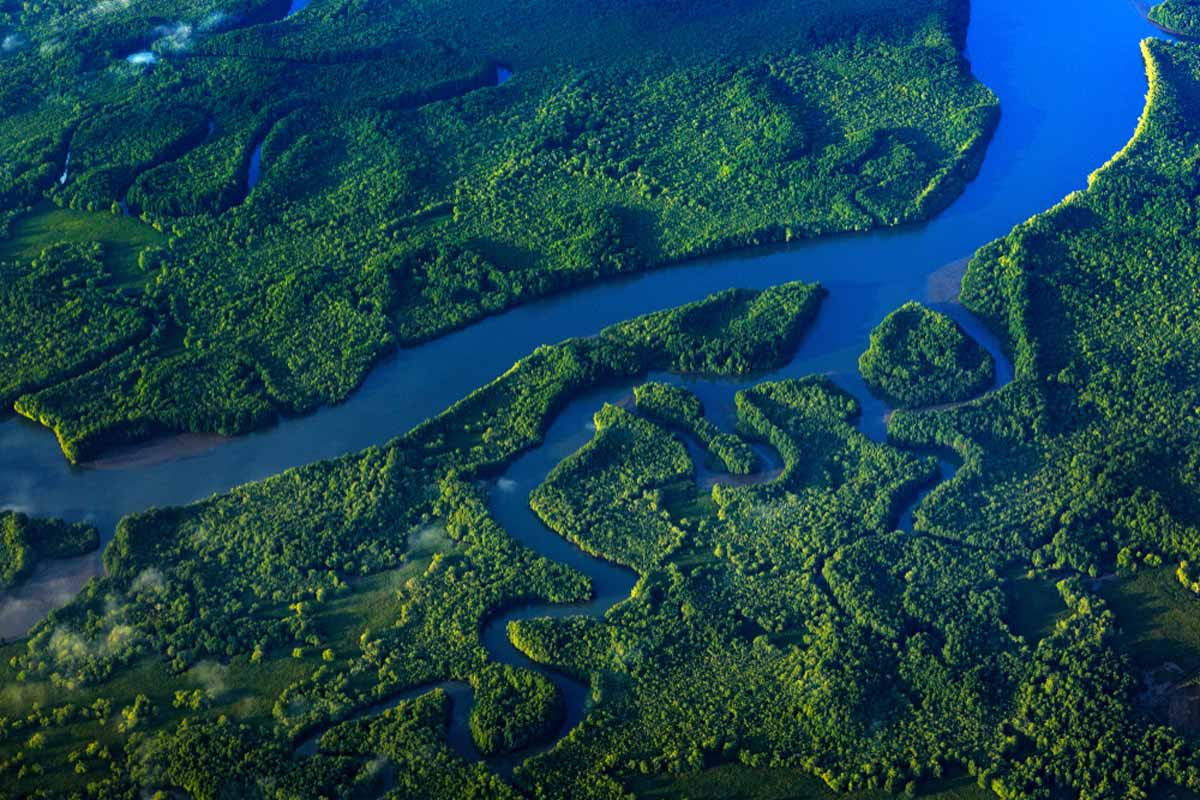 Another nature excursion you'll want to add to your Costa Rica honeymoon itinerary is Corcovado National Park. Renowned for bird watching, you can see some of the rarest creatures in flight at one of our favorite destinations in Central America.
This gigantic national park on the Osa Peninsula has wild rainforest landscapes you won't find anywhere else on your Costa Rica honeymoon (or perhaps in the world). It's also filled with incredible wildlife like poison dart frogs, pumas, jaguars, and Baird's tapir.
If hiking on your own near these creatures sounds terrifying, don't worry. You can only visit the park on guided tours with experts, though some fantastic options are available.
Playa Conchal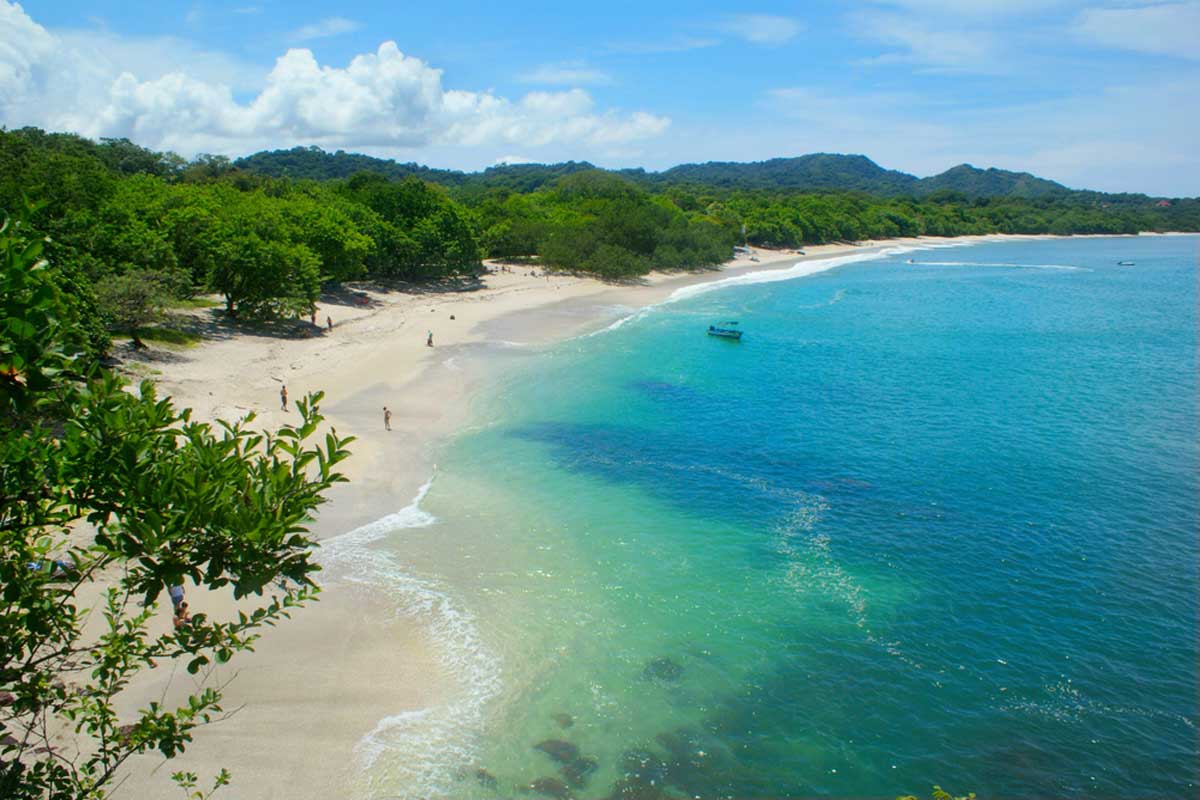 If you want to relax on one of the most impressive beaches in Central America on your Costa Rica honeymoon (it's a no brainer, really), you'll need to check out Playa Conchal.
White sand + secluded vibes = total relaxation, if you ask us.
Though, while not as calm as other beaches, it's still a great place to swim on your honeymoon in Costa Rica. Grab your snorkeling gear and head out on quieter days to gawk at plenty of fish – you might even catch a glimpse of the occasional ray or eel.
Arenal Volcano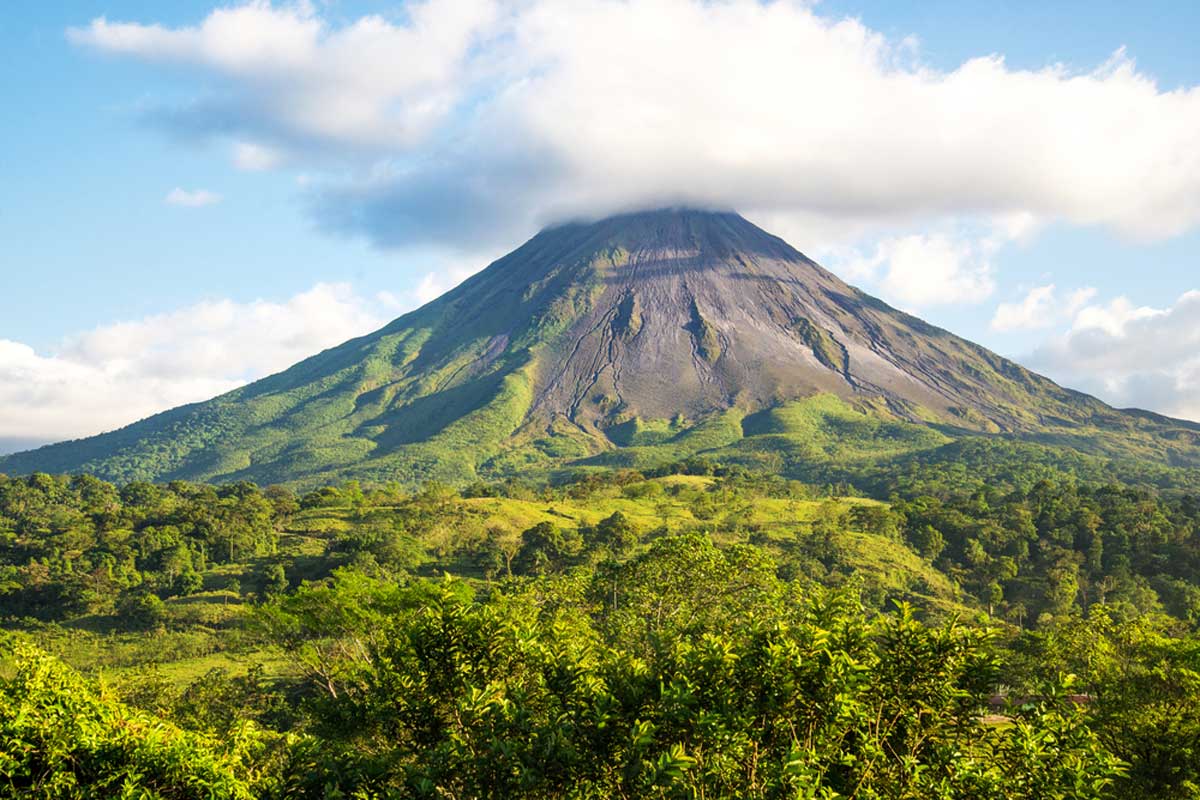 While you might be tempted to spend your entire trip lounging around on the beach, we recommend you plan some time away from the sand to see one of the most extraordinary landmarks on your honeymoon in Costa Rica.
An active volcano that stands over 5,000 feet high, Arenal Volcano is a sight to behold.
While you can't hike up the volcano (let us reiterate that this is an active volcano), brave honeymooners can still get an up-close look in the nearby Arenal Volcano National Park.
Take a hike around the Arenal 1968 Volcano Trail and see the historic site of one of Costa Rica's most profound natural events.
You'll also want to put La Fortuna Waterfall near the top of your Costa Rica honeymoon itinerary, as it's one of the top attractions in the country.
San José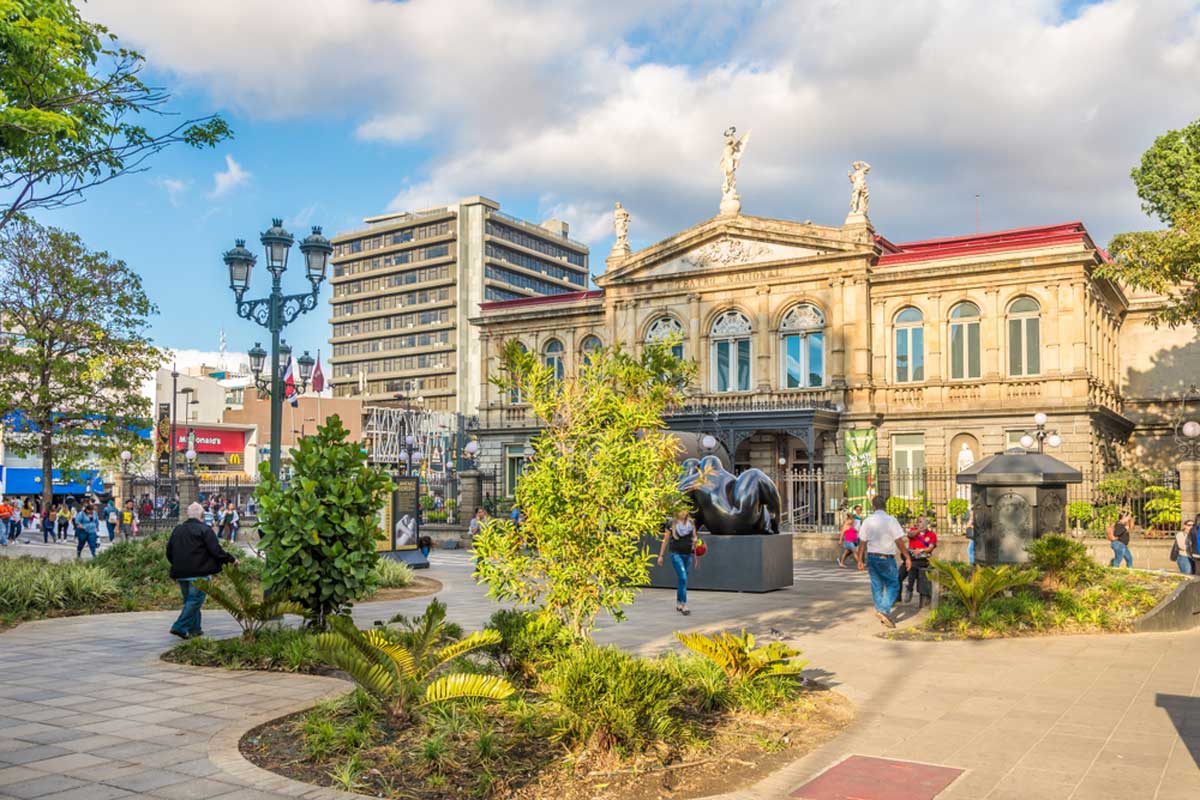 The capital of Costa Rica is San José, and it's worth visiting on your Costa Rica honeymoon.
Chances are you'll be flying into the nearby airport, but we recommend taking a trip into town and staying a night or two during your honeymoon in Costa Rica.
If you love admiring diverse architecture and visiting world-class museums, you'll have lots to add to your Costa Rica honeymoon itinerary. Museo de Jade, the Museum of Contemporary Art and Design, and Teatro Nacional Costa Rica are all must-see locations when strolling through San José.
The bustling San José Central Market and city parks are some great ways to experience life like a local while touring the capital city.
Nightlife is vibrant here too, but stay in groups and avoid straying too far from popular locations, as crime does pick up in some areas when the sun goes down.
The Best Time to Visit Costa Rica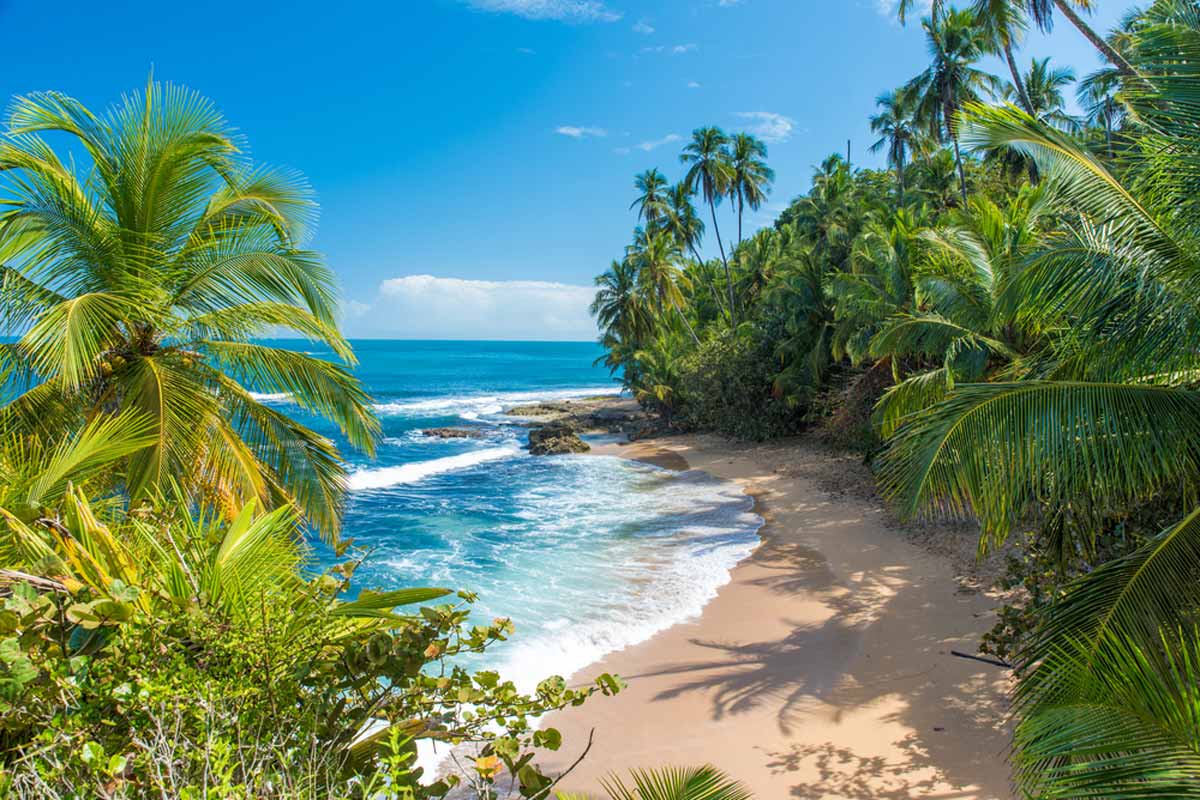 If you're planning a know when would be the best time to go to Costa Rica and honeymoon, you can't go wrong, regardless of which month you choose.
You'll get the least rain from December to April. However, this is also the time when the majority of tourists visit the country.
If you're after a calmer experience with fewer people, planning your trip in May through November is your best option. Remember that heavy rain can occur during some of these months, so dress accordingly.
How Long to Spend on Your Costa Rica Honeymoon
Five days will give you and your spouse ample time to explore Costa Rica and enjoy all its natural beauty. That said, if you extend your stay to a week or longer, you still won't run out of things to do.
Have extra time? Visit other destinations in Central America or travel within Costa Rica and discover even more of this incredible honeymoon location.
How Much Does a Costa Rica Honeymoon Cost?
Depending on where you would like to stay, you can plan a Costa Rica honeymoon for far cheaper than many other top destinations. While flights can be expensive, the accommodations are generally reasonable compared to other honeymoon hot spots.
Costa Rica honeymoon hotels range widely from $120 and $1200 per night.
There are plenty of options that are perfect for a honeymoon on a budget, but you can also choose to stay at world-class resorts offering the most luxurious experience imaginable for a higher price.
Costa Rica Honeymoon Resorts: Map
Costa Rica Honeymoon Guide: Read Next