Dreaming of a Turkey honeymoon? The country offers plenty of incredible things to do, historic sights to see, and stunning resorts to enjoy.
Turkey really is a country of two halves, a vibrant blend of Oriental and European components. This is because the country is so large that it straddles two different continents: Asia and Europe.
Turkey might be most famous for its cuisine and coffee, but its architecture, ancient history, and impressive landscape are why we think it makes such a great honeymoon destination.
The country is made up of mountains and hills, and is bordered by the Mediterranean Sea, the Black Sea, the Aegean Sea, and the Marmara Sea. No wonder then that the country also boasts plenty of idyllic beaches.
Ready to plan your dream Turkey honeymoon?
Why Honeymoon in Turkey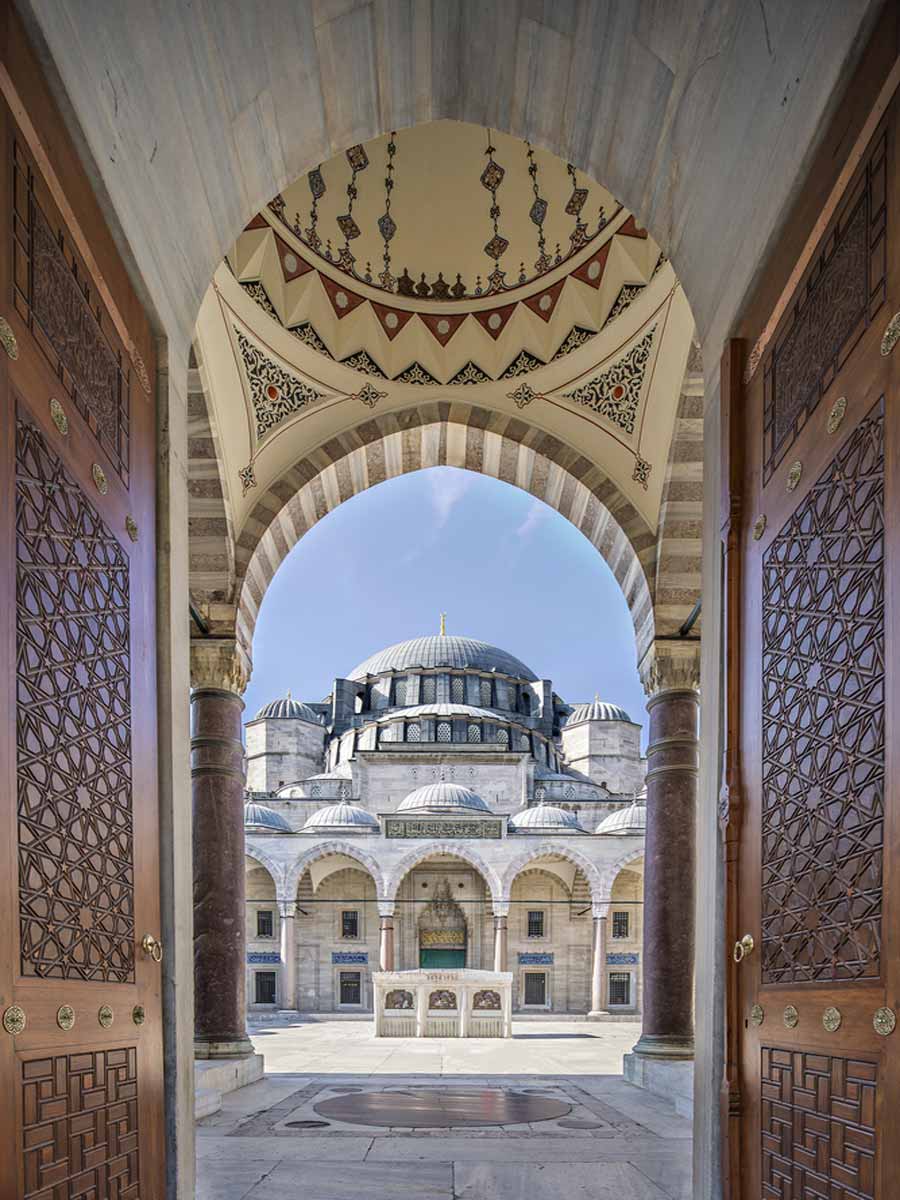 Turkey is one of the most uniquely beautiful countries in the world. From romantic cities and staggering landscapes to thriving vineyards and quaint seaside villages, there are countless honeymoon destinations in Turkey to consider.
While Turkey might be a hotspot for thrilling adventures like hiking, hot air balloon rides, and canyoning, if you're looking for less intense activities, you can go shopping at the local bazaars, visit a winery, or go sightseeing at any of the ancient sites that pepper the country.
Best Honeymoon Hotels & Resorts in Turkey
Museum Hotel Cappadocia
Cappadocia
$$
Best for a Unique Stay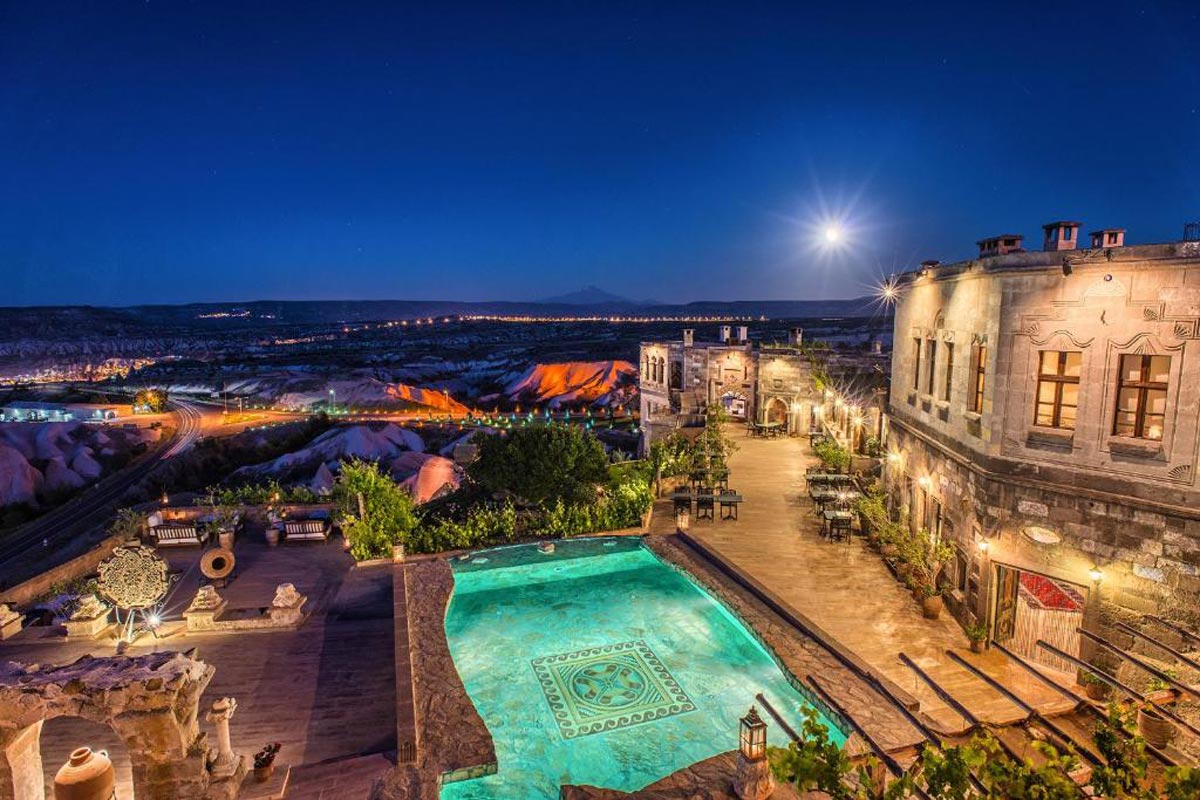 Let's not beat around the bush here. One of the best honeymoon destinations in Turkey is the Museum Hotel in Cappadocia.
Don't believe us? This boutique hotel has won numerous awards and it;s known as the world's first "living museum" concept hotel. Common areas, dining areas, and guest rooms are all decorated with artifacts, antiques, and art from around the world.
Museum Hotel also features naturally-forming caves and tunnels converted into rooms and other guest areas. While the restaurant keeps things traditional, too; serving up world class Turkish cuisine.
They just so happen to offer one of the top Turkey honeymoon packages. It includes 10% discounts on all extras, a private welcome, Champagne and fruit in the room, breakfast room service, and priority dinner reservations.
Liberty Lykia
Aegean
$$$
Best for Adults Only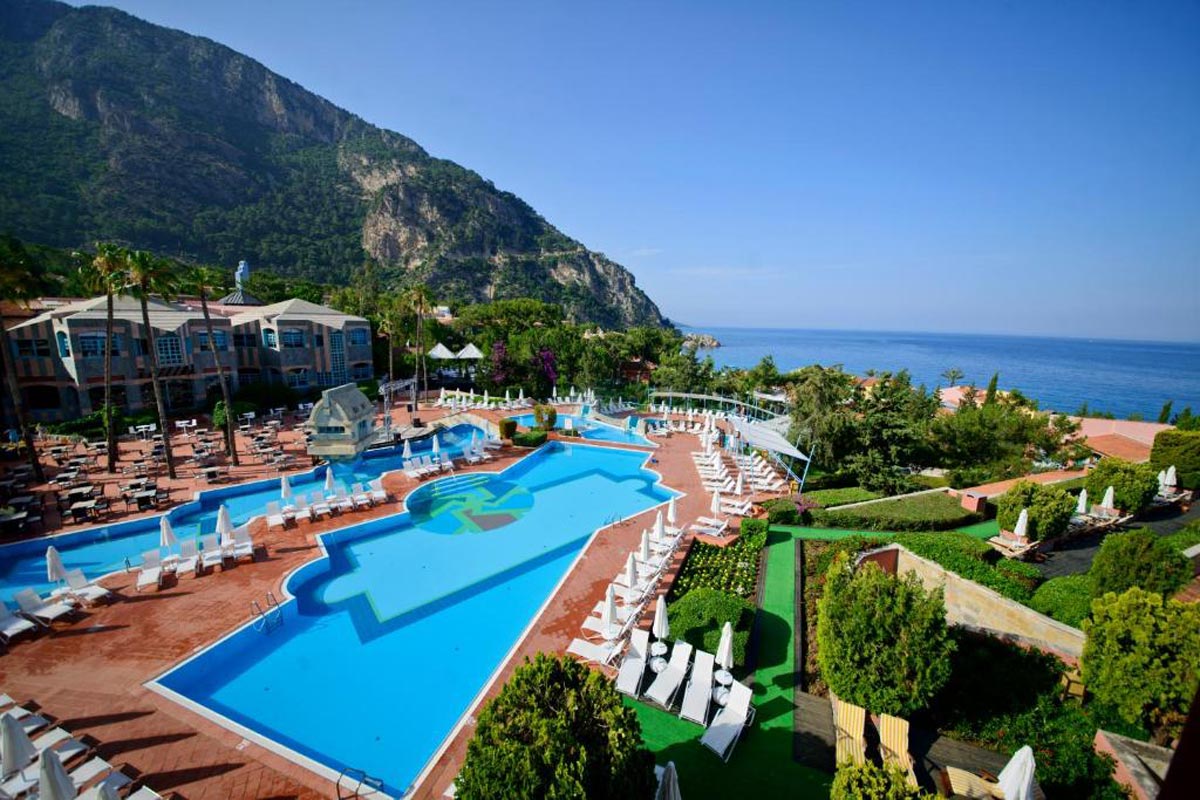 Looking for a slice of paradise? This 5-star luxury resort offers that in abundance. Oh, and it's adults only, making it even more perfect.
Surrounded by pine trees, mountains, and the bay, Liberty Lykida is truly a magical place. Guests can enjoy swimming in the pools, or at the private beach. There are restaurants, bars, and snack stations on site, and you can also visit the spa which offers different beauty and massage treatments along with a Turkish Bath.
As well as this, the hotel hosts various excursions and activities like fitness classes, canoeing, hiking, boating, and paragliding. Just in case you get bored of lounging around in heaven.
Hagia Sofia Mansions
Istanbul
$$
Best for a City Honeymoon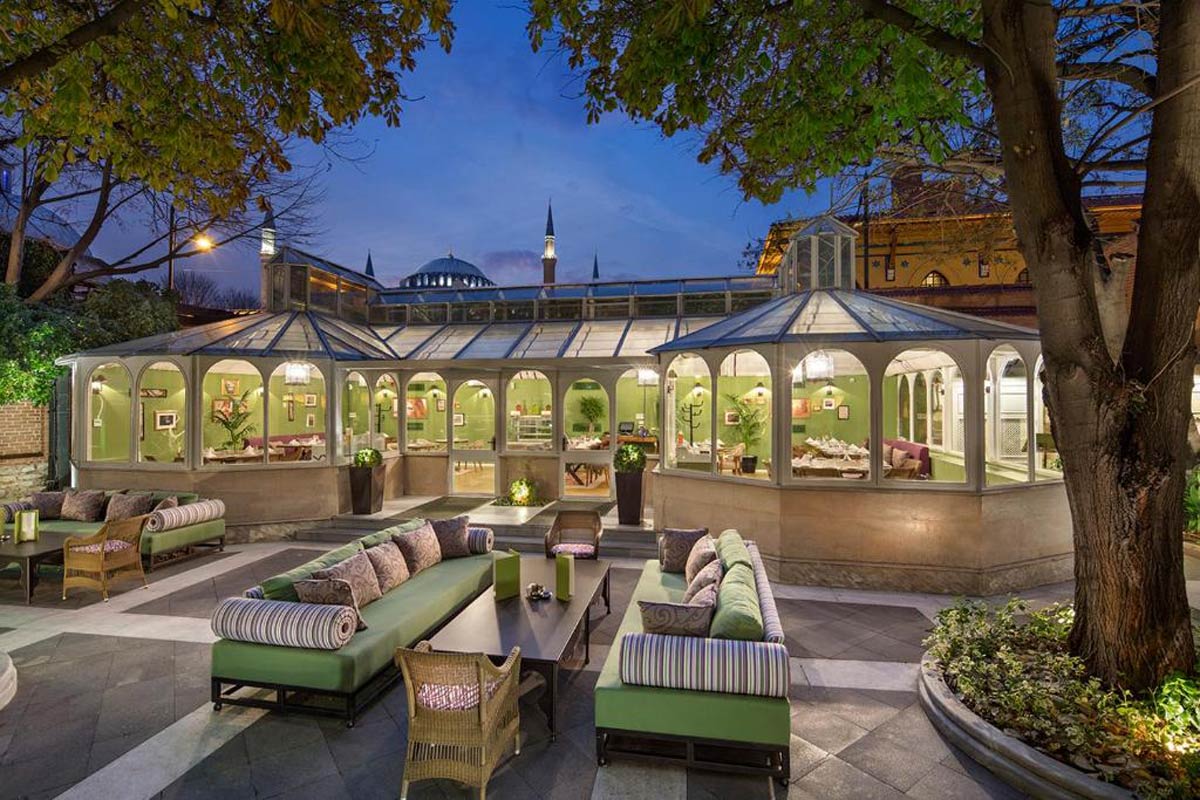 Situated in the lively city of Istanbull, Hagia Sofia Mansions offers guest rooms and suites with stellar room service. Better yet, these apartments are conveniently located close to sightseeing attractions, points of interest, and other tourist favorites.
The restaurants on site serve locally made and sourced meals, while there are indulgent afternoon tea options for those seeking a touch of class.
This old-world hotel has been transformed into luxury accommodations and is perfect for exploring the city of Istanbul.
Hillside Beach Club
Fethiye
$$$
Best for Ocean Views
This beachfront resort has a whopping 3 beaches and a pool that are only for guest use – and two of these beaches are adults only, making it an ideal Turkey honeymoon destination.
The Hillside Beach Club offers an exclusive Turkey honeymoon package that features a private diving instructor and a private boat tour along with couples massages and intimate dining experiences.
And, if you're looking for activities with a little thrill, Hillside hosts water skiing, kneeboarding, wakeboarding, diving, sailing, biking, plus more.
Salmakis Resort & Spa
Bodrum City
$$
Best for an All-Inclusive Honeymoon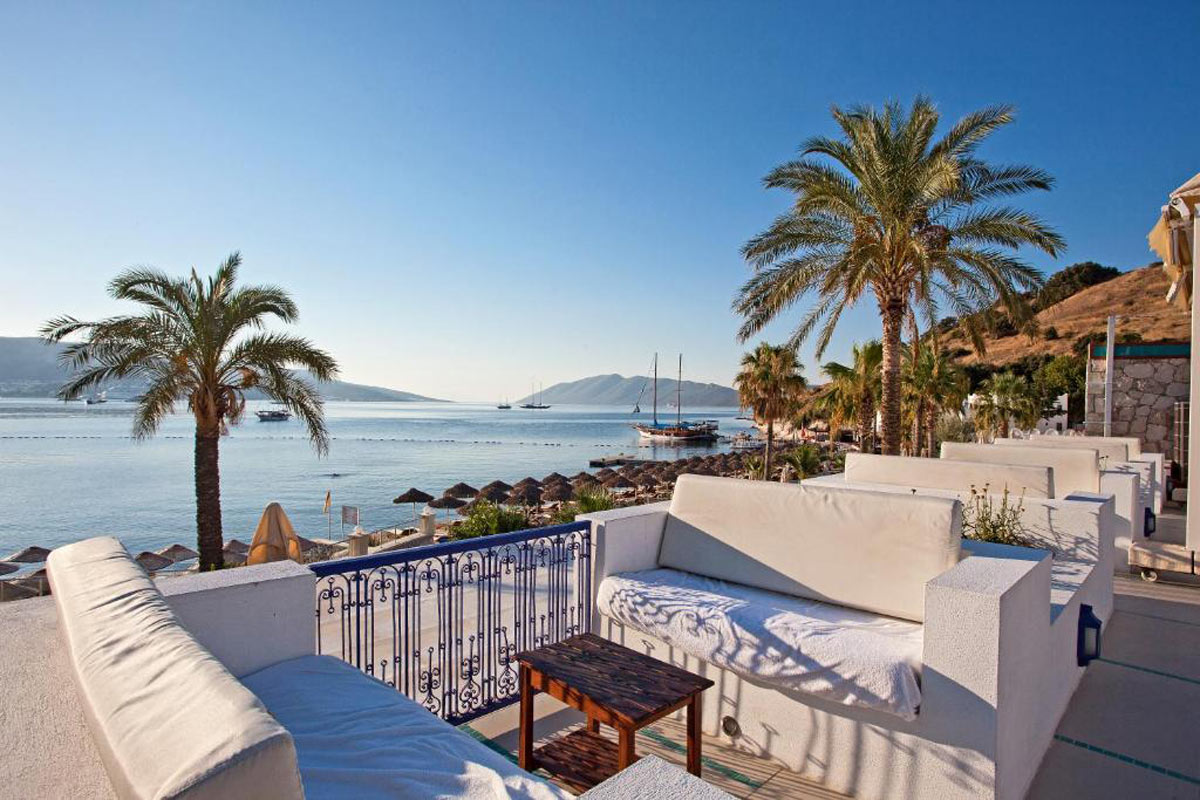 Salmakis Resort and Spa offers dreamy all-inclusive Turkey honeymoon packages in a variety of rooms, suites and apartments.
Dining options include a buffet-style restaurant that features foods from around the world, including an excellent selection of Turkish cuisine.
There's also an a la carte restaurant, a candy shop (for late-night cravings), as well as a couple of bars where you can toast to your new life together.
In the mood to relax? The spa features an indulgent Turkish bath, massage options, and beauty treatments, along with a sauna, steam room, and jacuzzi.
Turkey Honeymoon Tips: What You Need to Know
How to Get to Turkey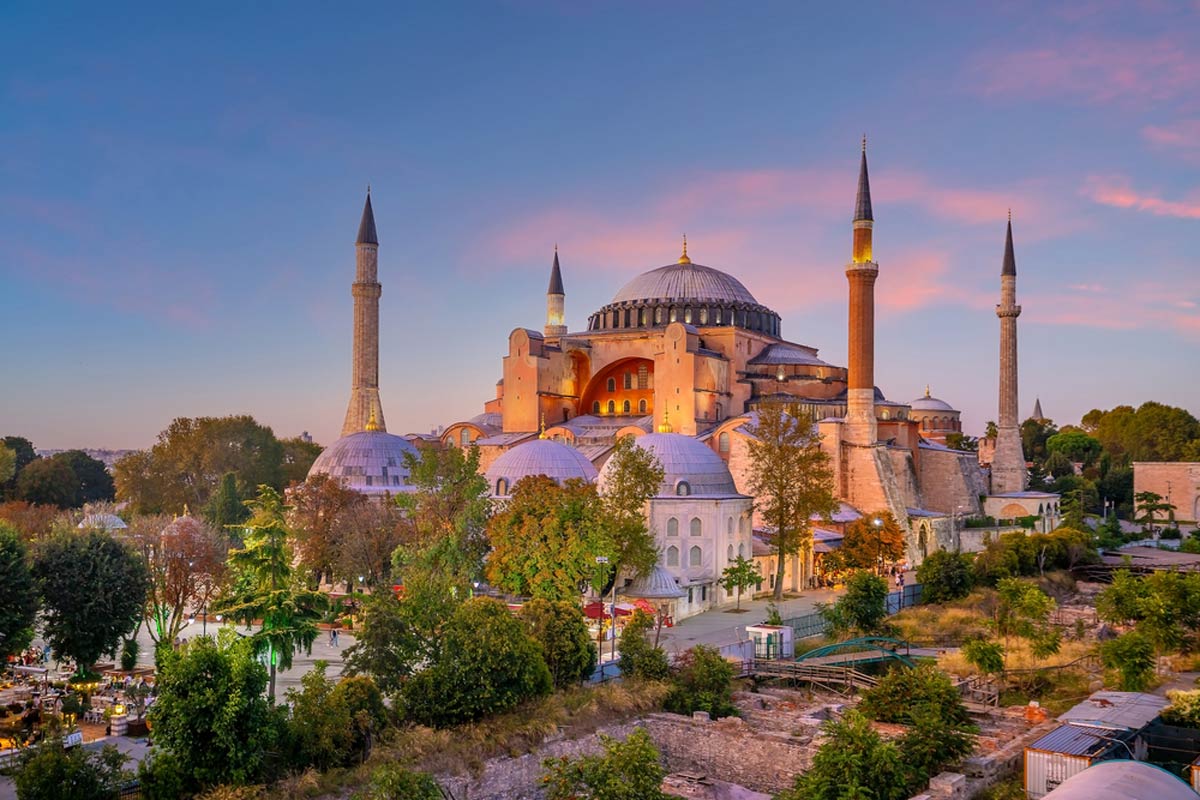 The top international airports in Turkey are Istanbul Airport (IST), Pendik/Istanbul Airport (SAW), and Antalya Airport (AYT).
There are several airlines that fly direct to Turkey – including Turkish Airlines, PIA, Singapore Airlines, Uzbekistan Airways, Avianca, and Air New Zealand.
Once in Turkey, it's easy to get around. Public transportation like buses and trains are popular and budget-friendly. You can also use taxis or rent a car – though we say stick to public transport.
The Best Turkey Honeymoon Destinations
Istanbul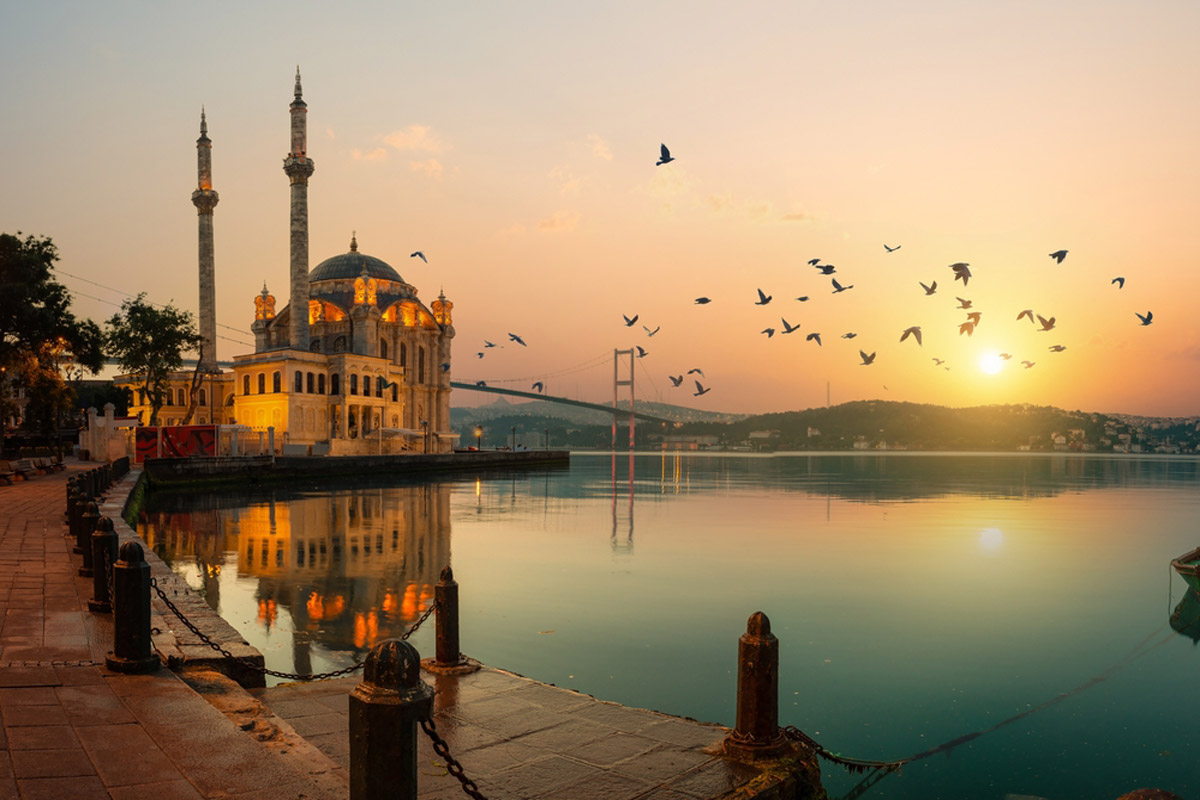 Did you know that Istanbul is the only city in the world that occupies two countries? Geographically speaking, the city sits in both Europe and Asia, divided by the Bosporus strait.
This gorgeous destination is known for its food, teas, and coffees. Shopping is also pretty popular, especially at the Grand Bazaar and the Spice Bazaar. Points of interest in Istanbul include the Hagia Sophia, the Blue Mosque, Topkapı Palace, and the Basilica Cistern, amongst many others.
Cappadocia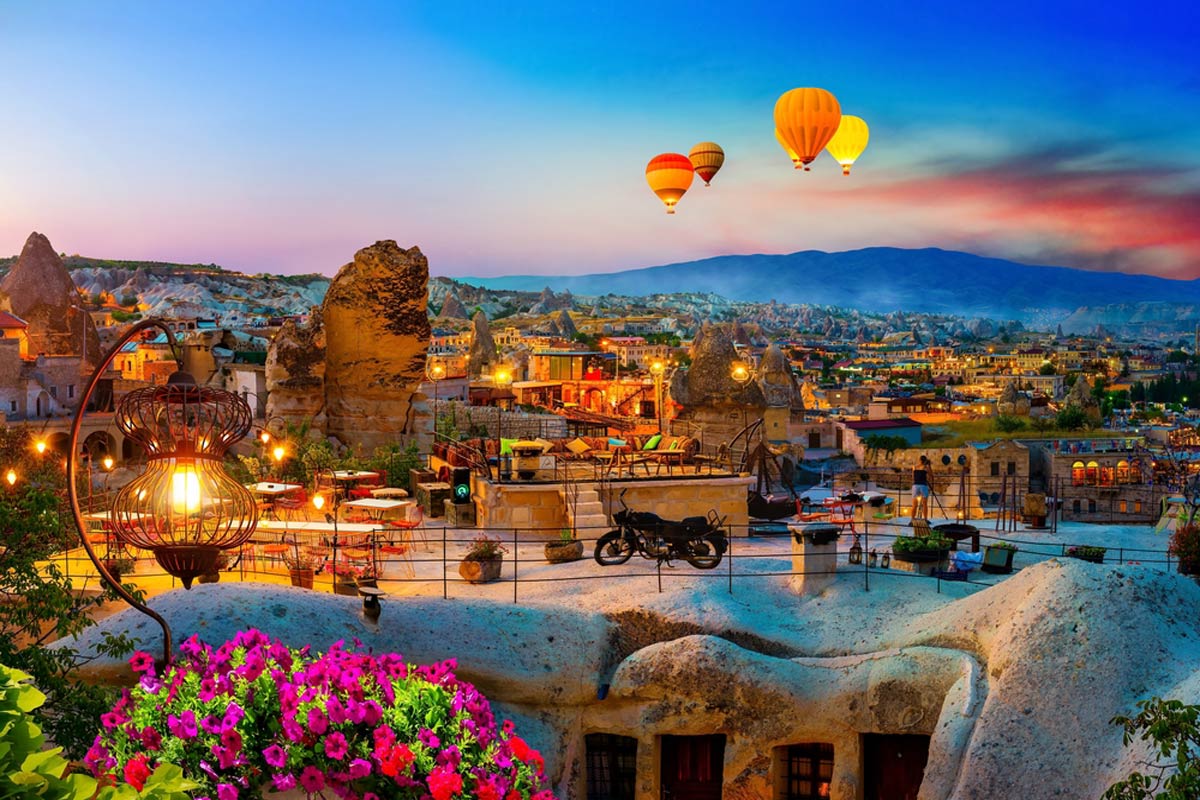 Cappadocia is a regular on our Instagram feeds, and we're sure yours too. Known worldwide for its hot-air balloon adventures and beautiful rock formations, visitors and locals agree that there isn't anywhere else on earth quite like it.
There are underground cities and caves you can explore, open-air museums, dozens of hiking trails, horseback riding vineyards, and more.
Though most people come to Cappadocia to indulge in a hot air balloon ride to see the stunning landscape from above. Other areas of interest include Derinkuyu Underground City, Uchisar, Red and Rose Valleys, Ihlara Valley, and Soganli Valley.
Fethiye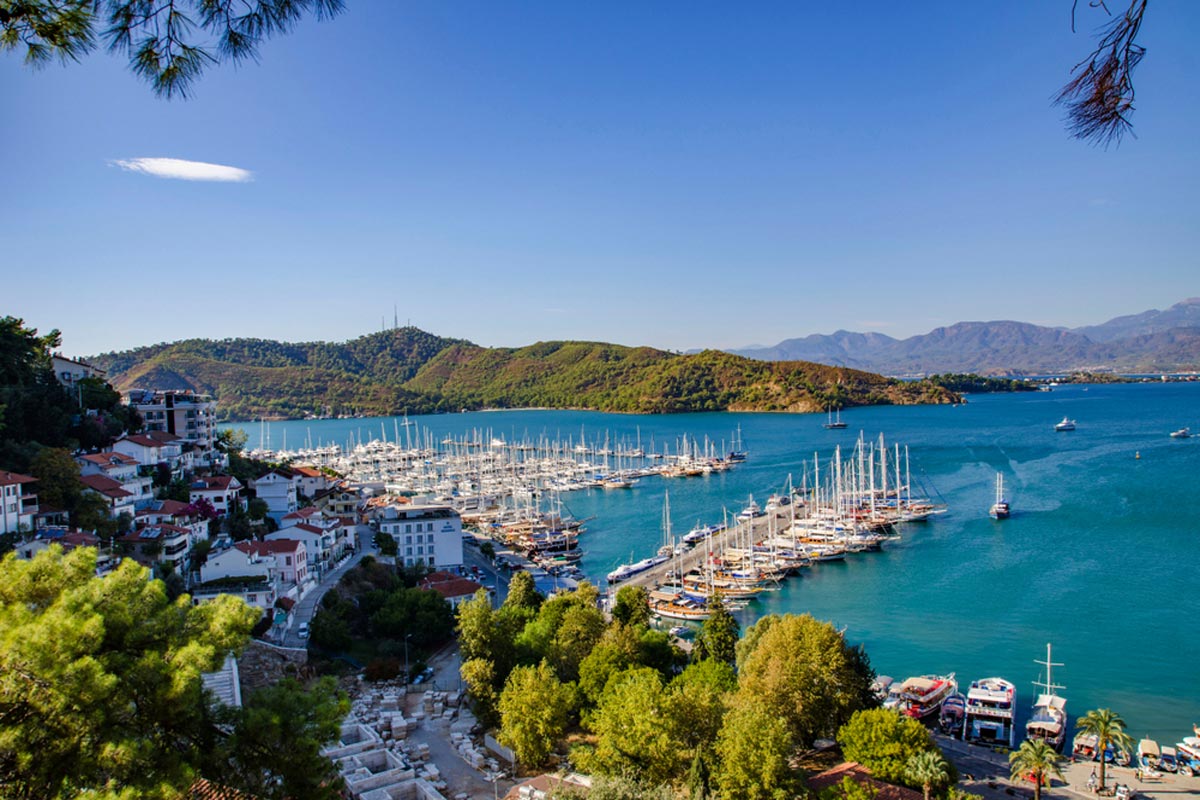 Fethiye is famous for its rock tombs that are carved into the cliffs that rise high above the city. Humans have been settled in the area for more than 5,000 years giving it an oddly updated vibe to the ancient city.
Some of the top-rated things to do and places to see are Ölüdeniz Beach, Saklıkent National Park, Tlos Ruins, and Butterfly Valley. And, if you're feeling really adventurous you can try paragliding over the blue lagoon.
Antalya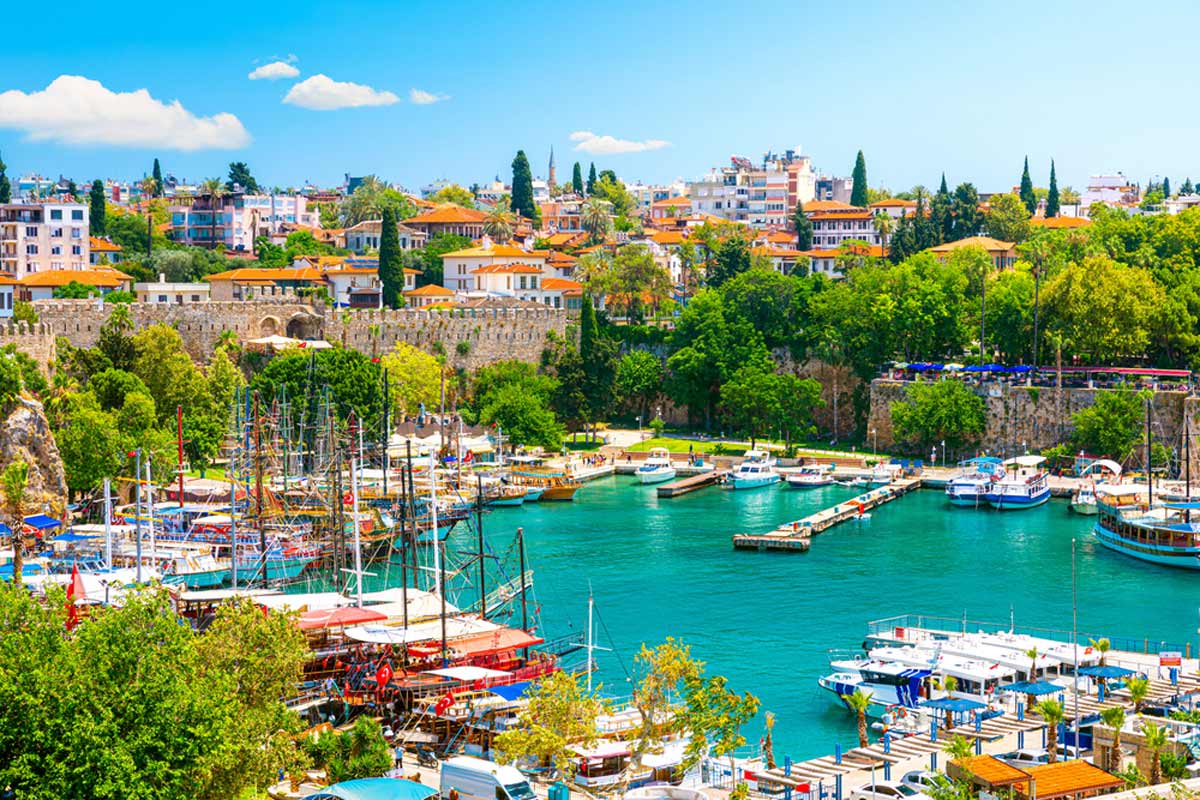 An Antalya, Turkey honeymoon is at the top of many people's lists. And for good reason – this magical beach town stands outdo to its beauty and ancient Roman ruins.
For history buffs and nature lovers, Antalya is perfect. There are sandy beaches, secluded coves, and tranquil bays. The area is also known for its many waterfalls that are generally easy to hike to and offer plenty of impressive photo ops.
Adrenaline activities like scuba diving, paragliding, white water rafting, and mountain biking are also popular activities in Antalya. Alluring ancient architecture and ruins are some of the top tourist attractions like Aspendos, Phaselis, Myra, and the sunken ruins of Kekova.
Bodrum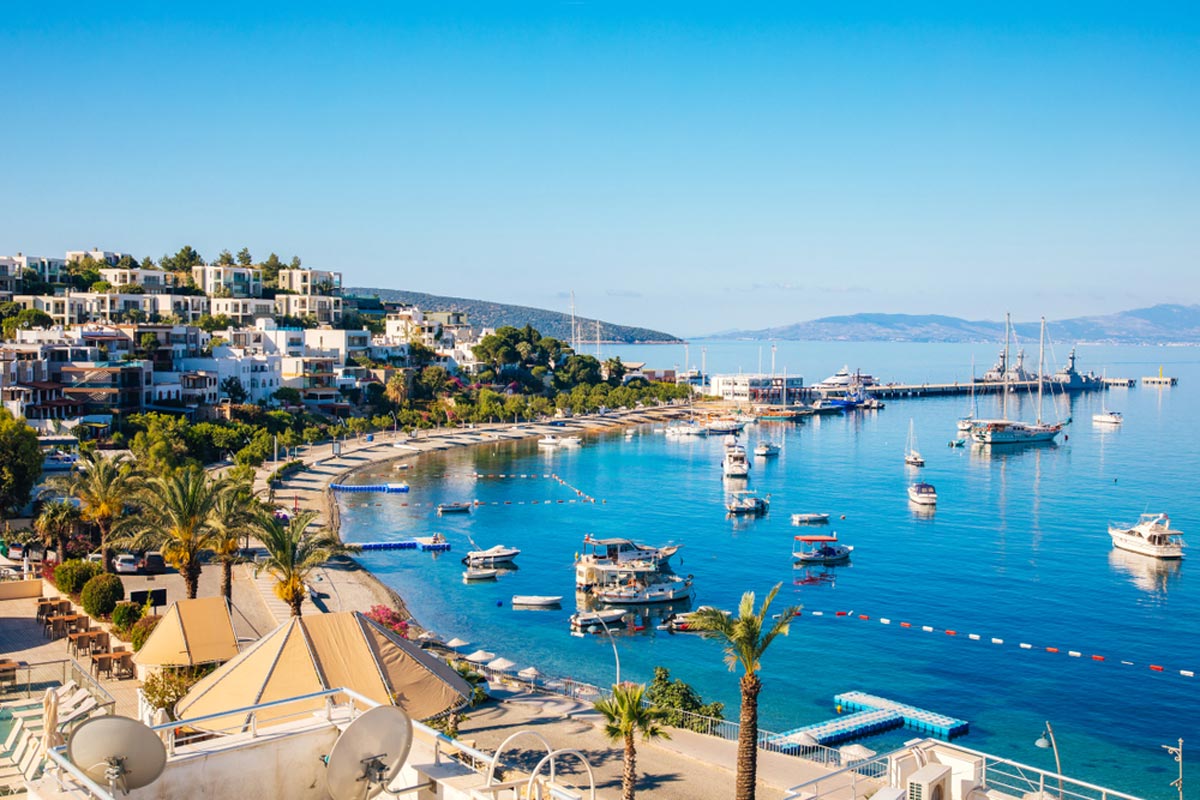 Not on too many people's radar, here's why you should book a honeymoon in Bodrum before it becomes cool.
Aside from the fact that this region sits on the far eastern side of Turkey, boasting a laidback lifestyle that's more akin to some of the nearby Greek islands, it's jam-packed with gems. Not to mention that the foodie scene is pretty epic, too.
In terms of things to do, you've got plenty of activities to choose from.
Bodrum Castle (and its underwater archeology museum) make for a brilliant day trip, the area is dotted with ancient Greek ruins (not to mention those dreamy islands are pretty nearby), and the nightlife scene is stellar.
Pamukkale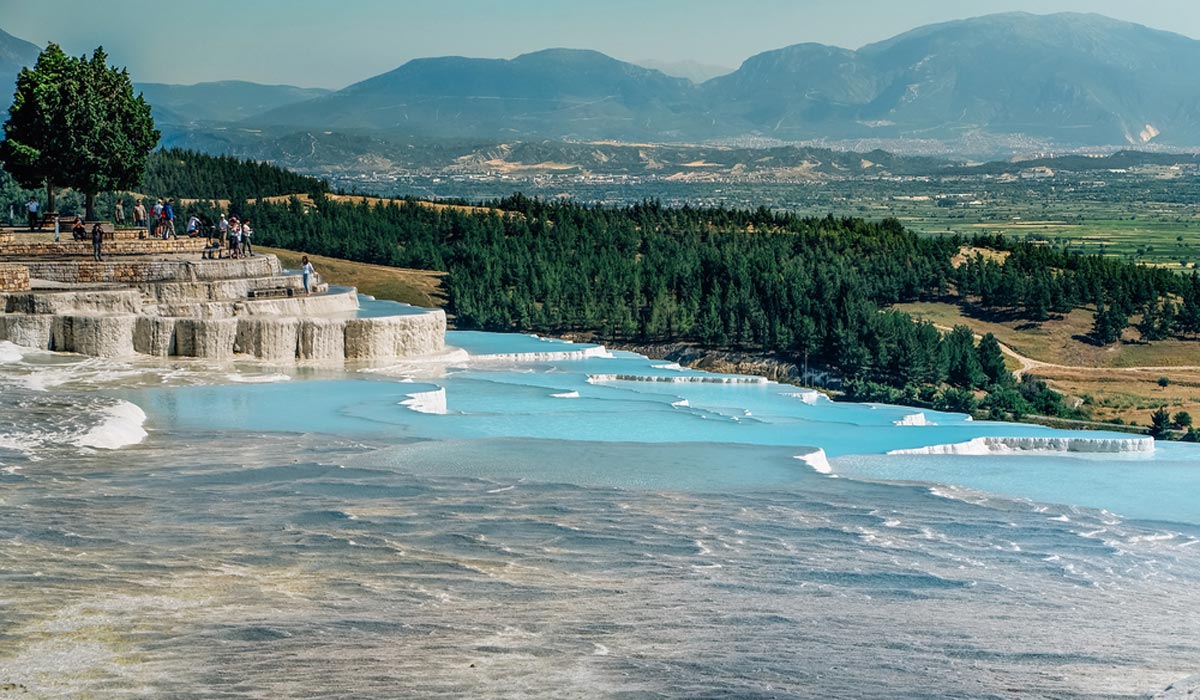 One of the top places to visit for your honeymoon in Turkey, mainly for the Pamukkale Cotton Castle. In fact, the "cotton castle" in question is actually a variety of natural thermal pools hidden within thick layers of white limestone.
The pools are open to the public for swimming and soaking – temperatures range from hot to lukewarm, and even cold. Tradition and folklore express that these waters have healing properties, but you'll have to visit for yourself to find out.
The Best Time to Visit Turkey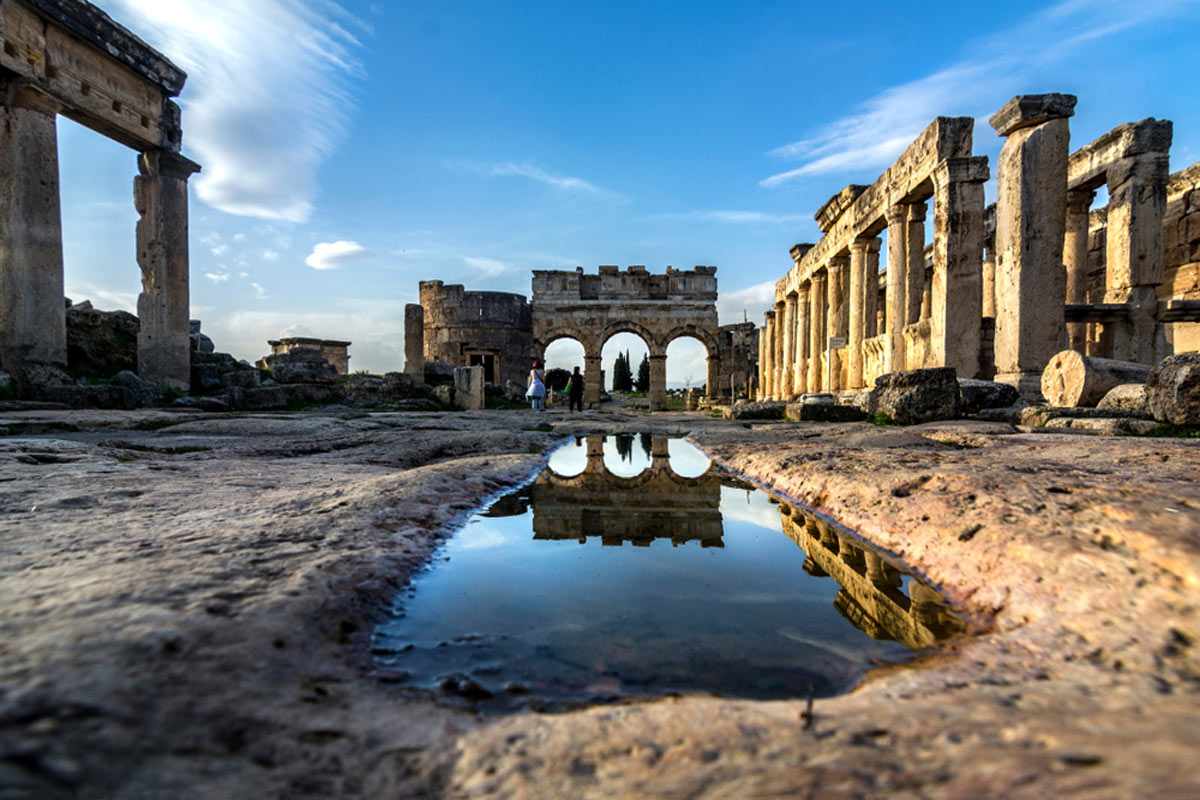 The type of honeymoon you're looking for will determine when you'll want to head to Turkey. For example, if you're looking for a beachy, warm-weather honeymoon, you'll want to visit primarily in June through August which is considered high season and is usually more expensive.
If you want to go skiing and winter sports, you'll want to visit November through March and a plus is that things are generally cheaper. Spring and Fall are considered shoulder seasons and offer comfortable weather great for hiking and exploring. The shoulder months also tend to be cheaper
How Long to Spend on Your Turkey Honeymoon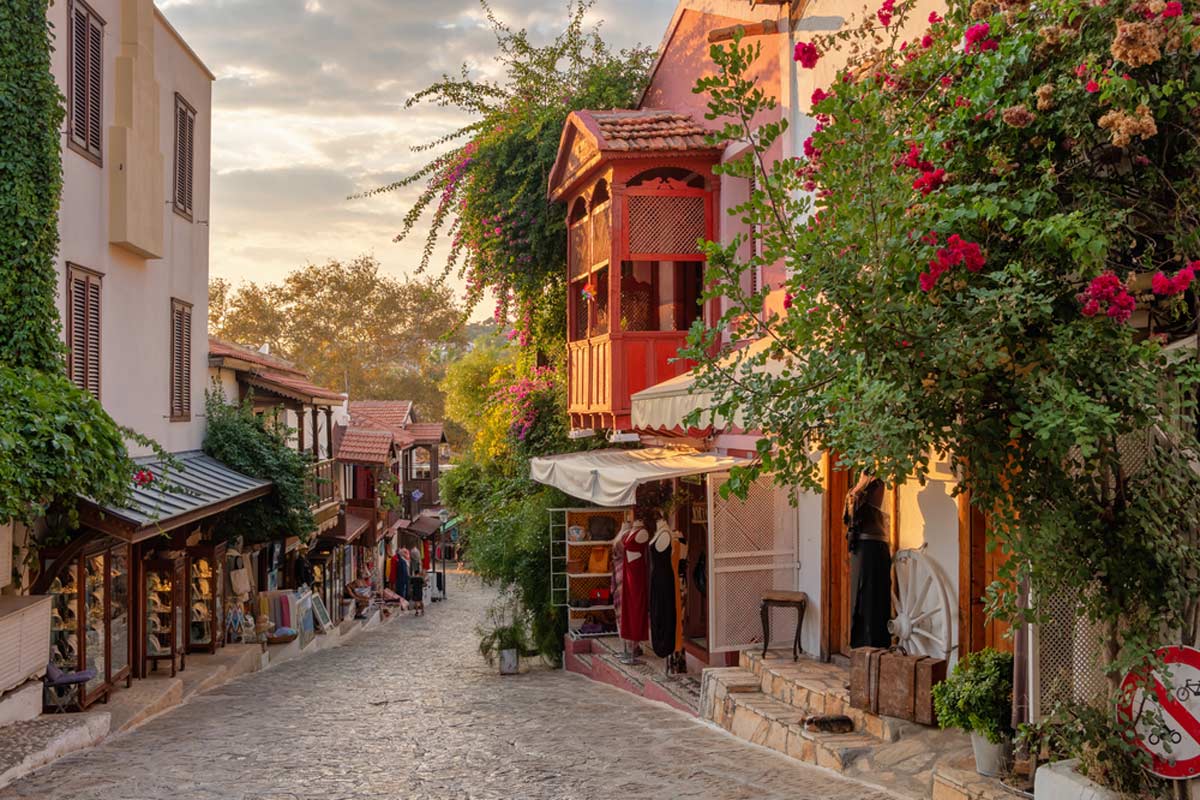 Ideally, 10-14 days for a honeymoon in Turkey is enough to see a majority of the country. Of course, this all depends on your time and budget allotment, what you actually are interested in seeing and doing and where you're traveling from.
How Much Does a Turkey Honeymoon Cost?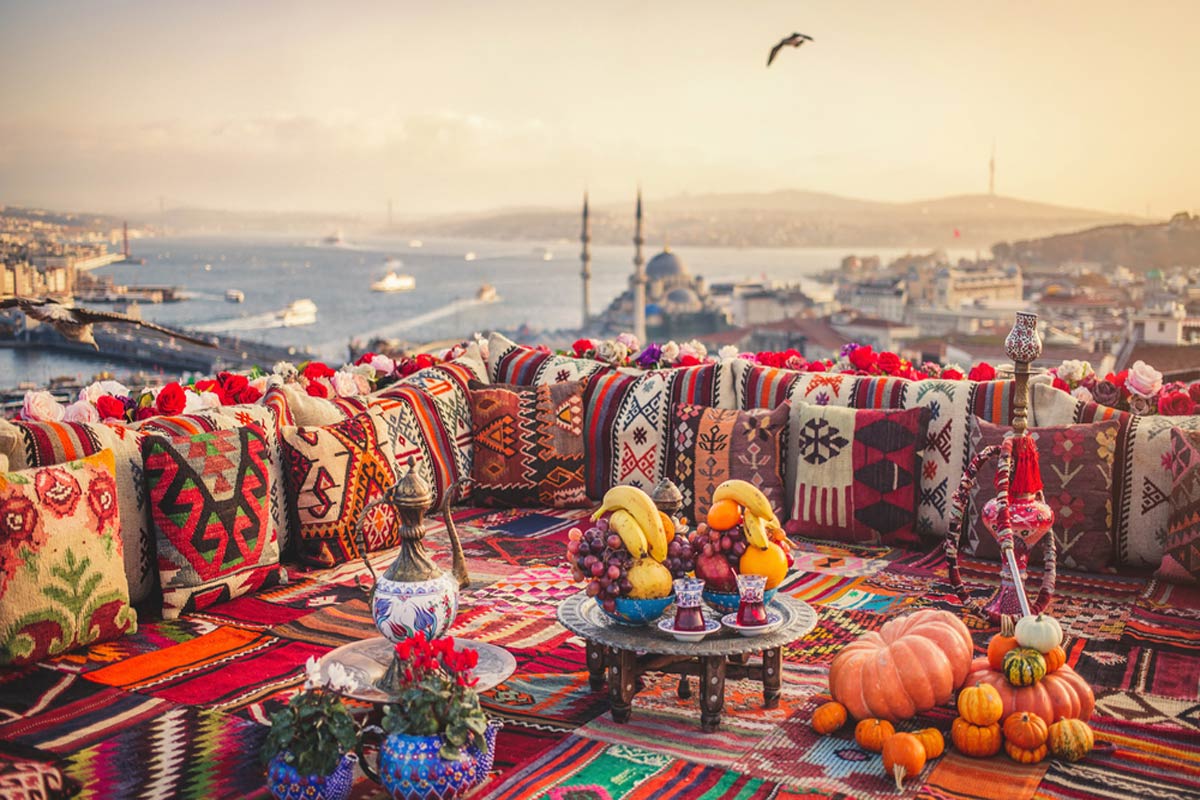 The average couple will spend $1,251-$3,133 for one week in Turkey. For 10-14 days, a couple can expect to spend between $2,500 – $6,500.
Of course, prices vary depending on flight prices, excursions, souvenirs, and how long you decide to stay.
Turkey Honeymoon Resorts: Map
Turkey Honeymoon Guide: Read Next