Planning a honeymoon in Tahiti? These are the magical resorts you need to check out.
The Tahiti archipelago might be made up of 118 islands, but the island of Tahiti is certainly the most popular.
And for good reason.
The alluring islands are made up of lush forests, waterfalls, and extinct volcanoes, as well as white and black sand beaches. And, surrounded by tranquil waters, this exotic destination is home to marine animals like rays, sharks, whales, porpoises, dolphins, and sea turtles.
Have we convinced you yet? Here's what you need to know before you book your Tahiti honeymoon.
Why Honeymoon in Tahiti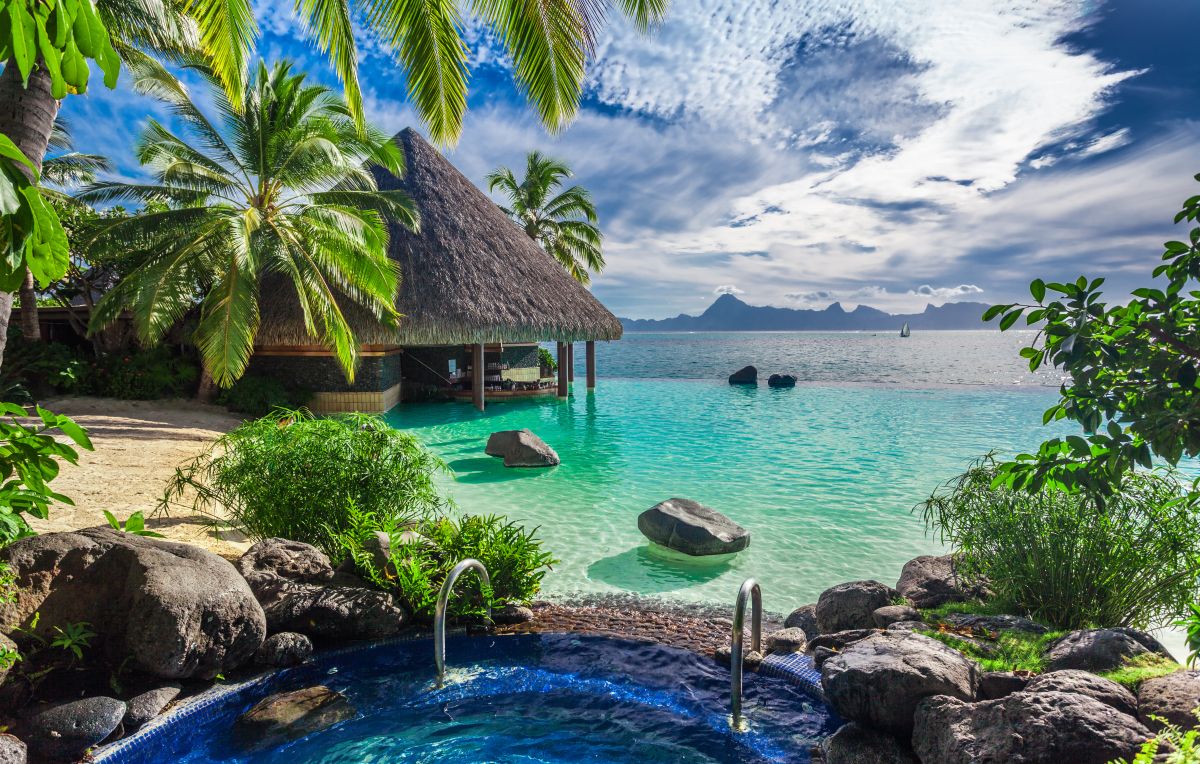 Famous for its oh-so-Instagrammable overwater bungalows, remarkable beauty, and friendly people, Tahiti is an enticing place to start your life together as a married couple. A honeymoon in Tahiti evokes magical experiences that create everlasting memories.
There are endless opportunities for adventure, like surfing, diving, snorkeling, hiking, and whale watching, just to name a few.
The culture and cuisine are another draw to the islands. Described as a combination of Polynesian tradition with a French flair, Tahiti is an intoxicating place to visit.
If you want to learn more about Tahiti honeymoon resorts, Tahiti honeymoon costs, and which destinations to add to your Tahiti honeymoon itinerary, keep reading.
Best Honeymoon Hotels & Resorts in Tahiti
Le Taha'a Island Resort & Spa
Tapuamu
$$
Best for Staying in Bungalows Over the Water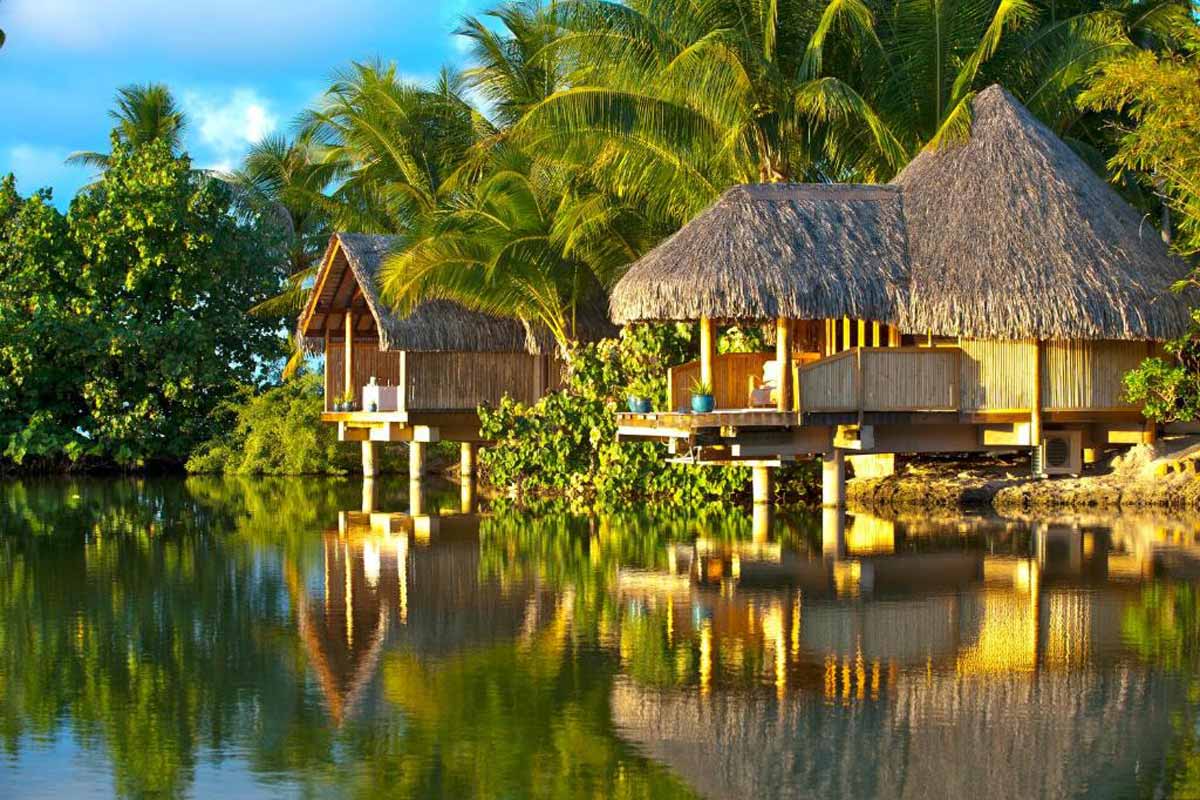 One of the most spellbinding Tahiti honeymoon destinations is Le Taha'a Island Resort & Spa. Located on a magical islet, La Teha is bordered by a reef on one side and a lagoon on the other.
Le Taha'a Island Resort & Spa offers guests classic overwater accommodations as well as beachfront villas and suites. The resort offers shuttle ferries for guests or you can opt for a helicopter ride if you're arriving from Bora Bora.
There are three on-site restaurants, as well as several bars at Le Taha'a. The resort even offers "Romantic Services" which include an intimate dinner on the beach or in your suite or villa, a private lunch on a heart-shaped sandbank, and/or breakfast delivered to your room by canoe!
In need of some extra-relaxation? There's a spa onsite that offers various massage and beauty treatments, an outdoor swimming pool, a fitness center, and tennis courts.
If cabin fever sets in, there are numerous activities available including a tour of a vanilla plantation and distillery, a trip to a pearl farm, 4×4 excursions, snorkeling, diving, jet ski tours, paddleboarding, and fishing trips.
Kon Tiki
Papeete
$
Best for Eco-Friendly Couples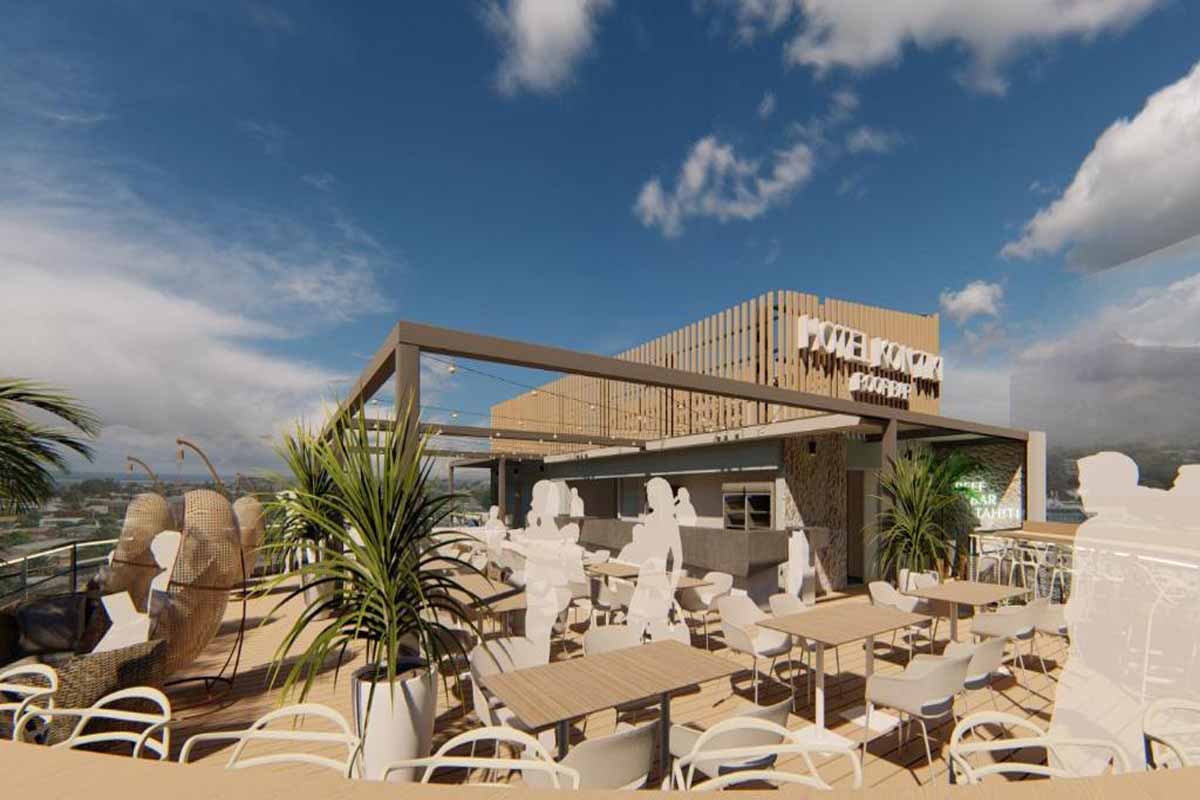 Despite being one of the newest hotels to open in the area, Kon Tiki has already been rated one of the best resorts in Tahiti for a honeymoon. This eco-friendly boutique hotel exudes an intimate ambiance ideal for newly-wed couples.
Accommodation options include Tahitian homes and rooms as well as Polynesian cabins. There's a restaurant and bar onsite, outdoor seating areas and sun decks, and nearby beaches.
The hotel boasts live music, happy hours, and themed dinners. Though they also offer buffet and American-style breakfast options if you prefer to fill your boots and spend the day exploring.
The Brando
Tetiaroa
$$$
Best for a Secluded Escape
One of the only resorts to offer Tahiti all-inclusive honeymoon packages is The Brando. It's lucky then, that this is such an idyllic location for your honeymoon.
Situated on a private island and surrounded by warm, blue waters, you can only reach this resort by private plane – everything dreams are made of.
Accommodation options include 1, 2 and 3-bedroom villas strategically located throughout the jungle, offering the privacy and seclusion that every couple is looking for on their honeymoon.
The all-inclusive package includes all your meals and beverages in their onsite restaurant, 24-hour in-villa dining, a fully stocked minibar that is refreshed each day, one excursion per day, multiple spa treatments, access to the fitness center and tennis courts, and beach equipment.
It goes without saying then that The Brando will truly give you a one-in-a-lifetime Tahiti all-inclusive honeymoon experience.
Hilton Hotel Tahiti
$$
Best for a Classic Honeymoon Experience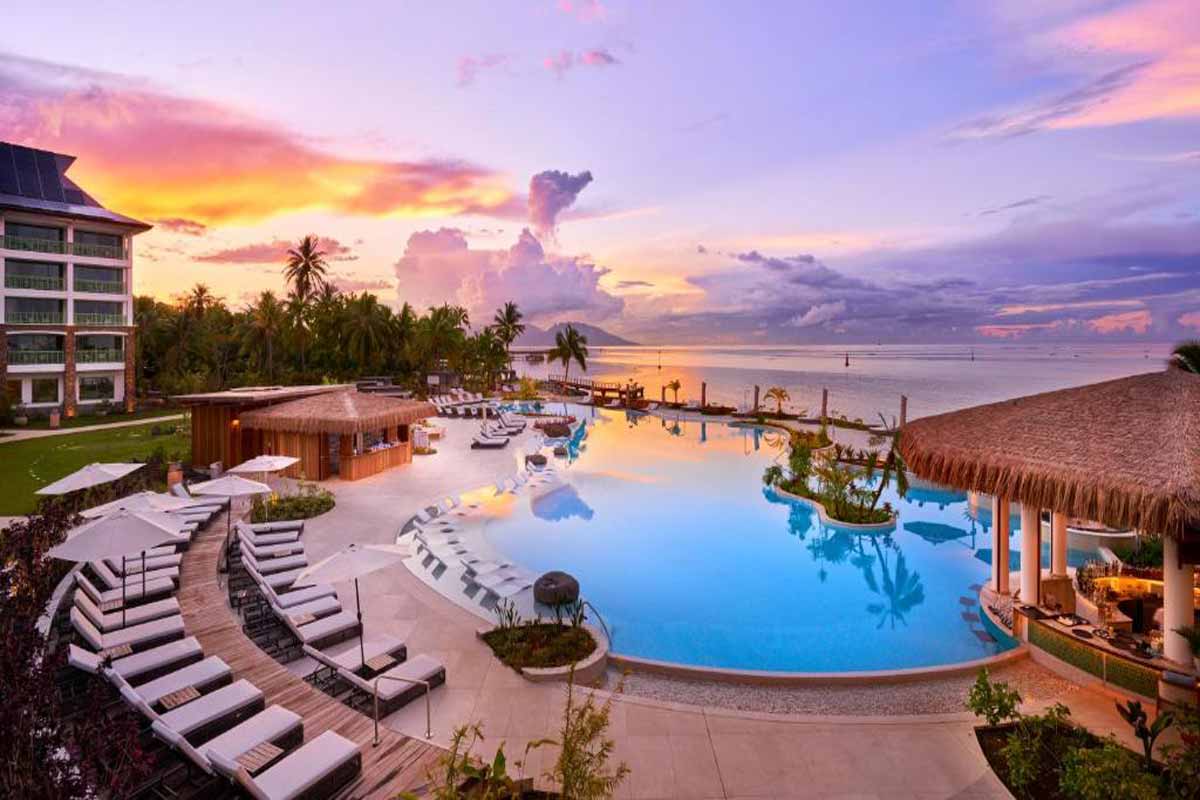 For a classic honeymoon, the Hilton Hotel Tahiti has got you covered.
With a restaurant, outdoor pool, a fitness center and bar on site, we don't blame you for wanting to spend all your time at the resort. Though, should you want to venture out, you're conveniently located next to the likes of Plage Hokule'a and Paofai Gardens.
The King Residence is where you'll want to stay – it's a huge suite with a spacious (and ridiculously comfy) bed and a living/dining area where you can hang out and have some downtime.
Relais Fenua
$
Best for Budget-Friendly Stays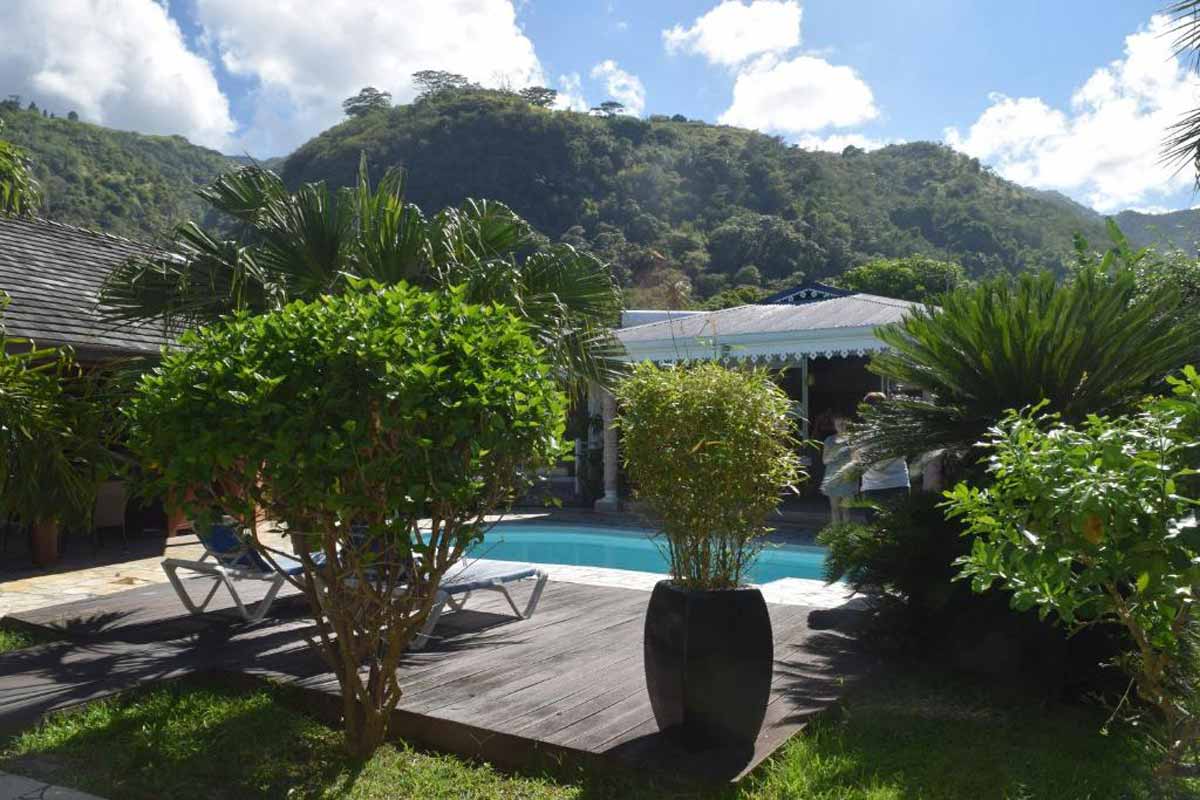 If you're looking to save some cash on your Tahiti honeymoon (trust us – that's not a phrase we use often), Relais Fenua is a no-frills spot that's well worth your attention.
Step out of your cozy studio and you are greeted by tropical greenery and a decent-sized pool. Or, head over to the beach a few steps away.
Complimentary breakfast is served each morning and can be served poolside, while the bar is the place to be in the evenings. Watch the sunset with a cocktail or two and raise a toast to your new life together.
And, if you want to take part in something a little adrenaline-inducing, the tour desk can organize scuba diving day trips for you and your spouse.
Rooms are simple at this Tahiti honeymoon hotel – but you're waking up in paradise, so who cares?
Tahiti Honeymoon Tips: What You Need to Know
How to Get to Tahiti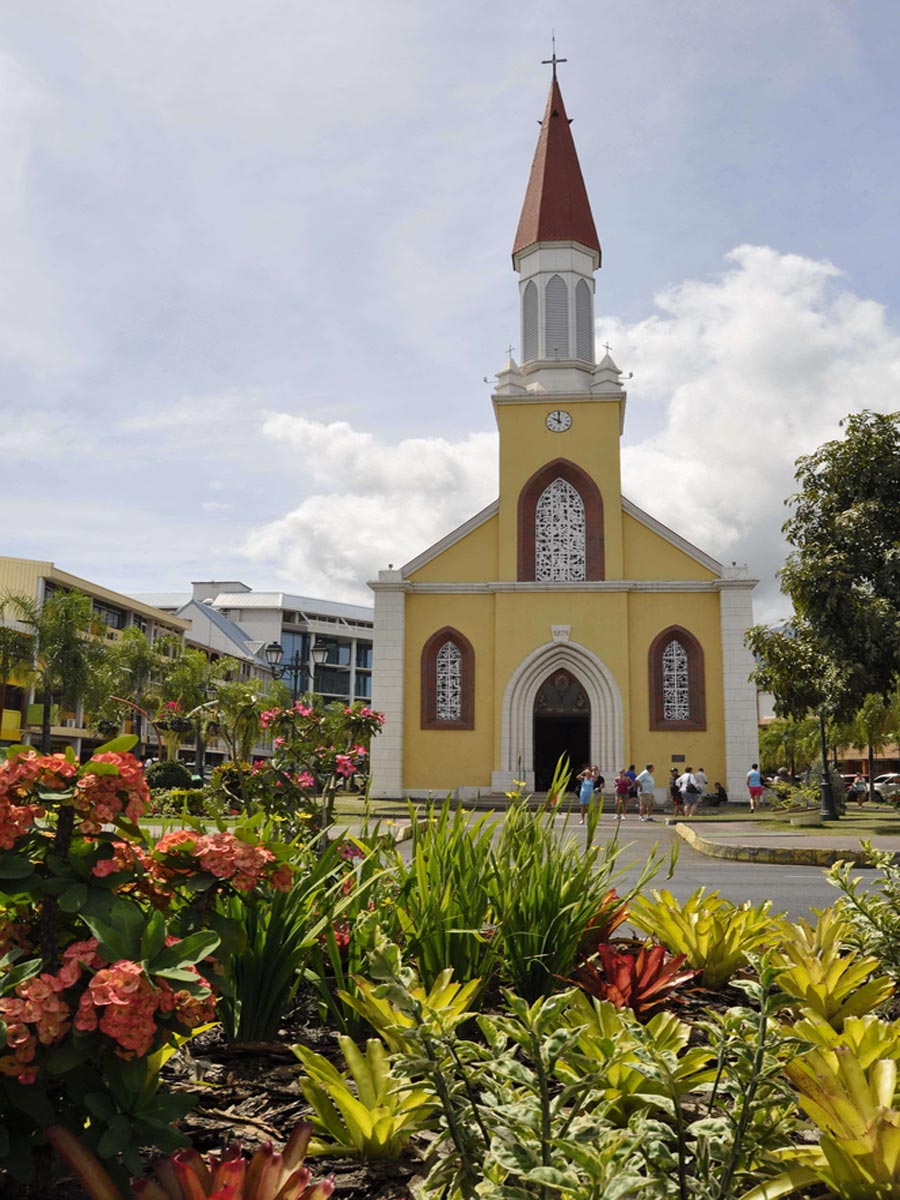 Depending on where you're flying from, there are several options for non-stop flights. The main airport you fly into is Faa International Airport (PPT) on the main island of Tahiti.
From there you can take smaller airplanes to other closeby destinations. One of the main forms of transportation between the islands is by water taxi.
The Best Tahiti Honeymoon Destinations
Huahine Natural Aquarium
Created from one of Tahiti's natural lagoons, the Huahine Natural Aquarium offers visitors a unique opportunity to interact with the real locals of the Tahitian Islands – tropical fish, sharks, rays, and more.
The lagoon is warm and shallow making it perfect for snorkeling. If you don't want to get into the water, there is also observation decks where you can view the marine animals from above.
Teahupo'o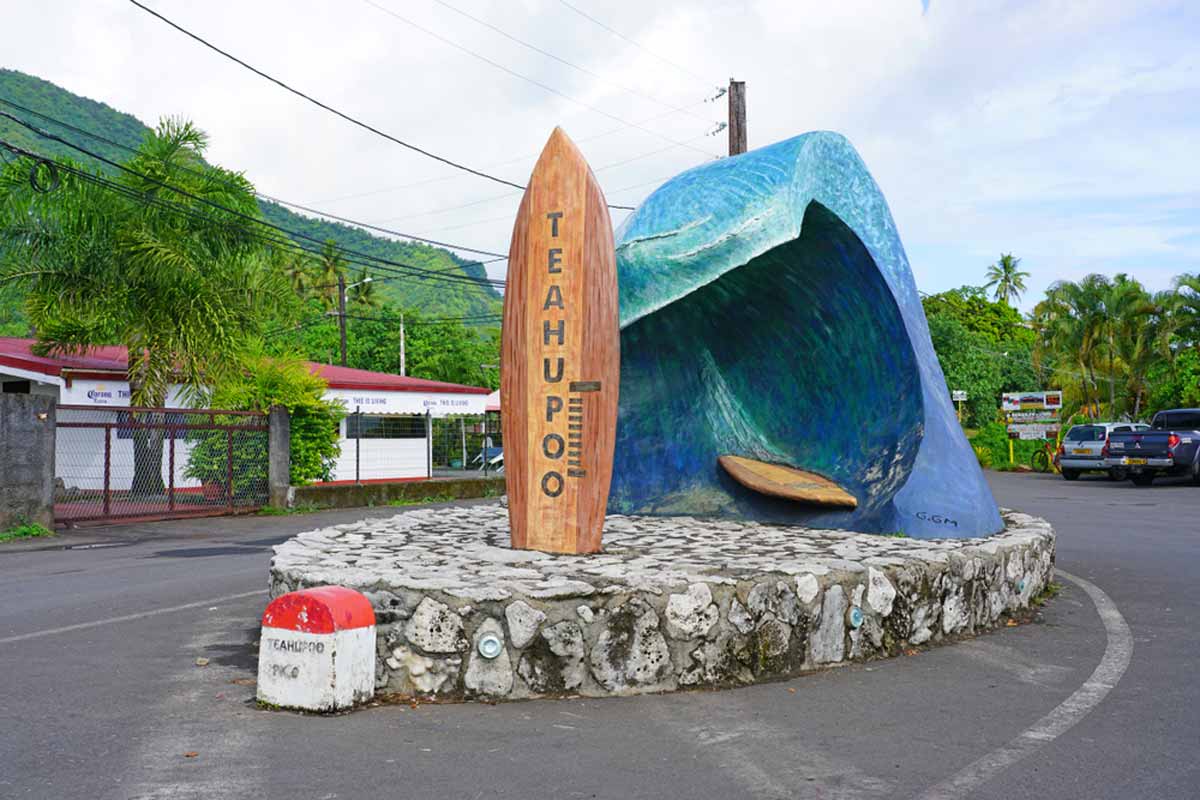 A legendary surf spot, Teahupo'o has generated some of the largest and thickest waves humans have ever surfed. There is a pro surf contest held here each year where some of the best surfers in the world come to compete.
Though the average Joe wouldn't be surfing Teahupo'o even on a small day, there are plenty of more manageable surf spots around the islands. Some beginner-friendly spots are the beach break at Papeno'o, Papara, and Haapiti.
Snorkeling and Diving
Tahiti is world renowned for its clear, calm waters, making it an ideal place to snorkel and/or scuba dive. You can explore coral reefs and lagoons, as well as deeper drop-offs and canyons if you're a more experienced diver.
Many hotels and resorts offer snorkeling and diving as an excursion, have partnerships with tour guides or provide snorkeling gear for you to use on your own. Make sure you take full advantage of this during your Tahiti honeymoon.
Diving for Pearls
Tahiti is synonymous with black pearls – and so pearl cultivation is one of the biggest industries for the islands, other than tourism. Well, they're called black pearls, but they actually vary from gray to green. Not that we're pedantic or anything.
Anapa Pearls offers some of the most unique experiences in the world. Their tours set you up with their pearl divers so you can find your own oysters and even harvest your own pearl – the ultimate honeymoon souvenir.
Go Sailing
Tahiti's calm waters and light winds make it an ideal place for sailing. With the beautiful backdrop of jungle-covered mountains and endless blue skies, a sailing trip can be incredibly romantic.
There are several options when it comes to sailing in Tahiti. If you're very experienced and can captain your own boat, you can cruise from island to island, but there are also charters you can book which allow you to sit back, relax and enjoy the smooth ride cruising around the islands.
The Best Time to Visit Tahiti
If you ask us, the best time to visit Tahiti is from May through October. The weather is warm and sunny the majority of the year, but the humidity is far less during these months.
It's important to note that the rainy season in Tahiti is from November through April, however, showers don't typically last long.
How Long to Spend on Your Tahiti Honeymoon
Most people spend 7 to 10 days on their honeymoon in Tahiti. There are plenty of things to do in and around the islands of Tahiti, though it's important to spend at least a couple days totally chilled out.
How Much Does a Tahiti Honeymoon Cost?
As always, the cost of a honeymoon in Tahiti depends on a multitude of things. While certain resorts might offer Tahiti honeymoon packages, there are not many all-inclusive resorts, so things can add up quickly.
On average, a couple will spend anywhere from $7,000- $15,000 USD for one week. It's well worth saving up for your dream trip, though.
Tahiti Honeymoon Resorts: Map
Tahiti Honeymoon Guide: Read Next