Dreaming of the perfect honeymoon in South Africa? These are the destinations and resorts you shouldn't miss.
While we admit that South Africa might not be most couples' first choice when it comes to honeymoon destinations, you shouldn't let that put you off. In fact, we think that South Africa is an outstanding choice for any honeymoon, and we're here to tell you why.
From beautiful beaches and wineries along the coast to unrivaled eco-tourism opportunities inland, South Africa is truly a destination like no other.
When you visit South Africa, you'll want to prepare ahead by knowing what to see and where to stay.
But that's where we come in, giving you some of the most incredible honeymoon destinations in South Africa. Are you ready?
Why Honeymoon in South Africa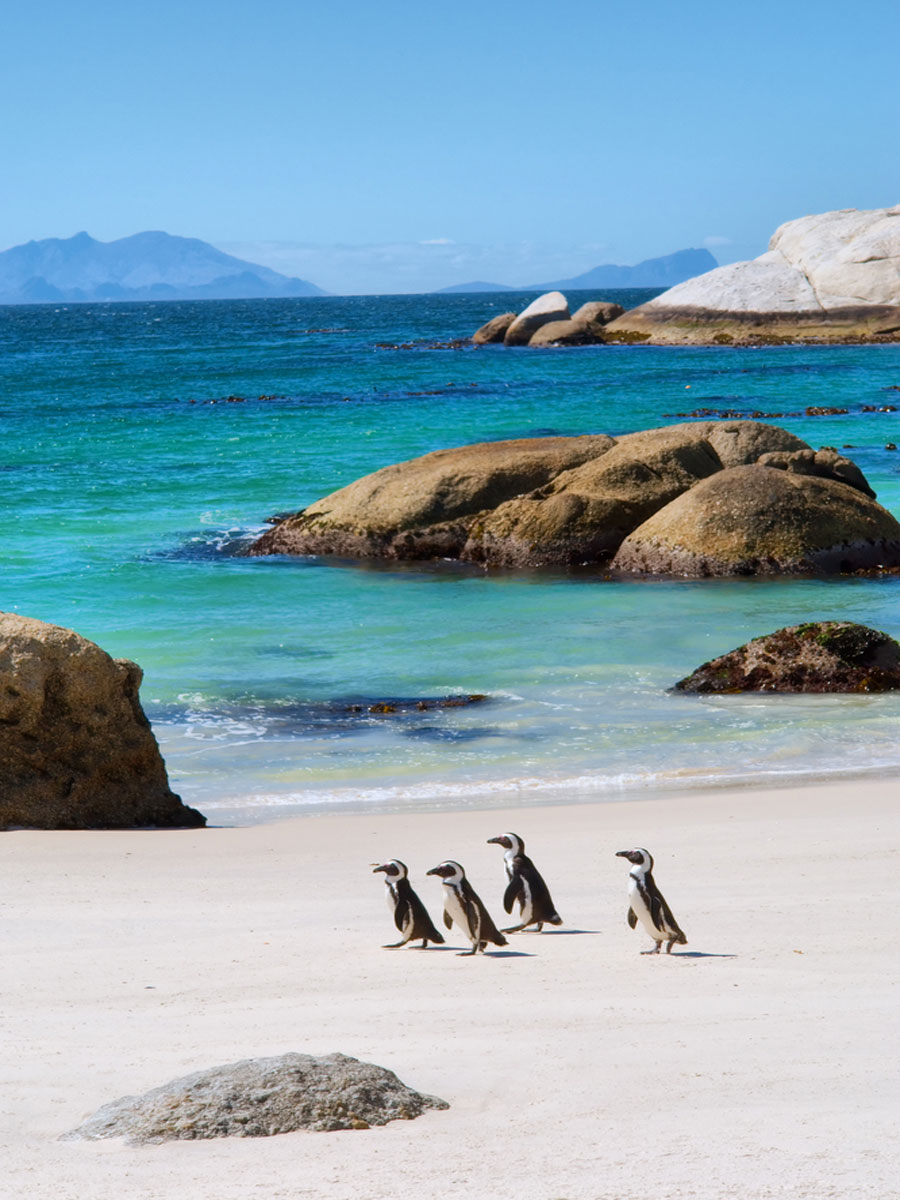 Whether you want a peaceful beachside getaway, a relaxing weekend in the wine country, or the most epic adventure imaginable, you'll be able to find what you're looking for on a honeymoon in South Africa.
Better yet, you can explore deserts, wildlife parks, and coastal destinations at some of the country's more rural spots, or choose to take in the culture (and delicious food) of Cape Town.
Keep reading to learn why a honeymoon in South Africa is the perfect way to celebrate after walking down the aisle.
Best Honeymoon Hotels & Resorts in South Africa
Santé Wellness Retreat & Spa
$$
Paarl
Best for a Spa Honeymoon in Cape Winelands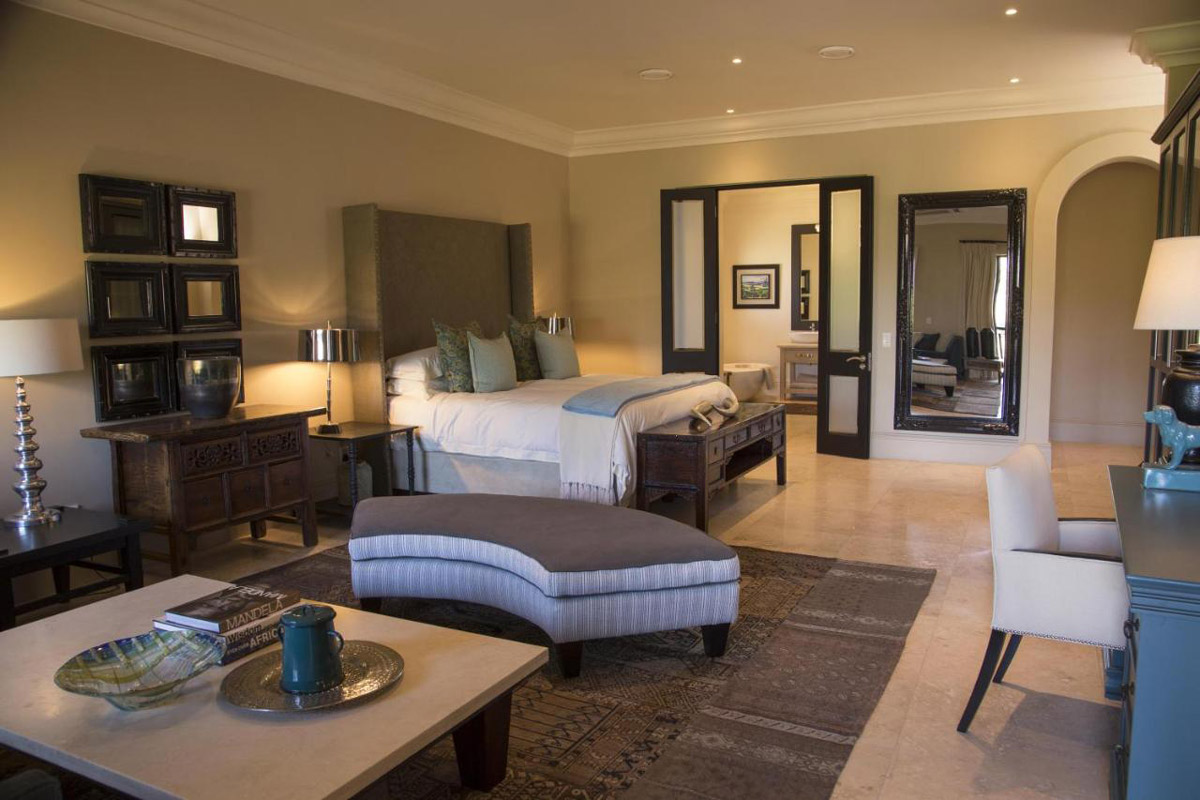 Looking to relax, enjoy a glass of wine, and take advantage of one of the premiere spas in South Africa?
We think that sounds pretty perfect, and Santé Wellness Retreat & Spa is where you'll want to head if that's your idea of a great honeymoon itinerary in South Africa.
But what is it that makes this hotel so special? The stunning mountain setting, world-class service, and pristine gardens on site make this one of our favorite ideas for a relaxing South Africa honeymoon.
The suites are spacious and feature an understated beauty that will make you feel right at home when you arrive. But it's the vino therapy and other exciting spa treatments we think you'll fall in love with.
Tsala Treetop Lodge
Plettenberg Bay
$$$
Best for a Garden Route Honeymoon Resort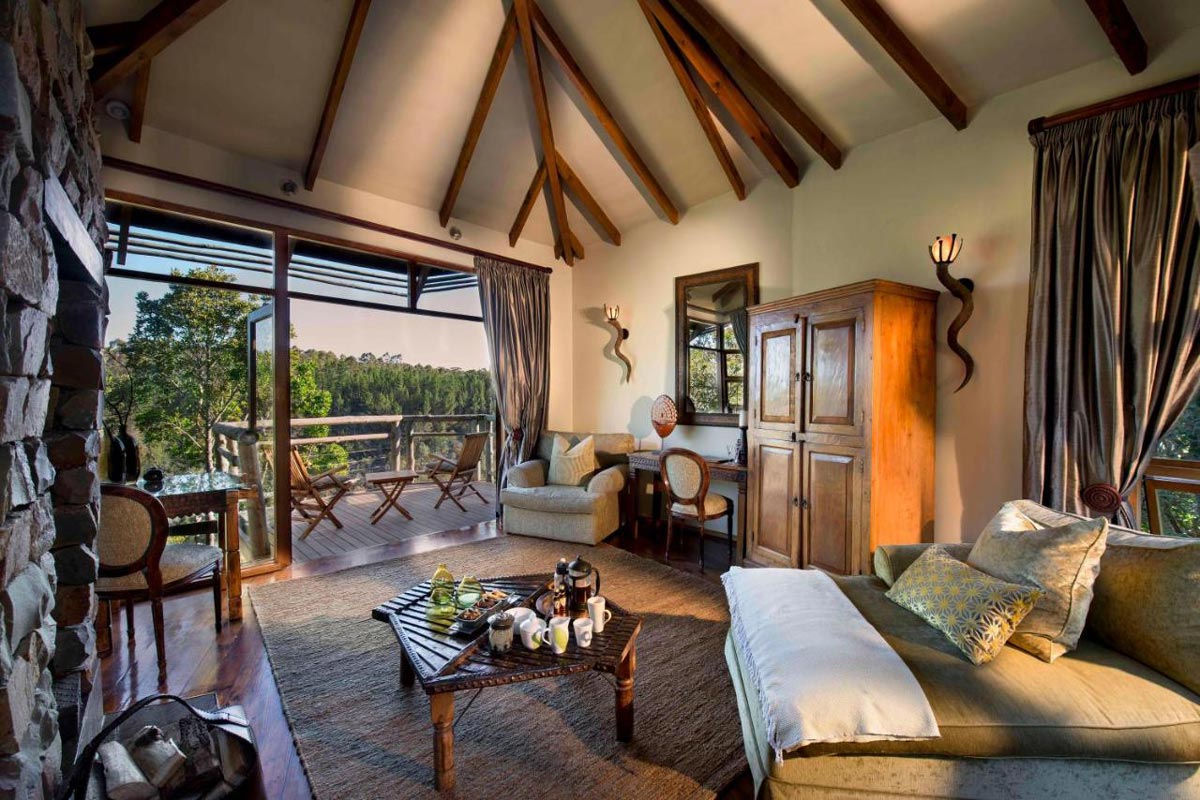 Tsala Treetop Lodge offers one of the most unique South Africa Honeymoon packages we could ever dream up.
The stylish resort is truly one of a kind. Imagine staying in a 5-star treehouse along the Garden Route on your honeymoon in South Africa. Yes, really.
Your luxury villa stands above the forest around you, where you can take in the beauty of South Africa from your private pool on the patio of your luxury treehouse. And the room's interior is as impressive as the exterior, with warm accents of brick, hardwood, and a rich color palette that provides the perfect atmosphere.
Better yet, you can contact the hotel staff directly to arrange a private honeymoon experience you'll never forget.
Tintswalo Atlantic
Hout Bay, Cape Town
$$$
Best for a Romantic Cape Town Honeymoon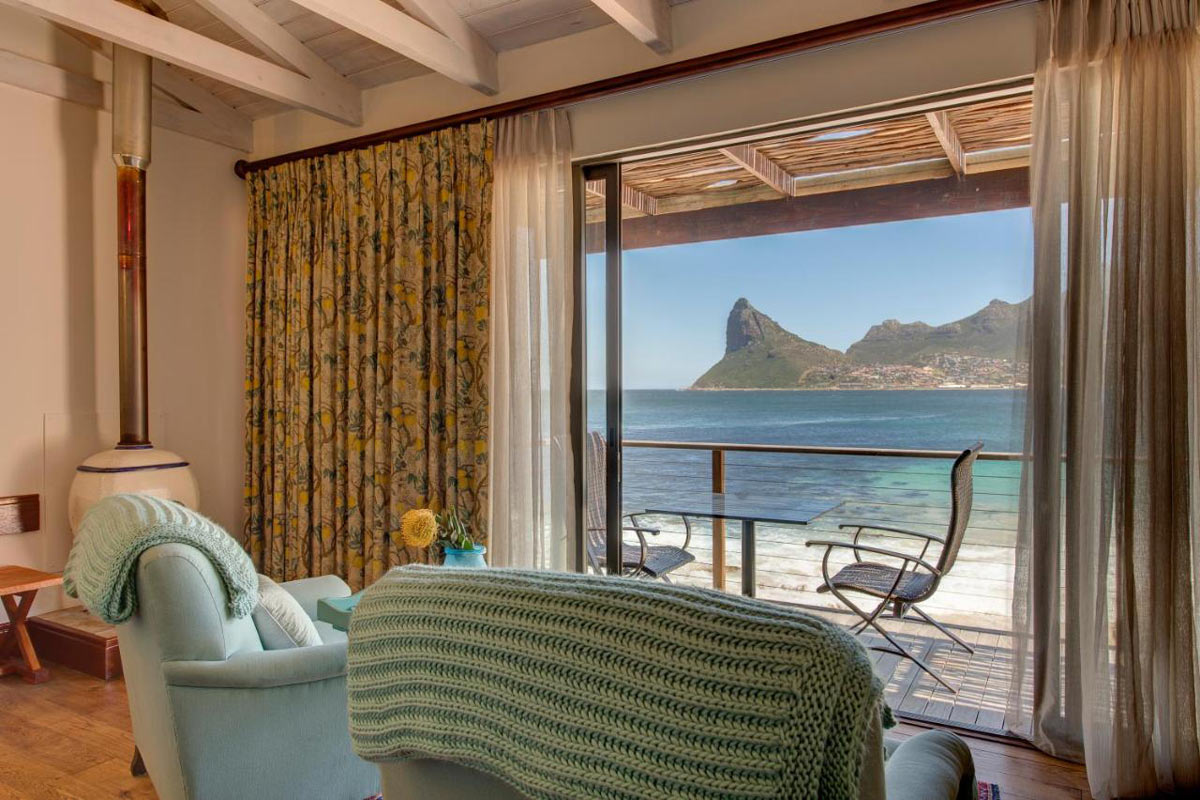 Tintswalo Atlantic gives you the perfect chance at a luxury honeymoon South Africa-style, right on the coast. And if you want to set off on a South Africa and Zanzibar cruise, this Cape Town resort is a great place to start.
You'll wake up to waves crashing on the rocky shores outside your veranda, while the Sicily Island Suite combines Italian decor with the stunning South African coast. We think this might be the most romantic option for a South African honeymoon.
Hungry? Dine at Chef's Warehouse, where you can devour a 4-course meal overlooking the dark blue waters and coastal bluffs at the base of Chapman's Peak.
Other amenities include a swimming pool, spa, and cocktail lounge for those blissful days you don't want to set foot off the hotel grounds on your South African honeymoon.
Jock Safari Lodge
Kruger National Park
$$$
Best for a Kruger National Park Safari Honeymoon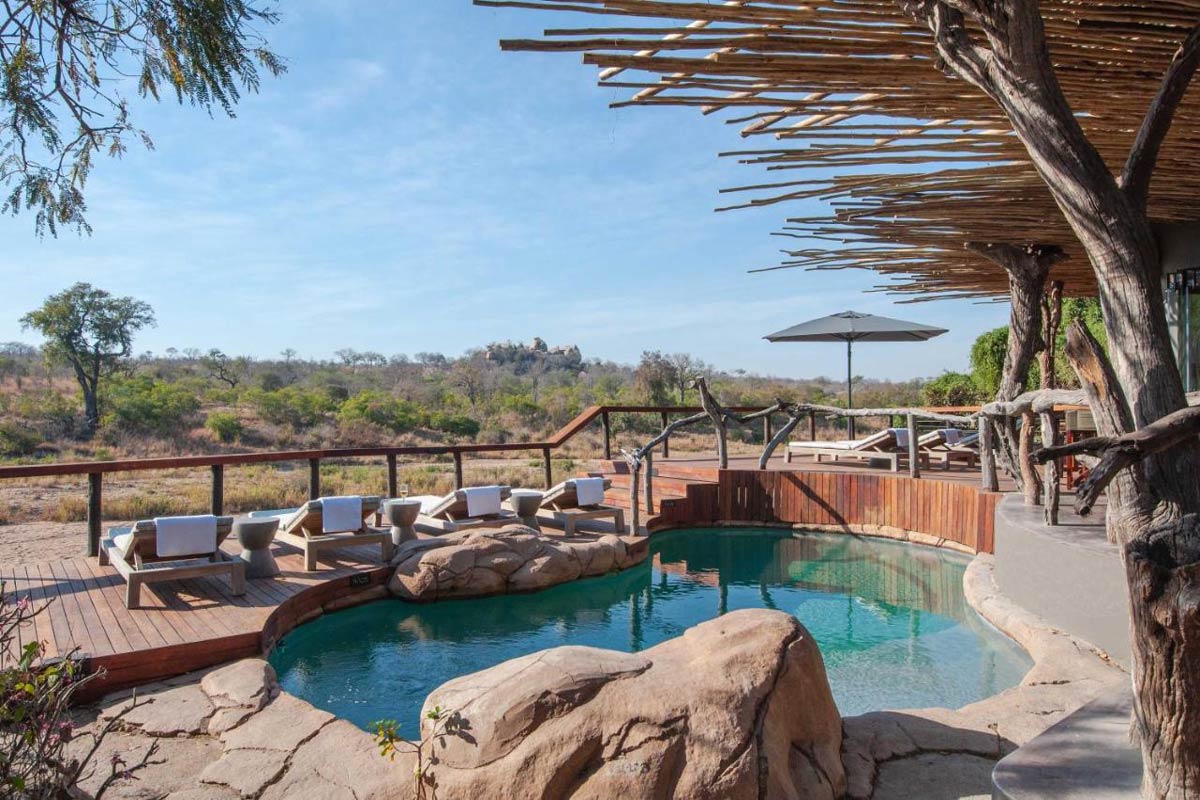 Looking for the best safari lodges in South Africa? The Jock Safari Lodge should be your first stop.
Why? You won't find luxury accommodations with more direct access to the nature reserve than here, and it's the perfect place to freshen up after the adrenaline rush of embarking on the safari honeymoon of a lifetime right outside your door.
The charming rentals evoke a luxury cabin vibe with well-thought-out decor highlighting local art, taxidermy, and antique furniture. Meals are available on-site from an in-house chef, and there's a park ranger available for any questions about the vast wilderness around you.
Have a glass of wine on your patio or retreat to the large canopy bed with mosquito netting, and reflect on the beauty of South Africa from the comfort of your luxury room.
Hacklewood Hill Country House
Port Elizabeth
$
Best for a Countryside B&B Honeymoon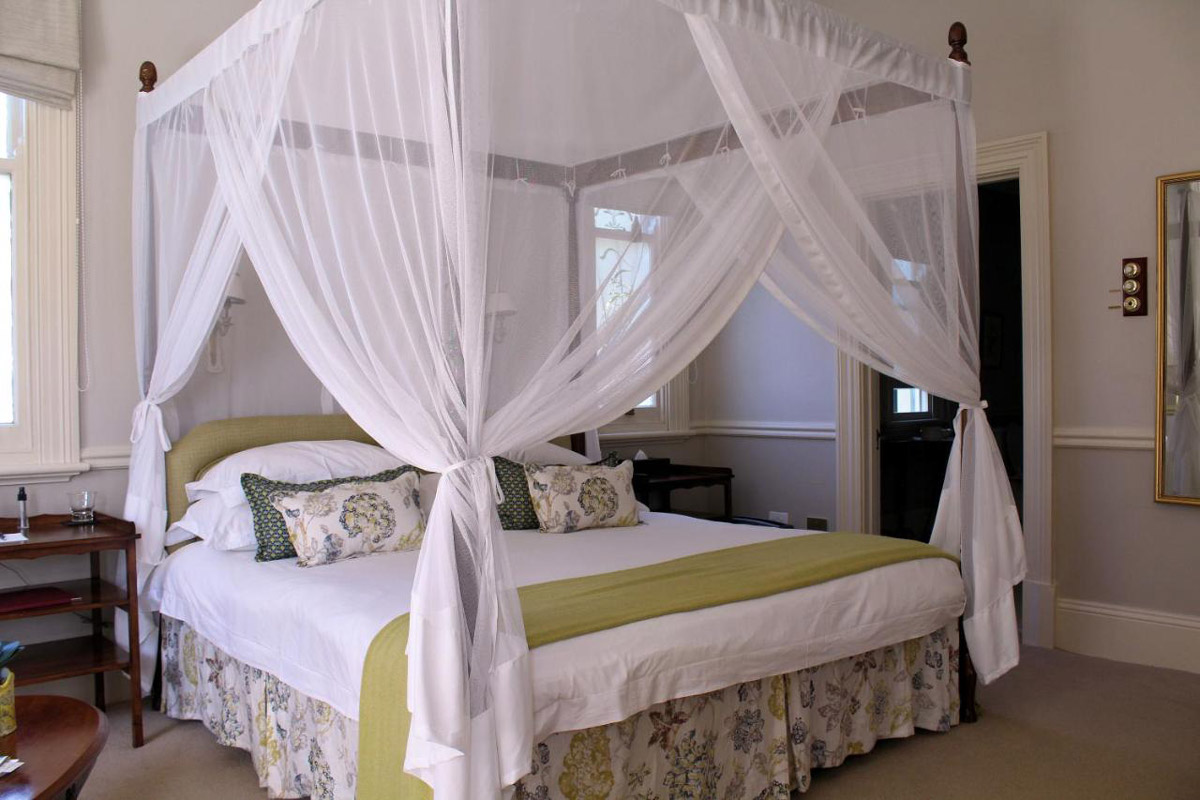 Want to spend a few nights in Port Elizabeth on your South Africa honeymoon? You won't find a better option than Hacklewood Hill Country House, located just a short drive away in the suburb of Walmer.
The rooms are simple yet sophisticated, the ideal base for a few nights in this underrated coastal South African town.
Fancy a romantic dinner for two? The restaurant is one of the hotel's biggest draws, treating guests to incredible global cuisine. Waking up to an indulgent breakfast each morning is another reason we think you'll love your stay at this quaint cottage resort.
South Africa Honeymoon Tips: What You Need to Know
How to Get to South Africa
We know you're probably ready to pack your bags and embark on your dream honeymoon by now, but you'll need to figure out how to get there first.
Luckily, South Africa is relatively easy to reach by taking a honeymoon cruise or flying into Cape Town (CPT) or Johannesburg (JNB).
The Best South Africa Honeymoon Destinations
Kgalagadi Transfrontier Park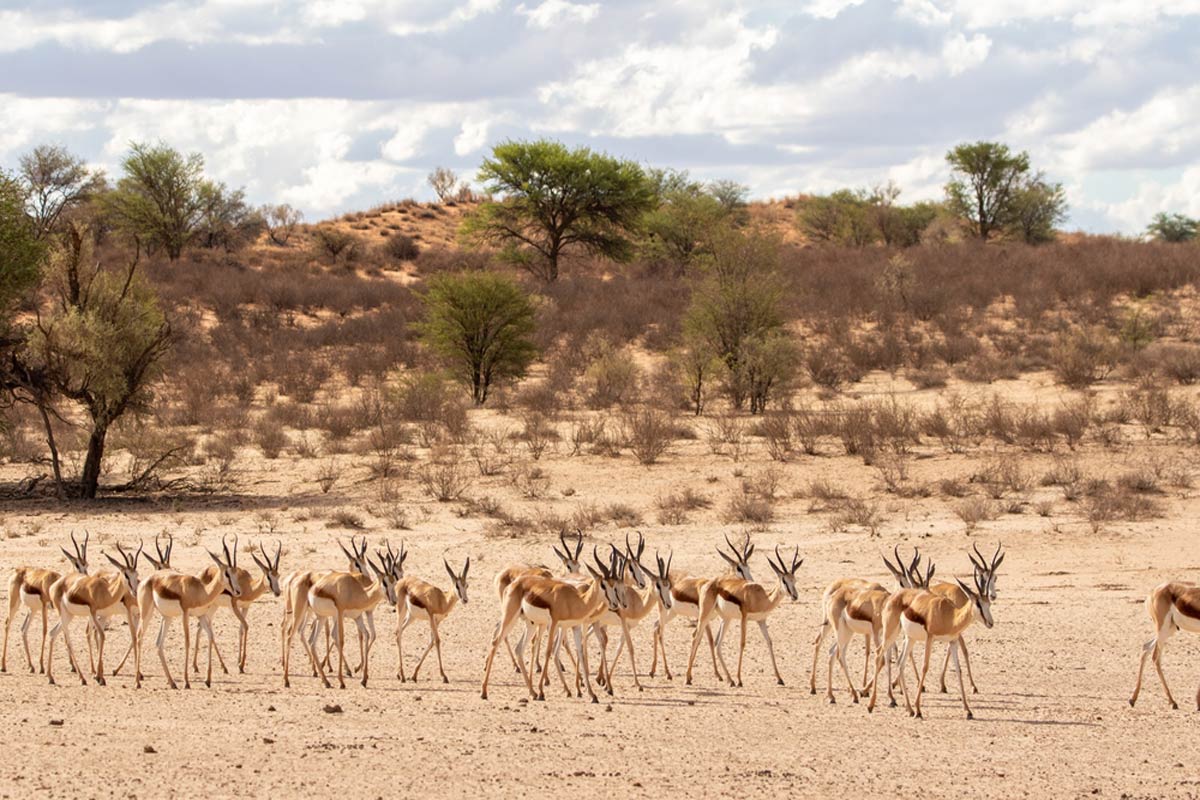 One of the main reasons we think you should consider a South Africa honeymoon is because of the incredible national parks that connect it with other African honeymoon destinations.
Kgalagadi Transfrontier Park is a case in point. Sitting on the border of South Africa and Botswana, it features nearly 15,000 sq mi of incredible wilderness.
What will you see while you're here? You'll be in the heart of the Kalahari desert, where you may spot wildebeests, black-maned lions, and other hard-to-find species in their natural habitat.
Book a tour with a local expert to spot the animals that make this a must-see destination on your South Africa honeymoon – we recommend Umkulu Lodge.
Hermanus
Keen to whale-watch while you're on your South Africa honeymoon? Heading to Hermanus gives you some of your best chances to see the magnificent ocean mammals from some of the most breathtaking coastlines on the continent.
It's also a charming town with excellent wine, eateries, and markets you won't want to skip when you go to South Africa for a honeymoon.
Cape Town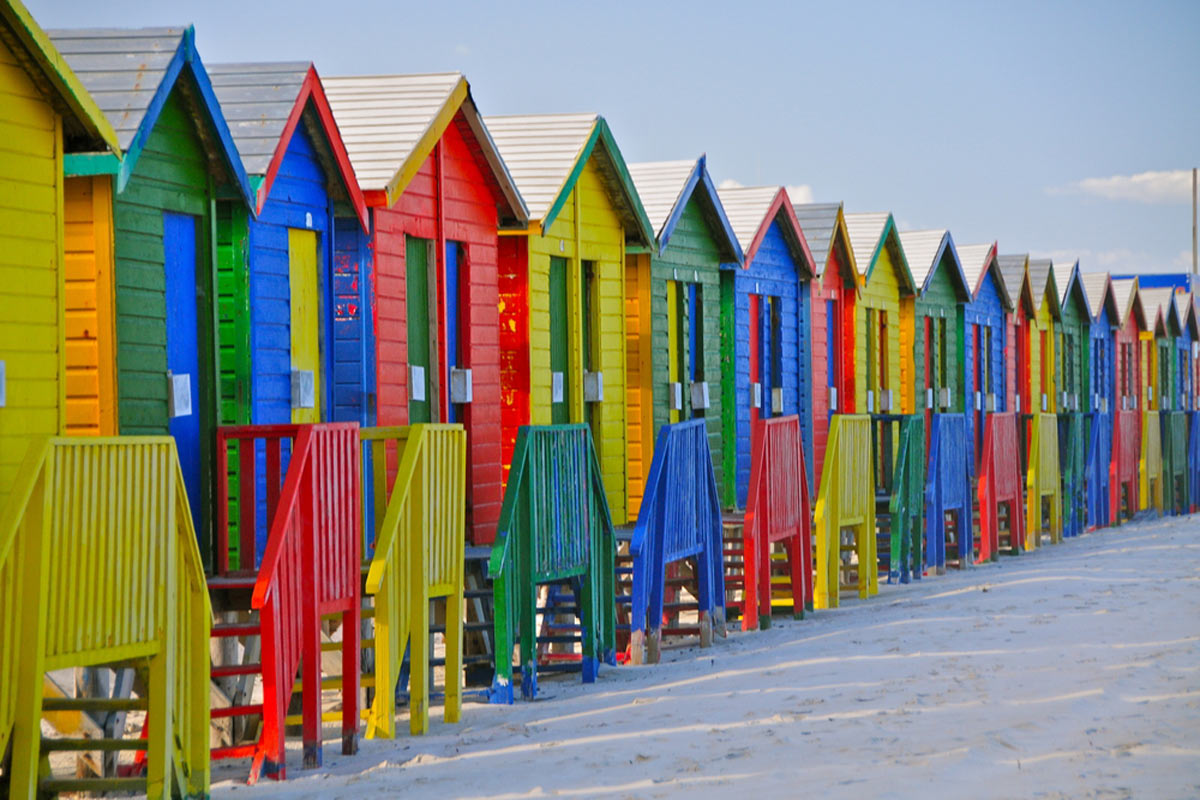 You can't plan a South Africa honeymoon without stopping by Cape Town, one of the most remarkable urban honeymoon destinations in the world.
What makes Cape Town the perfect spot for a honeymoon in South Africa? Let's start with the weather. It's generally sunny and warm – it's unlikely you'll be bothered by rain during your visit.
The food, architecture, and cable cars towering above the fantastic city below are just some of the reasons that Cape Town is one of our favorite honeymoon ideas South Africa has to offer. Not to mention the gorgeous natural surroundings like the beautiful waterfront and Kirstenbosch National Botanical Garden.
Garden Route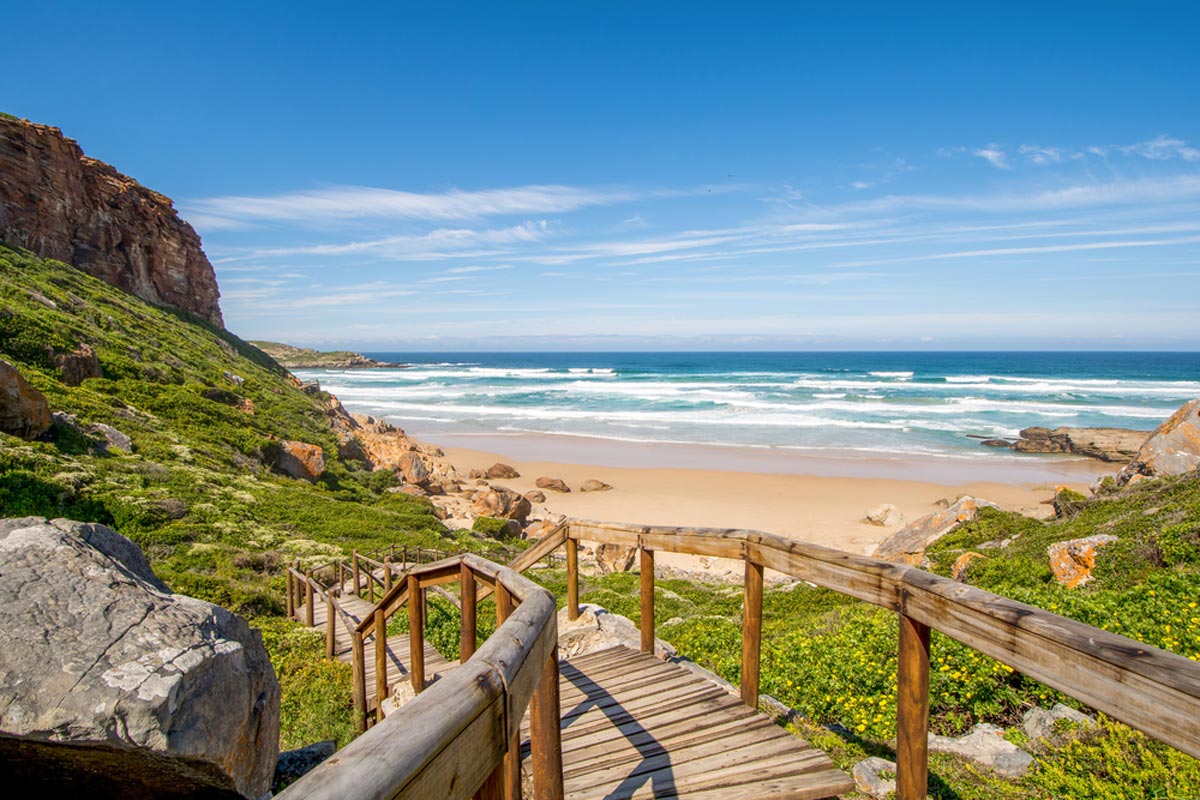 Nearly 200 miles of coastline treats you to some of the best areas to hike, sightsee, or swim with great white sharks (in a cage, of course). We can't recommend the drive enough for your honeymoon in South Africa.
The Drakensberg, KwaZulu-Natal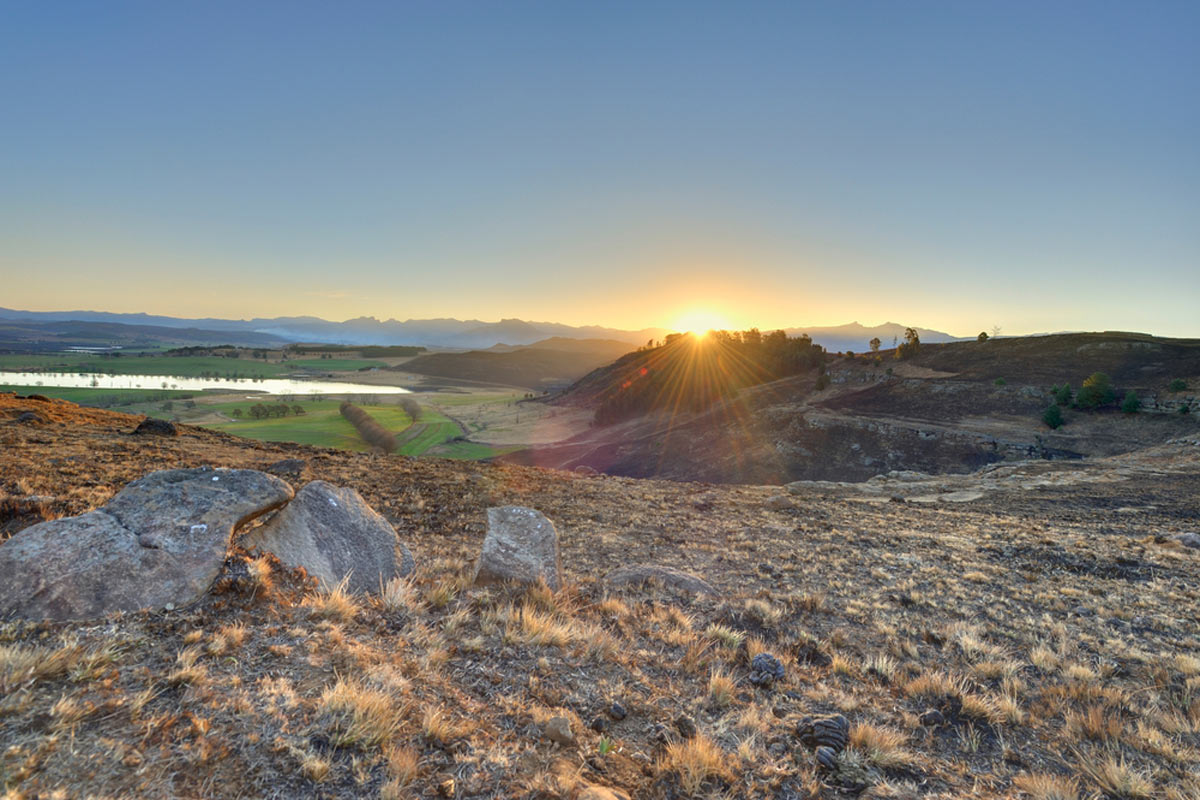 The Drakensberg is one of the best honeymoon destinations in South Africa for couples who love nature. The extensive mountain range stretches over 600 miles, with its highest peak reaching over 11,000 ft.
Hiking here will allow you to get up close and personal with some of South Africa's most incredible waterfalls, sweeping green mountainous landscapes, and exotic wildlife.
Kruger National Park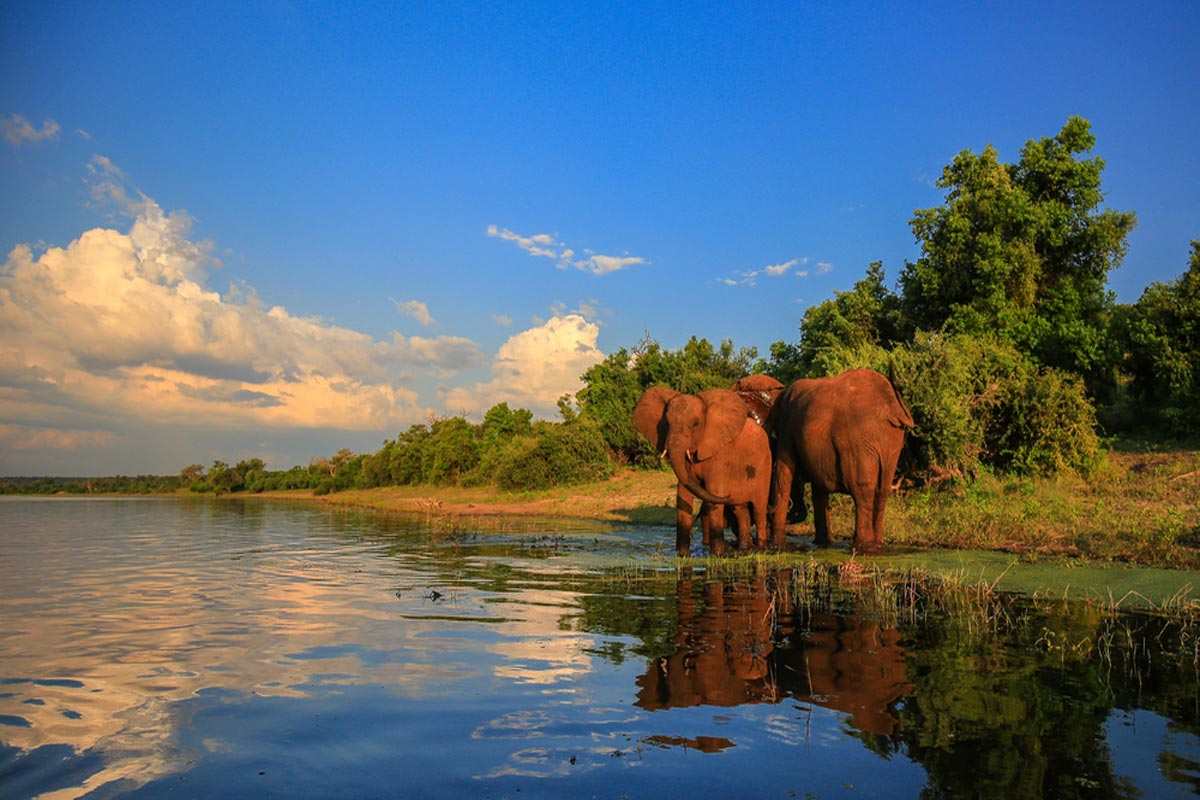 Looking for the best honeymoon safari South Africa offers? It doesn't get much better than Kruger National Park.
On your honeymoon in South Africa at Kruger National Park, you'll have some of the greatest opportunities to see lions, leopards, elephants, and other incredible wildlife.
Not only is the area filled with thousands of animals you won't find in many other places, but the natural beauty here is also staggering. Plan your trip for spring or summer, as the weather is ideal for spending time outdoors in one of South Africa's top honeymoon destinations.
Cape Winelands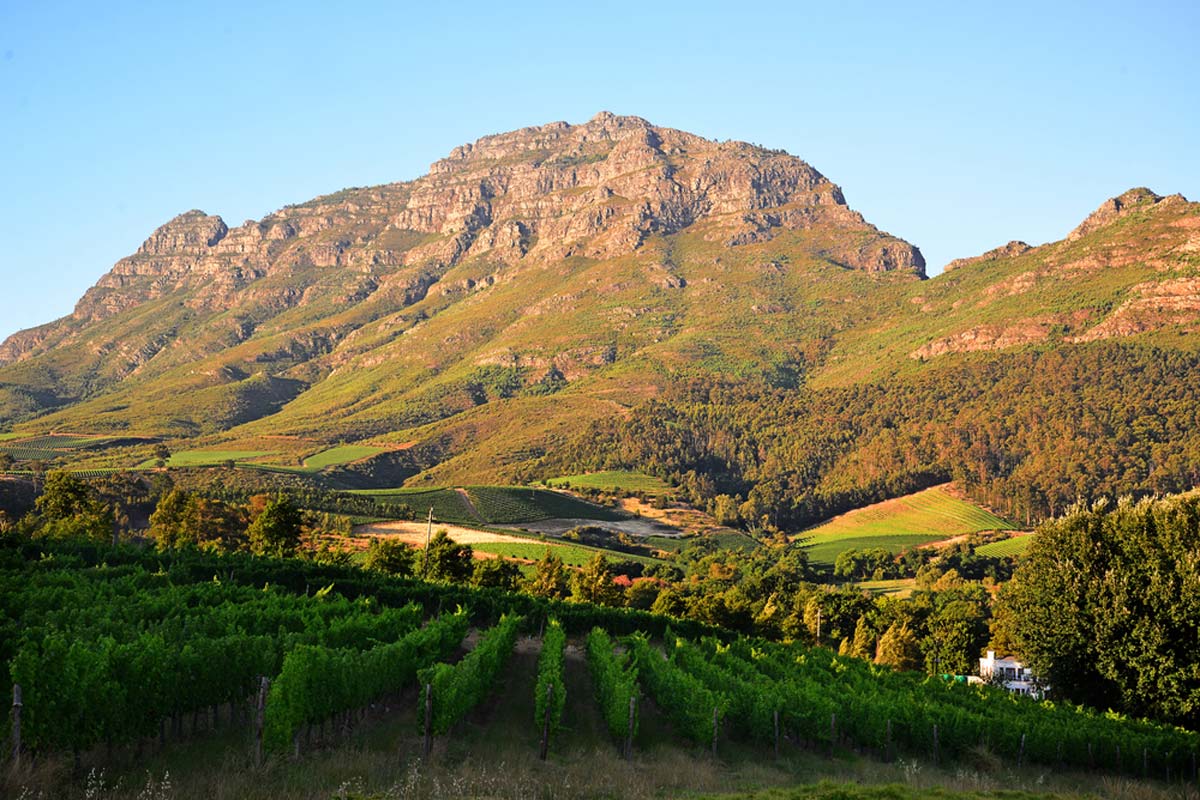 Looking to add a wine-tasting package to your honeymoon in Africa? It's a no-brainer – you won't want to miss Cape Winelands, northeast of Cape town.
What makes this one of the best places to tip your glass? You'll be tasting wines that rank up with the best you'll find anywhere in the world.
The Best Time to Visit South Africa
When's the best time to honeymoon in South Africa? If you ask us, anytime is a good time.
But if you want nearly perfect weather, fewer tourists, and the best weather for safaris, we'd recommend scheduling your South Africa honeymoon for August or September.
How Long to Spend on Your South Africa Honeymoon
How long is long enough for your South Africa honeymoon?

You can plan a perfect South Africa honeymoon itinerary in about 10 days. But we'd recommend staying 2 weeks, if you can afford it, to see as much as possible in this beautiful vacation destination.
How Much Does a South Africa Honeymoon Cost?
The cost of a South Africa honeymoon depends on exactly how big you want to go.

But if you've come all this way for your honeymoon in South Africa, we'd recommend a safari, wine tasting, and checking out several parts of the country.

To experience South Africa fully in 2 weeks, you'll likely spend $7,500-$15,000.
South Africa Honeymoon Resorts: Map
South Africa Honeymoon Guide: Read Next