Planning your honeymoon in The Maldives? This gorgeous collection of over a thousand islands in the Indian Ocean has plentiful options to choose from. Discover with this insider's guide.
With beautiful beaches and emerald water as far as the eye can see, it's little wonder that The Maldives is such a popular Asian honeymoon destination.
If you're thinking of honeymooning in The Maldives, you no doubt have questions. Where should you stay? What should you be thinking of when choosing the perfect resort?
This guide will help you plan the perfect romantic break to The Maldives – with an insider's pick of the best resorts and islands that are ideal for honeymooners.
Why Honeymoon in the Maldives?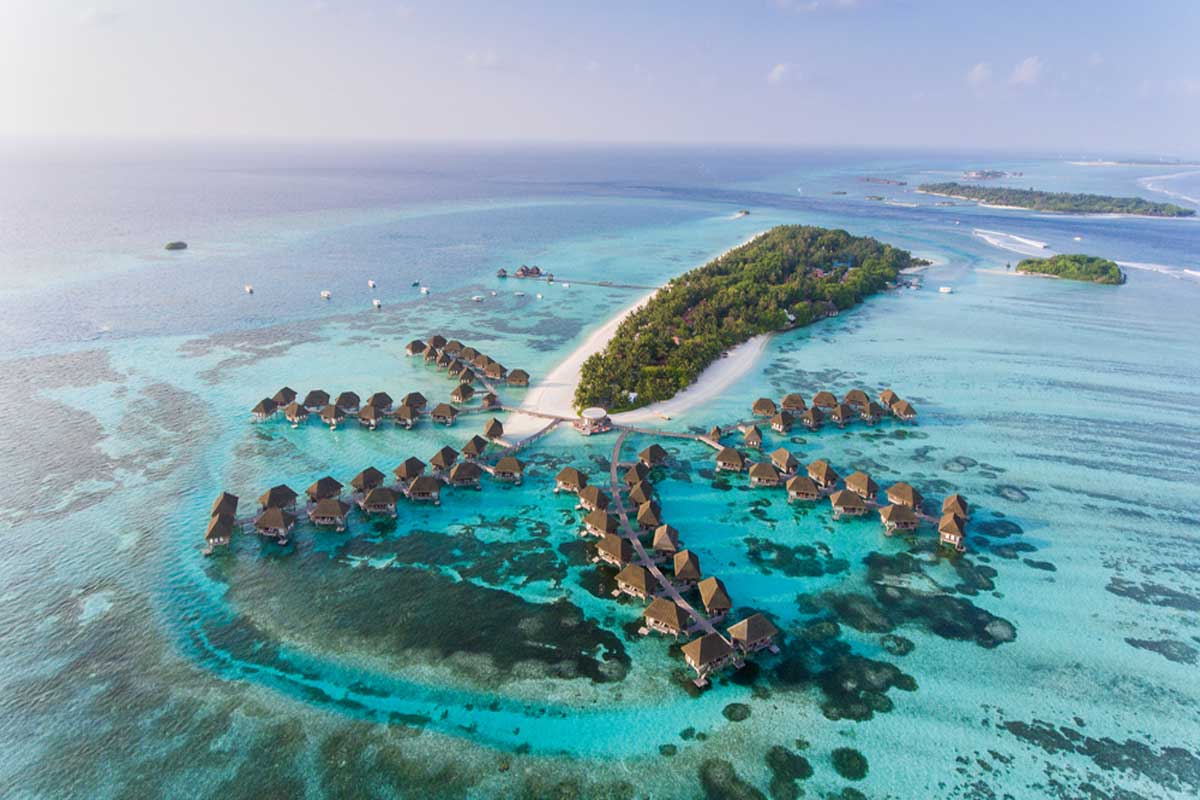 With so many tropical options around the globe that you can choose for your honeymoon, you might be asking, why is the Maldives so unique?
How about the chance to honeymoon on a private island?
Lots of resorts in the Maldives opt for the one island, one hotel concept – allowing hotels to really pull out the stops when it comes to offering a high-end stay – complete with fine-dining restaurants, luxury spas and all the amenities to make your trip one to remember.
Add to that world-class diving and snorkelling and other waterborne activities, and you can start to see why The Maldives are such appealing options for honeymooners.
Best Honeymoon Hotels & Resorts in the Maldives
From luxury resorts and high-end hotels to more affordable stays that don't stint on comfort, there are honeymoon options for most budgets in The Maldives.
Let's explore some of the best Maldives honeymoon resorts:
Hurawalhi Island Resort
Lhaviyani Atoll
$$$
Best For A Unique Experience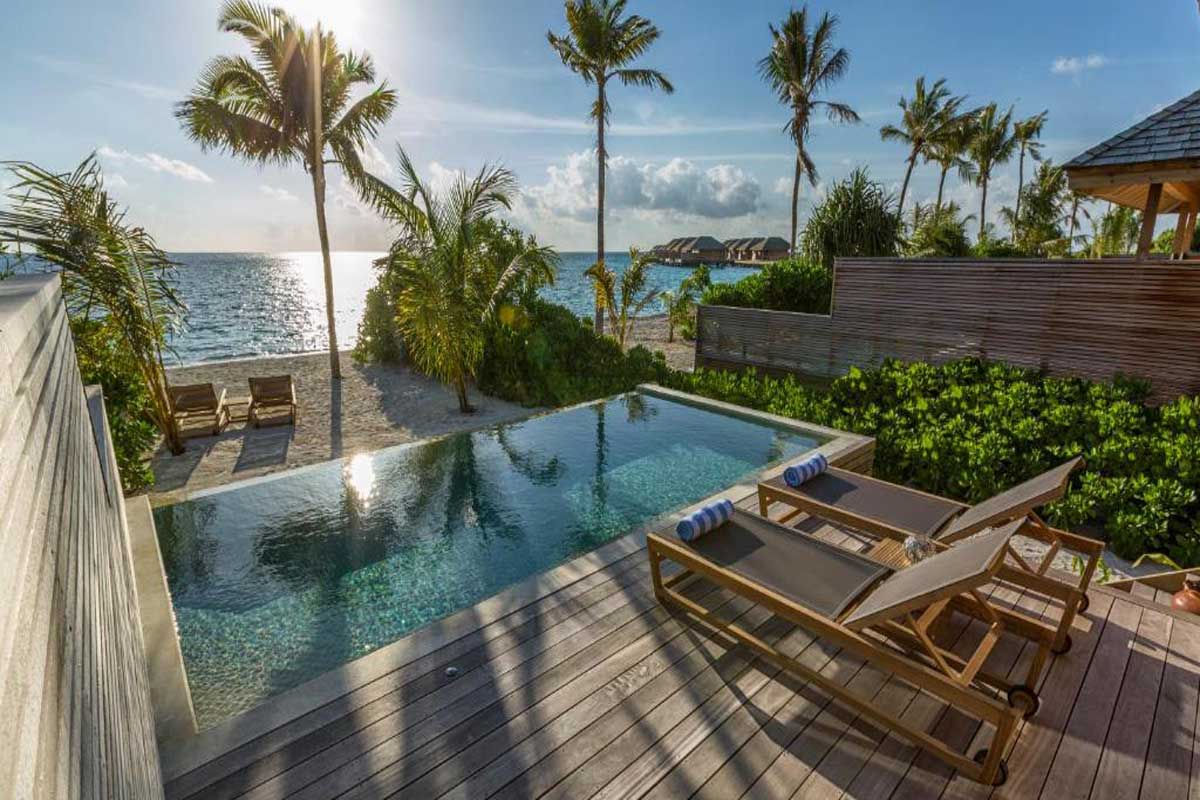 Hurawalhi Island Resort is one of the most beautiful honeymoon resorts in The Maldives. A title for which there's stiff competition.
Whether you're lounging in the resort's stunning infinity pool or relaxing in one of the many hammocks strewn around the island, it's the perfect place for a romantic break with your other half.
That's all before we get to the villas, which spare no comforts. Each villa comes with a sundeck, rain showers and a private plunge pool.
This resort also has an exclusive all-glass underwater restaurant called 5.8, where you can dine surrounded by fish – a breathtaking culinary experience that was the first of its kind on the islands.
Waldorf Astoria Maldives Ithaafushi
Ithaafushi Island
$$$
Best For Luxury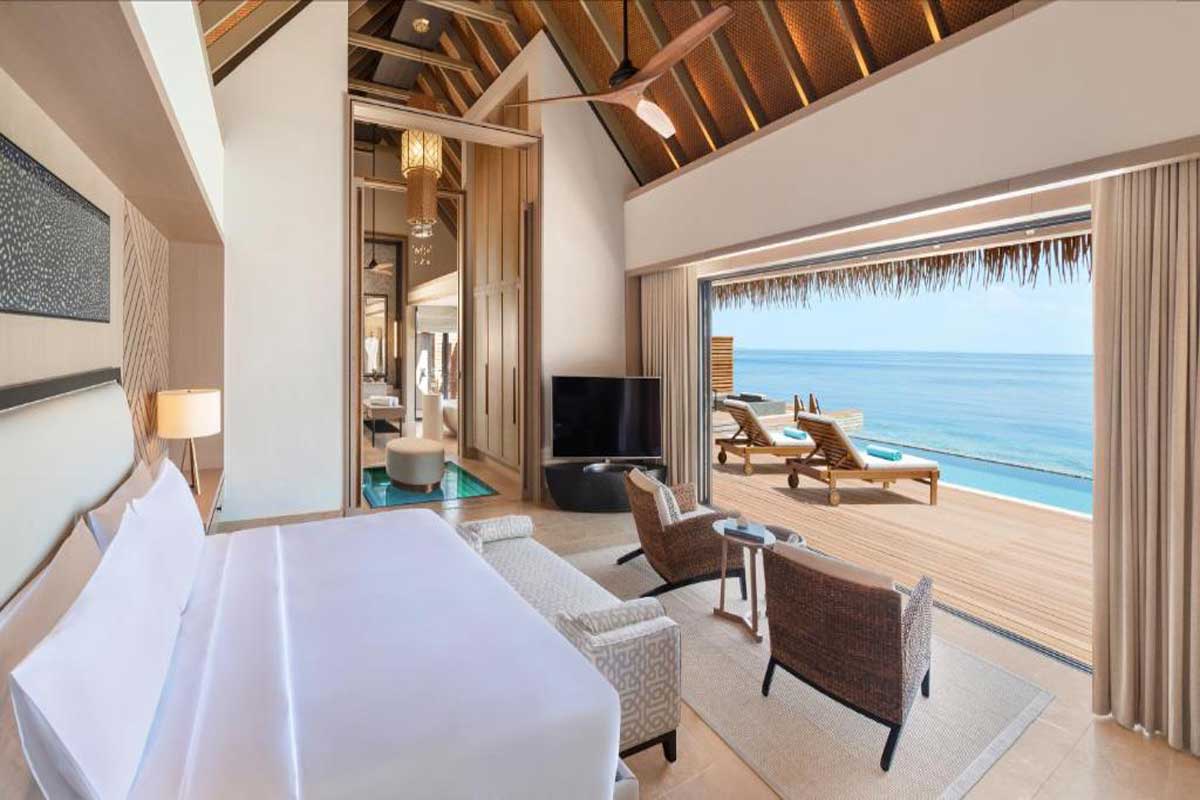 The Waldorf Astoria Maldives Ithaafushi spans over 2 miles across three islands encircling a lagoon. With some of the best beach villas with direct water access, if you really want to splurge, there are also overwater villas with hammocks.
Each villa has its own infinity pool and a lovely outdoor living area. If you're feeling peckish, this hotel has 11 different dining options, from Middle Eastern to Chinese; there's cuisine for every palate. There's even a fancy tree-top restaurant.
Activities that you can do with your partner include diving, yoga, a water sports center, a tennis court, and a fitness center. If you ask the staff, they can set up a couples massage under the stars.
Anantara Veli Maldives Resort
Dhigufinolhu Island
$$
Best For Privacy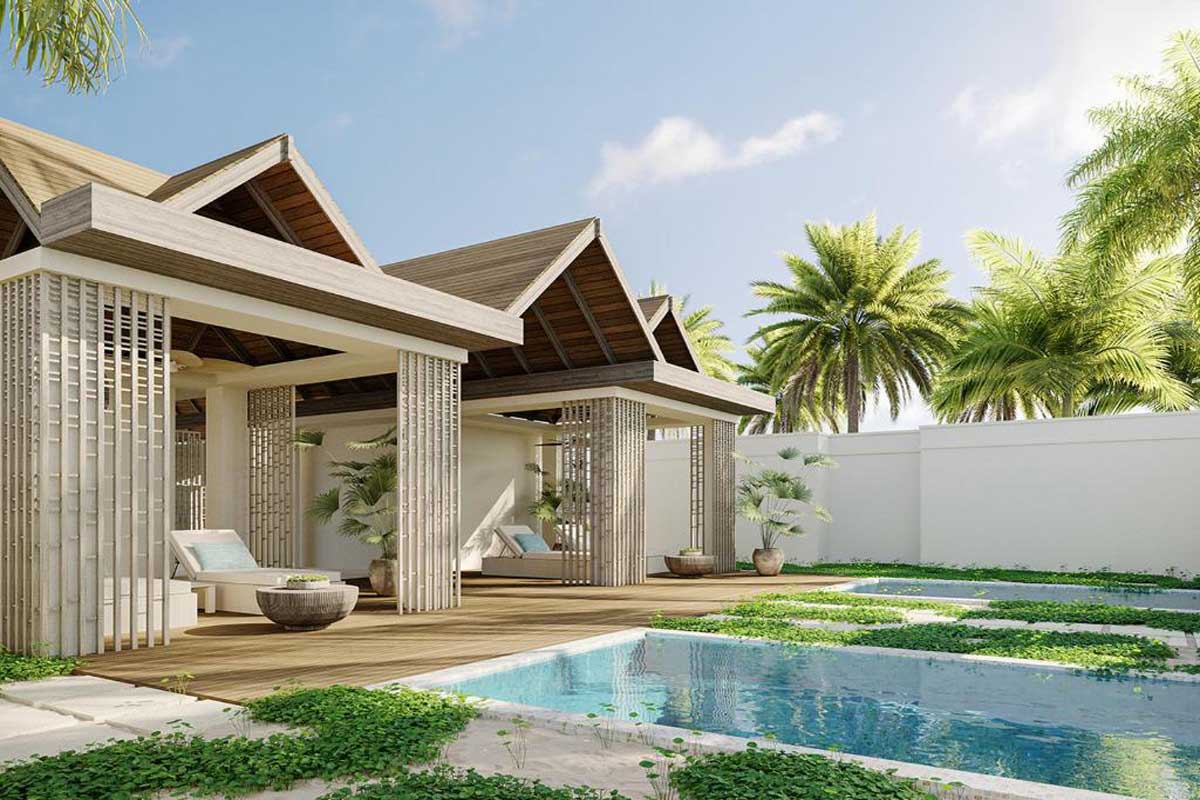 The Anantara Veli Maldives Resort is one of the most secluded resorts in the area. There are 67 luxurious ocean and overwater bungalows to choose from. They also have an open-air cinema and a lovely spa to relax in.
The overwater pool bungalow allows you to enjoy a private plunge pool and a host that caters to your specific suite. This is where romance blooms. You have a private deck at your disposal– complete with an outdoor rain shower and a huge tub with magnificent ocean views.
For dinner, you can choose from a range of culinary options. There's a Thai, Japanese and Italian restaurant on site. There's also an overwater grill, or you can enjoy a private dinner on the beach.
Coco Bodu Hithi
Male Atoll
$
Best For Total Relaxation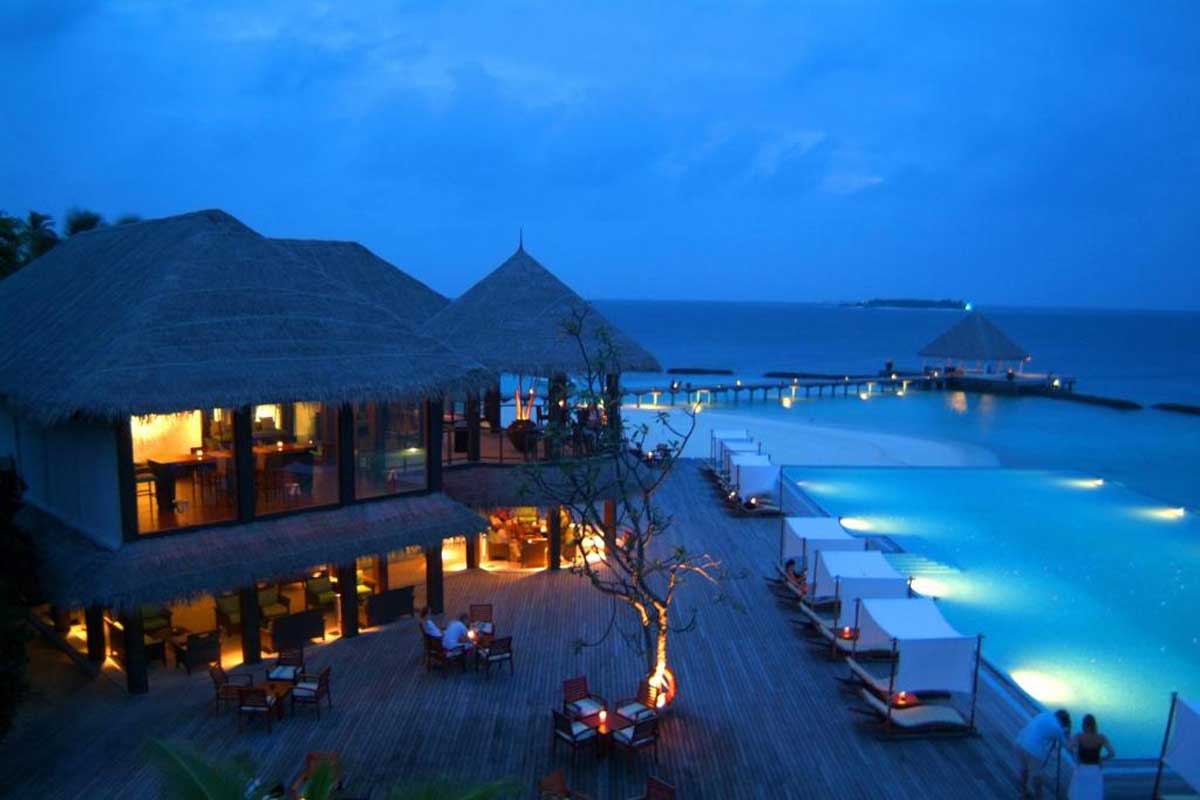 The Coco residences are absolute standouts on the islands. They come with everything, from a private butler to a split-level deck that overlooks the ocean. The villas at Coco Bodu Hithi have private pools and free WiFi.
You can spend your time here going to yoga sessions, Tai Chi, or the overwater gym. The spa offers some of the most relaxing massages and facials. There's even a beauty salon on the property if you want to change your style.
The Air restaurant next to the pool offers delicious fusion cuisine, while the overwater Aqua restaurant has delectable Asian dishes. If you want something a bit less fancy, then Breeze dining is a great option to get some barbecued food. And to wash it all down, Latitude bar serves cocktails after dinner.
Lily Beach Resort & Spa
Huvahendhoo
$$
Best For Ultimate Romance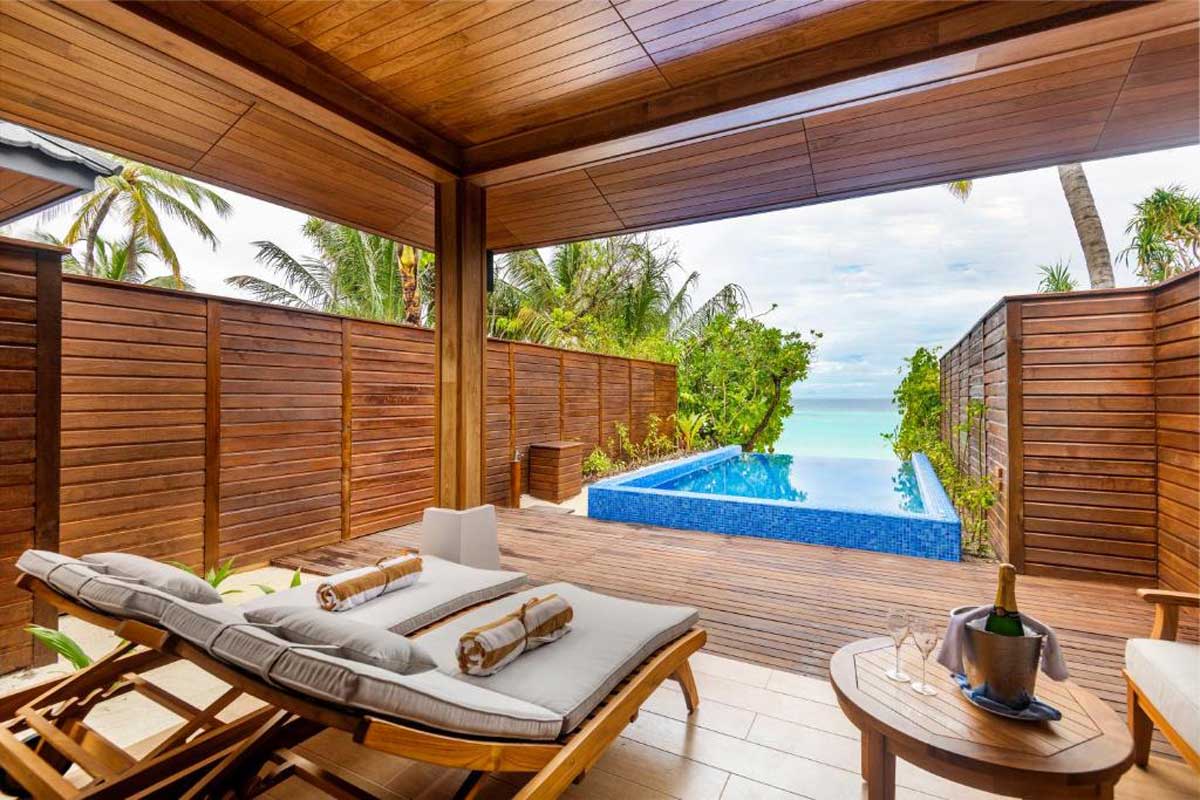 Luxury? Yes. Five-star? Yes. Romantic? 100%. You can get this and more at Lily Beach Resort & Spa. It's one of the best all-inclusive resorts in the Maldives and is famous for its romantic getaways. Grab an overwater bungalow and enjoy sweet privacy on your deck next to your private pool.
The Sunset Water Suite is a paradise for newlyweds. Couples get a personal deck with a hot tub pool and an oversized daybed for some relaxation after spending a long day in the water. There's even a 24-hour butler that will cater to your needs.
Tip: Why not up the ante with the Romantic Escapes package? It comes with a spa voucher, fresh flowers, turndown service, a fruit basket, an in-villa bath ceremony, and even some romantic bed decorations. It's one of the ultimate romantic resorts in the Maldives.
Coco Palm Dhuni Kolhu
Dhuni Kolhu
$
Best For Luxury on a Budget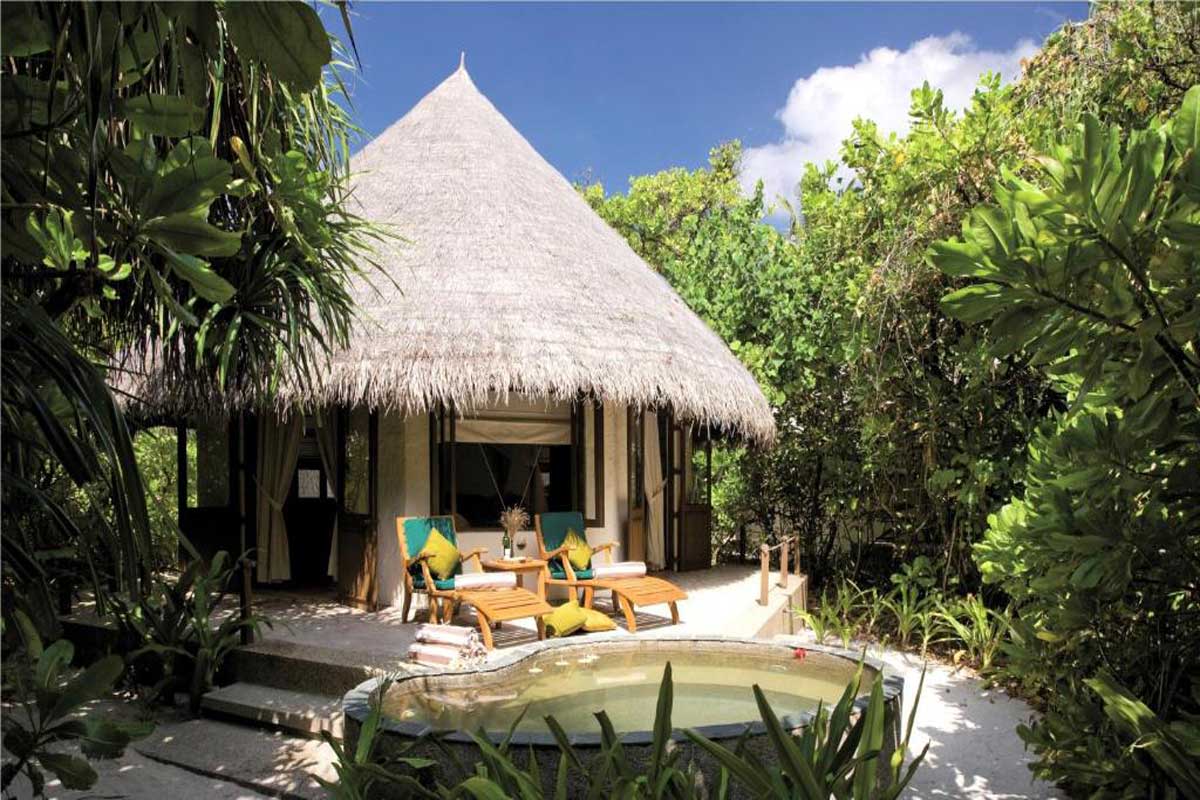 Back to the Coco residences, the Coco Palm Dhuni Kolhu is even more removed from society than its sister property. It's also one of the more affordable options in the Maldives, which makes it even better.
This four-star island paradise offers gorgeous villas, a spa and fitness center, and even a turtle sanctuary. The villas are air-conditioned and have fine wood furnishings. They also have private terraces where you can relax and take in the gorgeous view of the ocean.
You can ask staff to arrange a romantic in-villa dining experience if you want to stay in. If this isn't private enough for you, you can get on a boat, go to the resort's private island, and stay in a little hut overnight.
Soneva Fushi
Kunfunadhoo Island
$$$
Best For A Lot of Fun Activities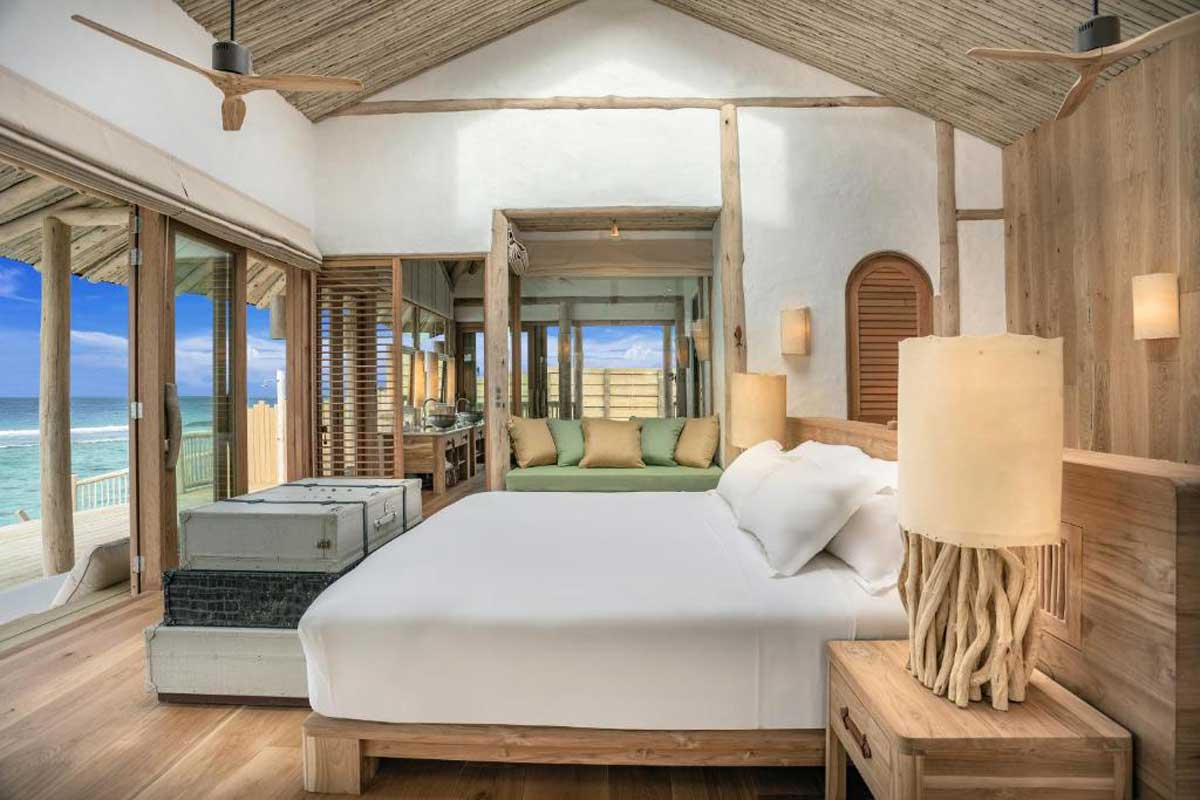 When you step foot on the sand at Soneva Fushi, other resorts will not carry a candle for you. Their remarkable villas not only come with a private pool and an outdoor bathroom but also a retractable roof over the master bed.
If you want to watch some fish, you can easily do that through the glass floors. There's also a super easy way to get into the lagoon from your villa —use the waterslide!
The food here is just as excellent as the resort itself. At Fresh in the Garden, you can dine above the trees. Once Upon a Table is culinary theater, with the chef choosing a menu and you just sitting back and experiencing dishes through the times.
The Maldives Honeymoon Tips: What You Need to Know
How to Get to The Maldives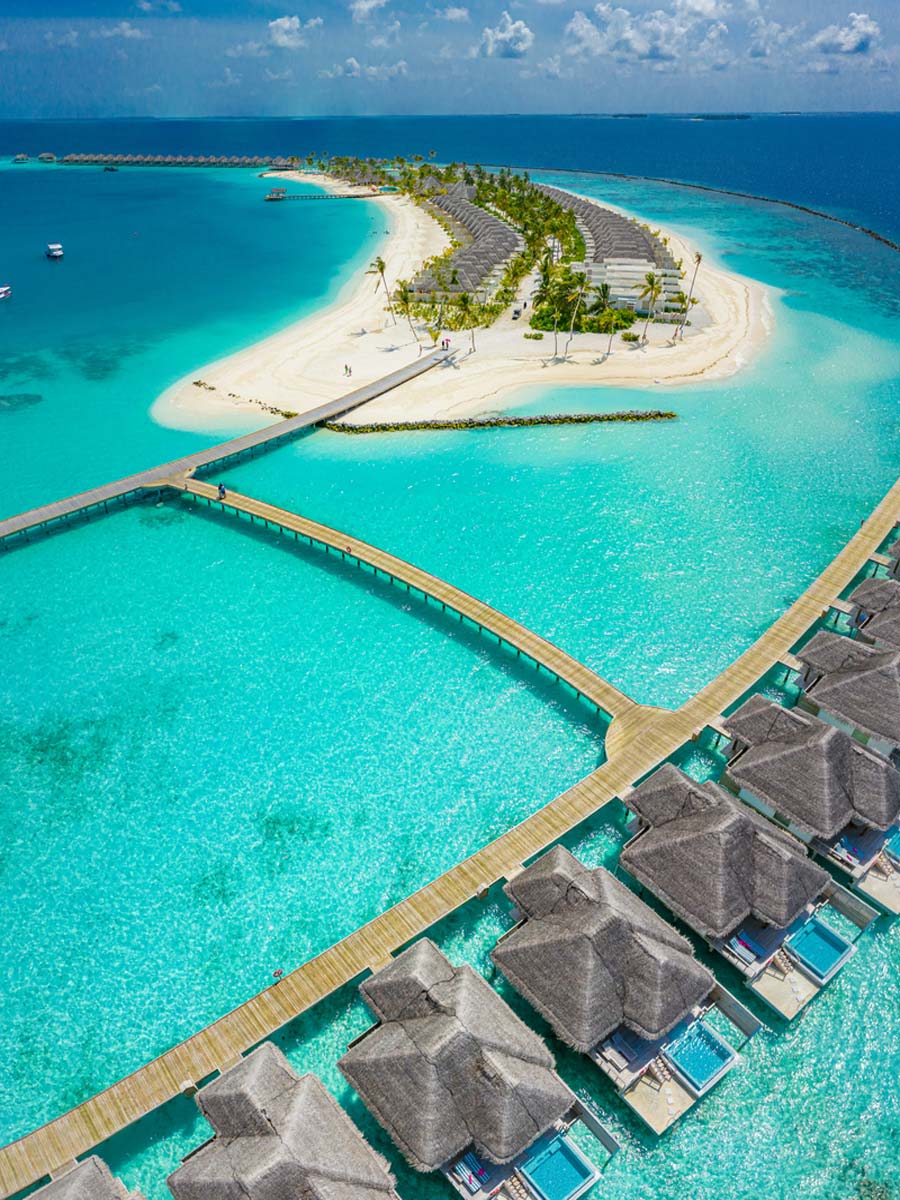 The Maldives is in the Indian Ocean, approximately 1,270 miles off the tip of India. Which means you can get there by flying. Generally, there are no direct flights to the Maldives, based on where you're flying from.
International flights will land at Velana International Airport in Malé, and from there, you'll take a speed boat, seaplane, or domestic flight to your resort. Luckily this is usually arranged by resorts.
The Best Places to Visit in The Maldives
Malé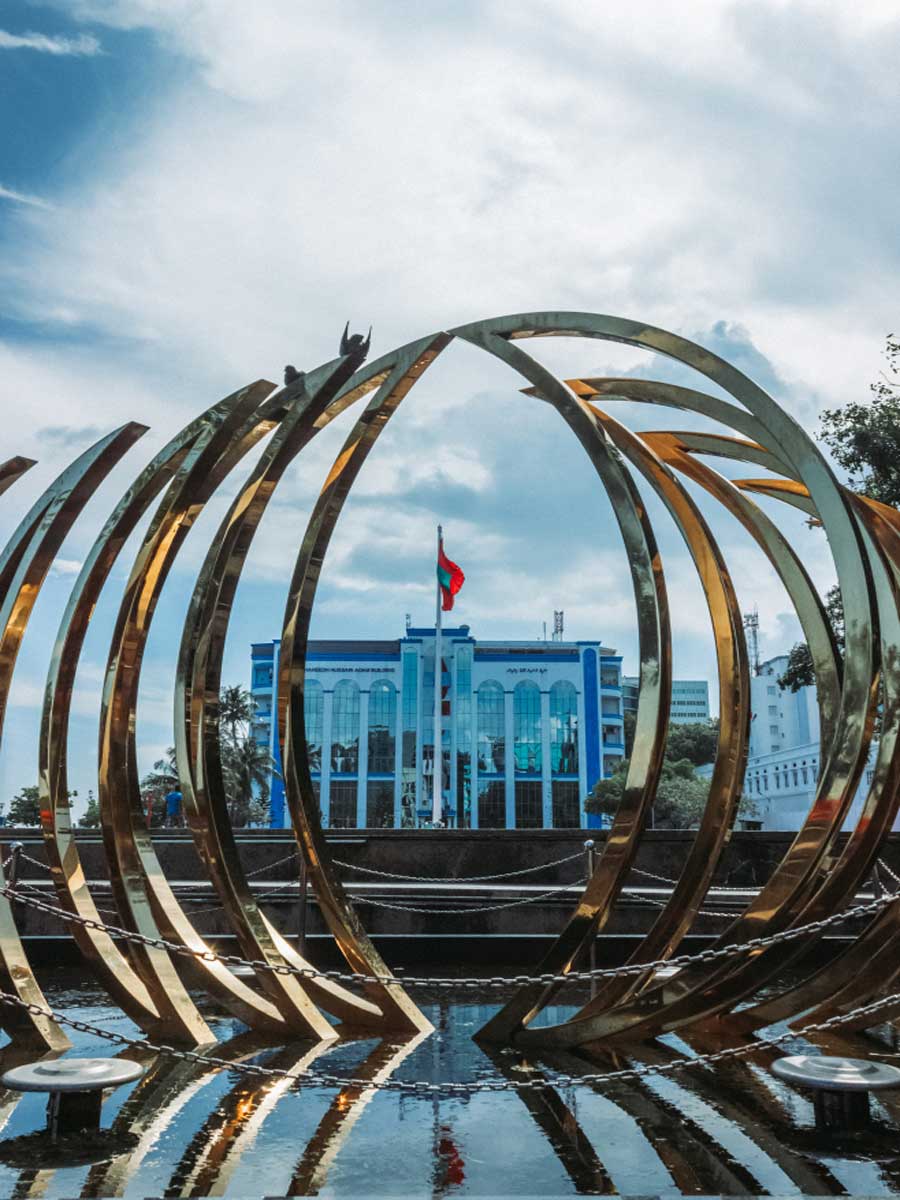 Malé, the islands' capital, is certainly deserving of an extra day if you want to delve into the culture of The Maldives. There's the gorgeous 17th-century Friday mosque and the Islamic Center with its spectacular golden dome. You can also visit the Maldives National Museum to learn more about the history of the islands.
For another historical sight in Malé, the Tsunami Monument is a great place to visit. It is there to honor the lives lost during the boxing day tsunami of 2004.
Hulhumalé Island
Hulhumalé Island has a beautiful glass-topped mosque that you can visit as well. You will also find the China-Maldives friendship bridge here, a bridge that connects Hulhumalé Island to the island of Malé. It was mainly funded by China and shows the strength of the ties between the two nations.
Maafushi Island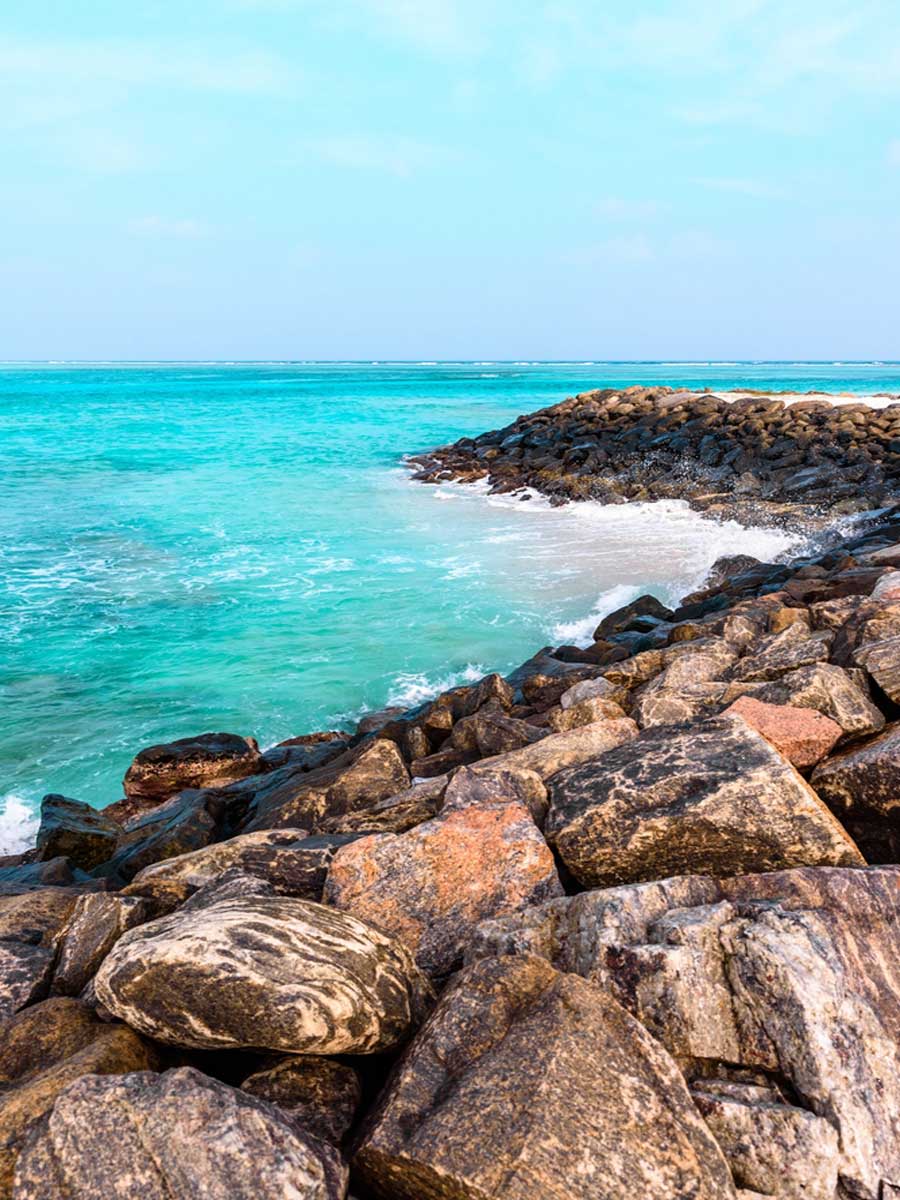 For a unique honeymoon experience, you have to visit Bikini Beach in Rasdhoo. Not only are the beaches segregated based on what you can wear, but it's also popular among honeymooners. So if you're looking to sunbathe in your bikini, you'll know which beach to go to. It's another great place to go scuba diving or even just snorkeling.
You can also go on a dolphin safari, where you take a motorboat out on the ocean to watch a school of dolphins swim and splash around. Don't forget your camera.
Vaadhoo Island
Vaadhoo Island is best-known for the gorgeous phenomenon called the Sea of Stars. Microscopic plankton exhibit bioluminescence that makes the water appear blue under the midnight sky. It also looks like it's glowing under the moonlight.
Lhaviyani Atoll
On Lhaviyani Atoll, you will find the Tiny Island Marine Conservation Centre, which shows just how committed the government is to preserving their natural resources and protecting marine life.
Utheemu Island
In Utheemu, you can find Utheemu Ganduvaru, a palace built from timber. Travelers flock to Feydhoo as it has some of the best seafood curries. Utheemu is also a popular spot amongst honeymooners due to its white sand beaches and spectacular sparkling waters.
Maaya Thila
The small cove of Maaya Thila has some of the most amazing views and is perfect for a scuba diving experience. Take a trip to the ocean floor and see if you can spot some Angel Fish or even the elusive Grey Reef Shark.
Fuvahmulah Island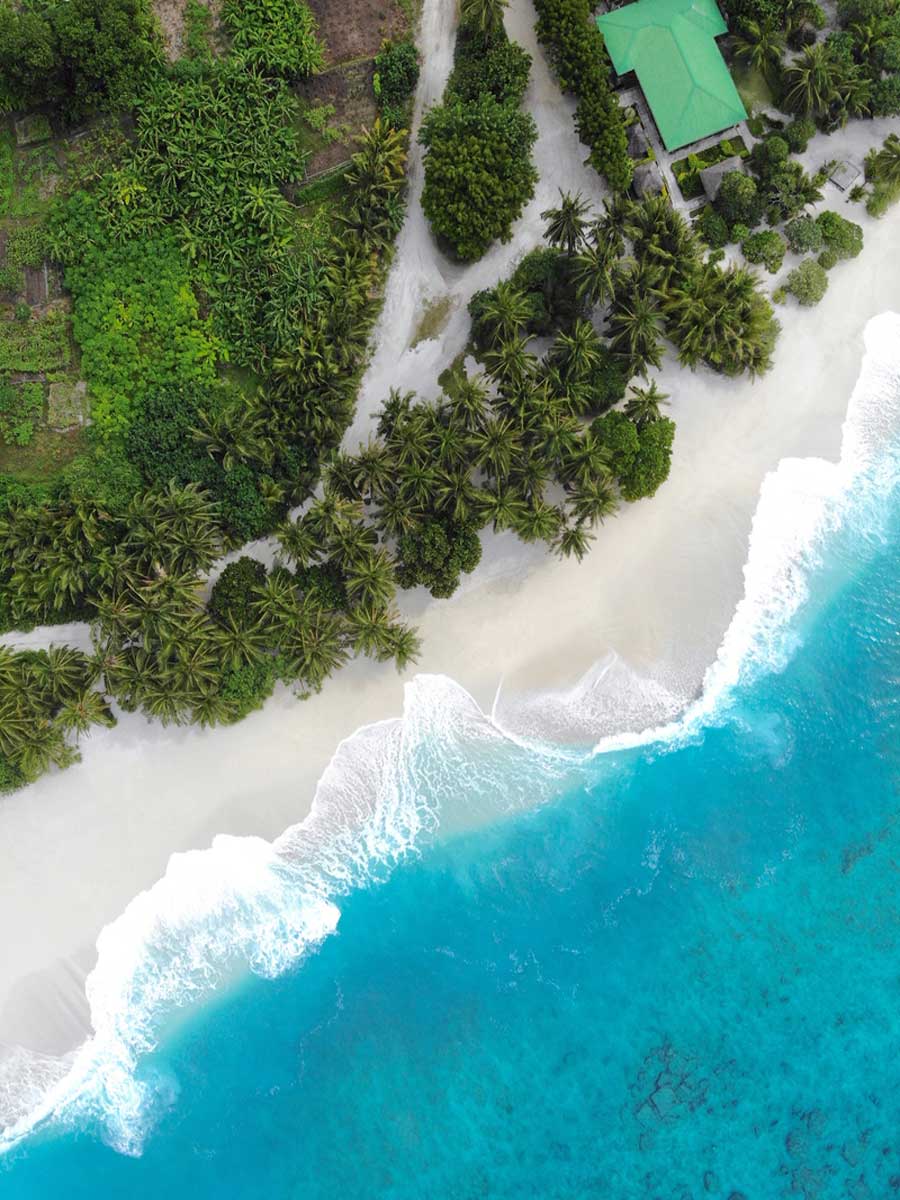 If you're in the mood for some freshwater fun, then visit the Bandaara Kilhi Lake on Fuvahmulah Island. Here, you can swim and fish to your heart's content. It's also a perfect Instagram opportunity due to the magnificent green vegetation surrounding the lake.
The Fua Mulaku Havitta in Gnaviyani Atoll is the ruin of a Buddhist chaitya. Unfortunately, the damage is due to careless digging to find valuable artifacts, and the once beautiful chaitya now lies in ruin.
Reethi Rah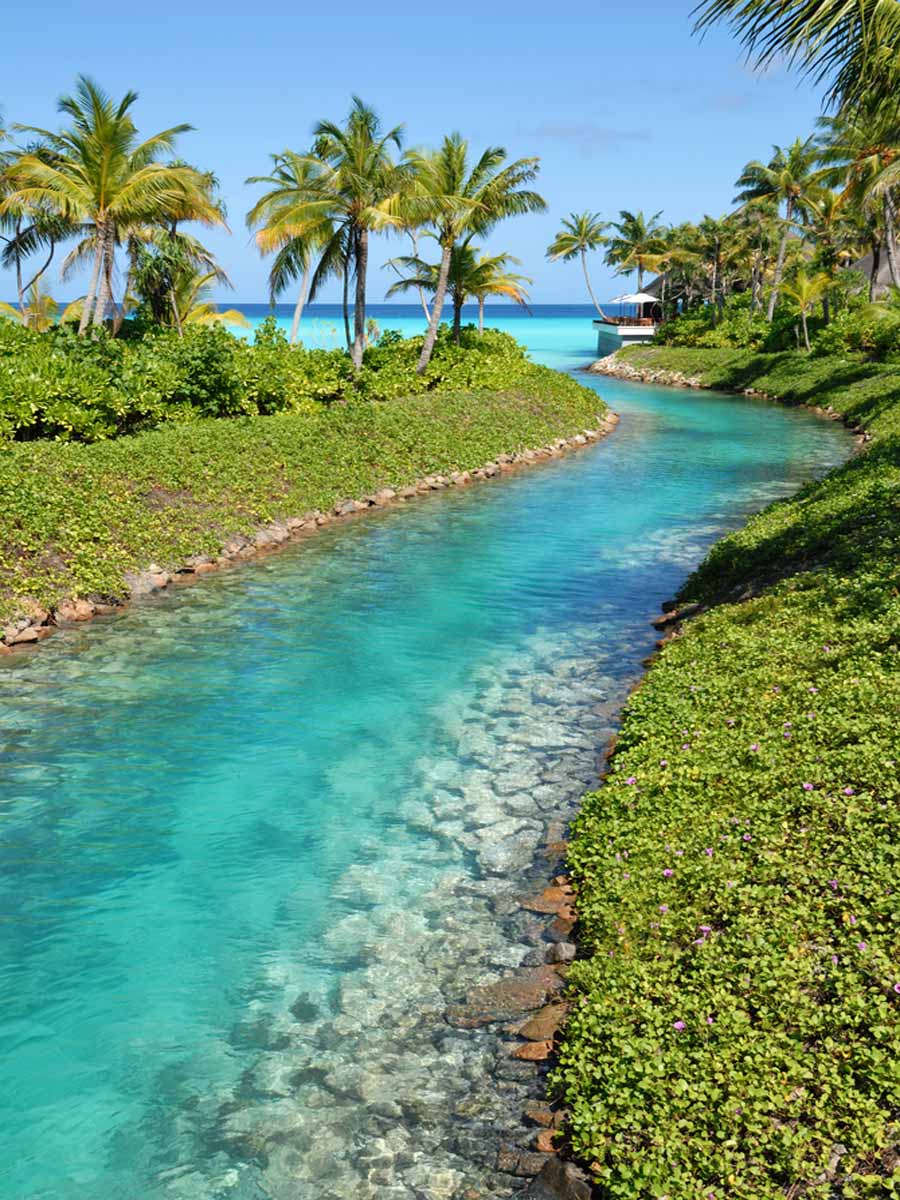 Reethi Rah is an area in the Maldives that is only accessible to tourists. It's incredibly secluded and even has its own time zone. With its 12 pristine beaches, you can indulge in fun water sports such as diving and surfing while being mostly uninterrupted.
Other Activities in the Maldives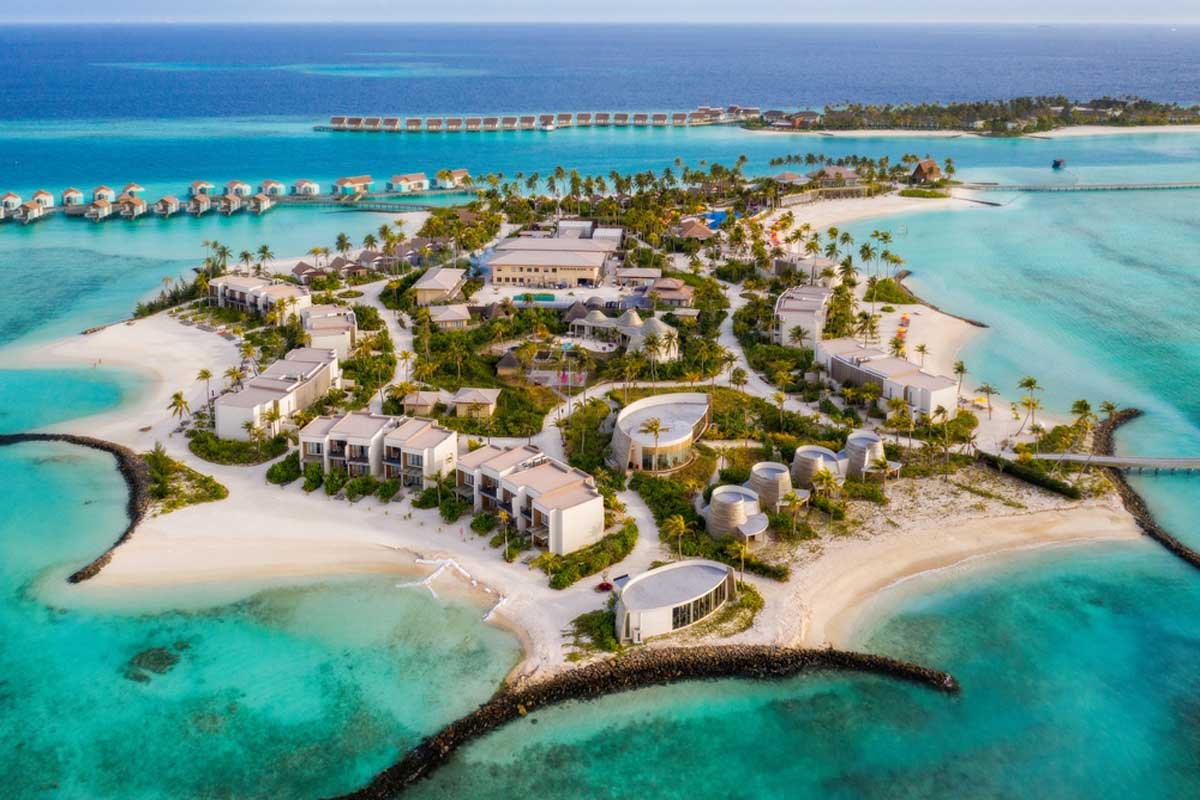 Where there's water, there are water sports. Spend your time snorkeling, scuba diving, sailing, surfing, and windsurfing. Perhaps you can even try banana boating for some fun.
A sunset cruise is also a beautiful and romantic experience for you and your partner. Watch the sunset from the deck of a boat while dining on some of the Maldives' best.
The Best Time to Visit The Maldives
In the Maldives, the rainy season is usually from May to September.
The temperatures remain relatively constant throughout the year, ranging from around 70 to 90°F. This means there's no bad time to go to the Maldives, and the rainy season might even be ideal.
It's the low season, so prices are lower. And there's a range of unique things you can do and see, such as spotting manta rays in Hanifaru Bay. Don't let the rain stop you from going to the Maldives since there's always something fun to do, even when it's pouring outside.
How Long to Spend on Your Maldives Honeymoon?
In general, honeymooners prefer to spend 7 to 14 days in the Maldives. This gives you enough time to explore the islands, participate in water sports and enjoy the sun on the beaches.
However, it also gives you enough time to spend with your partner without feeling like you need to pack as much into the trip as possible. There's plenty of time to do many different things and enjoy each other's company.
How Much Does a Maldives Honeymoon Cost?
A Maldives honeymoon is not for anyone with a small budget. You will have to prepare long beforehand if you want to come here.
Based on where you stay and where you're flying from, the cost of a honeymoon in the Maldives starts from $3,000 for a seven-night stay.
This can, of course, go much higher (easily up to $25,000) depending on which resort you pick. Food and drinks will also be expensive since everything gets imported, so getting an all-inclusive package is worth looking into when you go on a honeymoon to the Maldives.
The Maldives Honeymoon Resorts: Map
Maldives Honeymoon: Read Next